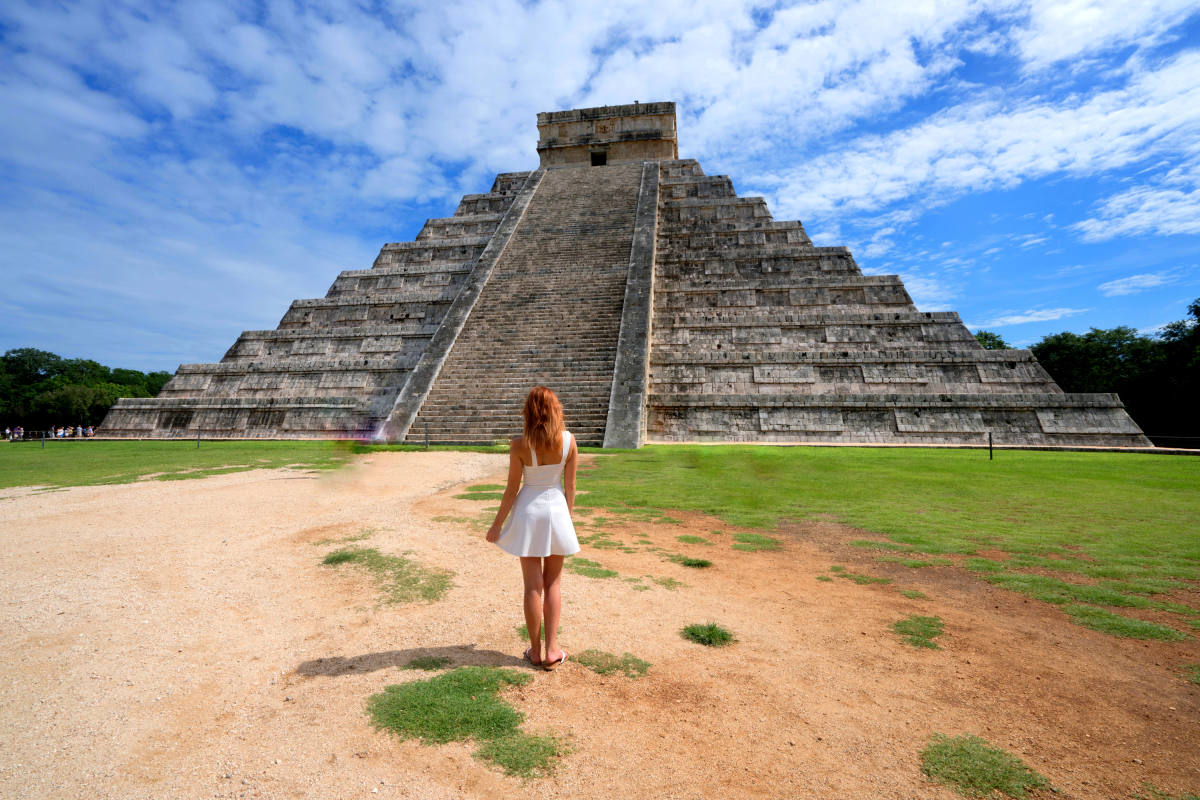 TRAVEL TO MEXICO – My first visit to Mexico was really unplanned, but I ended up falling in love and living in different parts of the country for a few years!
Mexico really has everything. Beaches, mountains, volcanos, lakes, caves, waterfalls – you name it! While it has a reputation of being unsafe, especially to Americans thanks to sensationalist media, I've never had any issues traveling solo and navigating my expat life around Mexico.
Hopefully, this guide to traveling to Mexico can help you plan the perfect trip.
---
WHAT TO EXPECT
VISA: Most nationalities don't need a visa for Mexico. You just need a basic passport stamp upon arrival that allows you to stay in the country for up to 6 months, which makes it a very attractive spot for digital nomads.
If you're coming from Africa or Asia you will require a visa, but you can be exempt from it if you hold a valid visa for the USA, UK, Canada, Japan or Schengen Zone. More info here.
LANGUAGE: While Spanish is the spoken language of Mexico, it's way different than Spanish that's spoken in Spain. Mexican grammar is different and a lot of words vary, as you can see in my basic dictionary of Mexican Spanish.
If you're traveling to touristy areas like Riviera Maya, Baja California or Puerto Vallarta, don't worry – most people speak English as they're involved in tourism.
If you're planning on going off the path, you'll see that most people don't speak English at all. I'd highly recommend learning basic phrases, signing yourself up for a language course, or purchasing a dictionary. Most people are patient and helpful, so even if you don't understand what they're saying they'll try to help you through gestures.
GETTING THERE: There are many international airports in Mexico and also local cheaper airlines that are way better than American or European budget carriers. Your best bet is to search for flights to Mexico City Airport MEX, followed by Cancun Airport CUN, Guadalajara GDL or Monterrey MTY.
If you're bringing your own car from the US it's pretty easy to cross to Mexico, but be prepared for long hours of wait time on the way back.
VACCINATIONS: There are no vaccinations required for entry to Mexico but it's recommended to receive vaccination cover for Tetanus, Typhoid and Hepatitis A – if you're vaccinated according to a regular calendar you're fine.
There's no Zika in Mexico. While there have been cases in the past, so they were in the USA. Don't freak out for no reason.
CURRENCY: The currency in Mexico is Peso. 1 USD is equivalent to about 19 Mexican Pesos. Click here for current rates.
CREDIT CARDS and ATMs: In cities and towns, credit cards are widely accepted everywhere. Small corner stores or taco stands will naturally just take cash, so be prepared. ATMs are pretty much everywhere and in tourist spots like Riviera Maya you can also choose to pay in Dollars (although I don't recommend it).
PLUGS: Mexico uses plugs type A and B, same as those in the USA. The standard voltage is 127 V, and the standard frequency is 60Hz. I really like these universal adapters (make sure it has surge protection).
GETTING AROUND: Depending on where you are you have options for public transportation and big long-distance buses. If you're traveling between big cities or for many hours, it's better to hop on a big bus. They're perfectly safe and comfortable.
Or you can simply rent a car. While I wouldn't recommend renting a car in Mexico City, I've rented one anywhere else countless times without any issues.
SAFETY: Millions of tourists travel to Mexico every year, despite U.S. warnings about crime, tainted alcohol, robbery carjacking etc. The 99% of them come back happy and safe. Crime happens everywhere, unfortunately.
Mexico can be as safe as the US, so take reasonable precautions and you'll be fine. I've lived and traveled around Mexico for years and hitchhiked, walked alone at night, partied, drove cars and did everything I would have elsewhere and I was completely fine.
When to Go
There's really no bad time to go to Mexico. The weather is usually mild all year round, but considering that Mexico is a very big country the climate will vary.
For Mexico City and northern territories: My favorite time to go is after Easter until mid-October. While there's a rainy season, the weather tends to be unpredictable and usually doesn't rain that much.
For Riviera Maya: I'd avoid the months of December and January, as prices tend to triple and places get extremely packed. July and August tend to be way too hot and rainy.
For the best experience go around February-March or September-November if you're not afraid of some rainy days in exchange for better prices.
Accommodation in Mexico
Mexico has plenty of accommodation of different standard regardless of where you go.
BUDGET – Hostels are pretty much everywhere in Mexico unless you're staying in a small village. Even then the price for a single room in a guesthouse won't be that much. Expect to pay between $5 to $20 per night.
MID-RANGE – Whether it's a standard 3* hotel or an AirBnb (there are so many cute AirBnBs in Mexico!), you'll find a nice spot that won't break a bank in Mexico. In places like Mexico City, pay attention to where you stay as the city is huge. Expect to pay about $30-150 per night.
LUXURY – There are many gorgeous luxury hotels in big cities and tourist destinations like Cancun, Puerto Vallarta, Tulum, etc. While it's not always worth the price, it's an option.
Food in Mexico
Food in Mexico is inexpensive and tasty. Most restaurants are fairly cheap, but you can also experience fine dining as some of the top 100 restaurants in the world if you're in Mexico City or Guadalajara.
Standard meal at a small restaurant will cost you about 80-150 MXN per person. At a nicer restaurant or in a more popular location, you should expect to pay about 200-500 MXN for a meal with a drink.
If you want to keep costs low, you can also visit several delicious tacos and tamales stands for 15 MXN per taco.
---
Posts About Mexico