Located just northwest of Cancun, Isla Holbox (pronounced "Hole-bosch") offers a beachy paradise without the crowds. This long narrow island is only 26 miles long and has around 2,000 residents. Holbox is sunny, colorful, relaxed, and warm, making it an ideal spot for a lazy beach vacation!
Here is the ultimate guide to Isla Holbox. Make sure to pack your bathing suit, flip flops, and sunscreen, you won't need much else for your next tropical getaway!
Is Holbox Worth Visiting?
Yes and yes! Isla Holbox offers pristine beaches, fun outdoor adventures, and good food, without the hustle and bustle (and overdeveloped tourism) of nearby places such as Cancun or Tulum.
It takes some planning and time to reach Holbox, but it's not a difficult or expensive journey. In addition, Holbox is reasonably priced and has a relaxed nature-loving vibe.
You should plan a trip to Isla Holbox before it becomes overdeveloped and overrun by tourists! Much of Mexico's glorious coastline has become a bit over-developed in recent years (sadly, Tulum is the best example of that), which takes away from the experience.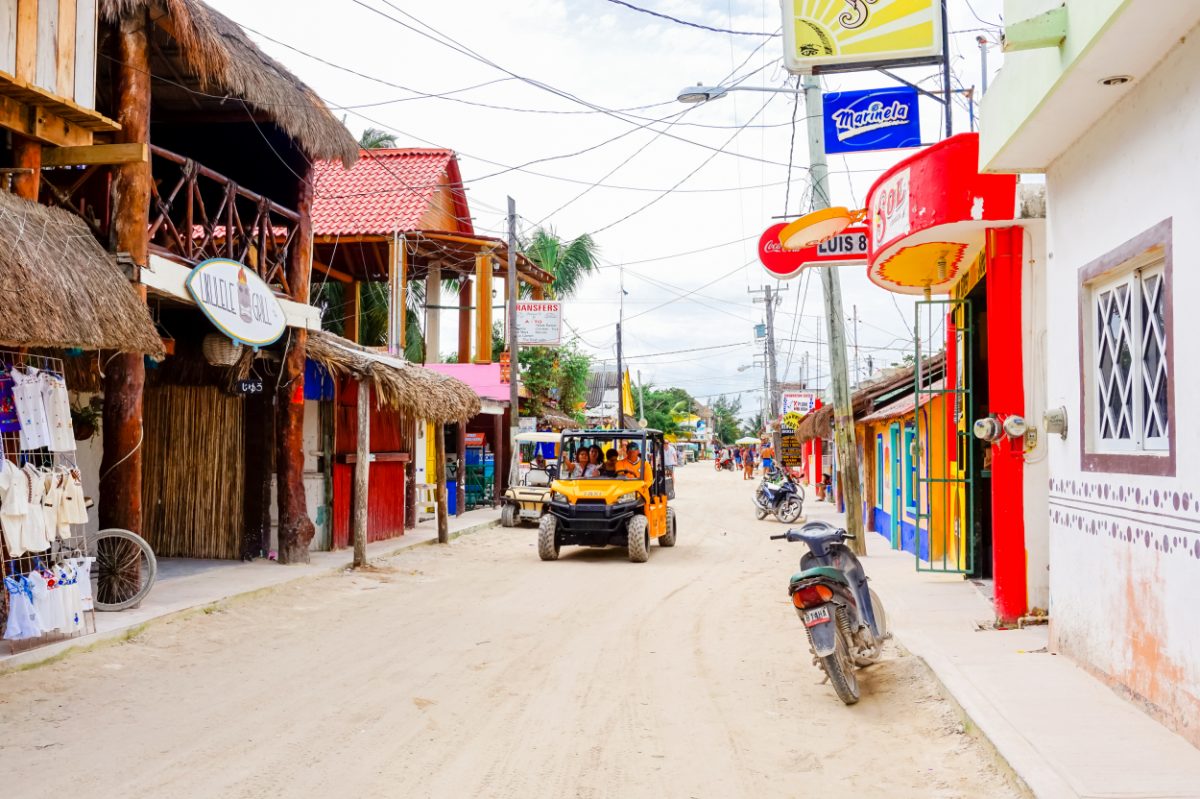 ---
Tips for Visiting Isla Holbox Mexico
Don't go to Isla Holbox just for a day trip. Spend at least a night, see the sunset, experience the real island vibe.
Isla Holbox is home to just a couple of thousand residents. There are only two ATMs in Holbox and it's unreliable, so it's important to pack cash from the mainland.
Wifi exists everywhere, but don't expect it to be fast. It's very slow – you'll be able to send emails and upload photos, but not always stream Netflix.
Everything in Isla Holbox is conveniently located. Cars are not allowed on the island at all and almost all roads are unpaved and can get muddy. Once you arrive in Holbox, the best way to get around is by golf cart, bike, or by foot. There are golf cart taxis available to take you from place to place, or you can rent your own for around $80/day.
Holbox is an island surrounded by mangroves and this means mosquitos. Definitely pack mosquito repellent and lots of sunscreens.
Is Isla Holbox Safe?
Isla Holbox is extremely safe, way safer than anywhere in Riviera Maya – and that's also mostly safe.
---
How to Get to Isla Holbox?
Getting to Holbox isn't difficult. You can take an Isla Holbox ferry from Chiquila to Holbox (click here for ferry times) and cost approximately $160 MXN per person and $100 MXN per child. The ferry is comfortable, runs frequently, and only takes half an hour.
You can get to Chiquila from Cancun or Playa del Carmen by car or shuttle bus. Renting a car is cheap and easy in Mexico, but you'll have to pay for parking on Chiquila $100 MXN per day (no cars are allowed to cross to Holbox), so to get to Isla Holbox it's not the most convenient option – unless you're traveling onwards to Merida after.
There are several bus and shuttle options from Cancun and other cities. A bus trip will cost around $6 and will take over 3 hours. Check out the companies' ADO, Oriente, or Mayab.
Private transfers are available for around $150, so this may be a good option if you're traveling in a group.
Alternately, you can take a flight from Cancun, but this is a pricey option (around $500+). The good news is that this price is for the whole plane, as you book by trip not by a passenger! There are additional options from other "nearby" destinations as well.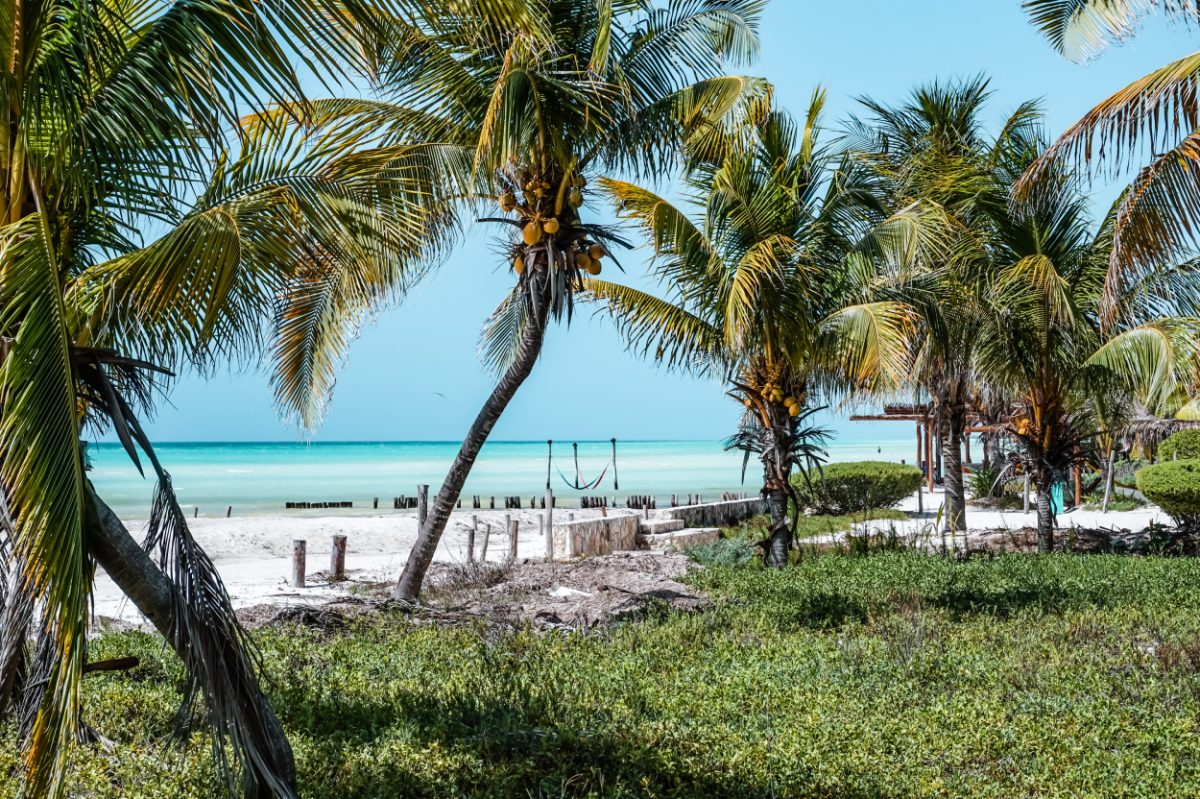 ---
How Far is Isla Holbox from Cancun?
It takes about 2 hours to get to Chiquila port from Cancun as it's 145 km, then another 25 minutes by ferry.
Does Holbox Have Seaweed?
Riviera Maya used to have a big seaweed problem. It appears suddenly and stays for months. In places like Tulum or Playa del Carmen sargassum is sometimes being dumped on the beach and stinks.
Isla Holbox and Cozumel don't aquire as much seaweed and Tulum and it's actually cleaned from the beach thoroughly.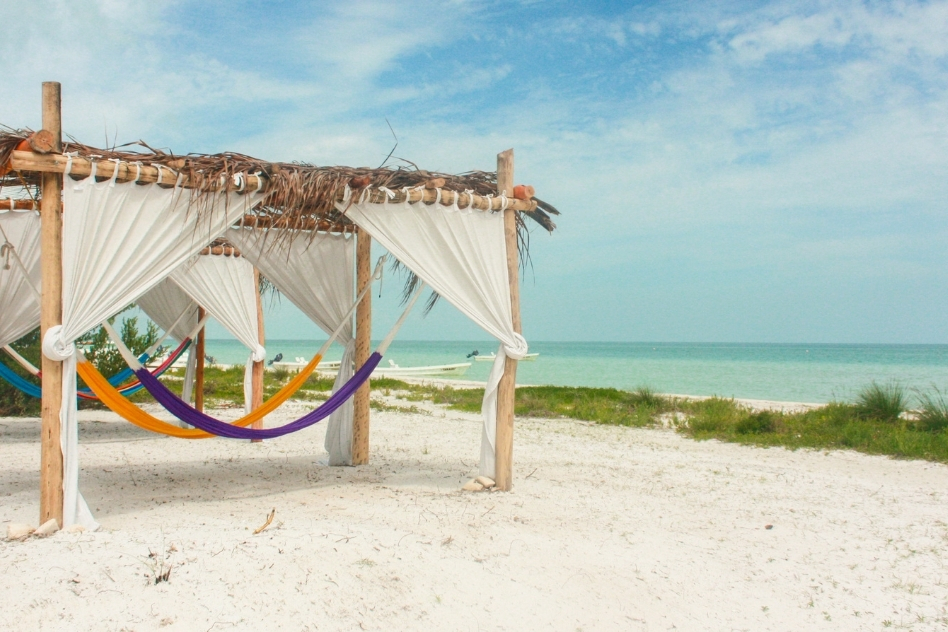 ---
Best Places to Stay in Isla Holbox
You really can't go wrong with accommodation on Isla Holbox! I'm yet to hear about anyone's bad experience and I myself tried different spots various times.
• Casa Las Tortugas is a boutique hotel that includes a spa, shop, and yoga studio. The rooms are artistically boho, and prices are mid-range unless you opt for an oceanfront suite. Their restaurant serves amazing daily catch.
• Palapas del Sol is an eco-friendly hotel literally at the end of one of Holbox's iconic Because of its location, it provides great views of both the ocean and the untouched wildlife of Holbox.
• El Pueblito was probably the first place I've ever stayed at Holbox. Clean, rustic, super centrally located.
• Casa Crusoe – lovely private cabana that's completely secluded and steps from the beach and main town. Special features include a rooftop terrace and a garden with hammocks.
There are several hostel options on Holbox, which makes this a budget-friendly destination. Tribu is a fun choice that even offers private rooms. This hostel has a relaxed atmosphere but also offers a wide variety of activities, which invoke the strong connections of the island's art culture.
---
Things to Do in Isla Holbox
Isla Holbox is surely a quiet place for relaxing, but it doesn't mean there's not much to do on the island.
Be a Beach Bum
The number one thing to do in Isla Holbox is to relax! Have a beach day (or several), sleep in one of Holbox's famous hammocks, and enjoy local food and drinks. There's no shortage of beaches to choose from, and it's impossible to get too far from the ocean on this small island.
Holbox Beach (or Punta Holbox) runs the length of the small town and has amenities such as beach chairs and a fishing pier. Usually, you need to purchase something (food or drink) in order to use the beach.
Punta Mosquito (east side) is home to flamingos and has access to a sandbar, and Punta Cocos (west side) is the best beach to watch the sunset. "Sandbar beach" is actually a sandbar strip that sticks out of the crystal clear blue-greenish water off of Holbox. Make sure to catch this sandbar during low tide.
The famous Holbox hammocks are set in the ocean in front of a hotel and beach club (to find them look for Villas Flamingos and Villas Tiburon).
While technically they're only open to guests, this is not closely monitored. Make sure to get a picture swinging in a colorful hammock over the vibrant blue sea.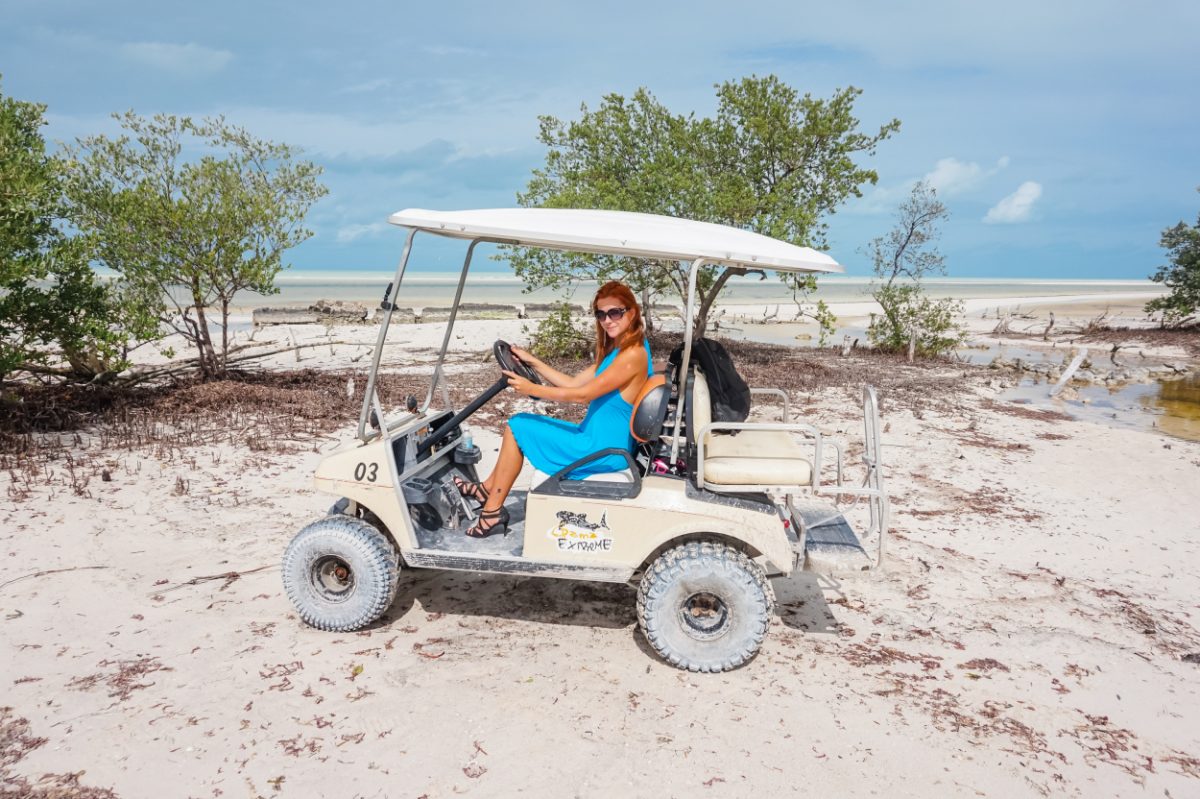 ---
Swim with Whale Sharks
Swimming with whale sharks on Isla Holbox is one of the most known attractions and offers way better conditions than nearby Isla Mujeres.
Despite their size, whale sharks are gentle giants (they actually don't have teeth!), and swimming with them is a safe and amazing experience. Snorkel with these spotted blue beauties in their natural habitat, while enjoying the warm water and Mexican sunshine.
When is Whale Shark Season in Holbox?
If you're going to Holbox between June to mid-September, then you will have the unique opportunity to swim with the largest fish in the world!
There are whale shark tours offered from Holbox, many of which also include additional snorkeling and lunch. Unlike some whale shark tours elsewhere in the world, tours in Holbox are strictly regulated in order to protect the sharks.
There's a limit to the number of people who can be in the water with the sharks, and they are not fed by the tour companies.
Tours cost around $100-$150 per person, depending on the tour package, season, and company used.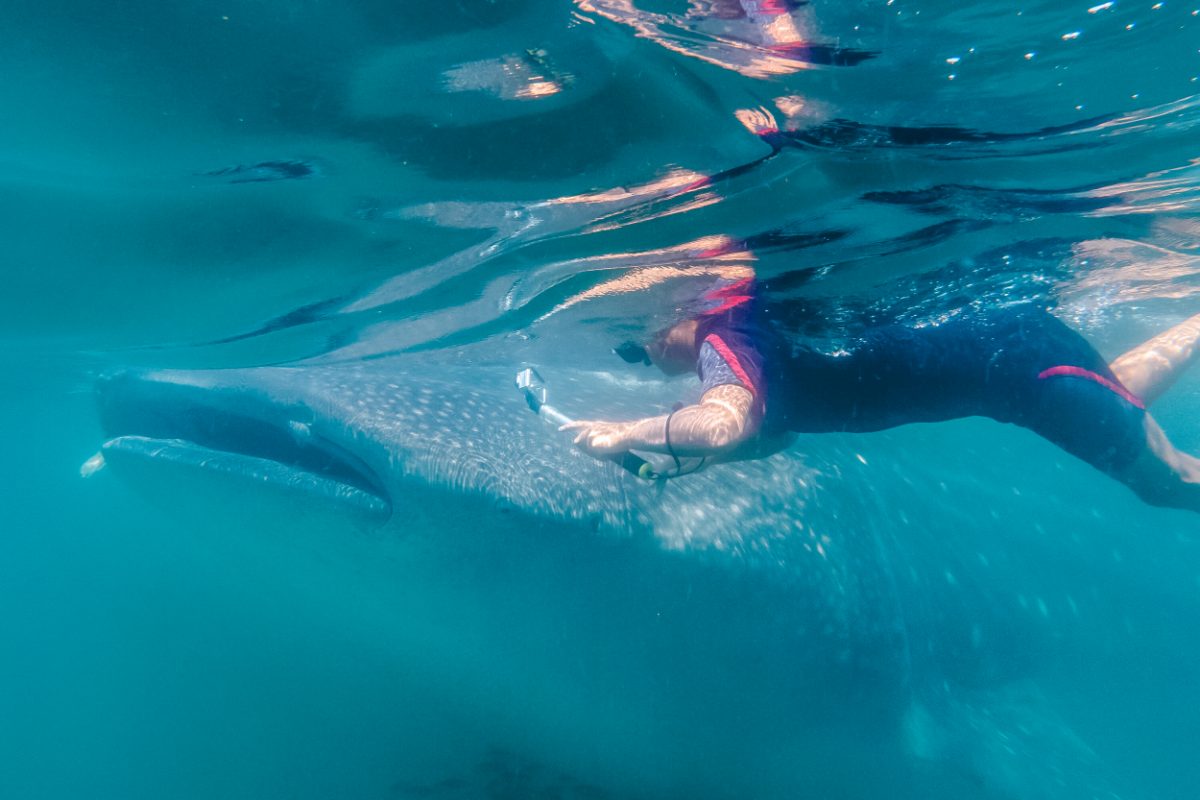 ---
See Bioluminescence
One of the most interesting critters on Holbox is the phytoplankton that lives in the water off of some of Holbox's beaches.
These tiny plankton are bioluminescent, so essentially they light up at night when they're disturbed by movement (i.e. waves, fish, wading tourists). The light is usually blue or green and appears as millions of bright specks within the water.
Please note, bioluminescence is most visible when there is no moonlight, and the best time of year to see this phenomenon is summer (although you may catch a glimpse at any time of the year).
There are tours available, both by land and by kayak, but really you can observe this magical glowing yourself. The southern beaches are best for viewing, especially Punta Cocos.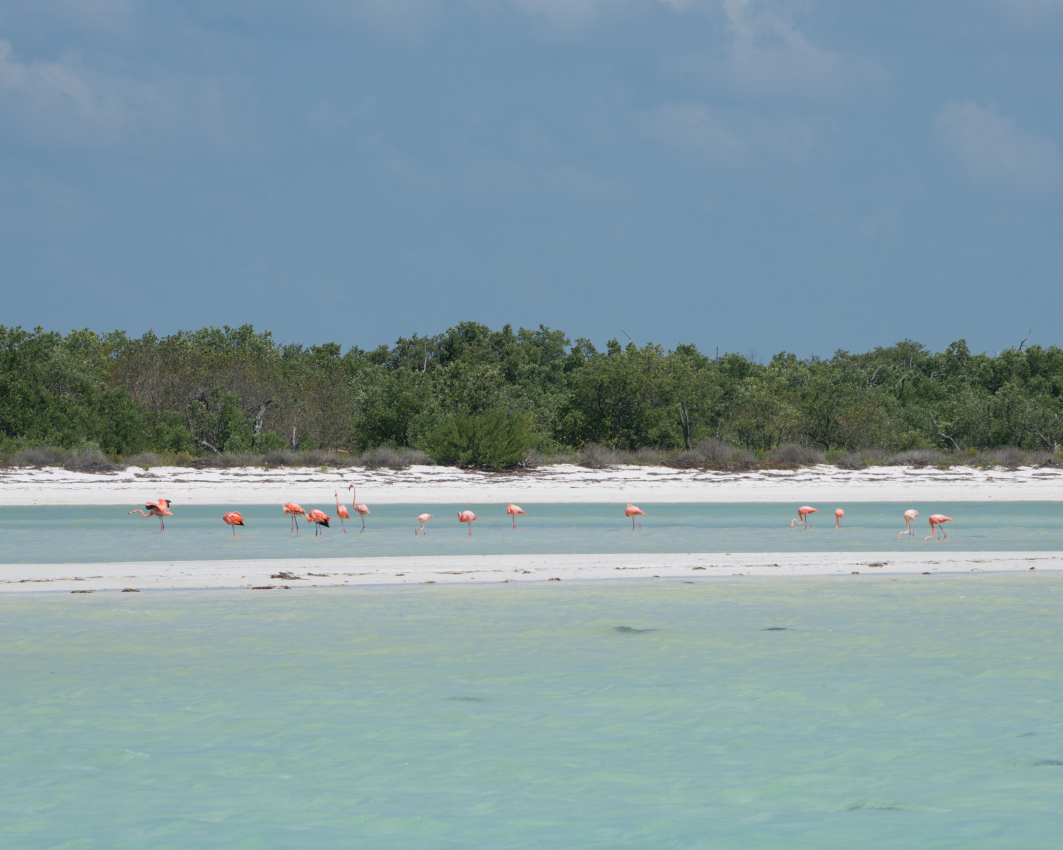 ---
Kiteboard or Kayak
With its amazing beaches and constantly warm and sunny weather, Holbox offers a great variety of water sports, including kiteboarding.
If you want to do something a bit adventurous, sign up for a kiteboarding lesson, which is offered by several companies on the island. A group lesson with Kukulkite costs around $140 and will offer 3 hours of fun in the sun while you learn to ride on top of the waves using a board and kite.
Kayaking is another great and leisure activity that you can do in Holbox. Kayaking allows you to explore the wildlife and mangroves, as well as the beaches and fish surrounding the island.
Tours cost around $45 per person, but if you have some experience you can explore independently by renting a kayak from various hotels and water sports locations on the island.
---
Book a Boat Tour and Experience the Wildlife
Isla Holbox is located within the Yum Balam nature reserve, and as a result, has a diverse population of wildlife! Holbox is home to Flamingos (fun fact, flock of flamingos are called flamboyance!), as well as crocodiles, pelicans, tropical fish, and other fascinating wildlife.
They intermix with people on the island, so you should be able to see some of these wonderful creatures while lounging at the beach or your hotel. However, if you want to ensure a great wildlife experience, you can book a boat tour.
One quick tip – the best time to see flamingos is April through October.
In addition to wildlife spotting, boat tours are also a great option for seeing the sinkhole (see below) and enjoying more remote parts of Holbox and nearby islands.
A typical boat tour (a "three island" half-day trip) ranges from $180-$250. More luxurious options are available which can include sailing, fishing, snorkeling, and lunch.
---
See a Sink Hole
Close to Isla Holbox is an amazing cenote, or sinkhole, with beautiful freshwater nestled in the jungle. There are many legends surrounding Yalahau Cenote, including piracy and buried treasure!
Visit this beautiful site and take a swim in its crystal waters. To reach the Yalahau Cenote you will need to take a boat for approximately 30 minutes. Your best option is to take a boat tour, such as this one.
Interested to see more cenotes in Mexico? There are thousands! Check out my article on the best cenotes in Mexico.
---
Admire Street Art
Holbox is a fun place to see some street art. Many artists create big murals all over the island, which add color and vibrancy to the island. The island is really welcoming of artists, and made a name for itself as an art hub in 2014 with the International Public Art Festival.
What's unique about these works of art is that they were created by artists from all around the world. Make sure to stop and check out these masterpieces, or even plan your own casual mural tour.
Here is a great guide to the murals (also check out "Art Mural Tour 2").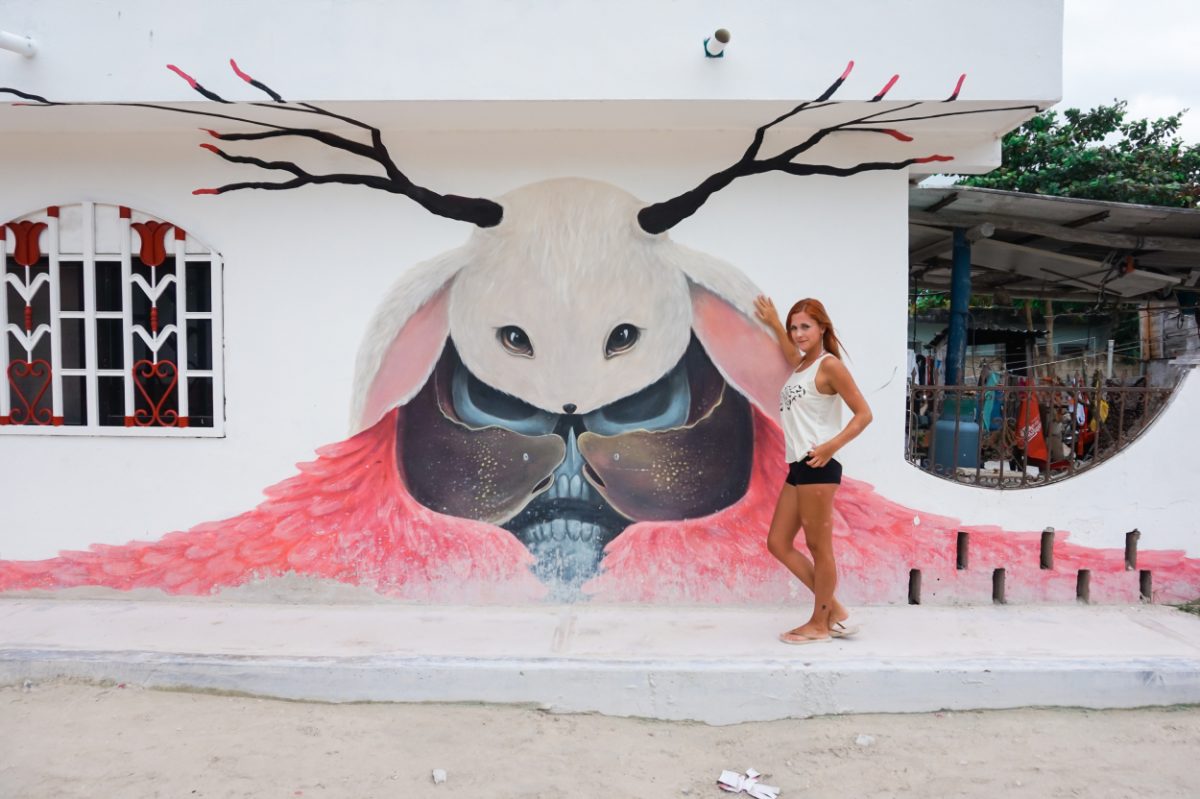 ---
Go Horse Riding
Horse riding is amazing on Holbox as you can basically rent horses are take them wherever you want – to the mangroves, to the beach, even run through the ocean.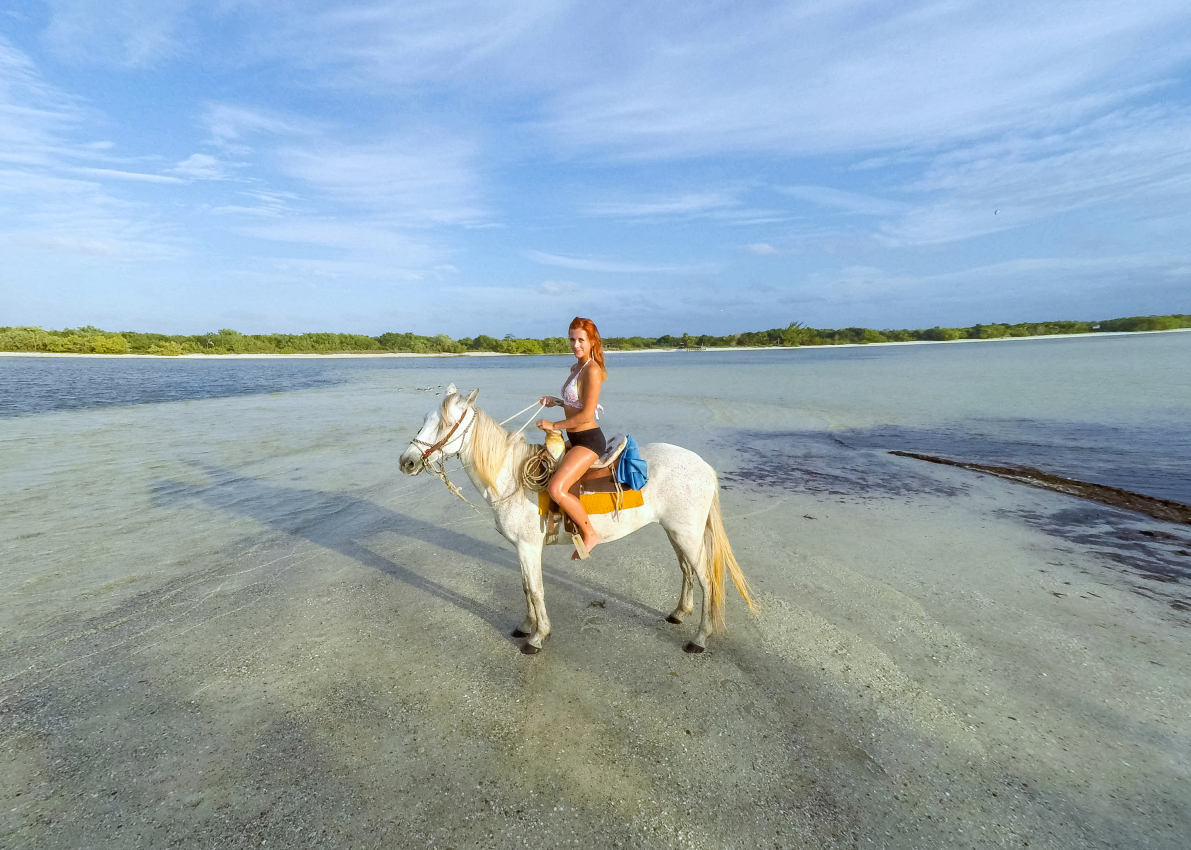 ---
Nightlife on Isla Holbox
While Isla Holbox is not a party place, it has plenty to offer: music, cocktails, markets, and good vibes.
Hot Corner (Av Pedro Joaquin Coldwell) stays open late and offers music, drinks, and food.
Carioca's (around the corner from Luuma) boasts a disco (until 4 AM!) Wednesday- Sunday.
Raices Beach Club and Bar and Tribu Hostel are also good spots for a great night out.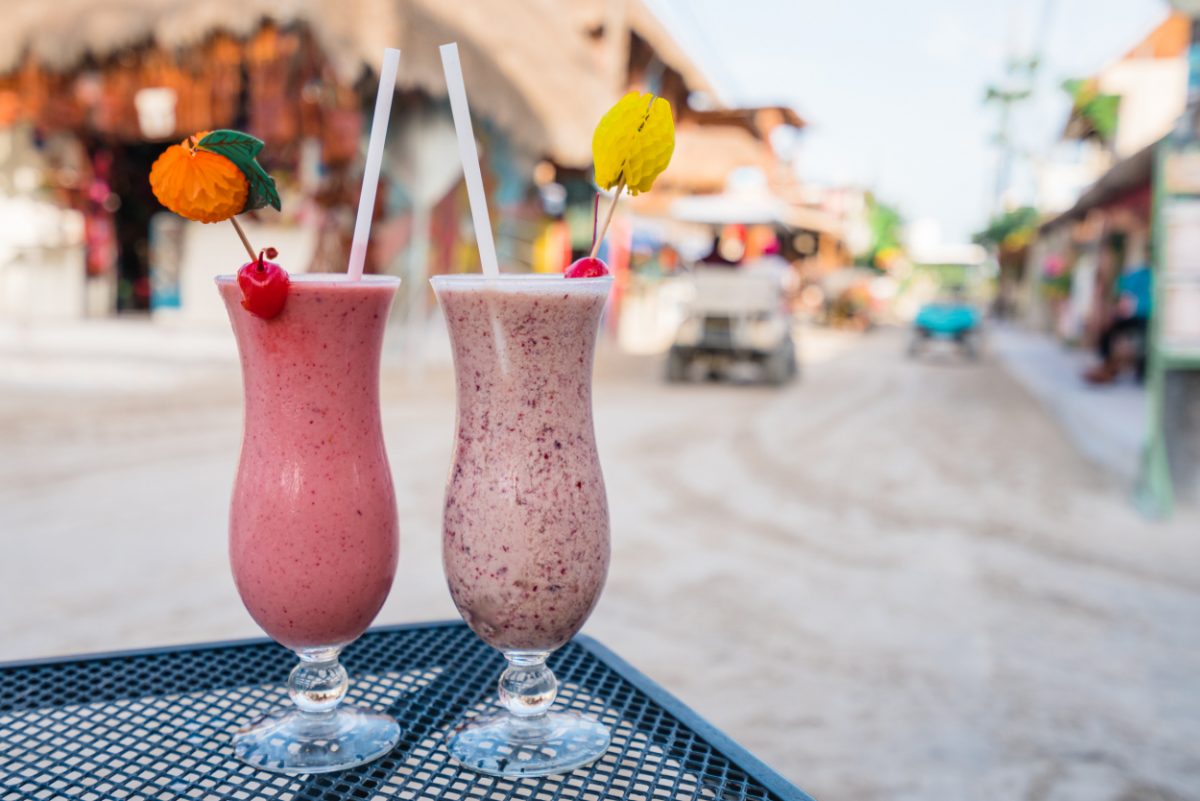 ---
Where to Eat in Isla Holbox
Despite its small size, there are many hotel and food options in Isla Holbox, which range in price and amenities.
Los Peleones (v Benito Juárez S/N, Centro) has a great variety of both food and drinks, at a reasonable price. Make sure to try one of their fresh seafood dishes. Los Peleones is only available for dinner.
Luuma (Av Damero, Centro) is part of Casa Las Tortugas and has a great selection of tapas and cocktails. This restaurant is in a gorgeous setting (within a walled garden), and the menu focuses on local ingredients, including vegetarian options. Luuma is slightly more upscale (for Holbox) and is only open for dinner.
Big Fish (Calle Esmedregal) is a casual eatery offering both lunch and dinner and specializing in seafood. Try their fish tacos or ceviche!
TacoQueto (Av Pedo Joaquin Coldwell near Calle Palomin) is a cheap no frills stop with great tacos. They don't serve alcohol, but you can bring your own. TacoQueto is open late, so it's a good option after a night out.
There are many other wonderful options, including La Isla Del Colibri (great breakfast food), Mandarina (gourmet), and Olivers (American). You really can't go wrong with food in Holbox!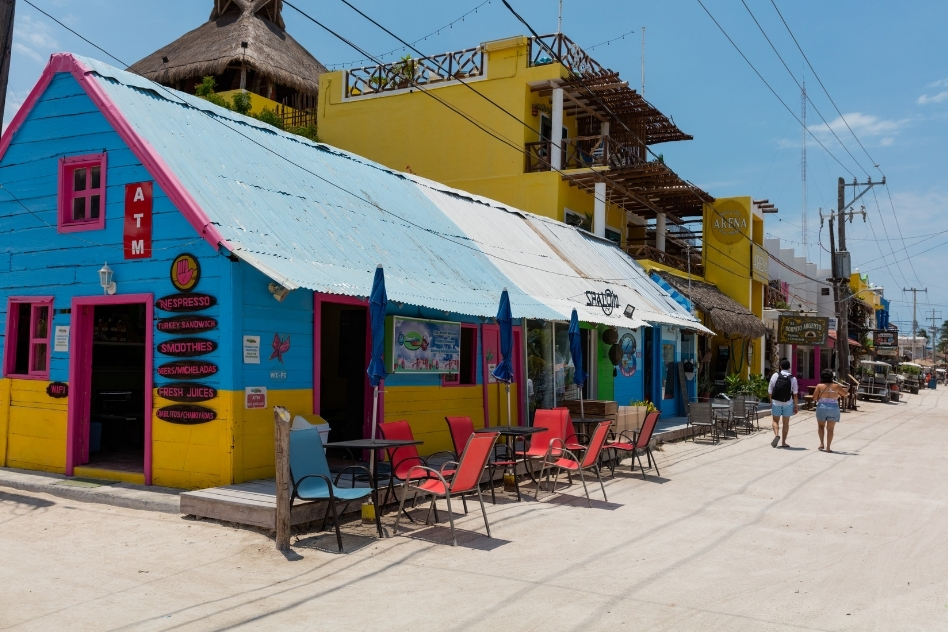 Buen Viaje!
Take the opportunity to visit Isla Holbox before it becomes a tourist destination. This warm, beachy island filled with good food and endless cocktails is the perfect location for a relaxing getaway.
Isla Holbox can be explored inexpensively and largely independently, which adds to the appeal for an economical or experienced traveler. This island is also a hotbed of wildlife, and provides endless options for fun water activities.
So slip off your shoes, grab a drink, and soak up the sun! Have more suggestions for Isla Holbox? Comment below!