The best ride-on suitcase for toddlers is a fun addition to long and boring airport walks. Young children can load it with their own toys and other items and pull it with ease as needed, but at the same time, these suitcases are created to give your toddler a space to sit and be pulled as well.
Are ride on suitcases worth it?
It should come as no surprise that traveling with kids can be chaotic at times, so having an option for them to sit down and literally go with the flow can work out to be quite handy!
Instead of stressing about how you're going to handle the luggage situation and keeping track of your toddler, why not choose from some of the best suitcases for toddlers to sit on instead? Especially with another baby who sits in the stroller it's the best of both worlds!
What age are ride on suitcases suitable for?
Once you start looking at options for suitcases for your toddler to sit and ride on, you're going to find out that there is a plethora to choose from.
I believe most parents assume they're for older kids, because the most popular one – Trunki is suitable for children aged 3+ years and with a maximum weight of 50kg.
However, these days there are many other options and the age range will depend on the abilities of your child. Some kids might be ready for a ride on suitcase at 2, some others might not be ready until closer to 4.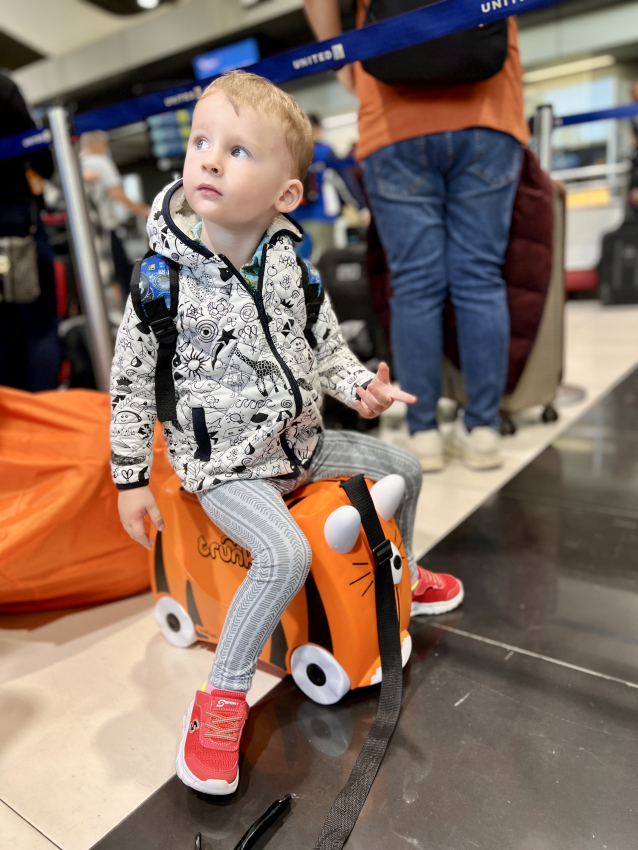 Different Types of Kids Luggage
Kids carry on suitcases come in different shapes and types these days. The best suited for a wide age range are ride-on suitcases and scooter luggage.
Ride-On Suitcase: When toddlers and older children can sit on top and use their legs to scoot along or be pulled by a strap. A specific type of clasp holds the luggage closed but makes it easy for a child it open on its own when needed.
Scooter Luggage: Better suited for older children, kids scooter luggage has a suitcase attachment in the front under the handlebars and allows your child to kick around the airport terminal or sidewalk with minimal effort.
Over the Suitcase Seat: It's luggage that can handle a fold-out seat option as part of the actual suitcase, ideal for toddlers/early walkers.
Best Ride On Suitcases for Toddlers
Discover the perfect suitcase option for your little ones. Pay attention to the size, the weight limit, and the reviews online to make the perfect choice for your toddler and family travel needs.
Trunki is the first thing that comes to mind when you think of a ride on suitcase. It's hard to deny the cuteness and functionality of the Trunki.
It's made to sit on, ride on, carry on and just climb all over, really. It's the perfect size for little bodies and little hands to pack, carry, and rest on easily.
The other layer is durable and bright in color to make it fun and enticing for the kids. It's also perfect for keeping track of easily when traveling.
Lots of cute designs
It comes with a 5-year warranty
Plenty of space inside
Affordable
Personal experience: We got Trunki first, because it's all I knew and saw the most. It was a fine suitcase, but the strap was long and quite often when pulling my toddler he would drift away almost tripping other people walking by – because the wheels are simple and don't turn around. We loved the amount of space inside the Trunki and my son was in love with the design. It was also almost indestructible.
Read my full review of Trunki here.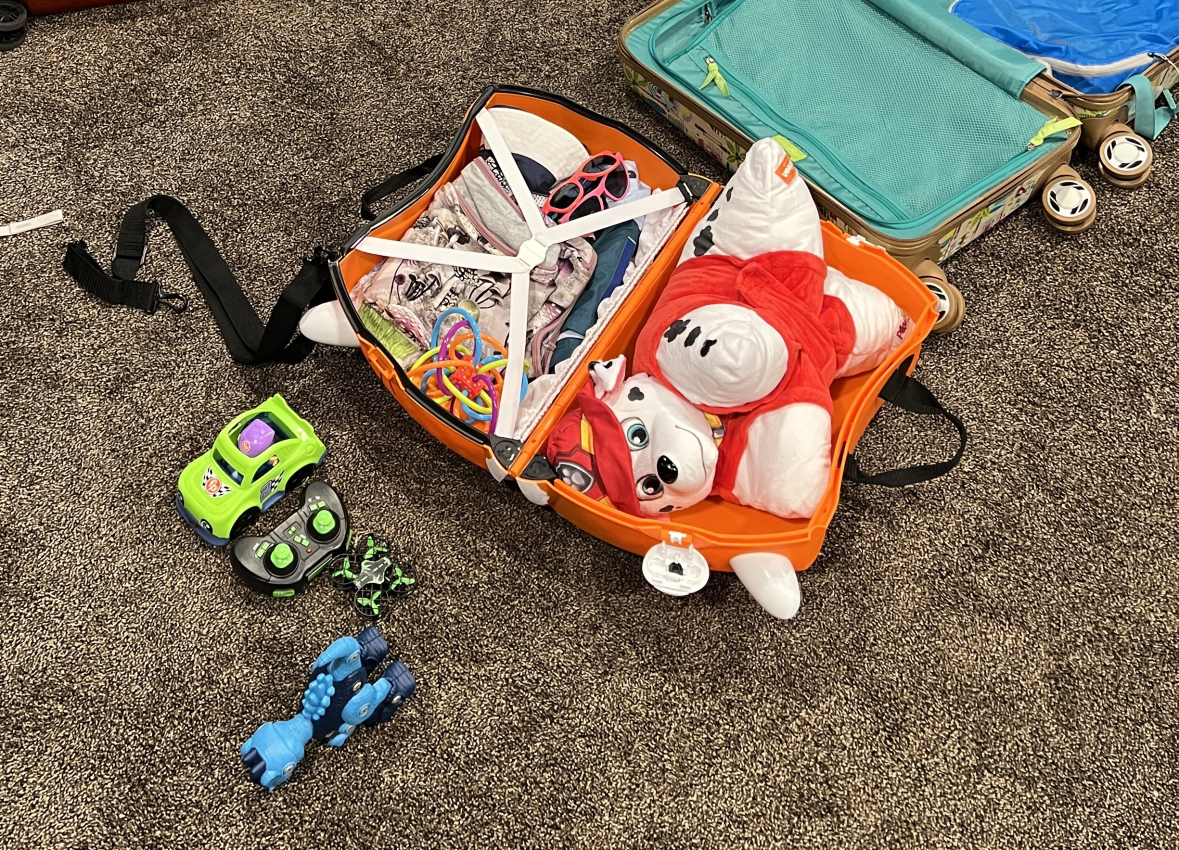 ---
Everything that your tiny traveler could want they'll be able to have with this suitcase to ride on and then turn it into a bed on the plane.
It's big enough to hold all their stuff, but still lightweight and easy to pull.
Even if they just need to use it as a seat, it's perfect! With sky-high reviews and ratings online, parents seem to agree.
The hard outer coating makes it impervious to bumps and gives them room to add their fun stickers on to personalize as well.
Turns into an airplane bed
Turning front wheels
Easy to pack and pull
Personal experience: We got JetKids, because my husband wanted to try an upgraded Trunk and frankly, I have a love-hate relationship with this suitcase. It doesn't have as much space inside as the Trunki, because a lot of the space is taken by the mat that turns into a bed on the plane. The extension does get stuck in something before turning into a bed but never takes more than a minute to fix. What we've loved the most about it is the wheels – they turn 360 degrees so the suitcase rides smoothly and turns perfectly.
Read my full review of JetKids by Stokke here.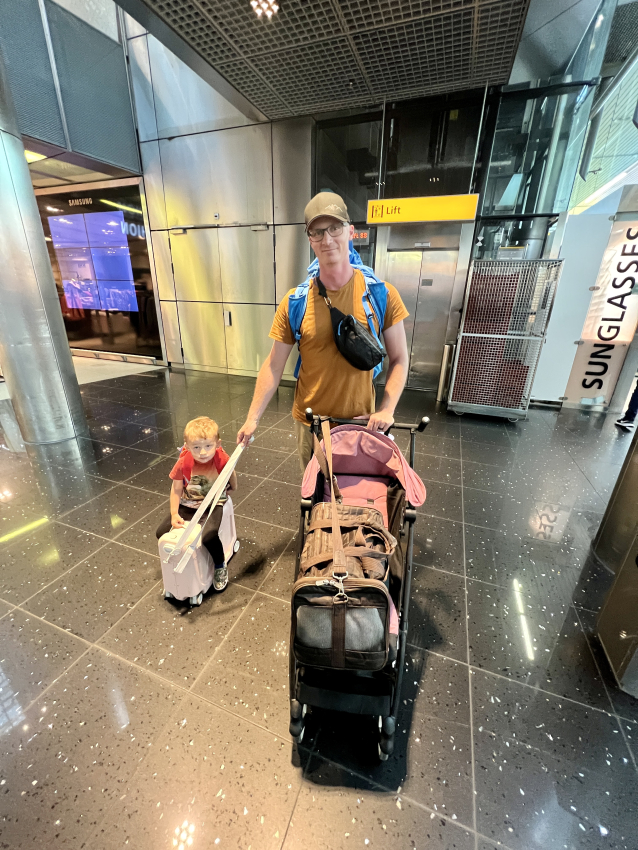 ---
Great ride on suitcase for toddlers from when they can sit well unassisted to age 6, this high-quality suitcase was made to last. You're rolling this suitcase like luggage with a handle vs pulling behind, which lets you keep an eye on the child.
The wheels that are on this suitcase are perfect for spinning and never getting stuck.
There is also a great seat area with leg rests and handles that's great for taking a quick break. With multiple color options to choose from, parents can easily grab multiples and keep them apart for the kids to keep track of. There's even a new model with slightly padded seat!
Stable and durable
The perfect seat space for the kids to sit and rest with a safety belt
Perfect wheels and handle to roll
Personal experience: I honestly have nothing bad to say about this suitcase, apart from the fact that I wish it was more known. It's the best suitcase on the market if you ask me, unless you want an airplane bed – then JetKids is better.
---
Talk about riding in style. Not only is this luggage for kids hard-sided to last, but it's perfect for them to get rid of some excess energy before the flight.
This model has a generous storage compartment on the front and is the perfect size for stowing in an overhead compartment.
It has smooth rolling LED light-up wheels and a tough telescopic handle.
Works for older kids
Lightweight and easy to pull
1-year warranty
Personal experience: We're yet to actually use it properly at airports, because my older son doesn't get the mechanism of the scooter properly and it would take forever to get through the airport. I feel like while some 3 year olds might be very professional riding a scooter you also might not want them to zoom through the airport.
---
Seating Attachments for a Suitcase
A slightly different class of luggage solution again when you're traveling with small kids.
These two are add-on products that you can clip and secure to your existing luggage, which means you won't need to bring an additional suitcase board.
Lulabug seat is easy to store, while Mountain Buggy Rider comes with its own customized carry-on suitcase and can hold a child up to 15kg, so about 2.5-3 years.
Personal experience: It's a great solution when you're traveling solo with a child or two and don't want to bring extra luggage. We're bringing only one travel stroller to most places, so a toddler usually wants to rest after running at the airport – with this seat you can put them on top of the suitcase or even put a baby in it.
These days we replaced it with MiaMily suitcase and use it for the younger sibling. It works fantastic!
Read my full review of MiaMily suitcase here.
---
FAQ about Kids Luggage for Travel
Can you take a ride-on suitcase on a plane?
This all just depends on the type of suitcase that you get. As long as it's small enough like the models I mentioned above, you can take it on the plane as a carry-on.
What is the purpose of having your child pull and take care of their own suitcase?
Teaching your kids at a young age how to keep track of their luggage is a life skill that they'll use forever. It's also super helpful to have their help as you're traveling, especially if your hands are already full.
Toddlers will be much more apt to take care of their own luggage as long as they have luggage that is theirs. Plus, knowing that they have a space that they can sit down on when they're tired makes it way less stressful for them as well.