In November 2019, I traveled on board of Ocean Endeavour of Quark Expedition to Falklands, South Georgia and Antarctic Peninsula. The trip was 20 days long, with one night in Buenos Aires, so basically 18 nights on the ship.
While Quark provides you with pre-departure info, packing list and basic info, but before the trip I had been trying to find more information based on guest experience to know how to prepare myself – and I didn't find much.
This post is NOT sponsored by Quark Expeditions in any way. Both me and my husband paid a full-price for the trip and have no association with Quark. Feel free to ask us any questions about our trip to Antarctica in the comments.
What's It Like to Travel to Antarctica with Quark Expeditions?
Spoiler alert: it's an amazing, once in a lifetime kind of trip!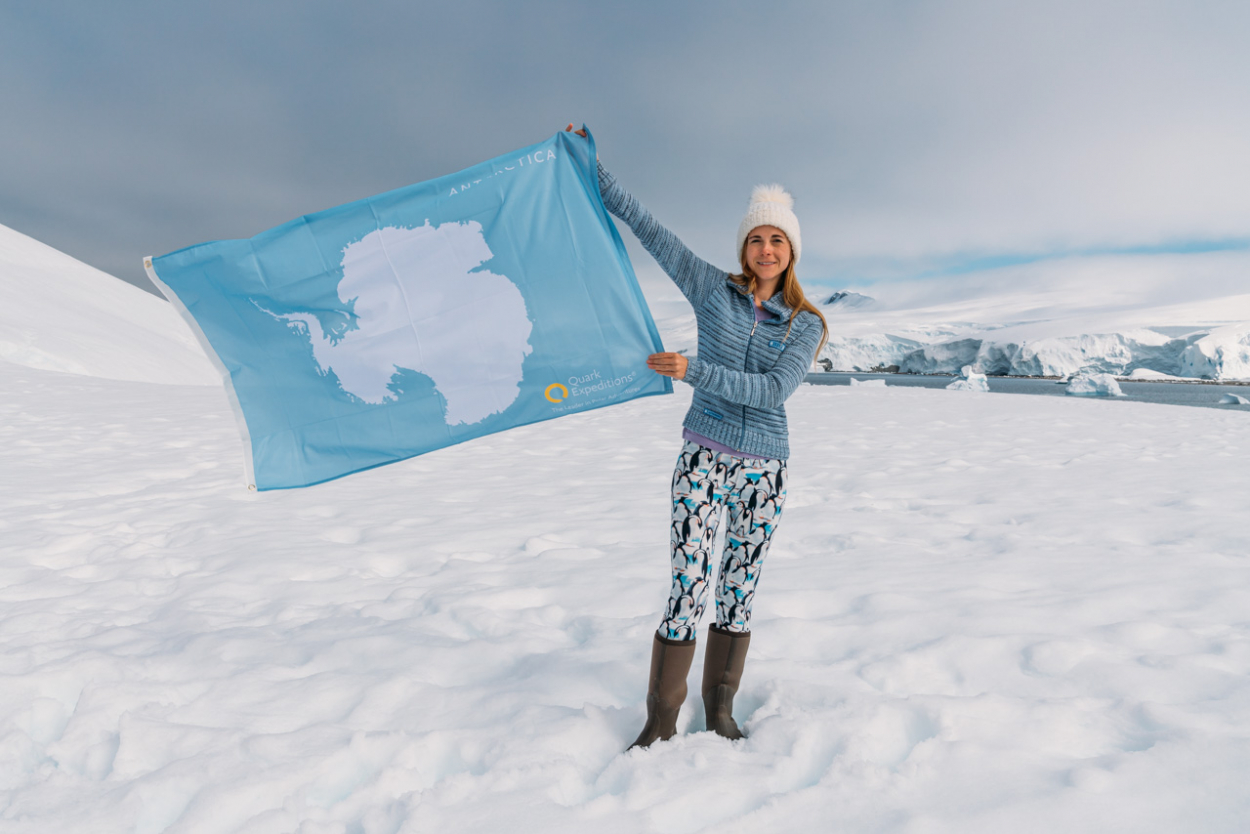 About the Ship – Ocean Endeavour
Before coming on board Quark Expeditions I went on two cruises. One on a big Royal Caribbean ship and one small ship called Fathom by Carnival Cruises.
However, Antarctic ships could really be compared only to maybe those ships that travel on the Baltic Sea to Russia. In fact, "our" ship was actually built in 1982 in Szczecin, Poland for the Soviet Union and used for these overnight voyages from Scandinavia to Russia.
Unlike on big ships I've been before, you can definitely feel the rocking motion of the ship all the time on the open waters on the way to Antarctica. Nonetheless, it isn't so bad when it comes to rocking.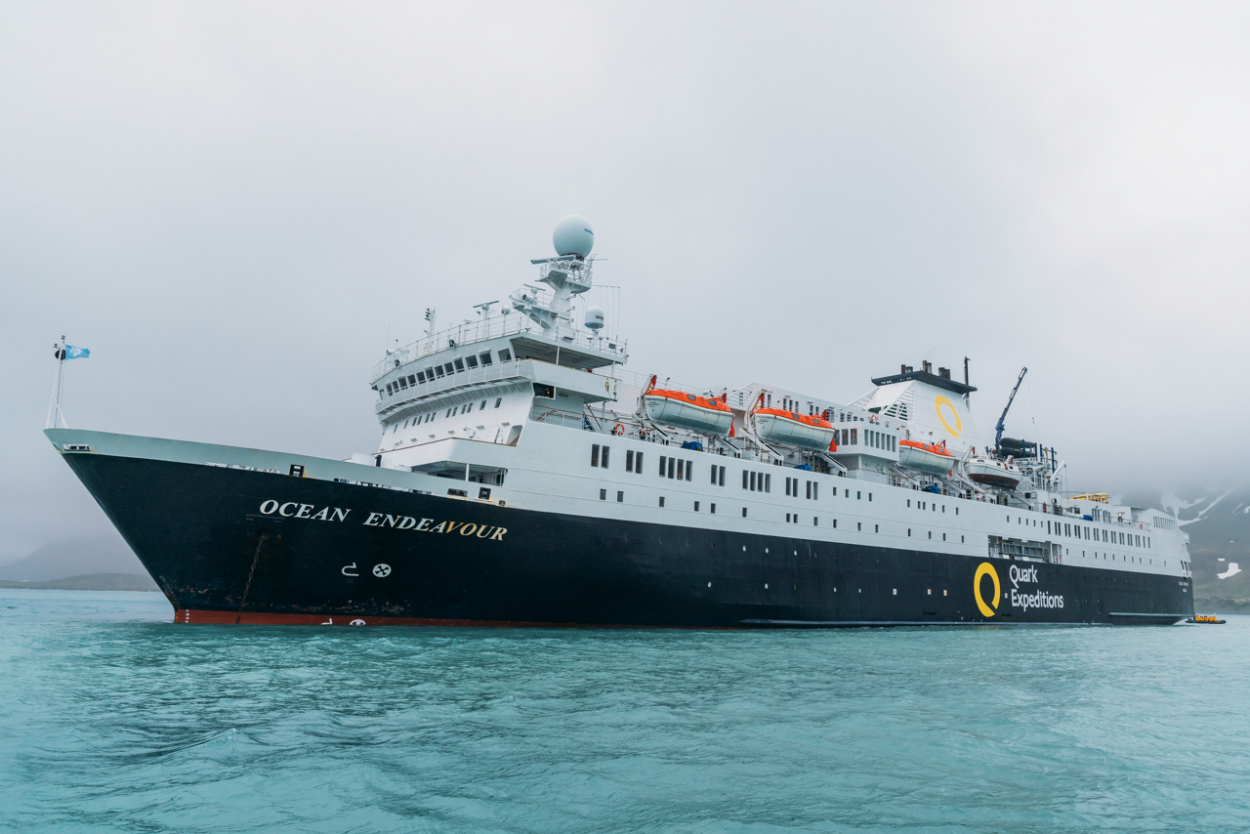 Ocean Endeavour was a relatively small ship, so at first glance, you might think you'll be bored, but the staff really provides you with a bunch of activities to keep you occupied (more on this later).
Sure, you won't find a nightclub or big swimming pool with slides onboard, but there's a small gym, spa (extra cost), and two cafes on board.
* Note: Quark is actually retiring Ocean Endeavour after 2019/2020 season (another company is buying it) and replacing it with World Explorer ship. It's a larger ship that feels more 'cruise-like' than expedition ship, with more luxurious cabins.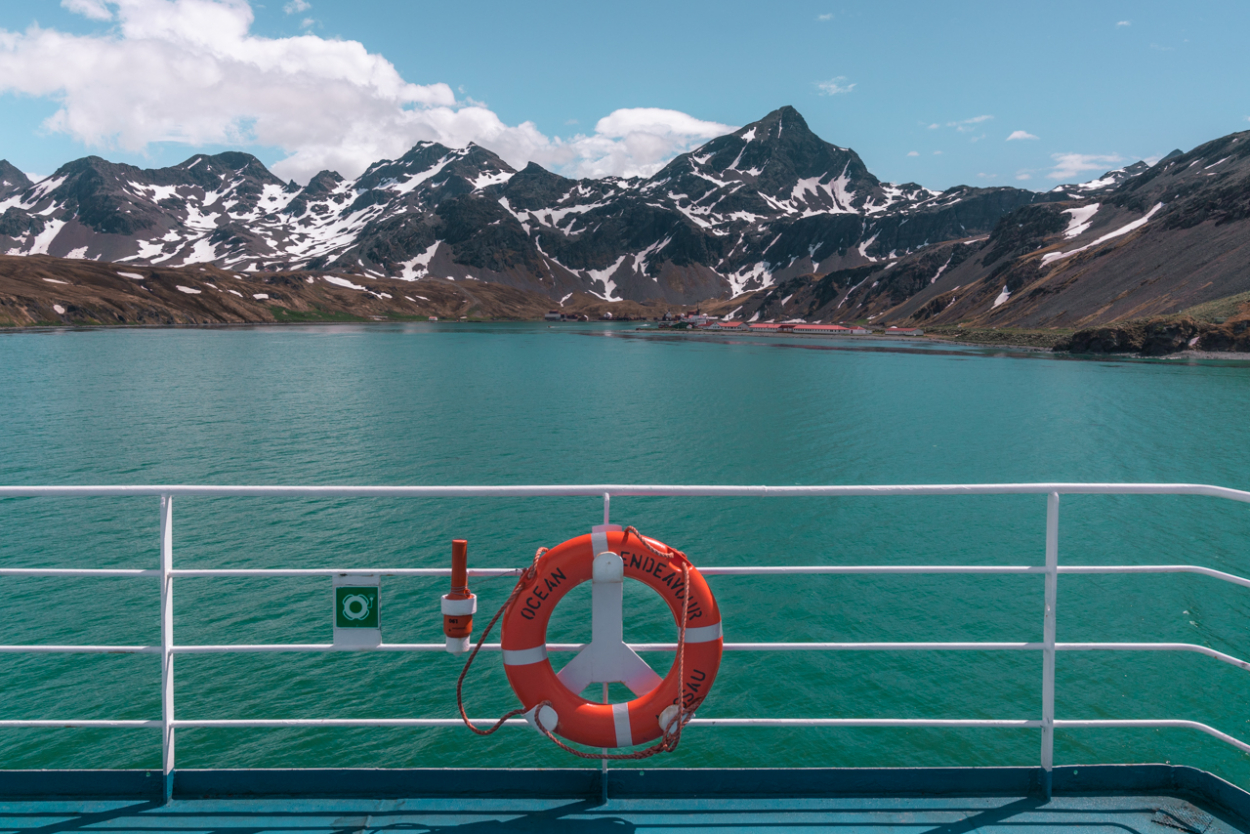 ---
How Much Does It Cost to Go to Antarctica?
You might want to know how much money do you need to go on a trip to Antarctica and how to score the best deal. There are actually a few tricks, so I decided to write a dedicated post about it.
But, be prepared that the lowest you could pay for a very basic Antarctica trip is $5000 and for trips stopping in South Georgia like mine $10,000.
That doesn't include cabins with portholes or windows, extra activities, internet, flights and other extras.
One Advice: if you heard that someone tells you they scored 50% off during the last-minute flash sale, ask them how much exactly did they pay. Many people think they scored a deal while in reality, they paid the same as others or more.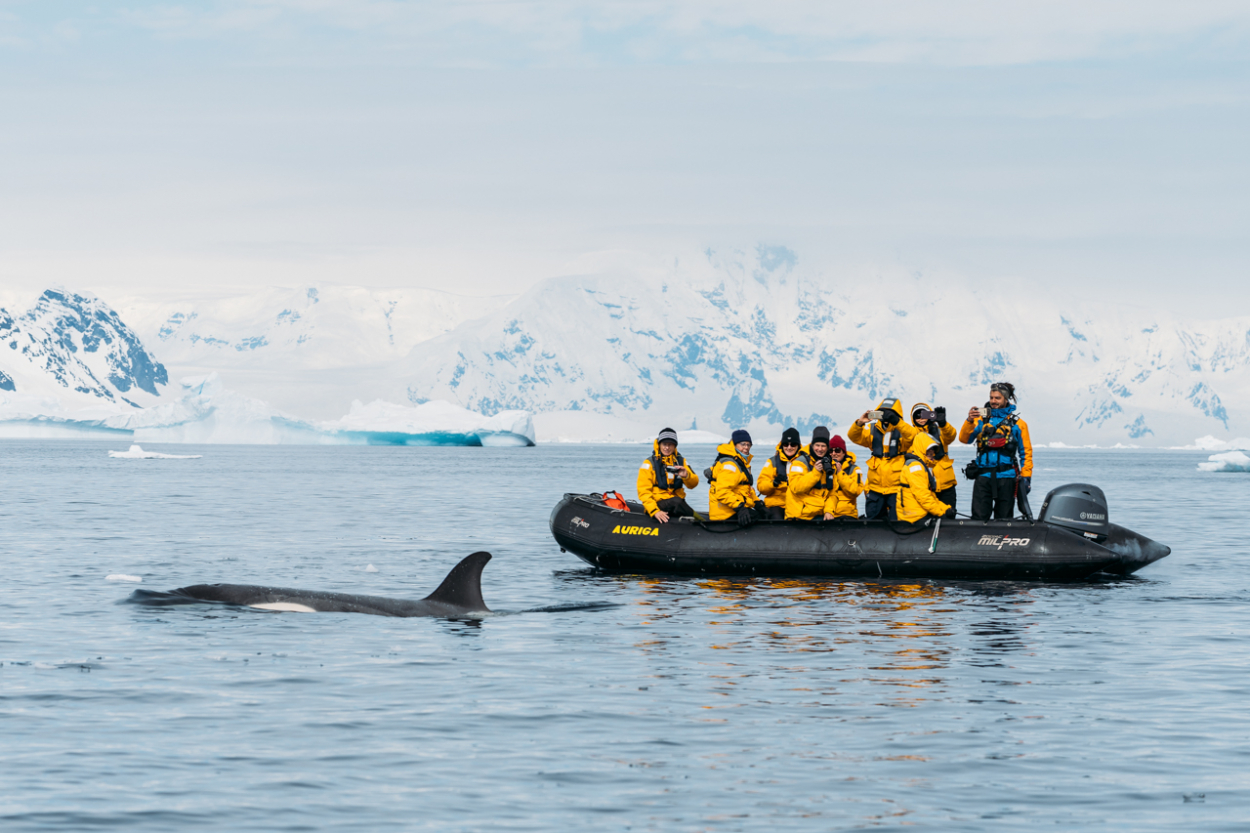 ---
Cabins
Everywhere I read that cabins on Ocean Endeavour were dated and small. While I'd agree with the first statement, they weren't tiny. They were way bigger than my rooms in London when I used to live there.
And, truth to be told, we had one of the smallest rooms on the ship. My husband and I had a twin porthole with bunk beds on Deck 4.
We had space to put our luggage, keep clothes in a dresser and wardrobe, and felt like we had some space to move around. It wasn't a luxurious cabin, but wasn't as small as many Tripadvisor posts tend to describe it.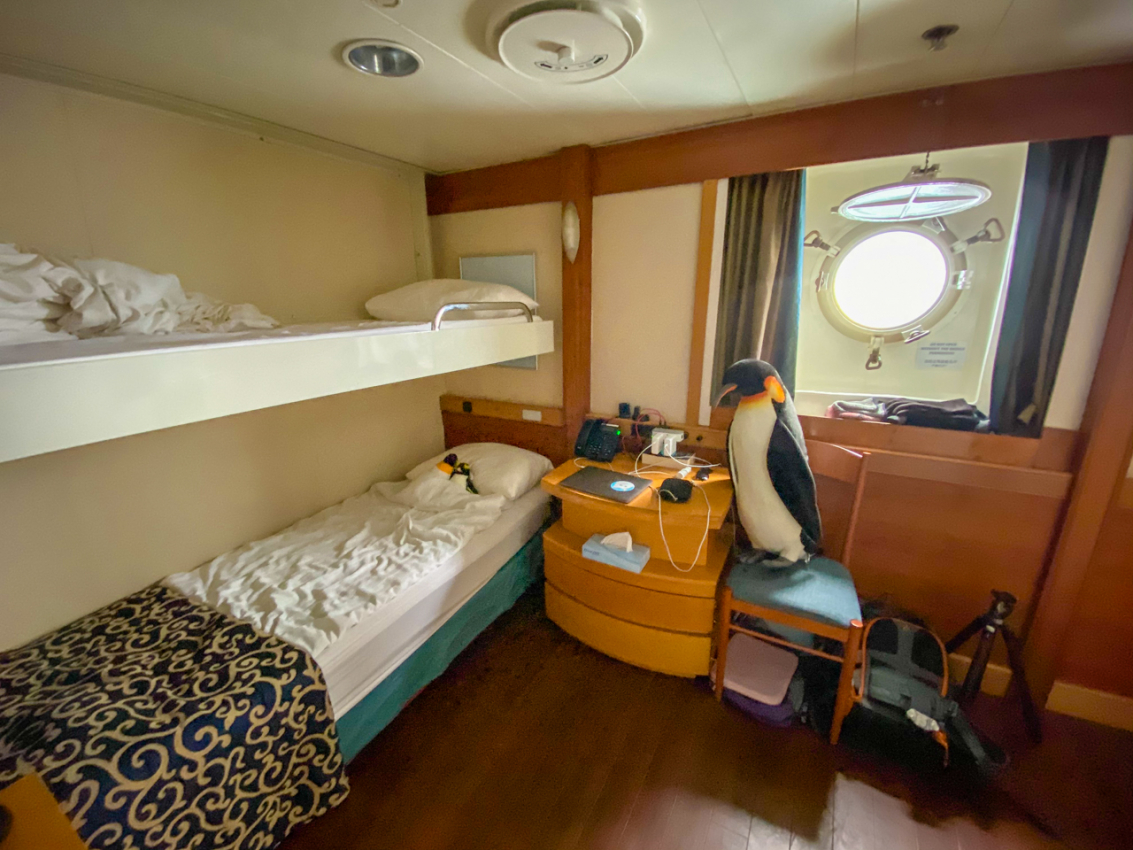 ---
Passengers on Board
You never know who you'll meet on board of your ship and whether you'll get along with the group or not. Our ship had 199 guests, 115 crew and 30 Quark staff members.
Most guests were definitely over 50 years old. There were two arranged groups traveling together – Chinese & Israeli that filled half of the ship, but everyone else signed up on their own. Couples, small groups of friends and various solo travelers.
In the past, some cruises were also French-oriented, but we only had a few French guests on board. As there were two groups a lot of guests didn't speak much English, so all the announcements were also made in Chinese.
As our cruise didn't sell out until the very last minute (find out how to score a cheaper trip to Antarctica), there were a lot of people who were friends and family of the expedition crew.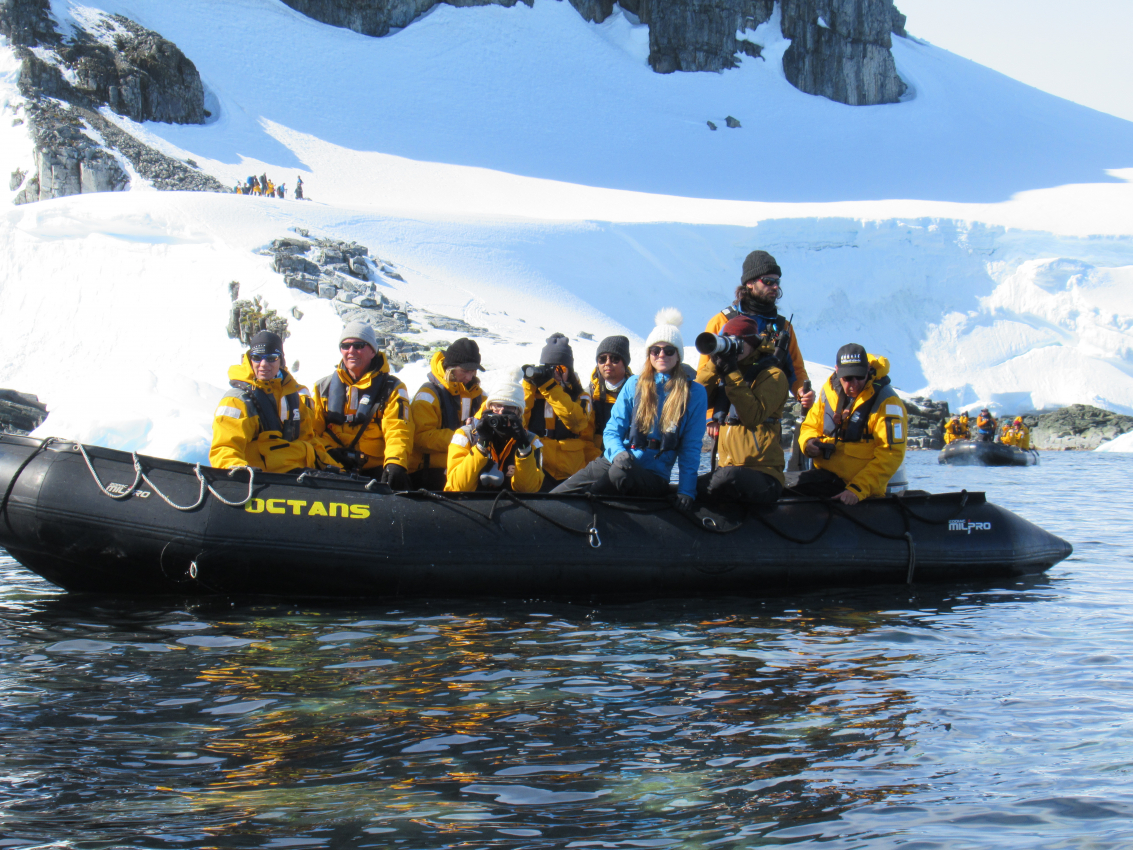 Everyone was encouraged to sit together and mingle at meals, so we quickly found a group of people we became friends with.
All guests were divided into 4 disembarkation groups to keep the mudroom (the place where you leave your parka and boots and get dressed before hopping on a zodiac) not full of people and smooth the process.
The staff specifically asked everyone to wait until their group is called to go into the mudroom, but half of the Chinese guests were already there before anyone got called. It really took a good few days to get things in order.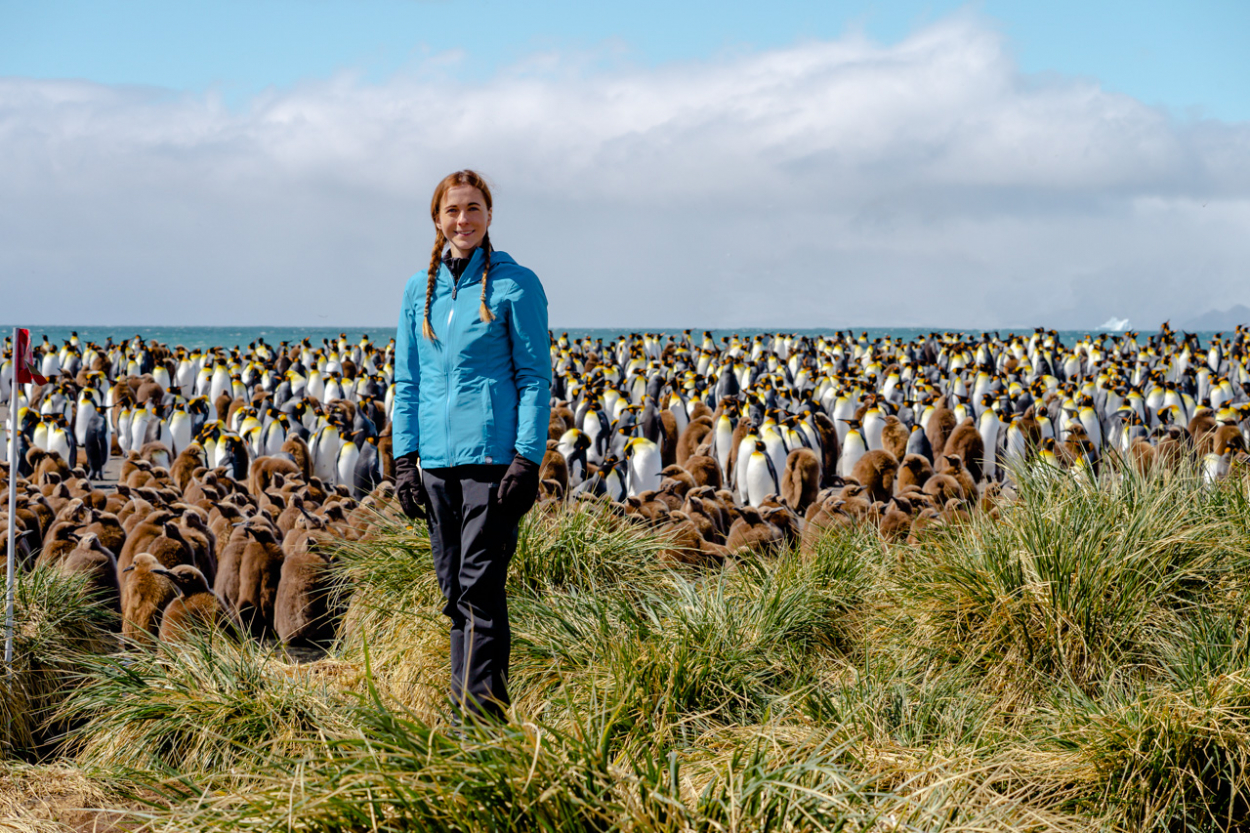 ---
Food on Board
Food on board of Quark Expeditions was honestly great. Breakfast and lunch were served in a buffet form, while dinner was a la carte menu. In from of the dining hall they also had a showcase of how your dinner dish would look like.
The menu changed every day. Usually, there was one meat-based dish, one fish dish and one vegetarian option to choose from. Alternatively, if you didn't like any of the options you could ask for pasta, burger or something from the menu cooked the way you want it.
I think all the guests were quite impressed by the variety of choices considering that the ship had to store the food for 19 days! We still had fresh salad until the end of the trip.
Soft drinks, beers and wine for dinner was included, but you could also purchase hard liquors at any time for a reasonable price.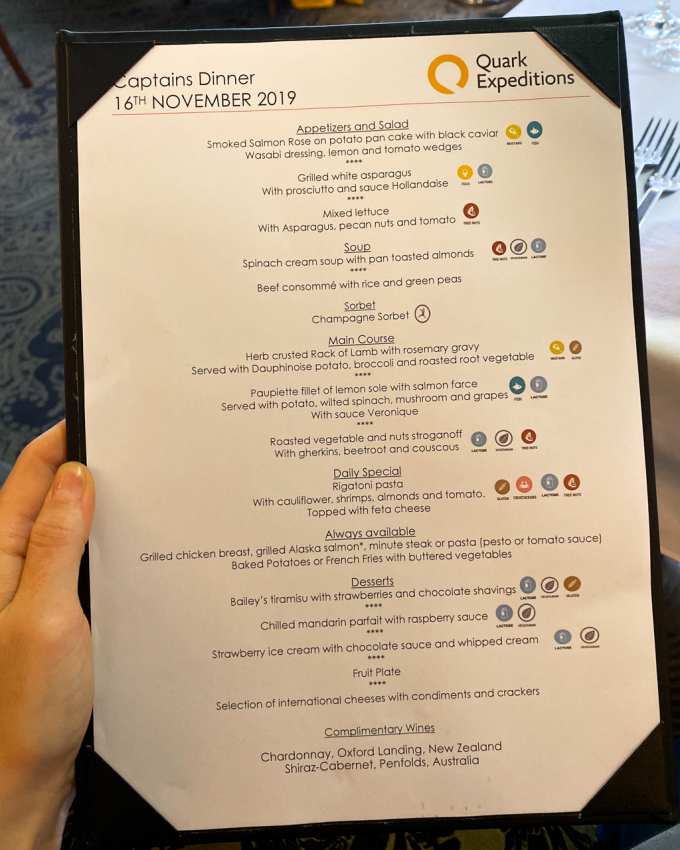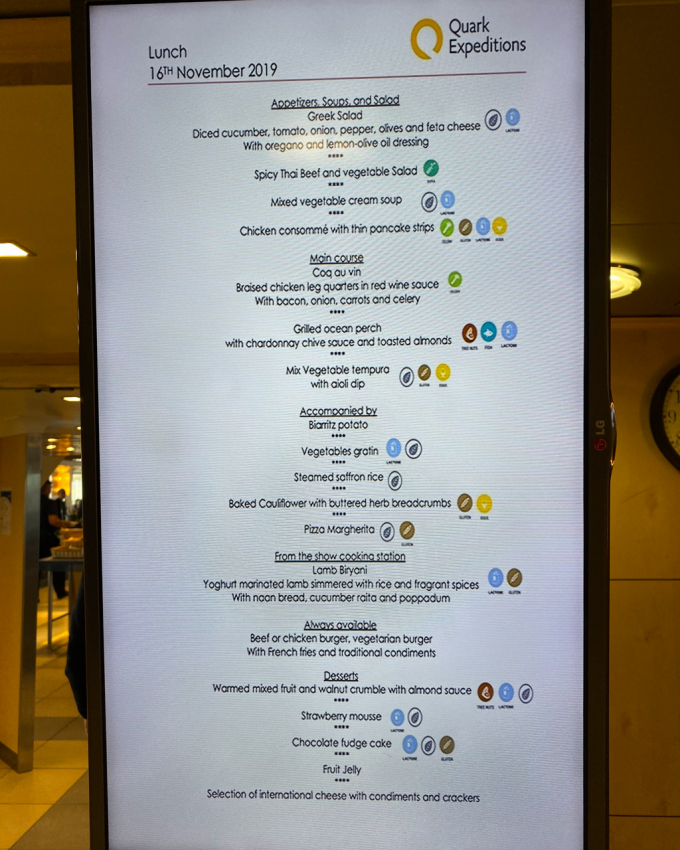 ---
Internet
I came on board with a perception that I'll be disconnected from the world for the duration of the trip. Based on what my friends who have been on trip to Antarctica have told me and what I was able to find online, there was no internet on the ship.
However, it turned out that Quark Expedition provides internet on board! There are actually two options:
1) "chat" – It's totally free and you'll be able to send WhatsApp messages back and forth using it. You won't be able to send or receive photos though. Quark claims this option is also good for Facebook Messenger App, but I can tell you it's only working for WhatsApp.
2) "guest Wifi" – Costs $75 for 10 days or $100 for 30 days, and allows you to browse, send and receive photos, short videos and check emails.
Regardless of the connection you choose, wifi is obviously not fast and you won't be able to catch up on Netflix. It's just enough to load your email on apps, use facebook chat, send and post some photos and do some VERY basic browsing.
There are days that wifi simply doesn't work though, so keep this in mind.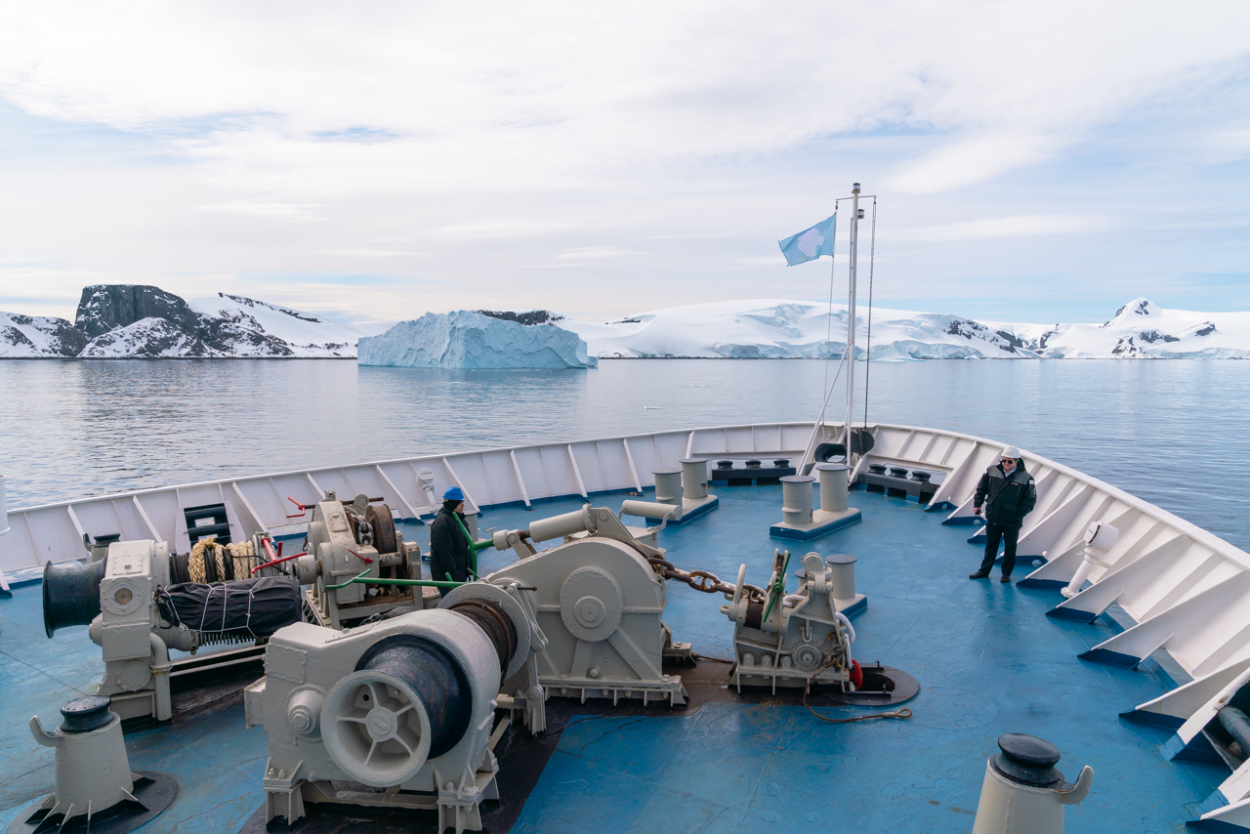 You can also purchase a phone card for $20. If you're calling the US landline, it's enough for about 50-60 min of talking.
---
What to Pack for Antarctica
We were told countless times that due to luggage limits on a charter flight from Buenos Aires to Ushuaia we could only bring 23kg checked bag and 8kg carry on, no exceptions.
This turned out to be only partially true because in reality, most Chinese guests had more or less 4 carry-ons definitely over 20 kg each. Nobody said a word about that and they only weighted a suitcase of one guy, told him it's overweight and still let him pass.
Another information that was spreading online that turned out not to be true was that you cannot wear your own clothes for landings and you must wear the gear provided by Quark – yellow parka and rubber boots.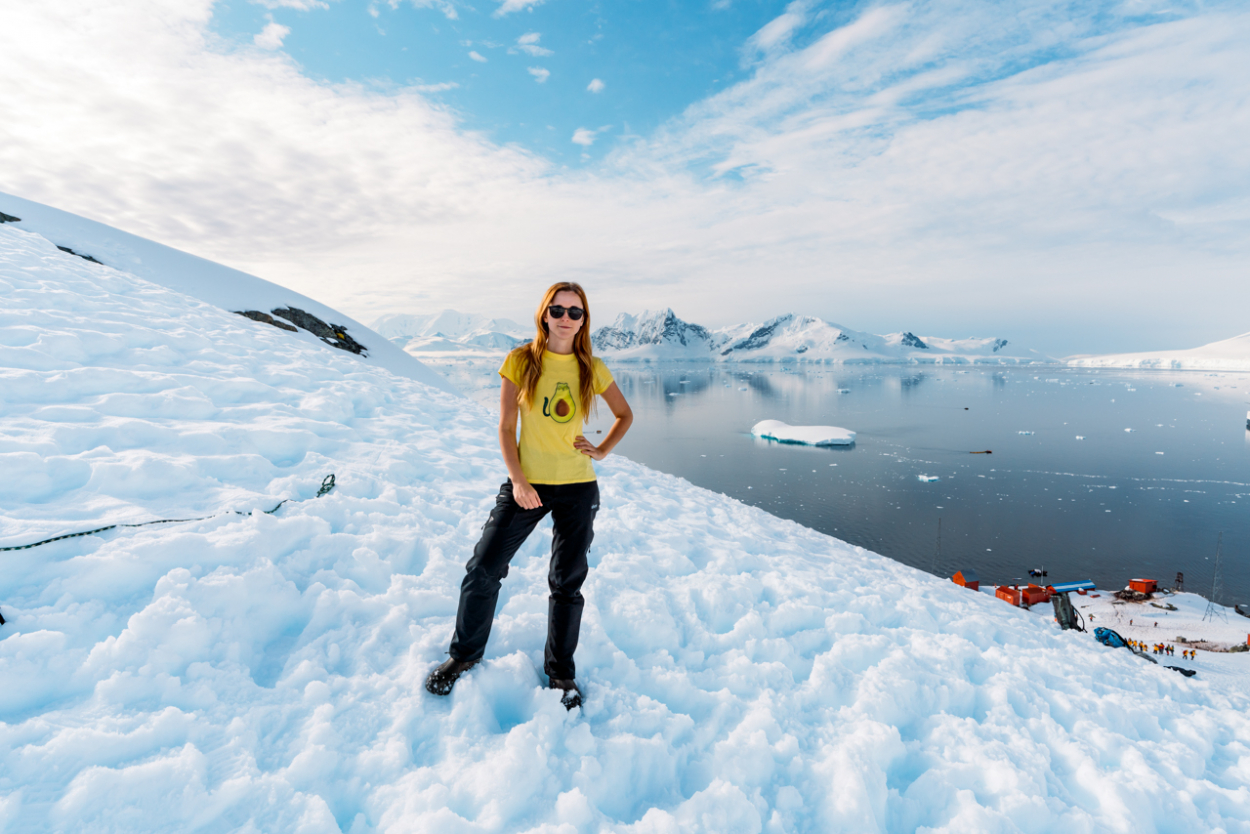 The boots were compulsory, but the use of parka was really up to you. Many guests opted for their own jackets, myself included. As long as you had your boots, waterproof pants and waterproof jacket on you were good to go on a zodiac.
Waterproofness of your clothes is important because you always get splashed on a zodiac (sometimes all over your head as well!) and you need to disembark into the water.
There's laundry on board for $29.99 per load (you can stuff a big bag), not per item. It's usually done in less than a day.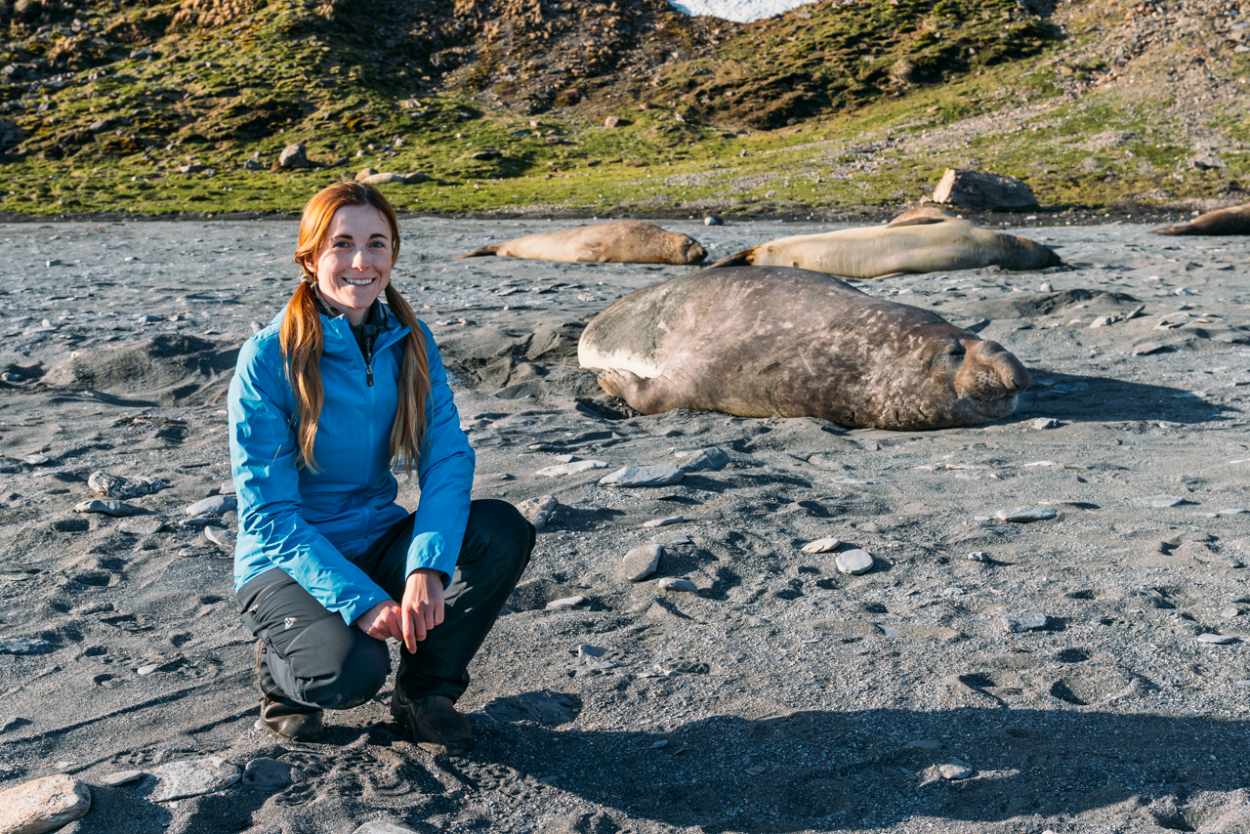 ---
Traveling to Antarctica with Quark Expeditions
Ushuaia
Our trip actually started at the Intercontinental Hotel in Buenos Aires, as we opted for a package with a charter flight to Ushuaia.
We were told we can get some last-minute shopping done in Ushuaia during our 2h free time, but most shops are closed between 1 pm and 4 pm, which is exactly when we were there.
We found one outdoor store and one souvenir store to be opened in Ushuaia, but spent our time wandering around town.
That said, maybe don't leave your last minute shopping for Ushuaia. In the worst case, they sell jackets, waterproof pants, basic gear and souvenirs on the ship.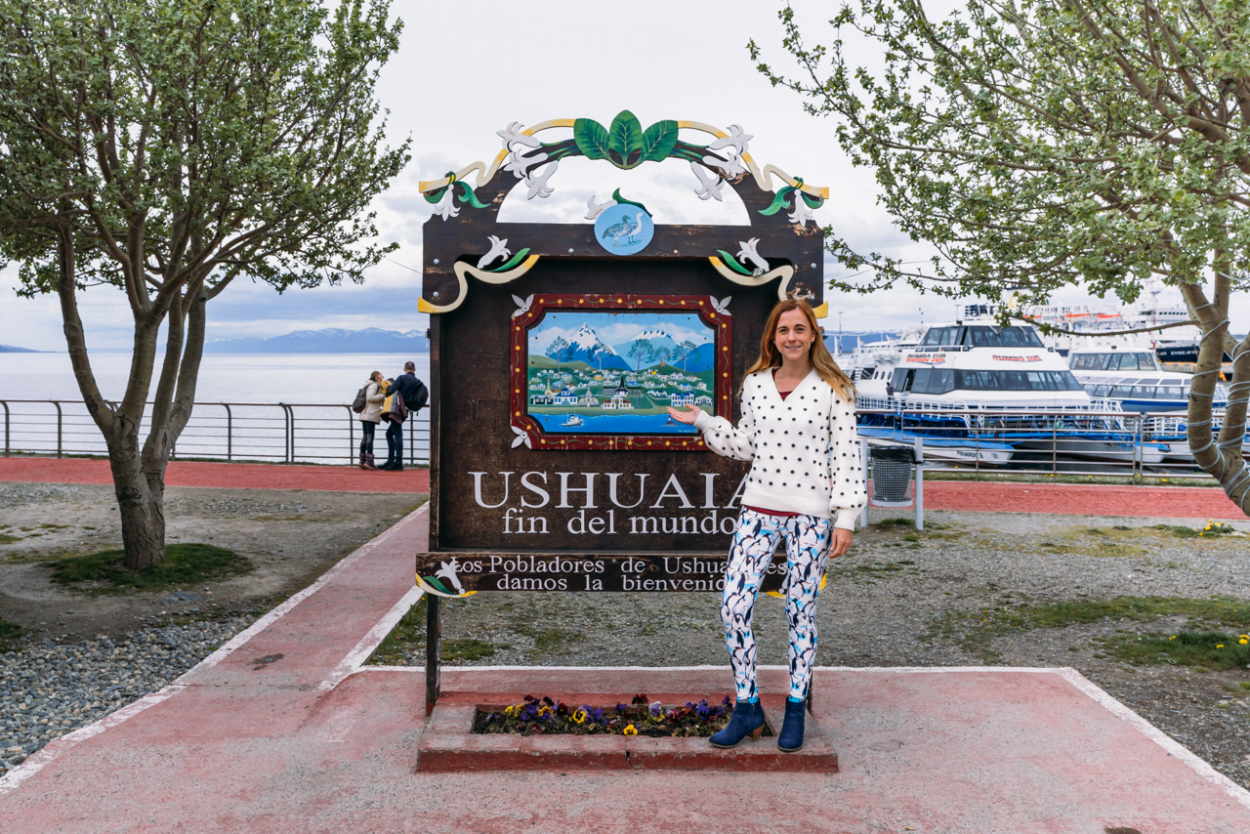 ---
Falkland Islands
After embarkation and a full day at sea, we reached the Falklands. Truth to be told, we had 3 landings in the Falkland Islands with the first two being slightly different from the rest of the trip.
Unlike in South Georgia and Antarctica, Falkland Islands don't limit the number of passengers allowed on the ground at the same, which meant all of us could be there at the same time. Which was a horrible idea if you ask me.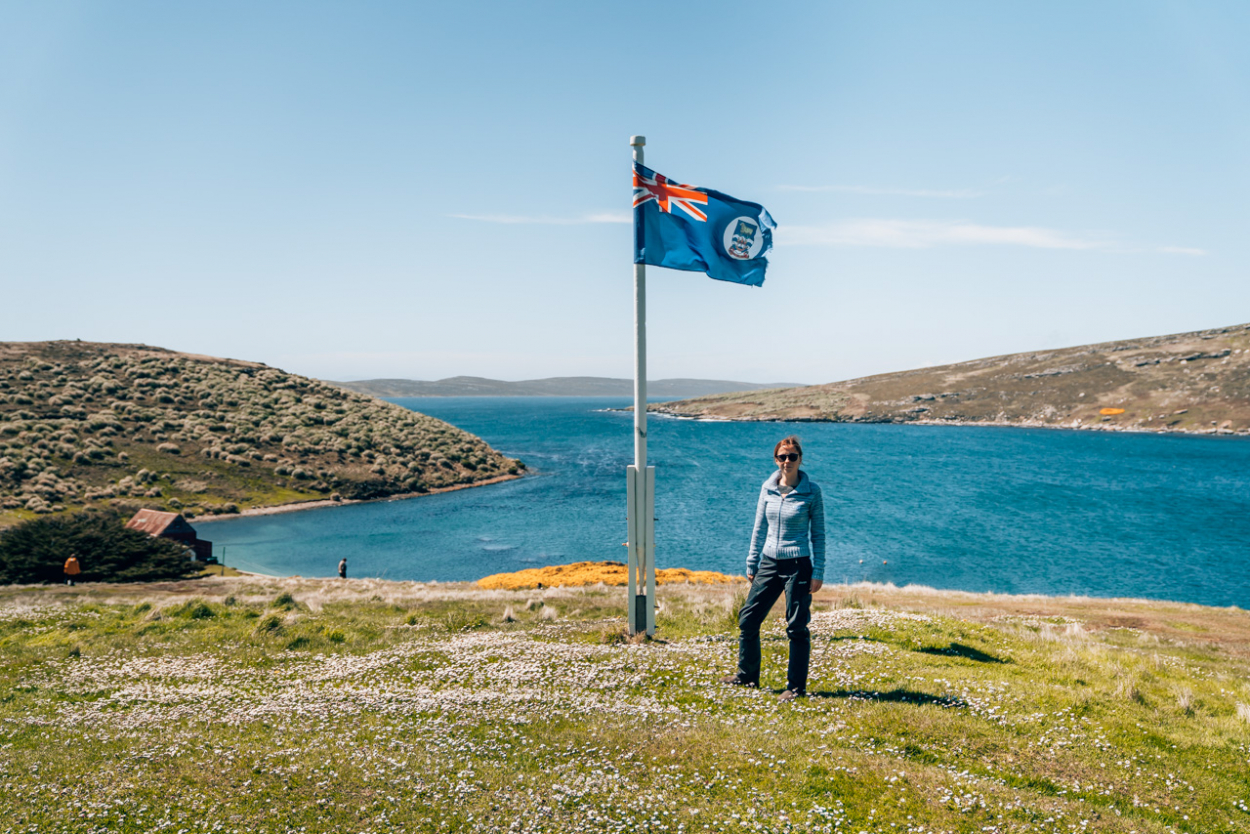 West Point Island was our first stop and a hike. Everyone was given the option of doing a bigger hike to Mount Ararat, before going to see a big colony of Rockhopper Penguins and Albatrosses and those people were put on zodiacs first.
Unfortunately, by the time I climbed the first hill I got an unexplainable ear pain and opted not to continue higher to Mount Ararat, what turned out to be a blessing.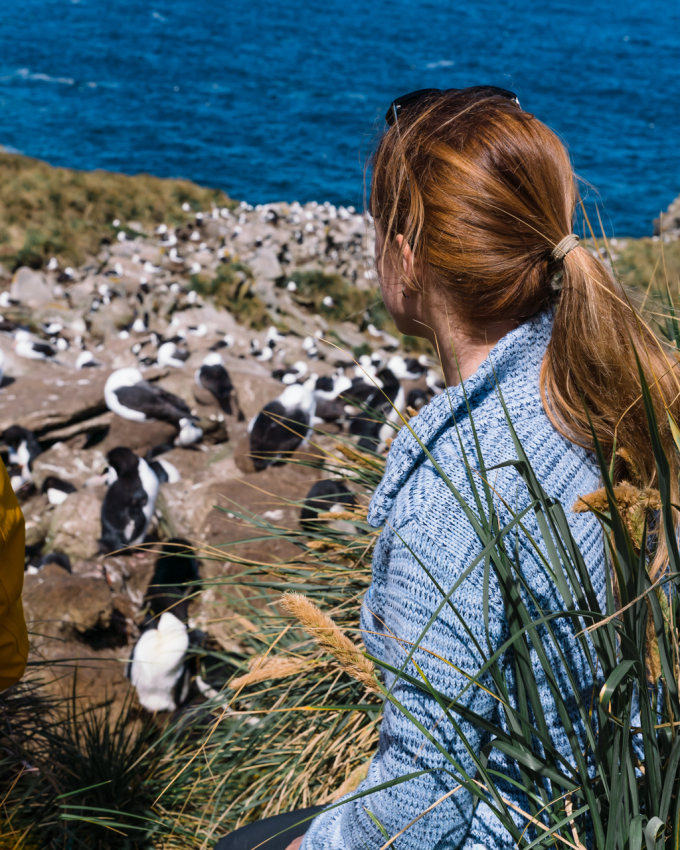 I went to see the colony of wildlife straight away and got to see them in peace with about 10 other people. It was really the only enjoyable time at the colony.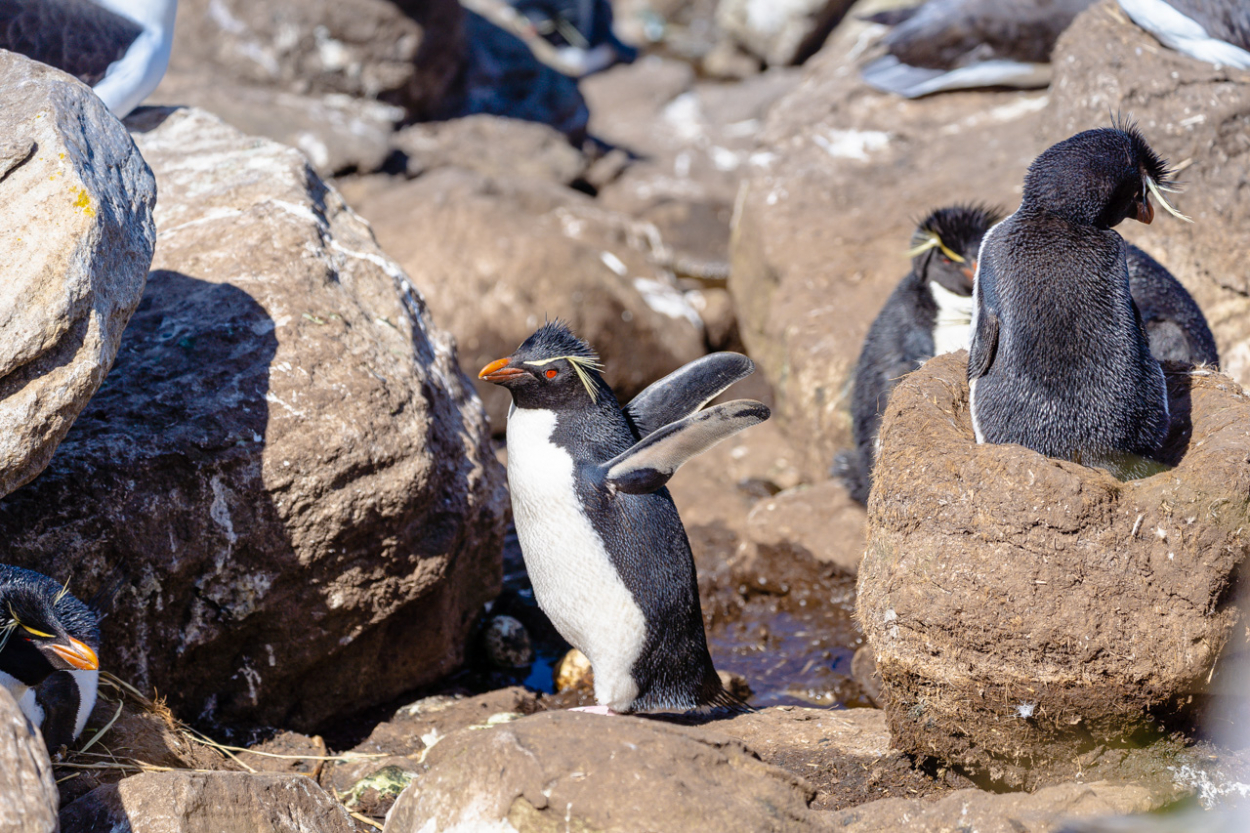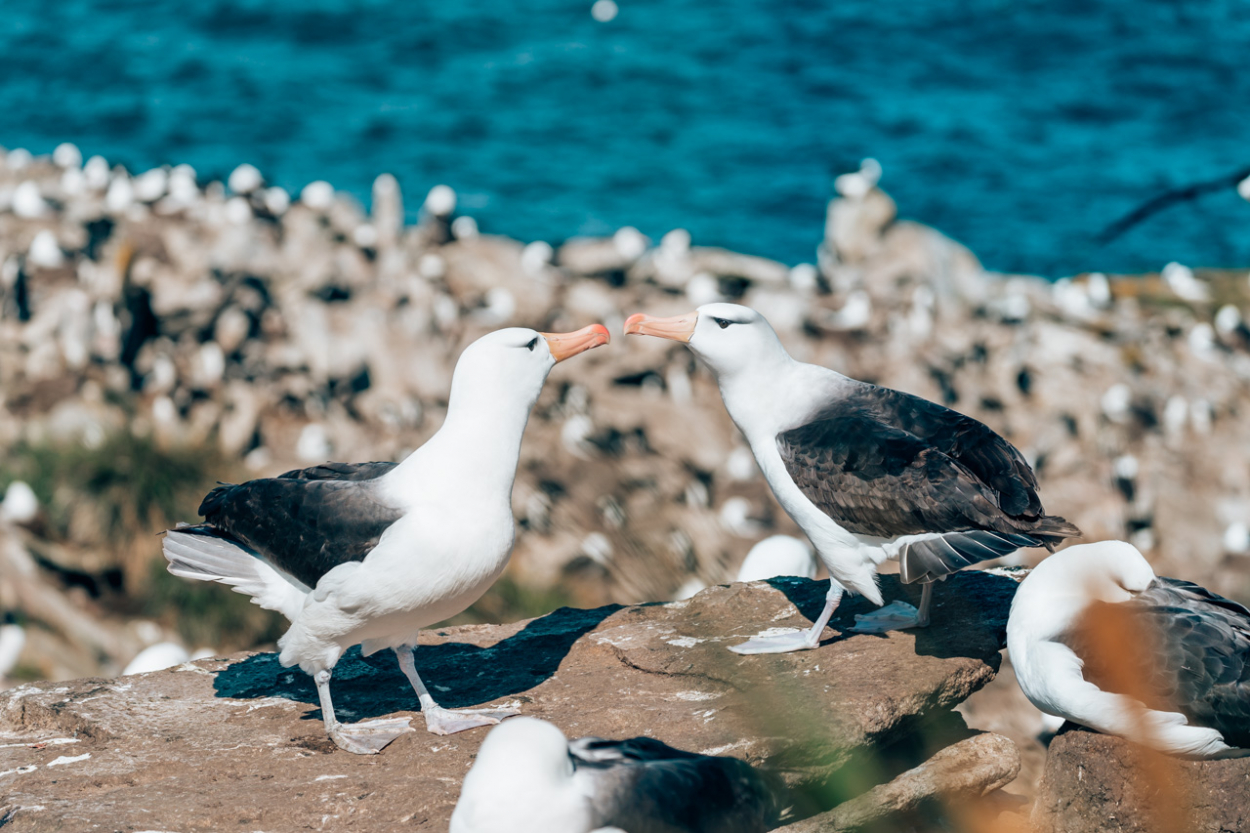 By the time everyone finished the hike the rest of 199 people arrived, turning the bird colony into a madhouse.
As you had to go through mud and tall grass to get there, it was overcrowded and way too many people didn't listen to given instructions. Some refused to move with their tripods and giant backpacks blocking the way and view. One person even fell into the penguins…
While the staff was there to keep people from breaking the rules, they couldn't handle everyone at once.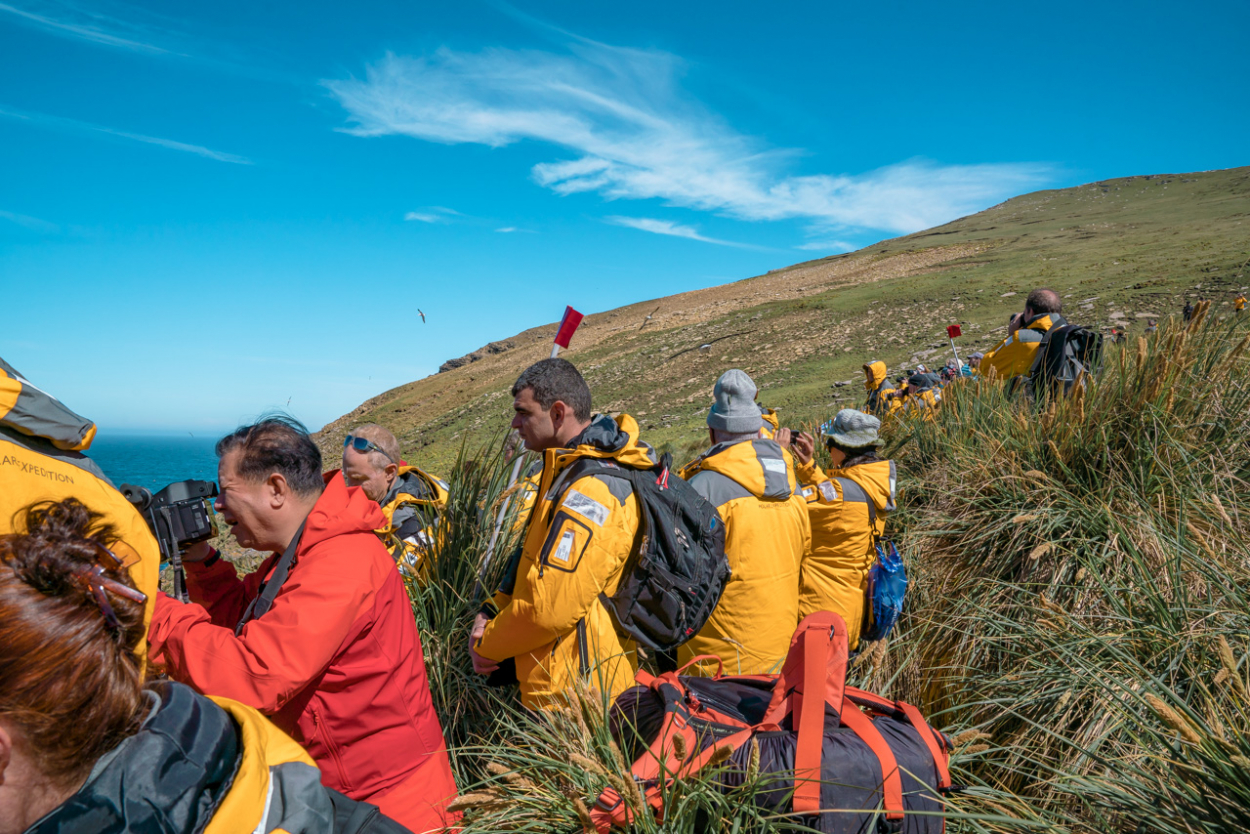 ---
Next stop was Saunders Island with beaches full of Rockhopper Penguins, Magellanic Penguins and some King Penguins with chicks. Plus, giant Albatrosses flying around and nesting.
The landing was smoother and we had more space to walk around, so no one was in anyone's way.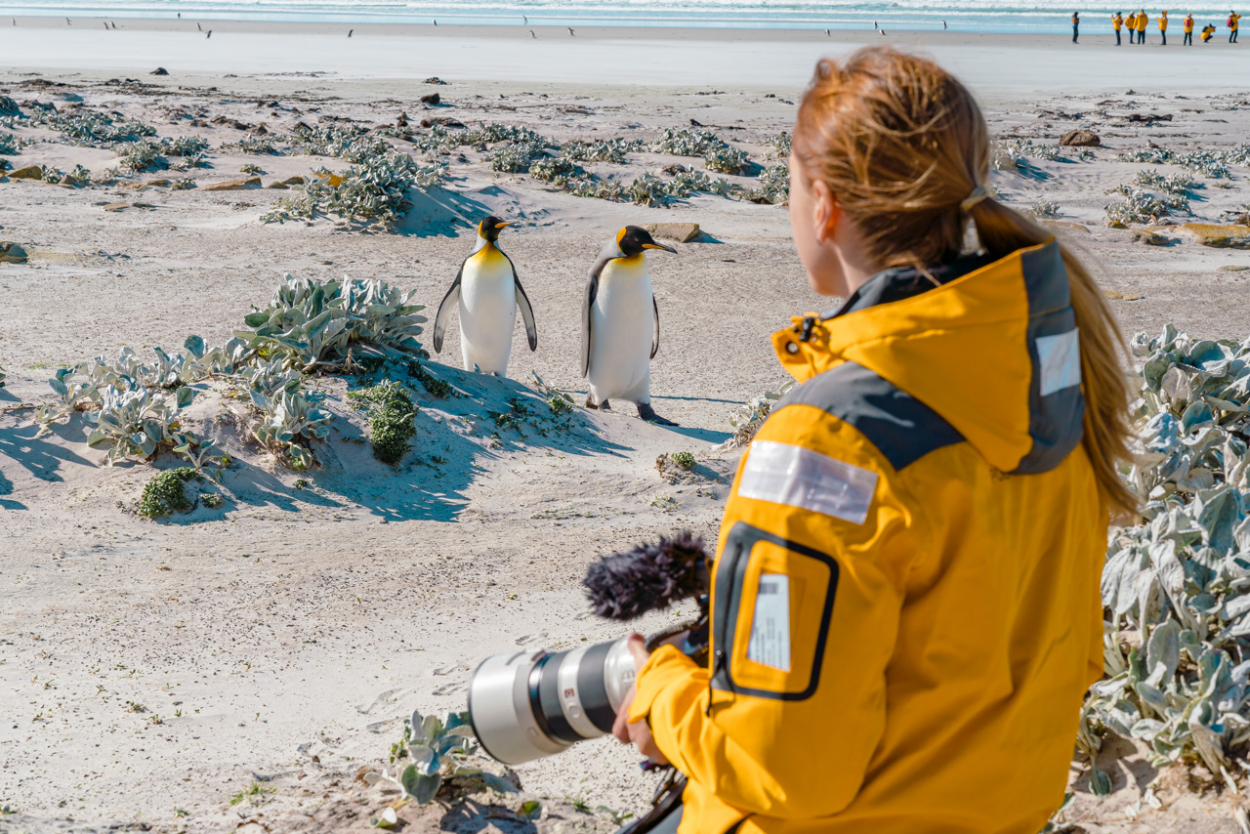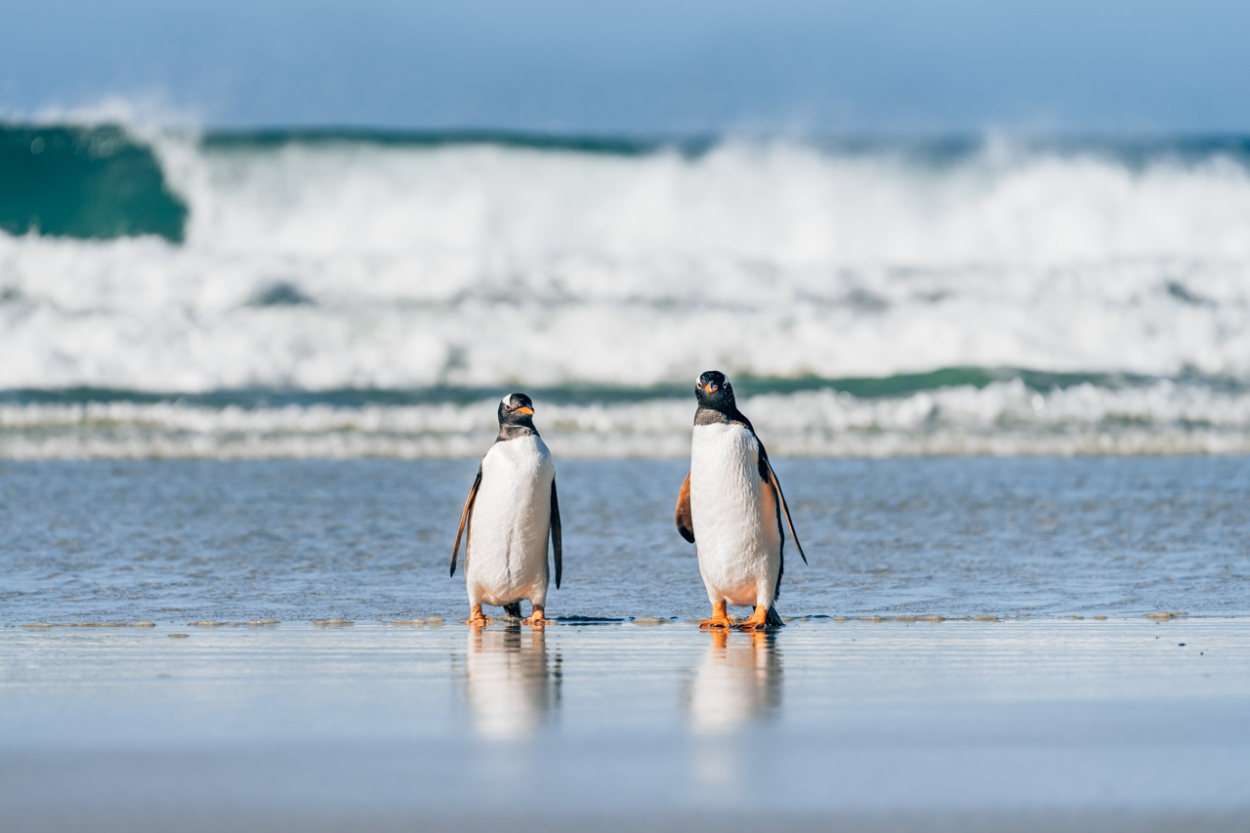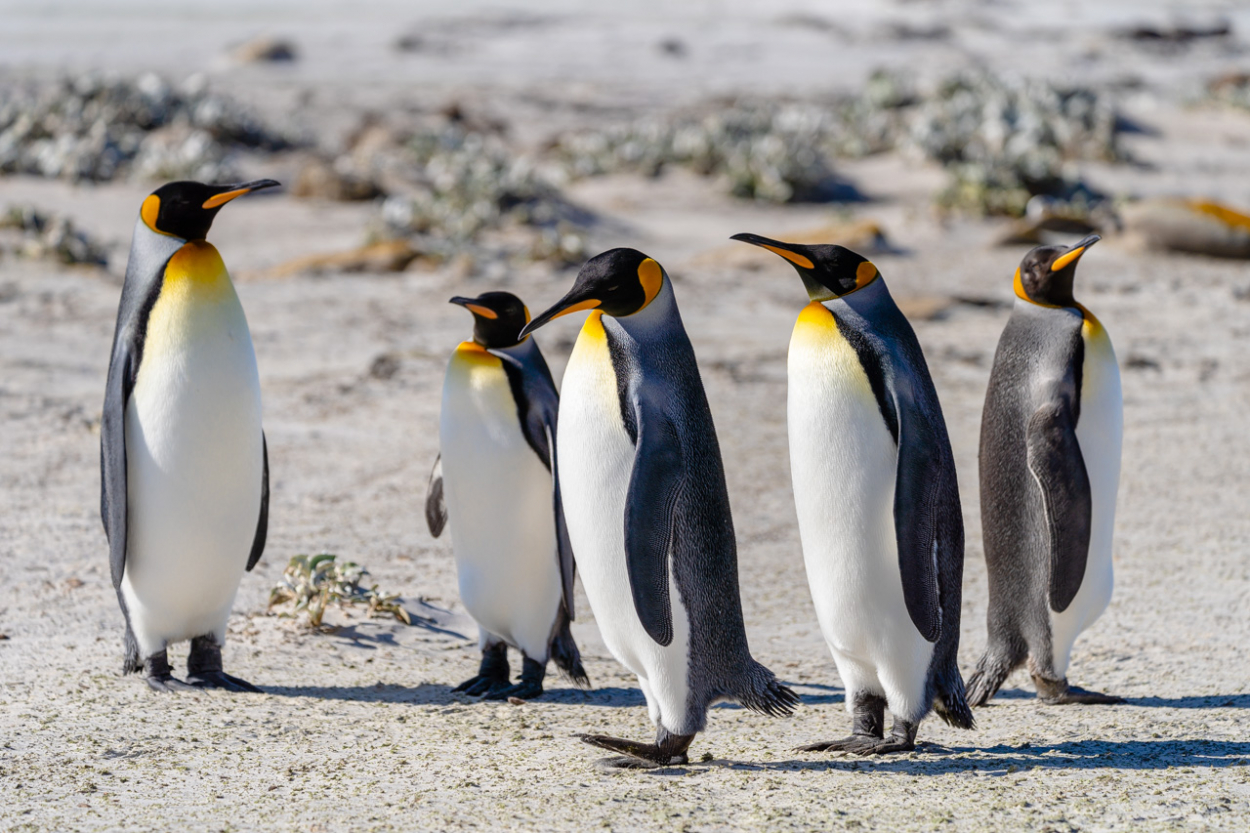 ---
In Stanley – the capital of Falkland Islands (morning landing of the next day), we got options of going on a one of three tours: history tour, trip to Gypsy Cove to see more penguins, and Stanley town tour.
Alternatively, you could opt to explore the town on your won which is what we did. You can stroll around town, do some last-minute shopping, visit a museum, have a beer at a pub, or simply buy a wifi card and use some slightly faster internet than the one on board.
Personal Tip: Don't forget to bring your own shoes to Stanley and change offshore from your giant rubber boots and waterproof pants. Many guests had no idea this was an option. It's a normal town and it was pretty warm (about 45-50F), so you don't want to be overdressed.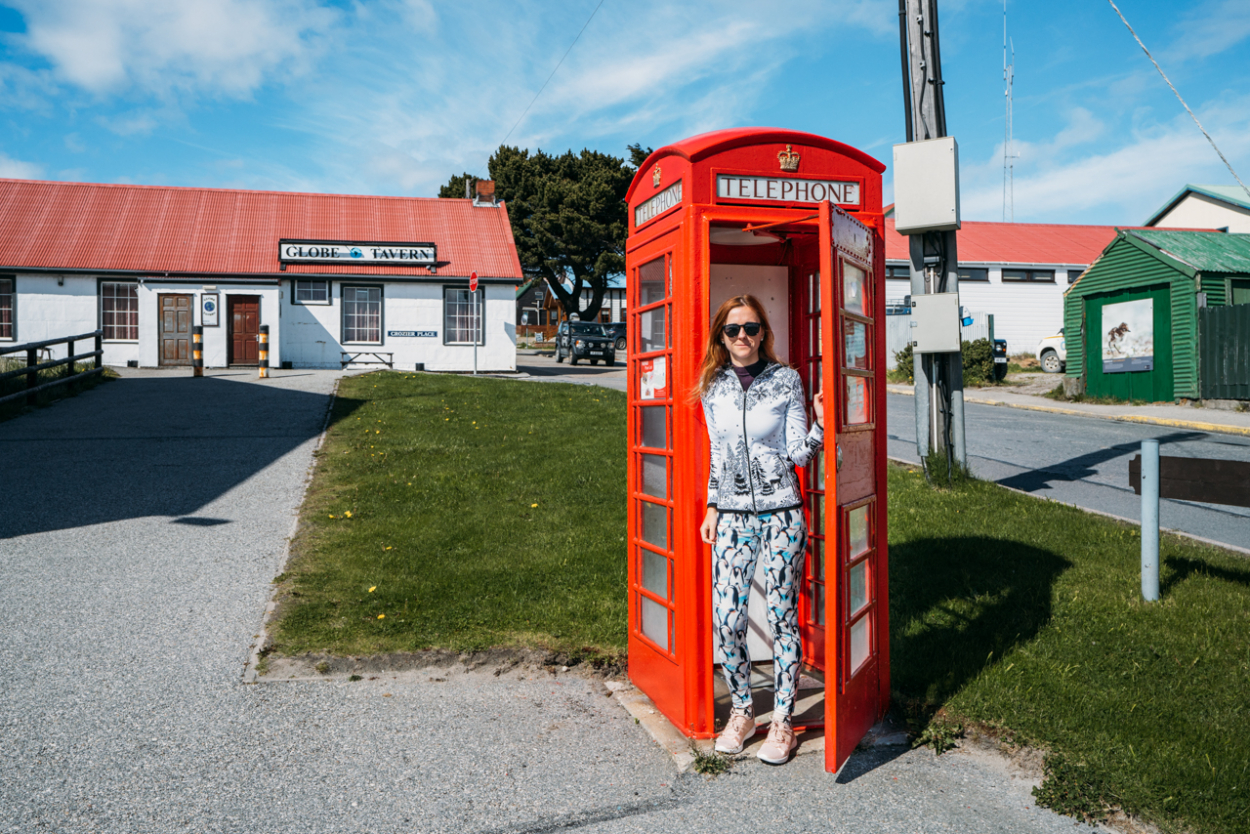 ---
Days At Sea on the Way to South Georgia
Due to the large distance, a lot of days are at sea which means you don't land anywhere but just sail.
There were always lectures about wildlife or compulsory safety briefings to attend, so everyone was kept busy. Most guests were happily attending all the lectures.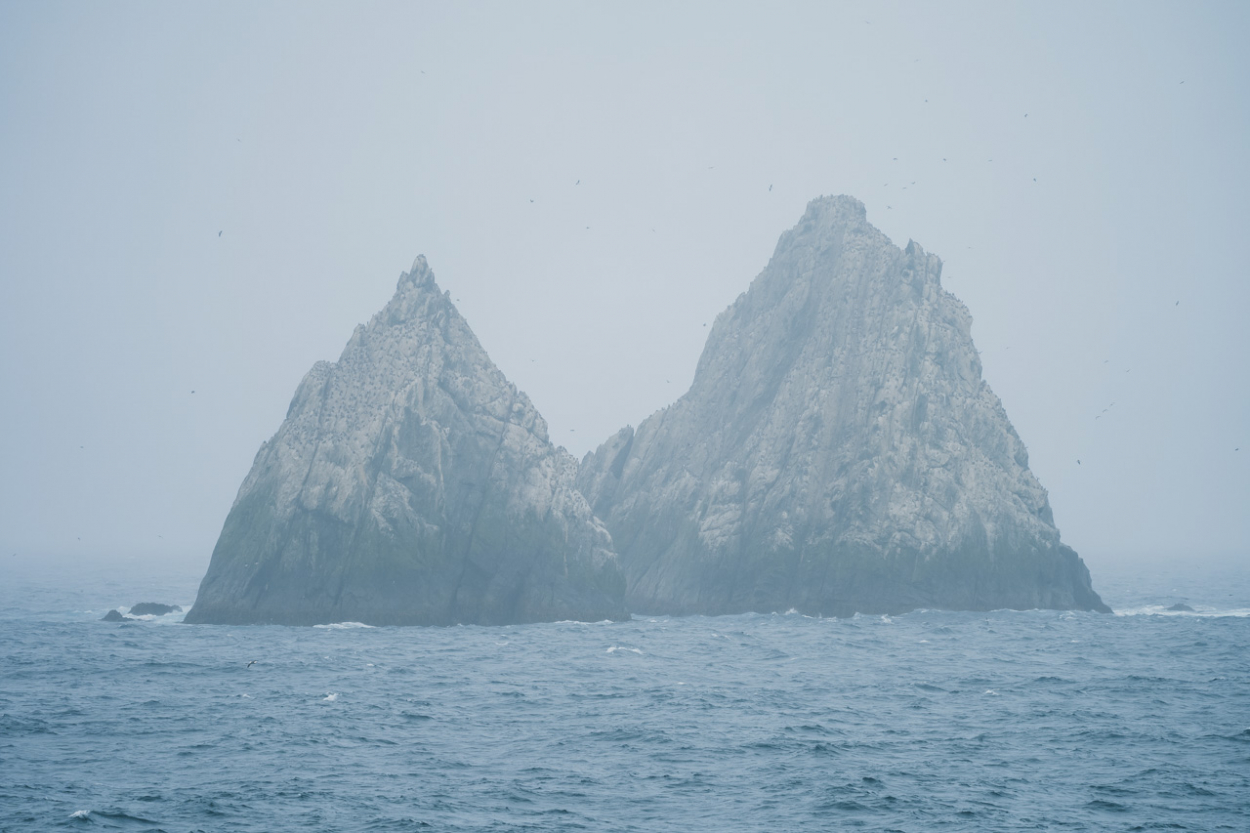 If you didn't feel like attending a lecture, you could chill in your cabin or common lounge for some tea and cakes. They also had a yoga session scheduled once a day.
Days at sea before South Georgia were also used for deep cleaning everything we were taking with us on zodiacs. The government of South Georgia has strict rules concerning biosecurity and before and after each landing we had to wash and brush our pants, jackets, backpacks, tripods, muck boots and so on.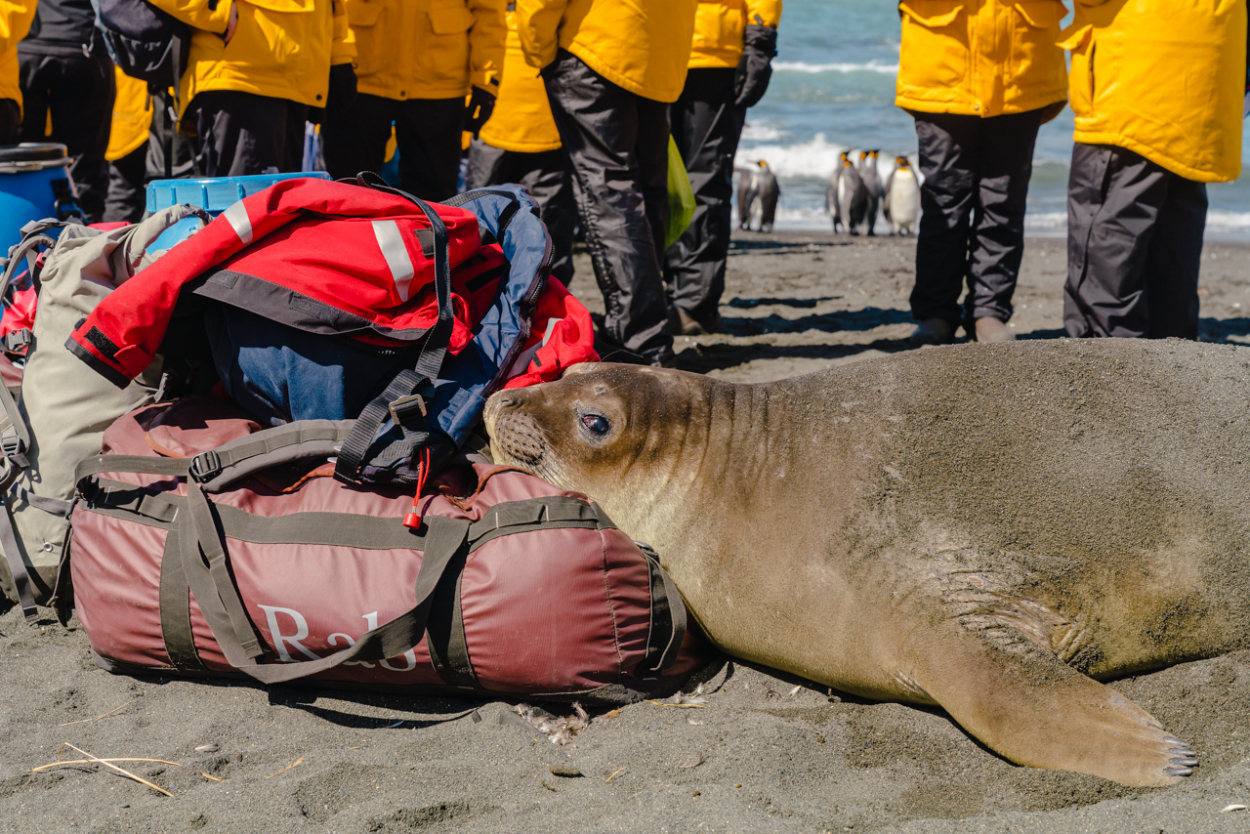 My Tip: That said, if you're heading to South Georgia try to get pants with no velcros (Quark's yellow parkas are full of velcros). Backpacks with straps full of webbing are a terrible idea.
We had to take every grass root and smallest piece of sands out of boot linings with small pins and getting it out of my backpack was a nightmare (I actually gave up on bringing it again after one landing).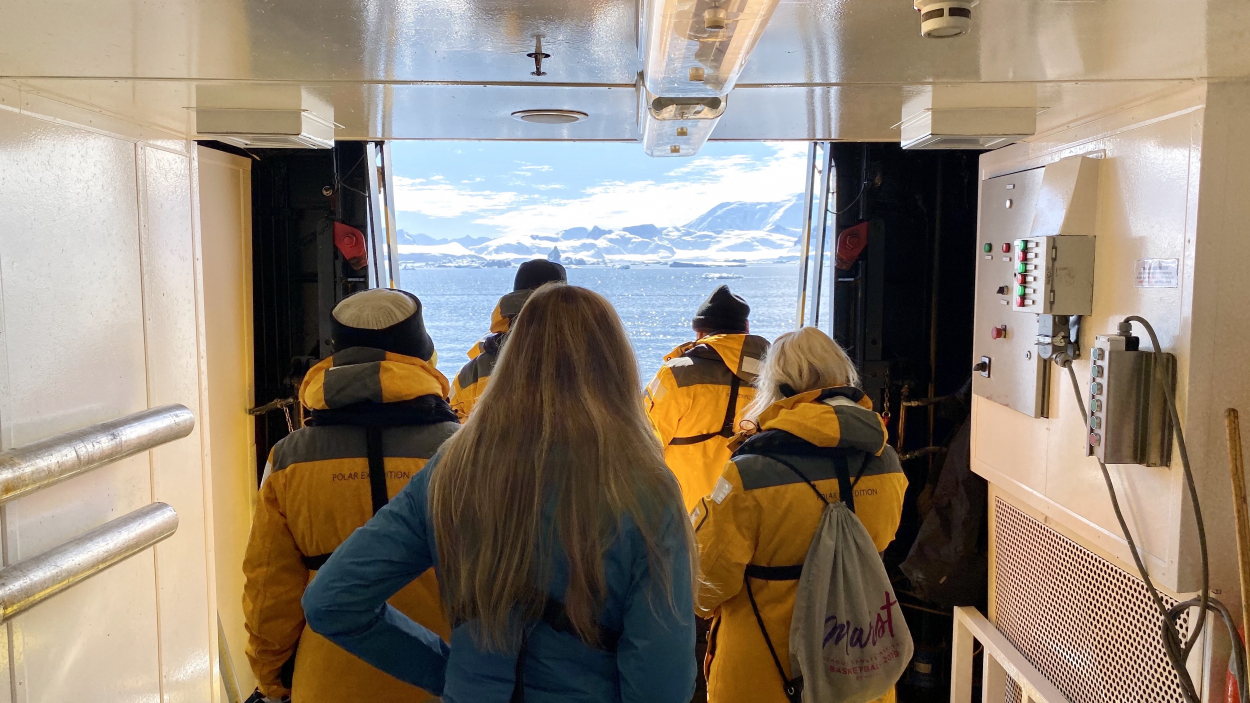 ---
South Georgia
In terms of weather, we got unlucky at first what actually paid off later. We were due to land at a large penguin colony in Sailsbury Plain first but had to cancel it due to big swell. Our expedition leader Laurie was great at making the best of the worst and we landed at Fortuna Bay instead.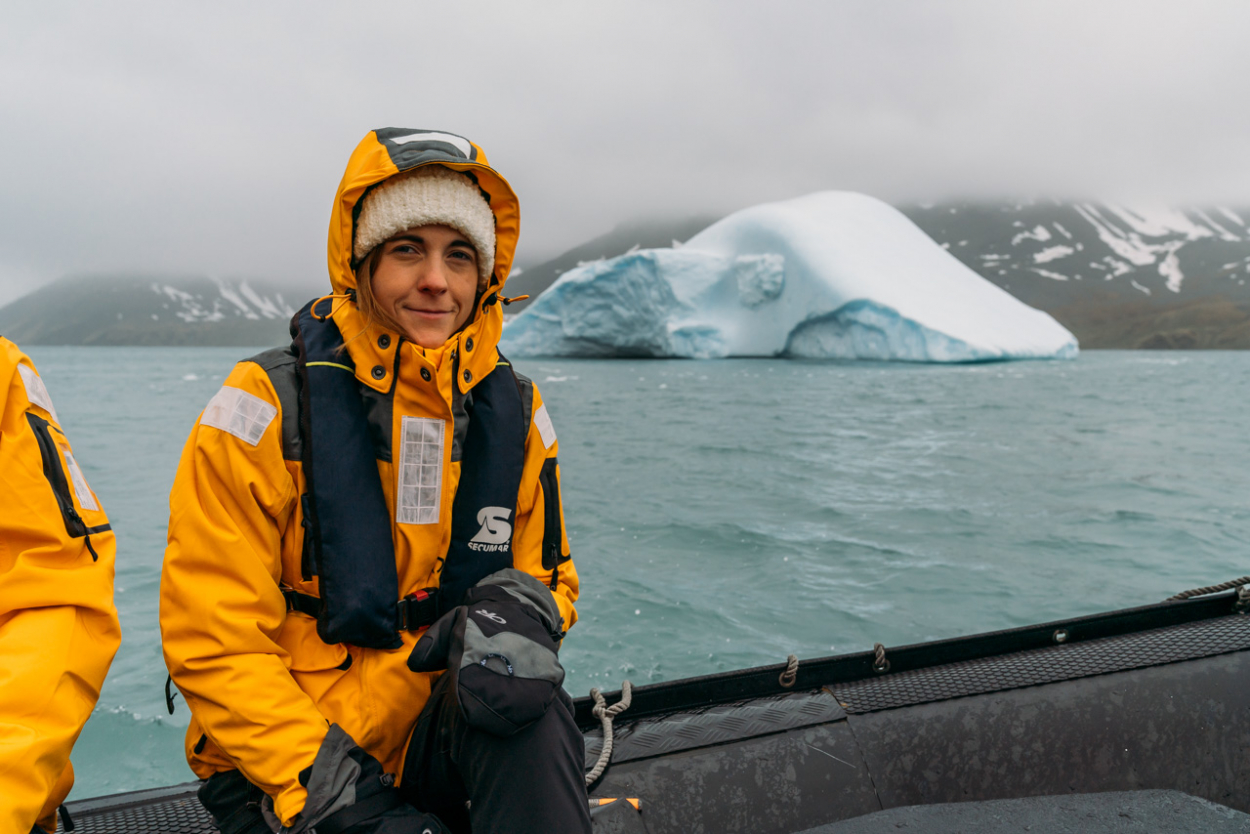 Conditions still weren't great and we spent 1.5 h cruising on a zodiac, followed by 2h on the ground in the rain and strong wind. However, we saw a decent amount of penguins and seals.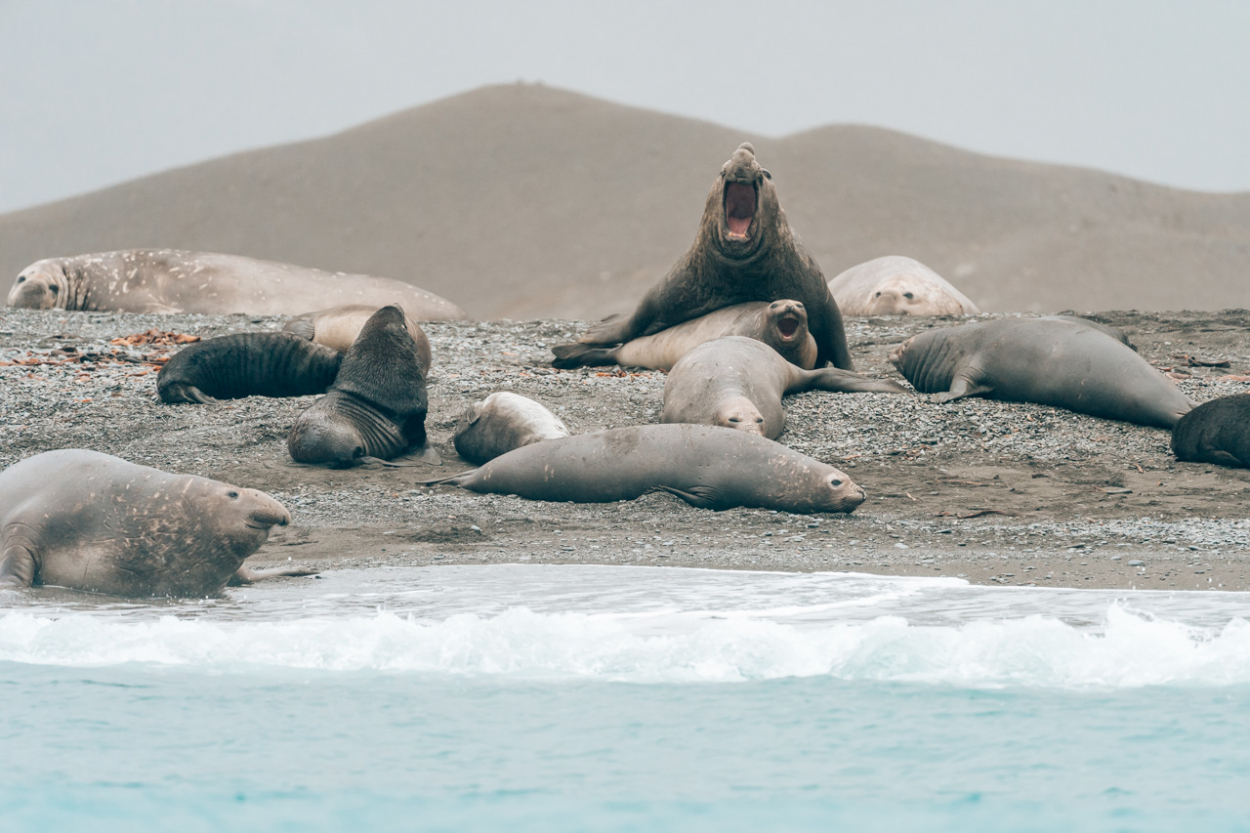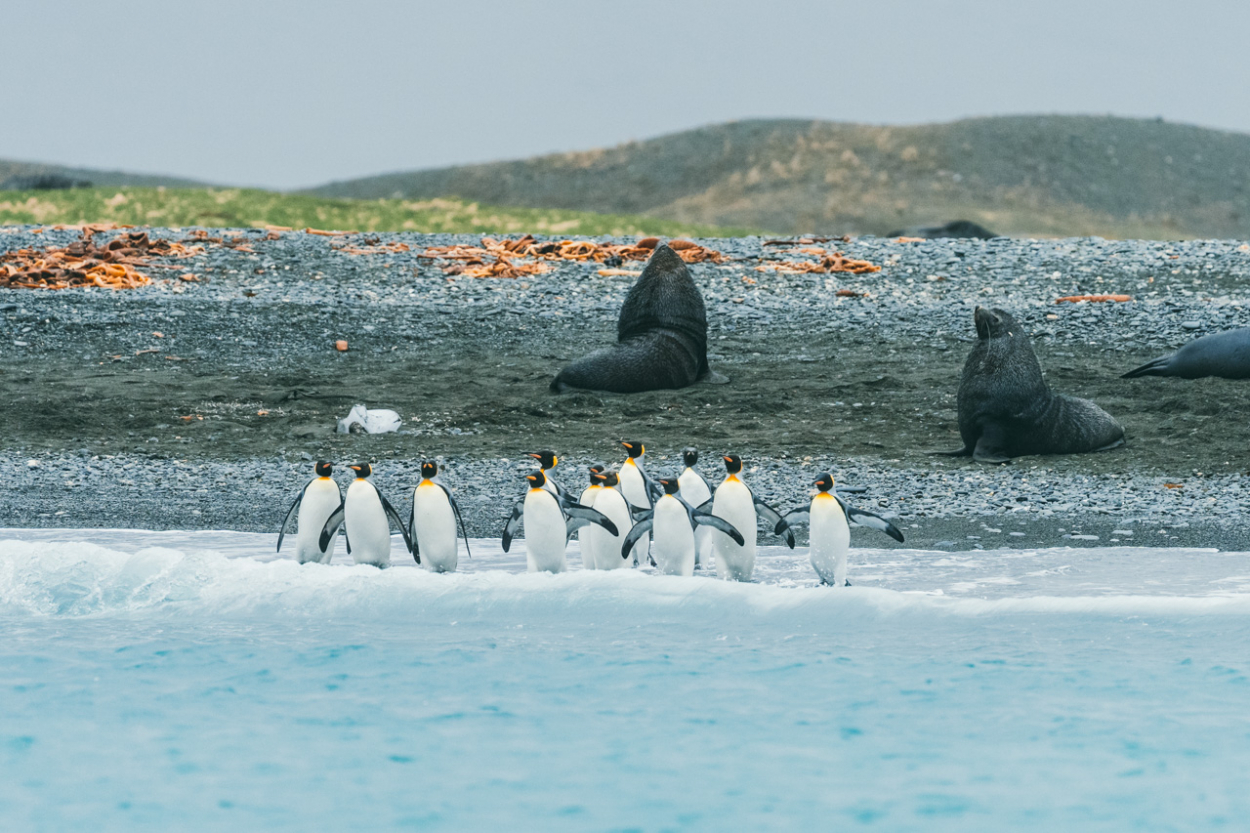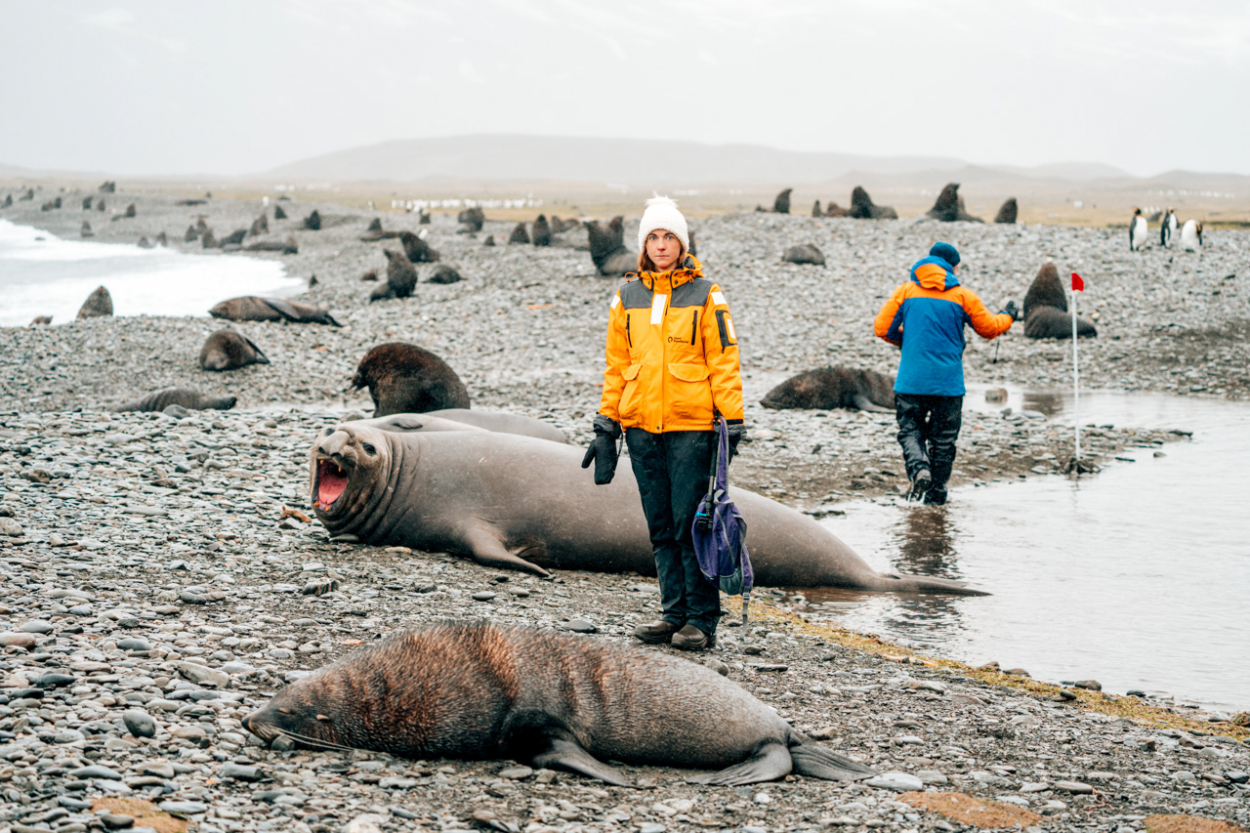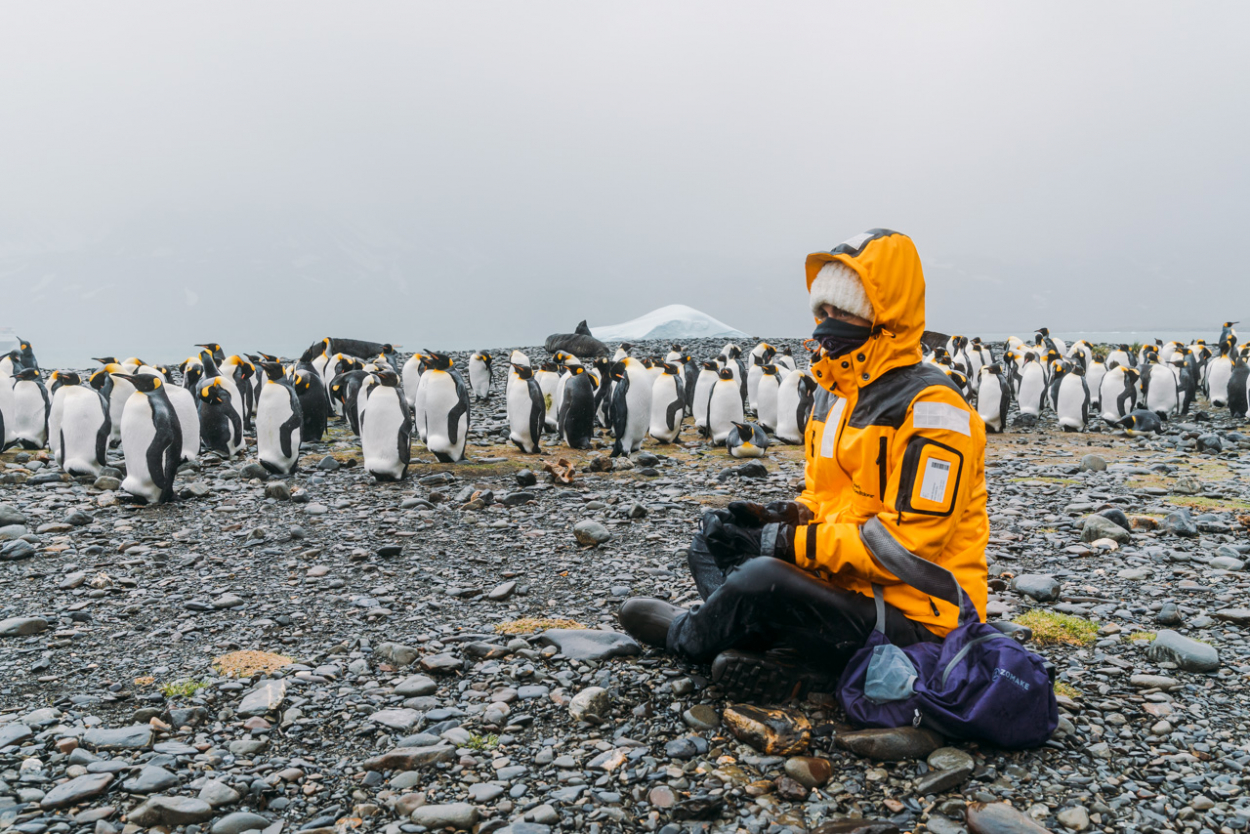 ---
The next day we weren't able to land anywhere apart from Gritviken, an old whaling station and resting place of Ernest Shackelton. While depressing, due to the number of whales that lost their lives there, it was interesting to see.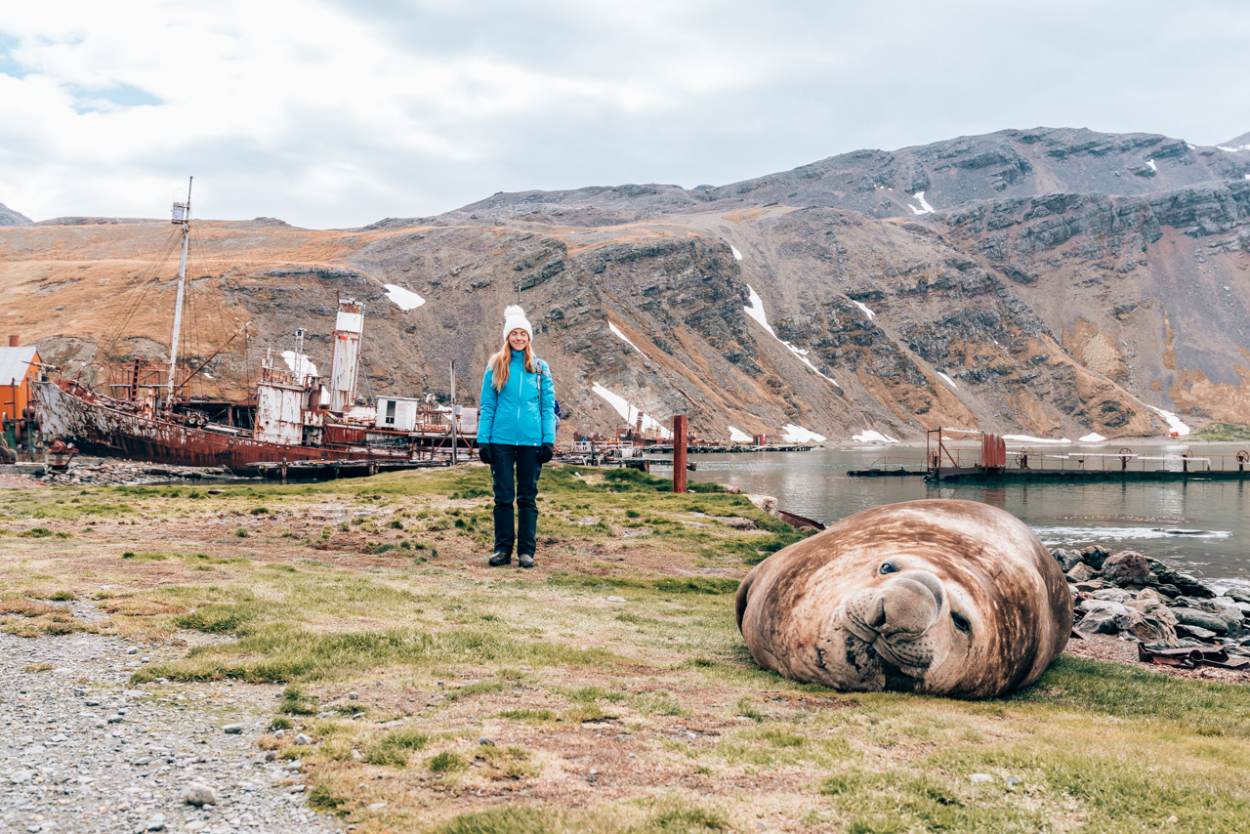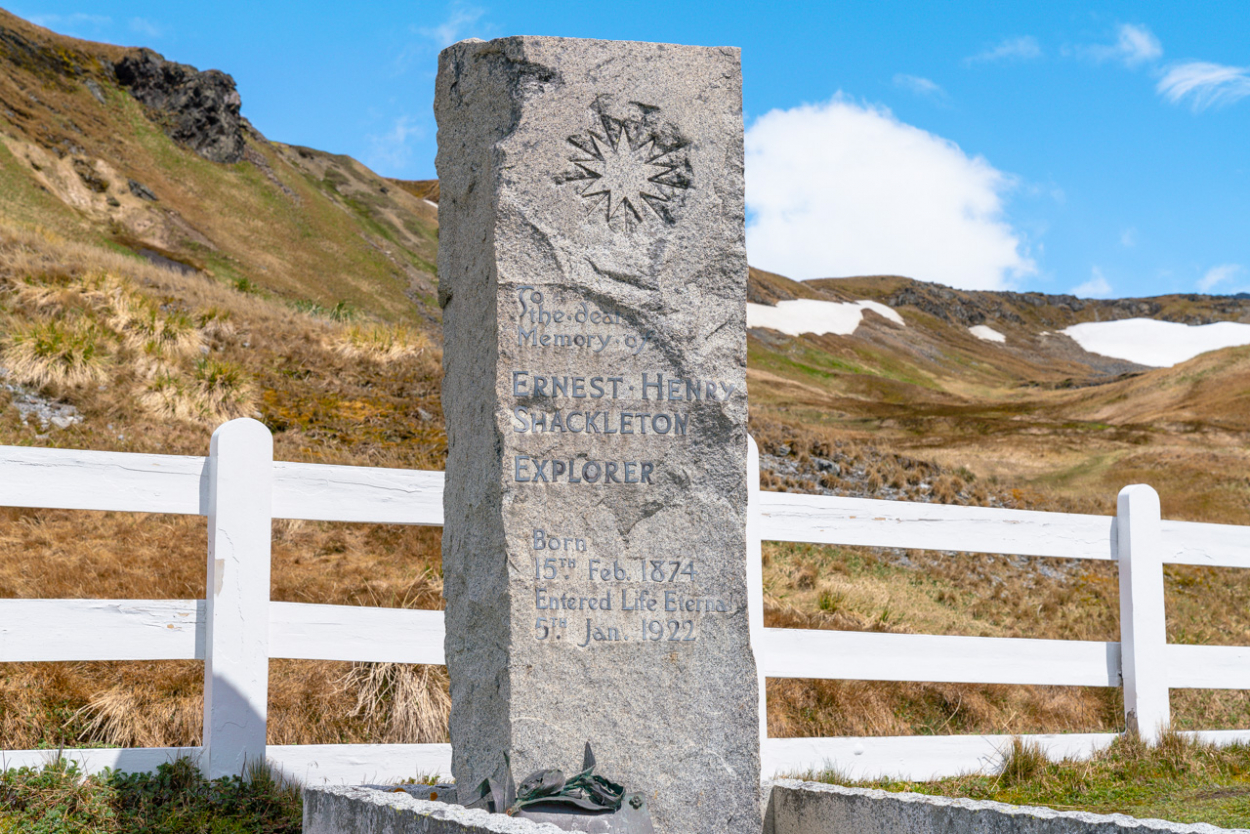 ---
On day 3 we tried to land at Golden Harbor, but the idea was abandoned due to high swell and we moved onto Royal Bay for a zodiac cruise.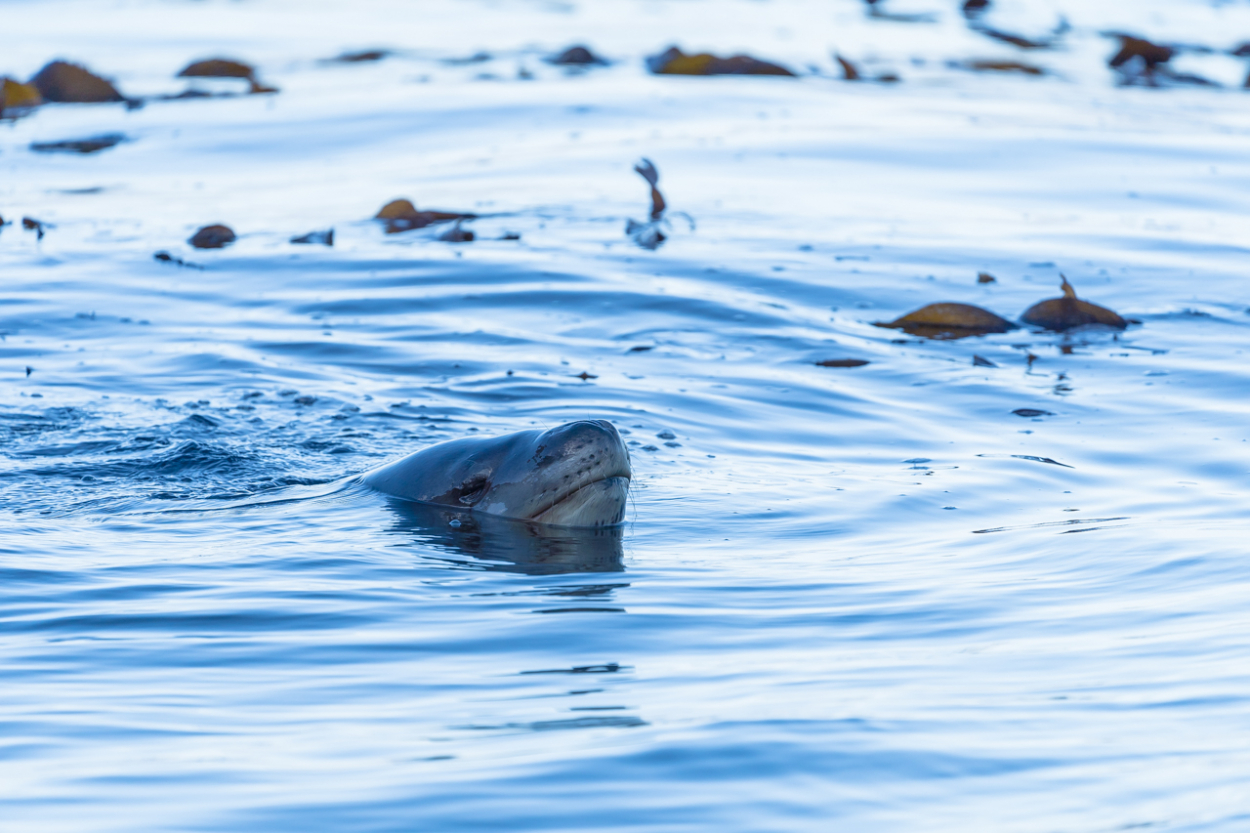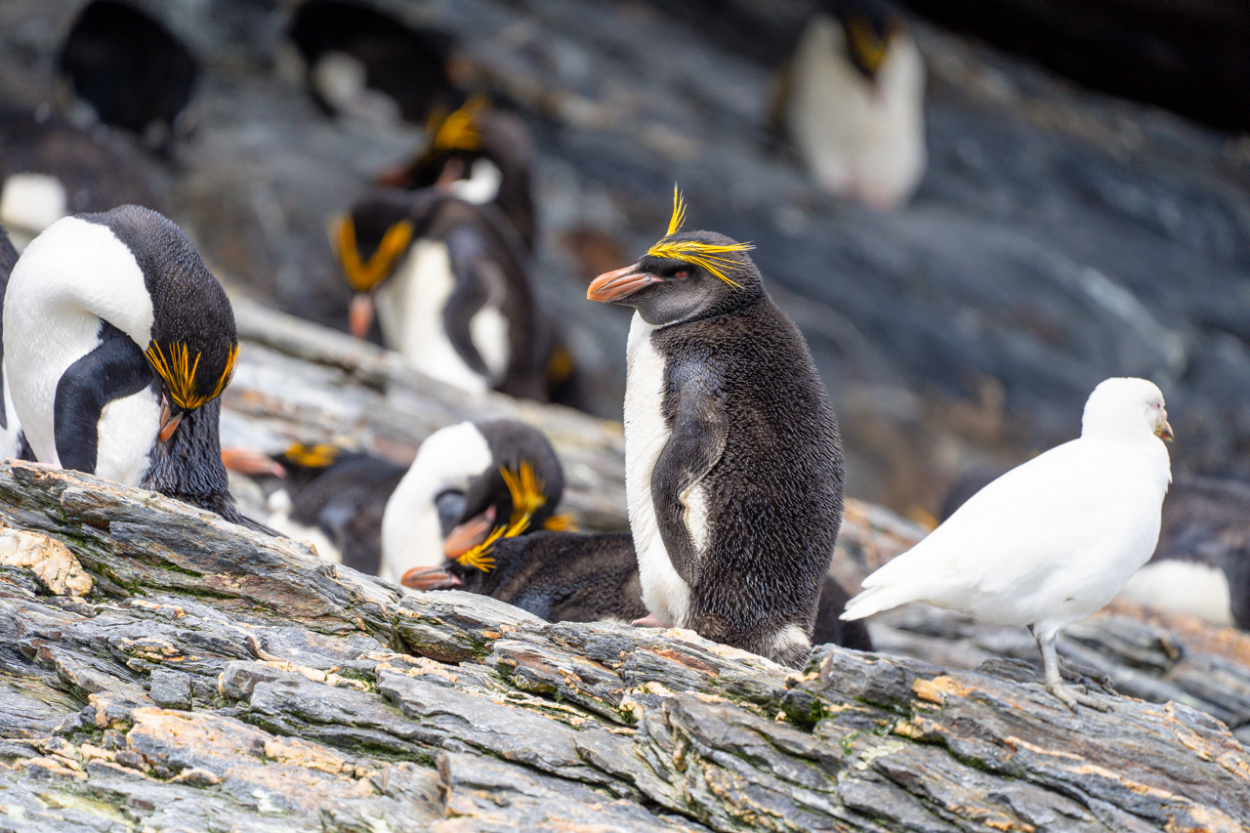 ---
Finally, the weather conditions changed and we were able to explore more of South Georgia in the sun. That afternoon we were finally able to land at St Andrews Bay – the largest King Penguin colony in the world – over 500,000 penguins excluding chicks!
St Andrews Bay wasn't an easy place to get to, not only because of high waves and wind but getting to the colony required crossing rivers and navigating through fur seals that can easily bite you.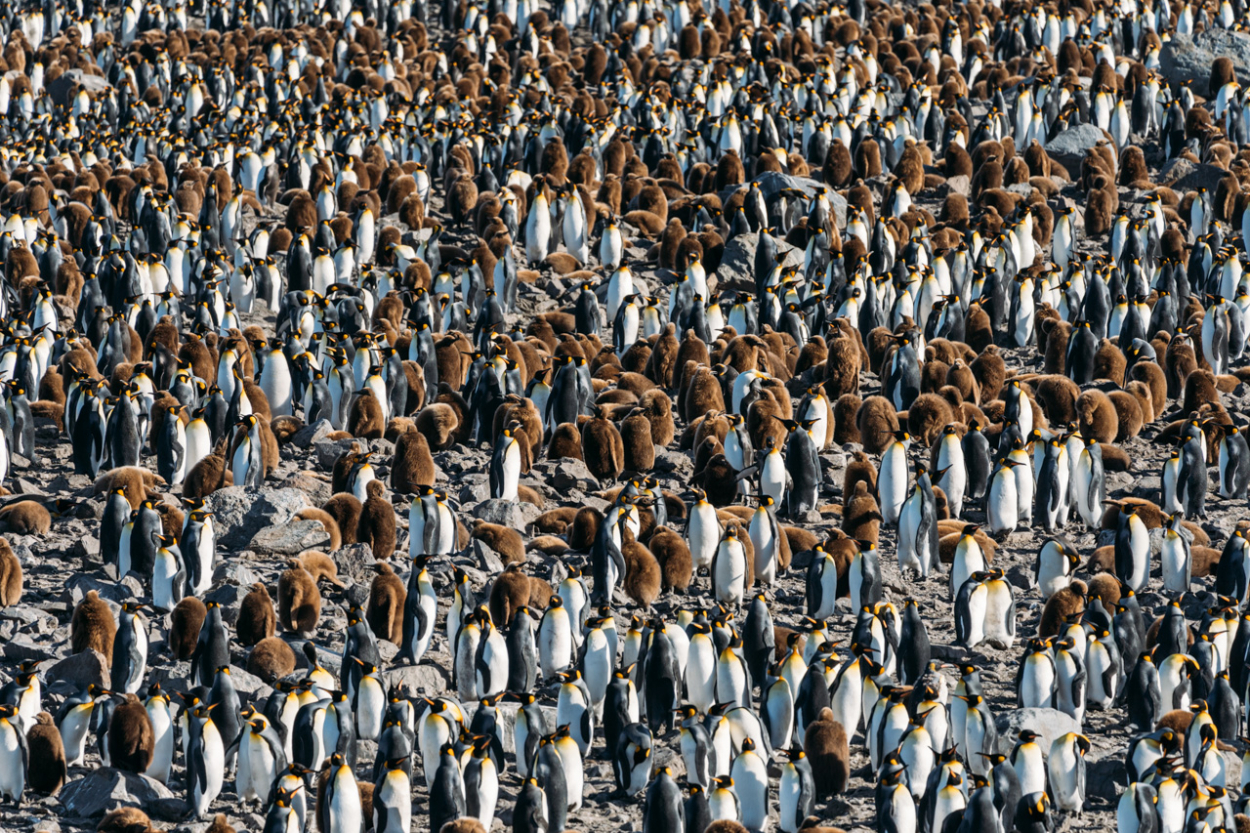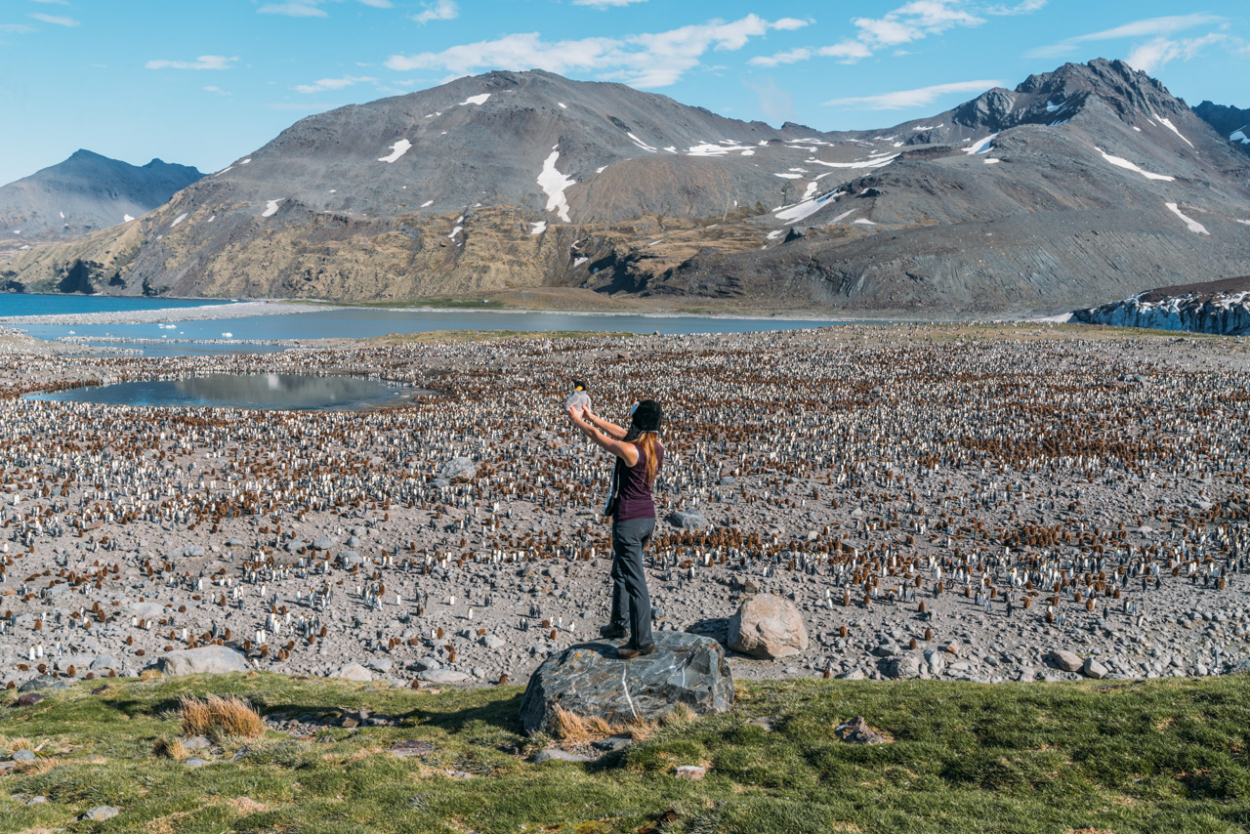 A woman from our ship actually broke her ankle during that stop which put the rest of the trip under a question mark. We were informed that we might need to turn back to the Falkland Islands because of it as there's an airport there, which would shorten our time in Antarctica to just a day.
Not surprisingly, most people on the ship weren't happy about that. Ultimately, a last-minute decision was made that the woman should be flown out of King George's Island – the largest of the Shetland Islands located next to the Antarctic Peninsula.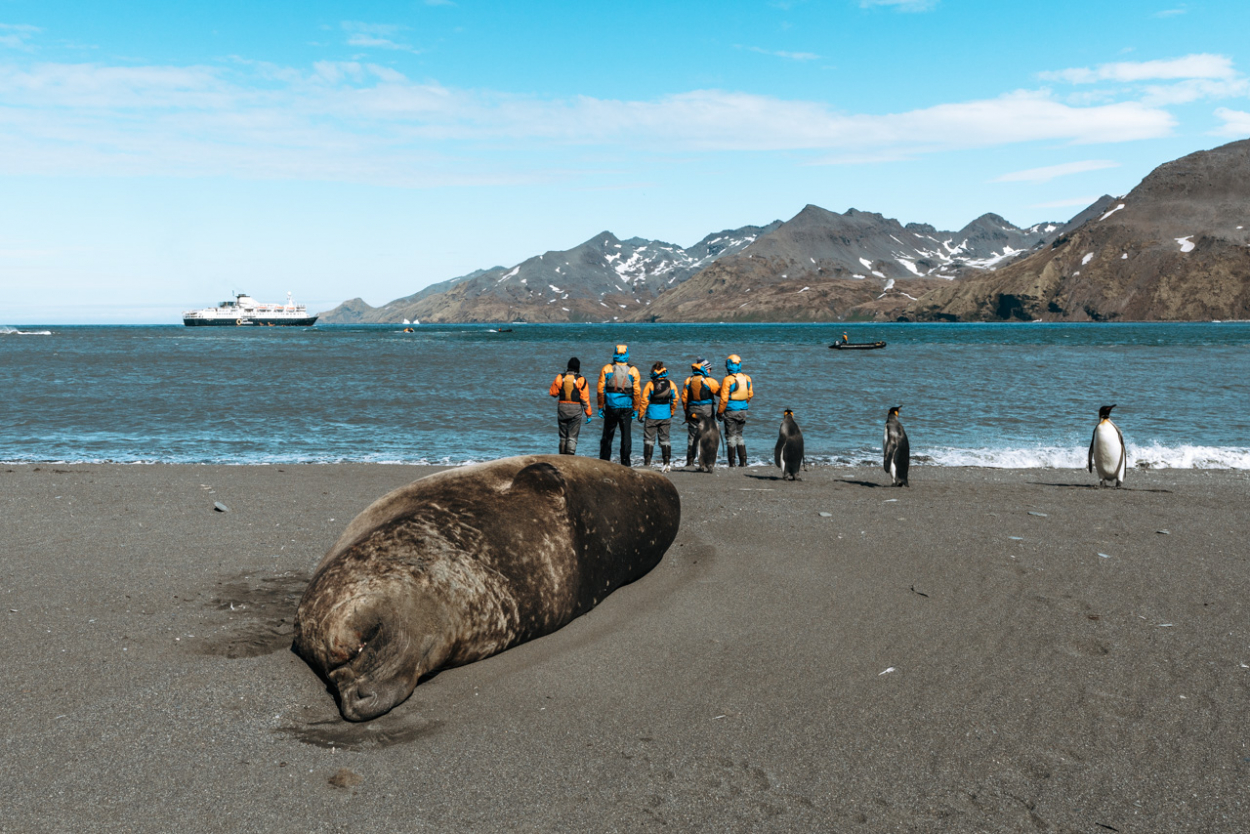 ---
On our last day in South Georgia we finally made a landing at Golden Harbor, full of baby penguins curious to see us! In my opinion, Golden Harbor was the best stop in South Georgia.
I even got stalked by a baby penguin that was following me around for a while and picking on me when I wasn't giving him enough attention. Kind of like my own baby 😉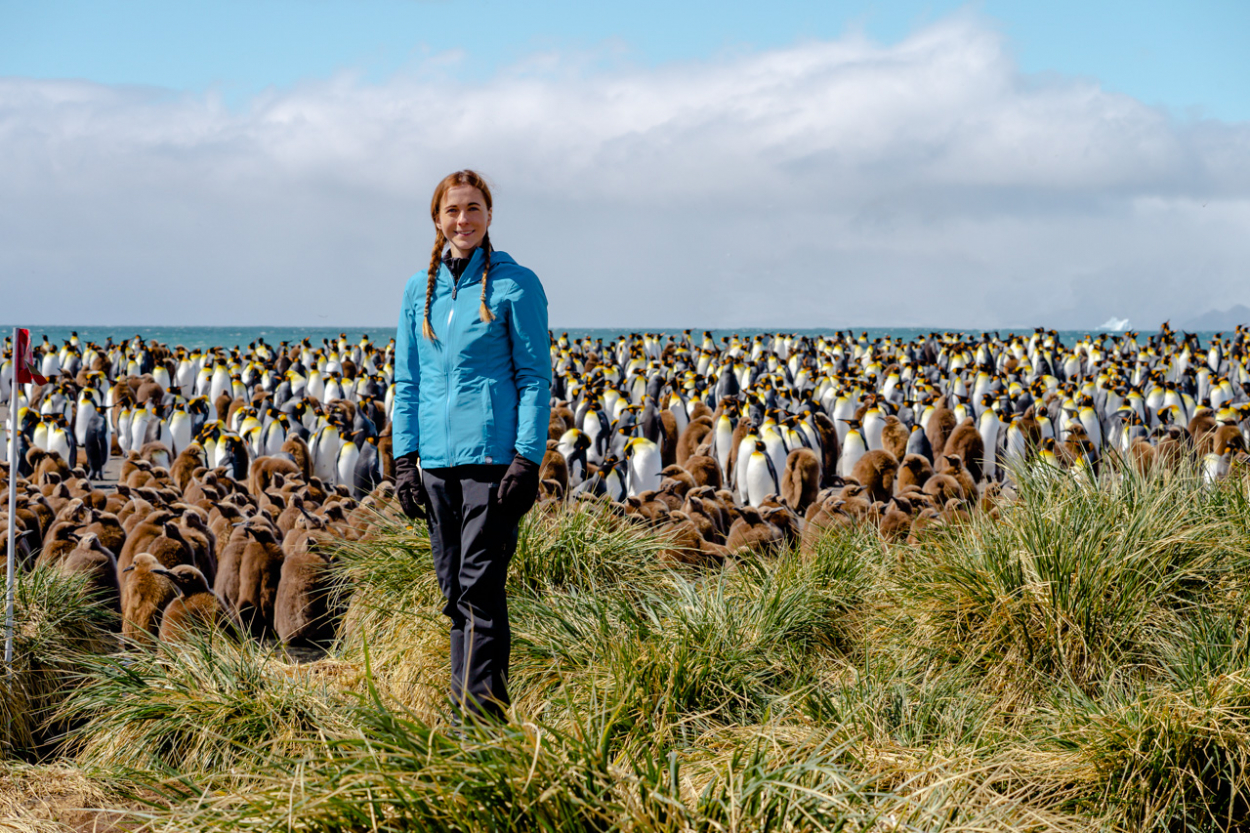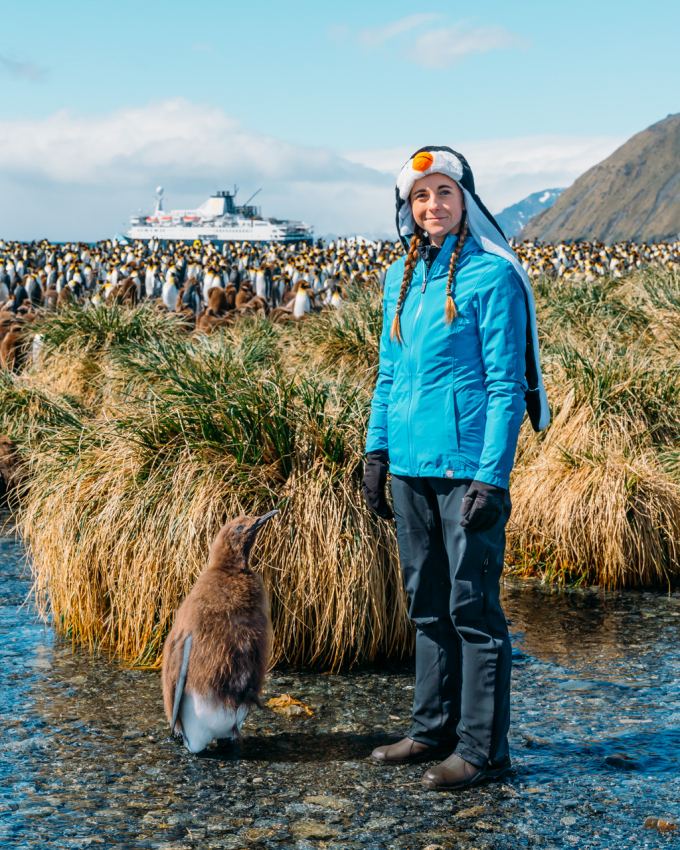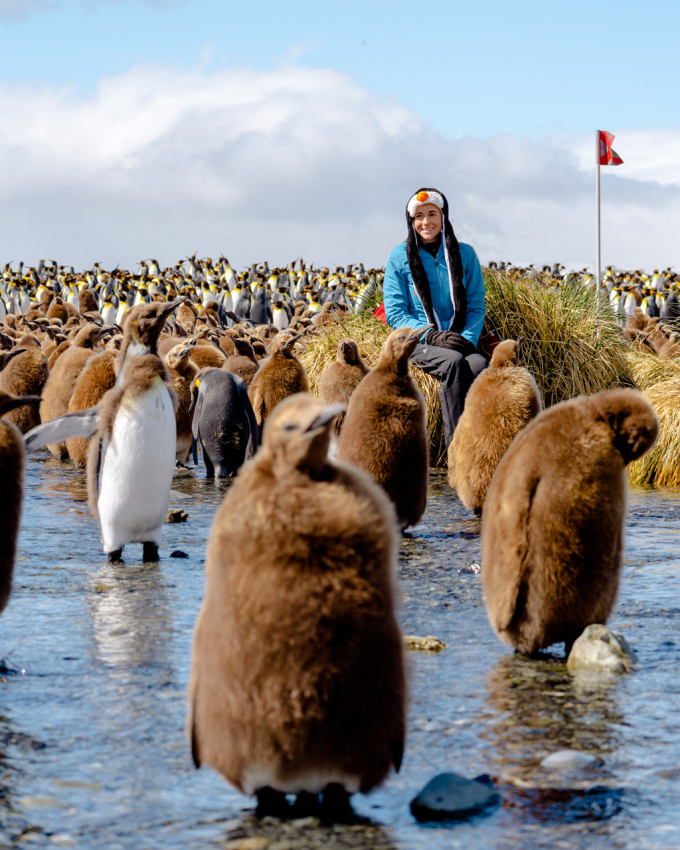 Following, we sailed through Drygalski Fjord which was a wonderful finale to our journey to South Georgia. Everyone was just sunbathing on the deck admiring the views.
---
Antarctic Peninsula
After 2 days at sea sailing to Antarctica with Quark Expeditions, we reached the Shetland Islands. We saw a foggy image of Elephant Island on the way, which was where Shackelton's crew spent 4 months stranded.
Once we dropped the injured woman at the airport, while cruising on Zodiacs around Chilean, Chinese and Russian research bases, we continued the trip down south.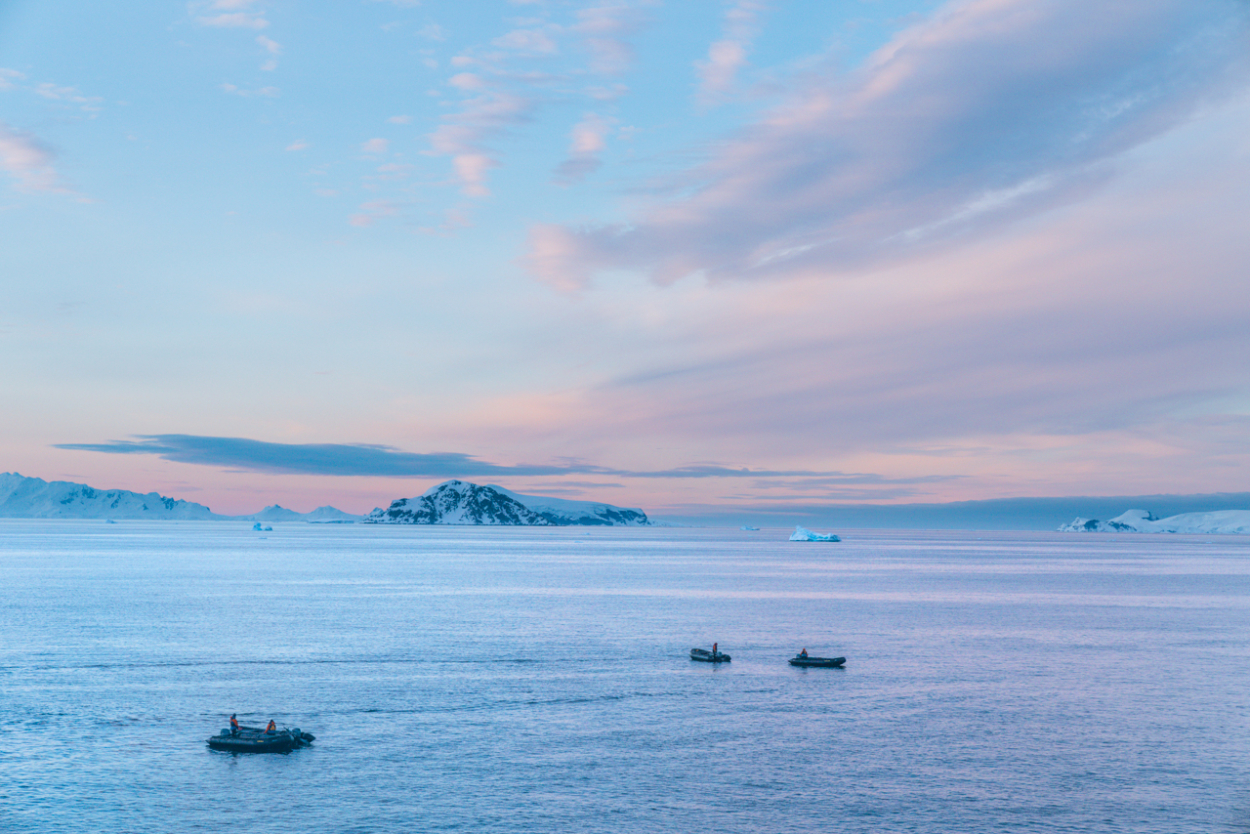 Unlike in South Georgia at the beginning, the weather in Antarctica was excellent for all 3 days we had there. It was warm (+3 C), very sunny and flat, but the polar plunge is still freezing 😉
Due to great and sunny weather conditions, we were able to visit some sights that aren't frequently visited. That said, I think it's important to mention that no two cruises to Antarctica are the same – ships stop at different spots all the time.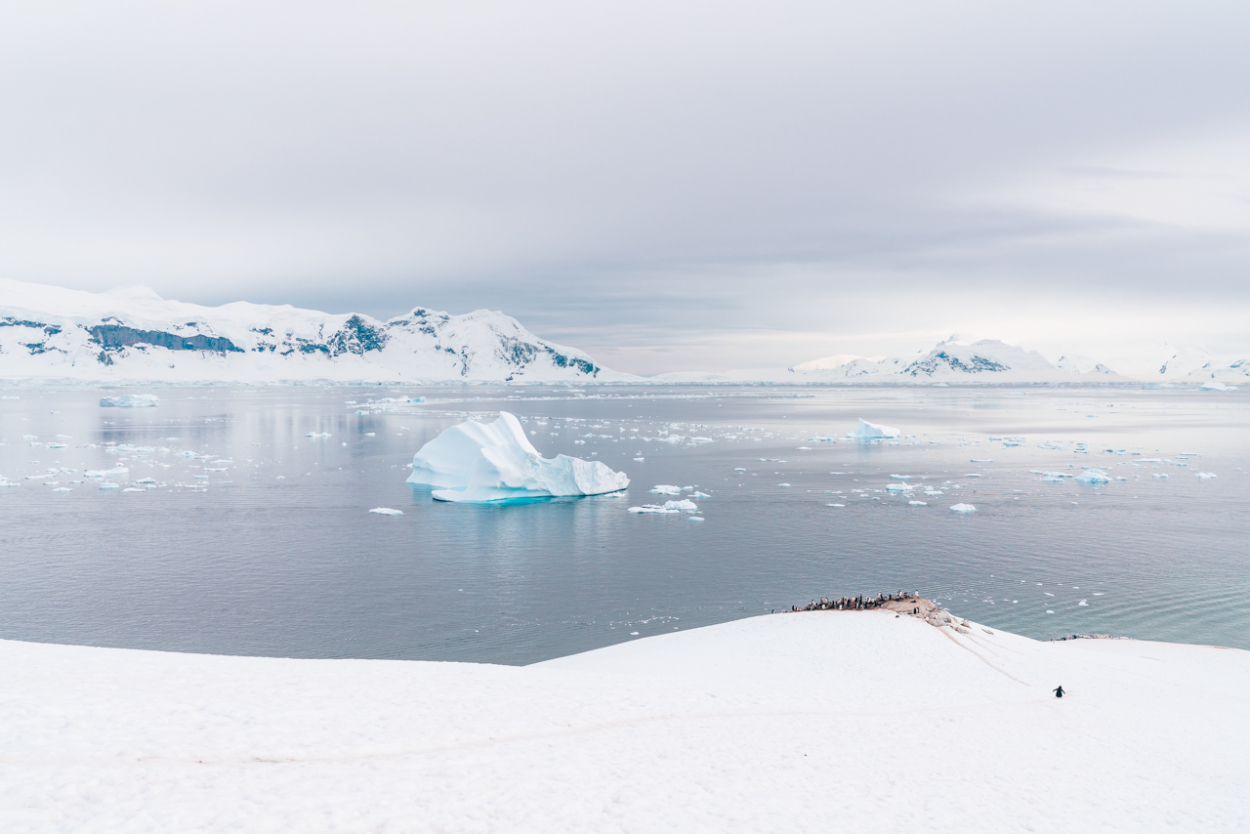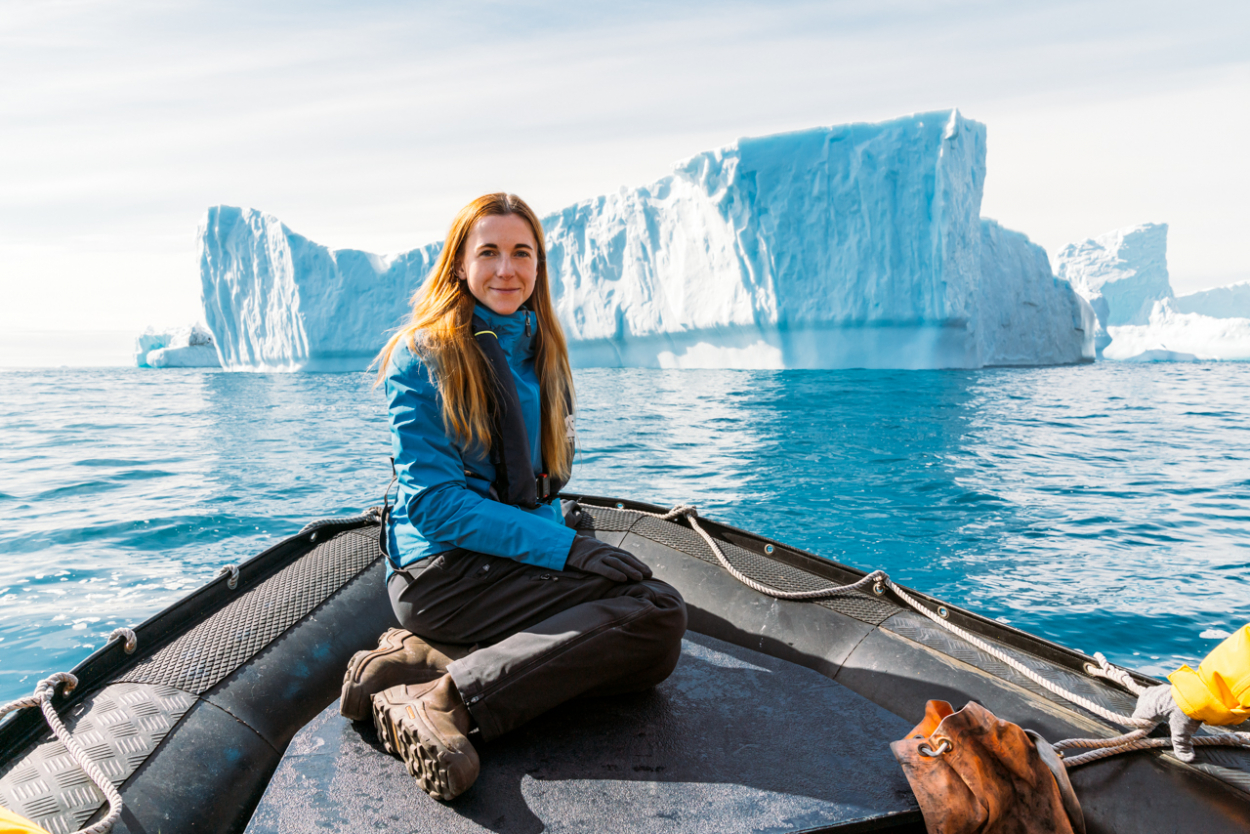 We met some people on board who have been on their third cruise with the same itinerary and still haven't visited all the places we reached this time.
We were able to do activities three times a day on the first day and twice a day on the second and third days. While some landings were "only" zodiac cruises they were actually beautiful and involved stunning scenery and whales.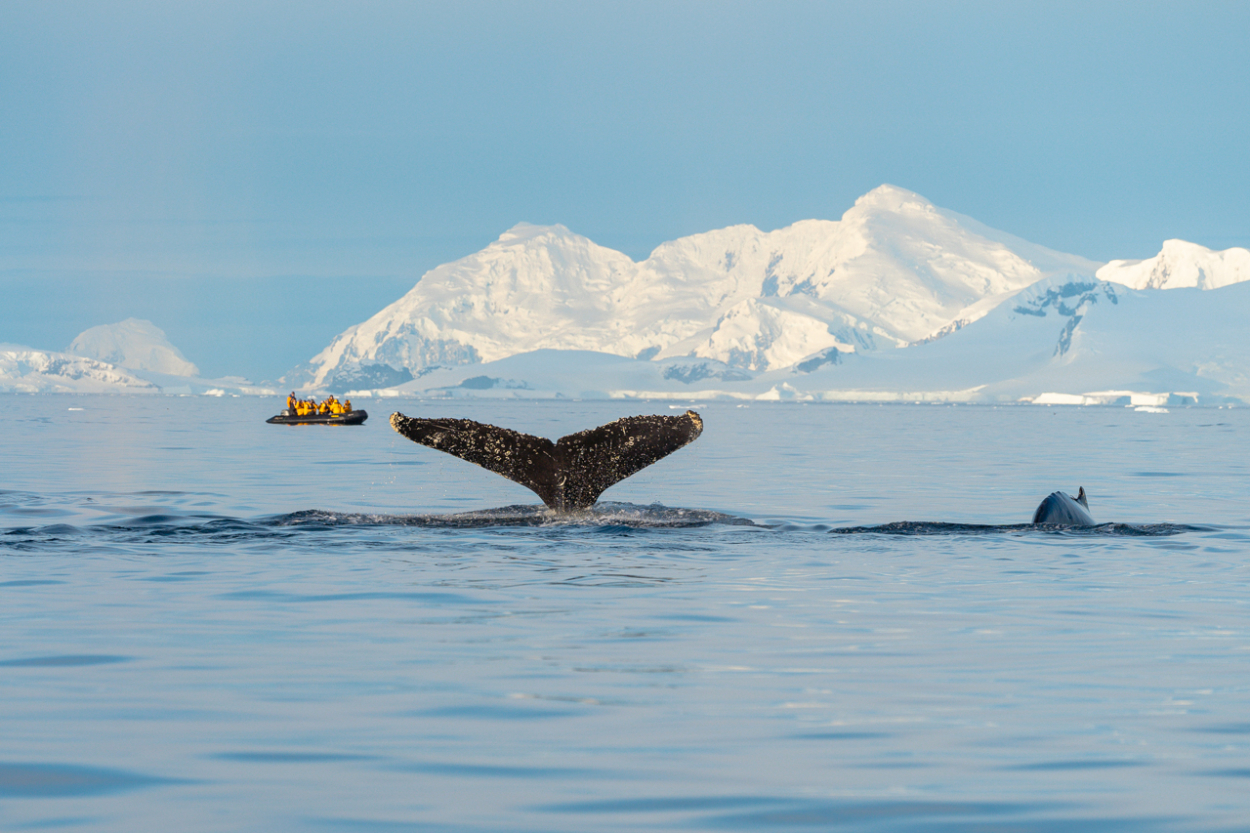 I must admit that after South Georgia and even Falklands, penguin colonies in Antarctica seemed rather underwhelming. But don't let this fool you – Antarctic penguins are equally cute as those in South Georgia.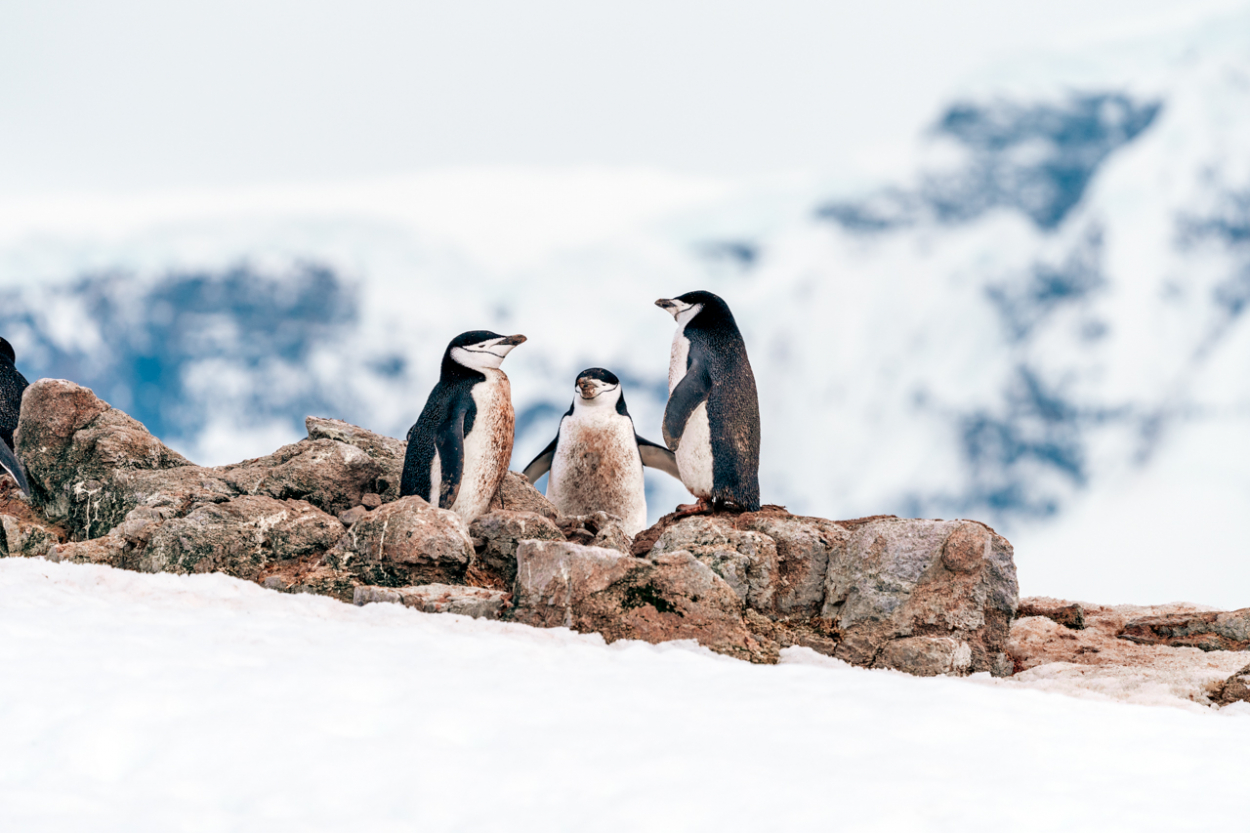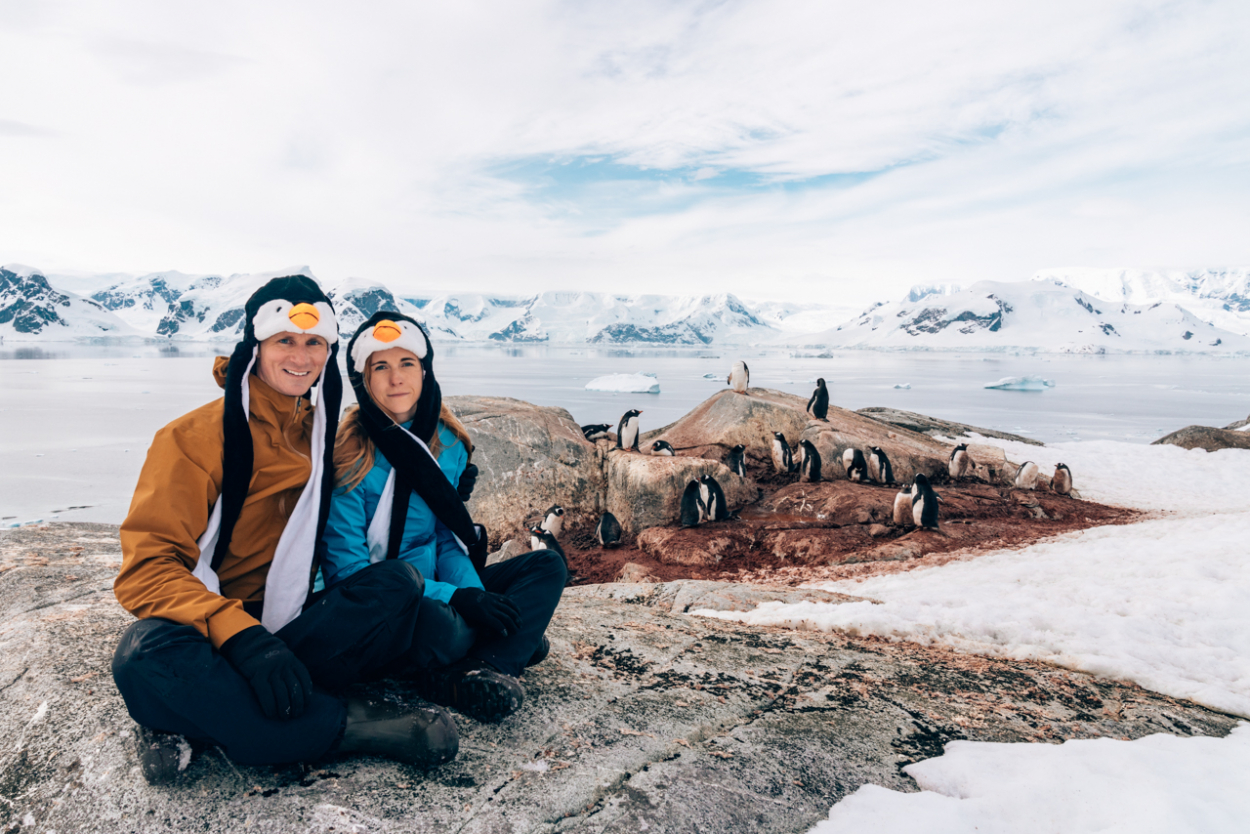 We landed at a few islands – Spert Island, Useful Island and Enterprise Island, that had some penguin colonies, but the actual Antarctic Peninsula landings were almost penguin-free.
Truth be told, landings on islands were much more fun than landings on the actual peninsula, in my opinion.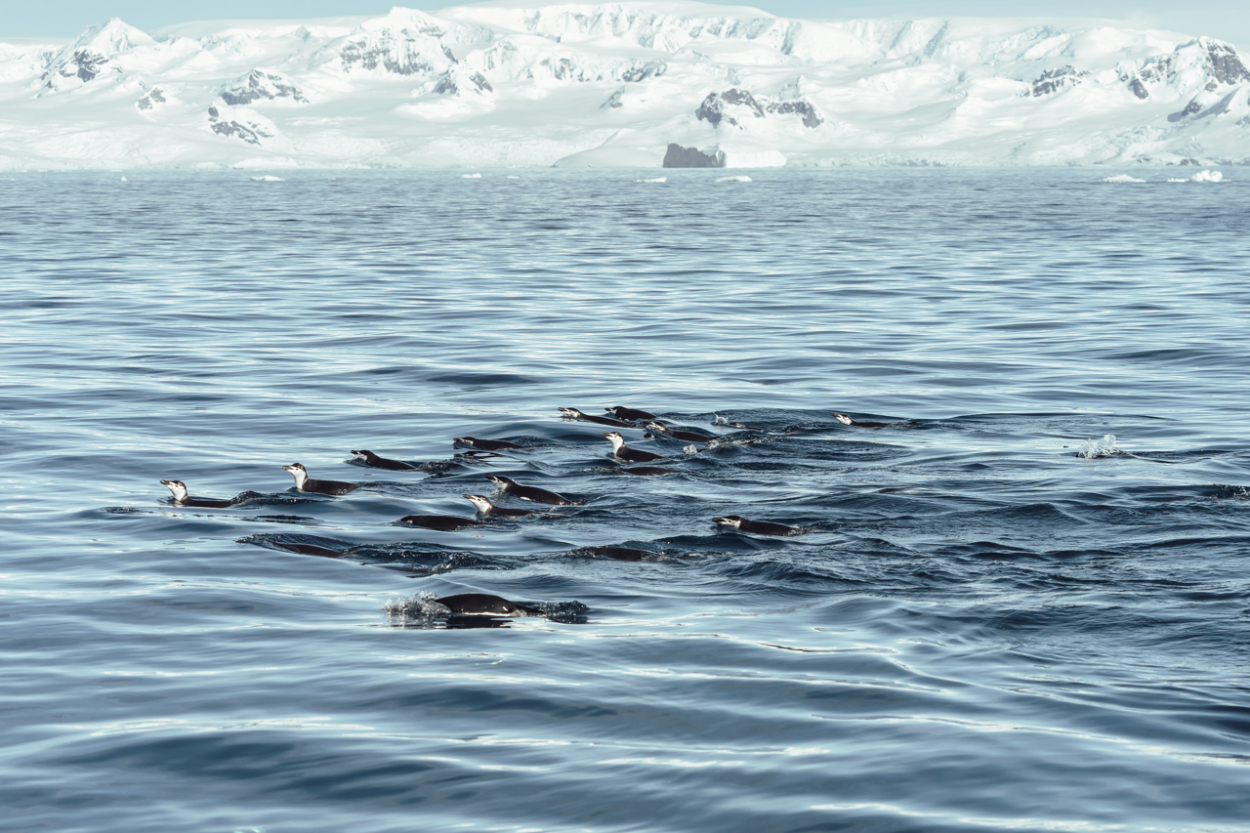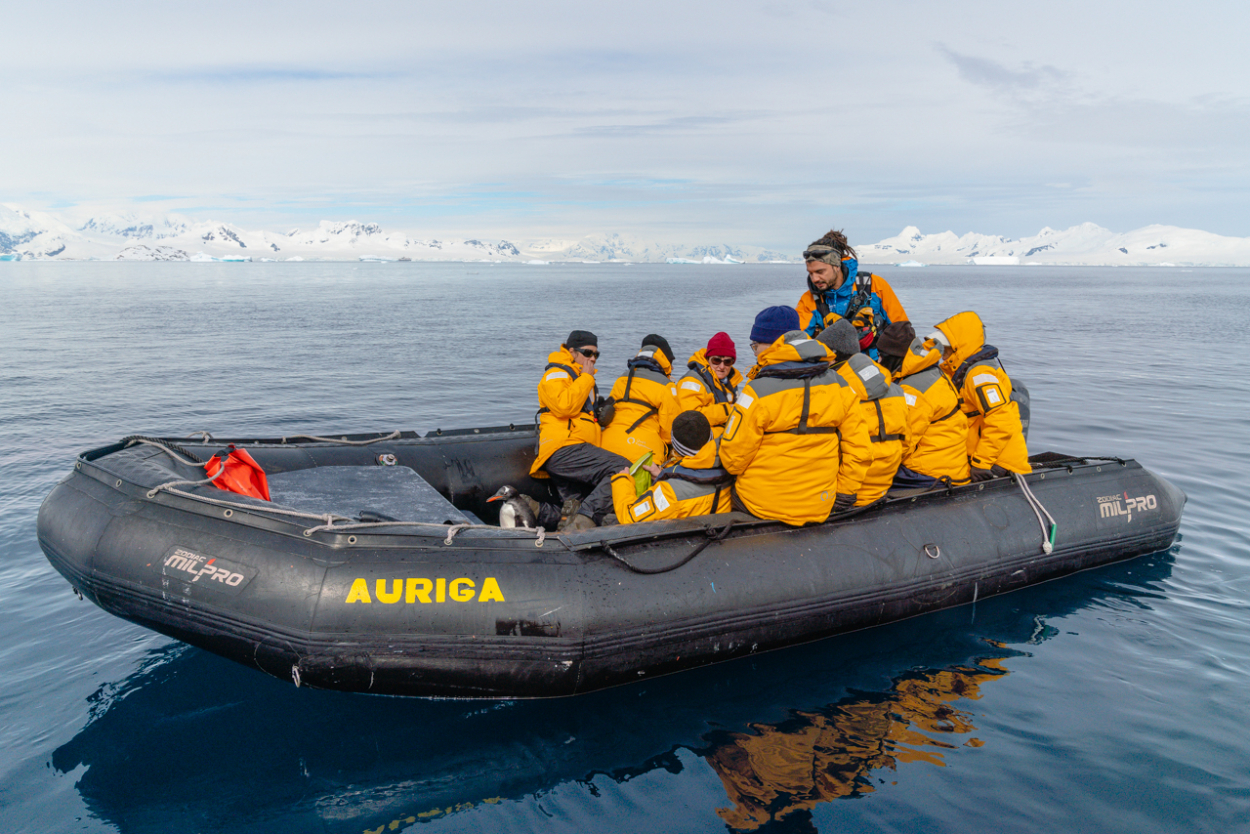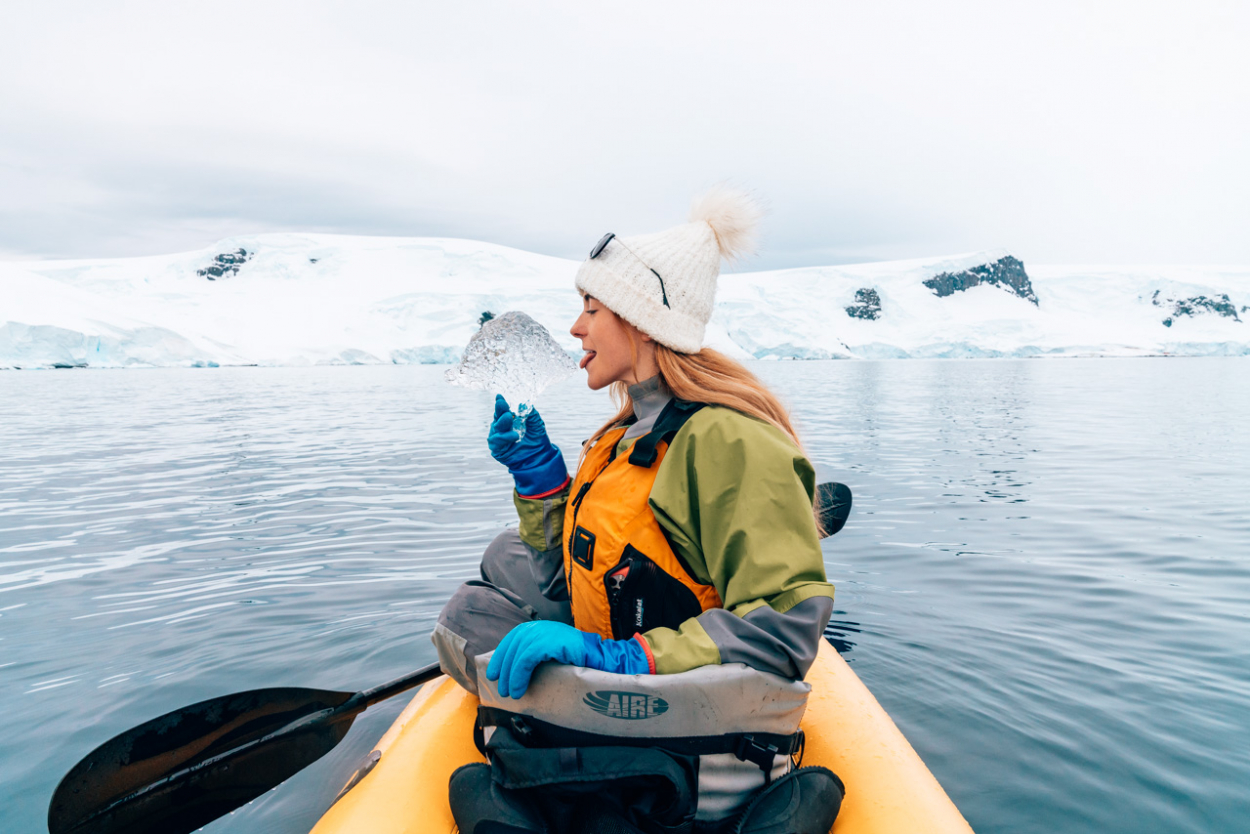 ---
Drake Passage
I cannot tell you much about how bad crossing the Drake can be, as I only heard about it. Food could have been flying around, or if it got really bad all guests would have been confined to their cabins.
But, none of this happened. We've experienced the flattest waters anyone of the staff has ever encountered.
On lower decks, you couldn't even feel like the ship is moving at all. It was rockier on the way to the Falklands than on the Drake Passage.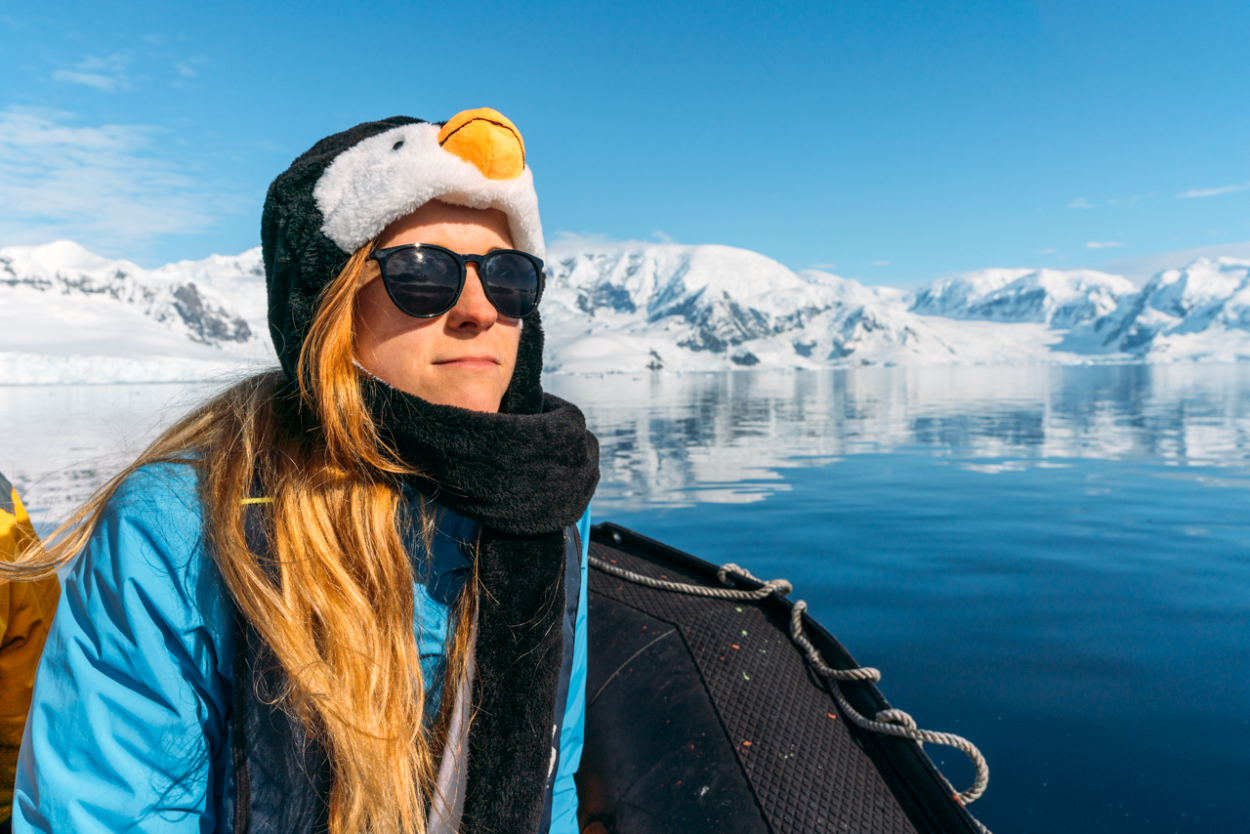 Do you have any questions about traveling to Antarctica with Quark Expeditions or anything? Let me know in the comments below!