Paris is an amazing city, known for romantic getaways, fashion, and incredible food. But, if you think that's all there is to do in Paris, you're wrong! The City of Lights and Love is also a great place to visit for families, even if you're with kids.
Most kids, even toddlers will have a blast in Paris – the city isn't lacking activities for them. Here's a guide that I personally created about the best things to do in Paris with kids.
Is Paris a Good Place for Kids?
There are plenty of kid-friendly activities, from parks and playgrounds to museums and attractions. The city is very walkable, so you won't have to worry about renting a car and taking public transportation is also an option (and can be fun too, keep on reading!).
The food, the culture, the breath-taking sites that I once thought were just for a romantic getaway, I was wrong! Paris is a city for all and I'm so glad we took the plunge and brought our kids along too. Paris has a little something for everyone in the family!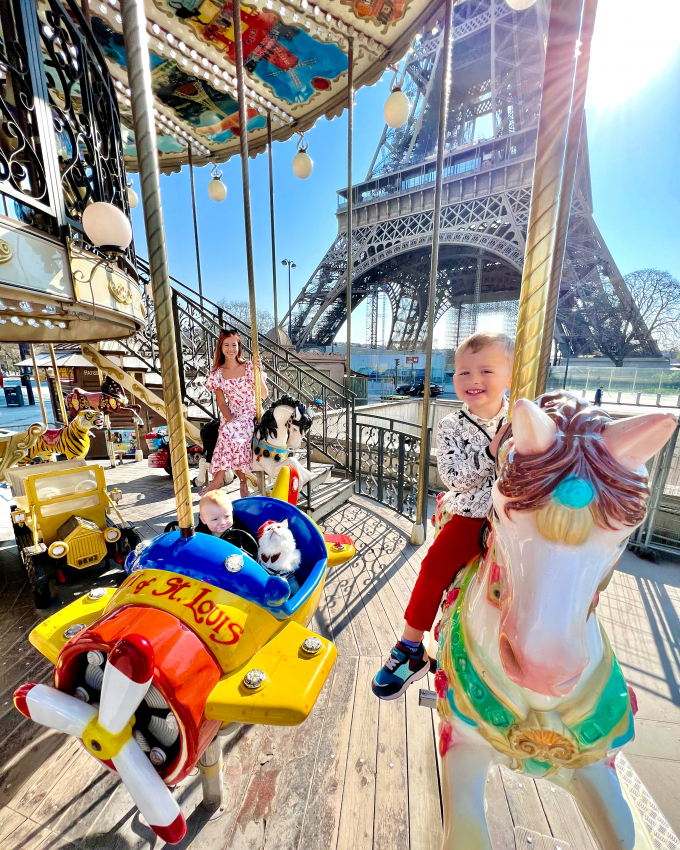 Best Time to Visit Paris with Kids
The best time to visit Paris with kids is during the shoulder season, which is April to June or September to October. The weather is milder during these months and there are fewer crowds, so you won't have to worry about your kids getting overwhelmed by large crowds of people. Plus, hotel prices are usually lower during the shoulder season.
If you're visiting Paris with a baby, I would recommend avoiding the summer months, as it can get quite hot in Paris during those months. July and August are also when most Parisians take their vacation, so many businesses (like restaurants and shops) may be closed during those times.
Alternatively, there's also winter which can be a beautiful time to visit as long as you bundle up properly. After all, Paris doesn't get as cold as many other places in Europe or USA.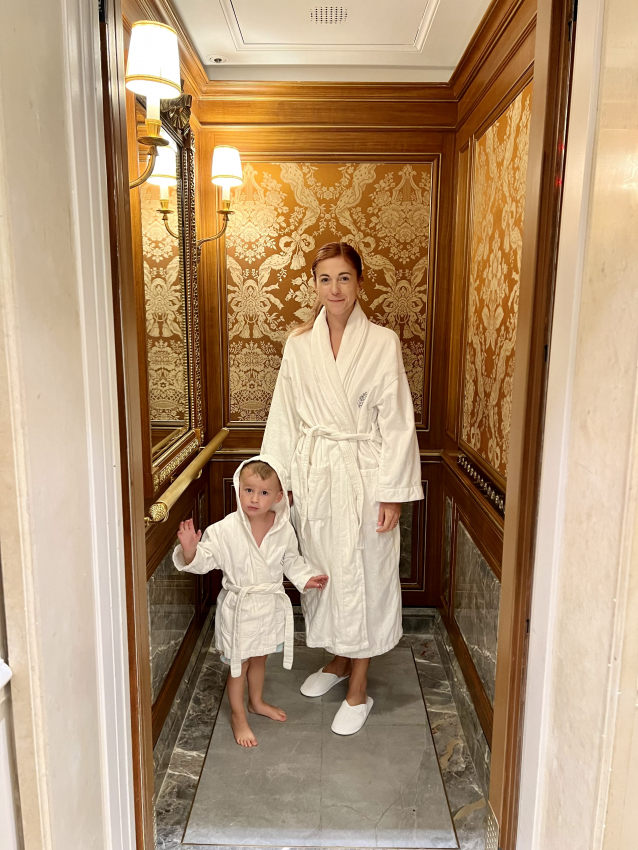 Where to Stay in Paris with Kids
There are many great neighborhoods in Paris that are perfect for families. Some of my favorites include the Marais, the 16th arrondissement, St. Germain, and Montmartre.
The Marais is a great place to stay with kids because it's a very lively neighborhood with plenty of things to do. There are also many family-friendly restaurants in the area.
The 16th arrondissement is a great option for families because it's a very safe and clean neighborhood close to the Eiffel Tower. It's also close to many of the city's best museums, including the Musée d'Orsay.
St. Germain is another great option for families, as it's a bit more laid-back than the Marais but still has plenty of activities and dining options. It also has some great parks, like the Luxembourg Gardens.
Montmartre is a bit more residential than the other two neighborhoods, but it's still a great place to stay with kids. It has plenty of green space for your kids to run around in and there are also some great views of Paris from this neighborhood.
Keep in mind that… I found finding Paris hotels for family trips pretty challenging (even more than finding a cat-friendly hotel!). Many hotels limit occupancy per room which made it impossible to rent just one room for 4 of us and obviously, the baby cannot be in a different part of the hotel in a different room.
Most hotels were offering pretty tiny rooms, refused us all together in one room, or the location was pretty bad or noisy. Ultimately I can recommend these hotels without a doubt:
Four Seasons George V – They went above and beyond to make everyone happy (including concierge getting our car special meals and cleaning his litterbox). The hotel is
Hotel Regina Louvre – Another 5* hotel, but much cheaper than FS and just steps away from the Louvre. They offer rooms with Eiffel Tower views, are pet friendly and I found them very flexible when it come sto your needs.
Relais Du Louvre – Another great 4* option that's kids friendly and even provides cots for babies.
Terrass Hotel – Montmarte hotel with incredible views and children friendly rooms. Usually cheaper than previous options.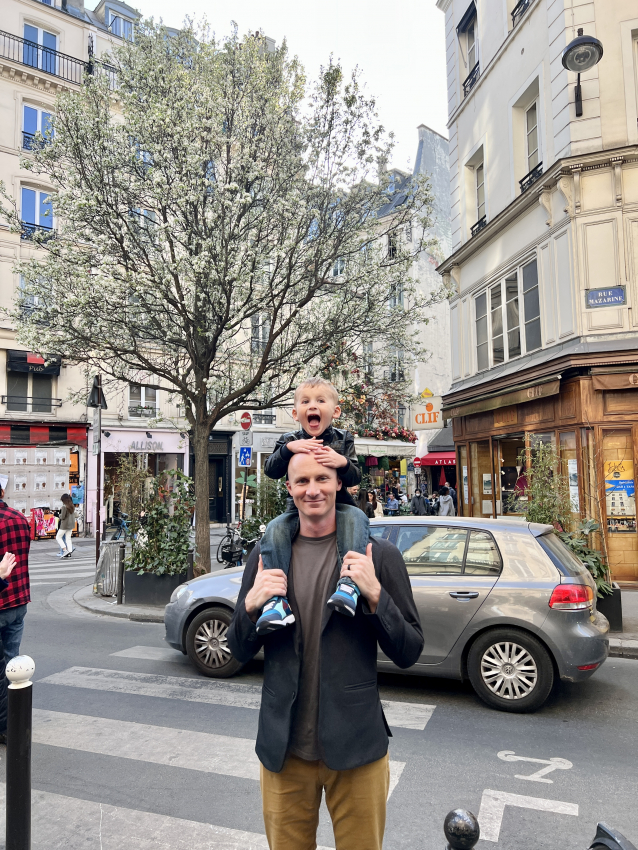 ---
Best Things to Do in Paris with Kids for the Whole Family
1. Explore the iconic Eiffel Tower
Built in 1889, the Eiffel Tower is one of the most iconic landmarks in Paris. It's also a great place to explore with kids, as there are three levels that you can visit.
You can either walk up the stairs or take the elevator to the top. With kids, I believe we can all agree that it's best to avoid the stairs with toddlers and babies.
I highly recommend that you book your tickets in advance, as there can be long lines to get to the top of the tower. It is definitely worth it though, as the views from the top are breathtaking and even your kids will be in awe!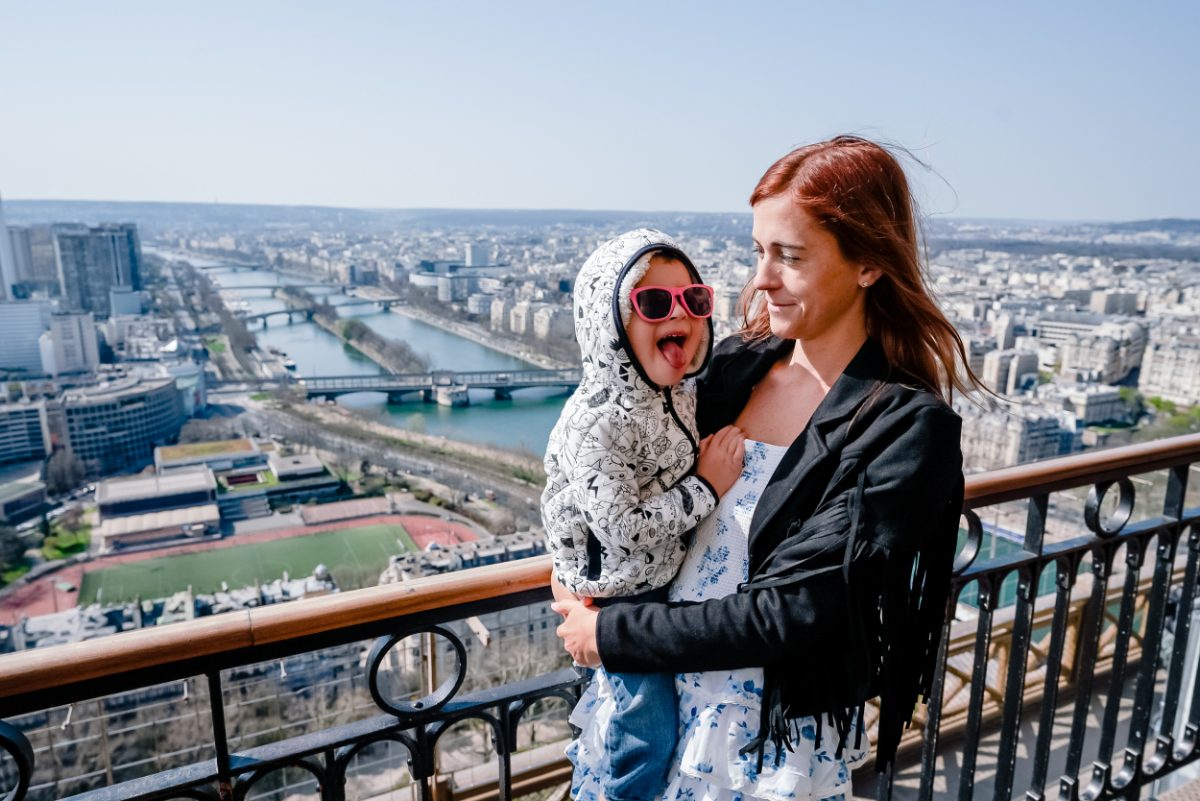 Are strollers allowed in the Eiffel Tower?
Yes, strollers are allowed in the Eiffel Tower. You can take your stroller up the elevator all the way to the top which is super helpful.
Officially, you need to fold the stroller in the elevator, but this rule isn't enforced. Most French people will have a Babyzen Yoyo strollers because they're easy to fold and narrow. Don't even try to take a giant American stroller, or worse – a double stroller, because you won't even fit in a waiting line with it and be forced to leave it outside.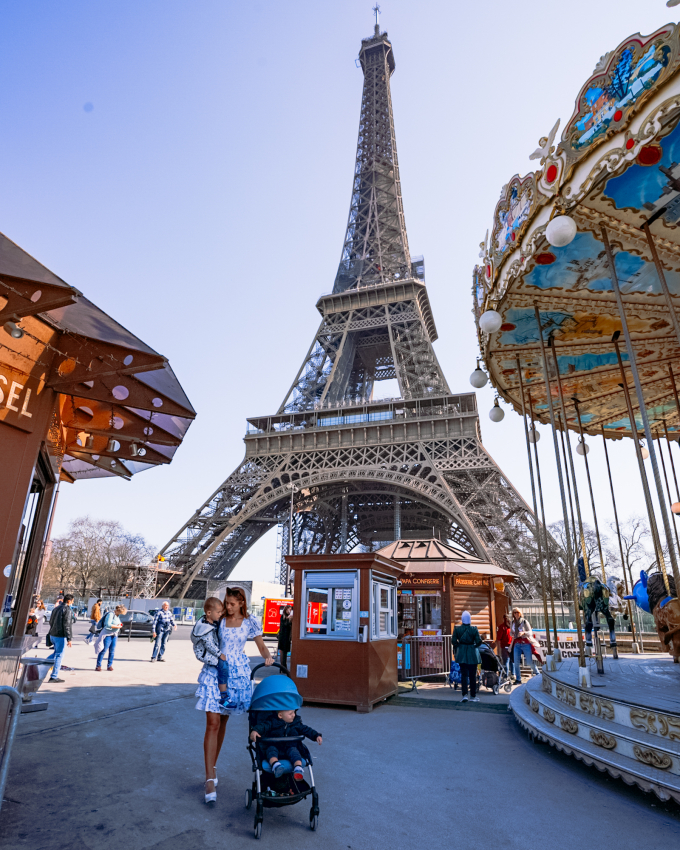 Why I recommend it: Paris trip won't be complete without a trip to the tower that represents the city, the Eiffel Tower. A must-see and a must-do when in Paris.
Don't forget to hop on a carousel at Trocadero after your visit. My kids and cat love it!
---
2. Take a Boat Ride on the Seine River
It's said that the best way to see Paris is by its river, the Seine. A boat ride will give you a different perspective of the city and its landmarks. You can either take a leisurely cruise or a more informative tour.
There are many companies that offer boat tours, so be sure to do your research in advance. I would recommend taking a tour that goes by some of the city's most famous landmarks, such as the Eiffel Tower, Notre Dame Cathedral, and the Louvre Museum. It's a great way to relax and take in the scenery with your kids.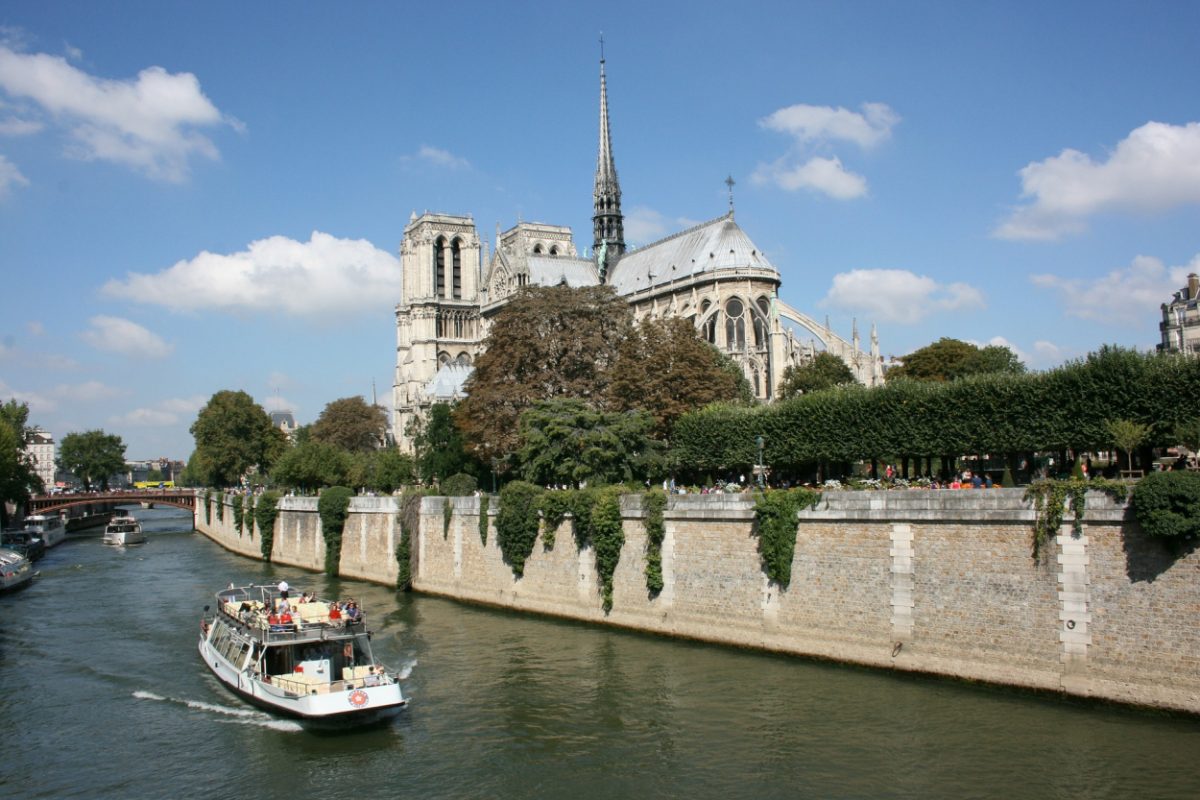 Why I recommend it: Seine River is the soul of Paris. A boat ride will give you a different perspective of how beautiful Paris is. Kids will also love it as they can see many different landmarks in just one boat ride.
---
3. Find a playground with a view
Paris is best explored on foot as it's the most popular mode of transportation in the city, among the metro. Surprisingly, there are many playgrounds all over the city but they're mostly hidden away from the crowds (I swear I lived in Paris as a student and visited gazillion times and never saw any until I specifically looked for them for my kids).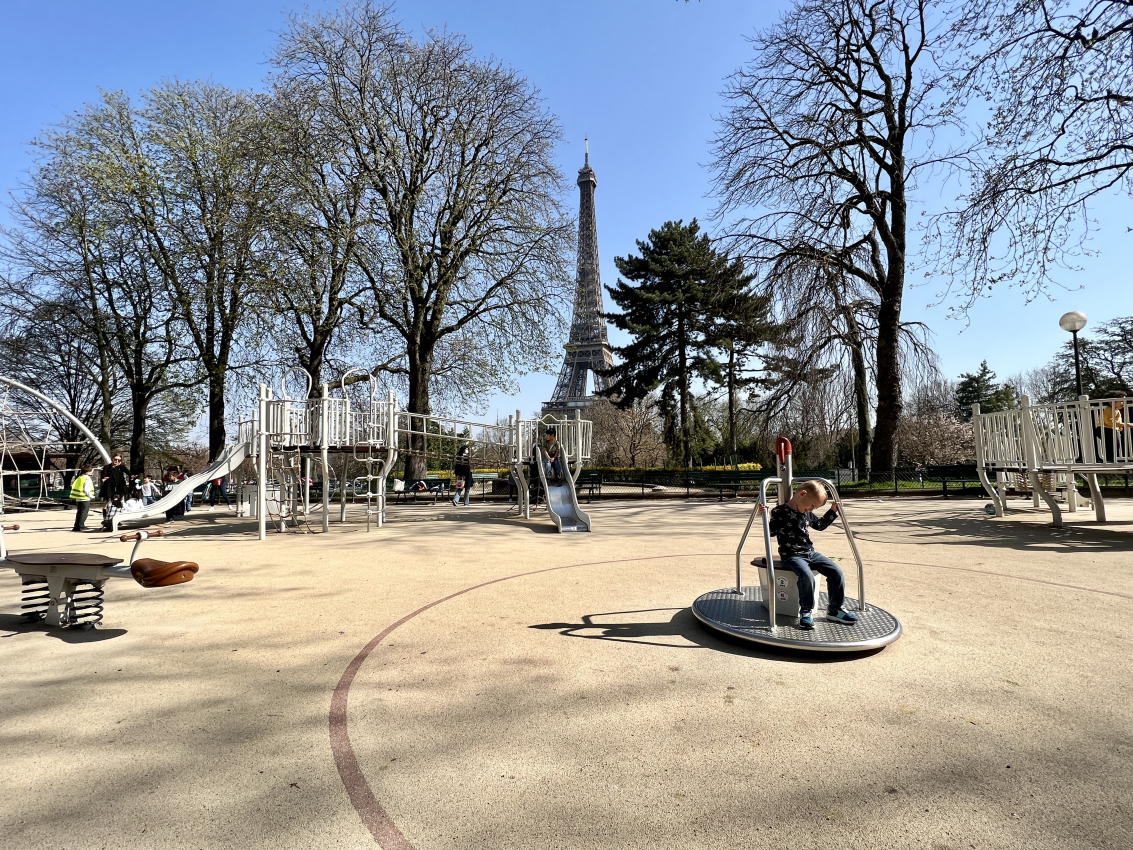 Why I recommend it: You can let your kids mingle with Parisian kids and see them play while looking at historic architecture or landmarks like the Eiffel Tower. A great way to explore the city and get some exercise at the same time.
The best playgrounds I found are: Aire de jeux, Trocadero aire de jeux, Parcours enfants.
---
4. Enjoy Parc des Buttes-Chaumont
Speaking of playgrounds… Parc des Buttes-Chaumont is considered one giant playground for kids. It is one of the most popular parks in Paris and is a great place to spend a day with your family. This playground slash park has many different areas for kids to explore that they will surely enjoy.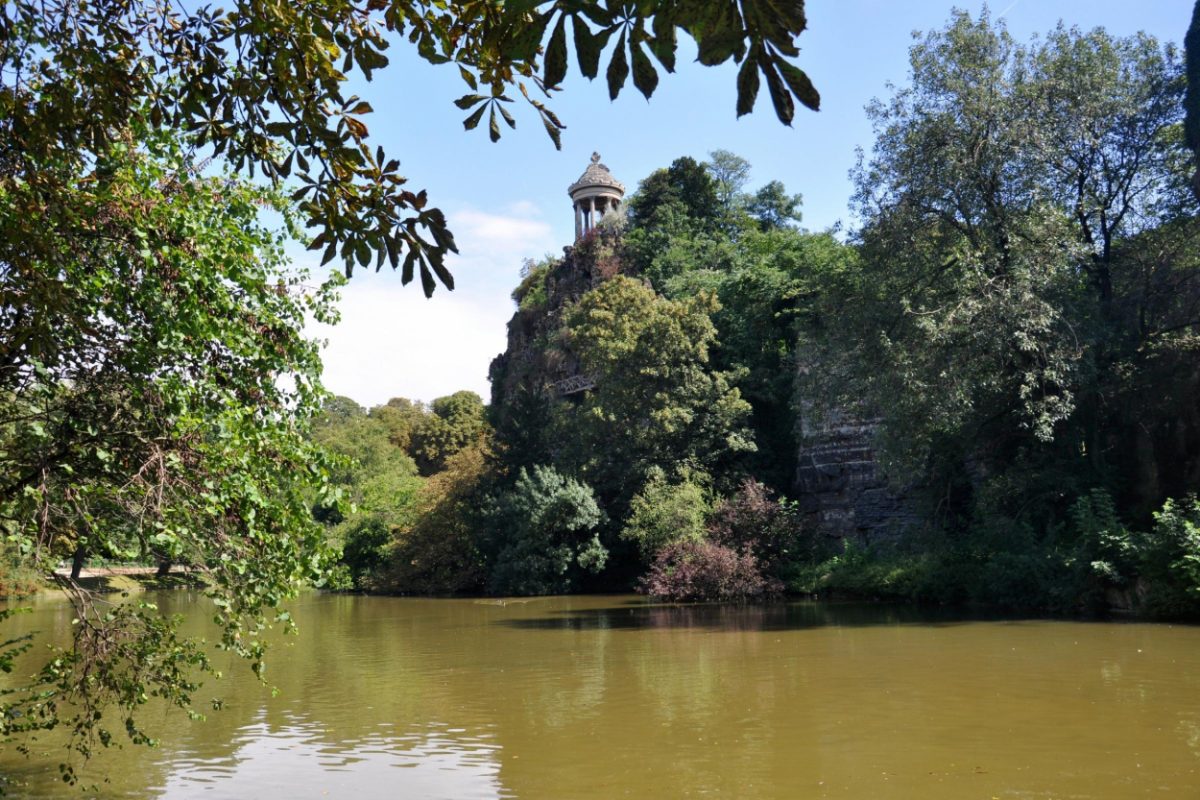 Why I recommend it: The park has many different activities not just for adults but also for kids, such as carnival games, donkey rides, a gazebo, an alcove, hills, streams, and raging waterfalls that can make your family's Paris trip an unforgettable experience.
---
5. Visit L'Atelier des Lumières
If you are looking for a unique and interactive experience, then you must visit L'Atelier des Lumières. This museum is devoted to digital art and is located in an old factory. The museum has many different exhibitions that change throughout the year but mostly focus on famous artists. I would highly recommend checking their website in advance to see what exhibition is currently on.
I am aware that the place claims it's not suitable for kids under 2, but I visited with two kids aged 13 months and barely 3 and they had a blast. They were absolutely mesmerized by the exhibition and my older joined some other people dancing in the art.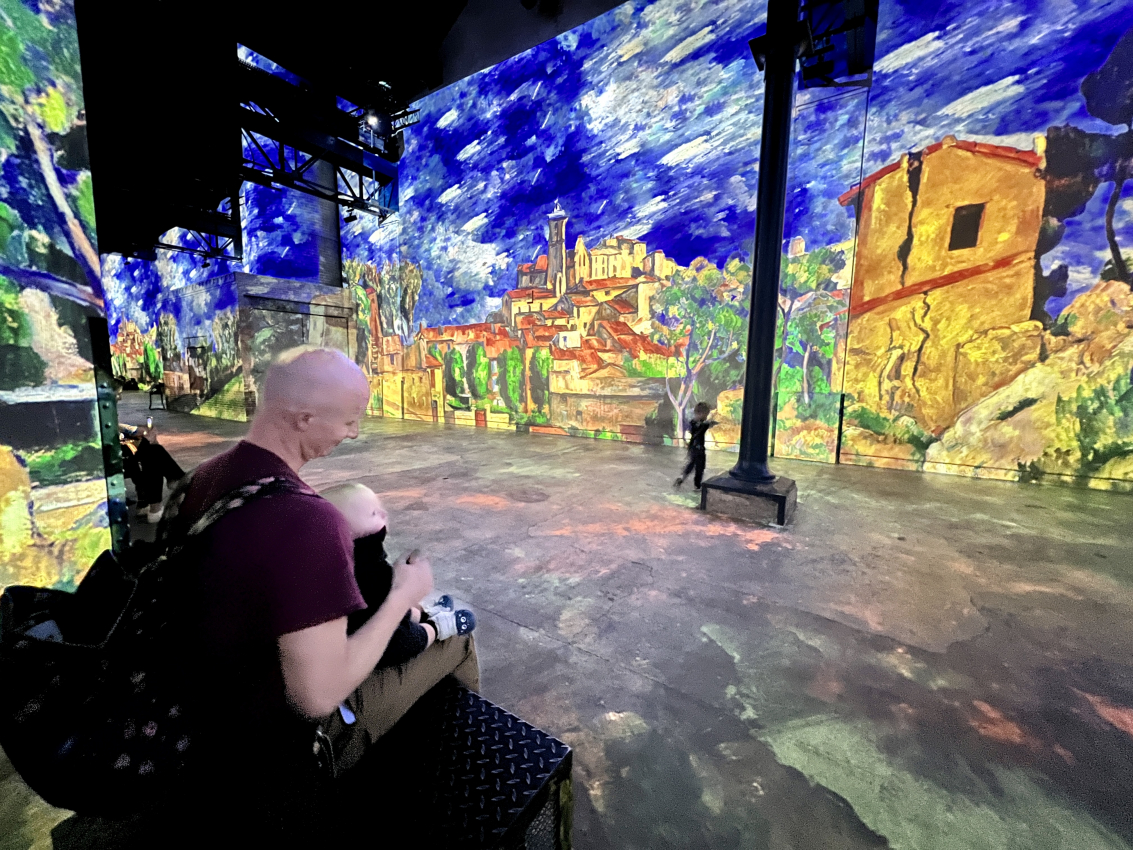 Why I recommend it: L'Atelier des Lumières is a very unique museum that your kids will definitely enjoy. They offer many different exhibitions that change throughout the year, so there is always something new to see. You can also learn about digital art in this interactive museum. One great thing they show here is that you and your kids will enjoy it!
---
6. Visit the Louvre
Bring your kids to Louvre and don't forget to visit Mona Lisa and the other most famous paintings in the world. Louvre also offers tours for families, especially kids and offers stories particularly geared toward a younger audience.
I particularly recommend visiting Delacroix and Rubens rooms because the paintings are giant and will surely impress a toddler.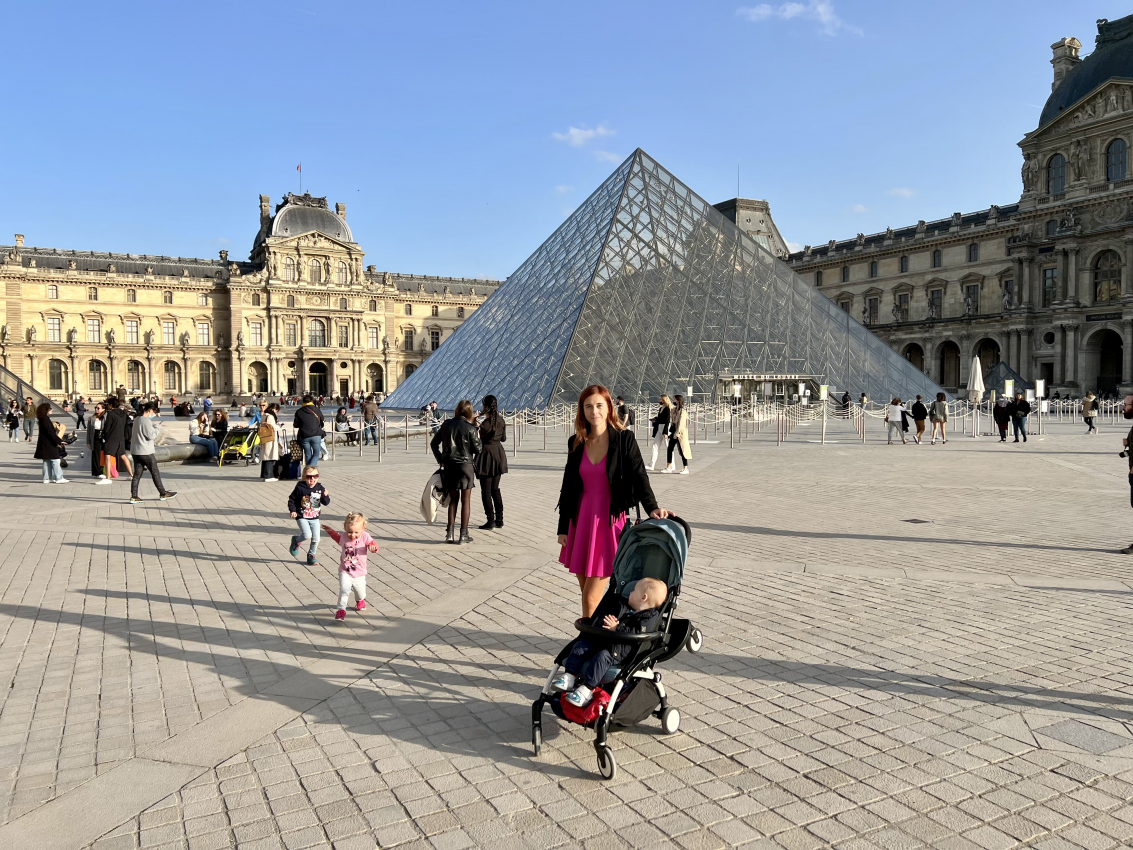 Are babies allowed in Louvre?
Absolutely! There are changing tables everywhere and babies are most welcome at the Louvre. Frontal baby carriers are also allowed, but backpacks and carriers that put the child on the back are not permitted due to safety.
Can you take a stroller to the Louvre?
Yes, you can and you should definitely bring one because it's a huge place that requires a lot of walking! The stroller lets you skip the entrance line and go directly into the museum which saves a ton of time during high season.
Similar to the situation at the Eiffel Tower – bring a small travel stroller, because while full-size strollers are allowed you would be doomed to navigating elevators and they're not always the easiest to find. On various occasions, it's simply easier to just lift a lightweight stroller and carry the baby in it up a few steps. I've done it million times with my Babyzen Yoyo.
---
7. Be amazed at Centre Pompidou
The Centre Pompidou is a great place to learn about the history and culture of Paris. This is a modern art museum that's partially interactive.
It has space for kids aged 2-10 on the first floor and a multimedia and performing arts area on the ground floor for teenagers aged 13 to 16. Parents like us could also appreciate the artwork on display and the many different interactive exhibits. You can relax, and enjoy art and culture while kids are being entertained in this museum.
8. Go to Jardin du Luxembourg
The Jardin du Luxembourg is a beautiful garden located in the center of Paris. This garden is a great place to relax and take in the sights and sounds of Paris. There are many different activities that you can do here, such as remote control boats with the kids or pony rides.
There's also a nearby playground for kids, which is fenced up (!) in so you can relax while they play but it costs 3 EUR.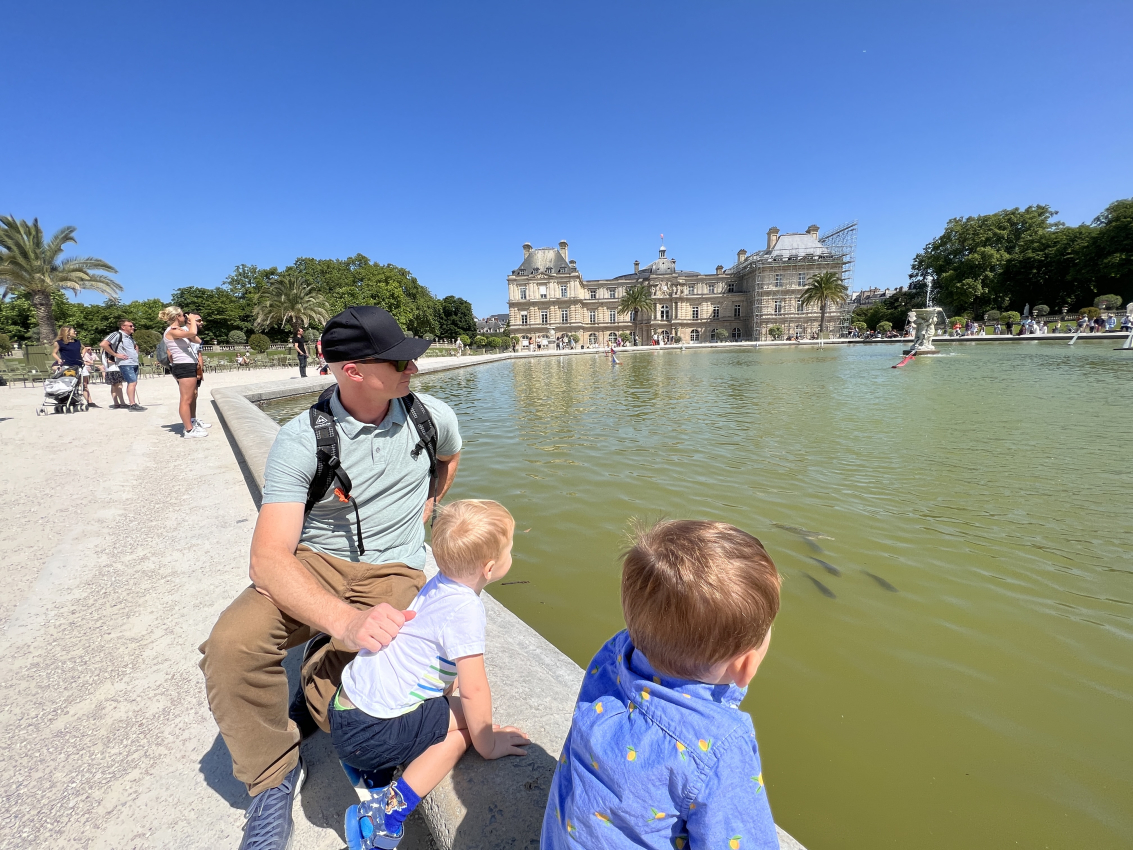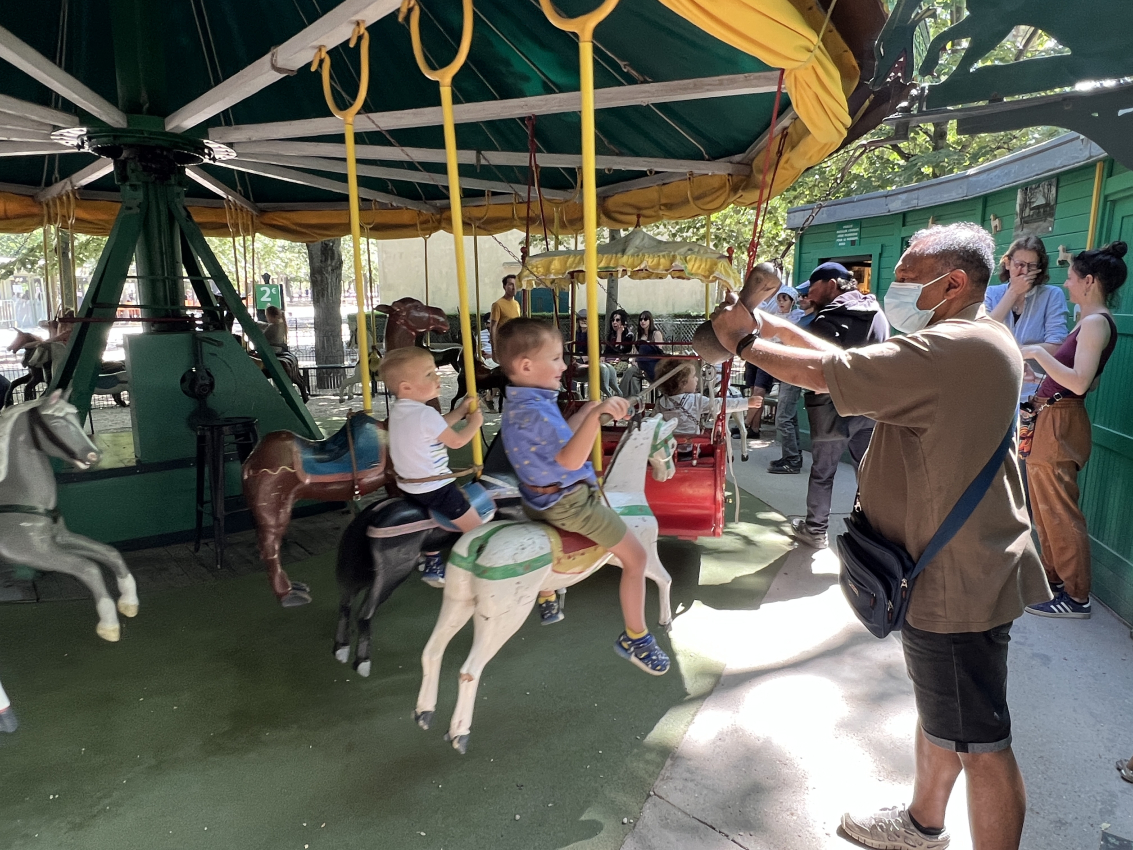 Why I recommend it: The Jardin du Luxembourg is Paris' enchanting answer to NYC's Central Park. With beautifully manicured gardens, a playground for the kids, and many great food options around it as well as different activities, this is a great place to spend a day with your family.
9. Ride the Parisian Metro
The Parisian metro is a great mode of transportation because it's quick which might not seem very exciting, but there are some hidden attractions for kids as well.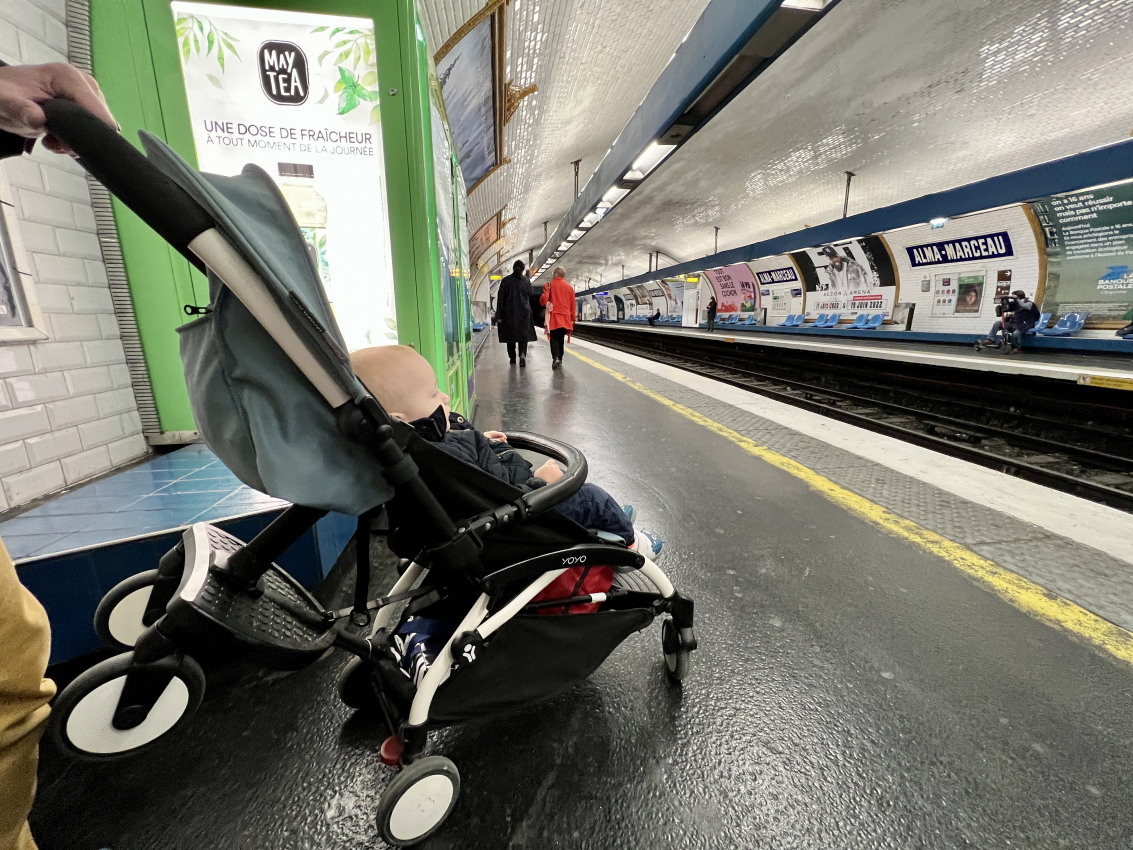 Hop on metro lines 1 or 14 and make sure to get on either the first or the last carriage. There are pretend control panels so kids can drive the metro.
---
10. Book a Photoshoot
Taking photos of the whole family on vacation isn't easy. Hire a photographer to do it for you! Flytographer is a great website to get a photoshoot done at various famous locations.
Please feel free to use the following link to get $25 off your first Flytographer package (or use code: CODE0820).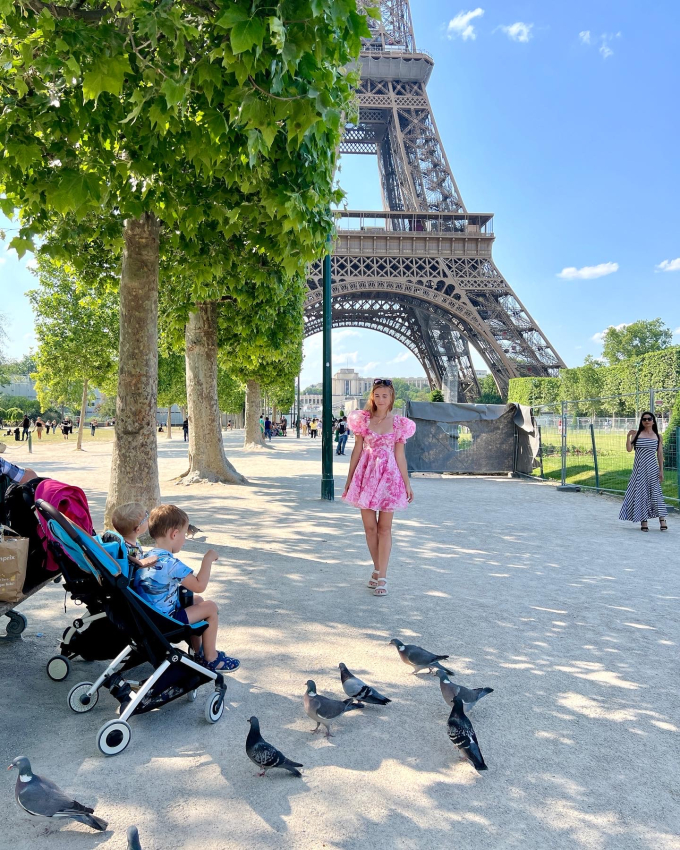 11. Visit Versailles
Who wouldn't be impressed by Versailles? Even toddlers love admiring a giant palace while listening to interesting stories about kings and queens. Once you're done with the inside kids can get some energy out by running through the gardens.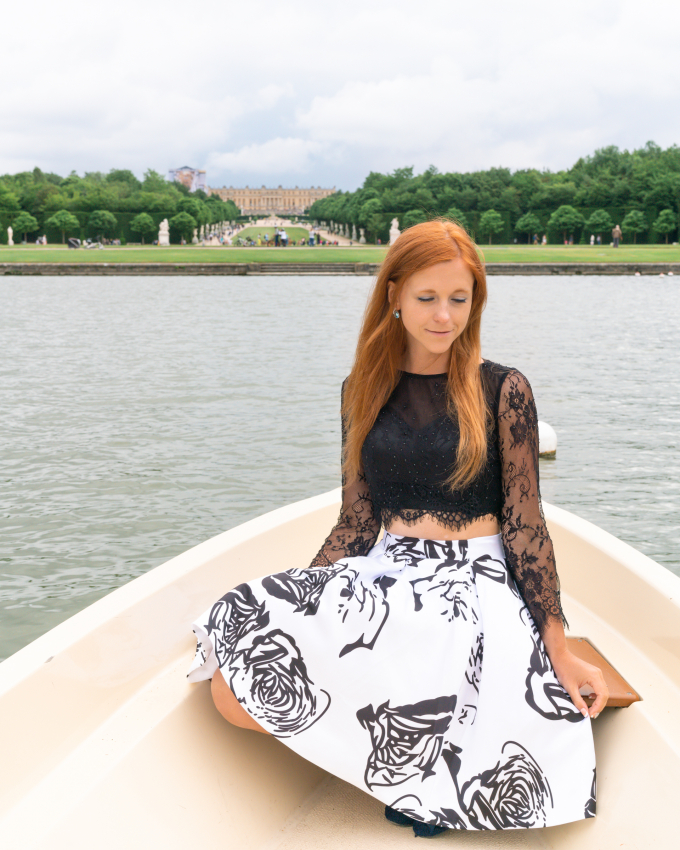 If it still doesn't sound exciting enough for your kids there's cafe Angelina inside the palace, self rowing boats are available for rent, or even tandem bikes. Just remember to purchase your tickets in advance (more info here).
12. Have a Michelin Star Dinner
Paris is full of amazing restaurants! Kids can dine out in Paris without a problem and surprisingly for many, various Michelin star restaurants offer kids menu and give out items to get kids entertained. Just keep in mind that unless meals take a while, so you might want to brijng an iPad (yes, I said that!).
I recommend Qui Plume La Lune or Le Cinq. Reservations are essential, at least 2 weeks in advance.
13. Fall in Love with Pont des Arts
This is a bridge that is located in the center of Paris. This bridge is a great place to take in the sights and sounds of Paris and while it's often associated with couples, kids love it too!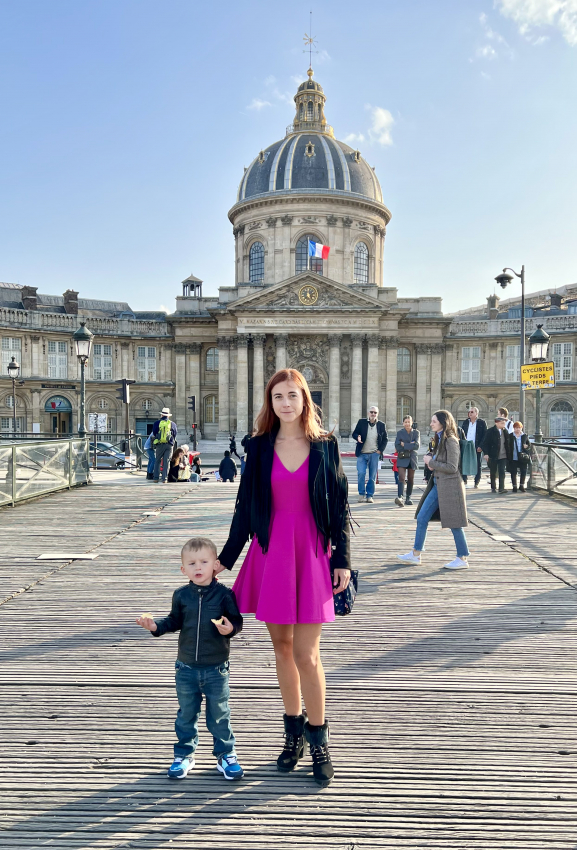 There's always someone playing music there and the atmosphere is lovely. Last time both my kids were sitting quietly listening to a musician for a long time.
Stroll around the Seine and browse on stalls after, or visit square Gabriel Perne – they have the cutest little book benches and a fenced mini play area.
---
14. Explore Disneyland Paris
Disneyland Paris is a must-visit for many families traveling to Paris. This theme park is located about 32 km east of Paris and is filled with many different rides and attractions. I would highly recommend spending at least one day here, as your kids will definitely enjoy it, who doesn't love Disneyland?
Why I recommend it: Disneyland Paris is a great place for kids of all ages. It is as fun as its other country counterparts, but with a unique Parisian twist since Mickey Mouse speaks French.
---
15. Visit Jardin d'Acclimatation
Did you know that France has a crazy amount of amusement parks? Disneyland might be the internationally famous one, but honestly… if you want to experience a true French park head to Jardin d'Acclimatation. It's less crowded, much cheaper and pretty centrally located – right in Paris!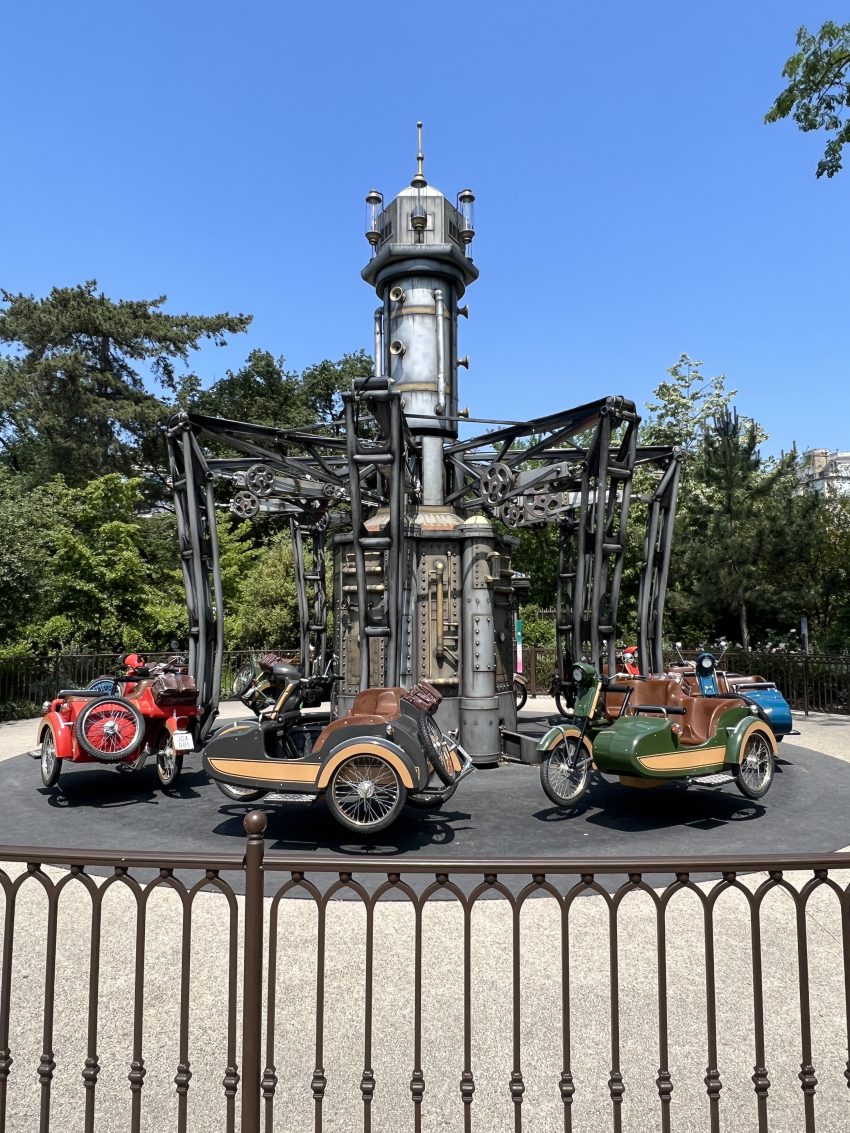 If you're coming with kids under 4, especially if they aren't very tall, I dare to say that it's actually better than Disneyland because there are more rides for all ages.
---
16. Visit Cite des Enfants Children's Museum
The Cite des Enfants is a children's museum that is located in the suburbs of Paris. This museum is geared towards kids aged two to twelve and has many different interactive exhibits. I would highly recommend this museum if you are traveling with young kids.
Why I recommend it: The Cite des Enfants is a great museum for kids 2-12. They offer many different interactive exhibits that will keep your kids entertained. Parents can also learn about the history and culture of Paris in this museum. One great thing is they offer hands-on activities, so your kids can learn while they play.
17. Explore the Natural History Museum of Paris
The kids will surely love the Gallery of Evolution with 350 life-like specimens of animals. There is also the Gallery of Mineralogy and Geology and an outdoor botanical garden. The museum does VR and hands-on crystal presentations.
18. Visit Parc Zoologique de Paris
If your kids are animal lovers, then they will love the Parc Zoologique de Paris. This zoo is located in the Bois de Vincennes and is one of the largest zoos in Europe. The zoo is home to 3,000 animals and is a great place to spend a day with your family. There are also many restaurants and cafes in the area, so you can grab a bite to eat after a day of exploring the zoo.