There is a travel stroller and a stroller for airplane. These aren't the same thing, because the smaller the stroller the more features might be sacrified.
I tested most strollers available on the market. If you don't see a certain stroller listed, make sure to check my strollers reviews as I simply might not have included here as I don't think its the top 5 carry on strollers for airport.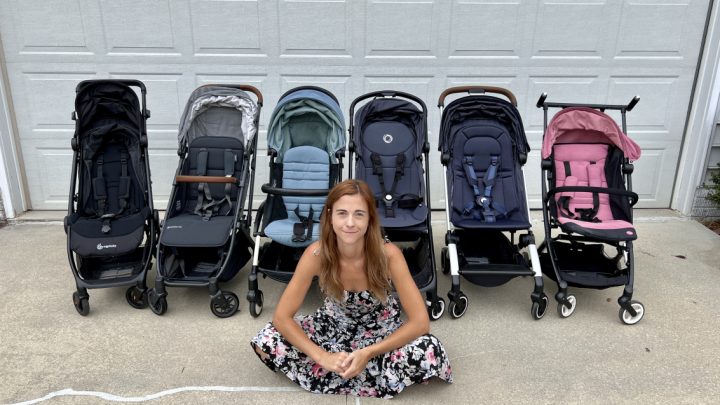 Why trust me?
I'm your crazy stroller lady! I've owned over 30 travel strollers, because I'm crazy about honest reviews.
I have detailed reviews on my lifestyle/parenting blog.
Benefits of a Strollers that Fit in Overhead Bin of Airplane
These days having the best travel stroller for airplane that is both compact and lightweight is paramount in making the journey as easy as possible. Trust me, I've done a few trips alone without a proper travel stroller and it wasn't as easy as it could have been.
The benefit of having a really compact lightweight stroller means that you can literally land, pop the baby into the pram and walk down the gateway towards baggage reclaim.
No waiting, stress about missing connection, no wondering whether your things are going to make it in one piece or where you'll pick it up (sometimes they give you back your gate-checked stroller at baggage reclaim).
---
My husband thought we didn't need a stroller that fits in the overhead until we gate checked the stroller while watching other parents carelessly unloading and carrying their tiny travel strollers and went to buy a small stroller himself.
Spoiler: Our stroller arrived damaged on the first flight. On the second flight we waited 25 minutes to get it at the gate and had to sprint to make our connection.
Cons of Compact Strollers for Airports
Let's be real, a lot of tiny strollers will miss out on the functions offered by slightly bigger, yet still compact strollers. Ask yourself how often you'll be flying with the baby…
If you fly often then I would say that a stroller that fits in the overhead compartment in the cabin is a must.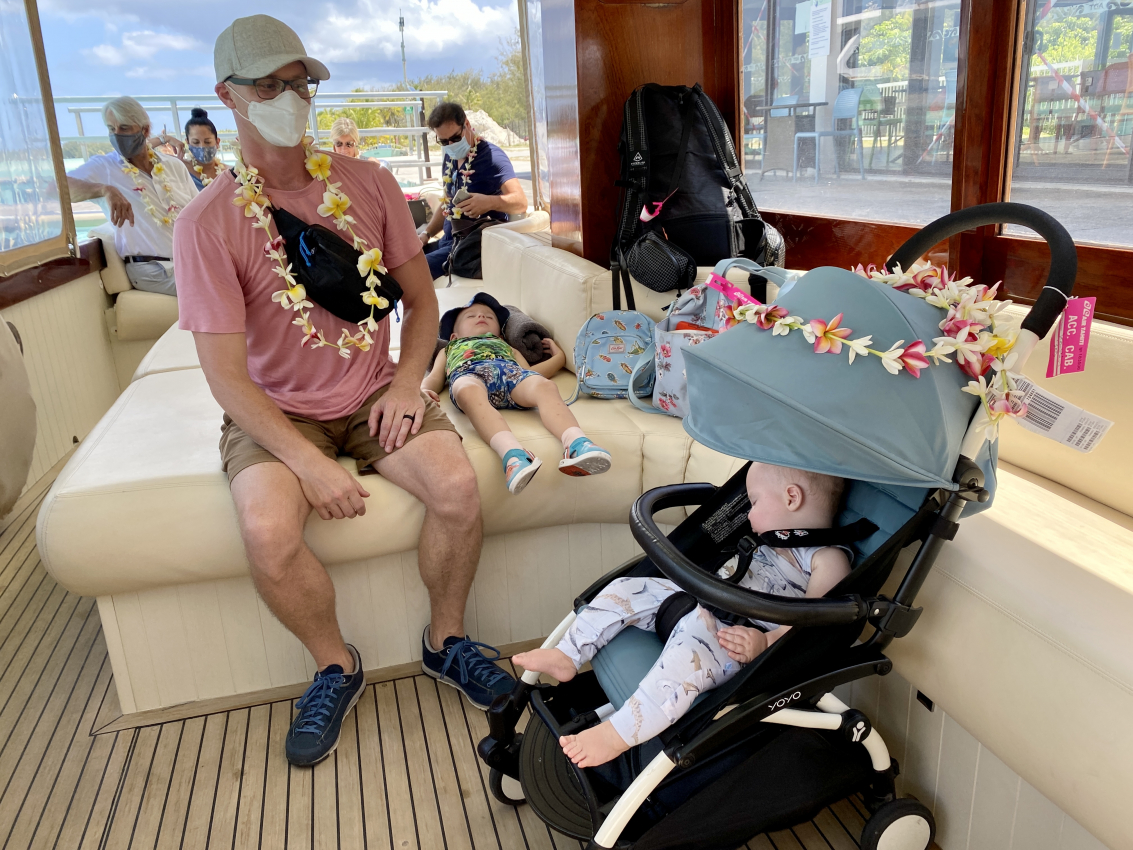 ---
Detailed Reviews of Good Travel Strollers for Airplane
20 x 17 x 7 (folded) | 13lbs | $$$
52 x 44 x 18 cm | 6.2kg
Babyzen Yoyo is the only stroller that's never questioned at airports while every time I take anything else the staff is usually doubting it by asking "are you sure it will fit in the overhead?".
I tested it when traveling in Italy, Greece, Poland, Malta, France, Mexico, Spain, El Salvador and the USA.
The wheels are surprisingly good and there's no need to even lift the stroller over the curb or cobblestones. I've also driven through mud and gravel without any issues.
It's the only travel stroller that doesn't fall backward with a diaper bag or another stroller hanging from it (Yoyo Connect) – even without a baby sitting in the stroller.
Many people complain would be the fact that the seat recline degree isn't flat, but it's just the same as other travel strollers because that's the law – super compact strollers can't fully recline for tripping hazard. The recline is more than sufficient.
If you want Yoyo to be suitable from birth you will have to get a newborn pack or bassinet (I recommend a newborn pack over a bassinet because it folds with the stroller!).
Pros:
Never questioned on planes
Great wheels & suspension
Easily maneuverable with one hand
Can be a double with Yoyo Connect
Cons:
Needs additional Yoyo-only accessories (footrest, bug net, bumper bar)
Canopy on a smaller side
Basket on the smaller side, but sufficient
Pricy
Would I Recommend It Overall: YES
Read my extra detailed review of Babyzen Yoyo+ Stroller
---
---
22″ x 19″ x 10″ (folded) | 13 lbs | $$
ZOE strollers are reliable and practical. It's small and light that it can be carried easily, but it doesn't sacrifice the functionality with a big canopy, belly bar and parental cup (all included already!)
Naturally, it fits as a carry-on on airplanes.
The recline is almost flat and the seat is spacious, so even the big kids can fit just fine. Folding is easy.
My only complaint would be that I wish that the Traveler model had an option for off-road wheels, but for that you'd have to get Tour+ – which is still compact but doesn't always fit in the overhead.
Pros:
Big canopy
Almost flat recline
Various accessories included
Decent basket
Easy one hand fold
Cons:
No off-road wheels
No expandable like Tour+
Would I Recommend It Overall: YES
---
20.4″ x 21″ x 9″ (folded) | 16.9 lbs | $$
Ergobaby Metro is one of the most frequently chosen travel strollers for infant, if people don't want to pay for Babyzen Yoyo.
It fits as a carry-on on some airplanes due to its too-large width so you might need to gate-check it if needed.
It features a flat recline on a very well padded seat and the opportunity to be used from birth without any adapters or car seats, just fold it all into a bassinet.
My only complaint is the fold. It's a bit awkward and requires a few steps and kicking it into a position. I would still recommend it as it's accessible to families who don't want to spend the money on a more luxurious travel stroller.
Pros:
Big canopy
Flat recline & turns to bassinet
Various accessories included
Big basket
Extendable handlebar
Cons:
Weird flimsy fold – no one hand fold/unfold
Might not fit on all planes
Would I Recommend It Overall: YES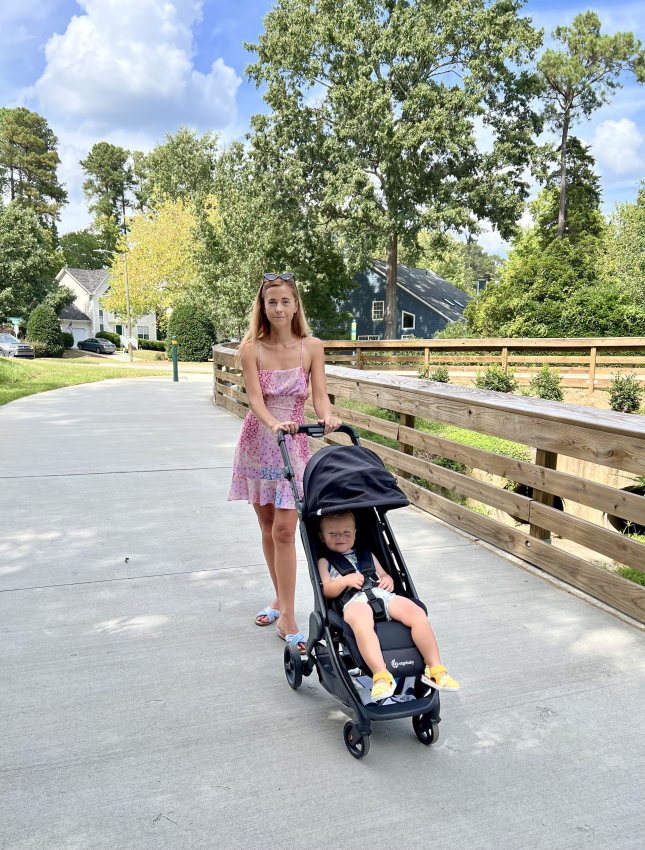 ---
18.9 x 12.6 x 7.9 (folded) | 13.7 lbs | $$
48 x 32 x 20 | 6 kg
Cybex Libelle is a good stroller and I got it as a secondary stroller for my older son who doesn't need a stroller all the time.
The stroller works great and rolls nicely, turns nicely, it's definitely a quality set of wheels.
It's also amazing how small it folds, yet it's better quality than GB Pockit. It will fit anywhere, even in a small bag (or under another stroller!)
It unfolds in one move, but folding takes some getting used to and requires both hands and a few steps. Unlike Pockit, it never got stuck once which is a plus!
I tested it when in France, Spain, USA and Poland.
The Cybex has the brake pedal located on a bar behind the stroller basket and it can't be kicked while walking and is easily pressed and unpressed which is a huge plus for sandals. And the stroller basket is easily accessible.
The canopy, similar to GB Pockit, is too small for sunny days to cover the child completely. The handlebar is shorter than on our Babyzen Yoyo. However, if you're used to things like Doona stroller then it will be fine for you as it's a bit taller.
A bumper bar is an option but as it's clippable so it doesn't fold with a stroller which is annoying. However, you can roll it and put it in a purse – just make sure not to lose it.
One-hand steering is an option, but it's not as smooth as on Yoyo or other Cybex strollers. That said, I feel like this stroller is good for older kids who go in and out of the stroller – my 3 year old loves it. However, I wouldn't recommend it for babies and small toddlers because the recline is small and slightly bent.
If you don't mind something that folds slightly bigger, get a Cybex Beezy instead. A higher handlebar, bumper bar already included and one-hand folding are possible.
Read my extra detailed review of Cybex Libelle stroller.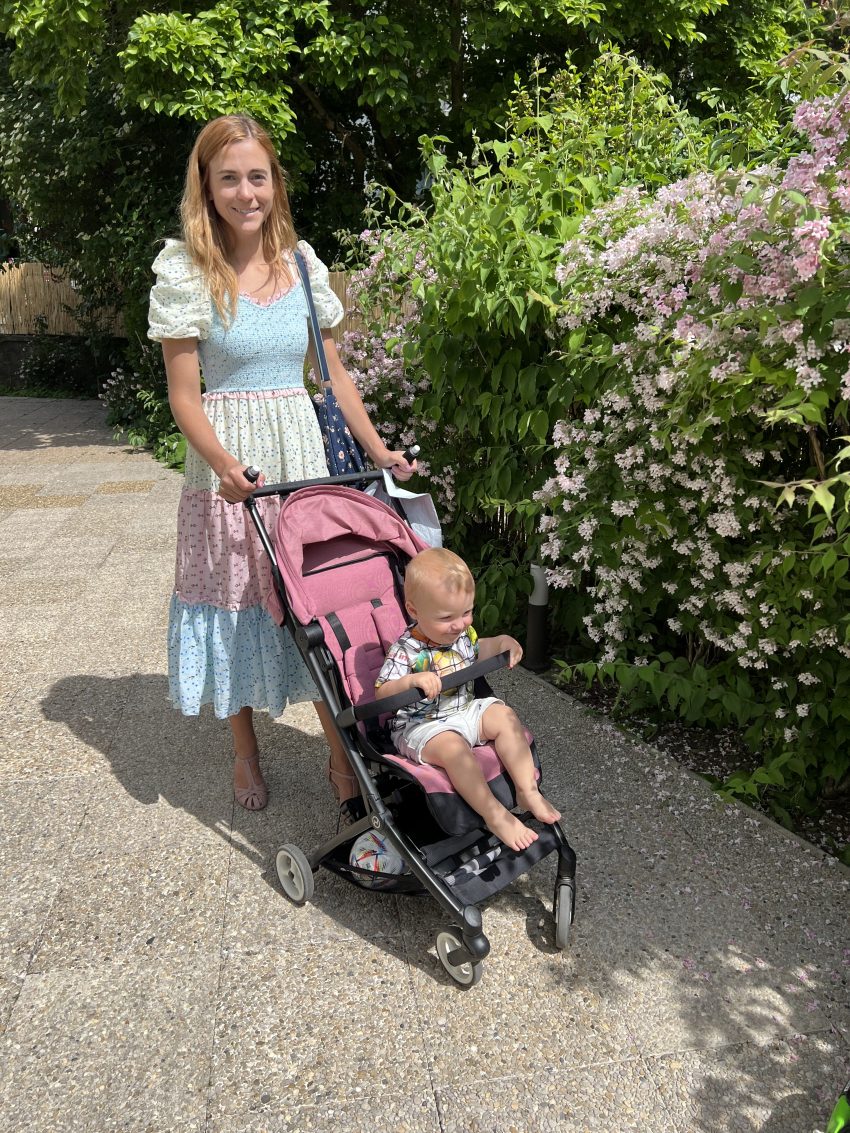 Pros:
Folds super small
Lots of accessories available
Cheaper than some competitors
Great wheels
Cons:
Suitable from birth only with a car seat
Can't fold with a bumper bar
Lack of carrying strap
No one hand fold
Would I Recommend It Overall: As a secondary stroller for older kids
---
---
21″ L x 17.7″ W x 8.5″ H (folded) | 13.4 lbs | $$
53 x 44 x 22 cm | 6 kg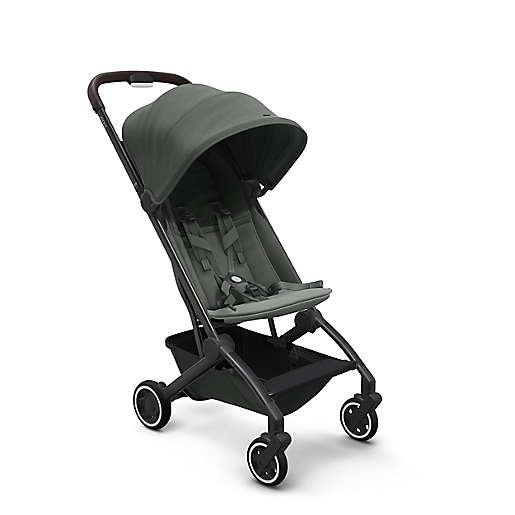 Unlike full-size Joolz strollers, in my opinion, Aer is somehow well-designed. Somehow because the stroller won't fold if you use it with a bumper bar officially made by Joolz – which is odd.
It has a one-hand fold, good recline, peek-a-boo window and other perks one might want from a travel stroller. It also includes accessories like a rain cover.
Wish the button to fold wasn't in the middle of the handlebar as it makes things more difficult when steering with one hand.
The seat back is higher than on many other competitors and the canopy is plenty big.
Tiny planes will not fit it, because of an additional inch in height, unfortunately.
I still love this stroller and it offers a bassinet for a newborn as well (only two travel strollers offer that option – another one is Yoyo).
Full review is available here.
Pros:
Sturdy wheels
Easy one-hand fold & unfold
Big basket
Lifetime warranty
Cons:
On the pricier side
Doesn't fold with bumper bar
Won't fit on smaller planes
Would I Recommend It Overall: Yes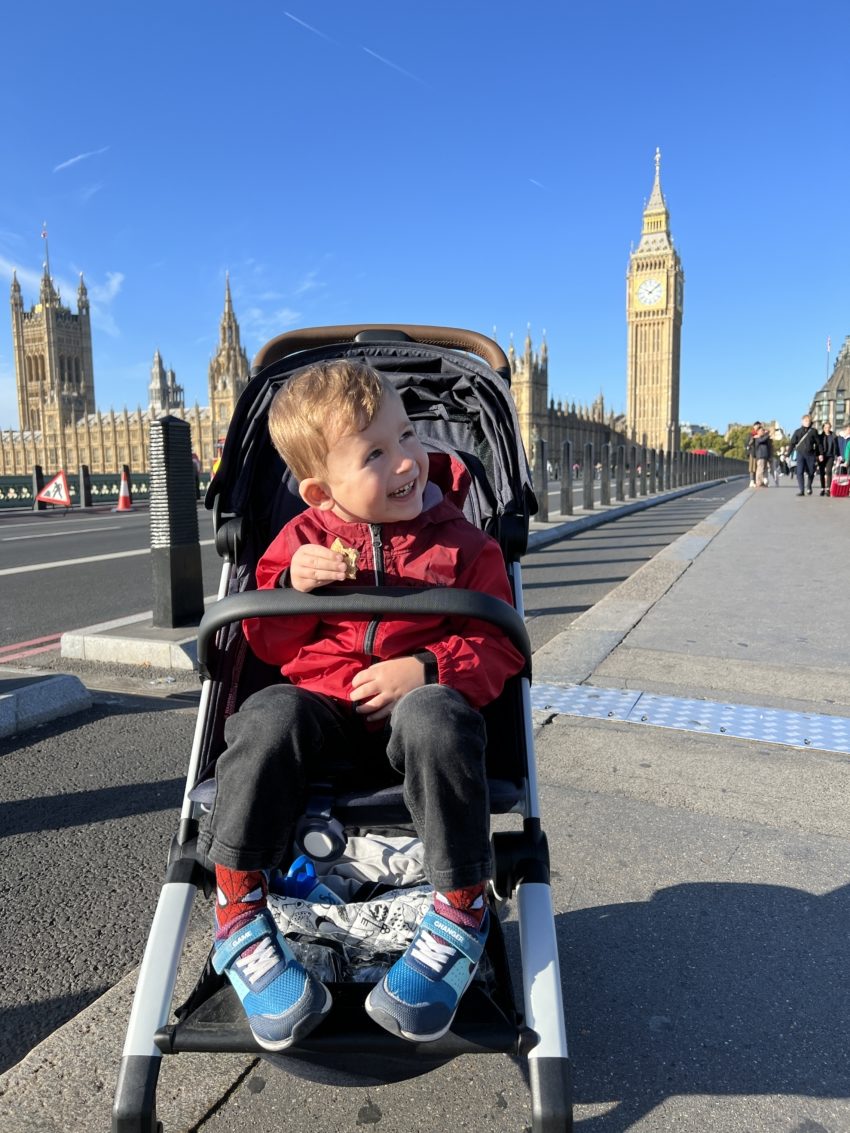 ---
22 x 17 x 9 (folded) | 14 lbs | $
57 x 45 x 23 | 6.3 kg
First things first – BabyJogger is a brand name and none of their strollers are jogging strollers. City Tour is more lightweight and newer brother of the Babyjogger City Mini GT, which I'd probably recommend more overall unless you need to exclusively for travel.
It's smaller and sturdier than Mountain Buggy, but not as sturdy as Yoyo. It offers an almost full recline and built-in footrest, which is a huge plus. The only downside is a small canopy.
The basket is spacious, but I wouldn't hang anything from the handlebar as it could tip over.
The seat could have more depth as it's shallow, but not terrible. The straps aren't super comfortable according to my child, but the younger one never complained.
Pros:
One-hand fold
Many colors available
Big basket
Near flat recline
Cons:
Two-hand unfolding
Seat is a bit hard
Won't fit in the overhead on some airlines
Would I Recommend It Overall: Possibly
---