Best Places to Visit in Greece with a Baby
There's no bad place to visit with kids in Greece. While some places such as Santorini may seem like honeymoon destinations it's actually more kids friendly than you think.
I think every single person told me to skip Mykonos with a baby, as it is a party destination but frankly… it's actually been super nice.
The only not so toddler-friendly place was Acropolis, but it doesn't mean it was impossible to visit. We had fun, just didn't know how to plan it right (I'll help you with that).
Whether it's self-catered apartments you're looking for, or just want to chill at hotels, explore the food scene, Greece is very baby-friendly and I'm definitely looking forward to returning and exploring it more, now with two toddlers instead of one.
We went to Greece when Dylan was 14 months old, so he was basically a toddler but still a bit of a baby in diapers, with a binky in his mouth and walked, but falling as it was his specialty.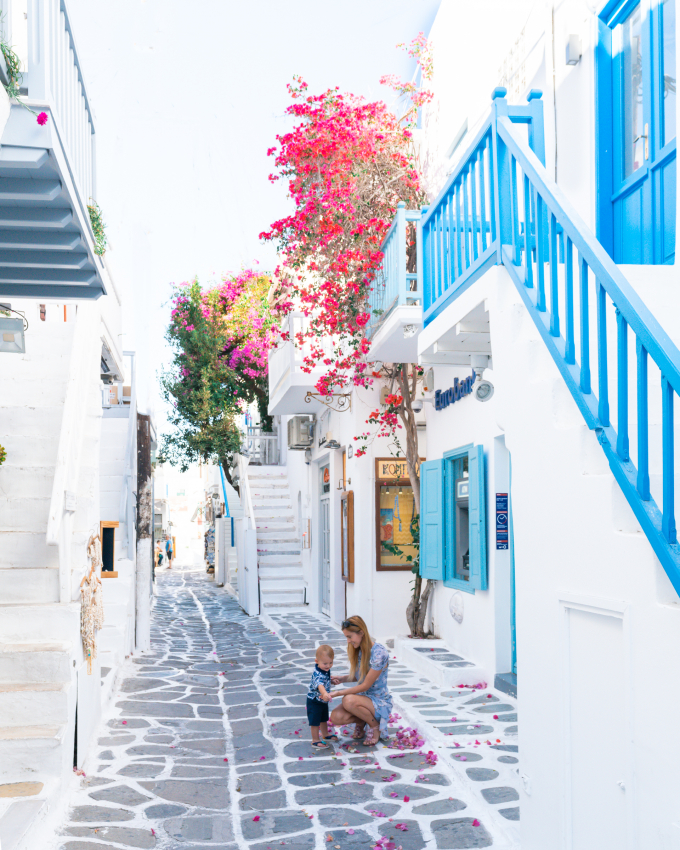 Greece Itinerary with a Toddler
Can you go to Greece with a baby? I would say that every island can be a child-friendly Greek island. Most families head to Crete, Rhodes, or Naxos the most.
While these might be considered the best Greek islands with a baby, we opted for a common route: Athens, Santorini, Mykonos, and Zakynthos, as I've already been to Crete and Rhodes before.
The only island we decided to skip last minute was Milos. While it's awesome, most of the activities were pretty inaccessible for babies and toddlers so we left it for another trip when kids are older.
Every single place we visited in Greece was very kid-oriented. We opted for hotels as we wanted the amenities of housekeeping and services if we needed them, but in Santorini, we had an apartment with a small kitchenette (never cooked there) mainly because I was set on the location.
All restaurants had high chairs (even a kebab stand offered us one) and some especially in Zakynthos had a play area. Hotels usually had a shallow area in the pool for kids to play. There were other parents taking kids to a fancy restaurant in Mykonos and it was never an issue – in fact, both waiters and clients played with Dylan a lot.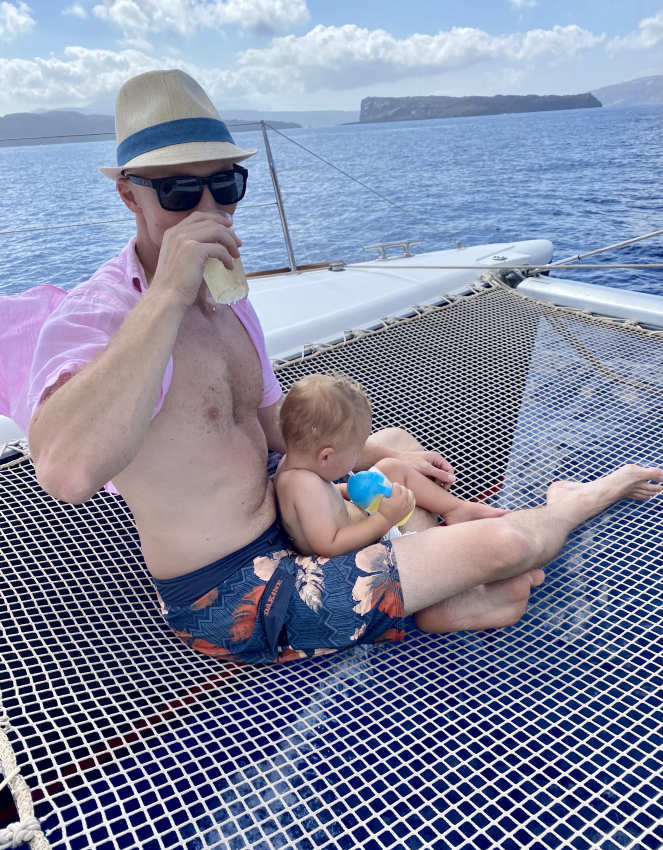 ---
What Can Toddlers Do in Greece?
Toddlers can be easily fascinated with simple things, so even a simple ferry ride was exciting for a small bub. The Greeks adore children.
We explored a lot of ancient ruins and Dylan seemed pretty interested as everything was big and impressive to him.
We spent some time at beaches and let him play in hotel pools to cool down and have fun. He wasn't the biggest fan of beaches at this stage, so in those places, we tried to find some playgrounds nearby and it was possible everywhere really.
Restaurant hopping was a hit. Dylan was hooked on olives which we could order anywhere. If he was fussing there was always something kids-friendly like french fries, pasta, or bread. Your toddler won't go hungry in Greece for sure.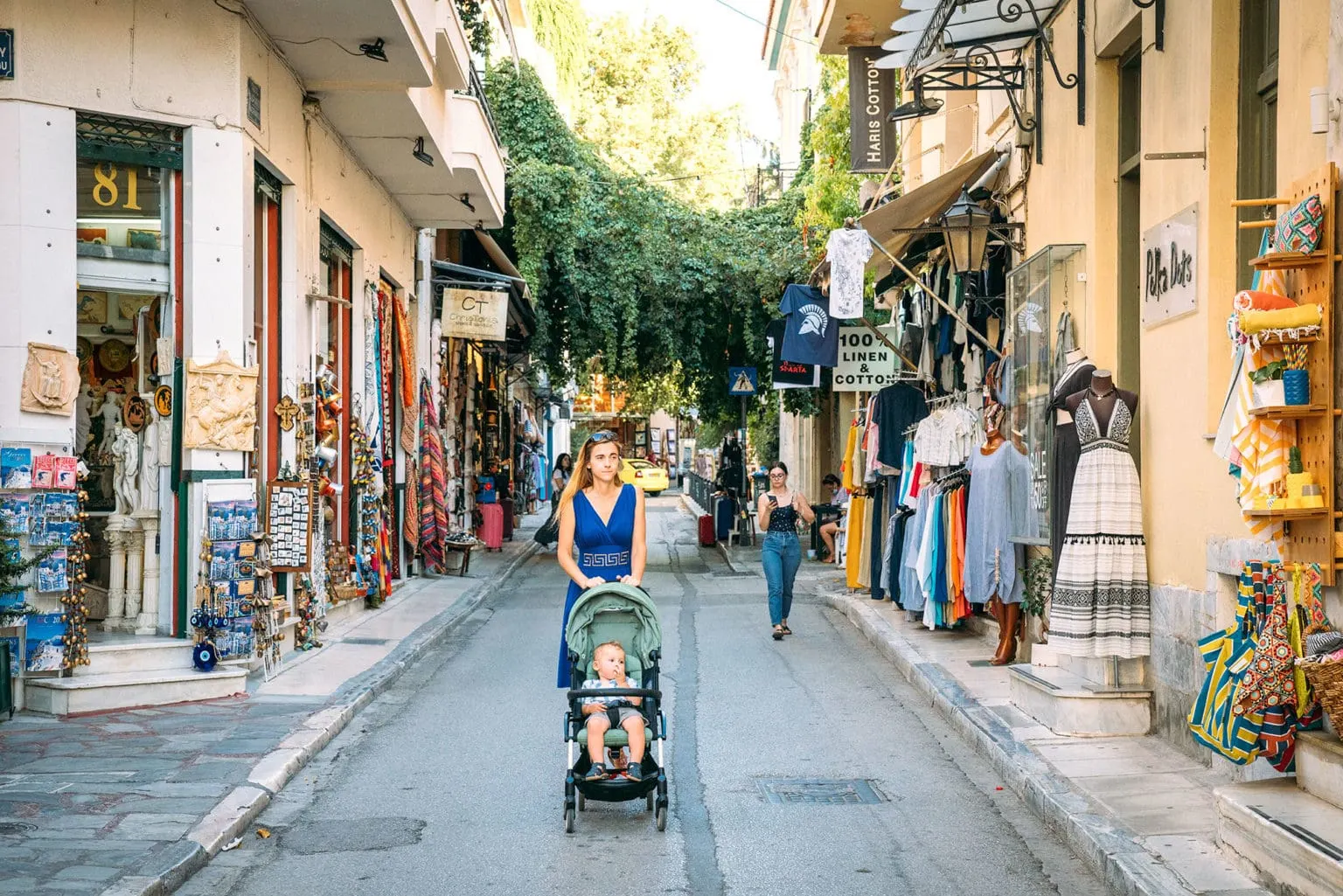 ---
Mykonos with Baby or Toddler
Mykonos is a beautiful place families can enjoy, despite its reputation as a crazy party spot. There are lots of things to do with a baby and toddler.
Walking around town was nice and easy as you pass by busting boutiques and restaurants. You can watch sunsets on the promenade and let the kids play with friendly pelicans. Dylan had a blast in Mykonos running around and admiring everything, while saying hi to people.
Mykonos is pretty flat, so we were able to ride with a stroller everywhere (full-size American stroller like Uppababy Vista won't fit in narrow streets and through some doors, but no issues with Babyzen Yoyo – it fit barely but fit).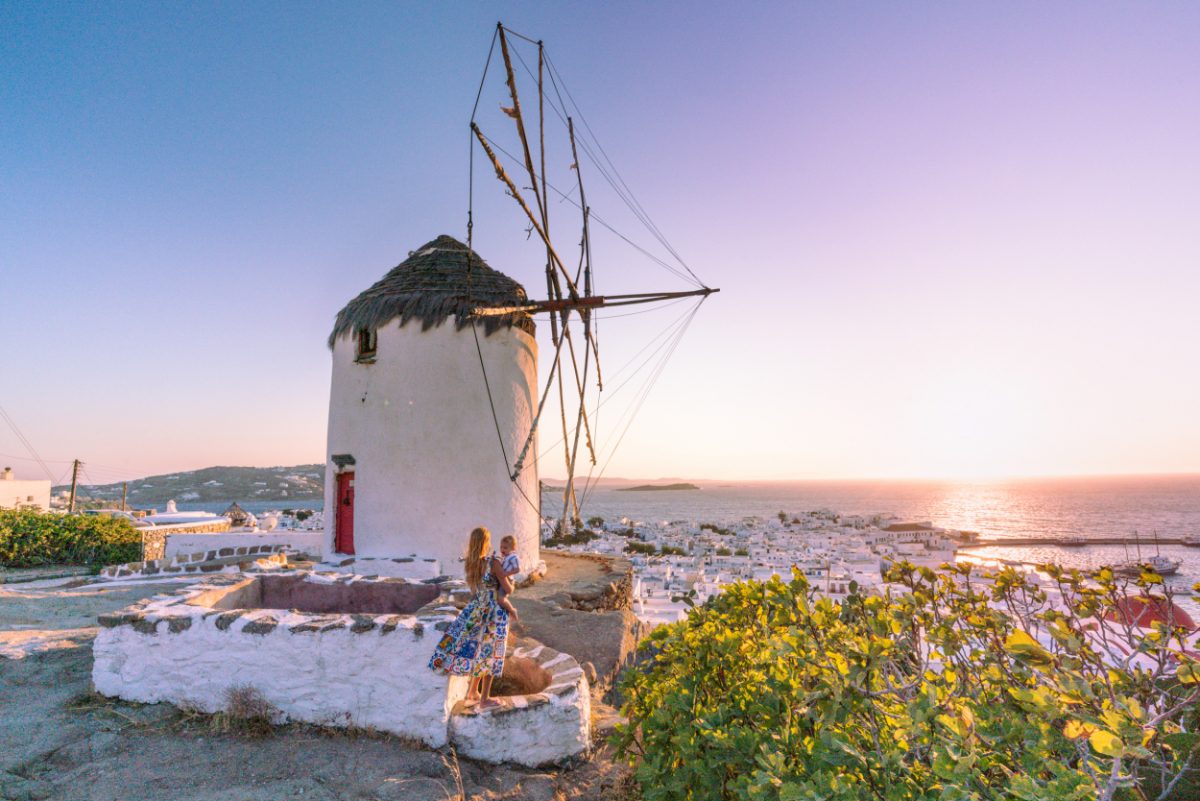 All baby products like diapers and wipes were widely available at stores. Every single restaurant we went to had high chairs.
We even went to the famous Cavo Tagoo with the little one as it is a kids-friendly place actually.
We took buses to nearby beaches as we left renting a car for another island, but it wasn't an issue. We always got a spot.
Keep in mind that Mykonos is windy in the summer months, so you might want to bring a blanket for the evenings.
---
Santorini with Baby or Toddler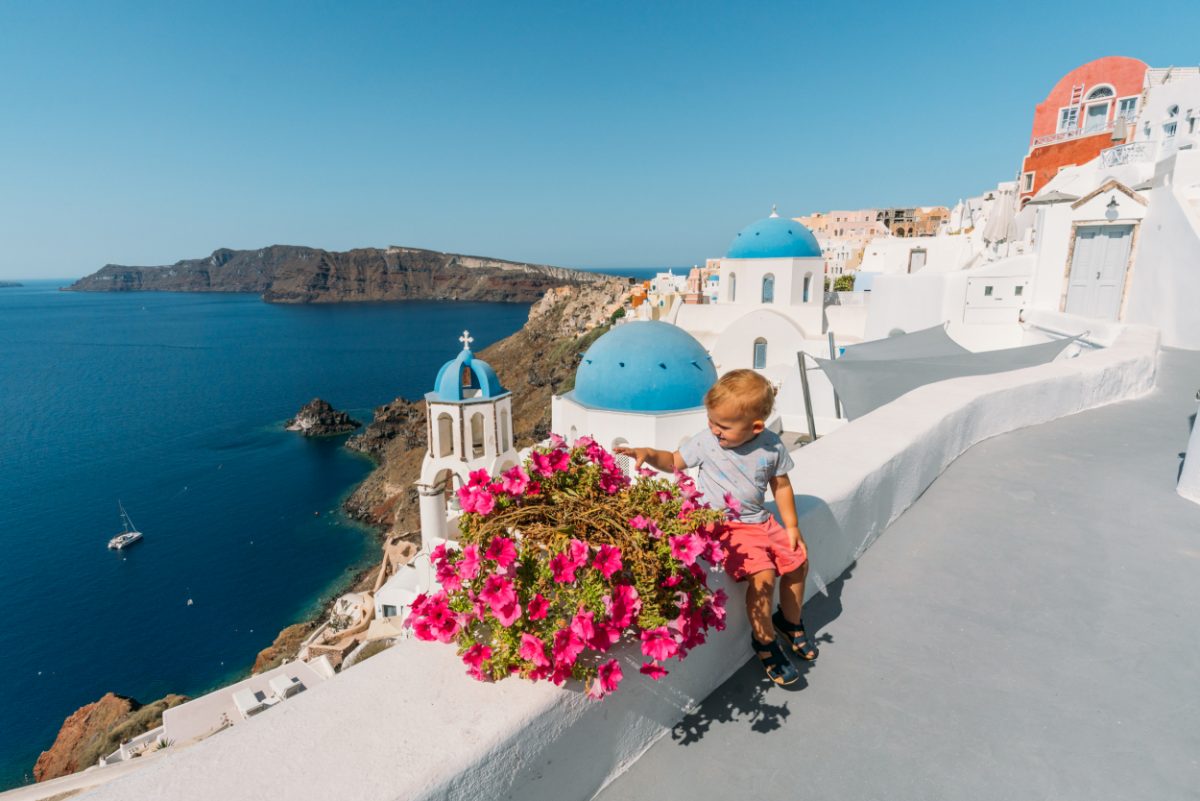 Santorini can be toddler-friendly. We weren't the only ones with a toddler there and keep in mind there are also locals living there with their kids, so it's not impossible.
We almost never travel with a carrycot, as most places (hotels, Airbnbs) provide cribs. Santorini was no different. At home, Dylan was already in a toddler bed, but it was easier to keep him contained on our trip to Greece.
There are a few things to plan when traveling with a toddler or baby to Santorini. The town is full of cobblestones and stairs but there are also areas that will have flat strolls with only a few steps, which gives you two options: either bring a baby carrier or bring a small lightweight stroller.
It was hot when we visited during the summer so we opted for both, but we were completely fine with Babyzen Yoyo stroller almost exclusively in Santorini. If we only brought a carrier it would have been a nightmare having to drag a sweaty baby on top of the sweaty yourself.
With a stroller in Santorini we could put the toddler for a nap when he was tired and strap him when we wanted to take photos or quickly enter the store. Where there were stairs we simply folded the stroller in a few seconds and carried it on the shoulder. It was MUCH easier than visiting Matera with a baby.
The stroller was absolutely awesome at restaurants as we just fed him in a stroller where they had no high chairs (I'd say at least 50% of places offered them). There were plenty of flat areas for the stroller to ride on in both Oia and Fyra.
Beaches in Santorini are full of stones, so not all kids will like them but ours hates sand so it was actually better for him. Bring water shoes if your toddler is walking.
We booked a boat tour that was super kids friendly (what kid doesn't like motion?) and we got to swim in the volcanic part as well. It's totally doable and fun with young kids.
---
Athens with a Baby or Toddler
We spent a few days in Athens due to flight schedules and we all loved it.
The big bonus of having a baby with us was that we didn't need to wait in line to the Acropolis, as families skip the line. Acropolis wasn't the most toddler-friendly place, but we brought a harness with us, just in case – might have been a specific case because Dylan loves running away. We would have been better off with a carrier.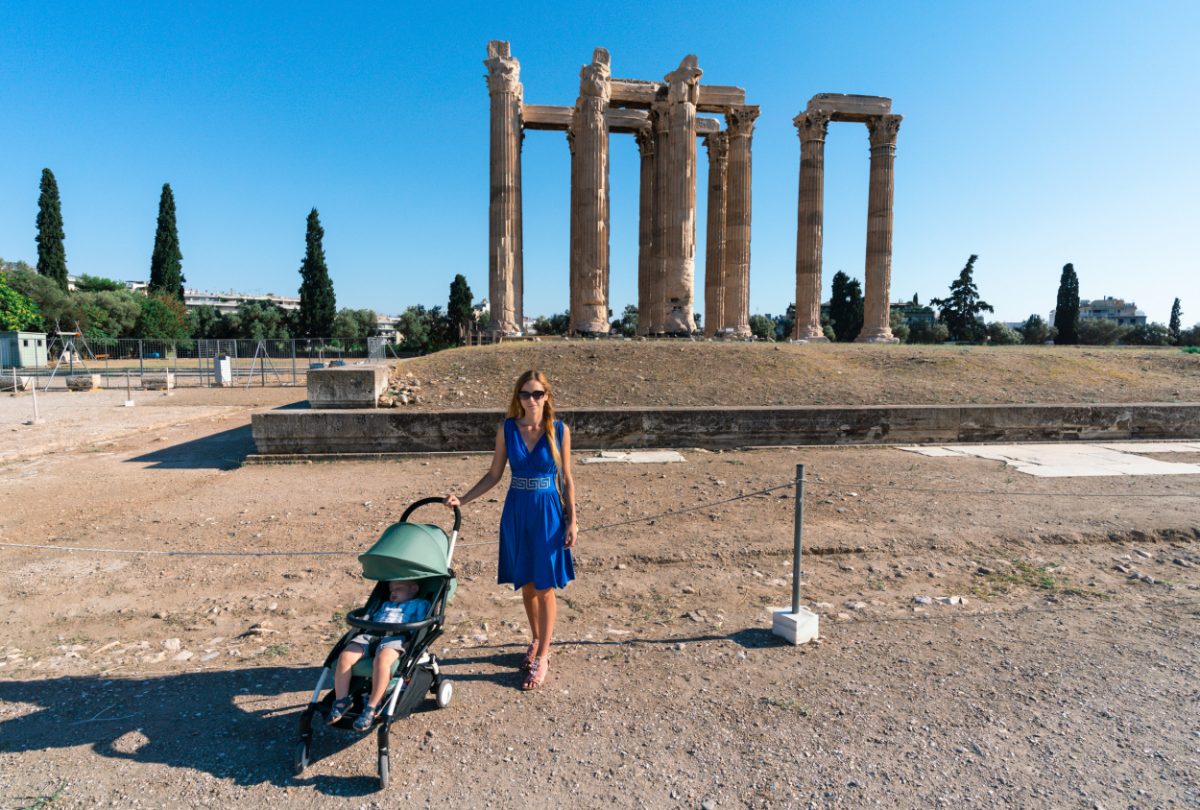 At Acropolis, we had to leave our stroller in a stroller area at the main ticket office which took us a while to find – I recommend checking the exact location of this entrance beforehand. If we pre-booked our tickets we'd be able to enter anywhere so I recommend doing that.
I still recommend bringing it with you if you're planning on exploring the town that day. If you want to cool off, head to Acropolis Museum next for plenty of AC.
Panathenaic Stadium was a big hit for Dylan. As a new walker, he kept running down the track, falling and laughing, and kept running again. It was a scene we'll never forget so I highly recommend visiting.
Street cats were totally amazing for a toddler and restaurants always took care of us as a family. Definitely don't skip Athens on your trip to Greece with a toddler.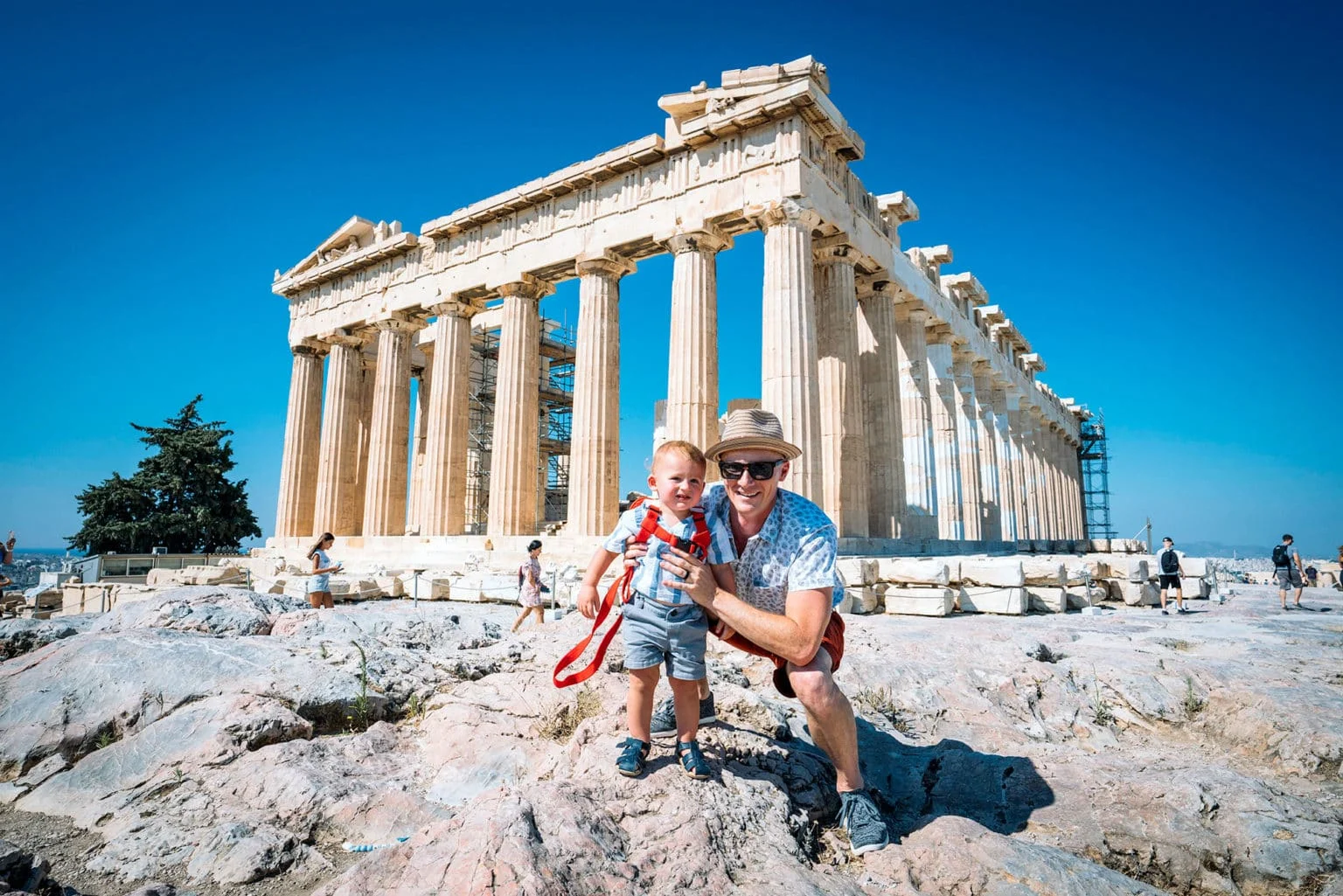 ---
Zakynthos with a Baby or Toddler
We rented a car for our entire stay in Zakynthos, as otherwise, it would be too tough to get around. Driving in Greece was easy and the roads were great.
Zakynthos is full of kids and families so most hotels and restaurants even have small play areas
We visited the famous shipwreck beach viewpoint. While we were visiting the path was still open. We carried our son and the stroller so we had a spot to strap him while we took photos as I didn't trust him not to wander away which would have been super unsafe.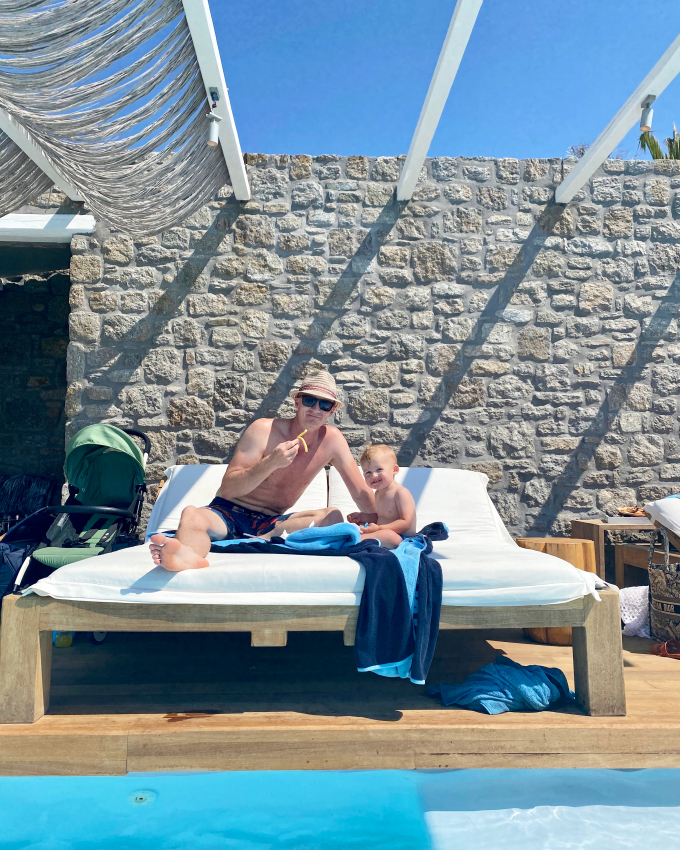 Car Seats in Greece
Greece car seat laws in taxi say that while you need to have your child in a car seat in a private car you don't need a car seat for a taxi.
We encountered zero problems when using public transportation with a baby. Whether it was taxi or public bus, it was pretty easy and drivers always made sure that we were comfortable and so is the child.
We didn't need to bring our own car seat, but we rented a car for our entire stay in Zakynthos so we traveled with WayB Pico.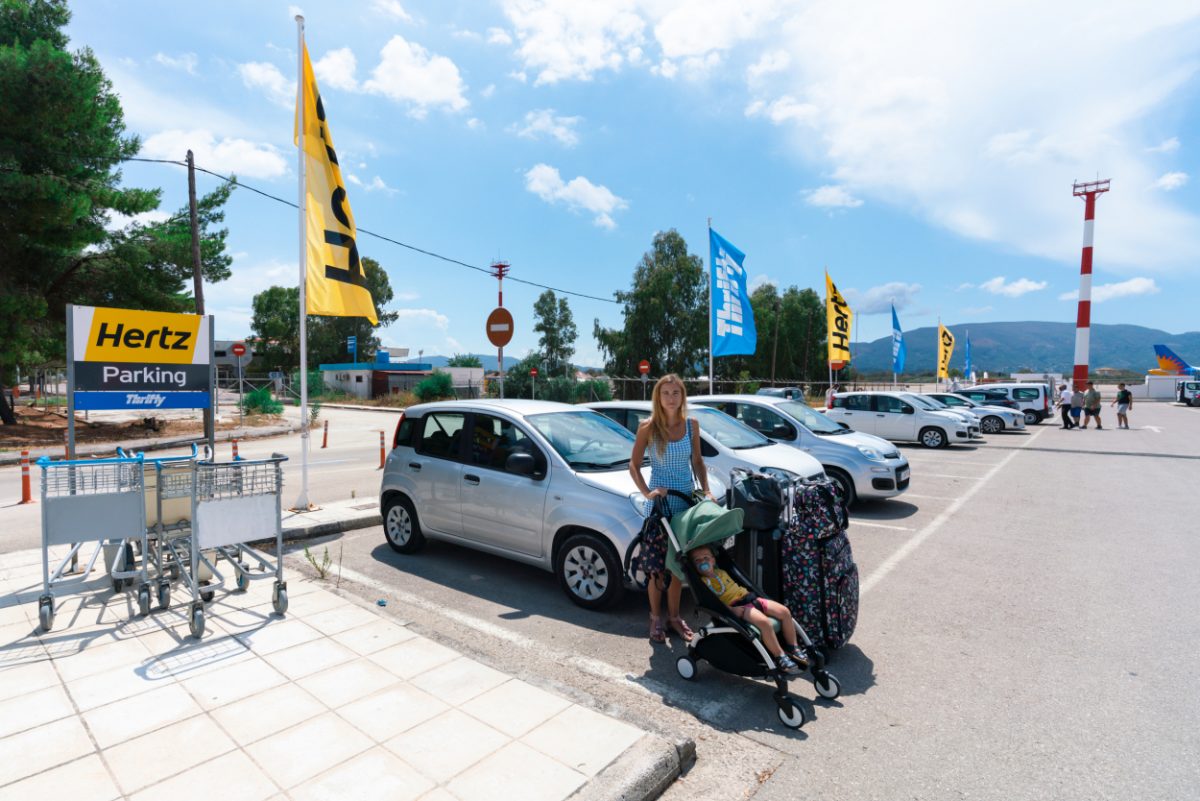 Baby Products and Diapers in Greece
We were able to buy anything we needed to buy for the baby in Greece. There was a selection of diapers, even in the smallest store on the islands. Always a few types of wipes and baby food.
The only thing we couldn't really find was apple juice that our son loves to drink and it took him a few days to get used to the "tropical mix" juice we could find in Greece. But that's really not an issue at all.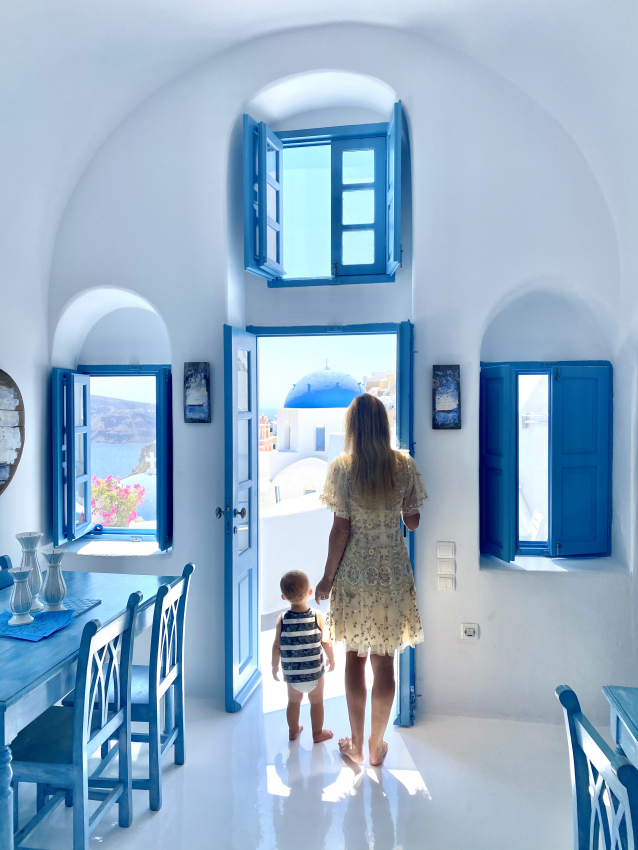 Bringing Babies to Restaurants in Greece
Babies in Greece eat whatever you eat. I never saw any kids' menus, but we have a rule of feeding our kids whatever we eat when we travel. Everyone always found a high chair or brought more bread, or anything to make the toddler happy.
At the end of the 2-week trip Dylan was pretty much Greek with the way he ate and always wanted to order more olives, Greek salad, and bread with oil.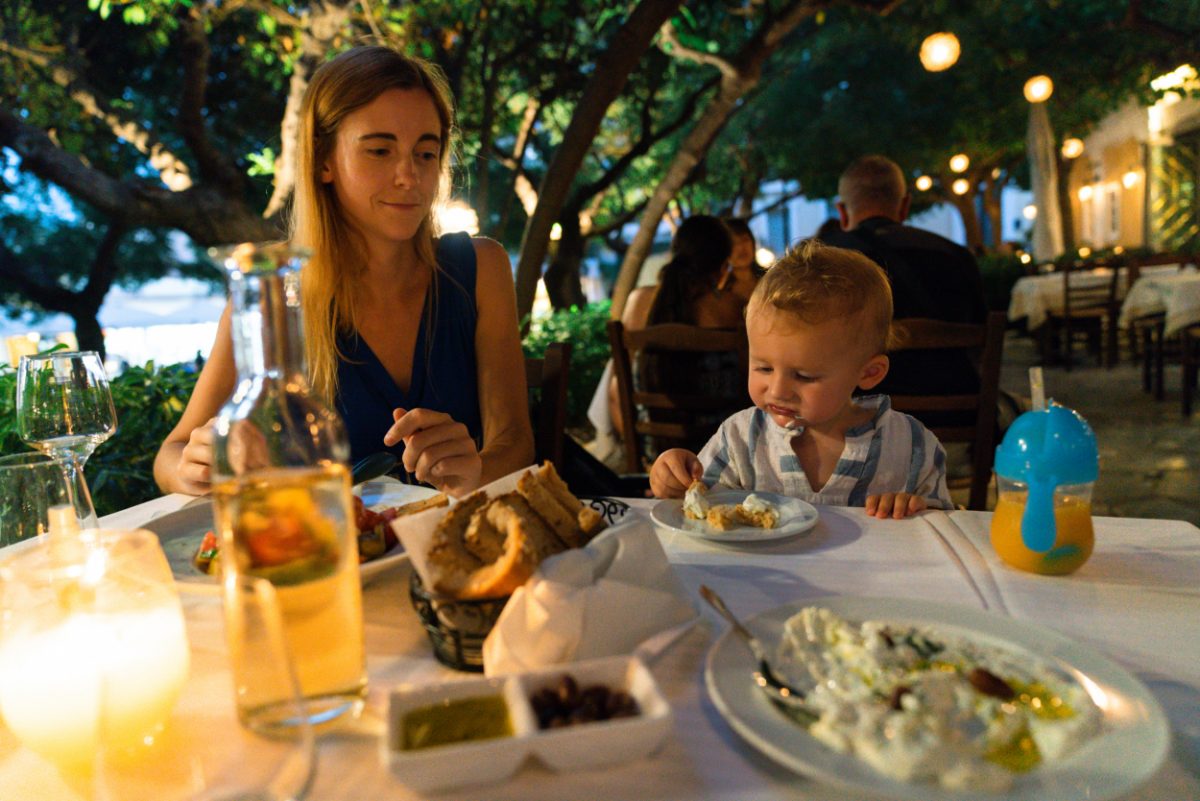 Do you have any questions about traveling to Greece with a baby or toddler?