Situated in Southern Italy in Basilicata, Matera is an ancient and enchanting destination. Named 2019's European Capital of Culture, Matera is known for its sassi districts containing houses carved out of stone.
Matera, located in Basilicata region of Italy, is a UNESCO World Heritage site is one of the oldest inhabited cities in the world next to Petra in Jordan. When you visit, you can meander through centuries of ruins.
Due to its resemblance to ancient Middle Eastern cities, Matera has been used as a backdrop for Biblical and other types of movies, such as Mel Gibson's The Passion of the Christ (2004) and recently filmed there new James Bond movie that's coming out soon.
A Guide to Visiting Matera in Italy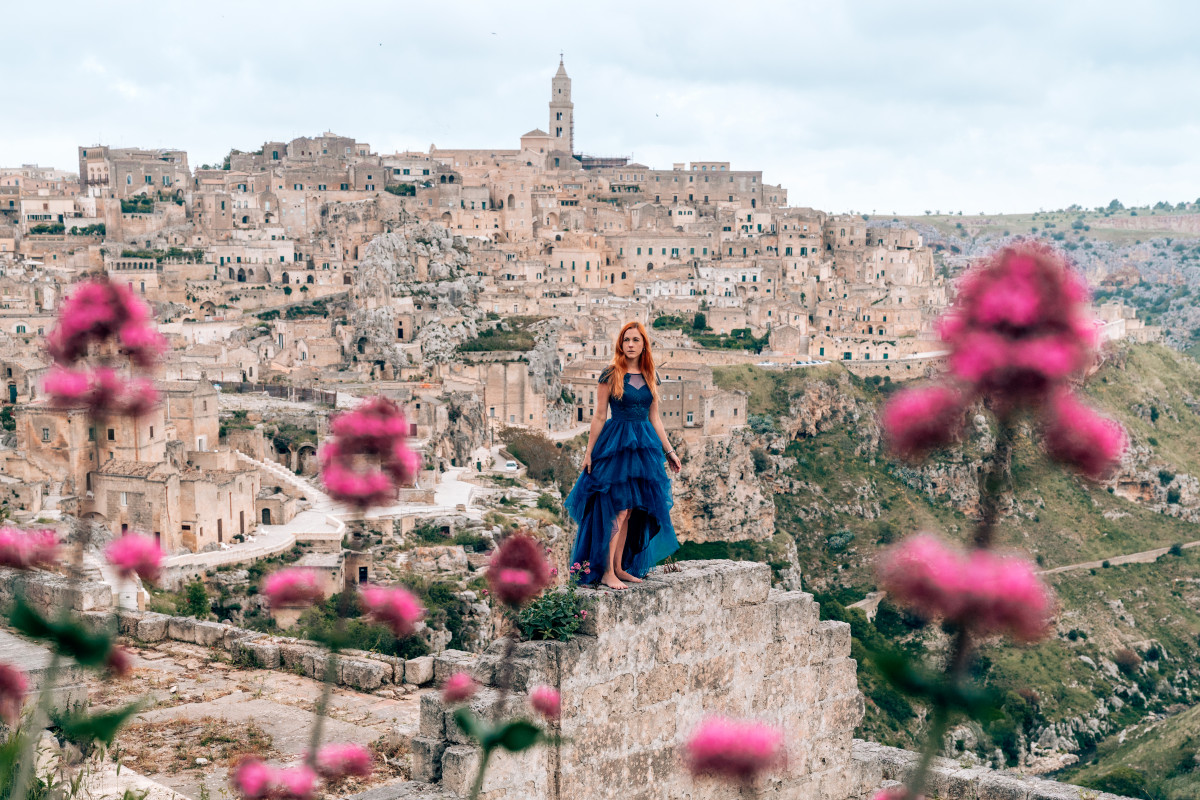 ---
History of Matera, Italy
People have lived in Matera since 10,000 B.C. It was occupied by many different groups, including ancient Romans, Germanic tribes, and Byzantines. It's also rich with religious history, both pagan and Christian. As a result, Matera has an abundance or religious structures dating from the Early Medieval to Early Modern periods.
These limestone "tuff" or "tufa" caves were inhabited for thousands of years until the 1950s when the government moved residents out. Perhaps the most magical aspect of Matera is the layers upon layers of history built on top of each other.
The sassi is also full of gardens. The reason for it is because during Renaissance times, the locations of what today are gardens were the location of graveyards. People were living underground in caves but buried their dead literally right above them on the roof.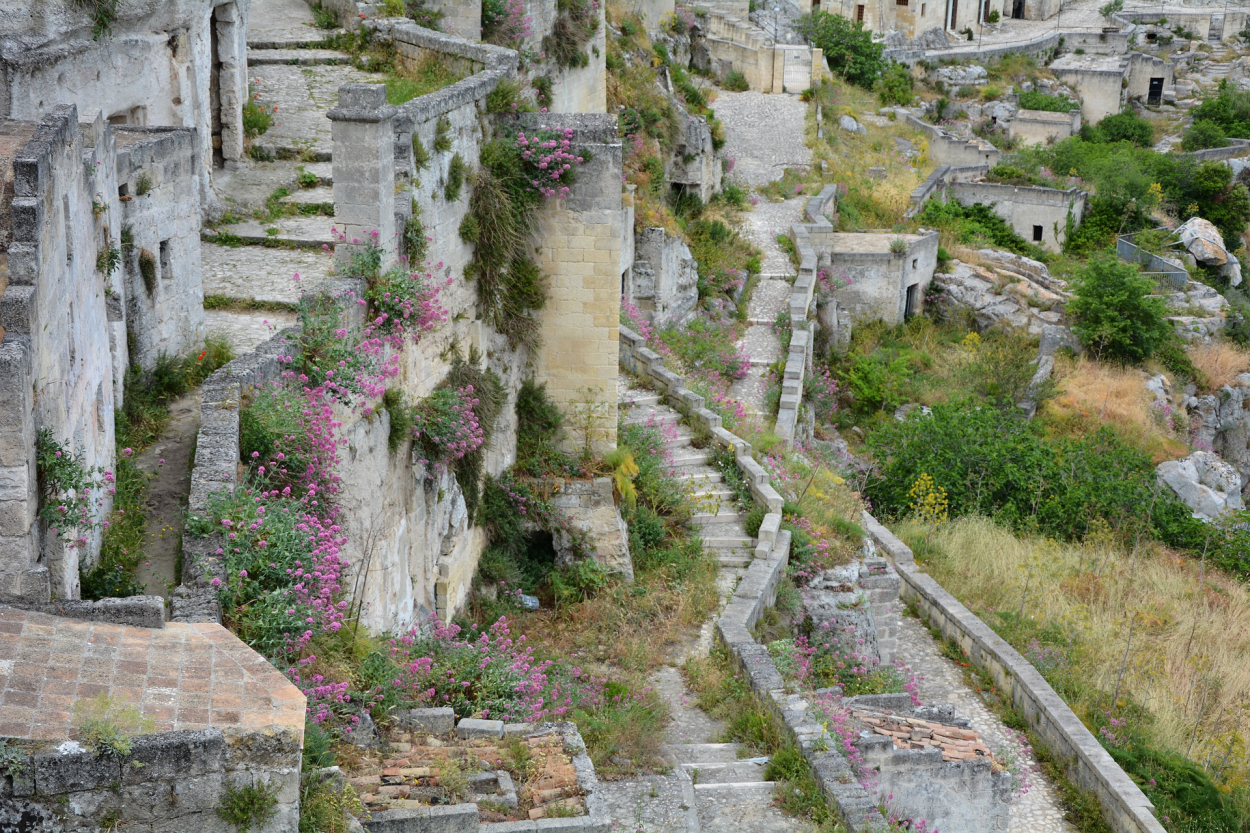 By the 1950s, the people in the Sassi district of Matera were living in poor and unsanitary conditions in caves without modern conveniences or utilities. Matera was called the shame of Italy and hidden from the public. As the Italian government was ashamed of Mater they forced locals to relocate to more modern dwellings nearby.
These caves were abandoned until 1960s and in the 1970s a revitalization began and the city was eventually established as a cultural and tourism site. Thanks to Mel Gibson's movie The Passion of the Christ that was shot there in 2004, Italy began to appreciate Matera even more. Locals throng its piazzas, and Matera has been named European Capital of Culture for 2019.
The Matera of today is beautifully restored and is sure to impress!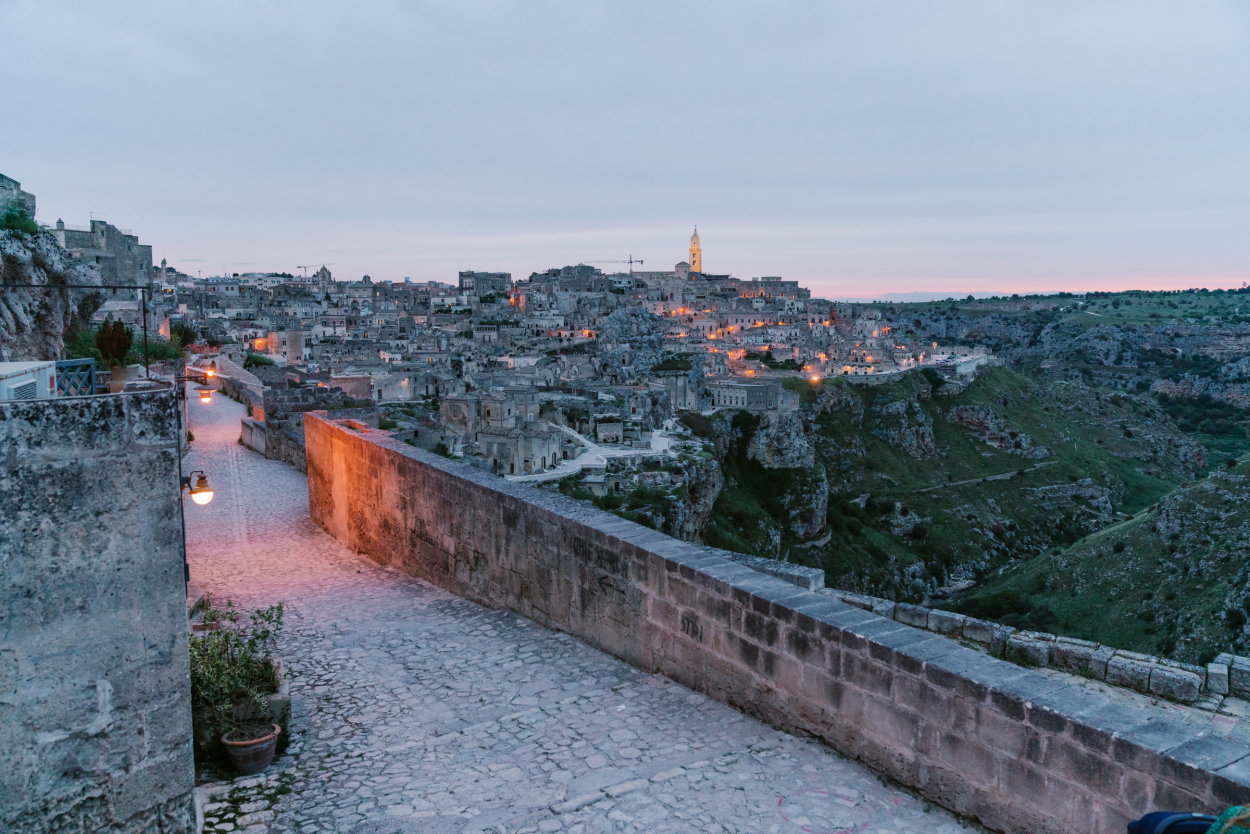 ---
How to Get to Matera Italy
Matera is located in Basilicata, next to the regions of Puglia and Calabria. The closest airport is Bari Karol Wojtyła Airport (BRI), which is about a 50-minute drive from Matera.
There are buses leaving from Bari Airport to Matera.
By train you can take the Ferrovie Appulo Lucane railway from Bari, or the Italian Intercity to Ferrandina-Pomarico-Miglionico station, and then a bus or taxi. The closest train station is Matera Centrale.
Renting a car may be a good option if you're exploring other cities in Puglia however, parking in Matera (especially in the older districts) can be a challenge. Make sure your hotel offers parking or feel comfortable with walking from a public parking around the old city.
---
Things to Do in Matera Italy
Visit Sassi di Matera
The word sassi is Italian for "stones" and in Matera this term is used to describe two parts of the city that are composed of 10,000 years old cave houses, stone churches, and cobblestones streets.
There are actually two sassis – neighborhoods include Sasso Caveoso and Sasso Barisano. A walking tour of the sassi is a great option, especially for those short on time.
However, one of the best ways to see the sassi is by wandering through the neighborhoods at your own pace. Prepare for uneven ground, narrow streets, and a honeycomb of caves. Although the experience may be disorienting, it's also sure to delight the curious traveler.
If you're traveling with a family skip a stroller. Strollers are impossible in Matera and actually not allowed in most places including restaurants.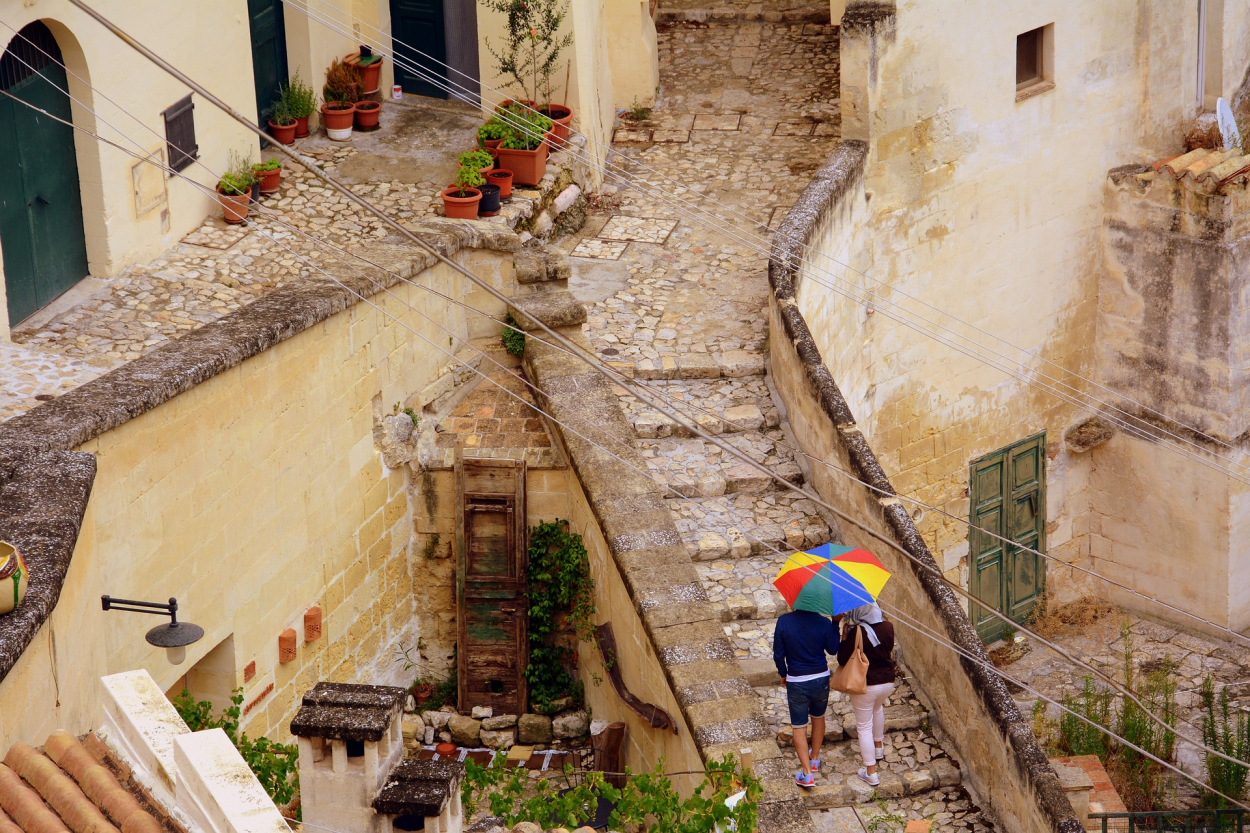 See Casa Noha & Casa Grotta Di Vico Solitario
Casa Noha provides visitors with background information on the sassi, as well as a wonderfully preserved cave dwelling that was used by a noble family. Stop here for a video about the tufa neighborhoods, with details about their centuries of history. Wander through this former residence and get a sense of the architecture of the sassi.
Casa Noha is open every day except Tuesdays, and tickets are 6 EUR for adults. For more detailed information on opening times and holidays, you can visit the Fondo Ambiente Italiano (FAI) website. You can also book tours via the FAI that will take you through other parts of the sassi, including churches and cisterns.
While Casa Noha offers an insight into a noble household, Casa Grotta Di Vico Solitario provides a different perspective. This unique museum displays peasant life in the sassi and includes furniture, tools, and replicas. Visitors will get a greater understanding of life in the sassi, prior to its abandonment. Casa Grotta Di Vico Solitario is open year-round and costs 3 EUR for adults.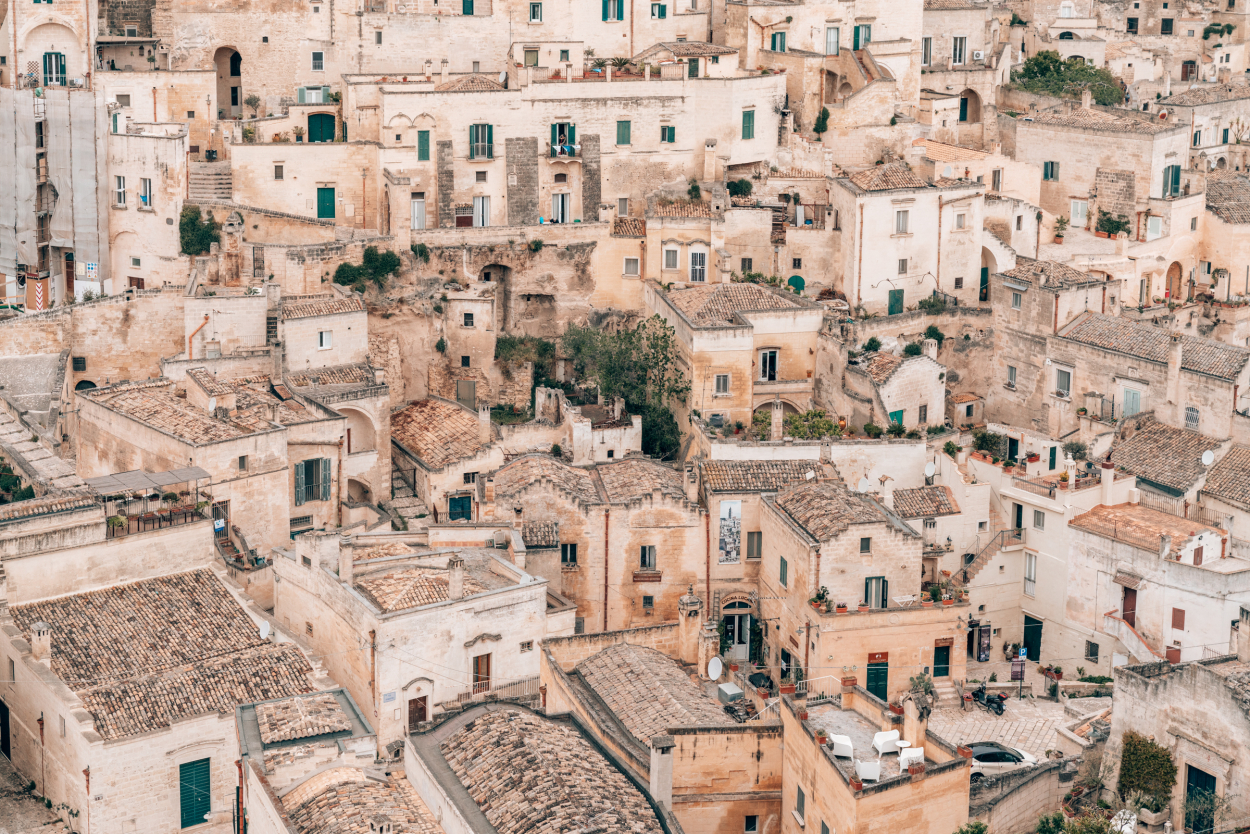 Enter Palombaro Lungo
Due to their location and use of cave structures, residents of Matera used an underground network to obtain and store their water supply. Palombaro Lungo is the most notable feature of this system. This large water tank, or cistern, was built it in the 19th century as a water storage unit.
Although Palombaro Lungo is relatively "young" in historical terms, it is part of a much older and larger system of cisterns. Not only is Palombaro Lungo an interesting feature, it is also beautiful, built into smooth but lofty caves.
Palombaro Lungo is located in Piazza Vittorio Veneto, and you can book a tour (approximately 25 minutes) for 3 EUR.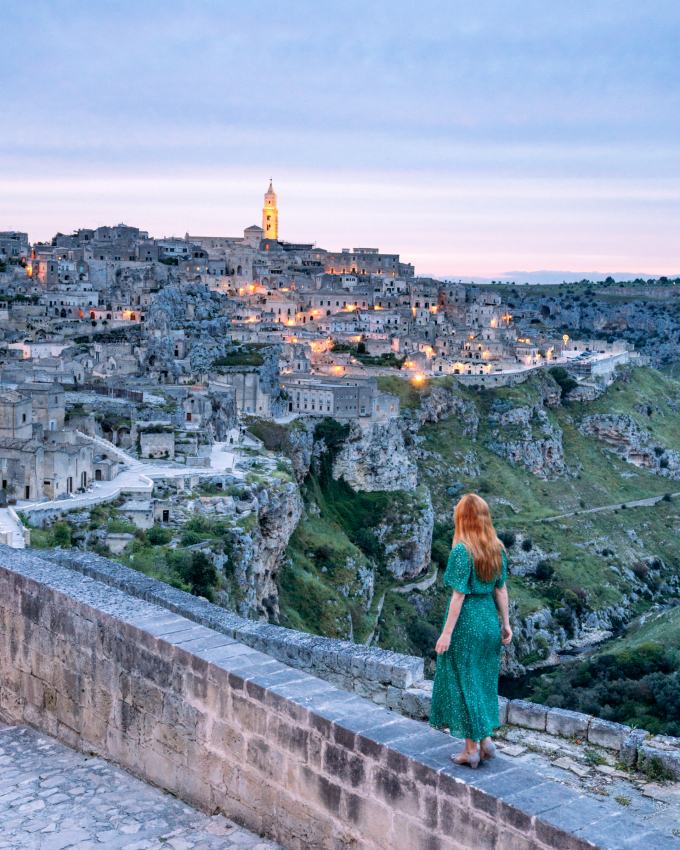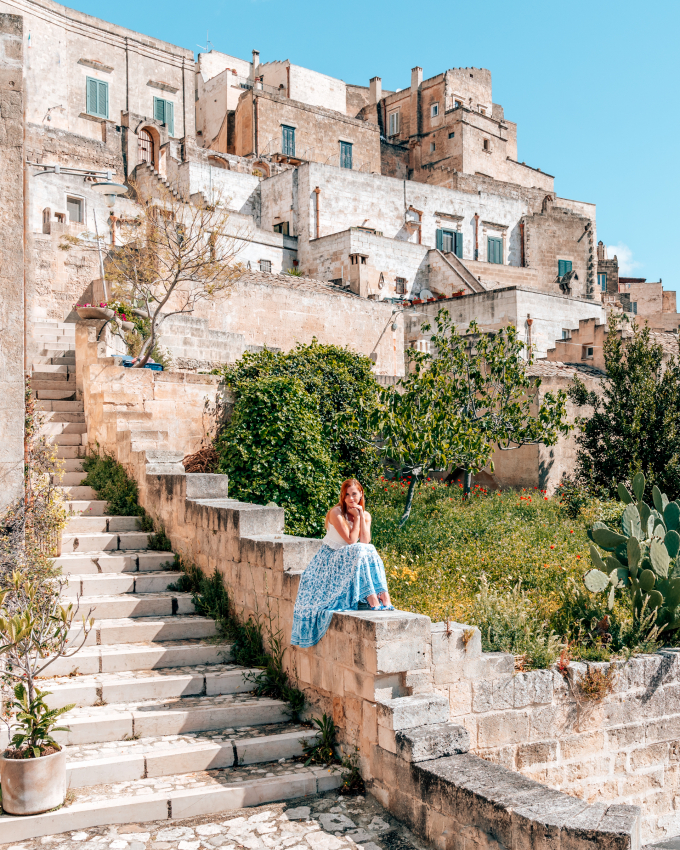 Admire Churches & Their Frescoes
There are no shortages of churches in Matera and the neighboring Murgia Park. These rock structures are also called "Rupestrian Churches" and many include beautiful frescoes depicting religious figures and scenes.
The connected buildings of Chiesa Madonna delle Virtu and Chiesa di San Nicola dei Greci (Via Madonna Delle Virtu) provide insight into Medieval monastic life in Matera, as well as beautiful frescoes.
The Church of Santa Maria De Idris (Piazza San Pietro Caveoso) is built entirely into a rock and contains frescoes and tempera from the 1100s to 1600s. One of the most famous one is the altar fresco depicting the Madonna and Child.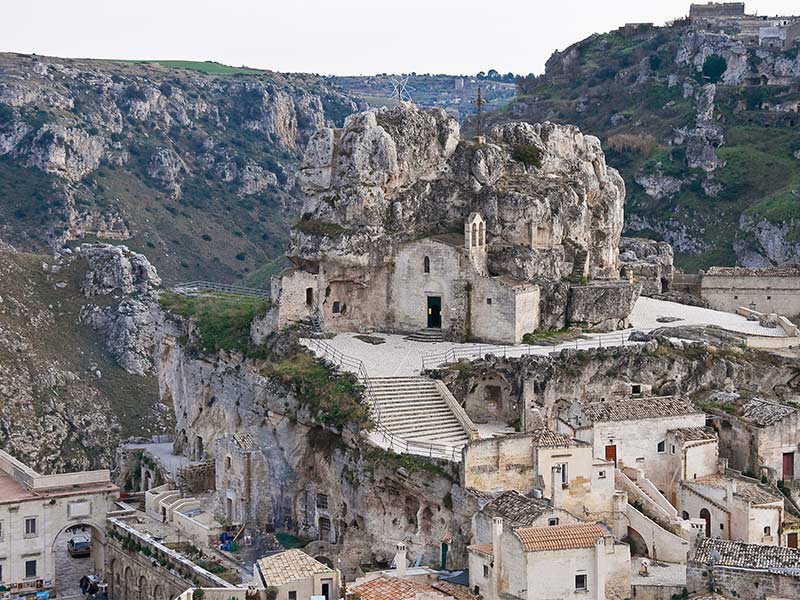 San Pietro Caveoso is a large church with an impressive exterior and many interesting sights inside. The church contains several smaller chapels, as well as statues of saints and biblical paintings. Unlike most other churches in Matera, San Pietro is not built into a cave or with limestone.
Matera Cathedral or Cathedral of Santa Maria della Bruna was recently restored and reopened in 2016. This Cathedral is located at the highest point of the Matera's sassi, and was constructed in the 13th century. It contains a notable rose window, gilding, frescoes, and many other beautiful features.
Cripta del Peccato Originale or "Crypt of Original Sin" is located in Murgia Park and contains frescoes dating back to the 8th century. This crypt is known as the "Sistine Chapel" of Rupestrian churches. Tickets are available in advance, include an audio-guide, and cost 10 EUR. The website also includes directions from the city.
There are many more rock churches and frescoes to visit in Matera. You can explore them yourself or take a walking tour. Pace yourself and pick some options that interest you or are convenient for your itinerary or location, you won't be able to see them all in one visit!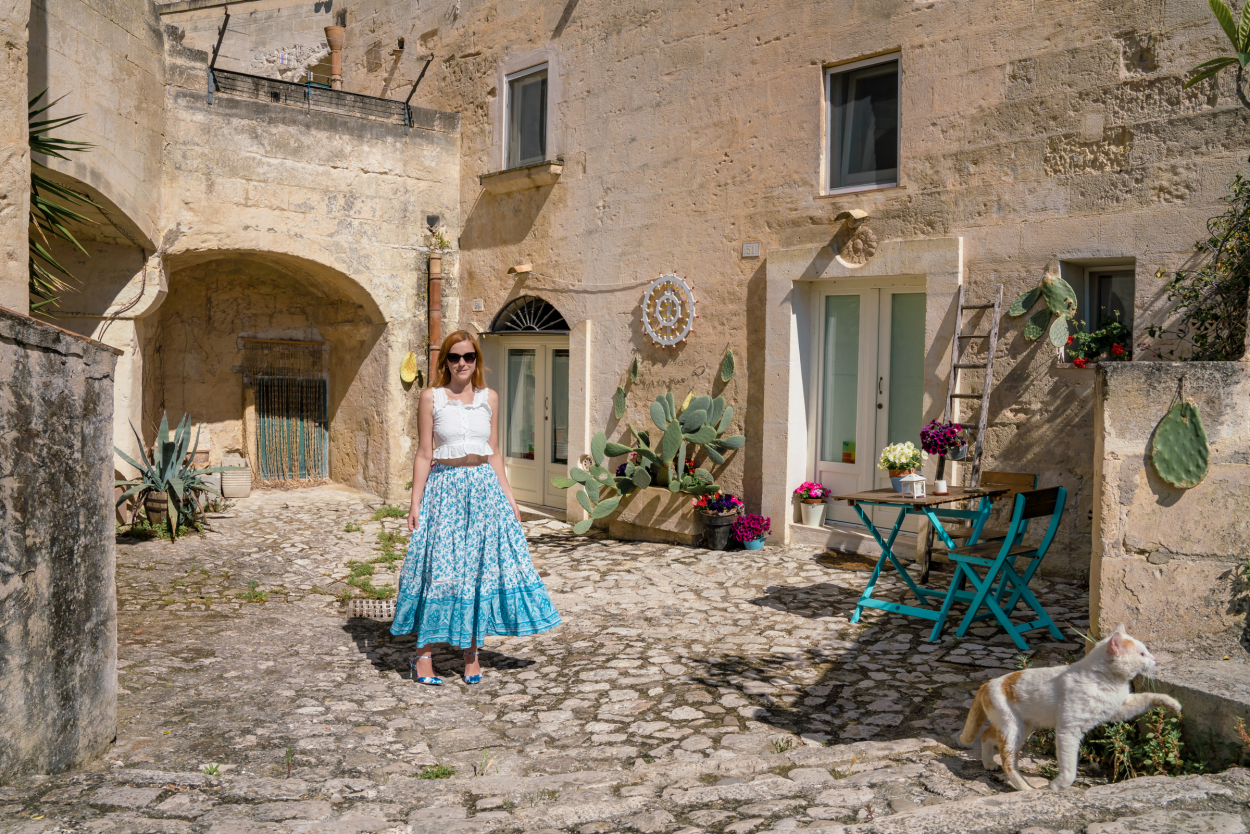 Museo della Scultura Contemporanea (Museum of Contemporary Sculpture)
The irony of Museo della Scultura Contemporanea (MUSMA) is that is situated in a palace built in the 1500s. Despite the building's history, the art here dates from the 19th century to present and includes both Italian and international pieces made from a variety of mediums. The majority of items are sculptures, but the museum also contains artifacts, jewelry, and other items.
Wander through this "cave museum" while appreciating contemporary art- truly unique experience! The museum is located on Via San Giacomo.
Belvedere di Piazzetta Pascoli
Matera is a city built on and within hills, and as a result, it's best seen from lookout points. You can find amazing views by wondering the sassi, but make sure not to miss The Belvedere di Piazzetta Pascoli.
This lookout point has a view of both Sasso Caveso and Sasso Barisano, and provides an excellent opportunity for beautiful photographs with a picturesque railed terrace.
If you have time, visit both during the day and at night to get two magical perspectives of the city.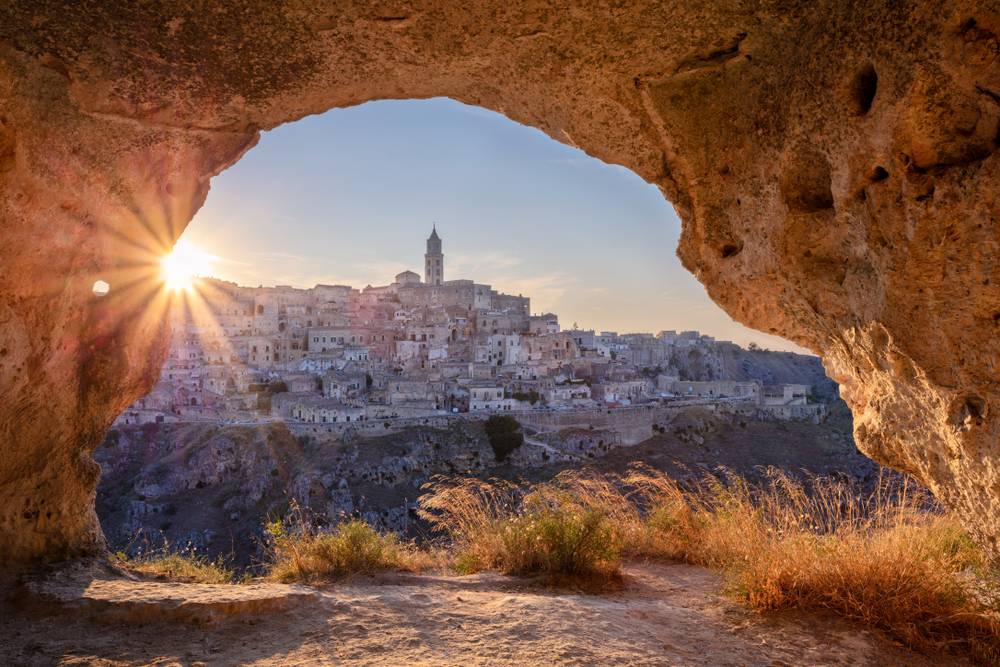 Murgia Park
The full name of this park, Parco Regionale Archeologico Storico Naturale delle Chiese Rupestri del Materano, translates to "Natural Historic Archaeological Regional Park of the Rock Churches of the Matera region" and this perfectly describes what you will see when you visit.
This park encompasses wonderful views of ancient churches, as well as panoramas of the city, and is part of the previously mentioned UNESCO World Heritage site.
The center of the Park is a 2.5-hour hike, or half-hour drive from the center of Matera. There is a visitor center and picnic area available.
---
Where to Eat in Matera
When in Matera, indulge in some Southern Italian cuisine. I won't lie to you – most restaurants in Matera serve pretty much the same Lucan food. Matera's famous bread, huge plates of antipasti as well as orecchiette pasta with sausage and fava bean puree with chicory.
Regardless of whether you're going to a fine dining, simple pizzeria or a cocktail bar you need to pre-book a table. We didn't do it and ended up wandering around sassi for hours until 10 PM when they could finally accommodate us somewhere.
At Vitoantonio Lombardo you can experience a Michelin rated Italian meal while sitting within a Matera cave dwelling. Tasting menus and a la carte options are available and include specialties such as pizza made with black dough), Lucanian lamb, and seafood risotto. Dining at Vitoantonio Lombardo is a special experience and is on the pricier side. Visit the restaurant website for hours or to make a reservation.
Area 8 (Via Casalnuovo, 15) is another famous and locally recommended spot. Also located in the sassi, but with a more relaxed vibe – something between a restaurant and cocktail bar. Try their cocktails and small plates and enjoy live music.
Morgan (Via Via Bruno Buozzi, 2) was a spot we actually ate twice in a row. They're very accommodating with endless and creative pizza choices for affordable prices. This is the first restaurant that opened in Matera 25 years and it still has a ship inside the restaurant. This is a good option for a quick and fun dinner, or after a night out.
---
Where to Stay in Matera
There are so many wonderful places to stay in Matera. Luxury, mid-range and budget options are all available, but regardless of your budget I highly recommend staying in one of the cave spots.
Staying at the Locanda Di San Martino allows you to sleep in the oldest part of Matera, and provides a beautiful view of the city. This hotel also has luxurious spa treatments and services with very unique underground pools. This is one of the more expensive, but special options in Matera.
Hotel Il Belvedere also offers cave rooms that provide guests with an authentic Matera experience at more mid-level rates. Although not as luxurious as some options, this hotel offers most amenities and a wonderful terrace to enjoy views and breakfast!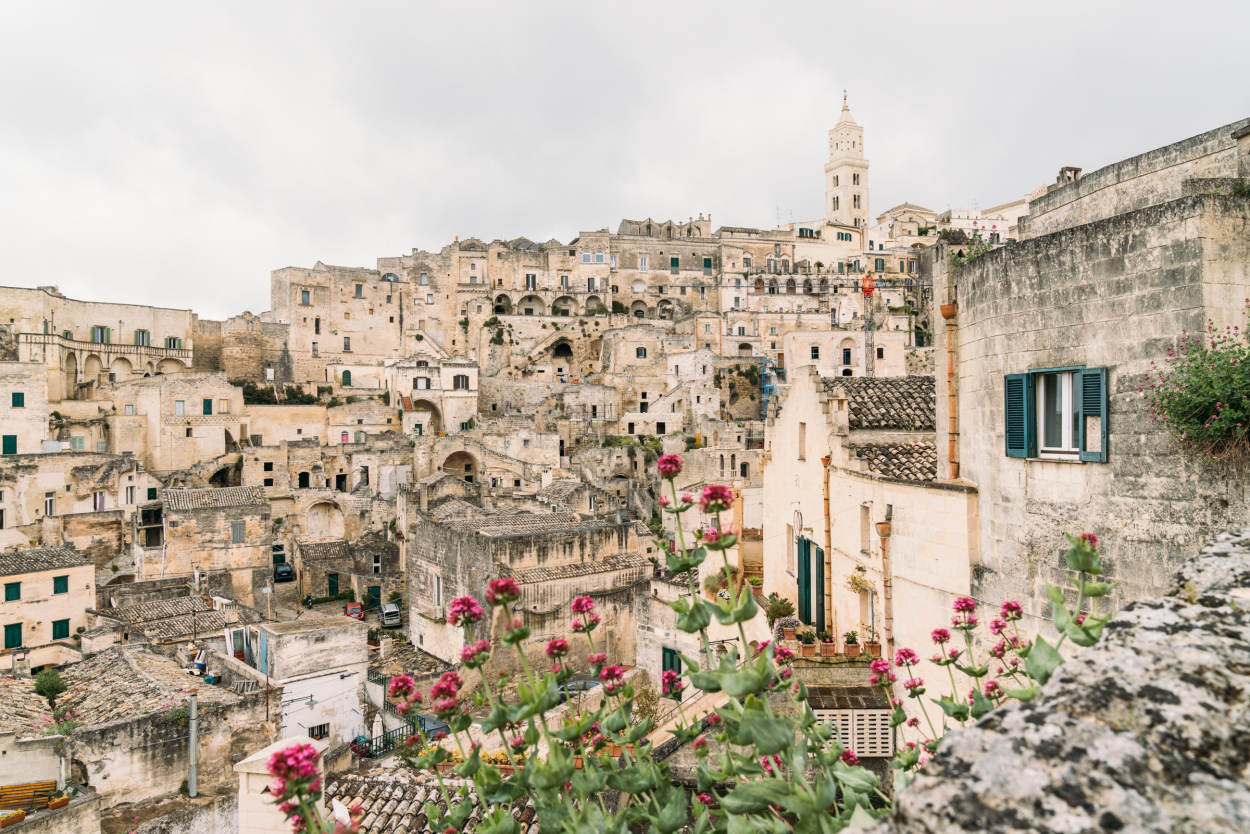 ---
Visiting Matera with Kids
If you start searching for tips on visiting Matera with a baby, you'll probably quickly come to the conclusion that you should wait a few years. If you try to look for information on traveling to Matera with a toddler or small kids, you'll read many horrible reviews.
Fear not! We've actually visiting Matera, Amalfi and parts of Puglia when baby Dylan was just 1 month old. While none of these places are baby-friendly, but it doesn't mean that you cannot visit them with your family.
Many hotels didn't allow children, but we found an amazing AirBnb that did and even provided us a crib.
We didn't bring a baby carrier with us as I'm not the biggest user of it, but this would probably be the best solution. You can easily walk up and down the cobblestones stairs with your baby strapped to you.
If you're bringing a stroller, there are ways to avoid the stairs, but entering some sites can be tricky. You cannot really bring a stroller into restaurants, and like all locals, you'll have to leave it outside. Restaurants will provide you with a high chair, but as Dylan was too small for it we were taking a clipped part of the car seat inside so he can peacefully sleep while we eat.
*
Matera is a wondrous city that offers layers of history, good Italian food, and beautiful scenery. It's an excellent addition to an Italian road trip or itinerary, as you only need a couple of days to see the sights and get a feel for its charms.
Looking for other places to visit in Italy? Check out my guides to other Italian destinations.