"Should I be rent a car in Italy?" is a question that many travelers ask themselves after booking their flights to Italy. Read on to decide whether or not it's a good idea for your Italian itinerary.
If you do decide to rent a car and drive in Italy, I'll help you answer the most common questions on what documents you need to rent, the best and worst areas to drive, or practicalities such as car seats rules in Italy.
I rented a car in Italy a million times as a tourist and also lived in Italy for a year. When I lived in Italy I frequently rented a car from different providers because I didn't own a vehicle. Here are some basic things to know about renting a car in Italy in order to make your experience painless and convenient.
Is it a Good Idea to Rent a Car in Italy?
Renting a car anywhere in the world comes with a bit of risk, but so does getting on a train. You shouldn't be discouraged from renting a car just because it's a foreign country.
Several areas in the country are hard to visit without your own vehicle and a car is invaluable if you want to get even just a little off the beaten track.
While renting a car isn't necessary or even advised if you're only visiting major tourists city (you can't even bring your rental car into the old town Florence, and having a car in Rome is a very bad idea not just because of traffic but also because many main attractions are only accessible by foot anyway), if you want to see some off the path spots in the countryside it's a must.
If you're planning on touring large cities and don't have a lot of luggage, you can skip the car hire. Instead, use public transport even if you're bringing kids with you.
It might seem cheaper to rent a car than use a train, but don't forget that gas and tolls add up. A LOT!
Where to Rent a Car in Italy
Tuscany – YES!
If you want to stay in a villa or agriturismo in the country, a car is a must as there's no public transport in the countryside. While you can totally book a day trip from major cities like Florence or Siena, booking your own rental car will give you flexibility and the opportunity to see the rolling hill uninterrupted.
Puglia – YES!
You'll need to drive a car to explore the villages and beaches of Puglia and to search for the region's famous trulli. If you're venturing into nearby Basilicata to see Matera (you should btw!), you'll want to have a car. It's one of the best regions for a road trip in Italy.
Sicily and Sardinia – YES!
Both islands require the use of a car unless you are staying put in one location and going nowhere.
Umbria – YES!
This region is mostly inaccessible without a car. Rent a car unless you'll only be in Perugia for the chocolate festival, but you'll miss out on gorgeous castles and towns!
The Dolomites – MAYBE
The Dolomites are technically possible without a car. You can stay in Bolzano or Trento and either do day trips or use busses. However, this will limit you, delay you potentially a lot and you'll miss out on smaller towns, beautiful photo stop and being able to start your hikes whenever. For me a car is issential in the Dolomites and I always rented a car when venturing into the Dolomites despite knowing the public transport a lot as I lived in Verona, right next to the mountains – but technically you can do without it for a glimpse.
Amalfi Coast – MAYBE
Amalfi Coast is a tricky because it can totally be done without a car thanks to buses, trains and boats. I've done it with and without a car and while the roads are narrow and might feel challenging I'll say car. If you're coming with kids or hate crowds it's worth driving around. Even in May (which isn't a high season yet!) people are waiting for an hour on the side of the narrow road to push and squeeze into a bus between Positano-Amalfi-Ravello… So unless you're only taking a day trip to one destination from Sorrento or heading to Capri, I'll say car.
Lake Como – MAYBE
Lake Como is easily accessible by train and boat, so you can totally do without a car. If you're heading to Lake Garda on the way then a car is recommended.
Venice, Rome, Bologna, Florence, Milan, Verona, Naples, Siena – NO
For any major city it's recommended not to rent a car. They're very difficult to explore by car, often impossible to even drive through and parking is difficult to find. Major cities are greatly connected by train.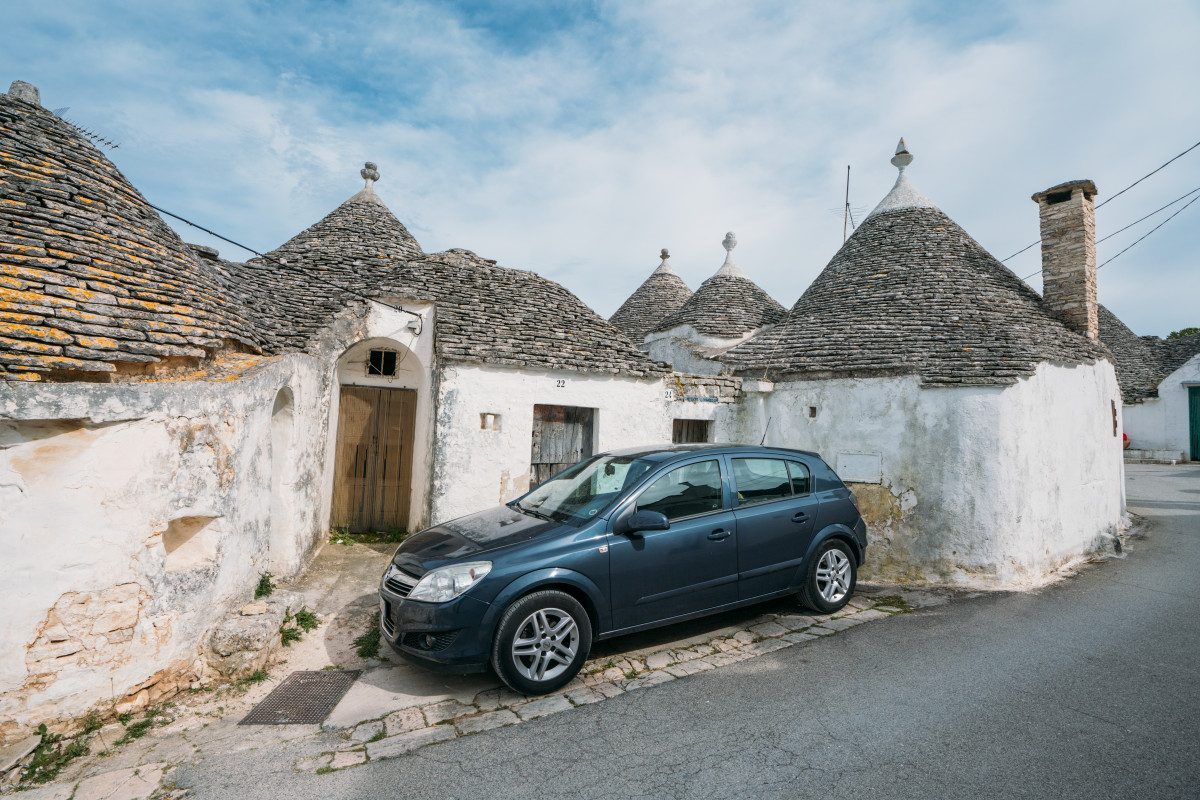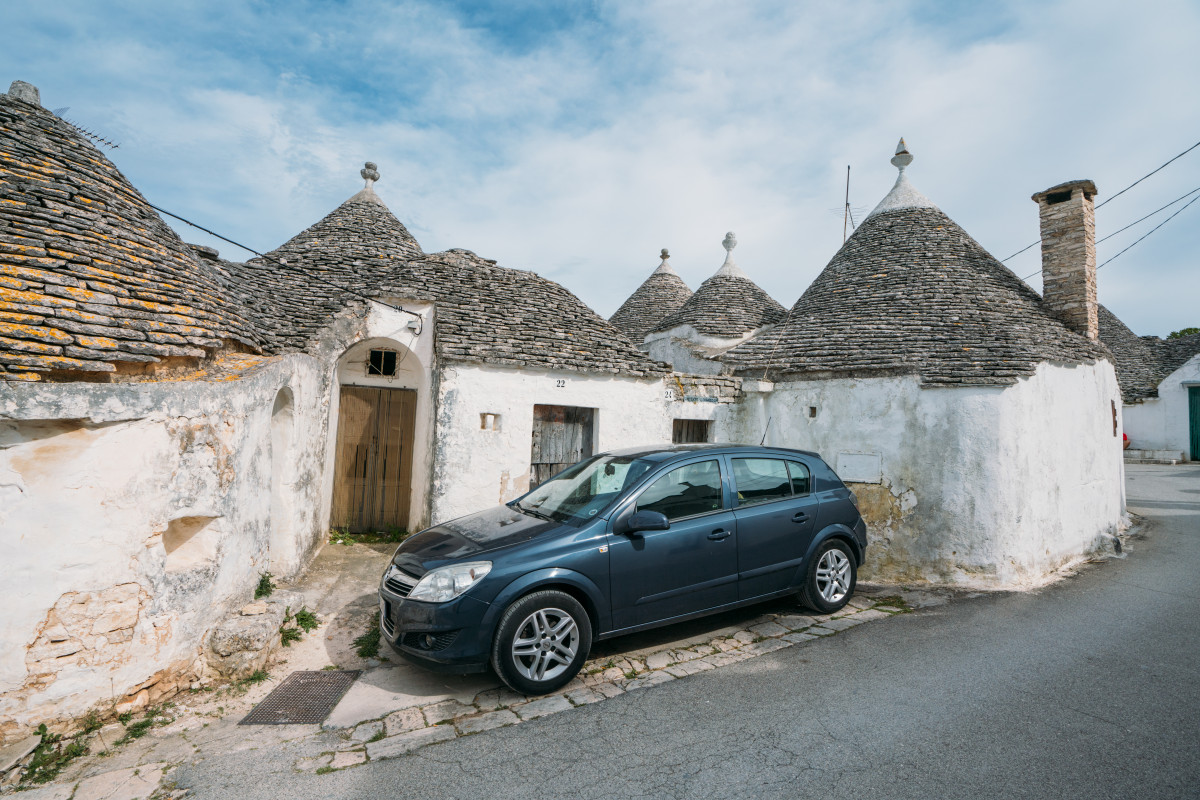 ---
How to Rent a Car in Italy
It's not hard to rent a car in Italy as long as you book in advance. During high season (summers, Christmas, Easter) all rental cars might be fully booked so make sure you make a reservation online.
Please make sure to familiarize yourself with the laws of driving in Italy (read more here). Things like turning right on red are ILLEGAL.
Documents Needed For Renting a Car and Driving Legally in Italy
Driver's license from your home country + potentially International Driving Permit if you are not a resident of the European Union. It's officially required by law, but most rental car companies don't ask for it.
Passport
Credit Card (unless you've made arrangements with the car rental company to NOT use a credit card and leave a cash deposit)
Car rental companies in Italy
Many car rental companies operate in Italy, internationally and local. The most established are:
Hertz
Avis
Sixt
Budget
Enterprise
Alamo
National
Maggiore
Noleggiare
SicilyByCar
I like to use a search consolidator like DiscoverCars.com to check individual car rental companies' availability for the best prices.
Car Rental Insurance in Italy
Unlike in many other European countries, basic CDW car rental insurance is mandatory in Italy. You are legally required to have this coverage while driving a rental car in Italy, and the rental companies won't let their car off the lot until they are sure you're covered.
If you're planning on using insurance from your credit card company, you will be asked to sign a waiver stating that you do have such insurance on your card and that you're responsible to pay for everything upfront and then you can claim it back from your credit card company.
IMPORTANT: Not all credit card companies offer car rental insurance in Italy! Don't lie that you have insurance with your card when you don't, as if something happens you'll be in big trouble.
Including CDW and theft insurance in a prepaid car rental rate when you book your car is almost always significantly cheaper than booking a basic car rate ahead of time and opting in for insurance at the pickup desk.
Be aware that theft from rental cars is a chronic problem in southern Italy, especially Sicily. You're safer parking your car with an attendant than on the side of the street. Don't leave valuables inside.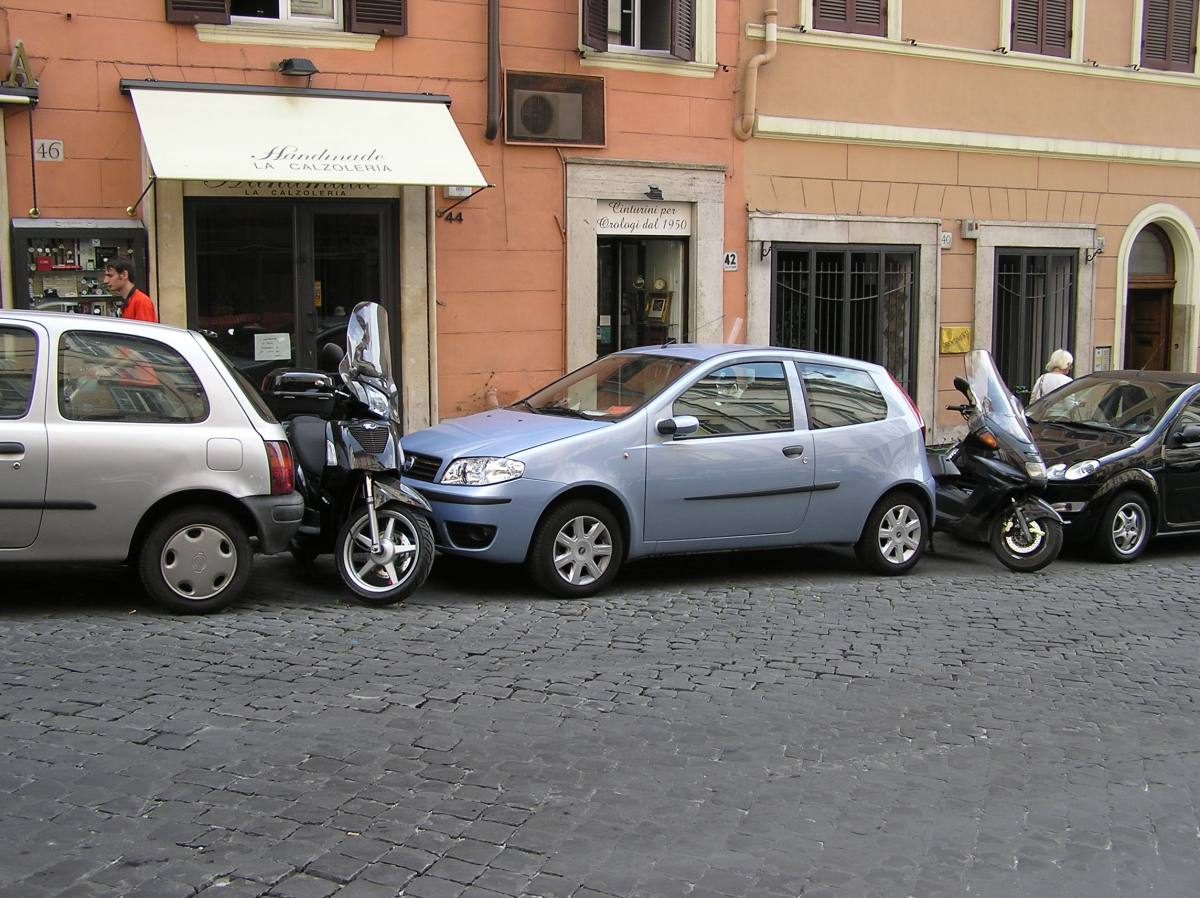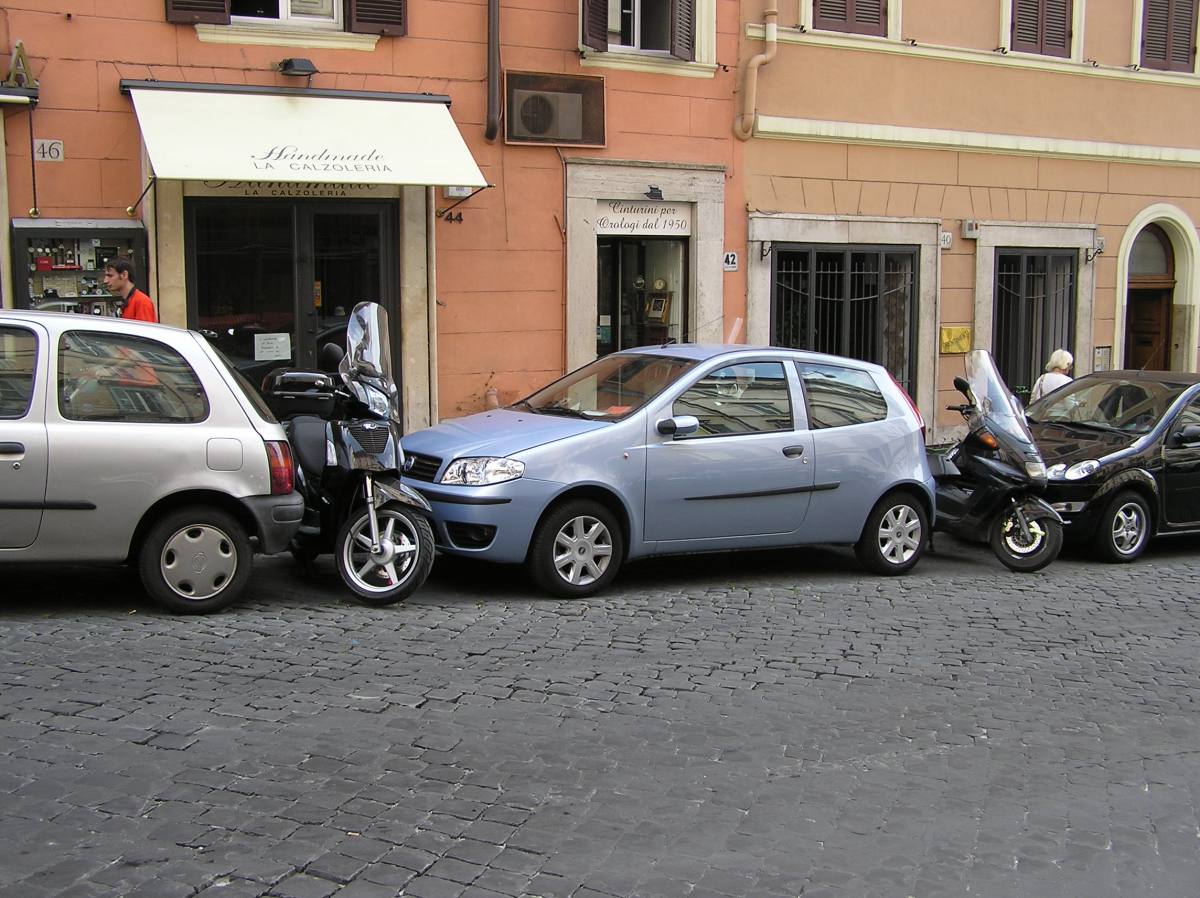 ---
Renting a Car in Italy: Manual vs Automatic
The good news is that Italy is one of the cheapest countries in Western Europe to rent an automatic car. Most cars in Europe are manual, so unless you specify on your reservation that you want an automatic car you will be given a manual.
While I always rent an automatic car, it's convenient to rent a car that has an option of both transmissions if you're traveling in the winter to the Dolomites. It's easier to get out of the snow with a manual transmission.
---
How Old Do You Have To Be to Rent a Car In Italy?
The legal driving age in Italy is 18 years old, but you need to have your license for at least a year. Most car rental companies will charge you an extra fee if you're a young driver under 25.
Insurance companies set a maximum age for car rental. Usually, the cut-off is 70 or 75 years old depending on the provider.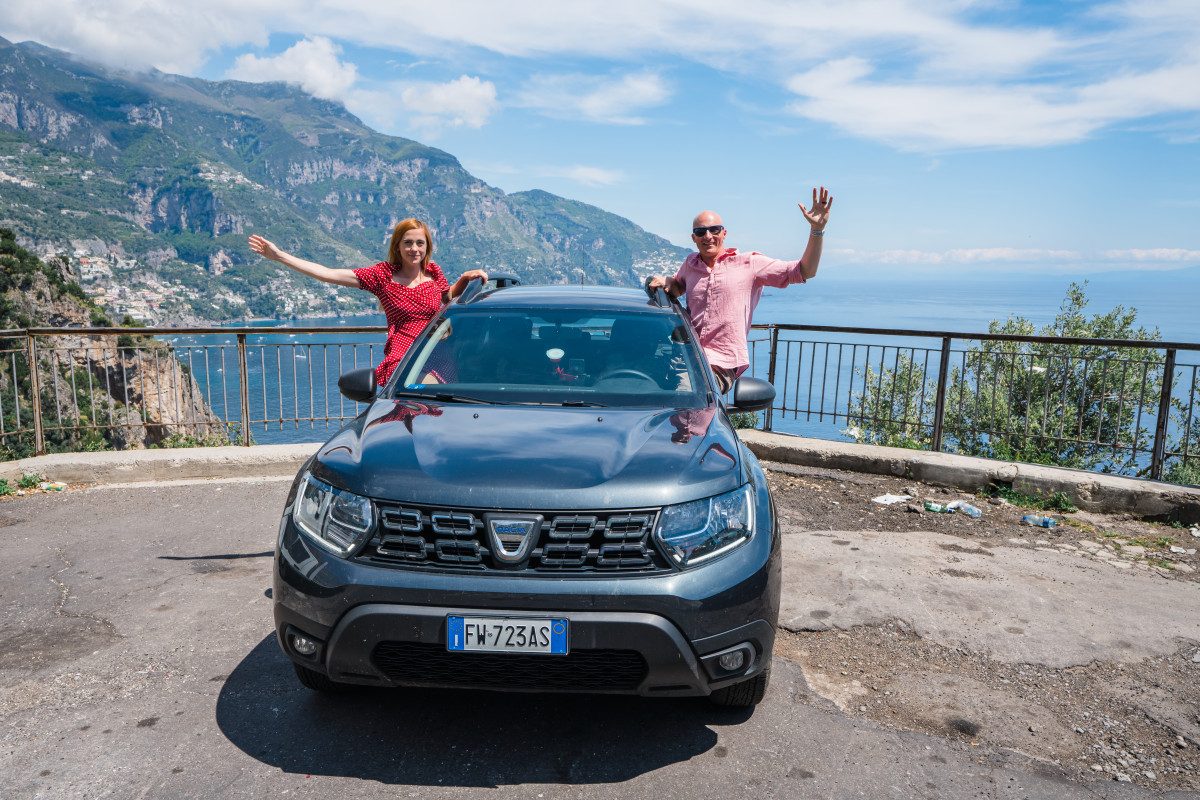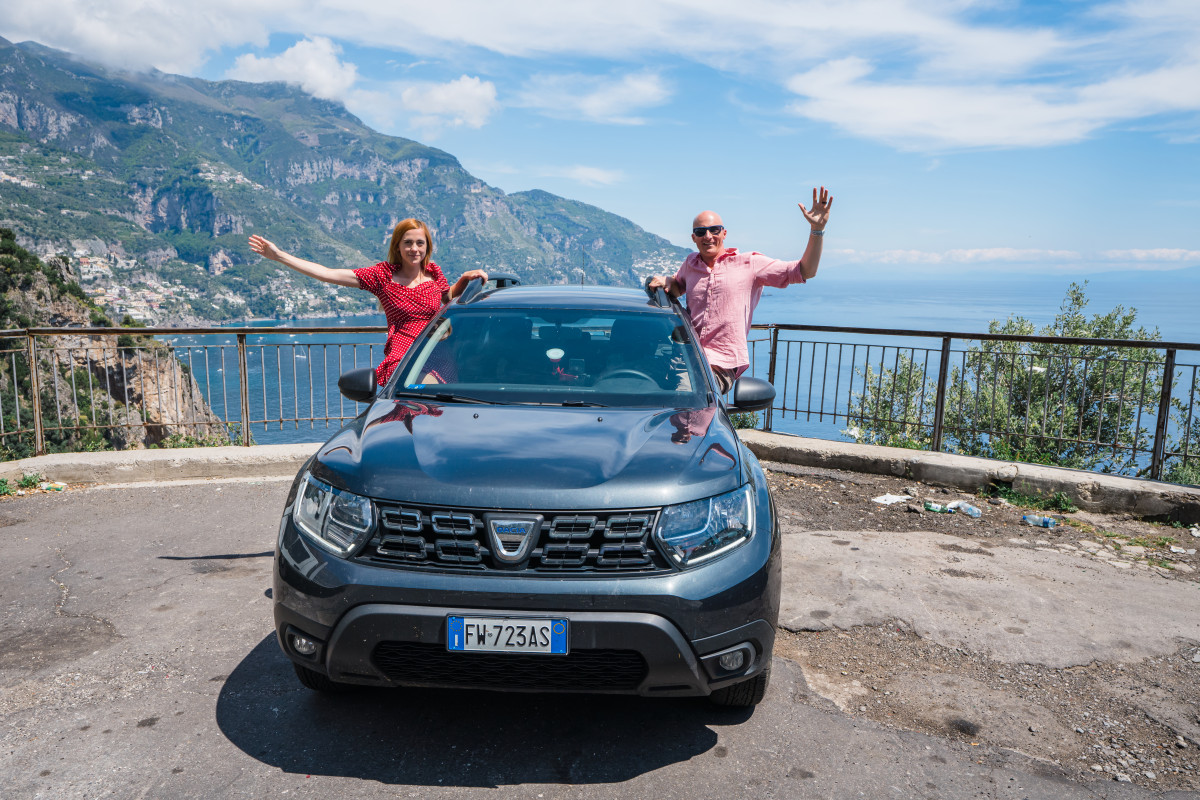 ---
Renting a Car in Italy as an American: International Driving Permit
Italy didn't use to care about non-Italian licenses, but things have changed now. These days you NEED TO HAVE an international driver's permit if you're coming from a non-EU country.
You still might be able to rent a car without any issues using your American (or any other non-EU driver's license), but you might get fined when stopped.
The IDP costs just $15, and you can apply for one through either AAA. There are, however, restrictions that apply to those seeking this type of permit.
You must be 18 years or older and a legal resident of the United States and your permit is only valid for a year from the date of issue. In most countries in Europe, you can't get a license until 18, so it's a pretty standard rule.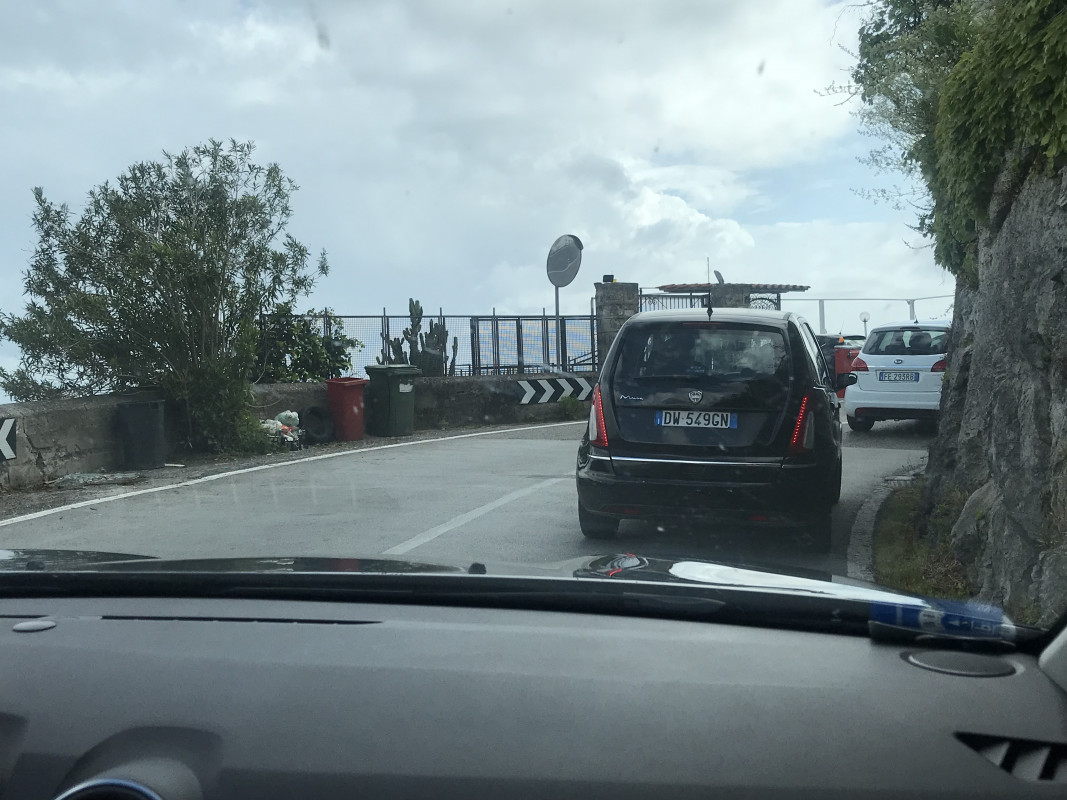 ---
How Much Does it Cost to Rent a Car in Italy?
The best site to book your car is Discover Cars. Why? They offer competitive rates as it searches all the big car rental companies and finds the best price. Even though renting a car in Italy is cheaper than in some other European countries, there are extra costs that you simply cannot avoid spending money on. I'm talking about tolls and gas prices.
Also, lines to rent a car at Milan Malpensa Airport and Rome Fiumicino are consistently always long, regardless of the time of the year. You might need to wait in line for an hour. If you're running late or your flight is delayed, call before they give your car away to someone else!
However, if you indicated on your reservation that you'll pick your car up at 10 AM and you're waiting in line until 11 AM, do yourself a favor and make yourself known to the attendant before 10 AM. Quite often they might give your car away if you don't pick it up on time!
Tolls are expensive in Italy. If you want to use some major highways, be prepared to pay a lot. For instance, getting from Bolzano to Milan costs up to 30 Euros! Always carry cash with you for a toll, as not all tolls accept credit cards.
Some companies add the option to buy a freeway pass called Telepass. You drive through dedicated lanes, slow down, and a video camera will clock your passage and charge the company appropriately with it. This saves queuing time and needs for cash.
Gas is more expensive in Europe than in the US. Gasoline is known as petrol. Prices might appear cheap to Americans at first, but remember that in Europe a price is displayed per Liter, not per Galon (1 Gallon = 3.78 Liters). If you can, and while it's still legal, rent a diesel car as it will be much cheaper than unleaded petrol. Currently gas in Italy costs about $5.93 per gallon.
If you rented your car full of gas unless you return it completely full, your best bet would be to leave it as empty as possible. Even if a tiny bit of gas is missing in the tank you will be charged for a full tank.
(!) EXTREMELY IMPORTANT(!): Regardless of the company you're going to book your car from, I highly advise you to book it from your home country or continent. For instance, if you're from the US and traveling to Italy, book your car online from the US. Why? Because it's significantly cheaper.
If you have a non-European driver's license you'll not be paying extra taxes that Europeans will have to pay when renting in another European country. I'm talking about significant differences in prices here.
However, beware that if you try to cheat the system and book a car for the US while you're in Europe unless you have a European driver's license to show at the rental car counter your reservation won't be valid.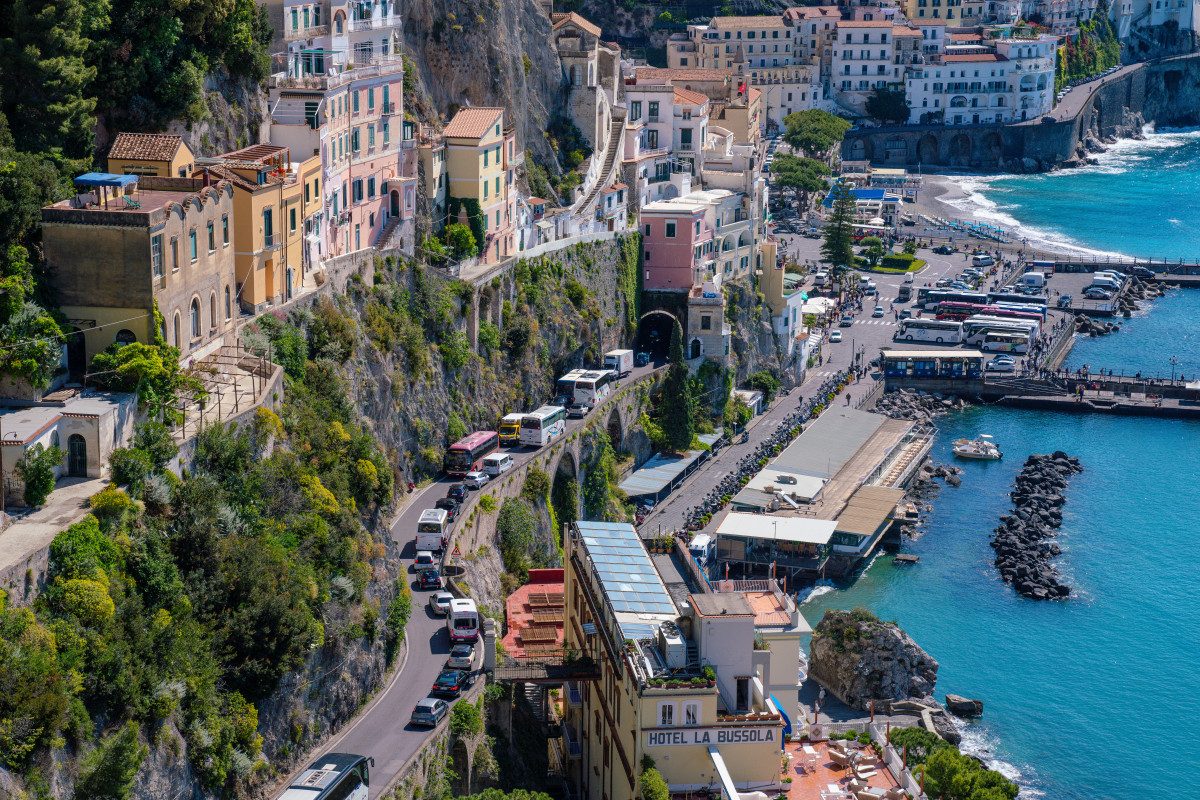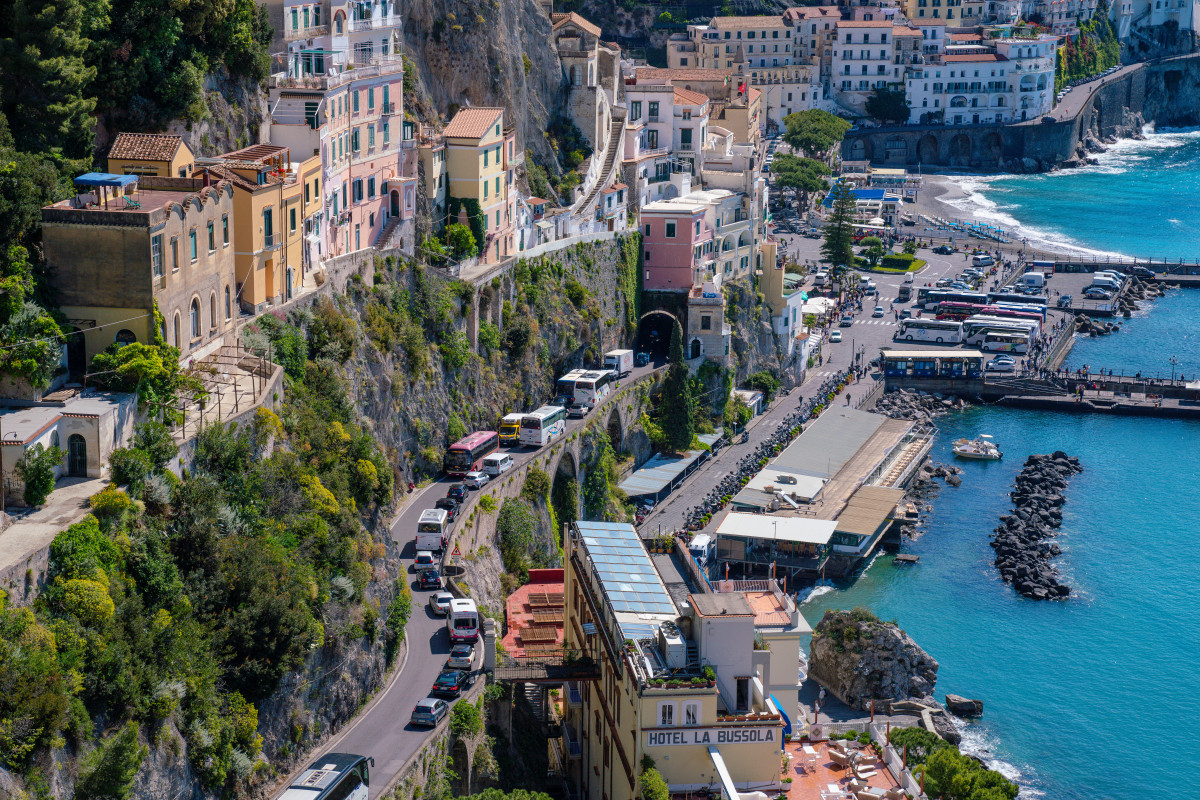 ---
Renting a Car and Driving in Italy with Children
If you're traveling in Italy with children renting a car is often an easier option than taking a train. But, remember to pick the correct size!
A compact size is easier to navigate small spaces, but make sure you choose a vehicle with enough room for all passengers, luggage, and things like a stroller. A compact car won't do it and even a standard size might often be too small.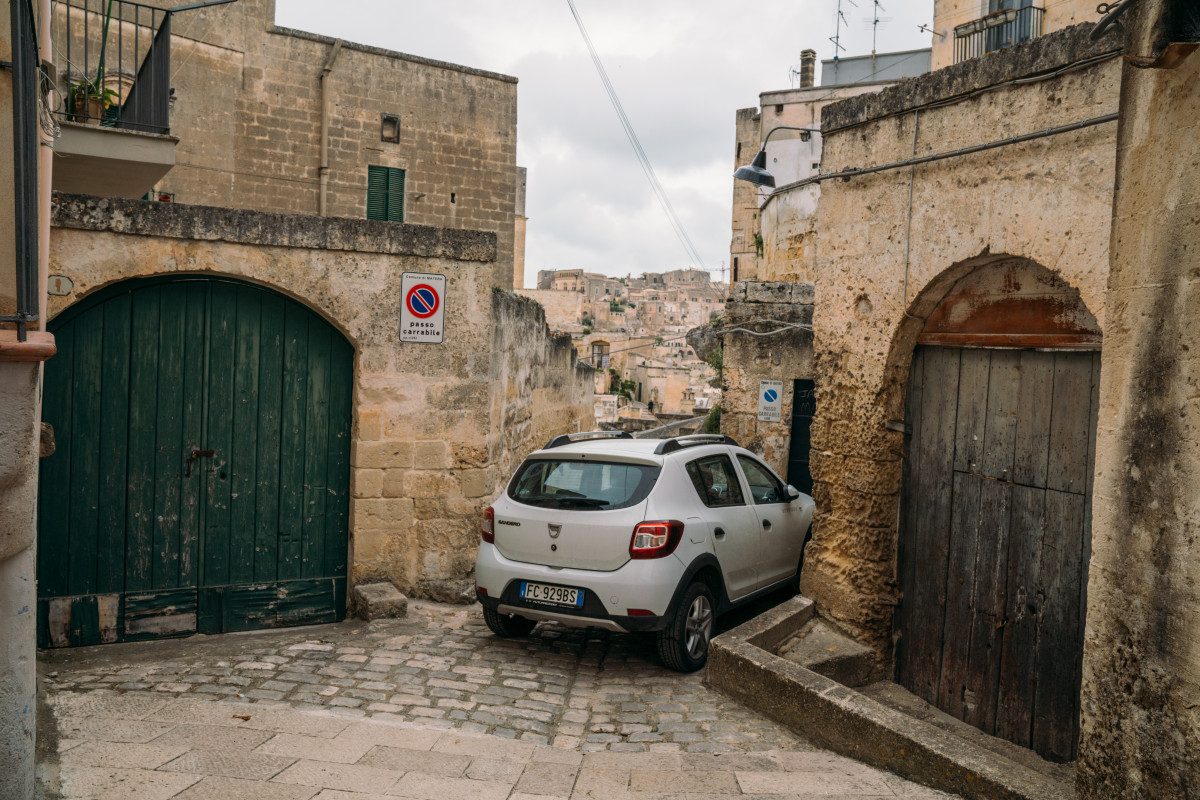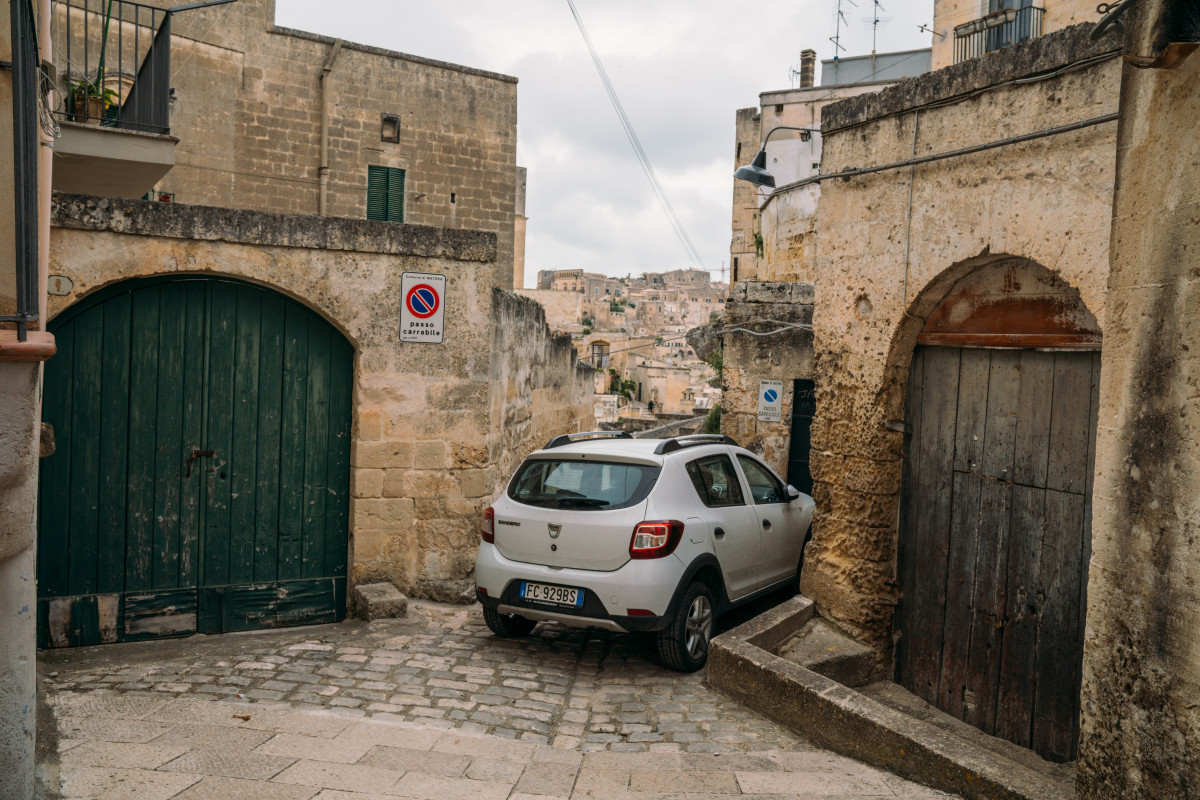 Car Seat Laws in Italy
Taxis and private transfer services do not require using a car seat. You cannot request a taxi with a car seat.
Car seats in Italy are compulsory on rental cars and private vehicles for kids up to 150cm in height and 36 Kg, about 12 years of age (article 172 of the Italian road code – codice della strada). This doesn't necessarily mean that you should bring a car seat from home… especially if you're coming from the US.
US car seats are illegal in Europe and vice-versa (read more here on traveling with car seats). EU regulations require the straps to be secured in such a way that you need a one-push button for quick release so if your car seat has two closures (like a chest strap), it's NOT legal in European countries.
Ride Safe vests are also illegal in Italy (and everywhere in the EU actually).
All car seats must meet the safety standards set by EU regulation ECE R44-02 or ECE R44-03. It's a sticker at the bottom or side.
IMPORTANT: Just like for the international driving permit, many people especially the self-proclaimed experts on social media, will tell you that no one will check what seat you have. The police might not care, but the rules will come into play in case something unfortunate happens and your travel and car insurance might be invalidated if you're using an incorrect car seat. The only way to make sure your seat is considered safe in the EU is the logo.
The cost of a new car seat is usually comparable to a rented one over the course of a few days. You might want to consider this option, but it's also common to rent a car seat from a rental agency.
---
Car Seats in Italy – LATCH / ISOFIX Compatibility
Italy's ISOFIX system is compatible with LATCH, but not all cars here have top tethers. If your car seat requires a top tether, confirm that your rental car is compatible and honestly, it cannot always be confirmed until you actually get your car as models may vary.
Anti abandonment kit
Sine 2020, all car seats for children under 4 years of age must be equipped with anti-abandonment technology (depositivi anti-abbandono).
The anti abandonment kit is a small device operating as an alarm to avoid children being left in the car alone, intentionally, for instance when going to the shop, or by mistake.
It's a small cushion put in or under the car seat. If you're renting a car seat you might be given one.
DON'T FORGET ABOUT TRAVEL INSURANCE
Don't forget to arrange health insurance before heading to Italy. The easiest and most reliable travel insurance is Safety Wing. Get it before your trip to skip unnecessary troubles that might ruin your holidays!
---
Why Should You Rent a Car in Italy?
While traveling by train in Italy is comfortable and easy, if you want to explore smaller towns and drive around the mountains, you need a car. Small towns would have been inaccessible otherwise, as even shuttles and buses don't reach them.
I usually drive an automatic car, but in the winter I preferred to have a car that allowed me to switch to a manual transmission to get out of the snow. Having a vehicle can you give the freedom to explore as and when you want to, and avoid crowds.
---
Any questions? Don't be afraid to ask me anything in the comments below!