The Dolomites, once dubbed as the Pale Mountains, crown the top of northeastern Italy. The dramatic dolomite rock formations extend from the Southern Limestone Alps to the River Adige in the west to the Piave Valley in the east. The Dolomite mountain range is best known for its snow sports and is especially popular during the winter season. Travelers come from near and far to ski down the powdery slopes and then head to the thermal baths to warm up and soothe sore muscles.
Although the Dolomite Mountains may be famous for hosting some of the world's best winter activities, people are flocking to the mountain range in the summer as well. New modern luxury resorts, picturesque views, and incredible hiking and biking trails have made the Dolomites an equally worthy summer vacation destination.
Not sure where to stay during your trip to the Dolomites? Read on to learn all about the best places to stay, ski, hike, and visit in the Dolomites.
IMPORTANT: Dolomites are in regions of Veneto, Trentino, Südtirol and Friuli Venezia Giulia. When visiting, most people combine Italy with Austria and visit both the Dolomites and Alps. In fact, if you decide to stay in Bolzano you will experience both – Italian & Austrian influences.
Technically the Alps do include the Dolomites, however locals refer to the mountains as the Dolomites. The Dolomites are part of the Alps, but they are not referred to as the Alps by the locals.
Best Hotels in the Dolomites
Best Luxury Hotels in the Dolomites
Hotel Miramonti • Chalet al Fos • Adler Spa Garni
Best Boutique Hotels in the Dolomites
Hotel Europa • Hotel Bellevue Suites & Spa • Rosapetra SPA Resort
Best Guest Houses in the Dolomites
Hotel Traube • Hotel Bischofhof
What is the Best Way to Get to the Dolomites?
There is lots of misinformation on the internet about the best way to get to the Dolomites. I often see some people recommending flying to Milan Airport, which is absolutely not recommended because it's a long way from the mountains. Unless you score a very cheap option and don't mind driving for hours, I'll say don't do it.
Assuming you're flying, you have quite a few options. The closest airport is Venice Airport (either Marco Polo or Treviso). Alternatively, you can fly to Innsbruck Airport in Austria.
Alternatively, you can also drive or take a bus to major towns (during ski season) directly from Verona Valerio Catullo Airport. Or simply take a train from Verona to Trento or Bolzano and take it from there.
Do You Need a Car in the Dolomites?
I'll be real. It is technically possible to see the Dolomites without a car, but you will not get the most of your time without the car. Simply because you need to drive to trailheads, be at certain spots for sunsets, and be free to explore everything. Doing it all with public transportation exclusively will be frustrating, time-consuming, and frankly not worth it.
If you're not bringing your own car – rent a car in Italy.
---
Bolzano (South Tyrol) – Best without a car
Tucked away in the Italian Alps is this fantastic city surrounded by magnificent scenery. Here you will find stunning old churches and ancient castles. You can even enjoy an excellent Italian meal on the grounds of some of the old palaces, like the Ristorante Castel Flavon Restaurant.
This restaurant has a view of the entire city and serves up authentic Italian fare. If you enjoy being in the great outdoors, Bolzano is the place for you. This region is covered with trails and nature walks. People flock to Bolzano to feel one with nature and have the ultimate mountain escape. Visitors can explore the city by cable car, visit museums, learn all about Italian history, and so much more. Bolzano, much like the rest of the Dolomites, isn't overcrowded with tourists.
It's an easy getaway to beautiful spots like Val di Funes.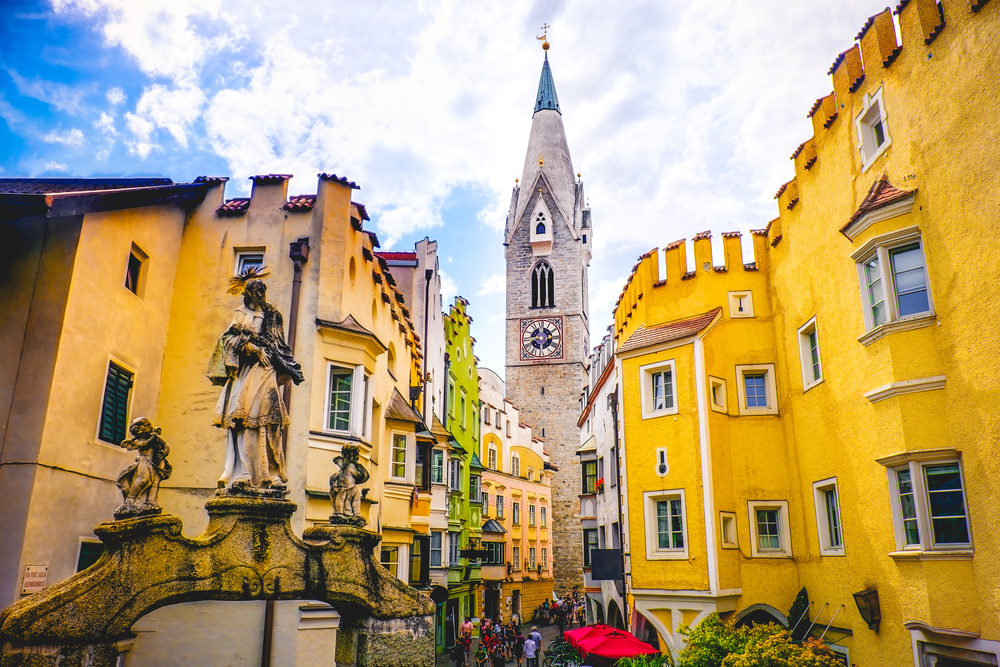 Top 3 Activities around Bolzano
1. While Bolzano may be a place where visitors go to relax if you're looking to have a drink at a local pub, be sure to check out Temple Bar. Depending on the night, you will find incredible live music here. Temple Pub is a truly authentic Irish bar with plenty of Guinness to go around. This place has a rustic, homey feel, and the staff is super friendly.
2. Directly in the center of town, you'll find the Walther Square. It's the main square or piazza in Bolzano and it's one of the prettiest areas in the city. Be sure to take a look at the ornate fountain and look at the historical buildings along the perimeter of the square. If you get hungry, there are plenty of cafes and restaurants here where you can enjoy a relaxing meal outside.
3. The South Tyrol Museum of Archaeology is a must while on your visit to Bolzano. This museum is within walking distance of most of the main attractions in Bolzano. One of the best displays at the museum is the Frozen Fritz, named Otzi. He is a 5,300-year-old corpse of an iceman that was found frozen in the Alps. See how this region would have looked if you lived thousands of years ago, and how men like Otzi would have lived.
Fun Facts About Bolzano
One of the most well-known hiking paths in Bolzano is the Guntschna Walk.
Franciscan monks have practiced their worship at the Bolzano Franciscan Monastery since the 14th century.
Bolzano has a population of just over 105,000.
In ancient times, Bolzano was a marshy area inhabited by the Raetian Isarci tribe of people.
Bolzano is also known as the Italian Capital of Christmas.
Where to Stay in Bolzano
Luxury Hotels in Bolzano
Castel Hortenberg – A historic building within walking distance of the Bolzano Christmas Market and Bolzano Victory Monument.
Hotel Stiegl Scala – Modern design mixes with old-world charm at this classy 1920s hotel.
Parkhotel Laurin – This Art Nouveau Hotel from 1910 is set in the heart of Bolzano, just a short walk from the cathedral and surrounded by a beautiful park.
Midrange Hotels in Bolzano
Hotel Greif – A short walk from Piazza Walther, Maretsch Castle, and the dolomites, this Bolzano hotel overlooks the main square.
Hotel Hanny – About 2.5 km from Bolzano Center, Hotel Hanny is a short walk from the Genesio Cable Car.
Stadt Hotel Citta – A landmark elegant hotel in the heart of Bolzano, this hotel provides every comfort necessary.
Budget Hotels & Hostels in Bolzano
Hotel Asterix – Uniquely decorated hotel a short walk from the city center.
Hotel Regina – Right opposite the train station, this family-friendly hotel is perfectly located.
Gasthof Kohlern Colle – 30 minutes walk from the city center, this hotel offers panoramic views of the Dolomites.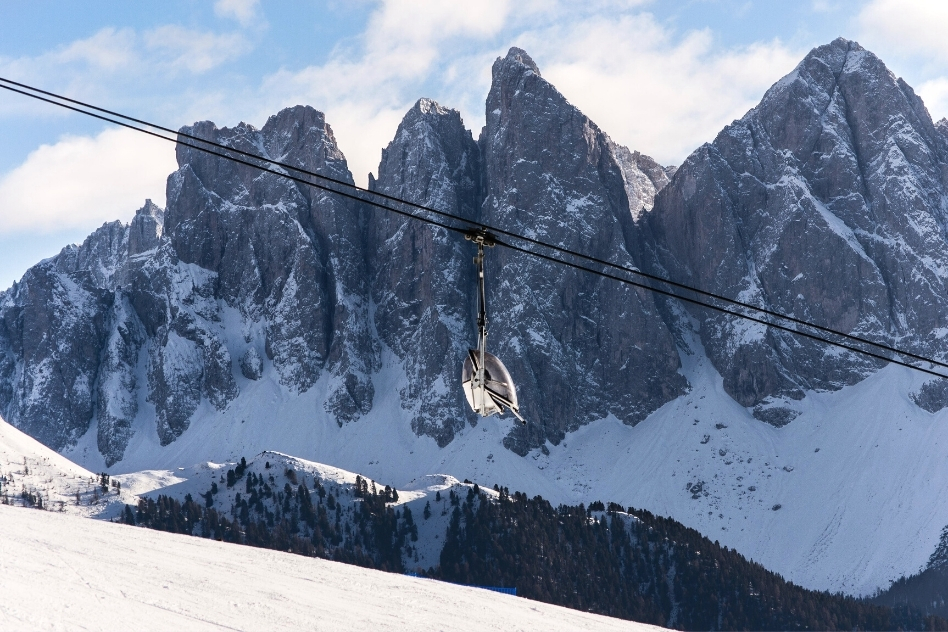 ---
Cortina d'Ampezzo – Most centrally located
Cortina d'Ampezzo is a ski resort in northern Italy. Many call it Cortina, and it's a town in the heart of the southern (Dolomitic) Alps.
This place is a winter paradise tucked away deep in the mountains, but a good base for summer adventures as wel. If you're looking for a fairytale-like winter wonderland getaway, this is the place for you. Be sure to bring your skis or rent a pair while you're there; you will be spending a lot of time on the slopes.
You really don't need a car if you're staying in Cortina, most of the best sights are all within walking distance. Plus, you will probably spend the majority of your vacation in the stunning resorts coming back and forth from the mountains.
While this area gives off captivating 'Snow Disneyland' vibes, it's also packed with interesting historical sites, tasty eats, and friendly locals. If you're a movie buff, you'll be glad to learn that Cortina d'Ampezzo was the filming location for movies like Cliffhanger, The Pink Panther, and 007.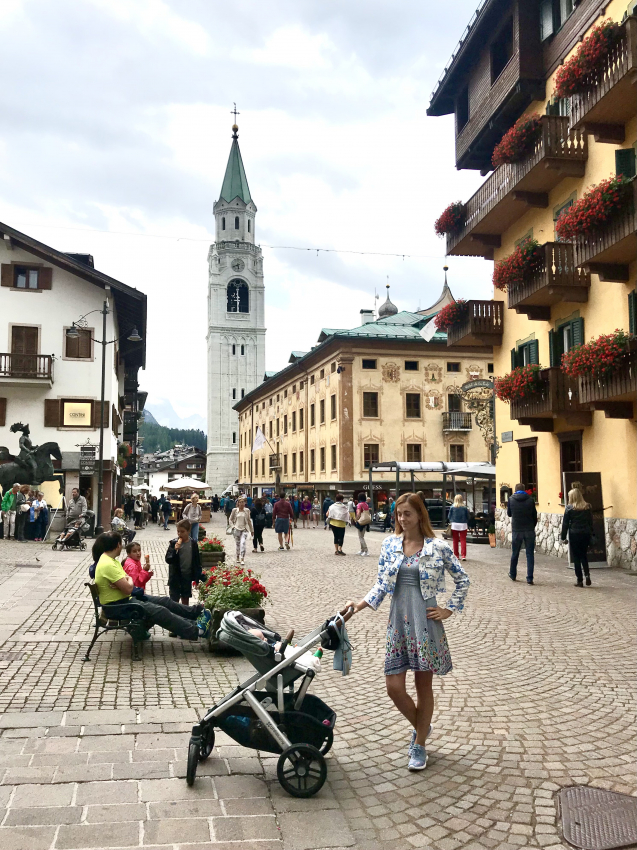 Top 3 Activities in Cortina d'Ampezzo
1. If you're tired of skiing and snowboarding, or if you happen to visit Cortina in the summer, hiking around Cortina is a brilliant way to spend the day. The Passeggiata Ex Ferrovia is an easy hour-long walk from Cortina to one of the nearby villages. This path is flat and easy to walk. Take your camera so you can capture all of the stunning views. You can even see the ski jump trampoline from the 1956 Olympics!
2. Take a ride on the Freccia del Cielo cable car to wine and dine with a view. The cable car has different stops, but riding to the top is usually recommended. At the top, you will find Capanna Ra Valles, a delicious Italian restaurant, the highest pizzeria in the Dolomites. They serve alcohol too, so if you're chilly, be sure to warm up with a sweet Bombardino, the most popular drink of the Italian ski alps.
3. If you're into shopping, you're in luck. Aside from snow sports, Cortina is one of the best places in the Italian Alps to shop. Head over to the main drag, Corso Italia, to find chic boutiques and shops. They sell everything from ski gear to high fashion clothing and accessories in Cortina.
Fun Facts About Cortina d'Ampezzo
Cortina in Belluno, Dolomites, is hosting the 2021 Alpine Ski World Cup.
This fun fact is for all the James Bond fans out there. You can take selfies around the locations shot for 'For Your Eyes Only.' Unleash your inner Bond.
Cortina is known as 'la Perla delle Dolomiti,' or The Pearl of the Dolomites due to its stunning beauty.
Where to Stay in Cortina d'Ampezzo
Luxury Hotels in Cortina d'Ampezzo
Cristallo, a Luxury Collection Resort & Spa – The first 5-star luxury hotel in the Dolomites, the Cristallo has won three World Travel Awards for Leading Ski Resort in Europe.
Rosapetra SPA Resort – This Spa hotel is made entirely of wood and offers a free shuttle to the nearby Faloria ski slopes.
Grand Hotel Savoia Cortina d'Ampezzo, A Radisson Collection Hotel – This historic hotel is right in the heart of Cortina D'Ampezzo and offers gorgeous views of the surrounding mountains.
Midrange Hotels in Cortina d'Ampezzo
Hotel Bellevue Suites & Spa – Located right opposite the free ski bus stop, this luxurious spa hotel features Turkish baths and saunas and a well-equipped fitness area.
Franceschi Park Hotel – Looking like it popped right out of a fairytale, this hotel offers amazing views of the Dolomites and is a short walk from the astronomic center and the ice rink.
Parc Hotel Victoria – Offering free ski storage, this family-run hotel in an old historical building also has a separate children's play area in the traditional restaurant. Guests have access to free bikes a library with the best mountain guide books and novels.
Budget Hotels in Cortina d'Ampezzo
Hotel Ciasa Lorenzi – This cozy alpine hotel is within walking distance of the Faloria Ski lifts and many local pizzerias. The wooden furnishings and some antique decorations are welcoming.
Hotel Natale – Right on the main promenade in Cortina d'Ampezzo, this traditional hotel with a spa has the loveliest sun terrace with mountain views.
Barisetti Sport Hotel – A stone's throw from the Freccia nel Cielo cable car in central Cortina as well as the ice skating rink, this hotel has great views of the Tofane Mountains.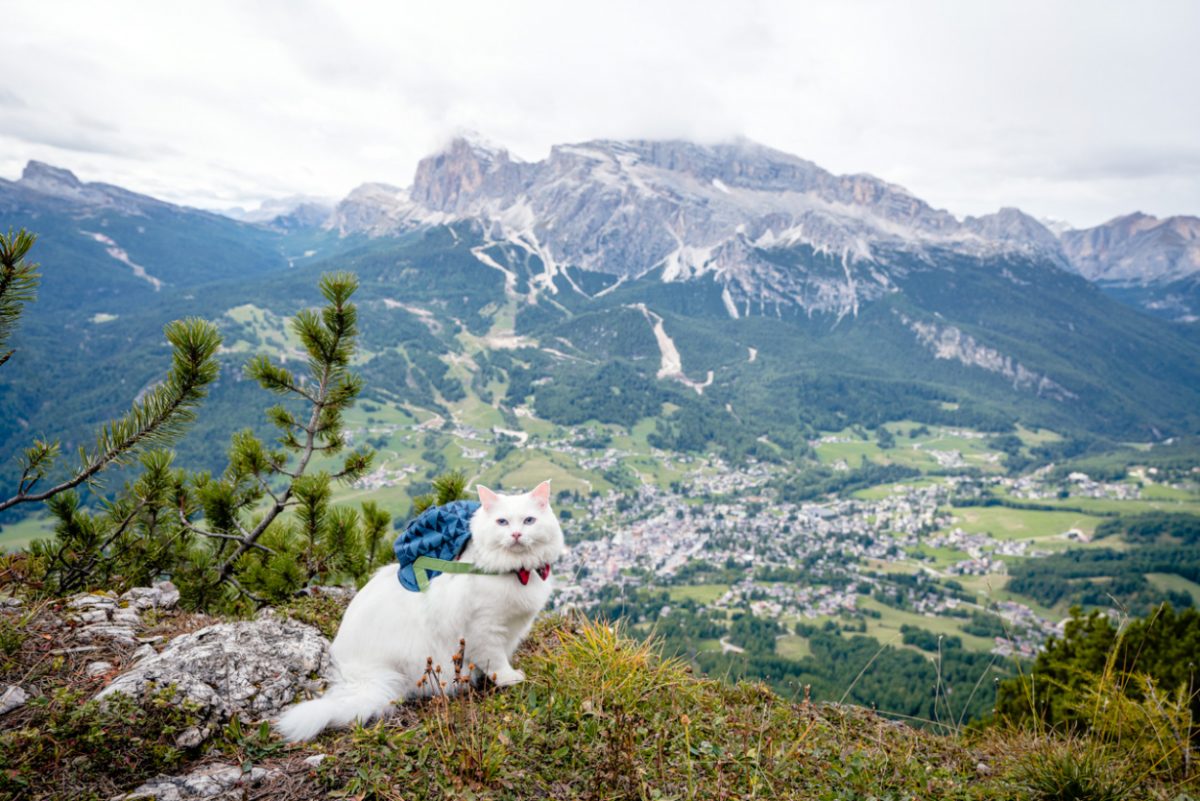 ---
Brixen/ Bressanone (Tyrol)
Brixen is the oldest town in Tyrol and is a popular holiday resort in the Dolomites. It's famous for being one of the most beautiful boroughs in South Tyrol and is home to incredible sights, old arcades, and small widening roads that will remind you of the days of old. This area is perfect for anyone with an interest in history and culture.
Brixen is a historic old town, and its narrow streets are lined with old churches. You will also find wonderful city life here, like bars, shops, and modern restaurants. If you happen to visit Northern Italy during the summer months, this area is packed with fun things to do that don't require snow. Check out the hiking trails, museums, and don't worry about traveling by car, most of these locations are accessible by foot.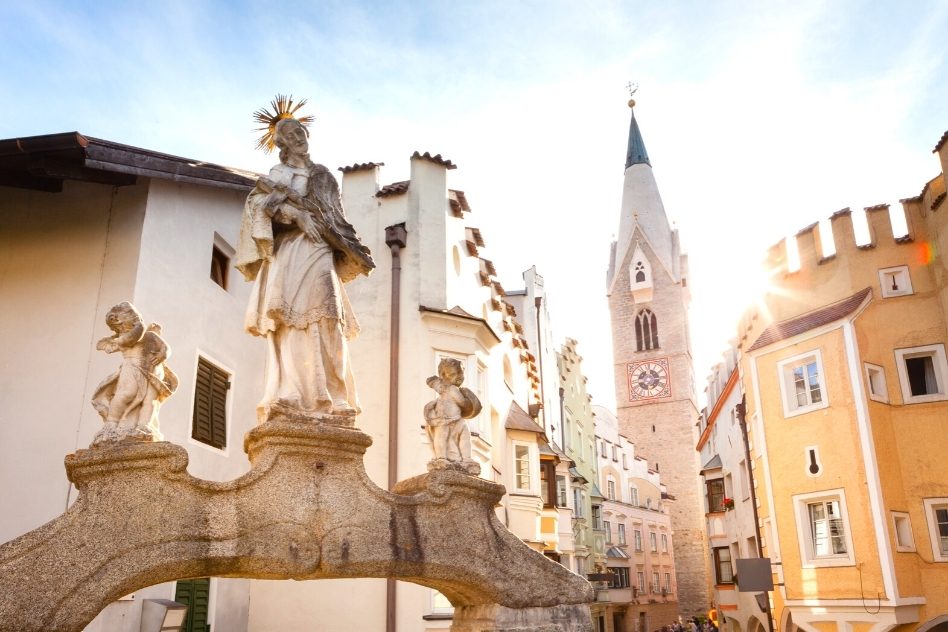 Top 3 Activities in Brixen/ Bressanone
1. If you like winter sports, be sure to head over to nearby Plose. This do-not-miss location is the place to be if you're looking to spend time in the great outdoors. If you're not into skiing or snowboarding, or if you happen to visit in the summer, there are plenty of family-friendly hiking trails scattered around Plose. Take the cable car up to the top of the mountain and catch a once-in-a-lifetime view of the Dolomites.
2. For a museum experience, you've probably never had before, head over to the Pharmazie Museum to learn all about the history of healing. This pharmaceutical museum opened in 2002 at Bressanone in South Tyrol, Italy. The museum holds a vast collection of plants, animals, and minerals from around the globe that have been used in creating medications for hundreds of years. Learn all about the incredible history of modern medicine from the experimenters and doctors of the past. You'll also find exquisite architecture here in the wood paneling and murals dating all the way back to 1620.
3. Take your bike along the Alta Valle- Isarco Cycle Track. This path is easy to navigate and has breathtaking views at every turn. The way is mostly downhill, which can get a little steep, and there are a few small uphill spots. There are plenty of signs along the trail, so don't worry about getting lost, even if you tackle this bike path solo.
Fun Facts About Brixen/ Bressanone
The Brixen Cathedral is still the highest-ranking church in South Tyrol.
This scenic countryside town is near the Austrian border of Northeast Italy.
Brixen is over 1,000 years old.
Where to Stay in Brixen/ Bressanone
Luxury Hotels in Brixen/ Bressanone
Hotel Goldener Adler -By the banks of the Eisack, this historic hotel is within walking distance of the Cathedral of Bressanone and Bressanone Christmas Market.
Hotel Gruner Baum – This hotel in the historic center of Bressanone offers spacious comfortable rooms and a wellness center with a sauna, Turkish baths, and hot tubs.
Midrange Hotels in Brixen/ Bressanone
Dominik Alpine City Wellness Hotel – Adults only – Offering cozy mountain rooms, a Tyrolean restaurant, and an indoor pool, this hotel also gives guests a free Brixen card with access to ski lifts, museums and transport.
Haller Suites & Restaurant – This classy family hotel is a short walk from the center of Bressanone, but right in the middle of a vineyard with amazing views of Brixen.
Hotel Goldenes Roessl – Offering a heated outdoor pool, the central Brixen hotel is charming and elegant.
Budget Hotels & Hostels in Brixen/ Bressanone
Hotel Traube – This family-run hotel is located next to the Diözesan Museum and is quite close to Bishop's Castle, museums, and shops.
Hotel Jarolim – Charming wooden floored rooms with classic furnishings are a short walk from Brixen center.
Hotel Waldheim Belvedere – This charming traditional-looking hotel with a mountain design offers warm spacious rooms and serves tasty Mediterranean cuisine.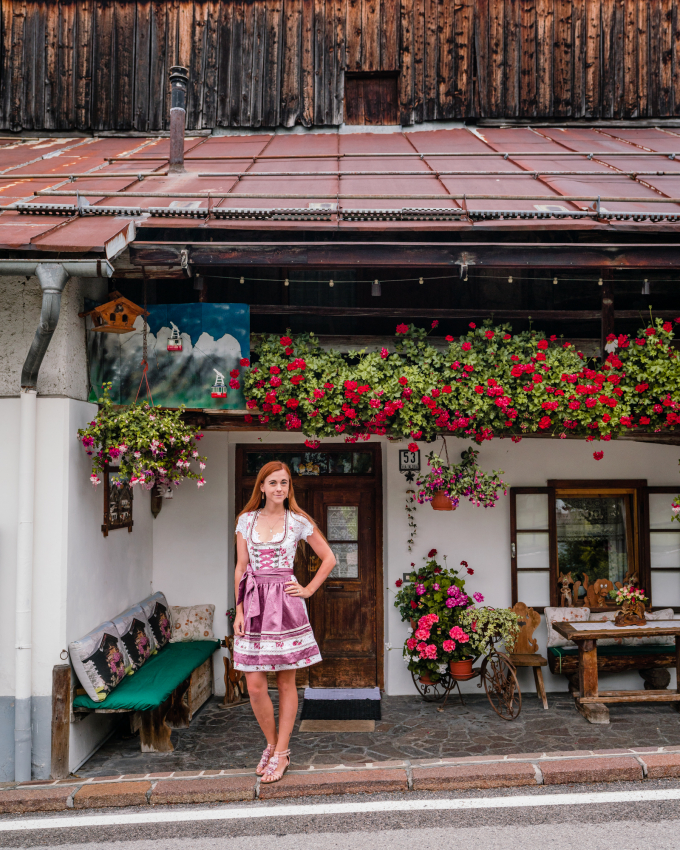 ---
Chiusa / Klausen (South Tyrol) – Small town feel
For the most intimate experience in the Dolomites, head over to Chiusa. This charming medieval town boasts beautiful facades, Gothic churches, picturesque landscapes, and traditional inns.
There's even a pedestrian-only zone in the city, so if you really want to disconnect from the modern world, Chiusa is the place to do it. Here you will find various artistic and cultural treasures along with stunning landscapes. Enjoy a meal at one of the small home-town style restaurants and an authentic cup of hot Italian coffee to finish off your meal, no matter what time of day it is.
You can spend hours here wandering around the small and winding streets stopping in the small shops along the roads.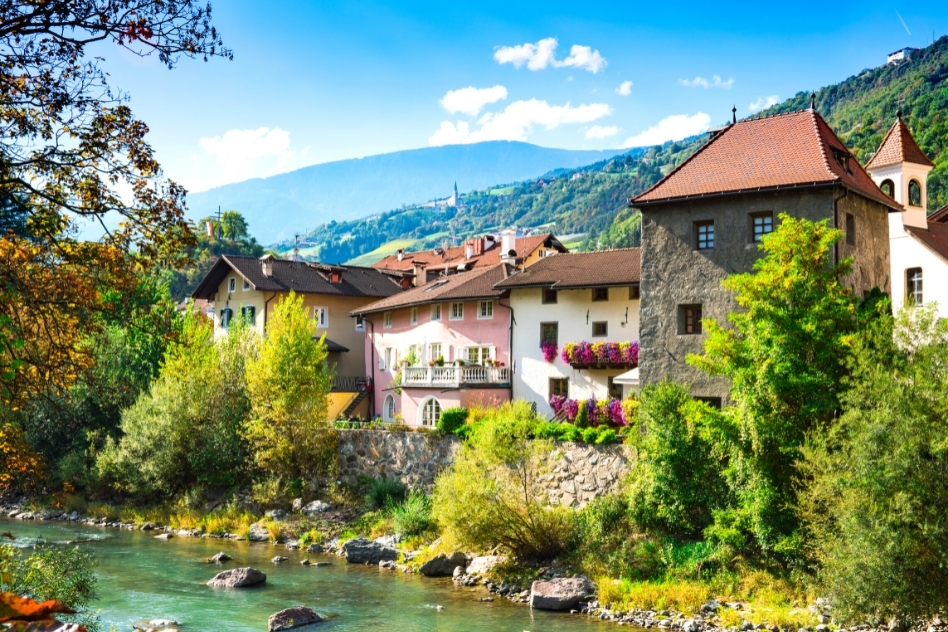 Top 3 Activities in Chiusa / Klausen
1. If you happen to be a fan of chestnuts, Chisua is your heaven on earth. Chestnut groves and vineyards are abundant in this area and line many of the hiking paths, like the Chestnut Trail. Chestnut season is during the fall when the leaves also happen to change into bright, vibrant, magnificent shades of red, yellow, and orange. If you're hiking the trail in the fall, you may be greeted by street vendors selling roasted chestnuts and apple cider.
2. The Sabiona Monastery or "Kloster Säben" in German, "Monastero di Sabiona" in Italian, is the landmark of Klausen and shouldn't be missed on your trip. The building lies in the vineyards and the forest and stands about 200 meters above the town of Chiusa. This monastery was opened in 1687 and was first inhabited by the nuns of Nonnberg. The Sabiona Monastery is only accessible on foot. You can take a lovely stroll along the Sabiona Promenade and reach it in about 45 minutes.
3. After your day of sightseeing has wound down, grab a slice of piping hot authentic Italian pizza at Gasthof Zum Hirschen. While the name may sound German, this Italian eatery is known to be one of the best places in the Dolomites. Find freshly baked pizzas using local tomatoes and mozzarella. There are various types to choose from and a good selection of beers on tap, wine, and friendly wait staff.
Fun Facts About Chiusa / Klausen
Klausen is known as one of the most beautiful small towns in all of Italy.
Albrecht Dürer made Klausen famous as an artist's town.
Chiusa is overshadowed by Säbener Berg hill, where the Sabiona Monastery towers can be found.
Where to Stay in Chiusa
Luxury & Mid Range Hotels in Chiusa
CityHotel Goldener Adler – This bed and breakfast hotel is just 300 meters from Chiusa center.
Granpanorama Hotel StephansHof – About 3 km from the center of Chiusa, this peaceful hotel offers alpine accommodation with fantastic views of the mountains in the town of Villandro.
Budget Hotels in Chiusa
Hotel Bischofhof – Bistro Jasmin – Charming rooms with wooden ceilings, a Bistro kitchen, Finnish sauna, free spa, and outdoor pool are just some of the amazing features of this hotel.
Parkhotel Post – Right in the center of Chiusa with views of the Castle, this hotel allows pets on request, for free!
Ansitz Fontelklaus – Set in the mountains with perfect views of the valley, staying at this hotel feels like living in an old castle.
Val di Funes (South Tyrol) – Best for quiet beauty
Val di Funes is one of the most beautiful regions in the Dolomites. It's not too far out from Venice or Verona, yet stunning. Most people head there for nature, hiking and to experience the mountains at sunrises and sunsets. A car is a must to get around there.
It's a very small town there's not much to do in town per se, so only head there for nature. This spot can be visited on day trips from bigger towns (like from Brixen), but if you like quiet time then it's a good choice for you.
Val di Funes is home to one of the most iconic sights in all of Italy: the Church of St. Magdalena against the backdrop of the Dolomites. You probably saw it on Instagram many times. Another iconic spot in this region is Adolf Munkel trail. This 4+ hour hike will bring you up close to the Odle mountain group.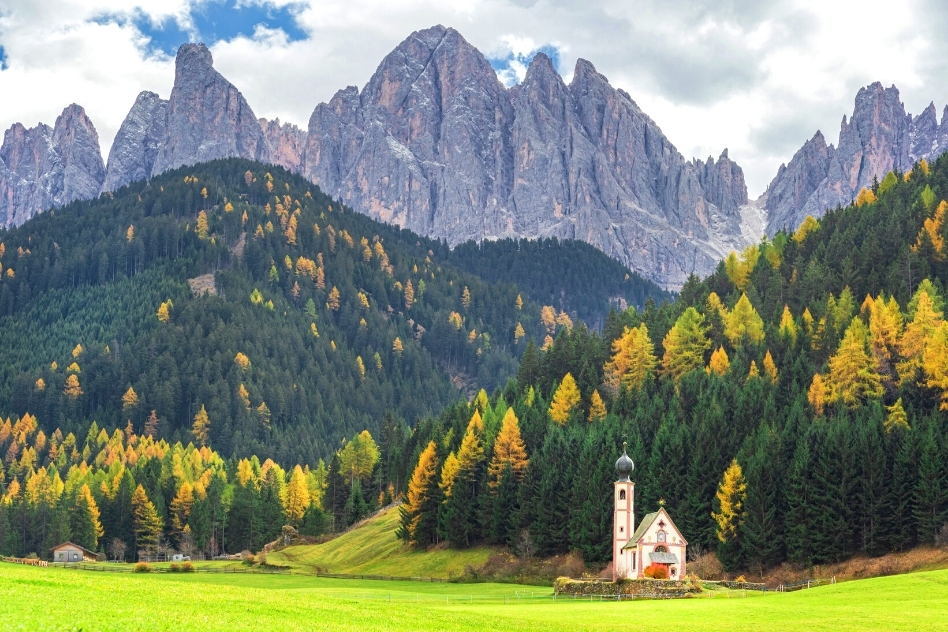 ---
Start packing; your next Italian getaway is right around the corner!
Use this guide to help you figure out the best places in the Dolomites for you to stay. No matter what you're into, from skiing, eating, visiting museums, the Dolomites has something for everyone.
While you're there, be sure to soak in the rich history of the Dolomites that it has to offer, learn a thing or two about Italian culture, and cozy up by the fire at night if you're traveling in the winter.