Traveling to Italy is on everyone's bucket list. The good news is that Italy lives up to expectations and you can spend months traveling around Italy and still not see even the highlights.
For first-time visitors to Italy, Rome, Florence, Verona, and Venice usually make the "must-see" list, but Italy is so much more than that. With 10 days in Italy, you have just enough time to visit these three cities and add in a quick visit to a nearby destination.
Or maybe, if it's not your first trip to Italy change it up and discover northern Italy or southern Italy.
Italy is so much more than just Rome and Venice, so if you're planning your Italy Itinerary you want to make sure to add plenty of other beautiful places depending on interests, budget, and ages of travelers.
Every single of these proposed itineraries below has been done by me – solo, with a partner, friends, or family. I've spent years living in Italy and traveling around the country extensively.
If you're traveling with kids, don't fear – Italy is incredibly kids-friendly and all these itineraries can be manageable for all ages. In fact, we did the Southern Italy itinerary when my son was 4 weeks old.
You might think that you could add places to these itineraries, but don't! It's tempting to squeeze as much in as possible, but I don't recommend adding more to this itinerary unless you have more days to spare.
You want to enjoy the places you're seeing, sample the food, walk around, and get lost – these itineraries are already packed with activities and places to see so don't overdo it!
---
Classic Italy in 10 Days Itinerary: Rome, Florence, Cinque Terre & Venice
This classic Italy itinerary includes top cities and iconic landmarks. It's perfect for first-time visitors to Italy and those short on time.
You'll have four bases: Rome (2 nights), Tuscany (1 night), Florence (3 nights), and Venice (3 nights) on these 10 days in Italy.
If you prefer not to rent a car you can do this itinerary as well. It will extend your time sleeping in Florence – will be explained.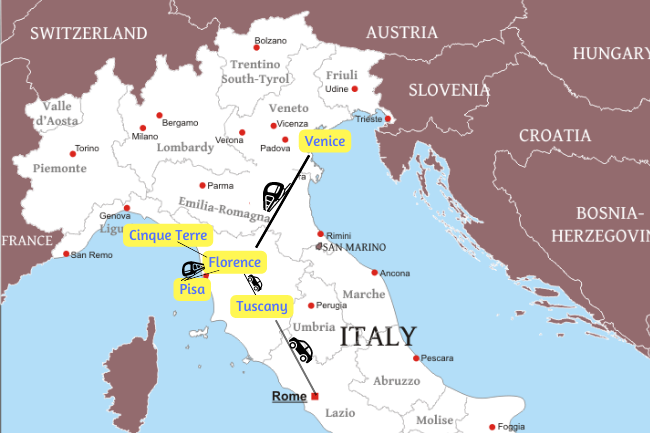 Day 1: Arrive in Rome
Day 2: Rome
Day 3-4: Tuscany
Day 5: Florence
Day 6: Pisa
Day 7: Cinque Terre
Day 8 Venice
Day 9: Venice
Day 10: Fly home from Venice
DAY 1 & 2 in ROME
The first day in Rome can be challenging if you arrive on a red-eye flight (most flights from North America are overnight). The good news is that you can't be too tired because most accommodations won't let you check in until the afternoon, so you can drop your luggage off and explore Rome while you wait.
Most people will tell you that you cannot see Rome in 1 day, I can tell you that while I highly recommend staying longer you can indeed visit some of the most important sites of Rome in 1 day.
In fact, years ago, my first time in Rome was actually on a day trip from Rimini and as a teenager. I was highly satisfied that I was able to hit lots of highlights.
I recommend starting your day at Fontana di Trevi and walking through major attractions, like Piazza Navona, until you reach the Colosseum. Just make sure you pack some comfortable (but cute) shoes!
Then head to the Vatican in the afternoon and consider having dinner in the Trastevere neighborhood. If your feet aren't killing you by now, you can also take a street food tour of Trastevere and the Jewish Quarter to taste some suppli, pizza, and other Roman dishes.
Recommended Tours in Rome
Where to Stay in Rome
The Pantheon Iconic Rome Hotel: With a terrace featuring views of the Pantheon, this 5-star hotel is a stone's throw from the Pantheon and close to most attractions. The Divinity Terrace Lounge Bar is the perfect place to relax with a drink while looking out over Rome's rooftops.
Bio Hotel Raphael – Relais & Châteaux: Luxurious rooms, stylish interiors, parquet floors, marble bathrooms, and artwork everywhere are just a few features of this 5-star bio hotel. Guests will also enjoy amazing views from the Mater Terrae terrace restaurant, and being just a short distance from Piazza Navona.
Hotel Locarno: As romantic as Rome with its 1930s interiors, the hotel Locarno has a rooftop terrace looking out at historic Roman sites. And situated just a short walk from Piazza del Popolo square, it's the perfect base for sightseeing in Rome.
---
DAY 3, 4 & 5 in TUSCANY & FLORENCE
If you can, I recommend renting a car and heading to Tuscany for an overnight in a local agroturismo. I recommend renting a car from Rome because if you visit Tuscany from Florence ultimately you'll be driving back in the direction of Rome.
A car is the best way to explore the calm corners of Tuscany.
If you don't want to rent a car, don't have a license, or want to stick to only trains – it's also possible to visit Tuscany. I did it years ago before I had a license myself.
Simply take a train from Rome to Florence. Then you can hire a private driver, or you can take a tour.
Just don't rely on public buses because the chance of being late or stranded in the middle of nowhere is basically almost 100%.
After Tuscany, you'll drop off your car in Florence because you won't need it again. Florence needs at least one full day to see the main sites so keep this in mind.
During the high season like summer pre-booking tickets to major attractions is highly recommended.
Recommended Tours to Tuscany
Where to Stay in Florence
Hotel Bernini Palace: Set in a palatial building from the 15th century, Hotel Bernini Palace is within walking distance of Palazzo Vecchio, Piazza della Signoria, Dante's House, Uffizi Gallery, Strozzi Palace, and so many top attractions. Richly decorated rooms and suites feature antique furniture and Renaissance Florence décor or classic decor.
IL Tornabuoni The Unbound Collection: Sipping champagne on a rooftop bar while looking out at Florence in the evening light, what more could you ask for? Right in the heart of Florence's fashion district, this 5-star hotel has everything – from homemade cakes for breakfast, to rare Italian wines and gourmet Tuscan cuisine for dinner. Some rooms even feature original frescoes.
Boutique Hotel del Corso: For something more pocket-friendly, stay here. Set in a 16th-century palazzo, this historic hotel building with fabulously decorated comfortable rooms is close to the center of Florence.
---
DAY 6 in PISA
If you're up for an adventure on your 6th day you can take a quick train to Pisa from Florence to see the leaning tower and enjoy this cute town.
If you're more of a hiker, then you could skip Pisa and add another day to Cinque Terre and spend the night there.
Recommended tours to Pisa
---
DAY 7 in CINQUE TERRE
Cinque Terre is five picture-perfect towns perched along the Mediterranean coastline just waiting to be explored. You can hike between them and enjoy the views.
All you need to do is book a train to the Cinque Terre – to La Spezia and then take the local train to one of the five towns of the Cinque Terre. Alternatively, if you don't want to venture on your own you can also take a day tour from Florence, or from La Spezia train station.
Recommended tours to Cinque Terre
---
DAY 8-9 in VENICE
Coming back from Cinque Terre you'll most likely need to change trains in Florence again, so it will be a good half-day of travel. You'll then arrive in Venice.
While the main attractions of Venice can easily be seen in half a day, you need to just wander around and find its hidden spots to actually enjoy the city. Stay on the main island, get lost in Venice (the best thing to do!), and see the local life when daytime tourists leave.
You can also spend the extra time by cruising out to Murano and Burano.
Recommended tours to Venice
Where to Stay in Venice
Baglioni Hotel Luna – The Leading Hotels of the World: Just a few meters from St. Mark's Square, this elegant hotel offers views of the city's rooftops one one side and the lagoon on the other. Plush rooms and suites at this impressive hotel feature original frescoes, Murano glass chandeliers, and antique furniture.
Hotel Torino: Pocket-friendly yet perfect, this hotel is located in a 16th-century building close to Saint Mark's Square. Well-connected by the water bus, it's the perfect base for touring Venice.
Hotel Ai Cavalieri di Venezia: In the heart of historic Venice just a short walk from Rialto Bridge, Doge's Palace, the Bridge of Sighs, and more, this hotel features luxurious and gorgeously decorated rooms with every modern amenity you may need.
Hotel Carlton On The Grand Canal: Venetian decor and Murano chandeliers fill spacious rooms at this hotel overlooking the Grand Canal. Set right outside the train station, it's within walking distance of Campo San Polo, Grassi Palace, and many popular attractions.
---
---
Off the Path Classic Italy Itinerary: Rome, Umbria, San Marino & Bologna
This more off-the-path Italy itinerary includes lesser-visited places for those who visited the top places to see in Italy already. It's my favorite itinerary and one I recommend to friends a lot.
You'll have multiple bases: Umbria (2 nights), Perugia (2 nights) and Bologna (2 nights), Verona (1 night), Dolomites (2 nights) on these 10 days in Italy.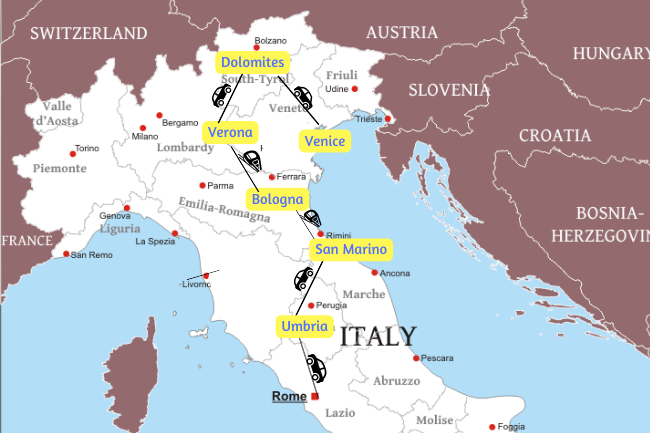 Day 1: Arrive in Rome and head to Umbria
Day 2: Orvieto
Day 3: Terme di Saturnia
Day 4: Perugia
Day 5: San Marino
Day 6: Bologna
Day 7: Verona
Day 8-9: Dolomites
Day 10: Fly home from Venice or Milan
---
DAY 1 & 2 in ROME
Similar to the previous itinerary arrive in Rome and see what you might have missed on your previous trip to Italy or simply just grab a car and head to Umbria directly.
I recommend driving to Castello Orsini, about an hour from Rome Fiumicino Airport. It's a unique castle stay in Italy with a local vibe. Makes for a unique first-night stay.
It used to be on all booking websites, but now you need to call to reserve a room .+39 077 468 3272
If it's booked, you can always stay next door at a place that's almost as ancient. '"Le pietre silenti" antica dimora del 1300' has been around since the 1300s. The ancient exterior and the modern interior make it a great place to stay right next to Castello Orsini.
Alternatively, if you want to stay in a less "obscure" place head straight to Orvieto.
There are three places in Orvieto I recommend staying at::
Enjoy walking around Orvieto and if you have time stop by Civita di Bagnoreggio, as it's so unique.
---
DAY 3 in Tuscan Hot Springs
From Orvieto, you'll take an hour-long drive to Terme di Saturnia. These are gorgeous hot springs that you've probably seen on Instagram already. If you can, go as early and avoid weekends.
After your dip, I recommend stopping by – Abbey di San Bruzio, a fascinating and mysterious abandoned place, immersed in the countryside among secular olive trees.
If you don't want to take a detour and go all the way to Terme di Saturnia, the closer option is Bagni San Filippo. If you feel like you haven't explored much of Tuscany on your previous trip you'll have a chance to do so around these hot springs.
In the evening head to Perugia for the night.
---
DAY 4 in PERUGIA
In Perugia, I recommend staying at Castello di Monterone.
Perugia is a cute town, famous for the annual chocolate festival to Europeans and for Amanda Knox to Americans. Don't be afraid, Perugia is stunning!
From Perugia, you can visit Spello – another charming village.
Recommended tours around Perugia
---
DAY 5 in San Marino
From Perugia continue to San Marino. You can have the rest of the day to explore this gorgeous, underrated destination in Europe, before heading to Bologna for the night.
Note: Technically, you could drop your rental car off back in Perugia, but a car is useful for the Dolomites. You can visit the Dolomites without the car, but you will be limited only to certain places so I recommend keeping the car until your Venice or Milan departure.
Where to stay in Bologna
Grand Hotel Majestic gia' Baglioni: It's easy to get used to your stay in this 18th-century palace, surrounded by antique furnishings, frescoes, and elegance everywhere. Enjoy regional cuisine and a range of domestic and foreign wines from the historic cellar. You won't want to leave.
Hotel Metropolitan: A stone's throw from Via Indipendenza and a short walk from the main square, this contemporary hotel is perfectly located for anyone wanting to visit the local attractions. The private terrace is an added plus!
Hotel San Donato: Located so close to La Macchina del Tempo and the Bologna Towers, you can actually see them while having breakfast on the rooftop. Spacious hallways, rooms with classic Italian decor, and a rich breakfast will keep you coming back.
---
DAY 6 in BOLOGNA
Bologna is worth spending a day at, even if it's just for the food. It has THE best food in Italy.
DAY 7 in VERONA
From Bologna you'll continue to Verona. Spend the day exploring the charming old town and Arena di Verona.
I highly recommend staying at Hotel Milano. You cannot beat these views from the jacuzzi.
All you need to do is book a train to the Cinque Terre – to La Spezia and then take the local train to one of the five towns of the Cinque Terre. Alternatively, if you don't want to venture on your own you can also take a day tour from Florence.
---
DAY 8-9 in DOLOMITES
The first stop driving to the mountains from Verona should be Santuario Madonna della Corona, a beautiful church that literally clings to a rocky cliff. It's easily reachable and not much hiking is required – it's just a semi-flat short walk.
Possibilities are endless in the Dolomites. Numerous charming towns, adventurous Via Ferratas. There are hikes for all ages, but if you can do just a few things I recommend Tre Cime di Lavaredo hike and seeing Lago di Braises.
You can stay anywhere on the way in the Dolomites.
If you're leaving through Milan you could do a quick visit to the Duomo or seeing DaVinci's "Last Supper.
---
---
Northern Italy Itinerary: Lake Como, Dolomites, Verona & Venice
Italy itinerary of northern Italy for nature-lovers and off-the-path explorers. Recommended mostly in the summer or autumn.
You'll have multiple bases: Milan (1 night), Como (1 night), Verona (2 nights), Dolomites (2 nights), Burano (1 night), and Venice (2 nights) on your 10 days in Italy.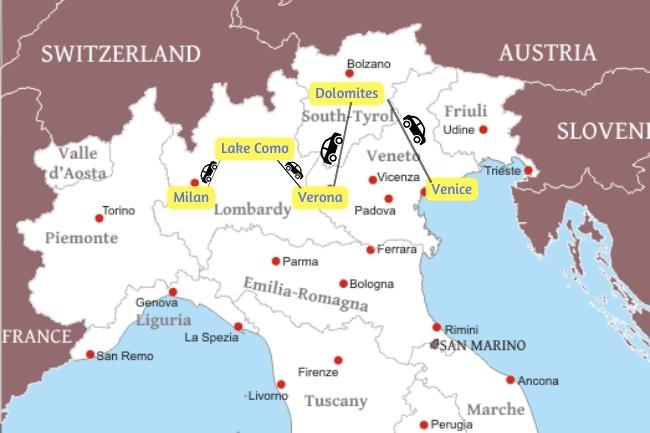 Day 1: Arrive in Milan
Day 2: Lake Como
Day 3-4: Verona
Day 5-6: Dolomites
Day 7: Burano
Day 8: Venice
Day 9: Fly home from Venice
This itinerary is slightly modified from parts of the previous Italy itinerary. The only difference is adding Lake Como – full guide on where to stay and what to do where right here.
It's also giving you more time to explore the Dolomites and do day trips from Verona.
If you're looking for a slightly different experience than the traditional Venice, spend the night in Burano. It's very busy during the day but after visitors leave it's a fantastic place for a truly local experience.
---
---
Southern Italy Itinerary: Rome, Amalfi & Matera
Southern Italy itinerary for sun and beach lovers. Great for couples, families, luxury travelers and frequent visitors to Italy looking for something new. This route requires self-driving or ridiculous amounts of patience.
You'll have multiple bases: Rome (2 nights), Sorrento (2 nights) and Amalfi Coast (2 nights), Matera (2 nights), Alberobello (1 night) on these 10 days in Italy.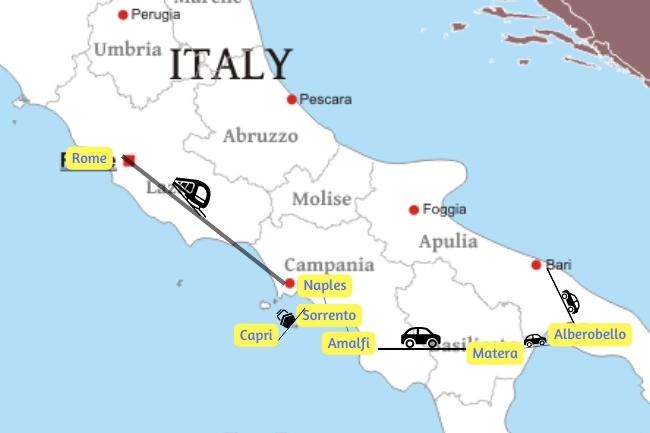 Day 1: Arrive in Rome
Day 2: Rome
Day 3: Naples
Day 4: Sorrento and Pompeii
Day 5: Amalfi Coast
Day 6: Capri
Day 7-8: Matera
Day 9: Alberobello
Day 10: Fly home from Bari
This itinerary combines the traditional Puglia itinerary with Amalfi Coast.
So those are the different options to travel classic Italy, off-the-beaten path Italy, or Northern Italy and Southern Italy separately. Which one do you plan on doing?