Puglia or "Apuglia" describes a beautiful region in Southern Italy, known for its rocky coastline, sunshine, and picturesque towns. If you look on a map, Puglia is the "heel" of the Italian boot.
Choose Puglia as a destination if you love Italian sights, food, and culture, and want the opportunity to explore at your own pace.
You need at least 4 or 5 days to travel around Puglia, since towns and beaches are spread out. Don't even try to see Puglia in 3 days, because you'll be rushed and barely able to see anything.
A week is ideal, and more time will allow you time to relax and soak up the sun. Rent your car (see transportation), book your travel insurance and pick two or three areas to stay as bases for your Italian road trip.
Technically it's possible to explore Puglia by public transport, but you'll need to research routes and check timetables in advance and have a lot of patience and lots of time.
Puglia Road Trip Itinerary
How to Get to Puglia
The Puglia region has two airports- Bari or Brindisi. Both are on the east coast, with Bari about 77 miles (124 km) north of Brindisi. Both are international.
Flying into one of these airports is the easiest way to reach Puglia and start out on your journey. However, it is also possible to take a train to Bari, Lecce, or Brindisi (this is a good option if you're traveling throughout other parts of Italy).
Once in Puglia, the best way to get around is to drive. Here's a guide to renting a car in Italy. There is not an extensive train network in Southern Italy. If you are not comfortable driving yourself, you can hire a driver or take a group tour (offered by many different tour companies). These options are more expensive, and tours offer less freedom to choose your own itinerary.
Lots of visitors cross from Puglia to Basilicata to see Matera, because it's so nearby. You could even drive to Positano from Puglia if you wish.
🚙 For the best road trip search for your car at Discover Cars. It has plenty of options including small compact cars or bigger vans for family trips.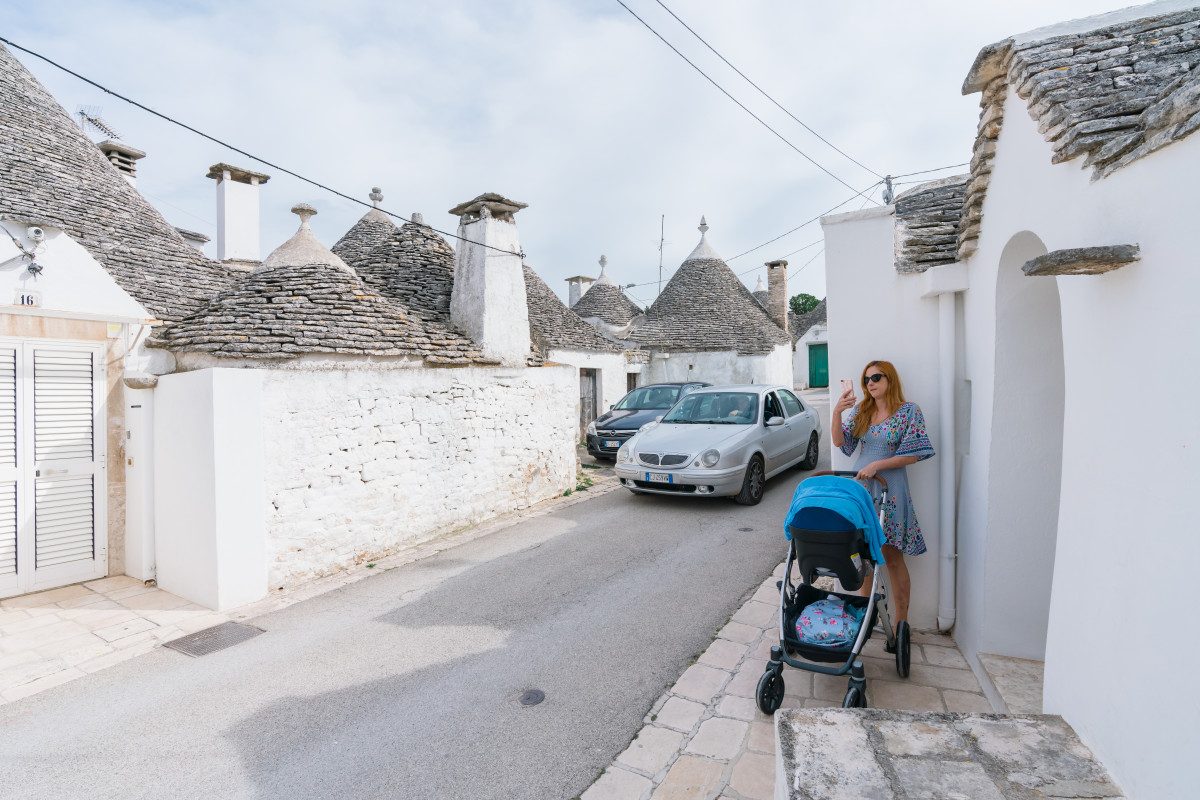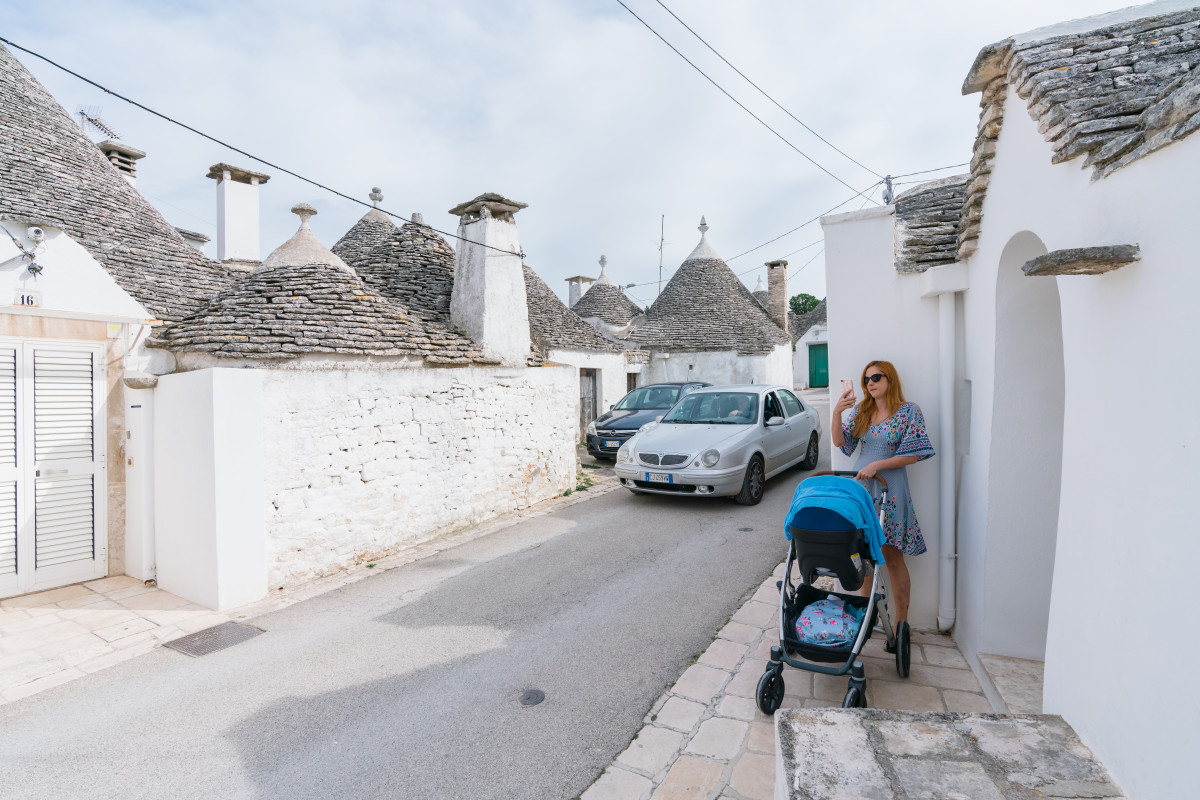 When to Go
Visit Puglia in late spring or early fall to enjoy comfortably warm weather without the summer crowds. Summer is also an option, but the weather can get hot, and you will have to contend with both local and tourist traffic.
There is less to do in winter, and you won't get to fully enjoy the beaches; however, this is an option if you're looking to save money. Pre-Christmas decor in Italy is stunning all over the country, especially in Puglia.
What to Pack
What to pack really depends on the time of year that you go to Puglia. In general, essential items include a bathing suit, sunscreen, hat, and comfortable, breezy clothing.
Pack comfortable shoes for wandering through uneven village streets and rocky coastlines. Italians are fashionable, so it's a good idea to pack some nicer clothing, especially for fancier meals!
Pack pants with pockets or a coin purse – you'll need these coins in Italy for tipping.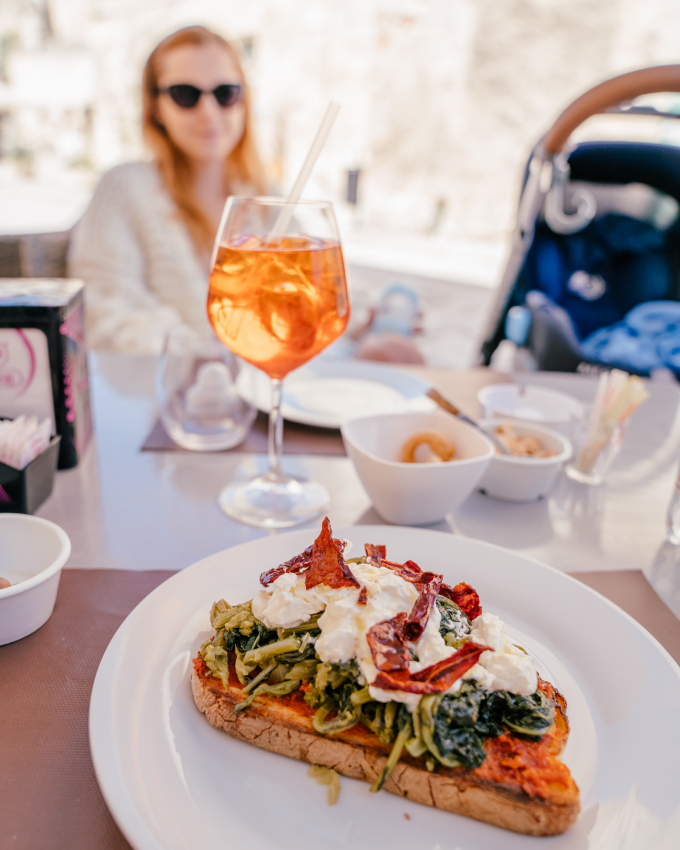 The Best Itinerary For Puglia
Puglia is an option that I believe can be a great alternative to those who already tried an itinerary for first-time visitors and want to experience something new – beyond Rome, Florence and Venice.
A trip to Puglia should involve exploring cities, villages, and the countryside, experiencing Italian food and wine, and relaxing on beaches.
Puglia is famous for its olive oil, vegetables, and wine. It is also home to amazing Italian cuisine. Orecchiette pasta was created in Puglia, so make sure to have a dish!
With its coastal location, this area also has fantastic seafood. Accommodation in this region varies from quaint historic farmhouses to luxury beach resorts.
For a 4-5 day trip, head to the Itria Valley and Ostuni for 1-2 nights, then drive down south to Salento for the rest of your trip. If the primary purpose of your vacation is the beaches, head straight to the east coast or Salento. If you have a week or longer, add the northern part of Puglia either at the beginning or end of your itinerary for 1 or 2 nights, and stay in Bari and/or Brindisi for 1 or 2 nights.
Puglia with Kids
Puglia is a great place to take your kids to or even babies. The first time we traveled there was when my son was only 4 weeks old!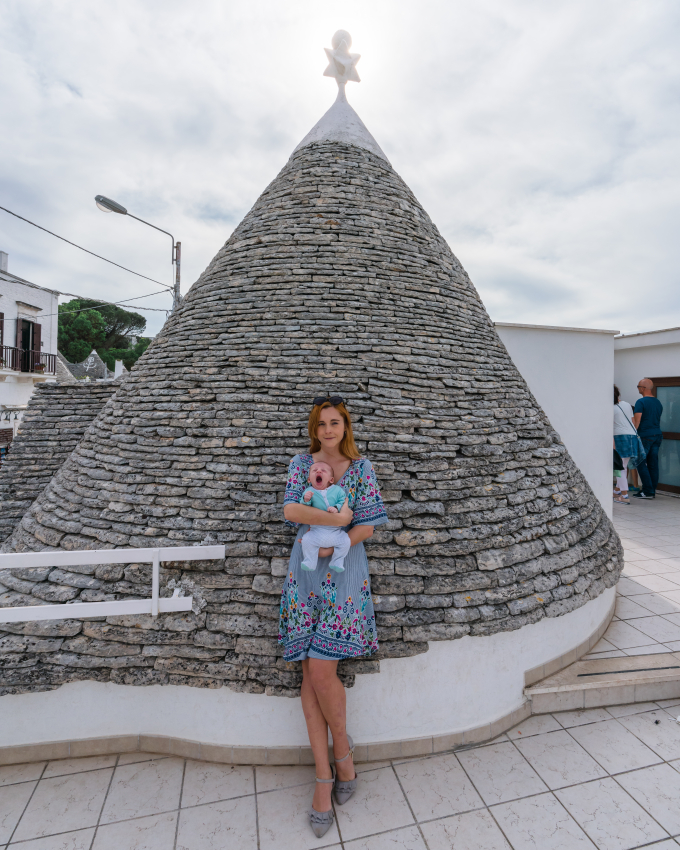 ---
4-5 Days Puglia Itinerary
Polignano a Mare – Alberobello – Ostuni – Otrano – Matera
Most likely you'll be starting in Bari due to the airport and train station. Unless you have unlimited time, skip Bari and proceed to other spots (tips for Bari in longer itineraries).
On this route I highly recommend spending nights. indifferent spots, but if you prefer to stay in one spot then Polignano a Mare is the best place.
Day 1: Poligano a Mare & Monopoli
Make sure to visit Poligano al Mare is a spectacularly positioned small town of white and golden buildings with a small white pebble beach surrounded by cliffs with clear emerald water.
To tourists it's known for the infamous cave restaurant these days – Ristorante Grotta Palazzese which is located inside a cave. You'll need to book in advance and be prepared to pay a lot and not expect much from the food. It's pretty overpriced, but it's an experience.
Take a trip to Monopoli while you're there as it's only 15 minutes away. The port is quite spectacular to see.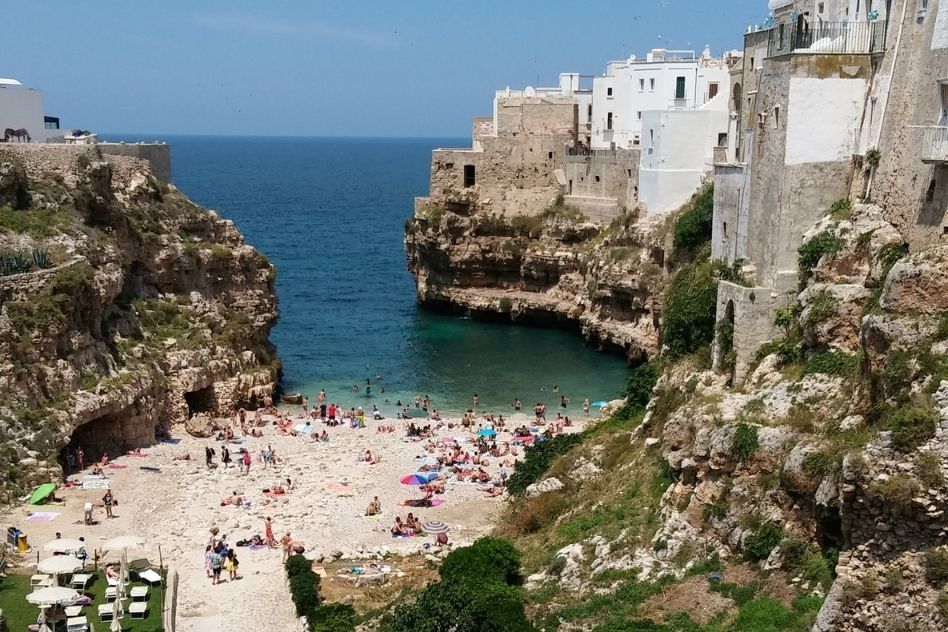 Day 2: Itria Valley
The Itria Valley, or Valle d'Itria is located in the center of the Puglia region, and is known for its beautiful rocky countryside. Drive through this valley and admire the "tulli" or buildings made out of white limestone, which is a signature feature of this region.
Walk around in Taranto and see the stunning baroque and Roccoco Architecture, or visit the wineries of Martina Franca.
You can also visit the Grotte di Castellana, which is an extensive network of caves. The Castellana includes formations of interesting colors and shapes. Tours are offered, and tickets can be purchased in advance.
For the best examples of trulli, stop in the town of Alberobello, which is a UNESCO World Heritage site. You can walk around or schedule a sample of the local food and wine.
I highly recommend spending the night in Alberobello to experience it without day trip tourists.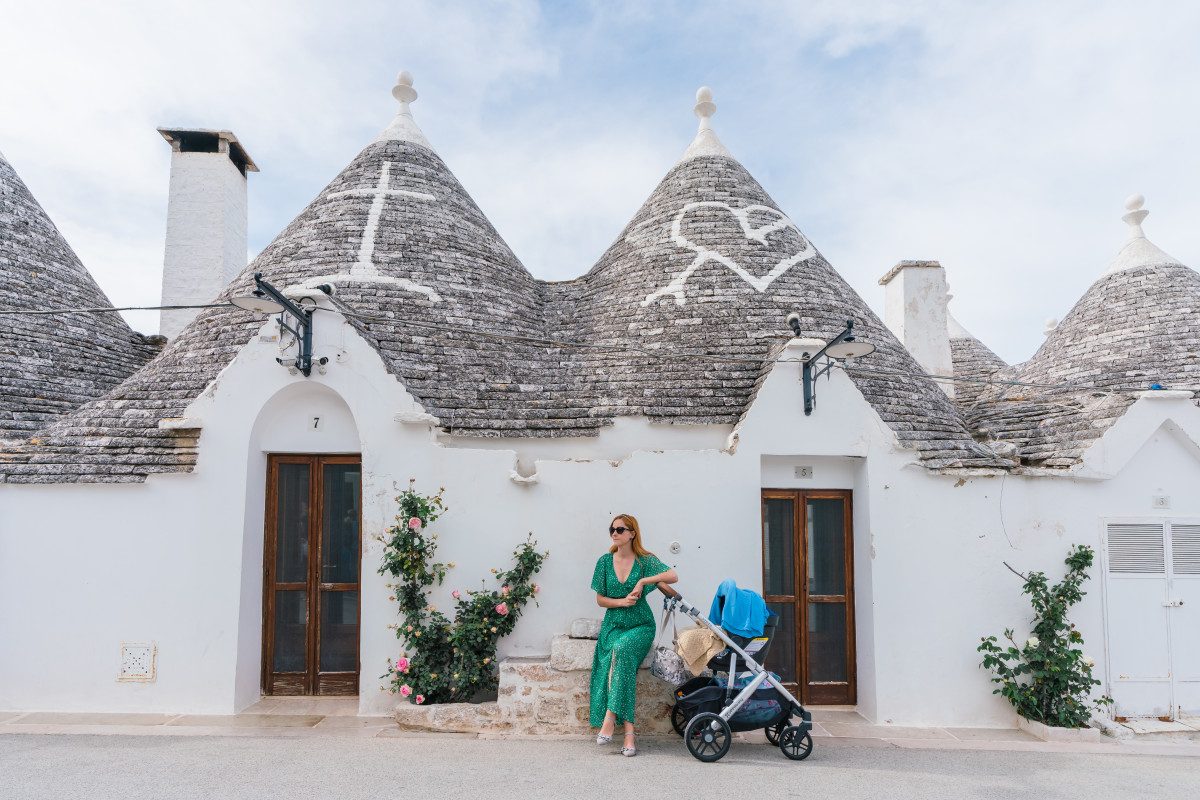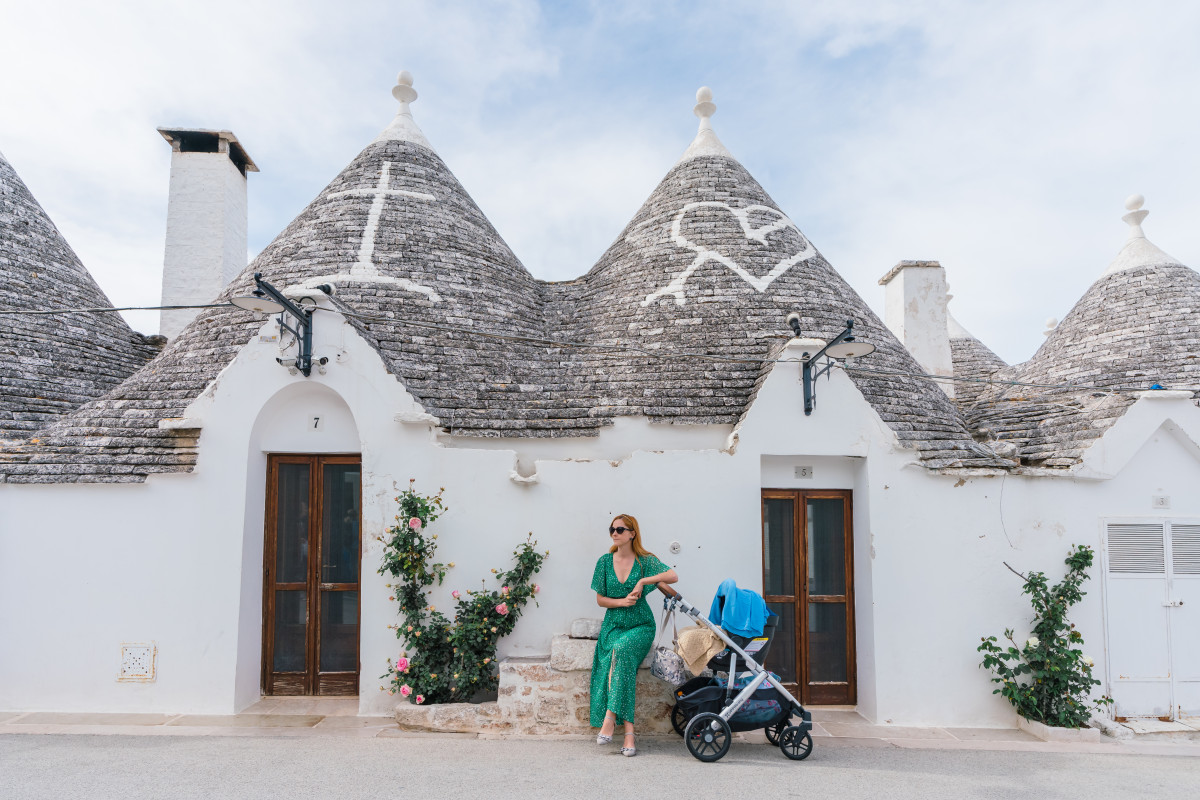 Where to Stay in Alberobello, Italy
Hotel Ristorante Colle Del Sole – Classy hotel with spacious rooms close to the Alberobello city center and 500 m from the UNESCO quarters of Aia Piccola and Rione Monti.
Grand Hotel Olimpo – Surrounded by Trulli, this hotel offers clean and comfortable rooms and suites in a quiet area.
Tipico Resort – Choose to stay in Trullo or stone buildings in the heart of the UNESCO World Heritage site.
Day 3: Ostuni & Brindisi
Ostuni is an ancient town in the province of Brindisi. Commonly called the "white city" (due to its limestone buildings) Ostuni is located on a hill and is known for its meandering streets.
The best thing to do in Ostuni is to lose yourself in the maze of streets and explore at your leisure. You should also visit Ostuni Cathedral (Piazza Beato Giovanni Paolo II) which has a long history and beautiful gothic architecture. You can visit this cathedral and other important attractions in the city as part of a walking tour of the historic center.
Osteria Del Tempo Perso (Via Gaetano Tanzarella Vitale, 47, 72017) serves superb seafood and pasta in a cozy cave environment. Arrive early, this restaurant is popular with locals!
When is Ostuni, make sure to try the gelato at Cremeria La Scala (Scalinata Monsignor, Via Tenente Nino Antelmi, 17, 72017). Order a gelato flight, which lets you taste several of their delicious flavors!
Masseria Il Franoio is a great choice for both food and accommodation. This olive farm, located in Ostuni (S.S. 16 km. 874-72017) truly brings you farm-to-table cuisine. The menu depends on what is grown and available, so it changes seasonally and is sure to please. This Masseria also offers reasonably priced and comfortable rooms.
If you'd rather stay in Ostuni town, you can visit the farm for an Olive oil tasting tour!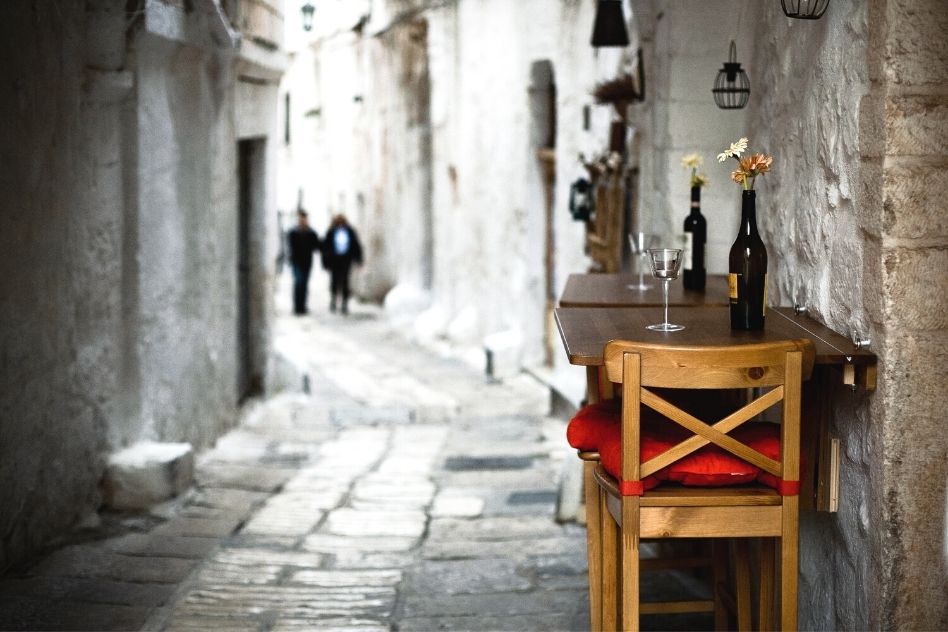 ---
Centrally located on the eastern coast of Puglia, Brindisi is a port city known for its history of international trade. Check out the port, visit its beautiful cathedrals and churches, and view the Castello Alfonsino di Brindisi (located on the Island of Saint Andrea). Walk along the Diga di Punta Riso, a narrow pier which extends into the sea.
La Cantina ti I'artisti (11 Via De'Terribile) offers both food and music in the lively city of Brindisi. Try the sausages and stuffed pork! Theodorvs Caffe & Cucina (Via del mare 36, 72100 Brindisi) serves interesting dishes based on local ingredients.
The Hotel Executive Inn in Brindisi is a modern option with amenities such as a parking garage. This is also a good option is you're flying in or out of Brindisi Airport.
Where to Stay in Ostuni
La Sommità Relais & Chateaux – Set in a historical palace in the center of Ostuni, this hotel features an outdoor courtyard and a lovely splash pool.
OSTUNI PALACE – Hotel Bistrot & SPA – The beautifully white Ostuni Palace is a short walk from the center of Ostuni. You can choose from a variety of modern and elegant rooms and suites.
Masseria Salinola – Built in the 18th century, this rustic hotel offers spacious rooms, apartments, and suites. The romantic hotel is filled with beautiful lights and fireplaces, while the fruits and veggies come from the onsite farm.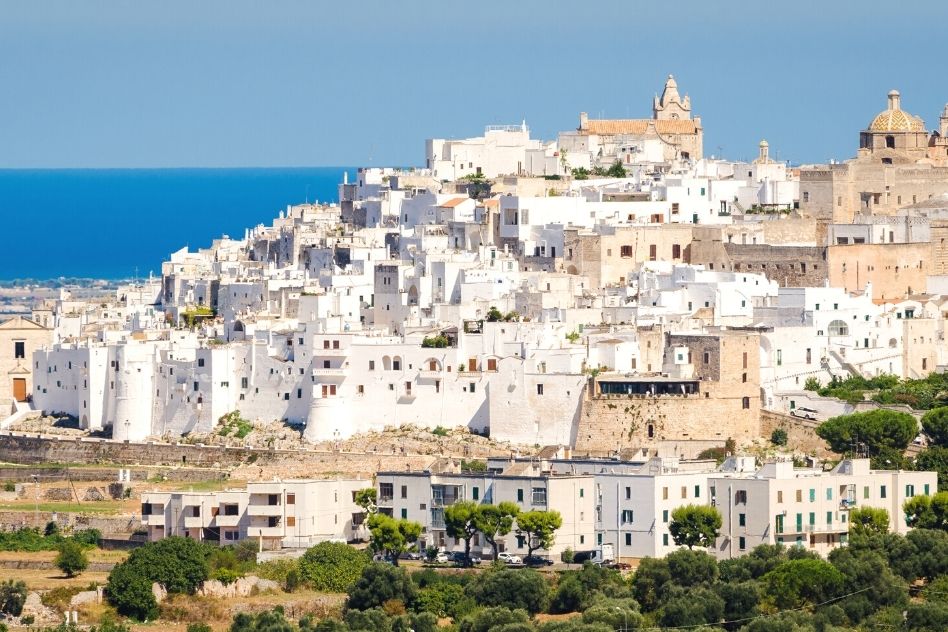 Day 4: Otranto
Otranto is a town in the southeast of Salento with a wealth of ancient history. It's hard to miss the castle and fortifications, which dominate this town.
Stop to see the Punta Palascia Lighthouse (SP87, 73028) and the Otranto Cathedral, the foundations of which are nearly 1,000 years old. The Cathedral also holds the skulls of Christian martyrs, a sight that is not for the faint of heart!
The Alimini Lakes offer pristine beaches in Salento near Otranto. Two lakes lie adjacent to the coast and forests, linking freshwater to the saltwater sea. The beaches here are long and narrow, and the water is a gorgeous shade of blue. These beaches are slightly harder to get to – you must park in a lot along the SP366 road, and then go by foo through marked trails.
There's a lot to see in Otranto, so it's easiest to visit the highlights on a walking tour!
While you're in Otrano take a drive to the Grotta della Poesia. It's of extraordinary beauty and it cannot stay out of your Puglia itinerar.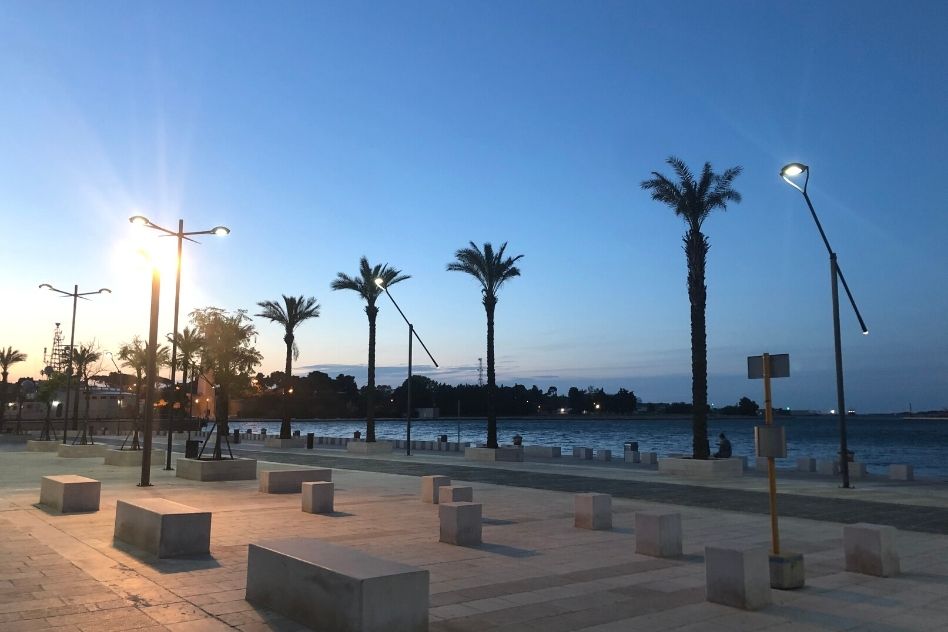 Stay in Otranto
Hotel Palazzo Papaleo – Elegantly designed bright and spacious rooms and suites in this historic building feature frescoed ceilings and antique furnishings. Guests can enjoy the views from the rooftop terrace.
Relais Valle Dell'Idro – Chic and minimally decorated rooms are perfect for an Italian holiday. You can also spend time in the hot tub on the rooftop terrace with great views of the city.
Corte Di Nettuno – CDSHotels – Featuring two rooftop terraces looking out at the harbor, the Corte Di Nettuno was once a farmhouse. The marine-themed hotel is filled with shipping maps, sea-themed mosaics, and other nautical objects.
Day 5: Matera
After you've explored Puglia, drive to Matera to see more beauty of another Italian region.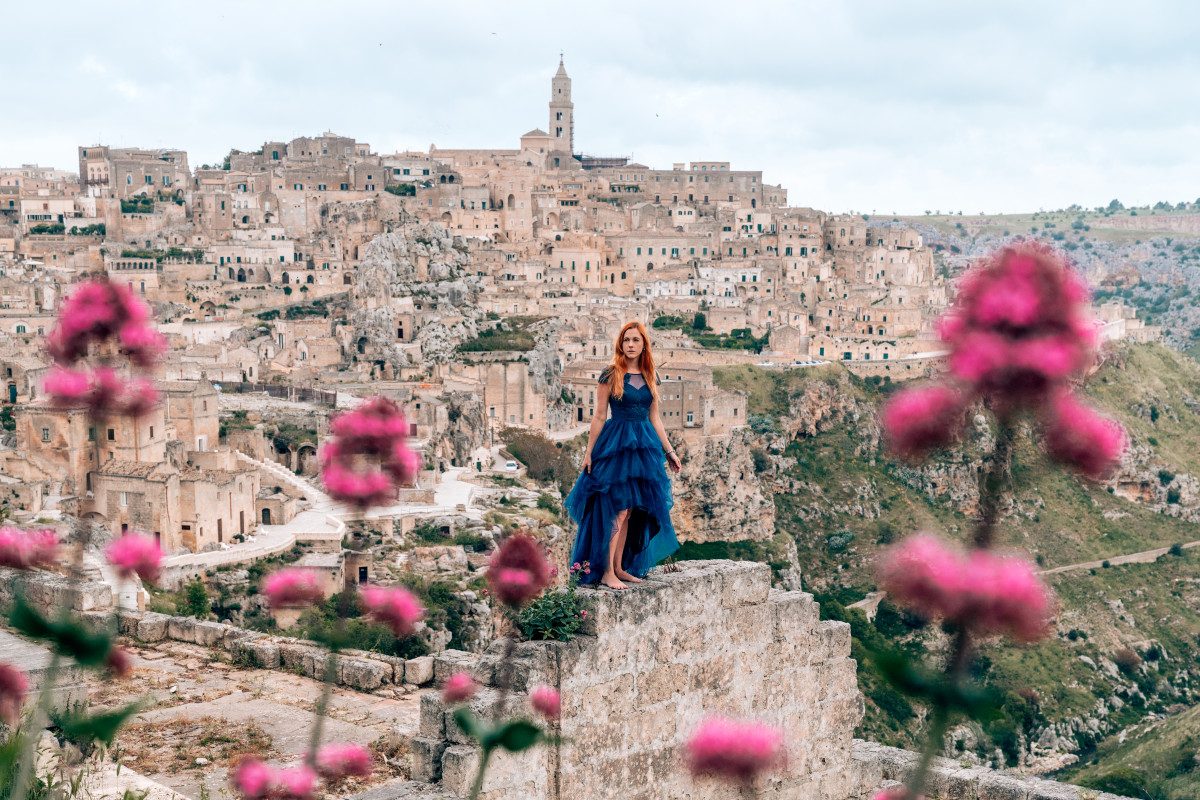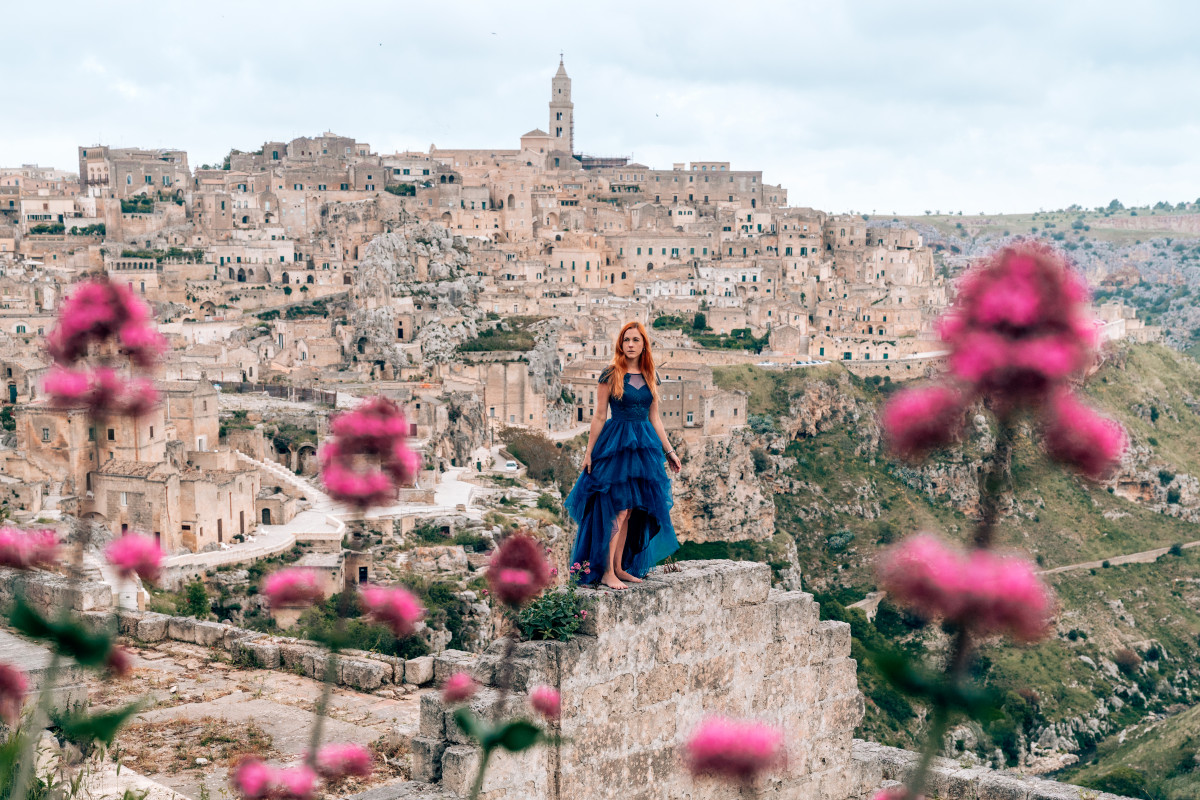 ---
7 Days Puglia Itinerary
If you have more time, follow the first days of the 4-5 day itinerary but save Matera for later.
Bari – Polignano a Mare – Monopoli – Alberobello – Ostuni – Otrano – Salento – Lecce – Gallipoli – Matera
Day 5: Salento & Lecce
Salento is a peninsula at the southern end of Puglia, which boasts beautiful beaches, Greek influences, and excellent olive oil. Within Salento there are several towns/cities to visit, including Lecce, Otranto, and Gallipoli. The city of Lecce is in the larger province of Lecce, so keep this in mind to avoid getting confused.
To experience the best variety of Puglia's wine, take a Salento wine tour or plan your own wine tour of the region with this guide to Puglia's vineyards. Make sure to try the Primitivos variety!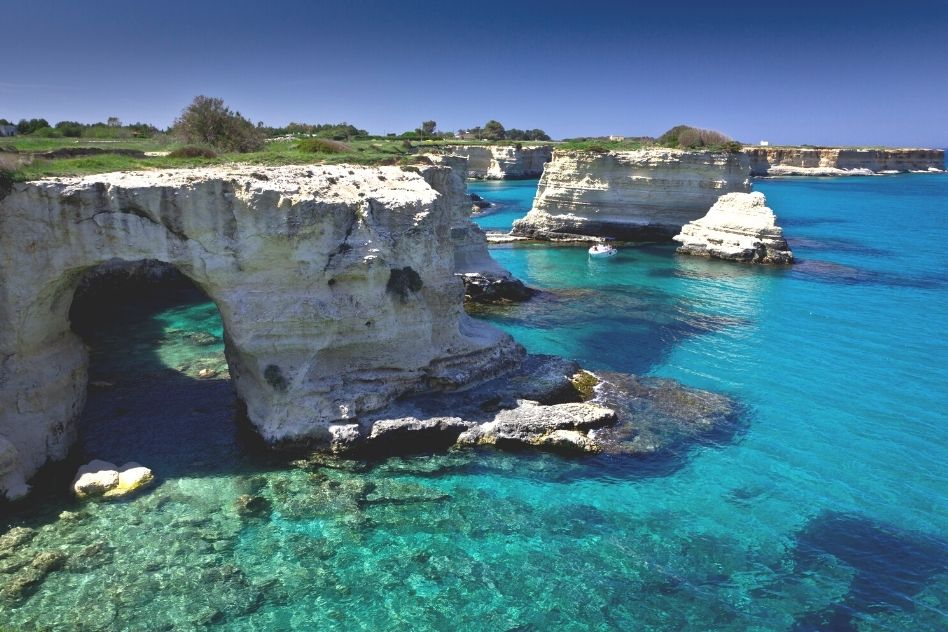 ---
The city of Lecce is called "The Florence of the South" due to its beauty and architecture (specifically its Lecce baroque buildings). Make sure to visit the Basilica di Santa Croce, which provides a great example of a 16th and 17th-century style baroque structure. The Basilica (Via Umberto 1) is open from 9 AM to 9 PM and costs 3-9 EUR (depending on whether you buy a single ticket or a combined ticket which includes entry to other churches).
Or take a tour that will take you through the town center showing you the Basilica as well as Piazza Duomo, the ruins of the Roman Amphitheater, and more in an ecological rickshaw.
Visit the beach Torre Dell'Orso(Piazza Risorgimento, Torre dell'Orso, Melendugno)is in the Lecce region, approximately a 35-minute drive from the city of Lecce. Unlike many Italian beaches, Torre Dell'Orso is large, with wide stretches of sand. The water is calm and clear, and you can visit a man-made cave, Grotta di San Cristoforo, and see a 16th-century tower.
Osteria degli Spiriti (Via Cesare Battisti, 4, 73100) is a Michelin rated restaurant in Lecce. Despite its high rating, this restaurant is affordable and also offers a great wine list. Try the fava bean puree. Stop at Pasticceria Andrea Ascalone (Via Vittorio Emanuele II 17, 73013), located in Galantina, about a 30-minute drive from Lecce. This bakery is home to the Pasticciotto, a flavored custard cake.
Want to try everything Apulian at once? Take a street food tasting and walking tour to enjoy some tarallini, frisella, pasticciotto, and more.
One accommodation option is the Palazzo Persone in Lecce. The Palazzo is located in a 16th-century Synagogue and provides comfortable rooms with modern touches and good amenities.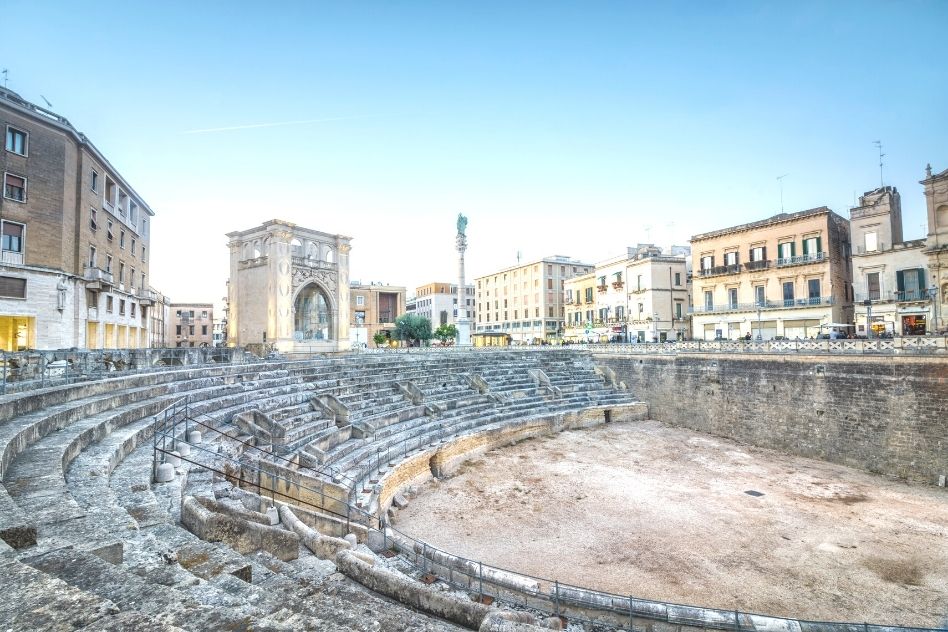 Day 6: Gallipoli
Gallipoli is an island village in Salento with a 13th-century castle, lovely beaches, and a classic Italian atmosphere. Visit for a day trip, or make it a base for your time in Salento. The island can only be accessed by boat or by one bridge. Stop to see the town's 13th-century fortification, the Castello Angioino di Gallipoli (approximately 7 EUR for entry).
The local "city" beach, Spiaggia della Purita (Contrada Purita, 73014) is also worth visiting. The water is clean and clear enough for swimming, and the beach is conveniently located right outside of the town walls. There are also lots of restaurants and bars overlooking the beach.
The Palazzo Mosco Inn in Gallipoli is an excellent choice for the southern leg of your Puglia trip. This boutique hotel is centrally located in a historic building and is reasonably priced.
Where to Stay in Gallipoli
Al Pescatore Hotel & Restaurant – Set in a historic building from the 1600s right in Gallipoli's historic center, the hotel is a short walk from Purity Beach. The sea-view rooms are just perfect!
I Bastioni San Domenico – Set at the corner of the Riviera Saura and the Riviera Armando Diaz, guests at this hotel have free access to cycles and can enjoy the rooftop sun terrace.
Palazzo del Corso – Boutique Hotel – The luxurious hotel in a 19th-century building on Gallipoli's main street features vaulted ceilings and the best of modern amenities. Guests can enjoy breakfast on the terrace while looking out at panoramic views of the Ionian Sea.
---
10 Day Puglia Itinerary
If Staying For One Week or More, Add:
Day 8-9: Umbra Forest
The Foresta Umbra translates to "shady forest" and is an ancient woodland space that contains archaeological remnants from thousands of years ago.
It's located in the north of the region, on a section of land that juts into the ocean. This Puglia forest and UNESCO World Heritage site is known for its beech trees, but is also home to many other varieties of trees as well as wildlife. The Forest provides walking/hiking/biking trails and a visitor center.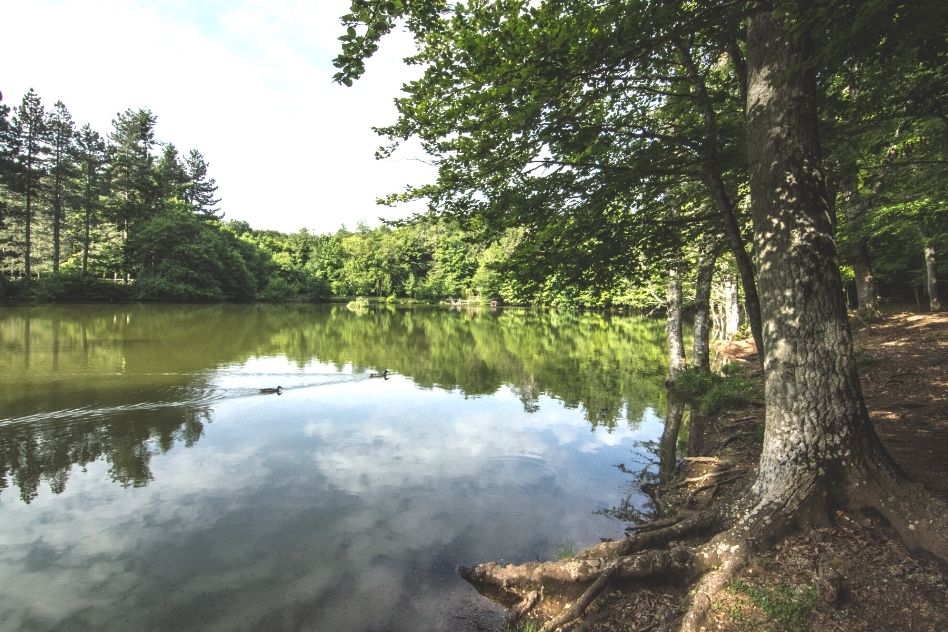 Where to Stay in and near Umbra
Forte 2 Hotel – Just a short walk from Vieste Harbour, this hotel features a seasonal garden and an outdoor swimming pool. You can choose rooms with balconies or terraces to relax with a glass of wine.
La Locanda Del Carrubo – Overlooking the Mediterranean sea from the cliffs it's set on, this hotel located close to Gargano National Park features 3 pools, a spa, and a wellness center with a Turkish bath, hammam, and sauna.
Pizzomunno Vieste Palace Hotel – This seaside hotel in Vieste features a professional wellness center and sports facilities. Compact and comfortable rooms and suites with private balconies ensure you have an enjoyable stay.
Day 10: Bari & Castel del Monte
Bari is a coastal city that plays an important economic role in the region. Visit the old town, located in the harbor, and walk on the promenade known as the Lungomare Nazario Sauro. For an experience that is a bit different than visiting more churches and castles (although this is also an option!) spend some time at the Bari Provincial Art Gallery.
All Apulian food is delicious! Osteria Vini e Cucina (Strada Vallisa, 23, 70122) in Bari, is known for its seafood dishes. This restaurant is a good option for lunch or dinner, but expect to be served several courses, and they do not offer menus.
The Borgo Egnaziis a five-star resort located in Savelletri, around an hour's drive from Bari. Pricey but not astronomical, this hotel offers amazing views and modern luxuries.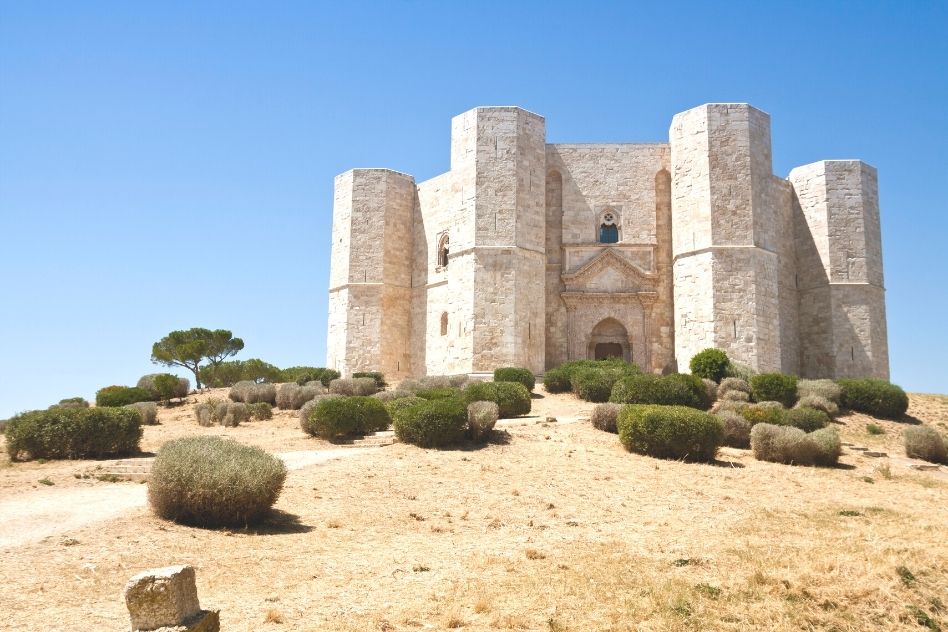 ---
This stunning medieval castle of Castel del Monteis located in the northern part of the Puglia region. Castel del Monte has a unique architectural structure and served as a lodge and fortress for Frederick II. The castle also provides great views of the surrounding countryside.
Castel del Monte is about an hour's drive from Bari and it costs 10 EUR to enter. Hours vary by season, but more information can be found on the official website.
If you want to skip the hassle, opt for a guided tour with a knowledgeable local guide.
Also consider: Beaches in the Northern Part of the Region
Located around a 30-minute drive south of Bari, Lama Monachile (also called Cala Porto) is a famous Puglia beach. This beach is small, due to its location between cliffs, but the water is clear and the scenery is beautiful.
You'll find Lama Monachile located on Via Comite Fanelli in Polignano a Mare. Due to its size, Lama Monachile can be easily overcrowded. Arrive early to avoid crowds, or opt for a boat tour instead.
Another iconic beach is Pizzomunno, located in Vieste (Lungomare Enrico Mattei) in the northern end of Puglia. This beach is large, with giant white limestone rocks. There are resort hotels located along this beach, so it can get noisy and crowded during the busy summer season.
Ciao Bello!
Puglia is the perfect road trip destination to experience beaches, culture, and great food. Expect a laid-back but stylish vibe, and prepare to be wowed by the sunsets and beautiful coastlines. Plan for at least a week, and build in time to relax and enjoy the raw beauty of Italy's heel.