Visiting one of the most famous icons in the entire world is not a small feat, that's why countless tourists are willing to line up in the summer heat for what can feel like forever, to experience the magic of visiting the Eiffel Tower.
While visiting this incredible monument is absolutely worth the effort and should be included in your Paris itinerary, there are a few ways to make your visit that little bit easier.
Planning ahead and doing your research is the first step but make sure you check out my practical tips below to skip the line to Eiffel Tower (as much as possible), save money, and have the best experience possible!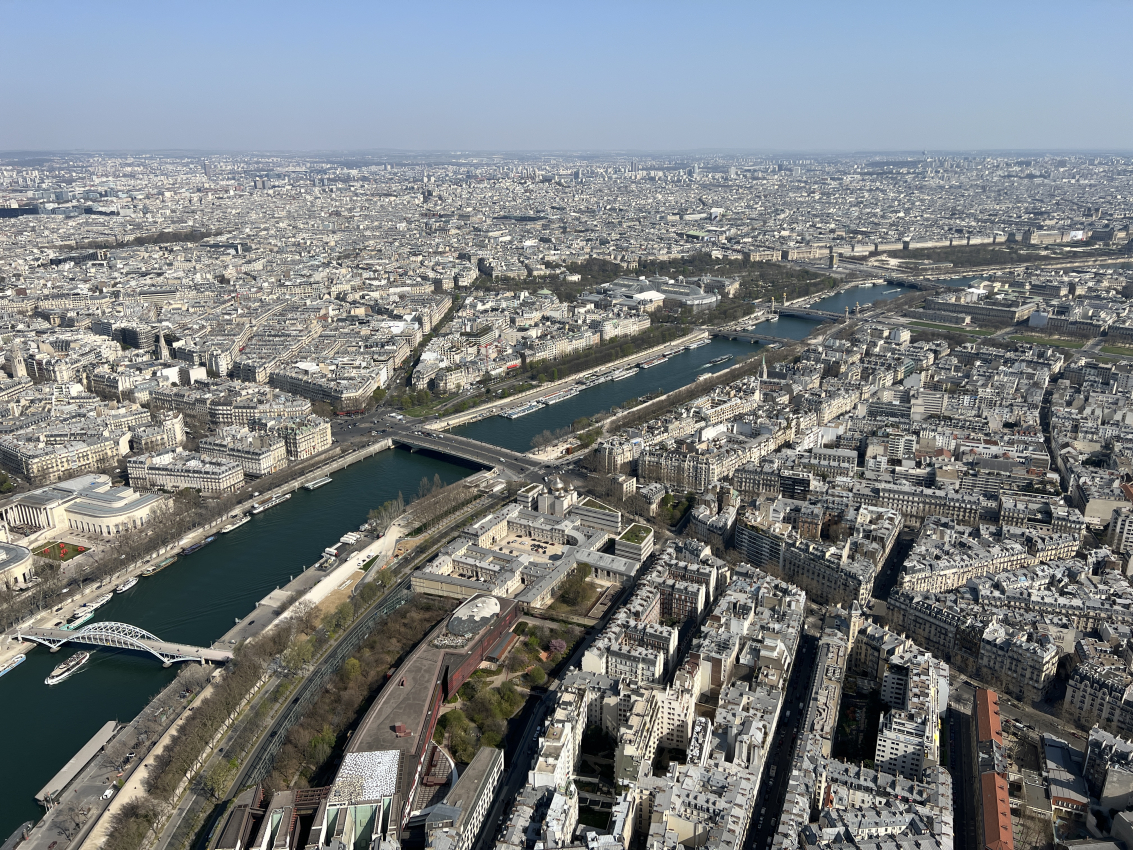 1. Different Ways of Visiting the Eiffel Tower
Let's start by talking about all the different ways you can visit the Eiffel Tower. If you look at the website you will see a number of different options which can be a little overwhelming at first, so let's break down each one.
1st floor – 56 m (187 ft)
The first floor is the first level you will come to as you ascend the Eiffel Tower either by foot on the stairs or by elevator. Sections of the 1st floor are made of glass so you can look down on the street below your feet.
There is also a cultural path that you can follow around the outside of the platform on this level with displays about the Eiffel Tower's history and construction.
This level also has some shops and restaurants where you can explore and relax before or after you visit to the upper levels.
Note that some of the elevators actually skip the 1st floor and go straight to the 2nd so if you are wanting to start here, make sure you board the right one (just ask the staff to direct you to the correct line).
2nd floor – 114 m (377 ft)
The 2nd floor is the first of two main viewing platforms. Here you can clearly see most of Paris' main landmarks like the Louvre, Montmartre, Notre Dame, and more, and at 114 meters, you are more than high enough to take in the view of this incredible city.
If you are on a budget and don't want to pay to reach the top of the Tower, many people simply stop here as their final destination.
The 2nd floor is also where you will find the Michelin-starred restaurant, the Jules Verne which I will talk a little more about next.
Aside from the amazing views and delicious food, you can also find a number of different shops and more casual restaurants including a delicious macaroon shop.
You can reach the 2nd floor by stairs or elevator but this is as far as you can go by walking.
Top floor – 276 m (906 ft)
To reach the top floor, you must take a separate elevator from the 2nd floor, there are no stairs accessible to the public.
Since there is limited elevator space, the wait to get here can be long but it is absolutely worth it. Here you will be at the highest point in Paris, giving you a bird's eye view over the entire city!
There are actually two floors up here, one indoors and one outdoors. Since you are so high up, bring a jacket because it can get pretty windy up here!
Aside from the view, there is also a champagne bar and a hidden apartment built but Gustave Eiffel to act as his private retreat. You can peep through the window to see it restored to its original condition with wax figurines of Gustave Eiffel and American inventor Thomas Edison.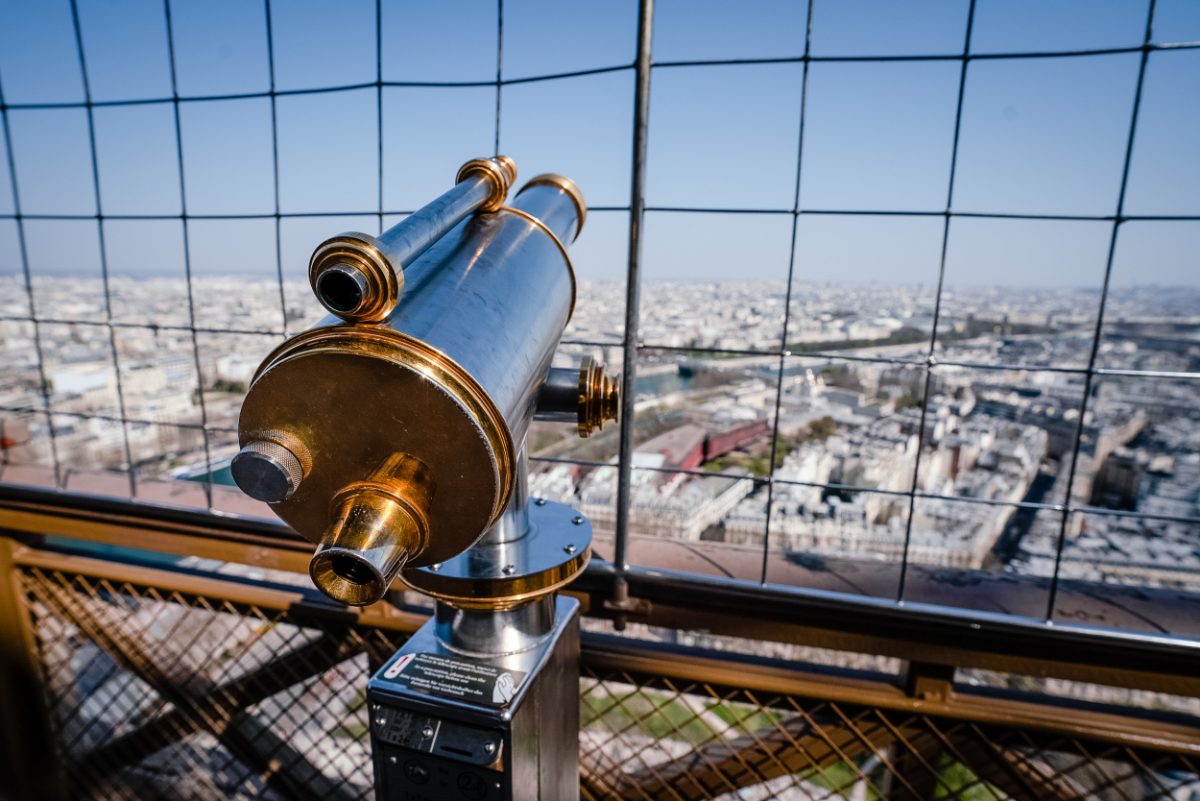 2. Eiffel Tower Ticket Options
As you can see, there's lots to do at the Eiffel Tower which means there are plenty of options for how to visit. This of course also means there are many different ticket options.
You can buy them at the official site, but they tend to sell out quickly. If they are sold out make sure to check out the links below as both GYG and Viator might still have tickets available despite them being sold out on the main site:
Children under 4 years old are free but you still need to pick up a free ticket for them to access the tower.
Whichever option you choose, make sure to access the free mobile guide from your phone for your visit.
Restaurant reservations
If you want to have the ultimate Paris experience, booking a Michelin-star meal at the Jules Verne restaurant is the best way to have a luxury evening at the Eiffel Tower.
Located on the second floor, Jules Verne is accessed by a private elevator, meaning you get to skip the line for the public elevator.
The restaurant is open for lunch (12 pm to 1.30 pm) and dinner (7 pm to 9 pm) every day and has a Smart casual dress code.
Make sure you book at least a few weeks in advance if you want to secure a spot as Jules Verne is always booked out!
Another option is to book lunch or dinner at Madam Brasserie, located on the first floor. While you will only get elevator access to the first level included with your meal, you still get to skip the lines and beautiful views over Paris while you dine.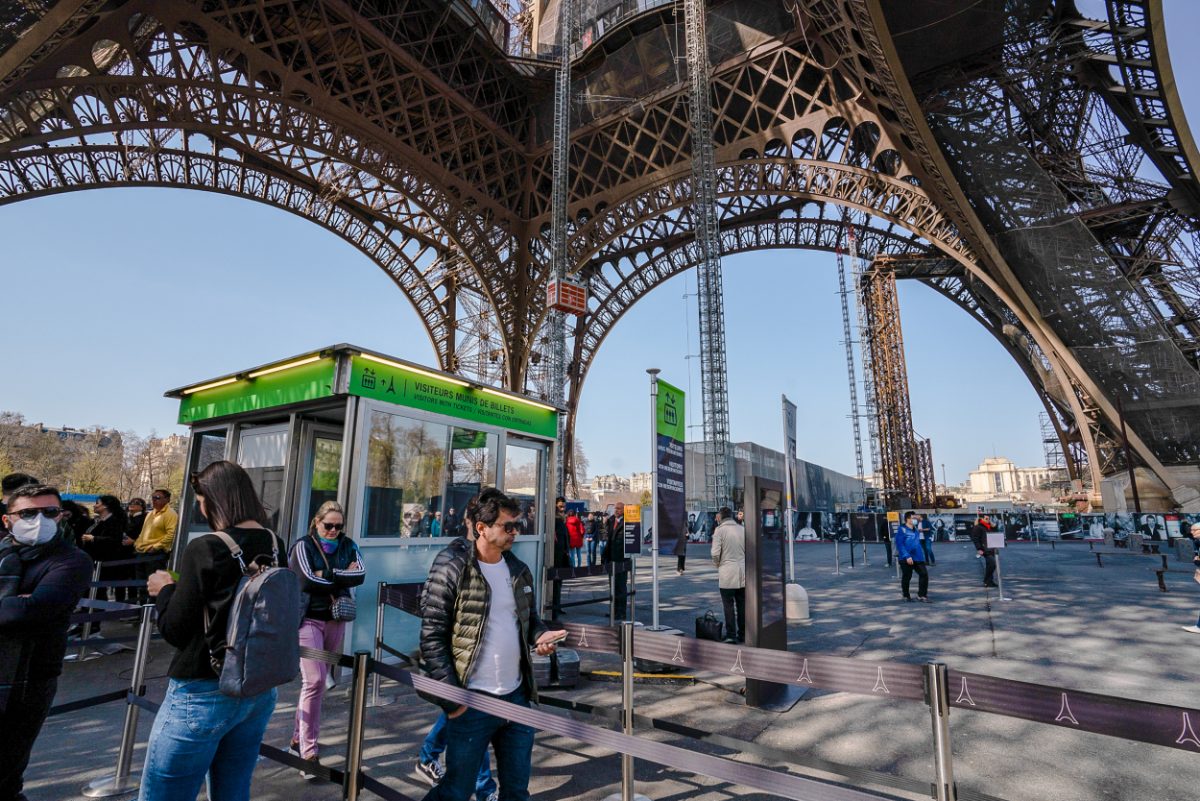 3. How to Skip the Lines at the Eiffel Tower
It's no surprise that the lines to visit the Eiffel Tower can be long. And what's more, there is more than one queue you will have to endure if you want to experience the breathtaking view from the top.
If you book a hotel with an Eiffel Tower view you may be able to see the lines from your room, but if not, I wanted to give you an idea of what to expect and also some tips on how to skip the lines!
Wait Times at the Eiffel Tower
Each of the different options above has its own entrance in a leg of the Eiffel Tower. These can change due to security or operational issues but in general, Elevators are in the east and west pillars, and stairs are in the south pillar.
Here's a quick overview of how long you may be waiting in each queue so you can pick the right ticket for you:
Security line – around 10 mins, no one can skip to the front
Elevator ticket line – up to 45 min, can skip if you buy online
Stairs access – very quick line (if any) as it is constantly moving, takes 30 mins to walk up to the 2nd floor
Elevator to 2nd floor – up to 2 hrs if you haven't pre-booked a time slot, if you have an online ticket you can go to the front of this line at your specific time
Summit elevator line – around 20-30 mins normally but can be up to 1 hr. No timed entry with pre-booked tickets (no stairs between 2nd and third floors).
Remember that even if you choose the elevator options, you can still take the stairs between the ground, 1st and 2nd floors on your descent if you wish.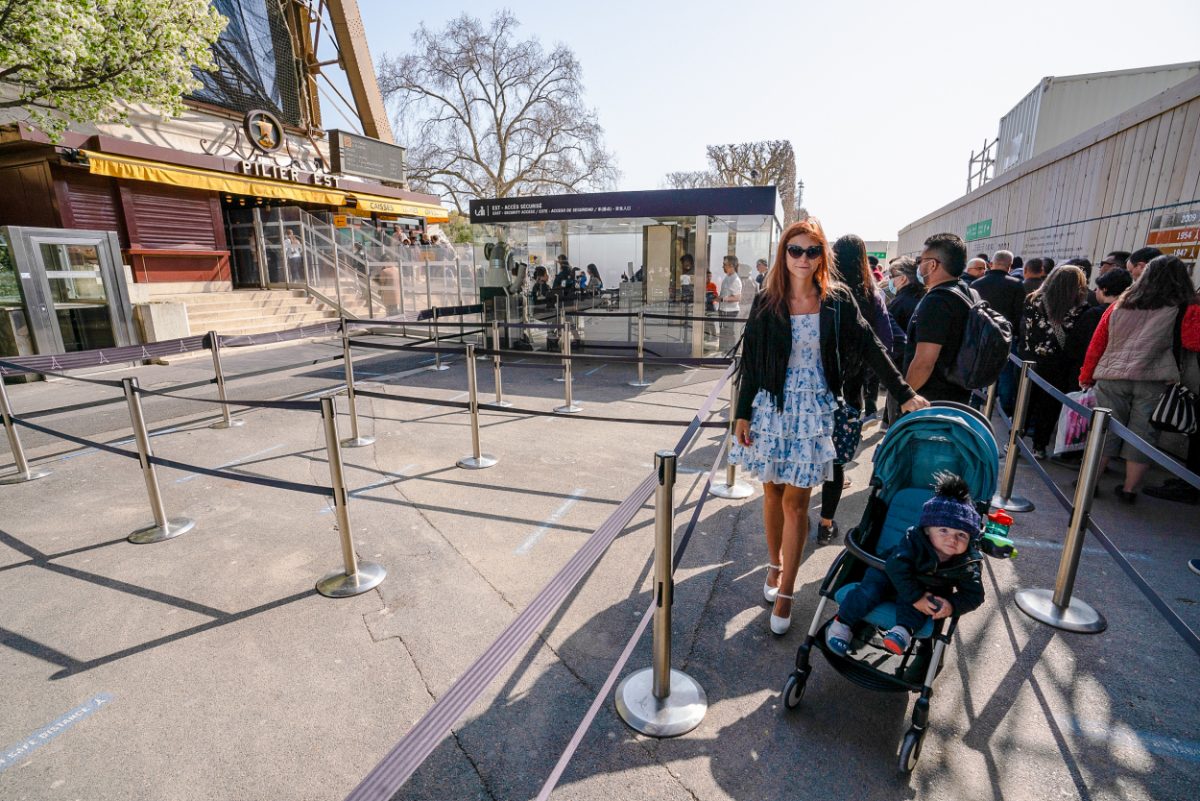 ---
Ways to Skip the Line at the Tour Eiffel
No one can skip the lines for security so make sure you arrive at least 30 mins before your designated times slot to account for this, but if you want to skip the remaining lines, here are a couple of hacks to try.
For more ways to make your trip easier, check out my other practical tips for visiting Paris here.
1. Pre-book your tickets online
Pre-booked tickets all come with an allotted time for your visit to the Eiffel Tower. No matter which ticket you choose, you will be able to skip both the line for buying tickets at the tower, and also skip to the front of the elevator line at your chosen time.
Note that there will be other people with the same pre-booked, timed tickets as you so there will still be a little line for the elevator but you won't have to line up with those who didn't prebook.
Online tickets cost the same as at the Tower itself so there is no disadvantage here.
2. Book a Meal at the Jules Verne restaurant
As I mentioned previously, Jules Verne is a Michelin-star restaurant located on the second floor of the Eiffel Tower.
If you book a lunch or dinner here you will be able to access the 2nd floor via a private elevator. Again, you will still have to go through security but you won't have to wait in any lines past this point.
Alternatively, booking a table for lunch or dinner at Madam Brasserie is a cheaper alternative that grants you skip-the-line access to the first floor.
3. Take the Stairs
As most people don't want to walk 30 mins to the 2nd floor, there is usually a very short line for the stairs and sometimes, no line at all.
If you are happy only visiting the 2nd floor and not going all the way to the top, you can prebook your stair tickets online meaning the only time you will have to wait is for security.
But, if you want to go all the way to the top, you can buy a stairs + elevator ticket which will save you both time and money. This option can actually be faster than waiting in the elevator line from the ground floor.
If you want to choose stairs + elevator, you cannot pre-book your tickets and have to buy these at the Eiffel Tower on the day of your visit. However, the ticket line for the stairs is generally also quite short.
Also, even if you have bought an elevator ticket, remember that you can still walk down the stairs if you wish to save time waiting for the return lift.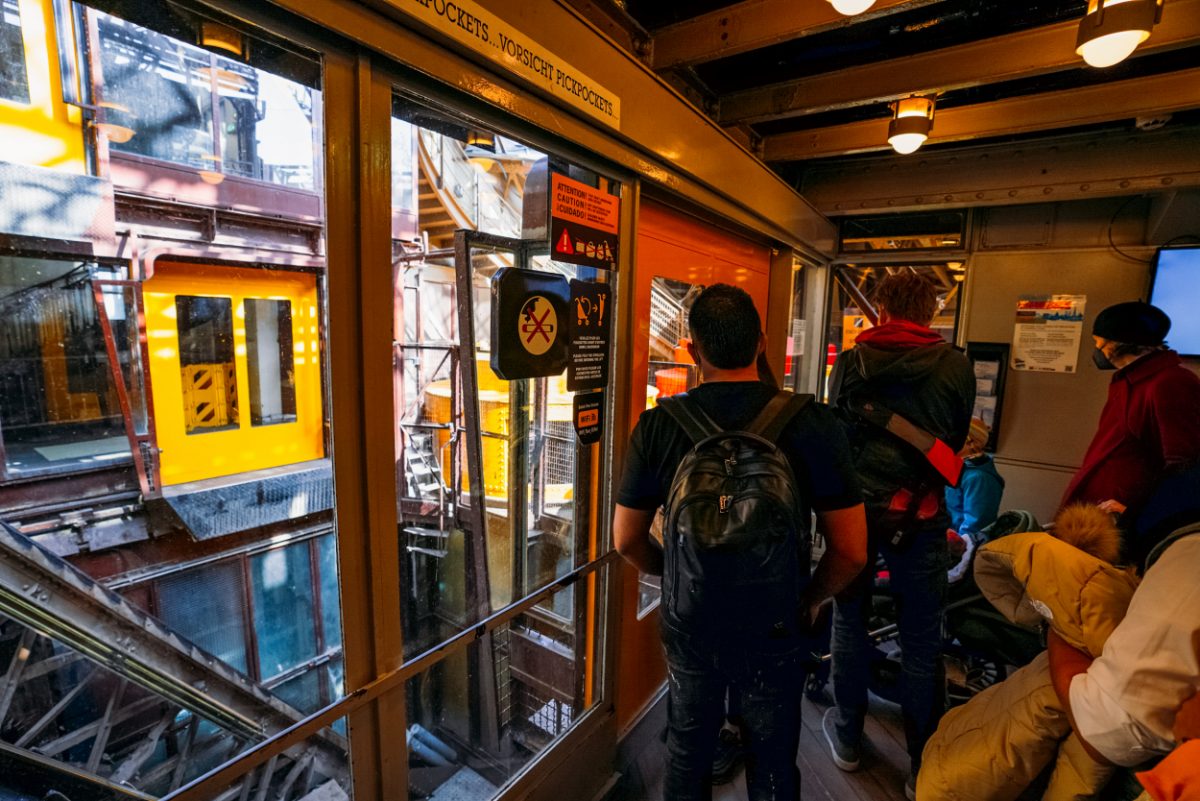 4. How to Get Tickets if They Are Sold Out
Online tickets can often sell out, especially in the busy summer months and public holidays.
So if you want to make sure you can secure a ticket for your chosen dates, here are some options for how to find last-minute tickets, even if they appear sold out online.
Check the official site (again) around 1 week before you visit – canceled tickets often get re-released for sale on the official website. So checking again around a week before may bring you some good luck.
Buy a different type of ticket – You will notice on the website that alongside the normal viewing platform tickets you have the option for "bundle offer" tickets which include champagne. As these are a little more expensive, they are usually some of the last tickets to sell out. But who wouldn't love a glass of bubbly at the top of the Eiffel Tower?
Buy tickets for the 2nd floor only – If you are okay without visiting the very top floor of the Eiffel Tower, 2nd-floor access-only tickets are often available at the last minute for both the elevator and stair access. While you won't get to go right to the top, it's better than not going at all right?
Get stairs + elevator tickets on the day – These are the only types of tickets you cannot buy online, meaning that they are always available to purchase on-site. You will have to walk around 30 mins up the stairs to the 2nd floor but then you will still get to take the elevator to the top floor.
Book a Tour that includes the Eiffel Tower – There are many Paris tours that include the Eiffel Tower as a stop along the way. Since these generally include more than just access to the Eiffel Tower, they can be more expensive and thus sell slower. Just make sure to check that the entrance ticket is actually included before booking.
Recommended Tours:
Eiffel Tower Stairs Climb Tour (level 2 or summit options)
Guided Eiffel Tower Summit or Second Floor Access
Eiffel Tower Summit Floor Ticket & Seine River Cruise
Eiffel Tower Tour, Arc de Triomphe, and Cruise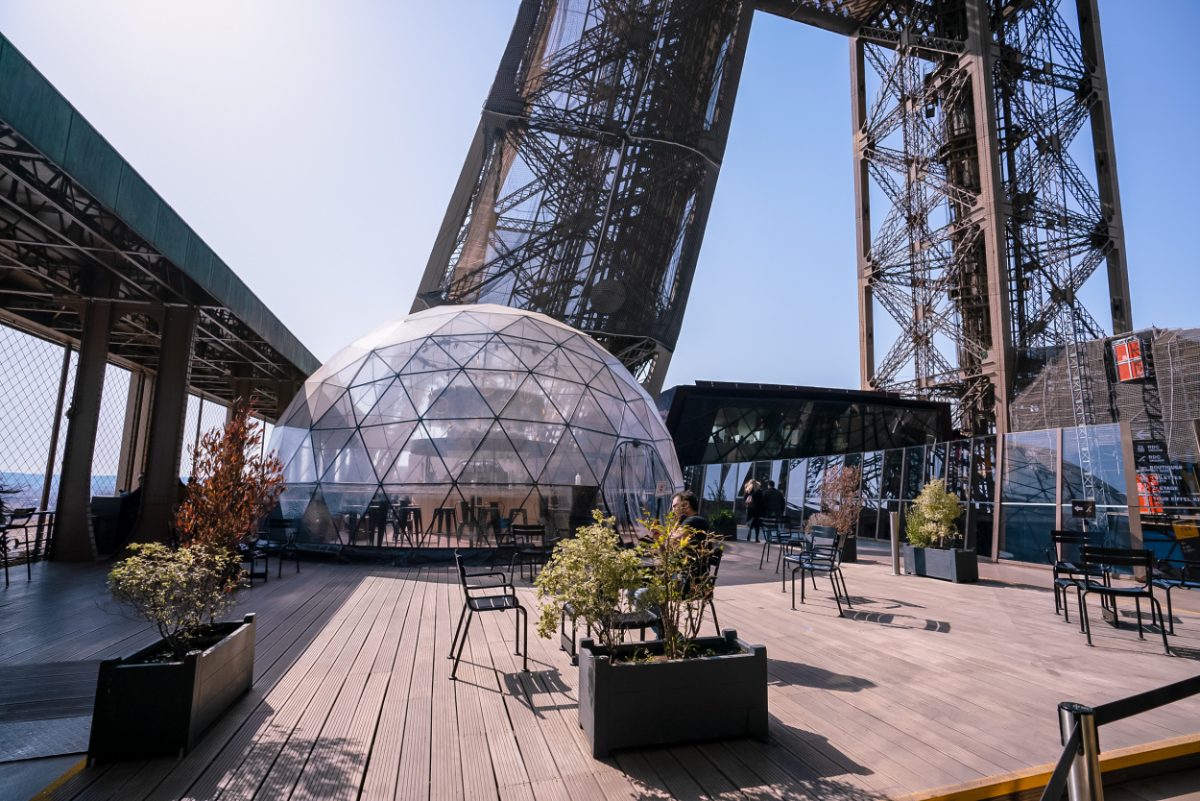 5. Visiting Eiffel Tower with Kids
Eiffel Tower can easily be visited with kids. My son is actually obsessd with it, so every time we go to Paris with kids he wants to go up.
Our kids were 13 months (non-walking) and almost 3 year old when we first visited.
With kids under at least 10 years old don't even attempt the stairs, becuase it's a lot (1710 to be exact) and they're crowded so it gets tricky. Always book the elevator tickets and my tip would be to get the earliest entry since kids wake up early anyway because we waited only 20 minutes in line for the elevator.
I recommend going all the way to the top and then stopping on every floor on the way down. Have snacks with you to keep the kids enterainted, but you can get ice cream or proper food on the way down on the 1st floor.
You can take baby strollers up the Eiffel Tower and little ones can walk around, but if you have a giant stroller you won't even fit in the elevator queue. We had Babyzen Yoyo and it fit, but anything that's not a travel stroller looked like a pain in the butt to handle (saw many frustrated tourists).
Officially strollers need to be folded for elevators, but frankly we were the only people who actually folded our stroller so this policy isn't strictly enforced unless it's a peak of the summer. We were able to get everywhere with our small stroller without any issues (had to carry it up once).
There are free toilets on every floor and there are changing tables. onthe first floor, right behind the bar and snack spot.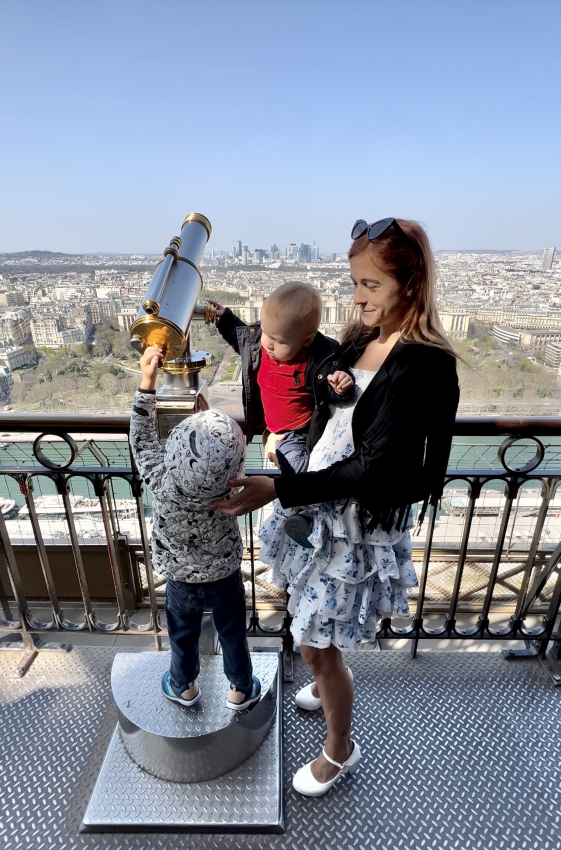 6. How to get to the Eiffel Tower
You can of course drive if you are renting a car in Paris, or take an Uber to the Eiffel Tower however the congestion in the streets around here is insane. So a taxi bill is likely going to be through the roof.
Of course, you can also easily walk from nearly anywhere in Paris, just follow the iconic summit as your guide until you make it to the base!
But if you are coming from further away, the best way to get to the Eiffel Tower is with Public Transport.
Metro
There are 3 different metro stops that get you very close to the Eiffel Tower. Which one you take depends on the line where you start so check below to find the best one for you.
Bir-Hakeim (Line 6) – If you are coming from the Etoile direction you will get a really nice view of the Eiffel Tower when you cross the river ass this metro runs partially above ground.
Trocadero (Lines 6 & 9) – Located just across the Seine from the Eiffel Tower, make sure to snap a picture here before crossing the bridge.
Alma-Marceau (Line 9) – You will arrive above ground next to The Flame of Liberty. From here you just need to walk across the bridge and along the river.
Bus
You can also take a bus if you want to get closer to the Eiffel Tower without having to walk far.
The closest stop is called Eiffel Tower Stop and is just 400 m away. Take lines 82 or 30 to get straight here.
Alternatively, lines 42 or 72 have their own Eiffel Tower stops a little further away (around 15 mins walk), or lines 69 and 86 stop on Champ de Mars which is also just a 6 min walk to the Eiffel Tower.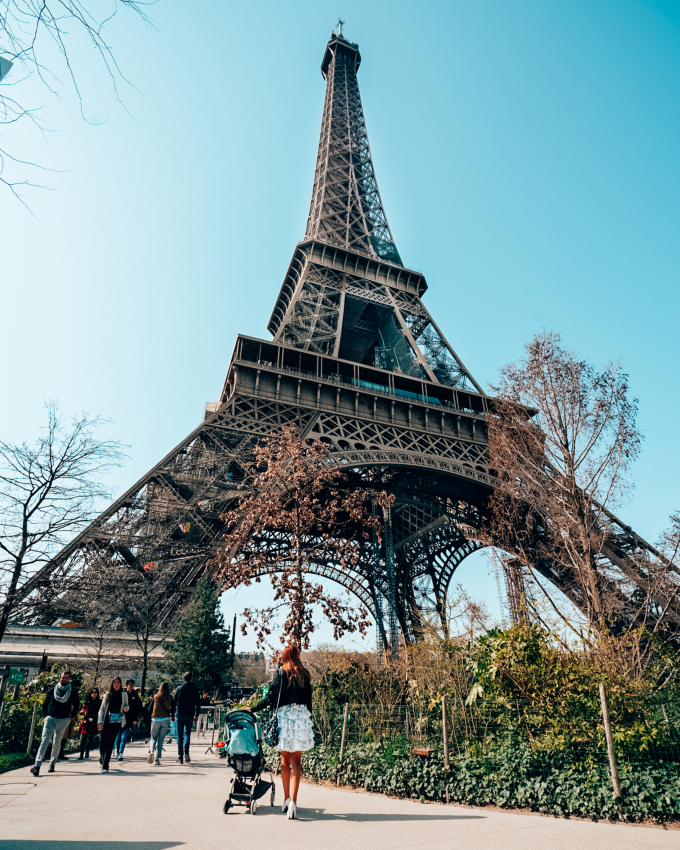 7. What to Bring (and Not Bring to the Eiffel Tower)
As I mentioned earlier, security at the Eiffel Tower is very strict (maybe even more strict than at the airport).
That means that if you want your visit to go smoothly, make sure you don't pack anything that could be confiscated (also making your wait longer), and leave them at your hotel in Paris.
Do Bring
Tickets
Photo ID
Light jacket for the top levels
Camera
Don't Bring
Knives or weapons (no pocket knives)
Glass of any kind
Canned or alcoholic drinks
Excessive food or drink (as determined by the security guards)
Pets
Big strollers
8. How Much Time to Spend at the Eiffel Tower
You can spend as much time at the Eiffel Tower as you like but if you are short on time, it's important to make sure you allow yourself enough time to navigate the lines and enjoy the experience.
If you are only visiting the 2nd level and don't plan to dine in the restaurants, you should allow at least 1.5-2 hours in total for your visit to give you enough time to navigate security and queues for the elevators.
If you are going to visit the top floor as well, I recommend you set aside around 3 hours for your visit. In addition to the time it takes to get to (and explore) the 2nd floor, you will also have to wait for the elevator up and down to the 3rd floor.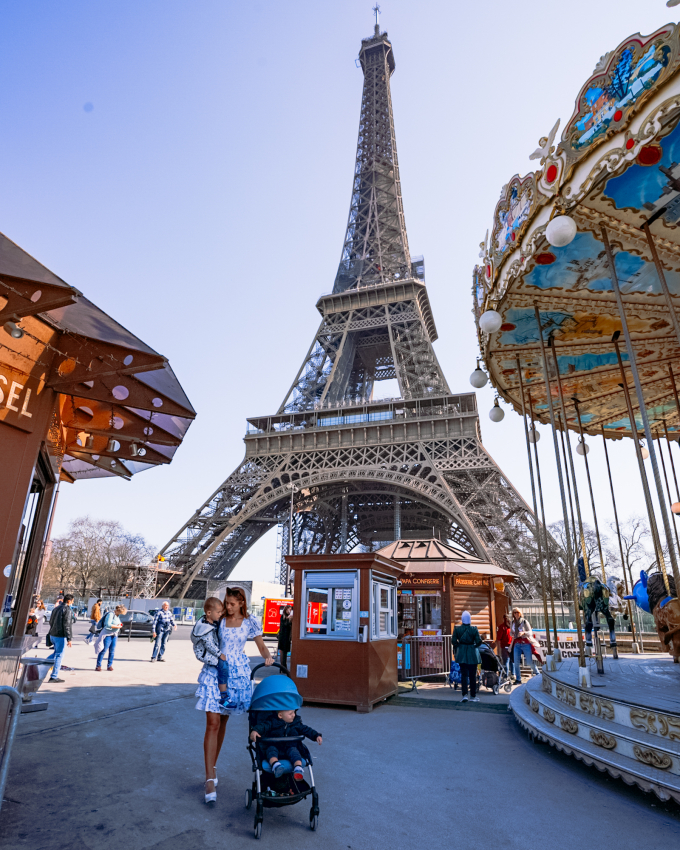 9. Best Time to Visit Eiffel Tower
Visiting the Eiffel Tower at any time of day or night is always a magical experience, but if you are looking for the best views, I recommend going just before sunset.
Book your time slot for around 1 hour before sunset to ensure you make it to the top before the sun sets, but you can also stay to see the city light up at night which is pretty magical.
But since this is the best time to visit the Eiffel Tower for the views, it's also one of the most crowded times.
If you'd prefer a quieter time, book your visit for early morning (around 9-10 am) or late night (after 8 pm).
The Eiffel Tower is also extra busy during the weekends and holidays, so try to go midweek to beat the crowds (and lines). Or, try visiting Paris in winter to get a unique view with minimal other people.
10. Alternatives to Eiffel Tower
If the Eiffel Tower is completely sold out or you just don't want to deal with the crowds, lines, and hectic nature of this famous attraction, don't worry, there are some alternative viewpoints around the city where you can still get a nice view over Paris.
Torre Montparnasse
This 210-meter skyscraper has a great viewing platform which gives you a great view over the city.
The entry and ticket boot are located on Rue de l'Arrivée. Once you enter you will be whisked to the top food on an elevator where you can enjoy the views of Paris from a terrace.
There are fewer crowds here so you can easily walk around and spend your time taking pictures without the pressure of other tourists.
Terrace of Printemps
If you are looking for a free alternative to the Eiffel Tower, visit the Printemps Terrace for a beautiful view of Paris and the Eiffel Tower.
The Printemps is a famous shopping mall near the Opera. Take the elevator to the very top floor and you will arrive on a terrace with a bar and casual restaurant.
This is a great place to come at night to take pictures of the Tour Eiffel sparking over a lit-up Paris while enjoying a nice drink.