If you're like most parents, you want to keep your toddler safe during your travels. But what's the best way to do that? A travel car seat, of course! With so many options on the market, how do you know which one is right for your child and convenient to use for travel as well?
For parents with toddlers, choosing a car seat is all about finding the right balance of safety and convenience. You want a seat that will keep your little one safe in the event of an accident, but you also don't want something that's so bulky and heavy that it's a pain to travel with.
Fortunately, there are plenty of great options out there for parents looking for the best travel car seat for their toddler. I'll help you choose the right one for your needs as we travel with babies and toddlers all the time. We tried and used all these car seats!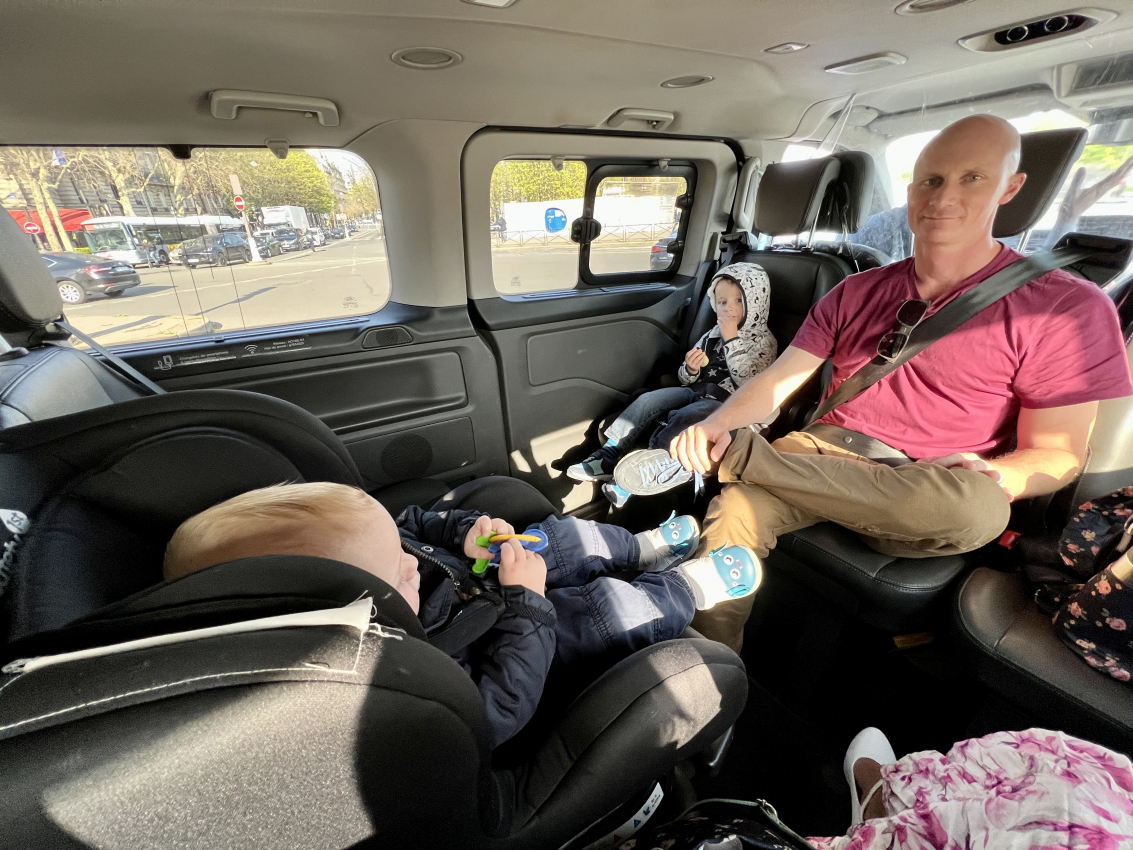 Do you actually need to bring a car seat where you're going?
Many parents automatically assume that they need a car seat to travel, but it's not always the case – it depends on the destination and your plans.
For example, if you're heading to Europe you might not need a car seat because public transport is better than taxis. Or if you think you need a car seat to get from the airport to your resort in Mexico you might simply ask for pre-booked transport with a car seat already installed when you get off your flight.
We survived many trips without a car seat, because we used public transportation a lot and if needed ordered a taxi with a car seat. This saved us a LOT of hassle on various occasions.
I'm not going to lie – we also had situations in which we dragged a car seat to a destination only to discover that it won't work because it requires a top tether and many cars abroad don't have it.
Do I Need a Car Seat to Fly with a 2 year old?
Absolutely not! Child safety seats are not required by the Federal Aviation Administration (FAA).
While both the FAA and the American Academy of Pediatrics (AAP) strongly encourage the use of a car seat or other child restraint system when flying, keep in mind that while you can install a car seat on the plane if you're flying on US airlines (and if your child is under 2 you book a seat for them), it's not always the case for non-US airplanes.
Many airlines prohibit the use of car seats on board at all or only allow front-facing ones, or allow them only if they're under certain width (which often means Doona is NOT allowed).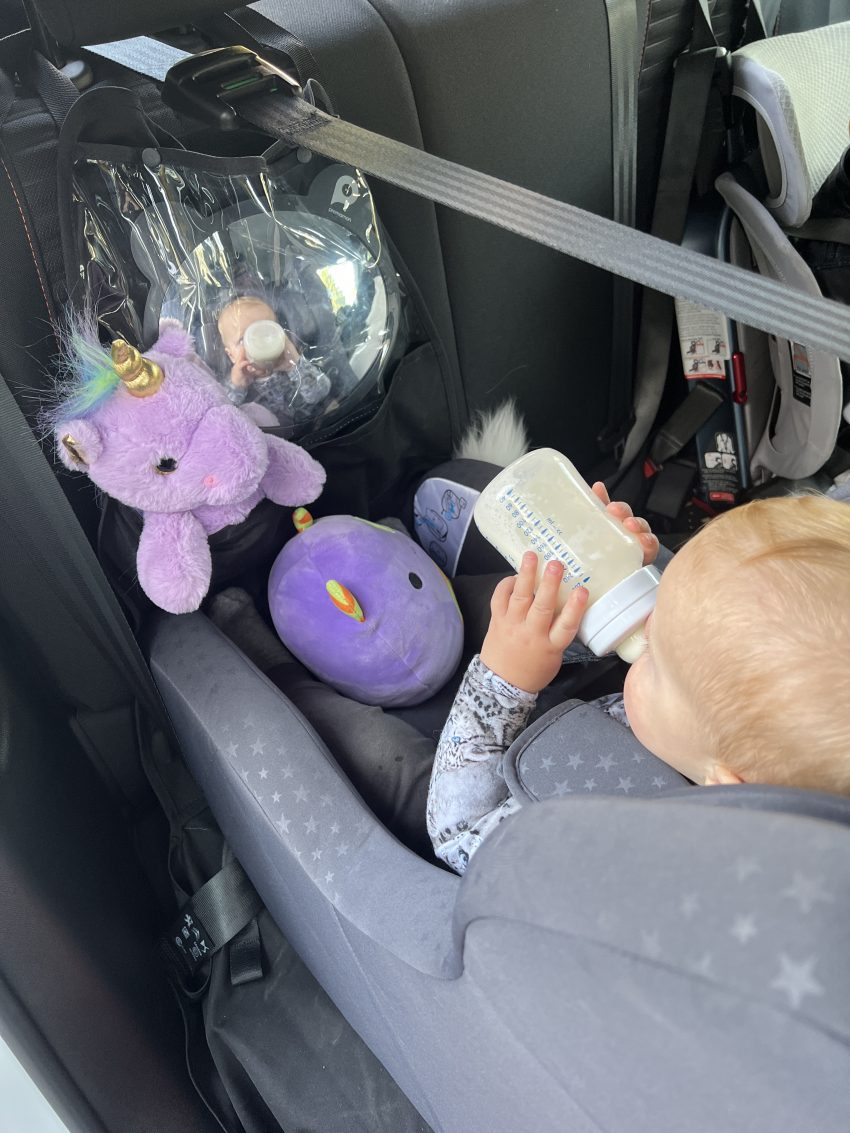 ---
The Different Types of Travel Car Seats
You want to consider the type of car seat you want. There are four main types of car seats:
These are the safest option for young children, as they protect the child's head and neck in the event of a collision. However, they can be bulky and difficult to install, so they're not always the most convenient option for traveling.
These seats are less safe than rear-facing seats for younger children, but they're easier to install and use. They're a good option for older toddlers who have outgrown their rear-facing seats.
These seats are for children who have outgrown their forward-facing seats but are still too small to use a regular seat belt. Booster seats raise the child up so that the seat belt fits properly. Rules to use a booster vary per country – the age is usually 3 or 4 years.
A convertible car seat can be used in both rear- and forward-facing positions. This makes them a great option for parents who want to keep their child in a rear-facing position for as long as possible.
---
The Best Travel Car Seats for Toddlers
I didn't include various car seats, simply because they're either too bulky, too tall to use on airplaces, or require top teether which isn't available in many countries.
For example, I owned or tried some popular travel car seats choices like Graco Extend 2 Fit, Safety 1st Guide 65, and Tribute LX 5 and I would never recommend them for travel (they don't fit many planes and cars).
Personally, I've also tried the most popular Doona car seat stroller and I don't recommend it. On top of the fact that both my kids were uncomfortably too tall for it before they even became toddlers.
---
The WayBPico is one of the lightest and smallest child car seats available, making it ideal for traveling. It fits in the overhead bin, so you don't need to gate check it and risk damage (also a must when you're flying on standby with multiple kids!)
Its tiny stature makes it simple to fit in a variety of automobiles. The harness system is simple to adjust, and the seat can be easily removed from the base for cleaning or storage. The design of this seat appears to provide better air circulation than other vehicle seats.
for kids 1+
front facing
22-50 lbs and 30-45″
width of the seat is 14.75″
weight of the seat is only 8 lbs
PROS:
✔ Compact to fit in an overhead bin
✔ Easy to install
✔ FAA-approved to use on flights
✔ Works without the top tether
CONS:
✘ Expensive
✘ Low height limit
✘ Crotch strap too short for some kids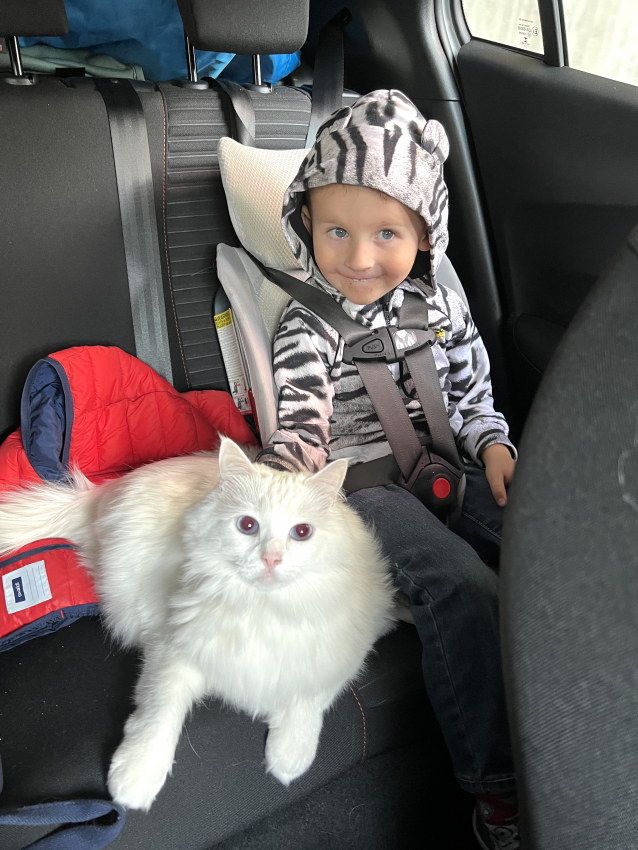 ---
One of the best rear-facing car seats on the market. It's not officially sold in the US, but they can ship the seat to the US. When people ask what's the best travel car seat for small children anywhere BUT the US I'll say Nachfolger!
This car seat is inflatable so folds super small when not in use, but yet it's super comfortable for the child and even comes with foldable toy storage. The patented folding mechanism with a quick-release button and Highend Accu pump makes it easy to use. The intelligent two-color LED warning system indicates when the seat is ready to use. It's a true German standard!
When you are not using it, you can easily fold it and store it in the included carrying case. The headrest is height-adjustable and has two shoulder belt positions. The easily removable seat cover can be machine-washed.
Their recent innovation allows using it with or without the top teeter, which is great for buses or bigger vehicles.
good from birth
rear facing
up to 39 lbs
width of the seat is 16″
weight of the seat is only 11 lbs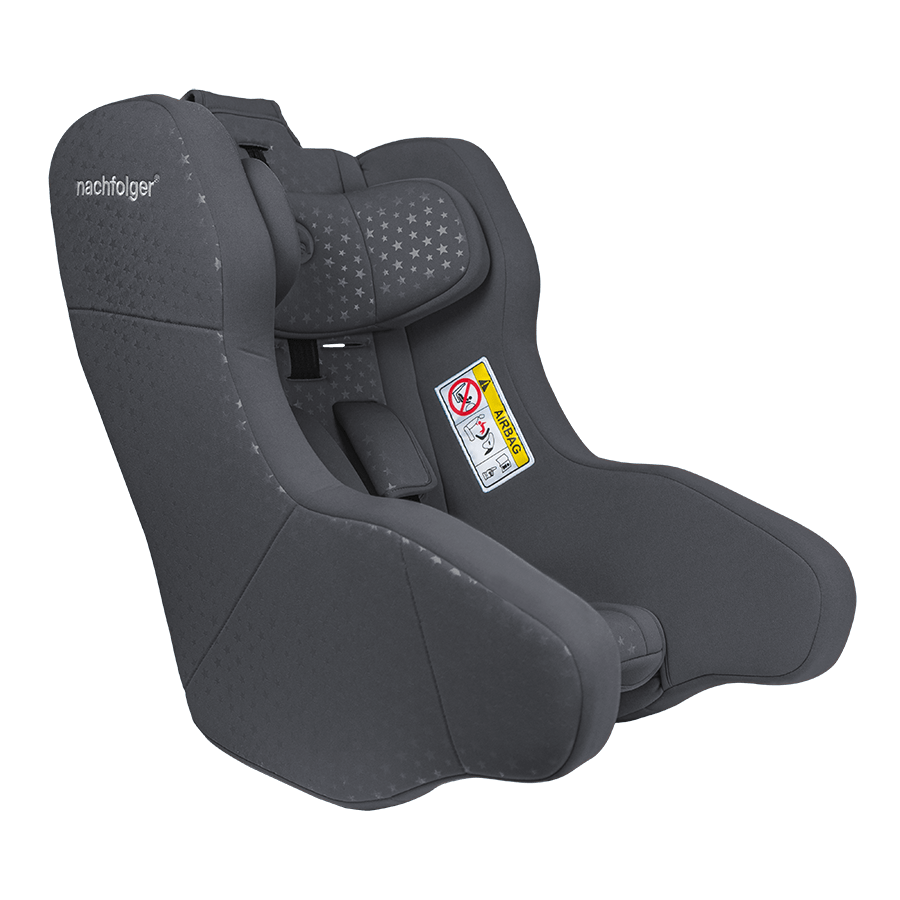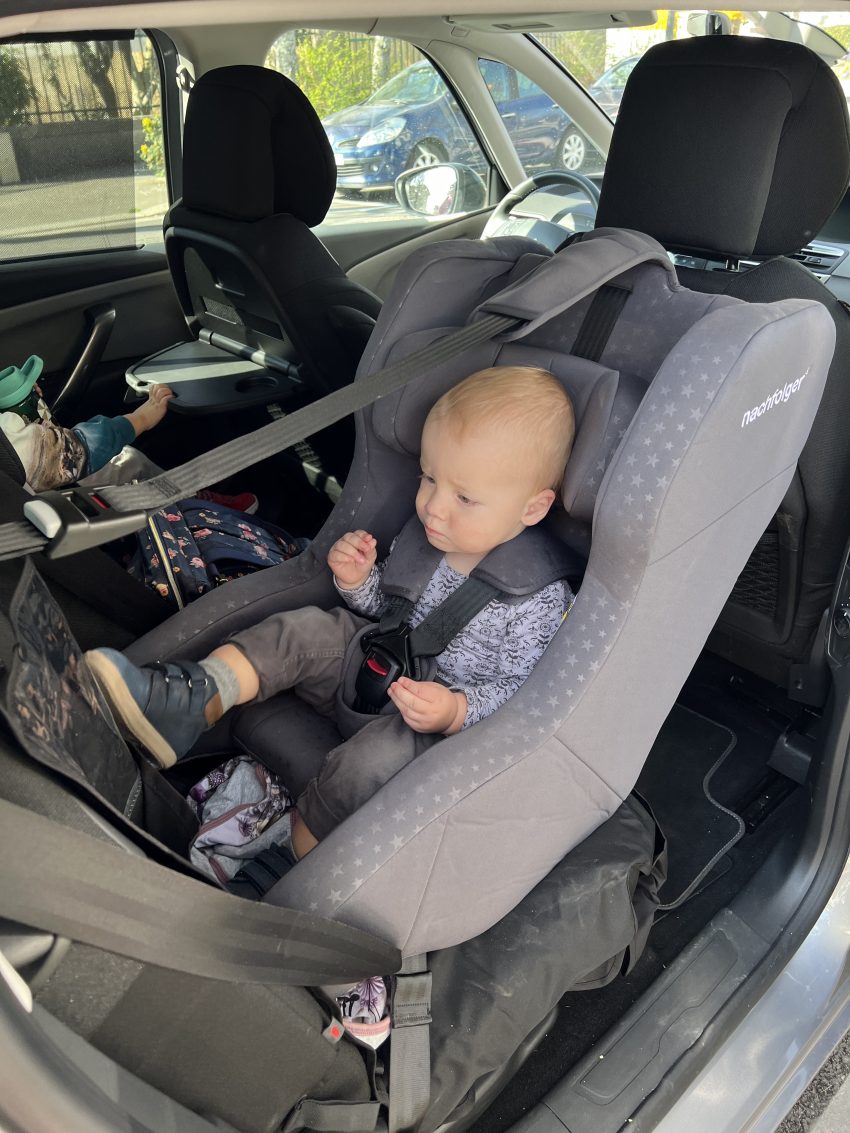 ---
The Cosco Scenera Next is a great choice for parents who are looking for a budget-friendly car seat
The Cosco Scenera Next is a lightweight and portable car seat that is easy to install and store
good from birth
can be used as a rear-facing car seat for children 5-40 lbs & forward-facing car seat for children 22-40 lbs.
width of the seat is 16.5″
weight of the seat is 8.6 lbs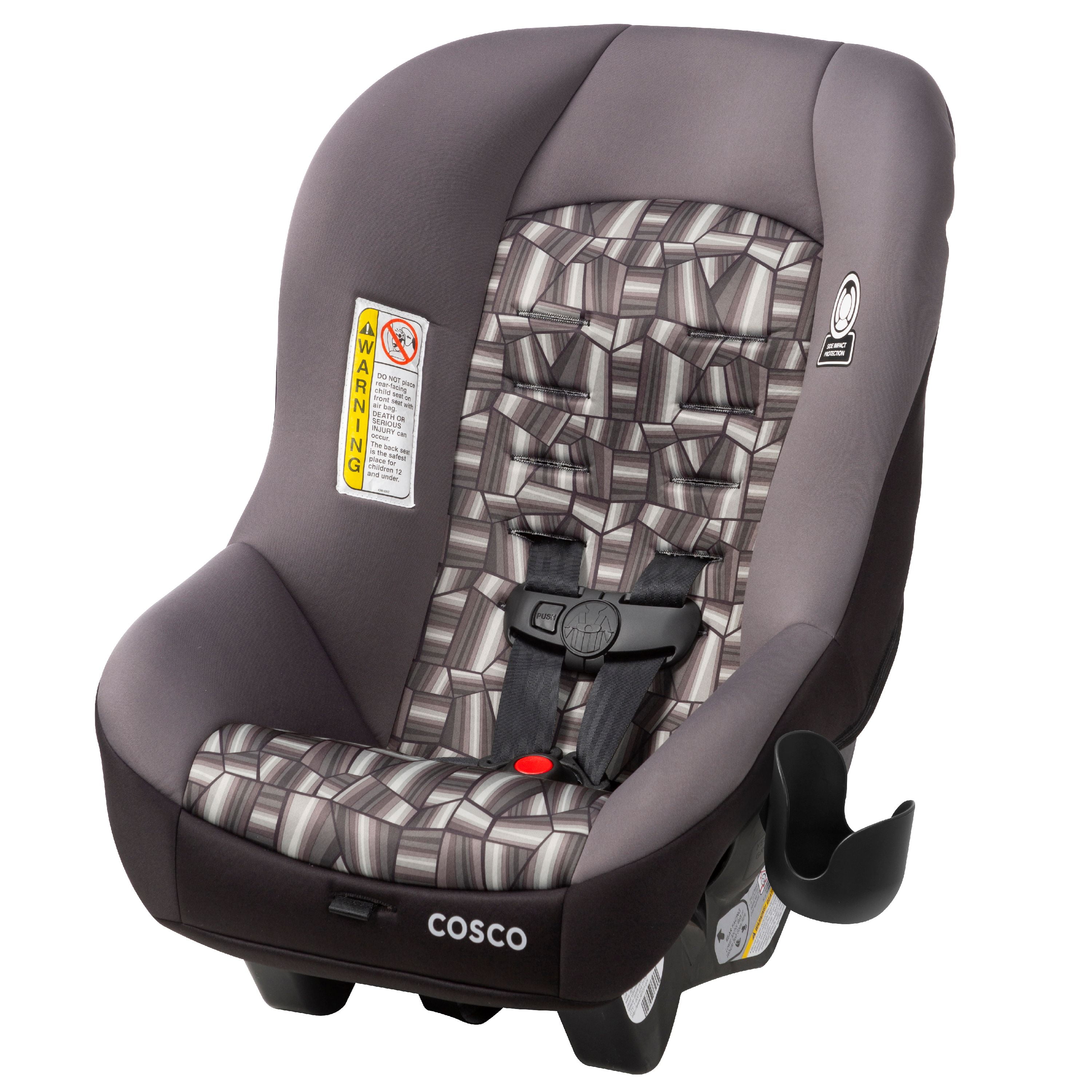 PROS:
✔ Compact & lightweight
✔ Can be used from birth
✔ Low price
CONS:
✘ Low size limits
✘ Hard to install in some cars
✘ Limited padding for patterned covers
✘ No extra side protection
✘ Requires top tether for forward-facing
---
The BubbleBum is the best and most portable booster seat on the market as it deflates and inflates easily within seconds. It's perfect for car rentals, taxis, vacations, and carpooling.
It can fit between two regular car seats in the middle seat in most cars. I recommend it for city trips where you won't be renting a car for extended periods of time as you are not supposed to leave this seat inflated for a long period of time in a car.
Another similar seat that inflated is hiccapop and the two are fairly similar so you can pick whichever colors your child prefers.
for kids 4+ who are 40-100 lbs and 38-57″
booster only
weight of the seat is 1 lbs
PROS:
✔ Compact & lightweight
✔ Affordable
✔ Legal all over the world!
CONS:
✘ Not super comfy on long rides
✘ Only for older kids
✘ Can't be left inflated in a car
---
The mifold is the most compact and portable booster seat on the market. It can easily fit in a backpack, glove compartment, or pocket.
It can be easily adjusted to fit your child's height and weight and the seatbelt guides make it easy to correctly position the seat belt on your child.
Keep in mind that the seatbelt in mifold is only effective if your kid uses it correctly 100% of the time. You need to trust your child to comply. I personally think BubbleBum is a better option.
for kids 4+ who are 40-100 lbs and 38-57″
front facing
width of the seat is 11″
weight of the seat is 2 lbs
PROS:
✔ Compact & lightweight
✔ Affordable
✔ Unlike any other on the list it's legal all over the world!
CONS:
✘ Flipsy
✘ Requires trust that kids won't get out of it
✘ No side protection
---
How to Install a Travel Car Seat
Most car seats come with detailed instructions on how to install them, but you need to know how to install the car seat quickly. The last thing you want is being stuck somewhere after a long journey dealing with an instruction manual (been there, done that, unfortunately).
Different cars and countries will have different installation techniques. Some cars don't have ISO fix, some might or might not offer a top teeter option, and others have different laws like toddlers ride in boosters earlier.
Be familiar with the local laws and regulations regarding car seats. As I explained in some other posts, for example, taxis are exempt from car seats regulations in France and many drivers might not let you install your own car seat.
FAQs about Travel Car Seats for Toddlers
Do I need a special car seat for my toddler?
No, you do not need a special car seat for your toddler. However, it is important to make sure that you are using the proper car seat for your child's age, weight, and height.
How do I know if my child is ready to graduate to a regular seat?
A: Generally speaking, most children are ready to graduate to a regular seat when they reach the age of 4 or 5 and weigh 40 pounds or more. However, it is always best to consult with your child's doctor before making any final decisions.
Q: What are the benefits of using a travel car seat?
A: Travel car seats offer a number of benefits, including convenience and portability. They are also typically lighter and easier to install than regular car seats.
Q: Are there any disadvantages to using a travel car seat?
A: The main disadvantage of using a travel car seat is that they are not as comfortable as regular seats. Additionally, they may not provide as much support for your child in the event of an accident.