Many people don't think of France as a baby-friendly destination and head to Italy, known for being a baby-loving country, instead. However, visiting France with a baby or toddler can be a fantastic experience as you see this stunning country through their eyes.
When it comes to infrastructure and facilities France isn't the easiest for babies and little kids, but there's no shortage of great places to enjoy for families. French people do get around a lot with their babies, but you just need to adjust your expectations and come prepared.
I took my first trip to France with a baby when my first son Dylan was only 3 months old – we had a blast! It was a completely different experience with a baby from my million trips to France before, and when I lived in France as a student. After we had our second son Holden we moved to Annecy for a few months and traveled around the country with a baby and toddler a lot.
Best Places to Visit in France with a Baby
The best places to visit in France with a baby are places you want to see: there are no bad places in my opinion. Paris, Normandy, Provence, French Riviera, French Alps, Alsace – we had a blast everywhere.
Babies and young children don't require tickets to museums and they ride on public transport for free.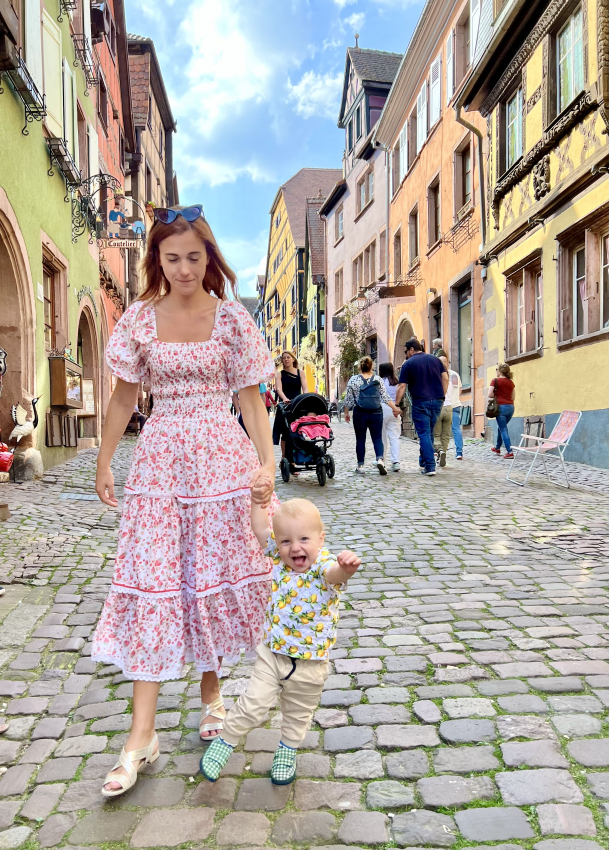 ---
Traveling to France with a Baby:
When you travel to France with a baby or toddler you might see a lot of parenting differences. Remember, your baby will be just fine if they need to accommodate different flavors or schedules – don't worry 🙂
Europeans are minimalists when it comes to babies, so there's no need to pack everything for a trip to France with a baby. Read more on packing for holidays with a baby.
French people tend to bundle their babies a LOT which might come off as a surprise. I always saw babies and toddlers bundled in snowsuits and stroller bags with hats and gloves on, while my kids were running around in a hoodie.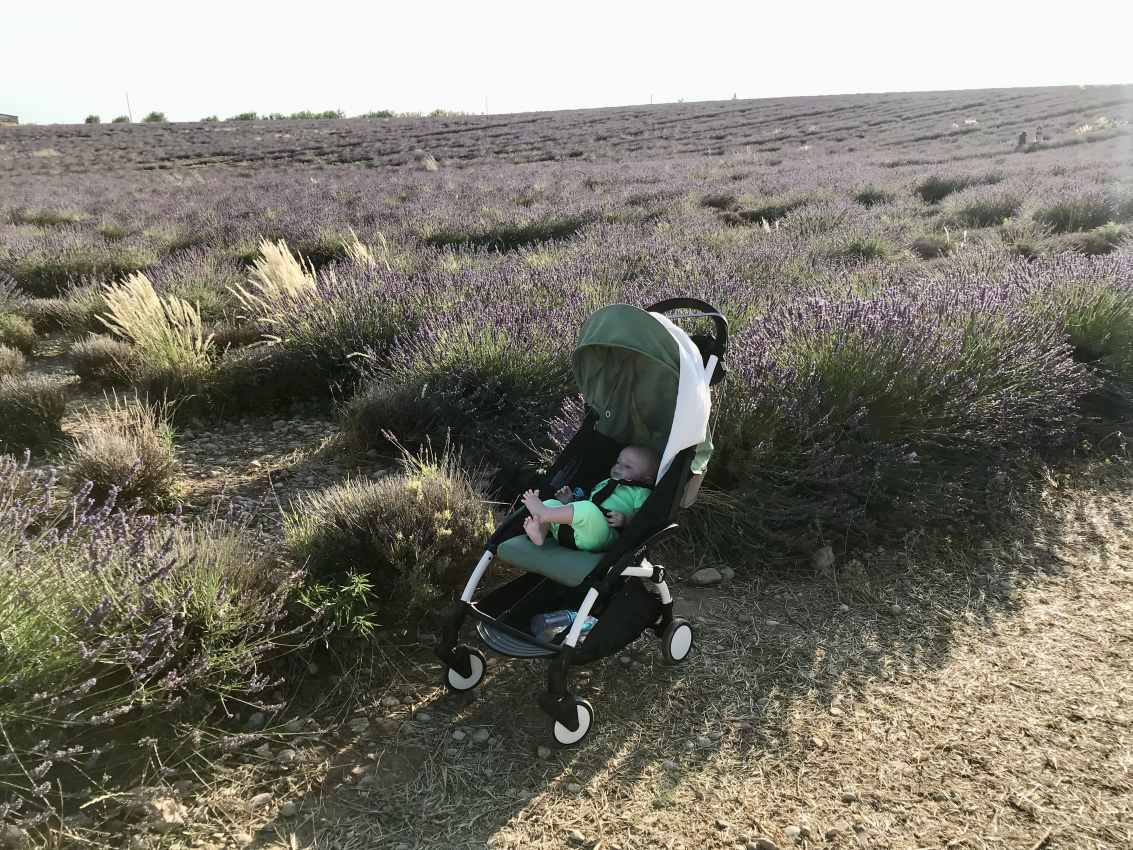 ---
Where to Stay with a Baby in France
I will say that there's Paris and then there's the rest of France because in Paris rooms are small and unless you stay in a more luxurious hotel there's no way they offer a baby crib because there's simply no space for it anywhere (even if you bring your own). Keep the room size in mind if you're booking a room in Paris!
Outside of Paris many hotels will provide you with a crib or at least a space of your own. I tend to book places that offer it because it's less luggage to carry for me. You might have to reach your room by stairs but most hotels offer to keep your stroller at the reception.
We even stayed at a French chateau with a baby in Provence and it was awesome!
Pack a noise machine, even if you don't use it at home. French buildings have squeaky floors and aren't always soundproofed.
Camping is also a popular option in France with babies. There are many family friendly campsites in France.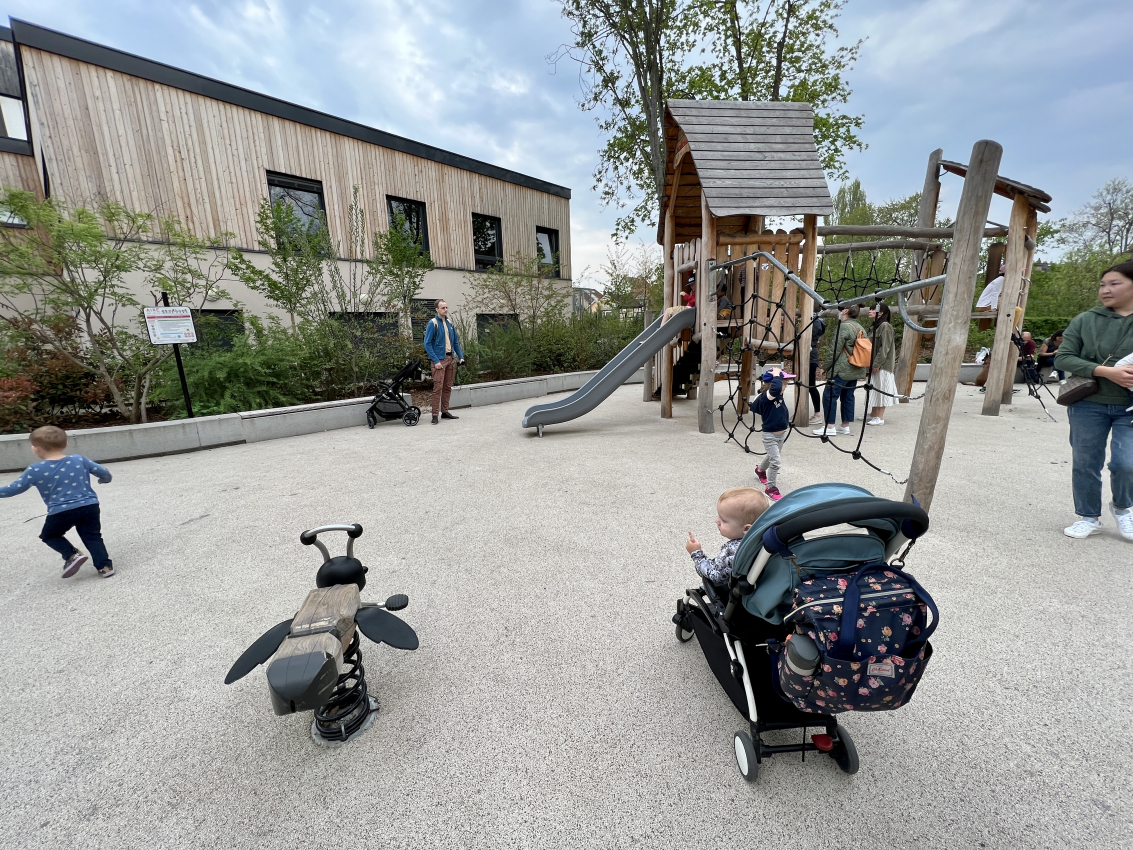 ---
Do Babies Need Car Seats in France?
In private cars including rental cars, kids and babies are required to have car seats in France. Car seats are different in Europe than in the US (chest straps are illegal for example) and most toddler car seats use seatbelts. Laws are also different in terms of booster seats, so if a 3-year-old is tall enough like mine they will fall into a booster category.
Most taxis in France will not have a baby car seat, because legally they aren't required to have one so be prepared to just hold a baby on your lap. Now, I'm not telling you to keep your baby unsafe but that's the reality…
The problem with bringing your own car seat is that most drivers won't wait until you install a car seat, simply because there's usually nowhere to park so you might be installing a car seat while the taxi is moving. Some might not even stop for you if they see you have a car seat.
If they do, and miraculously there's a space to park for them, they might charge you way more and I'm saying ridiculously way more.
However, you can surely order a taxi with a car seat – we did it in Paris on various occasions. It doesn't cost any more! You can reserve a taxi with a car seat in advance via the G7 taxi app.
Regardless, you should always have travel insurance, especially when traveling with a baby. You can add your baby (up to 3 kids actually) to your own policy when booking with Safety Wing.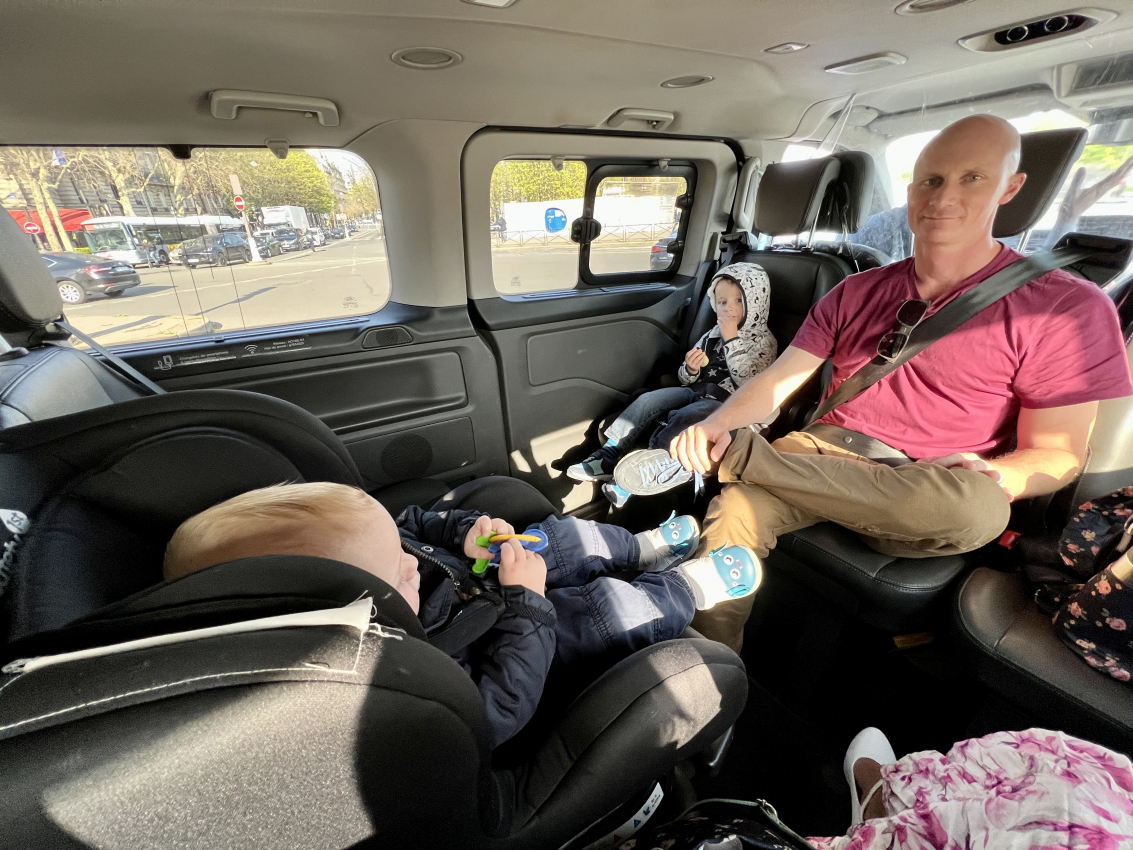 ---
Flying with Babies to France
If you want to bring your own car seat (most tourists won't get into any trouble with the police; it only matters in case of an accident as the insurance could technically refuse your claim because of the non-EU approved car seat), remember that it's not common to keep babies in car seats on planes in Europe. If you're flying Air France (or other European airlines) make sure to check.
Many aircrafts don't allow car seats at all, especially in higher cabin class. Rear facing car seats (which includes ALL infant car seats basically) are basically not allowed on board unless someone isn't sitting in front of you as they limit the recline and must be placed forward-facing. Here's a full policy.
Also note, that any equipment designed for children to sleep (like JetKids) is not permitted on board Air France aircraft.
If you're flying with a baby internationally I have more tips in this article. If your baby is less than a year old you might want to book a baby bassinet – it's free!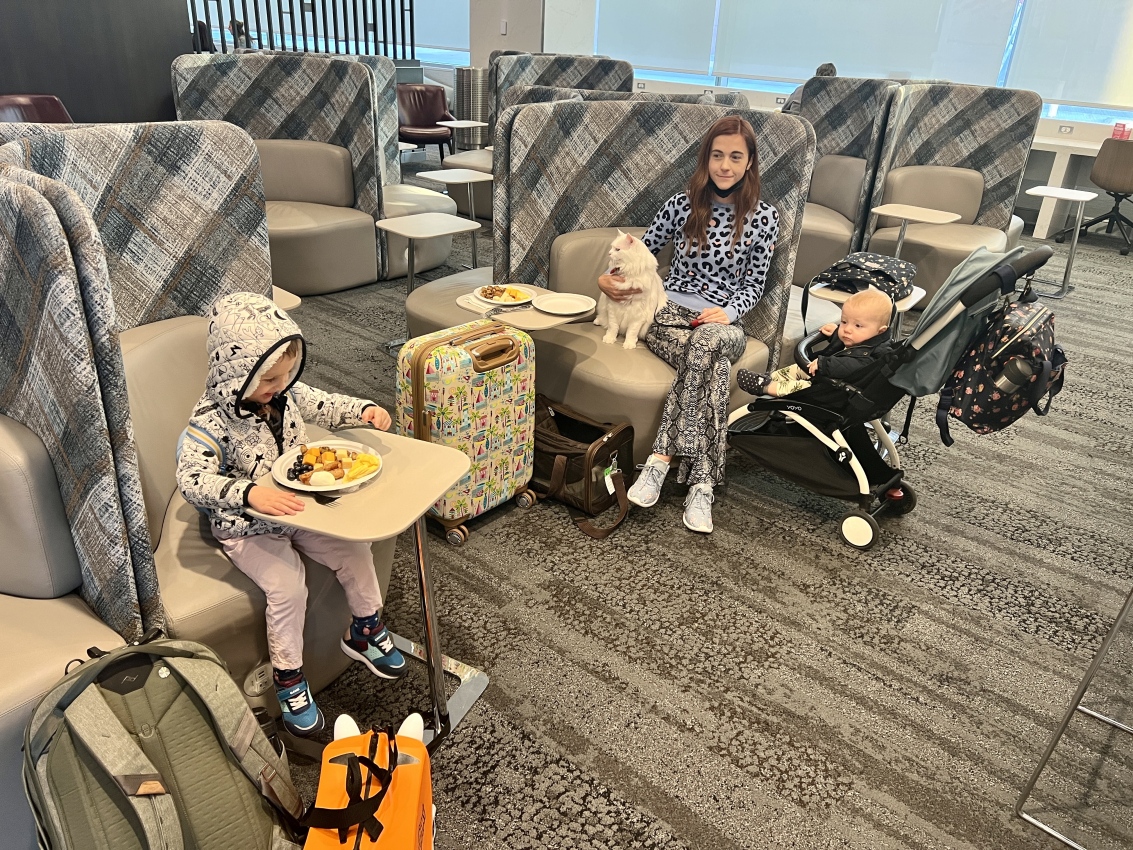 ---
Is France Stroller Friendly?
Many people will tell you that getting around in many cities in France, especially Paris with a stroller is next to impossible. I'll say let's not exaggerate as long as you have an appropriate stroller.
By appropriate travel stroller I mean just like anywhere else in Europe:
1. Don't even think of bringing a double stroller, it won't fit anywhere.
If you have two kids you can get a buggy board for the older, but everyone sane in Europe has one stroller per child when traveling.
2. Don't bring a giant full-size stroller, you'll be doomed everywhere as it won't fit.
Babyzen Yoyo stroller was invented in France for a reason – lightweight, quick to fold, narrow. Elevators are also uncommon in many parts of France so you will be carrying your stroller up and down the stairs a lot, including hotels or apartment rentals.
3. Don't buy an umbrella stroller with crappy double wheels.
While you can think they are cheap and small so can be carried and folded, similar to Italy, they won't go far in France as there are cobblestones and uneven sidewalks everywhere.
You'll see many people with a stroller everywhere. If you're planning on hiking you obviously need a baby carrier as well, but I wouldn't recommend venturing without the stroller – babies sleep a lot and even non-napping toddlers might be tired after exploring for the whole day and need a place to nap.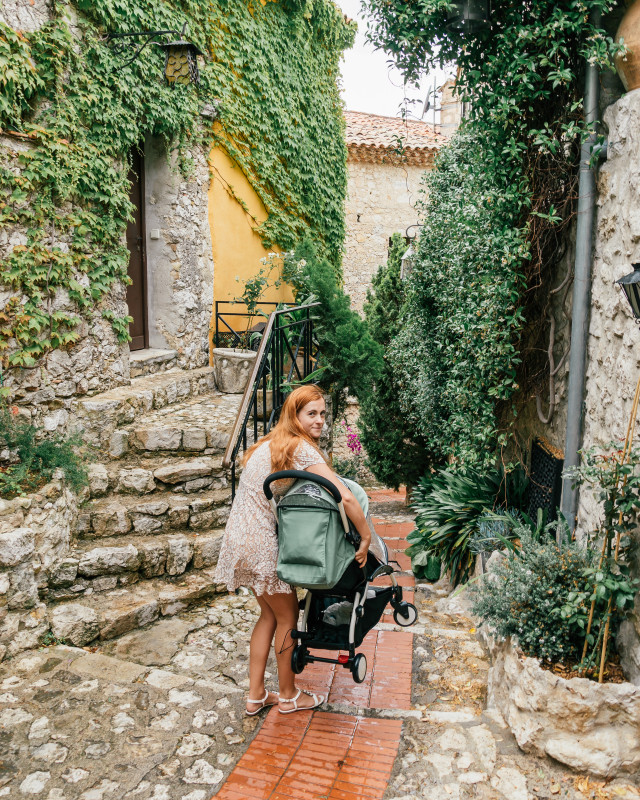 ---
Renting Baby Gear in France
There are plenty of baby gear rental companies that will deliver to your address in Paris or anywhere else you're visiting. Some good recommendations: Kidelio, Babytems, PonyonWheels.
I know many Americans are wondering about SNOO rental in France. Snoo doesn't offer a rental option in Europe and gear rental companies don't offer the Happiest Baby Snoo bassinet either, as it's not a popular item in Europe. In fact, I'm yet to even hear about anyone ever using it in Europe (and I'm from Europe, so obviously know a lot of people here and there).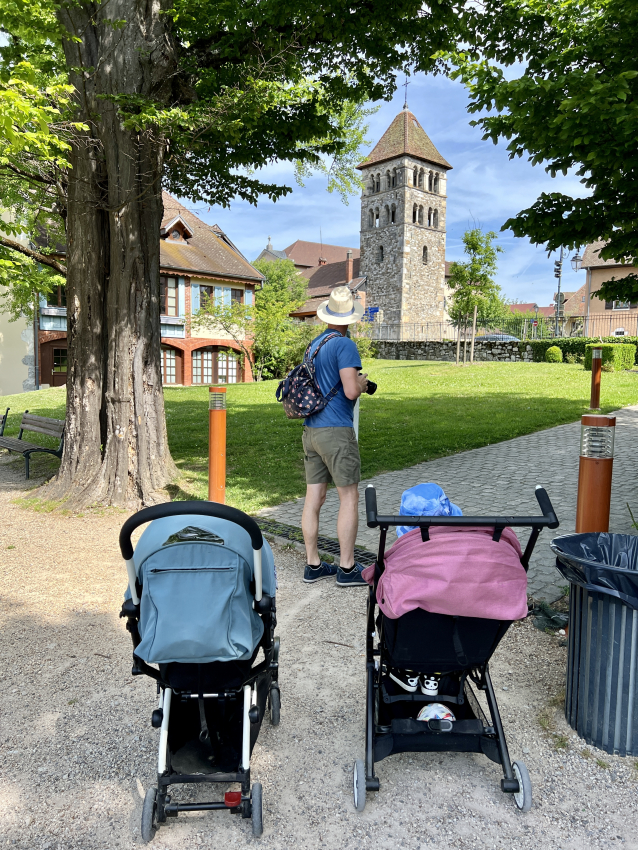 ---
Baby Products and Diapers in France
There's no shortage of diapers, formula, or baby food in France. You can buy everything at the supermarket, not always at pharmacies. In fact, many options in France are as good or better.
Make sure you know your baby's weight in kilograms for diapers! Do They Sell Pampers in France? They do!
French baby food is actually awesome. They sell many jars of organic fruits, veggies, chunky meals, snacks, and anything your baby might like. If you want organic, look for items labeled "Bio" or "Agriculture Biologique" (certified organic
If you need a formula, remember that in France just like anywhere else in Europe most formula cans are numbered:
1: under 6 months
2: 6-12 months
3: 12m-2 years
4: over 2 years
Important: many grocery stores are closed on Sundays and nothing is really opened on Christmas or Easter. Plan your shopping ahead.
Baby Clothes in France
France offers amazing baby attire for every budget and it's a completely different shopping experience: my toddler got balloons and lollipops every time we went to get something. I recommend La Redoute and Jacadi – they will last you forever!
---
Bringing Babies to Restaurants in France
The only place I've ever encountered a high chair for a baby in France was a hotel room at the Four Seasons in Paris… because they literally provide you with everything and even our cat got a custom cat food menu. Anywhere else – forget it.
You'll see babies being fed in strollers (and this is why again, you need your stroller to be small enough to fit at the restaurant), or on parent's lap.
If you have an active baby or toddler you might want to bring a portable high chair – just keep it under the stroller when you walk around.
Kids menus in France as usually smaller portions of the adult menu, but there's not as common. I've even seen tartare on kids menu in Annecy.
Fun fact: the exception to this rule is usually Michelin star restaurants, especially in Paris. Many Michel start restaurants allow kids and welcome them with high chairs, coloring books, chicken nuggets or other beloved food items, so definitely don't scrap the idea of fine dining in France.
Also, note that the restaurants only start serving dinner from 7/7:30 pm (if you see something opened earlier it's either a tourist trap or they're open for snacks and drinks only). Europeans have no issues with babies out late, but just remember to have snacks for the kids if they get hungry earlier.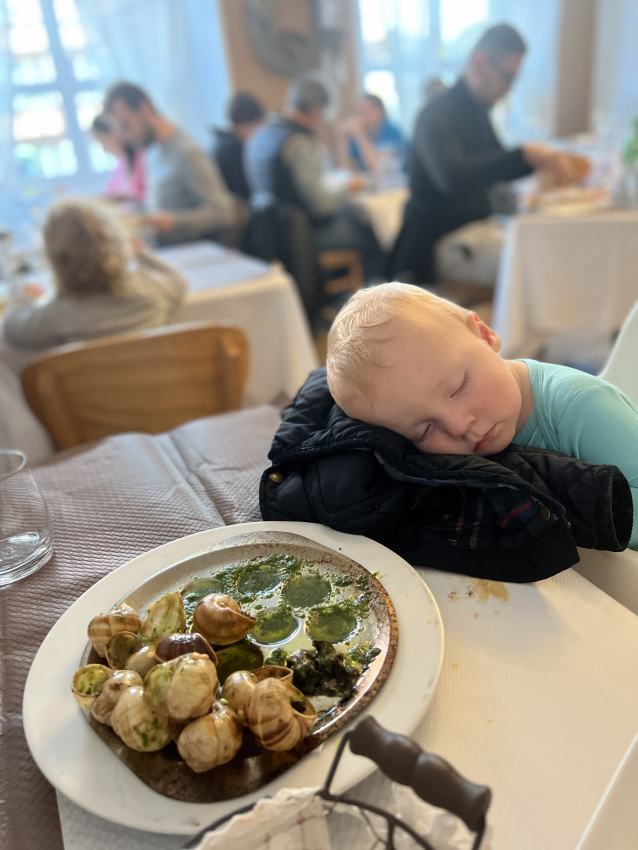 ---
Changing Tables in France
You should be prepared to change your baby in the back of the rental car, stroller, or random spots. Another reason why having a stroller is handier than only bringing a baby carrier, is because you can keep things underneath. A changing mat is recommended!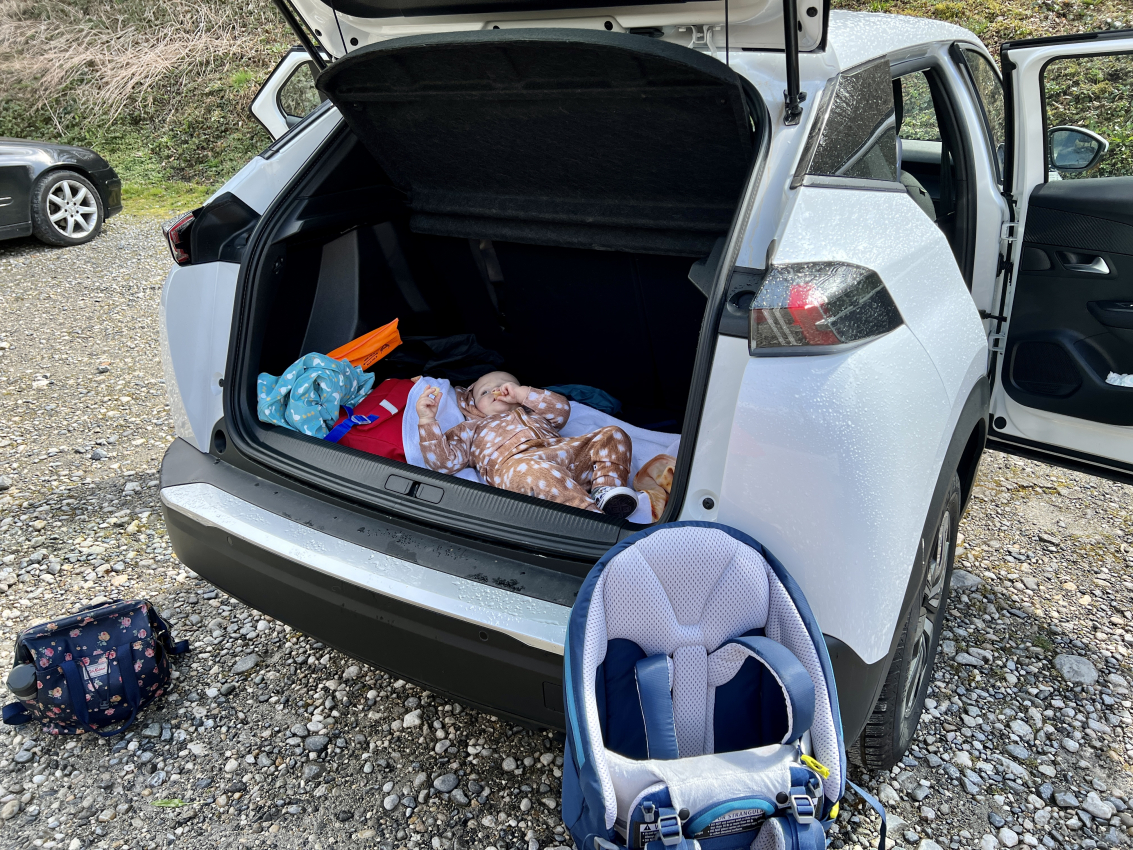 Public Transportation with Babies in France
Public transportation in France works well and it's perfect. People generally use the metro when they have to travel a lot in France, especially having kids alongside. Getting into the metro might require going up and down some straight, so don't bring a ton of luggage.
The trains are excellent as your baby or toddler can move around vs being strapped into a car seat. The trains are spacious, quiet, and even have baby-changing stations on board.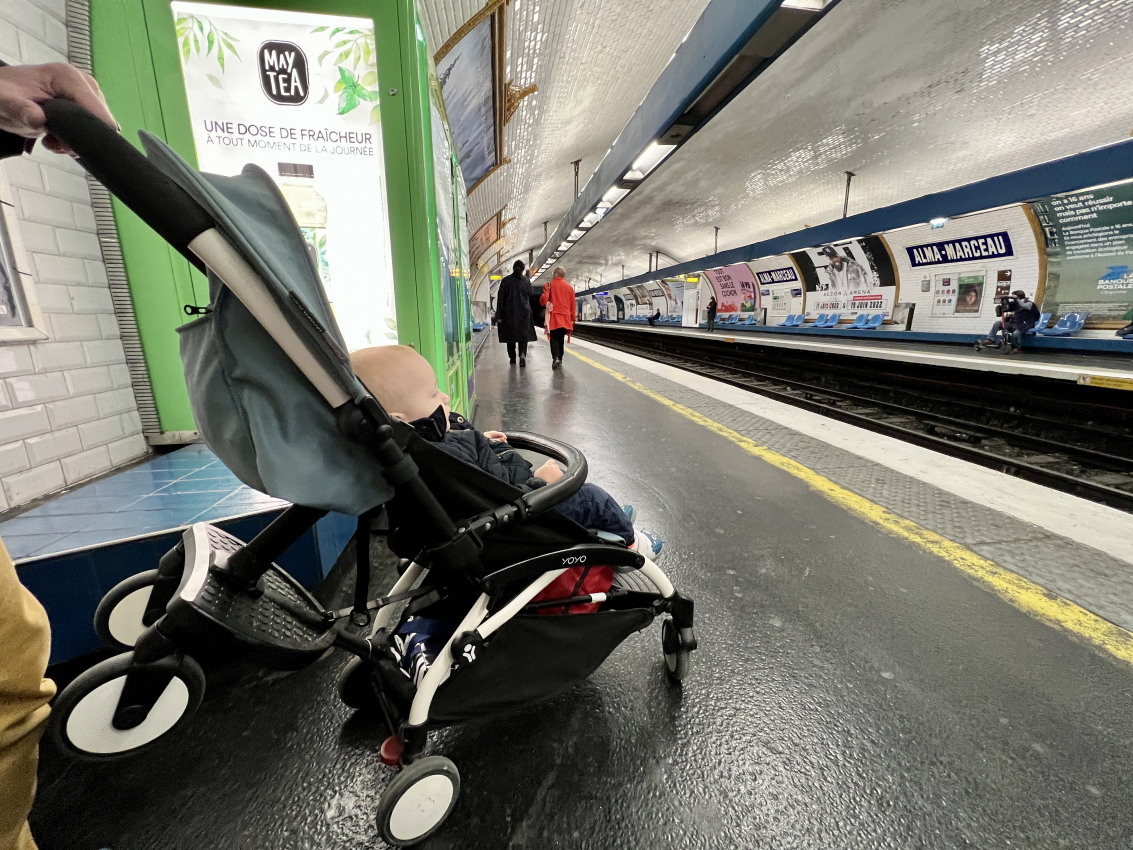 Road Trip with a Baby in France
Sadly the trains and buses don't go everywhere, so you might need to rent a car in France. Keep in mind that highways have tolls and it can add up a LOT (sometimes it costs 8 EUR for a quick 5 minute ride).
French rest stops almost always have a bathroom and even playgrounds. This makes trips with babies more convenient.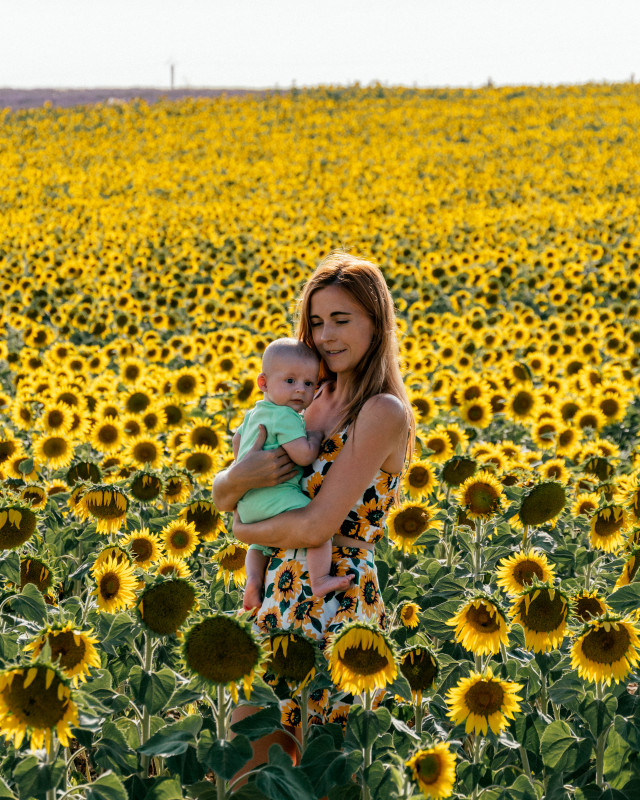 Do you have any questions about traveling to France with a baby?