Chamonix is a picturesque town in the French Alps, mostly known for skiing. Chamonix shouldn't be overlooked during the summer as it offers some of the most amazing hiking trails in Europe, along with waterfalls out of Mont Blanc massic, cable car rides and glaciers. Here are the best things to do in Chamonix in the summer.
Is Chamonix worth it if you don't ski or hike?
Absolutely! We visited multiple times (on day trips from Annecy where we lived) with two small kids, so we were limited on activities and still didn't get bored! In fact, even getting to Chamonix by car is super picturesque because the scenery is unbeatable!
There is plenty to do in Chamonix that doesn't involve hiking or skiing. Visit Aiguille du Midi and ride the Panoramic cable cars and trains into the mountains for views of Mont Blanc.
You can take the kids on an alpine coaster, stroll through the town and dine in some amazing restaurants.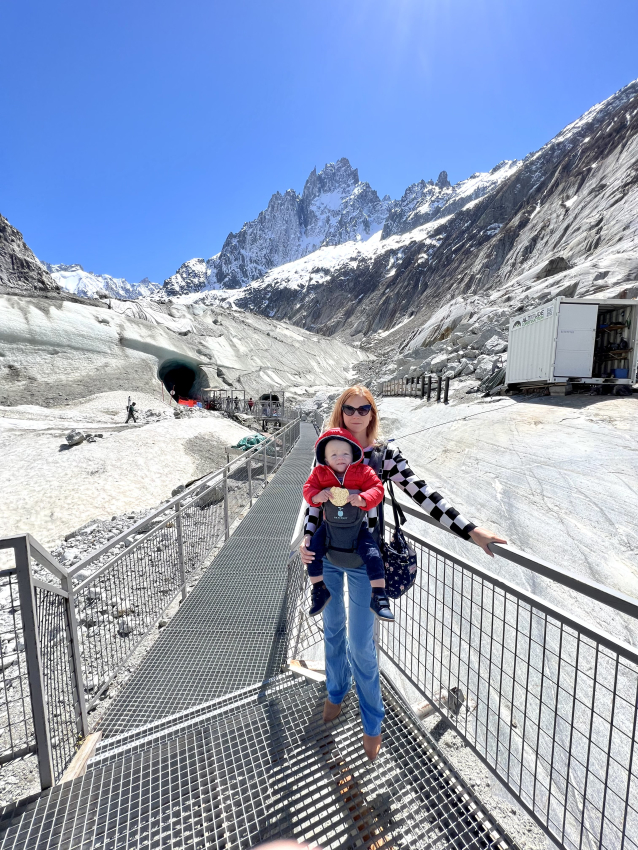 Tips For Visiting Chamonix France
If you have not been here before, there are a few things that you should consider before embarking on this journey; make sure that you get the most out of it!
Buy Tickets Before You Go
You must plan your itinerary before hopping to Chamonix, as many tickets can be sold out if you don't.
For instance, Step into the Void, Paragliding, and the Montenvers train are very popular in the area. It's best to book your spot as soon as possible.
Chamonix Is Between Two Mountain Ranges
The summits of the mountain ranges are almost always covered in snow, so don't be surprised if it is cold in the middle of summer.
Pack some warm clothing to ensure you are prepared for any weather. This way, you don't have to be miserable during your trip.
Businesses Usually Close Between Noon and 3:00 Daily
In France, workers go home for lunch, which means that most businesses and restaurants are closed between noon and 3:00 PM.
The best advice is to eat a later lunch to hold you over until dinner. Plus, you can save money by skipping lunch at a restaurant as the French serve smaller portions during this time, as their dinners are generously plated.
Make Sure You Have Good Shoes
There is no public transportation in Chamonix, so you will depend on your feet to get around. It is a small town where everything is within walking distance. Leave your flip-flops and heels at home and opt for some stylish walking shoes instead.
---
---
Best Things to Do in Chamonix in the Summer
Summer is one of the best seasons to visit Chamonix, France, as there is so much to do! I think it's actually better than the wintertime. With everything from paragliding to hiking and alpine coasters, there's sure to be something for everyone.
1. Paraglide Over Chamonix
The main adventure most tourists go to Chamonix for is the paragliding season during the summer. Just like in Annecy, also famous for paragliding, the views will amaze you.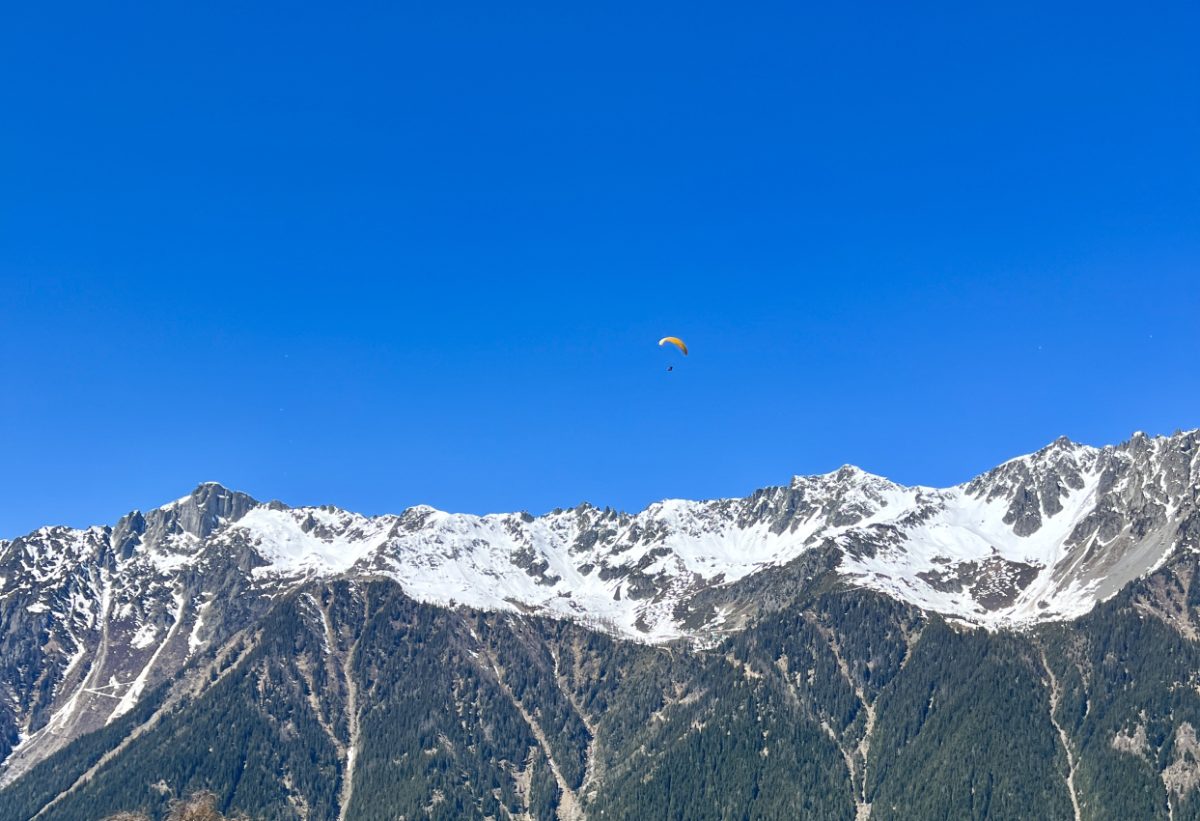 With a certified instructor, you can fly over Chamonix Valley, the glaciers, and the Alps. It's gorgeous!
If you want to take the adrenaline rush to the next level, you can talk to your instructor about performing some stunts while you're with them.
However, if you prefer to keep your feet on the ground, that's okay too! You can see the sky dotted with many color paragliders everywhere in Chamonix.
2. Aiguille du Midi
Take a ride up to one of the highest cable cars in the world. The views are incredible with multiple viewing terraces and dining options.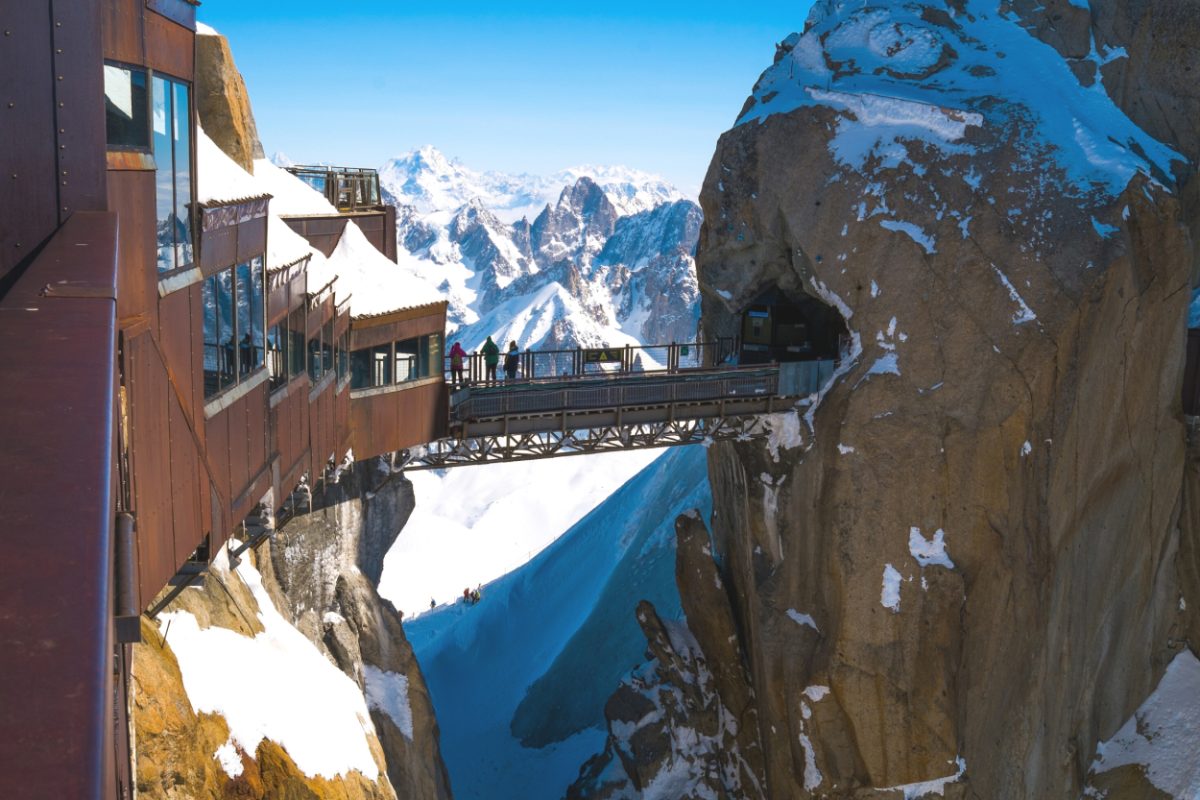 One of the popular activities, once you get to the top of Aiguille du Midi in Chamonix, is stepping into the Void. If you have a serious fear of heights or don't prefer adrenaline-inducing activities, this one is not for you.
Stepping into the Void means walking into a small room hanging over the Mont Blanc mountain peaks. While here, you are standing about 1,000 meters ( over 3,000 feet) in the air.
To top it off, the entire room is glass. And yes, even the bottom! The views are unlike any you have ever seen, and the glass allows you to see all angles of the snow-capped peaks below.
Note: Keep in mind that kids under 2.5 years aren't allowed. We got surprised that we couldn't get up the first time we went, because we'd gone on multiple cable cars on high elevations before.
When purchasing my Aiguille du Midi ticket, buy the 1-day Mont Blanc Multipass. You'll get access to three different Chamonix sites (Aiguille Du Midi, Montenvers, Telesiege Des Bossons, Tramway Du Mont Blanc, Brevent, Flegere, Argentiere, and Vallorcine – pretty much all the gondolas you could take in the valley!) on a single day for one reduced price.
3. Le Brevent Cable Car
Perhaps paragliding or standing in a glass box over the mountains is not your thing, but that's okay! You can still get the sweeping panoramic views of the Mont Blanc massif and the Chamonix Valley by cable car.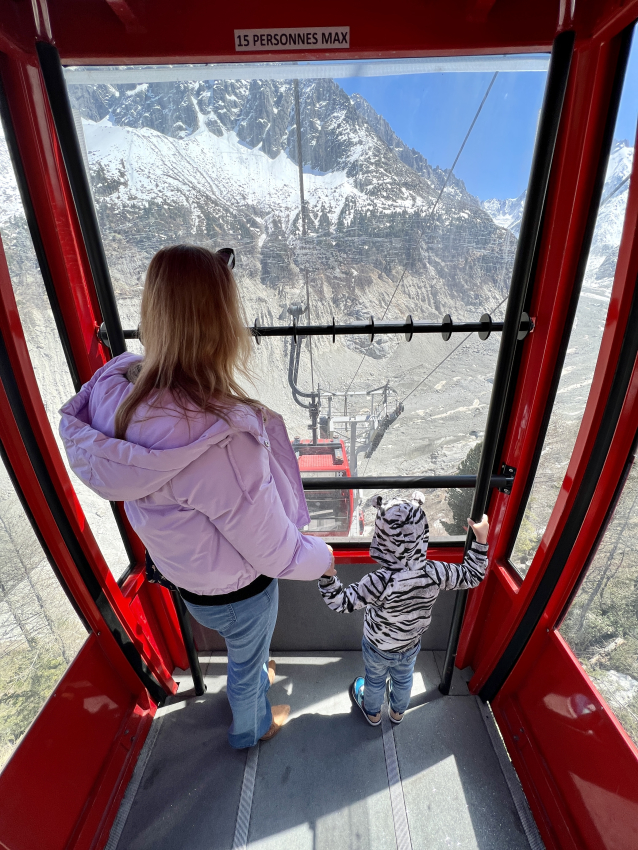 You will travel 2,525 meters (8,000+ ft) up in an enclosed vessel that will bring you to Le Brévent. At the top, you can go skiing, hiking, or spend some time taking in the views in the mountain hut while enjoying a bite to eat. From here, you can see the borders of Switzerland, Italy, and France!
Remember that you will first need to take a gondola to Plan Praz before you can get onto the cable car. And you don't even have to go to the top if you don't want. Plan Praz has food, hiking, a lake, and an excellent take-off spot for paragliders.
4. Take A Ride On The Montevers Mer De Glace Glacier Train
Fun for the whole family adventure includes a ride on the famous Mer De Glace red train. This will take you to the top of Chamonix at 1913 meters (6,000+ feet).
Don't fear, it's not weirdly cheese or anything. It's just good for any age or ability.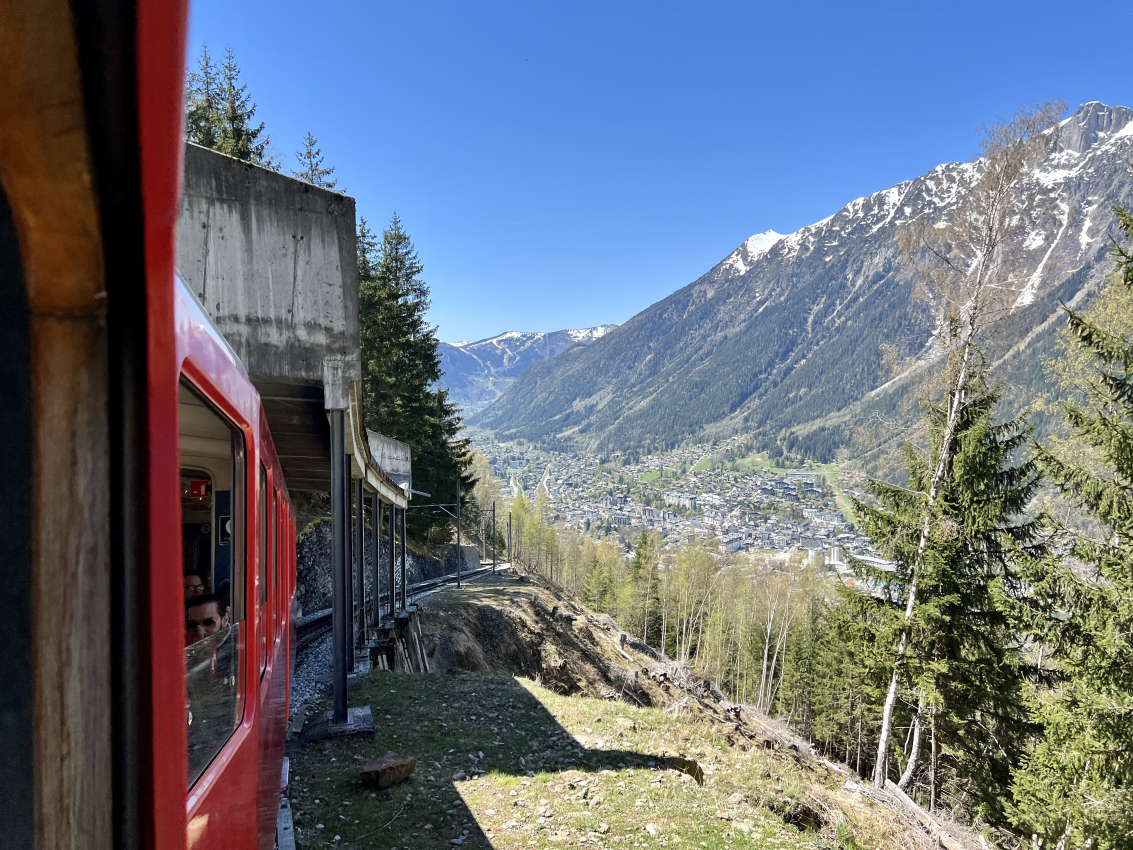 From that point, you can experience glacier walks, mountaineering, ice climbing, or hiking. Or, from here, you can visit the ice cave in the glacier by riding a cable car down and walking the 400 steps to the ice cave.
Local workers dig out the ice grotto each summer since it moves around 70 meters (500+ ft) yearly! The walk down and back out can be brutal, but it is an experience you must have. Inside the ice cave, it's you'll see some beautiful sculptures.
The whole experience, train and walk to the glacier, will take you about 2.5 hours total.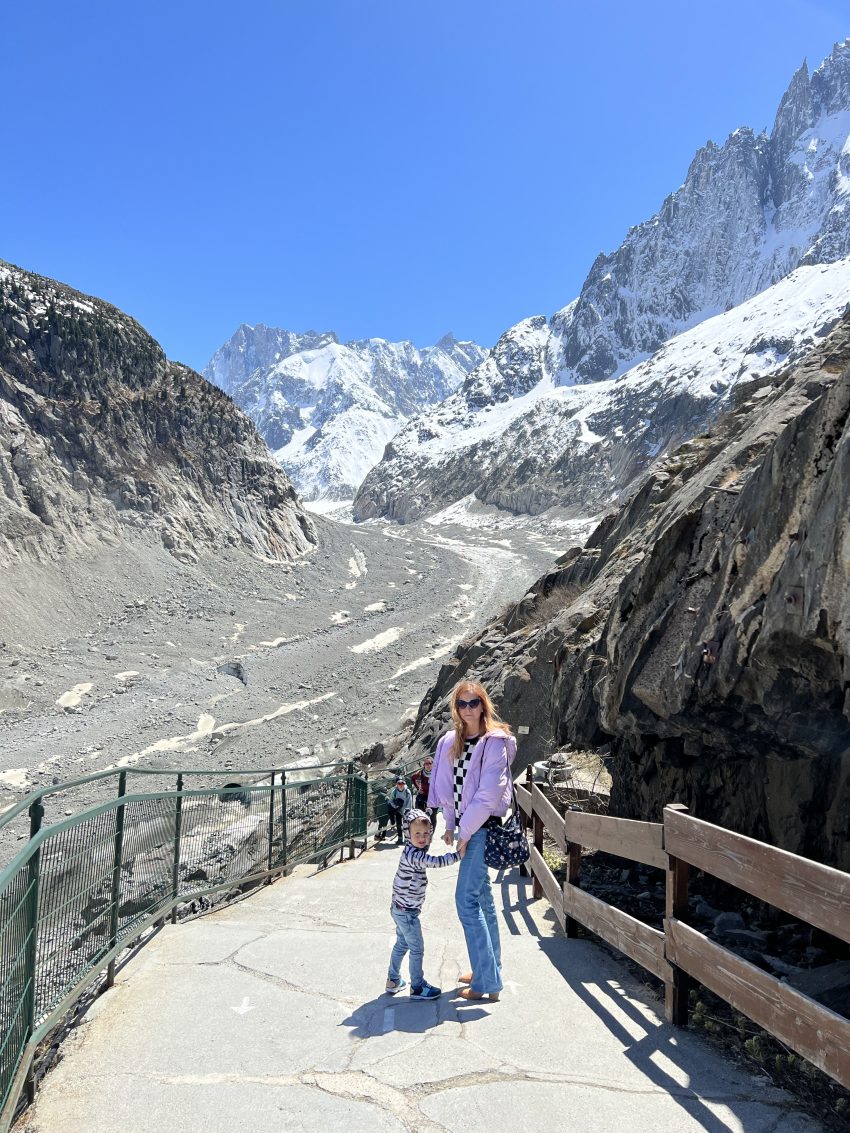 Note: The minimum age to ride the train is 12 months old. If your kids are under 3 I'd say bring a carrier or hiking backpack, because it takes a lot of stairs to get down to the glacier and back up.
5. Chamonix Luge Alpine Coaster
You most likely have seen videos of an alpine coaster before (thanks to the many social media platforms). But, nothing beats the rid in Chamonix.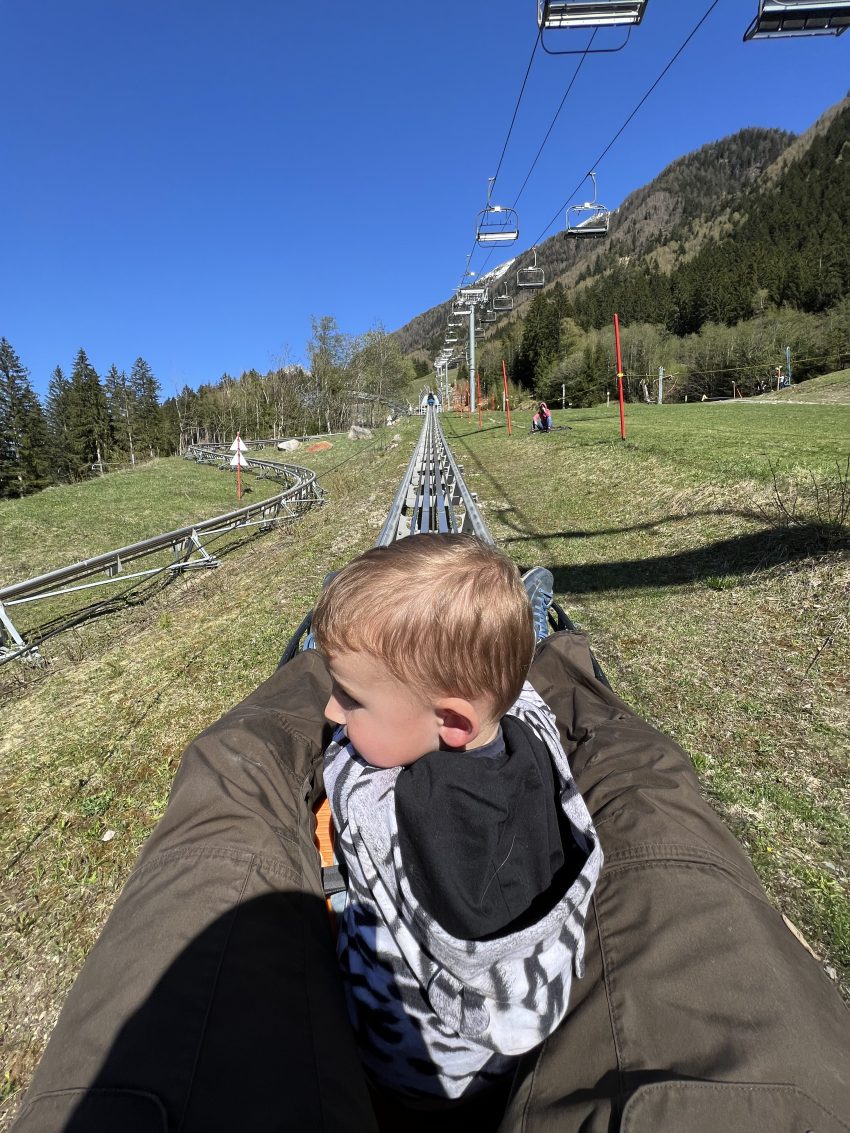 Open all year round, the Chamonix Luge Alpine Coaster takes riders on a 1,300 meter (4,000+ foot) ride, turning and climbing with huge drops at high rates of speed. (It does not go upside down).
If you're coming with kids, there are various small kids rides around the coaster as well. My kids love the whole Adventure Park,
6. Relax at Lac des Gaillands
Lac des Gaillands offers a tranquil place to admire the natural scenery of the Chamonix-Mont-Blanc valley in Haute Savoie in southeastern France.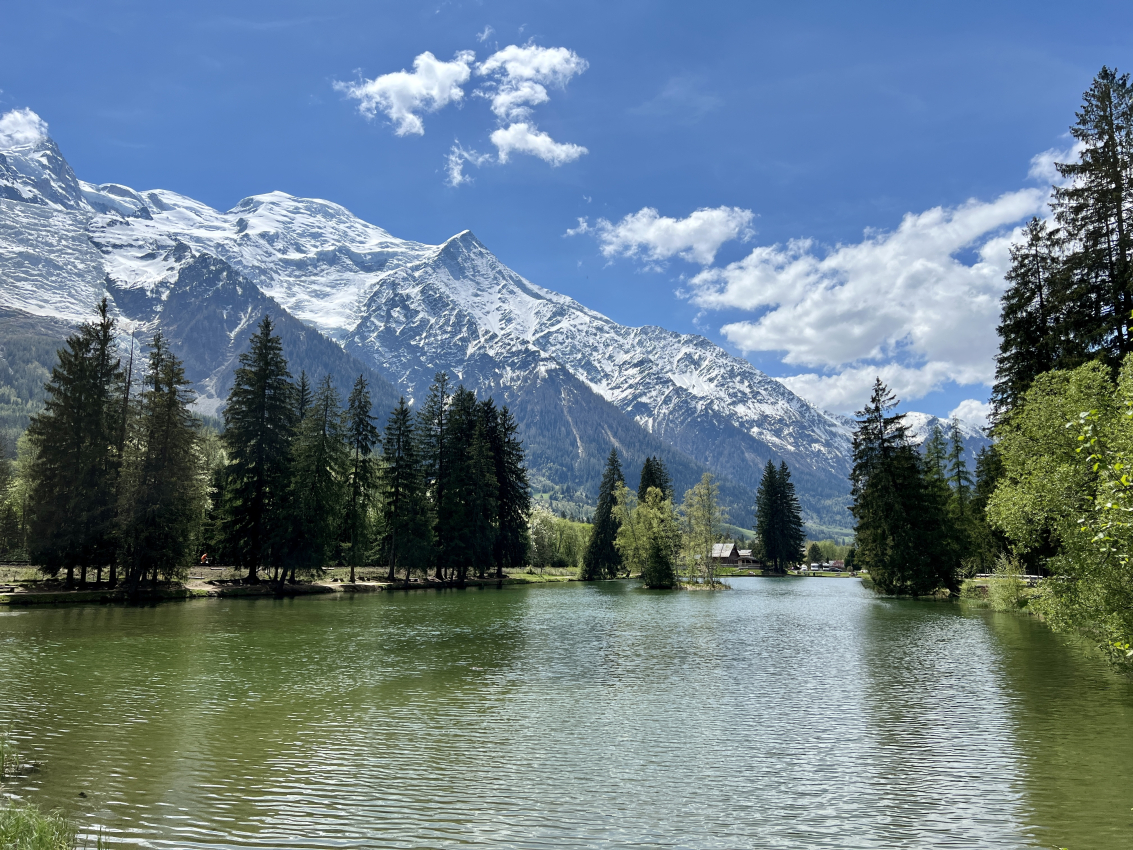 Less than a 10-minute drive from Chamonix, the man-made lake is a picturesque place for a picnic or a short walk. There's a tiny play area for the kids nearby.
A few steps from Lac des Gaillands there's a rock cliff that's popular with bouldering and rock climbing enthusiasts of all levels. You can watch them, especially on weekends.
7. See the Ruins at Lac d'Angalis
Nearby Lac des Gaillands, take a walk and admire the "fake ruins" of an imaginary chapel of at Lac d'Anglais – also a few steps from there. It's a fun photo spot.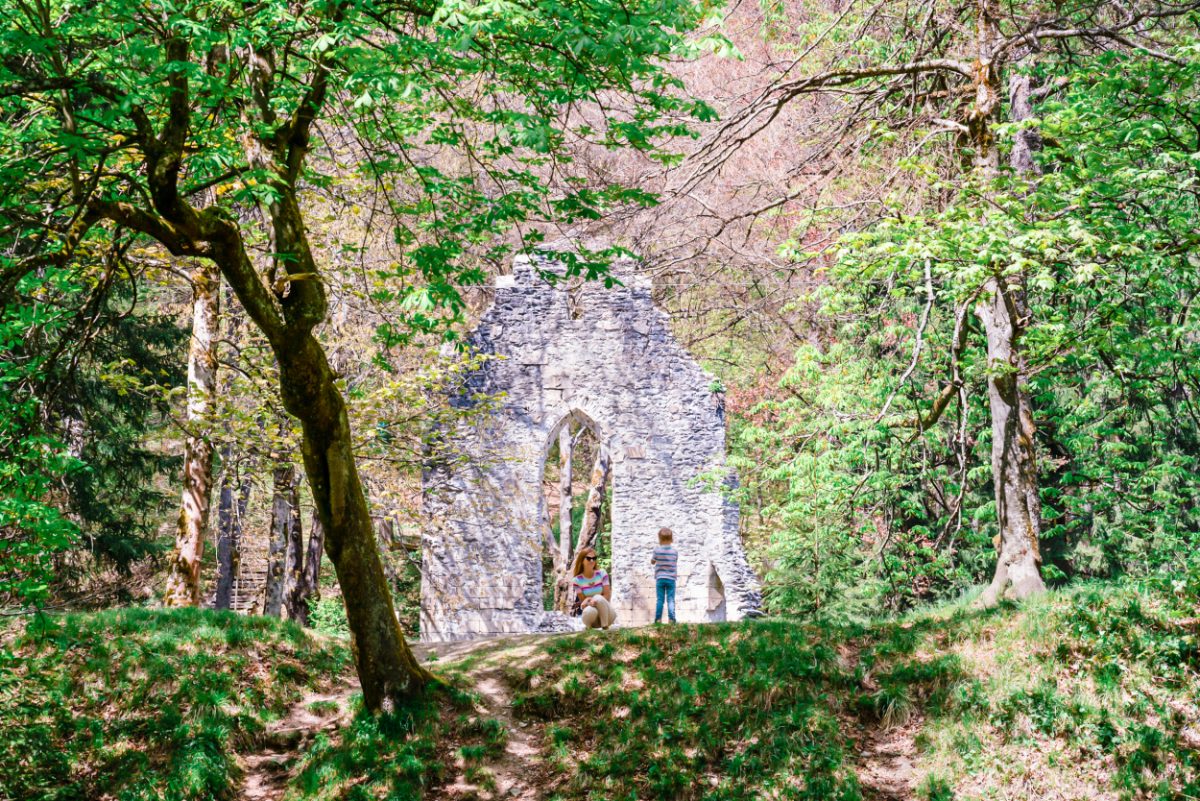 It was built there in the late 1800s by an eccentric man from Scotland to mimic the place where he grew up.
8. Skydive From A Helicopter
If you are an adrenaline junky, chances are you've jumped out of an airplane to skydive, but have you done it out of a helicopter? Well, here is your chance!
The helicopter will bring you up over Mont Blanc, where you will jump in tandem with an experienced instructor. Don't forget to order the video and photo package to capture this once-in-a-lifetime adventure!
9. Climb Through Some Treetop Adventure Courses
Chamonix also has a treetop course where you can choose your difficulty level. The ones to choose from at the time of writing include:
Forest of Mont Blanc
Magic Forest
Accro Park
The Forest of Mont Blanc is in Les Houches, the Magic Forest in Les Tines, and Accro Park is in Gaillands. Also, Galliands Park is a sort of café style place you can grab a quick snack.
10. Go White Water Rafting
Rafting this river is one of the best things to do in Chamonix. The River Arve provides an adrenaline-rushing experience surrounded by nature.
Many companies offer traditional rafting, but also hydrospeeding. floating down a river using your body as your raft
11. Lac Blanc Hike or Ride
The hike to Lac Blanc from Chamonix is one of the most popular day hikes in the area. Lac Blanc is located at an altitude of 2,352 meters at the Aiguilles Rouges National Reserve and it's accessible by aerial cableway or foot.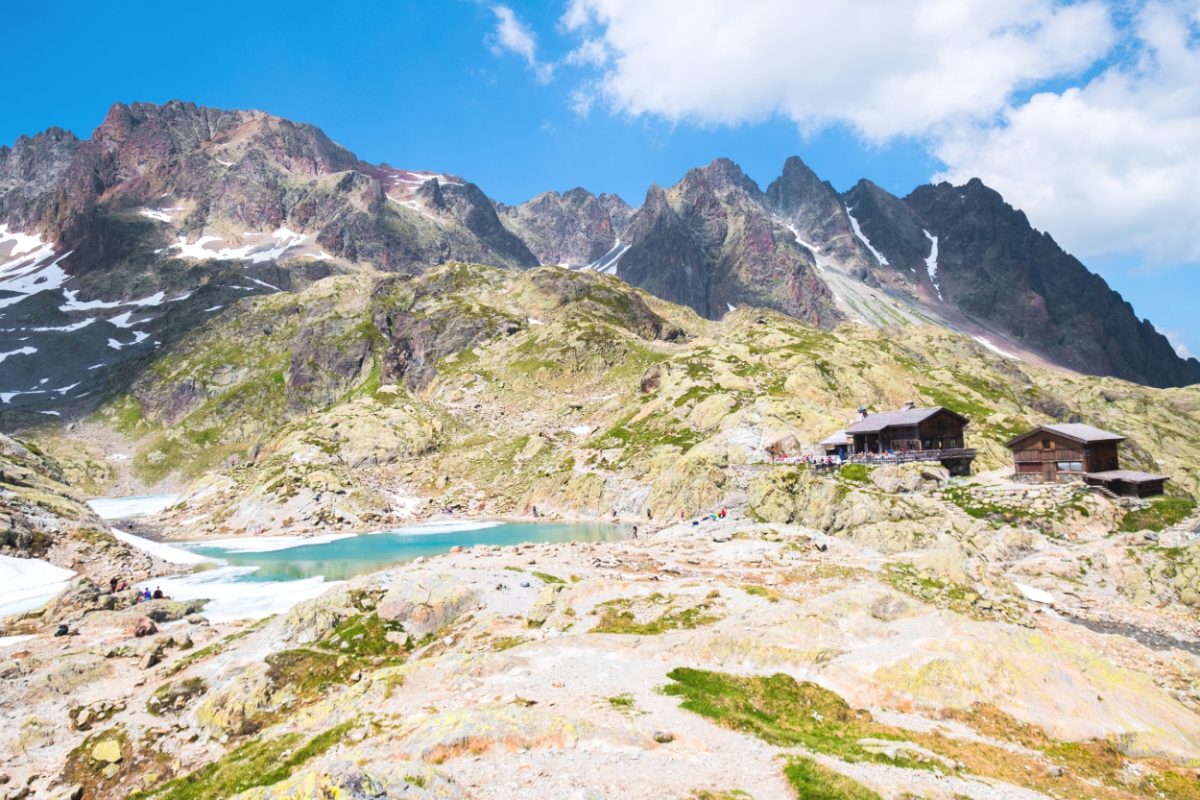 It takes about 3 hours of hiking to get to the lake, not including the cable car up and the chairlift down and time spent at the lake. To start, take the cable car from Chamonix to La Flégère and if you wish also a chairlift to L'Index.
12. Visit Merlet Animal Park
Merlet Animal Park is a 52-acre preserve sheltering more than 80 mountain animals in their natural habitat – without cages or fences. There re some hiking trails so you can explore it freely.
You'll be able to see a lot of deer, mouflons and other animals with a mountain view backdrop – don't skip it!
13. Eat Fondue
When in the area, you must eat Alpine food from Savoie, the region of France that encompasses Chamonix: fondue and raclette.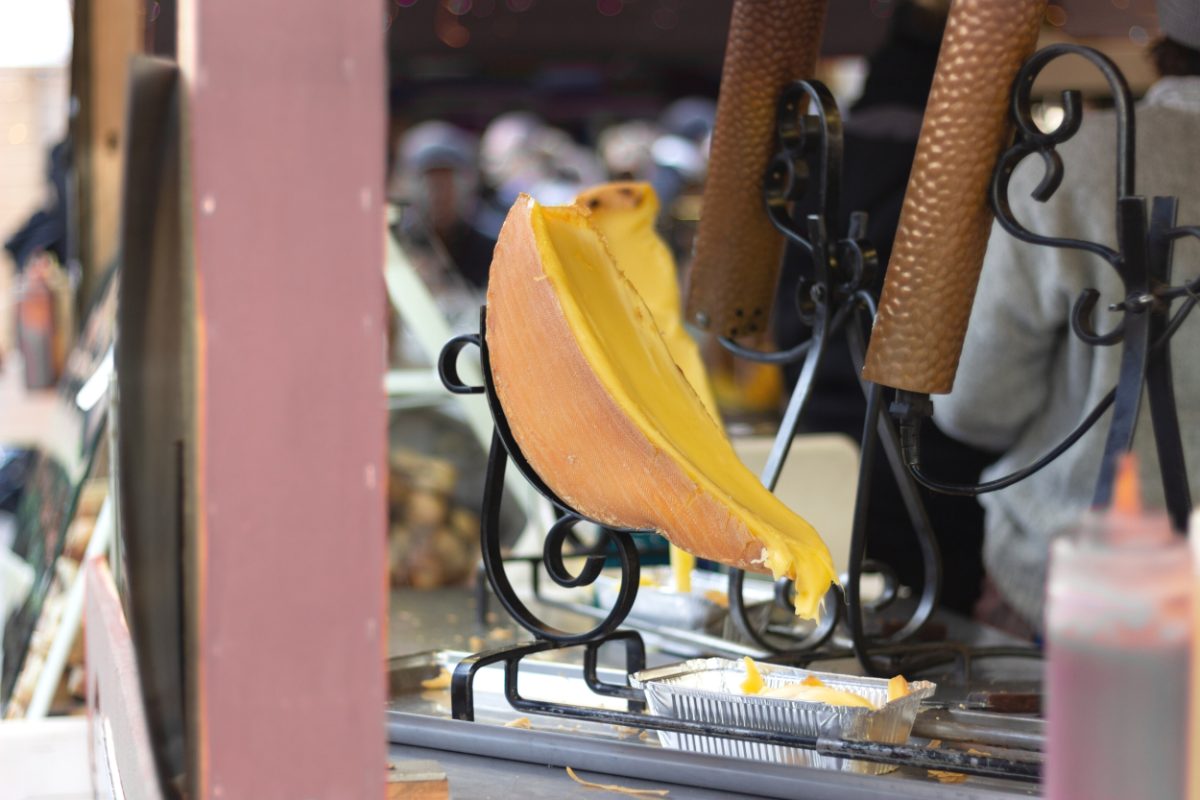 You know fondue but for those you haven't heard of raclette – it's a large, semi-hard wheel of cheese that you shave melted slices off of. A great place for it is .La Crémerie Des Aiguilles)
14. Shop The Markets
At Place Mont Blanc, in the center of Chamonix, there is a market that takes place all year on Saturdays.
And if you are here during Christmas and wish to bask in the holiday cheer, there is a Christmas market from the middle of December until the end. You can see parades, entertainers, food, gift shops, and more here!
---
Is Chamonix France Expensive?
Chamonix is a more expensive place in France due to the dining scene and the ski resorts. But, it's possible to enjoy Chamonix if you are on a budget too.
Dining out in France is expensive in general. But you don't always have to eat out to experience top-quality French food, as the neighboring supermarkets are also available. This will save you a good amount of money.
Lastly, the most expensive part of your trip will be the hotels. However, if you opt to visit in the off-season instead (fall and spring), you can save around 15% to 35% depending on the time you go and the place of your stay.