If you're wanting to visit a place that feels like you're in a fairytale, look no further than Colmar, France. Colmar is a quaint, adorable town located in the Alsace region of northeastern France.
Known for its colorful half-timbered houses and fantastic Christmas Markets, Colmar has captured the hearts of visitors for years.
Colmar is a great option for everyone. I visited first as a child and couldn't wait to revisit with our small kids and rest assured – it can be a totally family-friendly destination.
TIPS FOR VISITING COLMAR:
Plan to spend at least one night in Colmar. It's very quiet here during the early morning hours, with locals getting ready for the day, making this the best time to stroll the city streets crowd-free and take amazing photos.
Make your dinner reservations in advance during the day, especially if you will be in town during the high season. You can't just show up after restaurants reopen and expect to be seated – it's at least an hour's wait.
Eat breakfast at your accommodation. We thought we could just wander and find breakfast, but it proved to be immensely difficult. Most spots weren't open in the morning and very few that opened had only French croissants and nothing else and we received strange looks if we dared to ask about absolutely anything else for the kids.
If you're road-tripping around, check out the parking situation beforehand. If you're staying in downtown most apartments or hotels don't offer parking and parking in Colmar is hard to get. Some days the entire covered parking close down, or cars are being towed away – it's very confusing. Make sure to be patient when finding a spot and READ when you must leave this parking spot to avoid a disaster.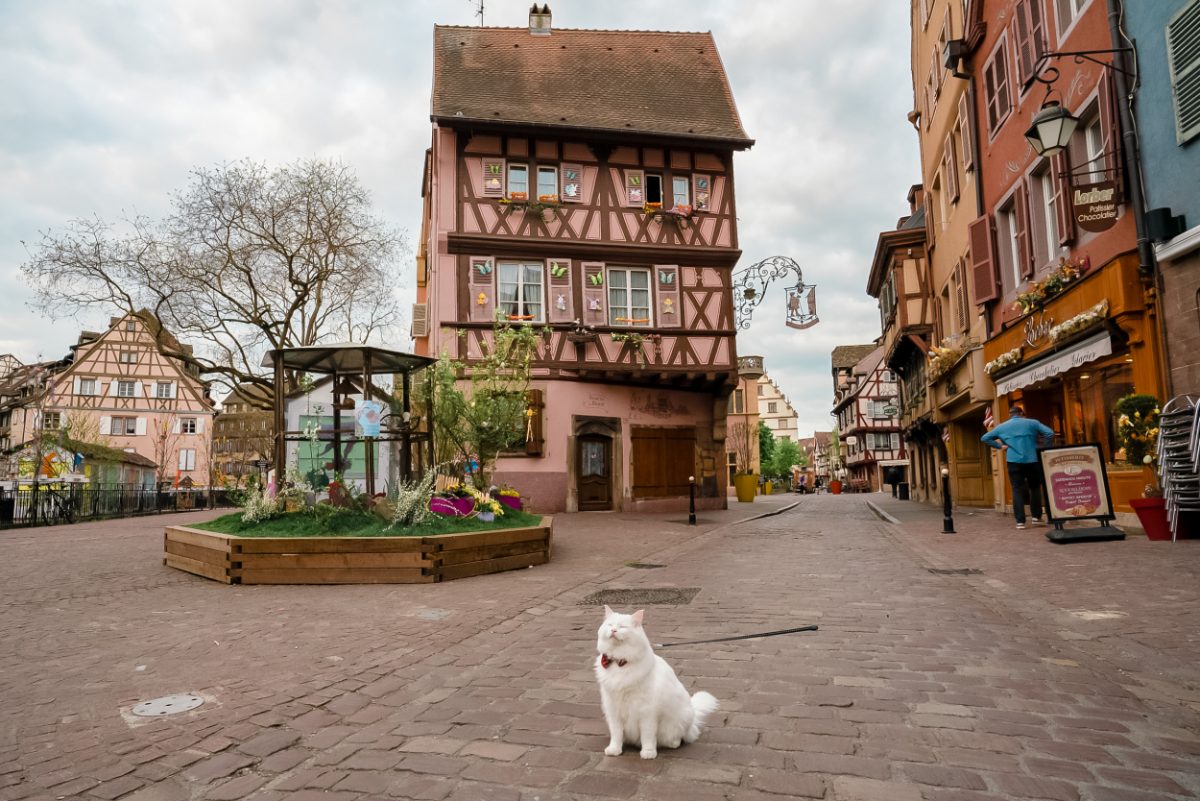 ---
Where to Stay in Colmar
The reason I want to talk about where to stay in Colmar first is that so many people don't actually stay in town, which I think is a big mistake! You can totally visit Colmar in one day, but the town is way more charming after all the day visitors leave.
Plus, it's right on the Alsatian Wine Route with many gorgeous villages around which makes it a perfect base for a few days!
Hotel Saint Martin – You cannot beat its location right in the middle of everything and lots of places to eat right on your doorstep. Yet, the rooms are quiet.
Le Colombier – Good location right above Little Venice canals and great modern rooms.
At home in the center of Colmar – Gorgeous self-catered apartment in the city center.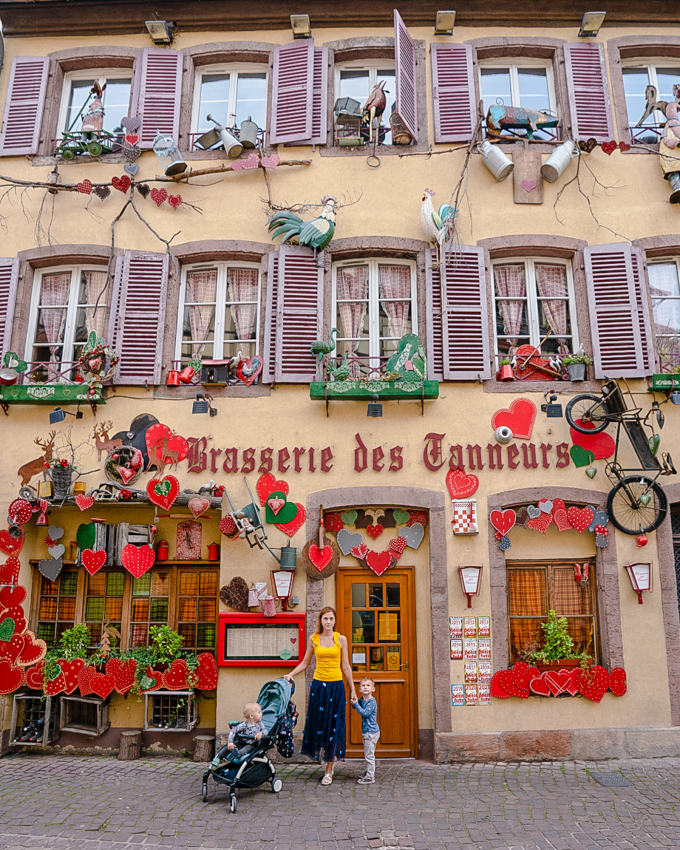 Best Time to Visit Colmar
Colmar can be visited year-round. It will be partially decorated at all times, regardless of the season.
The busiest times to be in Colmar are from late November through January when it's the famous Christmas market season. The whole area with neighboring towns turns into a winter wonderland.
While amazing, I actually think there are better times to visit Colmar – like right before Easter.
From late March through early April, the town is decorated for Easter and you can go shopping at the Easter markets. It's warm, crowds aren't as bad as during Christmas and it also opens many opportunities for biking around.
Late spring and early fall are shoulder seasons so crowds and hotel prices are lower.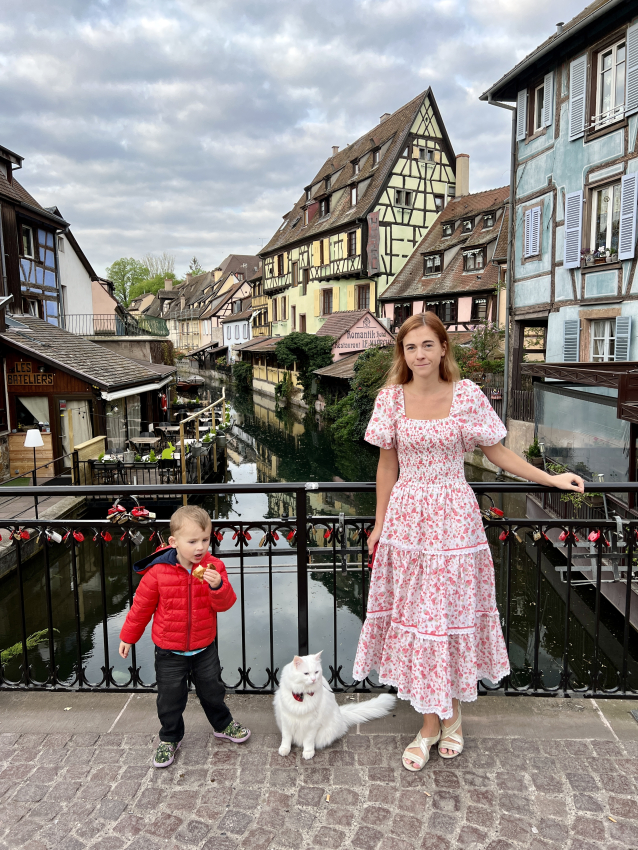 Best Things to Do in Colmar (points of interest)
Colmar was conquered by the French in 1673, but Germany claimed the whole Alsace region in 1871. It stayed German until after WWI when it was given back to the French, then was temporarily occupied by the Germans during the Second World War before being liberated by the French again. As a result, you can see French and German influences on architecture, food, and culture.
The single best thing you can do in Colmar is simply to wander the cobblestone streets. You'll feel like taking photos, it's so pretty! As you walk around this charming city, you'll begin to fall in love with the unique, colorful style of architecture.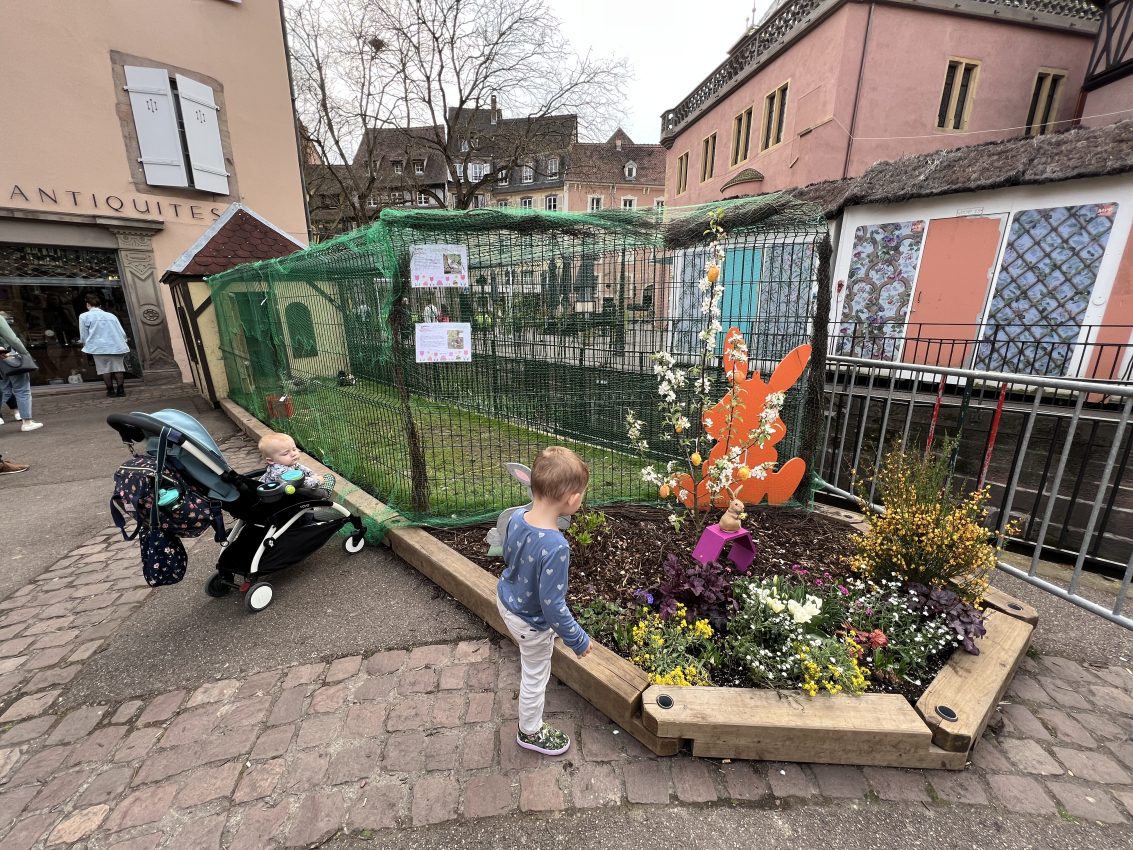 Old Town
You'll want to make sure you hit the most famous parts of town. Colmar doesn't have a huge list of must-see attractions, but what it does have is scenic spots by the bucketload.
Explore the cobblestoned streets and take a break in one of the many cafes lining the streets. Some buildings are decorated year-round with hanging lamps, clocks, and watering cans. Then for spring and winter, they go all-in on seasonal decor.
Stop by St. Martin's Church. It's a Roman Catholic church that has a colorful tiled roof and 13th-century stained glass dating back to the 13th century. The interior of the church has carvings in the dome and intricate altar decorations. You can either take in the amazing building from the outside or head inside to visit or go to a service on Sundays.
Another fun sight to see is a Manneken-Pis de Colmar. If you've been to Brussels you already know that there's a famous statue there of a peeing boy… Let me tell you, the Colmar's one doesn't pee!
It was gifted to Colmar by Brussels for the anniversary of the Liberation of Colmar. The reason why it cannot pee is that it isn't connected to a water source, which is quite strange because it stood against the public bath building with plenty of water.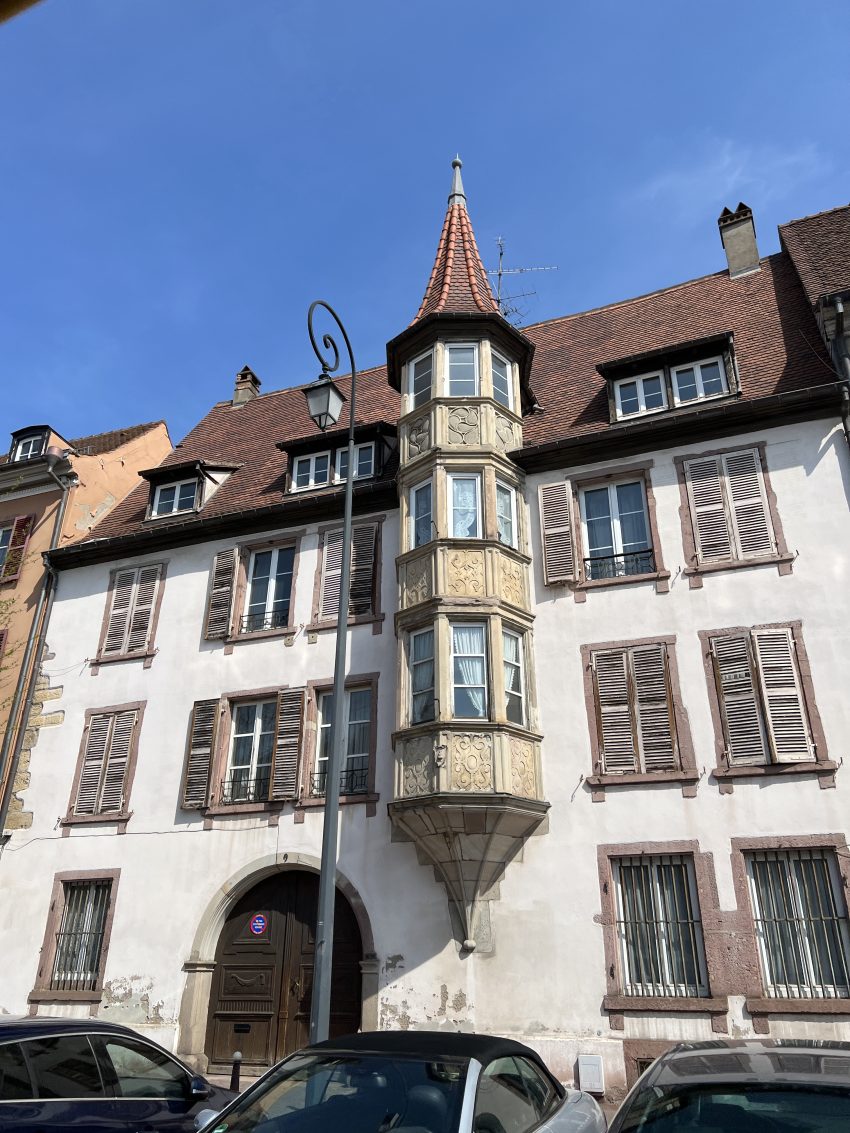 ---
La Petit Venice & the Fisherman's Quai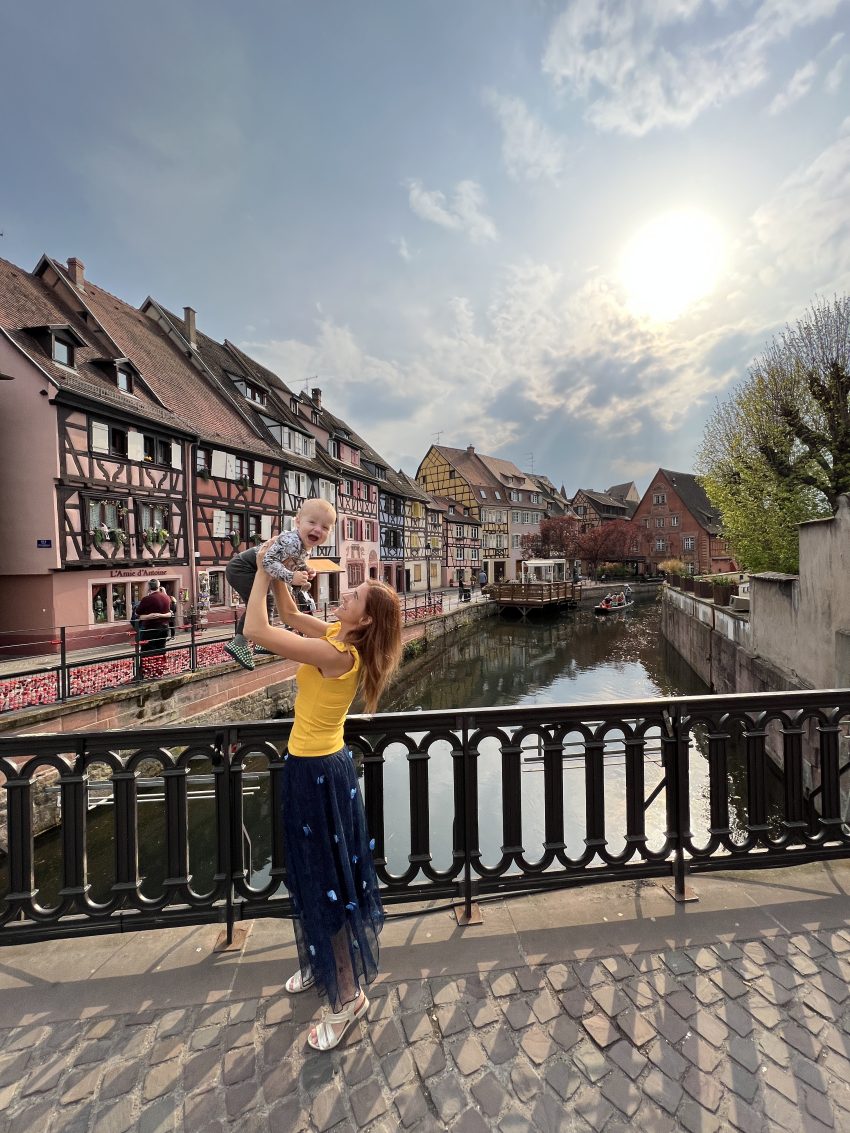 La Petite Venice in the old town of Colmar is where fishermen once lived and worked. This area of Colmar is the most popular and for good reason–it looks like you are in the middle of a fairytale movie!
Not only are their colorful houses that are straight out of a storybook, but they are all set along the Lauch River, giving this area the name "Little Venice" or "La Petite Venice". The story says that different colors were used to display different types of businesses – so for example if you were a fisherman your house was painted blue, or a butcher would have a red house.
As you wander around this area, you'll find quaint shops and cafes to pop into as you explore. Head to the bridge on Rue Turenne to find the iconic and most photographed view of the city.
Fun fact: Take a close look at the colorful window shutters as you pass them and you'll find different shapes cut out of the shutters. In old times, the cut-outs in the windows would signify the status of the people living inside (hearts on the windows meant the woman who lived in the house was single and was looking for love, while triangles represented fertility and would show a couple who wanted many kids).
---
Take a Boat Ride on the Lauch river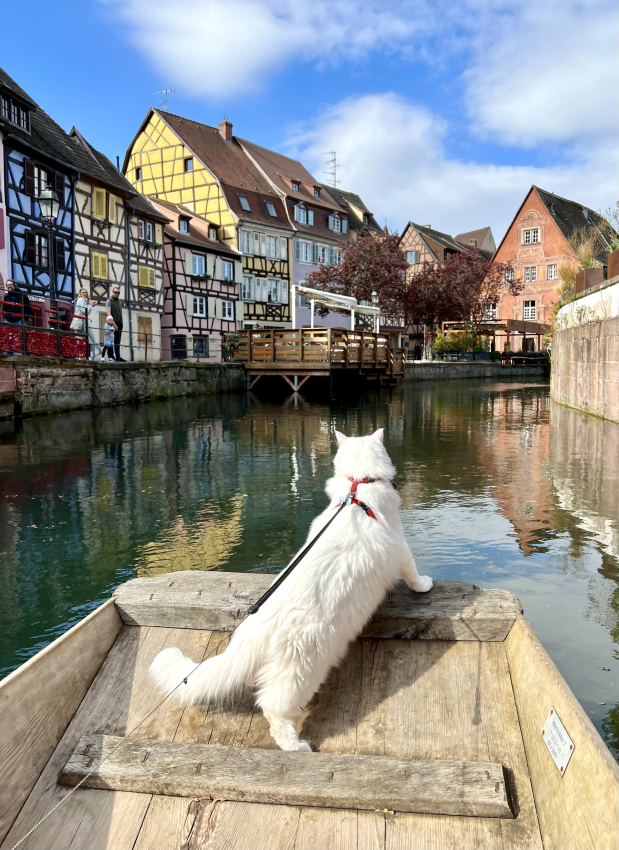 To see La Petite Venice, take a canal boat ride on the Lauch River. Each flat-bottomed boat will have a local tour guide to tell you fun facts about the city as you float down the river on the 30-minute cruise.
Boats depart every 15 minutes from the Saint-Pierre bridge. You'll cruise to the covered market on the far side of old town Colmar before turning around to head back to the departure spot.
In the summer there can be a long queue for the boats, so plan on heading there early or booking ahead of time to avoid a wait during the busy season.
Boats are family and pet friendly. We took our kids and cat on the boat and passed by quite a few dogs.
Take a Little Train Around Town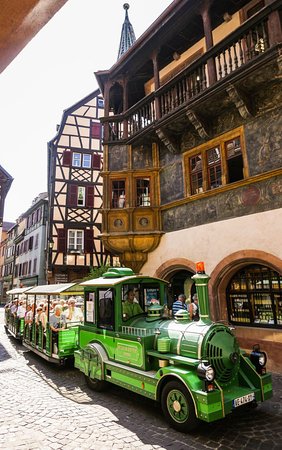 If you're tired, coming with kids who don't want to walk or want to be shown around town with a guide, there's a little train.
It will take you to places like Pfister house – a historic merchant house that dates back to the 16th century with interesting architecture, Koifhuis – a 15th-century Gothic-style building, a house with 111 sculptures of heads, and other points of interest.
We've done it with the kids and we were able to learn a lot about the history and discover points of interest that we could have missed otherwise.
The train leaves from this location and you buy the tickets on the spot. The tour takes 45 minutes.
See a Museum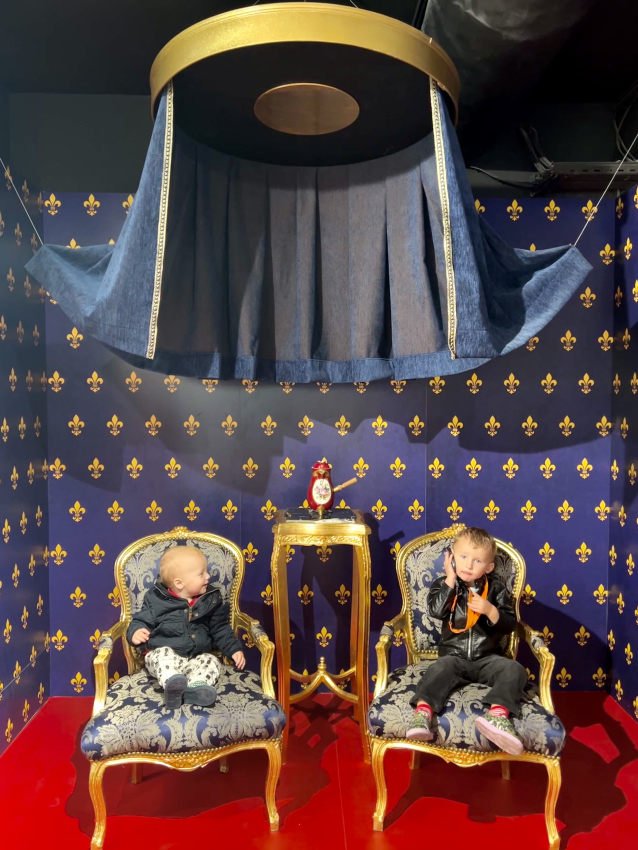 The town does have a few museums to explore, including the most famous one Unterlinden Museum with its 16th-century Isenheim Alterpiece.
There's also a Toy Museum, Bartholdi Museum, and a Choco Story Chocolate Museum. The Chocolate Museum was surprisingly fun with the kids.
---
Try Traditional Alsatian Food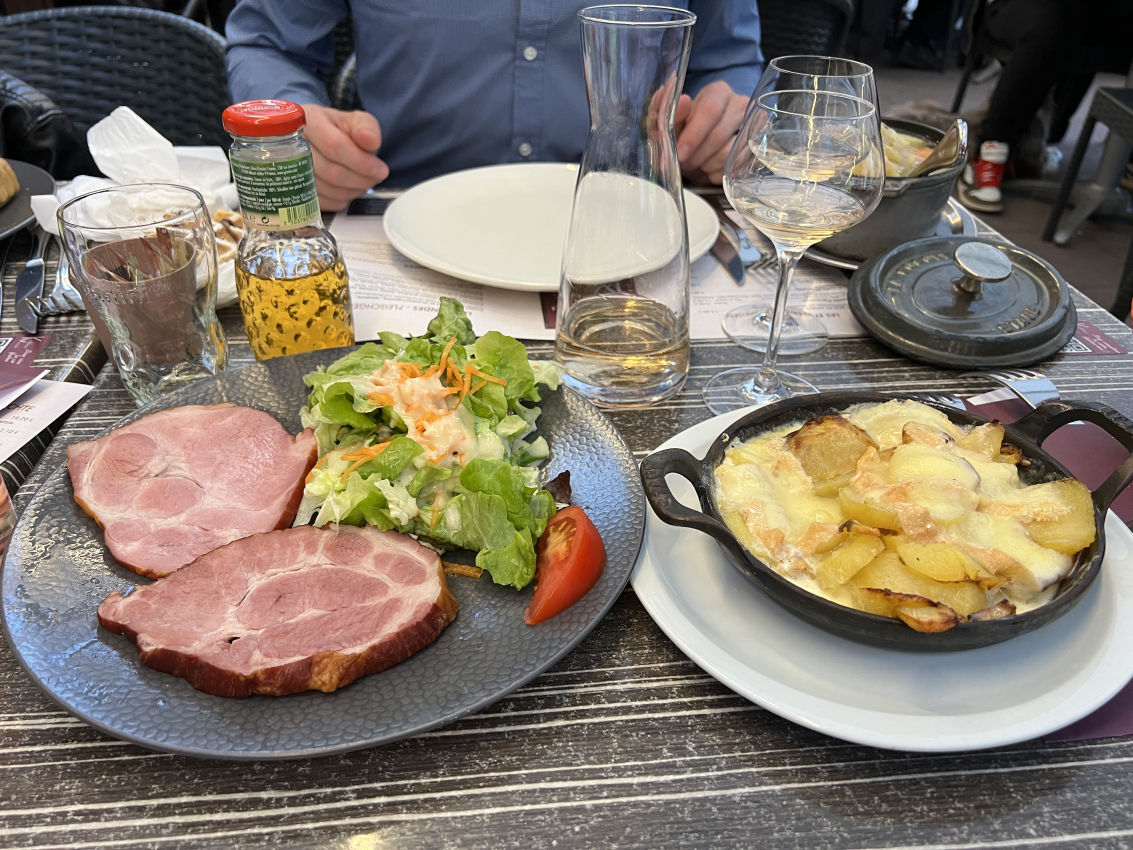 There are many delicious traditional Alsace foods to try during your time in Colmar. The flammkuchen or tarte flambee, is a tasty dish kind of like a thin-crust pizza. It's topped with a creamy cheese spread and a variety of toppings.
Another local favorite is the Coq au Riesling. It's chicken, garlic, and onions cooked in a Riesling cream sauce.
Another local dish is the Choucroûte garnie, which is a German sauerkraut usually served with potatoes and fermented cabbage. Lastly, don't miss out on a Bretzel, a soft baked pretzel with a variety of toppings, or the tarte aux poires, a pastry filled with egg custard and baked pears.
---
Get a Unique Souvenir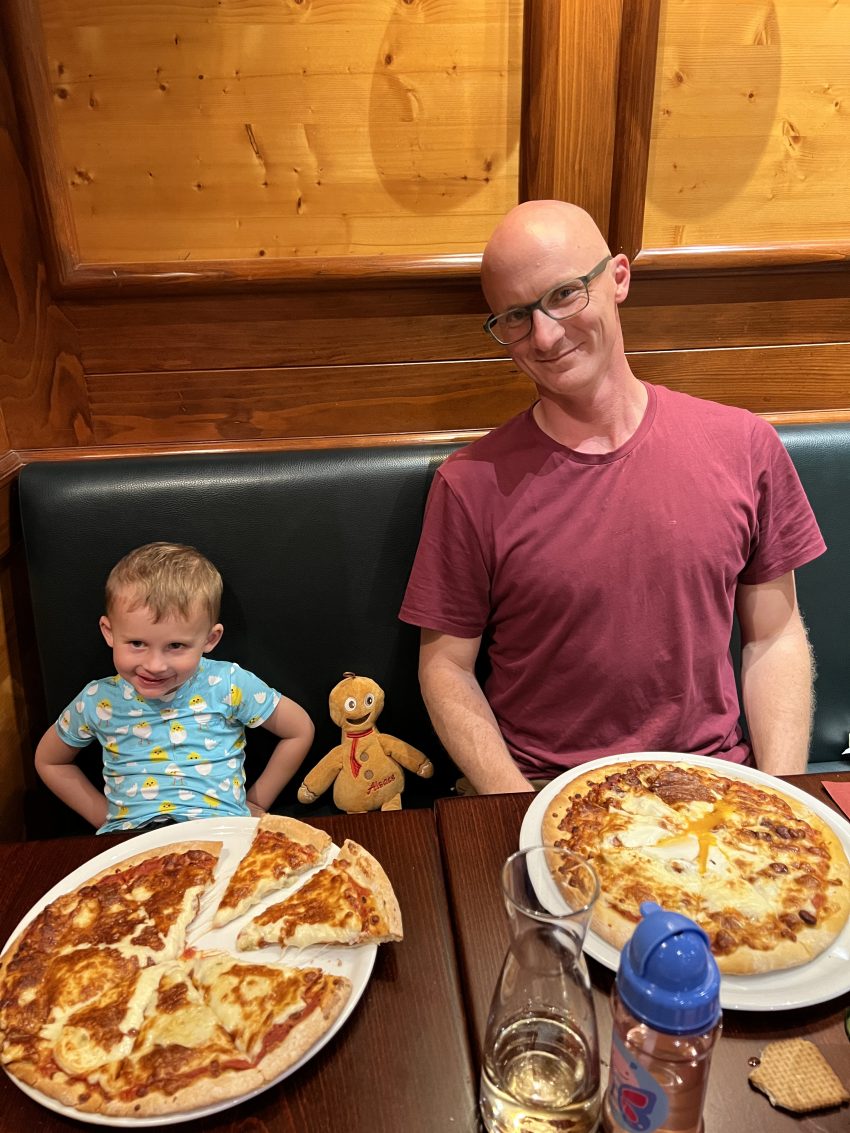 In Colmar, everything is picturesque and as a result, there are many boutiques selling little crafts and unique gifts.
The most unique one is a little handmade house, a handpainted replica of Colmar's building, sold for years by a man who opens his window. The building is famous and called Maison dite "au Pèlerin" but it's really not a store – it's just a local that opens his private window (the one on the left side) and sells his crafts.
You'll also notice many storks – stuffed, figurines, on things. Alsatians consider the storks to be the bringer of luck and wealth, and for the many winemakers of the region, they also bring a year of good harvest, meaning more wine for everyone.
My son, however, decided to get a gingerbread stuffie instead of a stork, and let me tell you… it's his favorite lovey. "Breadie" travels with us everywhere now so I can say we bring a piece of Colamr with us wherever we go 😉
---
Ride the Largest Carousel in Europe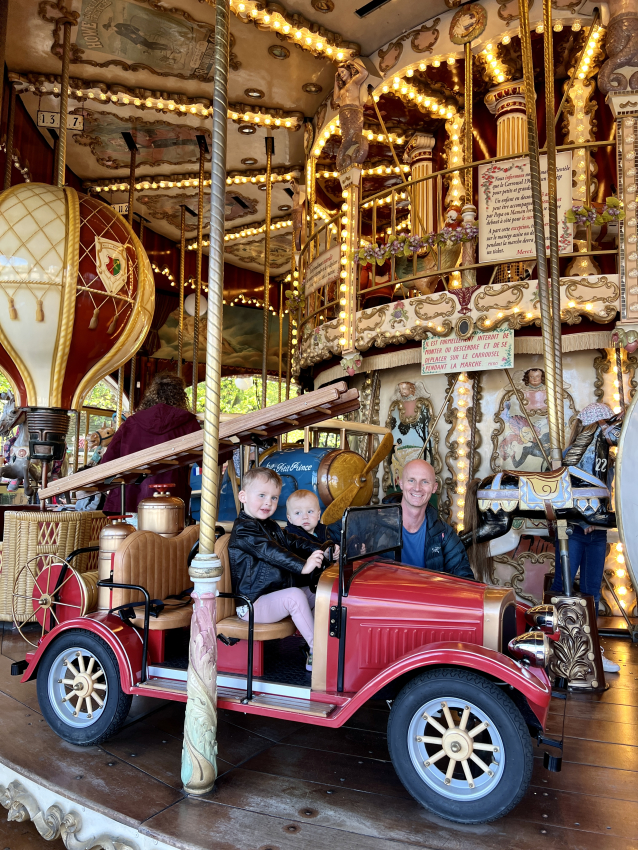 I've never found any information about it anywhere and stumbled upon it by accident. This beautiful carousel is located in a corner of the park Champ-de-Mars in Colmar. According to several sources, it is the largest of its kind in Europe and it dates back to 1990s.
It's not just for kids! The outside of the carousel is decorated with reproductions of paintings by Toulouse Lautrec and scenic pictures of the old Colmar, which adults will appreciate.
As the whole carousel is covered behind glass windows it is operational all year round. There are so many fun things to ride my kids didn't want to get off it.
It costs 2.20 EUR for a single ride of 10 EUR for 12 rides.
Colmar Covered Market (Marché Couvert)
On the far end of La Petite Venice you'll find a beautiful red and orange building along the river that's likely buzzing with people. The Marche Couvert (Covered Market) of Colmar is a popular place to visit while in Colmar.
Inside you'll find vendors selling fruits, vegetables, and local delicacies. Head here to grab some groceries from local vendors or try some authentic Alsace food.
There's a great restaurant on the back patio called La Terrasse du Marche. Head here for lunch or dinner and watch the boats float along the river as you eat. It's a beautiful location to enjoy a few hours while watching the people of Colmar pass by!
---
Markets (Seasonal)
Colmar Christmas Markets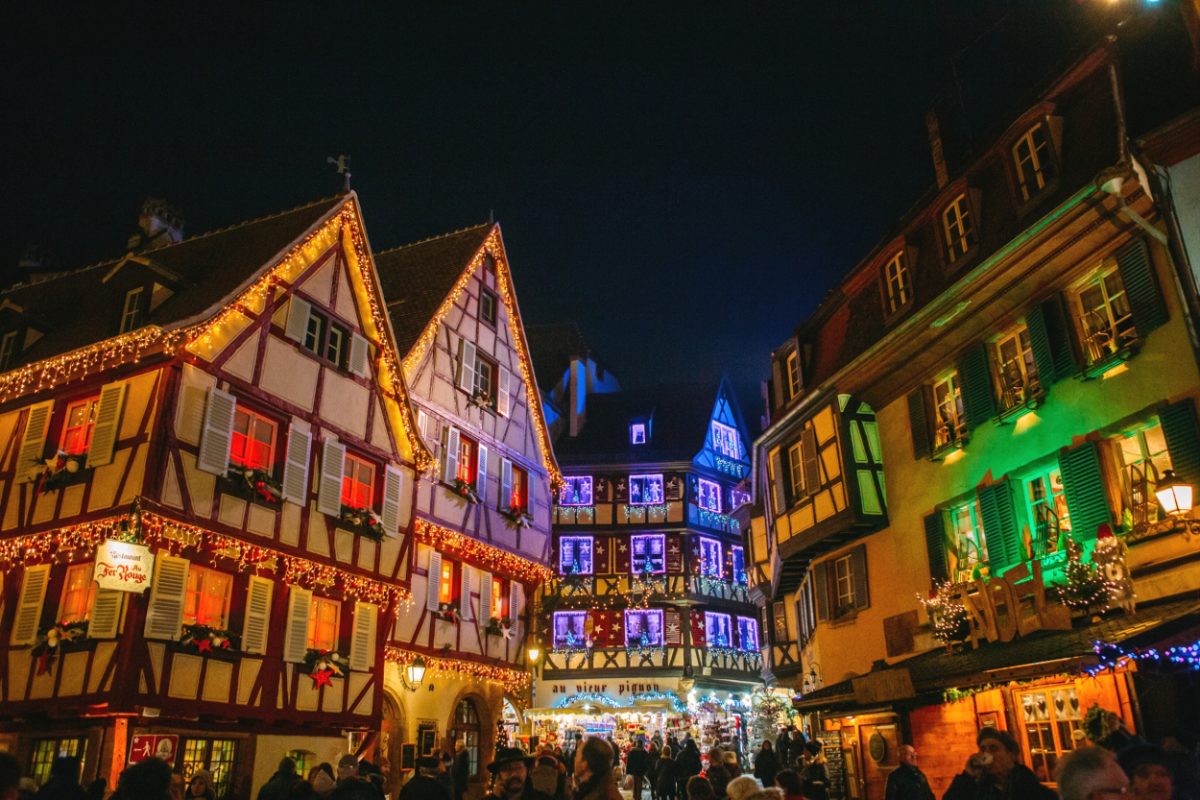 These markets will not only get you in the holiday spirit but also take your breath away in wonder. Stroll through the stalls and do your Christmas shopping from local artists and vendors while enjoying delicious Alsatian food and drinks. The Christmas markets in Colmar are often referred to as some of the best Christmas markets in all of Europe!
The markets run for about 5 weeks from late November through the first week in January. If you're here during the season, it's a great idea to plan a few days and visit the other Christmas markets in the nearby villages. Eguisheim, Riquewihr, and Kaysersberg are all great options in the region.
Colmar is magical throughout the year, but it's especially magical at Christmas time.
Colmar Easter Markets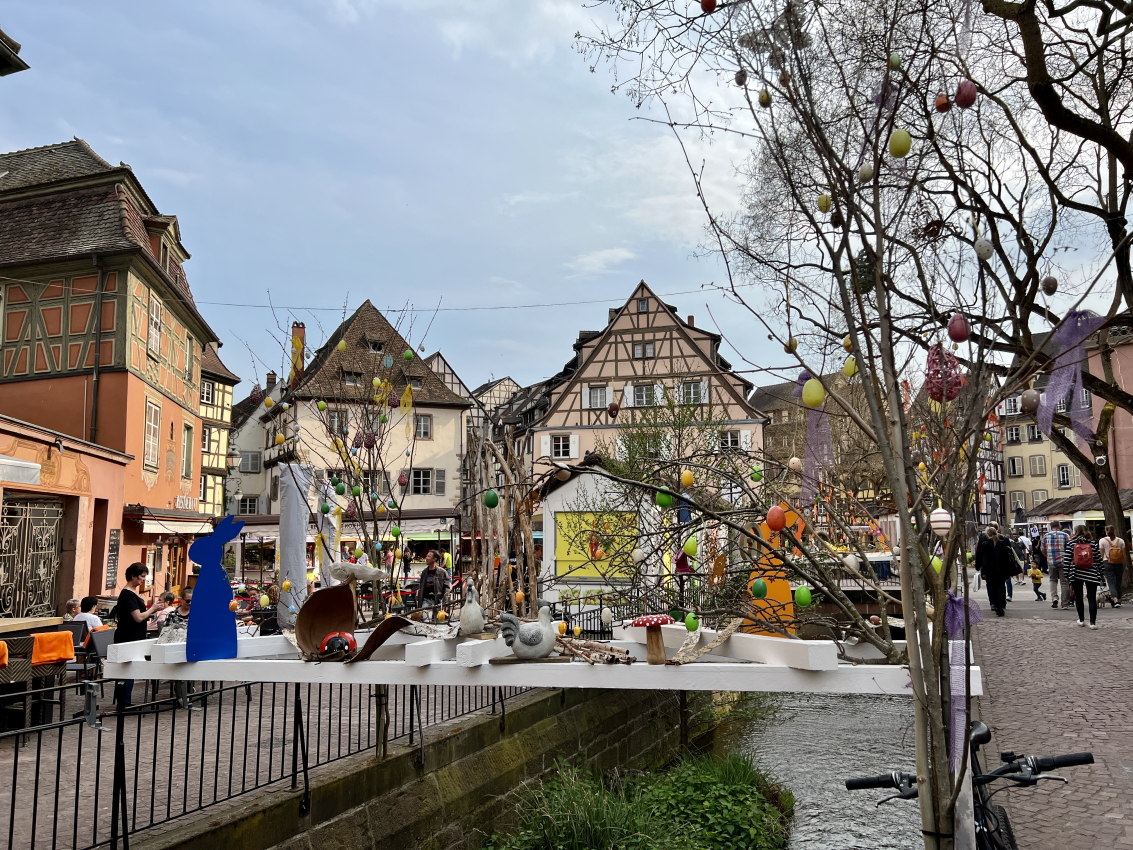 Colmar is not only known for its Christmas markets, but also offers a great Easter market in the spring! Throughout the month of March and April, head to the square on Place des Dominicains and Place de l'Ancienne Douane to find over 60 vendors.
Though it's smaller than the Christmas market (but also means fewer crowds), you'll still be able to find handmade gifts, toys, gourmet delicacies, and other local products plus adorable Easter decorations all over the city. There are also baby animals everywhere.
Practical Tips for Visiting Colmar Christmas Market & Colmar Easter Market:
There's nowhere to sit and eat the food that you buy from stalls. There are however empty spots within the town that tourists seem to omit with plenty of side curbsides to sit and eat in peace. There's one quiet courtyard just by the fountains (sort of around there).
There is a playground in Colmar. Kids might need a break and I'm happy to report that there is a playground in Colmar. It's literally 5 minutes away from the market and it's quite fun for all ages (it's actually 2 playgrounds connected).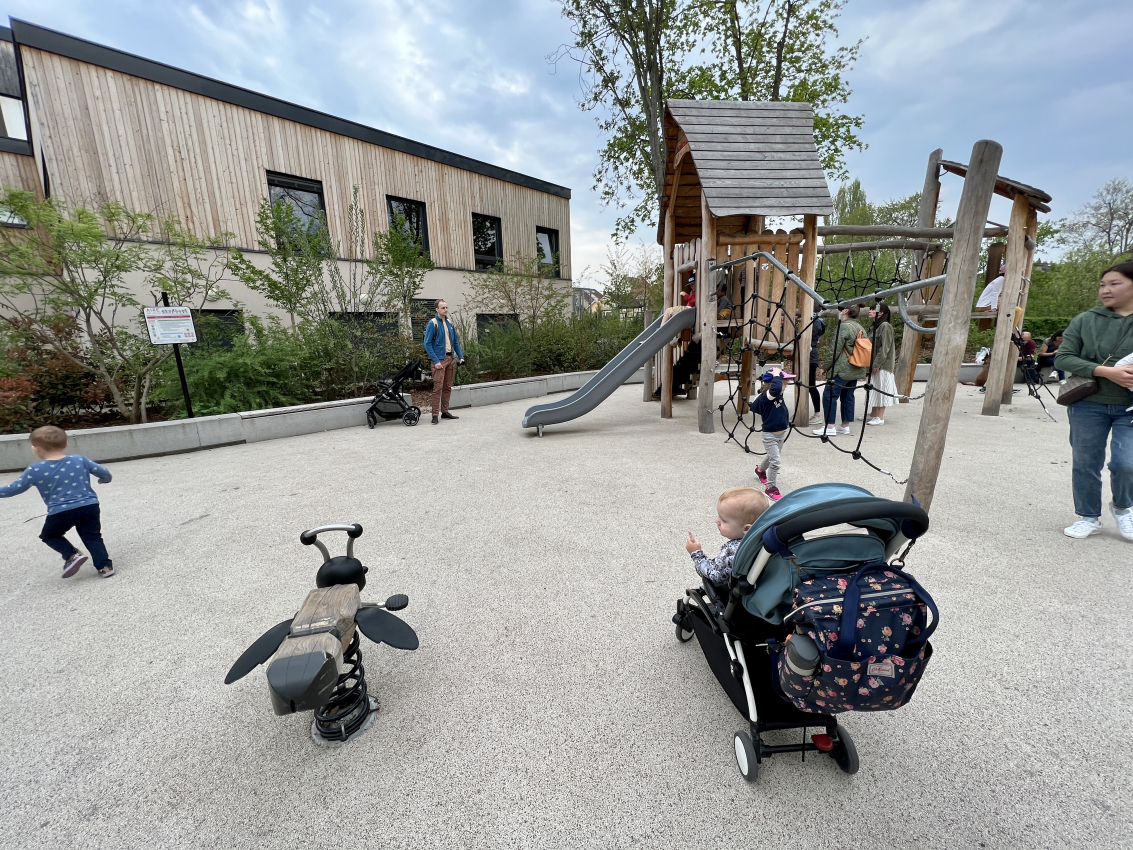 ---
Day Trips from Colmar
The region of Colmar is located in Alsace, which is known for its excellent wines. The Alsace Wine Route is France's oldest wine route and passes through Colmar as it winds its way through 170 km worth of beautiful landscapes, charming villages, and vineyards. This region is known for making Riesling, Pinot Gris and Pinot Blanc wines.
During Christmas and Easter, they also have their own markets.
You can easily day trip to these towns either by car or by bicycle. Or an organized tour combining all these towns (which is a good idea because finding parking is a nightmare). It's honestly a must-do when visiting Colmar.