Mexico's Yucatan Peninsula has the world's largest number of underground sinkholes and caves called cenotes. After years of living there, I've visited many cenotes in Mexico and wanted to share my favorites with you.
Some of Mexico's cenotes are open like a lake, others are almost completely underground with only a small opening. There are more than 6000 cenotes in the Yucatan, so you have plenty of options to choose from.
Many cenotes are inhabited by colorful fish, some have cliffs to jump from or even built-in ziplines.
There are many great cenotes near Cancun, Playa del Carmen, Tulum, Valladolid and Merida, so you can easily find a number of cenotes to visit during your trip. Here are my recommendations for the best cenotes in Mexico.
---
What Is A Cenote?
A cenote (Mayan dzonot, "well") is the word used to describe a natural pit made with a lime rock that has groundwater underneath. They were formed by naturally-acidic rain filtering down over thousands of years and dissolving away the limestone.
Mayans believed that cenotes were an entrance to the underworld, so they were often used for sacrifices, both human and material ones. In fact, at the Sacred Cenote found within Chichén-Itzá, archeologists have found many important ceramics, jewelry and bones.
IMPORTANT: At the cenotes in Mexico, you'll be asked to swim without any lotions or creams on your skin at all, as can poison fish, sea plants, and other delicate marine life.
You will live after being exposed to the sun for a bit, but sadly other creates will not survive if you infect their natural habitat with a sunscreen. However, you can get a biodegradable sunscreen at some cenotes.
Please note: all prices are in Mexican Pesos (MXN). Prices increase all the time, so please keep in mind that it might be slightly higher. Be prepared.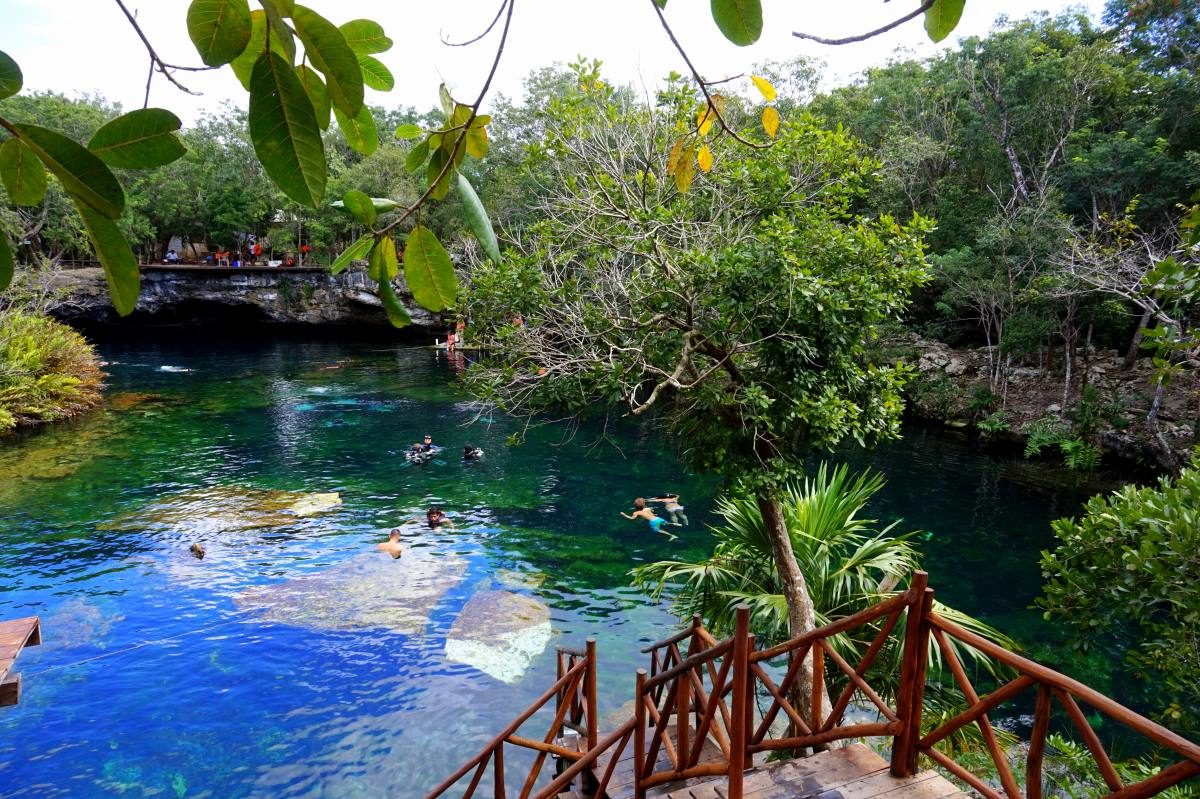 I highly recommend skipping bus tours to cenotes in Mexico and getting a taxi or rental car instead. That way you'll be able to spend more time at each cenote and won't be arriving with a big group of people. Some cenotes are big, so it can get really crowded when a tour bus shows up.
If you want to rent a car, the best site to book your car is Discover Cars. They offer competitive rates as it searches all the big car rental companies and finds the best price.
You can read more about what to pay attention to when renting a car in Mexico and things to know before renting a car in Mexico in my other article.
---
1. Cenote Dos Ojos
Located just 15 minutes drive from Tulum, Cenote Dos Ojos is one of the largest and probably one of the most famous cenotes in Mexico. The cave system of the cenote is known to be at least 61 km and 118 m deep.
As the name 'two eyes' indicates this Mexican cenote is divided into two sections: one with blue waters perfect for snorkeling and the other dark one for diving.
Open: daily 9am-5pm
Price: 380+ for snorkeling + 130 for diving
How to get there? You can take a colectivo from Tulum towards Playa del Carmen and ask the driver to drop you off at the cenote.
---
2. Gran Cenote
Gran Cenote is a perfect cenote for everyone with its sandy bottom and bats living in the cave. The center garden includes palm trees, water lilies and elephant ears with a platform for sunbathing. Keep an eye out for toucans if you happen to be visiting during January or February as they tend to pop out of nowhere sometimes.
Open: daily 9am-5pm
Price: 180 Pesos + options 30 Pesos locker rental
How to get there? You can take a colectivo from Tulum towards Coba and ask the driver to drop you off at the cenote.
---
3. Cenote Azul
Cenote Azul is one of my favorite cenotes. It's 26 meters deep and has crystal clear water perfect for swimming in. You can also meet some iguanas living in the bushes around. Although the place can get quite crowded everyone can find a spot to either relax or jump from a cliff.
There are plenty of fish that will swim around your legs, so be prepared to be tickled a lot. If you can hold your breath for long enough there is a small underwater cave passage that you can free dive through.
Here is my full guide to visiting Cenote Azul.
Open: daily excl. Saturday 9am-5pm
Price: 120 Pesos
How to get there? All three cenotes (Azul, Eden, Cristalino) are just 20 minutes away from Playa by public transportation. In order to get there, you need to jump on a colectivo – a Mexican minibus. You can take them from a stand located on Calle 2 Norte between Avenida 15 and 20 and ask the driver to drop you off at one you want to go to.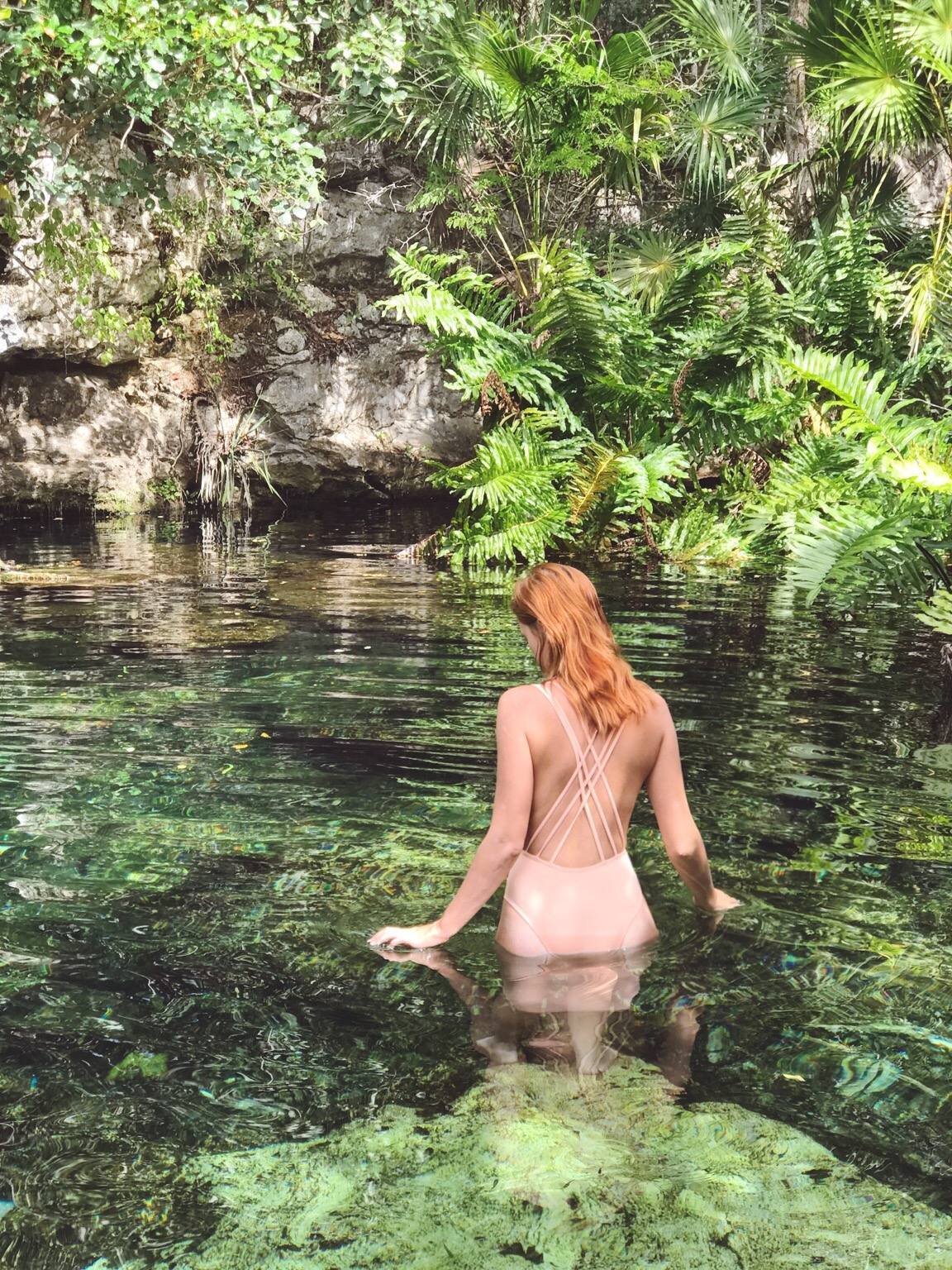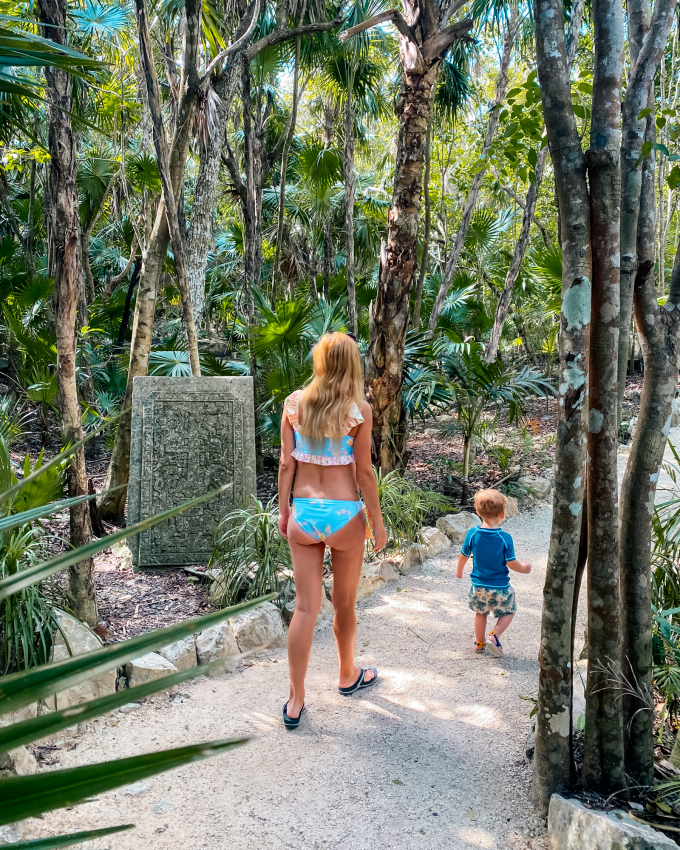 ---
4. Cenote Jardin del Eden
Considered one of the most beautiful cenote near Playa del Carmen. You can jump off the climb or even a tree and chill on a terrace right above the cenote. The water is clear and you can find huge rocks in the center where you can swim to and rest.
While you sit there little fish will come to you and eat the dead skin – just like at the "fish spas" on 5th Avenue in Playa del Carmen.
Open: daily 9am-5pm
Price: 150 MXN
How to get there? Look up Cenote Azul.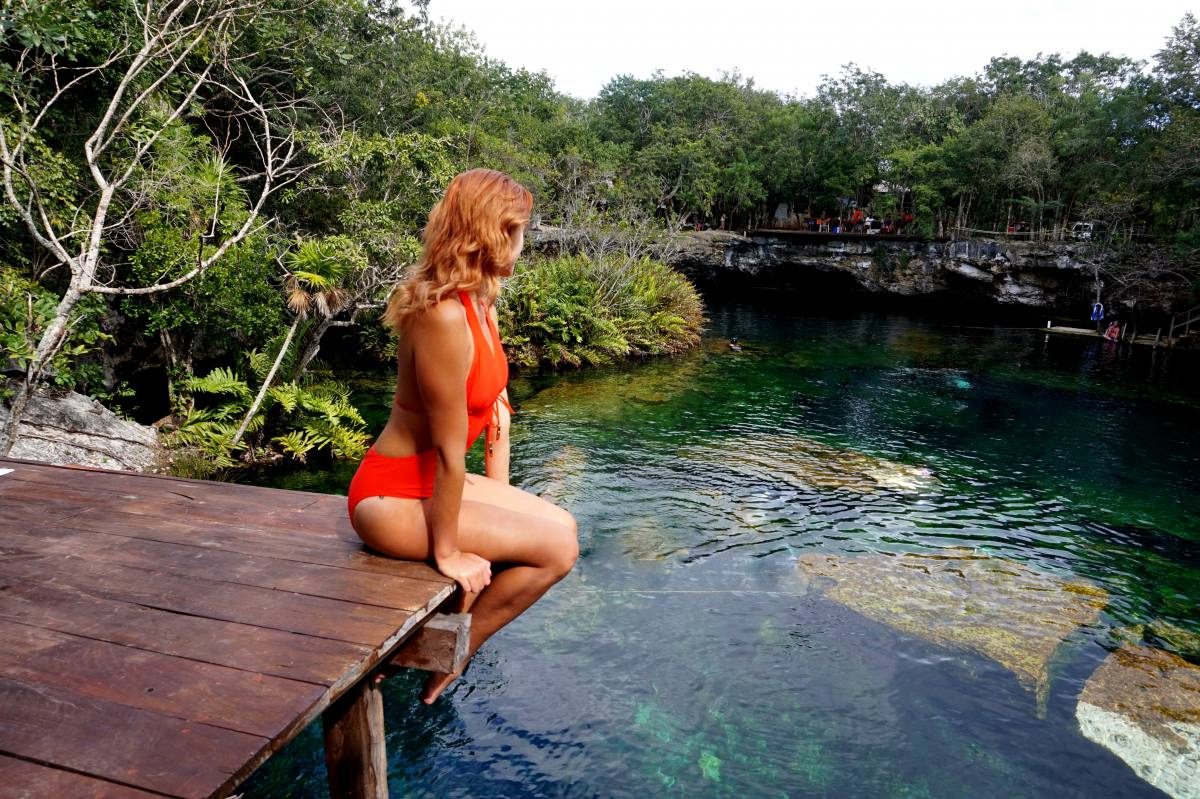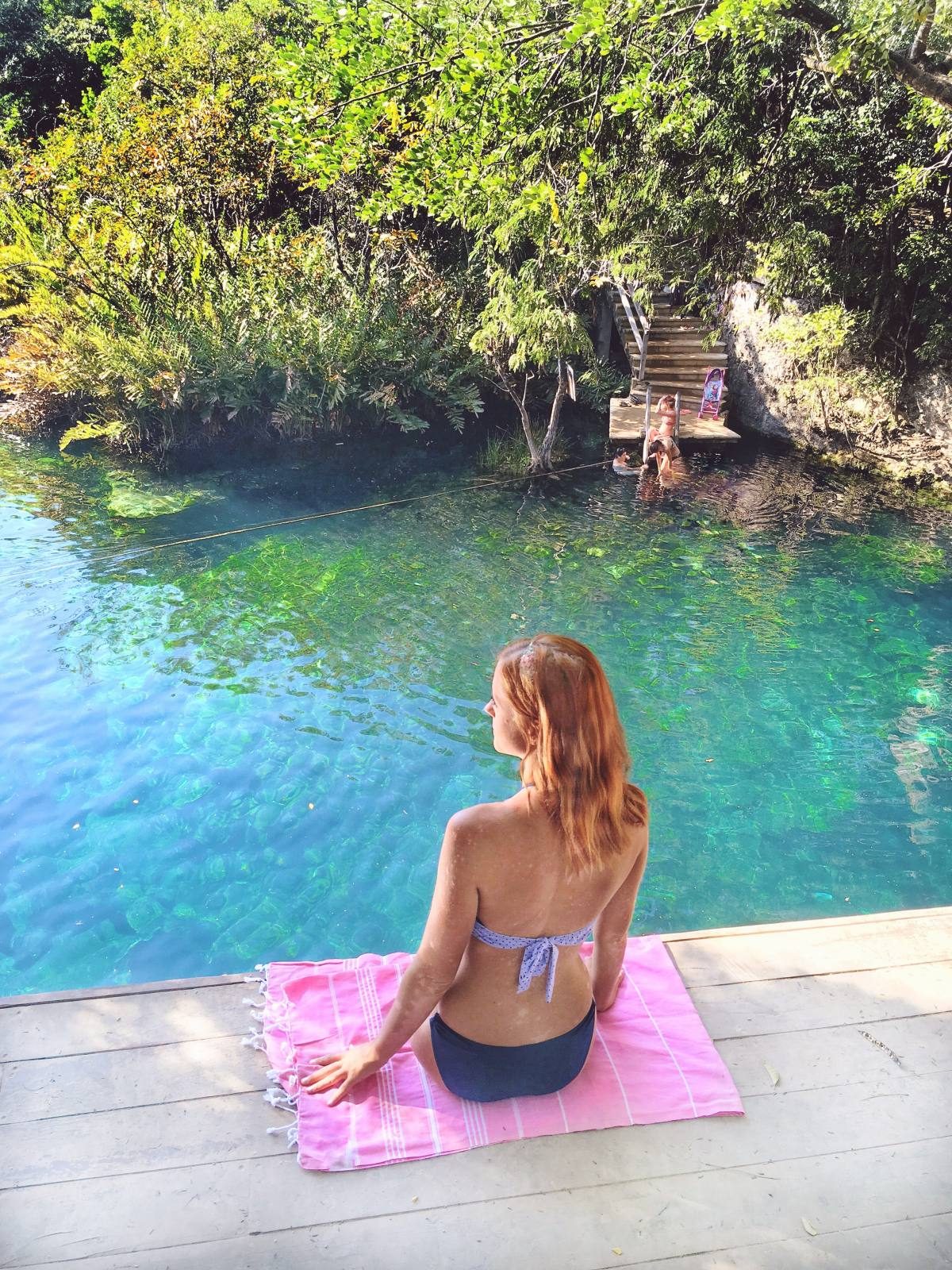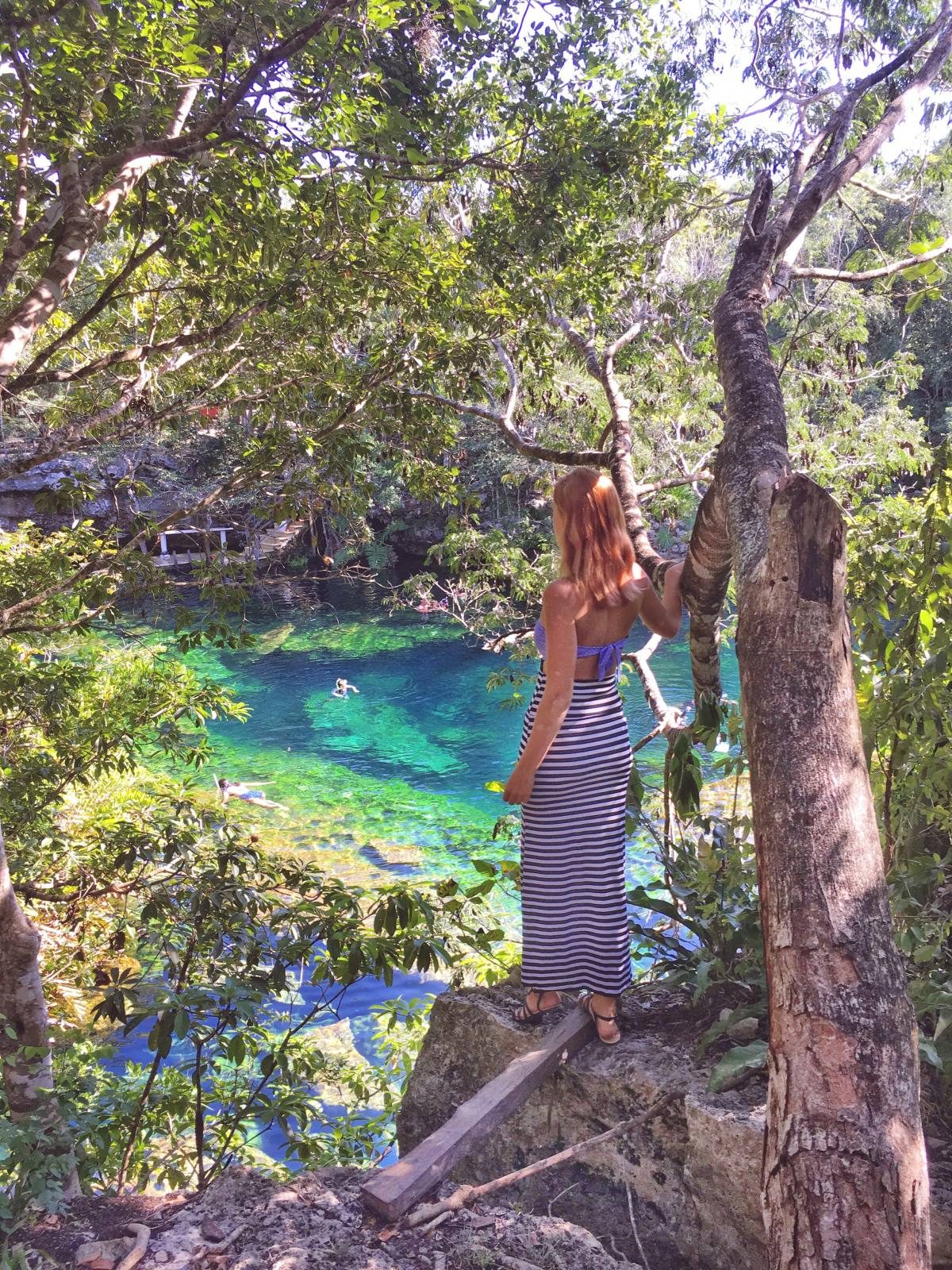 ---
5. Carwash Cenote
This cenote with a mysterious name is in Tulum, on the way to Coba. I was convinced that someone named it after many amazing plants, but I was wrong. This cenote is so close to the main road that people used to wash their cars there! Fortunately, it's not happening anymore and now you can snorkel and dive in it.
Carwash has some incredible caves, so make sure you do some diving. However, even if you snorkel you'll see a ton of fantastic water lilies, turtles, and fish.
Open: daily 9am-4pm
Price: 50 Pesos
How to get there? You can get a colectivo from Tulum towards Coba – ask the driver to drop you off at Carwash cenote. If you're driving from Tulum towards Coba it will show up on your left side, very close to the road.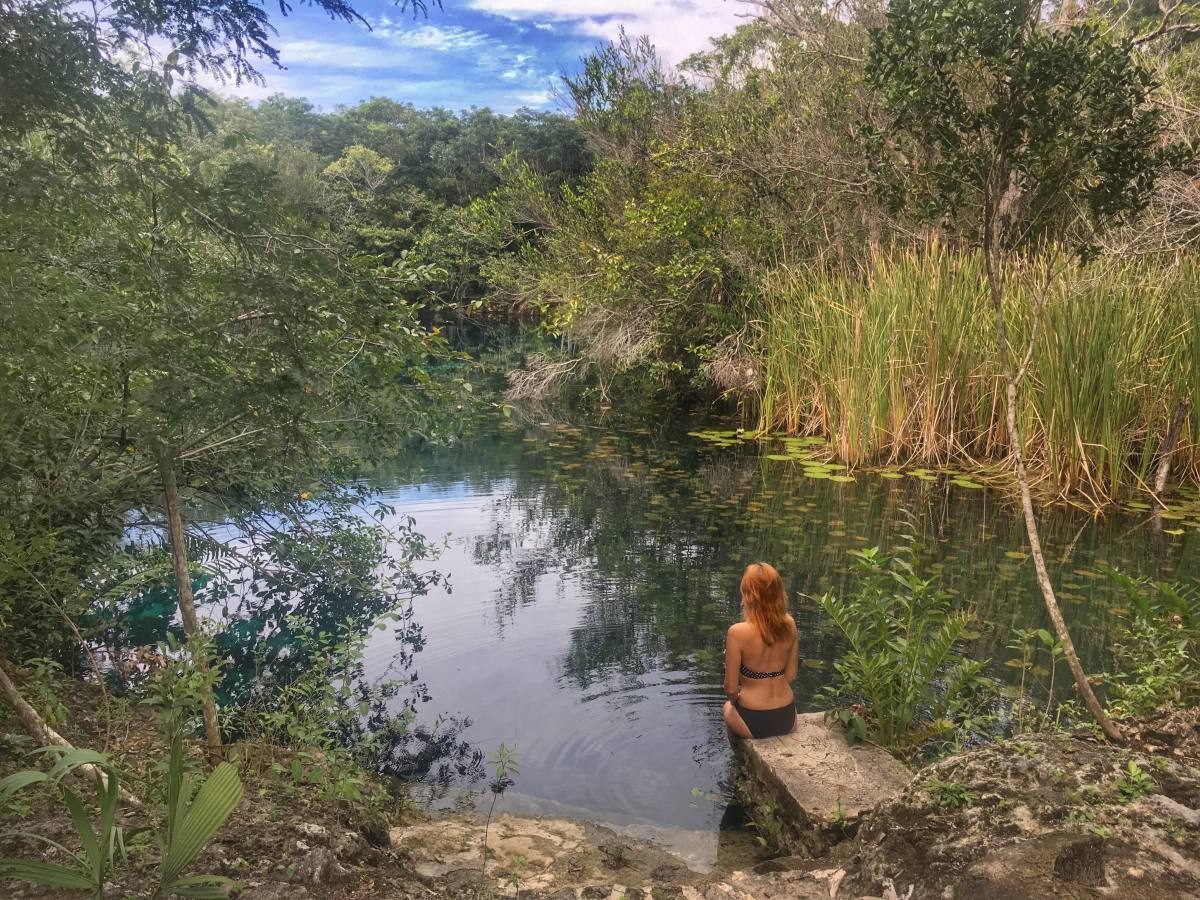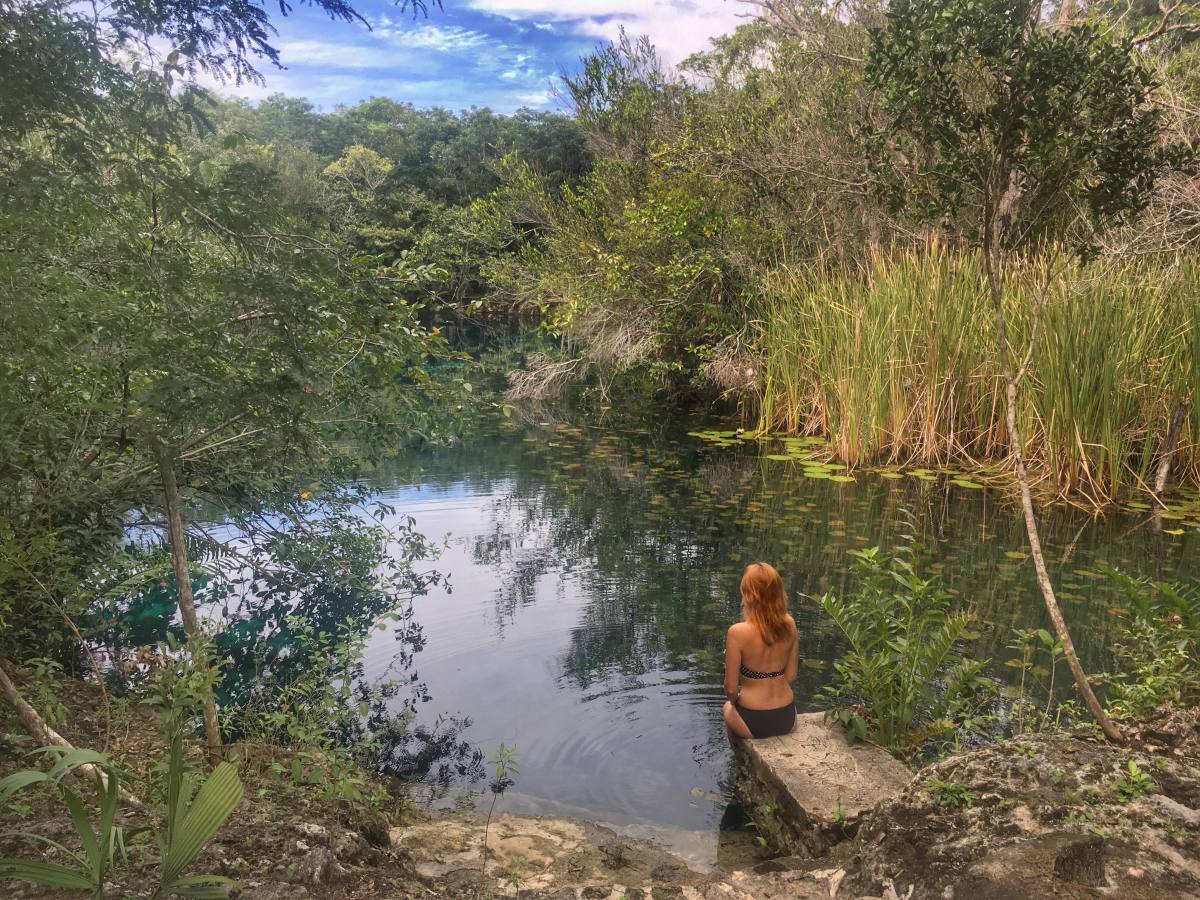 ---
6. Cenote Calavera
Cenote Calavera, also known as The Temple of Doom cenote, was a little cenote that no one really cared much a few years ago, but since it became Instagram-famous about two years ago now it's always full of visitors and often considered on the of the best cenotes to visit in Riviera Maya.
It has a ladder and rope you can swing on. I know you can dive there as well, but it depends on the availability.
Open: daily 9am-5pm
Price: 100 MXN
How to get there? Colectivo from Tulum is the best option as it's next to Dos Ojos.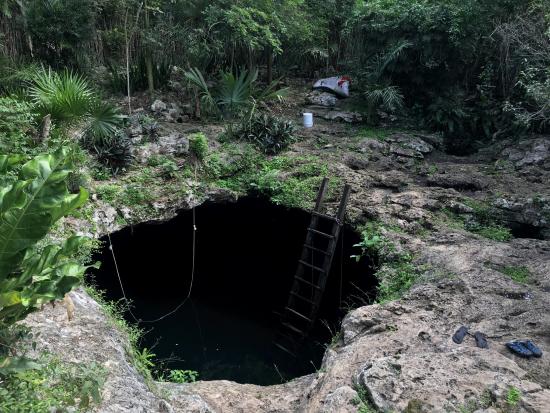 ---
7. Cenote Cristalino
Cenote Cristalino is one of the groups of three cenotes next to each other, along with Azul and Jardin del Eden. This cenote has a half-cave you can swim through and see a contrast between the lighten up water and the one from the cave.
Open: daily 9am-6:30pm
Price: 120 MXN
How to get there? Look up Cenote Azul.
8. Cenote Yax Kin
Great cenote for some peace and quiet, also best with little kids because it has lots of shallow and flat parts so kids can wander around.
You can also camp there on a designated camping spot with facilities.
Open: daily 9am-5pm
Price: 150 MXN
How to get there? It's on right side of the highway coming from PdC to Tulum, more or less half way through.
---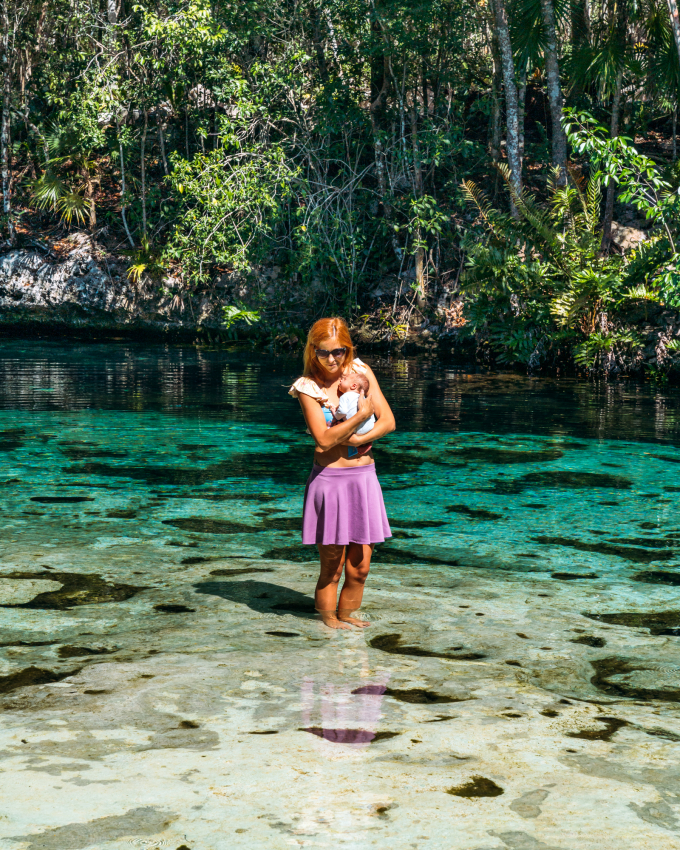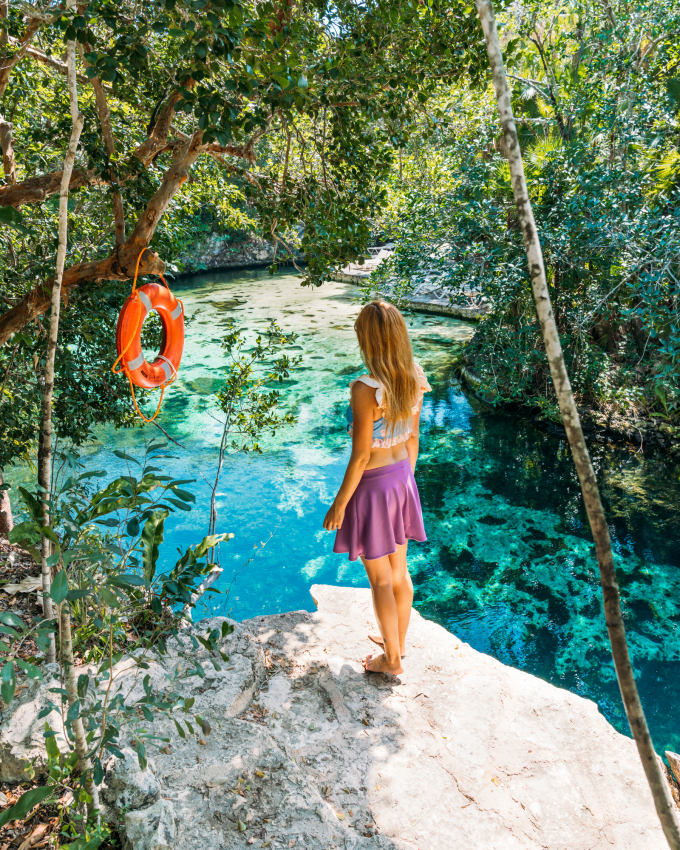 ---
9. El Pit Cenote
Located in the jungle, The Pit is an exceptional cenote that's part of Dos Ojos. It's also one of the deepest in the area. The entrance is steep and narrow what makes the whole experience even more exciting.
El Pit continues deep below the cloud and narrows into darkness down to over 40m so you'll need a flashlight. It's one of the best cenotes in Mexico for scuba diving.
Open: daily 9am-5pm
Price: 180 Pesos (free if visited the same day as Dos Ojos)
How to get there? Once you take a colectivo either from Tulum or Playa del Carmen, ask them in basic Spanish to drop you off at The Pit Cenote. However, you'll most likely go diving there so your diving school will offer you transportation.
---
10. Cenote Sac Actun
Sac Actun cenote is also called Pet Cemetery Cenote. It's technically part of the same group as Dos Ojos cenote, but bit of a different experience than the rest of cenotes as most people come with a guide and tour.
It's definitely one of the most beautiful cenotes in Mexico, but also an expensive one to visit. You can snorkel and/or dive at Sac Actun. Bring a lot of bug spray since you will meet mosquitos 😉
Open: daily 9am-6pm
Price: 450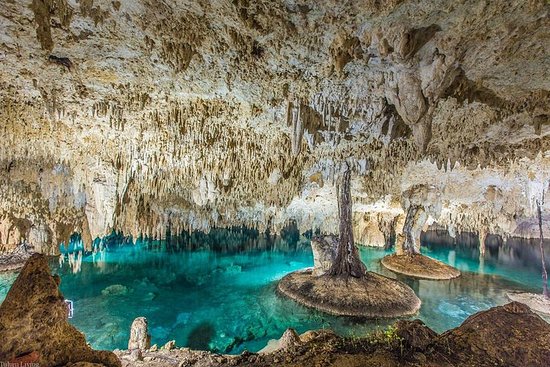 ---
11. Tak Be Ha
It's seriously one of the most stunning cave cenotes. It doesn't have any opening for natural light, so it doesn't really matter what time will you visit as it's all lit up with an artificial light (that looks very natural actually).
There are various fantastic snorkeling opportunities in this cenote and even better diving. There are bats in the cenote – warning in case anyone is afraid.
Open: daily 9am-5pm
Price: 500
How to get there? That's a very important part – don't rely on Google Maps, because this cenote is marked completely wrong. It is actually located in the same complex as Dos Ojos.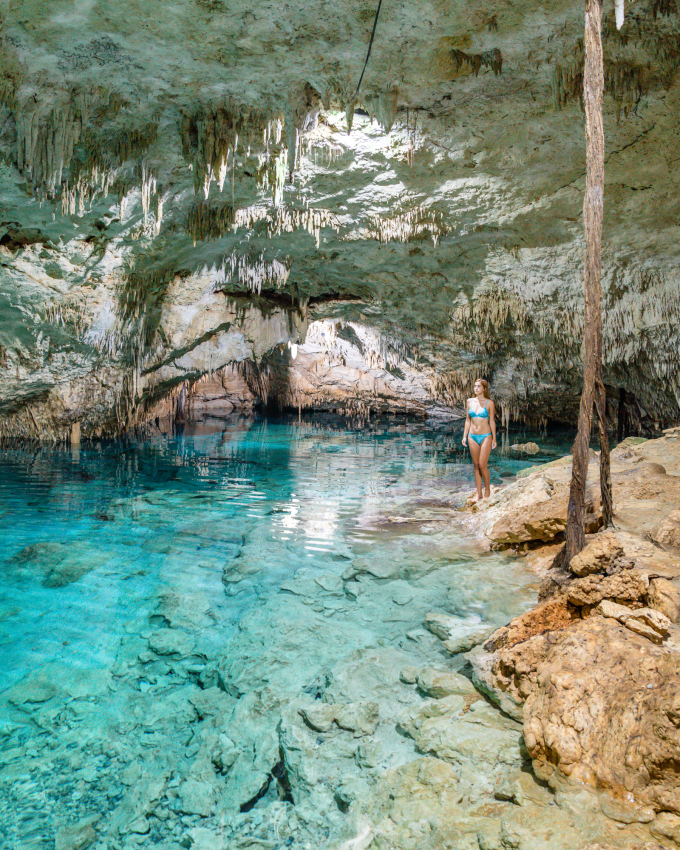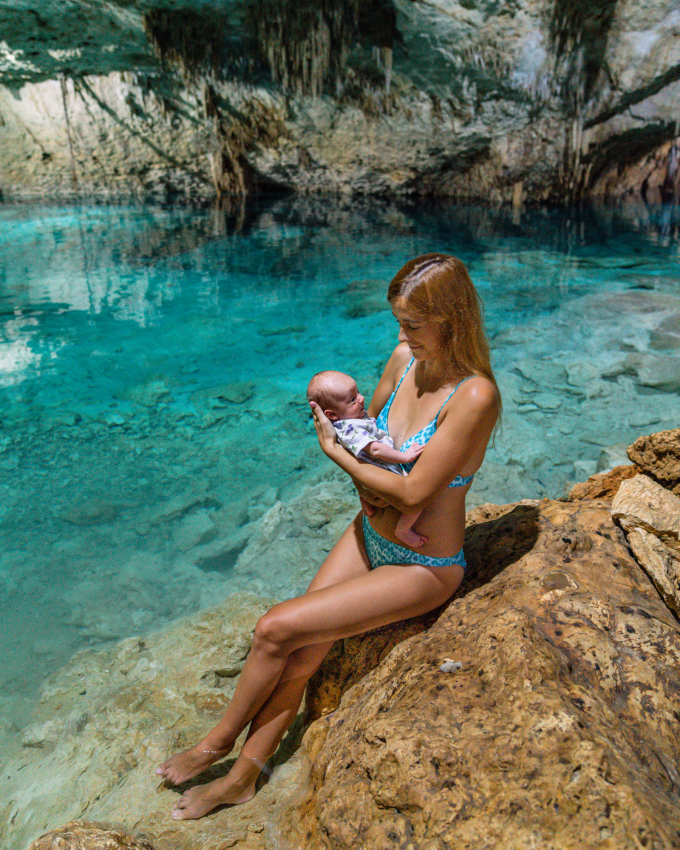 ---
12. Tamcach-Ha
What makes this cenote special is the two platforms you can jump off. I didn't have the courage, but everyone seemed to love jumping from an 11m platform.
Open: daily 9am-4pm
Price: 50
How to get there? If you came to Coba with a driver ask him to get you to cenotes – it's just 5 minutes away. If you're driving everyone can give you directions.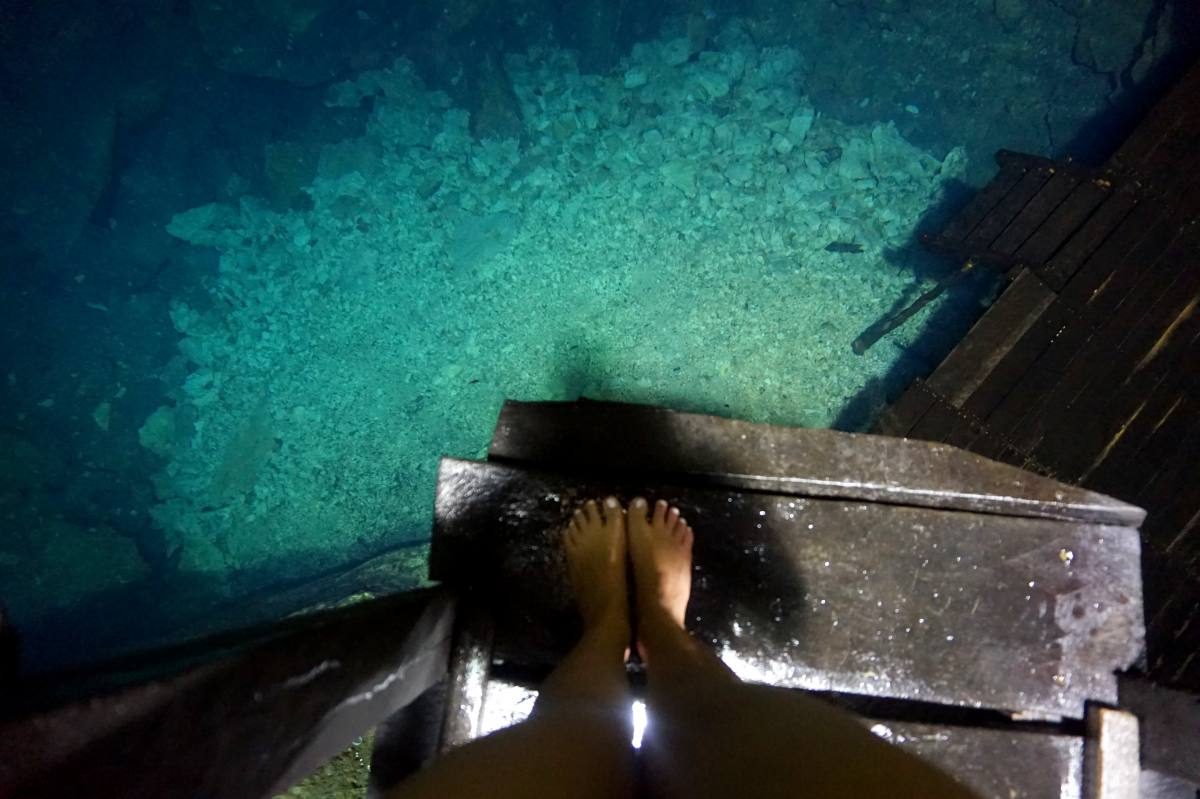 ---
Top Cenotes in Cancun & Chichen Itza
1. Dzitnup Cenote Xkeken
The story says that this cenote was discovered after a pig felt down to it while being walked by his farmer. Dzitnup, also known as Xkeken, is one of the cenotes you need to go around noon when the light stream goes through the top and gives a great visual effect.
If you go earlier or later you won't be able to see this spectacular light and you can also find some blackfish. Unfortunately, some colorful lights were installed inside what makes it quite touristy looking, but it's still worth your time.
Open: daily 9am-6pm
Price: 80 (or 125 when combined with entrance to Samula)
How to get there? You can ride a bike from Valladolid, but the easiest form of transportation would be a rental car as it's 10 km away from town.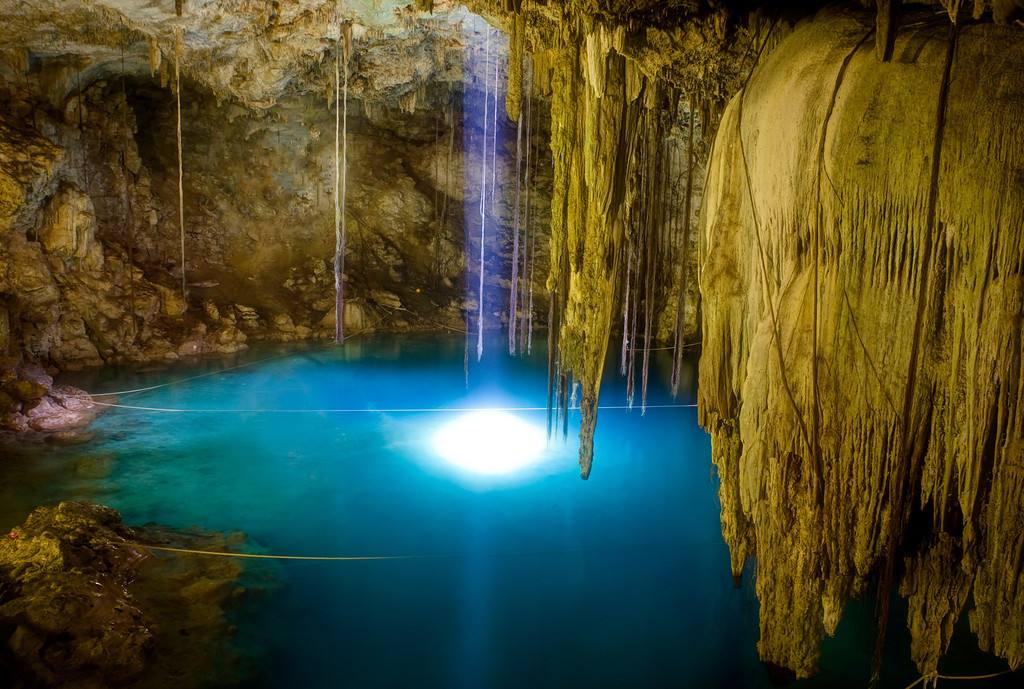 ---
2. Cenote Saytun
Saytun is the most popular cenote in the Valladolid area. While it used to be fantastic to visit since last year it sadly became an Instagram spot and now it's absolutely packed with people waiting for almost half an hour in line for the traditional short in the middle of the platform.
Speaking of… this cenote doesn't look like this photo below during the winter, as due to storms it's flooded and the platform is basically underwater.
Price: 150 MXN
How to get there? You can ride a bike from Valladolid or take a taxi.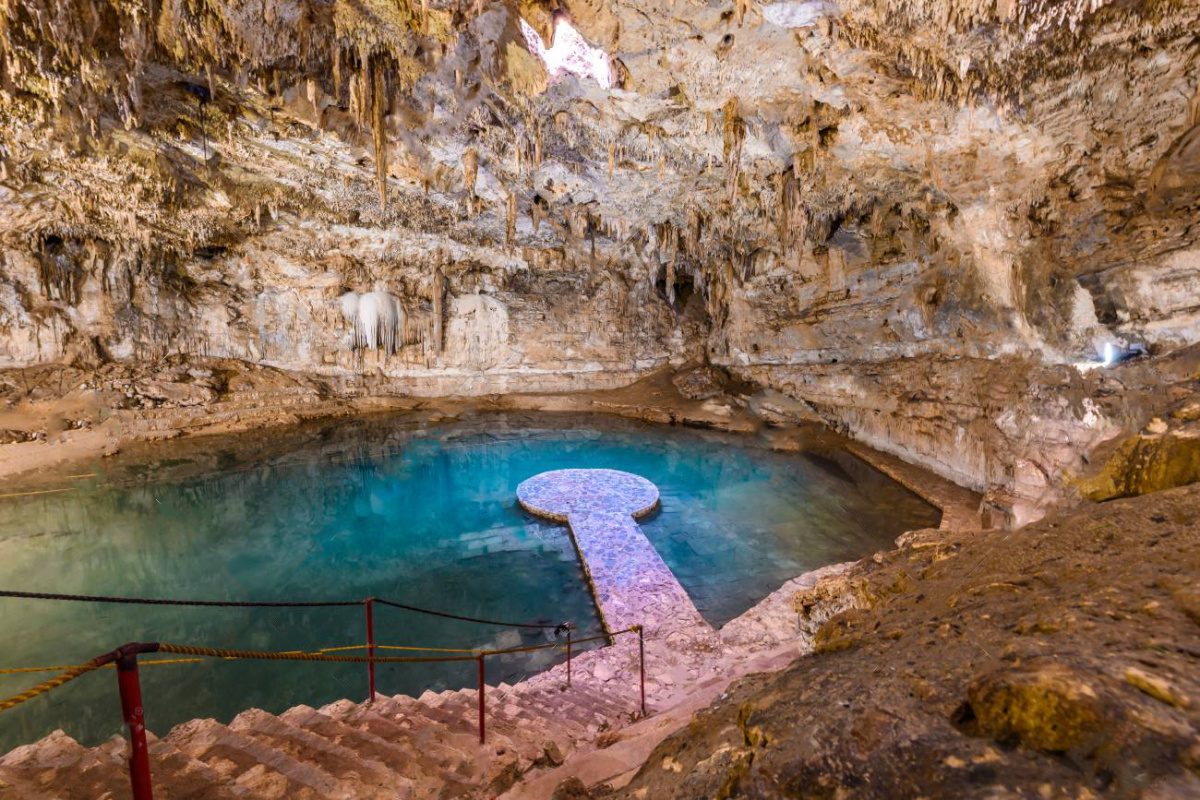 ---
3. Cenote Ik Kil
Ik Kil is probably the most photographed cenote in the Yucatan. While many visitors think it's one of the best cenotes in Mexico, I tend to disagree. From the top, you can see a big hole surrounded by vines which is impressive unless you arrive after 9 am and you'll see hoards of tourists in orange life jackets instead. We ended up not even getting in as human-made stairs and crowds made the experience not fun at all.
Open: daily 9am-5pm
Price: 80 Pesos + optional 30 Pesos for lifejacket
How to get there? Unless you're on a tourist bus to Chichen Itza you'll need a car to get to Ik Kil.
---
4. Cenote Verde Lucero
Verde Lucero is an open cenote with various small caves that you can explore and use some floaties. Like the majority of cenotes in the area of Puerto Morelos, it has a zipline and a cliff for jumping. The whole scenery look very jungle like so you'll surely enjoy it!
Open: daily 9am-5pm
Price: 120 MXN
How to get there? This cenote is located on the road of cenotes near Puerto Morelos. You might need to rent a car to get there as there are no colectivos, but if you can't drive get a cab from Playa del Carmen.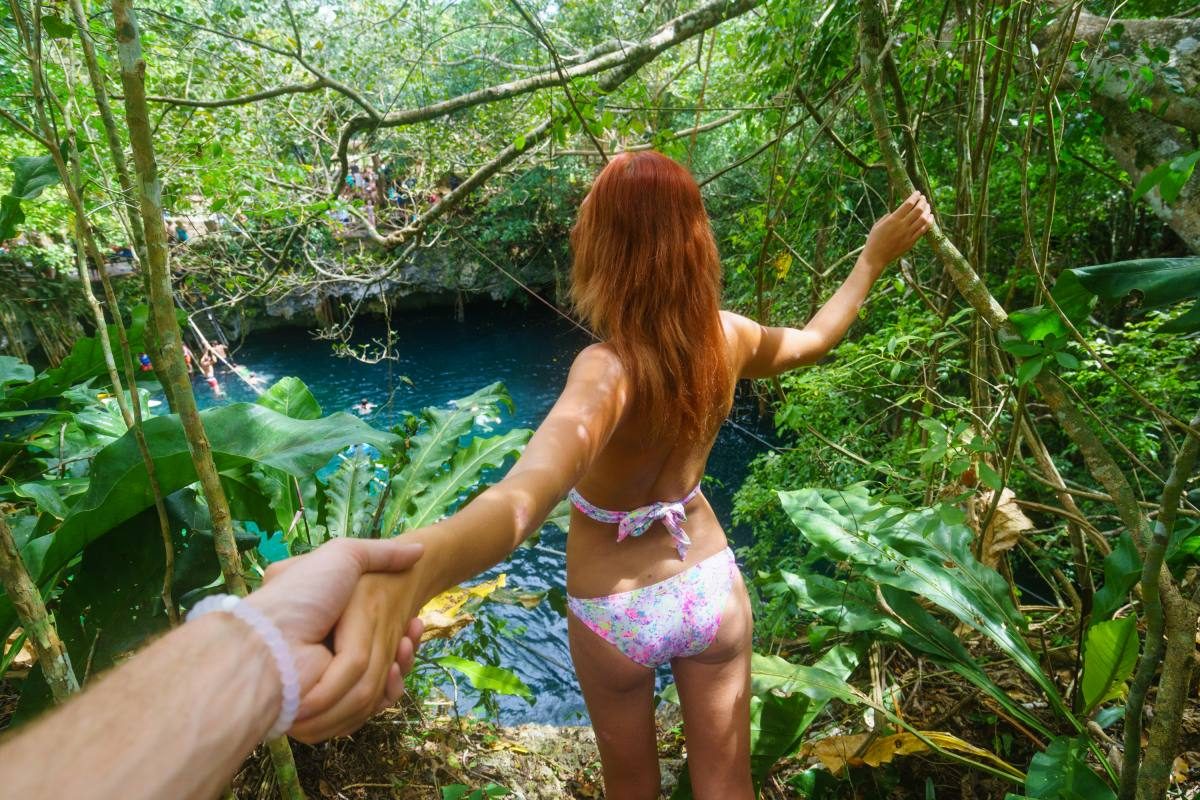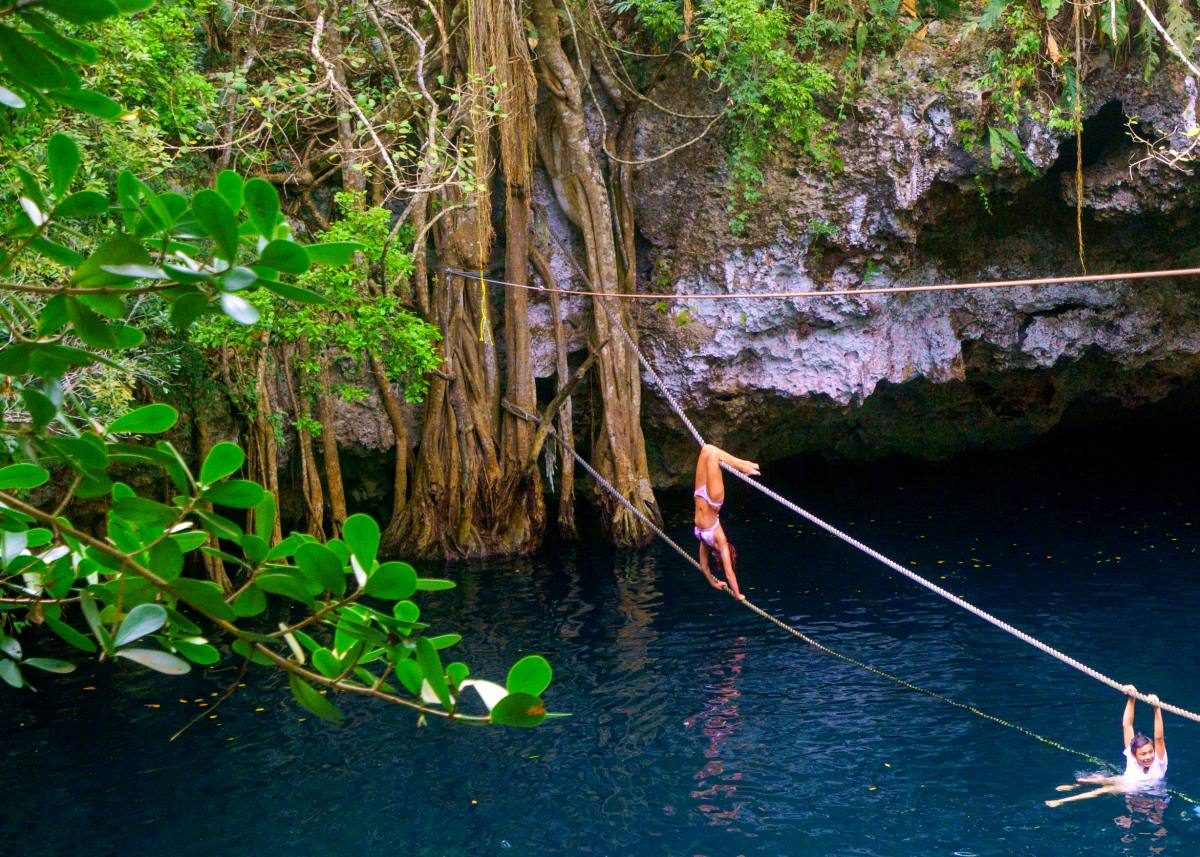 ---
READ MORE MEXICO TRAVEL TIPS
I hope you enjoyed my guide to the best cenotes in Mexico! Hopefully, you found it useful. Here are a few more wanderlust-inducing articles that I recommend you read next:
---