I've been living in Mexico for over 4 years. I've rented a car numerous times in the Yucatan Peninsula and Mexico City, so I feel like I'm a qualified person to tell you what's the best rental car company in the area, and whether renting a car in Mexico is manageable.
I've had readers asking me numerous times if they should rent a car in Cancun or not. Some were even simply saying no to car rental in Mexico, as they were too afraid to drive in a foreign country.
Why? Because of many articles that tell you it's way too dangerous to do this. It is not. Let me clear your doubts here: it's safe and particularly safe if you're renting a car in Cancun area.
Renting a Car in Mexican Yucatan Peninsula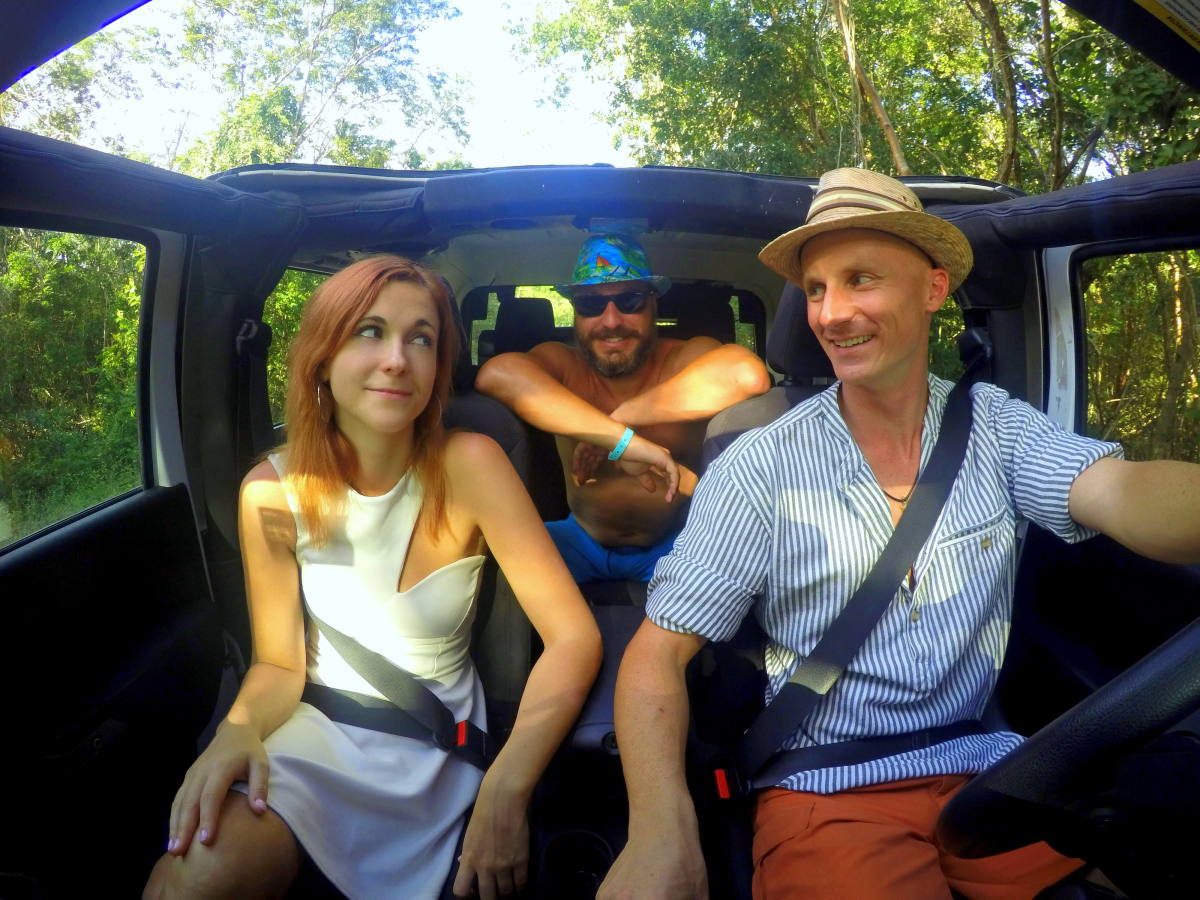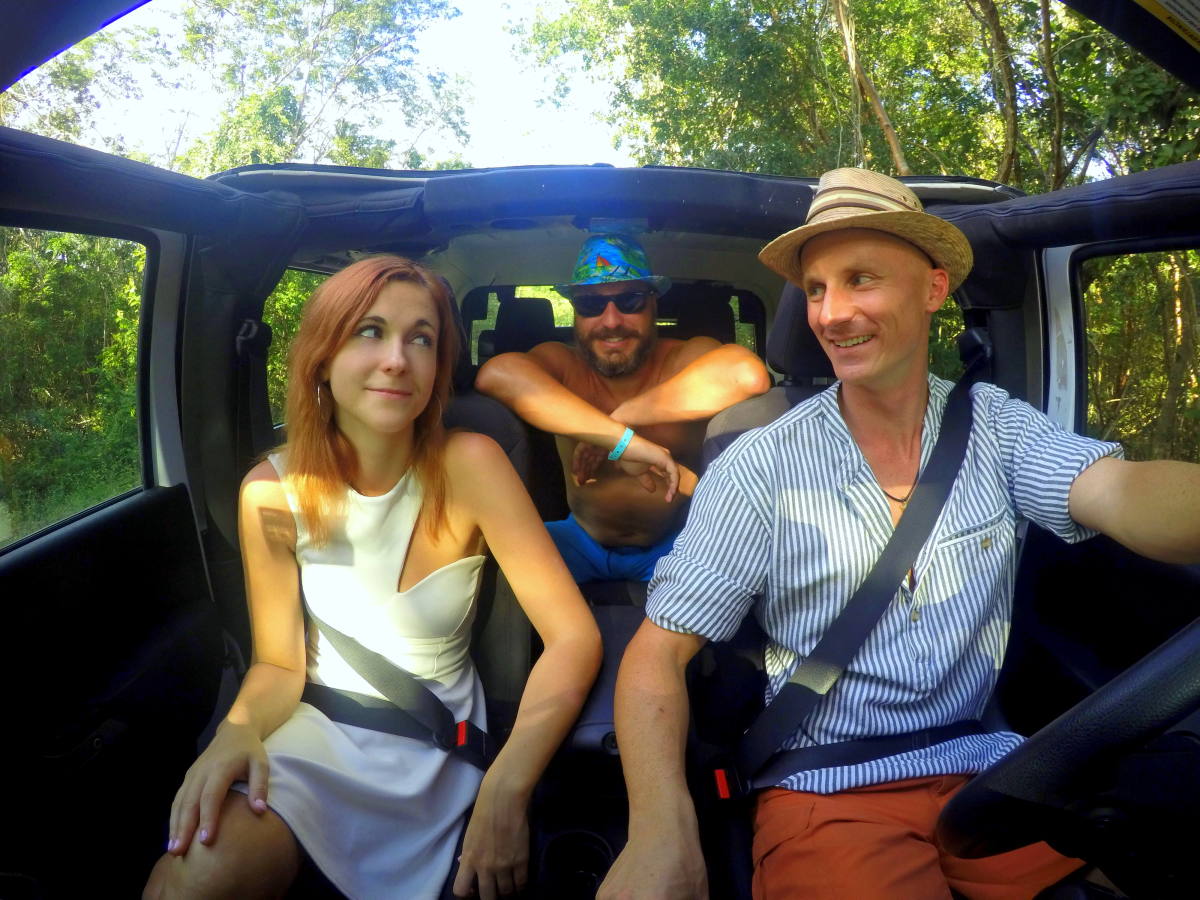 ---
Is it Safe to Rent a Car in Mexico?
Renting a car anywhere in the world comes with a bit of risk, even in your home country. It's important to drive with caution and be prepared for different traffic regulations, as it's a foreign country. Speed limits are clearly marked and road signs are easy to follow.
Many travelers are afraid of being stopped by corrupted police, but while you can get stopped, especially in the Yucatan Peninsula where Cancun is located, it's just like any other control.
No, you won't get kidnapped and carjacking isn't common – these are some things uninformed people tend to say without having actual knowledge.
Also, places like Playa del Carmen or Tulum are extremely safe. Don't panic if you get stopped by the police as random patrols are fairly common in the area.
They can ask you a few questions, such as where are you going and where are you coming from, and let you go. Unless you're obviously speeding, talking on the phone, or breaking some other rules.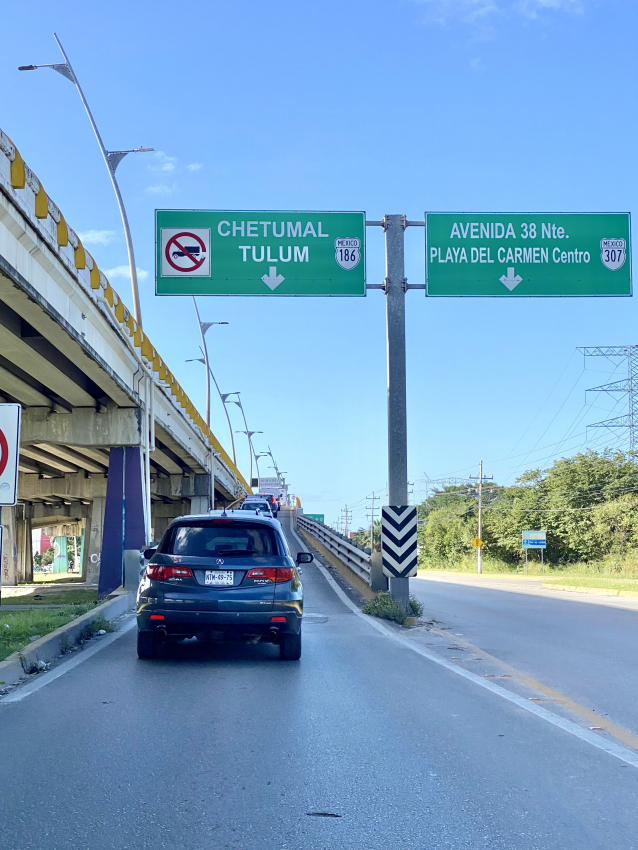 ---
Driving in Riviera Maya
There are a few things to know about when driving in the area.
Pedestrians don't have the right of the way.
Don't wait too long to enter the highway, everyone will honk at you (see photos above)
Prepare to shake your head immediately at intersections, unless you want your window cleaned and have a few coins to guys these guys.
It's really not as crazy as it may seem at first 😉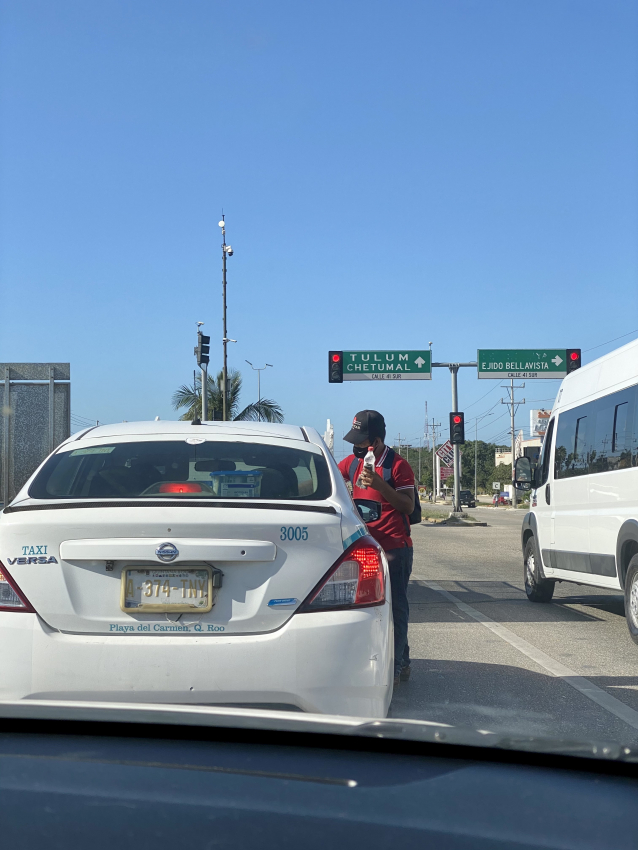 ---
Renting a Car in Mexico Online & Hidden Costs
If you look online you'll likely be impressed with the rental car rates in Cancun: $10 a day, $15 a day, and even less than $25 a day for an SUV. It seems perfect. But…
The problem is booking online. Once you walk to the counter to pick up your car, you'll suddenly be bombarded with an additional cost of compulsory insurance, service fees, and other things.
Many major online travel booking sites will deceive you when it comes to Mexican Liability Insurance, but it's not technically their fault.
It's up to the actual rental agency to decide what they're going to do and frankly if you look like a tourist and don't speak Spanish there's a big chance you'll be charged extra costs.
---
---
Many times I had a car booked for $5 online that came up to $200 upon arrival. Why?
Because MOST car rental companies in Mexico require you to purchase basic Personal Liability Insurance, which is, at it's cheapest, about $15-20 per day. While there is a way out of it, there are a few things you need to know.
Don't even bother booking insurance online from a third-party website or even the company website. While these websites are great, their insurance works in other countries, it doesn't in Mexico (it actually doesn't always work in France either based on my experience).
Mexico also does not accept liability coverage from credit card insurance. There's no problem as long as nothing happens, but if you get a flat tire or get into an accident, then you'll be looking at a lot of additional payments.
I was once facing a lot of additional payments after someone made a dent in my car standing in a parking lot in Chichen Itza. It obviously wasn't my fault, but there was nothing I could do about it since the person who did it appeared to have left the scene before I got back to the car.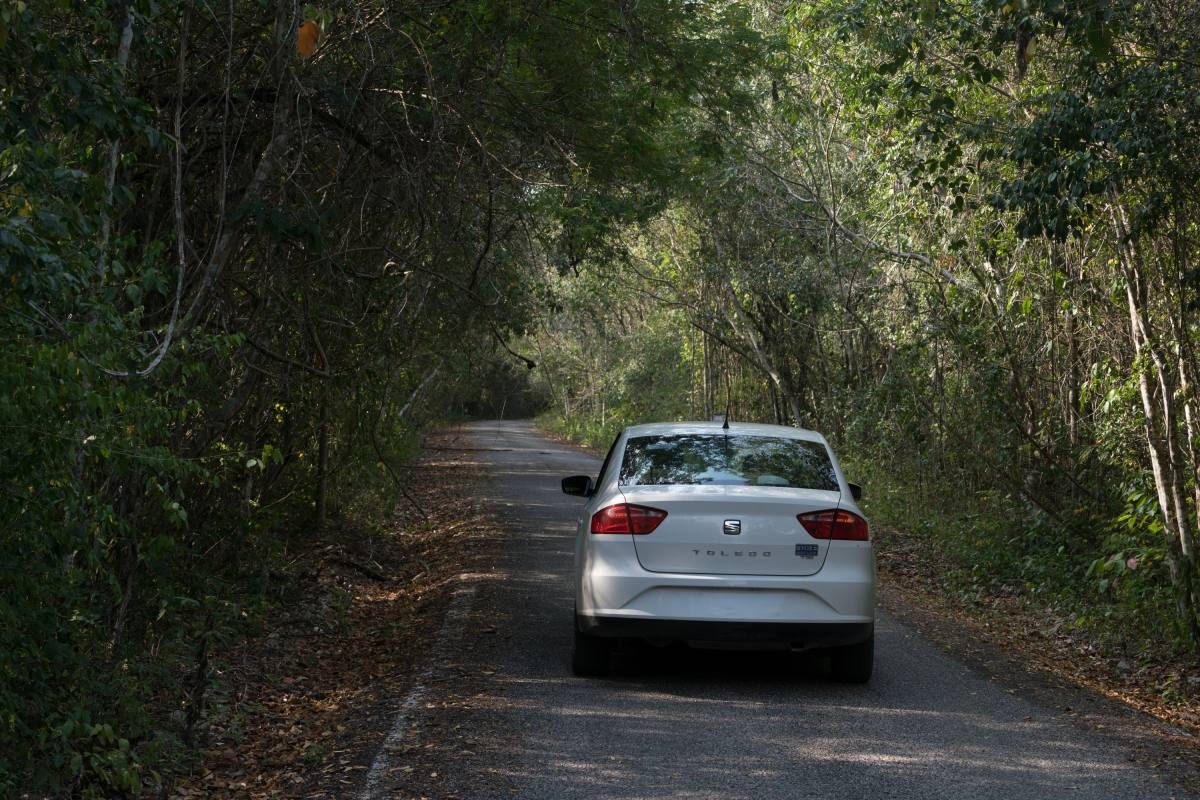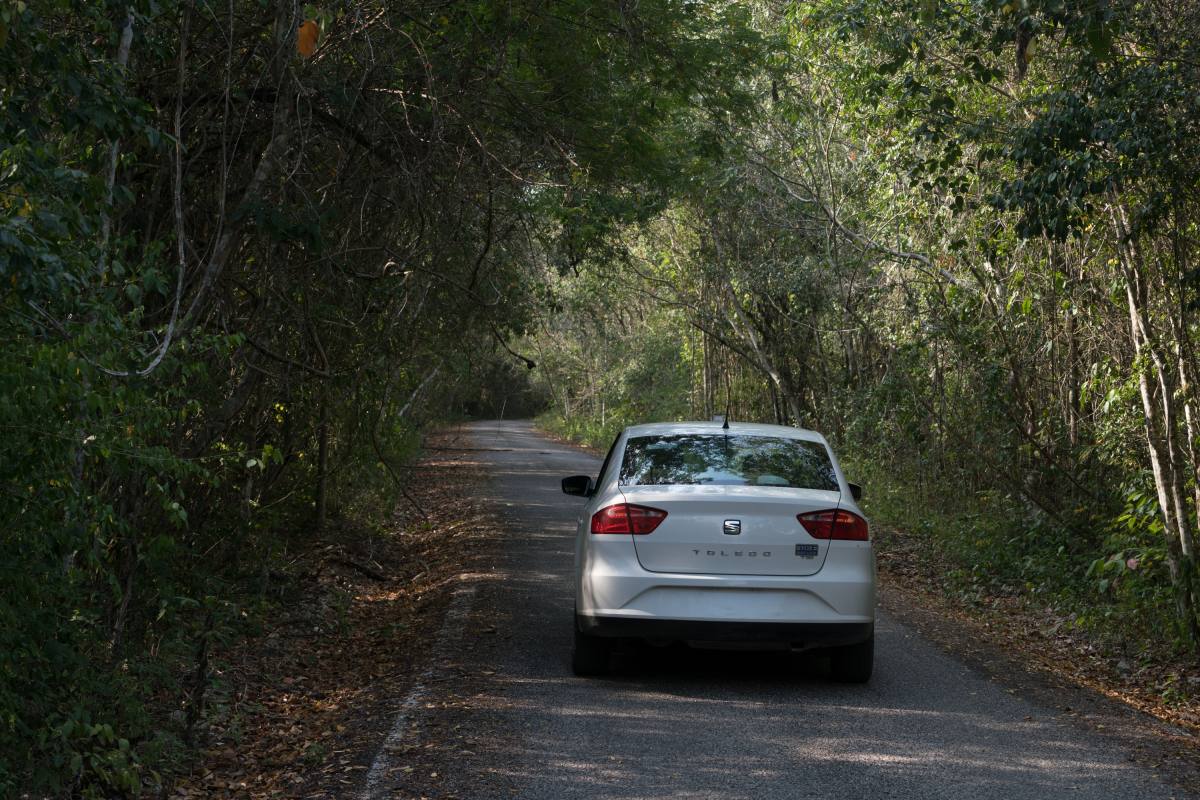 ---
What Happens if You Decline Car Insurance?
If you choose to decline the additional insurance you'll stumble upon another issue. Most companies allow you to decline all additional insurance if you agree to a refundable deposit (hold on your credit card) of $2,500 USD or more (or the equivalent in Mexican Pesos).
While for some Americans it's not an issue, many Europeans don't have such options on their credit cards.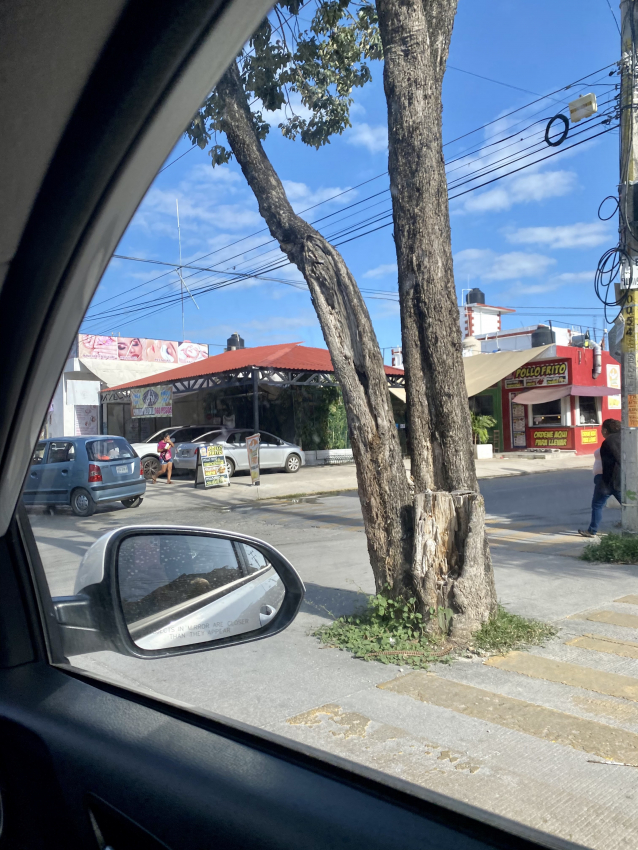 ---
Is it Better to Book a Car in Person Upon Arrival?
In my experience, it all depends on the person renting you a car and your Spanish skills. Quite often I was being offered a better rate including additional insurance when I just walked in than if I booked online.
However, you want to avoid not having a car when landing in Mexico during high seasons like during Christmas and Easter week.
The best site to book your car is Discover Cars. They offer competitive rates as it searches all the big car rental companies and finds the best price. However, also read the temporary announcement below:
2023 UPDATE
Lots of people are coming to Mexico and staying long term and many Americans pick Mexico as well, as they have nowhere else to go. That said:
Prices for renting a car increased enormously and more importantly rental cars are always sold out. Over Christmas 2021 prices rose up to $150 per day and the cars were still oversold. If you book through a third-party website and worse – last minute, there's an 80% chance that your reservation will simply mean nothing and you'll get a call saying "sorry, no cars available".
As I've been living in Mexico on and off once again here are some tips I can give you guys for renting a car NOW until the situation calms down again:
Book directly on the car rental website or on Discover Cars (I've been in direct contact with them and they specifically work with only those providers who will give you the car you booked). Do it at least a month in advance and also call the office to ask if they actually have a car available for you if you want to be triple sure.
You cannot afford to be picky anymore. Manual, automatic, Kia or SUV – take whatever is available. The day I rented my car recently I was told the agency had 10 people coming and had to send all these people away because they had no cars for them at all and RentalCars and Orbitz didn't register the availability correctly.
Don't rent at busy spots with Cancun Airport being the worst. Unless you want to wait 3-4h to complete the process. Take a shuttle to your hotel and rent in town.
Expect to pay a minimum $25-50 per day. Nobody can give you a deal anymore because every employee has to call the head office to check on the car and the head office sends back the price. In fact, the guy I rented from wanted to give me a deal as he knew me from before, but got refused by his boss.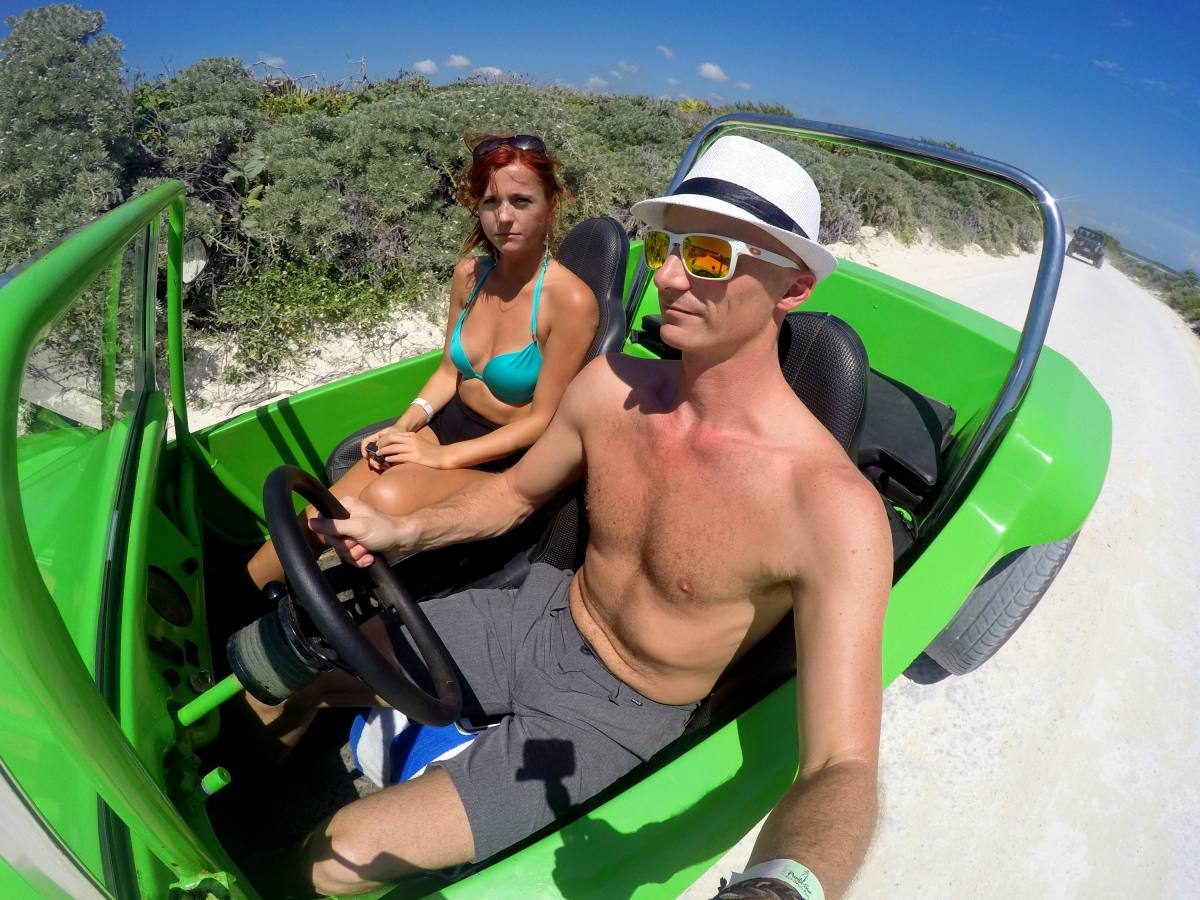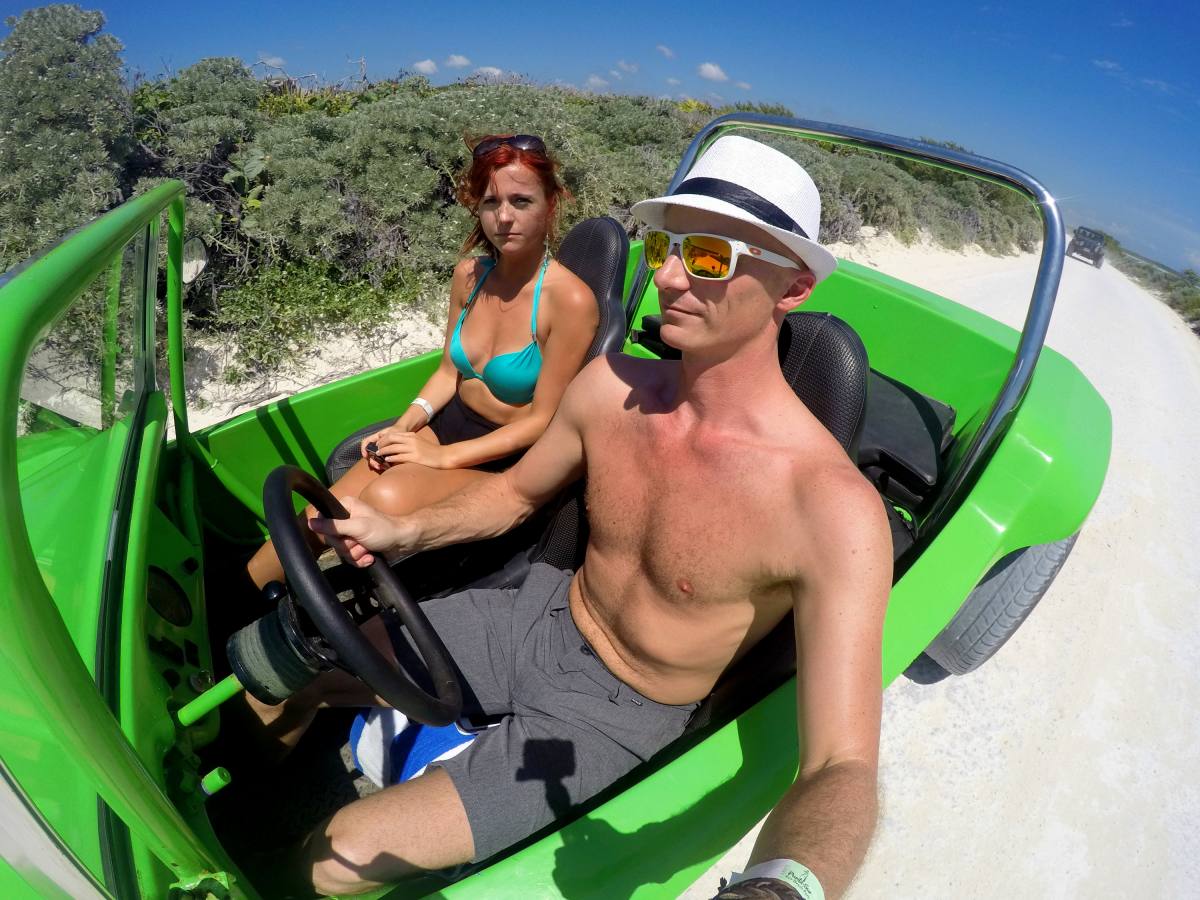 ---
Laws Tourists Should Know When Renting a Car in Mexico
Renting a car in Mexico is much the same as renting in the United States, and you'll find most of the major players — Hertz, Avis, Alamo, Budget, Thrifty, etc. Make sure to read the fine print.
Rental agencies at airports will be way more expensive than renting from an off-site agency and tend to charge more fees.
Most cars have an automatic transmission unless it's a dune buggy or jeep.
Unlike in the US, the second driver fee should be included in your rental price already.
You need a credit card to rent a car. There's no way around it.
You don't need an international driver's license to rent a car in Mexico.
Check all the dents and take pictures of them before leaving the agency. Some agencies tend to make money on dents that have been there before.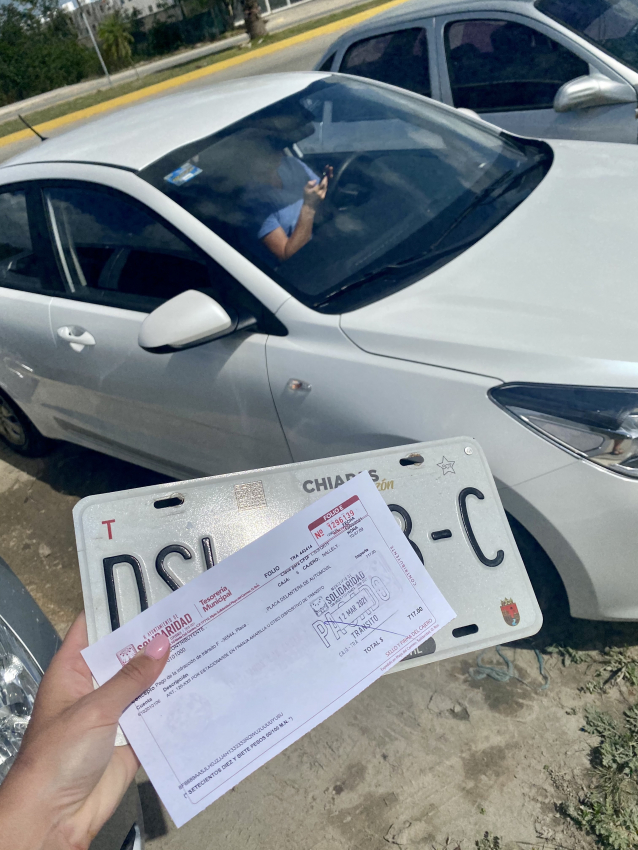 ---
How Old Do You Have To Be to Rent a Car In Mexico?
The legal driving age in Mexico is 18, but many cars hire suppliers will only rent to people aged 25. Some companies might make an exception for a person over 21, but absolutely not under 21.
---
Scams to Avoid in Mexico When Renting a Car
Be careful when you're filling your car at the gas station as it's a most common scam in Mexico. Unlike in the US, you won't get out of your car in Mexico as gas stations have workers filling your car for you. You'll also pay them instead of the machine, so have cash with you. What should you pay attention to?
Make sure that you check the gas meter before the attendant starts filling your tank. Some attendants tend to not reset the meter, making you pay more than you're getting. Since this scam has become well known, many honest attendants will point at zeros to you before they start pumping.
Another thing to avoid is to make sure which bills are you handing to your attendant. People tend to swap bills, claiming you gave them let's say 50 Pesos note instead of 500 Pesos note, so make sure to pay attention. If this happens to you, be firm and tell them NO. Most people will handle you back your charge after you make a scene.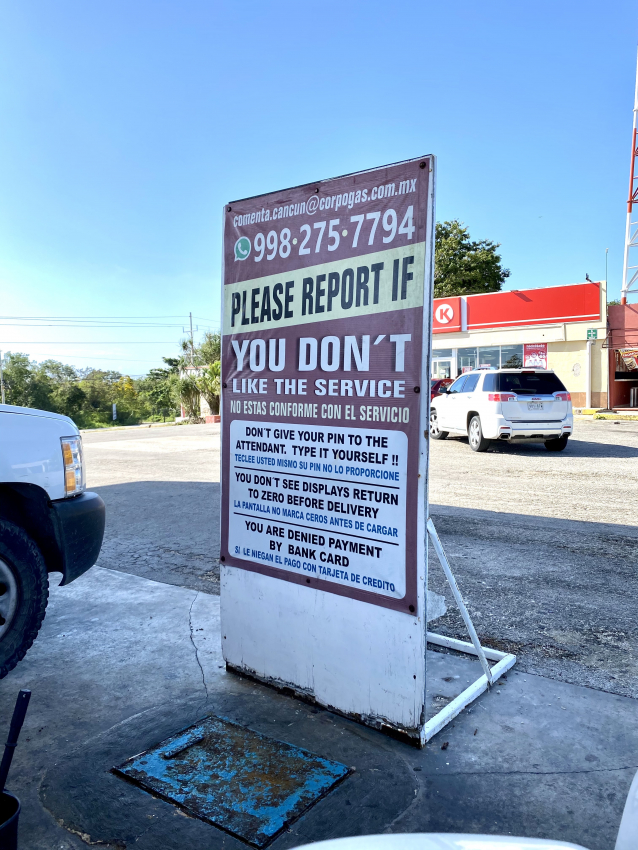 ---
Recommended Rental Car Companies in Cancun & Riviera Maya in Mexico
The best site to book your car is Discover Cars. They offer competitive rates as it searches all the big car rental companies and find the best price. Also check:
Playa del Carmen Car Rental – Hertz (10th Av) & MEX Rent A Car (5th Av)
Cozumel Car Rental – HTL Rentals
Cancun Car Rental – Enterprise & America Car Rental
---
DON'T FORGET ABOUT TRAVEL INSURANCE
Don't forget to arrange health insurance before heading to Mexico. The easiest and the most reliable travel insurance is Safety Wing (especially since it includes covid coverage now!). Get it before your trip to skip unnecessary troubles that might ruin your holidays!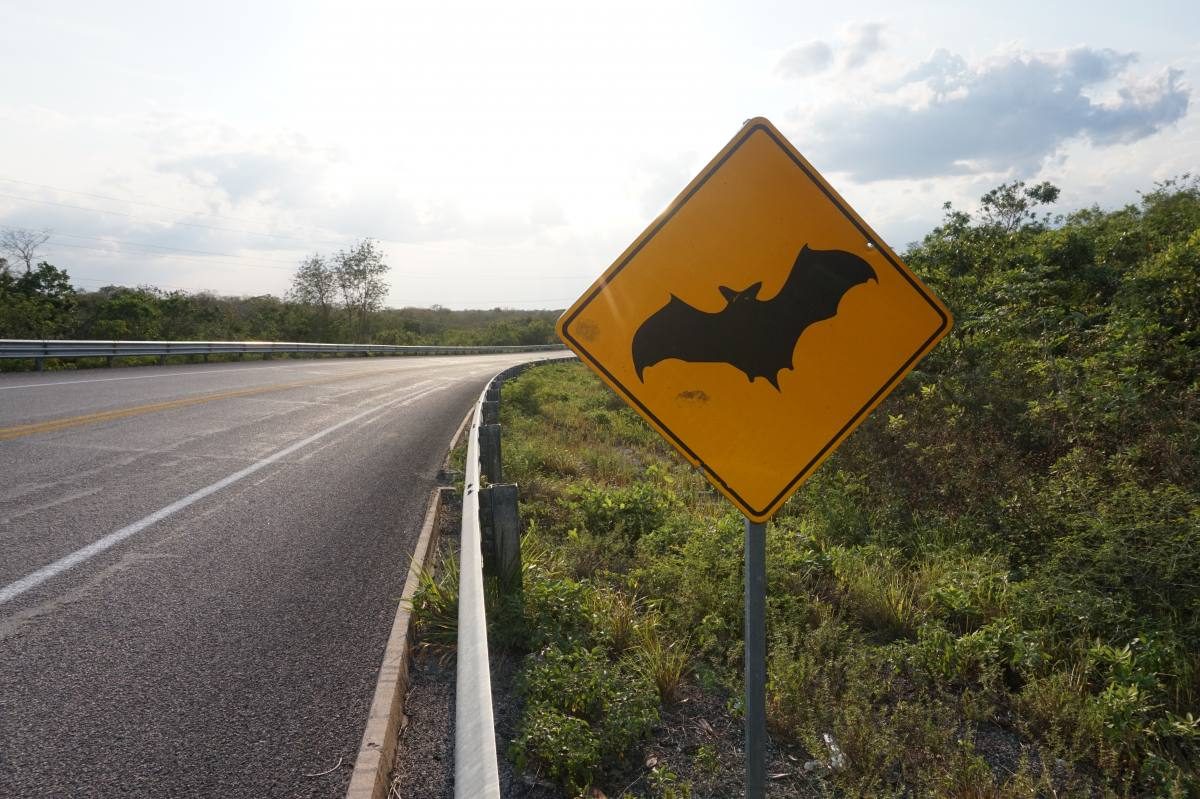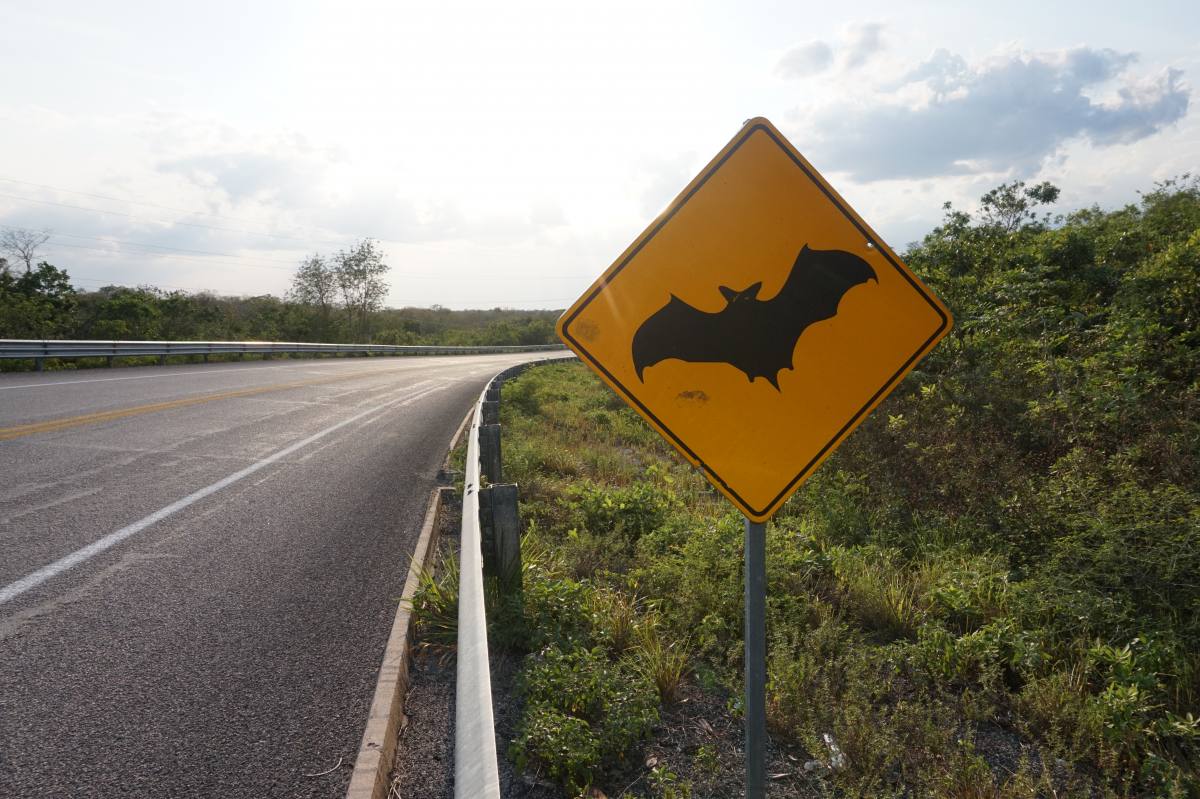 Why Rent a Car in Mexico?
While there are many options for group tours everywhere and buses, that will take you to see all the main sights, there are also many places you can't see without a car. Having a vehicle can you give freedom to explore as and when you want to, and avoid crowds during peak hours.
See my sample itinerary for a 2-week road trip around Yucatan Peninsula in Mexico.