If you have just 2 weeks in Mexico, like most visitors, you need to think about your Mexico itinerary carefully.
You don't have to skip some of your bucket list items. You can swim in cenotes, scuba dive with whale sharks, enjoy the white sand beaches, visit the ancient Mayan ruins, visit colonial towns and still have time to taste the nightlife.
Is Cancun and Riviera Maya or Yucatan the Same Thing?
Quite often, people use Cancun, Riviera Maya and Yucatan interchangeably. However, they are different things.
Most people staying in the area as visiting more than Cancun and even Riviera Maya, so the best term to use is Yucatan Peninsula. Yucatan Peninsula covers the states of Yucatán, Campeche and Quintana Roo.
• Yucatan: It's the name of the entire peninsula, but also a state covering the western side of the actual peninsula. This state is considered one of the safest in Mexico. You'll find Valladolid, Izamal and many cenotes in Yucatan.
• Quintana Roo: This state is home to all the big destinations in the Yucatan Peninsula, including Cancun, Tulum, Riviera Maya and Playa del Carmen, but also off the beaten path places like Isla Holbox Island and Laguna of 7 Colors in Bacalar.
• Riviera Maya: It's a region south of Cancun (technically starts in Puerto Morelos and ends by Punta Allen) with many smaller resort towns such as Playa del Carmen, Tulum, Akumal and Cozumel island all located along the water.
• Campeche: The least visited Yucatan Peninsula state, south of Quintana Roo. From the UNESCO sites like the city of Campeche to the Calakmul Mayan Ruins, Campeche State has many Mexico hidden gems. It's also the best getaway to Belize and Guatemala.
---
What to Do in Riviera Maya & Cancun for 7 Days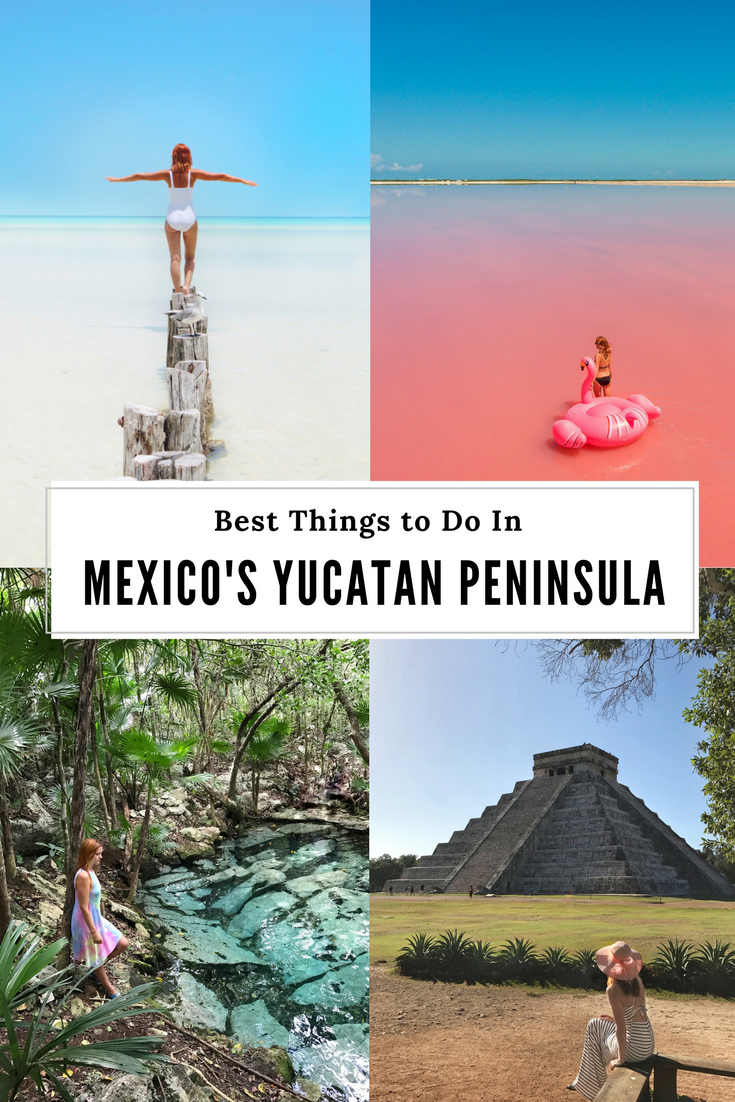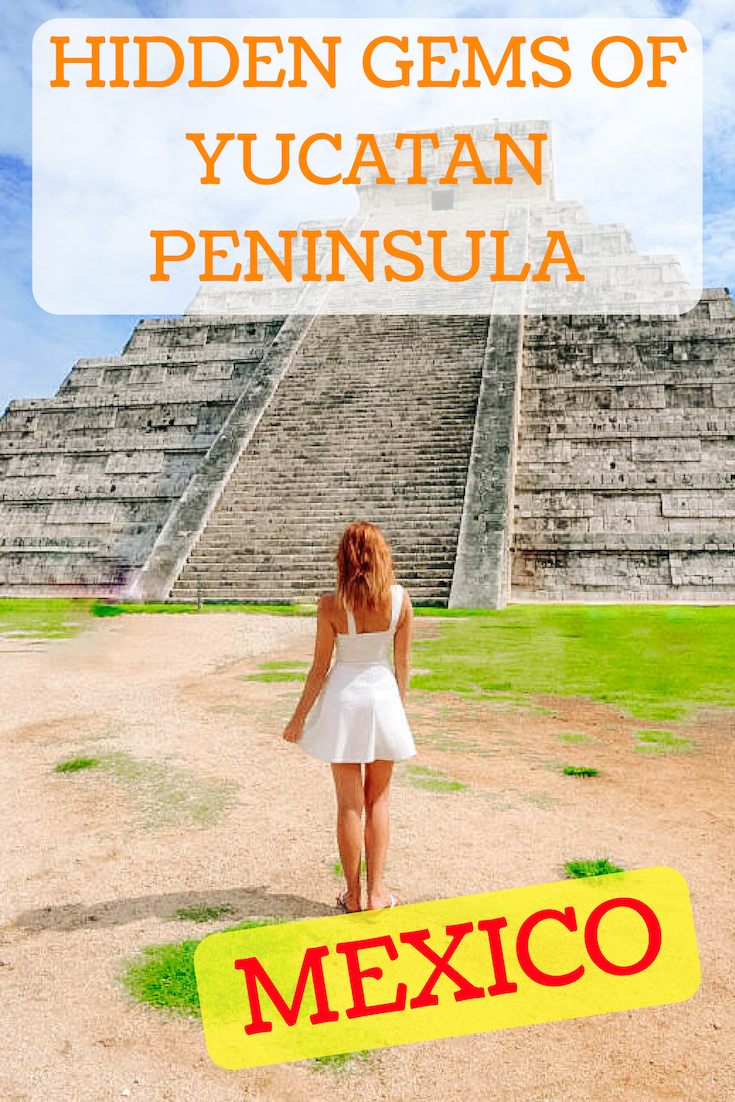 The best and most convenient way to explore the Cancun area is by renting a car. A car will give you the freedom to explore more and beat the crowds. You will appreciate having the ability to go places a bit off the beaten path and possibly save money over using taxis and shuttles.
You can pick up a car right after you land in Cancun and begin your adventure by driving directly to Playa del Carmen. Alternatively, pick up transport from the airport to your first hotel and rent a car in Playa, as it's much cheaper.
Is Mexico Still Safe?
Yes, absolutely. While the US government constantly issues travel warnings against going to certain areas of Riviera Maya (they also issued many for countries I had an amazing experience in, like Iran), life there goes on normally, as usual.
I live in Playa del Carmen on and off for years during another travel warning and I was going places just fine. Plenty of tourists, locals, and expats are enjoying Yucatan Peninsula these days. It's safer than popular places like New York City, New Orleans or Chicago.
---
Things to Do in Yucatan Peninsula Mexico
Area of Cancun Itinerary for 7 days
Day 1 & 2: Enjoy Playa del Carmen
Playa del Carmen is much more than just a tourist spot with great nightlife. Even after a year of living here I still keep finding those hidden gems in and around town. Playa del Carmen is a great place to eat delicious Mexican food, shop till you drop, and relax on the beach.
There are also plenty of activities like jet-skiing, paragliding, snorkeling and much more if you're looking for some adventures without leaving town. It's a great place to start your adventures around the Yucatan Peninsula.
You can base yourself in Playa for at least a few days while doing day trips. Since Playa is still quite touristy you can get more local experience by staying at a vacation rental rather than staying at the hotel.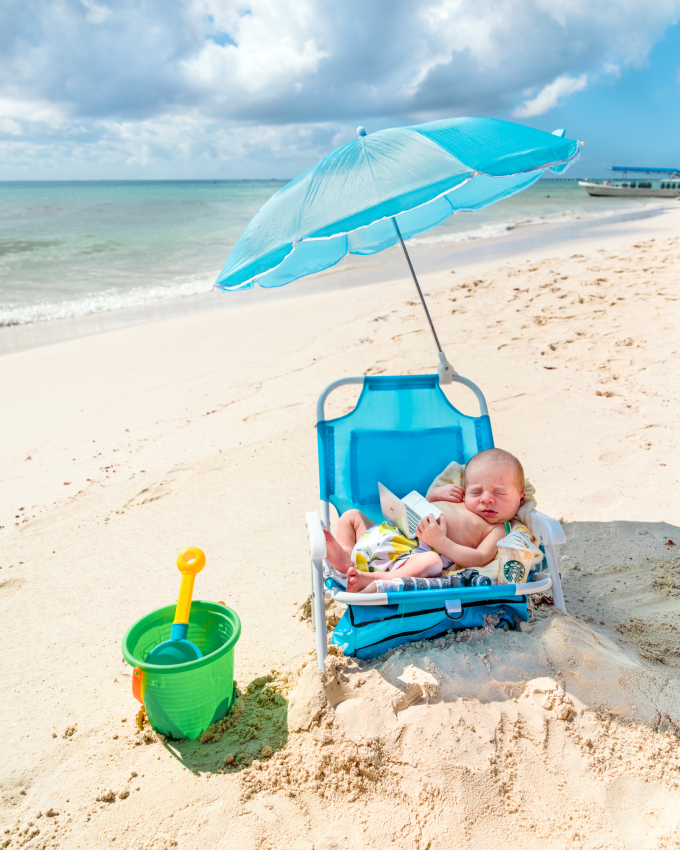 READ MORE: Best Guide to Playa del Carmen
---
Best Apartments in Playa del Carmen (I used to live in both)
The Elements – Check Prices On: Booking.com + Booking.com (it's the same building with different apartments because every apartment has different owners)
Sabbia – Check Prices On: Booking.com | Agoda
Best Mid-Range Hotels in Playa del Carmen
Reina Roja – Check Prices On: Booking.com | Agoda
Acanto Boutique – Check Prices On: Booking.com | Agoda
Best Luxury Hotels in Playa del Carmen
The Royal – Check Prices On: Booking.com | Agoda
Grand Hyatt – Check Prices On: Booking.com | Agoda
DON'T FORGET ABOUT TRAVEL INSURANCE!
Don't forget to arrange health insurance before heading to Mexico. The easiest and the most reliable travel insurance is Safety Wing. Get it before your trip to skip unnecessary troubles that might ruin your holidays!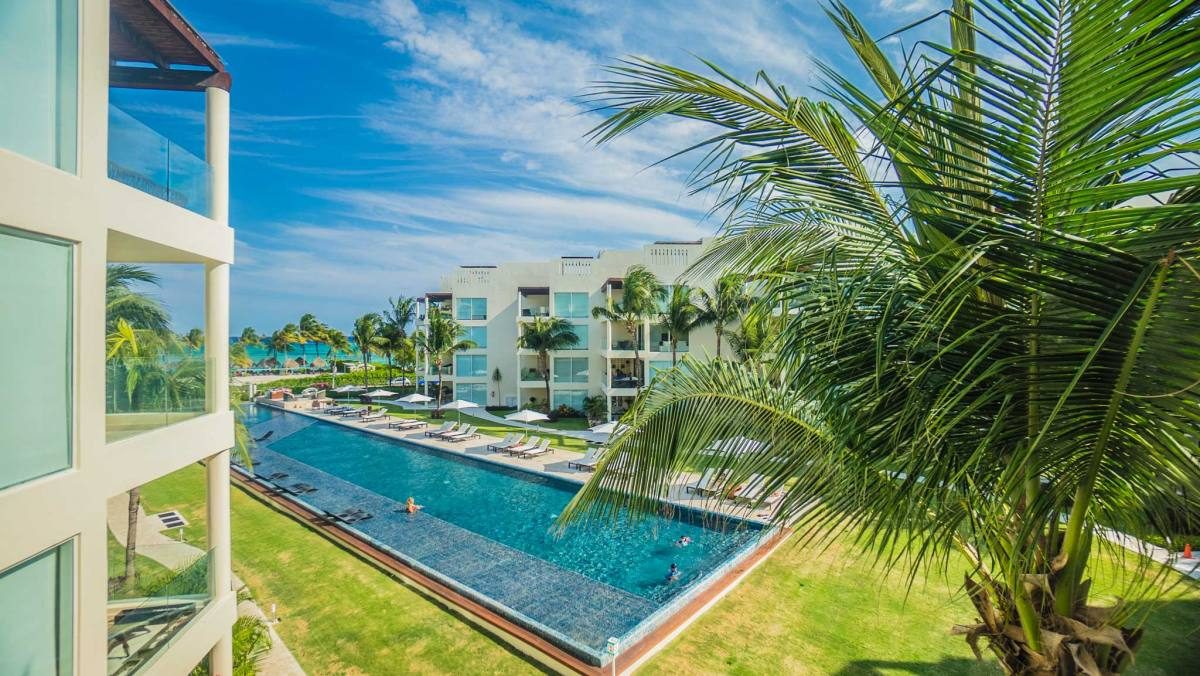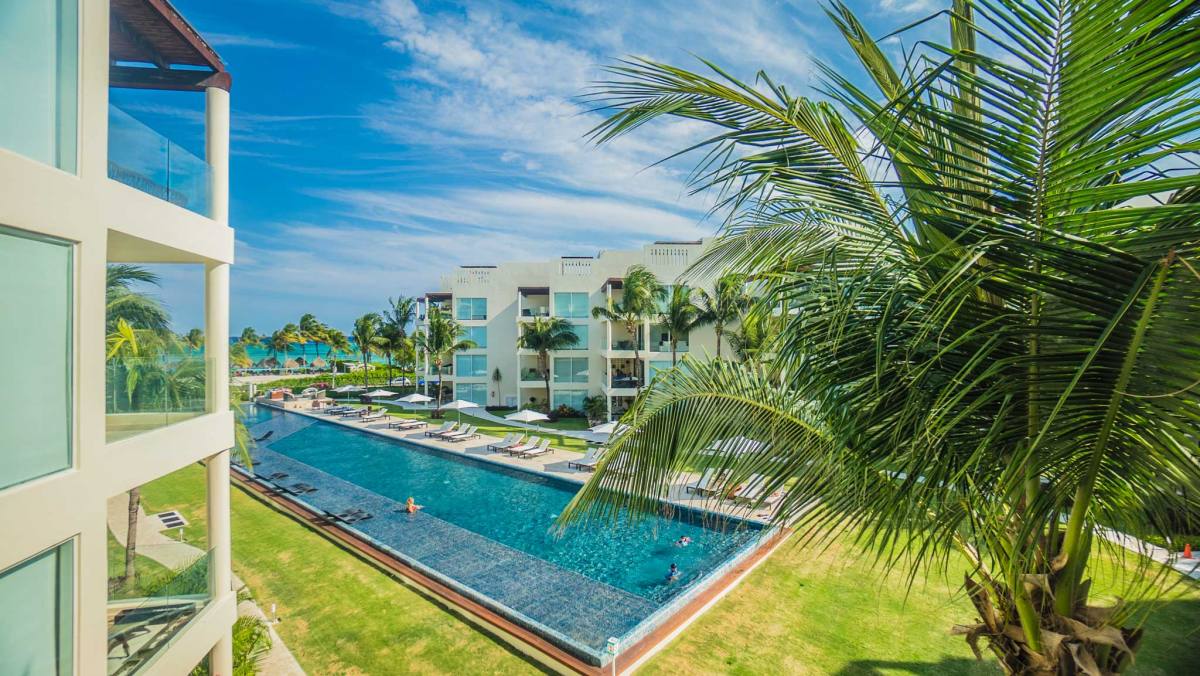 ---
Day 3: Explore Cenotes
Cenotes are a must-do in the Yucatan. What exactly are cenotes? There are cave formations and sinkholes, either open-air or completely underground.
Use your own car or take a collectivo from Playa del Carmen and visit as many cenotes as you can. Trust me, there are many cenotes to choose from!
Each cenote is different: some have great diving, others are full of fish and great cliffs to jump from and sometimes you can even find a zipline or a swing!
The best cenotes closest to Playa del Carmen are the Cenote Azul, Cenote Jardin del Eden, and the Cenote Dos Ojos. So you can head back to Playa del Carmen for the night.
Read the Ultimate Guide to Cenotes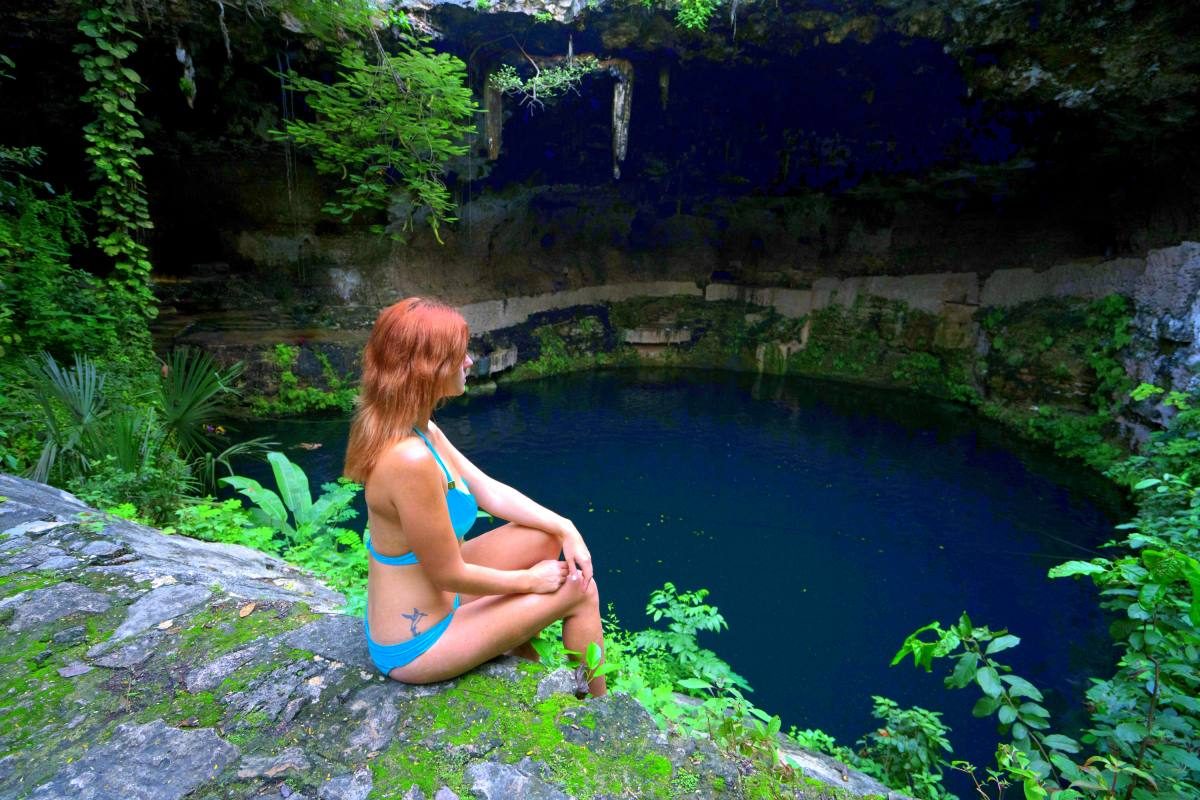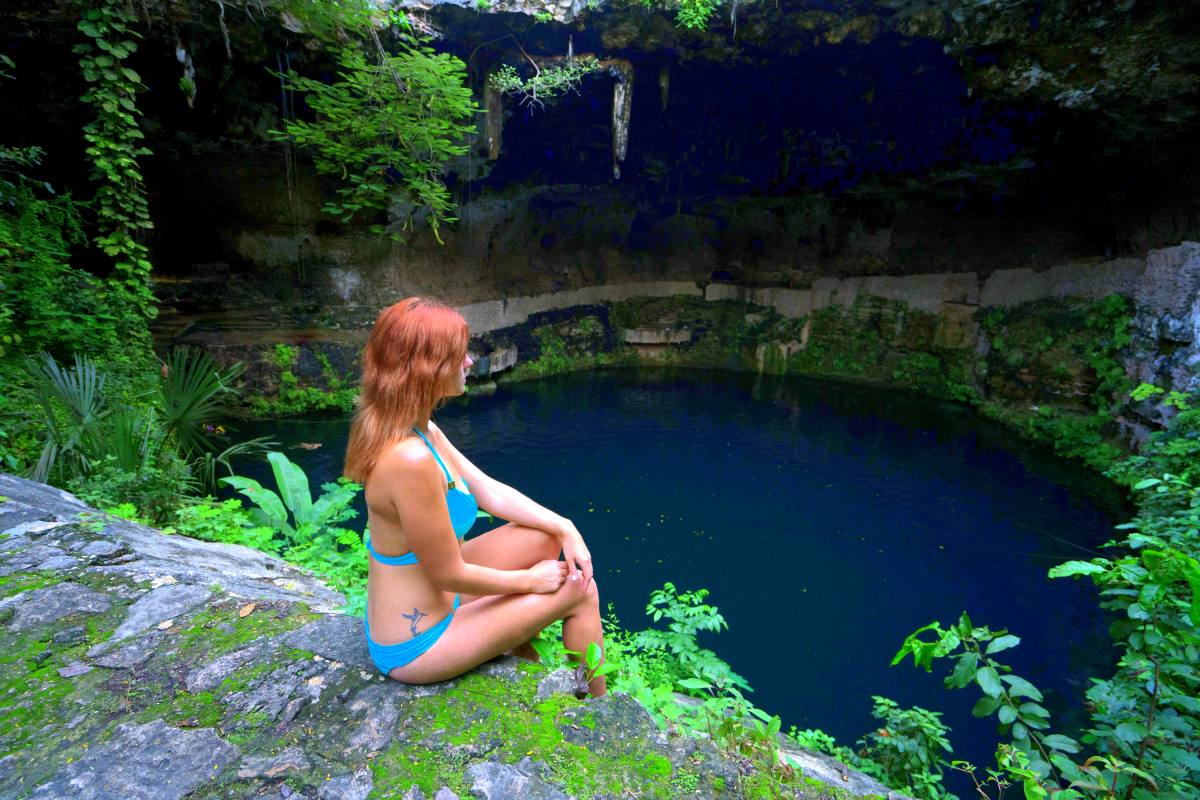 ---
Day 4: Take a Day or Overnight Trip to Cozumel
Catch the early morning ferry to the island of Cozumel. As the island is quite big, you should consider renting a car, buggy, or scooter to get around. You can snorkel on a gorgeous reef near The Money Bar.
Then continue onto the Punta Sur Reserve to enjoy the beach, play with some pygmy raccoons, and maybe try spotting a crocodile! Climb to the top of the Celarian Lighthouse in the park for a spectacular 360-degree view of the Cozumel.
You can also visit the San Gervasio archaeological site to see the temple dedicated to the Goddess Ixchel. Home to a number of shrines and niches, San Gervasio is also home to the Temple Nohoch Nah and the Plaza Central dating to the Post Classic Period. (1200 to 1650 AD)
There are a number of Cacao factories on Cozumel where you can learn how cacao is made. If you have more time, spend the afternoon visiting the include Kaokao Chocolates Damarsicheli and Mayan Cacao Company.
Cozumel is also a great spot for diving, so make sure you save some time for it!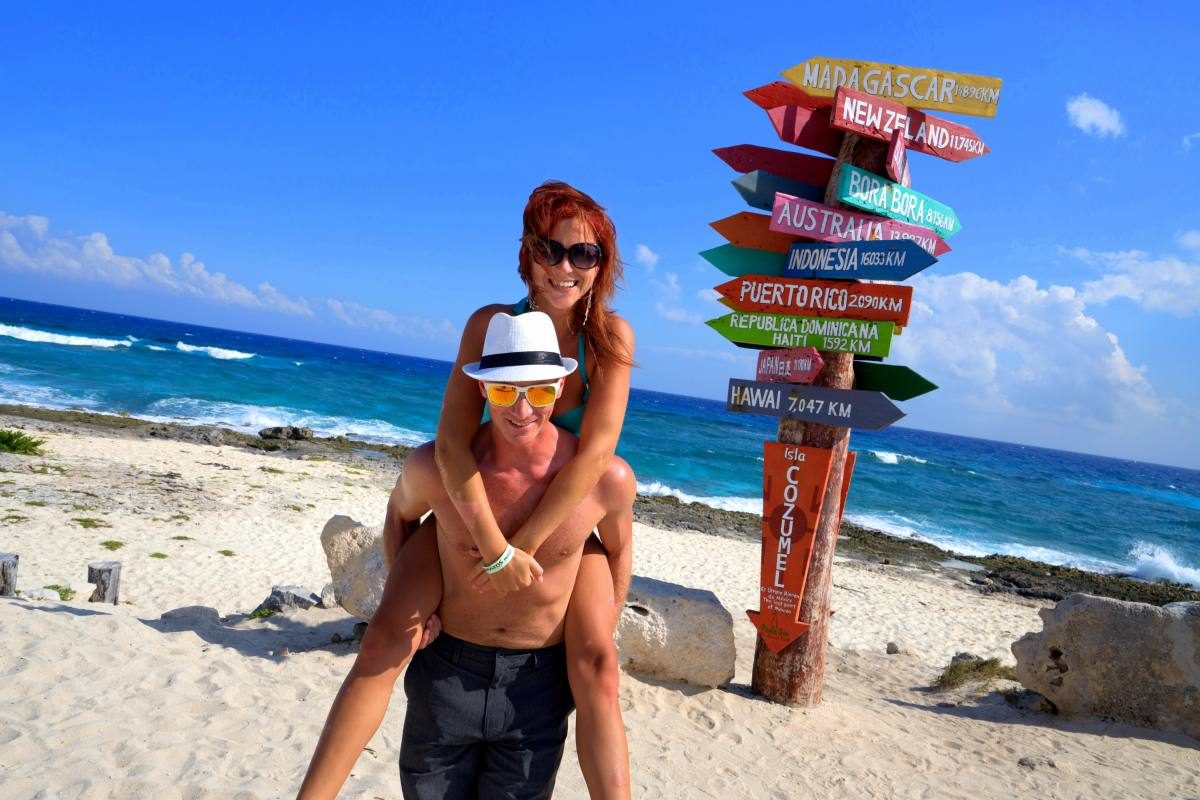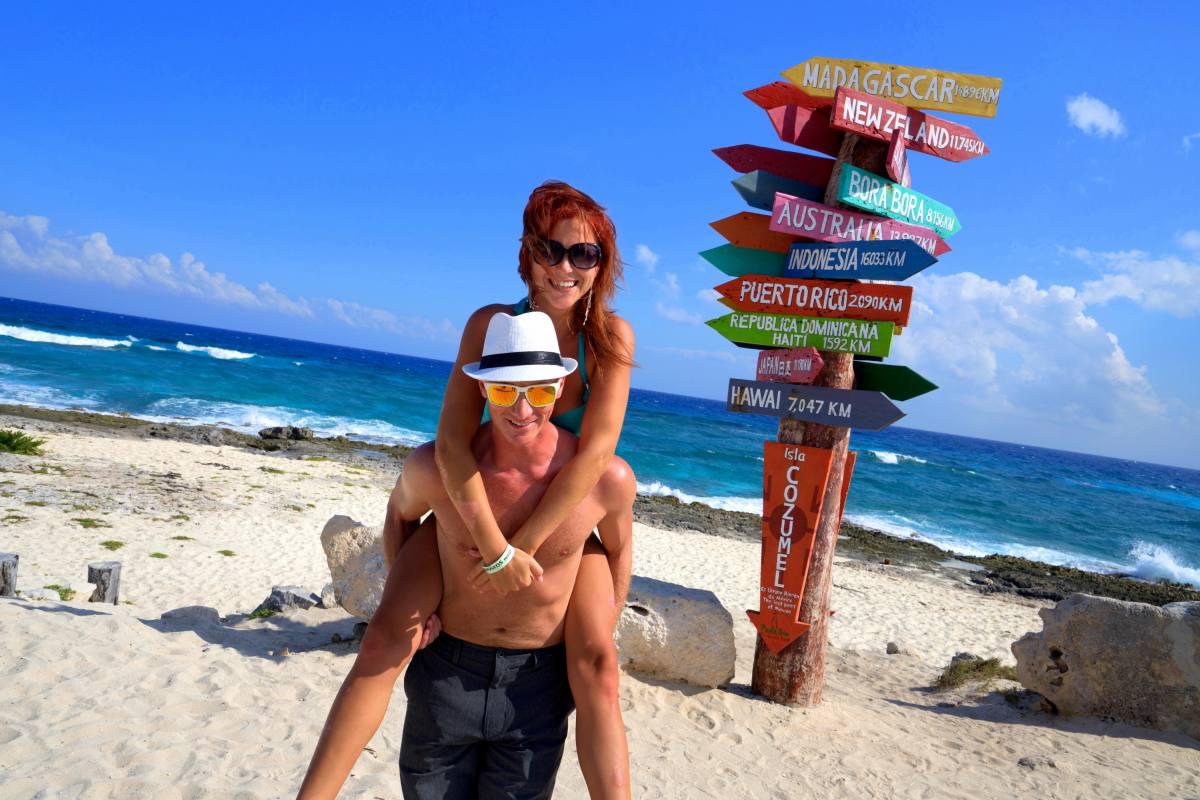 More info about Cozumel
Most of the resorts charge for the use of their lounge chairs and umbrellas, but it's free at the Monkey Bar (as long as you purchase a drink or snack).
Entrance fees to Punta Sur National Park are $14 for adults and $8 for children aged 4 to 12. Cash Only.
Entrance fees (for anyone above 3 years) to San Gervasio are $10.50 USD or $188 Pesos.
San Gervasio is only open from 9 am to 3 pm.
If you have more time, stay the night in Cozumel
Occidental Cozumel All Inclusive – All-inclusive Luxury Hotel
The Landmark Resort of Cozumel– Classy Luxury Hotel
Amaranto Bed and Breakfast– Oval-shaped bungalows
Hotel Mary Carmen-Budget Friendly
---
Day 5: Swim with Turtles at Akumal Beach
Akumal is a small village on the way to Tulum. Do yourself a favor and stop at Akumal where you can swim with sea turtles for free. It's one of the best things to do in the area!
Don't get suckered into the tourist trap of booking a tour to swim with the turtles. Here's a post I've written more about how to swim with turtles in Akumal for free.
The nearby Akumal Monkey Sanctuary where rescued primates are housed can be given a short visit. Aktun Chen National Park nearby features an underground river, ancient caves, and a 25-feet high zipline. These two places are not must-sees, though, so they can easily be skipped.
From Akumal, you can continue directly to Tulum and spend nights there until day 8 or 9.
Where to Stay in Tulum
Kanan Tulum – Luxurious villas taking natural forms
Mayan Monkey Hotel & Hostel – Amazing Affordable Quality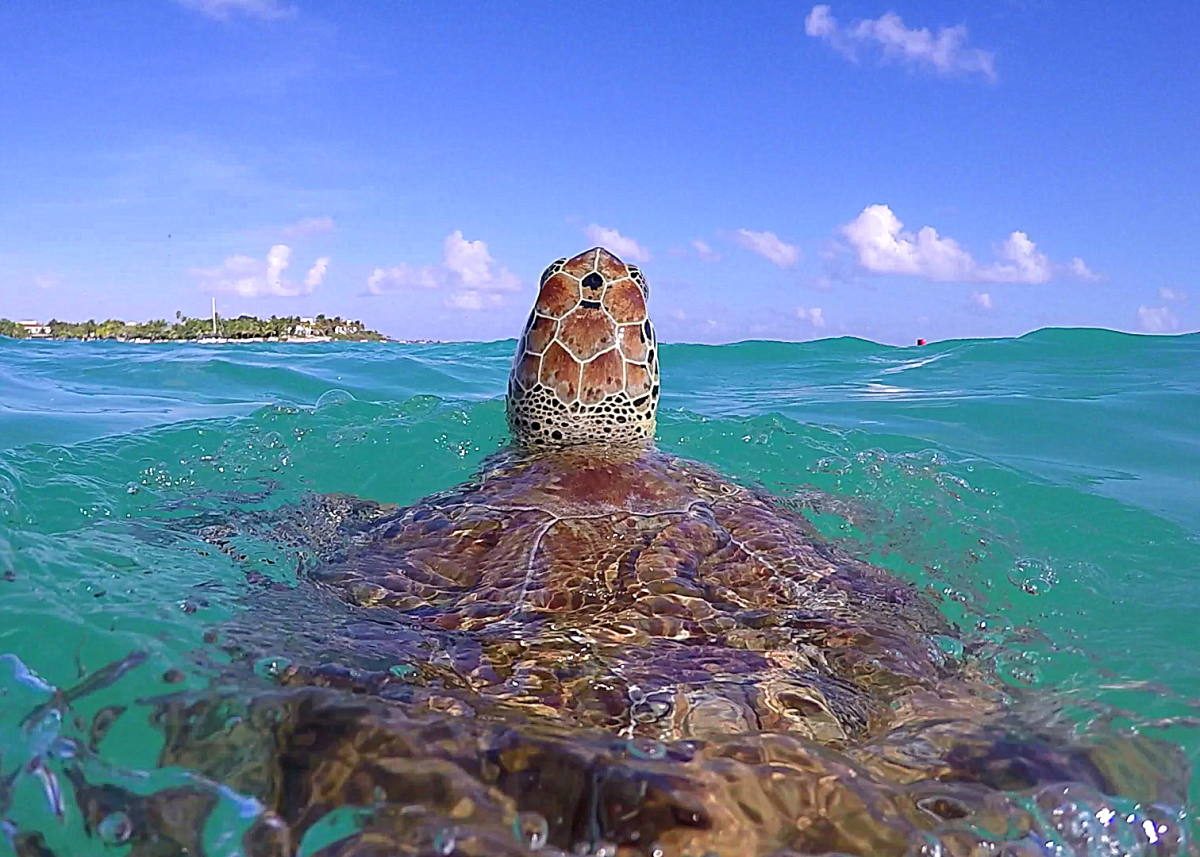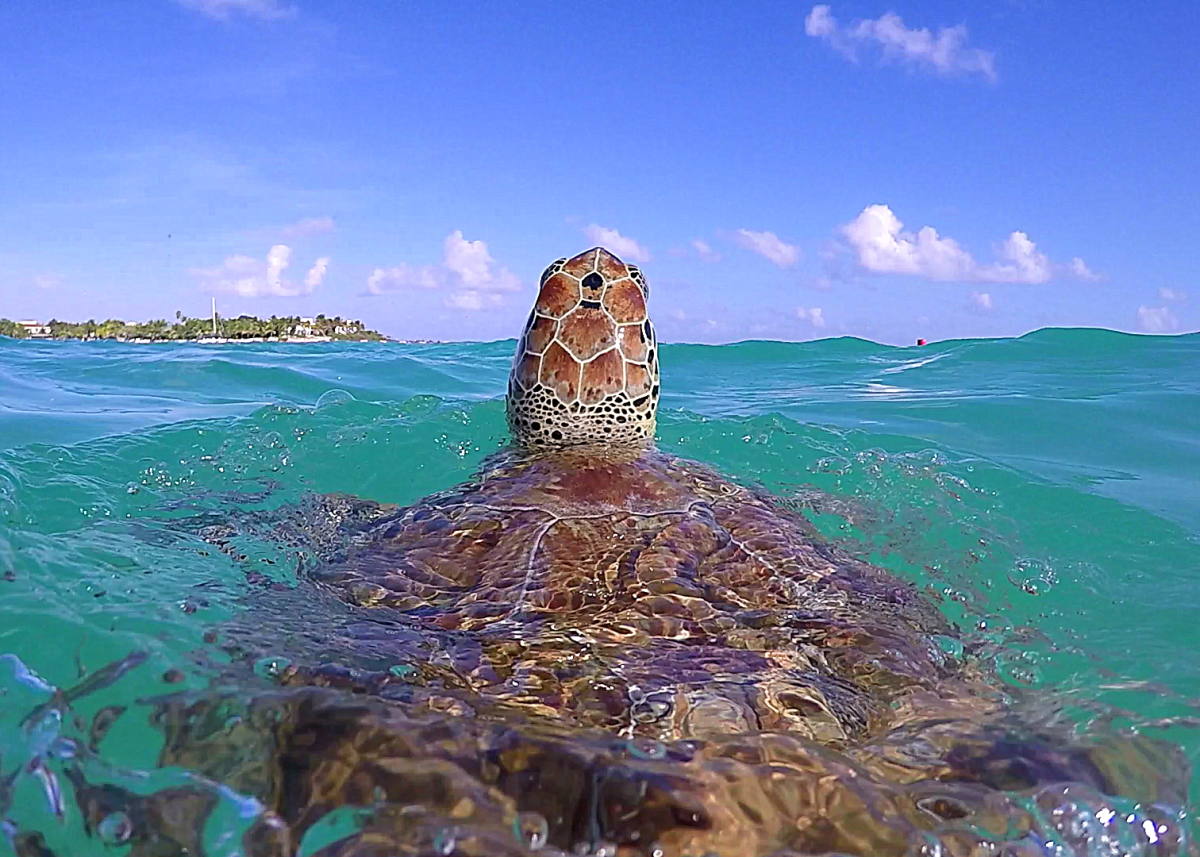 ---
Day 6: Visit Tulum Ruins & Sian Ka'an Reserve
While there are many impressive Mayan ruins in the Yucatan Peninsula, Tulum's beachfront location, perched on a cliff overlooking the Caribbean Sea, is hard to beat.
Surrounded by a tall 5-meter high wall, the Tulum Ruins are home to the Temple of the Descending God and the Temple of the Wind.
Aim to arrive as early (or late) as possible to beat the crowds as the site gets packed around 10 am.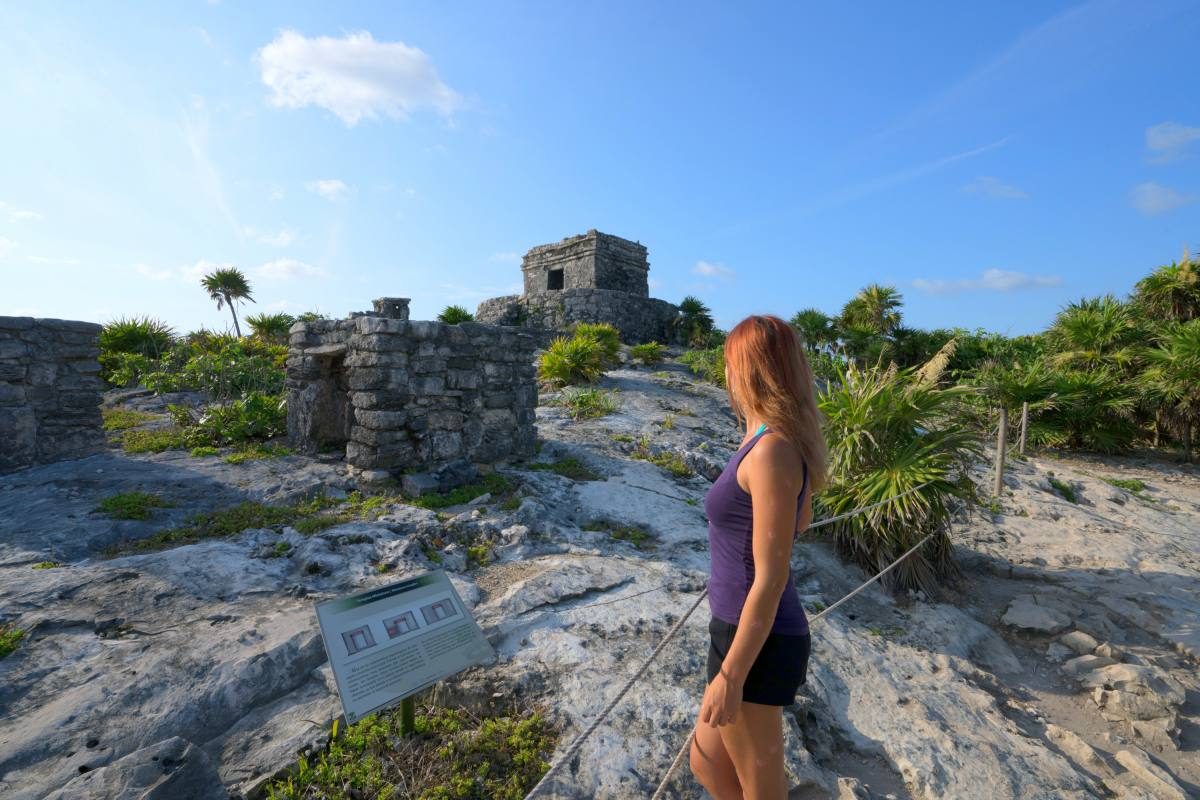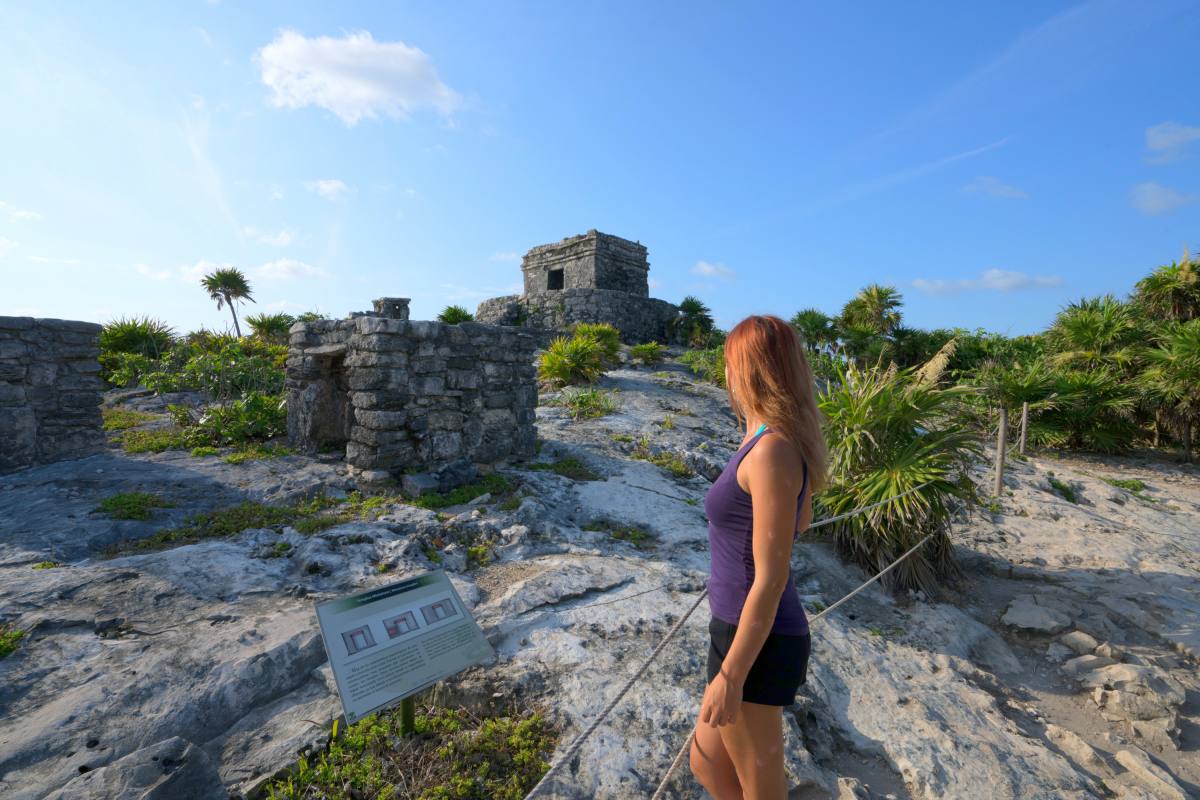 In the afternoon you can visit the Sian Ka'an Reserve where you can kayak among mangroves and spot some cute crocodiles. Meaning "gate to the sky or heaven", Sian Ka'an is a UNESCO Heritage-listed site that's home to a range of plants and animals.
Info About Tulum
Entrance to Tulum Zona Archaelogica is 80 Pesos.
Admission to Tulum Ruins is from 9 am to 5 pm.
Sian Ka'an Biosphere can be accessed from either Punta Allen or Muyil.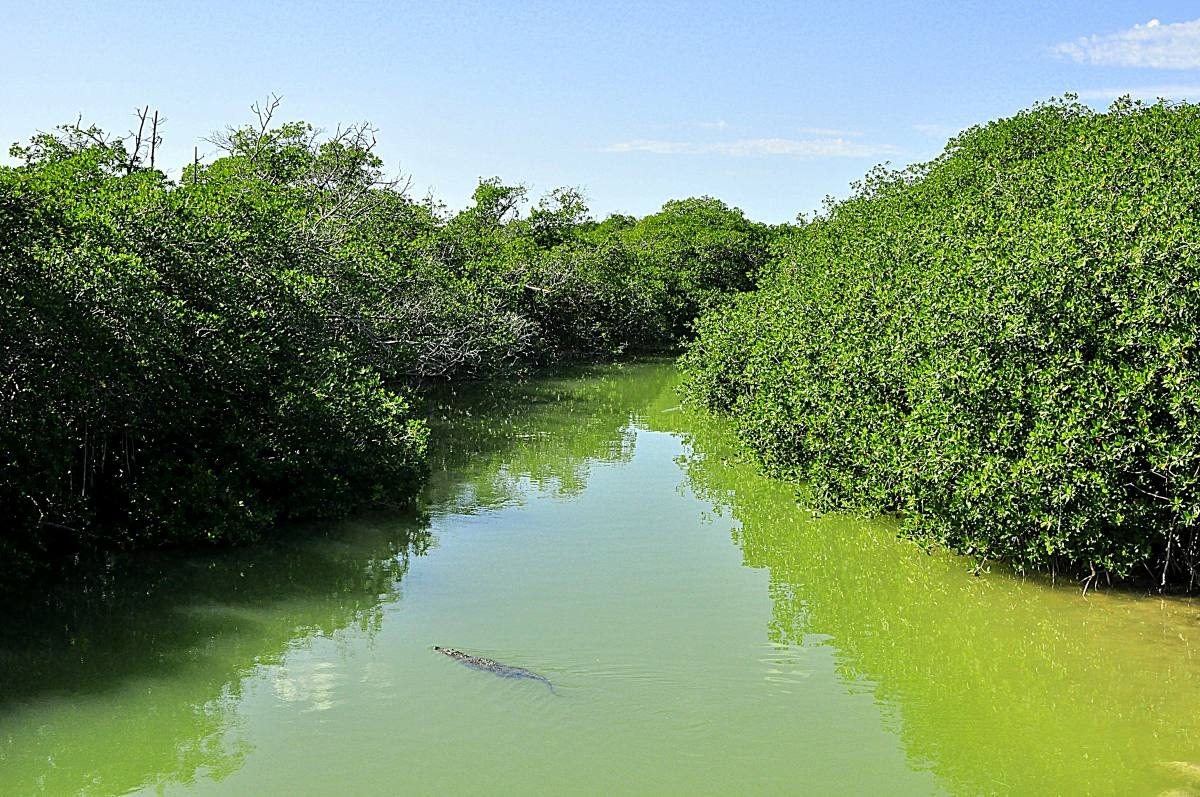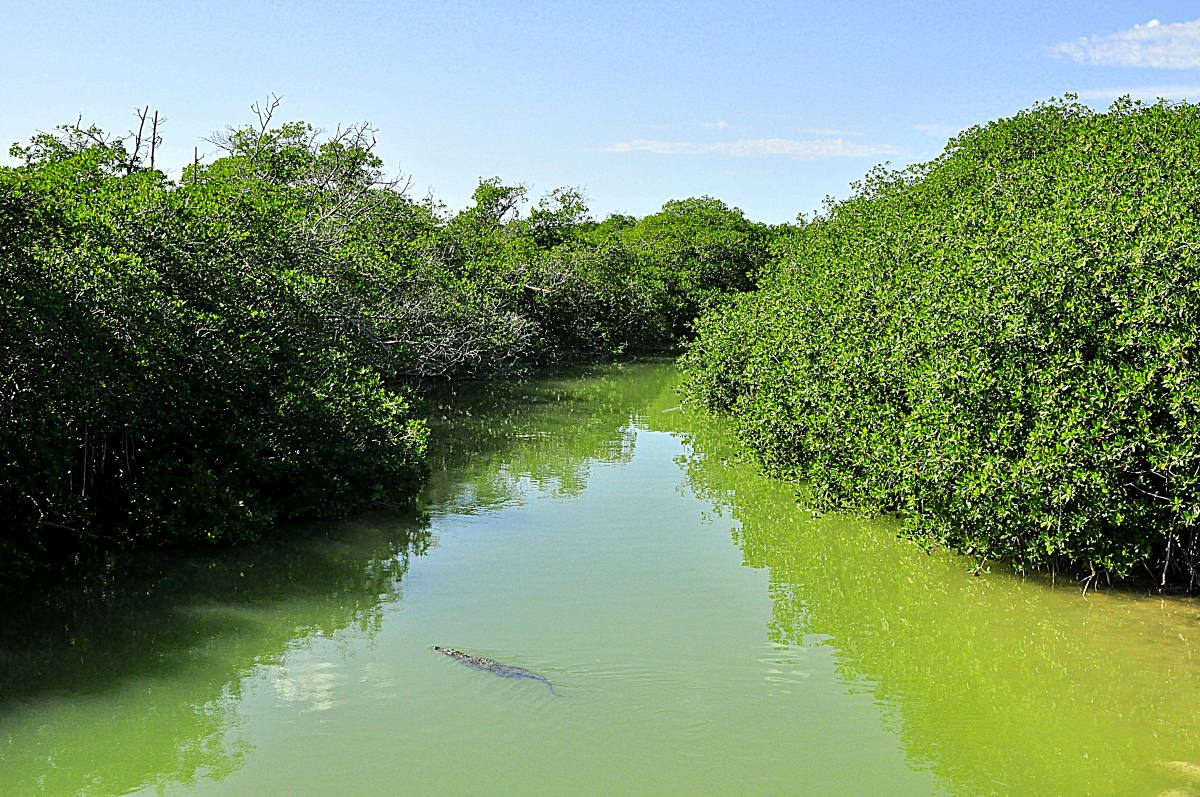 ---
Day 7: Climb the Pyramid of Coba + Swim in more Cenotes
The ruins of Coba might not be as known as Chichen Itza, but the site is less touristy and you can still climb the main pyramid called Ixmoja. There are 120 stone steps up to the top, but it's well worth the climb.
A central location in the old Mayan world, the stone city of Coba has many ruins depicting life in the Mesoamerican Civilization – Nohoch Mul, Chumuc Mul, Sacbe, Coba Group, and the Macanxoc Group. Lago Coba and Lago Macanxoc are also nearby but they're homes to crocodiles, so no swimming.
Coba is way bigger than you might think at first so allow yourself to spend a few hours out there, but don't worry – you can rent a bike to get around.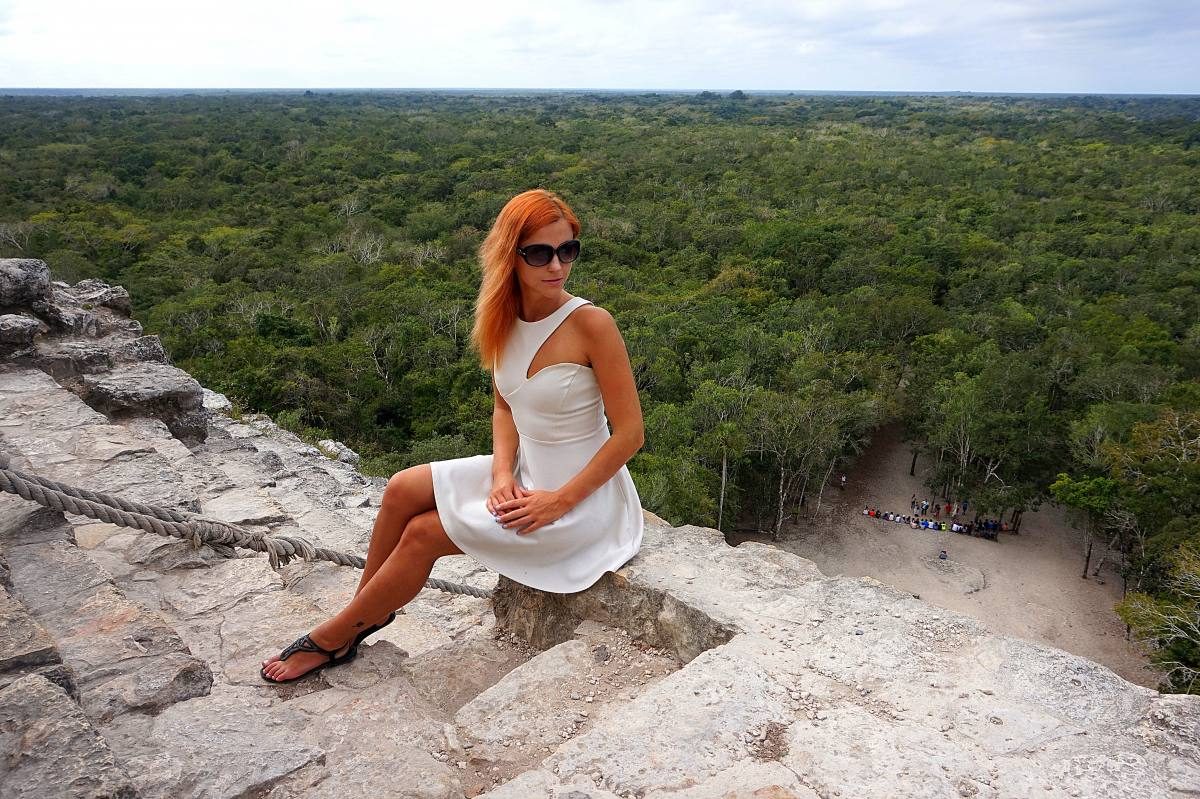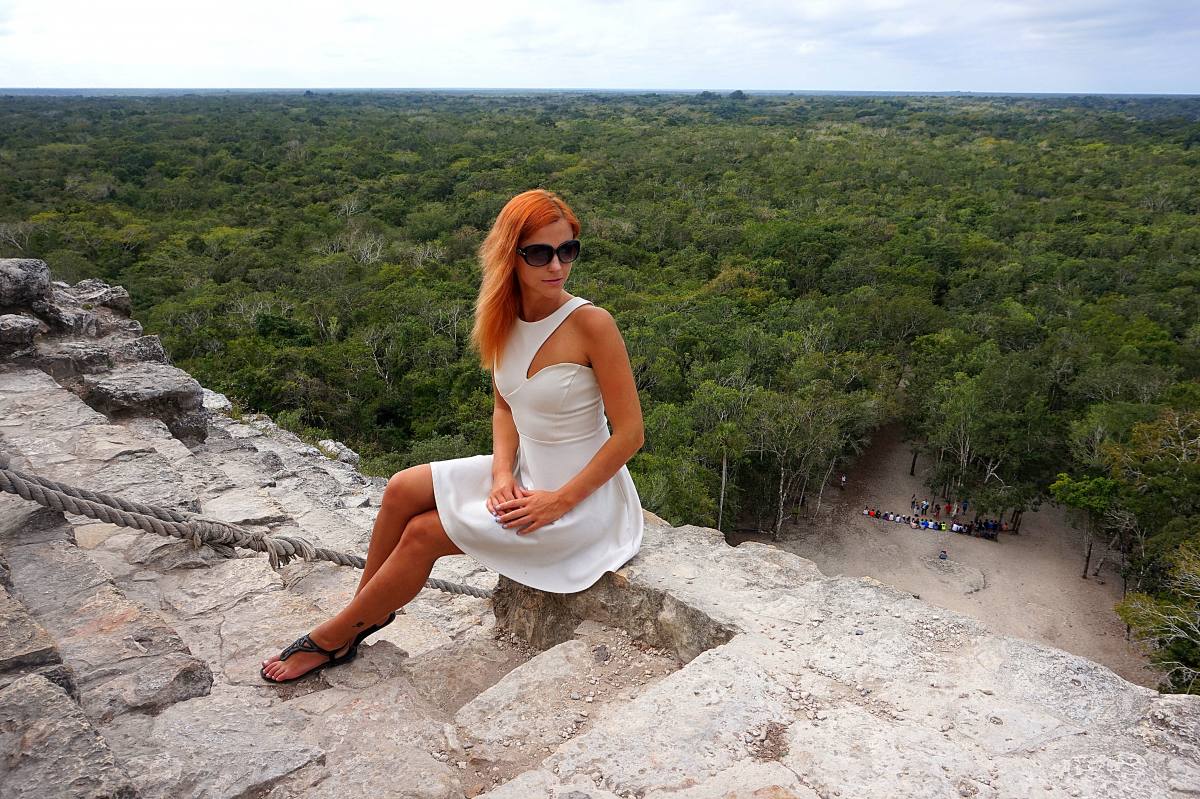 A trip to Coba wouldn't be complete without taking a dip in the refreshing cenotes nearby. For a small fee you get to see three amazing underground cenotes, in my opinion, the best in the Yucatan.
Cenote Choo-Ha is my favorite, but if you're an adventure seeker try to jump from a 45 feet platform at Tamcach-Ha cenote.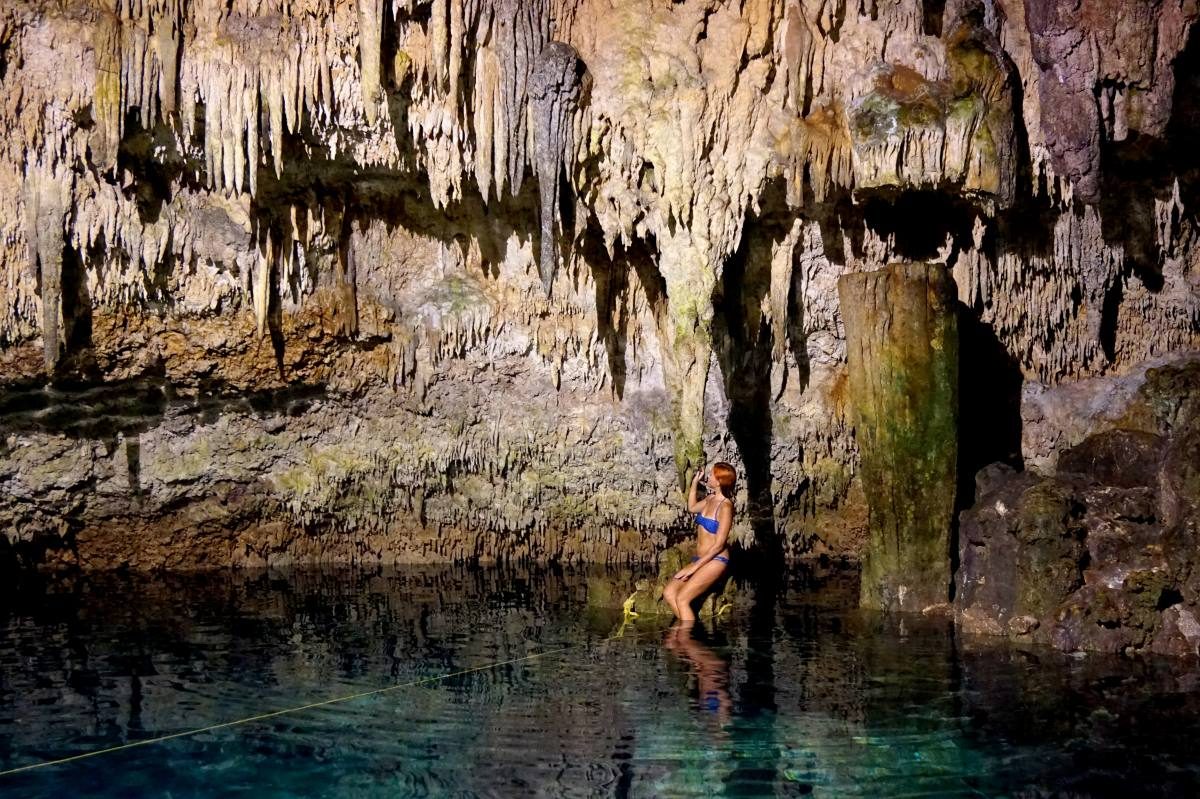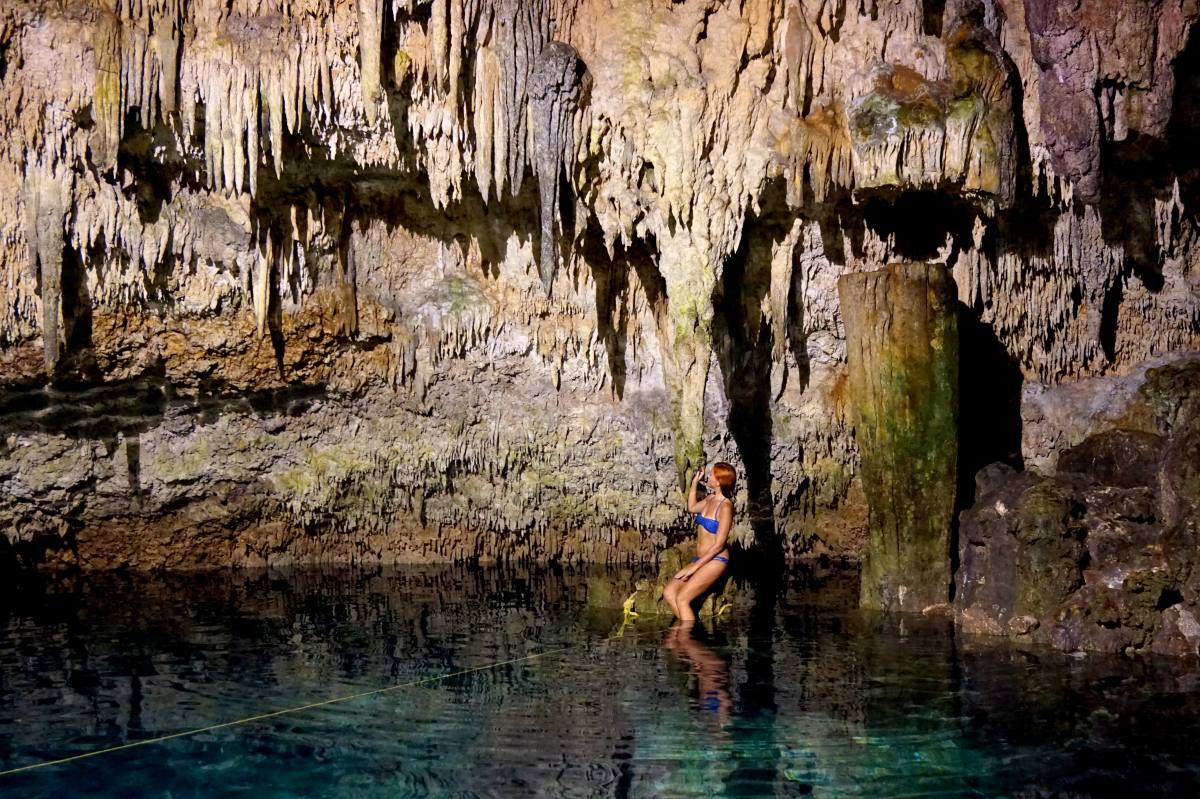 Other Important Coba Info
The Coba Ruins are about 40 km south of Tulum.
Ixmoja, the tallest pyramid is part of the Nohoch Mul group.
Coba was inhabited more than 2000 years ago.
Other cenotes near Choo-Ha that are worth visiting are Tancach-ha and Multun-ha.
Entrance fees to Choo-Ha average around 100 MXN or 5 USD.
Where to Stay in or near Coba Ruins
Aldea Coba An Escape Boutique Experience – Classy Boutique
Hotel Sacbe Coba – Budget Hotel
Hotel Kaab Coba – Affordable Mid-range Hotel
Hotel Mayahau Coba – Budget Hotel with shared kitchen
---
Yucatan Peninsula Itinerary for 14 days
Day 9 & 10: Bacalar
The next day continue to take a drive to Bacalar – Lagoon of 7 Colors. It's only 2 hours away from Tulum, so if you leave. You can relax at the lagoon, take a boat or stroll around.
Where to Stay in Bacalar
Hotel Aires – Luxurious Hotel in a 17th-century Colonial Home
Casa Aakal – Centrally located close to restaurants
Day 11: Go to Chichen Itza & Valladolid
Leave early in the morning and head to Chichen Itza – one of Mexico's most visited tourist destinations and UNESCO World Heritage Site.
There are a lot of astronomical marvels at Chichen Itza, but one of the most exciting is the Descent of the Feathered Serpent on the main Pyramid of Kukulkan which happens once a year.
A shadow play is created where a serpent head statue transforms into a full creature through the shadows of the pyramid's terraces.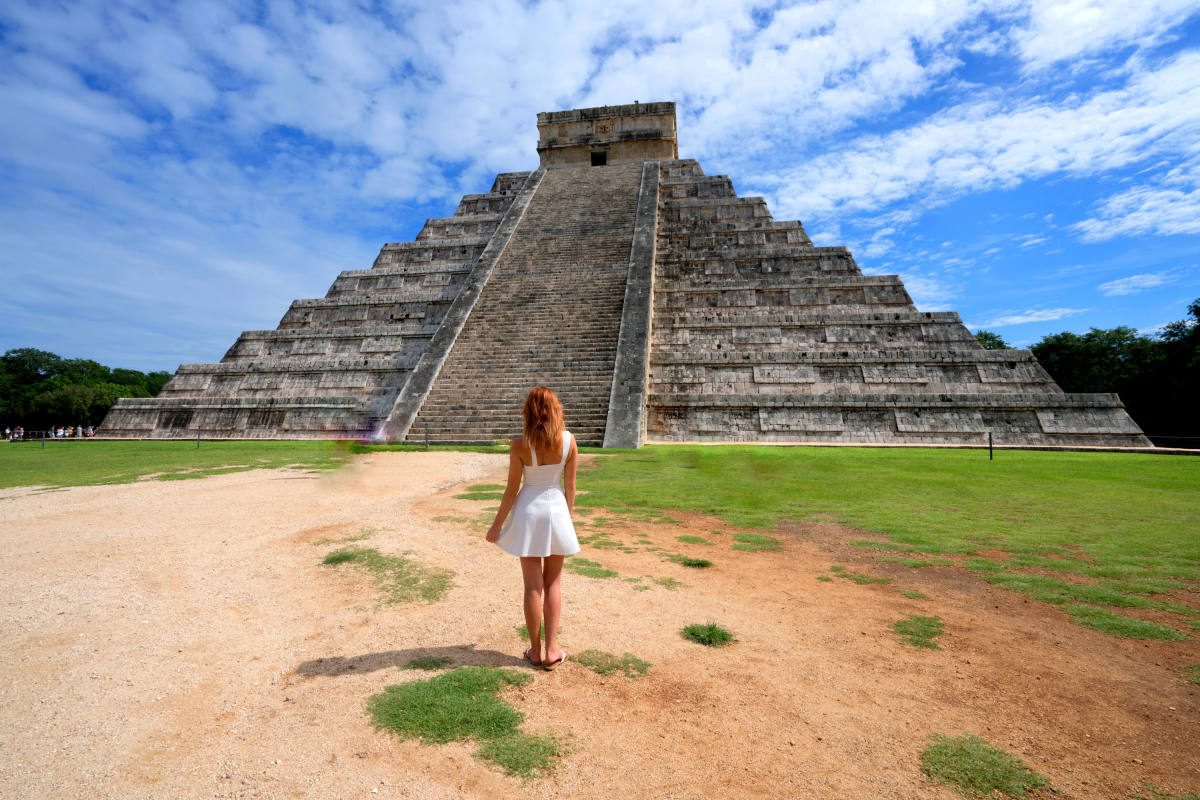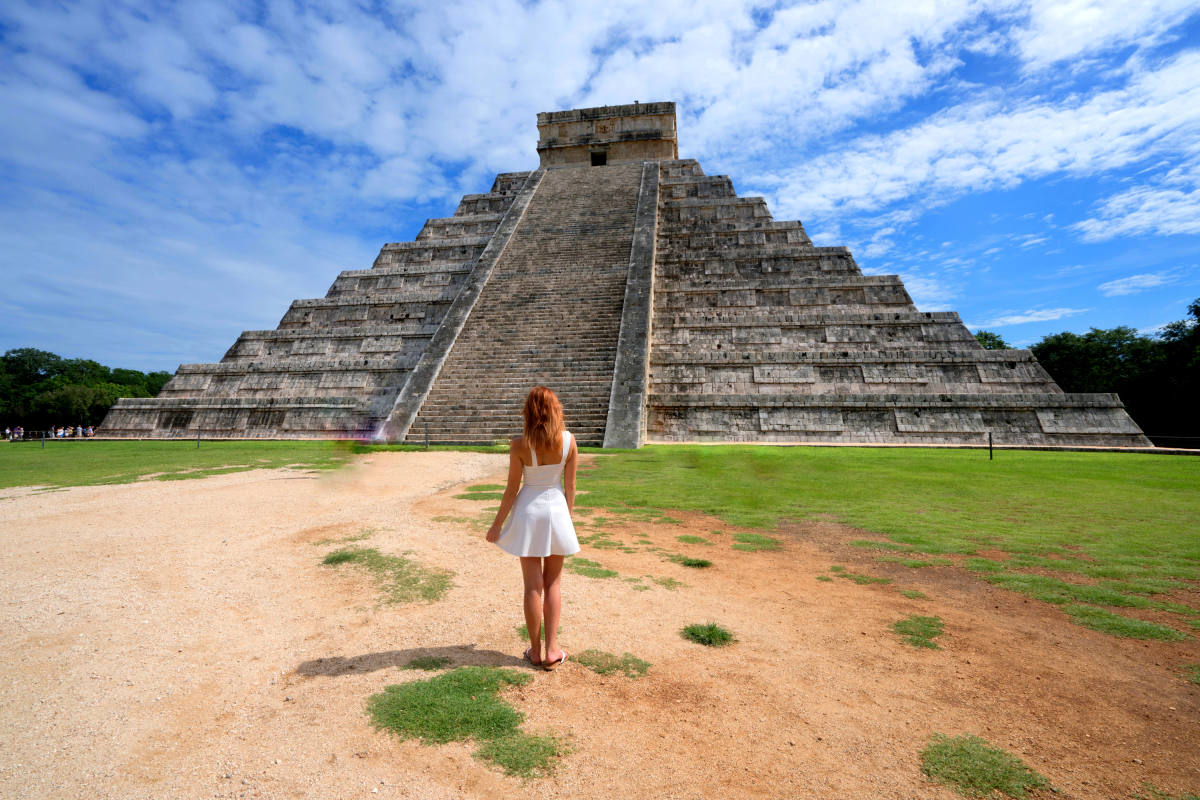 Valladolid is a friendly colonial town on the way to Chichen Itza featuring stunning architecture, including a 16th-century Cathedral of San Gervasio.
While some tourists still pass through Valladolid the city is often an overlooked destination, while there are plenty of things to do there.
If you stop here visit the Convento de San Bernardino de Siena to see its stunning architecture. On weekdays at 9 pm there's a sound and light show on the outer walls that detail the history and architecture of the church.
You can also look at over 3000 pieces of local folk art at the museum-like Casa de los Venados.
You could also visit the small church named after the Virgin of Candelaria, the patron saint of the town. The Iglesia de la Candelaria is pretty simple, but the cafes in the square nearby are definitely worth a try.
Local cenotes such as Cenote Zaci are a great alternative to the overcrowded Ik Kil Cenote. Valladolid a good spot to spend a night in as well.
Info about Chichen Itza and Valladolid
The Cathedral of San Servacio is free to enter.
Entrance costs to Chichen Itza are about 80 MXN for kids 3 to 12, and 533 MXN for adults.
Due to the pandemic, visitors are limited to 3000 a day at Chichen Itza. So it won't be too crowded.
Entrance to the Convento de San Bernardino de Siena is around 40 MXN.
Entry to Cenote Zaci is a cheap 30 MXN!
Where to Stay in or near Valladolid
Hotel Meson del Marques – Luxurious Hotel in a 17th-century Colonial Home
Casa San Roque Valladolid – Centrally located close to restaurants
Le Muuch Hotel – Modern, cute and classy hotel
Casa Tia Micha – Charming and Comfortable, budget-friendly hotel
---
Day 12: See a Pink Lake
Located approximately two and a half hours from Playa del Carmen and even closer from Valladolid, Rio Lagartos is famous for bird watching and the densest concentration of flamingos in Mexico.
There was a time you could freely cover yourself in mud as it's a perfect skin treatment, but not anymore. After the lakes became popular and the crowds started coming in, there have been a number of regulations set up to protect the lakes. Swimming is not allowed.
But you can still visit the pink lakes in Rio Lagartos to take photos, and you can admire the beauty of the naturally pink lakes of Las Coloradas.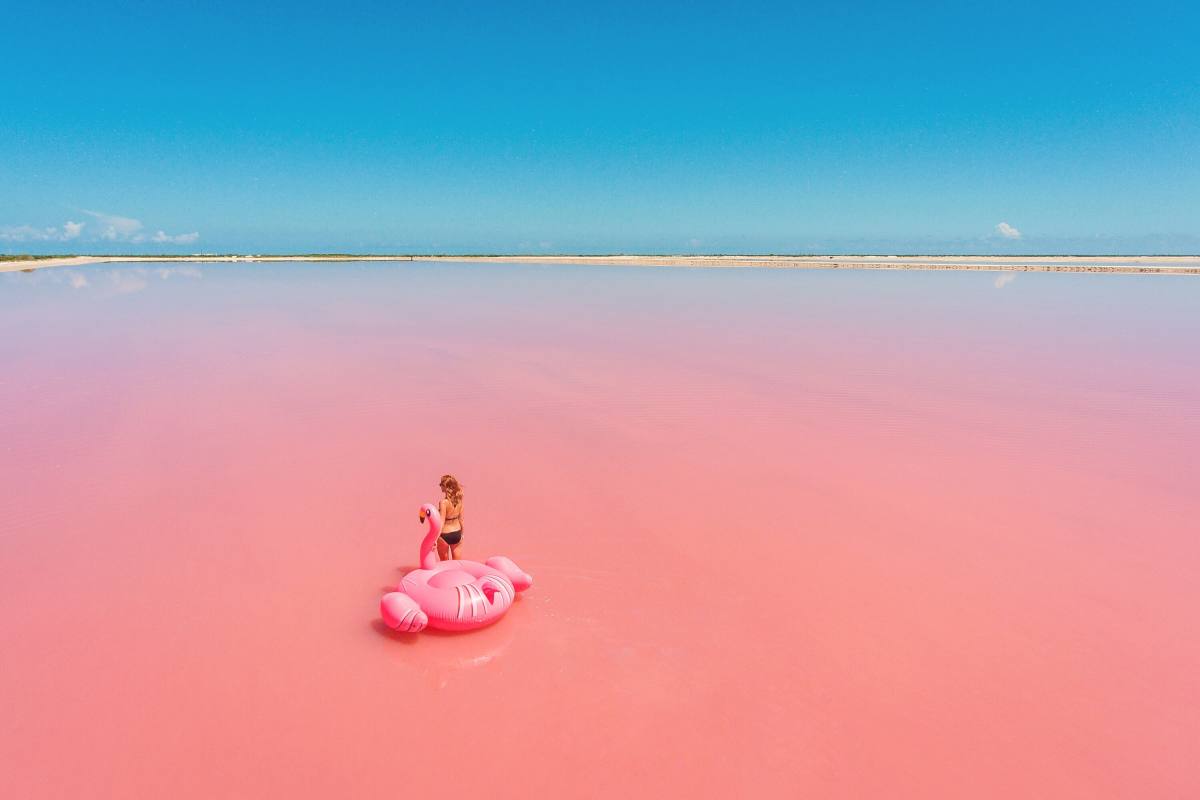 NOTE: You can absolutely visit the pink lake as a day trip from Playa del Carmen or Cancun, but I wouldn't recommend it. I've done it twice and it comes down to 5 hours driving on the same day. It's much more pleasant to just stay in Rio Lagartos, especially before heading to Holbox the next day.
Where to Stay in Rio Lagartos
Hotel Villa de Pescadores – Budget-friendly with private balconies
Hotel Tabasco Rio – Budget-friendly, features an onsite handicraft store
Hotel Rio Lagartos – 5-star with Mexican-like rooms
Yumm Ha Boutique Hotel – Facing the waterfront
---
Day 13/14: Relax on Isla Holbox
To get to Holbox take a ferry from Chiquila which leaves every hour. Isla Holbox is all about relaxing and beautiful beaches, but if you're up for some adventure activities you won't end up disappointed either.
You can go horseback riding on the beach, rent a golf cart (as it's the only vehicle allowed on the island) or rent a bike.
Snorkeling with whale sharks (from June to September) are also an option, but still, the best thing on the island are the hammock located right on the water and delicious lobster pizza.
Check out my full guide to Isla Holbox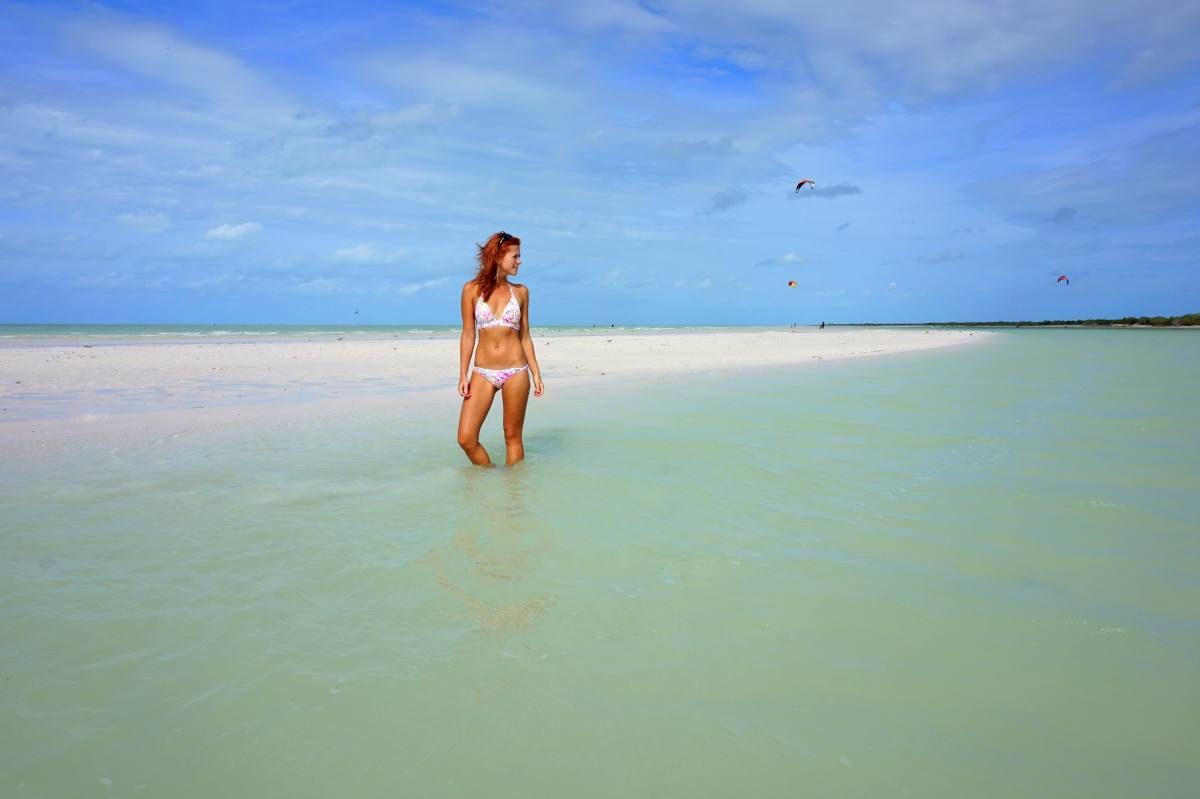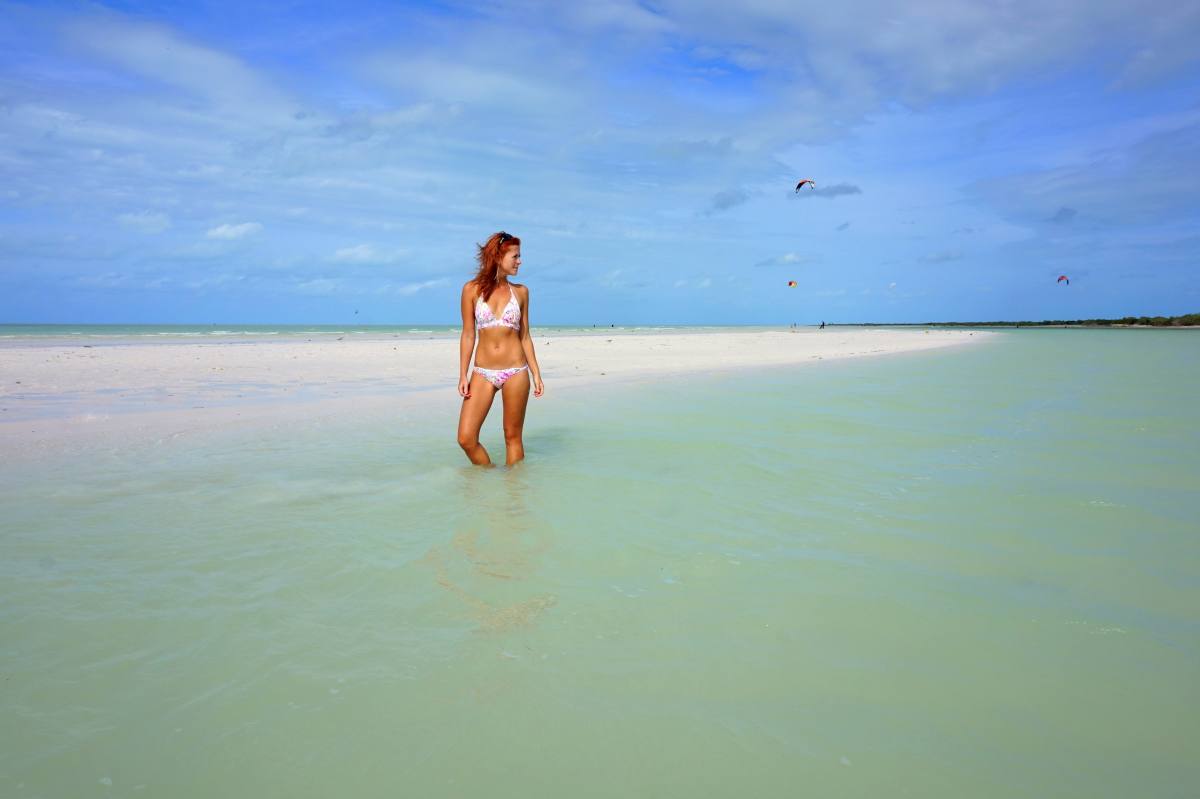 NOTE: Day trips to Isla Holbox suddenly become a thing, but I absolutely don't recommend it. You must experience sunrises and sunsets on the island and if you decide to swim with whale sharks tours leave in the morning so you wouldn't be able to get there on time.
Where to Stay on Isla Holbox
Tropical Suites by MIJ – Quiet locale close to the beach
Hotel Mayari Holbox – Classy mid-range hotel
Villas HM Paraiso del Mar – Spacious beach side suites
Cabanas Coconut – Budget-friendly
---
Day 14: Head to Cancun
Head to Cancun for some much-needed R & R before heading back home. Or some last-minute souvenir shopping too! I suggest checking my Travel & Live in Mexico section to see what else you can do in the Yucatan Peninsula!
For more activities and organized tours check Viator here.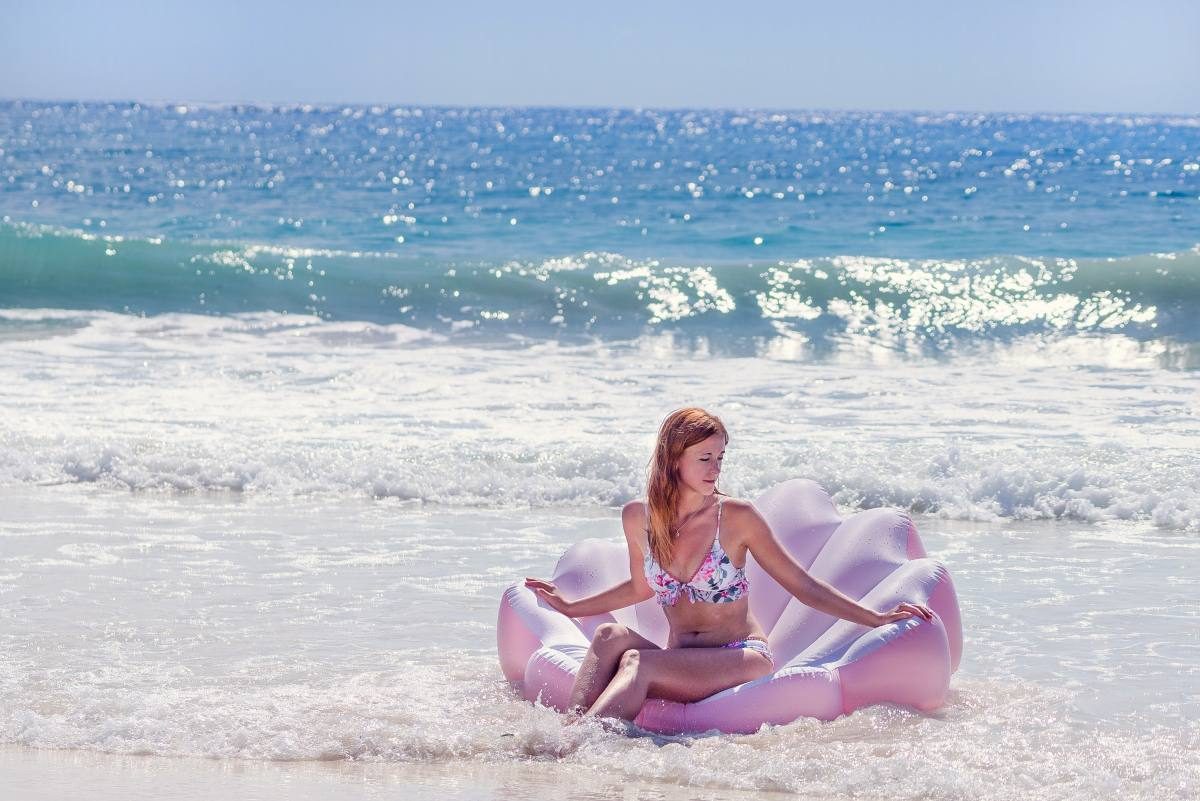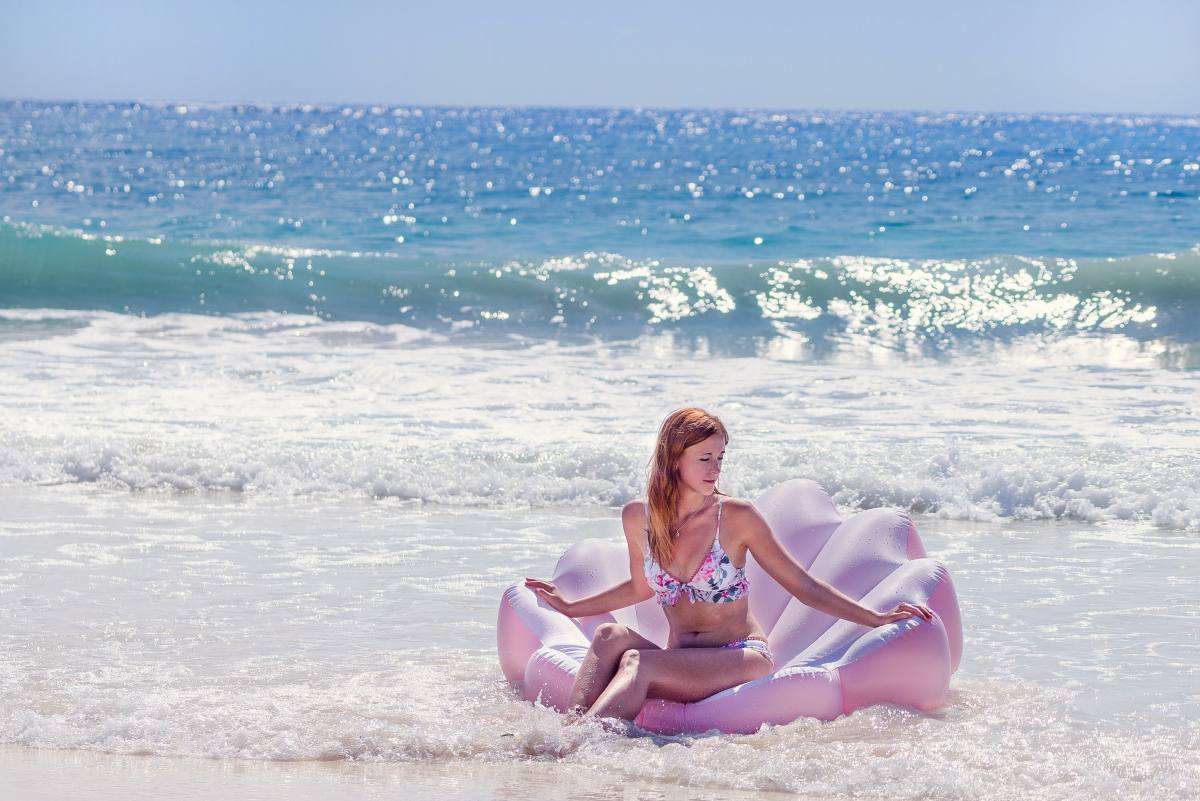 ---
Suggested more extensive guides for Mexico:
– Lonely Planet Yucatan Guide
– The Rough Guide to Mexico
– Mexican Spanish Phrasebook