There are so many things to do in Cozumel that you'll be spoiled for choice. Seriously, between the white-sand beaches and croc-spotted wildlife parks, the diving reefs and the mystical Mayan ruins, you'll hardly have time to sip those mezcal cocktails!
This guide runs through some of the very top attractions on the island. It's got marine reserves laden with stingrays and sharks. It's got historical archaeology sites that date back millennia. Oh, and there's some chocolate tasting and lazing by the Caribbean Sea for good measure.
The island is Cozumel is much more than just a quick stop on many popular cruises. In fact, I highly recommend going it when there are no cruise ship landings (if you're doing a day trip from Playa del Carmen or Tulum, locals will tell you), because it's a total madhouse on days that cruise ships dock.
How To Get To And Around Cozumel
Flights to Cozumel
There is an airport on the island – Cozumel International Airport. The airport receives plenty of local flights from Mexico City, Cancun, Merida, and Monterrey, as well as international traffic from the cities across the US and Canada. But…
The flights are more expensive than simply flying to the main airport in the area – Cancun Airport. You'd just need a taxi or bus to Playa del Carmen and then take a ferry to Cozumel. It's a simple trip that can save you a lot of money.
Taxis, Colectivos or Self-Drive
Taxis in the main town area cost $30 if you flag one down or around $50 if you engage one from the taxi stand. Taxis from the town to the Southside of the island where you have the perfect diving cost anywhere from $110 to $150. It's better to pay in Mexican Pesos (MXN) because paying in USD ups the fare quite a bit.
Within the San Miguel de Cozumel town area, you can take the Colectivo on 7 different routes for a few pesos.
There is no Lyft or Uber yet in Cozumel. It's cheaper for you to rent a car and self-drive in Cozumel. Depending on the season and type of vehicle, it can even be as low as $20 a day.
Bikes
Once you're in Cozumel, you can hire a bike to get around town easily. There are a number of local rental agencies offering eco-friendly bike rentals from beach cruisers to mountain bikes. Prices vary from rental to rental but always decrease with renting for longer periods.
Keep in mind that the island is big and if you want to explore it all, opt to rent a car or buggy instead.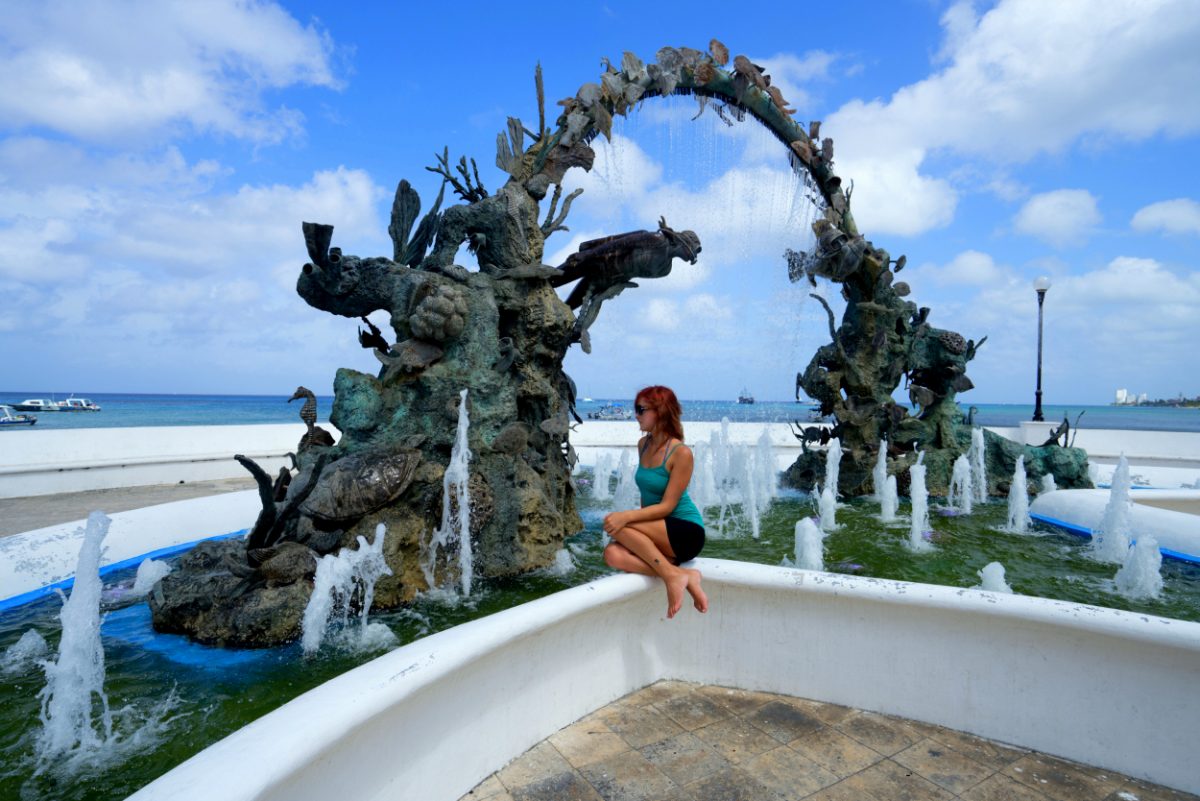 Is Cozumel Safe To Travel?
Cozumel is a popular destination for travelers from across the globe. It has a lower crime rate than many other Mexican cities, with a lower violent crime or drug crime rate than most US cities.
So is it safe to travel to Cozumel? Yes, the Yucatan region is one of the safest in Mexico. So, as long as you use common sense you'll be fine traveling in Cozumel alone or with friends.
Stay aware of your surroundings and avoid isolated areas such as empty streets or beaches at night.
Basically, follow all the safety measures and precautions that you normally would while traveling in any new city, and you'll find the island very safe.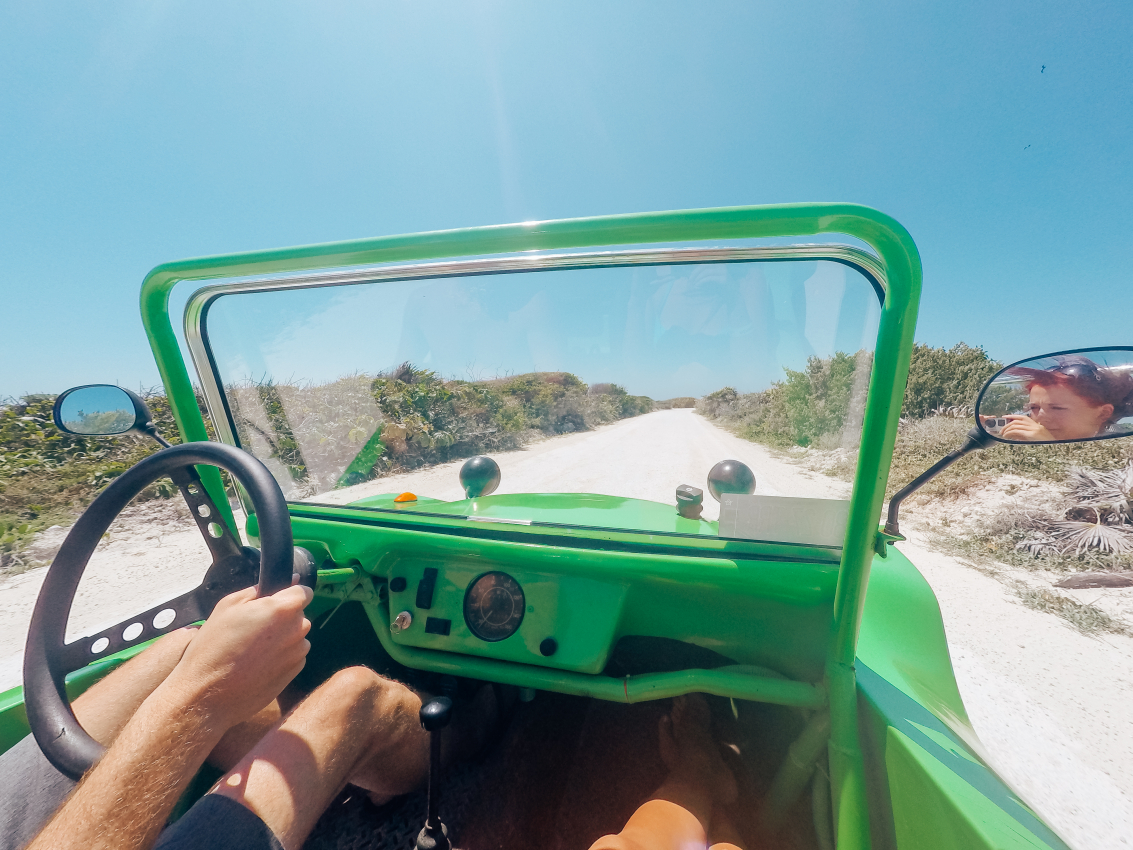 ---
Things to Do in Cozumel, Mexico
1. Explore San Miguel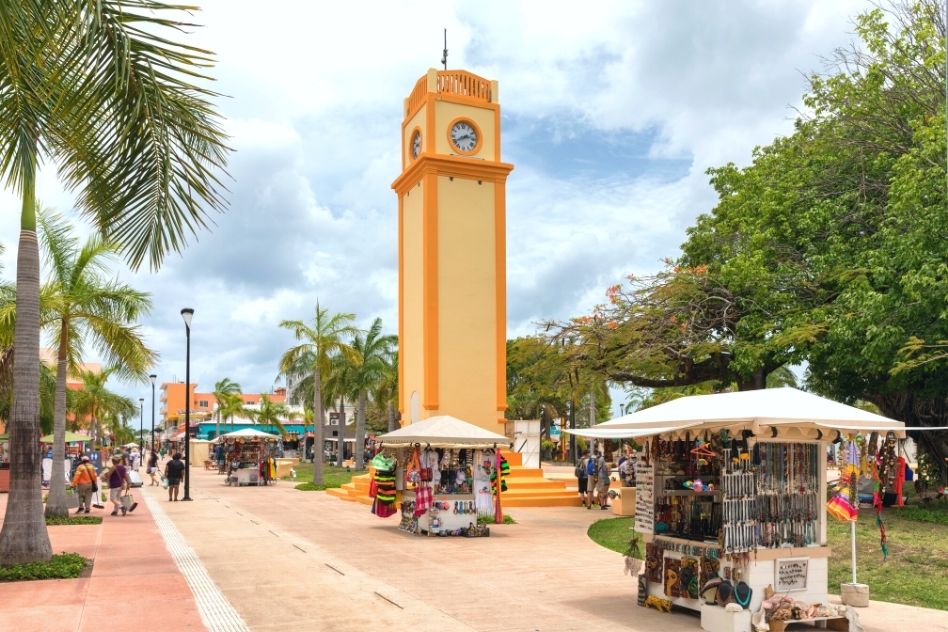 San Miguel is the first intro to Cozumel for most travelers. It's the home of the great cruise ship port and the place where the cross-Caribbean boats from Cancun come in. It's also where you'll find the island's only airport.
Sadly, most folk will leave the town in favor of the beaches and resorts down the west coast. We'd say it's worth a couple of days at least to get the local vibe…
Vibrant, lively, and filled with attractions, it's a great place to start that Cozumel adventure. The most energetic part of the town is the Avenida Melgar. It's a salt-washed promenade that runs along the coast, unfolding in a medley of cervecerias, coffee shops, taquerias, and cocktail bars. In the streets behind that, you get block after block of shopping and dining.
There are a few landmarks you should have on the radar, too. The otherworldly Coral Reefs Monument sits on the shoreline, commemorating the great Mesoamerican Reef that runs through the sea here. There's also the Museum of Cozumel, which bursts with Mayan relics and offers a glimpse at the island's long history (keep it in store for a rainy day, perhaps).
2. Go Scuba Diving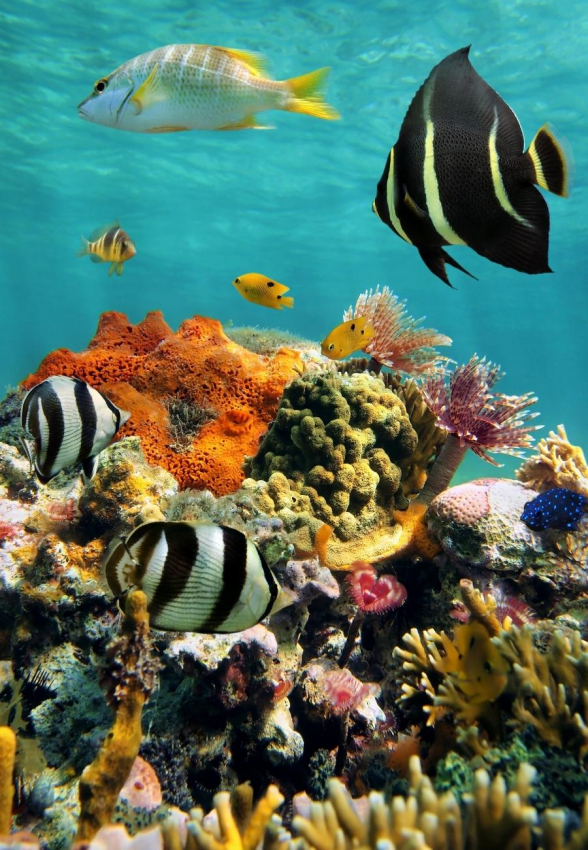 Mexico City is for the urban explorers. The Sayulita surf for the board riders. Oaxaca for the food buffs. But Cozumel is the chart-topper when it comes to scuba diving. It's one of the best places in the world to dive actually. Thanks to its crystal-clear Caribbean waters and abundance of marine life, it's a fantastic place to strap on the tanks and get underwater.
There are hundreds of outfitters to pick from on the island. They offer everything from introductory dives to PADI courses to expert excursions for the pre-qualified pros. Whatever level you are, we'd say it's important to be clear on the price of a dive before you seal the deal. It's normal on Cozumel for quoted prices to include the cost of tank rentals, but not extras like masks, so always budget a little more than you expect.
Most of the popular dive sites in Cozumel string along the west and south coasts of the island. That's where you'll find the sprawling Palancar Reef, which is actually among the largest reef systems on the planet. Within are some seriously amazing creatures that you can see through a glass-bottom boat.
Go snorkeling with stingrays or go reef hopping and keep the eyes peeled for sea turtles, rainbowfish, seahorses – the list goes on!
3. Playa Mia Grand Beach Park
Come to splash and relax at the Playa Mia Grand Beach Park. It's a doozy of a family option because the attractions cover both adults and kids. Look one way and you'll see looping waterslides and fun pools. Look another and you've got rows of sunbeds shaded by palm trees.
The complex also has one foot in the Caribbean Sea. That's great news for those keen on a little Cozumel snorkeling or swimming. However, you can also get kayaks and pedalboats to add in a little more adventure. All that will inevitably work up an appetite, but thankfully Playa Mia touts an on-site a la carte restaurant and fully stocked bar.
There's also the option of learning to prepare a Mexican 3-course meal at a private oceanfront dining room.
Some of the highlights of the kids' zone include the adrenaline-thumping Twin Twister slide and pirate-themed Buccaneers' Bay. It's possible to book add-on tours if the rides aren't enough to keep you entertained. Packages run from the park include parasailing excursions, jet ski sessions, and even fish therapy massages.
4. Visit A Chocolate Factory
Anyone who loves chocolate (so, that's everyone, right?) will love these full-fledged local chocolate factories.
The first is a locally owned establishment in the backstreets of San Miguel de Cozumel. Set behind colorful walls scrawled in the art that hearkens back to the ancient days of Caribbean Mexico, the place beckons with some seriously immersive – and tasty – exhibits. The other, the Mayan Cacao Company is in the Zona Hotelera, and within walking distance of most resorts.
Within, you'll learn all about the ways the Maya people made their chocolate hundreds of years ago. You'll see recreations of the tools that were part of historic chocolate production in the Americas. Visitors also have a go at crafting their own cocoa-based treats, using a rustic Mexican grindstone called Metate and other traditional methods.
Don't worry there's lots of tasting involved! In fact, there are samples on offer at every stage of the museum, letting you see how the world's favorite candy goes from paste to block to bar, and how the flavor changes along the way.
Don't worry. If you're not a fan of making your own chocolate, there's something better. The factory also runs a workshop teaching you how to make a choc margarita!
5. Punta Sur Beach & the Parque Punta Sur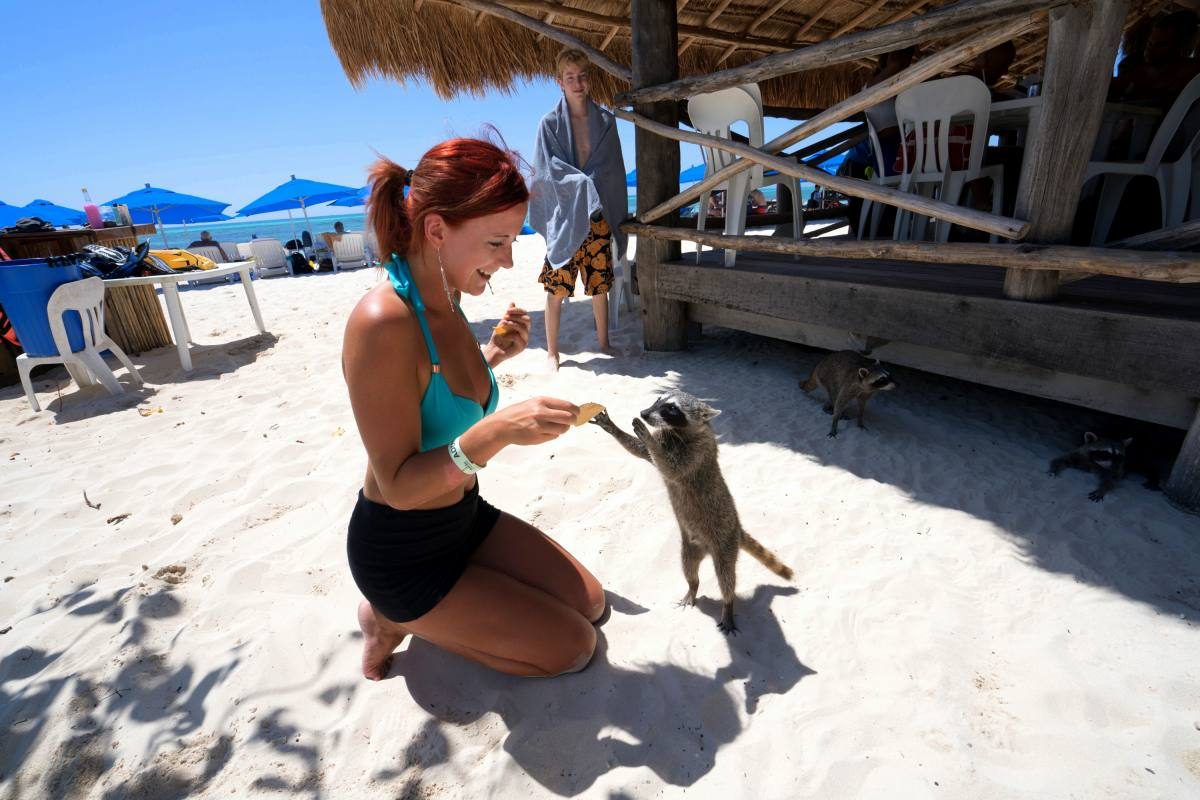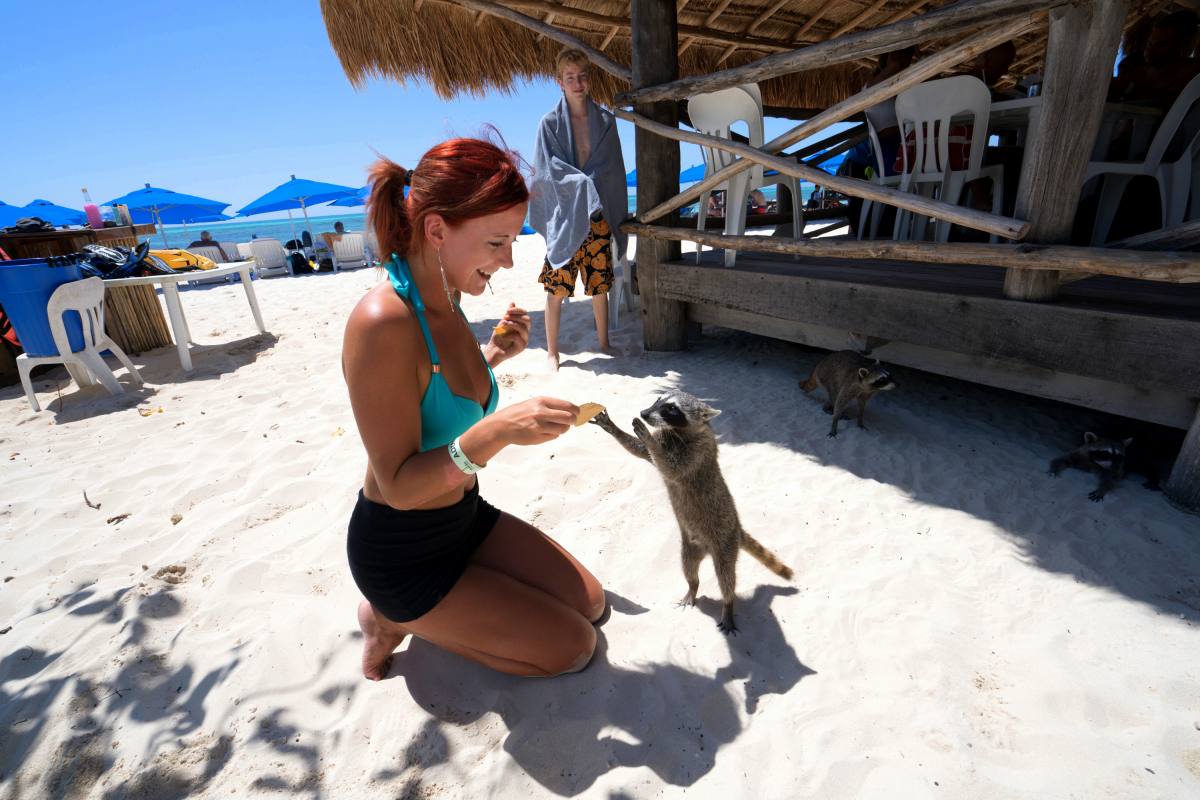 Punta Sur Beach stretches out close to where the wetlands meet the reefs at the very south tip of Cozumel. It's actually a part of the larger Parque Punta Sur, which is a vast nature reserve encompassing over 1,000 hectares of land and water.
Adventure should be easy to find. Simply make for the swamps and winding riverways that drift inland from the coast. They are filled with rare birds and sharp-toothed crocodiles. You can get up close to their fangs and incisors on a boat trip. Or, you can scale the lighthouse lookout point to see the crocs hiding between the foliage and the mud banks from a distance.
Punta Sur beach is also home to very unique creatures – pygmy raccoons. They're very friendly and will come out to see you for sure… especially if they see you've got food.
Back on the Caribbean Sea half of the Parque Punta Sur is Punta Sur Beach proper. That's classic Cozumel stuff: White sand, lapping waves, underwater reefs that teem with fish. Lots of folks consider it to be the best snorkeling location on the isle.
6. Stingray Beach
Stingray Beach is actually more of a marine sanctuary than a beach. It houses a bunch of rescued stingrays and sharks in an enclosure right by the town of San Miguel. It offers travelers a chance to get really close to otherwise elusive undersea creatures. You'll learn all about stingray behavior, get to handle the animals, and participate in a feeding session.
There are various tours on the menu. You can pick classic snorkeling outings to meet the below-water residents. Or, there are packages with a difference, like the stand-up paddleboarding adventure along the reef-dashed coastline that runs north and south from Stingray Beach.
7. Discover Mexico Park
If you don't have time to take in the big sights of Mexico City or the UNESCO World Heritage wonders of Chichen Itza, don't worry. The Discover Mexico Park scales all the great treasures of the country down into one fantastic, bite-sized attraction.
The experience is divided into three separate parts. There's the historic aspect of the collection. That means delving into the tale of the Mayan civilization and getting the lowdown on some of the great landmarks of ancient North America. Secondly, the guides offer insights into age-old Mexican traditions like the Day of the Dead celebrations. Thirdly, you'll learn about local arts and crafts like Alebrije making and tequila distilling.
The whole thing is very hands-on and accessible. Tours are specifically designed with families in mind, and guides are well-versed in keeping the little ones entertained. There's also an on-site restaurant and gift shop that's filled with potential souvenirs.
8. Zona Arqueológica San Gervasio
Whoever said you had to hit Chichen Itza or Teotihuacan over on the mainland for your fix of ancient Mexican history? Not at all. One of the most immersive and enthralling things to do in Cozumel is to unravel the tale of the Maya peoples at the jaw-dropping pre-Columbian dig site at San Gervasio.
It's positively brimming with archaeological relics and remains from centuries gone by. They tell the story of a small town that grew into a great city, starting around 300 AD and finishing with the heyday of the settlement in 1,200 AD. That's all laid out in the ruined roadways, the temples, the marketplaces, and private abodes that still stand amid the Cozumel jungles.
If you're not sure about your pre-Spanish New World history, it's probably a good idea to engage a guide to take you around the Zona Arqueológica San Gervasio. They know all the facts and ins and outs of Maya culture and should be able to answer any questions you have about Cozumel's most amazing historical wonder.
9. Chankanaab Adventure Beach Park
Chankanaab Adventure Beach Park is one of the top things to do in Cozumel when you're pining for a day on the water. Another of the island's privately run coastal parks, it stretches along a particularly lovely part of the west coast. That means plenty of sugar-soft sand and high coconut trees. It means pure turquoise waters and perfect swimming conditions.
But, of course, there's much more than just the beach. Chankanaab also includes several animal enclosures. There are areas where you can witness crocodiles in their natural habitat. Regular sea lion shows are run at the site.
Chankanaab Adventure Beach Park gets pretty busy when the big cruise ships are in the dock. The attraction is just 10 minutes' drive by taxi from the harbor, after all. We'd recommend booking tickets beforehand if you're traveling here in the peak season.
10. Playa Chen Rio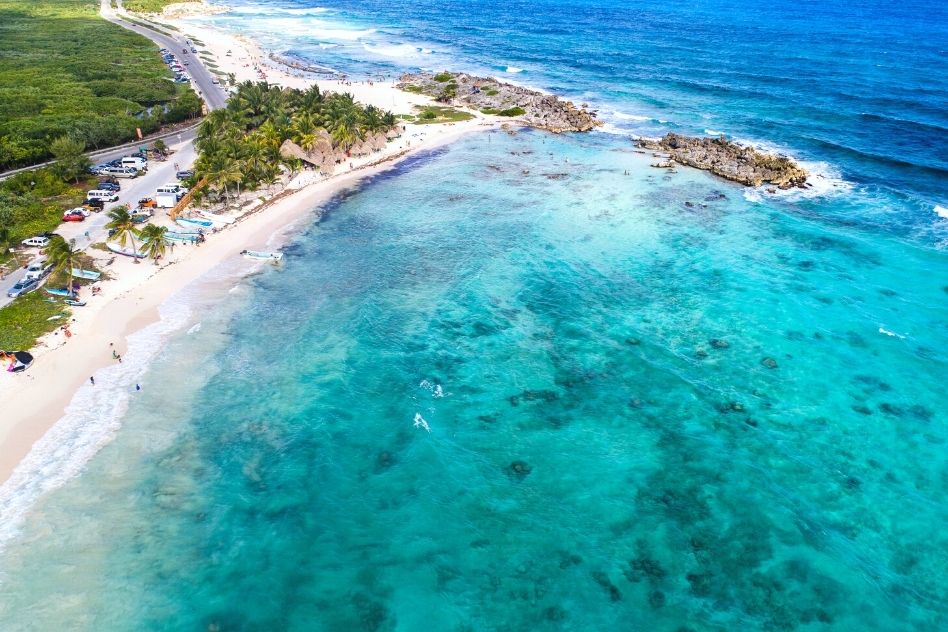 While the west coast of Cozumel thrums with life and comes packed with tanning bodies, the east coast is altogether quieter and more remote. That's where you'll find the wonderful beach of Playa Chen Rio. Facing the open Caribbean Sea, it's a great arc of cloud-white sand backed by little dunes covered in sea vines and small rocks.
It's considered one of the jewels of the far side of Cozumel and is certainly one of the best beaches in the region as a whole. It should take around 40 minutes to get there from San Miguel, taking the direct Quintana Roo C-1 road straight across the breadth of the island.
A few things to note: The waves are always larger down on Playa Chen Rio than on the softer sands to the west. They can rise up and crash against the shoreline with a hefty dose of gusto. It's great to watch but means the spot is better left to the strong swimmers. Also, don't come expecting the same array of eateries and bars as you get elsewhere. That said, there is one lovely surf shack with palm-thatched umbrellas where you can grab that cold drink come the sunset hour.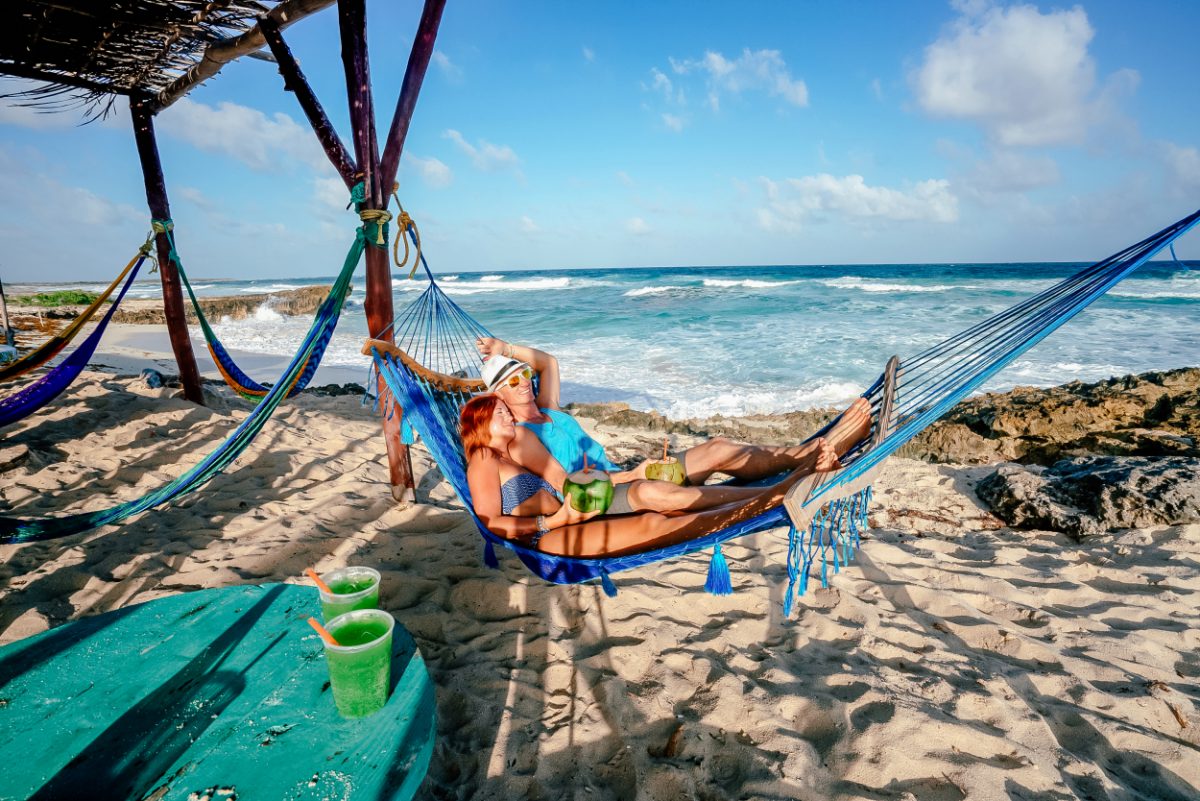 ---
Where to Stay in Cozumel, Mexico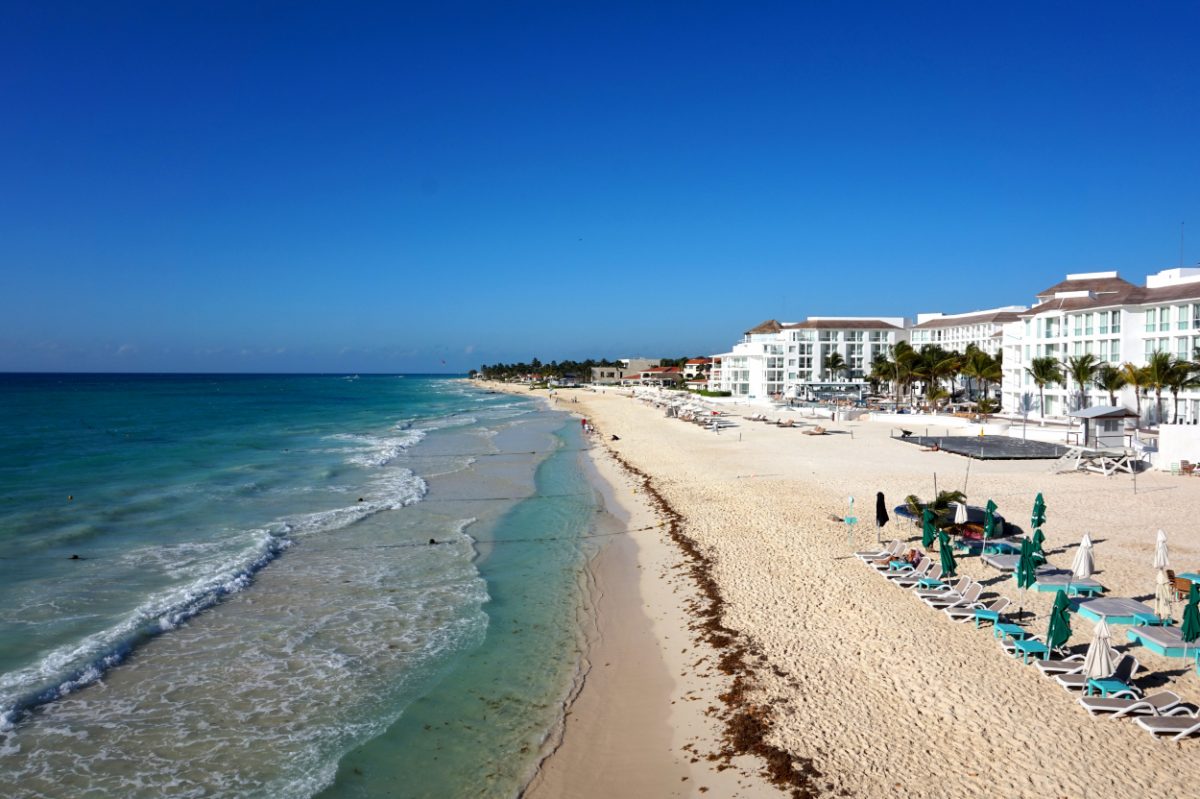 Luxury Hotels in Cozumel
Occidental Cozumel All Inclusive
All-inclusive luxury hotel right on the beach offering unlimited meals, snacks, and drinks. It also features 7 onsite restaurants, 5 bars, a nightclub, an evening program, and a range of activities.
Grand Park Royal Cozumel
Beautiful reefs with the amazing sea life of the Cozumel National Park are right in front of this upscale luxury hotel. The city center with its energetic nightlife is also close by.
Iberostar Cozumel – All Inclusive
This 5-star accommodation features cottage rooms and suites with terraces and hot tubs in a tropical setting. The all-inclusive food and drinks are delicious. Plus, the eco-friendly hotel runs marine conservation programs that you can take part in.
Mid-Range Hotels in Cozumel
Hacienda San Miguel Hotel & Suites
Looking like it's right out of a Mexican novella, this beautiful hacienda has studios and suites with well-equipped kitchens and tiled flooring.
Villablanca Garden Beach Hotel
Closer to the beach than the town center, and right in front of the Villablanca reef, this hotel offers spacious rooms, suites, and villas for a holiday with a more local feel.
El Cozumeleño Beach Resort – All Inclusive
Guests at the resort can avail of free snorkeling equipment and free introductory diving lessons in the hotel pool. Enjoy all-inclusive buffet-style dining as well as national and international drinks and snacks.
Budget Friendly Hotels & Hostels in Cozumel
Hotel Barracuda
All of the rooms at this sea-facing hotel feature a balcony and can sleep up to 4 adults. There's also an onsite sports bar and ice cream parlor.
Hotel Bello Caribe
Set in a quieter area of the city about a 10-minute walk from the beach, this rustic hotel offers affordable rooms and family rooms that can accommodate up to 6 adults and 4 kids, perfect for a family and friends vacation.
Hotel Mary Carmen
Right on the beach and surrounded by restaurants and dive shops, this budget-friendly hotel is perfect for an affordable yet comfortable stay in Cozumel.
---
This is just a taster of all the awesome things to do in Cozumel. Whether you're hopping off the cruise ship for a couple of hours or planning a fortnight of chilling on the shores of the Mexican Caribbean, you can rest assured that this island has you covered. Beach bars, happening Latin towns, cool tequila bars, chocolate factories, world-famous reefs – it's almost endless!