As we were moving back to Mexico for the birth of our second baby, we were surely way too
busy to arrange a babymoon early on, so we decided to do a last minute one. Possibly too last
minute at 9 months pregnant, but I guess I always do things at the last second.
In thinking about our babymoon this time around, we knew it was going to be a little different since it wasn't just my husband and me to plan for, but also a busy and active toddler that wanted to enjoy everything. Hence why we needed a resort that features the luxury and relaxing amenities we value, has plenty of fun and family-friendly activities for our son, and most importantly of all, felt safe.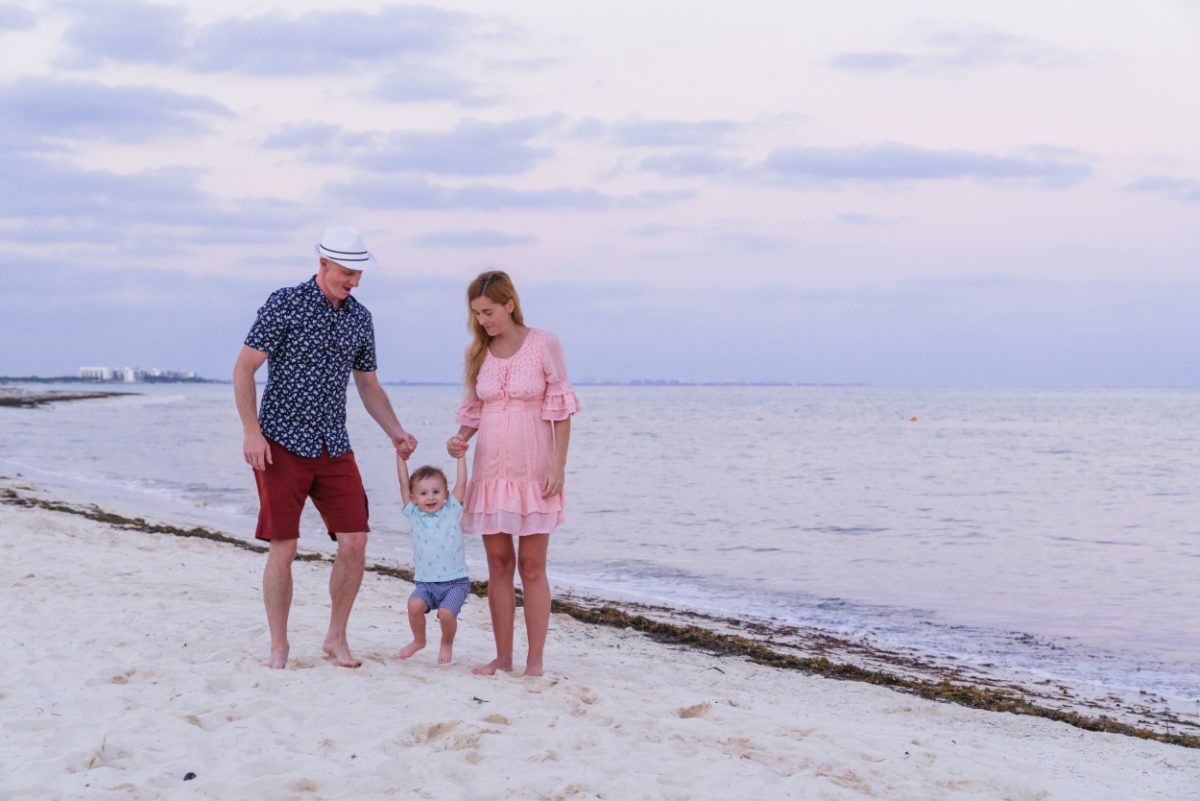 Dreams Natura Resort & Spa was a perfect choice. This new, family-friendly luxury resort has everything included with Unlimited-Luxury® and Preferred Club privileges, so we didn't have to overthink the little things that make vacation planning stressful.
I can tell you that I'm glad I got to stay there as it was a fun experience for everyone in the family. As most of us are coming out of a year of travel hibernation, I encourage you consider vacationing somewhere that puts your health and safety as top priority and of course, implements all of the necessary precautions per CDC guidelines.
CleanComplete+ Health & Safety Protocols
Because this is top of mind for a lot of people on the fence about vacationing, I want to talk about our experience on property. To be honest, we felt super safe about our choice because of the resort's CleanComplete+ protocols that take into account health and safety at all levels: beginning at check-in when we had our temperature checked, seeing all staff wearing masks, practicing social distancing between the wide open stretches of beach and pool, and ending with the free antigen testing on-site to follow CDC travel requirements.
___
If you are interested in visiting soon, take advantage of this special offer for even more value: Get up to 40% in travel savings and at any Dreams Resorts & Spas property. Plus, if you book before Feb 24th 2021 (for a future stay) you'll get a $200 resort coupon to use for the spa, wine, or extra activities. Kids stay for free at Dreams, Now and Sunscape Resorts & Spas.
---
About the Resort
Dreams Natura Resort & Spa is a 553-room resort facing the Caribbean Sea. It's just a few minutes away from Cancun Airport, but at the same time surrounded by mangrove jungle far enough from the city to be peaceful. Here are a few of our favorite experiences while we vacationed at Dreams Natura Resort & Spa:
Swimming Pools
The pools were never too busy as they have 3 huge pools spanning over 27,700 sq ft. The infinity pool and shallow pool (perfect for the little ones) were heated which I personally enjoyed as I'm a chicken when it comes to cold water.
While the resort does have a separate kids splash pad with mini slides, but we didn't spend too much time there as the water wasn't heated.
Dylan enjoyed the shallow heated kids pool and frankly, so did we – even when we had a babysitter (which we booked through the resort for $15 an hour, and were happy with the safety and service) and he wasn't with us. It was pretty quiet and warm. On top of that, they had a mini-waterpark with 3 different waterslides that my husband had fun on.
Under the slides there is also a lazy river and above it a "Rollglider" aerial ride (kind of like a mix between a zipline and rollercoaster) overlooking the ocean and jungle. Access to all of these is included as part of your stay and you can enjoy as much as you want!
Dining
We're not big on buffet-style dining at typical all-inclusive resorts – even before the pandemic – so we were pretty happy that we had a choice of 9 gourmet restaurants with a la carte menus to chose from. No reservations were required for any of them, unless you wanted to sit at the hibachi show table.
One of the restaurants was adults-only, but the rest were kid-friendly and offered kids menus for picky eaters. My own toddler preferred to eat whatever we were eating, but many other kids were happy they had an option of chicken nuggets or french fries.
All menus were designed to serve small portions, so you could order a few starters or even mains and try different things.
At the same time, if you didn't feel like going out to eat every night, or your kids simply didn't want to cooperate, you could just order room service which is also included as part of Unlimited Luxury® inclusions. We used room service for breakfasts every day, actually.
While there are sit-down lunch options, we sometimes opted for quick grab-and-go sandwiches, easy warm snacks, cakes and ice cream from one of the bars near the pool.
Kids-Friendly Amenities
The whole resort was very stroller friendly. While I originally didn't plan on strolling around, it was convenient to bring it to the pool with all our things and then roll the sleeping toddler back into the room. I saw many, many parents with strollers everywhere.
They also had an Explorer's Club where you could drop your kids ages 3+ (or younger with permission) and enjoy some alone time. The Explorer's Club is supervised and is a great way to let kids run around in their own space during the day. There's even a Core Zone Teens Club (ages 13 – 17) that serves as a cool place for teens to hangout and make friends.
My husband and I needed to leave the resort and also wanted to work a bit, so we booked a resort babysitter. While it's an extra service, it's totally worth it. Dylan had a blast with his babysitter and they became really close – he was always excited to see her around and gave her lots of hugs when it was time to go.
Dreams Spa by Pevonia®
The Dreams Spa by Pevonia® at Dreams Natura Resort & Spa is one of the most beautiful indoor spas I've ever seen. It's designed to look like one of Mexico's famous cenotes. You can get any type of treatment such as a massage, scrub, reflexology or simply just admire the spa while dipping your body in warm water – unlike at the natural cenotes where the water is usually pretty freezing 😉