A trip to Mexico's capital city will be nothing short of amazing. Mexico City, or CDMX—as it's now known, is filled to the brim with incredible art, culture, a rich history, and food you will surely crave after you leave.
Mexico City is quite large, and the different areas are pretty spread out. Each unique area offers something special, and there are over a dozen different neighborhoods. How will you know which is the best neighborhood to stay in Mexico City?
I've lived in Mexico City for a few years (before moving to Playa del Carmen) I moved many times and can say that I lived in pretty much every central and semi-central part of the city. I also revisited the city numerous times after I moved away, so as a result, I was able to stay in a number of different hotels.
Read on to find where to stay in Mexico City, learn some fun facts, and start planning your activities for your once in a lifetime trip to the beautiful capital. Whether you're looking for a Mexico City Airbnb, a 5-star hotel, or a quaint boutique hotel, I got you covered.
Where to Stay in Mexico City – Quick Summary
(For more detailed descriptions keeps scrolling)
★ Where to Stay in Mexico City for First Time Visit – Roma & Zona Rosa
★ Budget Area to Stay in Mexico City – Zocalo / Centro Historico
★ For the Luxury Travelers – Polanco
★ Best Place to Stay in Mexico City with Family – Reforma
★ Where to Stay in Mexico City for Nightlife – La Condesa
★ Coolest Area to Stay in Mexico City – Coyoacan
★ Other Areas of Mexico City Worth Mentioning
★ Where NOT to Stay in Mexico City
---
Best Hotels to Stay in Mexico City:
Best Luxury Hotels in Mexico City
Hotel Marquis • Sheraton Maria Isabel • Orchid House Polanco • Grand Hotel CDMX
Guesthouses in CDMX
Casa Coyoacán • Art Residence San Angel • Casa Corp
Design Hotels in CDMX
Pug Seal Tennyson • Quetzalcoatl`s Nest
Best Budget Accommodation in Mexico City
Capsule Hostel • Hostal La Encantada • Casa Pepe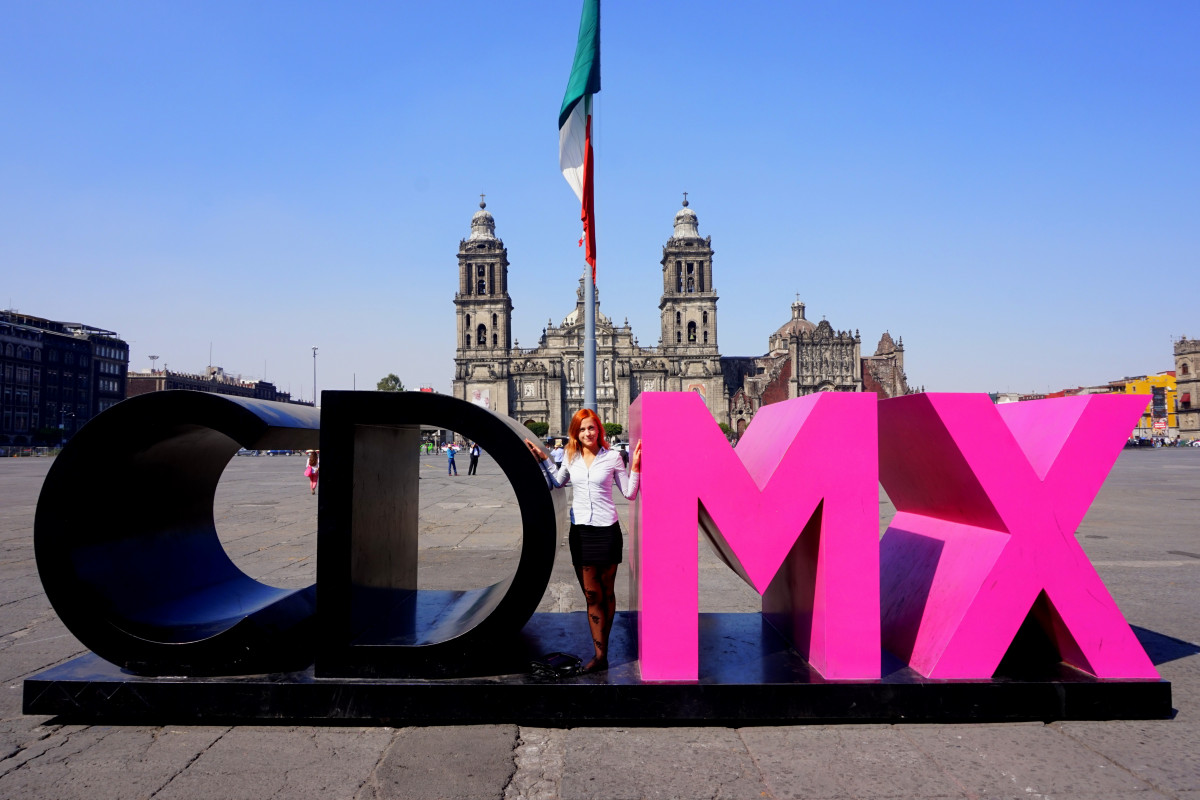 ---
Important Things to Note:
Consider Traffic Jam
Mexico City is one of the most populated cities in the world (along with Tokyo). Luckily, there is a fair amount of public transport, taxis, and Ubers to get around the city swiftly.
But, it can take forever to get around. I would compare Mexico City to Los Angeles in terms of traffic – if you get stuck, you're stuck. I still remember that time when I was stuck in a taxi and managed to watch a full movie on my phone until I reached my destination – and it was only 6 miles away!
That said, avoid planning your journeys to the other part of the city during rush hour, unless you're going by Metro.
Coming from the airport you can easily take Uber, but in case your internet doesn't work (wifi doesn't always work at the airport) or you feel more comfortable pre-booking a shuttle, this is a reliable option.
Don't Rent a Car in the City
While I highly recommend renting a car in Cancun and Yucatan Peninsula, I would advise against in Mexico City. The traffic is horrible, there's nowhere to park and driving in Mexico City requires extra skills.
It's not for faint-hearted. Most driving rules can suddenly disappear and you would have to be turn left on a roundabout because locals are too lazy to go around.
If you're comfortable with the crowds of public transportation, you can jump on a hop-on-hop-off bus. It's actually fun, even celebrities go on it, and somehow different than in other cities where it's annoying.
Map of Mexico City
Before we start, let's make sure you understand how does the city work, as it could be confusing for travelers.
Mexico City is divided up into 16 different delegaciones – districts. Then, each district is divided into colonias (smaller areas). Then each delegation is also divided into different administrative zones (coordinaciones territoriales).
For instance, Cuauhtémoc district has 33 colonias and it's organized into 6 administrative zones. Cuauhtemoc is also the best zone to stay in CDMX (with a few exceptions).
Understanding Mexico City
Even after living in Mexico City for almost two years, I still cannot say that I've seen the whole city. DF has 16 'delegaciones' which can be understood as boroughs and some parts of Estado de Mexico (The State of Mexico), which is technically a different state, are also considered as part of the city by locals. Each 'delegacion' is divided into different 'colonias'.
In Mexico City there's no such thing as a totally bad or unsafe delegation as even within colonias you might see both good and bad aspects. Quite often to get from one luxurious and safe zone to another nice neighborhood, you might have to drive or bus through a 'pueblito.'
But don't worry, it might be less safe in pueblitos than in other areas, but that doesn't mean you're going to be robbed and killed. I often passed through pueblitos in a bus or car and sometimes I even had to hang around there for a while. Unless you're really showing off your expensive jewelry or electronics, you'll be fine. Just be reasonable.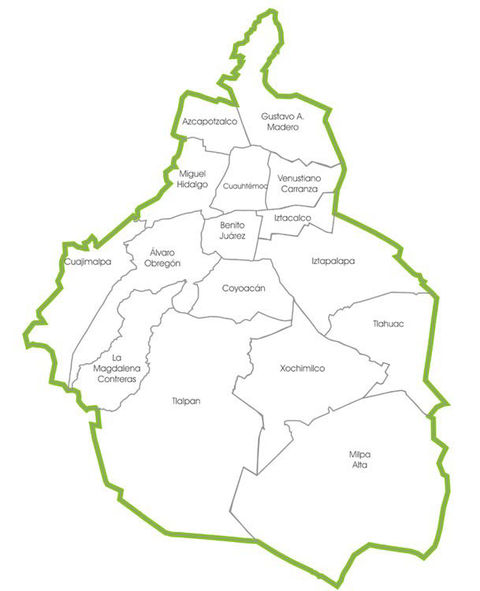 Right: Delegaciones in CDMX, Left: Cuauhtémoc with its colonias
---
Mexico City Neighborhoods:
Roma Norte & Zona Rosa (del. Cuauhtemoc)
If you're a night owl, then the Zona Rosa section of the Juarez neighborhood is for you. For the most central location in Mexico City, this is your number one spot. You'll easily get anywhere in Mexico City relatively fast from there.
During my last trip to Mexico when I had to take a few medical tourism trips to Zocalo and visit friends in the western part of the city, it was just perfect.
The central neighborhood has some of the best clubs in town, but also a few more quiet places for a glass of wine or a cocktail. Plus, it serves as the LGBT core of the city (hence the name).
Wait for the sun to go down; they light up the headstones at night. It's not a 24/7 party though, in Zona Rosa, they also have some excellent street food.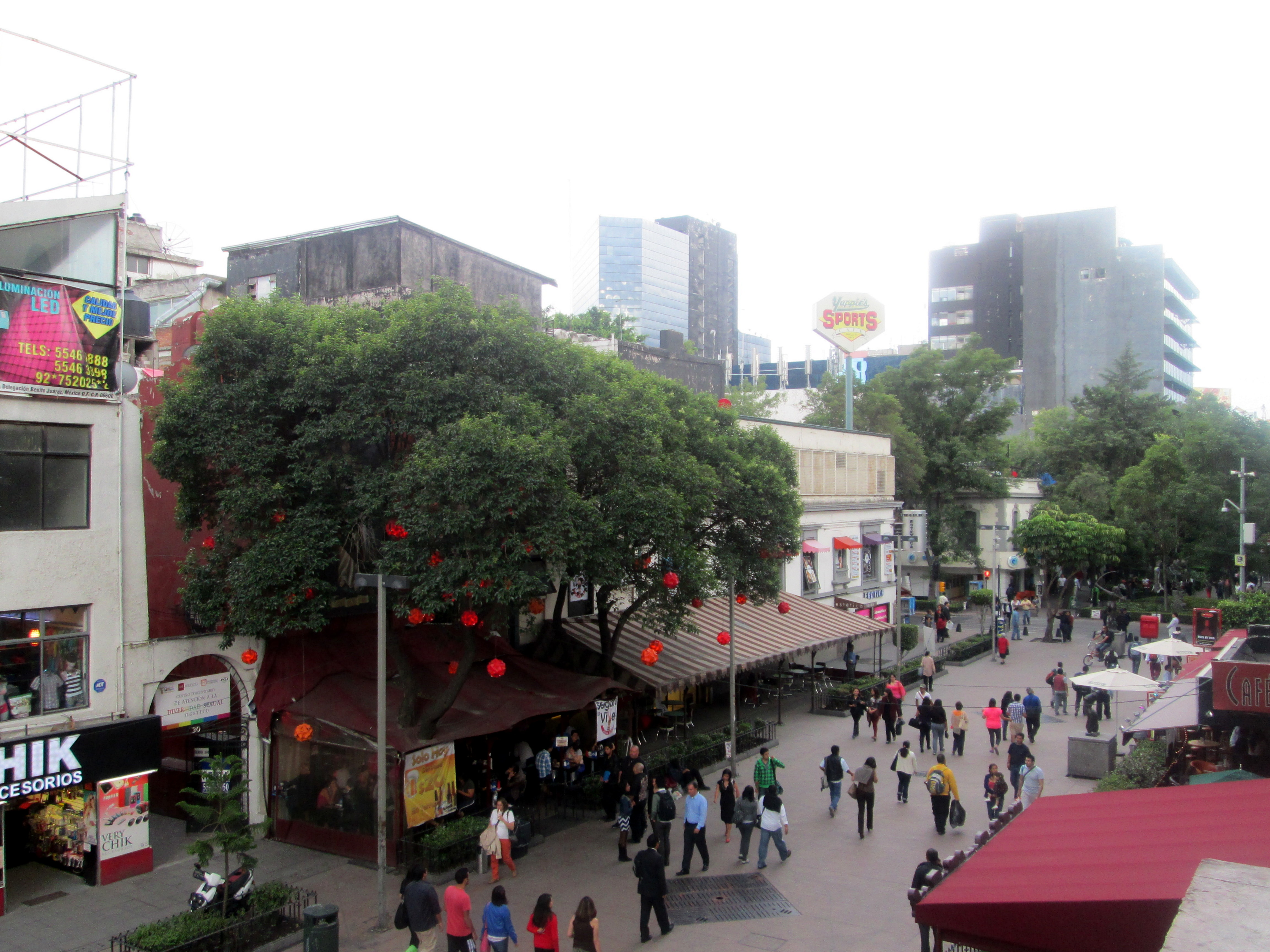 Top 3 Activities in Zona Rosa:
1. In an area famous for being a tourist and gay-friendly neighborhood, it's no doubt the Gay Pride Parade is held here each year. The even is filled with color and fun. It commences in Zona Rosa and ends in Paseo de la Reforma. The exact parade dates may vary, but it always happens during the month of June.
2. Check out the unique art pieces on Calle Londres. Buddist artists will line the streets, proudly showing off their creations. Also along the road are a number of antique sellers. Maybe you will find a hidden gem there.
3. While it may seem a bit out of place to learn about Korean culture while on a trip to Mexico City, "Little Seoul" or "Koreatown" shouldn't be missed. To explore the flavors of South Korea, try some of the tasty street food, or try some specialty products imported directly from South Korea. It will almost feel like you went to two countries on one trip with a stop at Little Korea.
Fun Facts About Zona Rosa:
Recently, a Korean community was established there.
The Koren karaoke bars are popular among Chilangos, looking to have a fun night out.
It was one of the first unconventional areas of Mexico City. Many say it was the birthplace of the bohemian lifestyle in Mexico City.
Luxury:
Hotel Geneve
Beautiful historic hotel (Frida's dad painted it!) that serves also as a museum. Many notable historical figures stayed there, including Churchill. I stayed there during my last visit and had no complaints. It's not your most modern hotel with sterile design, but the interiors are gorgeous!
Check Prices On:
Budget:
Hotel MX Roma
Recently completely remodeled hotel with a quirky design. Truth to be told I actually lived there for a few weeks when I was conducting my human rights research in Mexico City for my book. It was a comfortable spot close to metro, buses, shops and nightlife.
Check Prices On: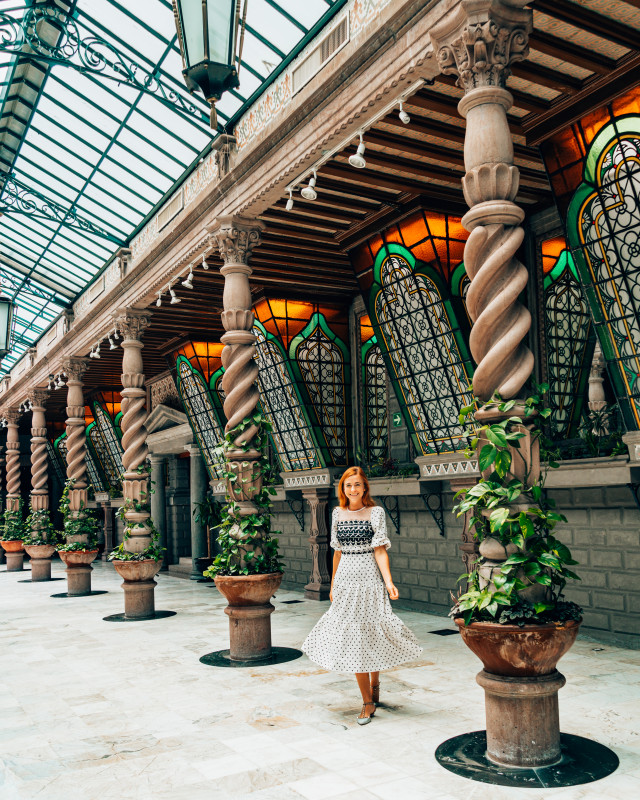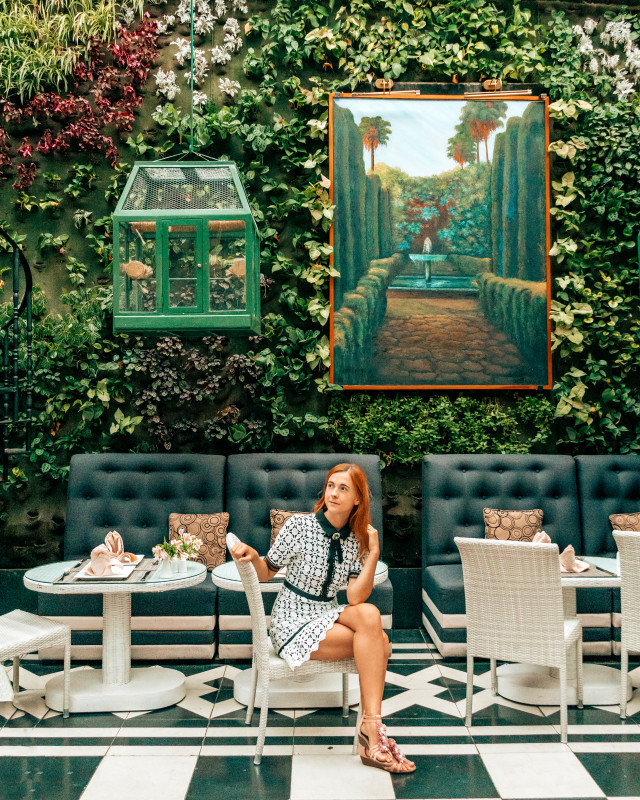 ---
Zocalo / Centro Historico (del. Cuauhtemoc)
If you enjoy wandering around museums, cheap food and want to learn more about Mexican culture, Centro Historico is the best neighborhood to stay in Mexico City. The neighborhood is home to Zocalo Square, one of Mexico City's most iconic landmarks.
It's almost impossible to take a trip to Mexico City and not visit the famous central square. While Centro Historico is known to be a safe area, some say at night it can get a bit dodgy, so just keep that in mind while you're strolling the streets after dark.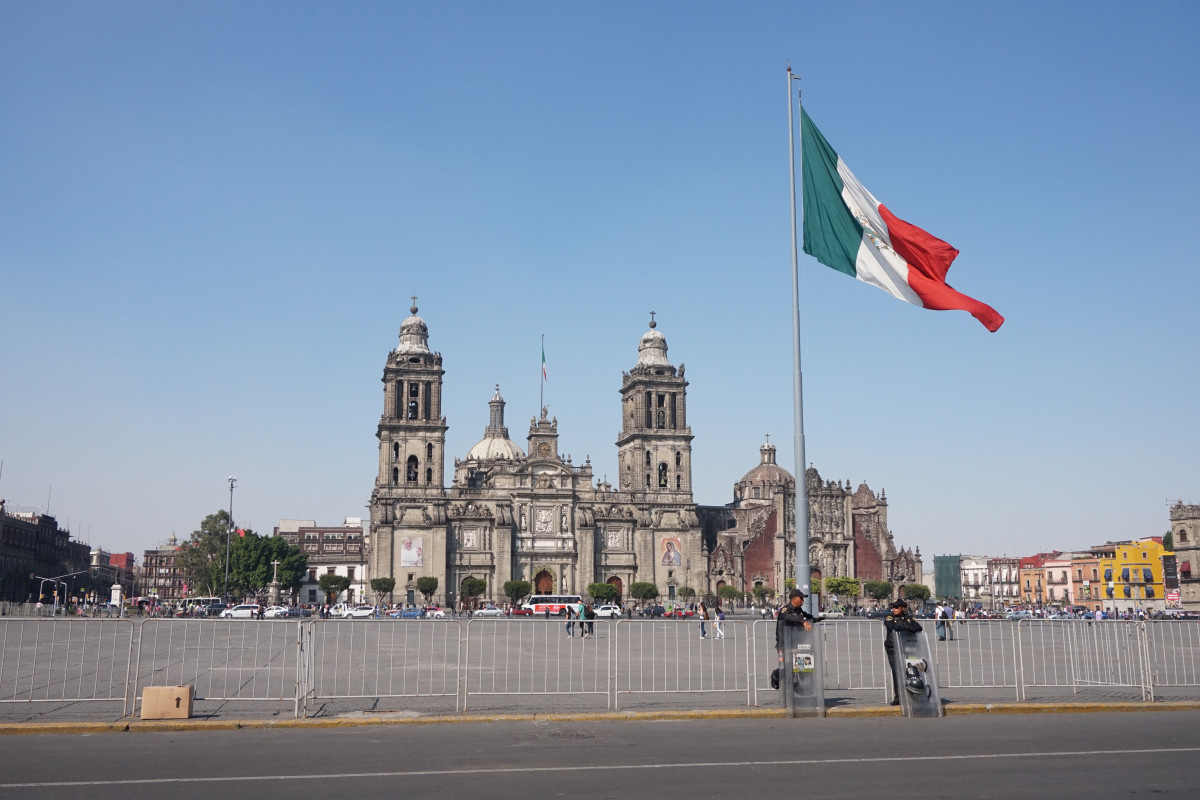 Top 3 Activities in Centro Historico:
1. For a deep and interesting history lesson, head over to the Templo Mayor Museum. It's known to be one of the coolest attractions in Mexico City, and the museum is continually adding new exhibits. Here you will find collections of political, military and aesthetic, relevant to Mexico City.
2. Music lovers should head over to the Plaza Garibaldi, strongly associated with mariachi music. Open your ears, and you'll find musicians offering songs throughout the day. Want to experience the plaza at night? Be sure to check out the Lucha Libre & Mariachis Night Tour, or just Garibaldi Night Tour.
3. Grab a bite to eat at El Huequito Tacos. They serve up some of the best authentic Mexican street food you will find in Centro Historico. They have been around since 1959, and it's safe to say they have perfected the favorite Mexican snack food, the taco, of course.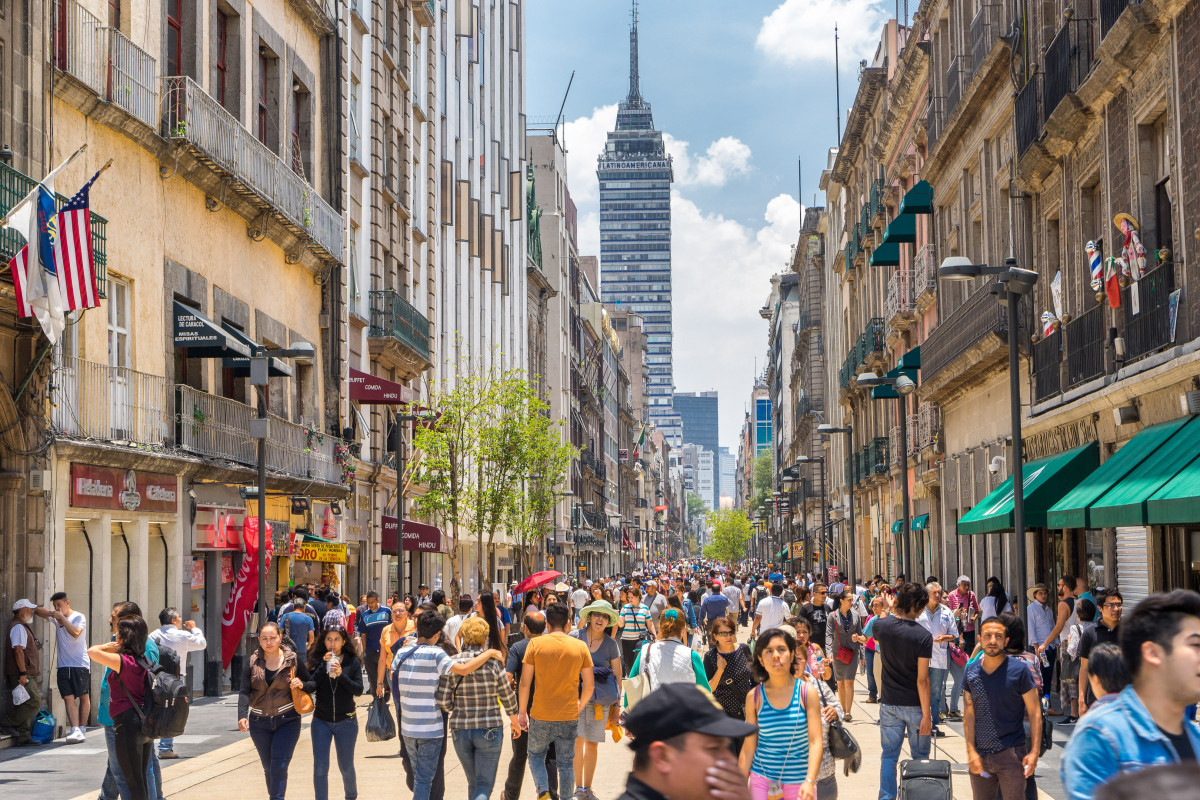 Fun Facts About Centro Historico:
The Zocalo is the largest plaza in Latin America, and it can hold almost 100,000 people.
The city correlates with the ancient Aztec city of Tenochtitlan.
Every year thousands of ice skaters flock to Zocalo, where it's transformed into one of the world's largest skating rinks.
Luxury:
Grand Hotel Ciudad de Mexico
This hotel doesn't need much introduction as it's on the main square of Zocalo. It has a lot of character (ceilings!). Great view from Restaurant La Terraza on 4th floor.
Check Prices On:
Budget:
Casa Pepe
I spent a few days there some time ago and loved it. It's a hostel, but it doesn't have private rooms as well. The atmosphere on the roof terrace is awesome.
Check Prices On:
---
Polanco (del. Miguel Hidalgo)
Polanco is the most high-end area on the list. This sleek and posh neighborhood is the best place to stay in Mexico City for fancy food lovers. Many of the wealthiest people of Mexico City reside here, so homes are stunning. But, it's also the area with one of the worst traffic in Mexico City.
The upscale part of town is home to two of the world's best restaurants, Pujol and Quintonil. I'm personally not the biggest fan of Pujol (especially not recommended if you don't eat meat), but I can highly recommend Rosa Negra, Cabanna, or La Única.
Food isn't all the ritzy region has though, they are also famous for the unreal architecture and art collections. Find gems like the world-famous Anthropology Museum close to the center of Polanco.
One minus of Polanco is that there isn't super easy to access on public transport as there's only one Metro station – Polanco, and minibuses that tend to go wherever and whenever they want to go. Taxi and Uber will be your best bet to move around.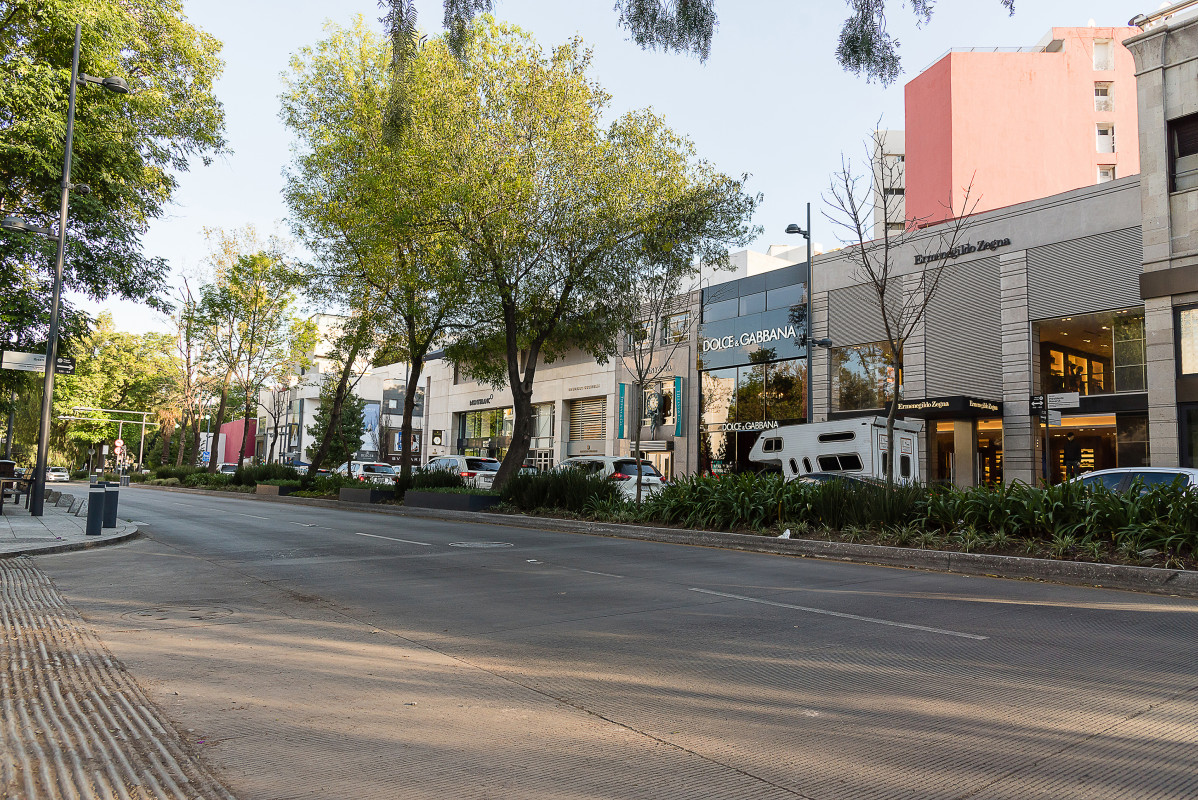 Top 3 Activities in Polanco:
1. Museo Soumaya is an absolute can't miss. Fernando Romero designed the building's famous unreal architecture. Find truly incredible Mexican art pieces there from the 19th and 20th centuries, as well as the works of Rodin, Renoir, and Riviera. This is the only place in the world to see some of these ones of a kind piece of art. If you happen to be in the area, don't pass on the opportunity.
2. Take the opportunity to buy goods from local designers. From beautiful jewelry, baskets, ceramics, to homeware products, here you will find pieces that you won't see anywhere else in the world. The only problem here is having a weight limit on your suitcase back home!
3. Paque Lincoln is a small park right in the heart of Polanco. The relaxing spot is perfect for taking a break from the bustling city. Grab a coffee or churros and head there after a day of shopping or sightseeing for a quick rest. It's also a good spot to take your kids and dogs to.
Fun Facts About Polanco:
There is a display by Mexican artist, David Alfaro Siqueiros, who donated all of his work to the public before his death.
Polanco is called the "Beverly Hills" of Mexico.
The densest concentrations of luxury shopping in all of Mexico is in Polanco.
Luxury:
Orchid House Polanco
This boutique hotel is a colonial house immersed in an Orchid. It's simply gorgeous and it's in the center of everything: restaurants, parks, museums and buses. You can walk to Chapultepec park from there. I only stayed there for a night once, but it was wonderful.
Check Prices On:
Design:
Pug Seal Tennyson
Colorful hotel with the most in-room funky design I've ever encountered. Really – book the Junior Suite for instance! The staff offers complimentary snacks and drinks throughout the day and will happily give you some recommendations for places to go.
Check Prices On:
---
Reforma
While "Reforma" isn't officially a district or colonia, it's the main street in Mexico City – Paseo de la Reforma. I decided to list it separately, because there are many great hotels there and it's a great and safe spot to stay for families, business, and those wanted to be more or less in the center of the city, relatively close (in Mexico City close means up to 30 minutes) to every other place).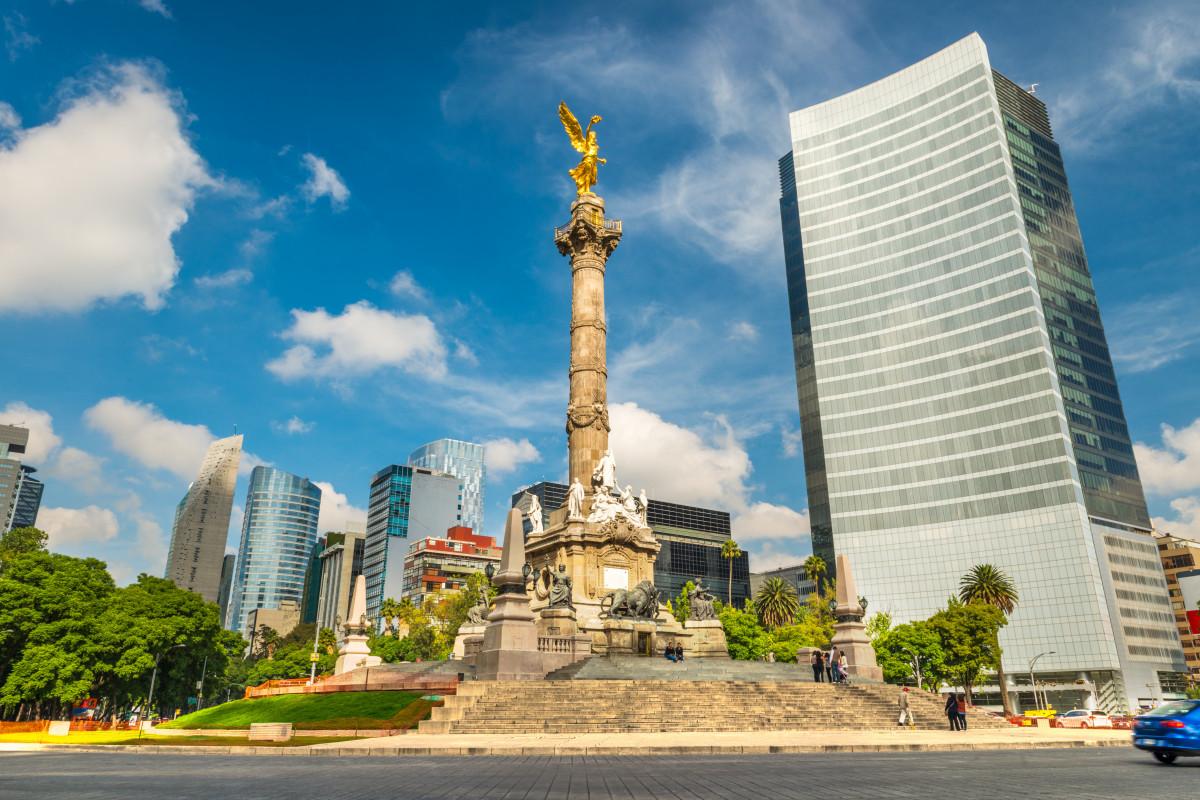 Many travelers prefer staying on Reforma, as it's quieter than if you literally just walk one or two blocks and end up in Zona Rosa or Roma Norte.
Be sure to check out the Angel of Independence monument and go to Bosque de Chapultepec as it's super easy to get there by bus.
Luxury:
Hotel Marquis
Big and modern hotel with luxury amenities like a pool, spa, and restaurants. It's also right on Reforma, which means easy access to everywhere on foot, by taxi or buses. I've been there a million times, as somehow all my friends decided to host their weddings there, so if you're looking for a wedding venue I can also recommend this spot 😉
Check Prices On:
Mid-Range:
Stara Hamburgo
Modern hotel with a touch of historic artsy design. The food buffet – you have to brace yourself because it's so good! It's really hard to find hotels that aren't 5-star on Reforma, but this is a good option for those not wanting to spend a ton of accommodation, but still enjoy some comforts and good location.
Check Prices On:
---
La Condesa (del. Cuauhtemoc)
If you're asking for nightlife, La Condesa is the answer. The neighborhood had known to be a younger and super-stylish neighborhood. I briefly lived there at some point and loved how walkable it was – you could spend all day cafe hopping.
While it was once home to the artistic upper class, the millennials have moved in, and the area now is one of the best places for food, drinks, art, and outdoor activities in CDMX.
The neighborhood has a distinctly bohemian vibe and has some old school taco shops that have been there for upwards of 40 years (so you know they're good since they stayed in the business).
At night, many bars, clubs and restaurants stay open very late and the party continues on the street. For those who want to experience something weird, many vendors offer toques – basically getting electrocuted for a few pesos.
This is the place if you're looking for more of a young, carefree, or party atmosphere. There are plenty of spots that have parties until the early hours of the morning.
Top 3 Activities in La Condesa:
1. Grab a hot cup of java from Rococo Cafe. They are seriously on top of the specialty coffee game. They specialize in delicious Mexican-sourced coffee.
2. Hit the nightlife! Head out to one of the many pubs, clubs, or karaoke bars that light up La Condesa at night. The area has a vast nightlife scene; many people from other neighborhoods will flock to La Condesa for a fun night out – I keep reminiscing about some epic Halloween nights!
3. For a perfect afternoon outdoors, head over to Parque Mexico. Dog lovers will also be glad to know there are plenty of frolicking pups around the park!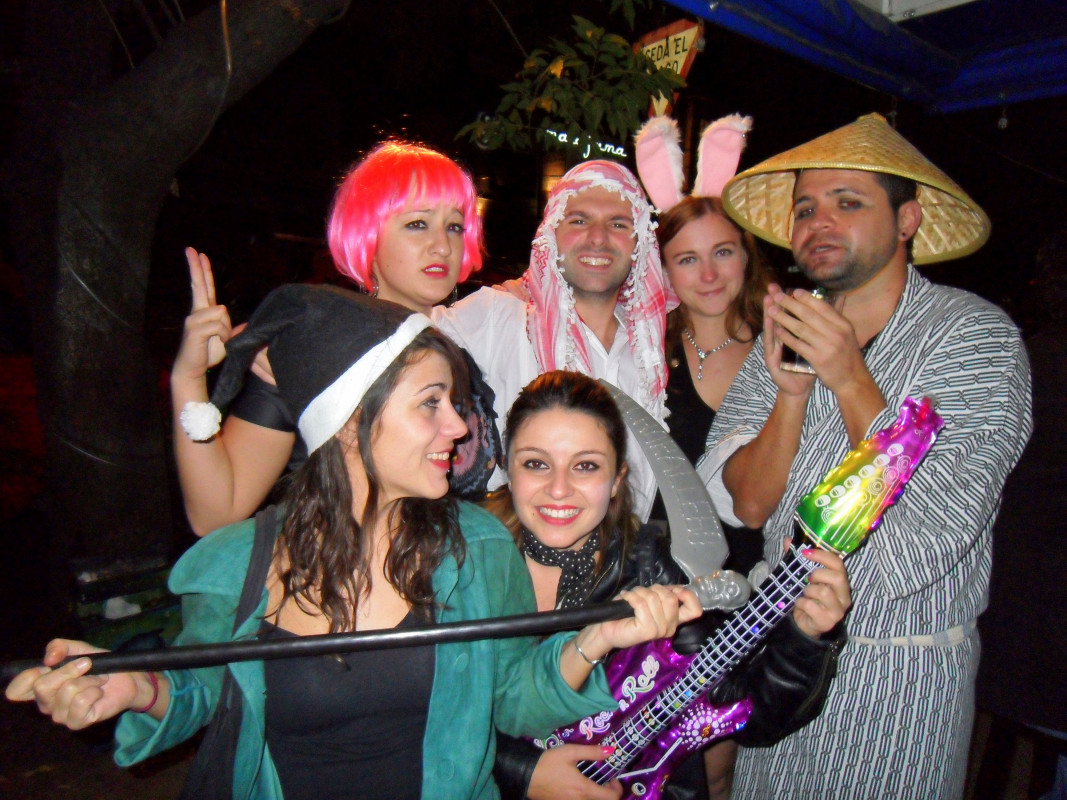 Fun Facts About La Condesa:
There is a dog school at Parque Mexico. People can drop off their pups in the morning and pick them up after 'school' in the evening.
Beautiful canopies made of trees cover many of the roads.
There are many brightly colored homes and buildings. It's widespread in Mexican culture and especially La Condesa to paint your house a bright color, like yellow, blue, green, or even pink.
Boutique:
Casa Decu
La Condesa definitely isn't for modern luxury hotels, but Casa Decu is the most luxurious you'll get in this area. The staff is always super helpful there. The only minus is that there's no elevator but honestly, I'm yet to see one anywhere in Condesa.
Check Prices On:
Boutique:
Casa Corp
Super family-friendly and stylish hotel. They love to surprise you with extras for breakfast, in your room and more. Location is amazing as well, next to two best taco joints just around the corner.
Check Prices On:
---
Coyoacan (del. Coyoacan)
Coyoacan is by far one of the best places to stay in Mexico City if art and history excite you. Plus, it's where Frida Kahlo grew up! Her 1950's house is still standing and open to the public to take a peek into her incredible life.
It's a pretty quiet neighborhood and Mexico City and is famous for its markets, history, and museums, like the National Museum for the popular cultures. Here you will find exhibitions and collections focused on diverse contemporary, popular & folk arts.
With plenty of cafes and bookstores to uncover, staying in Coyoacan is perfect if you are looking for a more laid back trip to Mexico City. Coyoacan is best explored by foot.
Grab a strong cup of freshly brewed Mexican coffee to begin the day of sightseeing, learning, and shopping in Coyoacan.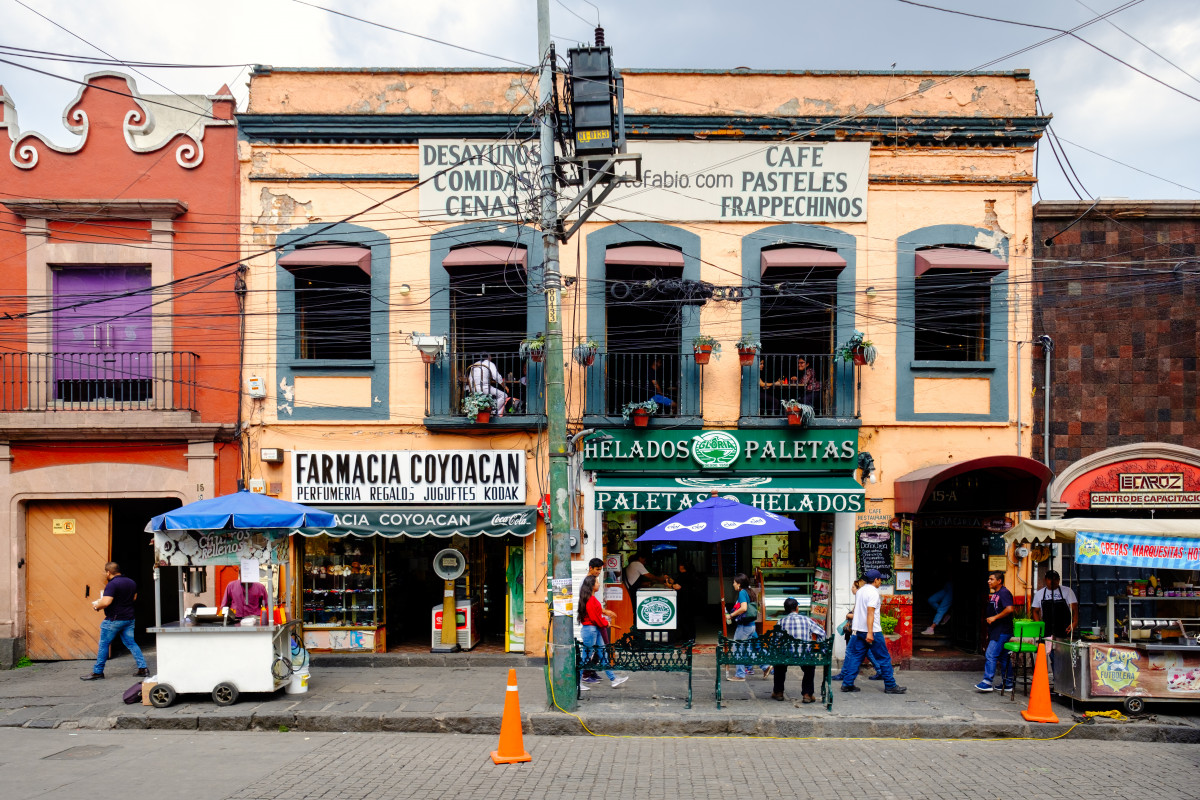 Top 3 Activities in Coyoacan:
1. The Mercado de Coyoacán, aka. The Coyoacan Market is the best place to get a feel for a traditional Mexican market. You can find handmade gifts and grab a bite of traditional Mexican street food. My favorite street food snacks are esquites and elotes – corn in different forms with spicy toppings.
2. No trip to Coyacan will be complete without a trip to the Frida Kahlo Museum. Many say the Mexican painter was far ahead of her time. Her art explored questions of identity, postcolonialism, gender, and race in Mexican culture in a time where talking about it was very taboo. The museum is in her former home, La Casa Azul or 'The Blue House,' and other famous Mexican artists are also commemorated here. Frida Kahlo lived in 'The Blue House' from her birth until her death.
3. Animal lovers will love a trip to the Los Coyotes Zoo. Since 1999, the zoo has been a safe haven for animals native from the Basin of Mexico. They are also home to two coyotes (hence the name), and they offer plenty of fun activities like camping, sports, and sculpturing.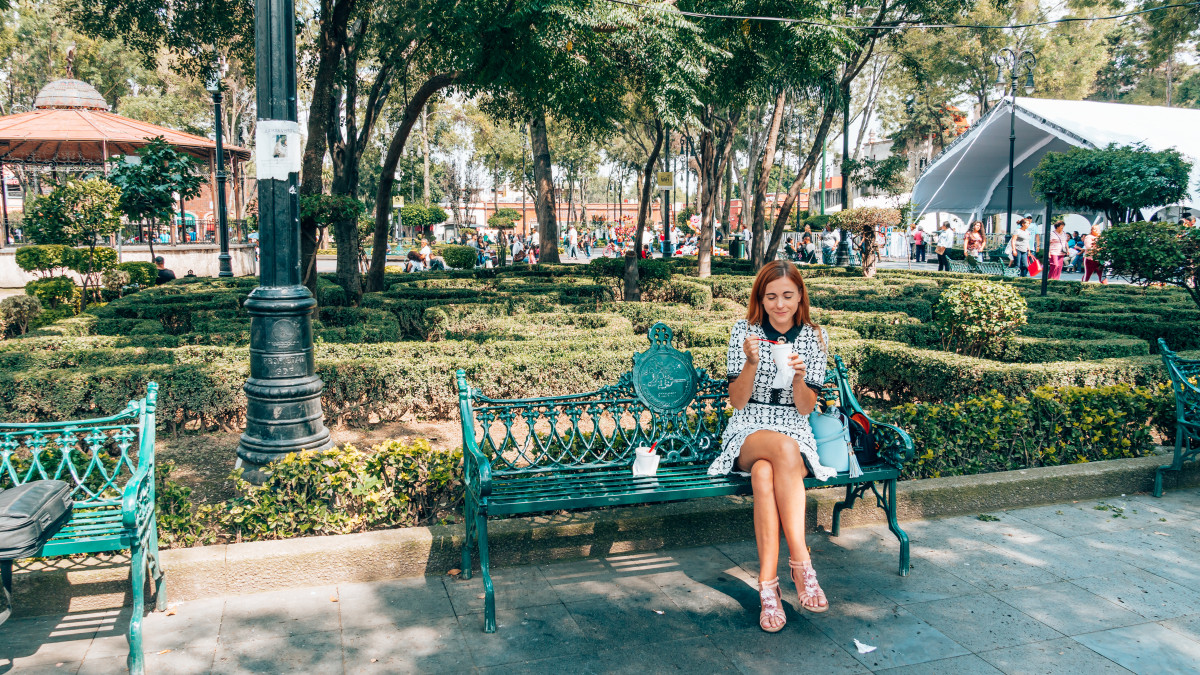 Fun Facts About Coyoacan:
The neighborhood was formerly a rural village.
Coyoacan translates to "place of coyotes."
The quality of life here ranks among the top in the nation.
Apartment:
Casa Molcajete
Nice clean apartments with fully equipped kitchen and other accessories. The place is right in the centre of Coyoacán. The local hosts will help you with all your need, like they would in a good aparthotel.
Check Prices On:
Budget:
Hostal La Encantada
Cheap guesthouse with funky design. They're really patient with guests who speak no Spanish, which is unusual for privately owned small hotels.
Check Prices On:
---
Other Areas of CDMX:
Santa Fe (del. Cuajimalpa de Morelos)
Santa Fe never appears in any 'where to stay in Mexico City' articles as a recommendation, but I think it should. It might not be for everyone, but it deserves a mention.
Unlike what you can often hear, you can get around Santa Fe without a car – there are a few bus routes. Trust me, I know what I'm talking about as I actually also used to live, study and work there.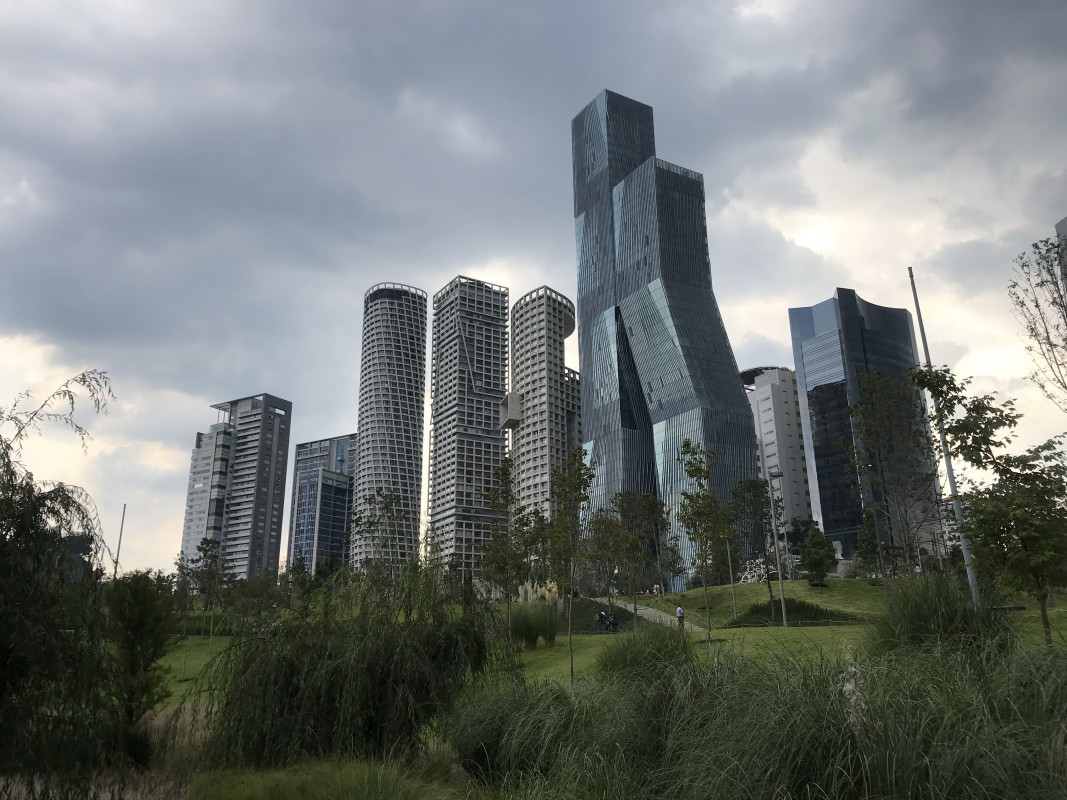 It's a city within a city and many treat it as a bubble. It used to be mostly a business district with no much to do, but when a big university Iberoamerica opened many restaurants, bars. Plus there's the biggest mall in Mexico and a newly put parks La Mexicana & Garden Santa Fe followed.
Santa Fe has one of the unique modern architecture in the world. New buildings by world-renowned architectures like Zaha Hadid for instance. Some of the buildings are strange, as architects were given free rein to create what they want.
Recommended Hotel: Presidente Intercontinental Santa Fe
Gorgeous hotel overlooking the entire Santa Fe. I stayed there during a project for a few days and had nothing to complain about. We even rented a car directly from the hotel and returned it there too.
Check Prices On: Booking.com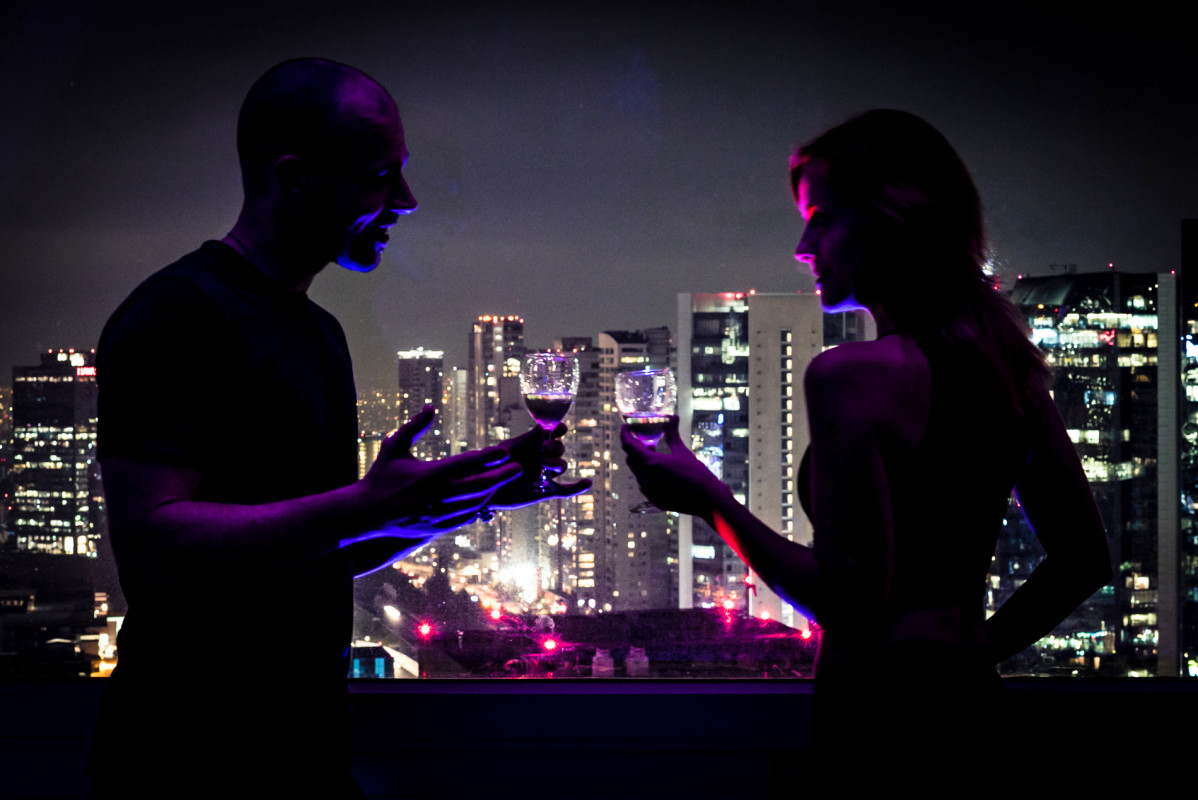 San Angel (del. Alvaro Obregon)
San Angel tends to be more of an off the path area to stay, even though it isn't lacking of activities and proximity to spots like Coyoacan.
It's very safe, artsy and posh-local. It's basically like a posher Coyoacan. You can visit the artisanal market based there every Saturday, and Studio of Frida & Diego turned into a museum.
Recommended Hotel: Stara San Angel Inn
Gorgeous modern interiors with green san deck and library. If you want to experience the local neighborhood, but enjoy luxury amenities this is your spot.
Check Prices On: Booking.com
---
Which Neighborhoods to Avoid in Mexico City
Sadly, Mexico City still has some no-go zones. While personally I wandered and passed through all these places (some by mistake), it doesn't mean that I would recommend going there at night or staying there.
Let's start from the obvious as you probably heard of it: Tepito, nicknamed Barrio Bravo as only brave visit.
Some other spots to avoid are:
Doctores: Wouldn't advise going there at night, during the day it could go either way.
Iztapalapa: This is a neighborhood used by drug traffickers. No reason to go there really.
Ciudad Nezahualcóyotl: Basically anywhere near the Benito Juarez International Airport – MEX. It's the most densely populated place in Mexico, also ugliest and unsafe. Do yourself a favor and DO NOT stay near the airport, even if you have just one night in Mexico City.
Xochimilco: Known for the canals and colorful trajineras that should definitely be visited for the day, half-day or evening trip, it's not a great place to stay. It's far from everything and not the safest spot (also quite boring). I would never even think of advising anyone to stay there, but I saw it being recommended as an area to stay by one of the most popular travel websites so wanted to clear things up!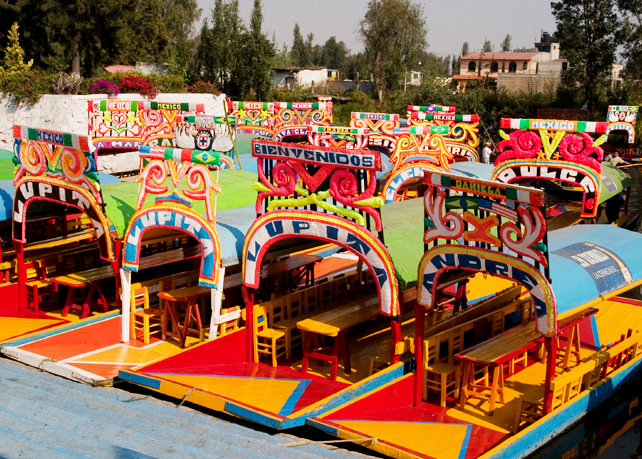 ---
READ MORE MEXICO TRAVEL TIPS
I hope you enjoyed my guide on where to stay in Mexico City! Hopefully, you found it useful. Here are a few more wanderlust-inducing articles that I recommend you read next: