Playa del Carmen is a great base for a trip to Yucatan Peninsula, simply because it's located more or less half way through the coast of Riviera Maya.
You can reach both Cancun and Tulum within an hour's drive (vs Tulum is for example over 2 hours from the airport alone) and other spots like Puerto Morelos or Akumal within half an hour.
Playa del Carmen is way more than just a party town. There are plenty of things to do in Playa del Carmen that don't involve constant clubbing. You can come alone, with kids, for a honeymoon – everything will find something for themselves.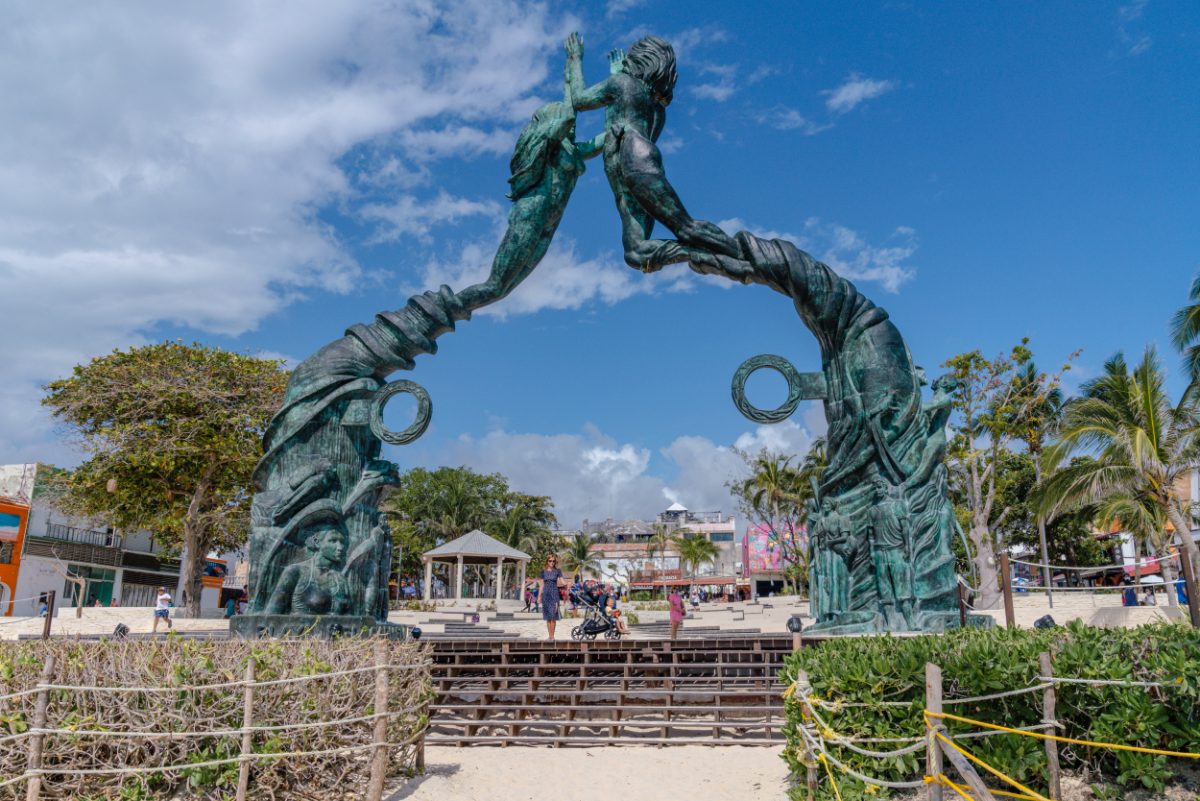 NOTE: Many articles will list things like "visit Chichen Itza" as one of the things to do in Playa del Carmen. While most people do that and it's definitely worth a trip, it's not really something to do IN Playa del Carmen. Chichen Itza is 2.5 hours drive one-way, so it's a long day trip. It's not even in the same state as Playa del Carmen 😉
I included all day trips from Playa del Carmen (they can also be done from Tulum or Cancun) in another post here. Anything included in this article can be reached within max. 45 minutes drive.
---
People Watch on 5th Avenue
5th Avenue (Quinta Avenida) is the place to see and be seen in Playa as a visitor. It has the feel of a touristy beach resort during the day with trinket shops and overpriced restaurants, which changes to a pretty thriving night scene as the day wears off.
It's great for people watching and trust me, you can see some interesting characters walking around at night.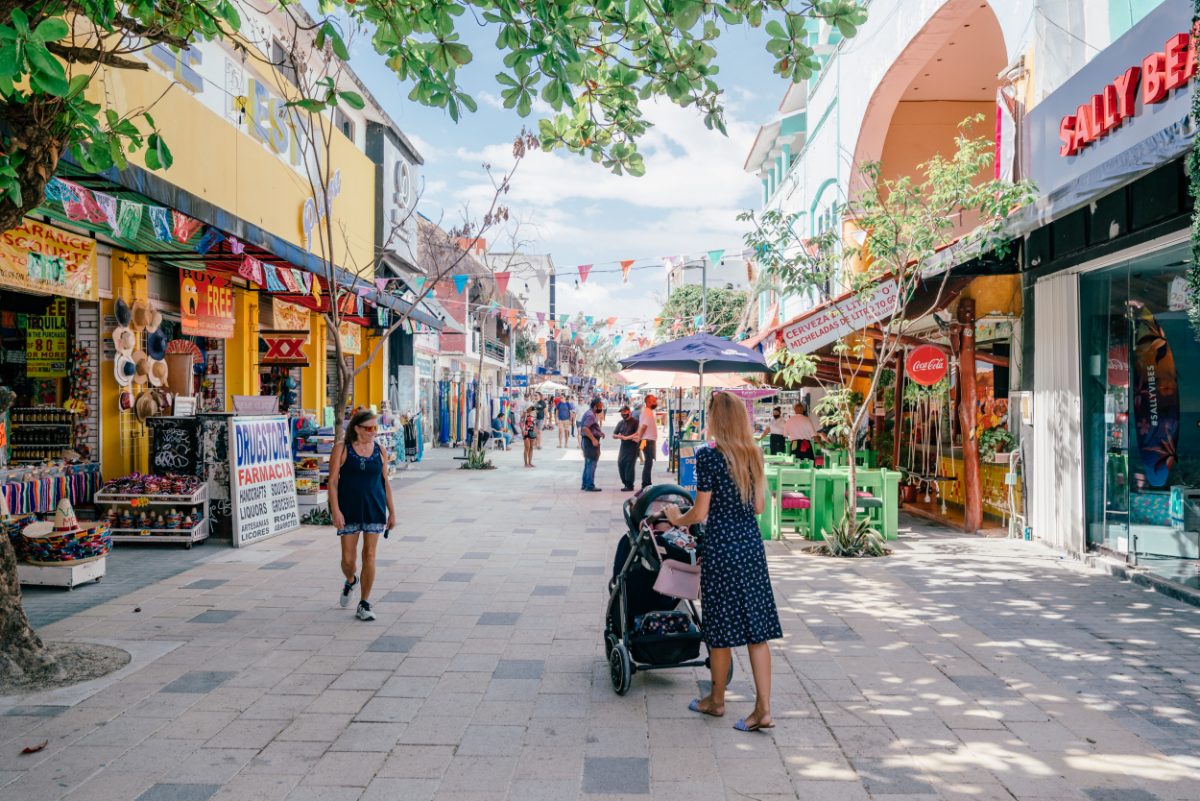 ---
Stuff Your Face with Delicious Tacos and Other Nom Noms
Playa del Carmen has many restaurants with delicious food. Most tourists go to El Fogon taco place and while it's a popular tourist spot it's busy for a good reason. Their tacos are delicious – especially pastor con queso & queso fundido con chorizo.
They have a few spots around town with the biggest next to Mega supermarket right on Constituyentes. Any time after 7pm expect lines, so be prepared to wait.
Check out this post on the best restaurants in Playa del Carmen.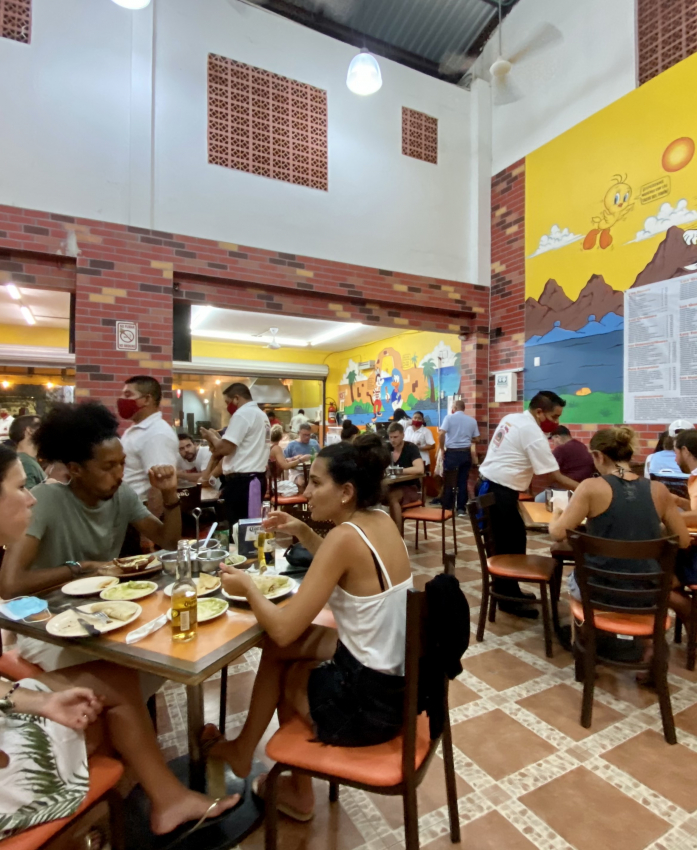 ---
Tour Rio Secreto
Rio Secreto is a natural underwater park of secret portals located just 3 miles south of downtown Playa del Carmen. You can only visit it with an experienced guide as it's pitch black inside.
But with a helmet equipped with great light, you'll see some incredible stalagmites and other formations. Book your tickets here.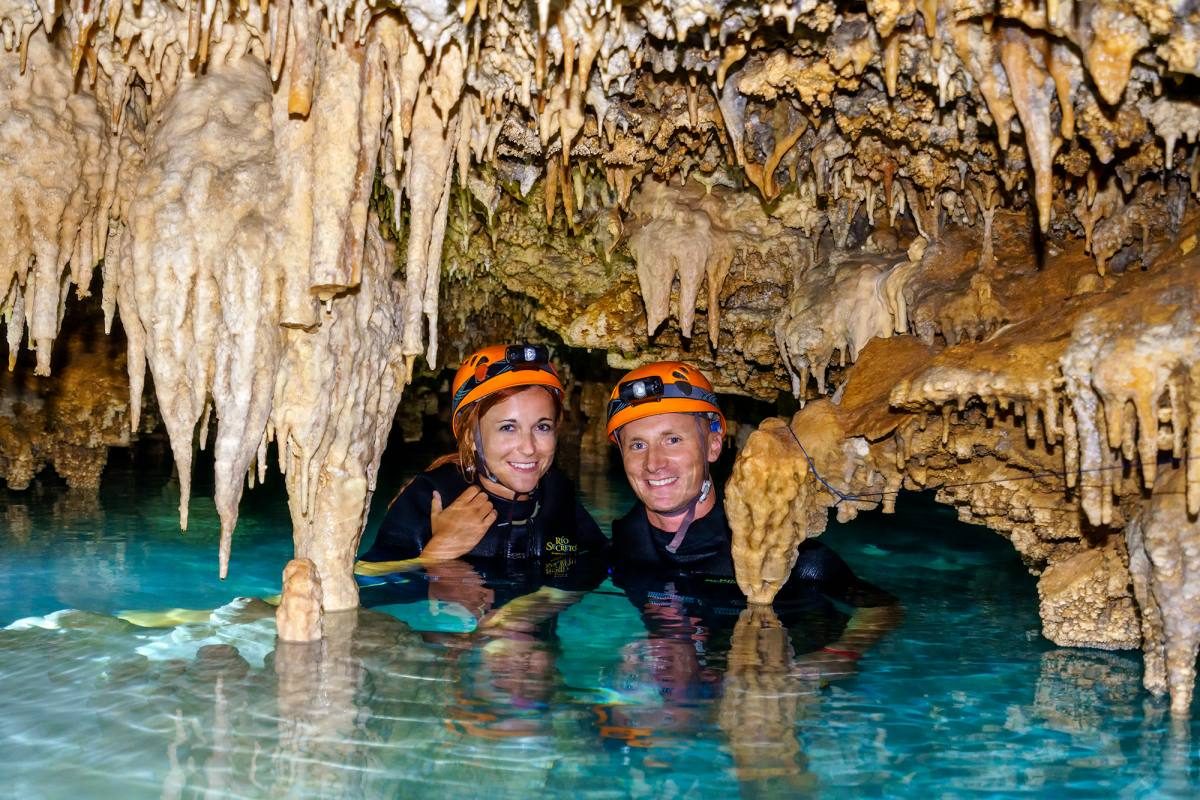 ---
Experience One of the "X" Adventure Parks
There are many adventure parks spread across the entire Riviera Maya. With the most popular being Xcaret with shows and beaches, there are various other ones for different things. Your kids will love them and even if you don't have kids you'll see plenty of people enjoying them solo.
Xcaret is the most popular park with a little bit of everything. There's a beautiful beach, underground spots to swim, some animals to see and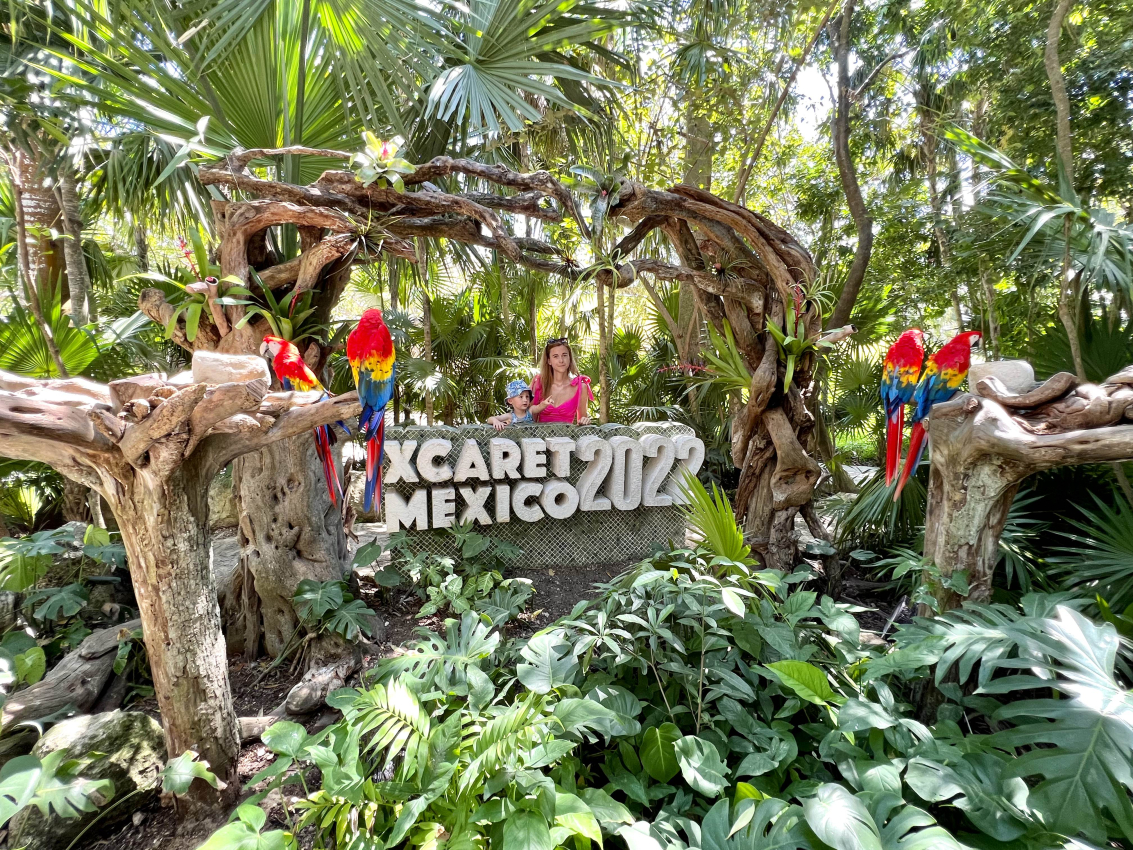 Think of it as of the "Waterworld". If you like swimming and want to see tons of fish, and especially if you're coming with little kids then you should visit Xel-Ha.
If you're a young couple without kids you may find this park slightly boring though. In this case, I recommend Xplor.
I love Xplor and had a ton of fun there. They have underground rivers, ziplines, ATVs. There's also a chance to do Xplor Fuego in the evening when it's all lit up by actual torches!
It's not a park you want to visit with toddlers or small kids, but for adults or teenagers it's a fantastic option.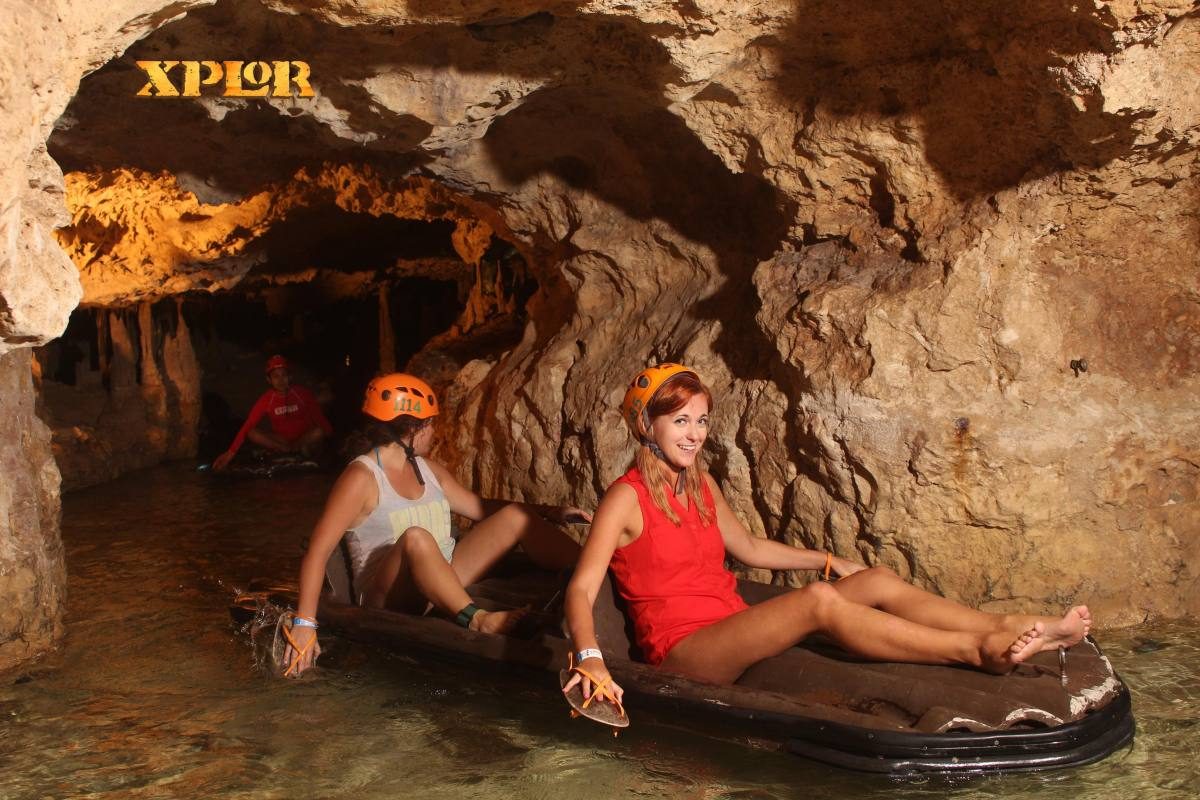 Xoximilco park is a replica of the original Xochimilco in Mexico City – it's a floating party on colorful trajineras. While I enjoy the original Xochimilco, I must say that if you don't go there with locals for a party it might be pretty boring if it's just you on the boat. In that case, Xoximilco provides a "party" even for small groups 😉
No kids are allowed at this park.
A small park that's a bit different from anywhere else you've been to before. It's less "active" than other parks and makes you use all your senses. My friend wrote a detailed review here.
It's a half a day event, unlike other parks which are full-day adventures.
---
Eat at Alux Restaurant
I decided to put Alux in things to do in Playa del Carmen, as it's way more than just a restaurant. It's an unusual restaurant in a cave that serves picturesque dishes.
They even have the very traditional Mexican escamoles (worm eggs) and chapulines (fried grasshopper). After you eat you can explore the entire space which is huge and full of secret tables in caves.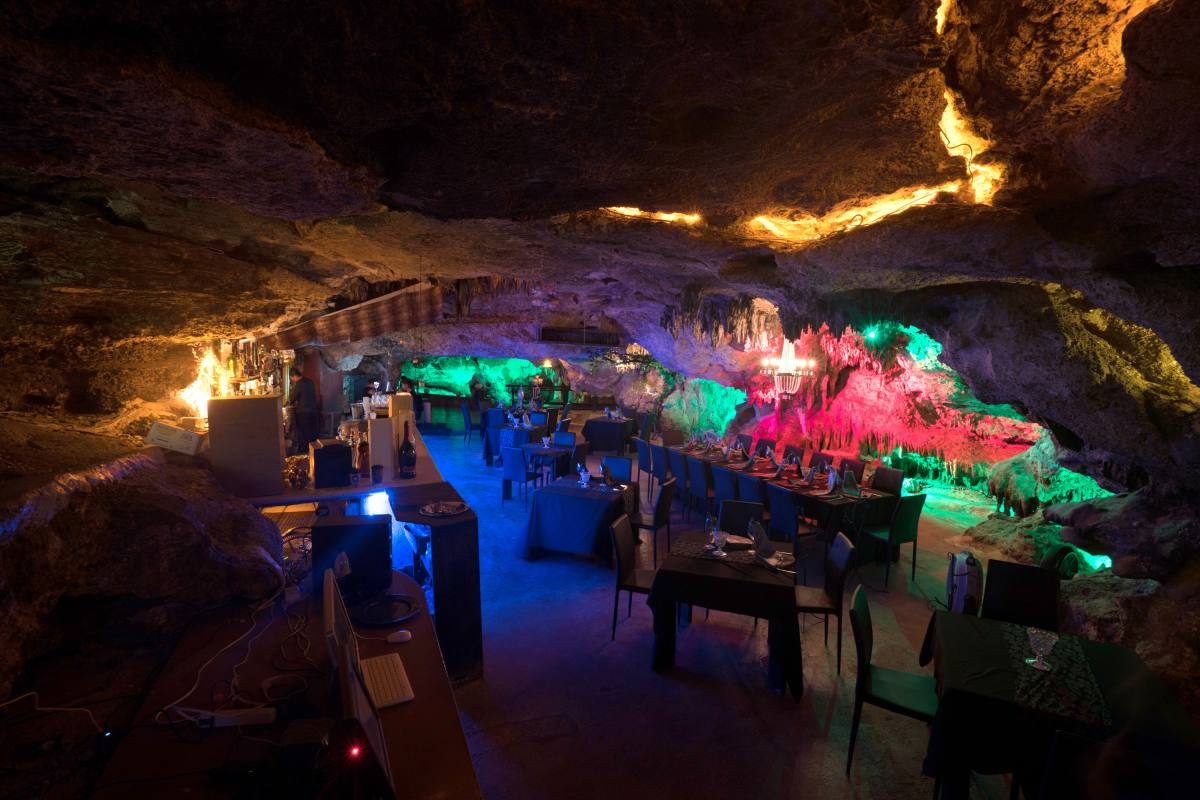 ---
Have a Drink at the Rooftop Bar
Several places around the city offer free use of the rooftop pool when having food or drink. You can see some stunning sunsets while stuffing yourself with delicious stuff.
My favorite rooftop would be Be Playa, as they have good sushi. It does get crowded during the weekend, so if you don't like crowds head there during the week.
---
Check Out 3D Museum of Wonders
It's a perfect activity when it rains, as there's not much to do in town when it rains. It's an illusion museum with 3D conceptual paintings. Fun opportunity to take some cheesy photos
Note if you have kids: no strollers are allowed inside.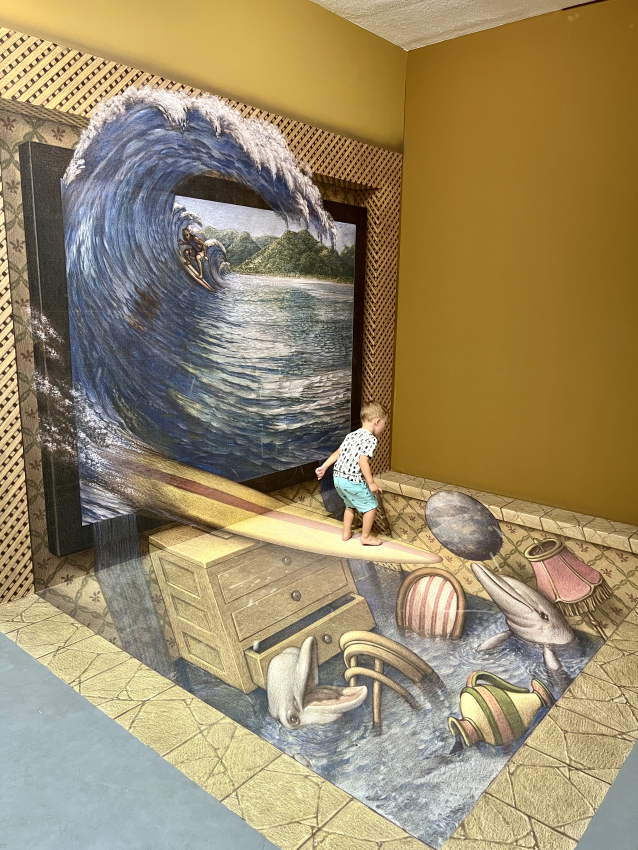 ---
Enjoy Nightlife
Playa del Carmen is definitely a party place. There are plenty of bars and clubs to choose from. Most of the nightclubs are located on Calle 12, along with some bars on Calle 10.
The most popular bar is Cerveceria Chapultepec that offers a few locations on 5th Avenue.
While Coco Bongo is still being promoted as one of the most fun places in the area, I'm not a fan. It's a nightclub with an open bar and many shows, but as fun as it sounds, in reality, is way too cheesy unless you're wasted and over 40. Plus, I'm not a fan of having constant confetti coming from the ceiling straight into my drink.
You can take a salsa class at Zenzi or listen to live music at La Bodeguita del Medio instead.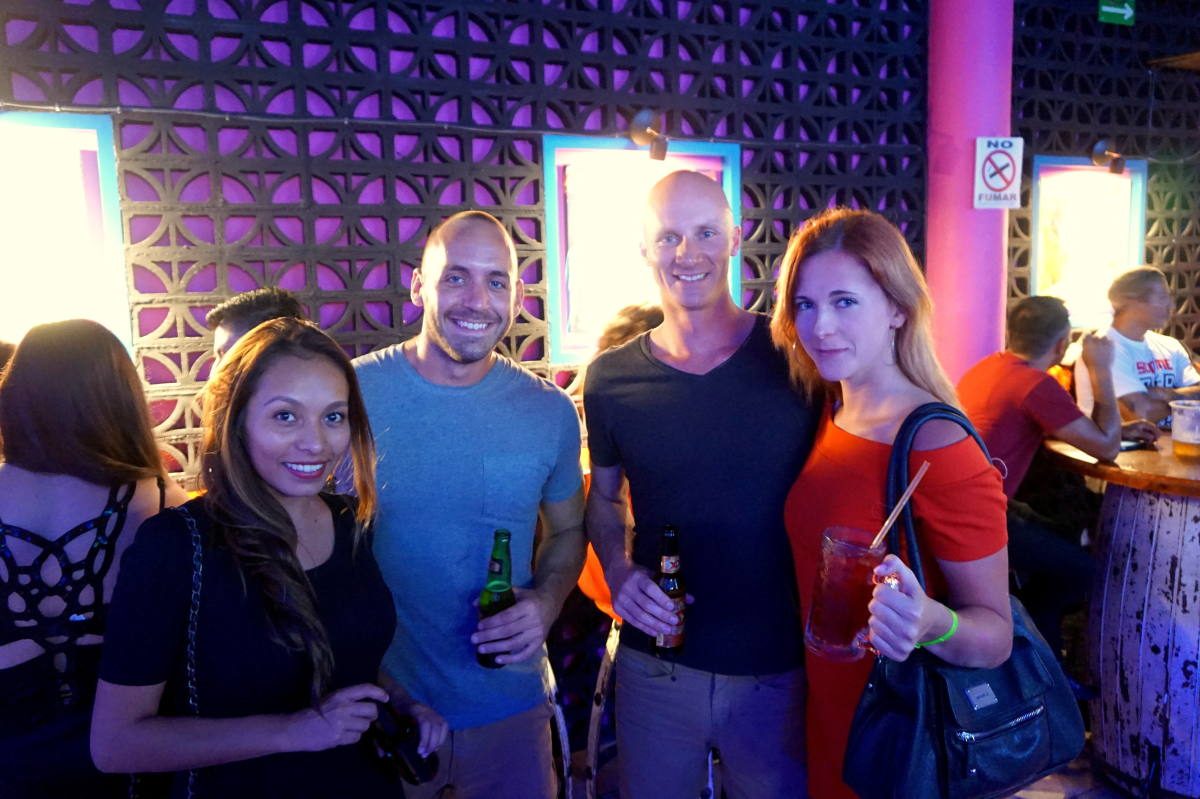 ---
Swim in Cenotes
There are many cenotes in the area for you to enjoy. Some are underground, others have some zip lines, some offer incredible diving and snorkeling adventures.
You can visit my guide to cenotes here and if you're up for a bit of an adventure I highly recommend finding some more secret cenotes as well 😉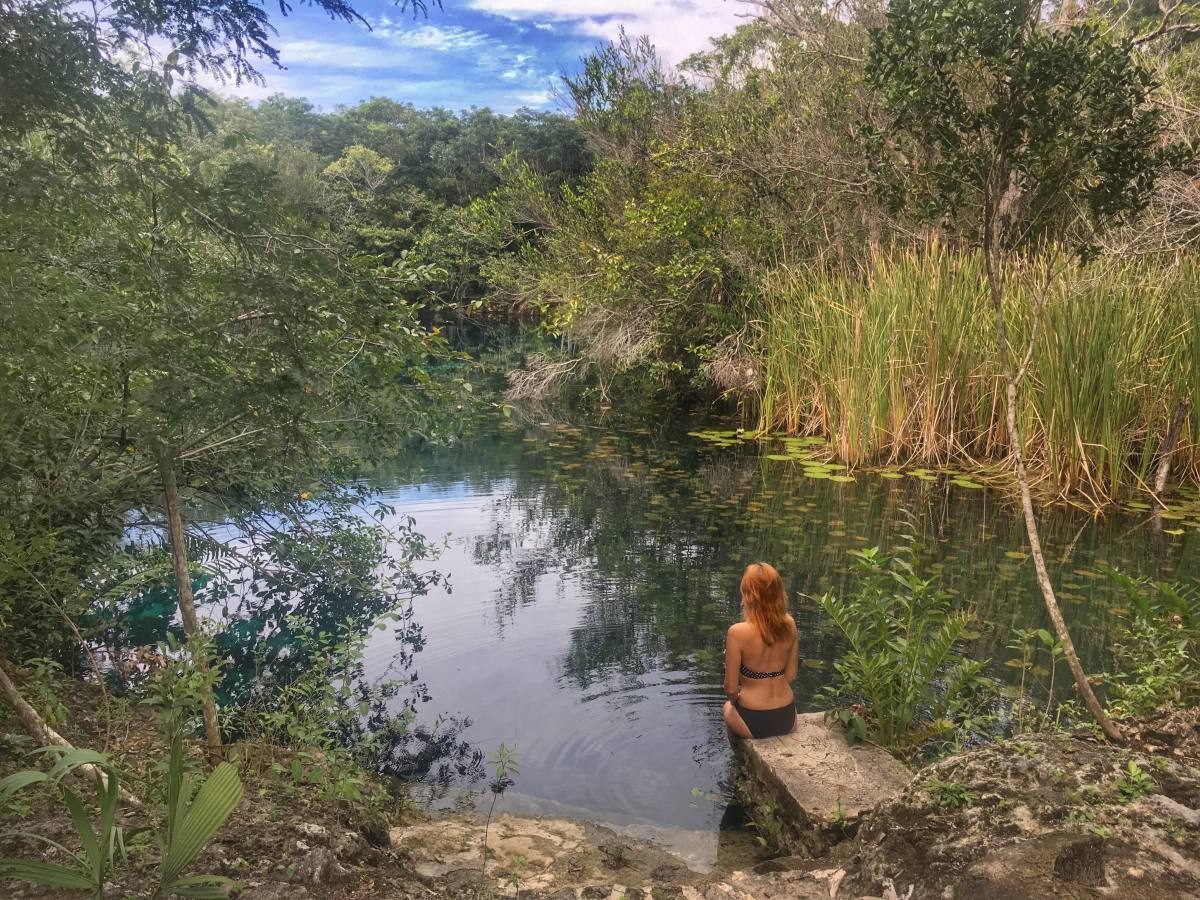 ---
Enjoy Watersports
As Playa del Carmen is a coastal town you cannot forget about a large variety of watersports available. You can rent a jetski, parasail, learn to kite-surf or take a sailing trip.
If you're interested in diving you could also take a short ferry to Cozumel and discover the best of the underwater world.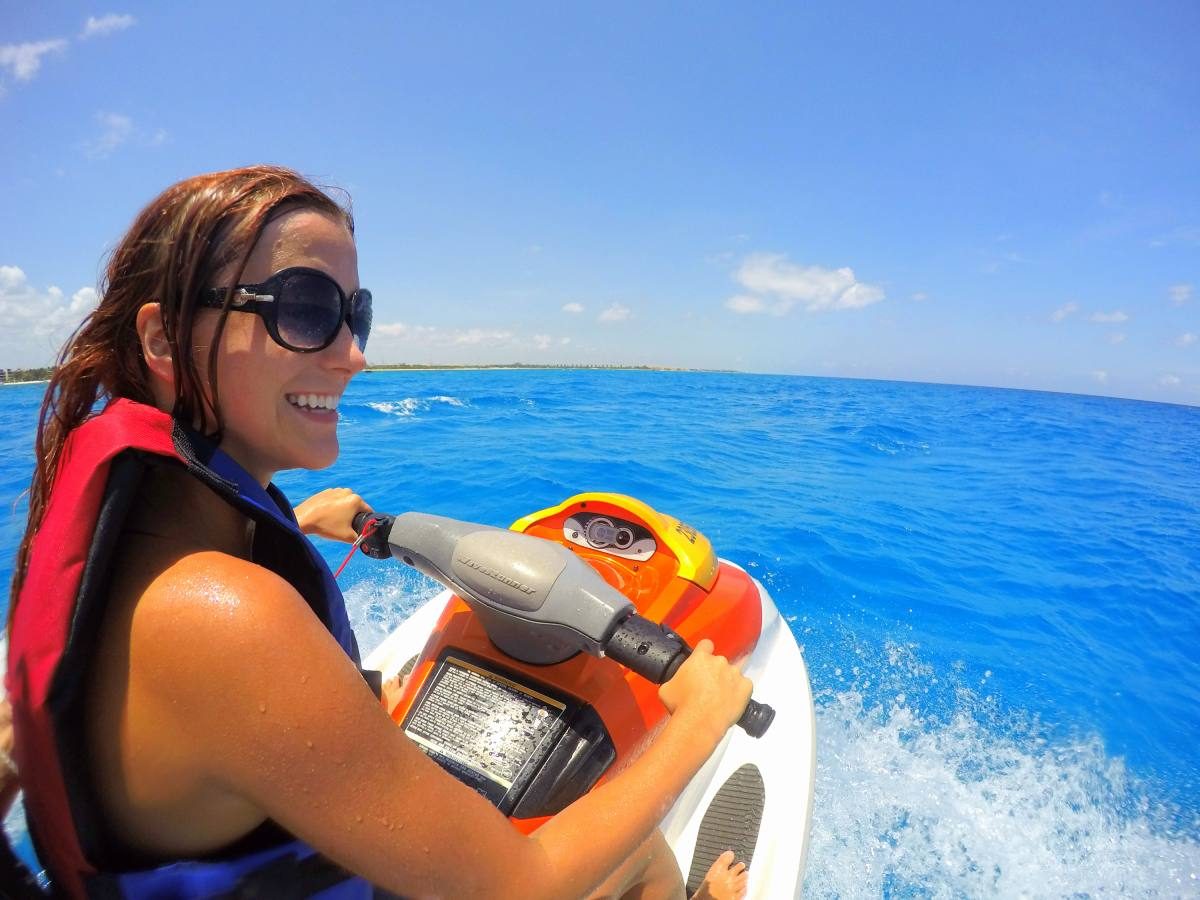 ---
Get a Massage or Other Spa Treatments
I'm not going to lie, there's a reason I literally only do my nails and hair in Mexico. It's cheap (for example, acrylic + gel manicure costs $25), good quality and usually you can get the same or next day appointment.
If you walk out on the beach in Playa del Carmen you'll find many people offering you a massage for $25-30. Why not take them up on their offer?
Go to the Gym at the Beach
Playa del Carmen has a gym right on the beach, so if you want to work out why not do it while looking at the ocean?
---
Swim with Turtles in Akumal
Swimming with turtles is one of the most fun activities you can imagine in the area. Turtles live in their natural environment in Akumal, so you can swim around them as long as you don't touch them.
Akumal is just 30 minutes away from Playa del Carmen. You can take a taxi there or get a colective ride.
Important: Things change constantly in Akumal due to fights about the land and there are times when you're not able to swim. I explained more on how to get there and what to expect in another article here.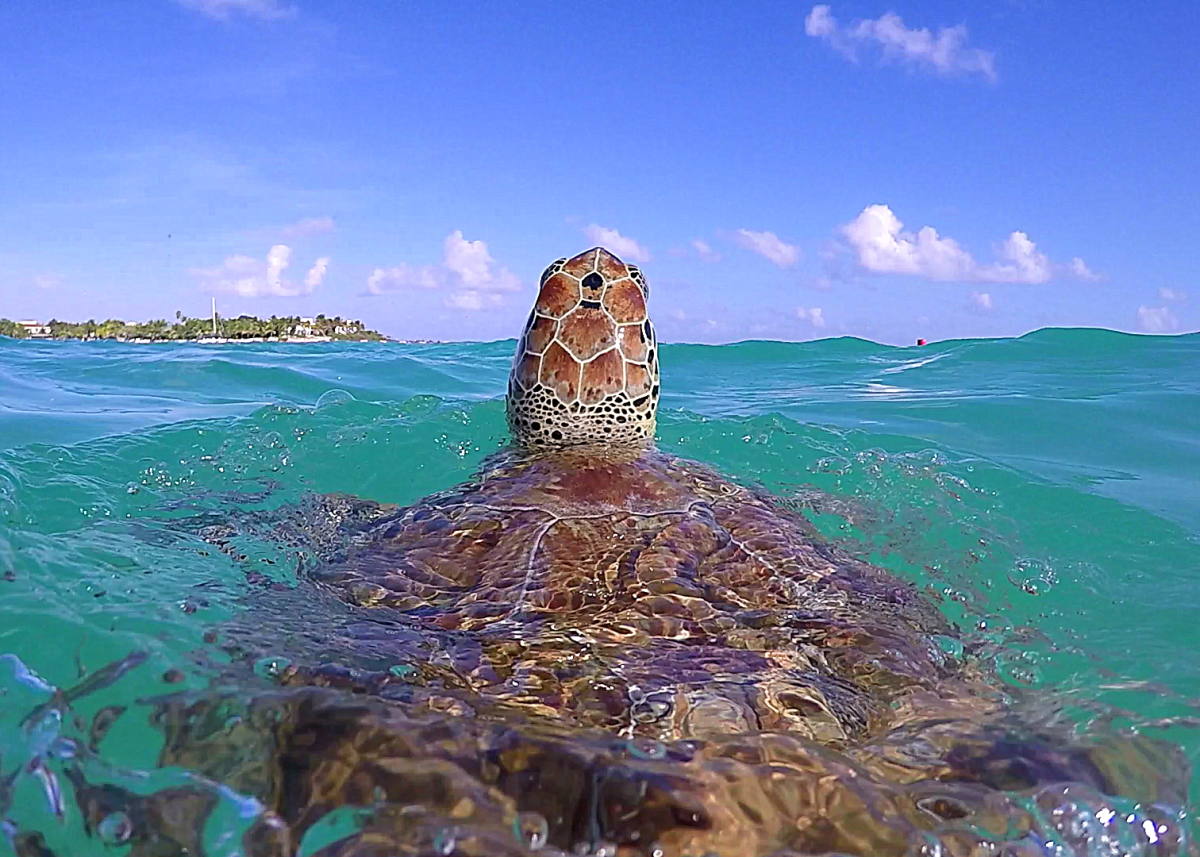 ---
For more activities and organized tours check Viator here.