Mexico is an incredible place to visit with kids, because the possibility of different activities are endless. Depending on your travel style you can stay at a resort and take organized tours around, rent a car and explore the area on your own, or just do nothing on the beach.
---
1. Go to the Beach
The water is calm for kids to play in and near it without you, the parents, having to worry.
It may seem obvious, but many people don't realize that there are many beaches in Playa del Carmen – not just the beach by downtown, which for the past few years is actually quite narrow and crowded.
There are a few beaches I recommend:
Punta Esmeralda Beach & Playa 88 – they're next to each other and it's as local as it gets. It's calm, not crowded and on the weekends there are people selling freshly grilled shrimp and other snacks.
Xcacel Beach – it's one of the coolest hidden gems about 20 min from Playa del Carmen towards Tulum. It's a paid beach, so significantly less crowded and more beautiful. It opens 10am-4pm (closed on Mondays) and costs just 88 pesos. There's a cenote on the property that you can walk to.
The reason I'm not recommending another popular paid beach called Xpu-Ha is because it's become very busy with many people staying at eco-resorts and going to restaurants. Last two times we tried going we couldn't even get through the road.
2. Stroll the 5th Avenue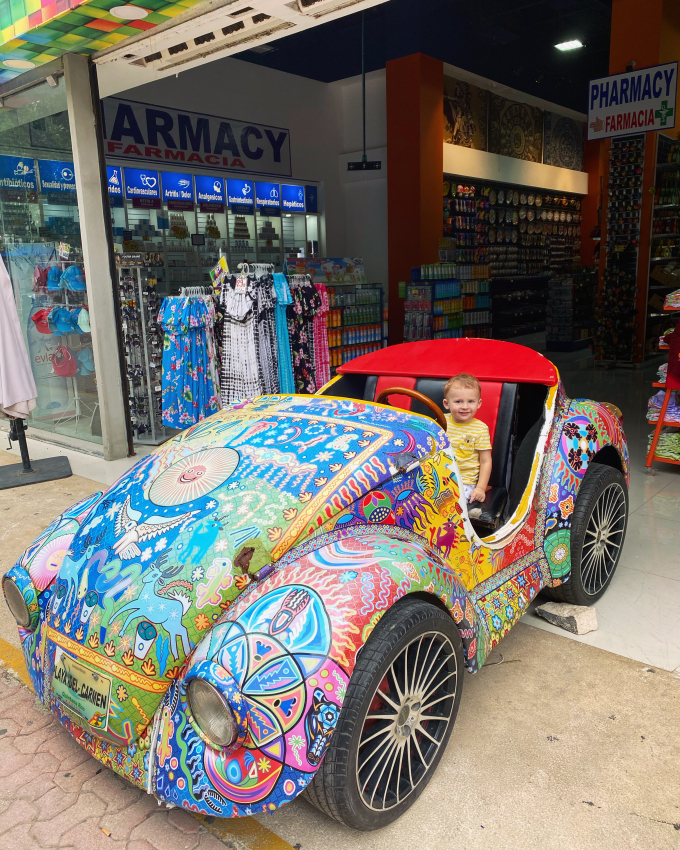 I never thought walking down the touristy 5th Avenue would be super exciting but we always used it to walk down it because it's the flattest street in Playa (and one of a few actually stroller-friendly ones), but my toddler wholeheartedly disagreed.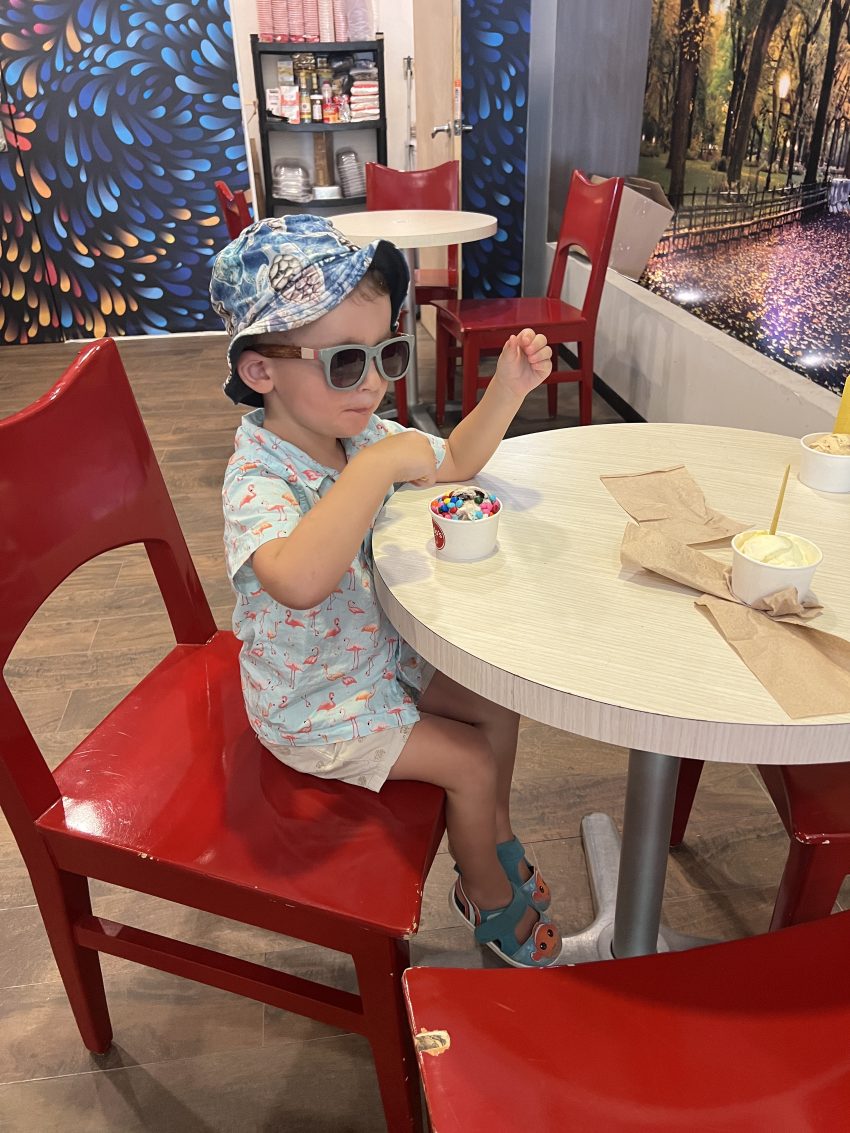 There are people dressed like strange birds walking around, shops with colorful things to look at,music playing at some spots, colorful cars to sit in, possibility to get some ice cream. Kids will love the 5th Avenue in Playa del Carmen.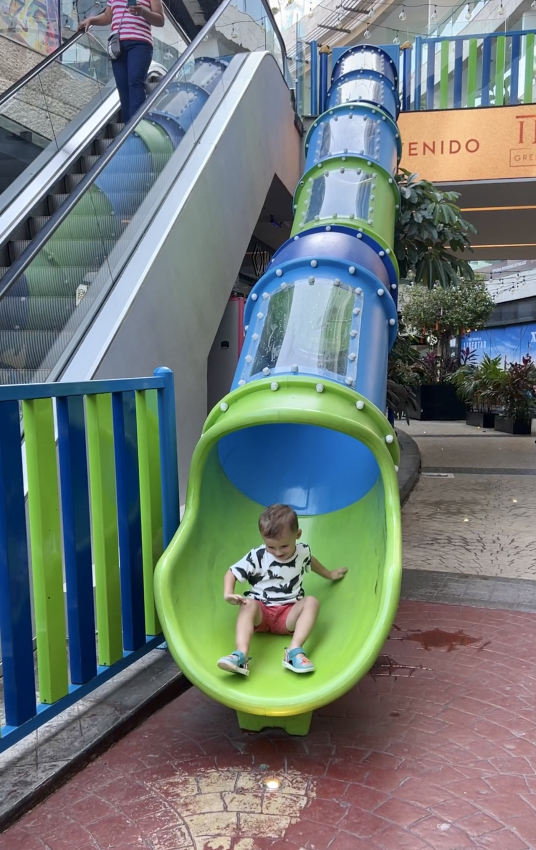 ---
3. Spot the Iguanas at Xaman Ha Ruins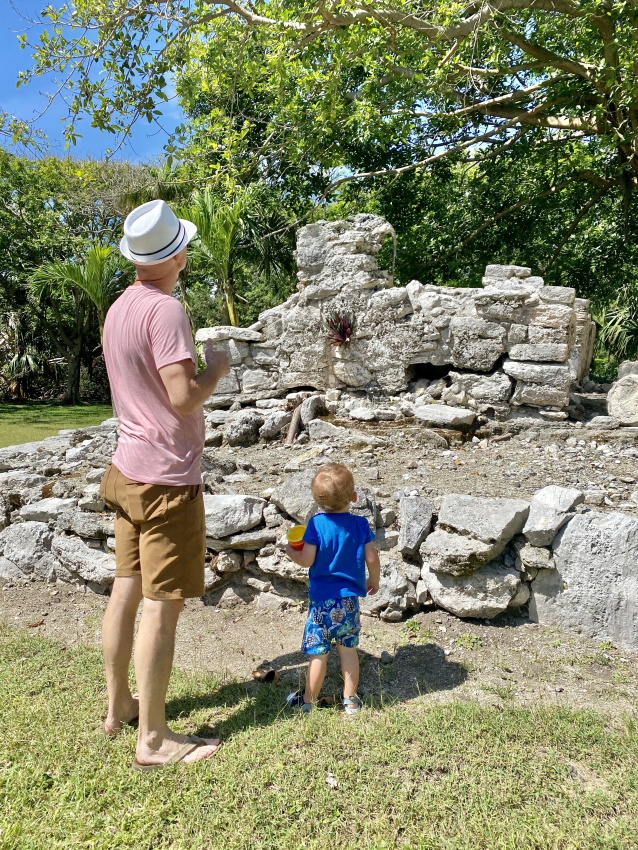 Located directly beside the beach in Playacar complex, the Xaman Ha ruins date back to the 1200s and feature an important temple dedicated to Ix Chel, the Mayan goddess of love and fertility. They're never busy so friendly iguanas always hang out there.
If your child is a fan of "dinosaurs" why not find some right around the corner. You can walk to the nice beach by Playacar afterward.
4. Spend a Day at Xcaret or Xel Ha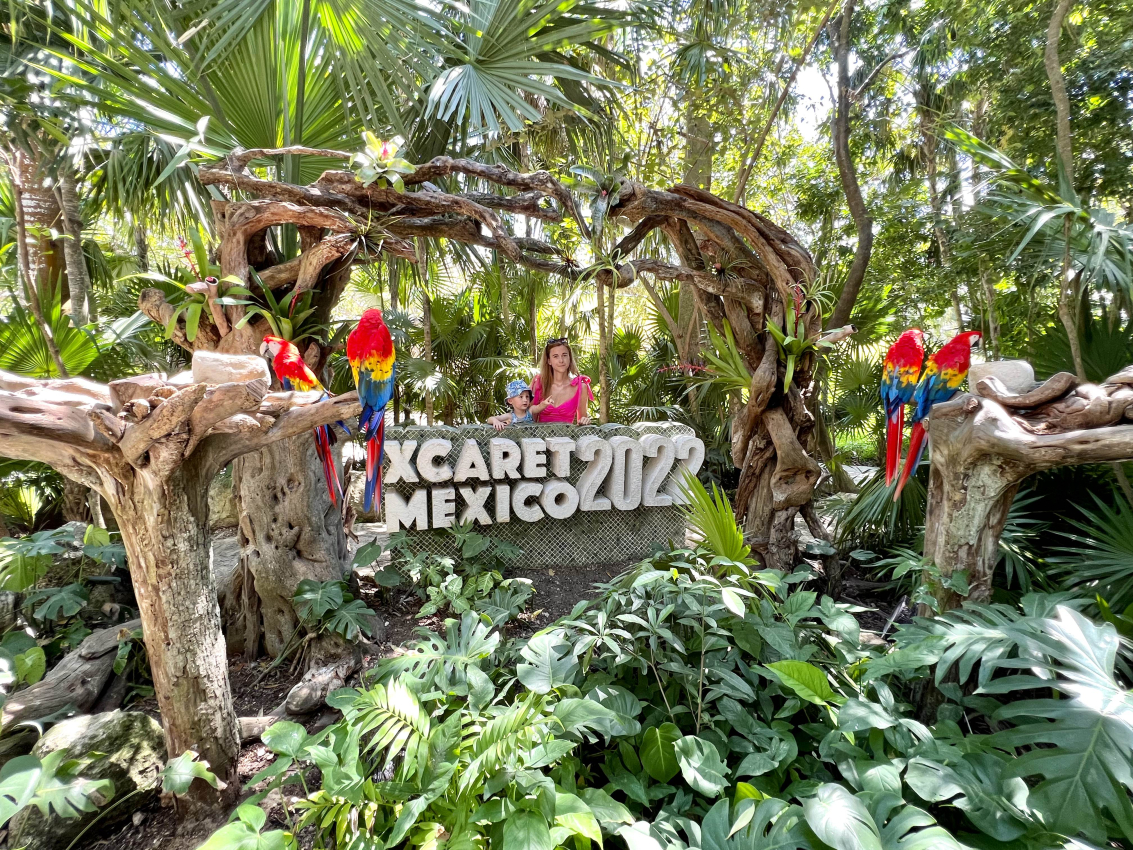 Named after the nearby archaeological settlement constructed by the pre-Columbian Mayans, Xcaret offers lots of exciting family activities in Playa del Carmen across its 200 acres. It's the most popular adventure park in the country and many call it the Mexican Disneyworld.
If you're not into theme parks or think it's too expensive, I still recommend it with kids – your kids WILL LOVE IT. While it is a theme park it's not too cheesy or touristy, in fact, you will meet a lot of Mexicans from all over the country visiting it, often without kids.
There are some Mayan Ruins they can climb on, there are a ton of animals starting from giant sea turtles, fish that come close to you, various lazy rivers with caves, a giant butterfly garden and aviary, along with a beautiful beach you can take a break or even a nap on. In the evening they have a few shows that will show guide you through the history of Mexico.
Honestly, you could spend multiple days at the park, because there's a lot to see. My kids keep asking when can we go again. The best part is that kids under 4 enter for free!
There are also a few other adventure parks in the area that you can go see:
Xel-Ha – it's a water park, while Xcaret is half-land activities and half water activities. I'd say older toddlers and up will get the most of the experience but kids under 4 enter for free.
Xplore – the best for kids 8+ with ziplining, jungle jeeps, underground caves.
Xenses – smaller part with sense-themed activities & optical illusions. Kids need to be 5+ to go for some reason.
5. Explore Cenotes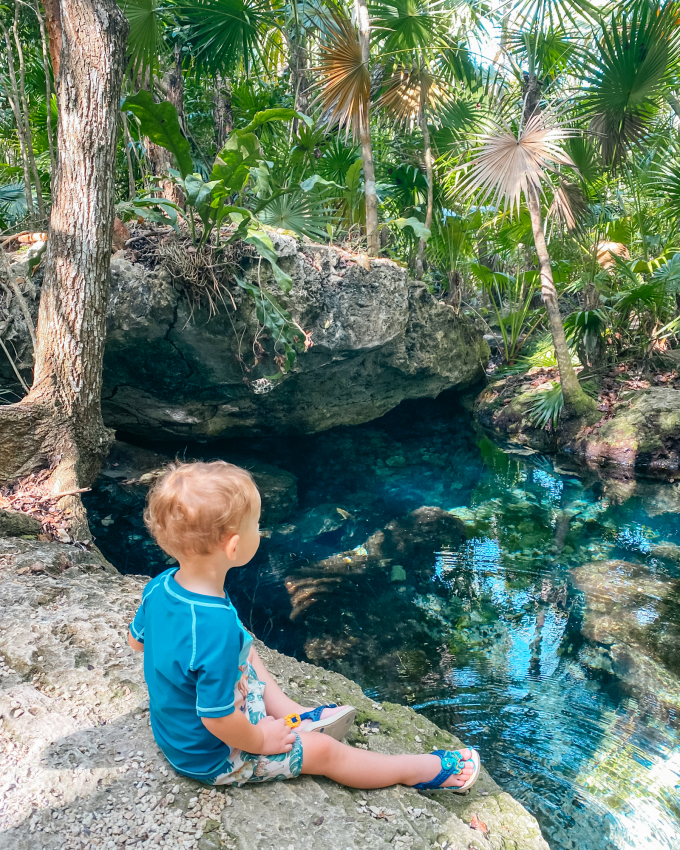 What better way to cool off than by taking a dip in a cenote? There are different cenotes for all ages with partially shallow waters.
I have a few lists of the best ones, but for babies and very small toddlers, I highly recommend Yax-Kin cenote especially since it's super close to Playa del Carmen.
6. Croco Cun
Croco Cun is a mini wildlife zoo with interactive exhibits. Kids can feed & touch snakes, monkeys, parrots, crocs & other animals. Aside from interacting with animals, Croco Cun Zoo's guides also teach you how to protect vulnerable species.
7. Check Out Local Playgrounds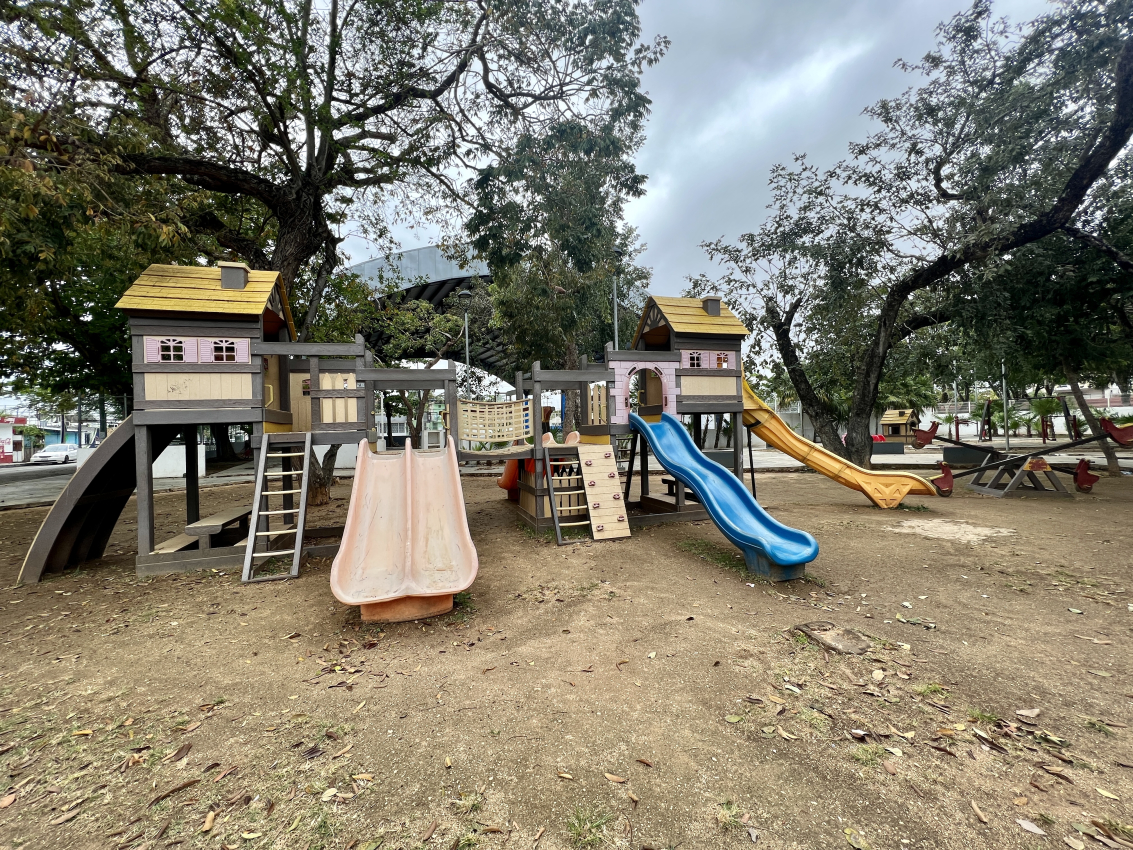 Before I had kids I never so many playgrounds in Playa del Carmen, but believe me – there are quite a few. They're not giant and impressive like some American playgrounds, but enough for kids to have fun.
There is an imaginative playground at Parque la Ceiba and they often have aerial silks classes for the kids.
Another great playground, the best one in my opinion, is at Kiosko Gonzalo Guerrero (Av. 35 & Calle 22). It's shaded and there's also a big basketball field nearby where kids can use up some energy.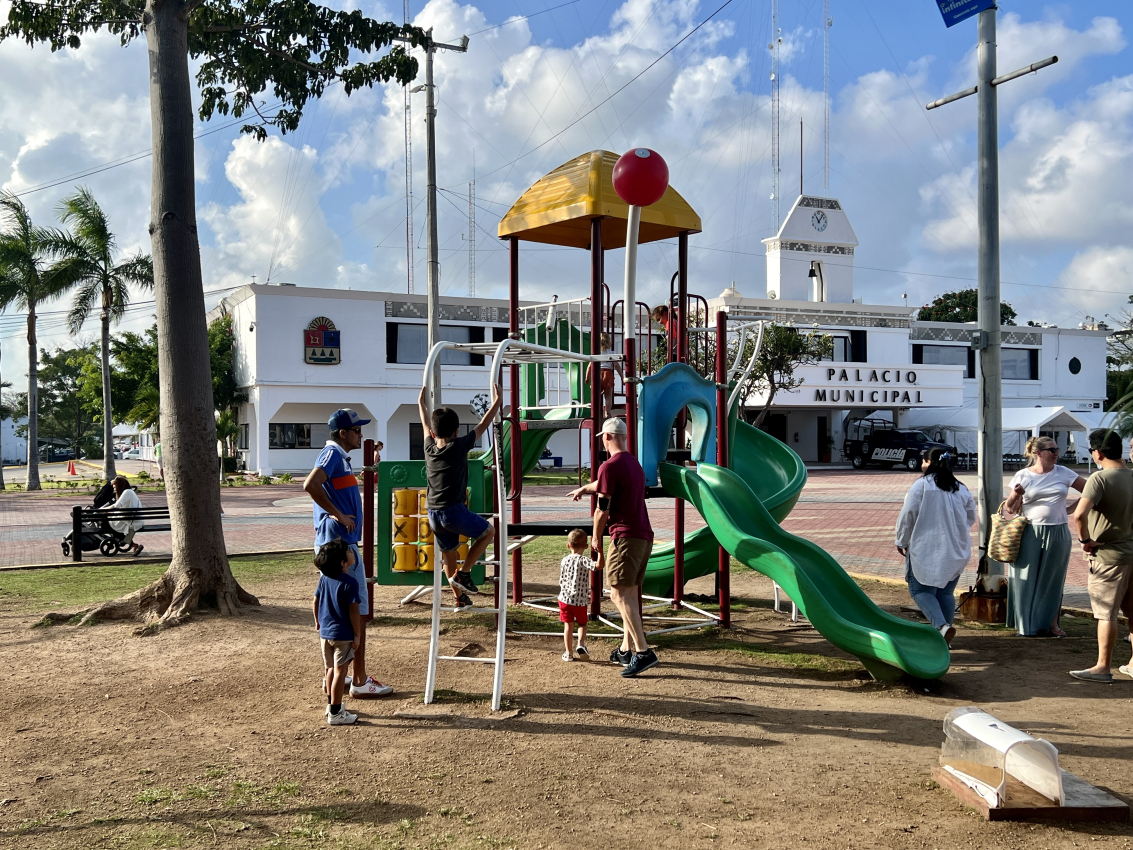 The most well-known playground is at Palacio Municipal. It's relatively small, but new so the equipment looks fresh and more modern. I recommend going there on Saturday evening (after 6 PM) when there are lots of street vendors and food stalls, and quite often people set up bouncy houses, pedal bikes and other fun things for the kids to use for a dollar or two.
There's also a playground at there are indoor playgrounds in the Burger Kings at Av. Juarez & Av. 30, another one at McDonalds by the highway and Calle 1 (right by Juarez), and another one at Burger King at Calle 16 and almost highway.
Note: some articles list a playground at Parque Fundadores. It doesn't exist anymore, as it got torn down to build a sculpture.
---
8. Take a Trip to Laguna Kaan Luum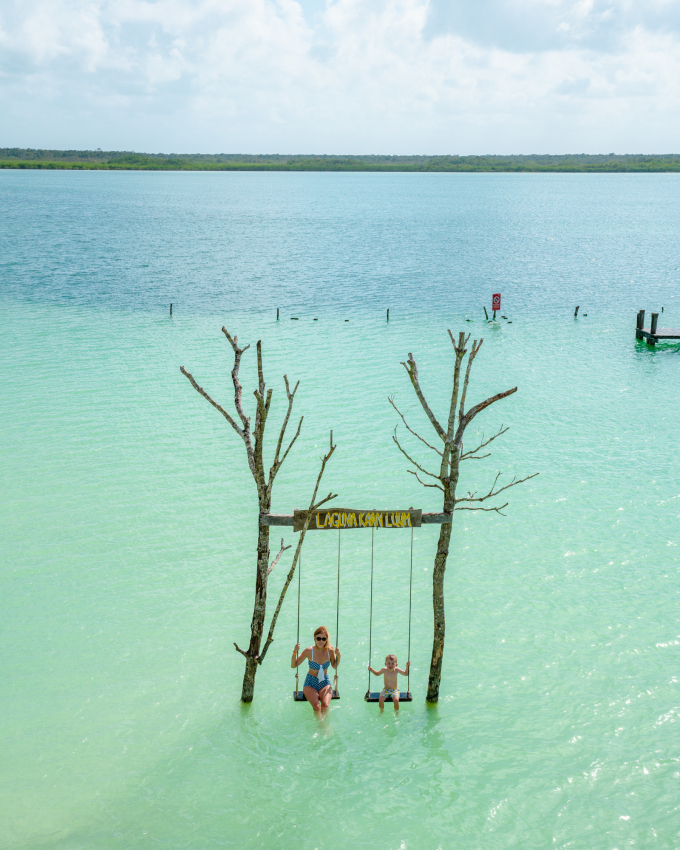 Kaan Luum is a hidden gem that's frequently visited by locals. It's a lagoon with incredible waters, just like those in the Maldives or Bora Bora, but it's right outside of Playa del Carmen.
It's shallow for the most part, so you can hold your little kids easily and in some parts, a 3-year-old can stand just fine. There's a pier for sunbathing, various swings and hammocks in the water, and a little slide.
9. See Coba Ruins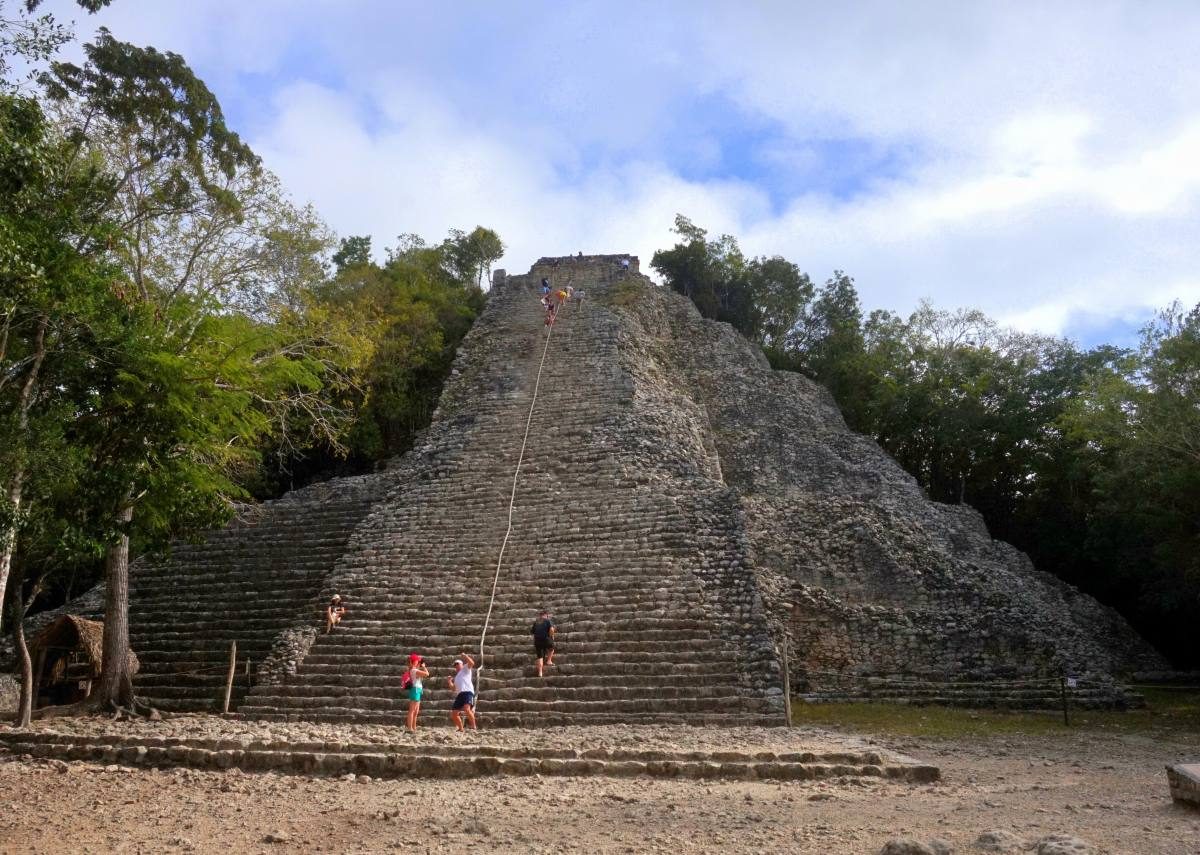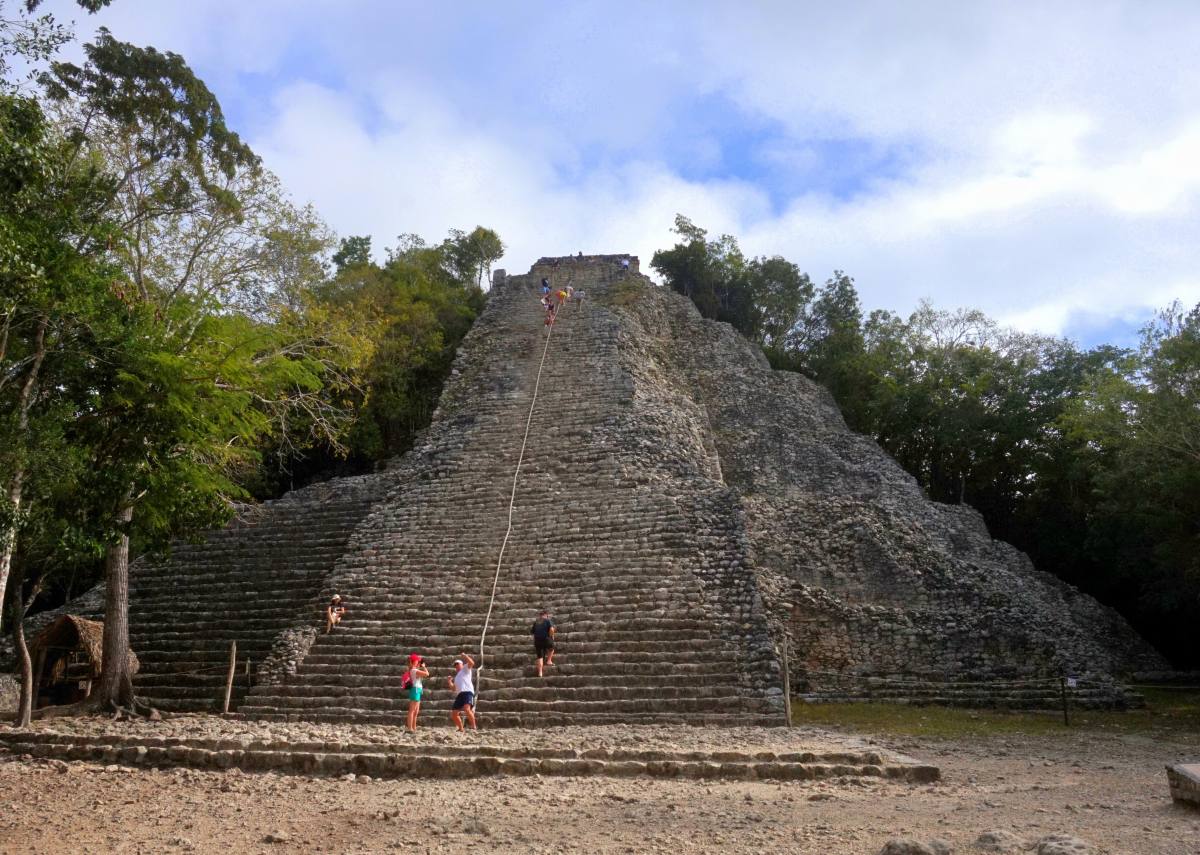 When visiting the area most people opt for a tour to Chichen Itza, because it's one of the World's Wonders. Personally, I think Coba is cooler especially if you're traveling with kids.
Chichen Itza gets super crowded and there's not much to do apart from walking around which can get boring for little ones. In Coba, the area is larger and more jungle-like so it's recommended you hire a bike to get to the main pyramid… which, you can actually climb!
There are also 3 incredible cenotes right by Coba, so it's just a more authentic and wholesome experience!
---
10. Go zip lining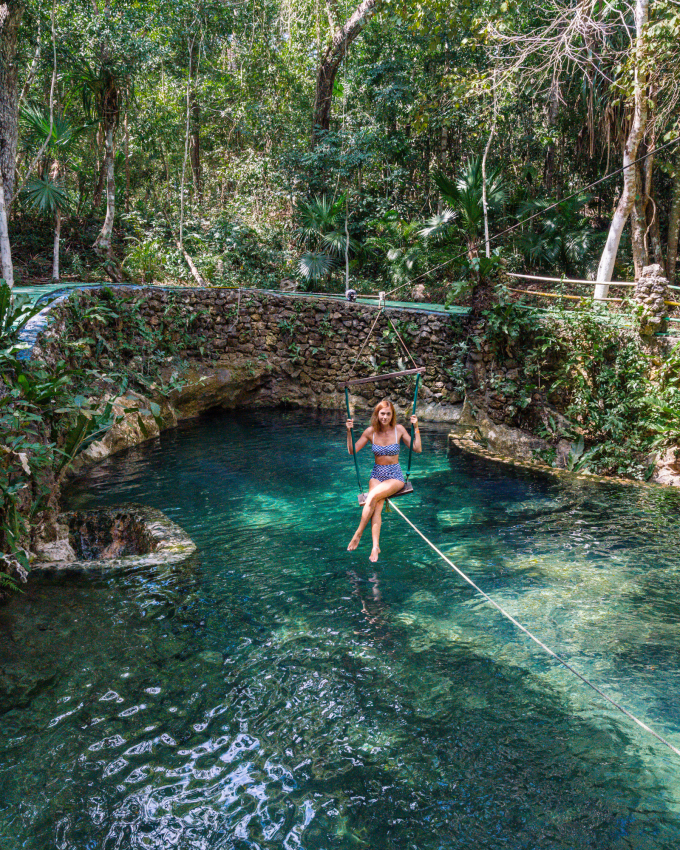 The Riviera Maya is a dreamland for adventure seekers, including kids. There are a few options in the area:
Xplor Park All-inclusive Ticket gives you full access to all the unique attractions at Xplor Park, including 14 different ziplines. Kids must be 8 years old at least.
Another option is Selvatica. The Ziplines and Cenote Tour gives you access to all the 10 ziplines and ta visit at a private cenote.
There's also Jungle Maya. A tour to Tulum and Jungle Maya Native Park combines culture and adventures in nature in a single tour.
If you want something more low-key there's Cenote Boca del Puma, which you should pre-book to guarantee a spot but don't have to. Kids need to be 5 to go on a zipline, but younger kids are allowed at two cenotes included in your tour.
Things to Do in Playa del Carmen When It Rains
In this area of Mexico the weather is unpredictable and it can rain a lot at times, especially in the summer. The weather forecast can't really tell you and sometimes it can be sunny in Playa del Carmen and stormy in Tulum.
11. Soak in a Jacuzzi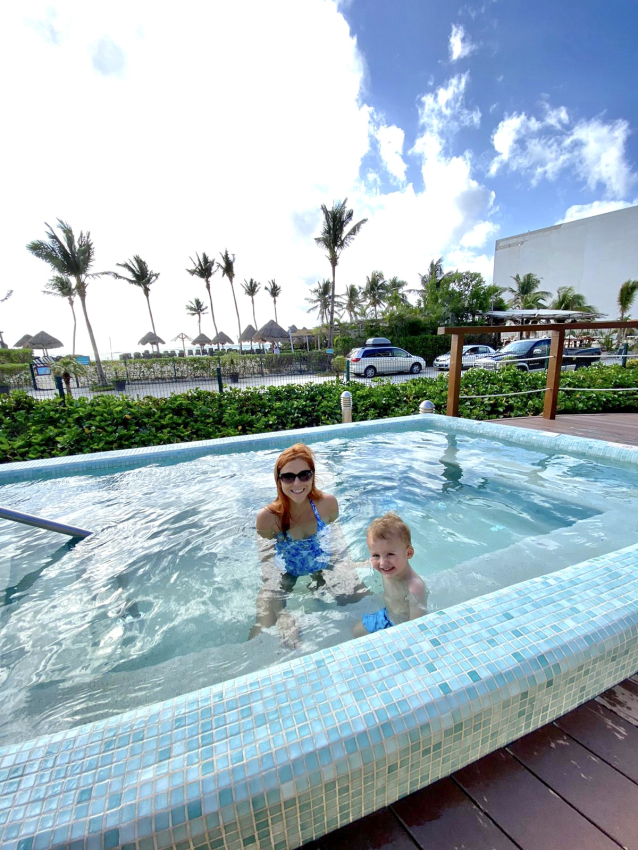 Sounds weird? Maybe, but last year I discovered that sitting in a warm jacuzzi in the rain was amazing. At first, other people at the apartment complex were looking at me in a strange way but then more people grabbed a few beers and joined. My toddler was having a ton of fan as well, so it's an idea!
12. Get Creative at the 3D Museum of Wonders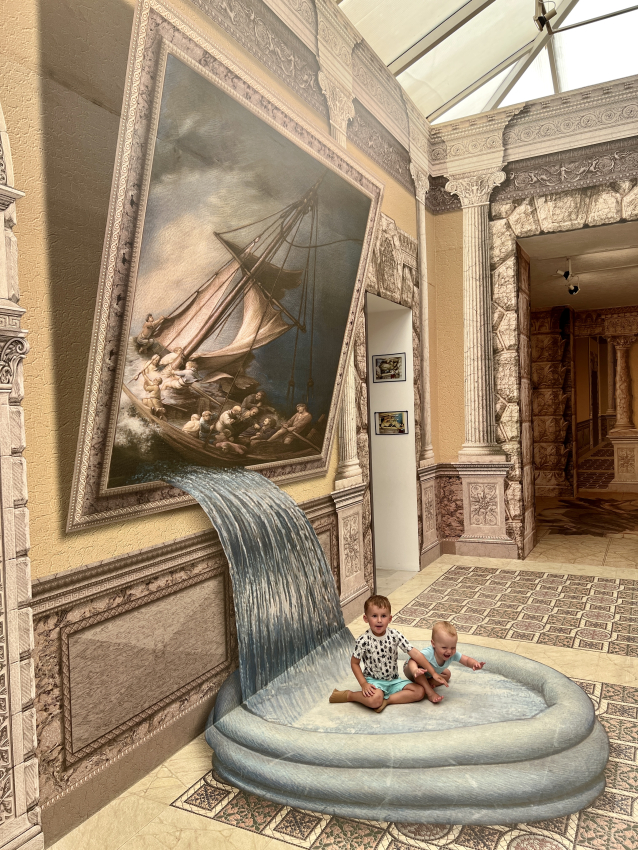 Playa's 3D Museum contains beautiful artwork that allows visitors to interact in a creative manner. Replicas of some art masterpieces, along with fun scenes lets the whole family play and create some fun photos.
Guides assist in the interactive play and help visitors get the best photo at each exhibit so even if you come with a toddler you'll be able to enjoy it.
Keep in mind that strollers aren't allowed because the floor is interactive and meant to be sat on as well.
13. Hang with Locals at Casa de los Abuelos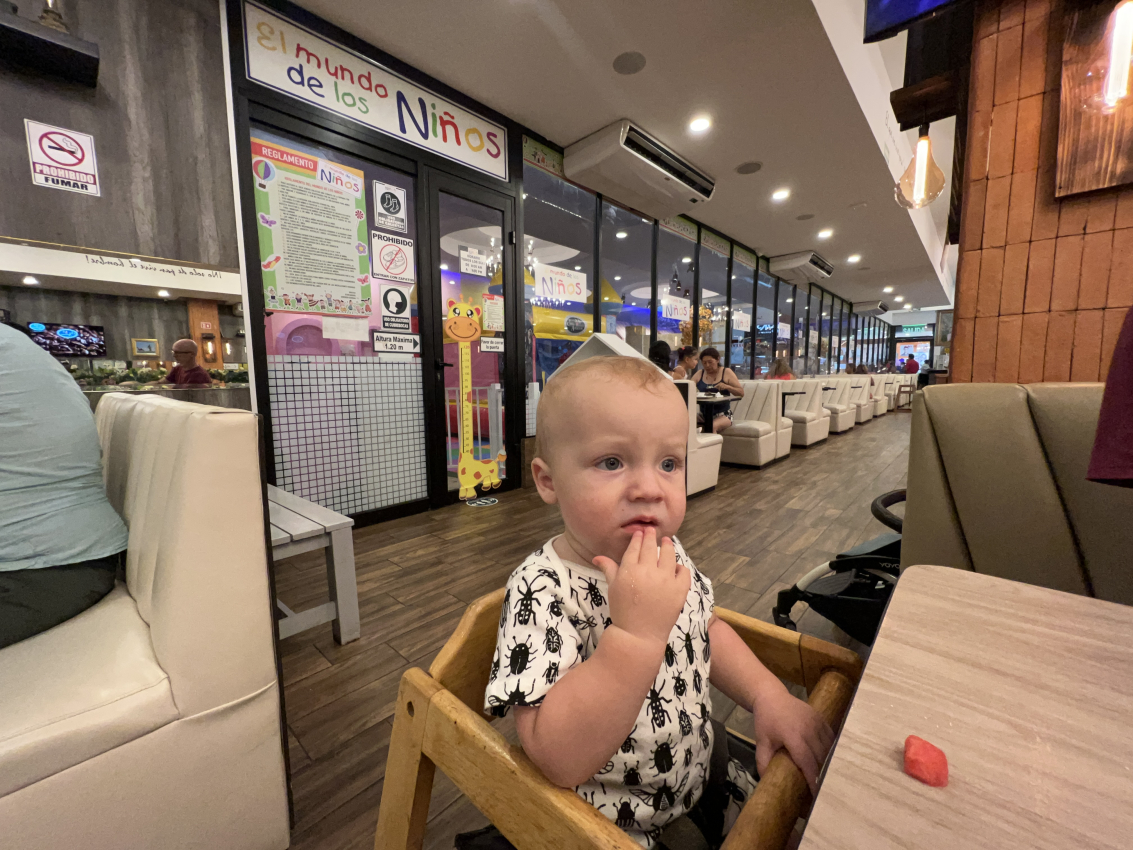 Lots of expats and locals head to Casa de los Abuelos with their kids. It's a restaurant with a separate play area behind plexiglass, so you can eat or drink coffee in peace while your child plays.
14. Underground Cenote or Rio Secreto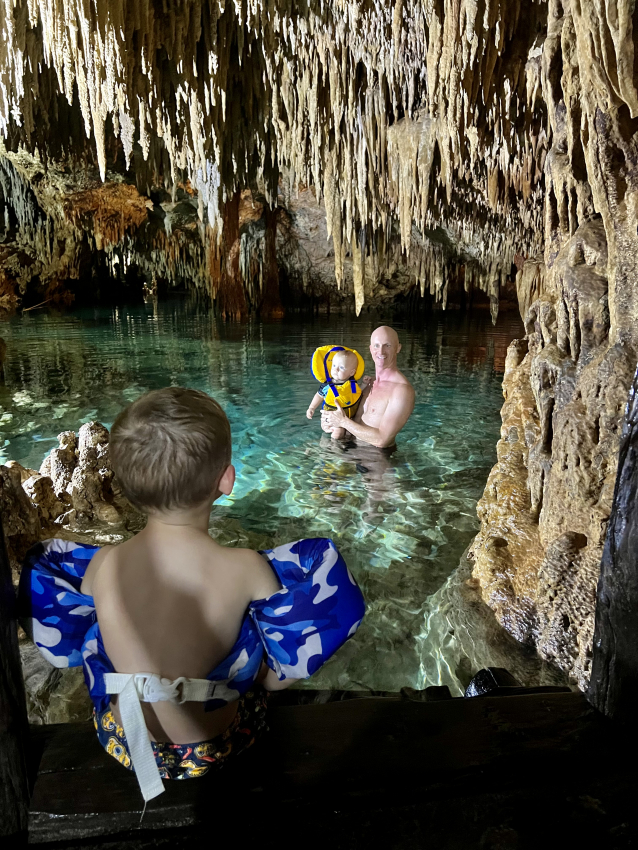 On a rainy day in Playa del Carmen you may still go for an adventure as there are many cave cenotes. The rain won't affect you at all! It's possible to go even with a baby – in fact, my son visited his first one at just 2 weeks old.
Alternatively, if your kids are older than 4 years you can book a tour to Rio Secreto and underground cenote complex that let's you explore thousands of stalactites and stalagmites in an underground river. You'll get helmets, wetsuit, and flashlights as part of your tour.
15. Hire a Babysitter and Have a Date!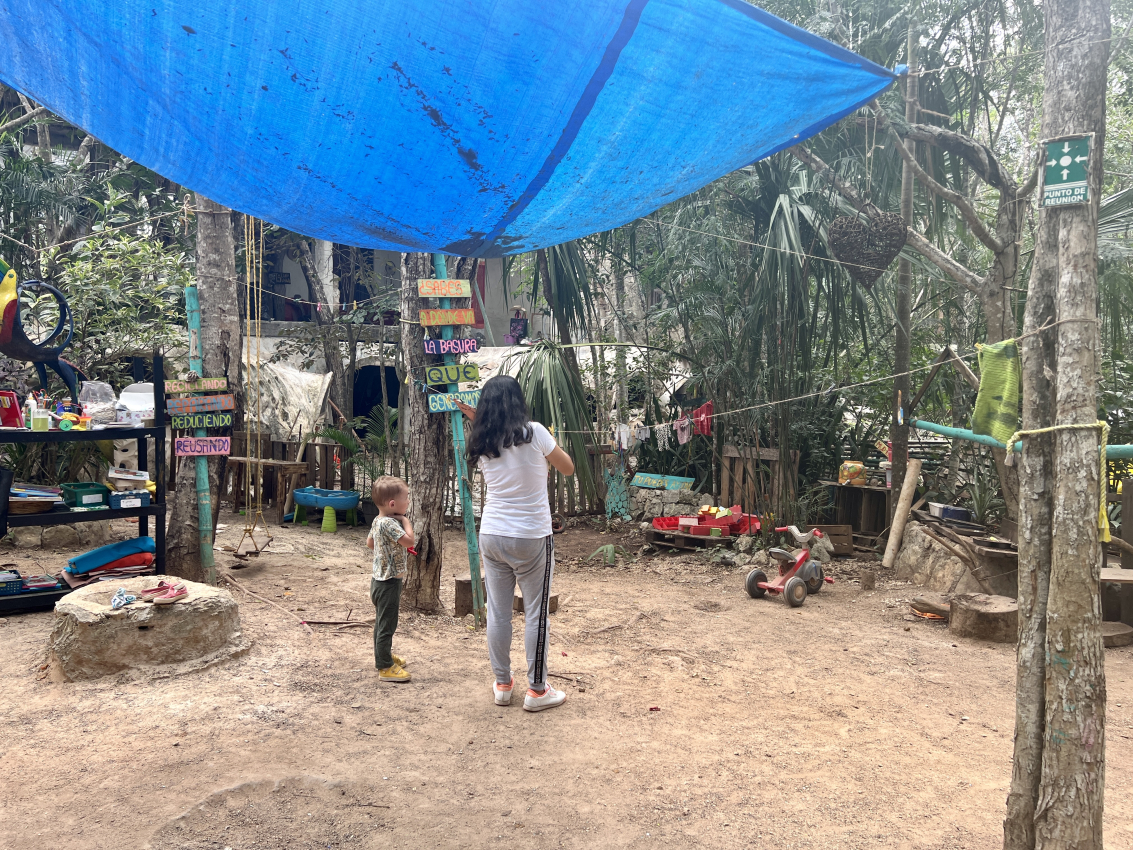 I always rave about Mexican babysitters, because we've had nothing but amazing experiences. There are plenty of reputable agencies and if staying at the resort you can ask for their babysitting options as well.