Anna Everywhere is a chic adventure travel blog that combines inspiration for on & off the path adventure travels with elements of cultural and historical aspects of it. It reaches to readers interested in new destinations, unique activities and living abroad. It gives the readers various angles of travel experiences, whether they're good or bad – showing them how to travel with purpose.
Anna Everywhere also focuses on alternative aspects of travel, such as traveling with chronic diseases, sports, world politics that influence tourism, and living abroad.
Anna Everywhere's Readers Are Interested In:
* Independent off-the-path adventure travel
* Cultural sights & city travel
* Unique luxury and boutique accommodation
* Fashion recommendations
* Living, studying & working abroad

---
WHY WORK WITH ANNA EVERYWHERE?
Influence:
Anna Everywhere blog features only genuine experiences – no sponsored guest posts, press releases, or travel guides of places not visited by Anna. As a result, readers book their holidays and purchase products based on Anna's trustworthy recommendations.
Comments on the blog and social media channels aren't generated by bloggers participating in comment exchange groups, but genuinely interested readers.
This is why the clickthrough rate based on affiliate bookings is over 10% with the industry average of 1.8%
45% of readers stated they bought something or booked their next trip based on Anna's recommendation.
Exposure & Strategy:
Anna has professional experience in journalism, affiliate marketing, SEO, PR, and branding, so she can understand your needs by choosing the right approach. She's improved engagement and brand awareness of many clients. List available upon request.
annaeverywhere.com reached over 3 million people since 2014.
Quality:
Being traveled the world and studied at the world's top universities, Anna provides articles that can encourage the audience to travel with purpose.
All facts are checked and feature only places the author has been to and has experience in unless the article expresses personal opinions.
Press
:
Anna has been featured in major international media outlets such as the National Geographic, The New York Times, Daily Mail, News Australia, Huffington Post, Forbes, The Telegraph and many others. She also appeared on major TV networks such as CBS, ABC, TVN24 or Azteca. See the full list on the press page.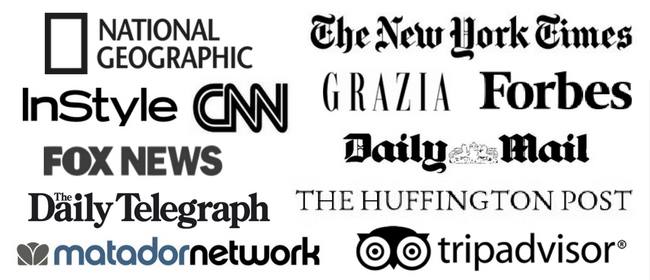 ---
WHAT CAN ANNA EVERYWHERE DO FOR YOU?
Destination Coverage
A sponsored media trip is the perfect way to increase awareness of the place and encourage people to book certain activities based on Anna's recommendations. Anna's worked with many respectable brands and received positive feedback. Anna can provide social media shares, professional photography, and videos, as well as articles on the website.
Product & Accommodation Reviews
Anna can review your product or hotel and tell my readers about it. It will grow brand awareness, trustworthiness, and can lift your rankings in Google. Anna is also open to giveaways and competitions on the site and social media channels.
Social Media Promotion
With over 750,000 followers across all major social media channels, Anna not only has the numbers but also the real engagement. Followers interact with Anna and themselves, so you can be sure that your product or destination will reach your target audience. It'll also increase your social media followings and grow your email subscriber list.
Influencer Management
Looking to arrange a media trip with influencers? Trying to set a campaign and need bloggers? Anna can surely set it up by connecting you to the right and trusted people. With over 2 years of managing influencer and blogger campaigns in various fields, and being in the industry herself, Anna can help you reach your goals.
Mentoring
Anna is one of a small number of influencers with not only established Instagram, but also a travel blog. If you're looking to find out more about building a brand, blogging, social media strategies, photo editing, or becoming ad digital nomad – reach out.
Anna is currently running a full-on blogging course. Check out THIS page for details.

---

Past Travel Campaigns:

---

Past Lifestyle Campaigns:

---

Site Demographics:

Location:

39% – US
9% – UK
17% – rest of Europe
8% – Canada
5% – Australia
8% – Mexico

Age:

25-34 – 43%
35-44 – 19%
18-24 – 15%
45-54 – 12%
55+ – 11%

Gender:

---

ANNA EVERYWHERE stats:

Average Page Views: 250,000+ monthly
Average Unique Visitors: 160,000+ monthly
Facebook Page: 17.000+ (verified & over 300,000 video views)
Facebook Profile: 1500+
Pinterest: 475,000
Twitter: 17,000
Instagram: 200,000+
YouTube: 200,000 views+

---

Instagram Stats:

Location:

18% – US
11% – Brazil
5% – UK
20% – Polish people living abroad

Age:

25-34 – 37%
18-24 – 29%
35-44 – 17%
45-54 – 7%
55+ – 5%

Gender:

---

GUEST POSTS POLICY

Anna Everywhere occasionally accepts guest posts, but ONLY from fellow travel bloggers and journalists and only to Expert Corner section.

If you represent a brand, product, hotel, SEO marketing agency, or any other for-profit business, there's no guest post option for you. You could, however, pitch me a sponsored post.

SPONSORED POST POLICY

All posts (apart from Expert Corner section) are curated by the same author, as I'd like to keep it a blog and not a travel magazine. That said, no guest posts are allowed regardless of your budget.

I frequently work on travel and lifestyle campaign listed above and if your product/service is relevant to what I write about and post on social media I will consider your proposal.

However, I don't write about places I haven't visited. If you're interested in promoting a new location we could discuss a media visit option.

All sponsored posts will be marked as such and include a disclosure. All links will be good for 1 year only, as I don't offer permanent links under any circumstances.

I don't offer sponsored posts to companies affiliated with gambling, drugs, or random products totally irrelevant to my content.

While I work with many affiliate programs, these days small affiliate partnerships are subject to an implementation fee.

Finally, if you're trying to buy cheap links for your mass link-building operation, please save us both time and don't email me about it.

---

For more information or details regarding any of the above information or price card please contact me at [email protected] .