Most people aren't aware that most cenotes are surprisingly kid friendly. They are awesome and my kids love them (they even had one at their preschool in Playa del Carmen!). Cenote Yax Kin is the best cenote to visit with kids because it's shallow, the water is warm, there are plenty of spots to sit and it's easy to reach. Yet, it's not a popular cenote so you won't experience crowds like at Cenote Azul.
Yax Kin in Mayan language means "New Sun", which means a new day and opportunity to discover this beautiful globe.
I've visited plenty of cenotes as I live in Mexico on and off. Last time I visited Cenote Yax Kin with 2 under 2 – toddler and a baby (who was actually 5 weeks old as he was born in Mexico) and had a great time. When I say it's a kid friendly cenote – I mean it!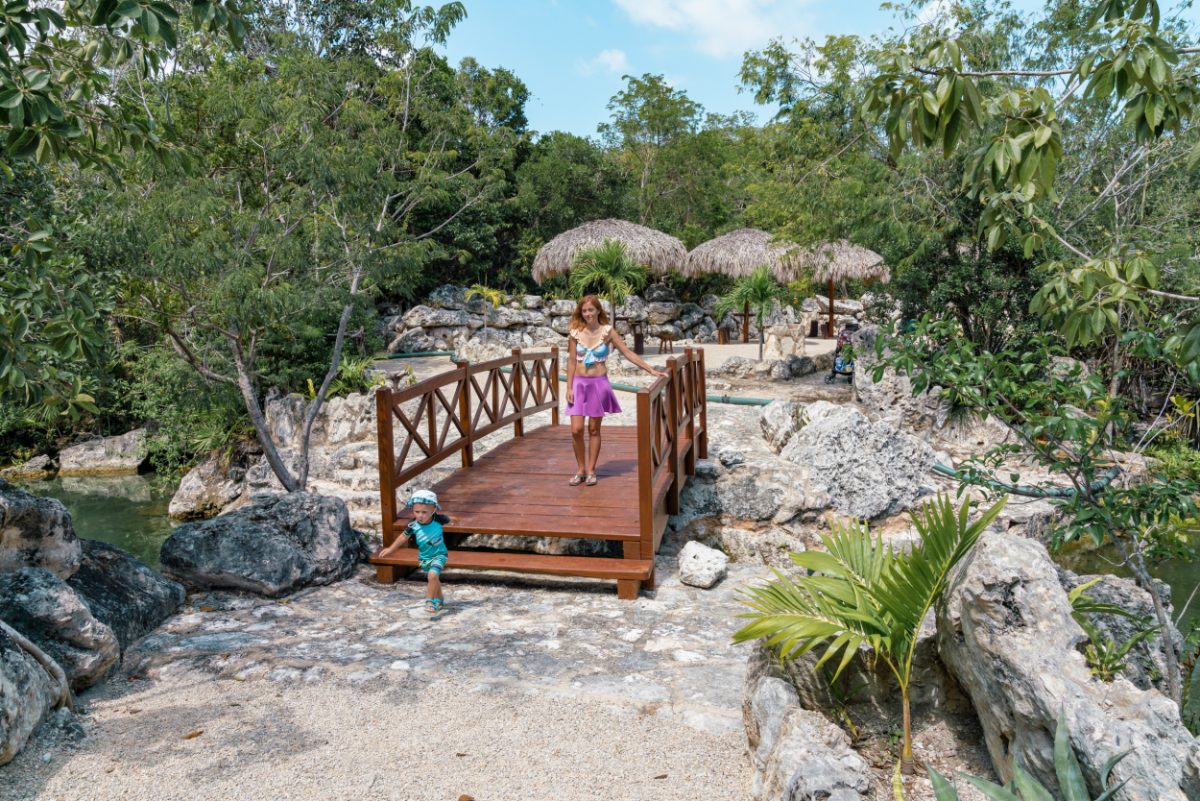 What Makes Cenote Yak Kin so Special?
There are plenty of cenotes in Riviera Maya to choose from, but Yax Kin is the locals' favorite. You'll not see many tourists, if any at all, at this cenote. It's mostly expats and locals who want to spend the day there. Cenote Yax-Kin truly feels like a secret gem and is an excellent cenote for adults, kids, toddlers and babies.
You could spend several hours here just lounging and cooling off in the cold water. It's not a wild park with zip lines and other man-made things – it's just a beautiful natural swimming hole.
1. Awesome for Kids
Sun loungers are already set for your pleasure, so you don't need to bring anything. The area right by the sitting area is very shallow so a baby can sit around and splash. Toddlers can walk around and swim in shallow waters.
Further away, there are parts that will make adults happy. I'm sure you can cliff jump from the other side, but we never attempted it.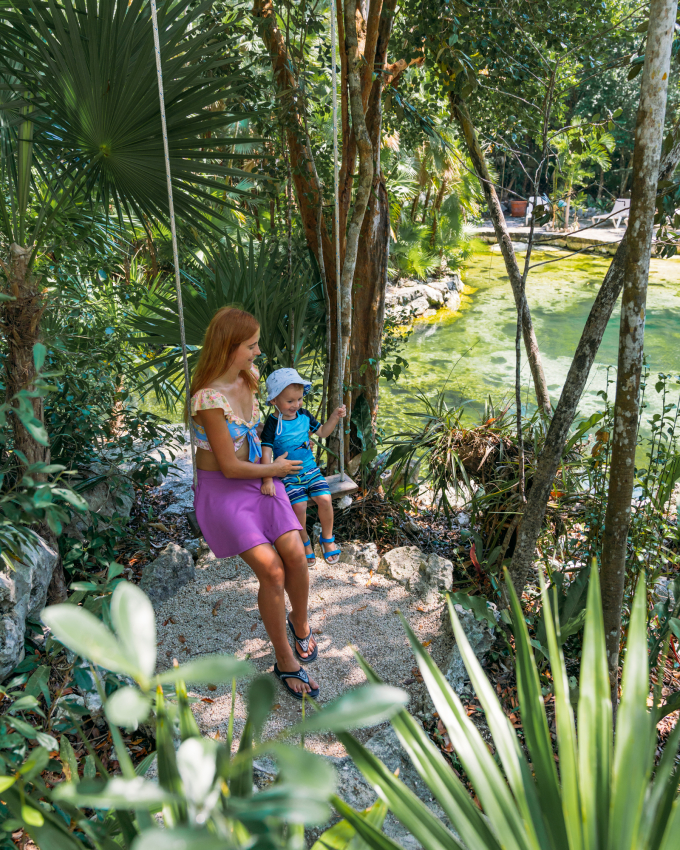 2. Easily Accessible, but Quiet at the Same Time
Cenote Yax-Kin is right off the main highway which makes it very accessible. There are spots where you can camp and do some grilling. Entrance fee is only 100 pesos which is super affordable (comparing to Tak Be Ha which is 500 and overcrowded Dos Ojos even more)
From Tulum, Cenote Yax-kin is only a 15-minute drive away along the main highway. From Playa del Carmen, it takes about 25 minutes.
3. Clear Waters & Open Layout with Wildlife
Yax Kin is a great cenote for snorkeling beginners, or to teach kids how to do it. Its crystal clear waters will definitely impress a little person.
You can bring your own swimming floats, walk around – there's even a bridge and a very Instagrammable swing.
The lush scenery surrounding the cenote has many trees where you can rest and retreat for a few hours. Last time two iguanas fell down the tree and decided to walk around us before crawling up again.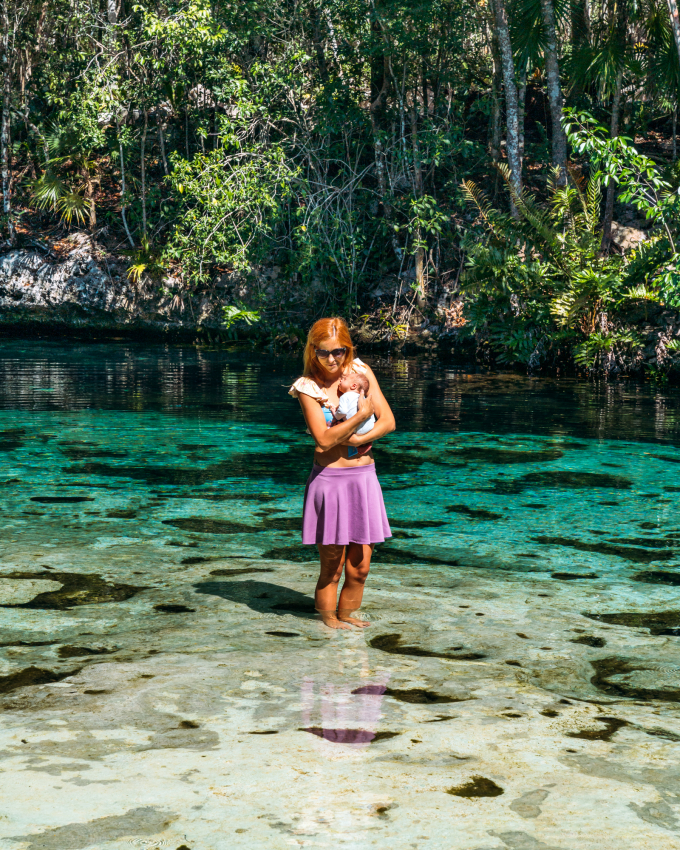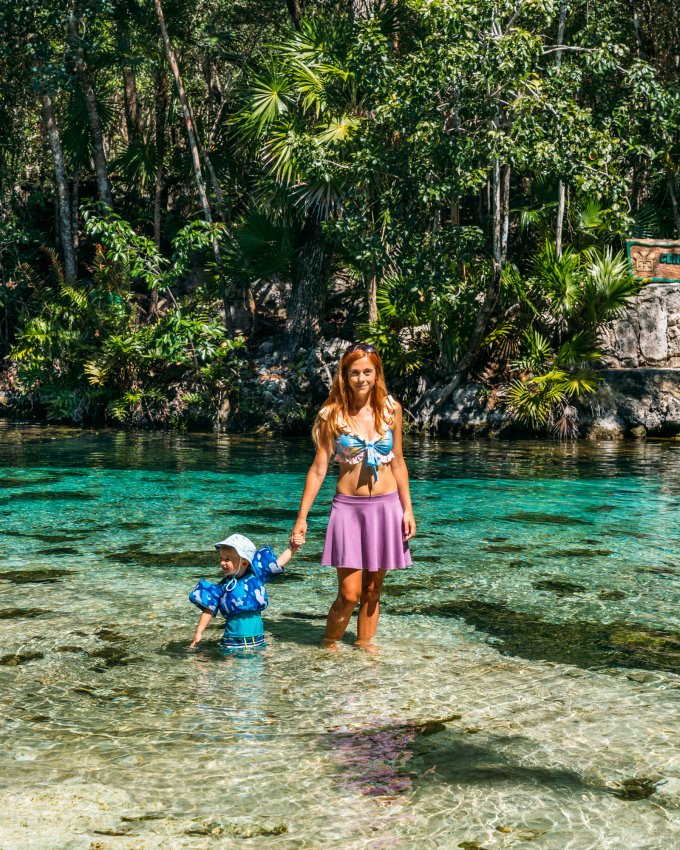 How to Get to Cenote Yax Kin?
Cenote Yax Kin is located on the main highway 307 Tulum – Cancun, 15 km north Tulum and 40 km south from Playa del Carmen. It's right past Cenotes Hidden Treasures Park. It's not too far from Dos Ojos complex.
The cenote is accessed via a short stepped path from the highway with 2 steps or a parking lot surrounded by lush green. We were able to bring the stroller down all the way to the sitting area by the water, which was super convenient with a baby.
Rental Car
Especially when visiting with kids it's so convenient to rent a car in Mexico. Drive there, park for free and you'll be there. It's super safe, so don't worry 🙂
Here is the exact location on Google Maps.
Taxi
If you're arriving at Cenote Yax Kin by taxi, you must make sure that you have a phone number to call for a pickup. Not many tourists mean no taxis, when all the locals bring their own cars or come by collectivos.
Collectivo from Playa del Carmen to Cenote Azul
It's super easy to reach this cenote with collectivo. Flag your collectivo by waving to it and tell your driver where do you want to go.
In both directions, you need to tell the driver that you need to get to Cenote Yax Kin and they'll drop you off at the right spot. Don't forget to hail the bus down when you're trying to get home (you need to cross the highway to get back).
Rides typically cost between 30-50 MXN per person, depending on where you're coming from.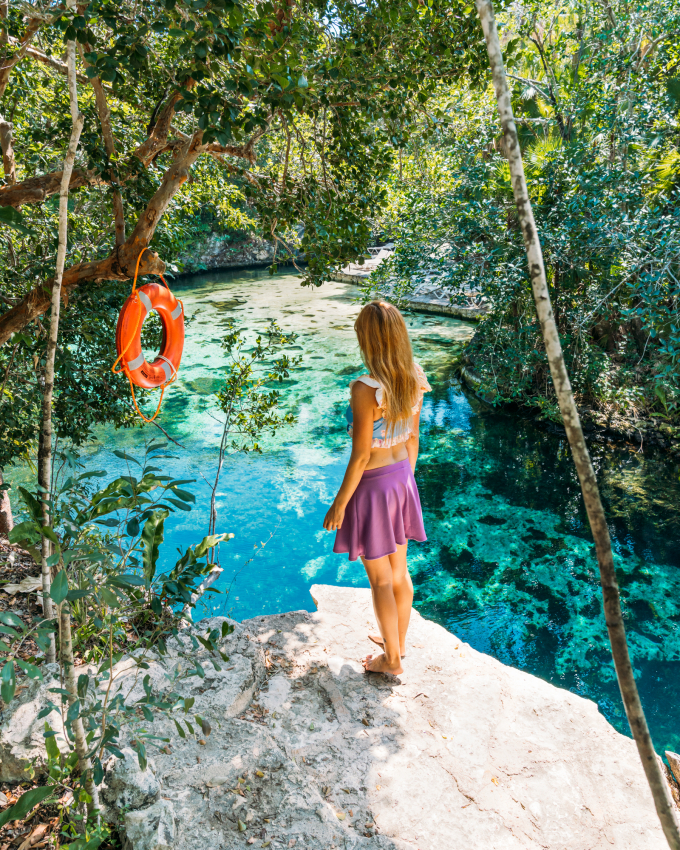 Cenote Yak Kin Price & Opening Hours
Hours: Daily 8:30 to 17:30
Admission: 100 mxn per adult and 60 for kids 4-18 years. OR $12 usd for camping per person.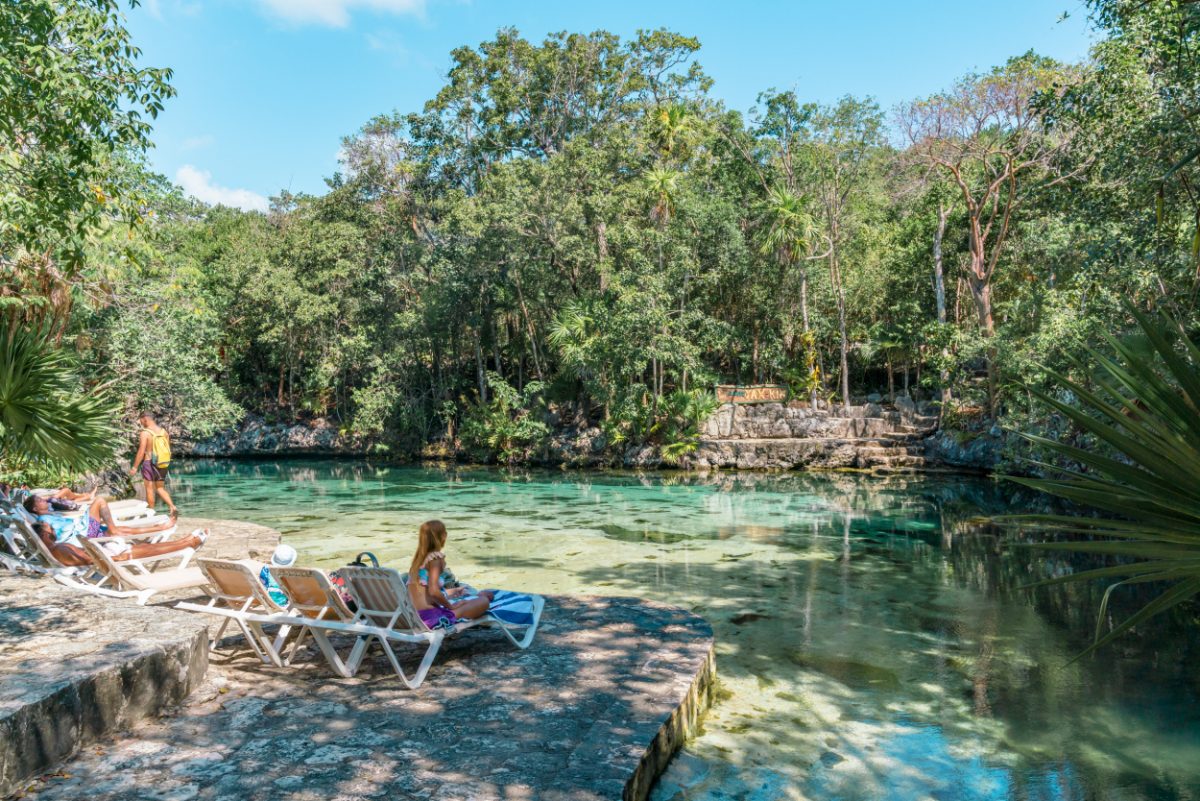 Best Tips for Visiting Cenote Yax Kin
Toilets and changing area is free for everyone to use. I recommend you bring your own food since once you are there you will only find a small shop selling snacks or coconuts to drink.
It is more of a local cenote, so there's no spot to rent snorkeling gear or life jackets so bring your own. There's a booth with life jackets technically, but it's not always open so beware.
Many people don't realize that you can swim underneath the river to get to the other side of the cenote and think it's just a small shallow pool. The area isn't very small at all!
If it rains the day before your visit water might be muggy, so plan accordingly for the best experience.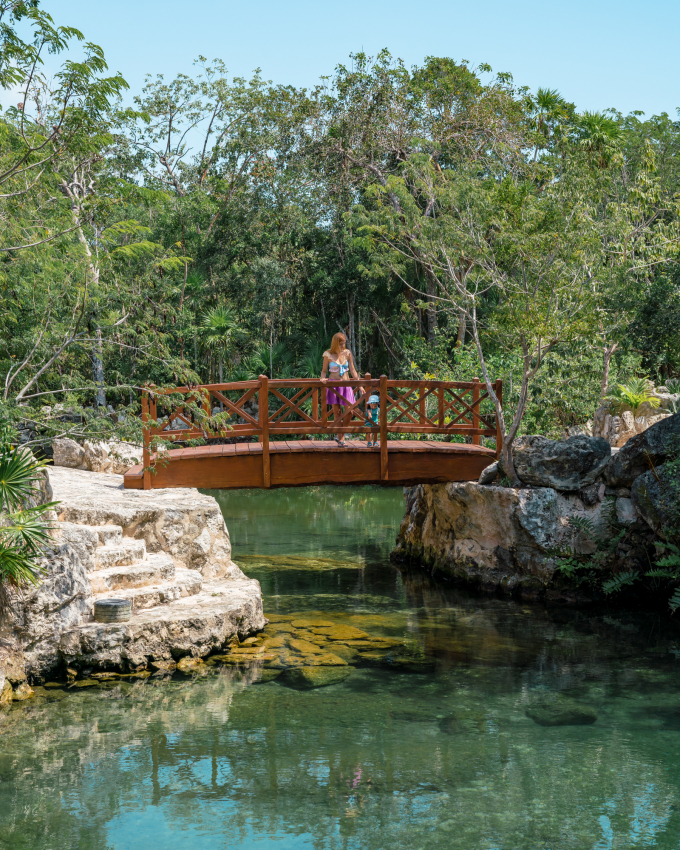 There are some things that are NOT allowed at Cenote Yax Kin:
Flippers – Not to damage the cenote life.
Hammocks – Cannot attach anything to the trees.
Smoking – Smoking is not allowed at any cenote.
Alcohol – Unless private, most cenotes do n't allow alcohol in the cenote swimming area.
Sunscreen / Mosquito repellent: You are not allowed to wear sunscreen or mosquito repellent before you enter the water at the cenote. This is to preserve the quality of the water for everyone. There are showers available which you have to use before you enter the water.