Cenote Azul is surely one of the most accessible and beautiful cenotes in Mexico. It's located between Playa del Carmen and Tulum in Riviera Maya, directly on the main road which makes it super accessible. The large turquoise pools full of fish, surrounded by jungly landscapes with iguanas are perfect for swimming and hanging out in the sun. Cenote Azul is one of the best cenotes to visit with kids.
This is my guide to visiting the beautiful Cenote Azul on your trip to Mexico!
I've visited Cenote Azul over 20 times (if not more) when I used to live nearby and keep returning every year ever since. If any of your questions or doubts remain unanswered in this post, feel free to ask me in the comment section below.
What Makes Cenote Azul so Special?
There are plenty of cenotes in Riviera Maya to choose from, but Azul always attracts visitors.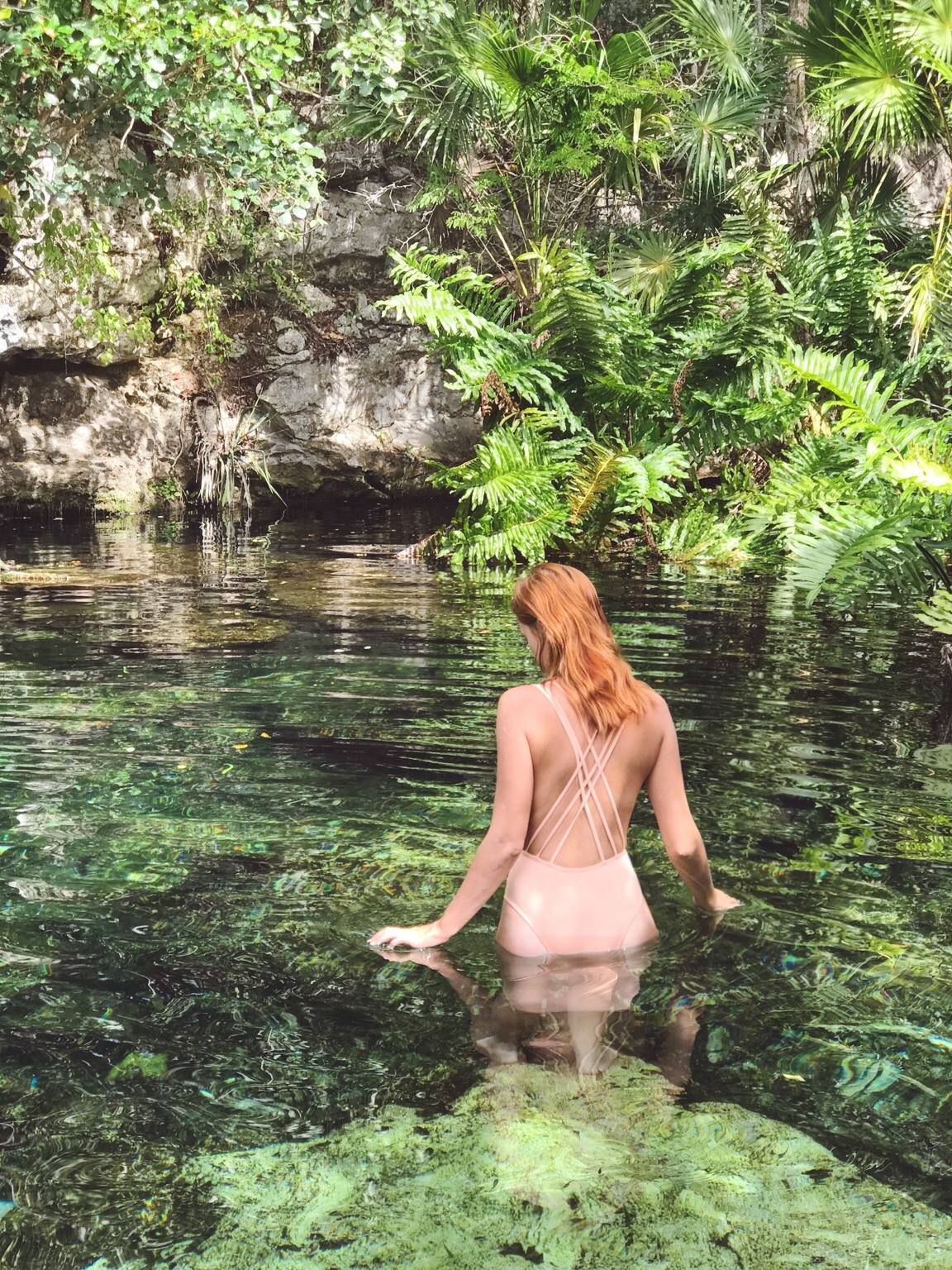 1. Great for Swimmers and Non-Swimmers
The lush scenery surrounding the cenote has many trees where you can rest and retreat for a few hours. There are also platforms for sunbathing. If you're done swimming you can walk around and mingle with iguanas (that after years and years I still didn't manage to photograph well) and local birds.
There are various pools with different depths. Thrillseekers have an opportunity of cliff jumping at Cenote Azul, while smaller kids can sit in the water and even just dip their feet. There is even a cave freediving spot (that not many people know about – keep reading for the details!).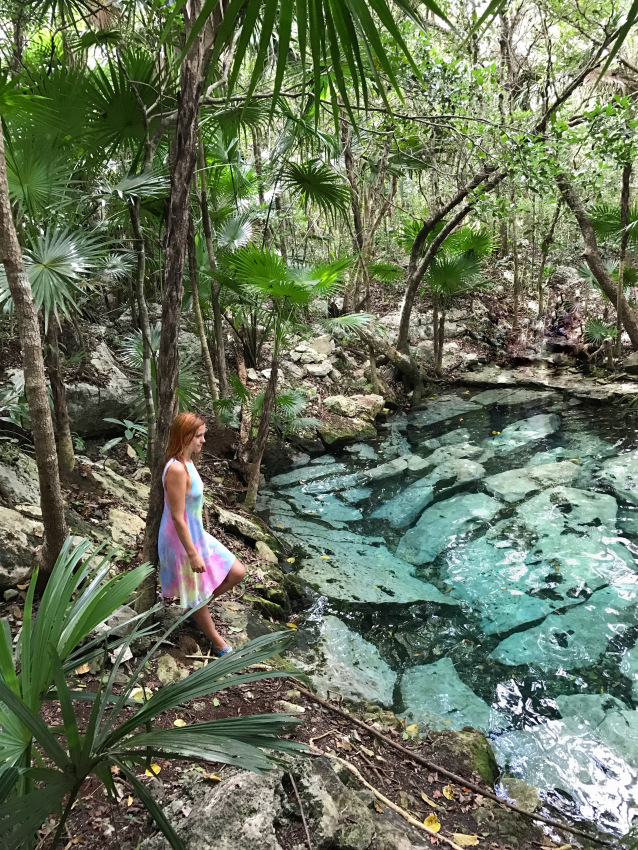 2. Easily Accessible
Cenote Azul doesn't require a car. You can get there by public transportation or taxi. It's very close to Playa del Carmen and Akumal, so it attracts tourists a lot.
From Playa del Carmen, Cenote Azul is only a 20-minute drive away along the main highway. From Tulum, it takes about 30 minutes.
3. Clear Waters & Open Layout
Azul is located in a large open space, not in a cave. If you want to enjoy good weather that's the place to be. Azul is also known for its spectacularly clear waters, supplied by both rainfall and underground river. It's a great place to get a fish spa since little fish like to nibble on your feet.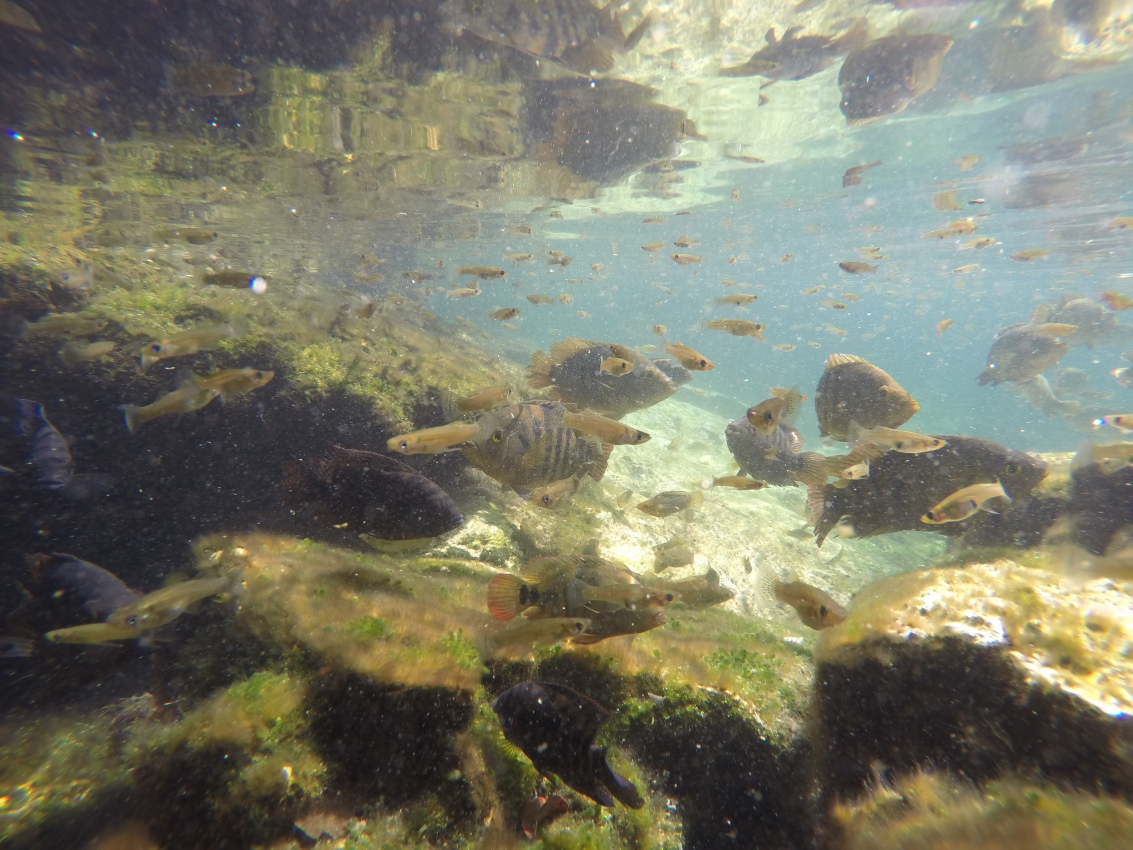 ---
How to Get to Cenote Azul?
Cenote Azul is situated south of Puerto Aventuras (which is 20 minutes from Playa del Carmen and 30 minutes from Tulum), Cenote Azul is an easy day trip for many travelers visiting the Riviera Maya.
The cenote is accessed via a short stepped path from the highway or parking lot surrounded by lush green.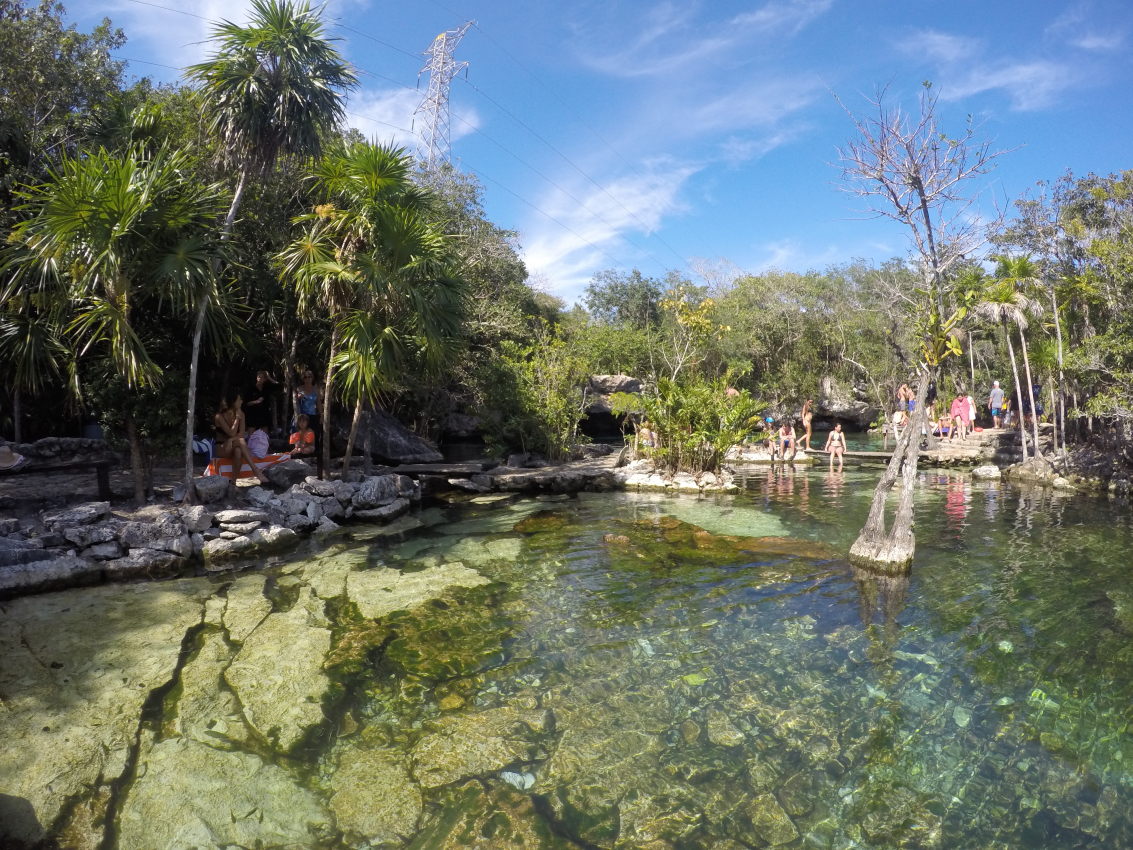 Rental Car
If you have a rental car (which I highly recommend in the area) it's easy. Cenote Azul has a large parking lot with free parking spots.
Here is the exact location on Google Maps.
Taxi
If you're arriving at Cenote Azul by taxi, I recommend making sure that you have a phone number to call for a pickup, because there might not be any passing by.
Collectivo from Playa del Carmen to Cenote Azul
It's super easy to reach cenote Azul with collectivo. From Playa del Carmen get the colectivo heading south on main Cancun-Tulum road (route 307) – they load passengers at Correos de Mexico on Calle 4.
From Tulum take the colectivo heading north to Cancun.
In both directions, you need to tell the driver that you need to get to Cenote Azul and they'll drop you off at the right spot. Don't forget to hail the bus down when you're trying to get home (you need to cross the highway to get back).
Rides typically cost between 20-40 MXN per person
Note: Cenote Azul is open every day, but Cenote Jardin del Eden located right next to it is closed on Saturdays. Many people plan on visiting both of those cenotes the same day, so if that's your plan avoid Saturdays,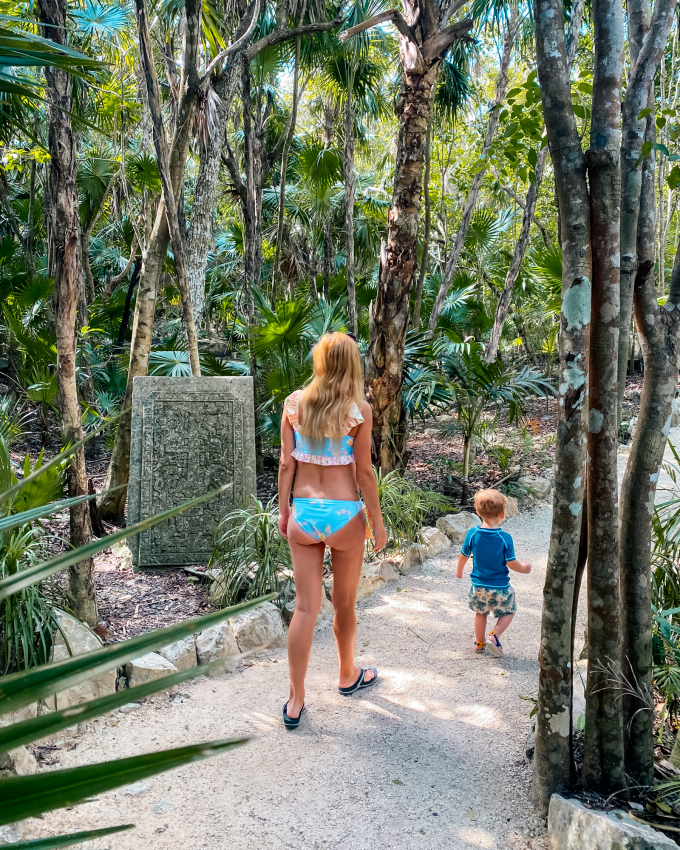 Cenote Azul Price & Opening Hours
Hours: Daily 8:30 to 17:30
Admission: 120 Pesos per adult & 80 per kids over 4 years of age.
Cenote Azul can get crowded, so I recommend heading there as early as possible in the morning.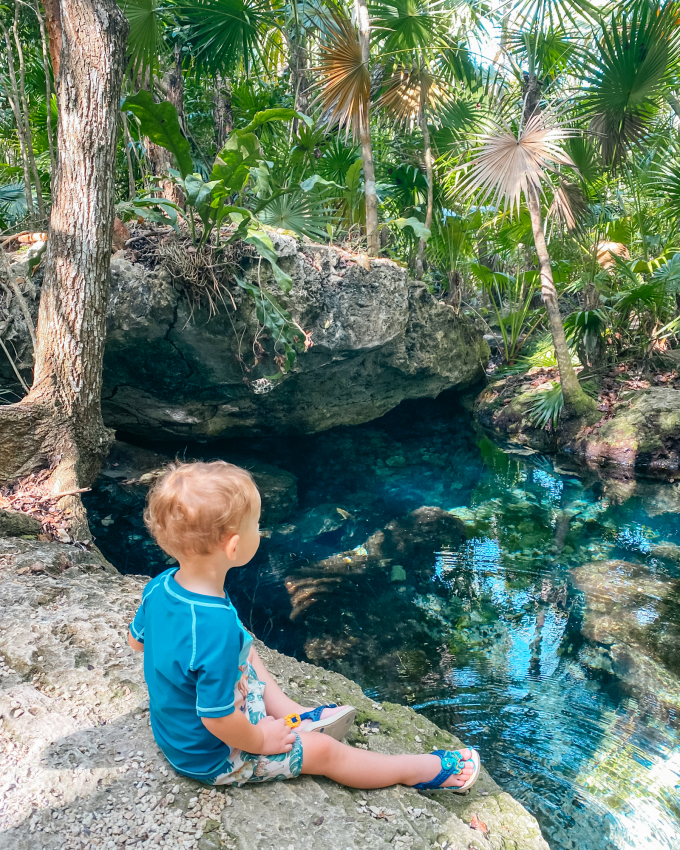 What To Expect at Cenote Azul
There are three sets of pools. The first set of two of the cenote's pools are smaller and located on each side of the entrance path. It might be tempting to sit there away from the crowds, but it's very shaded and bugs might want to attack you.
The main cenote swimming area is divided into two pools with an elevated walkway separating the two. The left part is perfect for brooding around and for kids (stones can get slippery, so take caution), the right side is more for swimming or snorkeling and cliff jumping.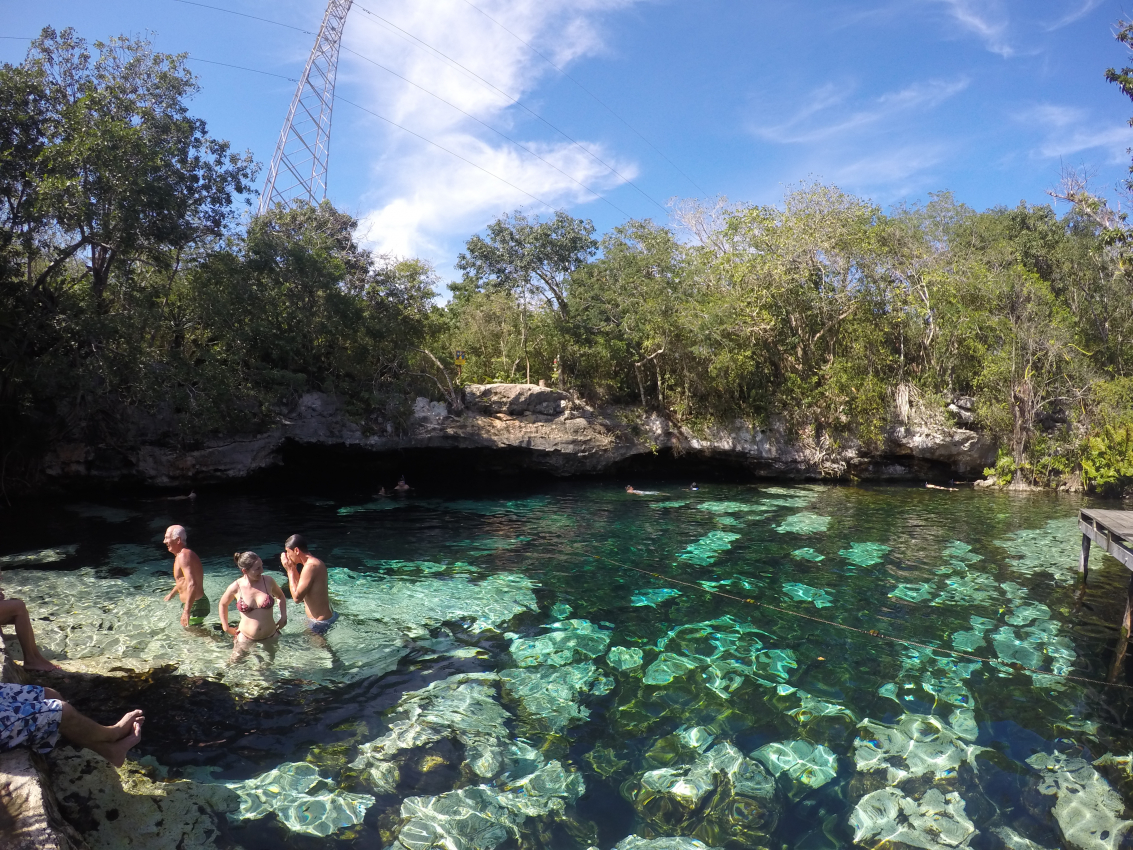 The left side tends to be quieter so I recommend setting up your sitting area over there. The water is pretty warm.
Cenote Azul cliff allows visitors to jump off. The jump Is 3.5 meters from the top and it's very safe. There's usually a line of people jumping.
The secret cave snorkeling / free diving spot is located on the left side of the cenote, under the side entrance. Don't attempt to do it unless you've done it before as there's nowhere to come out inside the cave tunnel to get air.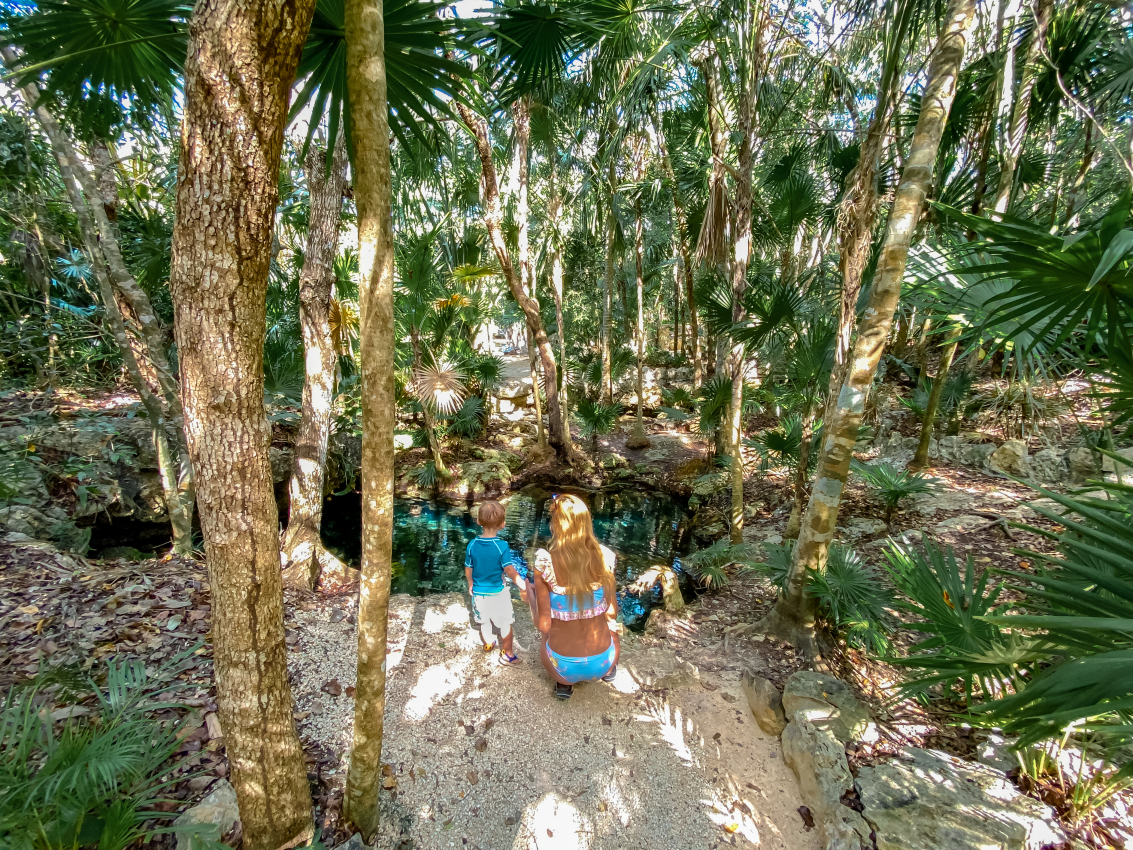 Best Tips for Visiting Cenote Azul
There are some things that are NOT allowed at Cenote Azul:
Flippers – Not to damage the cenote life.
Hammocks – Cannot attach anything to the trees.
Smoking – Smoking is not allowed at any cenote.
Alcohol – Unless private, most cenotes do n't allow alcohol in the cenote swimming area.
Sunscreen / Mosquito repellent: You are not allowed to wear sunscreen or mosquito repellent before you enter the water at the cenote. This is to preserve the quality of the water for everyone. There are showers available which you have to use before you enter the water.
Drones – It's a new rule. Drones are not allowed at almost every site and cenote in Mexico as it scares birds, but it really depends on who you talk to. Sometimes we were told it's allowed it you fly high and launch it from far away.
Don't feed the fish or iguanas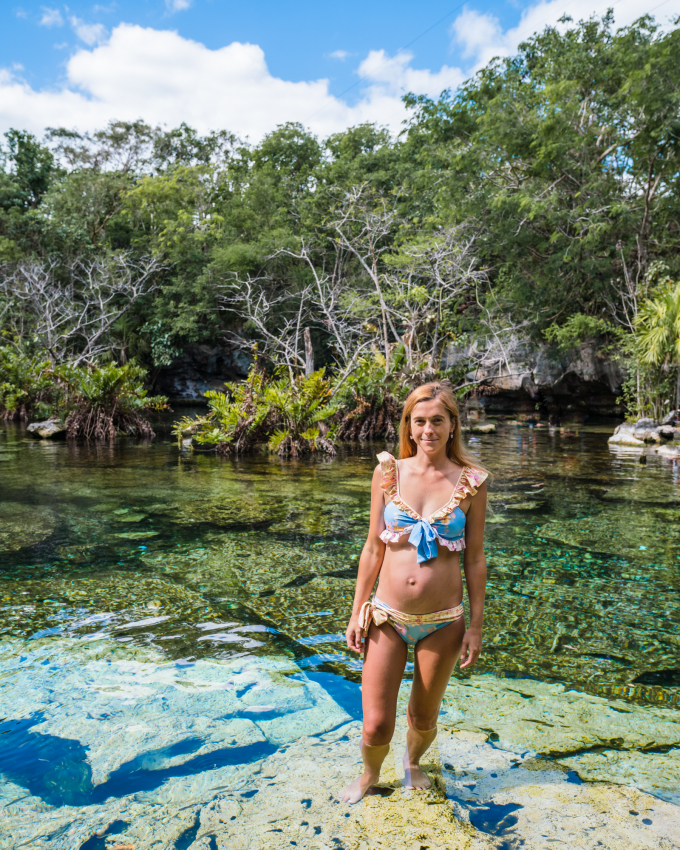 There are changing rooms available at the back of the complex and there is a 5 MXN per person to use them, so you might want to come in your swimsuit underneath the clothes (everyone does it). There are also showers you can use and bathrooms available for public use.
You can use a snorkel and mask in Cenote Azul, but it's easier and cheaper to bring your own.