There are a LOT of fantastic restaurants in Playa del Carmen. Whether you want a fancy meal, try some street food, find some kids-friendly restaurant in Playa del Carmen I can sned you in the right direction.
I have lived in Playa del Carmen for years full-time and these days I'm there on and off spending months at the place every year (and why I can update this post when another cool place opens up).
The best restaurants in Playa del Carmen split into touristy and more local. Some might argue that the touristy ones on the 5th Av aren't good, but I have to admit that it depends on the place. F
or this post, I'll introduce you to 15 different restaurants, but for example – where to find the best tacos in Playa del Carmen deserves another separate post.
Food Delivery in Playa del Carmen
If you don't feel like going on after a long day or your kids aren't cooperating, don't worry! There are several Playa del Carmen food delivery services available now.
Uber Eats and Rappi are leading services. If you're in a hotel or apartment complex just make sure to have your phone on because some drivers want to meet in the lobby.
Various restaurants will also have their WhatsApp number written so you can pre-order directly from them and either pick it up or get it delivered. This option is quicker than other delivery service.
---
1. El Fogon – Best Tacos in Playa del Carmen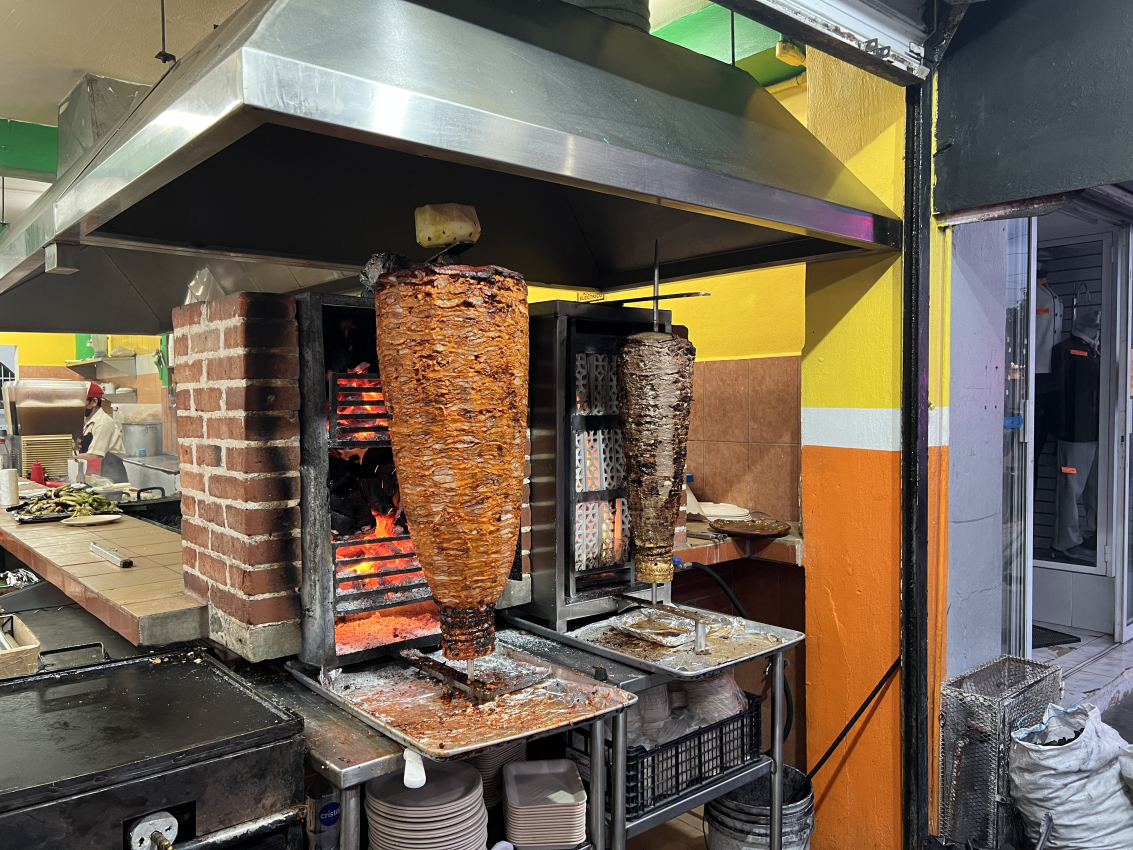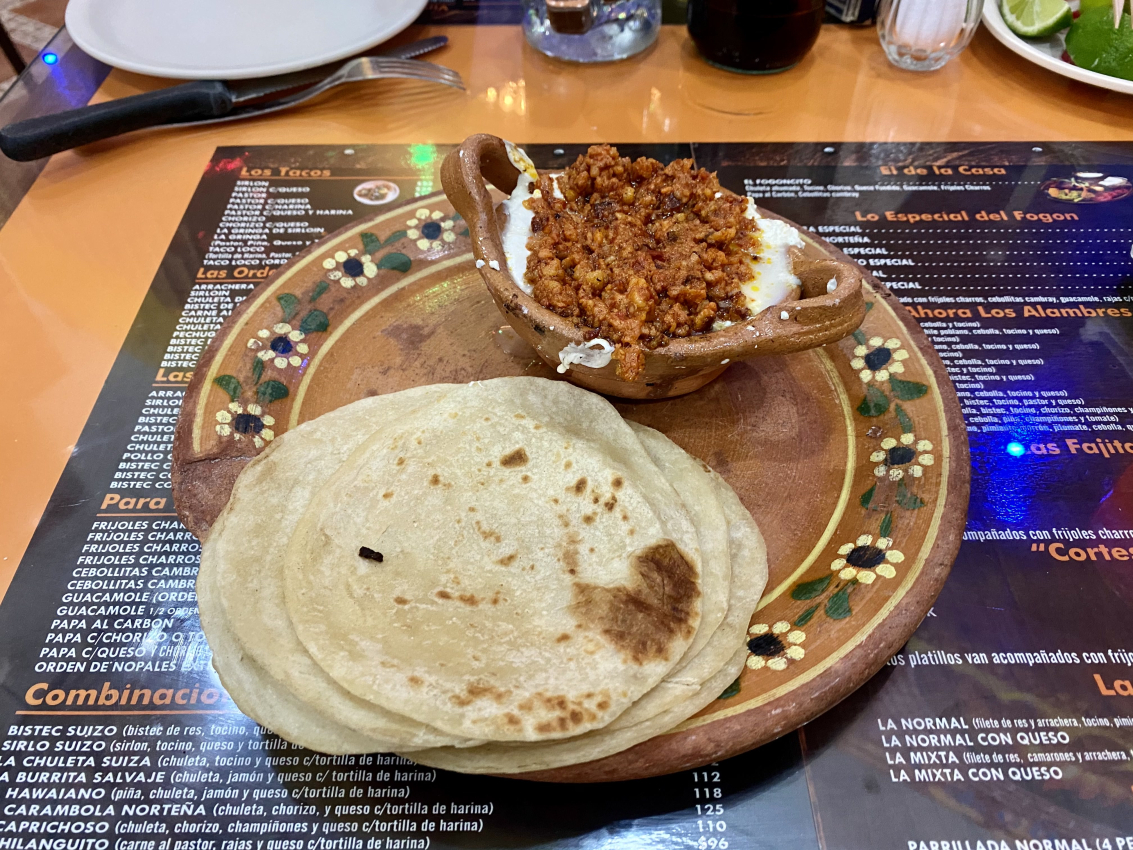 El Fogon is a super basic yet authentic taco joint. They have 3 locations and we visit them or order from them frequently.
Most people love their Al Pastor tacos the most and while they're good I'm also a big fan of their chorizo. If you're coming with kids you can order quesadillas, beans, or some guac (we usually get two orders of guacs for everyone) so it's not an issue for picky eaters. Their giant margaritas or pinacoladas are also great!
It gets busy during the weekend evenings and they don't take reservations, so I recommend going early or being prepared to wait in line.
El Fogon locations:
Avenida Constituyentes between calle Av. 30 & 25 (in front of Mega supermarket),
30th Avenida & Calle 32
30th Avenida & Calle 6 Bis
---
2. La Perla Pixan – Best Authentic Food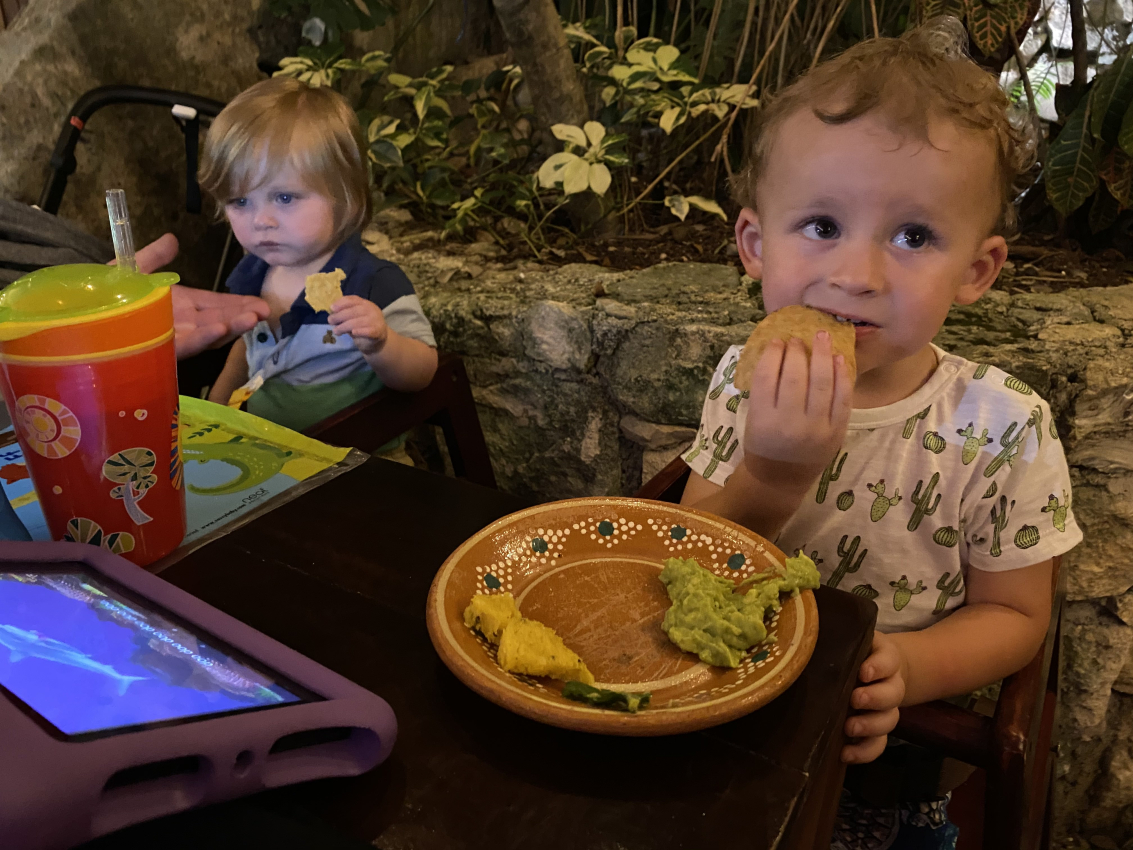 Right off 5th Av on Calle 38 La Perla Pixan is a hidden gem, because at first it looks very unappealing like a shack among trees, but it's a pretty fancy place.
The restaurant serves simple dishes along with traditional Mayan things like pulque (alcoholic beverage made from the fermented sap of the maguey plant), chapulines, escamoles (edible larvae and pupae of ants) and chinicuiles. When I revisited the place with kids they were happy to accommodate everyone as well, so I will say it's a place for any occasion.
They have a great bar with very talented mixologists who can make anything you want. Dance shows happen there frequently.
La Perla Pixan Address: Calle 38 between 5th Avenue & Av. Flamingo
---
3. Chiltepin Marisquillos – Best Steaks in Playa del Carmen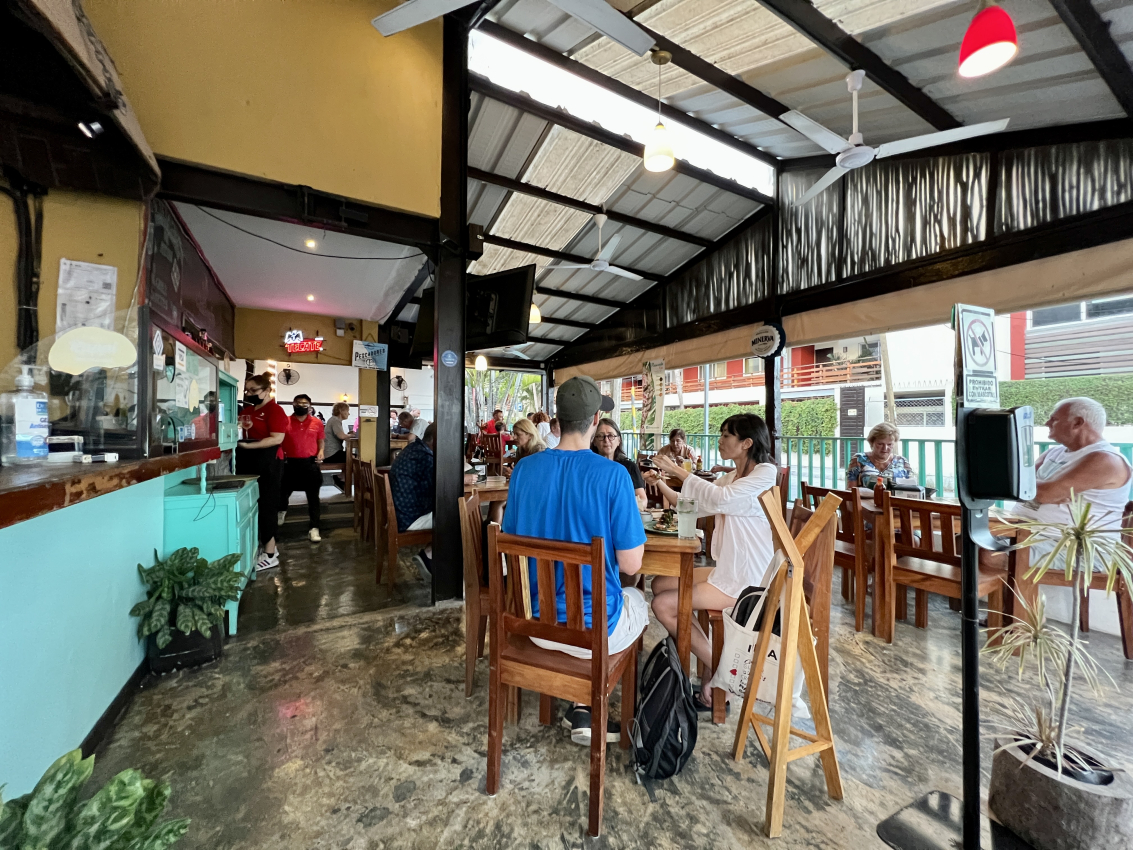 Chiltepin is a casual eatery with the most incredible sauces in Playa. As a starter and for your meal you get a bunch of different dipping sauces and you can't go wrong with any of them.
We've been going for years, especially when we used to live right next to it. They have the best portion of steaks I have had in the area and THE most amazing burgers, especially the shrimp one. Camaronada is something my husband always orders – michelada with shrimp.
Their guacamole and sopa de tortilla are awesome in my opinion. They have traditional kids menu options like fish fingers or chicken tenders which my kids always enjoy.
Chiltepin Marisquillos Address: Calle 34 & Avenida 20th
4. Plank Gourmet Grill & Patio Bar
To make things clear, another good spot for steaks is Plank Gourmet Grill & Patio Bar and some people might say this place is better, but it isn't cheap.
It's a very fancy place next to expensive hotels so while their food is amazing I'm not 100% if I'd say it's worth the price but if you have the funds then why not.
---
5. Los Aguachiles – Best Seafood in Playa del Carmen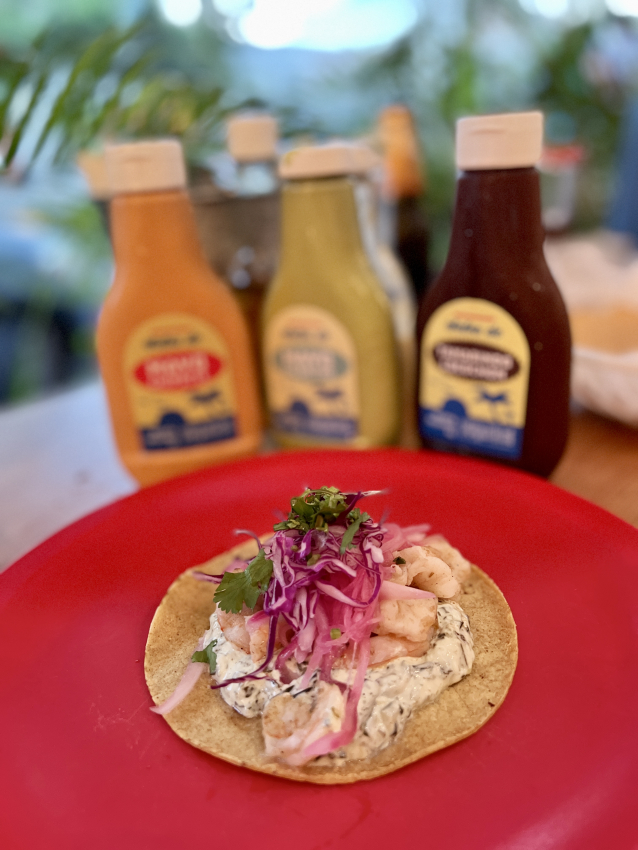 If you're looking for some awesome seafood dishes, head to Los Aguachiles. Their ceviche is spot on and they have some tasty tostadas as well. It's not a fancy place but the food is spot on.
It's a place we visit often and love their Popeye tacos and crunchy coconut shrimp, along with guacamole. My kids always order the cheese sticks as well and I usually steal some too.
The service is super friendly, quick, and because many tourists and expats might prefer something fancy I always find it ironic that there's never a line to enter and at Chiltepin across the street, the line starts early evening.
---
6. Loncheria Dona Mary's – Best Local Spot in Playa del Carmen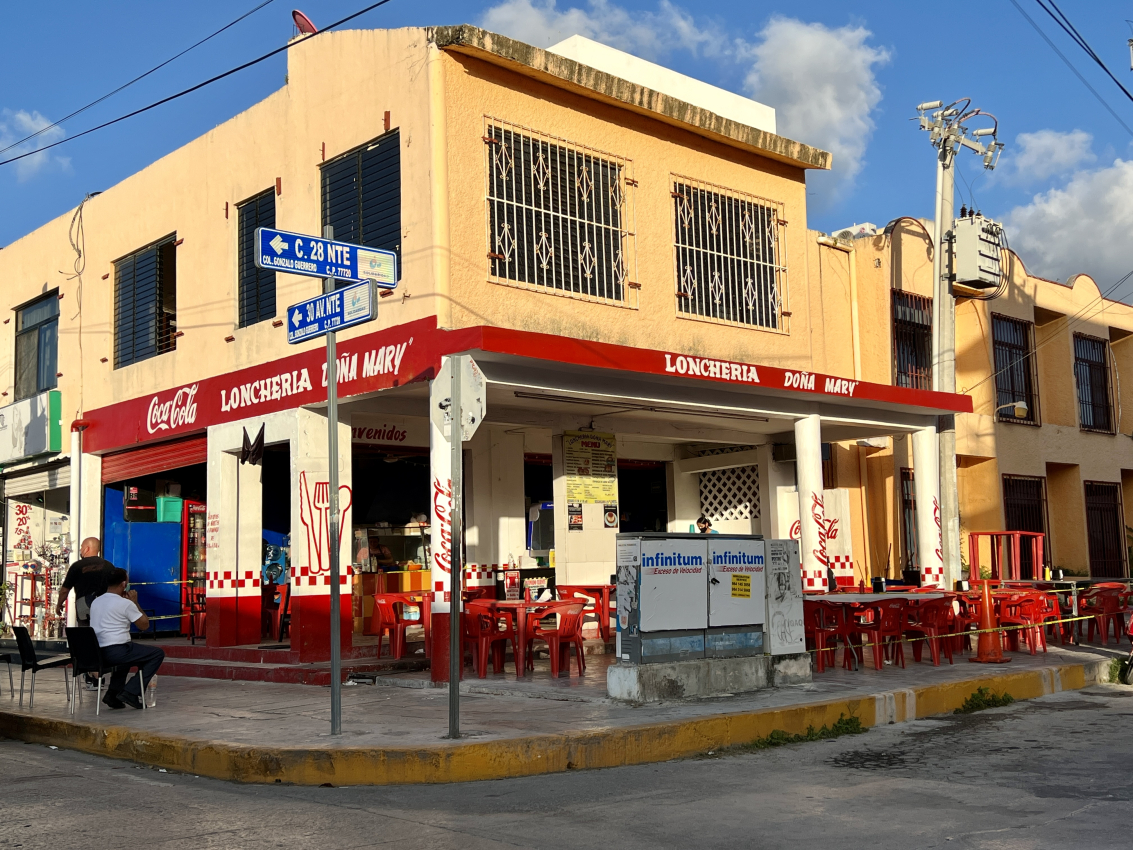 Almost every expat skips Dona Mary and along with some tacos right off Avenida Juarez it's probably the most authentic Mexican restaurant in Playa. We love it! It's cheap, service is quick and staff is just lovely.
They make awesome chicken tostadas and tamales. No English menu (in fact menu is written on the side of the wall) and plastic chairs only. We're often the only foreigners but don't worry even if you don't speak Spanish someone will help you.
Dona Mary's Address: 30 Avenida Nte between Calles 28 & 30
---
7. Alux Cave – Most Unique Restaurant in Playa del Carmen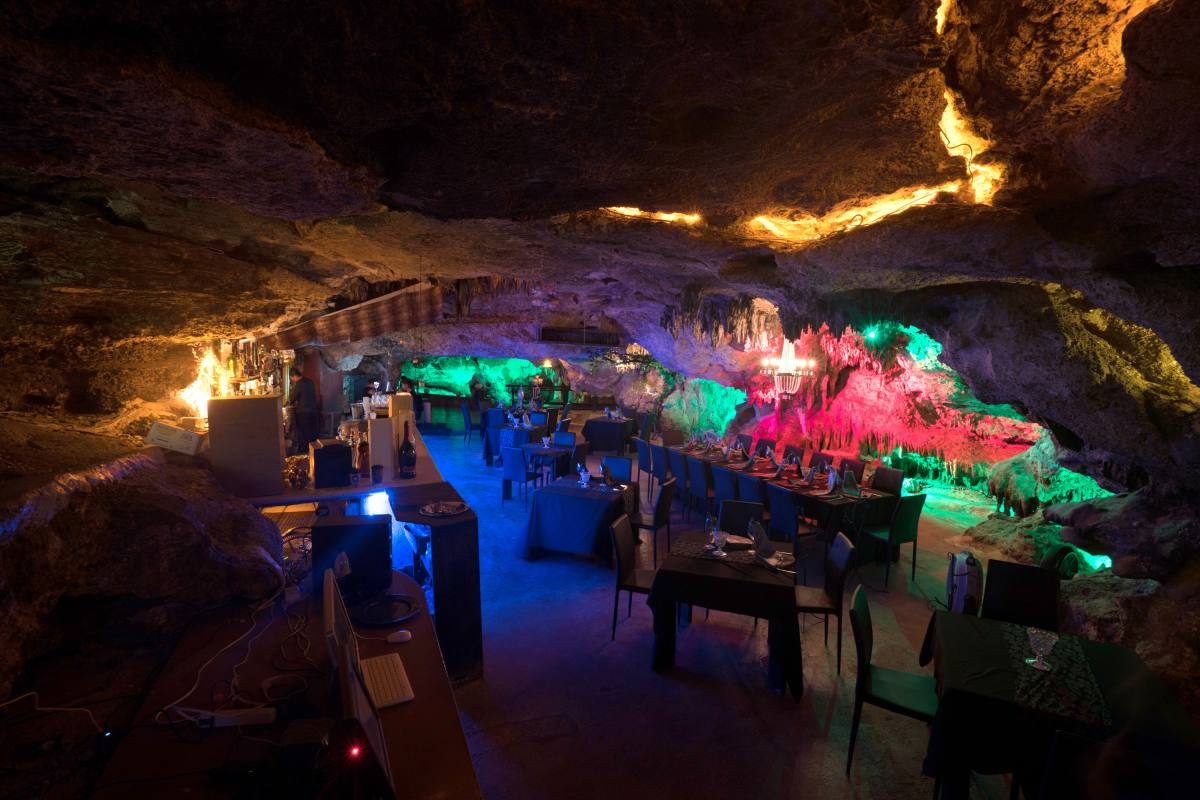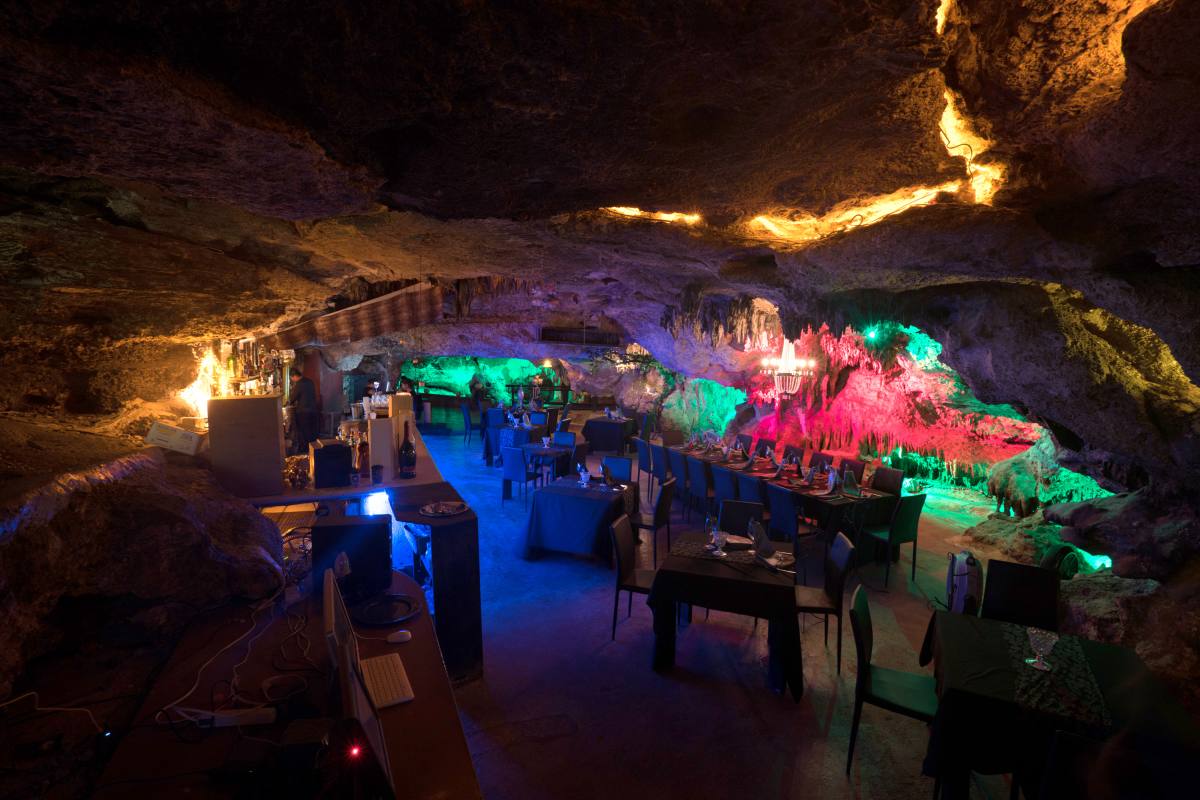 If you're looking for a unique restaurant in Playa del Carmen, Alux is your best choice. It's literally a cave with a cenote turned into a giant restaurant with different private sections ideal for a proposal or anniversary dinner.
Alux welcomes all ages, so kids are fine too and they might be fascinated by the cave. The menu I feel like is a hit or miss depending on the person. I went about four times over the years and never had a bad experience, but the food is more traditional. It's the best place to try unique Mexican food like mole, ,chapulines or escamoles but if you're not an adventurous eaten they serve steaks, burgers and things like that as well.
Reservations are needed because the place gets booked up for events. I recommend taking a taxi to Alux, because it's a bit outside of the touristy zone and the streets aren't very well lit.
If you don't want to come for dinner or you're on a budget but still want to see the place, you can have a drink at the bar.
---
8 Chez Celine – Best Breakfast in Playa del Carmen
Chez Celine is a French bakery that you can't miss when walking down the 5th Av because there's always a line to it outside. Their croissants, desserts, and crepes are amazing, but if you don't want to wait in line you can walk in and order everything to-go.
Chez Celine Address: 5th Av. and Calle 34
---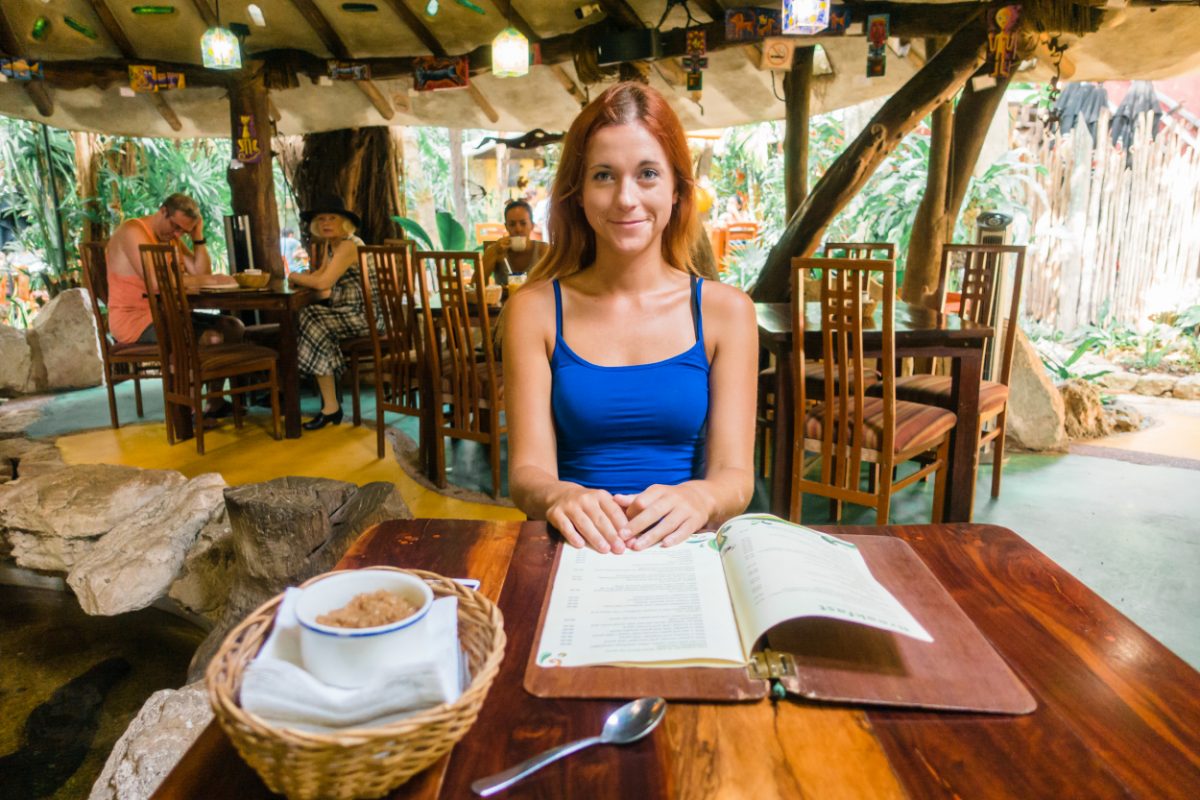 La Cueva is the best brunch spot in Playa del Carmen, but you can totally go there for breakfast or lunch or even dinner. The ambiance is fantastic with a fish & turtle pond that can entertain the kids as well.
Get there early, because there can be a long wait in line! Order the chilaquiles verdes with fresh juice or enchiladas.
La Cueva del Chango Address: Calle 38th and 5th Ave
---
10. Las Hijas de la Tostada – Best Restaurant for Sunset View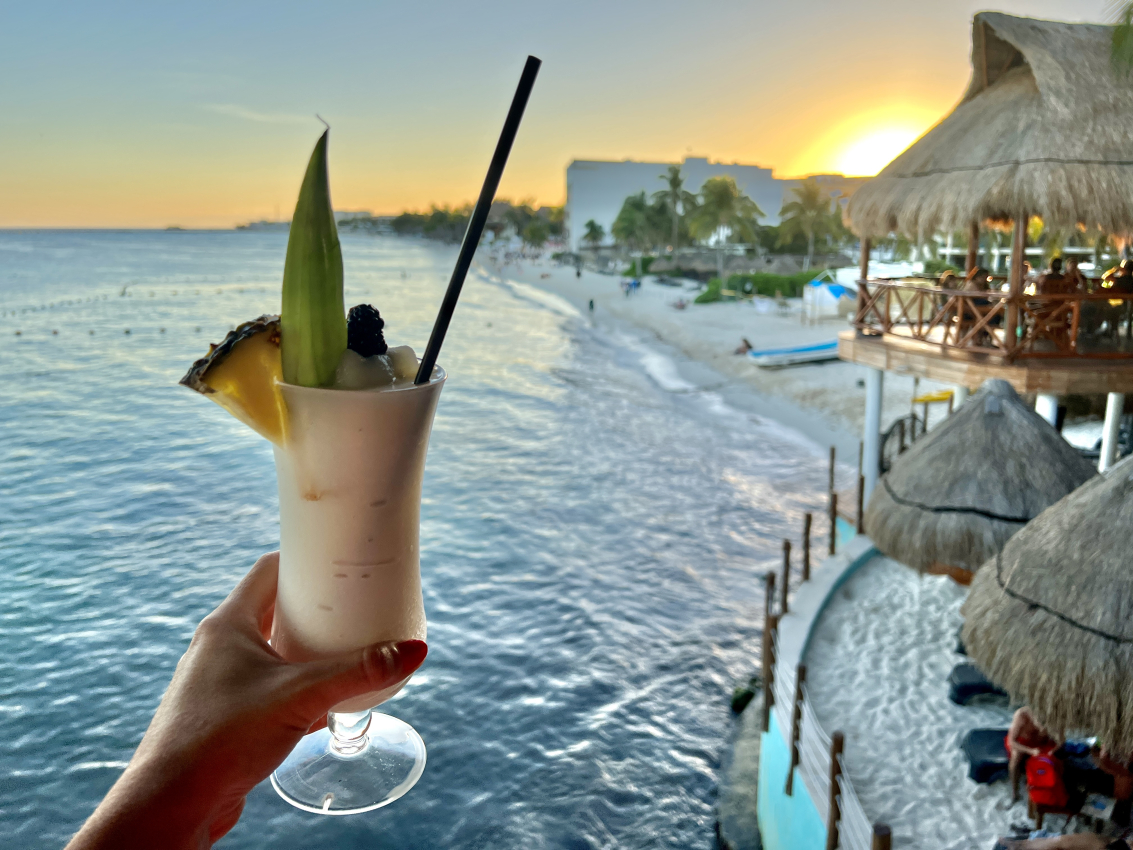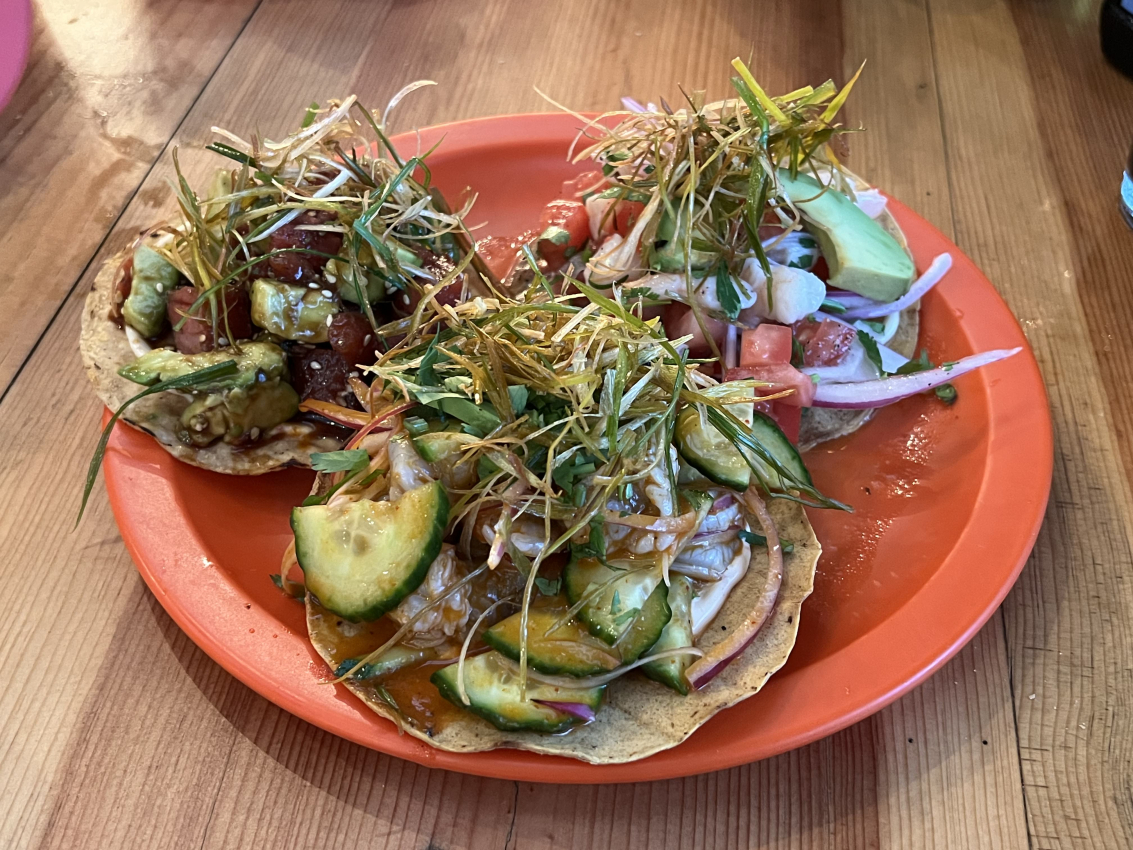 One of the best fusion restaurants in Playa del Carmen for some yummy seafood. They have tostadas, as the name indicated, but also serve tacos.
While the food is good, I believe what makes this place unique is the view of the branch right off Avenida CTM. The place is huge and offers swing chairs, and beach chairs and you can watch the sunset from it peacefully.
Their other location on 5th Avenue and calle 38th is just as good, but instead of sunset views you can practica some interesting people watching.
---
11. El Pirata – Best Ceviche for Lunch in Playa del Carmen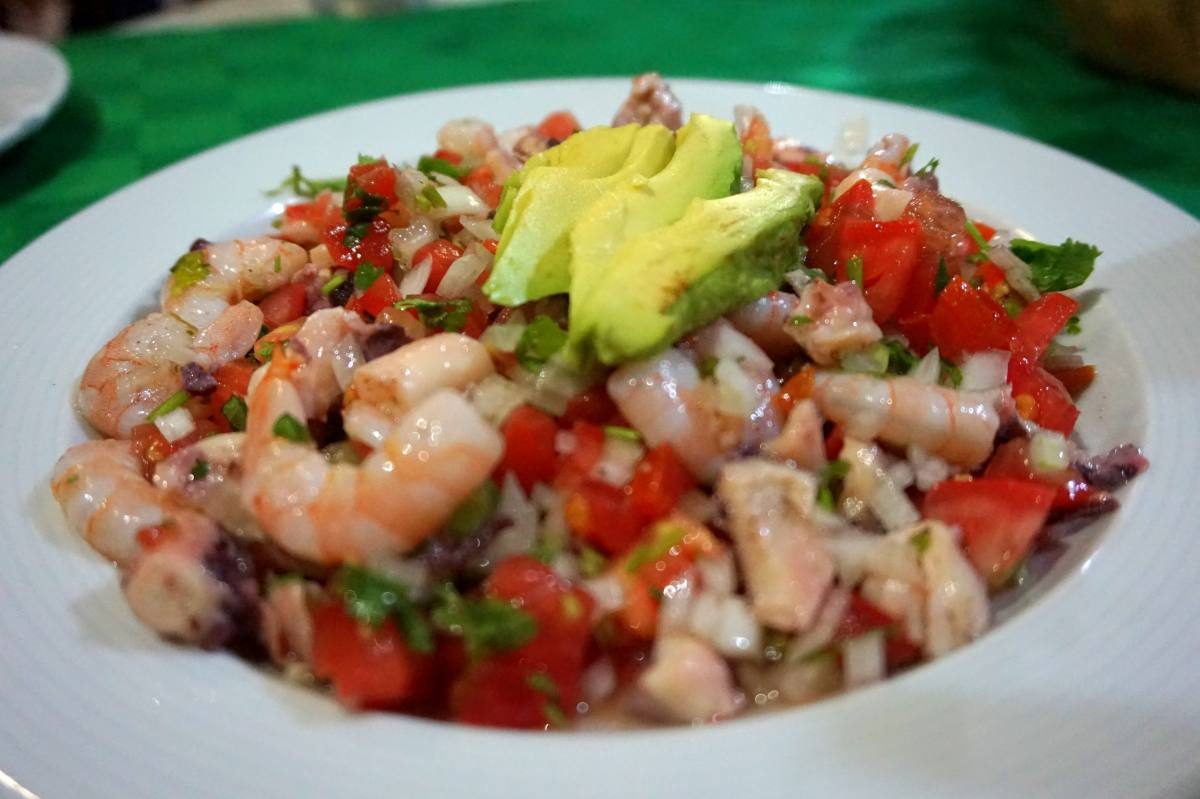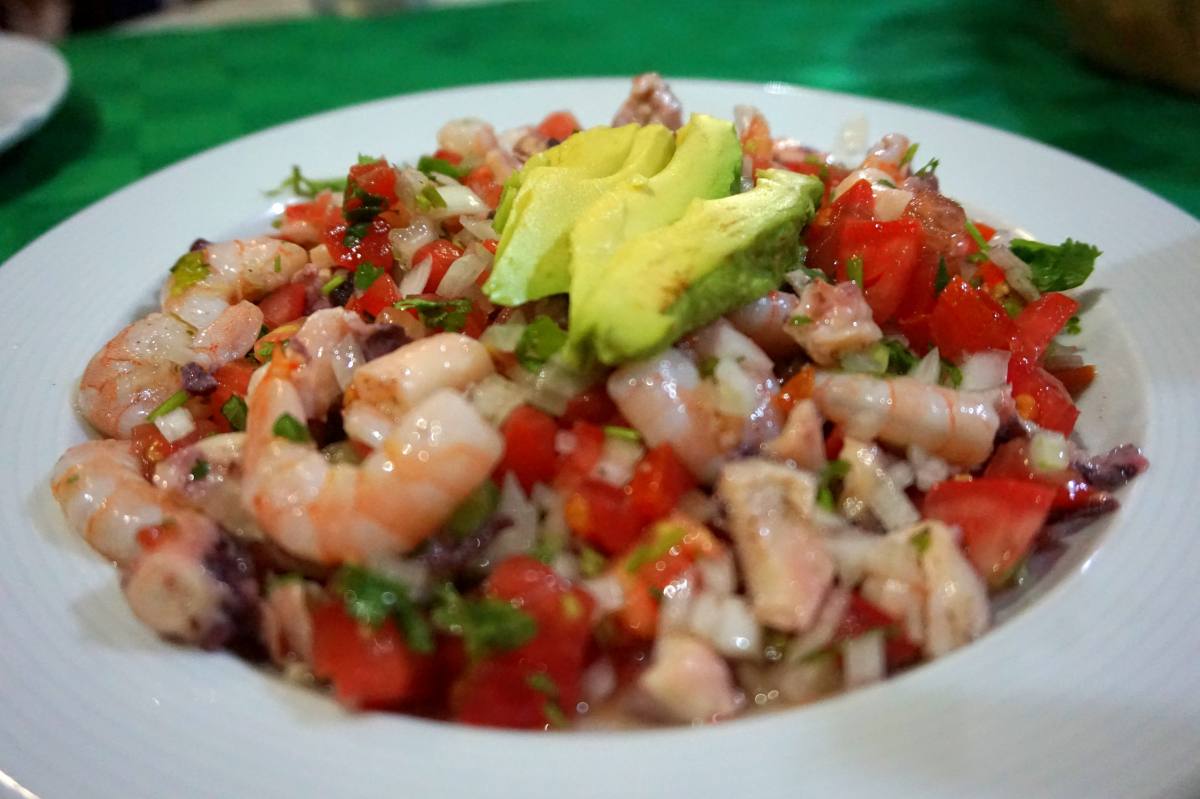 El Pirata iss the place to go for a massive plate of fresh ceviche for lunch. Can get busy, as it's a local favorite. It's one of those badly looking place with plastic seats, but their food is incredible.
They close at 7 PM so it's more of a lunch spot (in Mexico people eat dinners after 8 PM so for locals it's definitely not a dinner spot), but
12. Don Chendo – Best Pizza in Playa del Carmen
Don Chendo is a beloved restaurant that serves Chicago-style deep-dish pizzas and some side dishes like cheesy pastas. It's the best pizza in Playa del Carmen with traditional options like pepperoni or veggie, but they also have Mexican pizzas with chorizo or shrimp. Our favorite one is a Pesto pizza.
Don Chendo is closed on Tuesdays. On Fridays they serve gluten-free pizza on Fridays.
Don Chendo's Address: 30 Avenida Nte. & Calle 24
---
13. Papa Charly's – Best Pasta in Playa del Carmen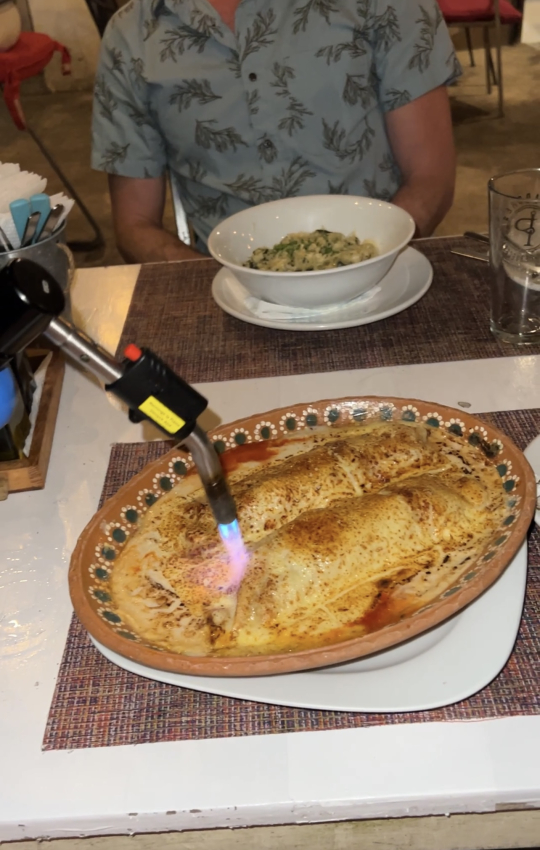 Owned by Italians with Italian chefs (Playa del Carmen has a decent Italian community) Papa Charly's is the best place to go if you're craving real Italian food but they specialize in pasta of all kinds.
The waiters will flame your cannelloni or lasagnas on your plate in front of you. My husband would say that gnocchis are the best, but I must vote for cannelloni or shrimp linguini.
Make sure to come early or reserve a table by calling them, because it does get busy.
Papa Charly's Address: 25 Avenida Nte. & Calle 30
---
14. Trattoria del Centro – Best Italian Food in Playa del Carmen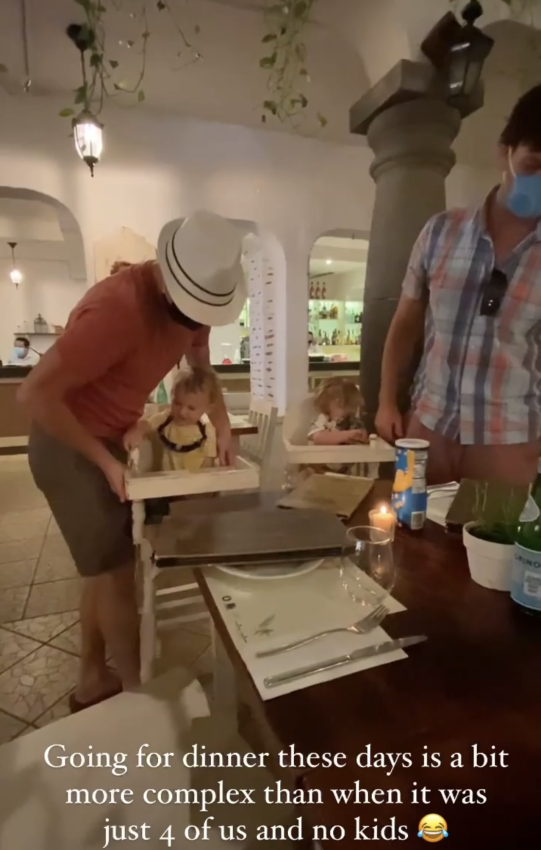 If you're craving pizza and pasta at the same time I also recommend Trattoria del Centro. The restaurant is more touristy on 5th Avenue, so the place often gets slightly loud, but the food is good. Their pizzas are thin and crusty and pastas are delicious too (especially Four Cheeses Gnocchi). They're on the slightly pricier side than Papa Charly's due to its location.
---
15. Cheesters – Best Local Spot in Playa del Carmen
Cheesters is a great spot that most tourists and expats skip, because it's slightly hidden. The place serves all kinds of pasta – Italian or Asian and it's all very good.
I suggest splitting a main pasta dish unless you want leftovers for the next day, but frankly, even if you're splitting you might still end up with leftovers so it's a great deal.
They have a menu written on the side of the fence and trust me – it's a super long menu, so you might want to take a look online before heading that way.
They also deliver and it's a great option for a dine-in dinner with the kids. If you do go in, my personal tip is to go easy on the spicy garlic dip they serve you while you wait – my husband though it was just butter, but thanks to his mistake we got to try Cheester's milkshakes and I highly recommend them too!
Cheester's Address: Avenida 40 between Calle 4 & 4 bis
16. Piola – Best Cocktails in Playa del Carmen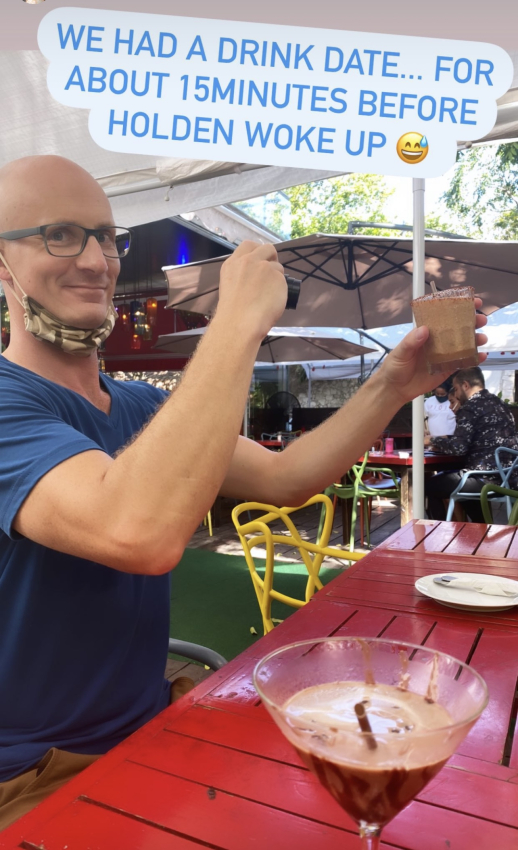 Piola is a beautiful restaurant right off 5th Avenue on Calle 38, among other good restaurants. Its lush garden with colorful lights make the place beautiful for a date or night out with friends. While the food is just all right, their cocktails are awesome.
17. Be Playa Hotel – Best Rooftop Restaurant in Playa del Carmen
This has to be the most popular pool with the locals. It's a regular spot for hangouts with special DJ parties on the weekends.
While chilling at the pool you can order from their extremely wide selection of drinks, as well as sushi restaurant situation downstairs. Their sushi is always very good and I order different thing every time!
Be Playa Address: Calle 26 & 10th Avenue
18. Mu Burgerhouse – Best Burger in Playa del Carmen
Mu is. a relatively newer spot with the best burgers in town (apart from a shrimp burger at Chiltepin). We always have the burgers a bunch of times and their meat and buns never fail. My favorite one is Una Hamburguesa Llamada Deseo along with truffle fries as a side dish.
See the menu or order for pick-up on their website.
---
19. Kaxapa – Best Place for Latin American Food
Kaxapa is an informal mini restaurant that's always beloved by an ex-pat community. They serve Venezuelan food that's simple, yet tasty. You can find something on the menu for breakfast or dinner.
Every item is made fresh to order and tastes wonderful. I recommend getting arepa, empanadas and papellon. They also offer samples of juices before you decide on the one you want to order. I love this place, and they always personalized service for all their customers.
---
20. La Vagabunda – Best Spot for Game Night in Playa del Carmen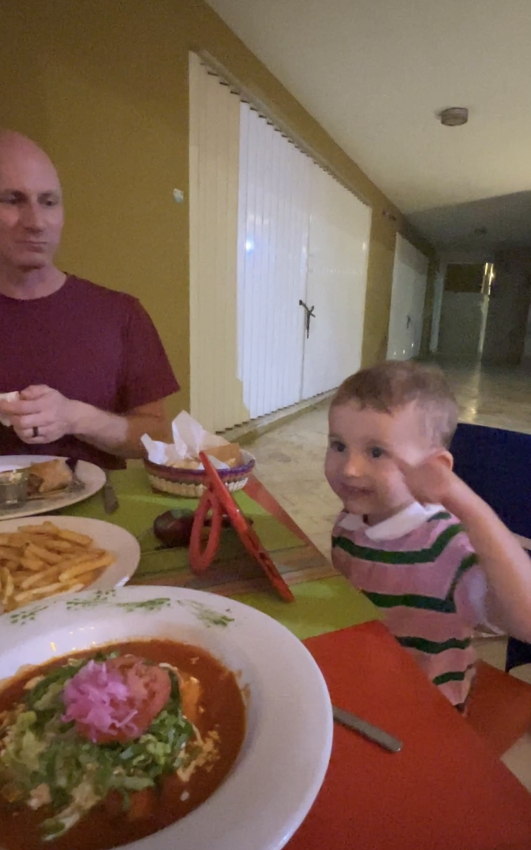 ---
21. Sakura Ramen – Best Ramen in Playa del Carmen
A hole-in-the-wall place with a charming atmosphere. It's like stepping foot in Japan while in Mexico. Their Shoyu ramen with noodles is cooked to perfection, and they also offer dumplings.
Sakura Ramen Address: Calle 8 (right off the square)
---
22. Nativo – Best Smoothies in Playa del Carmen
Nativo is a great casual spot to come and get amazing fresh juices and smoothies. They're giant so be prepared when ordering.
While Nativo has a full breakfast, lunch, and dinner menu I wouldn't recommend it because it's simple and not great, but cheap.
Honestly, for food, you might be better off walking across the street to La Ceiba de la 30. Their chilaquiles or tortas never fail!
Nativo Address: 30th Avenue & Calle 20
---
23. Ah Cacao – Best Coffee in Playa del Carmen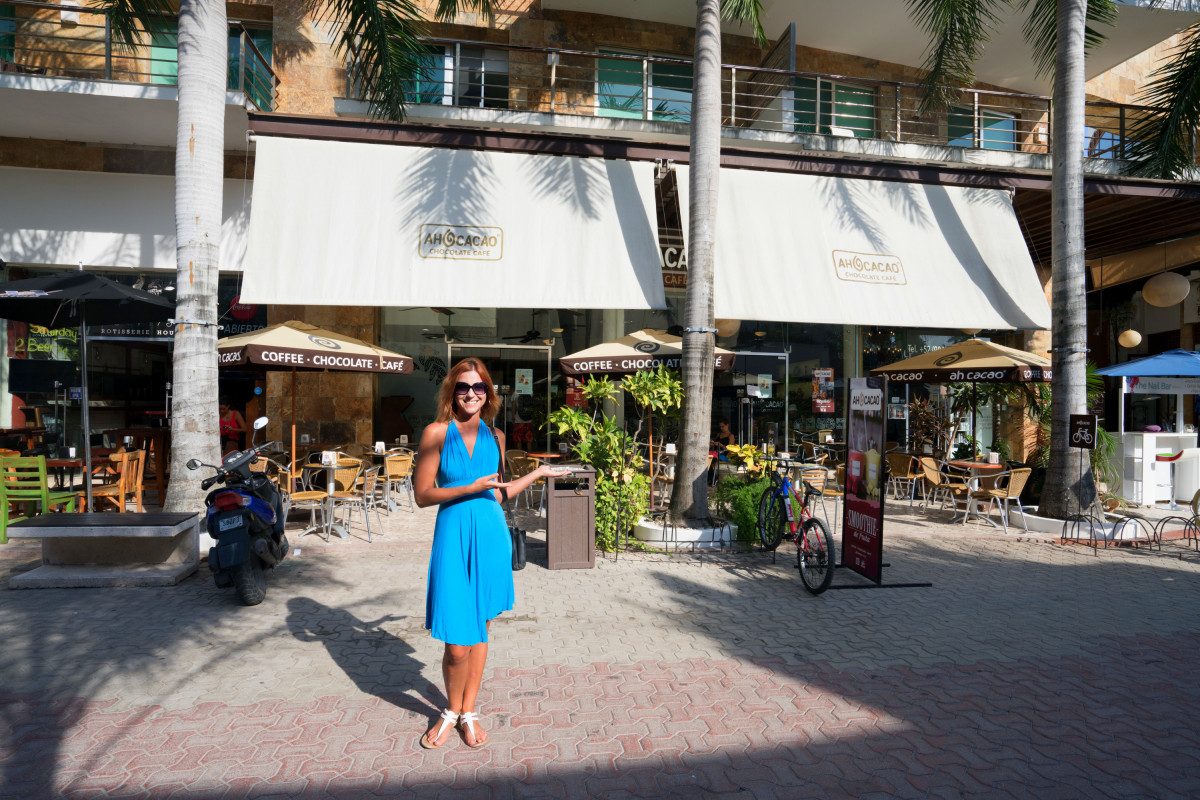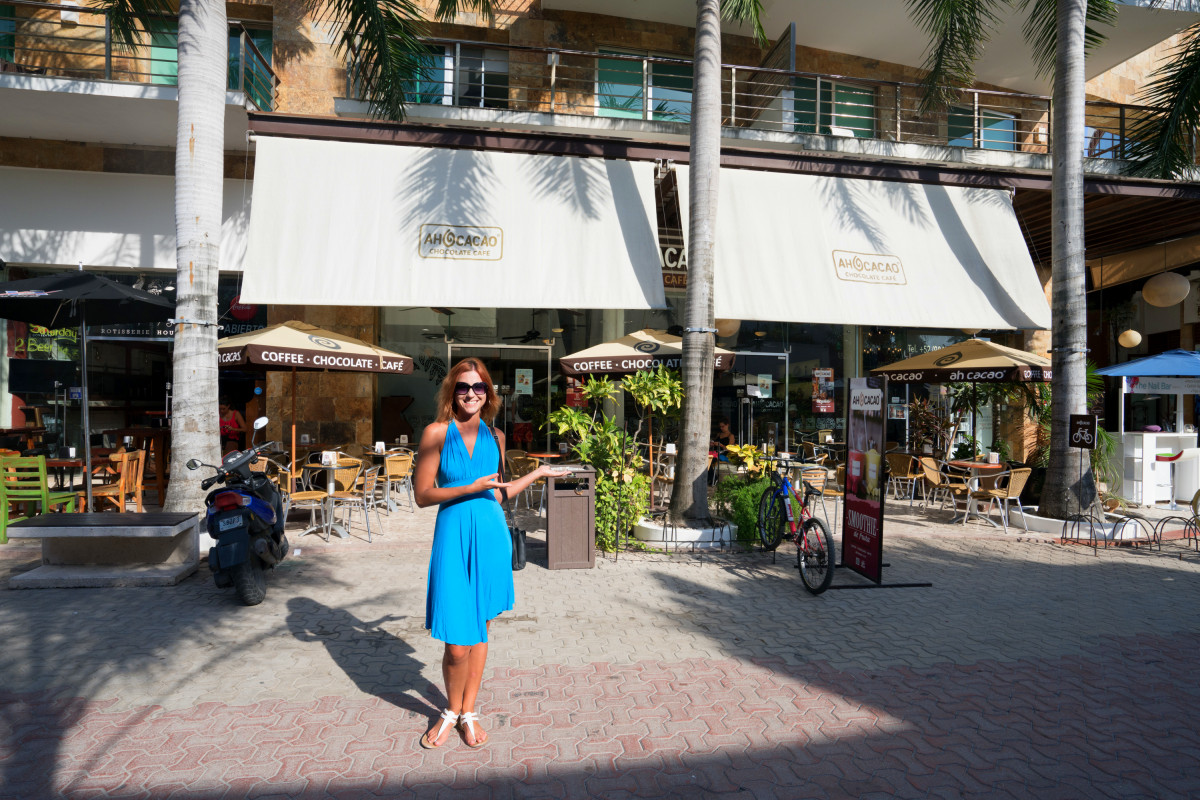 Ah Cacao has been extremely popular among digital nomads and we informally called it "the office". They have awesome coffees, including frappuccinos. My husband would add that their cheesecakes and croissants are fantastic as well.
They have three locations, both on 5th avenue, so you're most likely to see one.
---
24. Casa los Abuelos – Best Restaurant with Kids in Playa del Carmen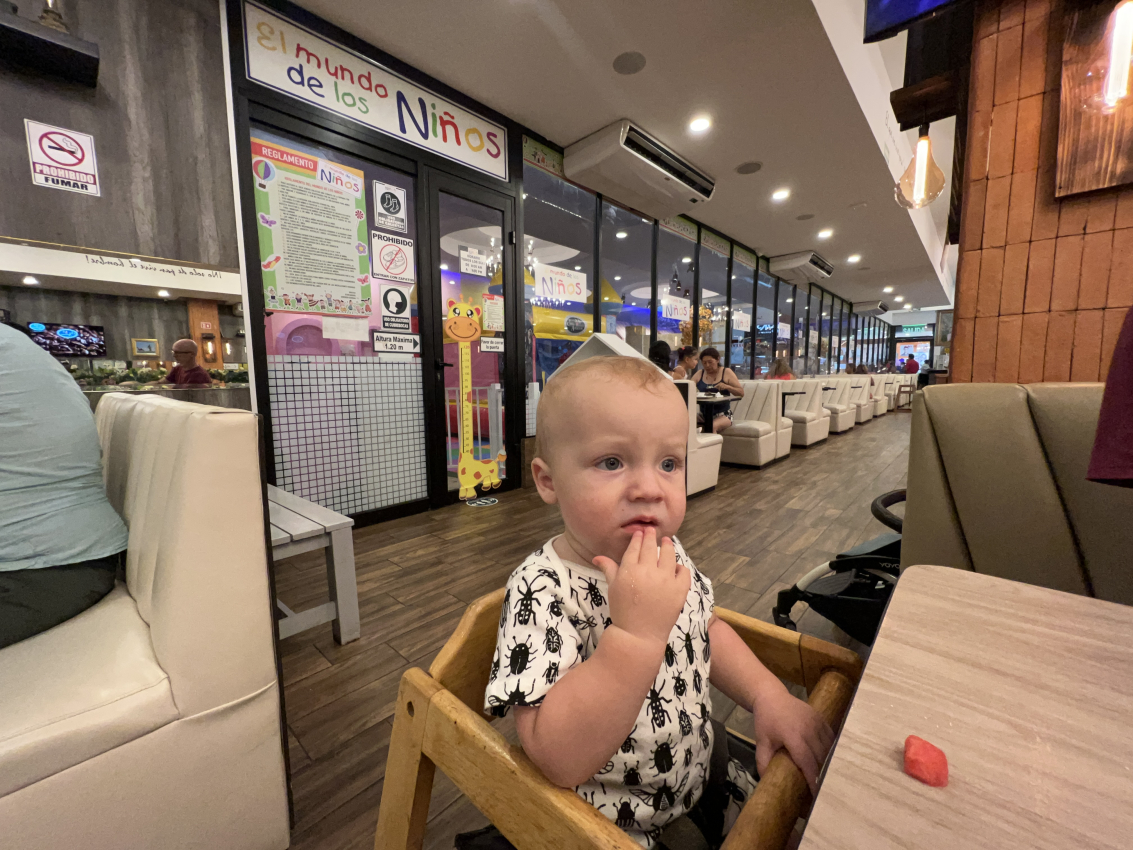 Casa de los Abuelos isn't anything fancy, but a nice place for parents to get a break. It's very traditional in a way that it's where regular Mexicans eat – similar to Toks or Sanborns. The food is just fine, nothing incredible but just simple Mexican dishes.
The bonus of this place is a huge play area behind glass so parents can eat in peace while their kids play for free (for kids under 2 you can pay a few pesos for a babysitter to follow them). The play area is soundproofed which is incredible. If it rains and your kids are climbing off walls, take a taxi and go there – you won't regret it!
---
25. Club de la Cerveza – Best Beer Spot in Playa del Carmen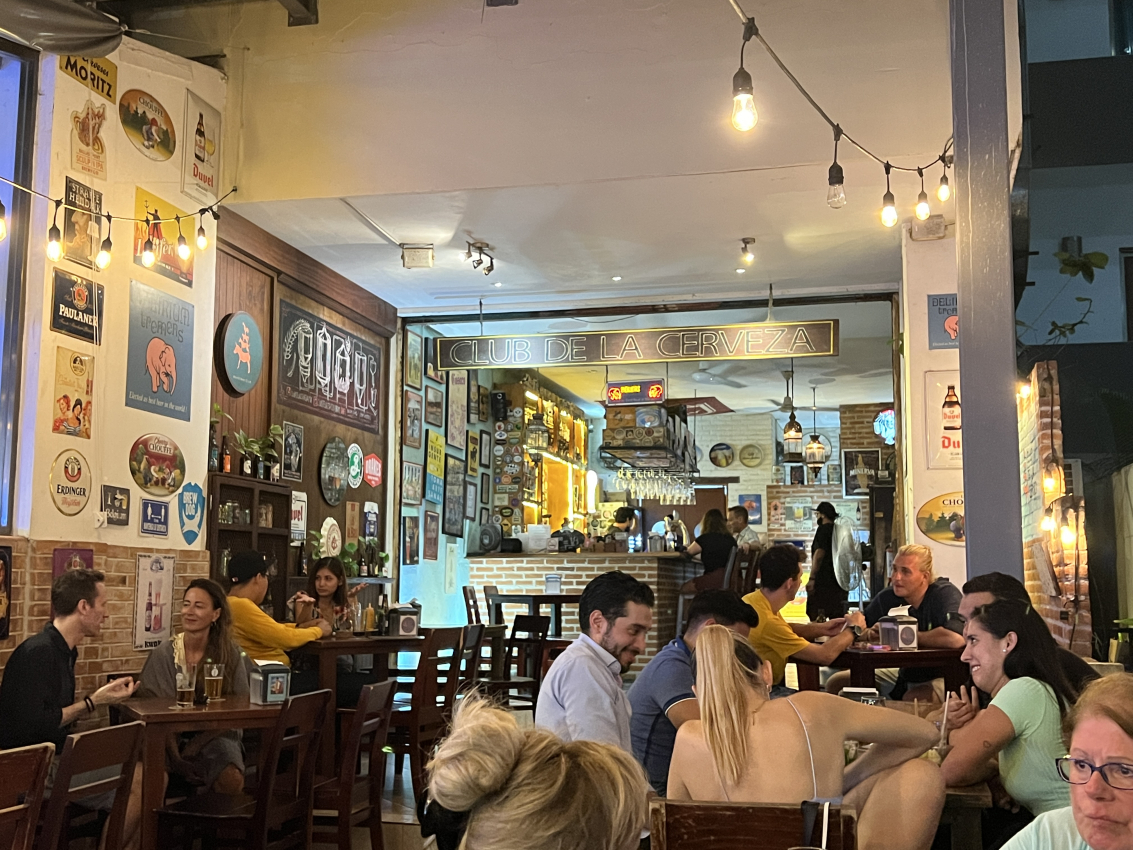 The place has the most impressive selection of craft beer in all of Playa del Carmen. Here you can sample craft brews from Mexico, the US, Belgium, or UK. It's the first place outside of the Benelux that ever had my favorite flavored Belgian beers.