Mexico doesn't lack cenote options for visitors. Cenotes in Valladolid, apart from the top cenotes near Chichen Itza, are less visited than cenotes in Tulum or Playa del Carmen. They're more of a drive, many are hidden better and as a result, they're also cheaper.
Most cenotes in Valladolid will cost you about 100-150 MXN, or about 200-300 MXN with a buffet.
Here are my recommendations for the best cenotes in Valladolid.
IMPORTANT: At the cenotes in Mexico, you'll be asked to swim without any lotions or creams on your skin at all, as can poison fish, sea plants, and other delicate marine life.
You will live after being exposed to the sun for a bit, but sadly cenote fish will not survive if you infect their natural habitat with sunscreen. However, you can get biodegradable sunscreen at some cenotes.
Please note: all prices are in Mexican Pesos (MXN). Prices increase all the time, so please keep in mind that it might be slightly higher. Be prepared.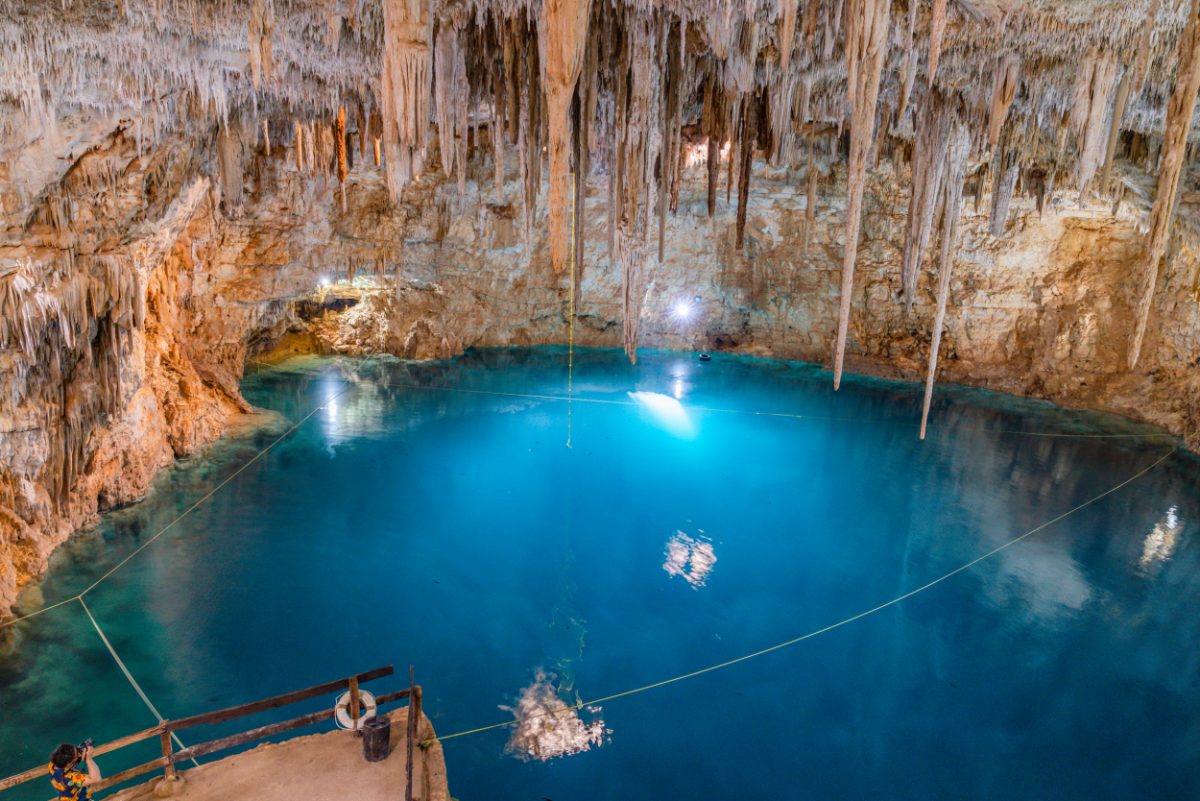 Types of Cenotes:
There are a few types of cenotes, so keep this in mind as your experience will be different depending on what you chose.
• Open Cenotes – Open cenotes are like open-air swimming pools and can be shallow or deep. Some of the open cenotes are also connected with an underground river for free-diving and diving. Cenote Azul is a good example.
• Semi-open Cenotes – As the name suggests, this type of cenote has some parts that are exposed and some portions that are partially hidden by a cave. An example is Cenote Calavera.
• Cave Cenotes – This type of cenote can be accessed via a land-level entrance to access an underground pool which can have both shallow and deep areas. Cenote Palomitas for example, is a cave cenote.
• Underground Cenotes – This type of cenote is the most difficult to reach as they are, in fact, underground. Only experienced divers can access underground cenotes. An example of underground cenote is the Il Pit.
Check other cenotes in Mexico:
Best Cenotes in Valladolid
1. Cenote Saytun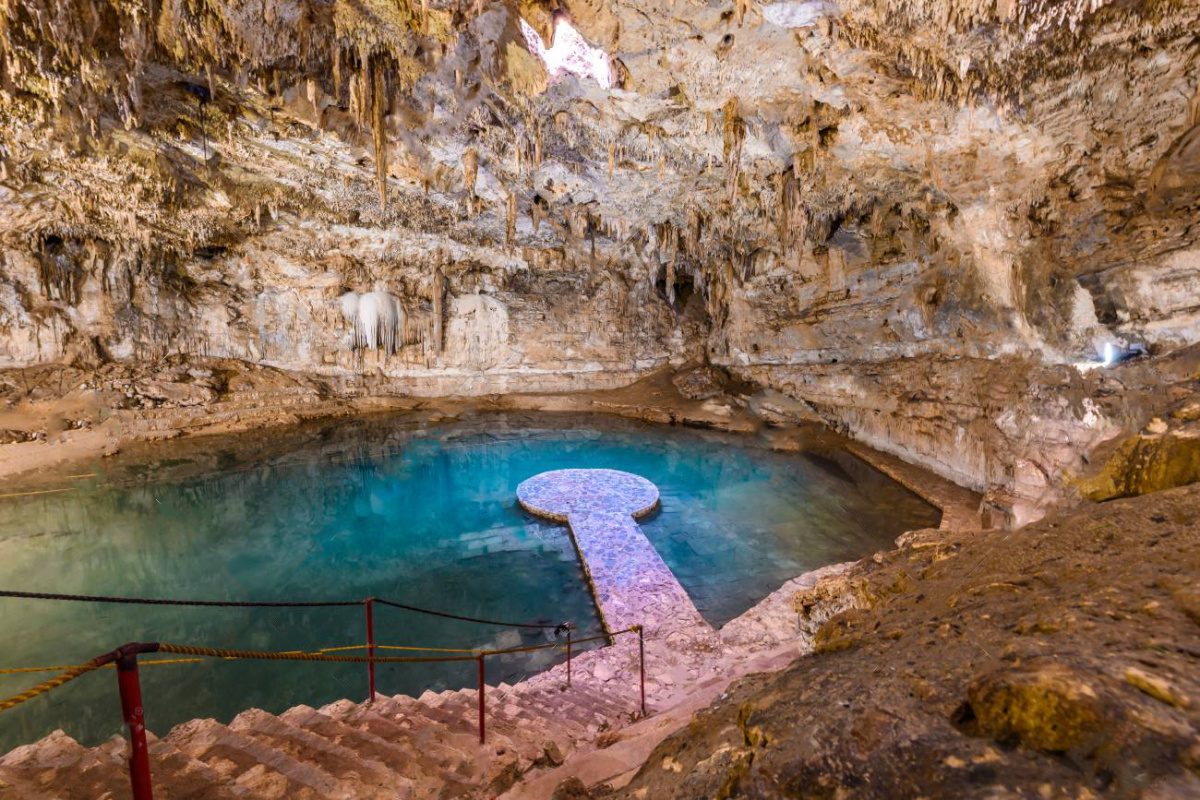 Saytun is the most popular cenote in the Valladolid area. While it used to be fantastic to visit, it sadly became an Instagram spot and now it's absolutely packed with people waiting for almost half an hour in line with a guard whistling at you after 60 seconds in the middle of the platform.
You also have one hour to spend inside the complex.
Speaking of… this cenote doesn't look like this photo below during the winter, as due to storms it's flooded and the platform is basically underwater.
Price: 150 MXN
How to get there? You can ride a bike from Valladolid or take a taxi.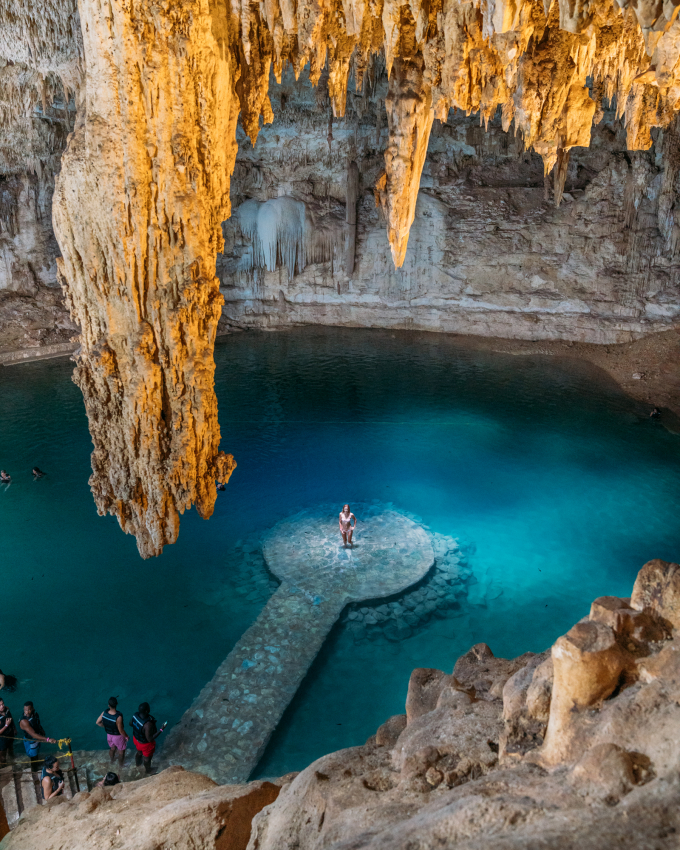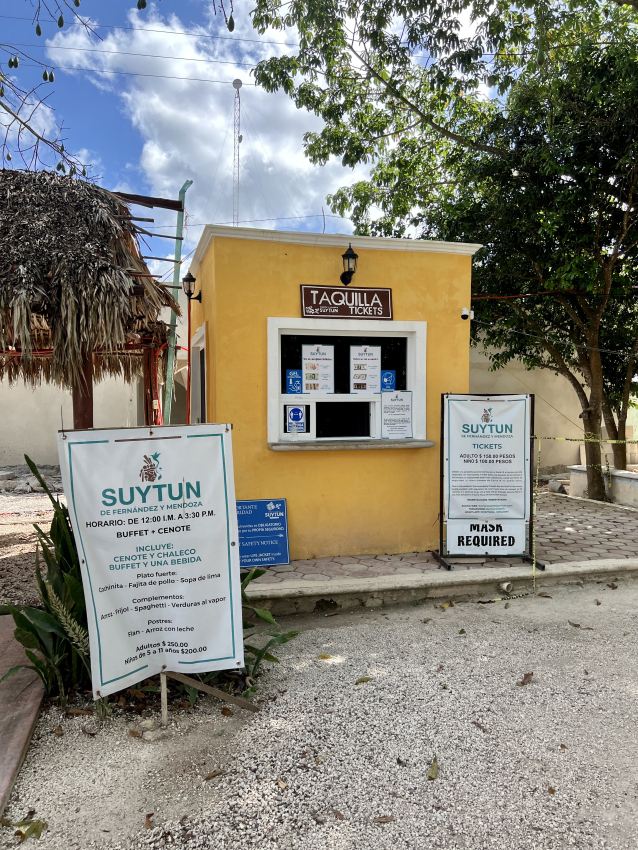 ---
2. Cenote Ik Kil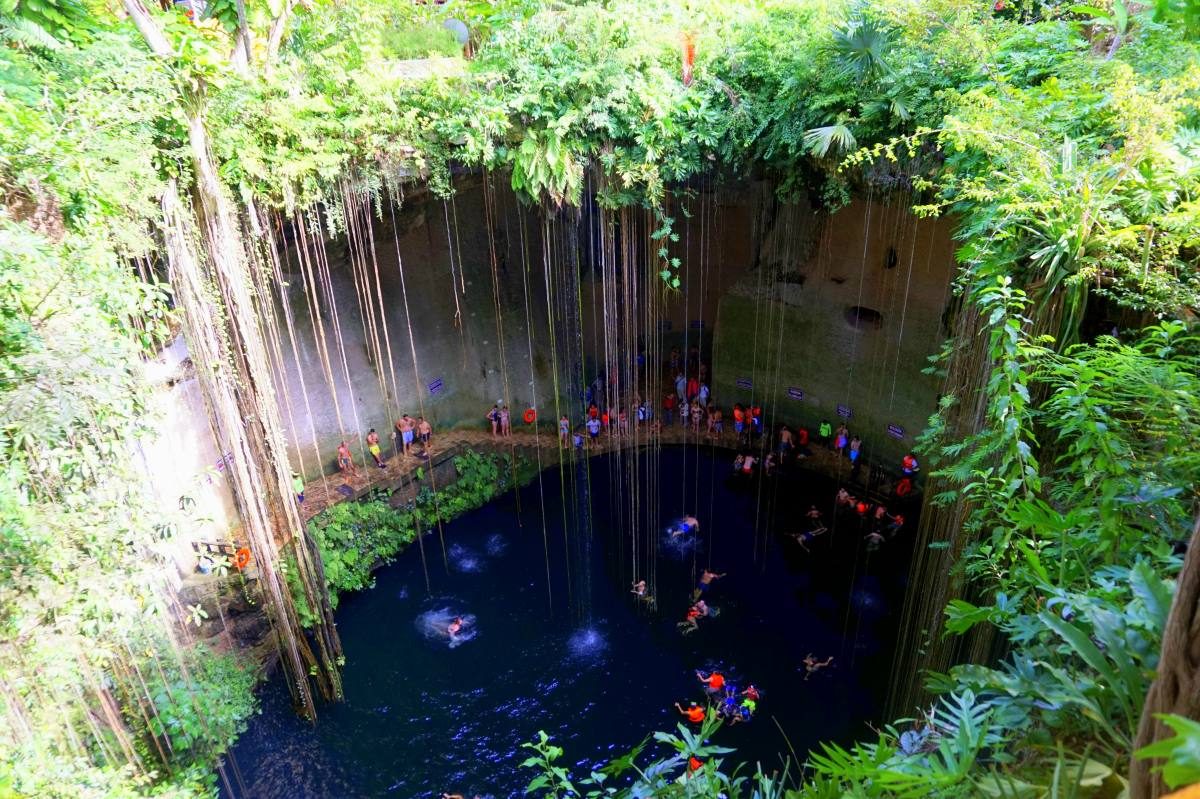 Ik Kil is probably the most photographed cenote in the Yucatan. While many visitors think it's one of the best cenotes in Mexico, I tend to disagree.
From the top, you can see a big hole surrounded by vines which is impressive unless you arrive after 9 am and you'll see hoards of tourists in orange life jackets instead. We ended up not even getting in as human-made stairs and crowds made the experience not fun at all.
Open: daily 9am-5pm
Price: 120 Pesos + optional 30 Pesos for lifejacket
How to get there? Unless you're on a tourist bus to Chichen Itza you'll need a car to get to Ik Kil.
---
3. Cenote Oxman (Hacienda Oxman)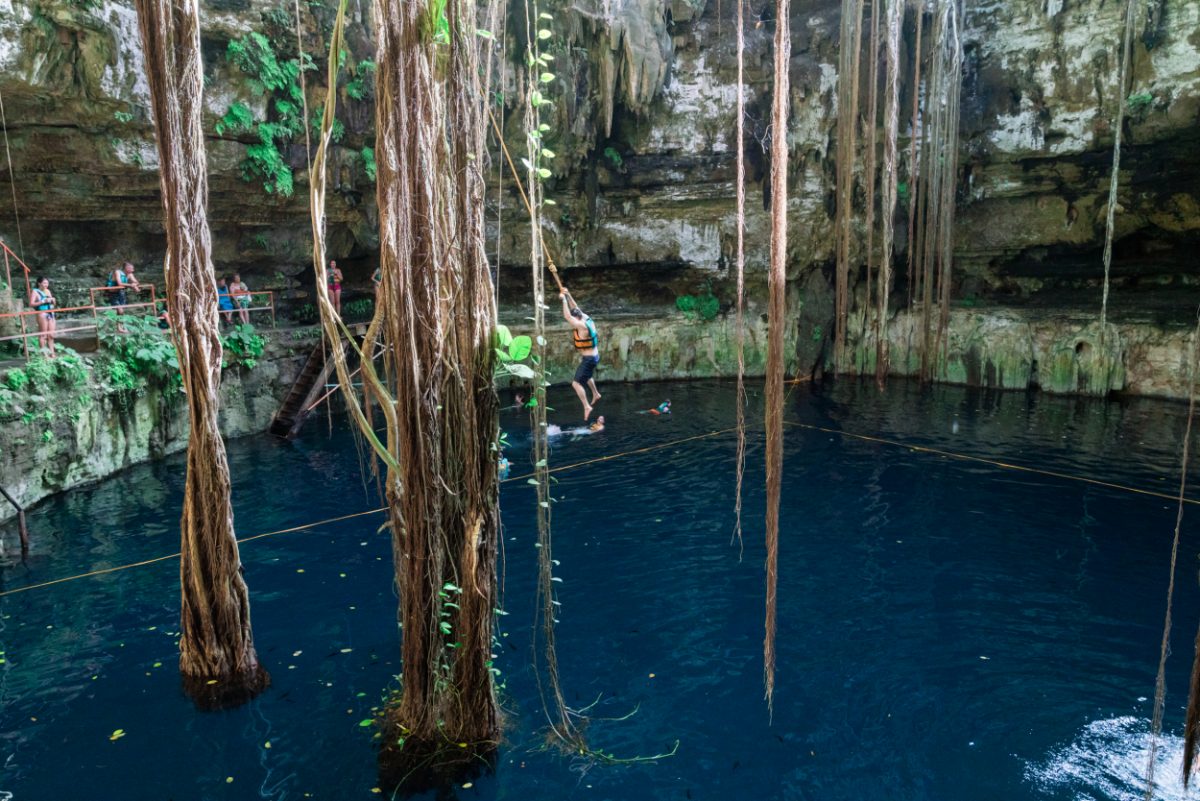 Hacienca Oxman cenote is often considered an alternative to Ik Kil as it's less crowded. The cenote is very beautiful and there are several attractions such as zip lines and platforms from which to jump. The entrance fee includes the cenote and a pool area with a bar and snacks, but you can also pay extra 50 pesos and get a buffet.
It's still a very touristy cenote and while it's not as busy as Ik Kil it is busy from the very minute it opens. Life jackets are compulsory and a lifeguard is yelling at people for trying to dip their feet into the water without them.
Cenote Oxman Entrance Fee: 150 MXN.
Cenote Oxman Opening Times: 8 AM to 6 PM daily.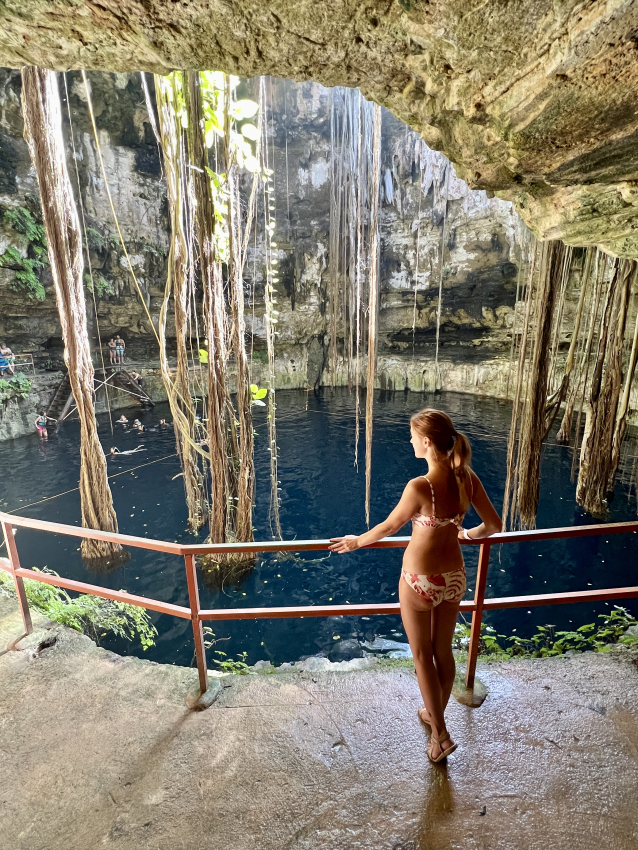 ---
4. Dzitnup Cenote Xkeken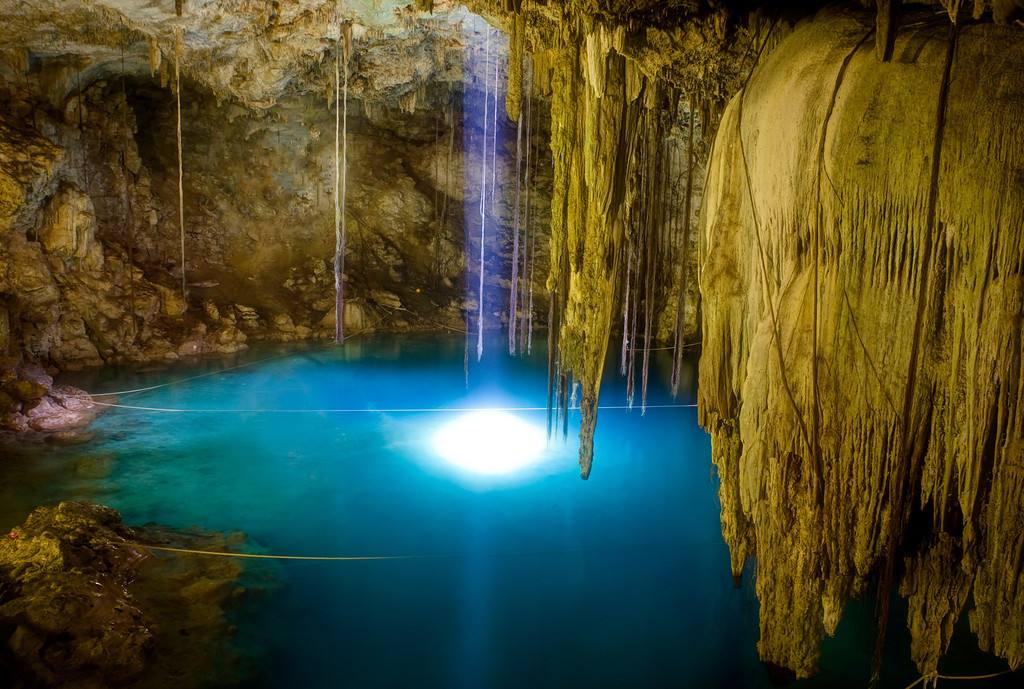 The story says that this cenote was discovered after a pig fell down to it while being walked by his farmer. Dzitnup, also known as Xkeken, is one of the cenotes you need to go to around noon when the light stream goes through the top and gives a great visual effect.
If you go earlier or later you won't be able to see this spectacular light and you can also find some blackfish. Unfortunately, some colorful lights were installed inside what makes it quite touristy looking, but it's still worth your time.
Open: daily 9am-6pm
Price: 80 (or 125 when combined with entrance to Samula)
How to get there? You can ride a bike from Valladolid, but the easiest form of transportation would be a rental car as it's 10 km away from town.
---
5. Cenote Zaci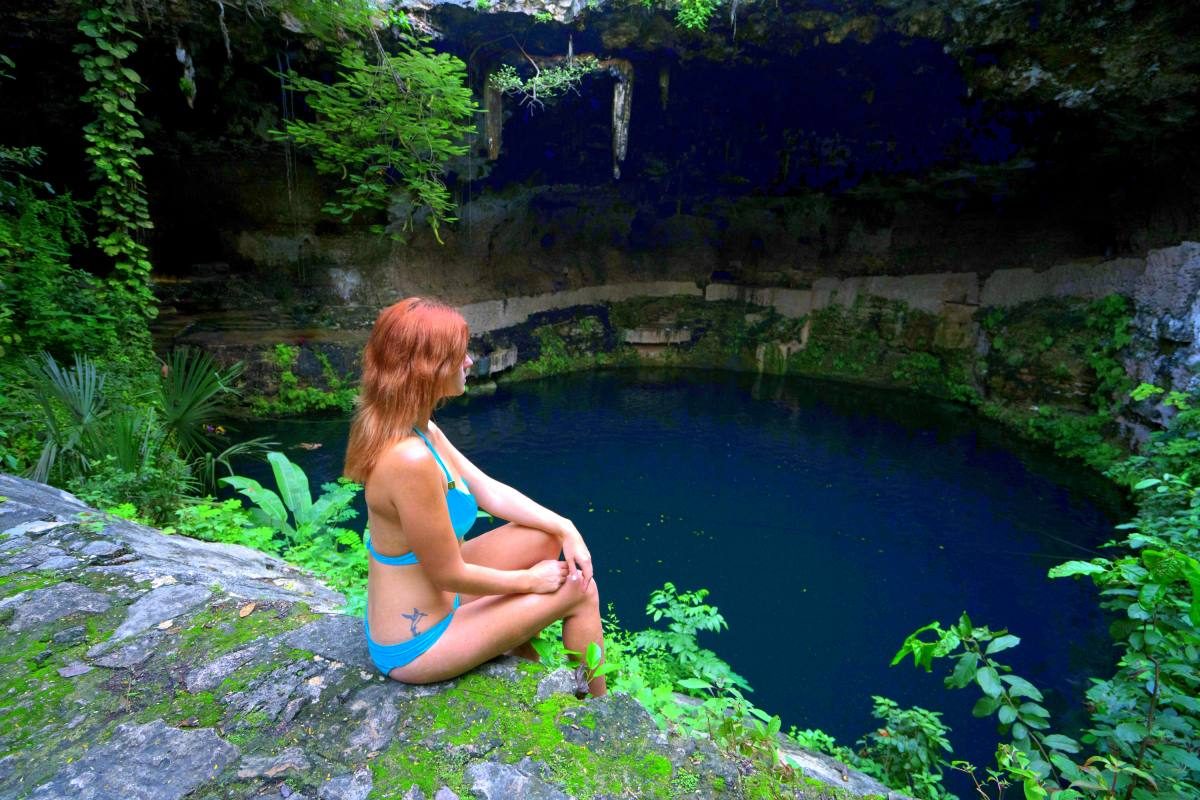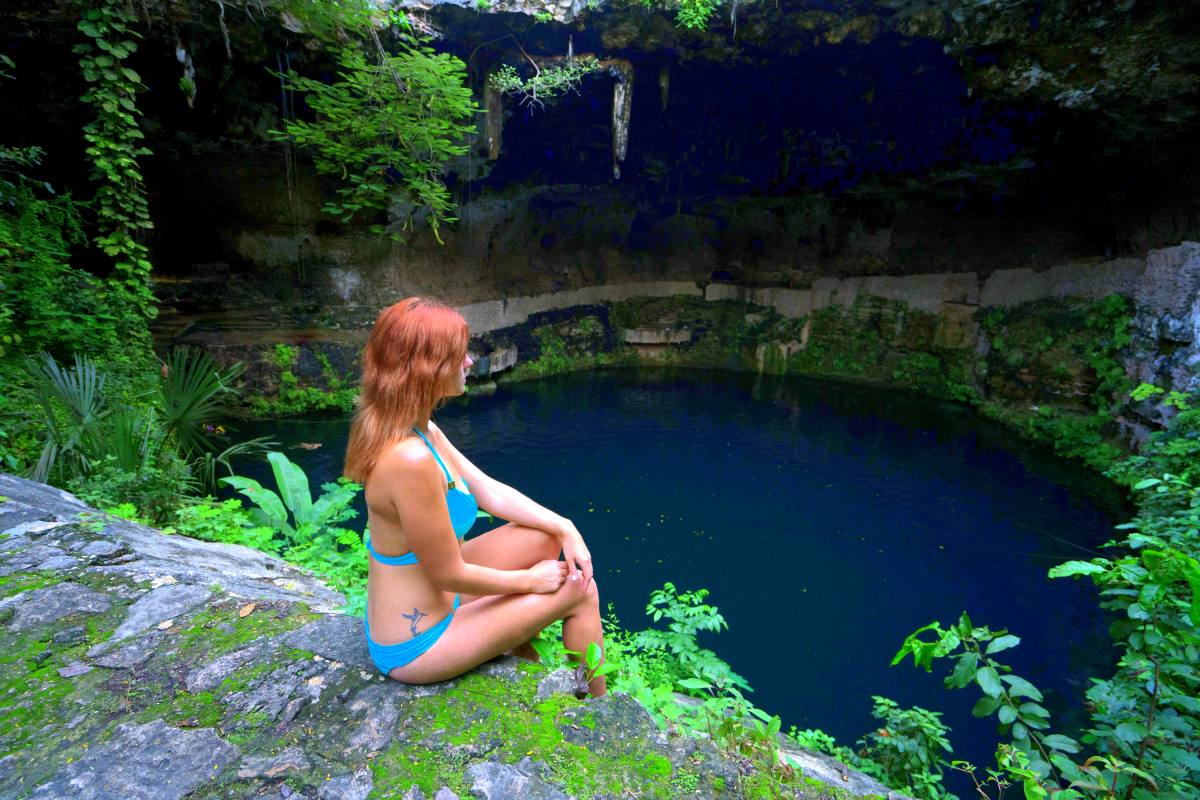 Cenote Zaci was one of the first cenotes I've seen, but also one of the best as it was almost completely empty. Located very close to the main plaza of Valladolid it's easy to get to and it's cheap.
If you're able, be sure to walk the entire way around the entire sinkhole because every angle gives you a different view.
Cenote Zaci Entrance Fee: 120 MXN.
Cenote Zaci Opening Times: 8:30 AM to 5:30 PM daily.
---
6. Cenote Agua Dulce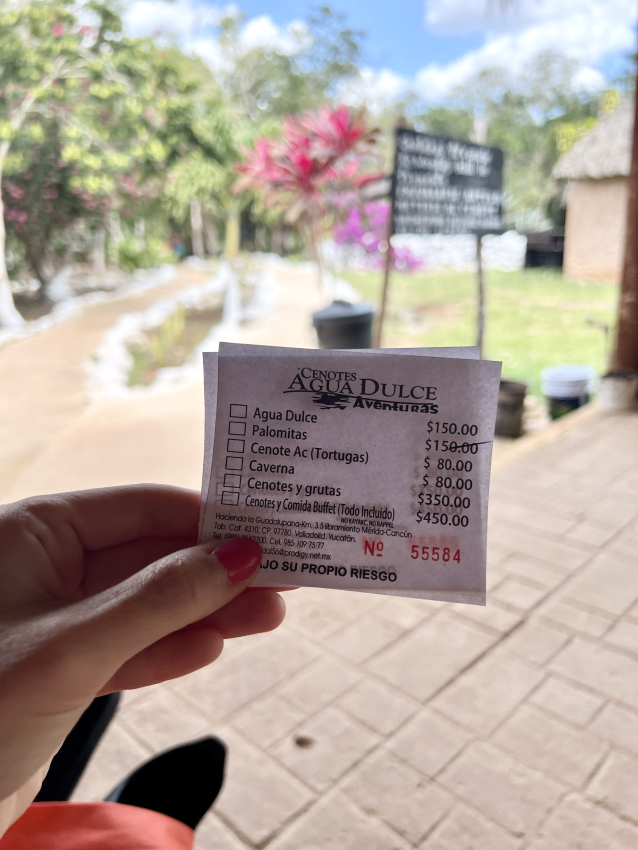 It has two entrances but to get a better view take the spiral staircase. Upon arrival it was drizzling so they advised us to go down the latter. From the descent to the cenote is impressive with stalactites and stalagmites wherever you look.
Cenote Agua Dulce has two small openings full of hanging roots, through which sunlight or rain enters creating natural beauty.
If you do not want to enter the water there are some wooden benches so it's perfect to visit with kids. The water isn't too cold, so everyone can enjoy it for a while.
Cenote Agua Dulce Entrance Fee: 150 MXN.
Cenote Agua Dulce Opening Times: 9 AM to 4 PM daily.
---
7. Cenote Palomitas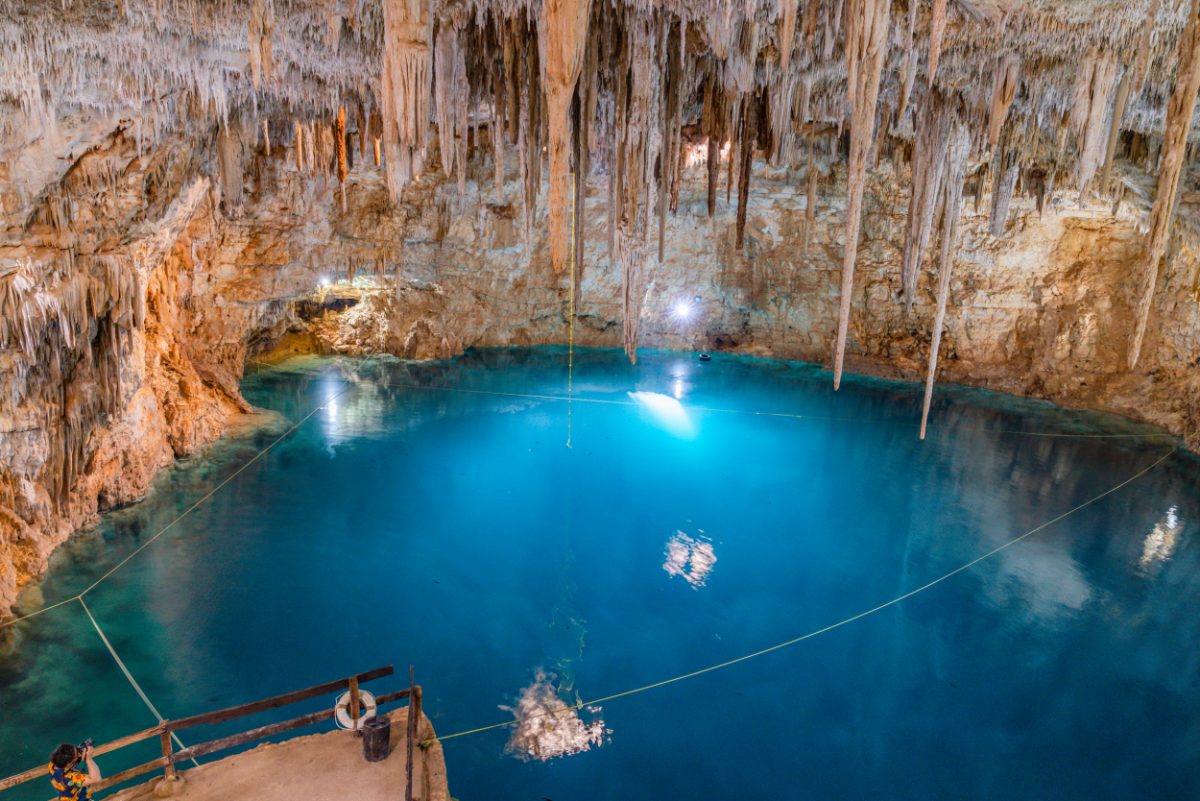 Palomitas isn't pretentious like some other cenotes and gives it an authentic touch with life vests available, but not compulsory. Prices are affordable and it has changing rooms and bathrooms so you can change and not get wet.
Without a doubt, it's one of the best cenotes in Mexico that I saw over the years all over Yucatan Peninsula. Palomitas is part of the complex with Agua Dulce cenote, but you buy entry fees individually.
There's a rope to climb in the middle of the cenote as well as black inflatable rings if you want to just float around the cenote.
Cenote Palomitas Entrance Fee: 150 MXN.
Cenote Palomitas Opening Times: 9 AM to 4 PM daily.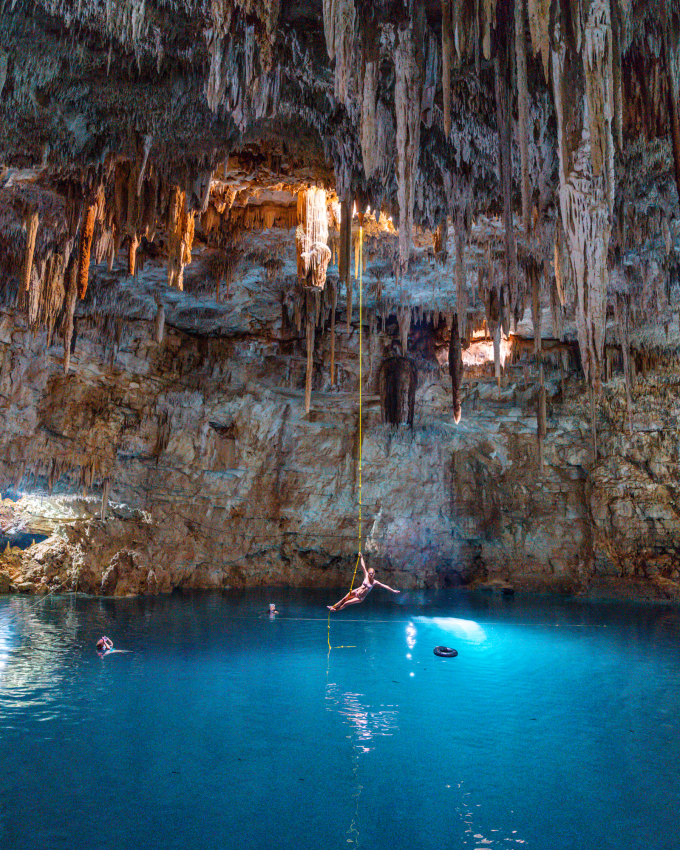 ---
8. Cenote Samula
Cenote Samula is set in a complex with nearby Xkeken cenote. It's completely enclosed with just a small opening, similar to Saytun.
Lots of facilities nearby with lockers and food vendors.
Cenote Samula Entrance Fee: 250 MXN.
Cenote Samula Opening Times: 9 AM to 4 PM daily.
9. Cenote Secreto Maya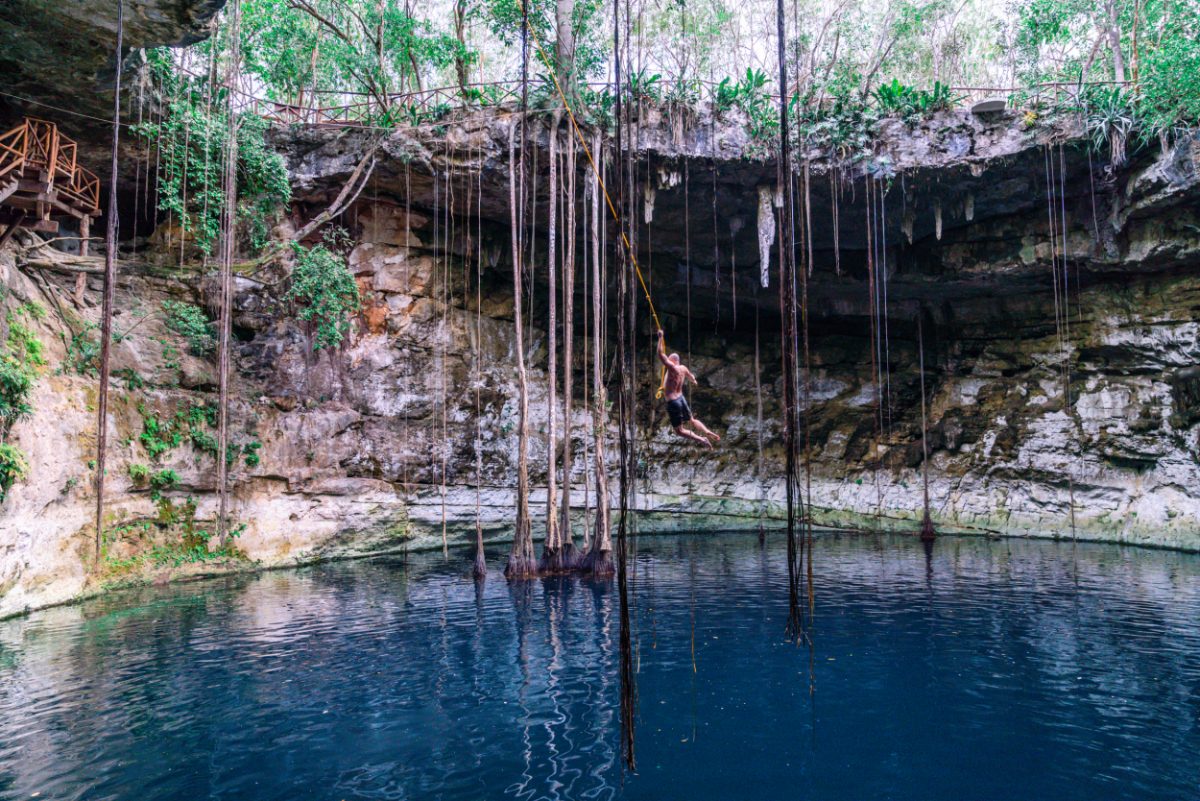 One of a few cenotes that while has a ton of facilities and even a pool and buffet, there's often no one at the cenote so you might get it all to yourself.
There's a zipline and jumping platform of various heights (one of the highest ones and you need to sign a waiver for it – I didn't dare to jump)
The cenote also has a seating hammock area, provides temazcal ceremonies and Mayan rituals. The fauna and the formation of the cenotes make the visit a fantastic experience.
Next to it there's also another beautiful cenote Xcanaltun, so you can combine your visit.
Cenote Secreto Maya Entrance Fee: 200 MXN.
Cenote Secreto Maya Opening Times: 9 AM to 4 PM daily.
10. Cenote Sac Agua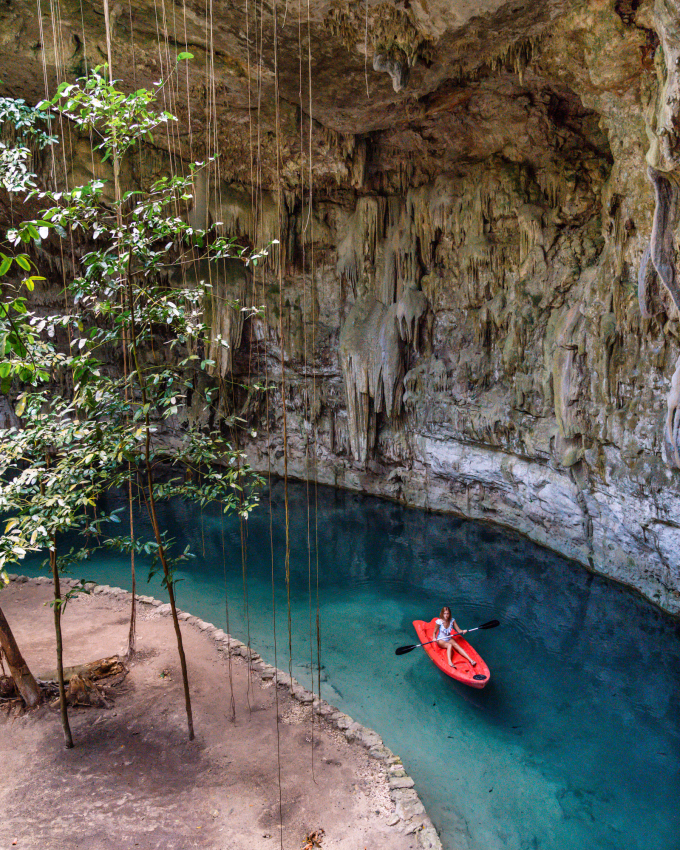 Sac Agua cenote is one of the most amazing in the area and barely anyone ever comes through it. We had it all to ourselves before one other couple showed up.
It's a very deep cenote with a big island in the middle that you get to by descending a flight of wooden stairs. It has a very local vibe and quiet, serene atmosphere.
The place offers kayak rentals and life jackets, but you can just enjoy its beauty without it.
Cenote Sac Agua Entrance Fee: 250 MXN (with kayak rental).
Cenote Sac Agua Opening Times: 9 AM to 4 PM daily.