Mexico City is a large and ancient capital with phenomenal food, art, and entertainment. The city is a meeting point for different worlds, and in this sense it has a plethora of interesting stories to share with whoever has an open mind and loves to discover cultural and historical themes.
People from all over Mexico and the world at large find themselves enchanted by the pace of daily life, which becomes abundantly apparent as one runs into a diverse selection of businesses and communities. This is what makes it an absolute treat to wander about and explore!
There is plenty to do, including many free activities, and Mexico City has a vibrant and diverse nightlife. Here is a guide for the top things to do in Mexico City, including both indoor and outdoor activities, free sights, and after-dark fun.
History of Mexico City
Originally the Aztec city of Teotihuacan, Mexico City was rebuilt by the Spanish Conquistadors in the 16th century. Christianity flourished following the Spanish invasion, resulting in Catholic architectural influences.
Mexico City continued to grow after the Mexican independence in the early 19th century. Today the city is a massive metropolis. Not only is Mexico City the capital of the county, but it also has more people than any other city in the Western Hemisphere. The city is also an economic powerhouse, however, income distribution is extremely unequal – you will see it pretty fast.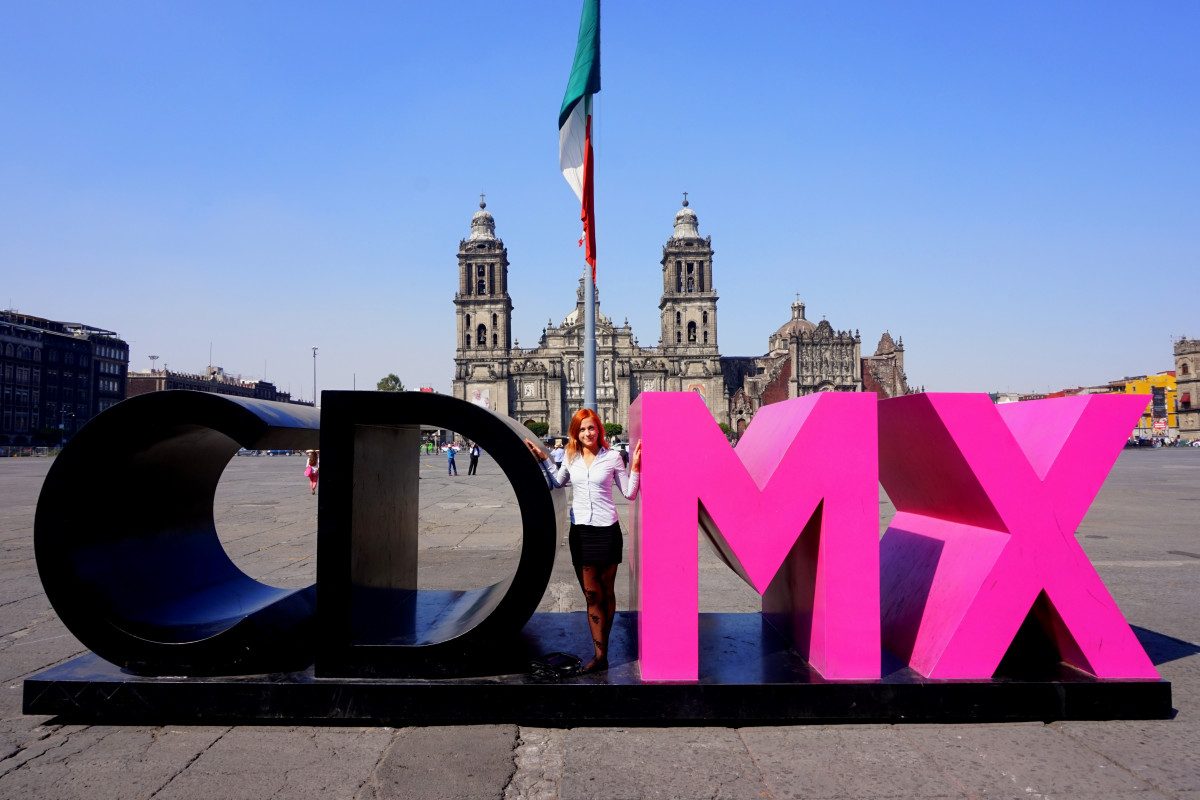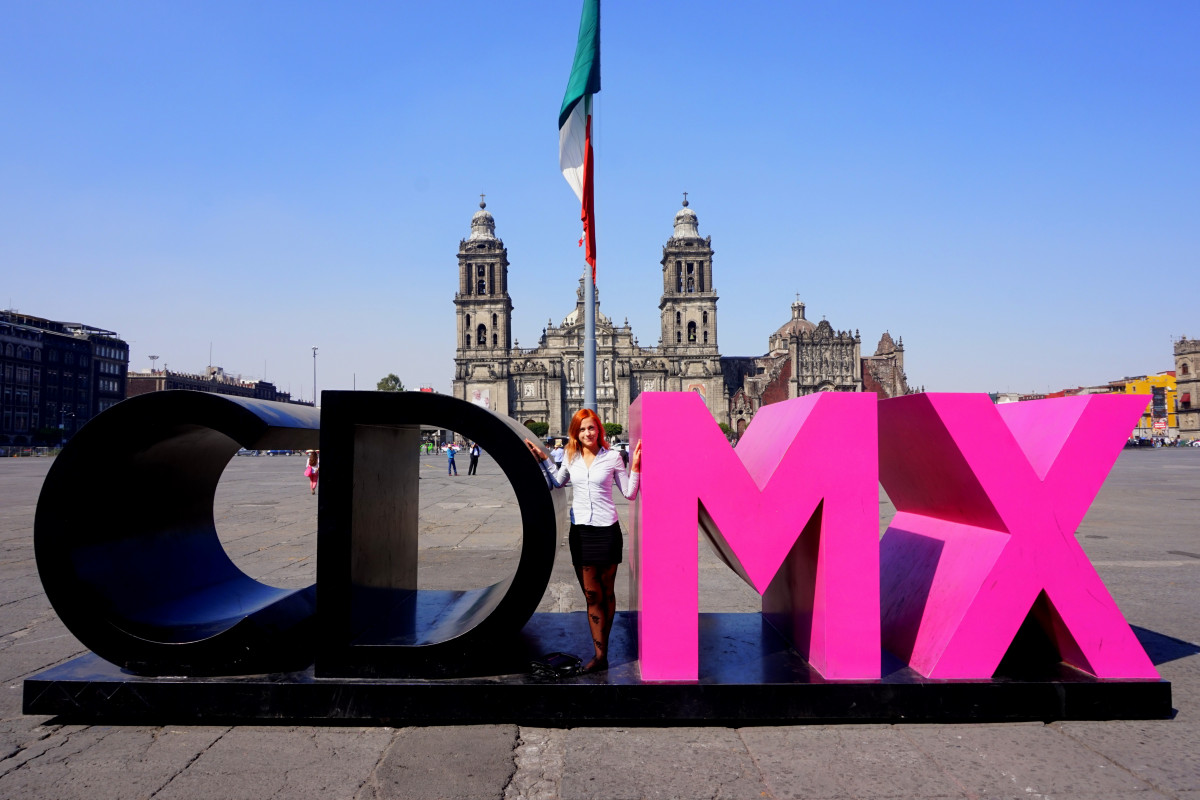 ---
Logistics & Transportation in Mexico City
From the airport:
Mexico City is home to an international airport, Mexico City Benito Juarez. This airport is about 25 minutes from the city center by taxi.
You can also take the bus (Metrobus line 4) or the metro (Metro line 5). Taxi is the "priciest" option at about $250 MXN ($12 USD), so all options are very affordable!
You can also drive to Mexico City from other regions of Mexico, although there are travel warnings for parts of the country.
When you're in Mexico City, you can use Uber, taxis, bus, or the metro. The metro is the cheapest and fastest option because the city has a ton of traffic. It costs 5 MXN per ride. Large bags are not permitted on the metro and the first two cars are for women and children only (but the rules are not always fully respected outside of rush hours).
If you choose the Metrobus (not mini-bus), you'll need to buy a smartcard, and rides cost around 6 MXN per ride.
Renting a car and driving yourself is not the best option, because the streets are hectic, there's a ton of traffic and not much parking.
Mexico's currency is the Mexican Peso (MXN) and the best times to visit the city are in the spring (March-May). If you go in the winter, pack a jacket and in the summer pack an umbrella, as it might rain. It's important to note that the city is elevated and that there is a lot of air pollution. It's a good idea to bring a facemask for use when air pollution is at its worst.
---
Things to Do in Mexico City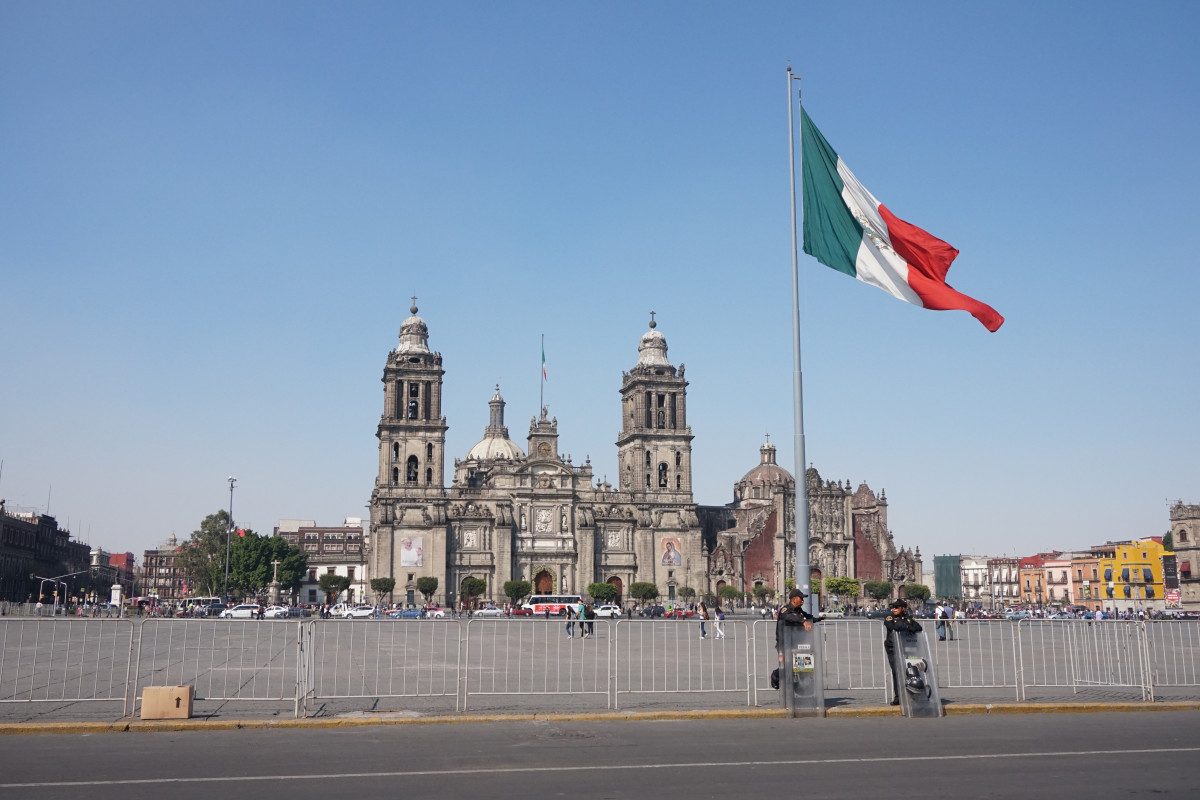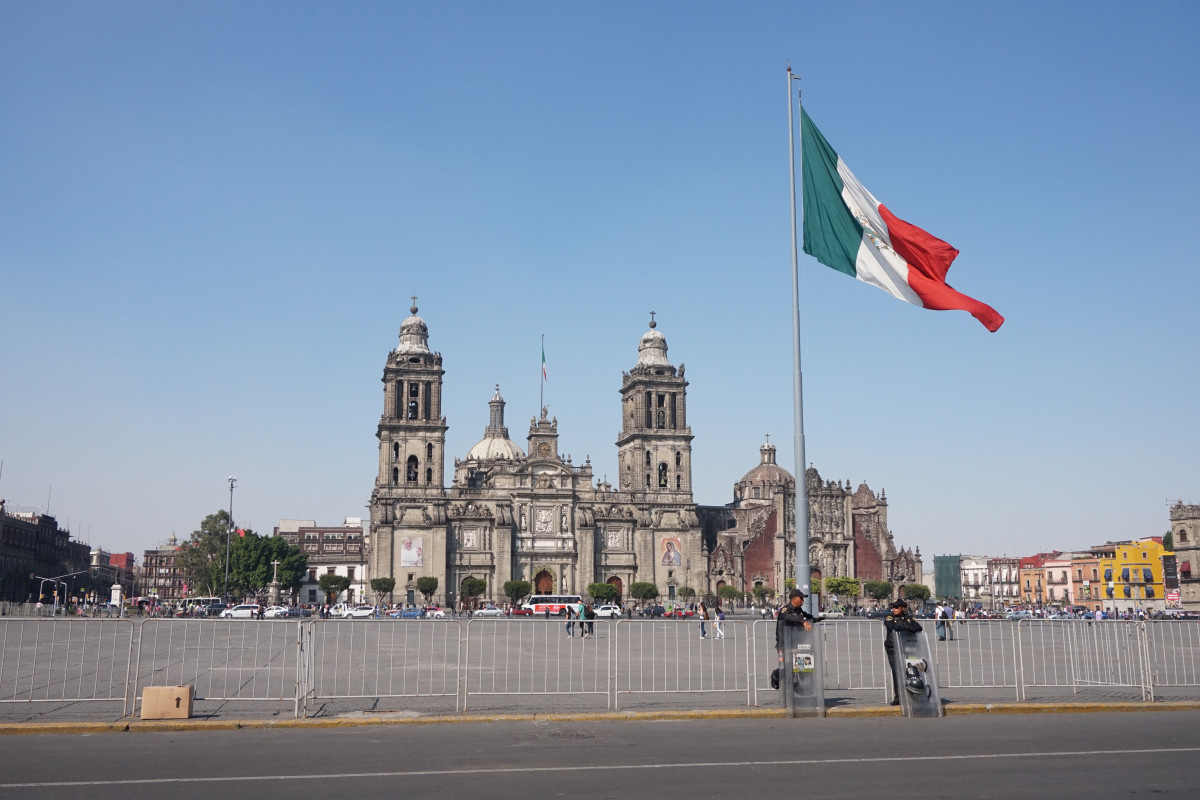 1. Explore Historic Downtown
The whole city is steeped in history, but there's no place where this is truer than the historic downtown district. Here, right beside its center square called Zocalo, lies the most impressive ruins of the original city, Tenochtitlan.
Although it's what's left of what's referred to as the ¨Major Temple¨ it gives one an idea as to the scale with which the empire expressed its grandeur.
It's where the last Aztec Emperor Moctezuma lived until he met with the Spanish there. This is a must-see for anyone who loves to look directly into what past societies were able to construct and it features its own museum.
It can be reached by subway along the 2nd line to Zocalo or Bellas Artes stations.
If you're traveling with family you are encouraged to check out cultural calendars before you book your ticket. Lining up your itinerary with happenings in the city is an indispensable asset for when you would like to get the most out of your visit.
They can be found with ease online and you can walk from one to the next as many of them take place in the heart of the city!
National Palace (Palacio Nacional)
The National Palace (Plaza de la Constitucion S/N, Centro Historico de la Cdad) holds the offices of the President, Treasury, and the National Archives.
In addition, this impressive structure is home to art and history, including several murals (painted by Diego Rivera). There has been a palace in this sport since the 1500s.
The Palace is open from 9 AM-5PM Tuesday through Sunday. Make sure to bring a form of identification, which will be required upon entering. Visiting the palace is one of the many free things to do in Mexico City!
Palace of Fine Arts (Palacio de Bellas Artes)
The Palace of Fine Arts (cnr Av Juarez & Eje Centro Lazaro Cardenas) holds an impressive collection of works by famous Mexican artists.
The building itself is beautiful, and it also contains a theatre (which can only be seen if you attend a performance). Don't forget to visit the Architecture Museum on the 4th floor.
The Palace is open 9AM-6PM Tuesday through Sunday and costs 70 MXN. Admission is free on Sundays. This is a good rainy day activity, but it could also be an evening adventure as you can see ballet shows at Bellas Artes.
The shows include Mexican Ballet Folklorico, which comprises traditional Mexican dance and costumes. Tickets are available on Ticketmaster and other third-party websites. Not only will you enjoy a great show; you will also be able to see the amazing architecture and design of the Palacio de Bellas Artes.
Alameda Central (Av. Hidalgo s/n, Centro Historico de la Cdad) is a park located on the site of an Aztec market.
This park has a rich history and is home to a Diego Rivera mural, as well as an impressive amount of green space.
There is no fee to enter the park, and if you happen to be in Mexico City around Christmas, enjoy the beautiful lights and decorations!
The Templo Mayor (Seminario 8) was a sacred building in the middle of the Aztec city of Tenochtitlan (now Mexico City).
The site is currently being excavated and archeological pieces are still being discovered. Altars, amulets, and even human bones are some of the many finds.
Visit the site as well as the accompanying museum. It's open 9AM-5PM Tuesday through Sunday and entrance costs 70 MXN.
Or if you're short on time try one of these tours with a local guide to direct you.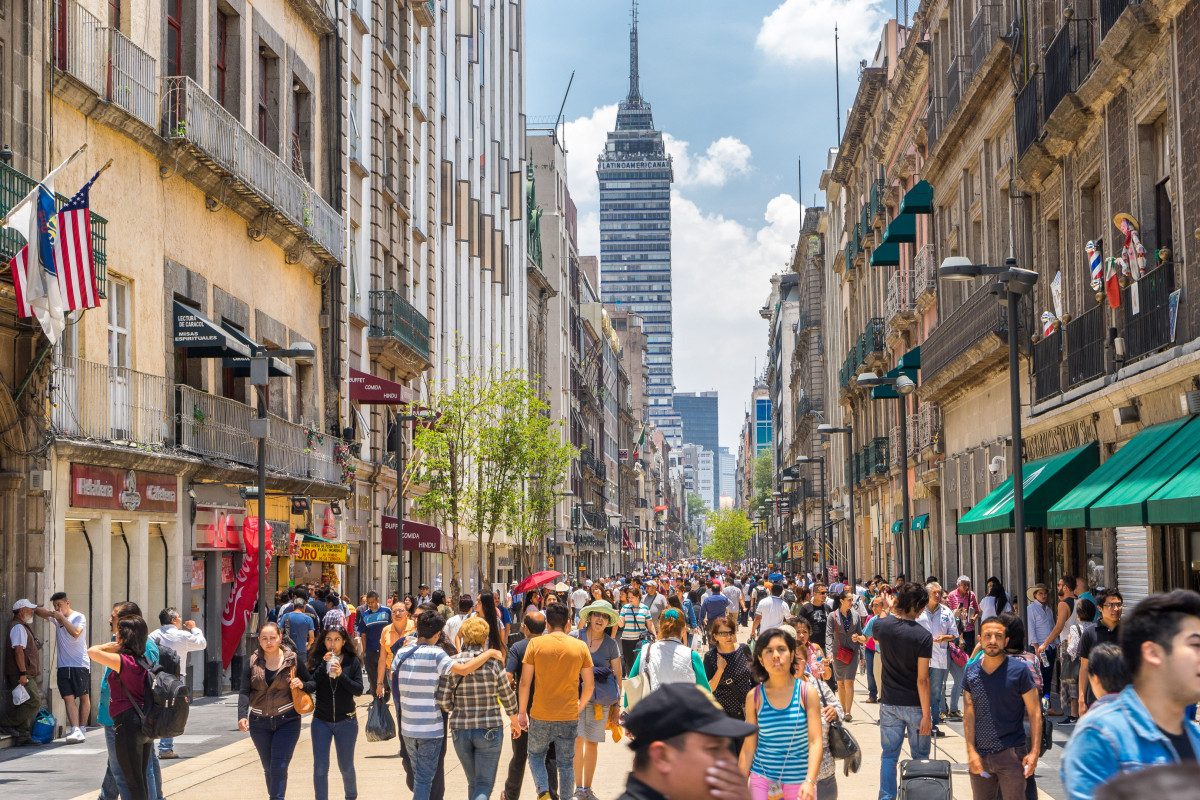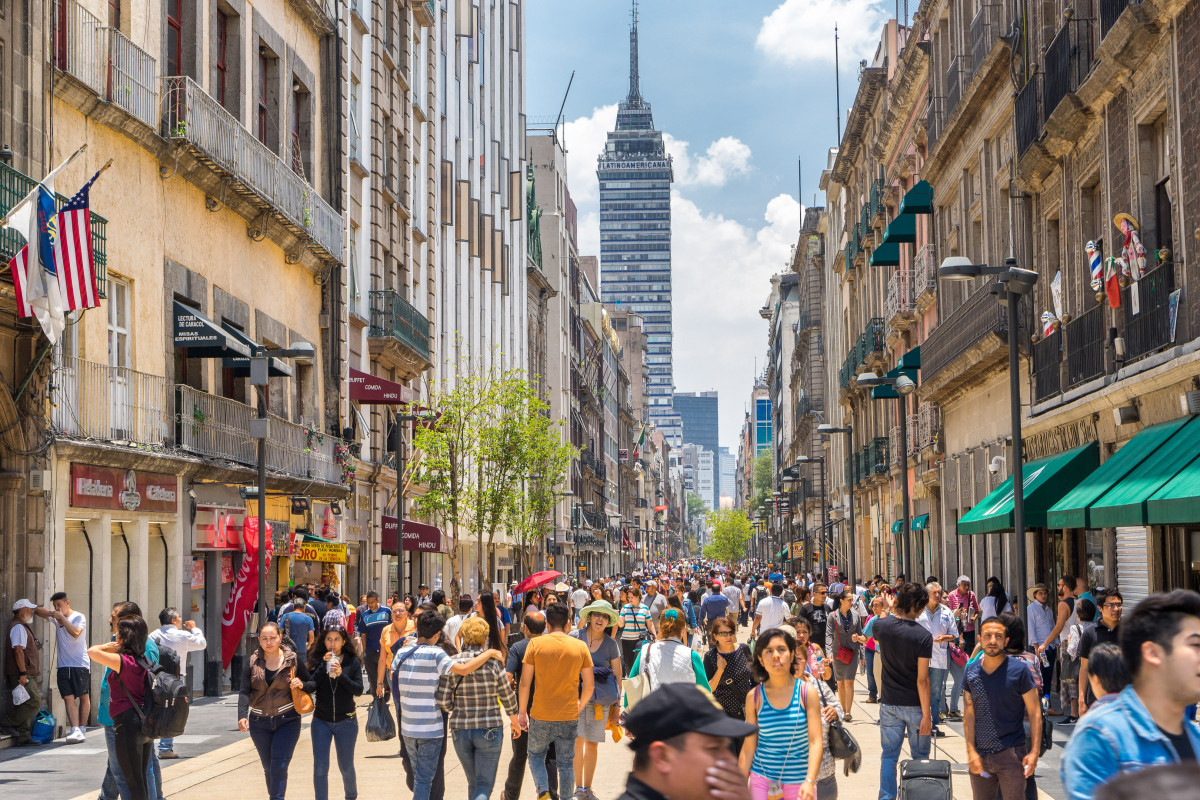 Previously the tallest building in Latin America, the Torre Latinoamericana (Eje Central Lazaro Cardenas 2) is still a national landmark.
The tower has survived earthquakes and is a symbol of the city. Visit this building to see views (depending on weather) from the observation deck, and make sure to check out the museum. There is also a bar and restaurant at the top.
The building is open daily from 9AM-10PM and admission (for the deck and museum) is 100 MXN. You don't have to pay an entrance fee if you go to the bar/restaurant.
Plaza Garibaldi is a free and open plaza where mariachi bands gather and play. It's located in downtown Mexico City on Eje Central. It has the Museo de Tequila y Mezcal specializing in Mexico's signature agave-based alcohols, tequila and mezcal!
This is a fun evening activity that is a bit more interesting than just drinking tequila in a bar. Museum tours include the history of tequila and mezcal, as well as a tasting. The museum also offers a great rooftop bar. Entrance is 70 MXN and the museum is open 11 AM to 10 PM Sundays through Wednesdays, and 11AM to midnight Thursdays through Sundays.
Visit at night to watch the bands. The atmosphere is best after 11PM on Friday and Saturday nights. You can also check out the monument to the mariachi. This is a great free thing to do in Mexico City, although you may want to bring some change to tip!
Mexico City has a TON of museums, but this one I find particularly interesting and "well created". Opened in 2010 it features exhibits from the Holocaust to racism.
Palacio Postal – Casa de los Correos
Built in 1907, Palacio Postal is a beautiful working postal office next to Bellas Artes. In its eclectic architecture – Plateresque, Elizabethan, and Venetian Gothic styles dominating, both inside and outside.
From the outside you can appreciate the gargoyles, street lamps and the monumental German clock that was assembled in Mexico.
---
2. Visit Mercado Sonora
One unusual thing to do in Mexico City is to visit the Mercado de Sonora (Fray Servando Teresa de Mier 419, Merced Balbuena).
Located southeast of the city, this market is part indoor, part outdoor, and specializes in herbal and occultic items. You will encounter voodoo, Santeria, and other mystical influences.
Items like dried rattlesnake, religious figurines, and amulets are all available for purchase. You can visit the official website for more information and a map of the extensive market.
Important: While Mercado Sonora is a great experience, take precautions. If you're a solo female traveler with no experience in Latin America, ask a Mexican friend to go with you or take a guided tour as it can feel overwhelming.
This tour takes you to both the Mercado Sonora and the neighboring food market La Merced.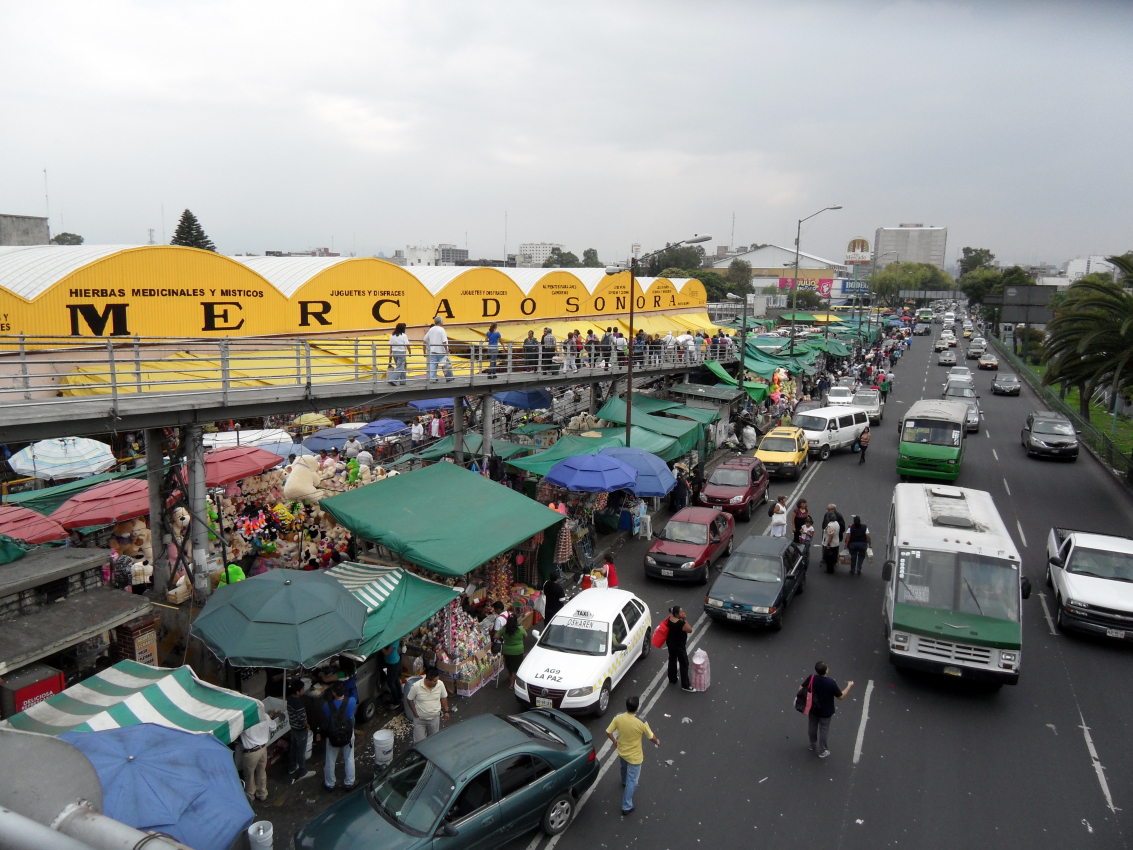 ---
3. See Lucha Libre
Mexican wrestling called Lucha Libre is a signature Mexican activity that is very entertaining. The wrestlers have elaborate costumes and storylines and crowds get very excited.
You can attend a match in the Arena Mexico on a Tuesday, Friday, or Sunday evening, and the lineup is available here.
Purchase tickets through Ticketmaster or another third-party website, or you can attend a Lucha Libre match with a tour group. Tours usually include transport and tickets, so this may be a good option.
4. Visit Teotihuacan
Teotihuacan, also known as the "Mexican pyramids" was a large ancient city (over 2,000 years old) that included religious buildings, homes, and much more.
Given the size of the complex, plan for at least a half-day, or day for this activity. This archeological site is around 30 miles (50 km) from Mexico City, so you will need to take a bus, rent a car or book a tour to get there.
The cost of entrance to Teotihuacan (without a tour) is 70 MXN, and the site is open 9AM-5PM Monday-Sunday. There is also an after-dark light show, which requires tickets and can be booked through Ticketmaster or third-party websites.
Viator offers a tour of Teotihuacan with an archaeologist who also takes you tequila tasting, or this one that also takes you to Tlatelolco, Tlacaelel, and the Shrine of Guadalupe.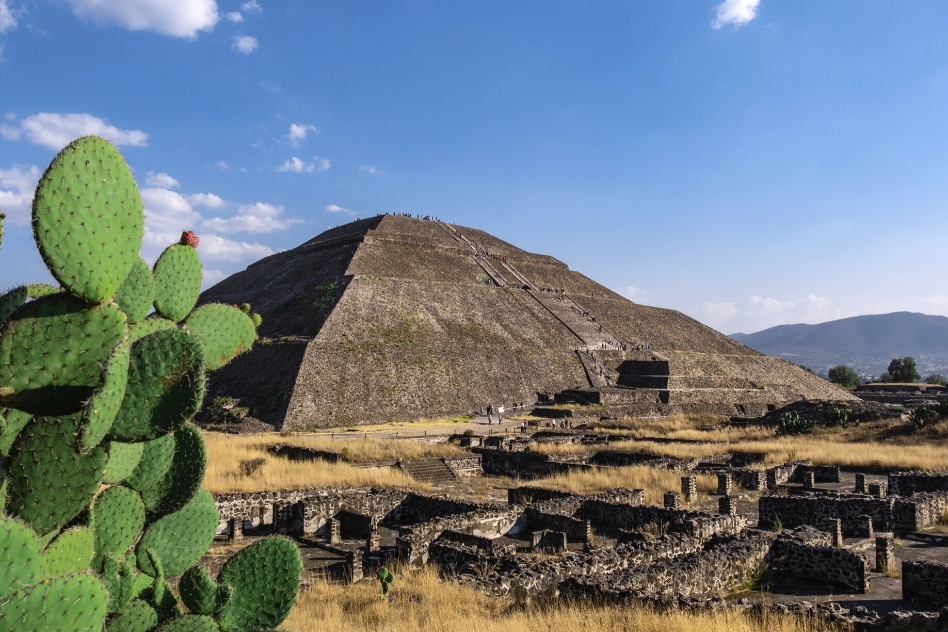 5. Have a Fiesta at Xochimilco
Although Mexico City is a bustling place, there are several opportunities to bask in a natural setting. None is more exemplary than Xochimilco, which may be reached by taking the metro's 2nd line southbound until you start to leave the city's urban trappings behind and reach Tasqueña station. Then you can take the light train until the terminus, Xochimilco station.
It is best known for its artificial canals that were originally constructed by the Xochimilca people to help them grow their crops.
Thanks to their efforts, today it is a thriving ecosystem that is best appreciated on-board the small colorful vessels known as trajineras. It's quite common for these to be enjoyed as floating parties which people can dine atop as well as enjoy live music being played by musicians, and even a mariachi band!
If you're traveling with a group, you can't go wrong and are sure to appreciate the many birds and flora that flourish in this escape from the big city.
Note: Xochimilco is also known for the slightly creepy Isla de las Munecas – a haunted island filled with decapitated and decomposing dolls. Unfortunately, even though it's often advertised as accessible, unless you have some serious connections it's not open to tourists.
But, there's a replica of the island on the tourist trajineras route so you can see a smaller version on your trip.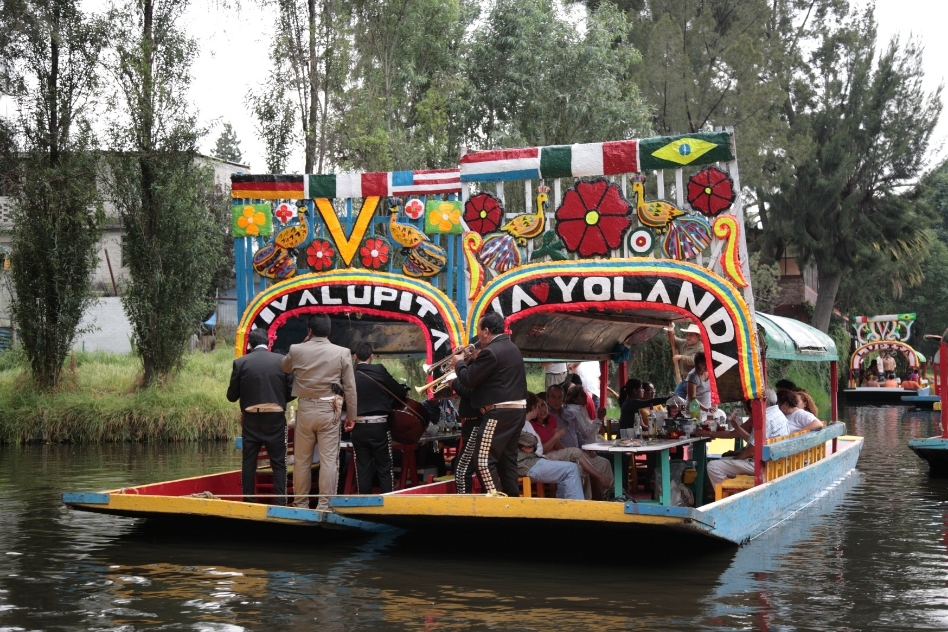 ---
6. Visit Cantinas
If you ask tourists who have traveled to Mexico, something that shouldn't be skipped is a visit to a Cantina, or a local bar. These lively places are great meeting points to bask in Mexican music, cuisine, and of course, drink.
There are a lot of these types of establishments that are well known and have served as rest stops for all kinds of weary travelers. Many night owls frequent them when they need a place to unwind. They're considered places to leave your troubles behind, or when you're kicking off a night of partying and clubbing.
It isn't a stretch to say that cantinas are where a lot of Mexican history was made. Celebrated poets, painters, political figures, and many others would pass the time in these places. It is no wonder as they are charmingly presented and you can enjoy a delicious meal and thirst-quenching drinks merrily.
El Gallo de Oro is a prime example of this and maintains a certain popular yet tasteful demeanor. It even offers up a buffet for when you would really like to dig in! Its situated just a couple blocks from the Zocalo along the street Venustiano Carranza. So it's a great rest stop when you're walking around admiring downtown design and architecture.
While you may picture a cantina as a rough and rowdy place that belongs in something like a western movie, they actually vary quite a bit. For instance, in downtown's 5 de Mayo Avenue which begins at the Zocalo, you can find La Opera.
This cantina was originally established in 1876 as the best place to go to after a night at the theater. It's the type of place where you can revel in fine decor while donning your favorite fanciful clothes. It serves as a glowing example of when different cultures converge to exemplify the meaning of taste and refinement.
People from far and wide love to walk around until they find themselves a cantina that feels like their type of place!
7. Visit Friday Kahlo Museum
Few artists have reached the heights of notoriety and influence that painter Frida Kahlo has managed to achieve. Her surrealist paintings speak to a certain mysticism that's inherent in Mexican society, and if you're unfamiliar with Mexican contemporary art there's no better source to begin exploring.
For this reason a big touristic draw is her museum down south, in tranquil Coyoacan, which features its own subway station. Popularly known as "the blue house", this museum is actually the site of Frida's family home and provides admirers from all over the world with a glimpse into what her life was like as well as the art that really spoke to her.
She's a continuing source of inspiration for many art lovers and with good reason, she represents this search for the beautiful in unconventional places. It makes sense when you consider her life's story.
The Mexican muralist Diego Rivera was her husband and throughout her life she would meet with artists from many places.
If you would like to visit her home be prepared to wait in a long line, but don't worry, it will definitely be worth the wait. Coyoacan, where the house is located, is also a fun neighborhood to wander around before or after your visit.
8. Stroll through Artisan Market in San Angel
Artwork in Mexico is world-renowned, particularly as it is heartwarming and full of lively colors that brighten any room. Not for nothing, this country has an extensive tradition of making things by hand and carefully cultivated skills are passed down from generation to generation. It's a real treat taking note of all the different stylistic tendencies that vary from state to state.
If you're unfamiliar with what Latin America has to offer in this department, there's no better place for exposure than the Artisan Market in San Angel in the south end of the city. This market is accessible by Metrobus from downtown along the extensive Insurgentes Avenue.
Here, there are thousands upon thousands of different pieces on display. The people who work at the market are very friendly and very welcoming of questions from the many tourists that visit them all year round!
9. See Chapultepec Castle, Park & Museum of Anthropology
Chapultepec Park is a massive green space located on a hill in the city. It can be found within the expansive Chapultepec Forest off of the main thoroughfare of the city, Reforma. The park encompasses a zoo, museums, and a castle with a history that goes back to the Aztecs.
Make sure to see Fuente de Tlaloc, a sculpture/fountain of the Aztec god of rain, built by Diego Rivera, and the accompanying Carcamo, a water-tank turned free art gallery.
The Chapultepec Castle is the only castle on the North American continent that housed a king/queen, and it was constructed in the 18th century.
The castle contains a Museum of Cultures, and costs 70 MXN for entrance. It's open 9AM-5PM Tuesday through Sunday. The park is free, but you need to pay extra if you want to rent a pedal boat for the lake (I recommend it).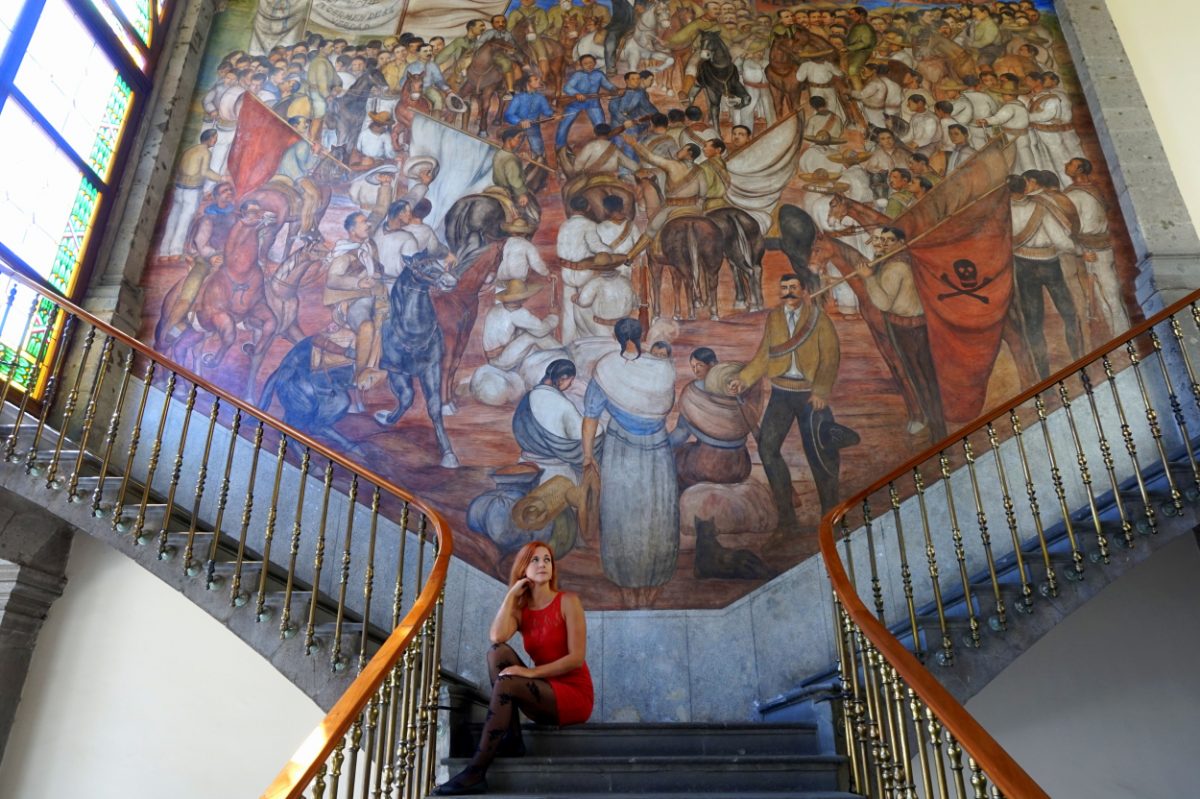 ---
10. The National Anthropology Museum
One of the most important institutions that this historic city has are its museums which host all kinds of very interesting traveling and permanent exhibitions. So no matter when you come back to the city, you're pretty much guaranteed to see something different of cultural and/or historical value.
But, by far, the most important and culturally proud place that all visitors to Mexico rave about is the National Anthropology Museum which features a wealth of genuine artifacts that serve as entrancing introductions into the many cultures that have existed and continue to exist in Mexico today.
The museum itself is a treasure trove of exhibits and timeless artifacts but it also serves as an idyllic opportunity to learn about what it means to be Meso-American.
As a matter of fact, many people do see it as a crash course into the history that has given form to America. You can learn about what people cultivated, how communities grew, and how art and culture developed. Here you can learn about the biggest empires in Mexico, the Maya and the Aztecs as well as enjoy all kinds of great touring temporary exhibits from all across the globe.
It keeps tourists coming back time and time again as it reveals so much human history and provokes so many questions about who we are and where it is that we come from.
There's a great restaurant overlooking the lake called El Lago, so if you're in the area and feeling like splurging a bit, book a table in advance – it's a must!
11. Admire Biblioteca Vasconelos
Biblioteca Vasconelos is a mega library that's interesting from an architectural point of view; full of geometric cubicles, floors, and hanging sculptures.
Designed by Mexican architect Alberto Kalach, this mammoth structure uses natural light and ventilation and is surrounded by a botanical garden with over 60,000 species of local plants.
The media call it Megabiblioteca.
It's free to enter, and while camera photography is prohibited you can take a shot with a phone if you wish.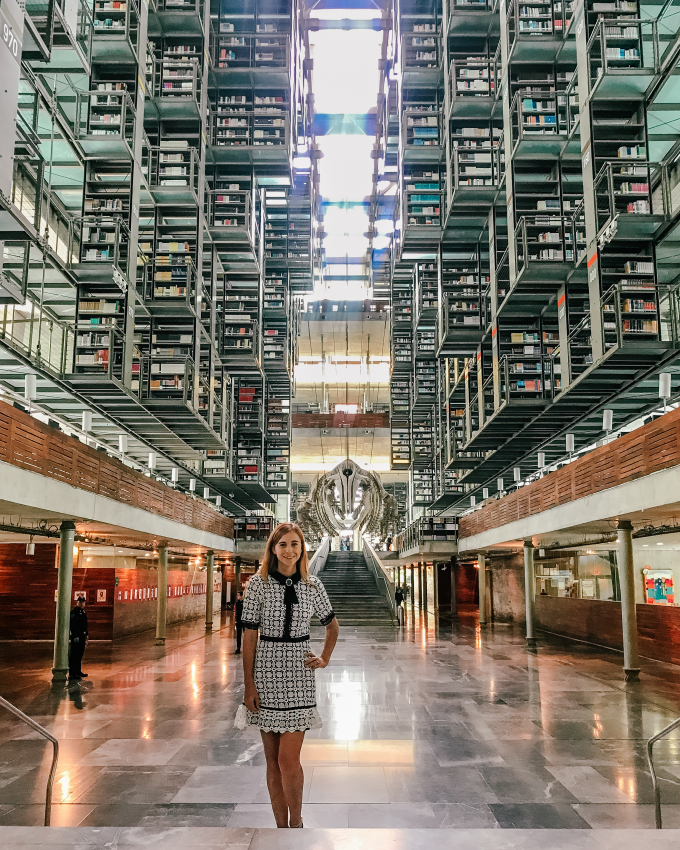 ---
12. Get Some Culture at Museo Soumaya & Visit Polanco
The Museo Soumaya (Blvd. Miguel de Cervantes Saavedra, Granada, Miguel Hidalgo) is an art museum containing 66,000+ works by Mexican and European artists, such as Dali and Rodin. Pieces are donated by one of the world's richest man – Carlos Eslim.
There are even pre-Hispanic pieces from the region. The buildings (the Museum has two, Plaza Carso and Plaza Loreto) are pieces of art themselves, designed by architect Fernando Romero.
This Museo Soumaya is free and indoors- it's one of the best things to do in Mexico City when it rains. The museum is open every day from 10:30AM-6:30PM.
The museum is located in the district of Polanco – a very posh and walking neighborhood, full of incredible restaurants, bars, shops, and parks. It's also where the infamous instagrammable wall with cacti and slogan "Mexico Mi Amor" is located.
13. Ride the Mexican Metro
Taking the subway is a good non-touristy activity, but preferably should be done outside of rush hours as then it gets really crowded and unsuspecting tourists might get pickpocketed.
Mexico City metro is an experience itself as you'll always find those vendors with district voices selling whatever they can find – from tissues, through old CDs, to snacks or diapers.
Various metro stations also have incredible small exhibits or murals. Tacubaya Station has murals depicting the prehispanic city of Tenochtitlan, while Copilco Station murals depict the human journey.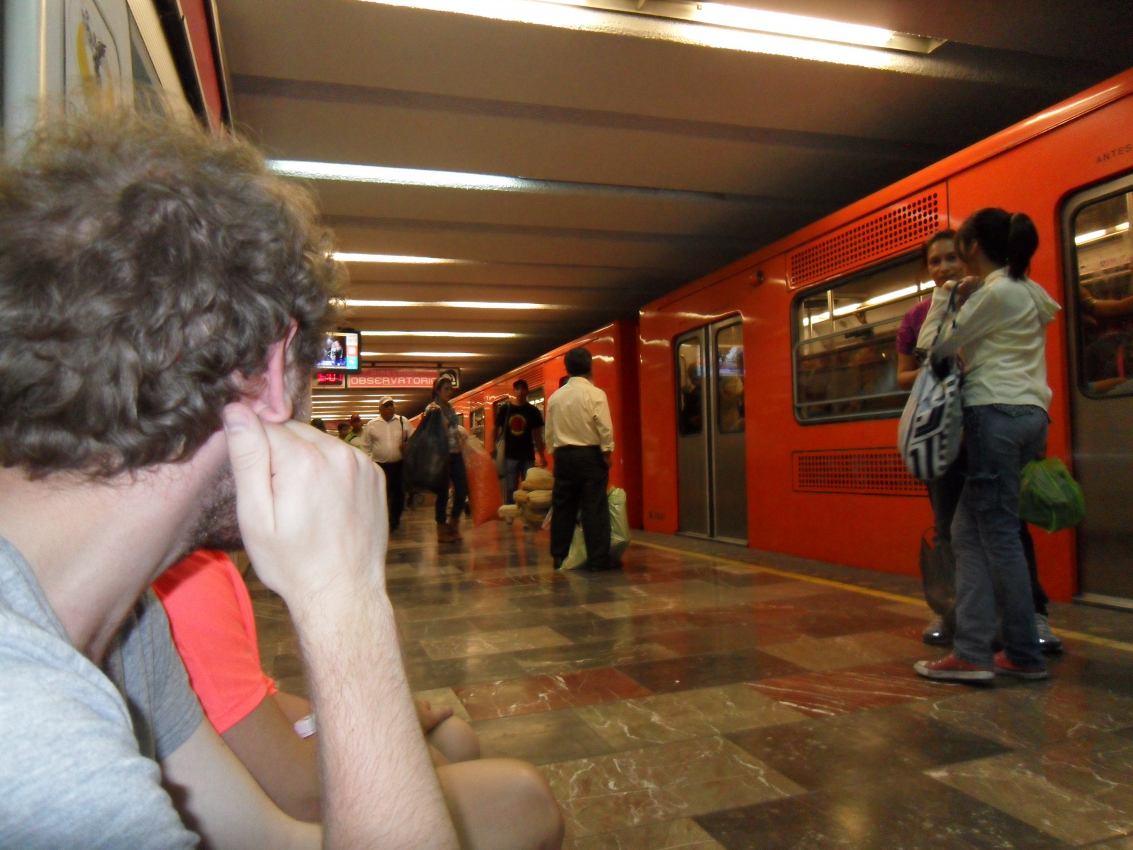 14. Drive Through Paseo de la Reforma
It might sound like a strange idea, but Reforma is a wide avenue that runs diagonally across the heart of Mexico City. This is where you find all the parades (like the Dia de los Muertos parade), you can see various street exhibits, or find the most luxurious hotels and monuments.
Among the most iconic Mexico City landmarks is the Angel of Independence, which stands 148 feet high. You can climb to the top, but not without a permit that's not easy to obtain, so just see it from below.
Although I must tell you that the best view of Reforma is actually from Chapultepec Castle 😉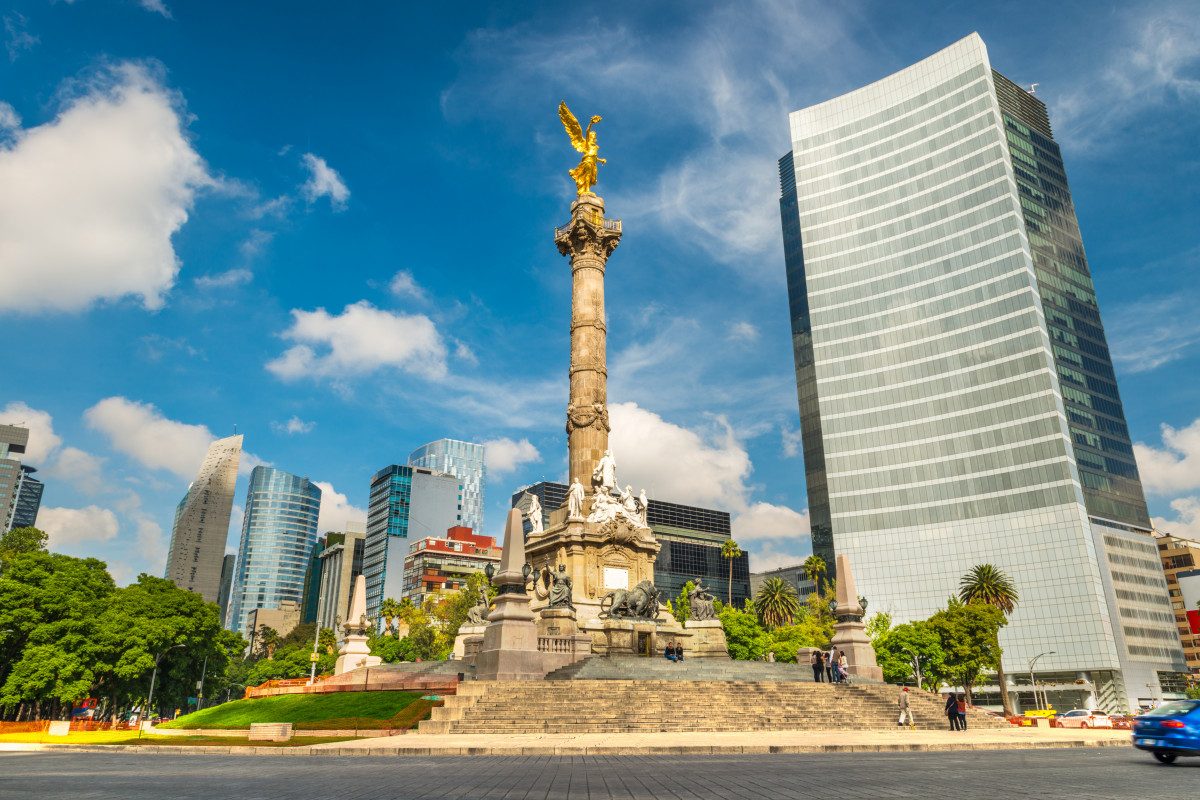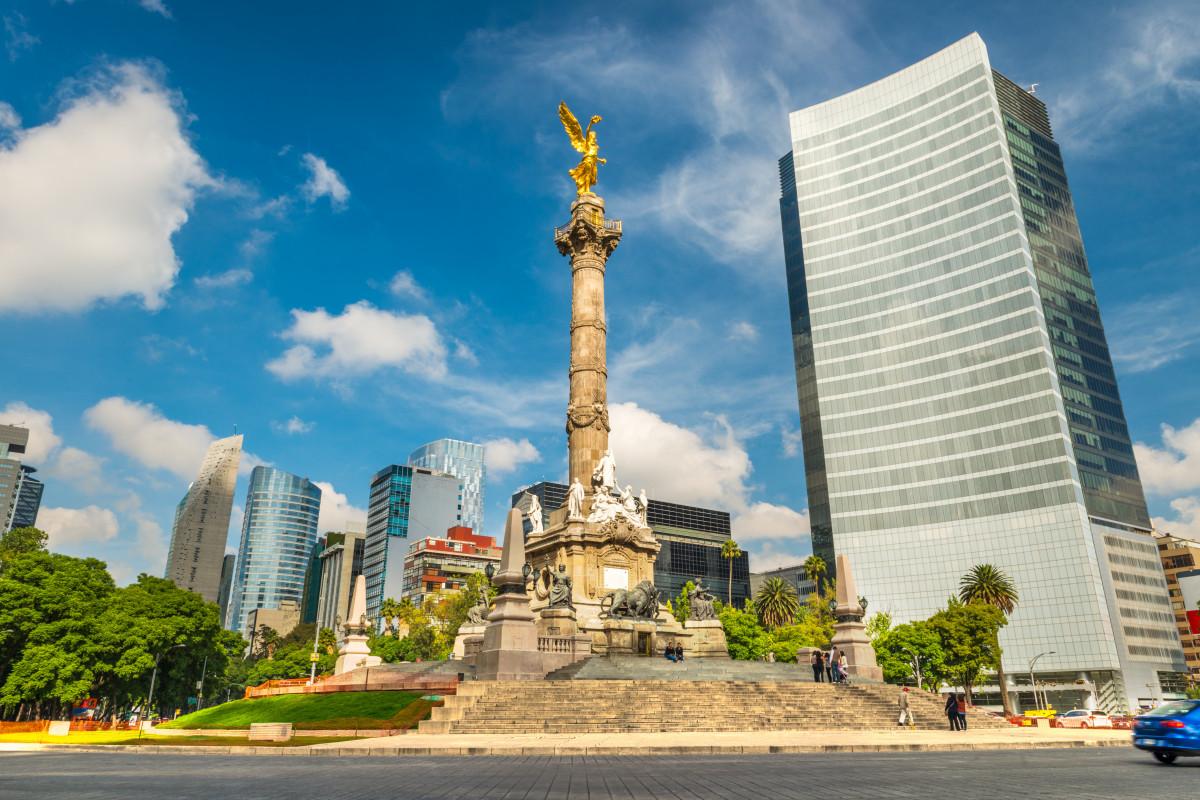 15. Dive Into Different Neighborhoods & Their Culture
Mexico City is one of the biggest cities in the world. While it may seem like in a normal city you get one downtown, various districts and suburbs – Mexico City has a bit of a different setting.
Each neighborhood is like a separate city (the only other city I can think of that has this set-up is Los Angeles), so it's fun to explore different neighborhoods.
Condesa is a vibrant modern spot with many public parks, Roma Norte is a gritty spot well-known for murals and nightlife, Polanco is like "Beverly Hills", Santa Fe is like Wall Street, while Coyacan is the traditional Mexican smaller town.
16. Eat Upscale Meals
Mexico City has amazing food and many types of cuisines, but you must try some classic Mexican fare when you visit. The city also has plenty of Michelin star upscale restaurants.
Pujol is considered one of the best Michelin restaurants in the city, and serves upscale Mexican cuisine, with a twist, using molecular gastronomy. This is an expensive and fancier option- make reservations in advance. Personally, it's not my favorite but many visitors want to check it out.
El Lugar Sin Nombre (which translates to "The Restaurant Without a Name") is located in the Alameda Central area of the city and serves Mexican food with ingredients from throughout the country.
To experience specialty cocktails in Mexico City, check out Licorecia Limantour, which has been named one of the world's best bars. The artfully crafted drinks have international influences and are sure to please. The bar opens daily at 6 PM with closing hours that vary by day.
For dessert, El Moro has several locations in the city and serves traditional churros (cinnamon fried dough sticks). The original location (Centro Historico) is open 24/7, so this is a great option for a late-night snack!
You must try churros during your stay in Mexico, and make sure to get an accompanying dip. They also have a selection of hot chocolate.
17. Indulge in Street Food
You can't go more than a few blocks without running into something calling you to grab a seat and a bite to eat – there are so many street stands and hole-in-the-wall places. It's totally clean and safe and you can get the best tacos in the city for very little money.
You can also find spots to sit down for traditional breakfast in Mexico, which probably varies from what you're used to in your home country. But, I assure you it's tasty!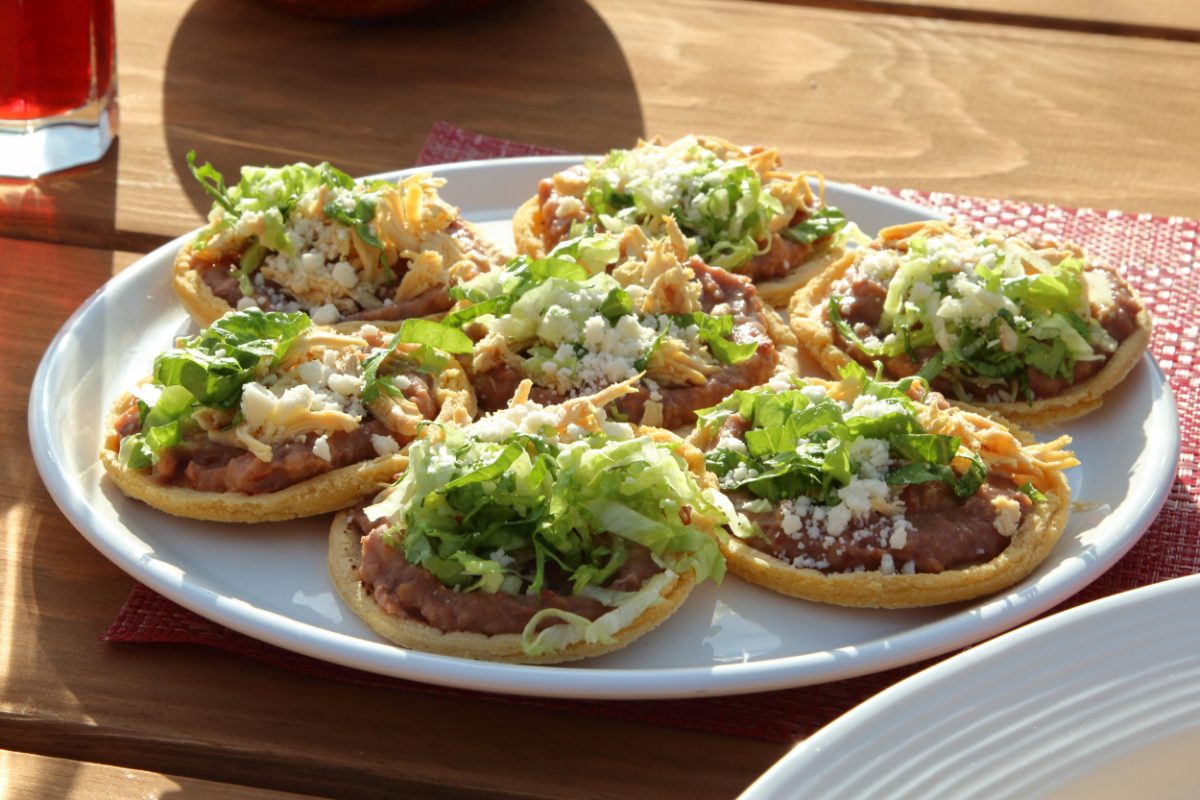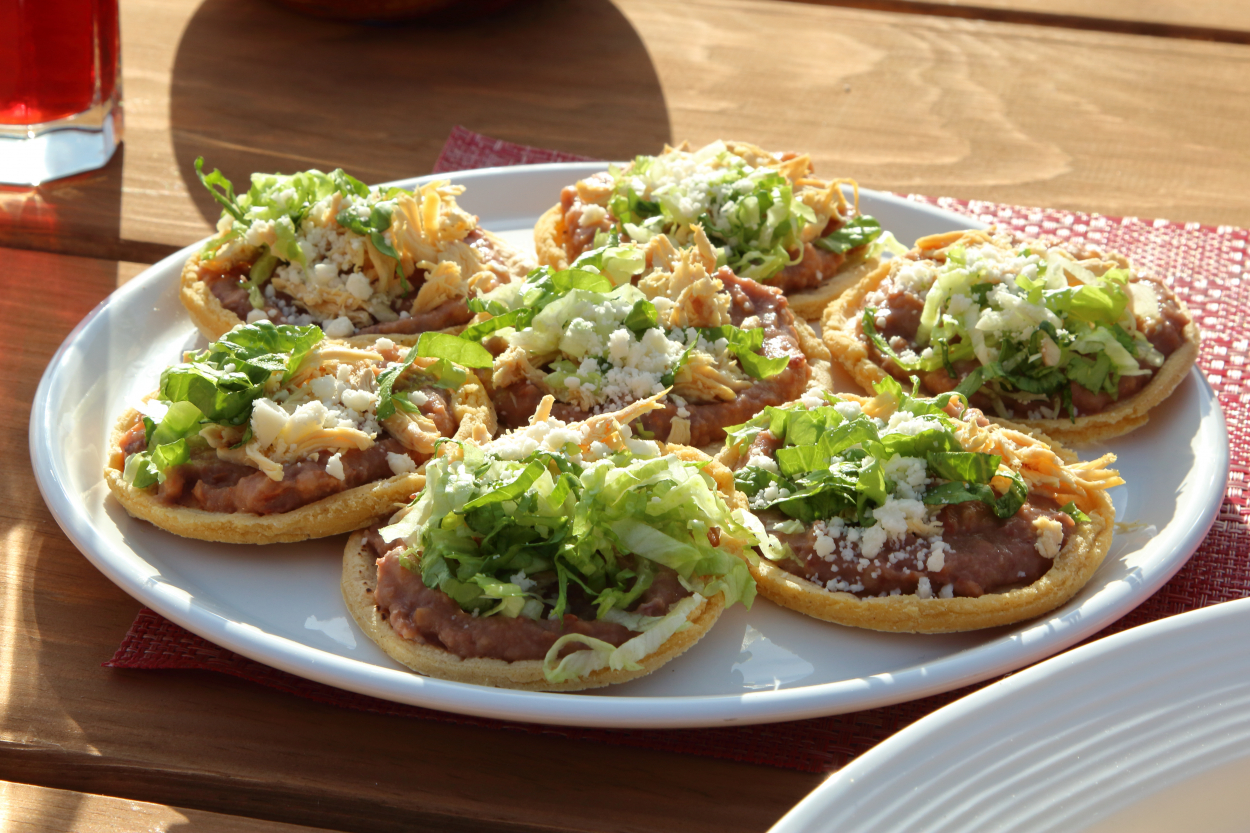 ---
18. Visit La Posada del Sol
Built by Fernando Saldaña Galván using a mix of Art Noveau and colonial architecture, visiting this hotel on Calle Niños Heroes 139 is only for the brave. There are many rumors as to why this grand hotel with 600 rooms was never used, but the most common one is that it's haunted.
The hotel is home to a chapel, theater, casino, ballrooms, and a number of galleries. But Galvan hung himself in the hotel yard in 1946, quite possibly after murdering his family. Legend has it that it was because he was involved with freemasons and the hotel was a place where satanic rites were performed.
There's also an altar in one of the hotel rooms dedicated to a young girl who was found murdered there. She is said to still haunt the hotel.
You cannot visit this hotel and go inside, but you can wonder at its creepy magnificence from the outside.
19. Garden Santa Fe
Located at 1205 Calle Guillermo Gonzalez Camarena in Mexico City, this innovative garden actually hides a mall underground. Beautifully designed by KMD Architects, the structure counters pollution and congestion and makes optimal use of space and light.
Looking like an alien design, you'll find 3 large sinkholes going down from the garden. These sinkholes are actually skylights that allow natural light into the massive underground shopping mall and business hub.
This environmentally sustainable building is definitely worth a visit!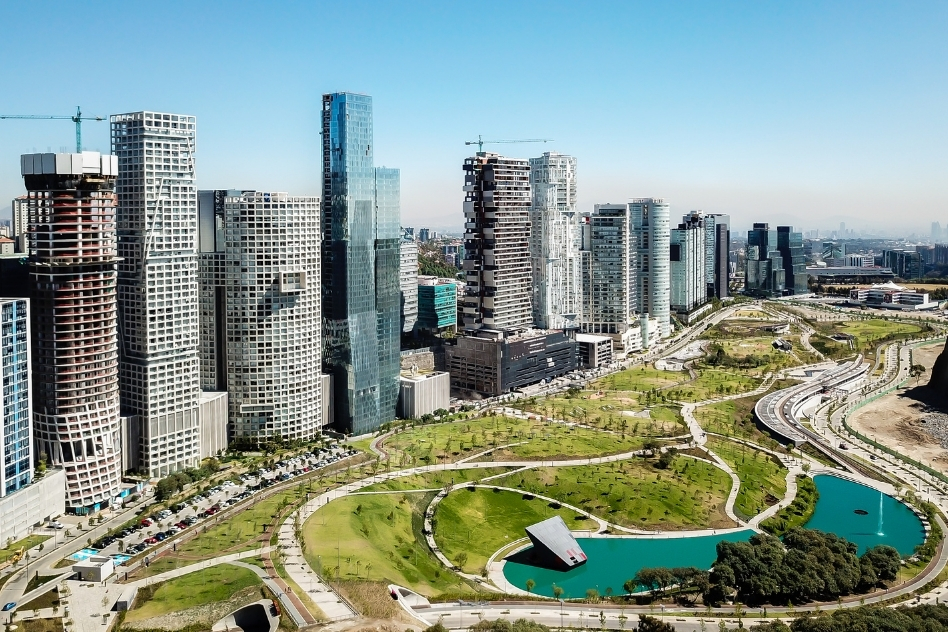 20. See the Day of the Dead Parade (seasonal)
There are many times of the year that are worth visiting when you would like to take part in cultural events. The most well-known time is during the celebrations of the day of the dead.
At the beginning of November, a Day of the Dead parade takes place all over the city including iconic streets such as Reforma, 5 de Mayo, and Tacuba, and people dressed in all sorts of dead themes participate in the festivities!
It all culminates downtown where there is an actual mystical creature design competition. These creatures are called Alembrijes and are a fusion of different animals that are then radiated with color. Remember Pepita in the famous Disney children's movie Coco? She was the alebrije guide of the Rivera family.
Walking down the streets of this city during the parade is an enriching experience and one that tends to feel a lot as though you're traveling back in time. It isn't too hard to imagine bygone eras when the city had a much more pronounced town-derived aesthetic to it.
---
A sprawling metropolis, Mexico City has something to offer every traveler. There are many things to do, including options for free, rainy day, and nighttime activities. Make sure to experience both the ancient history and the contemporary culture of the city, and don't miss out on some fantastic Mexican cuisine. Adios!