What to do and see in Amsterdam? There's so much! From the beautiful canals and historic homes, some of the world's best museums and giant parks, to the fascinating biking culture. Amsterdam has something for everyone – whether you're going for a party, planning a solo cultural trip, or just taking the kids out.
Weekend in Amsterdam is the perfect amount of time to explore and see what makes Amsterdam special, but I must warn you – you'll want to come back for more. If you have more time I highly recommend actually getting out of Amsterdam as well to see the real beauty of the Netherlands.
Why am I competent to give you advice on Amsterdam? I've always had an unexplainable passion for the Netherlands – hence why I did Dutch Studies. I visited multiple times at different stages of my life, learned Dutch, and eventually moved to the Netherlands for a few years. I used to live in Leiden and Amsterdam.
This is the most honest itinerary and I'm not afraid to tell you if something is very boring (like this canal tour that everyone recommends for example) and how to make it way more exciting.
Best Time to Visit Amsterdam
No matter what time of the year you visit you need to prepare for any weather. It will probably rain a bit during your trip because you know – if it doesn't rain for 3 days in a row it makes to the local news.
Spring would be the best time to visit if you want to catch the tulip season. I also love the beginning of the winter in November and early to mid-December. There will be very few tourists then and while it will be cold and rainy this season has some special atmosphere and offers fantastic winter activities.
Is there the worst time to visit Amsterdam? If you want to actually see things and experience some "normal local life" in Amsterdam avoid two events: New Year's Eve and King's Day. It's absolute chaos during these events with disrupted trains and crowds.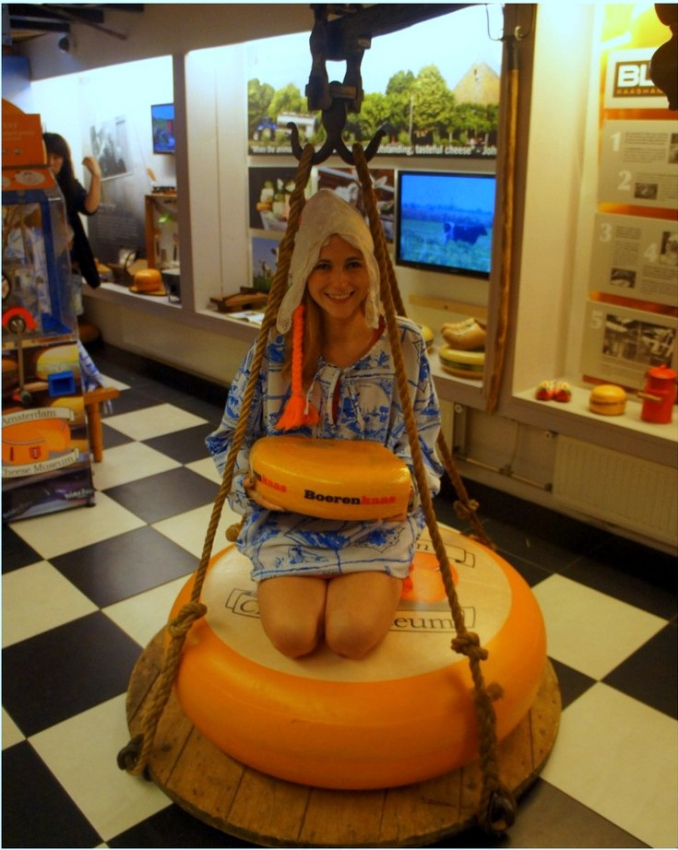 Is Amsterdam Safe?
Amsterdam is very safe if you compare it to any major city in the world. Years spent in the city and I'm yet to hear about anyone getting seriously assaulted and I've seen a fair share of people doing very stupid things. It's definitely a safe place for solo female travelers or young students, don't worry!
Tourists fall into canals when drunk quite regularly, so please be careful while drinking!
Amsterdam isn't free of crimes – there are thieves, but they're strange crimes like having your bike stolen. Bringing your bike seat to work is not strange as they get stolen quite often. I had my bike breaks stolen and a friend had a front-wheel stolen.
However, this doesn't mean that you shouldn't purchase travel insurance. Your trip might get canceled, you might get sick abroad and you don't want to be stuck with a lot of bills. Before I get to our Amsterdam itinerary, we just wanted to remind you to purchase travel insurance. You never know what will happen!
Where to Stay in Amsterdam
If you're only coming for a weekend I suggest staying within de Ring or near Museum Quartier. You don't want to waste your precious limited time by getting to your places of interest.
I have a whole separate post explaining where to stay in Amsterdam, so check it out.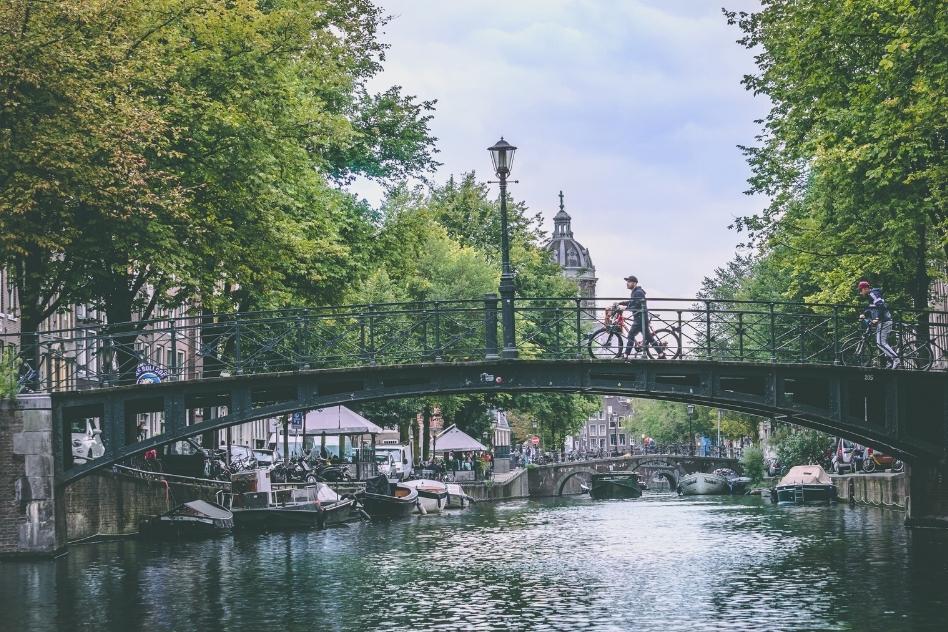 In Short: Amsterdam in 2 Days Itinerary
Day 1: Canals, Jordaan, Museums
Day 2: Markets, Foodhallen, random museums
Day 3 [Add-On]: Get Out of Amsterdam – half-day trip to Keukenhof (if in season) or Zaanse Schans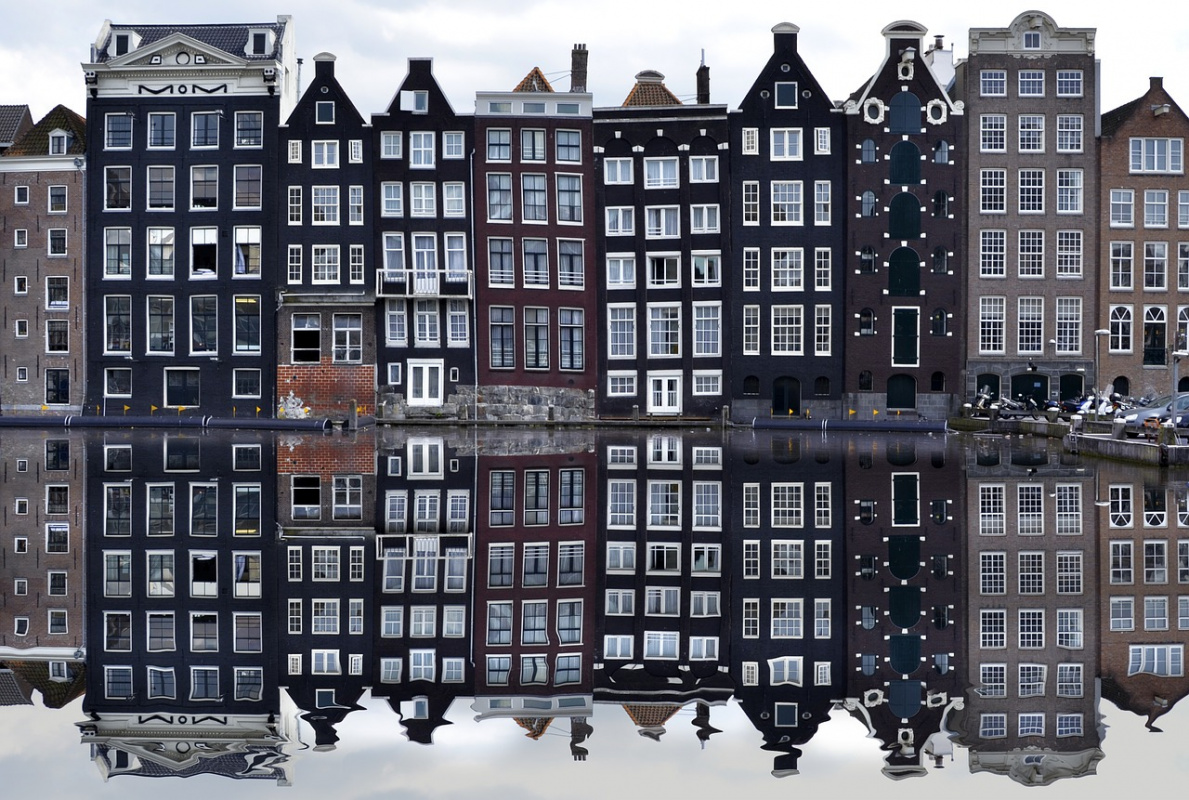 ---
Amsterdam Day 1
Get a feel for the city. See the best tourist attractions that locals
Day 1 Morning
Put on your most comfortable shoes and take a Free Walking Tour. If you want to wander freely around Amsterdam, by all means, I think it's a great place to get lost, but a walking tour can give you a quick glimpse of how to navigate yourself in the city.
There are various free walking tours (it's customary to tip your guide), so why not take it? They'll show you the famous Damrak full of picturesque houses on the canal, historic Dam Square and Royal Palace, Oude Kerk from the 13th century. Most tours also stroll through Red Light District.
I wouldn't pay much attention to the Red Light District to be honest, as much as it sounds hip to tourists.
While you're walking you should stop by the flower market. It's found down on the Singel canal, just off Damrak, where florists have traded on barges since 1862.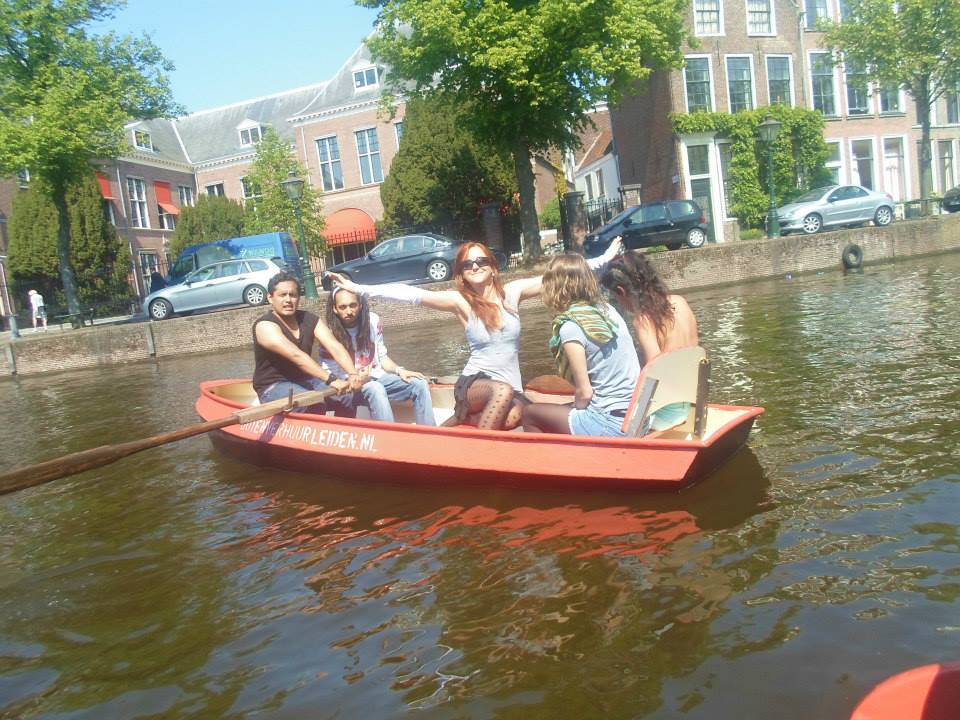 Canal Tour
I noticed most articles recommend a canal tour and link to the main big boat that takes you around the city. I took it when my friends were visiting and I'll warn you – I'm yet to see anyone who actually thought this was fun.
I do recommend hopping on a boat and exploring the canal, but there are better ways to do it than the big covered boat full of tourists. Rent a small boat, with or without the captain. Dutch people do it on a regular basis.
Click a Boat – has a huge selection of small local boats that you can rent for a day if you're traveling in a group
Boaty & Canal Boats – cheapest authentic boats in the city, per hour rentals available
Day 1 Afternoon
Brunch or lunchtime would probably be your first stop. I'll be real – Amsterdam and the Netherlands is not a place for foodies. Dutch food is really not great as it's mostly plain, heavy and fried.
For lunch, every respecting Dutchie eats a sandwich. It can be a spread,
If you're in the city center there are a few cool spots:
– Cafe inside Bijbels Museum – very traditional Dutch, plus you can see the museum of Bibles
– Greenwoods – it has a few locations and usually lines, but it has great eggs benedict
– cafe inside Van Gogh museum – decent small lunch spot if you're in a hurry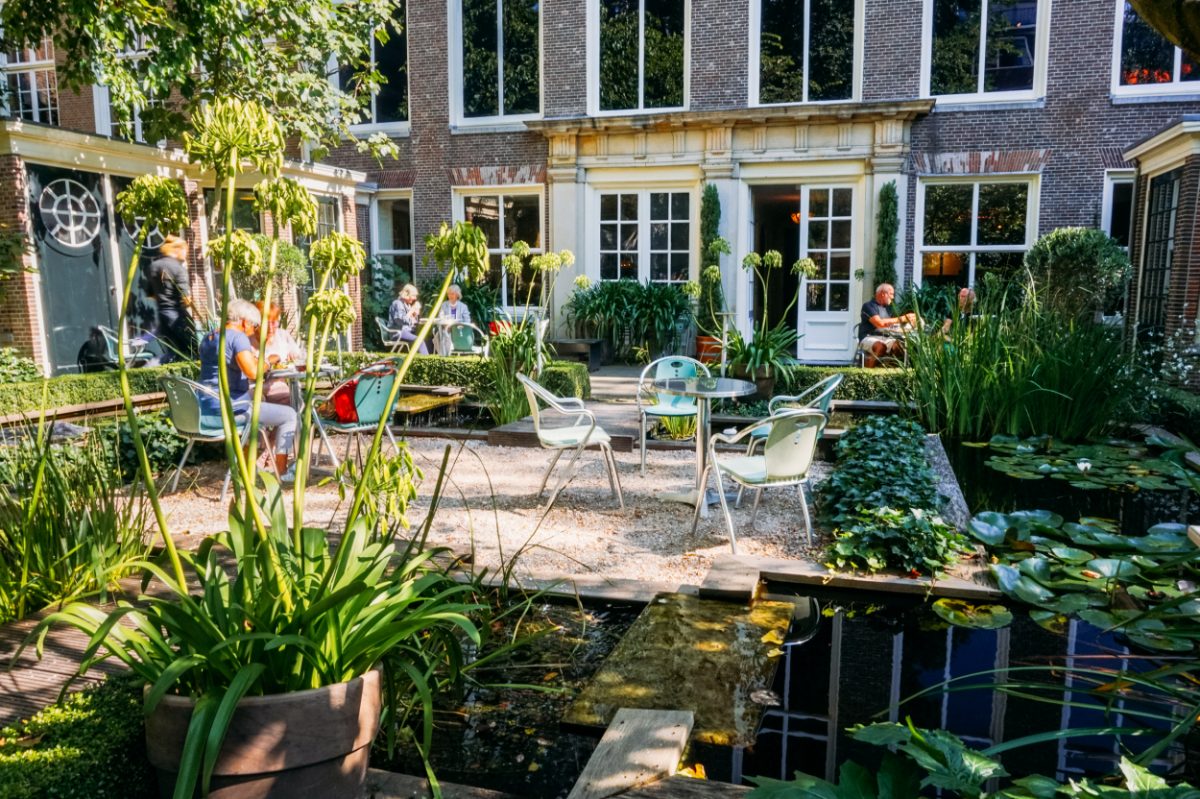 Rijksmuseum
Rijksmuseum needs no introduction and it's a must-see in Amsterdam. Various locals go there frequently to admire the fantastic Dutch art. It's one of those must-see museums in your lifetime. I might be biased as I'm obsessed with Dutch art, but trust me, it's surely worth a visit even if you're not familiar with Dutch art just yet. Rijksmuseum boasts 80 galleries full of art and artifacts that tell the history of the Netherlands.
Winter seasonal – once you finish visiting Rijksmuseum step outside. There are always people playing music, winter market is also there in December. If it's cold enough a big ice rink is set there – you can purchase tickets on the site. If you don't ice skate you can watch teams practicing curling – very popular Dutch sport that involves shaving the ice to move the object to the other side's net (more or less – there's much more to it actually).
Van Gogh Museum
Even though Rijksmuseum is THE museum, the Van Gogh Museum is the most popular among tourists. If you visit in the late afternoon it will be less crowded and you get to enjoy it more.
It's not a huge place (over 200 paintings and over 500 drawings), but has a great selection of Van Gogh works along with some selected work of other impressionists and post-impressionists.
Other museums to choose from:
Amsterdam History Museum – often great exhibits on top of it
Tulip Museum – it will show you a fascinating history of tulips
Recommendation: Save time and money with the I Amsterdam City Card. With this card you get to visit Amsterdam's world-class museums and attractions without extra cost (including those recommended on day 3), but you also get to enjoy unlimited access to Amsterdam's public transport and rent a bike.
Day 1 Evening
Jordaan
Hit Jordaan district in the evening for some nightlife. This suburb has gone through gentrification in recent years and is now quite upscale and inviting.
It has plenty of restaurants, stand-up places, bars, and good local coffee shops. Most tourist crowds never reach Jordaan, which is a big mistake.
Amsterdam Day 2
Day 2 Morning
Local Market – or Albert Cuyp Market
If your day 2 falls on a Saturday head to a local market. Local markets are what I miss about living in the Netherlands the most. Albert Cuyp market in De Pijp, a very local area, consists of 250ish stalls and has a nice atmosphere. Try some stroopwafels, fried kibbeling. Or herring if you dare (it's actually pretty good, just eat it quickly so you doesn't get stolen by a seagull).
Alternatively, hit Waterlooplein Flea Market. It's a local flea market with literally everything on sale – apparently sometimes including bikes that might have gotten stolen 😉 But mostly antiques, second-hand items and snacks.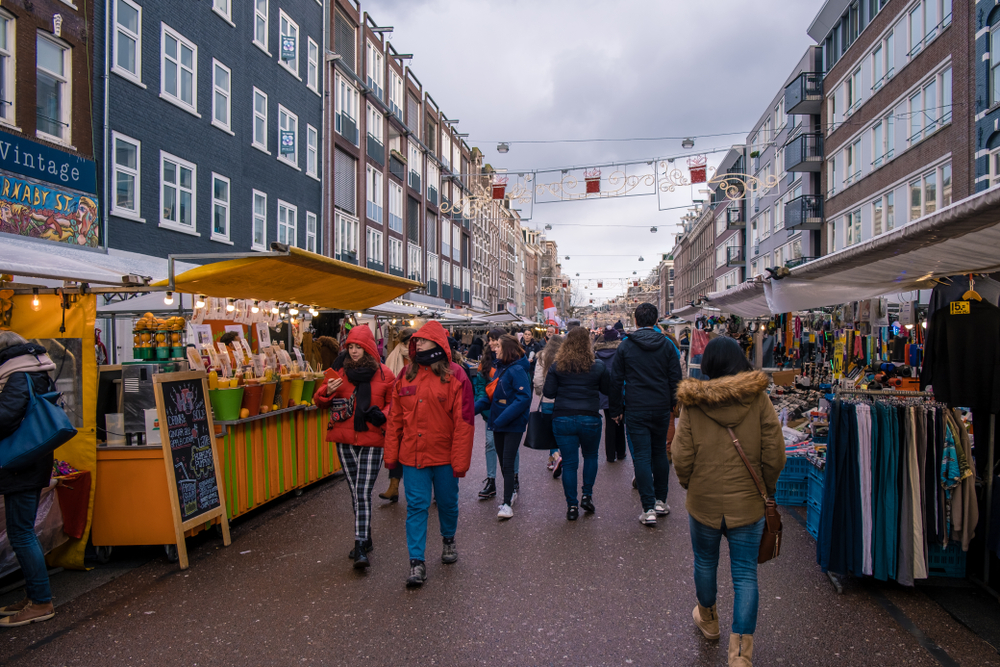 ---
Day 2 Afternoon
Het Amsterdamse Bos
Grab some lunch (Albert Heijn supermarket sells some fresh bread goodies), rent a bike in one of various bike rental spots and head to see some nature at Her Amsterdamse Bos.
Think of it as the Central Park of Amsterdam, but much more remote. Don't be surprised if you see a herd of Scottish Highlanders grazing around, they like to surprise you.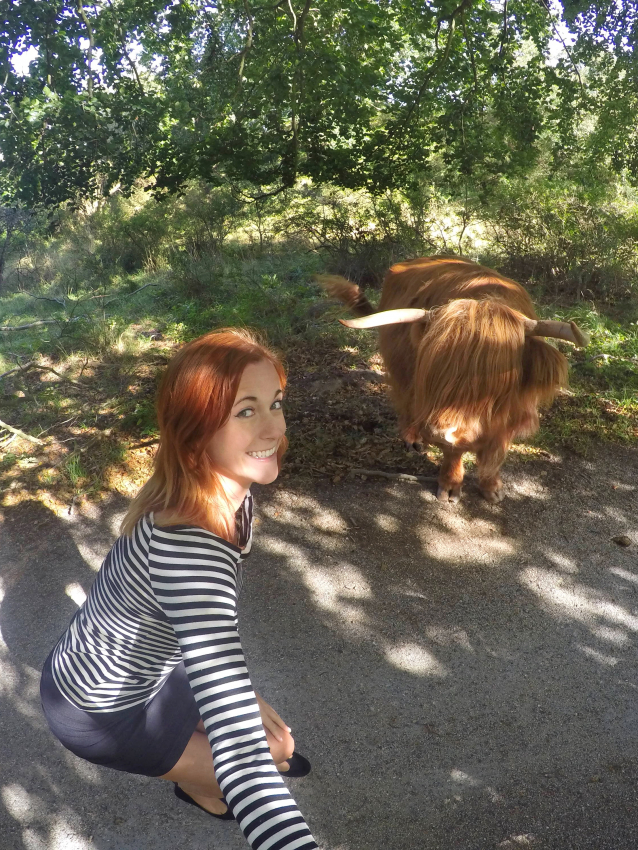 If you don't want to bike and prefer to stay close by, here's an alternative:
Foodhallen & Vondelpark
You can also rent a bike for this one. I'd say you can be more than fine without a bike tour. Just remember to follow road rules and signalize with your hands if you want to turn while biking.
Start your biking tour with Foodhallen for lunch. Foodhallen is a classy indoor food market and bar serving up a range of high-end street food and beverages in historic surroundings. If the weather is nice enough you can load up your lunch in a bag and bike straight to Vondelpark.
Vondelpark is a pretty park, but mostly for those wanting to eat, do some barbeque or get high. It's not amazing, and this is why I personally recommend Het Amsterdamse Bos. Throughout the park are fountains, statues, and plenty of locals exercising and getting together.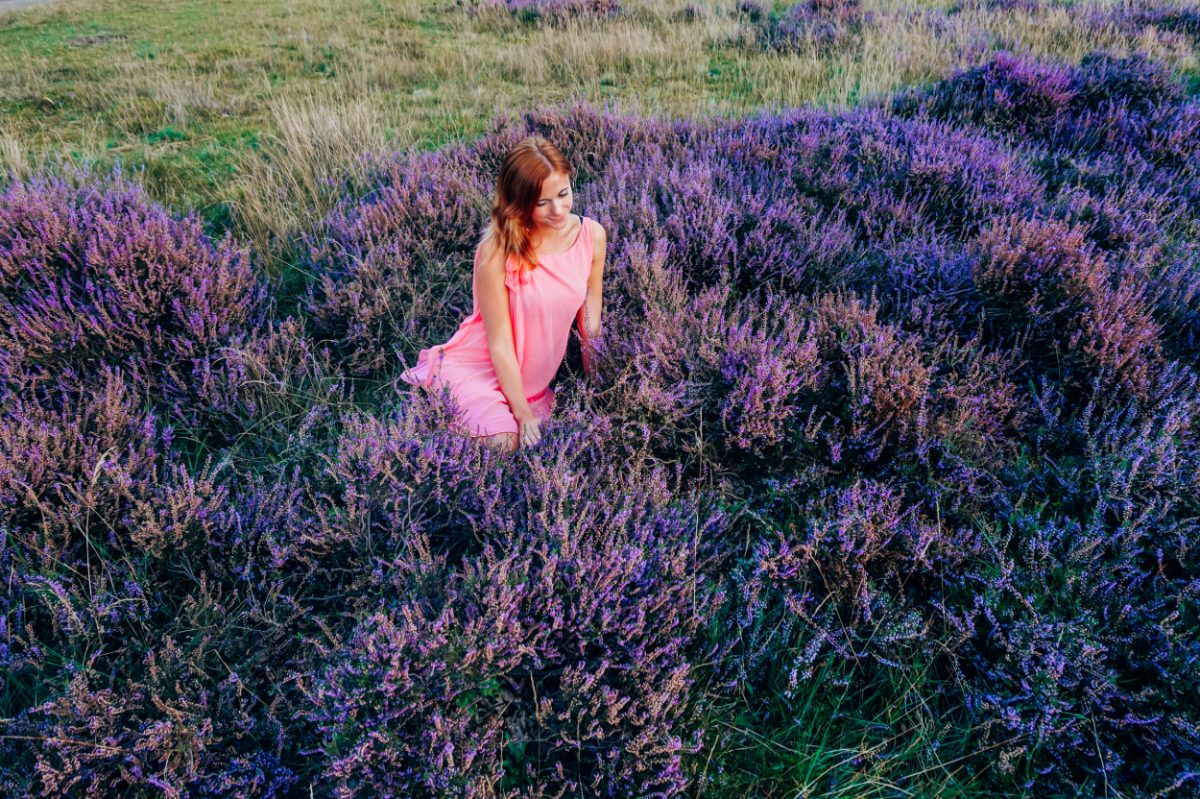 Shopping
Regular stores close relatively early in the Netherlands (apart from shopping evenings once a week – varies per city). If you plan on going shopping do it earlier rather than later.
Day 2 Evening
In the evening you could fill your itinerary with one of the less-usual things to do in Amsterdam, like visiting a catboat or a very random museum.
You can also just head to Leidseplein or Rembrandtplein for some nightlife. Both places are absolutely touristy, but locals hang there too (we used to have company night out there regularly). Once you're done drinking and want to feel like a local pick up a snack from Febo – fried croquette from a vending machine 😉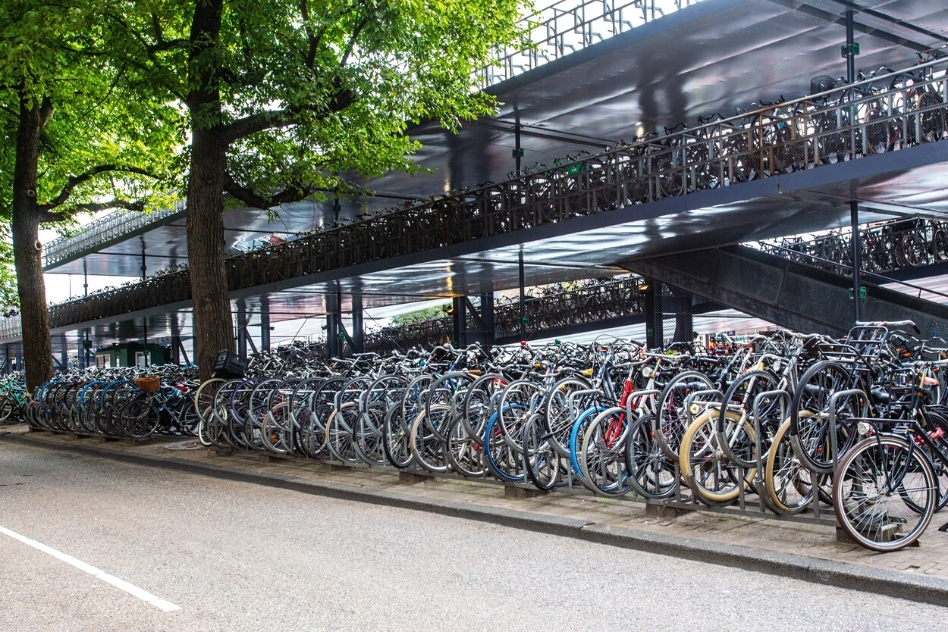 ---
Amsterdam Day 3
Dedicate this day to actually leaving Amsterdam. Most tourists make the mistake of visiting just Amsterdam and missing out on the beauty of the Netherlands. Small towns, nature, getting to know the real Holland.
Because the country is so small you can see most places on a day trip from Amsterdam. Everything is just a short train ride away!
Keukenhof
If you're visiting during the tulip season, you simply must go to the tulip fields. Most people head to Keukenhof – a big seasonal garden, which I think it's totally worth a visit once (click on a post on how to visit), but I also recommend you bike through tulip fields around it.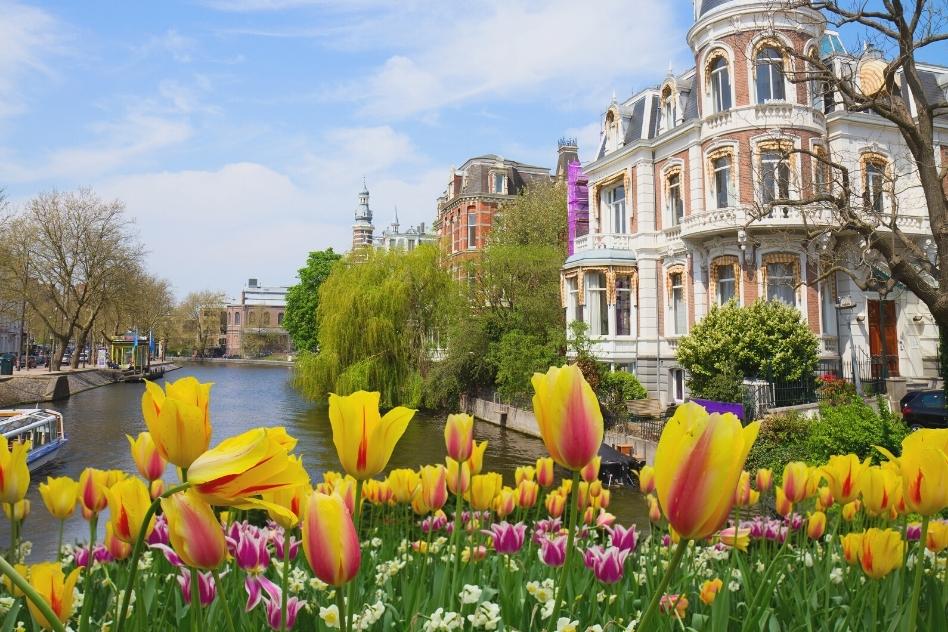 Zaanse Schans
One of the other most popular short day trips from Amsterdam is the village of Zaanse Schans. I absolutely love it. It's an open-air museum of sorts, showing visitors what life was like in the Netherlands back in the 18th and 19th centuries with cheese shops, windmills and first Albert Heijn supermarket.
It's a very picturesque spot that can be reached by bus, train or boat (ferry is included if you got the iAmsterdam Visitor Pass). If you're feeling lazy you can just book a Half-Day Tour of Zaanse Schans Windmills.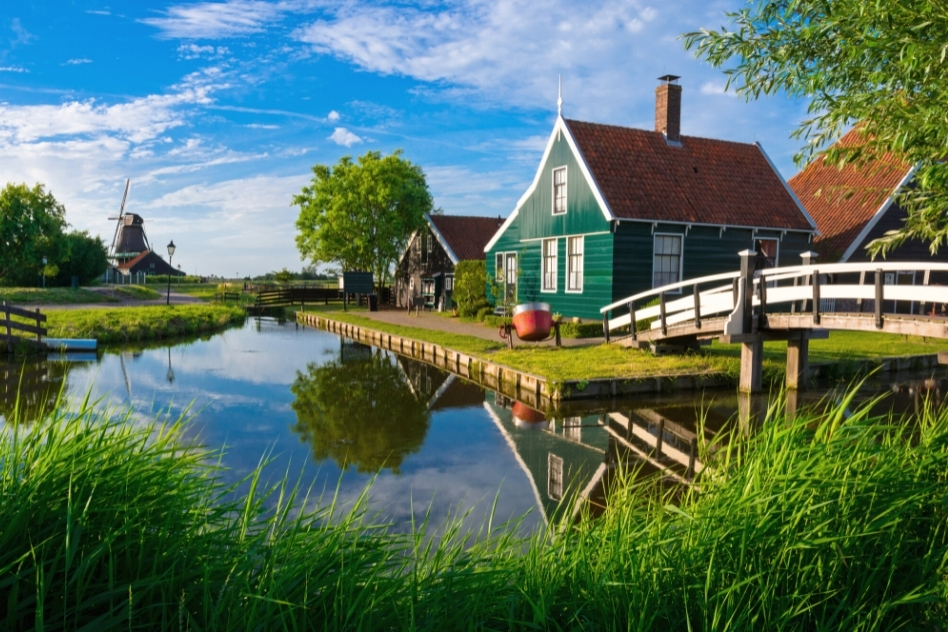 ---
What Didn't Make the Cut?
Anne Frank House
It's always put as a must-see, but I'll be real: it became a tourist zoo. Lines used to be so long it would be 3h minimum wait time (now it can only be visited with a ticket bought online for a specific time slot) and the place it very small and due to its nature not easily accessible (you have to climb the ladder).
If you want to learn more about Jewish history there are much better places to do so – Jewish Historical Museum to start with.
Heineken Experience
If you have some spare time and extra cash you can go, but I don't think it's really worth it – time or money.