If you love art or history, Amsterdam should definitely be high on your travel list. Of course, there's also a lot more to this capital city, ranging from quirky destinations such as the Cheese Museum to simply relaxing on the beach. No matter what you're interested in, you're certain to find some great options for things to do in Amsterdam!
Best Underrated Things to Do in Amsterdam
Amsterdam Best Museums
Unusual Things to Do in Amsterdam
If you're planning on visiting many museums, consider getting an iAmsterdam Card. It gives you access to many museums for free and a ticket for transportation.
There's also Amsterdam Holland Pass that includes free public transportation within Amsterdam, access to top attractions in Amsterdam and other major cities.
---
---
Photograph the Nine Streets
Known locally as De 9 Straatjes, these aesthetically-pleasing streets are also home to an eclectic collection of shops that feature books, art, clothing, food and more.
As you stroll through the Nine Streets, you'll find numerous picturesque scenes that truly capture the unique vibe of Amsterdam. Admire gorgeous canals with your camera in hand.
AVAILABLE TOURS:
Rent a Bike
As the saying goes, when in Rome, do as the Romans do. Or, in this case, do as the Amsterdammers do – ride a bike! Residents of this city have so thoroughly embraced bicycles as their primary form of transportation that Amsterdam is proudly labeled as the world's most bike-friendly city.
This is the best way to experience Amsterdam, and it also enables you to blend in with the locals. However, do respect the traffic rules or you'll get yelled at.
AVAILABLE TOURS: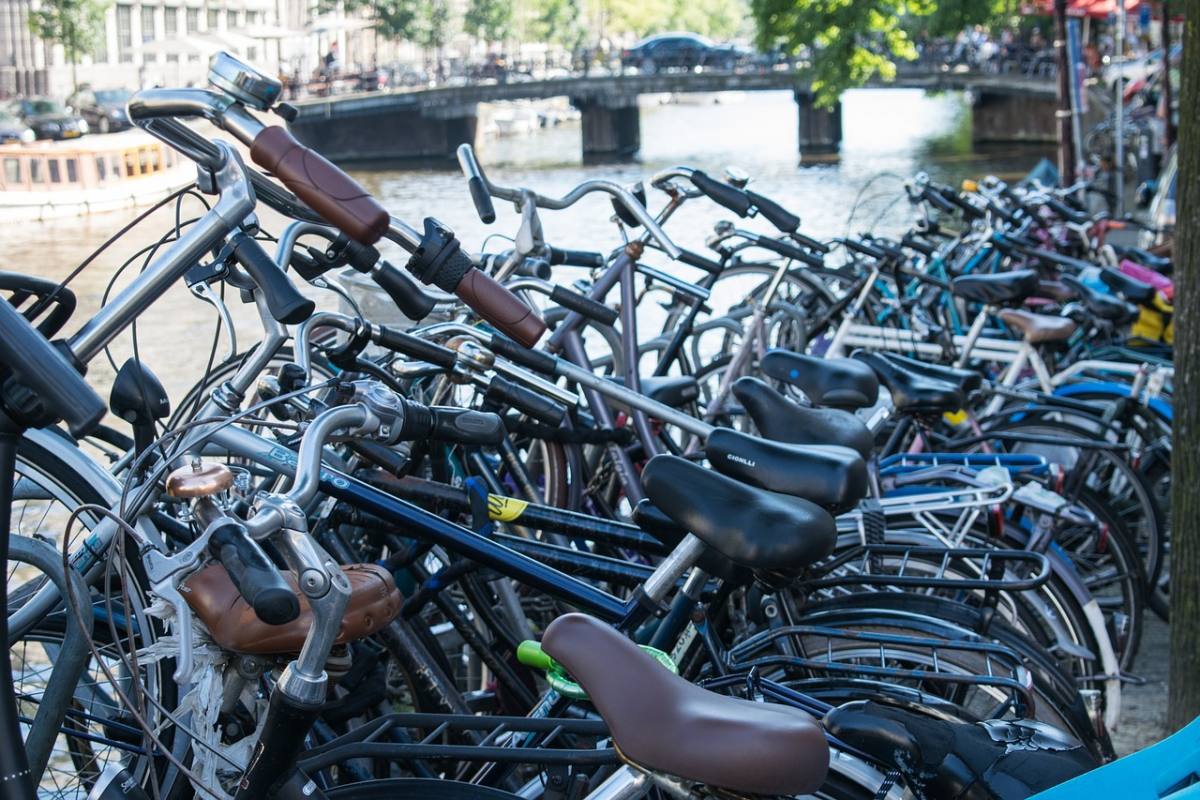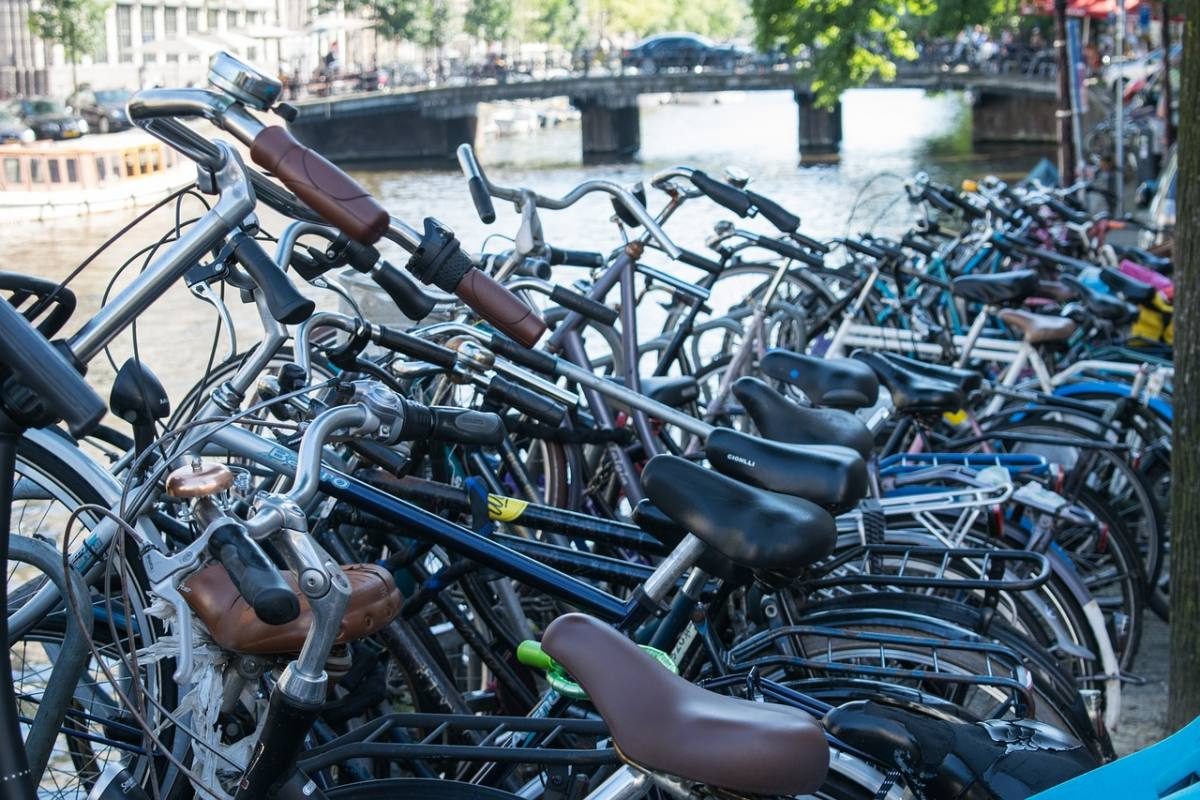 ---
Cruise the Canals
Taking an Amsterdam Canal Cruise is practically a rite of passage for first-time visitors. These cruises provide a unique perspective of the city, and they're also jam-packed with local history.
As an added bonus, in case of rain, they're covered and you can take some wonderful photographs during these tours.
AVAILABLE TOURS: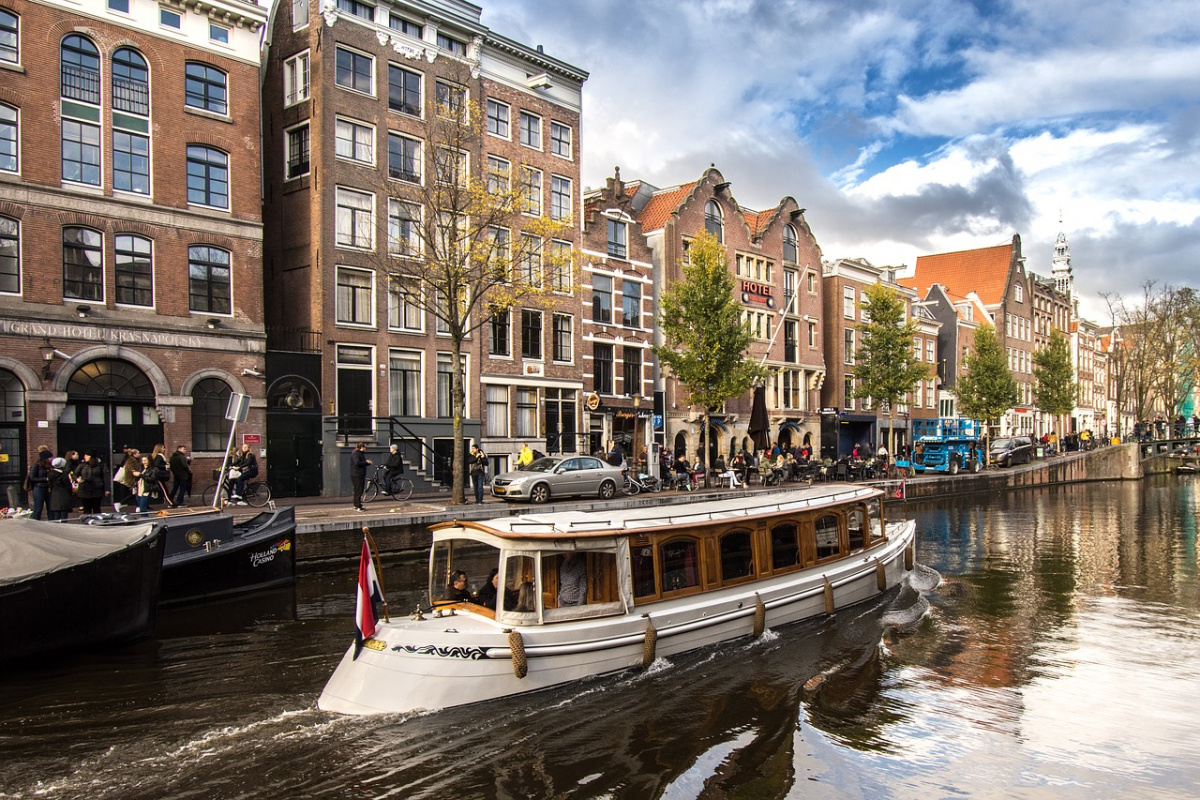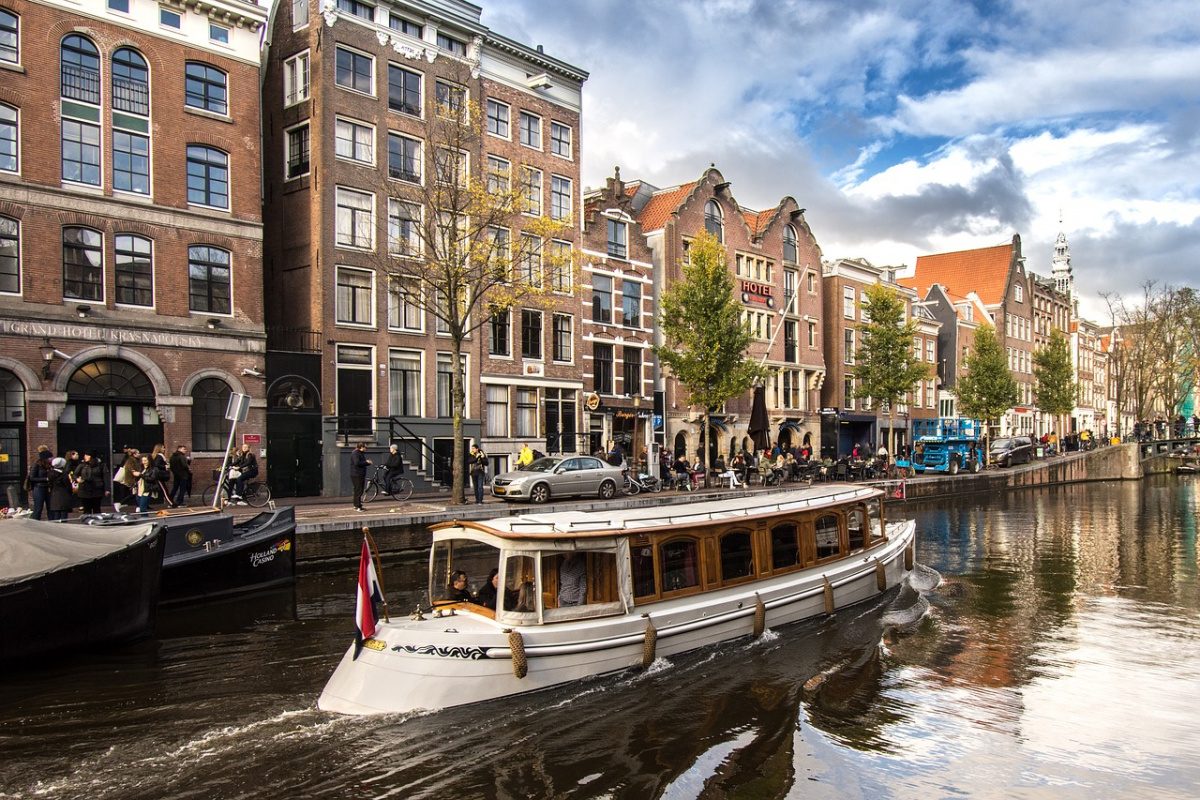 ---
See Amsterdam from Above at Skylounge Amsterdam
The SkyLounge is 11 stories above ground level, which provides access to the stunning Amsterdam skyline. The rooftop bar is located at Doubletree by Hilton hotel, right next to Central Station.
Unlike many cities with a similar attraction, SkyLounge is also part of a restaurant and bar combo that will entertain you with music as you take in the view. It does get busy during the summer on Friday nights and weekends, but it's not impossible to find a spot.
Use a Photo Opportunity
Many cities give tourists the opportunity to dress up in period clothing and take an old-fashioned looking photo, but Amsterdam is the only place where you can become a Rembrandt painting.
MuseumPhoto has several Dutch Era paintings to choose from. You'll be dressed in an outfit just like the one in the painting you select. Who doesn't want a photo as a Milkmaid?
PRE-BOOK YOUR EXPERIENCE:
---
Have a Snack from a Vending Machine
When you want a quick, inexpensive snack on the go, you can head to FEBO for a warm meal delivered via a vending machine. The menu options are similar to what you'd find at a fast food restaurant and include hamburgers, fries and croquettes.
While FEBO isn't something I recommend eating on a daily basis, their kaassouffle tastes really good after a party 😉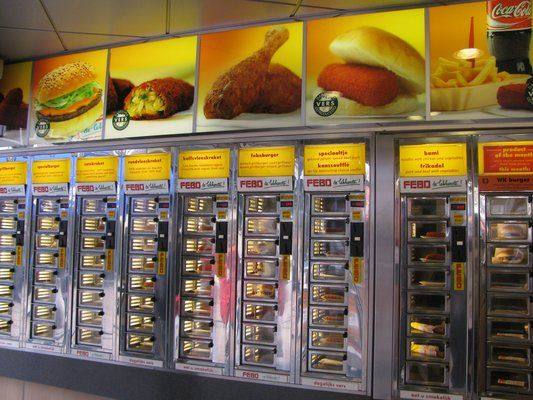 ---
Eat Raw Herring
Eating raw herring has been an Amsterdam tradition for more than 600 years. You'll encounter it at several food stands around Dutch towns. As the name implies, the fish won't be cooked.
However, it's placed in salt for a few days, so you won't actually be eating a fully raw fish, either. It doesn't taste bad at all.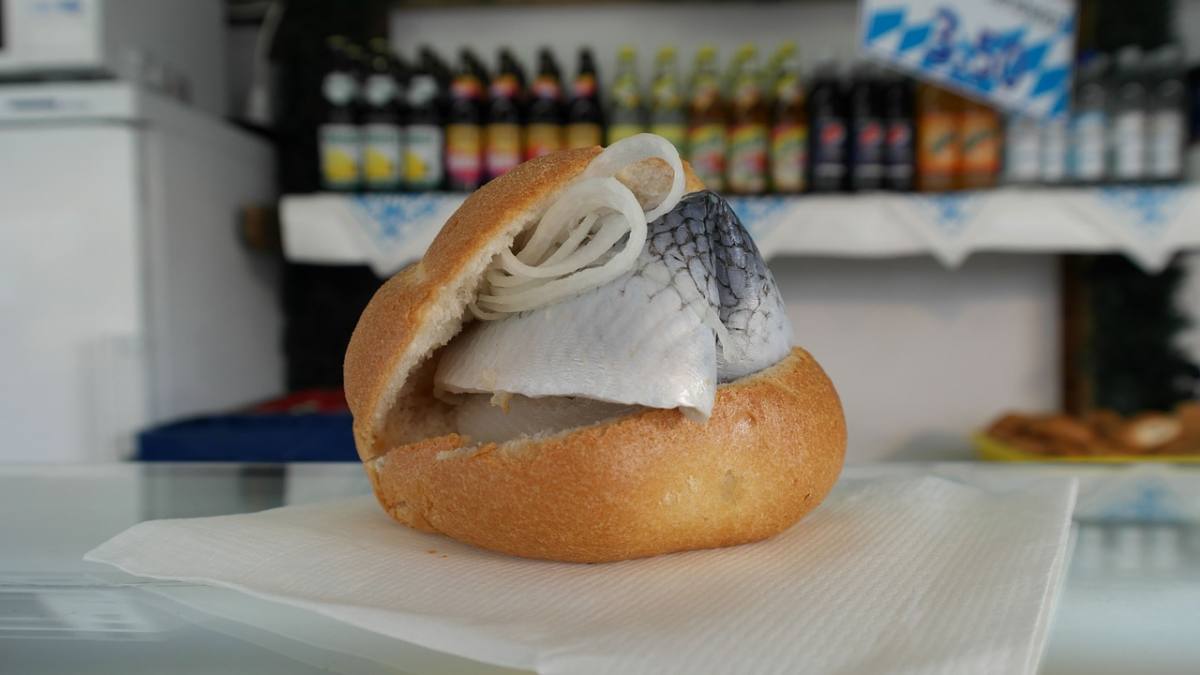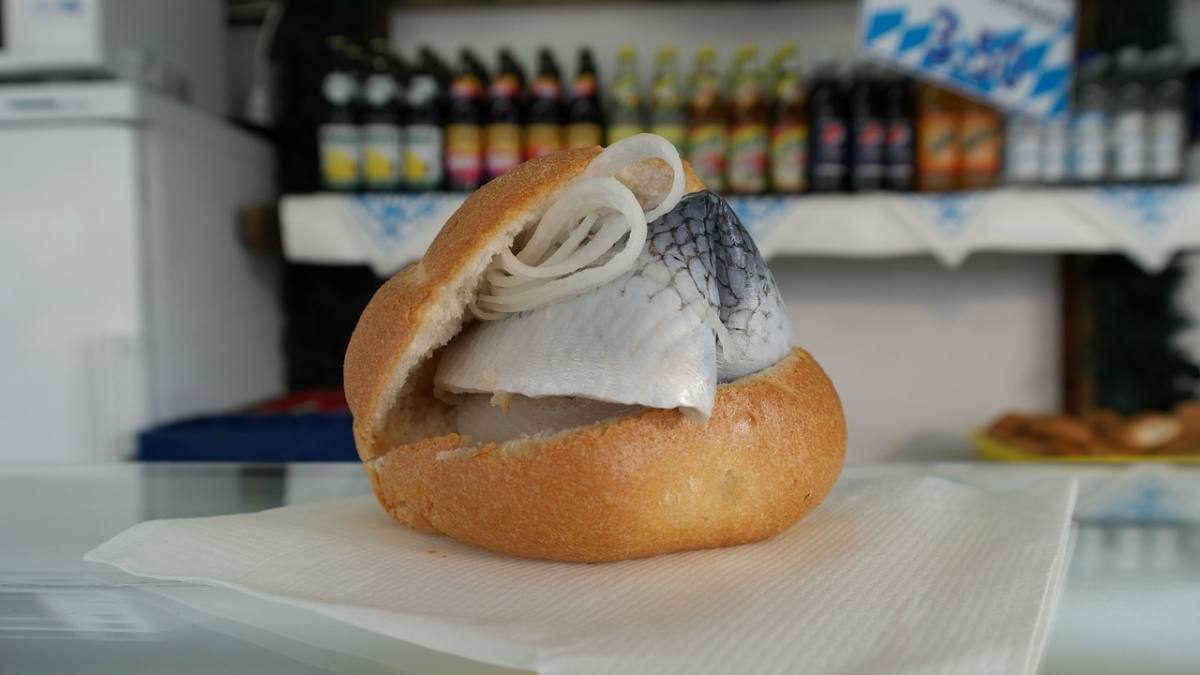 ---
Buy Bulbs at the Flower Market
Amsterdam's Flower Market is famous for a good reason. It features one of the widest selection of tulip bulbs available. You may need to sort through the stalls to find exactly what you're looking for, but flower enthusiasts who vacation in Amsterdam often rave about their unique purchases. It's a nice opportunity for those who aren't visiting during tulip bloom season.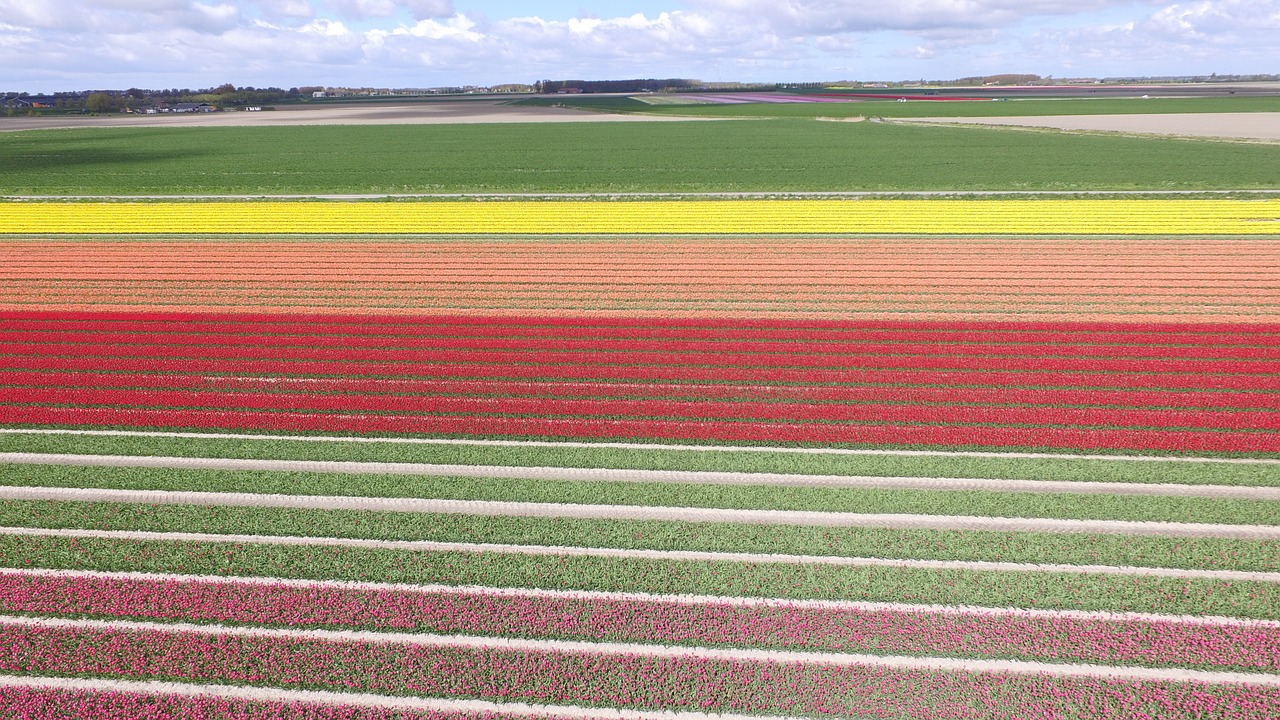 Check Out Zaanse Schans
Only 15 minutes outside of Amsterdam by train or 30 minutes by bus, will give you the opportunity to go back in time. See what early Dutch life was like at Zaanse Schans.
Attractions include windmills, artisan workshops, 18th-century homes, period costumes and chocolate making exhibits that invite visitors to join in. There are a lot of cheese and sweets tastings and you can see the first, original Albert Heijn – Dutch supermarket.
AVAILABLE TOURS: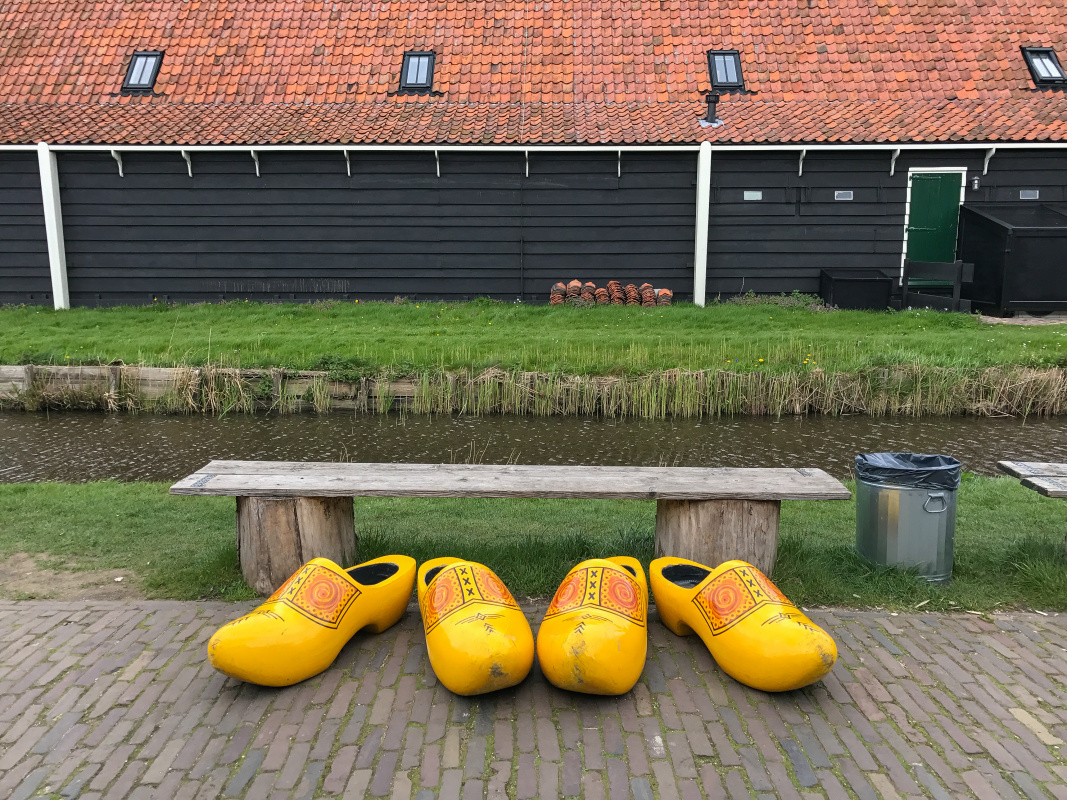 ---
Go To a Coffee Shop
In most of the world, a coffee shop is where you go to get a caffeine buzz. In the Netherlands, these shops do serve coffee and some snacks, but their primary purpose is to offer people a different type of buzz.
Smoking marijuana is legal, and many tourists visit at least one to get the quintessential Amsterdam experience. You'll find coffee shops everywhere, without even trying very hard to find one.
AVAILABLE TOURS:
---
Explore Albert Cuyp Markt
If you want to shop with the locals, it's a good idea to put aside some time for the Albert Cuyp Markt. You can find fresh fruits, vegetables and fish here, along with hot food that's ready to eat.
The market is also known to offer the best fresh stroopwafels in the Netherlands. There's also a nice selection of souvenirs and other items that can serve as great mementos from your trip.
AVAILABLE TOURS:
---
Stroll Through De Wallen
Commonly referred to as the Red-Light District, De Wallen is home to much more than just legalized adult entertainment. You'll also find museums, boutiques, restaurants and medieval buildings.
If you are looking for something of a more sensual nature, head to the Erotic Museum and to see its collection of John Lennon art.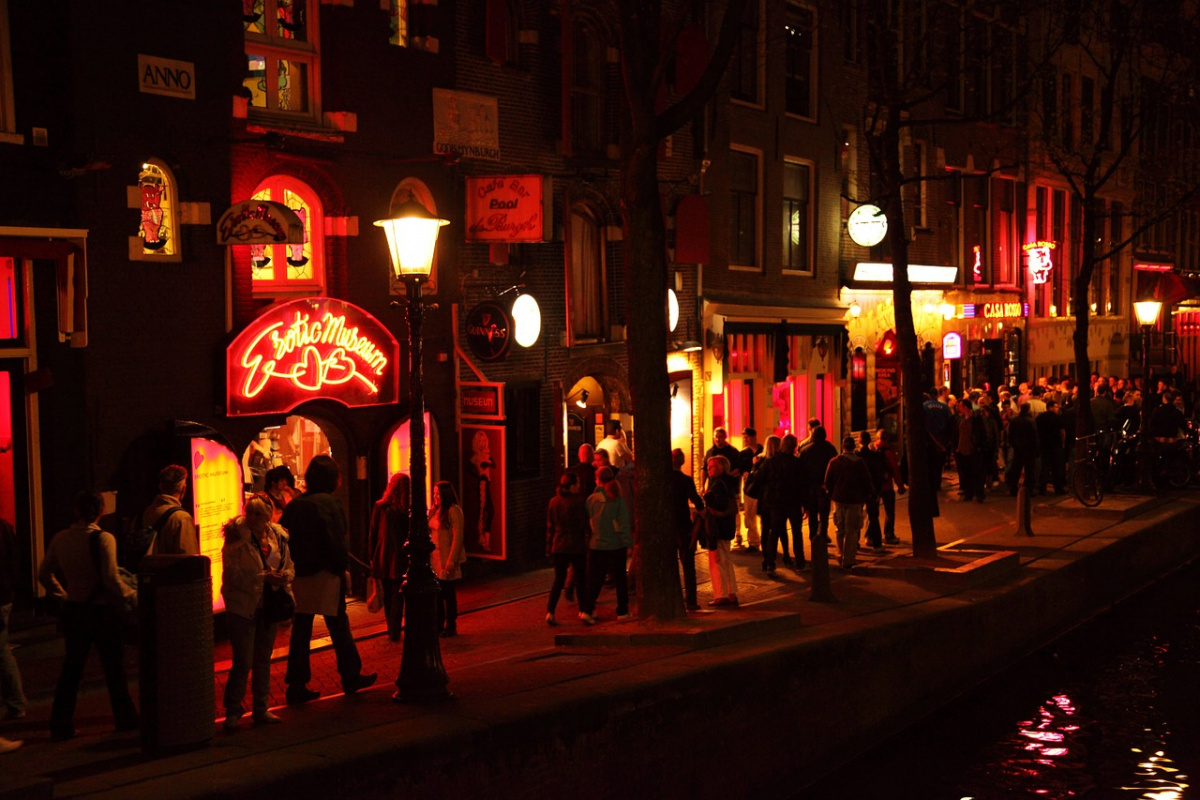 ---
Get Out of Amsterdam
There are several fantastic day trips you can take such as the previously mentioned Zaanse Schans. Other nearby and worthwhile options include Keukenhof Gardens, where you can see more than 7 million flowers in bloom (from March until June).
The Alkmaar Cheese Market is a good destination for foodies, and most tourists also fall in love with the hip city of Rotterdam.
Check Out: Best Day Trips from Amsterdam
Listen to a Concert at VondelPark
Vondelpark is worth a visit no matter when you go to Amsterdam, but it offers something extra in the summertime. The Open-Air Theater operates on Fridays, Saturdays and Sundays from May through September.
Admission is free, although donations are accepted. You can join the locals on Sunday mornings for a classical music concert.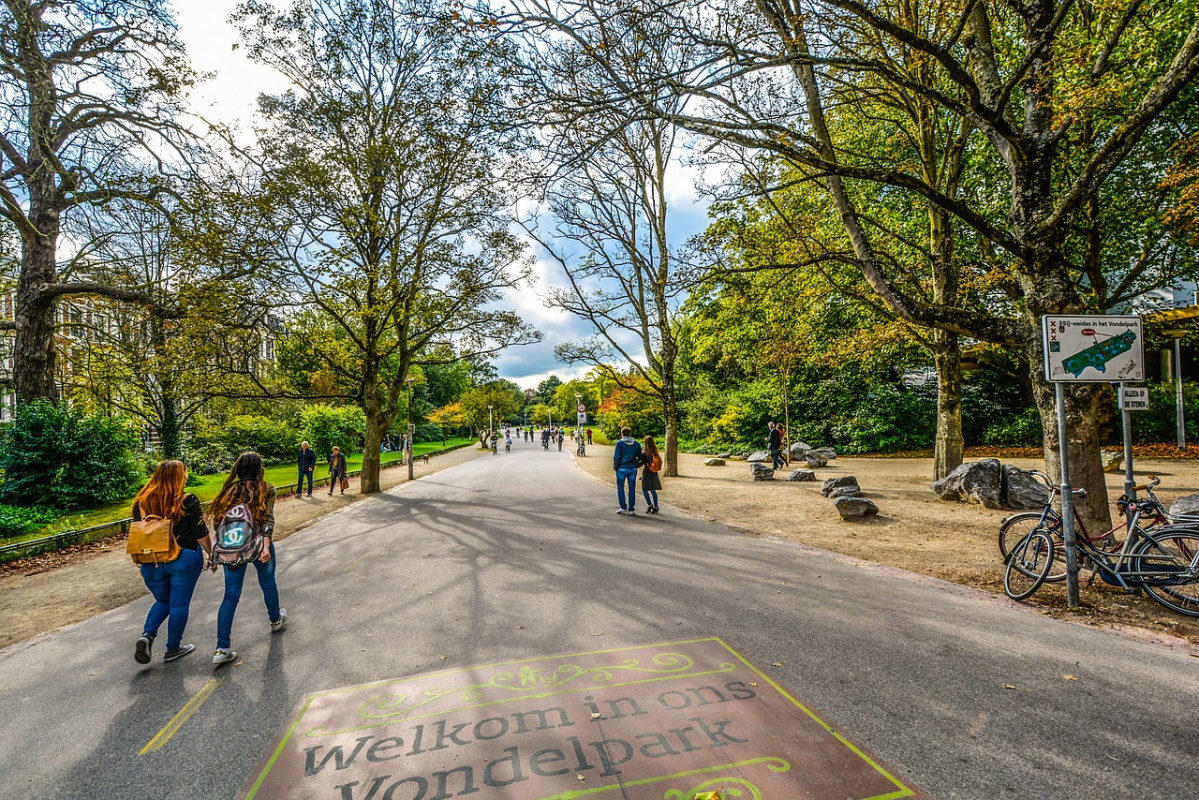 ---
Explore Amsterdamse Bos
This forest is so huge that you could fit New York City's Central Park inside of it three times. Bird watchers will especially love a visit to Amsterdamse Bos because there are more than 200 bird species within the forest's nearly 2,500 acres.
There are also 150 indigenous tree species to discover in this beautiful green space.
---
Amsterdam Best Museums
Rijksmuseum
This museum takes you through the history of the Netherlands and the Dutch people. Art is on display that ranges from the Middle Ages to modern times, and there are also special exhibits that pop up throughout the year.
While most people come to Rijksmuseum to see Rembrandt's Nightwatch or Vermeer's works of art, the museum has way more masterpieces than that.
PRE-BOOK YOUR TICKETS: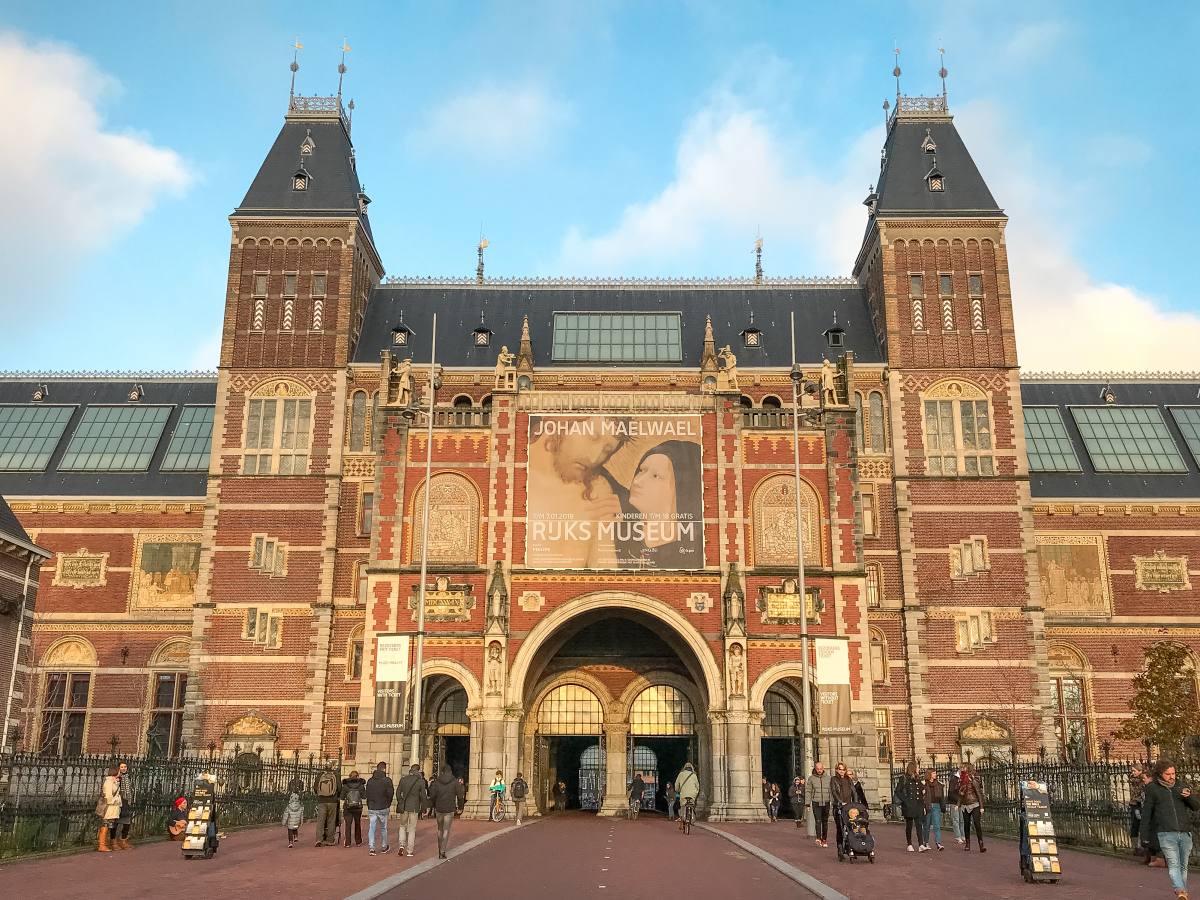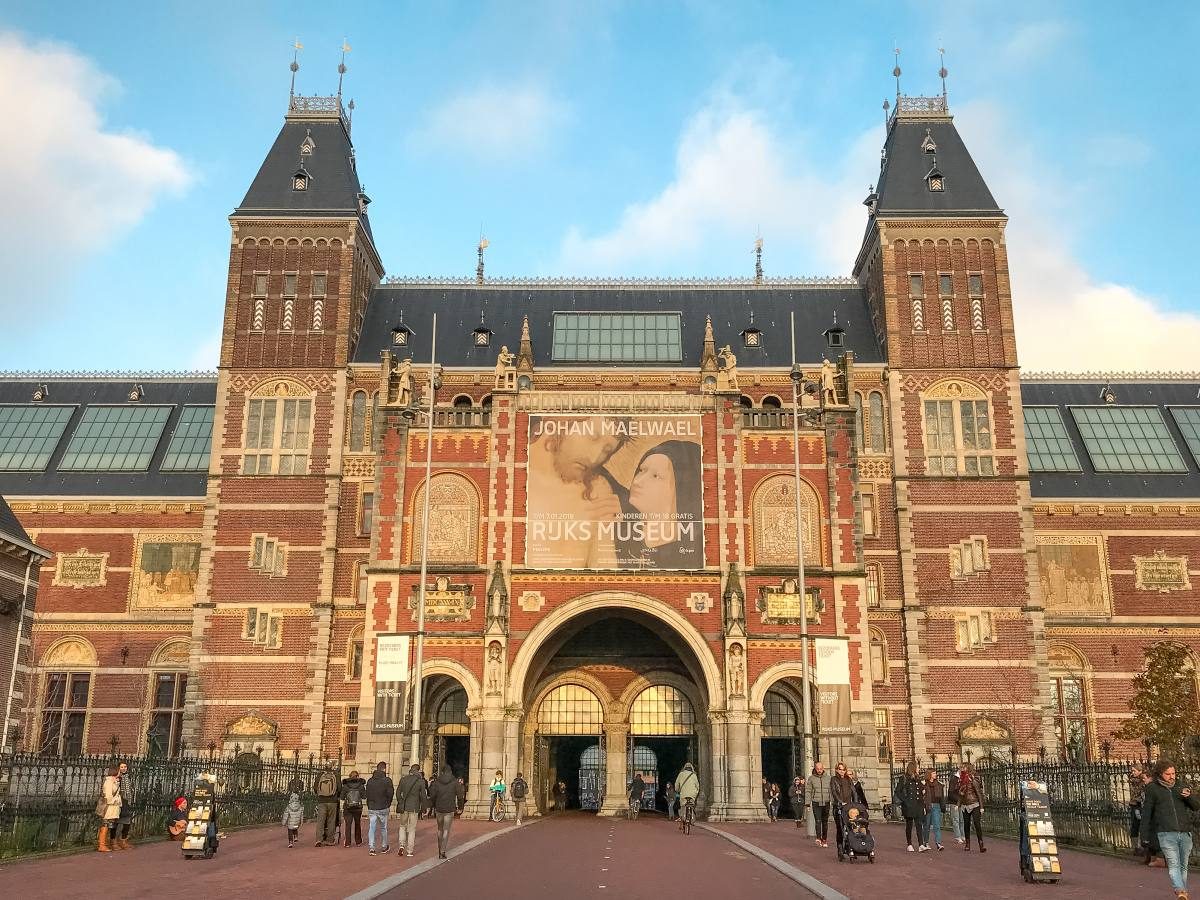 ---
Anne Frank House
The Anne Frank House biographical museum is one of the most popular tourist destinations in Amsterdam. As a result, you'll want to purchase your tickets online two months in advance or prepare to wait in line for hours.
The subdued atmosphere inside the house is appropriate for the subject matter. You'll see the actual house where Anne Frank and her family were hidden from the Nazis for more than two years.
You will have to climb ladders and small stairs, so keep it in mind when you visit if you have limited mobility.
Van Gogh Museum
Art lovers from around the globe flock to the Van Gogh Museum to see some of the artist's greatest paintings. The walls of this museum are also adorned by several of Van Gogh's contemporaries.
In total, there are five floors of artwork, and this includes the world's largest Van Gogh collection. Usually, you can wait a bit and purchase your tickets upon arrival.
House of Bols Museum
Across the street from the Van Gogh Museum is a completely different museum experience. Anyone who enjoys a good cocktail and is interested in the history of alcohol will love this attraction.
The House of Bols provides an interactive look at cocktails and bartenders, and everyone gets to try their choice of cocktail (they're seriously delicious and innovative!).
You'll also learn all about Bols Amsterdam 1575, which is the oldest distilled brand in the world.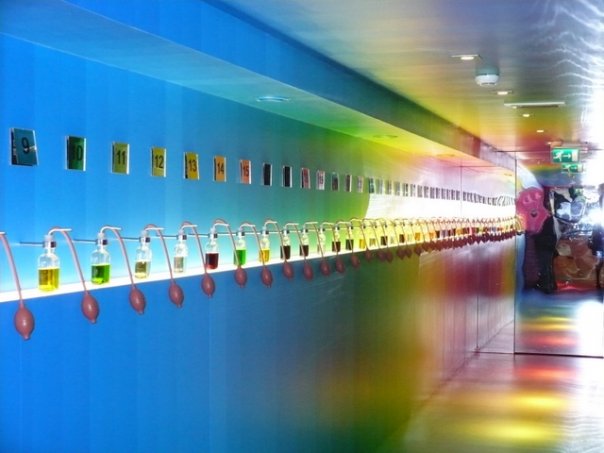 ---
Heineken Experience
Your journey through the history of alcohol doesn't have to end with the House of Bols. Instead, continue on to the Heineken Experience to find out about the company's history and the natural ingredients that go into each beer. There's also a tasting room where you'll get to enjoy your beer.
Rembrandt's House
Do you want to walk in the footsteps of greatness? Rembrandt actually lived and painted in this house for more than 20 years. You'll enter the room where he worked, see how he had it arranged and learn about his time in Amsterdam.
This tour provides a fascinating look into Rembrandt's life and artistic process. It's a less crowded place than top spots like Anne Frank house, so the lines are usually short.
Stedelijk Museum
Fans of modern art, design and contemporary art will feel right at home inside the Stedelijk Museum. The permanent collection includes a mixture of mediums such as paintings, digital media and sculptures from the 20th and 21st centuries.
Artists on display include Vincent van Gogh, Jackson Pollock, Andy Warhol and Henri Matisse. They even had a temporary Banksy exhibit last year.
---
Unusual Things to Do in Amsterdam
Swing on Europe's Tallest Swing
Amsterdam has the perfect attraction for tourists who love to push their limits with thrilling experiences. Swing 330 feet off the ground from the top of A'DAM Tower.
This is the highest swing teeter in Europe, and it literally puts you "Over the Edge." The view of the city is unlike any other. As an added bonus, you'll receive a free digital photo of your swing ride.
Visit a Cat Boat
Amsterdam's Poezenboot is one of the most unique animal sanctuaries in the world. People can board the catboat to adopt a new furry family member.
Tourists are also invited to tour the boat to see the animals and learn the history of the sanctuary. There is no admission fee, but donations are accepted and help take care of the cats. The cat boat is only open on specific days, so make plan your visit in advance.
Admire Cat Cabinet
Anyone who loves cats will want to add the Cat Cabinet to their itinerary. Also known as KattenKabinet, this museum is dedicated entirely to art about cats.
This isn't merely a hodgepodge of modern pieces, either. Within the KattenKabinet, you'll find cat art from many notable names such as Rembrandt or Picasso.
---
Join a Random Event at Dam Square
Dam Square is a historical landmark in the heart of Amsterdam where you'll encounter statues, impressive architecture and a long list of random events. Street performers often start impromptu events, but you may also find a scheduled event if you look online before heading to Dam Square.
Either way, you're certain to be entertained. My friends and I joined a pillow fight there once and it was a lot of fun!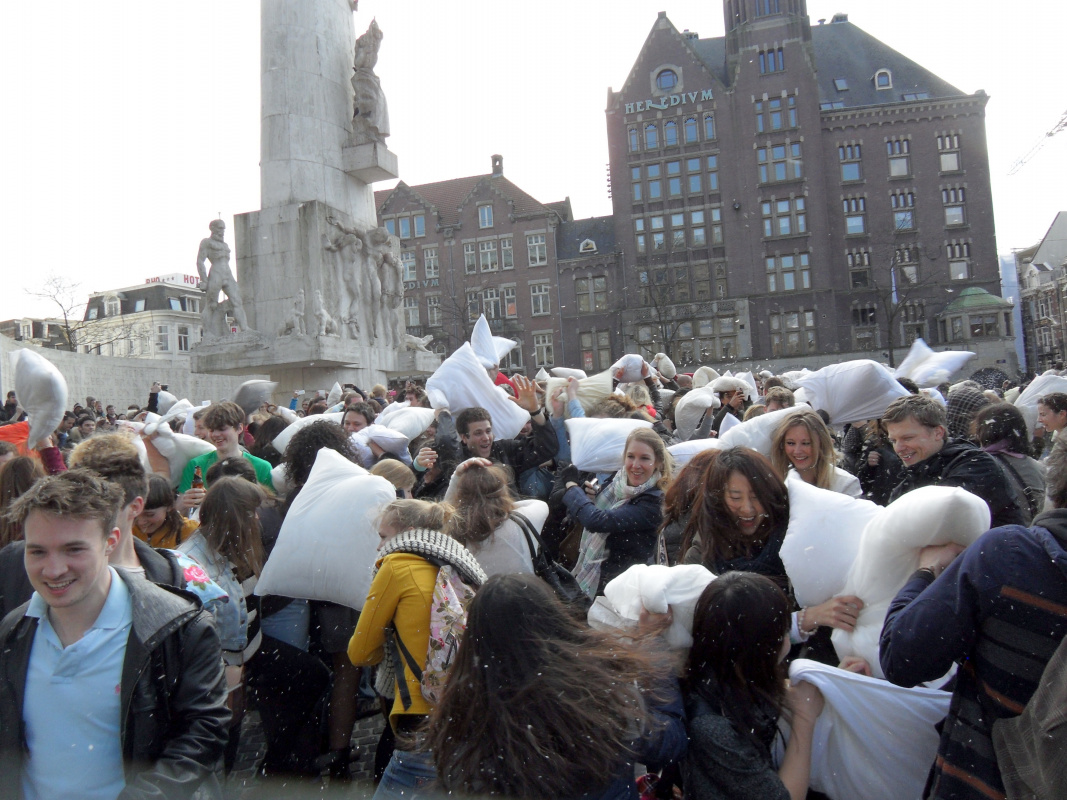 ---
Eat Dinner in the Dark
When you lose your eyesight, all of your other senses become heightened. This is the concept behind Ctaste, where every meal is served in the dark. Diners are led into the completely dark dining room.
Once everyone is in place, the wait staff brings out the first course. An extra added twist is that there are no menus, and none of the diners know what they'll be eating. This is a must-do for all adventurous foodies.
I found the food actually better at Ctaste than in Dans le Noir in London.
BOOK YOUR TABLE:
---
Discover Electric Ladyland
Travelers who want a one-of-a-kind experience will get their wish with a visit to Electric Ladyland. This fluorescent art museum is filled with minerals, art and other items that glow under ultraviolet light.
Aside from the mind-boggling visuals, you'll also receive a lesson about the science and history of fluorescence.
Get Goofy at the Cheese Museum
Cheese enthusiasts will learn about the history of this tasty food and how it is made. Although the museum portion isn't very big, there's also a cheese tasting area and a shop that has an impressive selection of Dutch cheeses.
Most people head to this attraction for the opportunity to try several Gouda cheeses (including the bright blue one!) for free and take goofy photos.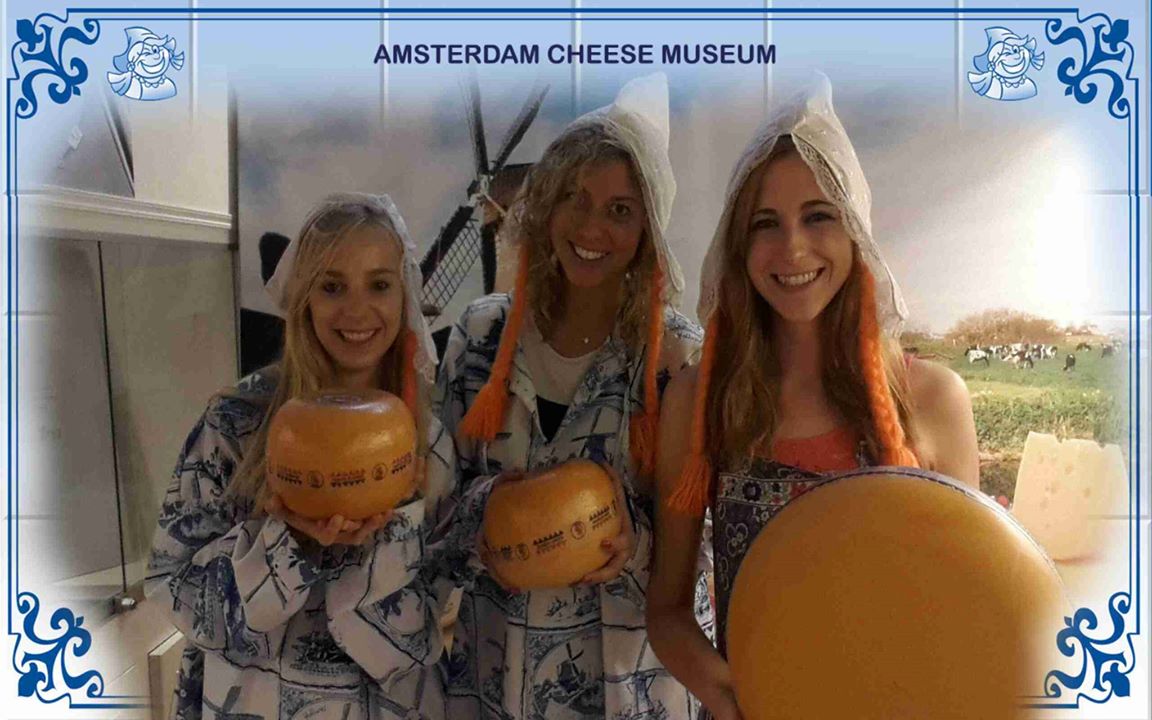 ---
Visit Micropia
The world's first museum dedicated exclusively to microbes enables visitors to see things that are usually invisible to the naked eye. This educational attraction has devoted itself to teaching people that microbes do much more than cause illnesses.
See a Movie at Pathe Tuschinski
Pathé Tuschinski, originally Theater Tuschinski, is a movie theater from 1921. It's perhaps the most stunning cinema in the world. The interior and exterior blend several designs with a heavy emphasis on Art Deco, so make sure to arrive before your movie actually starts to admire it all. Walk around, find the small stairs and beautiful little corners.
See a Movie at Roest
This hip, former industrial space offers indoor and outdoor seating, along with weekend brunch, artifacts from old steam engines, comfy seating, special events and movie screenings. Whether you just want to relax or prefer to see a movie in a setting you'll never forget, be sure to check out Roest.
Climb Westerkerk Tower
This ancient church is located next to Anne Frank's House. Anyone who is familiar with her diary may remember Anne Frank writing about how much she liked the church bells.
Visitors can climb the tower to see not only those bells but also one of the best views of Amsterdam.
Go to the Beach
Travelers have several options if they want to spend some time sunbathing in Amsterdam. Strand Zuid is a very popular option, and it features a volleyball court, hammocks and upscale cocktails.
However, it doesn't have swimming facilities, so you'll need to go to Sloterpas Swimming Beach if you want to get in the water.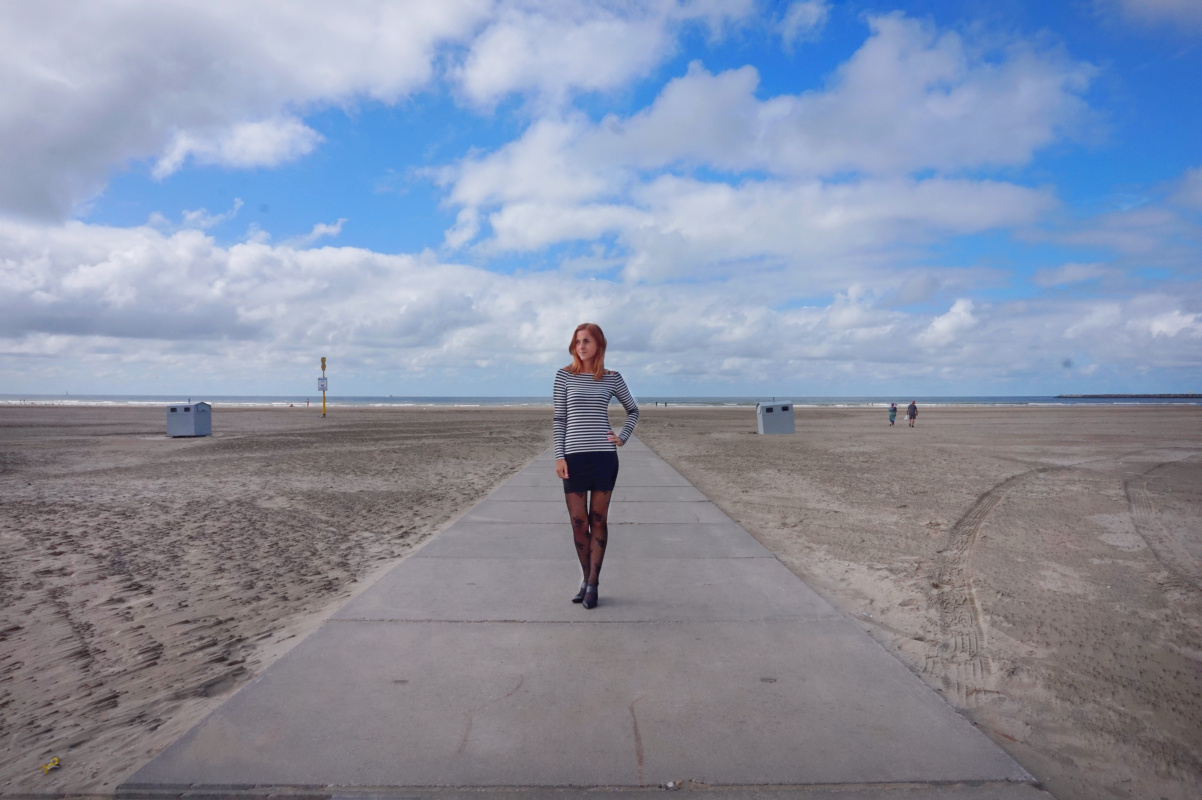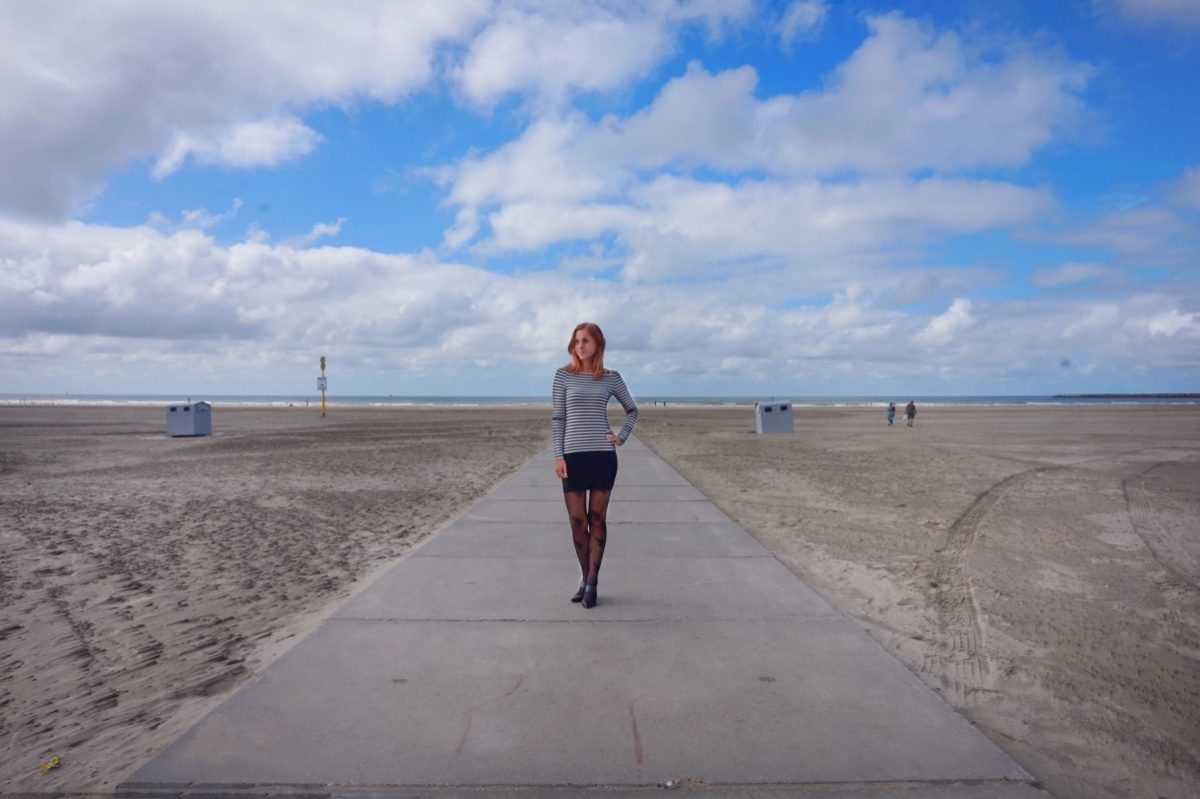 ---
Unless you'll be in Amsterdam for an extended vacation, the odds are high that you won't get to see and do everything on this list. To give yourself the best taste of life in Amsterdam, we recommend picking at least one or two items from each portion of the list.
For example, if you'll only be in the city for a day, you could rent a bike, go to the Van Gogh Museum and then Climb Westerkerk Tower to get an unforgettable view of the city.
Of course, no matter where you decide to go, you're virtually certain to have a good time in the quirky city of Amsterdam! Happy travels!