While it's easy to find a hostel, apartment, fancy hotel, or local guesthouse in Amsterdam isn't hard, picking the best area to stay in Amsterdam can make or break your trip. Amsterdam is a very diverse city, despite its size. Each neighborhood in Amsterdam is different.
I've lived in Amsterdam, so this guide isn't something that I created after a single short visit. Here are my recommendations for the best places to stay in Amsterdam to ensure you'll have a great time on your trip.
Best Areas to Stay in Amsterdam
Map of Amsterdam Neighborhoods
Amsterdam is relatively small with only 850,000 inhabitants sharing 219.3 square kilometers / 84 square miles. This is why I highly recommend visiting other parts of the Netherlands as well, as this country is full of charming towns and villages.
Amsterdam can be divided into The Ring area and areas outside of the ring, basically on the outer side of A10 Highway. Areas within are also divided into smaller areas. Most hotel booking websites classify Amsterdam City Centre as the area within The Ring.
Amsterdam is broken up into 8 districts or boroughs (stadsdelen), which are divided into neighborhoods. These neighborhoods might seem confusing to a first-time visitor to Amsterdam, but they're very helpful when it comes to getting around.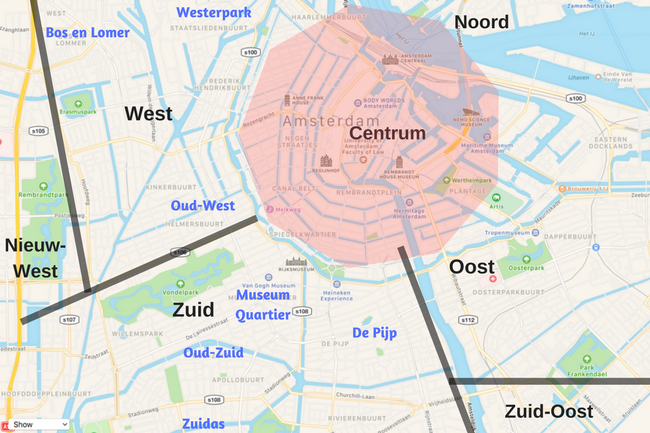 ---
---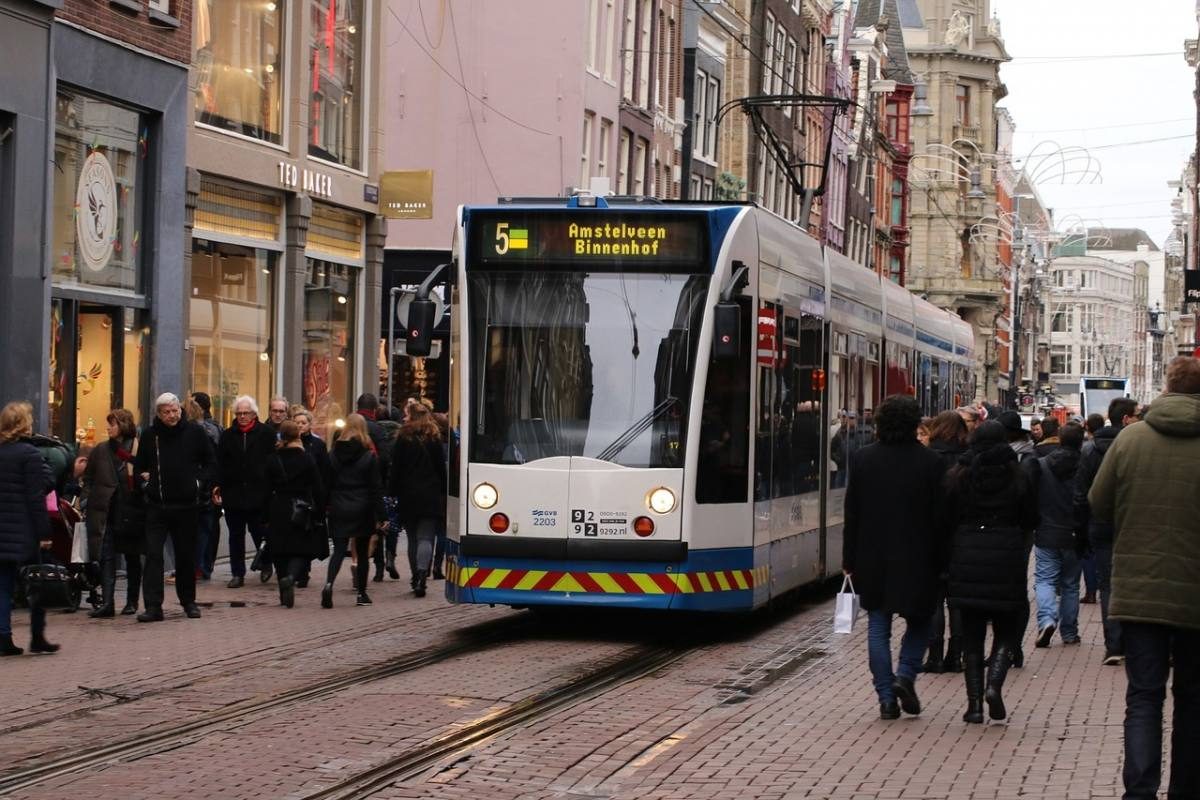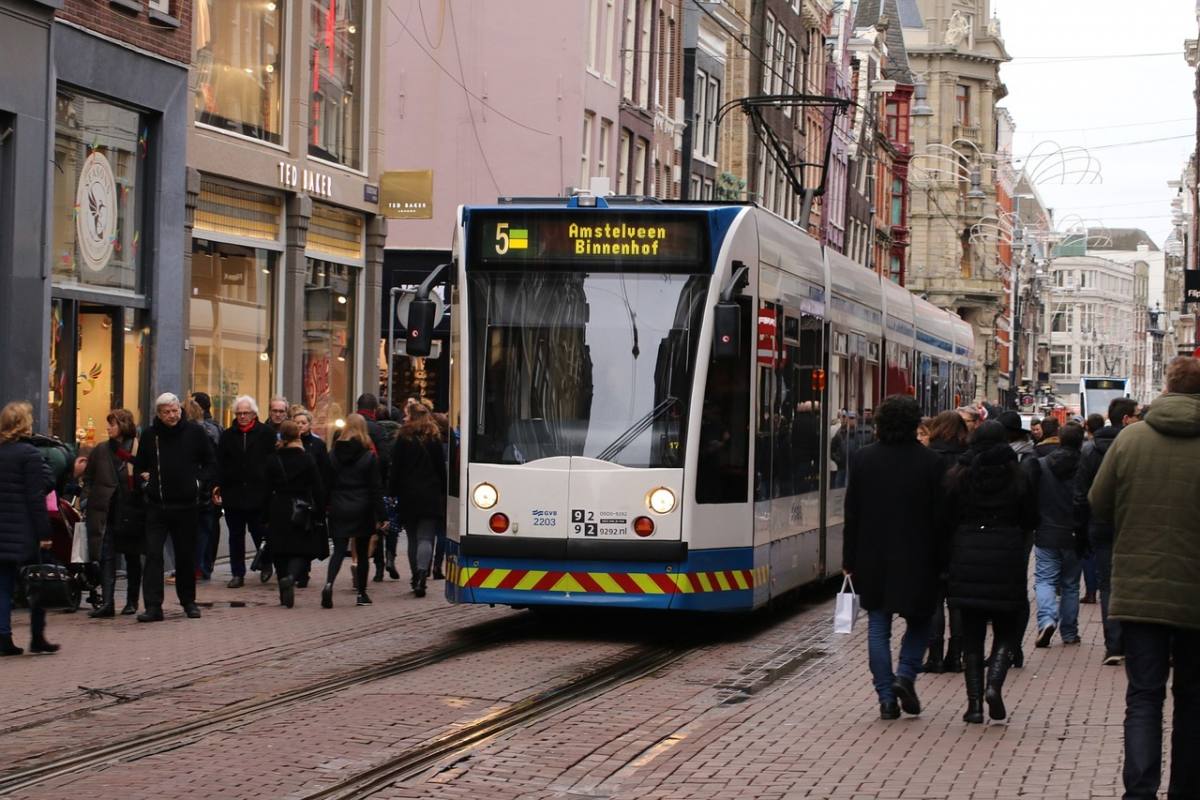 Public Transportation in Amsterdam
Transportation in Amsterdam (GVB) works well regardless of the neighbor of Amsterdam you're staying at, but not always excellent. Some trams are known for always arriving late, and night buses are very infrequent. However, it's understandable since over 60% of Amsterdammers ride their bikes everywhere.
If you're arriving from Amsterdam Schiphol airport – simply take a train to a station the closest to the area you'll be staying it. It only takes 10-15 minutes and trains run every 10-15 minutes during the day. It could be Amsterdam Centraal, Sloterdijk, Zuid. Taxis from the airport are very expensive, so I'd say: save your money.
Buying a Ticket for Trains, Trams, Buses in Amsterdam
To get on a train you could buy a single ticket (you have to either have coins or Dutch bank cards to get it at the machine, otherwise only at the counter), but this won't allow you to board any trams or buses. You can buy tickets onboard selected in Amsterdam that will cost €2.90 since the only tickets you can get are unlimited rides for 1 hour.
It's much better to pre-purchase either a 24-hour pass for €7.50 or get an OV Chipkaart. You can purchase them online, or at the counter at selected stations upon arrival.
OV Chipkaart can be used on trains, buses, and trams. One thing to remember is to always have a minimum of 20 Euros on it to ride a train and 5 Euros for trams & buses. Otherwise, it won't let you in. Don't worry about it, you can cash out the unused money on your card at the counter at Schiphol when you leave.
Alternatively, if you're planning on visiting many museums, consider getting an iAmsterdam Card. It gives you access to many museums for free and a ticket for transportation.
There's also Amsterdam Holland Pass that includes free public transportation within Amsterdam, access to top attractions in Amsterdam and other major cities.
IMPORTANT: Always touch to check in and check out. This rule applies to both OV Chipkaarts and paper tickets. If you forget to check out your paper ticket will automatically become invalid, and if using a Chipkaart it'll take 20 Euros for an unchecked train ride and 5 for a tram.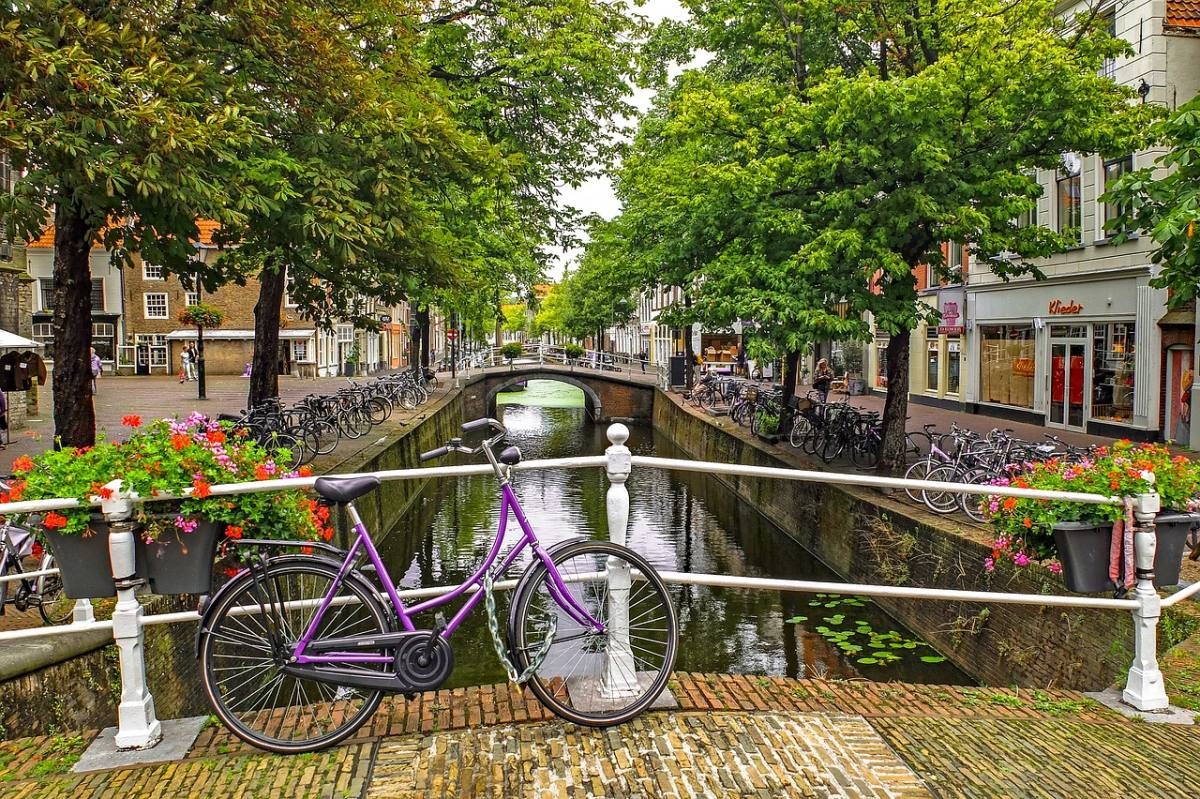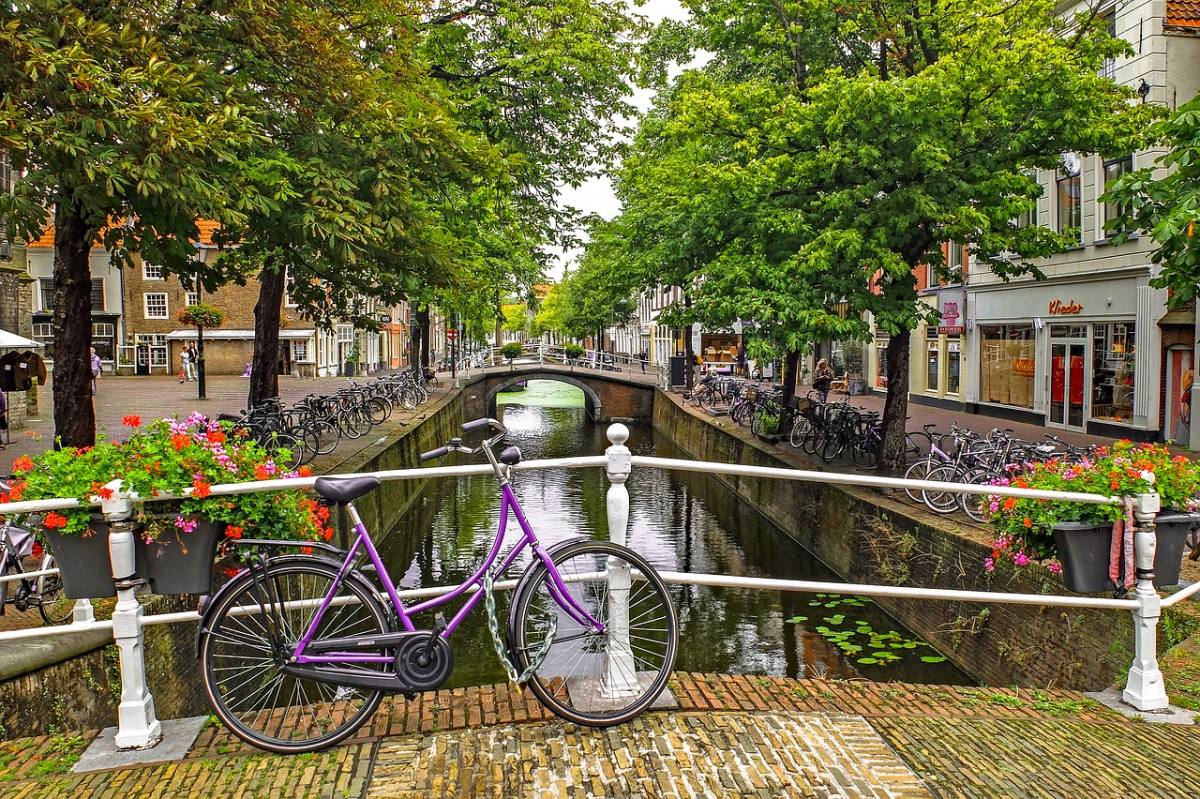 ---
Where to Stay in Amsterdam
To directly skip to selected neighborhoods, click on links below.
Dam
De Wallen
Nieuwmarkt & IJ Waterfront
Leidseplein
Rembrandtplein
Canal Belt / Grachtengordel
Old Jewish Quarter & Plantage
---
Also Check:
---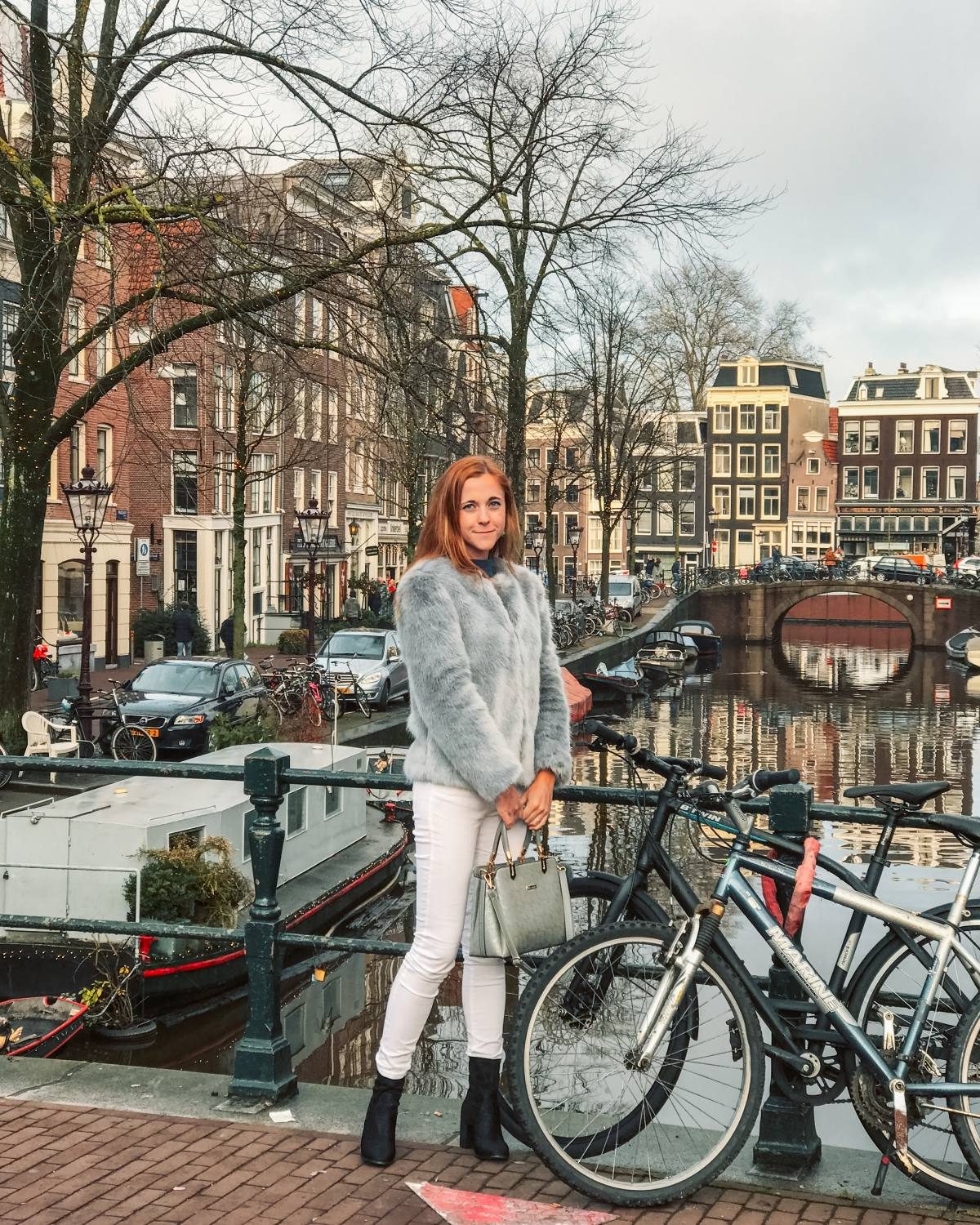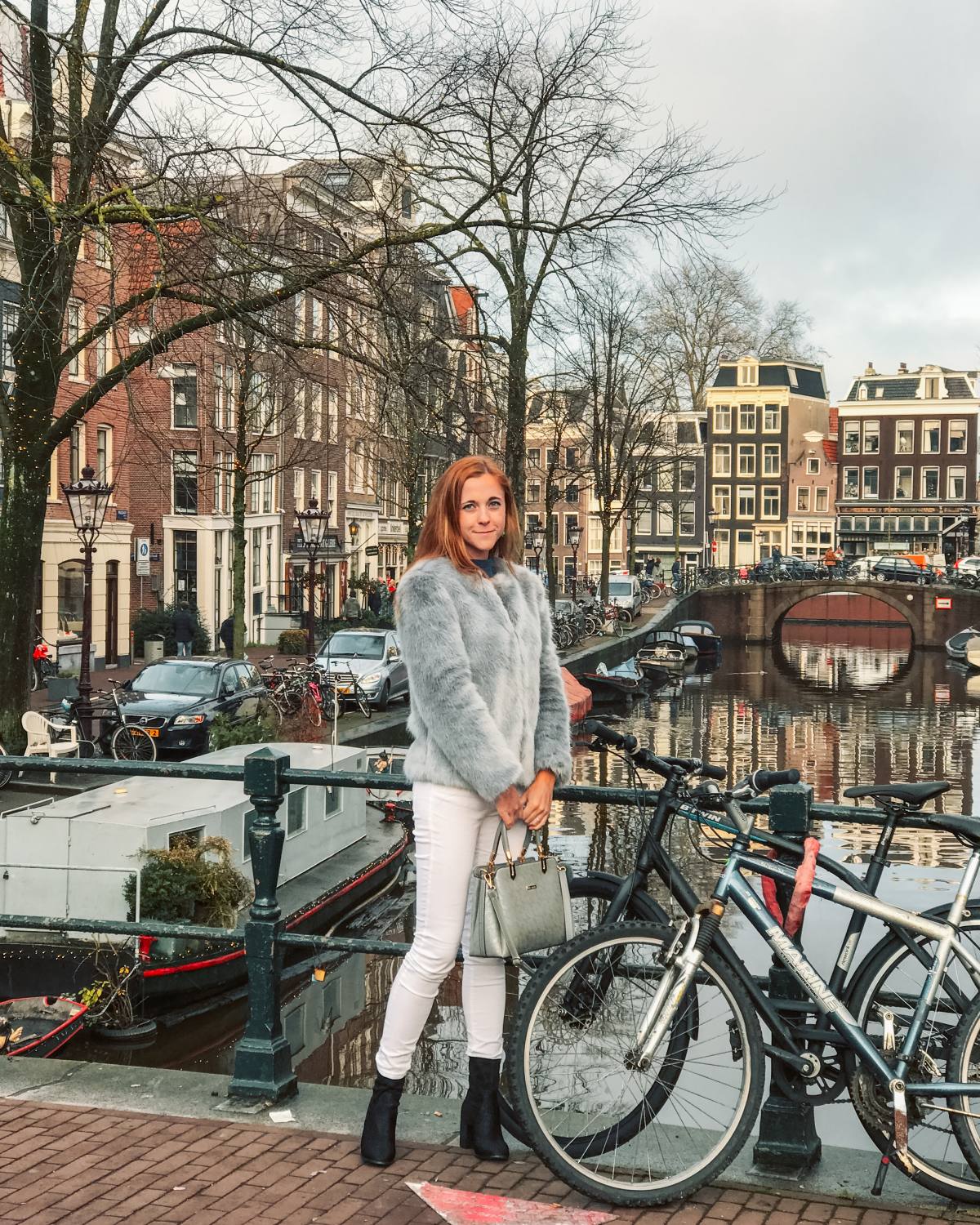 ---
Old Centrum
Old Centrum, as the name indicated, is the oldest area of Amsterdam. This is where most tourists stay and never make it outside of the area. There are many spots to eat, shop and hop on a boat for a canal cruise. The are is divided into smaller neighborhoods, each with their own characteristics and history.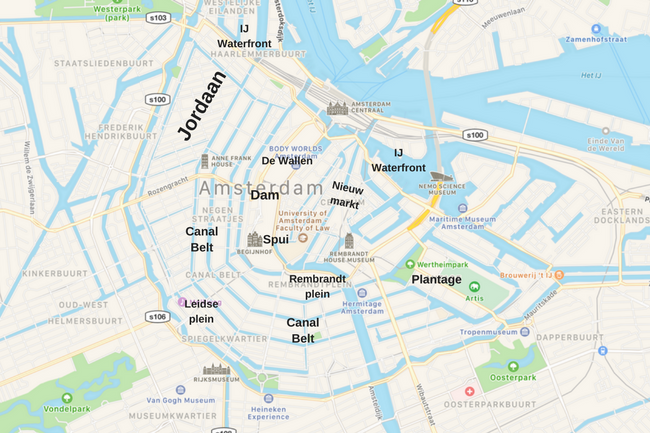 <id="02″ style="text-align: center;">
Jordaan
The Jordaan feels like its own village in the city. Once a neighborhood for the working class and emigrants, now it's renovated and trendy for young professionals and tourists. The area has many restaurants, small shops, and stunning bridges.

Dam
The Dam was built around the 1270s in order to prevent floodings, but now it's the central square between Rokin and Damrak. There you can find the National Monument, Royal Palace, Nieuwe Kerk, National Monument, and Madam Tussaud's. During the spring there is a fair with a giant carousel there and in the winter a Christmas market.

---
De Wallen
De Wallen is known as the Red Light District. Walking around you'll see prostitutes in red windows, sex shops, and many coffeeshops. Personally, not a place I'd recommend staying, but if it's your first time in Amsterdam you can pass through.

Nieuwmarkt
Nieuwmarkt is a square just a short walk from Amsterdam Central Station, located in Chinatown and next to the Red Light District.

---
IJ Waterfront
If you're staying in Amsterdam for a layover, you want to be as close to the Central Station as it gets. There are many beautiful hotels to stay in the area, often with rooftops offering impressive views.

Leidseplein
If you're looking for an epicenter of a nightlight, look no further than Leidseplein. There are many bars and cafes in the area, plus the most well-known nightclub in Amsterdam – Melkweg. Stay there only if you enjoy loud nights out.

---
Rembrandtplein
Rembrandtplein is another great area with bars and restaurants. The area feels more local than Leidseplein and it's always full of locals and expats. I have good memories from Rembrandtplein because I used to have office parties there. I highly recommend going to Tuschinski Theatre, a working cinema that was built in 1921. It's gorgeous!
Canalbelt
The canalbelt is the picturesque area you've seen in iconic photos, as it's a UNESCO World Heritage Site.  Many houses are built on these semi-circular canals ("grachten"), dug around the old city center.

---
Old Jewish Quarter & Plantage
Plantage used to be the greenest area of Amsterdam. Waterlooplein Market in the area is one of the most local markets in Amsterdam. That's the place where you'd buy a used bike, get some fresh vegetables and eat a kibbeling.
Spui
Spui is a good starting point from which to discover the rest of the city. Close to many shops, restaurants, and the Flower Market. You can easily walk to bars and clubs from here.
---
Recommended Lunch Spots in Old Centrum:
Bijbels Museum Cafe (Spui)
Greenwoods (Canalbelt)
Cocotte Creperie (De Wallen)
Back to Black (Canalbelt)
Recommended Restaurants in Old Centrum:
Moeders (Jordan) – Great stampot.
Café-Restaurant de Plantage (Plantage) – Located inside a 19th-century glass conservatory.
Family Friendliness: Close to most things, so recommendable, but remember that some area like De Wallen or Nieuwmarkt might not be appropriate. Might be noisier than elsewhere at nights, especially close to Nieuwmarkt.
Personal experience: I enjoy hanging out in the area, but there's a reason why I never lived there. If you want to be conveniently located close to major attractions stay there, but you'll see more tourists than locals enjoying themselves.
Recommended Accommodation in Amsterdam Centrum:
Apartment:
Condo Hotel One
The location is just right and with the sun coming up in the morning it just makes you happy.Check Prices On:
Booking.com
Budget:
The Flying Pig
The most famous hostel in Amsterdam, known for parties and convenient location for backpackers. If you're not into partying you might want to stay elsewhere though.Check Prices On:
Booking.com
| 
TripAdvisor
---
Noord
Noord has undergone considerable regeneration and now it's no longer associated with an unwanted place to be. In September 2016 Noord welcomed the newest attraction – A'DAM Toren with the tallest over the edge swing in Europe, observation deck and great restaurants inside. Many industrial buildings have been converted into rustic restaurants and ateliers.
Family Friendliness: Definitely. It's a safe local area, just a short and convenient free boat ride from Central Station.
Personal experience: Last time I visited the area I enjoyed it a lot. Even if you end up not staying there, pay a visit to A'DAM Toren for the view.
---
Recommended Lunch Spots in Amsterdam Noord:
Recommended Accommodation in Amsterdam Noord:
Budget:
ClickNoord
Great hostel with a common room featuring a library, ping pong tables and bike rental. Common kitchen is available for guests to use.Check Prices & Reviews On:
Booking.com
| 
HotelsCombined
---
West
If you're looking for photogenic townhouses and typical Dutch architecture, West is the answer. It's a quite posh area, making it particularly attractive to residents and visitors alike. Some of the best places to eat in Amsterdam are located in the West.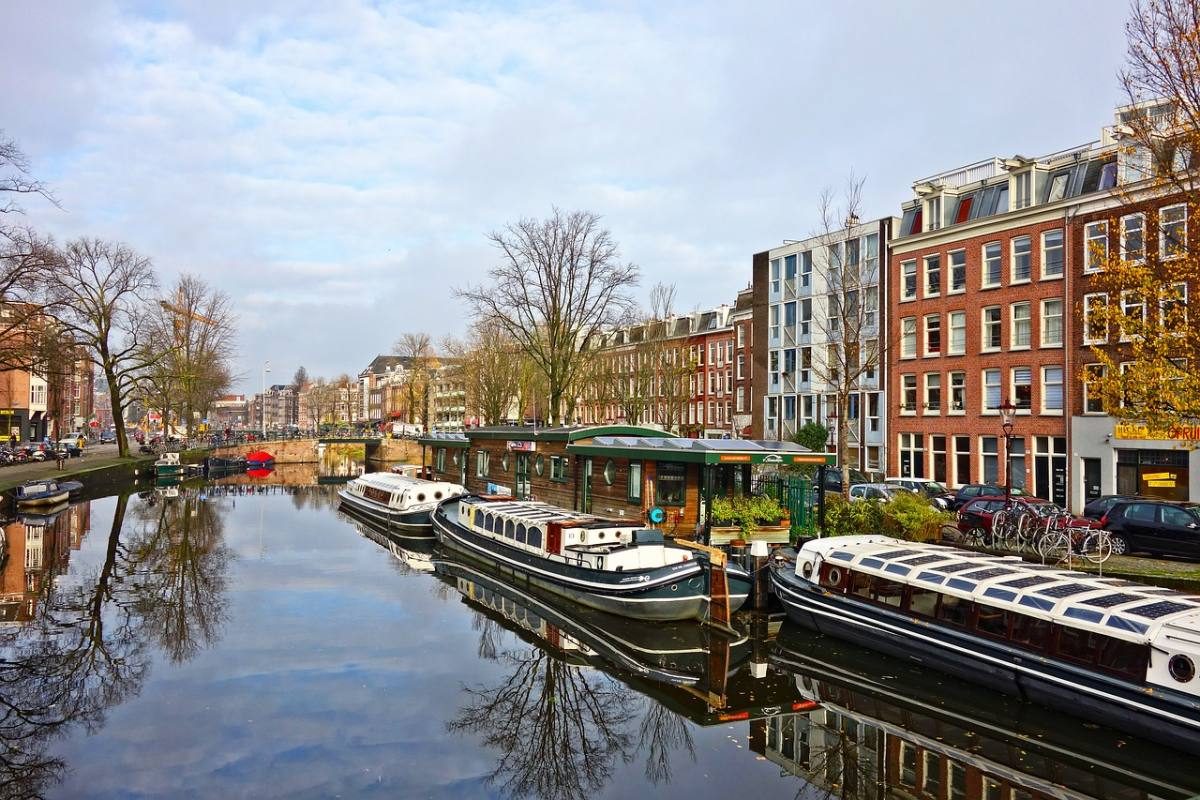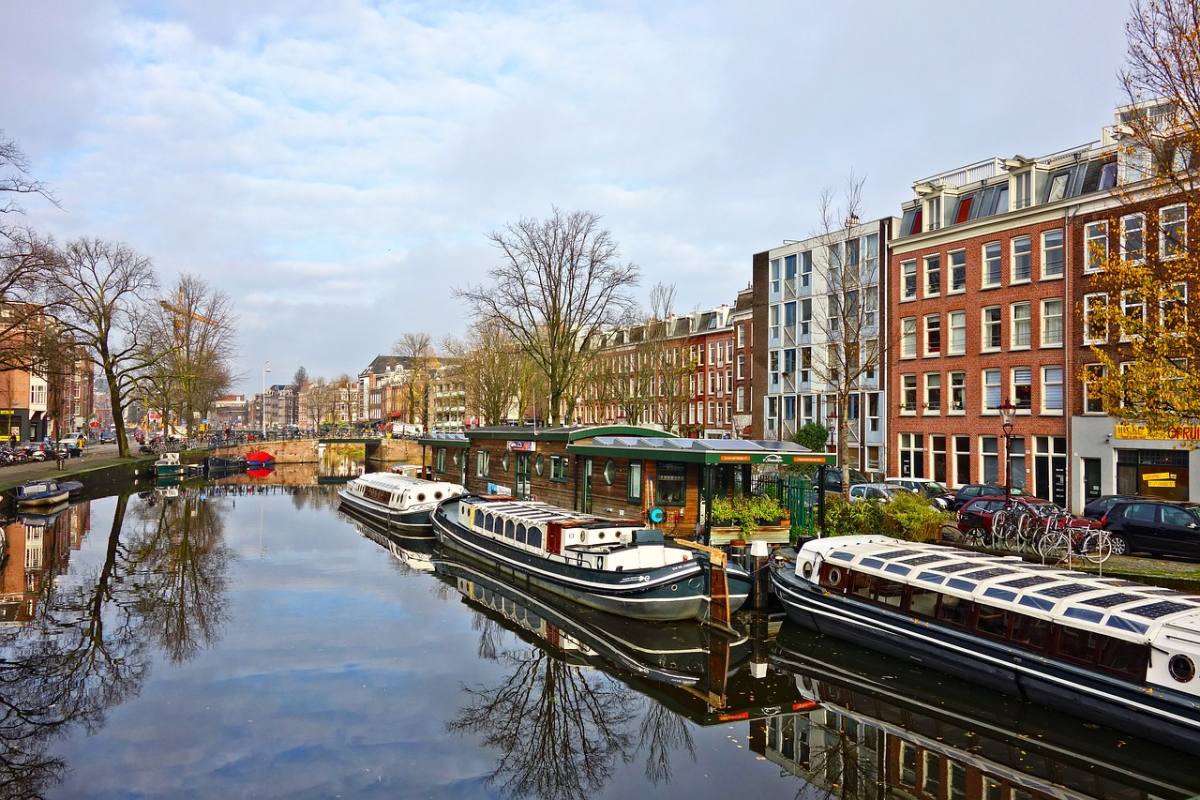 Bos en LomerBos en Lomer an affordable and diverse neighborhood. It's a place for a young and multicultural crowd, but also families. There are many ethnic shops in the area with cheap delicious food.
Oud  West
A posh area with small local markets and outdoor cafes.

---
Westerpark
Named after a large park in its center, Westerpark is located on the western corner of Amsterdam's canal belt and trails into the city's docklands.
De Baarsjes
Hip area with many terrace bar, much calmer than in the Old Centrum. Popular shopping streets where trendy concept stores, can be found standing opposite of Turkish shops, greengrocers and bakeries.

---
Recommended Restaurants in Amsterdam West:
De Foodhallen – Indoor food market you can choose from many different treats! From waffles to meatballs and burgers to oysters.
 De Pizzabakkers – Great pizza for good prices
Abyssinia – Fantastic Eritrean food.
Family Friendliness: Kids might be less interested in restaurants and nice architecture, so there might not be the best choice.
Personal experience: I used to live in Bos en Lomer, so I know the area pretty well and enjoyed it. It's affordable with plenty of spots to eat to discover every week. Hotels tend to be cheaper in this area, so if you're on a budget this could be a great choice.
Recommended Accommodation in Amsterdam West:
Luxury:
Meininger Sloterdijk
I stayed there once during my layover for a night, since it was conveniently located just in front of the exit of Sloterdijk Train Station. Everything was perfect.Check Prices On:
Booking.com
| 
TripAdvisor
Apartment:
The Student Hotel Bos en Lomer
I actually used to live in this place when I first moved to Amsterdam, since only half of it is for hotel guests and another half for long-term residents. In front of a metro station, shared kitchen available in each segment, clean and modern place I enjoyed living at.Check Prices On:
Booking.com
Mid-Range:
CityHub
Bigger capsule hotel with loads of room. The toilets are really clean and even being shared they are really private.Check Prices On:
Booking.com
---
Zuid
Amsterdam's nicest residential areas with fashionable shopping streets, business centers and plenty of museums.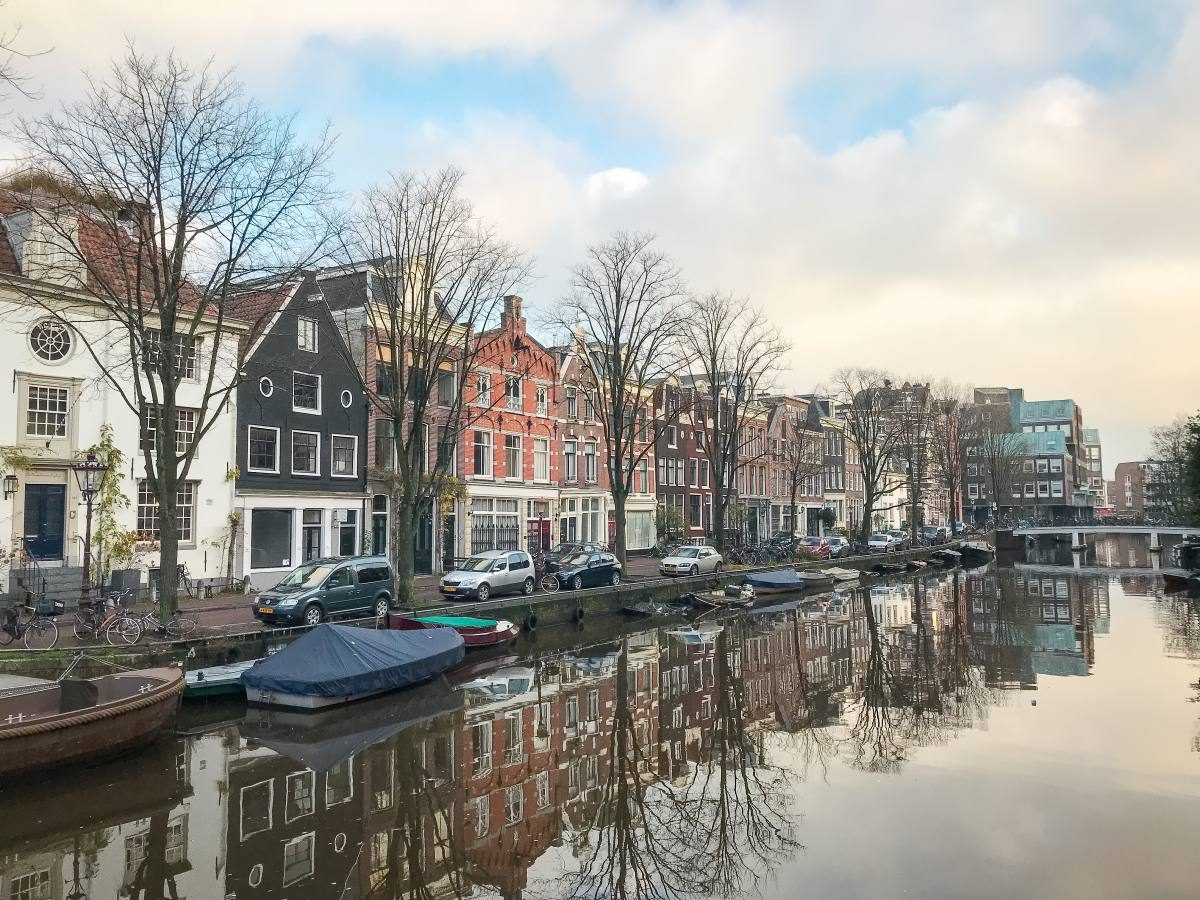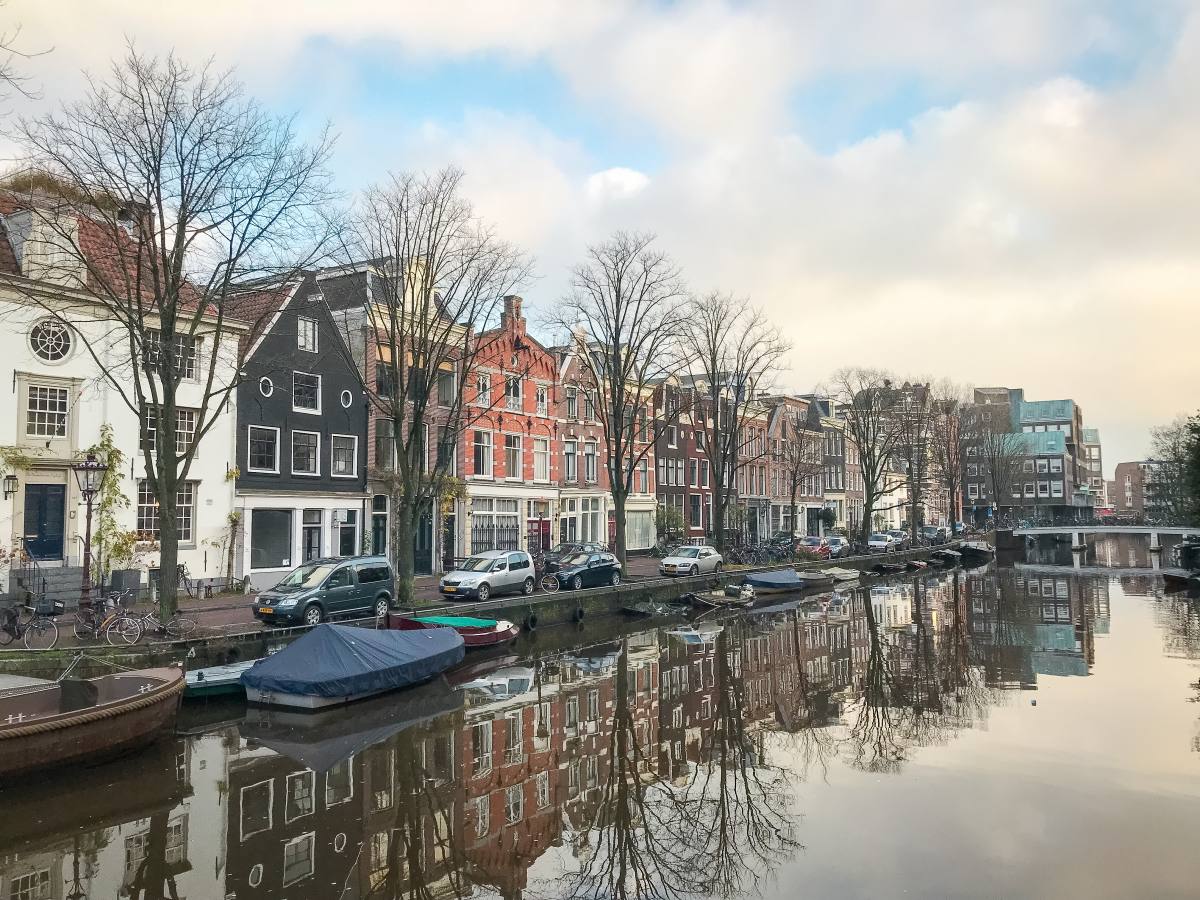 Museum Quarter
Museum Quarter is technically in Amsterdam Zuid, but just a bridge walk from the Old Centrum.
Oud-Zuid
You can read my guide to Oud-Zuid here.
---
De Pijp
My personal favorite area, but I might be biased since I used to work there. De Pijp has a very local vibe with a picturesque urban layout, many cafes, park and local Albert Cuyp market.

Zuidas
Business district. Unless you work there, there's not much to do and many cafes and restaurants close after business hours.

---
Recommended Lunch Spots in Amsterdam Zuid:
't Blauwe Theehuis (Vondelpark)
Yoghurt Barn (De Pijp)
Albert Cuyp Market (De Pijp) – Great street food from the market.
Recommended Restaurants for Dinner in Amsterdam Zuid:
Bazar (De Pijp) – Arabic restaurant is housed inside of an enormous renovated church.
Cannibale Royale – Great spot for burgers and other meats.
Family Friendliness: While there are many young people in the area since there is a nice park around, markets and cafes, I don't see the are would be bad for families.
Personal experience: I used to work in De Pijp and recently covered Oud-Zuid for Amsterdam Tourism Board, so I spent a lot of time in the area. I really love it as it's very local with some expats. The atmosphere of this area was unbeatable.
Recommended Accommodation in Amsterdam Zuid:
Apartment:
Paul's BnB
If you're coming with a family and want a whole apartment for yourself. Great location, easy to work with host.Check Prices On:
Booking.com
| 
TripAdvisor
Budget:
Bicycle Hotel
If you're looking for a cheap hotel with original deco and next to a bicycle rental shop and tram stop, that's the place.Check Prices On:
Booking.com
| 
TripAdvisor
---
Oost
Oost is probably the least explored part of Amsterdam, despite being closely located to the Old Centrum. It has many museums and is home to many ethic neighborhoods.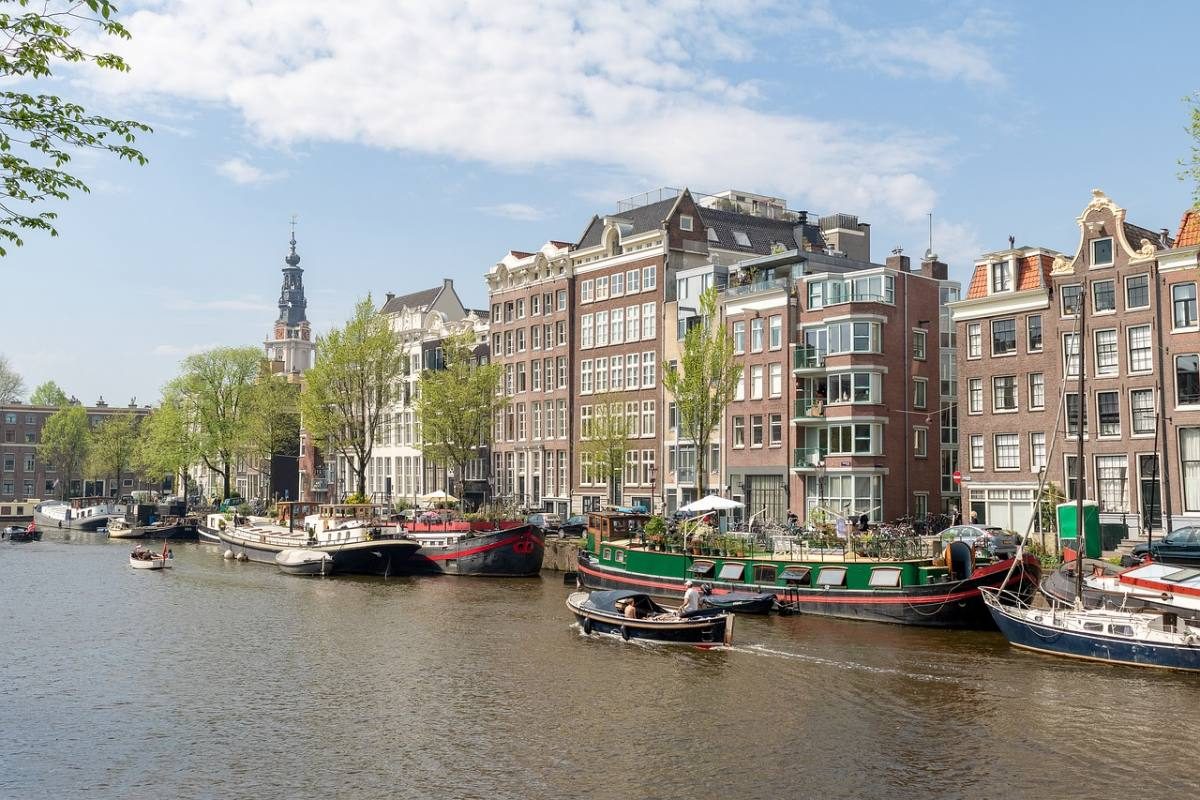 Recommended Lunch Spots in Amsterdam Oost:
KHL – Old spot with beautiful decor and a friendly atmosphere.
Bar Bukowski
Girassol – Fantastic terrace.
Personal experience: Quite frankly I think I went to Amsterdam Oost twice in my life for a pole dancing class and once to take a bus from Amstel Station, so I can't say much about the area.
Recommended Accommodation in Amsterdam Oost:
Luxury:
Mercure Amstel
Super close to main metro & train station Amstel. Only 9 min to the city center and 6 min to the airport by the local metro stop.Check Prices On:
Booking.com
Mid-Range:
The Student Hotel City
Partner hotel of the one I used to live in. Conveniently located between Oost and Zuid, each segment has a shared kitchen.Check Prices On:
Booking.com
Budget:
StayOkay Oost
Good and easy to find location of this hostel. I'll always recommend StayOkay chain in the Netherlands.Check Prices On:
Booking.com
---
Other Areas
If you're visiting Amsterdam for a few days, I'd suggest avoiding places that might seem nearby, but in reality, they are neither pretty nor convenient. That said, do NOT stay in Diemen, Amstelveen, Bijlmar, or Zuid-Oost. Unless you want to bike the city center for at least 25 minutes.
You would be better off staying in Haarlem if you want to save some money, as it's only 10 minutes by train to Amsterdam Central Station.
---
Areas to Avoid in Amsterdam
I'd personally advise against staying in the Red Light District, known as De Wallen, especially if you're traveling with kids. Google Maps is actually slightly misleading in terms of the area, as it highlights the whole district – this is NOT true.
In reality, the area full of red windows and coffeeshops is much smaller: inside this district hugging Oudezijds Voorburgwal along the canal and in and around the De Oude Kerk church.
The majority of locals aren't fond of prostitution and weed (which isn't actually legal), so you'll meet mostly young tourists. If you don't want to stumble upon it, trust me, once you're in Singel canal area you'll feel that you're getting closer to the Red Light District.
---
When To Go to Amsterdam
The Netherlands tends to be rainy, but trust me – Amsterdam looks charming even when it's raining. If you don't like crowds and don't want to pay triple for accommodation, avoid national holidays.
March-April -> Best time to see the blooms of the tulip.
27 April -> King's Day. The entire country parties dressed in orange. It's surely a nice thing to see, but it might not be a typical vacation for you.
June-August -> Warm months, perfect for picnics in parks.
November-February -> Winter months with ice rinks, Christmas markets, outdoor concerts, and beautiful displays.
---
Arrange Your Travel Insurance
Don't forget to arrange health insurance before heading to Amsterdam. The easiest and the most reliable travel insurance is Safety Wing. Get it before your trip to avoid unnecessary troubles that might ruin your holidays!
---
MORE TIPS ON VISITING THE NETHERLANDS + EXPAT SECTION:
---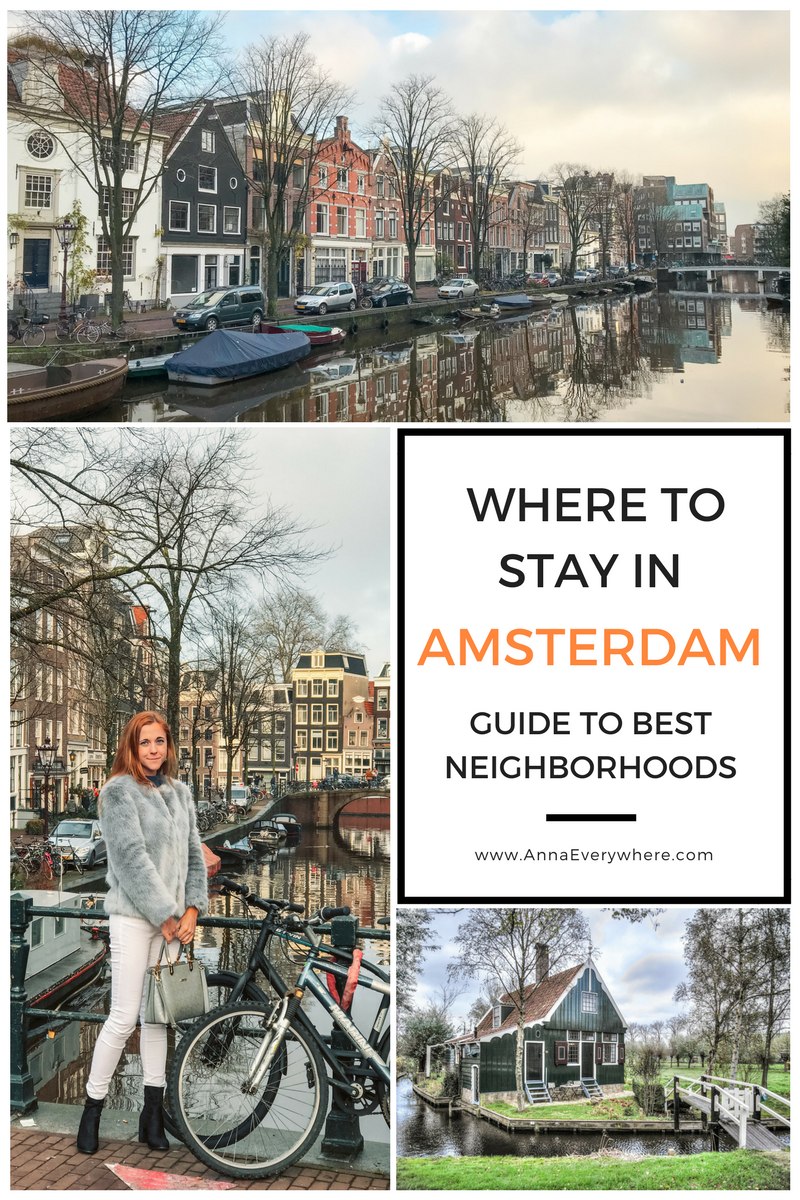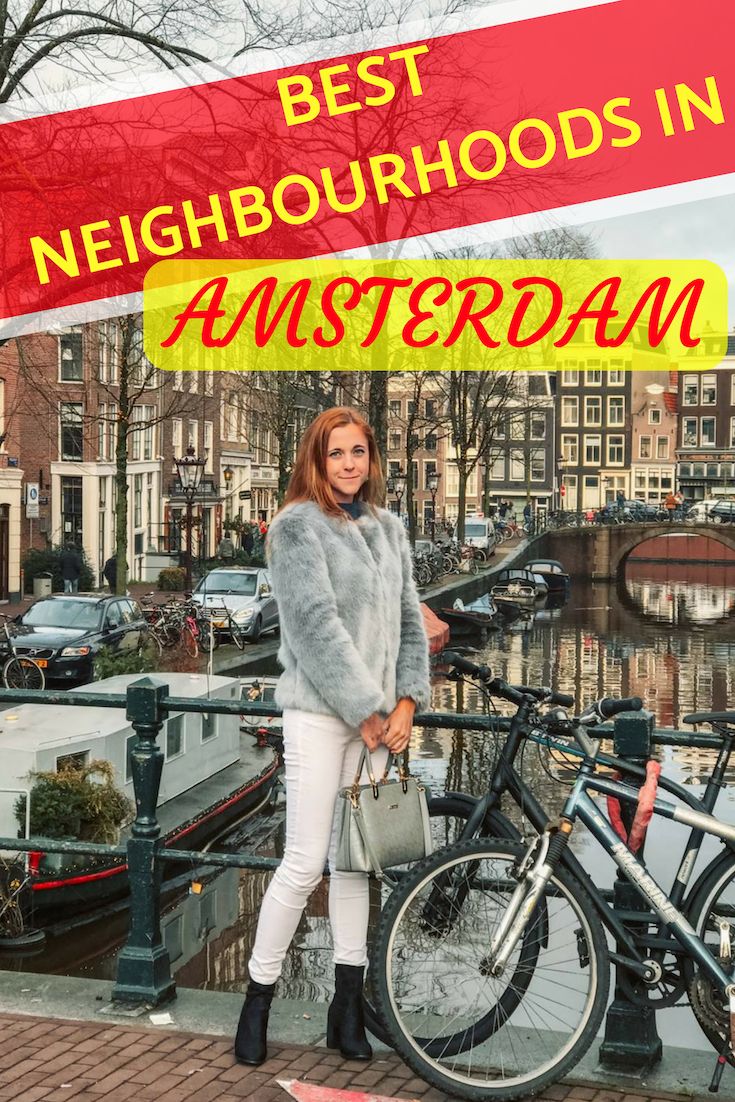 Do you have any questions about Amsterdam neighborhoods? Let me know in the comments below!