Every year thousands of visiting flock to the Netherlands to see the tulips in full bloom. Everyone wants to see the colorful fields of these majestic flowers. However, here's a fun fact about the tulips: they aren't native to the Netherlands.
The tulip was imported from Turkey in the 16th century. In the 1630s 'Tulip Mania' gripped the country, where prices rose until bulbs cost as much as houses until the market suddenly collapsed. Since then they have been an inseparable element of Dutch culture.
The Best Time to See Tulips in Amsterdam
Let's clear something first: while when to see tulips in Amsterdam is what most people are searching for, there are no tulips in Amsterdam outside of the flower market and special National Tulip Day when they set up a temporary garden on Dam Square and visitors can pick a tulip from the garden to bring home free of charge.
In order to see the tulip fields you need to leave Amsterdam and travel to another area of the country. Don't worry – it's not far at all, but since the Netherlands is a small country traveling somewhere by train for 30-45 min is considered far.
As you can imagine, tulips don't bloom for an entire year. Tulips begin to bloom around late March and stay colorful until early May, with the best time to see them is the month of April.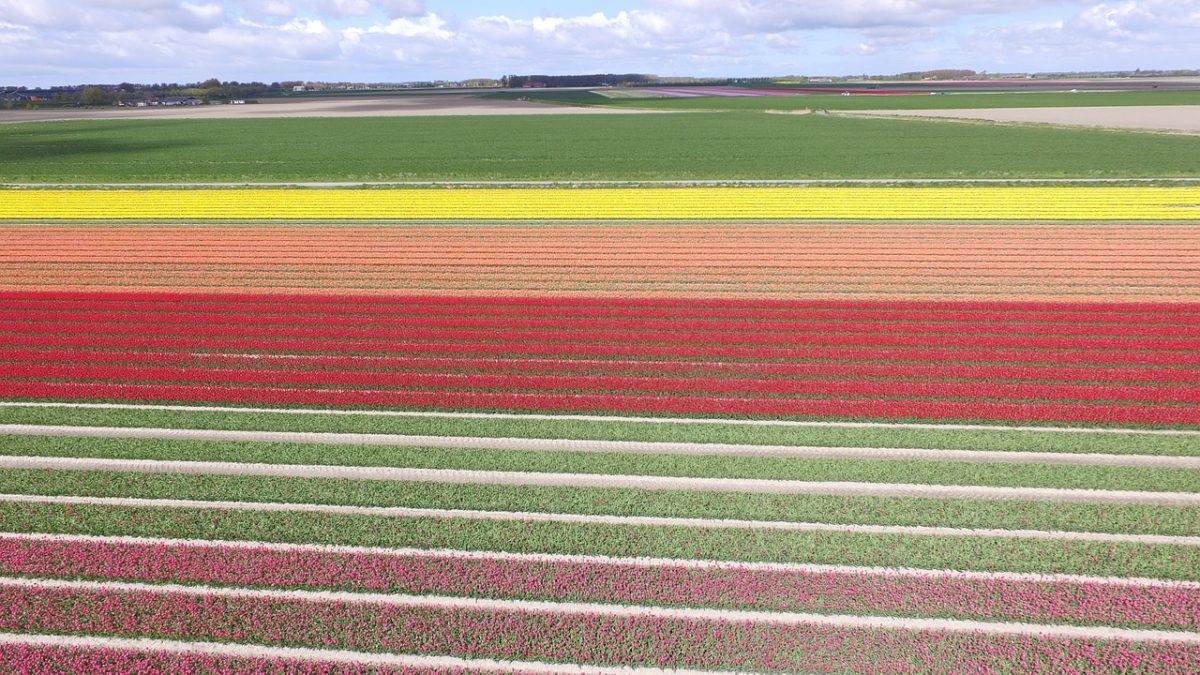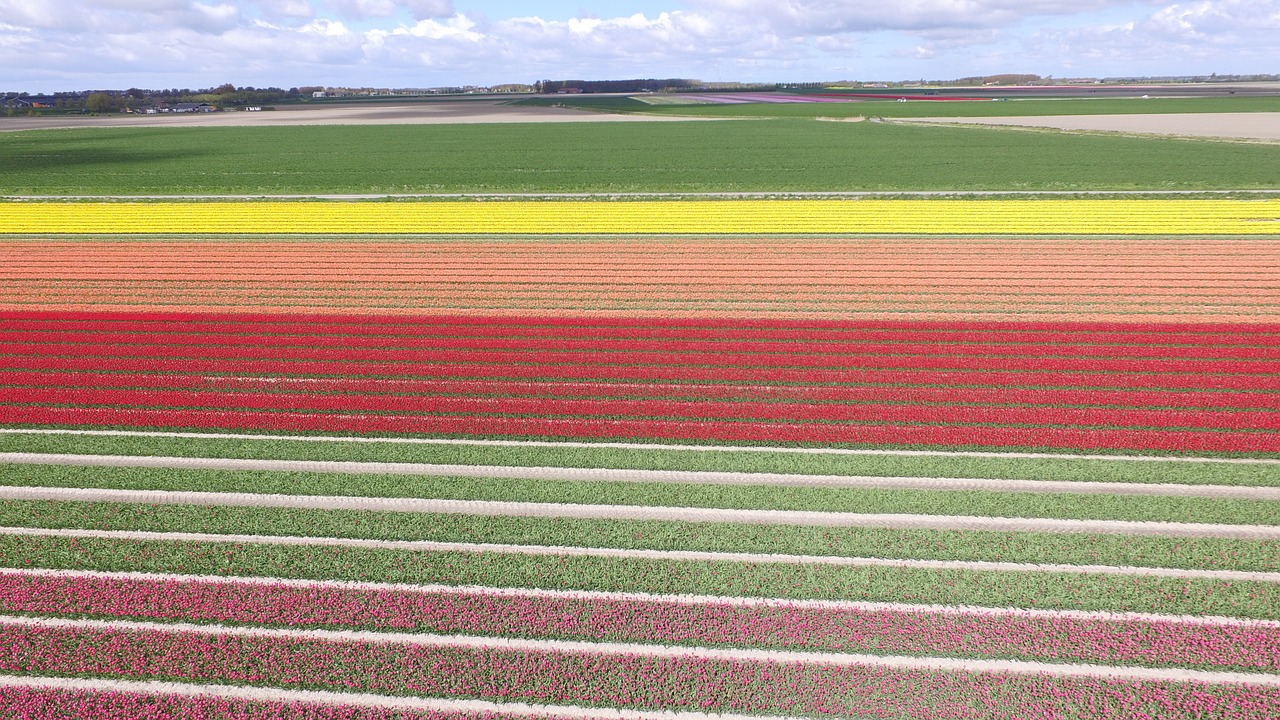 ---
Where to Stay for Visiting Keukenhof & Tulip Fields
One of the most common questions I'm being asked over and over is where should I stay to visit Keukenhof or/and tulip fields. Since these places aren't located in Amsterdam, if seeing the tulips is the top priority you might want to consider staying in smaller towns outside of Amsterdam. Here are a few hotel options:
Hotels in Leiden: Boutique Hotel d'Oude Morsch · De Barones Van Leyden
Hotel in Haarlem: B&B Her Hart Van Haarlem · Brasss Hotel Suites
---
---
Ways to See Tulips in the Netherlands
OPTION 1: Do it the tourist way and go to Keukenhof
Most websites and blogs will recommend you to go to Keukenhof to see the tulips. While if you have time I think you can definitely go there as well, there are better ways to see the tulips in Holland, just that many visitors don't know about them.
OPTION 2: Rent a bike and tour the fields yourself
Renting a bike and driving through the fields of tulips sounds better than having to pass among a ton of other people, doesn't it? Plus, it's totally free!
OPTION 3: Bike Through the Tulip Fields & Visit Keukenhof After
If you still didn't have enough tulips and have some time left, you might go to Keukenhof as well. This way you'll be able to experience both way. Remember, that there are many other fun things to do in the Netherlands though!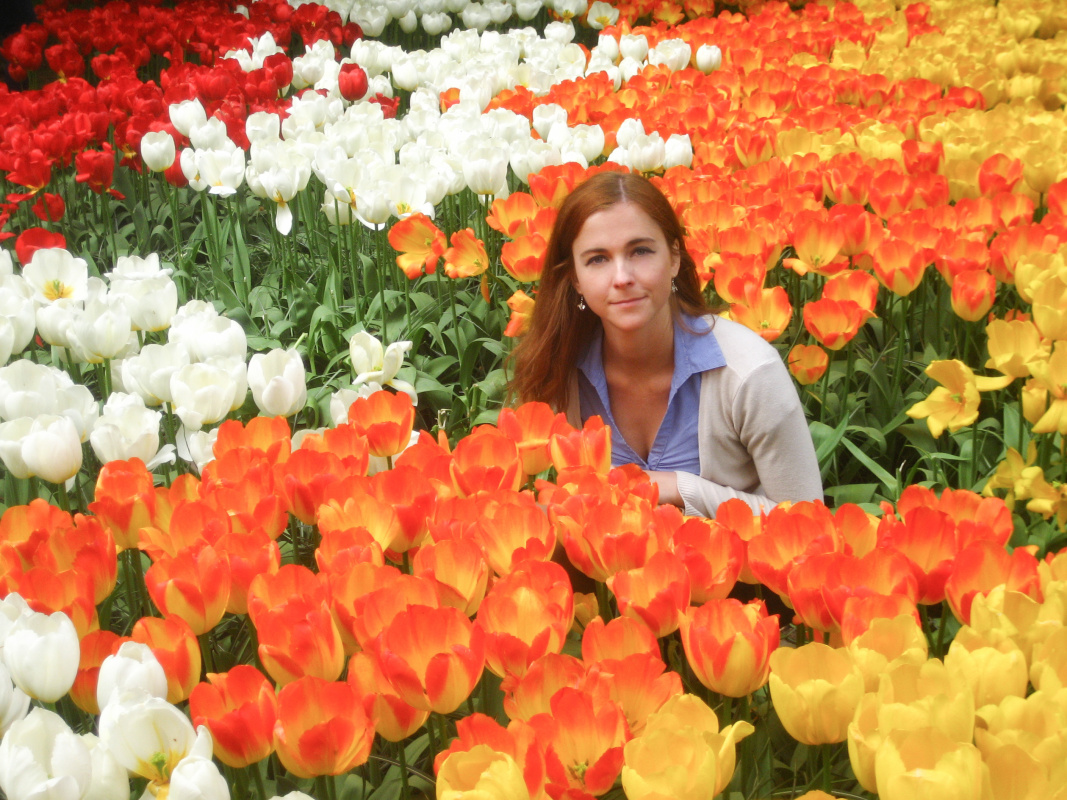 ---
Visiting Keukenhof
The Keukenhof Garden is the most famous and most popular touristy, way to see tulips in Holland. The Keukenhof is NOT open all year round but opens only when they expect their tulips to be in bloom. Each year it changes slightly due to the weather, but opt for April.
While Keukenhof isn't an authentic tulip field you probably have seen on postcards, it's still nice to see as they set up patterns of tulips for visitors' pleasure.
Skip the line tickets to Keukenhof are a must, especially around King's Day. Do yourself a favor and pre-book your tickets. If you're wondering why see my photo below 😉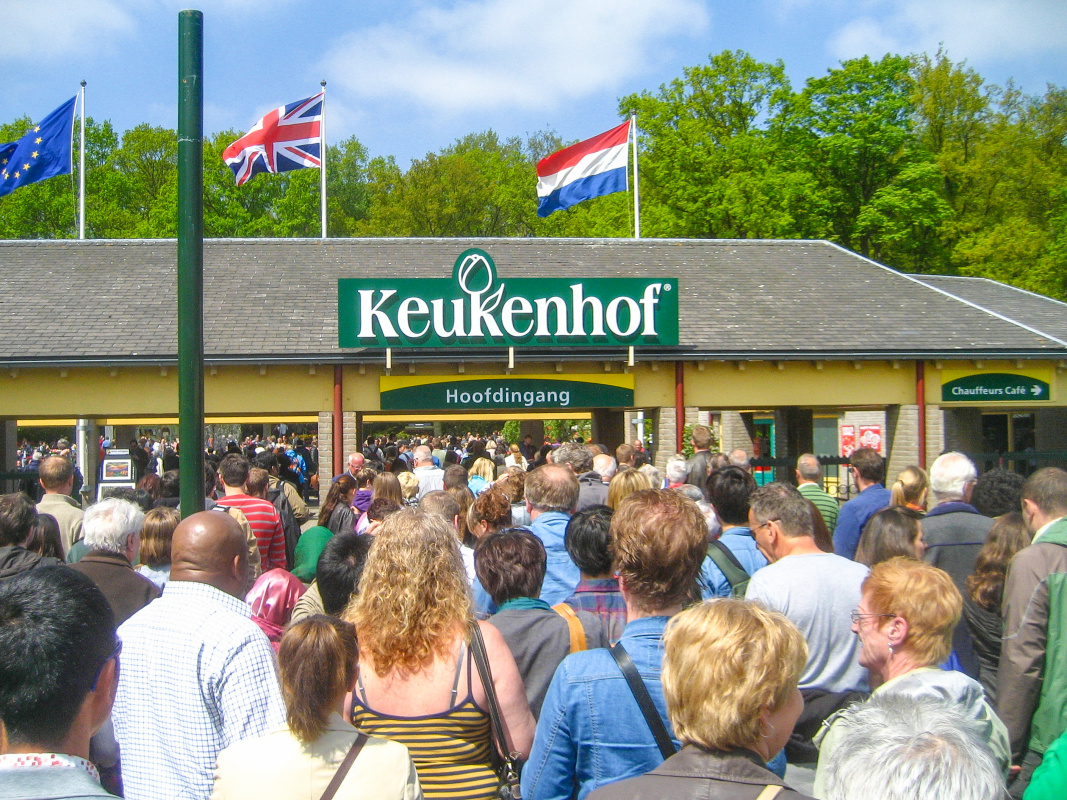 How to Get to Keukenhof
The exact location of the Keukenhof is:
Stationsweg 166a
2161 AM LISSE
The Netherlands
There is NO direct public transport option from Amsterdam to the Keukenhof. First travel to Schiphol by train (15 min) and change to the bus. Alternatively, travel to Leiden (30 min) and take a bus or rent a bike.
Be aware that on weekends the line for either of those buses is very long. You may end up queuing up to an hour. The same thing applies to entering Keukenhof – it gets very busy on weekends.
From Schiphol you can take the Keukenhof Express (bus 858 from 21 march 2019 – 19 may 2019) from the bus station in front of the airport. The bus is easy to find when you walk outside from Schiphol Plaza.
From Leiden you can take bus 850/854 from Leiden Central Station to the Keukenhof. The bus will stop in front of the entrance.
Alternatively, if you don't want to wait for the bus, you can take a train to Sassenheim. Then walk to the bus station in front and take bus 50 to the Lisse Eikenlaan, 5 minutes away from the entrance to Keukenhof. See https://9292.nl/en for the schedule and the walking directions.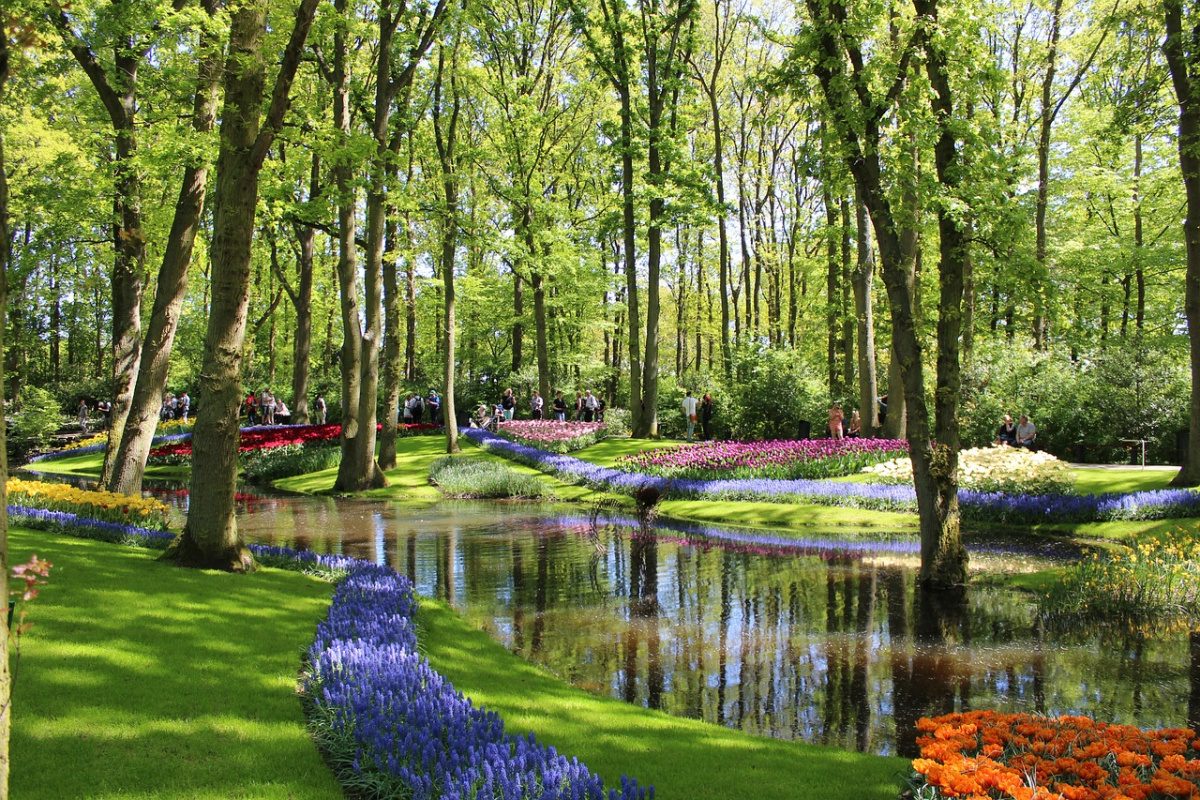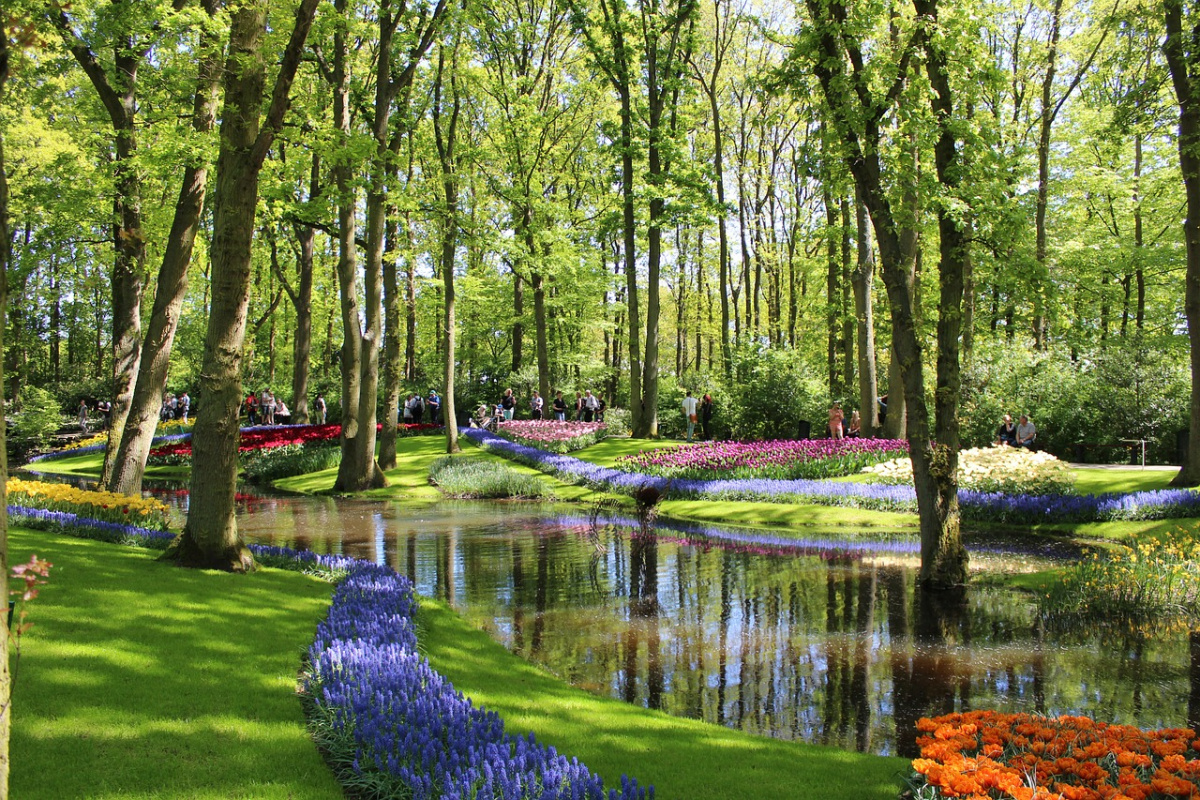 ---
See Tulip Fields on Your Own
In the right time of the year you really only have to board a train or pick up a bicycle to see the tulips in all their glory in rural fields.
Tulip fields are found in the Bollenstreek (bulb region) near the Keukenhof, and in the Noordoostpolder and in the province of Noord-Holland.
I don't remember driving to tulip fields by car, simply because parking, or the lack of it, will make things tough.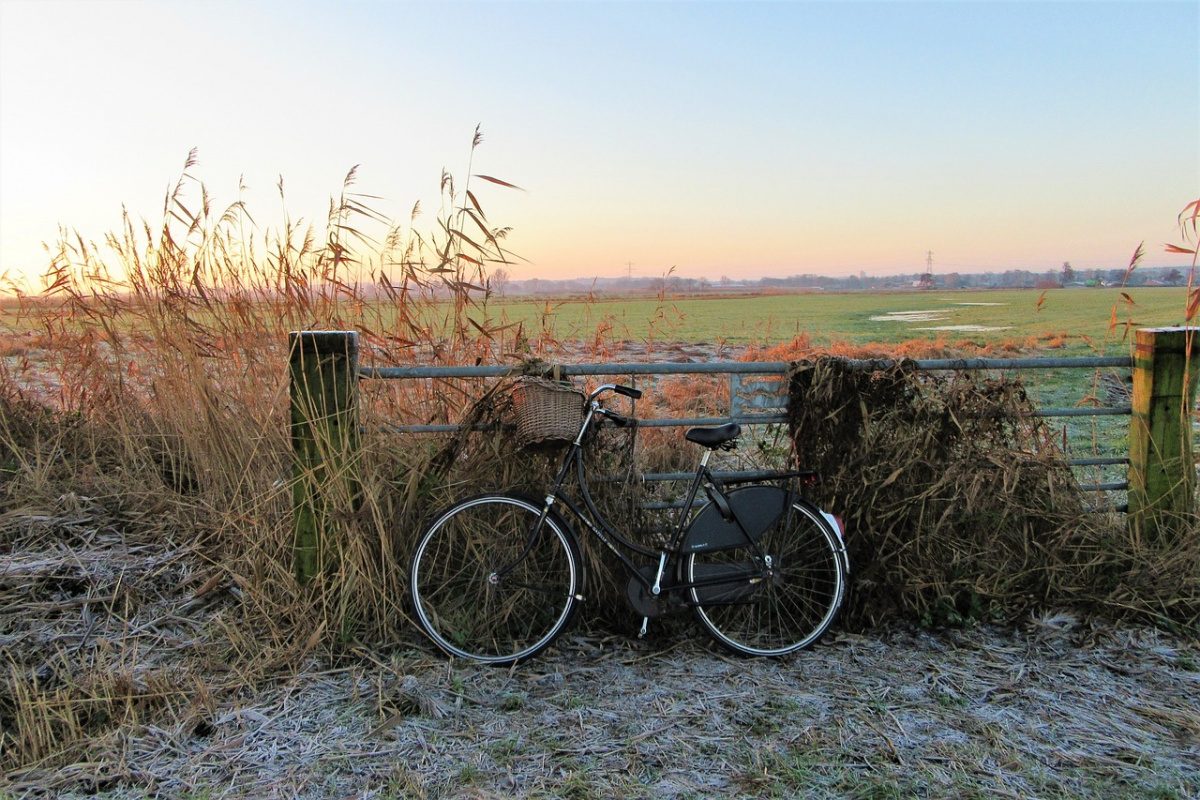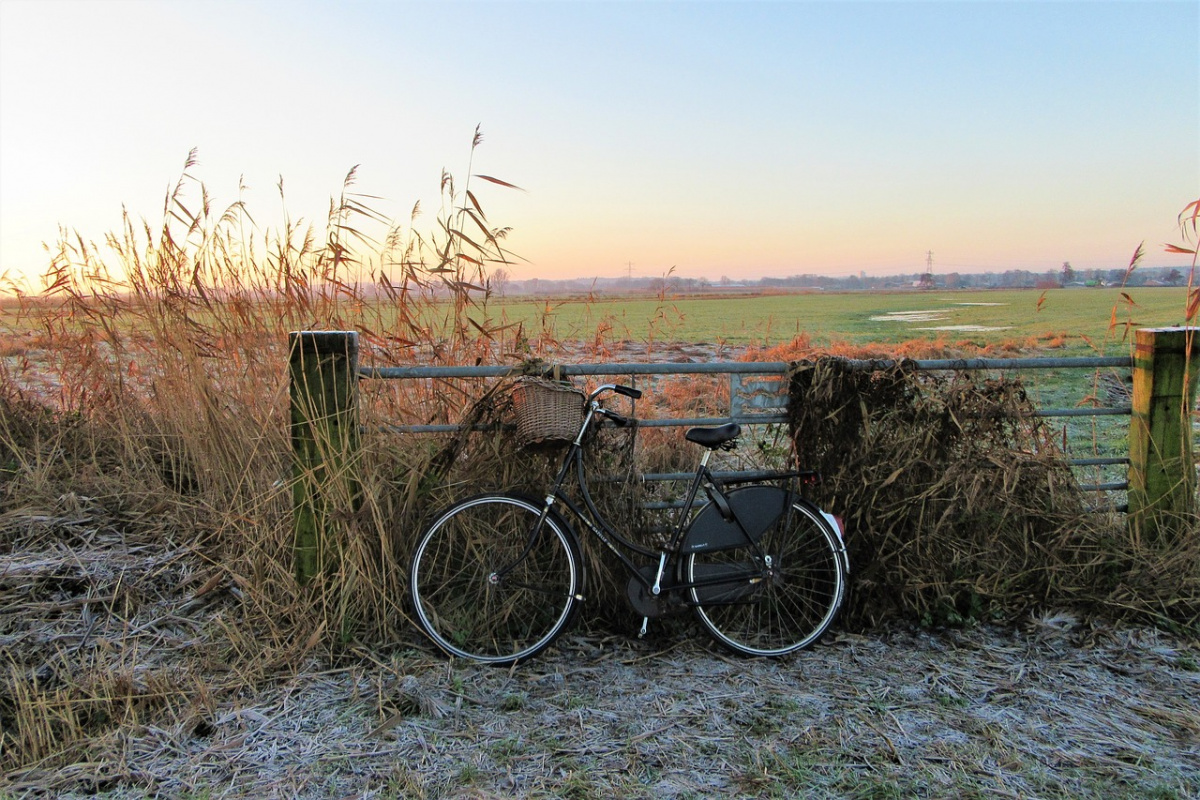 If you're coming from Amsterdam I recommend either going to Leiden and renting a bike there. While you can just rent a bike in Amsterdam, you want to avoid the hassle of paying extra for taking it on the train (which you can't do during rush hour anyway unless it's a foldable bike).
From there you can bike directly to Lisse / Sassenheim which will take you about 30 minutes (15 km). You'll know once you get there, as there will be plenty of tulips around you.
Before you hop off your bike to admire the tulips, don't forget to lock your bike. Bikes in the Netherlands get stolen very often and you don't want this to happen to you.
PLEASE do not walk through or damage the tulips fields apart from designated paths. This is the business of the farmer so please be respectful.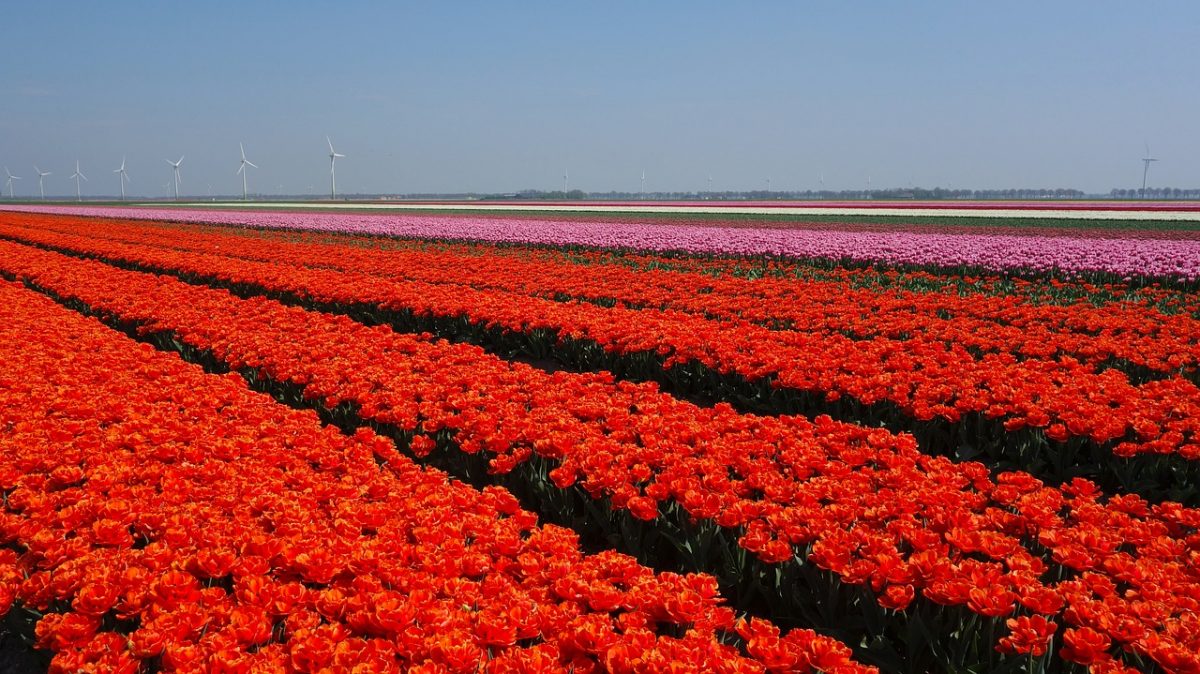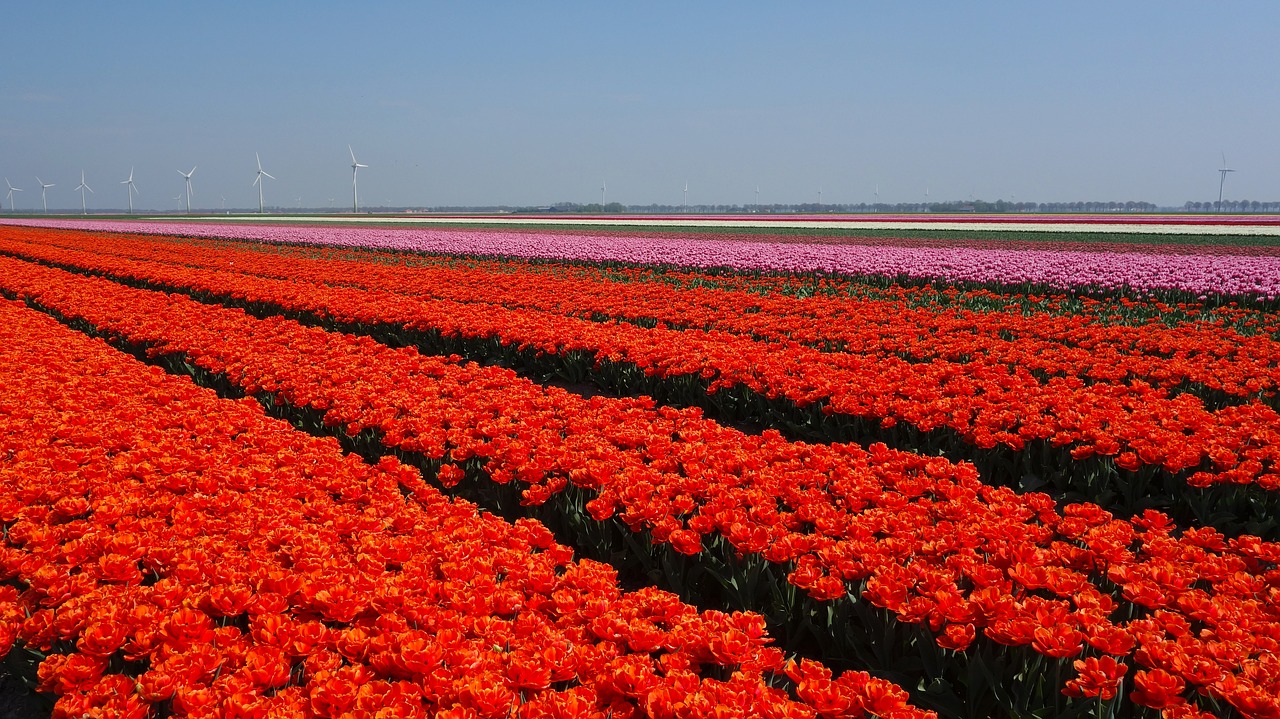 Any questions? Ask me in the comments below!