For many tourists or expats arriving in Amsterdam, Dutch transportation means one thing: a bicycle. While bicycles are surely the main form of transportation in Amsterdam, the Netherlands has an extensive network of other public transportation options for everyone.
To help you on your way, I created this guide to public transport in the Netherlands after many years of living in the Netherlands.
Dutch public transportation network is clean, efficient, and relatively cheap for what it offers.
Trains Between the Airport and Central Station in Amsterdam
It's quick, easy, and affordable to travel from Schiphol Airport to Centraal Station on the train. I can't say this enough, but getting to Schiphol Airport is super easy and there's no need for a taxi honestly.
You buy an NS train ticket at a machine at the airport – they are in English and other languages.
The trains take around 15 minutes to get to the city center and there are ramps and elevators everywhere so you won't need to drag your suitcases up and down the stairs like in London.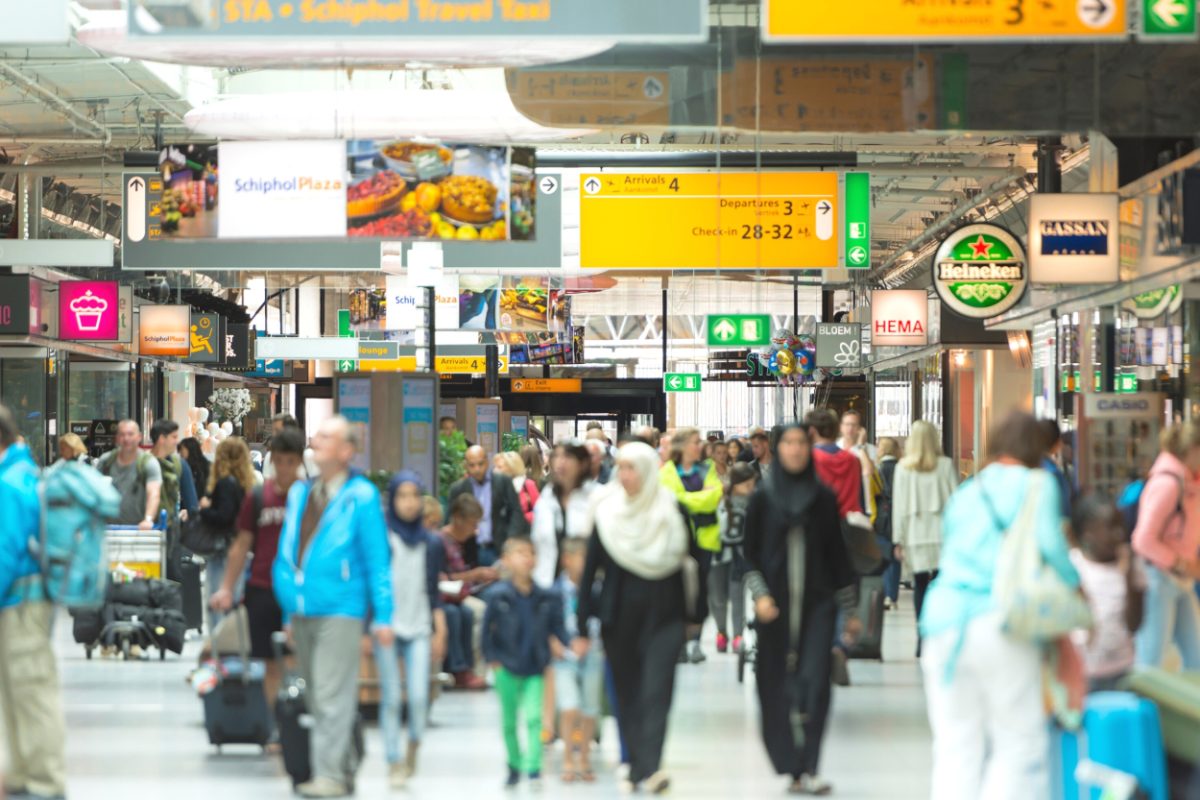 Public Transportation in Amsterdam
Transportation in Amsterdam (GVB) works well regardless of the neighborhood of Amsterdam you're staying at. Some trams are known for always arriving late, and night buses are very infrequent. However, it's understandable since over 60% of Amsterdammers ride their bikes everywhere.
The most basic option is to use their metro service, which can get you around the city quickly and easily with stations at or around major locations.
Biking in Amsterdam
One of the easiest and most affordable ways to travel around Amsterdam is by bike. If you're visiting you can rent a bike from any major train station.
The city is set up with separate bike lanes on larger roads so it's very safe. Dutchies bike with suitcases, pets, a few kids and babies – it's just another day in Holland to them. Just remember to signal with your arms as you're turning and use your bell to signal to pedestrians (especially tourists like to get on a bike lane, so make sure not to do this).
Metro in Amsterdam
There are five metro routes and all stations are accessible by wheelchair or stroller either by ramps or lifts.
If you're arriving from Amsterdam Schiphol airport – simply take a train to a station the closest to the area you'll be staying it. It only takes 10-15 minutes and trains run every 10-15 minutes during the day. It could be Amsterdam Centraal, Sloterdijk, Zuid. Taxis from the airport are very expensive, so I'd say: save your money.
Buses in Amsterdam
There are over 40 bus routes in and around Amsterdam. All buses have ramps and spaces designated for wheelchairs and strollers, but wheelchairs are prioritized over strollers.
Depending on the route, buses can run every 15 minutes to one hour (like to Zaanse Schans for example).
Trams in Amsterdam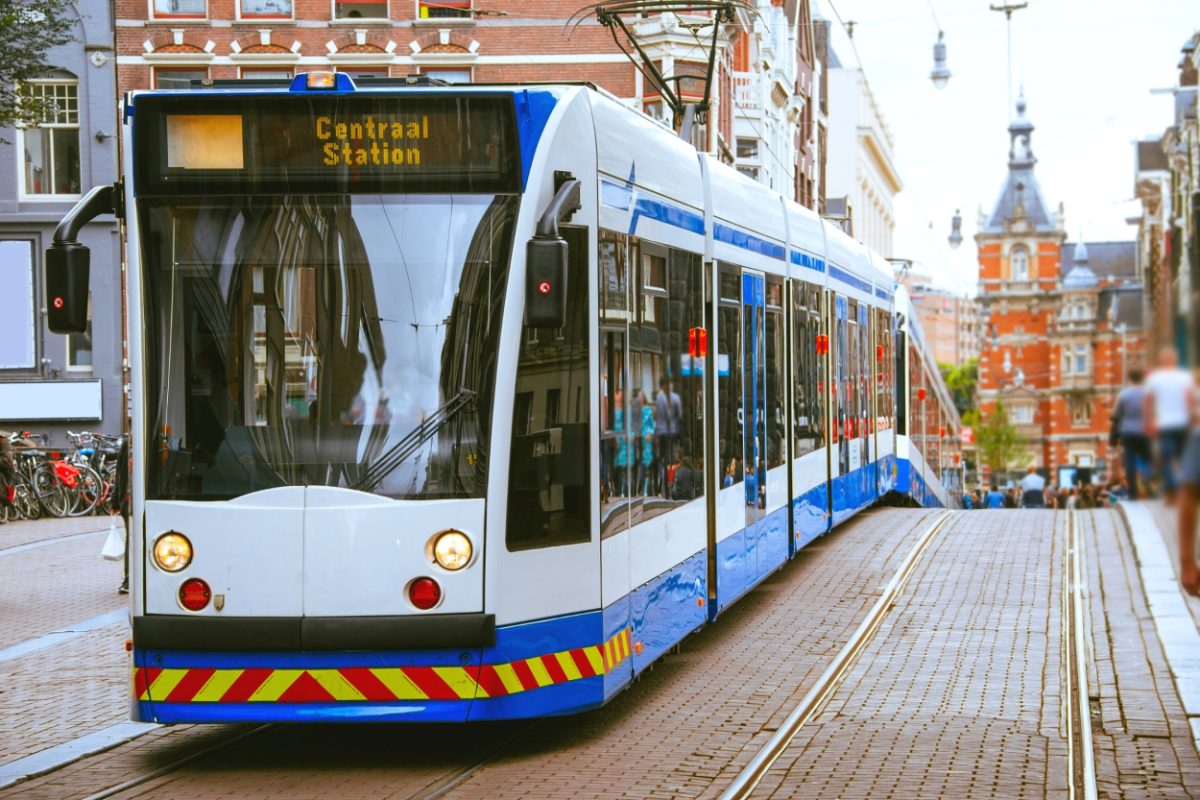 Trams are perfectly sufficient in Amsterdam and truth be told I can count on one hand the number of times I needed a bus while living in Amsterdam. Trams go everywhere.
Trams won't necessarily stop at all stations, so make sure you push the stop button.
Ferries in Amsterdam
If you're staying in Amsterdam Noord you might use a ferry. They're part of the GVB with ferries that travel from Amsterdam over the water 24 hours a day.
---
Trains in the Netherlands
The train network in the Netherlands is semi-efficient because there're often delays, but rest assured you will get to your destination. Services can be canceled due to strong winds, technical difficulties, and staff shortages. Most people commute to work by train, so the system is in place.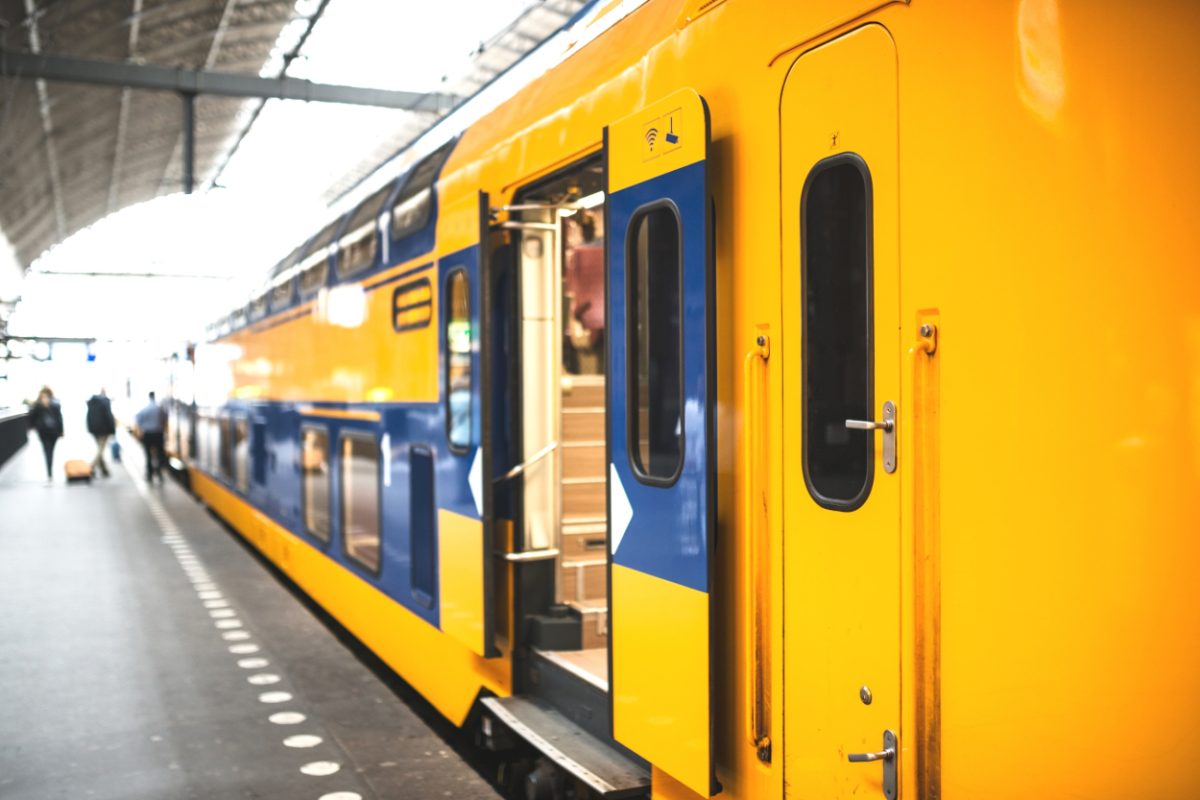 Dutch trains are operated by NS (Nederlandse Spoorwegen). There are two types of NS trains to look out for: the Sprinter and the Intercity.
Sprinter is the slower of the two, stopping at all local stations. On the other hand, Intercity services only stop at major stations, ensuring a quicker and more comfortable journey. Most trains have toilets on board.
Intercity trains have two classes (make sure you board the correct one, because tickets are being checked often) and some have quiet carriages (where people will get mad at you for the slightest noise) so pay attention if the carriage is marked as "quiet".
Journey costs are determined by the distance of your journey.
IMPORTANT: Always touch to check in and check out. This rule applies to both OV Chipkaarts and paper tickets. If you forget to check out your paper ticket will automatically become invalid, and if using a Chipkaart it'll take 20 Euros for an unchecked train ride and 5 Euros for a tram.
---
Buying a Ticket for Trains, Trams, Buses in Amsterdam
GVB covers three modes of public transport—metro, tram, and bus—you only need one ticket to access them all.
Tram and bus operators can sell one-hour, one-day, or 48-hour tickets but they don't accept cash payments. Kids under 4 years don't need a ticket.
To get on a train you could buy a single ticket (you have to either have coins or Dutch bank cards to get it at the machine, otherwise only at the counter), but this won't allow you to board any trams or buses. You can buy tickets onboard selected in Amsterdam that will cost €2.90 since the only tickets you can get are unlimited rides for 1 hour.
It's much better to pre-purchase either a 24-hour pass for €80 or get an OV Chipkaart. You can purchase them online, or at the counter at selected stations upon arrival.
OV Chipkaart can be used on trains, buses, and trams. One thing to remember is to always have a minimum of 20 Euros on it to ride a train and 5 Euros for trams & buses. Otherwise, it won't let you in.
Don't worry though, you can cash out the unused money on your card at the counter at Schiphol when you leave.
Alternatively, if you're planning on visiting many museums, consider getting an iAmsterdam Card. It gives you access to most popular museums for free and a ticket for transportation. I highly recommend it, because it will save you money.
There's also Amsterdam Holland Pass that includes free public transportation within Amsterdam, and access to top attractions in Amsterdam and other major cities.
Public Transportation Apps in the Netherlands
If you don't know how to get somewhere in the Netherlands there are a few better apps than the good old Google Maps.
The Netherlands has a wealth of public transport apps, including:
9292 – this app and website allow you to plan your journey in detail, with options for walking, cycling, trains, trams, and buses. It also allows you to check fares and order credit online.
NS – the national train app has an in-built journey planner to organize your train travel. It also keeps you up to date on delays and cancellations.