Annecy is a pretty lake town in the Haute-Savoie region of France. The town is surrounded by mountains on the edge of the Swiss border, just half an away from Geneva and nearby popular French ski resorts.
Most tourists only pass by but there are plenty of things to do in Annecy if you choose to spend a few days in Annecy: from lake cruising, and castles to farmer's markets.
We spent a few months living in Annecy with our two kids and cat and we loved it. In fact, we're planning on potentially moving to Annecy more permanently in the future. The town has a big international community because lots of people choose to live there and just commute to Geneva.
Note: if you're traveling to Annecy with kids I make additions to each activity, plus I put together some attractions just for kids at every stop.
Best Time To Visit Annecy
There's really no wrong time to visit Annecy, but personally would suggest avoiding March to the end of April. The weather is unpredictable in that area and it rains a lot. The snow is melted so winter activities aren't an option, but summer hikes aren't open yet either.
Summers are busy and it's Annecy's high season. It can get very crowded, especially on weekends and mid-days when many tourists visit Annecy as a day trip while traveling through Switzerland.
Spoiler: the lake is cold all year round, don't be fooled by people swimming it! They do, but even on the hottest day, it was still too cold for me.
Any other time is a fantastic time to visit Annecy. In September you can witness leaves changing colors. In October there's a fun Return Of The Alpine Pastures Festival. Winter months bring skiing and gorgeous snow-capped mountains. In early March there's a big carnival (Venetian style) and plenty of fun!
How to Get to Annecy
Annecy, France is located 44 km West of Geneva (Switzerland) about a 40-minute drive away. Lyon is 2 hours away.
Most people get to Annecy after flying into Geneva International Airport, and then driving over the border. Annecy actually has more options for arriving in the winter, as some smaller airports in the region operate in the winter for the ski season. – like Grenoble or Chambery.
If you want to explore the surrounding mountains and other things, renting a car is necessary. If you just want to visit other larger towns in the area, taking the train is fine but honestly – do yourself a favor and drive around.
Where To Stay In Annecy
The best areas to stay in Annecy are near the old town for easy access to the markets and the lake. I see a lot of blog posts recommending places that are very far away from actual spots, so be aware of that.
Le Splendid Hotel Lac D'Annecy – Most famous hotel in Annecy. The location is ideal next to the old town and lake.
Un lieu unique Le Bohème – Super cute apartment right in the heart of the old town.
Impérial Palace – Secluded, yet close to bike paths and within walking distance to the old town, offering more intimacy with a view of the lake.
There are also plenty of apartments for rent in Annecy. I would say that anywhere in the old town, Centre Ville. Areas like Seynod may seem close but I think it's too far for an average tourist to get a bus or 20 minutes into town.
Note that "old town" isn't the same as Annecy-le-Vieux – that area is very quiet, almost suburban and feels nothing like the old town where the Palais de l'Isle is.
Parking in Annecy is hard to find, so keep that in mind. We tried not to move our car at all, especially on market days or weekends, because we could find parking later.
Best Things to Do in Annecy
Explore Annecy's Old Town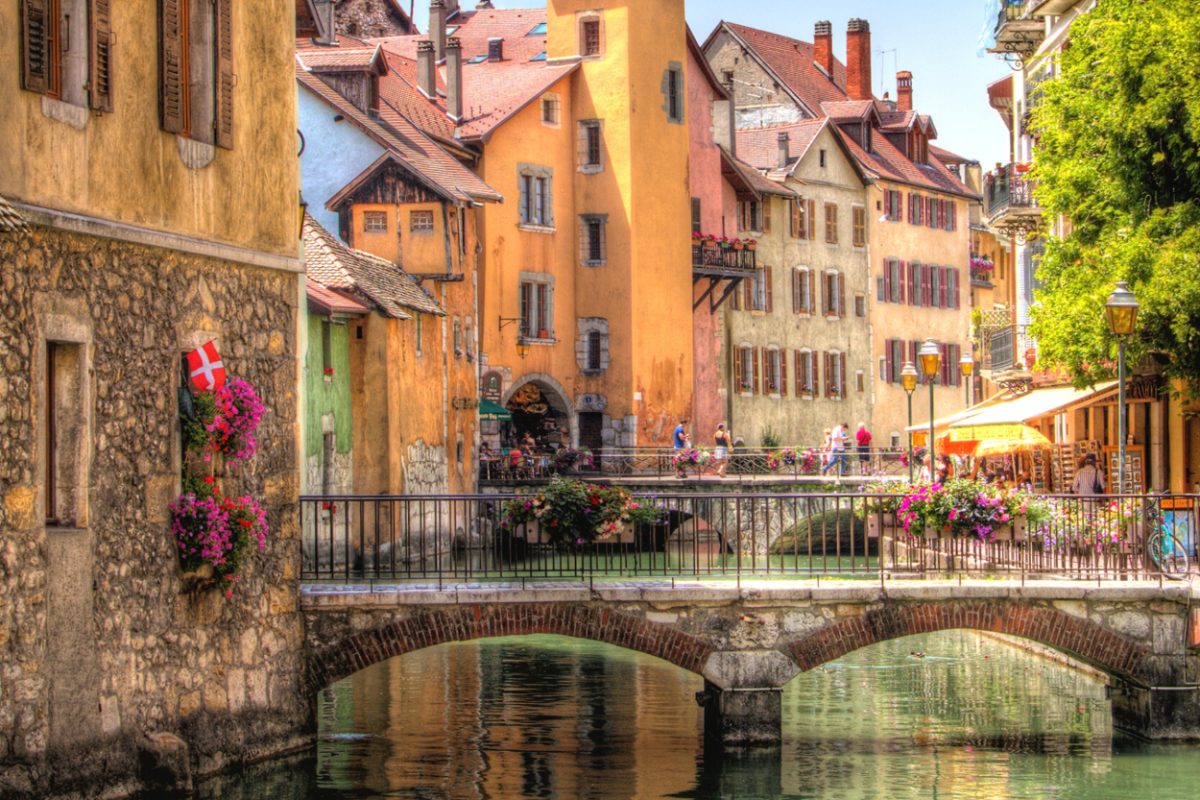 You might have seen a photo of Palais de l'Isle as it's the most famous spot in Annecy. It's a Medieval palace in the middle of the Thiou Canal that was once a prison, then a royal residence, and an administrative center, before becoming a museum today. You can pay €4 to enter to see an old courtroom, dungeon, prison cells, and chapel.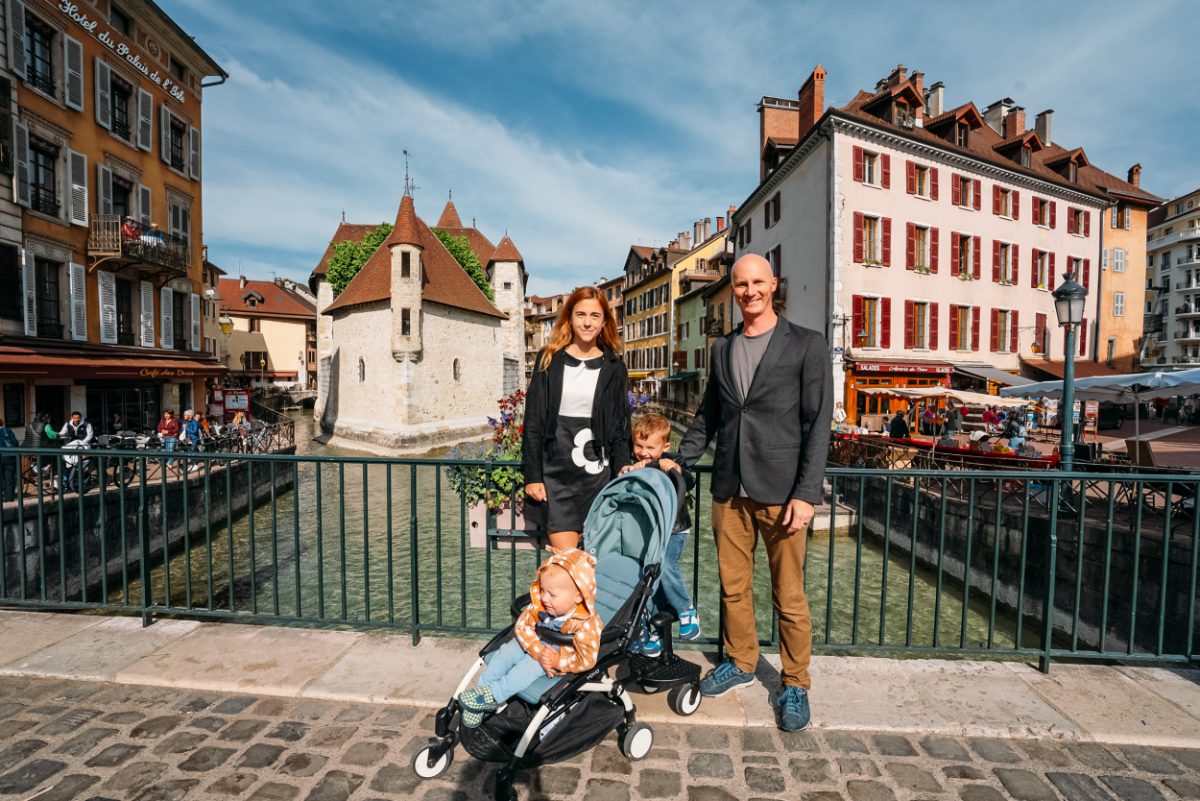 When you're taking photos from the bridge right across it you might want to grab some ice cream from Maison Perriere – it's hard to miss. People usually prefer Le glacier des Alpes, but my kids I thought Maison had more flavors to chose from.
Annecy is known for its canals and is often called the Venice of the Alps. Annecy's canals are too shallow for boating but very picturesque. They're surrounded by colorful old buildings and cobblestone streets, and most little bridges are full of flower boxes.
You can see the mountains in the distance as well, which makes it a very pretty town.
If you have kids with you, Annecy has a few awesome playgrounds with a view. In the heart of the old town, there's one overlooking a church.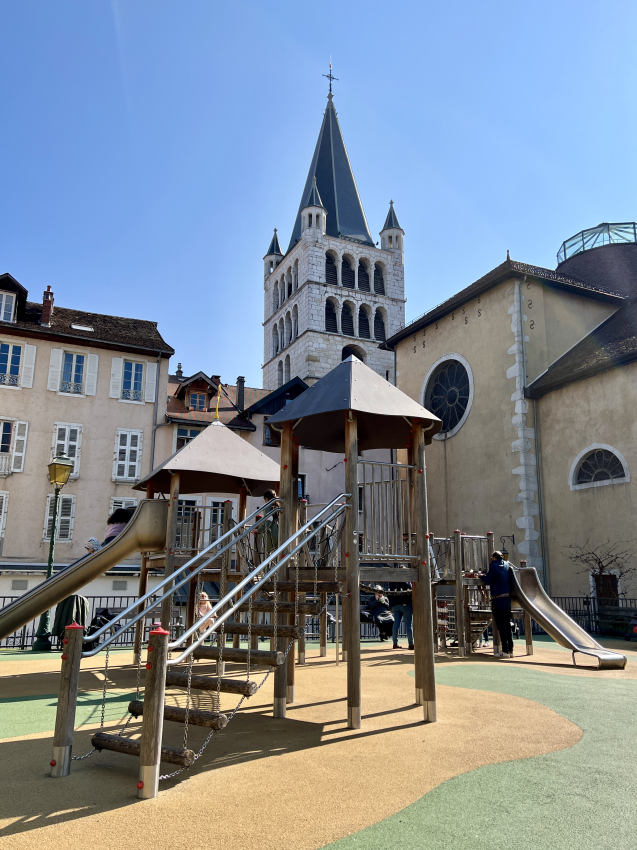 ---
---
Farmer's Market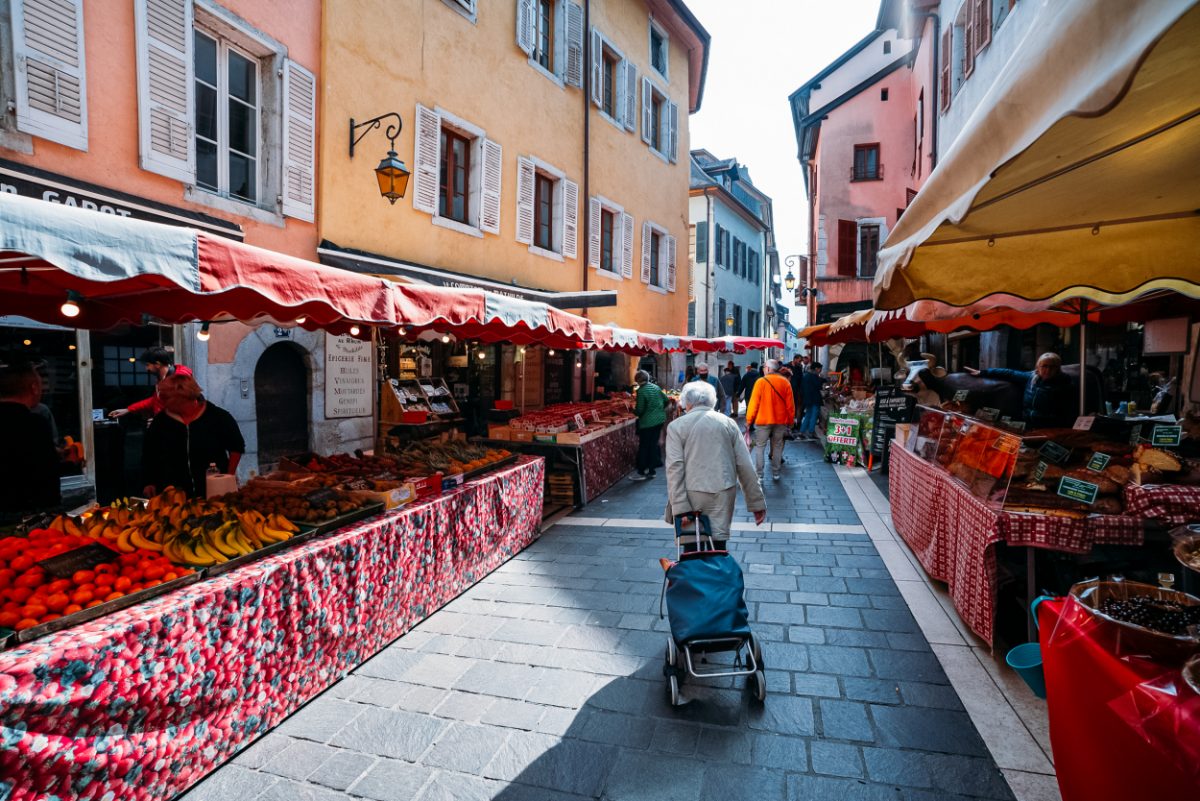 Annecy has a fantastic street market in the old town – basically all over the old town. The Annecy street market is every Tuesday, Friday, and Sunday from 7am–1pm. Make sure to get some of the local Reblochon cheese and some nougat.
There's also another market, more of a "local secret". It starts at Gallerie Lafayette and spreads around Av. de la Plaine and the smaller streets around this market are only on Saturday.
---
Paraglide
If you're adventurous I strongly recommend you to book a paragliding session above Lake Annecy, as Annecy is the most famous paragliding site in Europe.
It's one of the best ways to see the entire region from above and to enjoy unique views of the lake.
The paragliding session usually starts from Forclaz pass (col de Forclaz in french) or the small town of Talloires and it should be booked in advance.
---
Lover's Bridge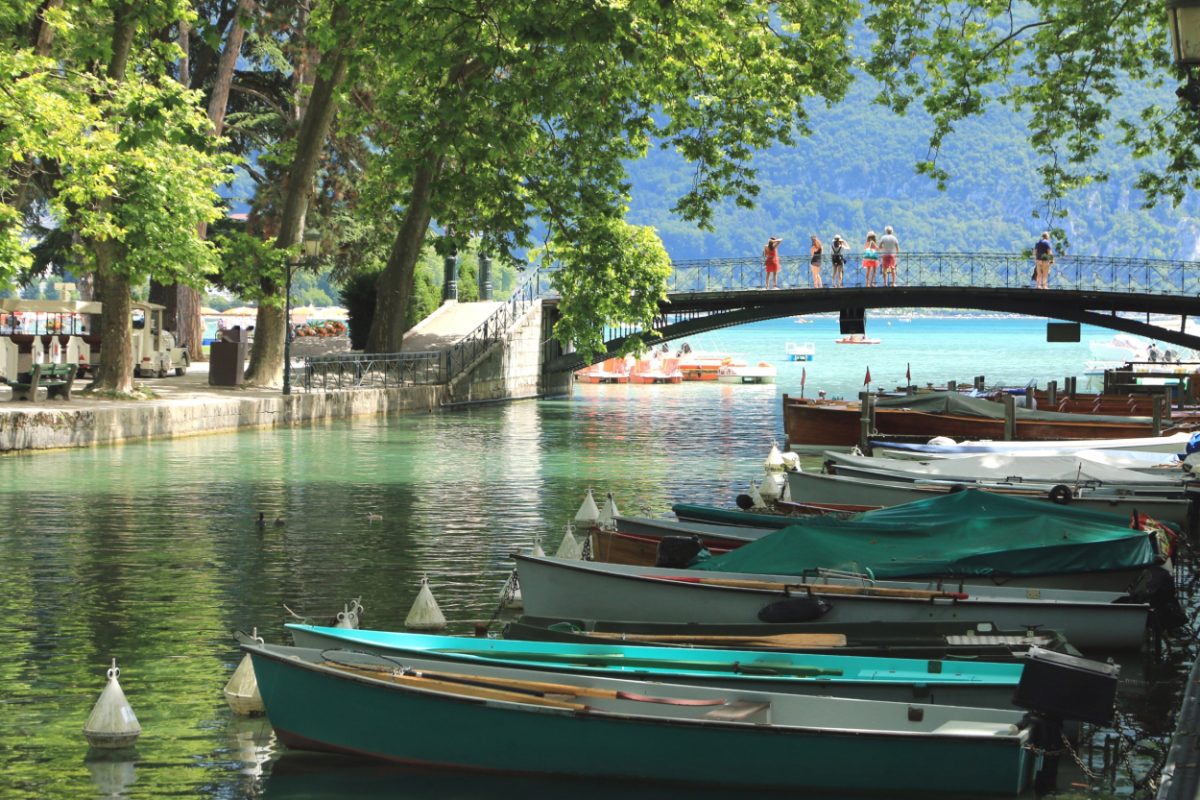 Pont des Amours is a famous bridge on the edge of Lac d'Annecy that spans the Vassé canal and connects the Jardins de l'Europe with the old town.
The bridge has two great views. One look at the lake itself with mountains in the background, and if you turn around, you'll enjoy a tree-lined canal with wooden boats moored on each side (the best view especially in the autumn!).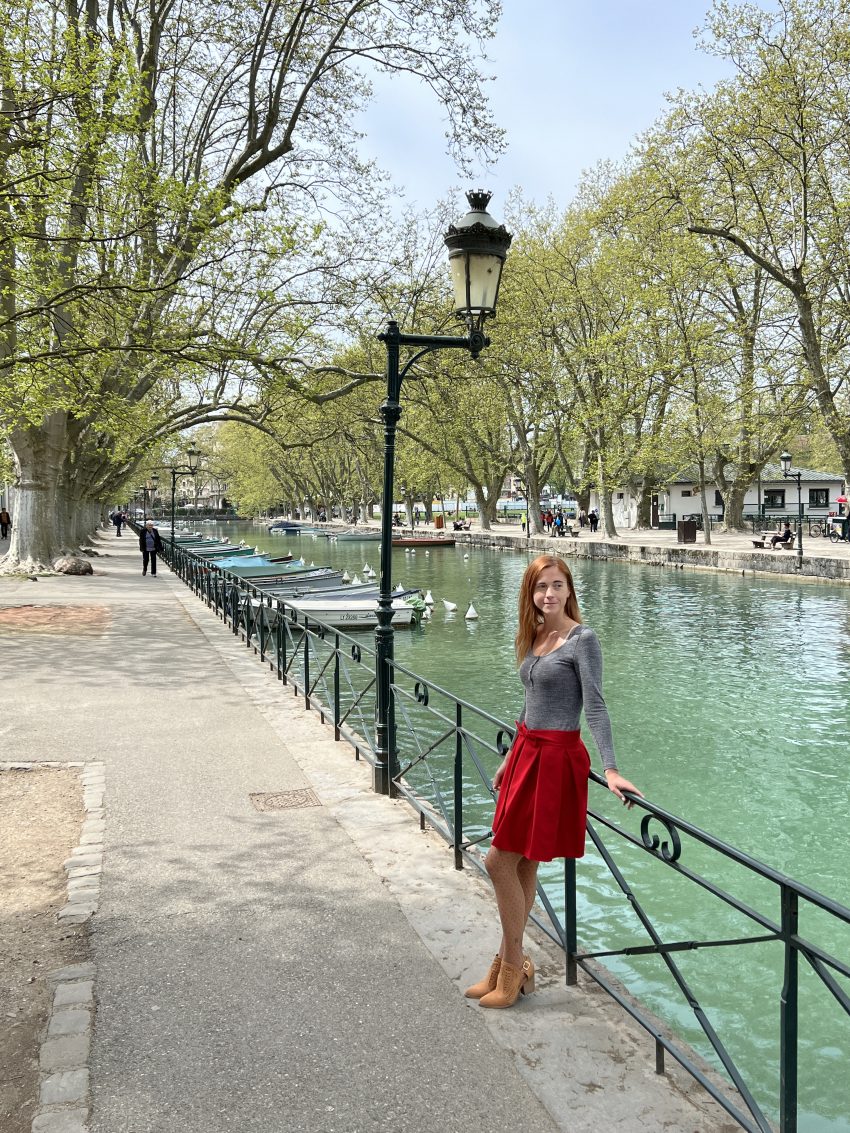 If you're coming with kids… you won't fail to notice that there are TWO playgrounds on both sides of the bridge. Both are pretty busy almost at all times, but enclosed and partially shaded.
---
Picnic in the Jardins de l'Europe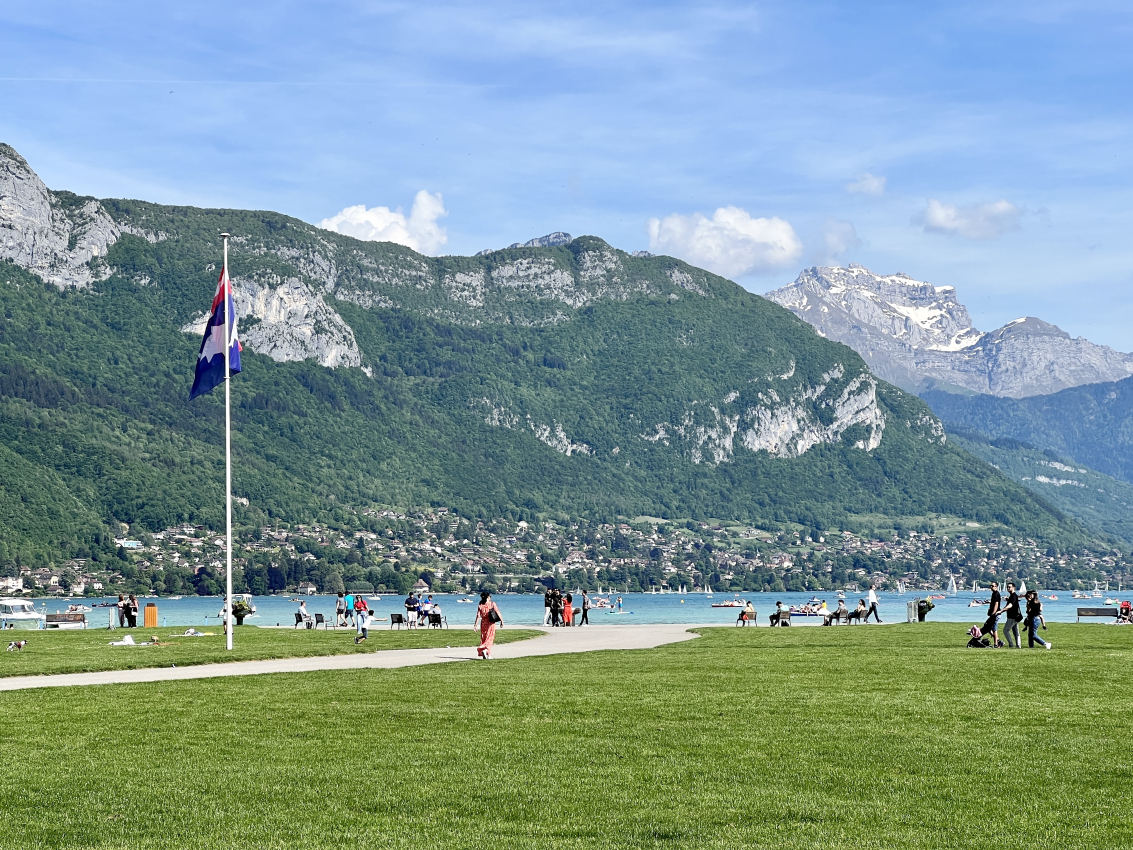 If the weather is nice you'll see a ton of locals enjoying their day at the park. There are lots of grassy spots to sit with boardwalks overlooking the lake. Just pick some cheese and bread from the market and go ahead.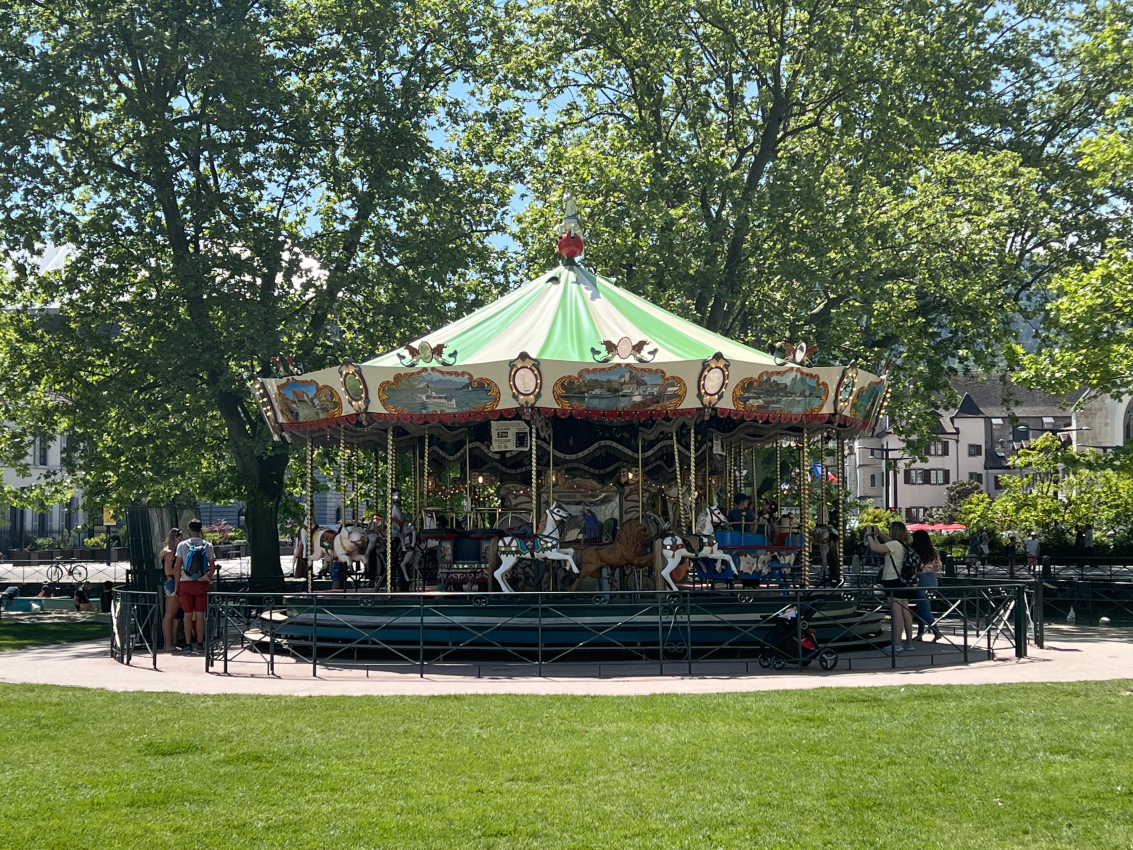 There's even an old wooden Carousel from 1871 for kids to ride, and on weekends there's usually a lady renting some pony bikes for kids and people selling drinks and ice cream.
---
Take a Boat to the Lake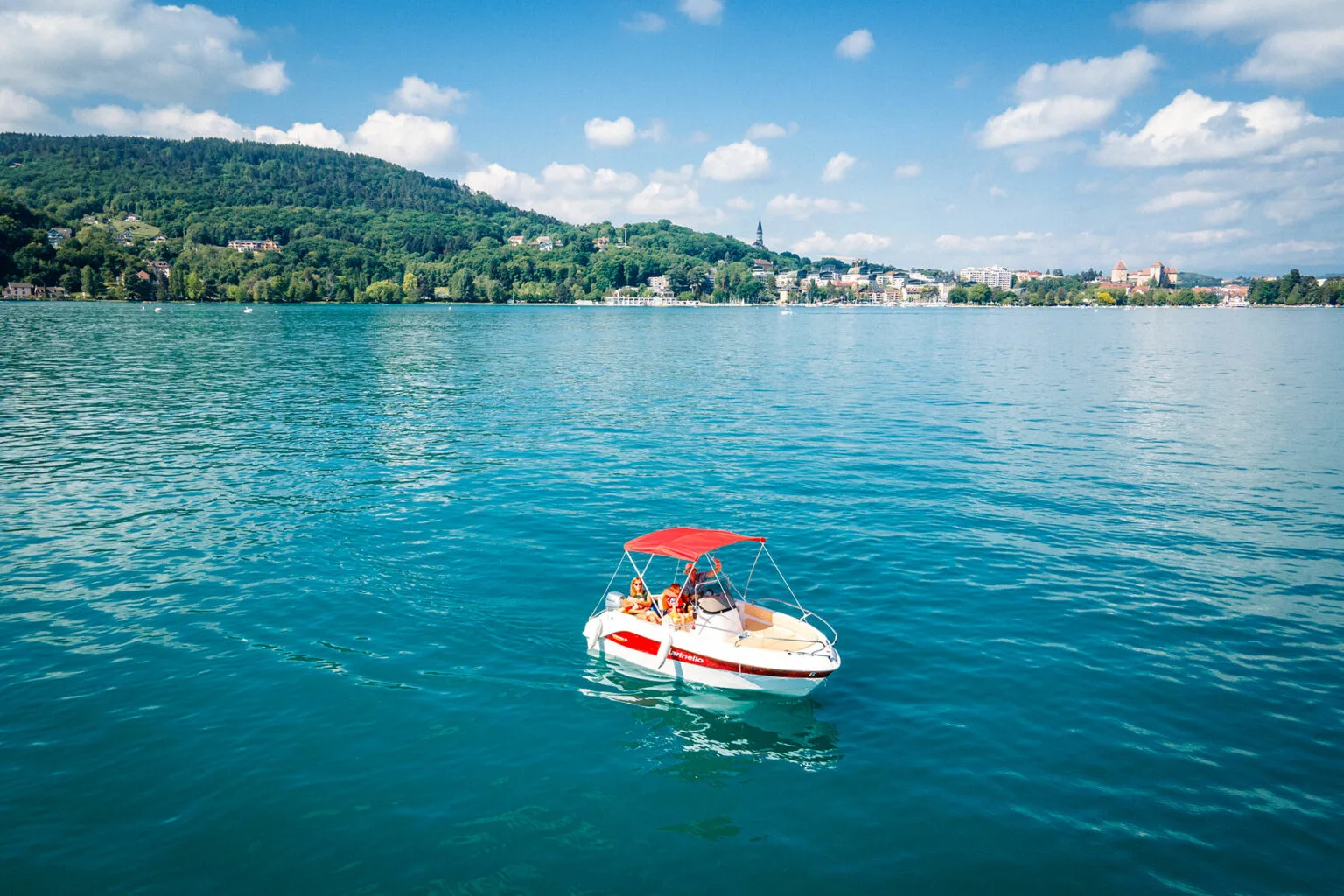 While there are bigger boats taking tourists around the lake I suggest a smaller self-operated board.
Right off the Jardins de l'Europe there are multiple people renting boats and pedal boats to on this stunning blue lake of Annecy. Lake Annecy is France's 3rd largest lake and regularly receives accolades for being the freshest and cleanest lake in Europe.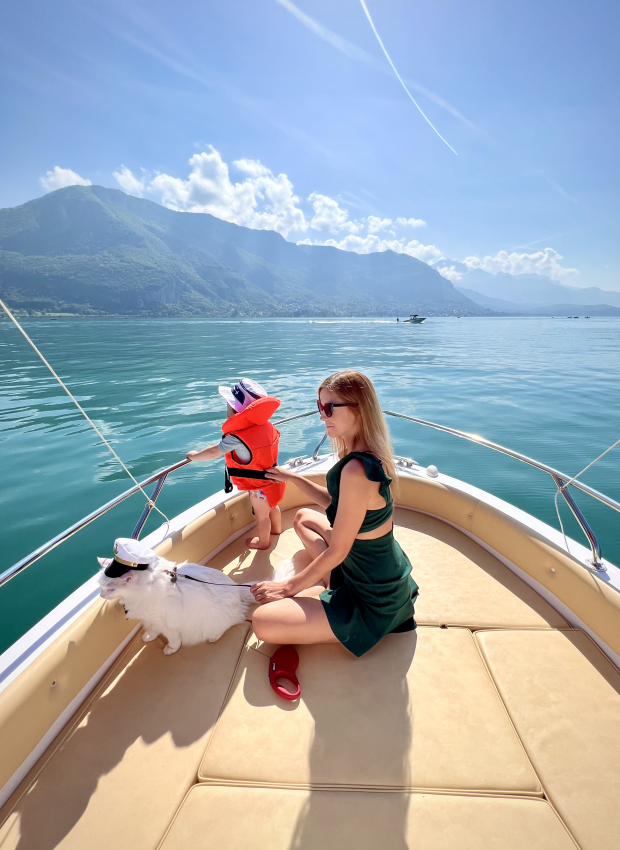 Pedal boats are about €15 for 30 minutes and motorized boats run about €65. Some even have slides or diving boards attached. Most are kids and pets friendly. We took our cat for a ride!
---
See Chateau d'Annecy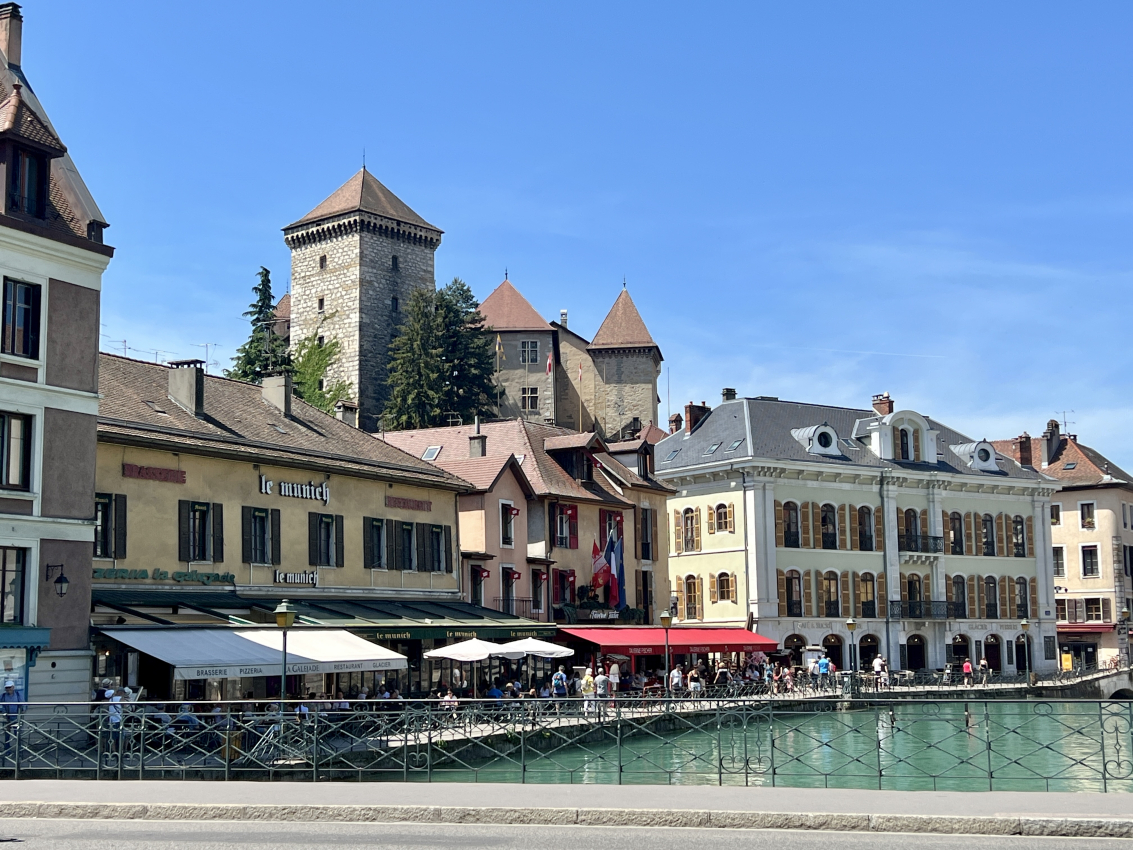 It's a 13th-century castle in the heart of Annecy, located on a hill above the town. Nowadays it's a local sculpture, art, and nature exhibit of animals and fish that are found around the lake
---
Taste Haute Savoire cuisine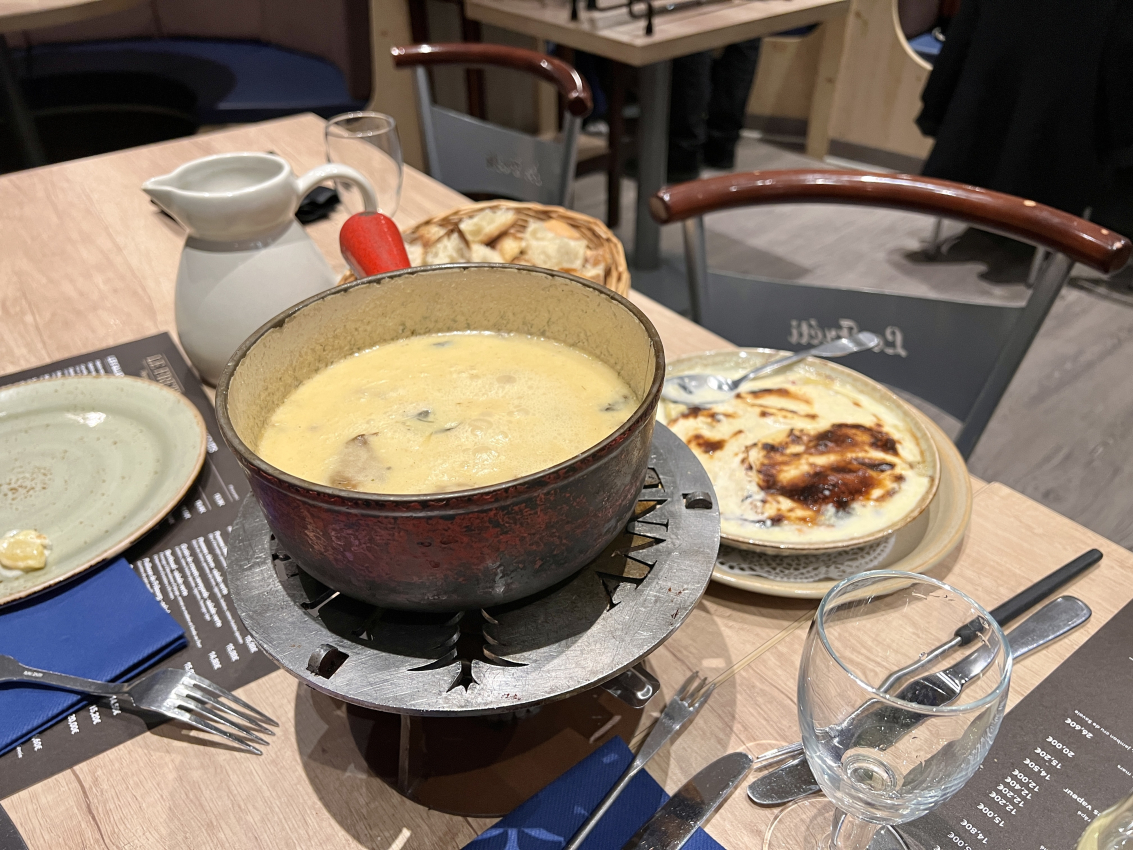 Annecy is in the middle of the French Alps – a place known for incredibly cheesy, hearty alpine delights. Try some traditional alpine fare like raclette, baked reblochon, fondue, and tartiflette.
Le Freti and L'Etage are both great restaurants to enjoy these French alpine classics.
Award-winning Pierre Gay is one of the best-known fromageries in town, but in all honesty you can get the best cheeses at the market.
---
Promenade du Thiou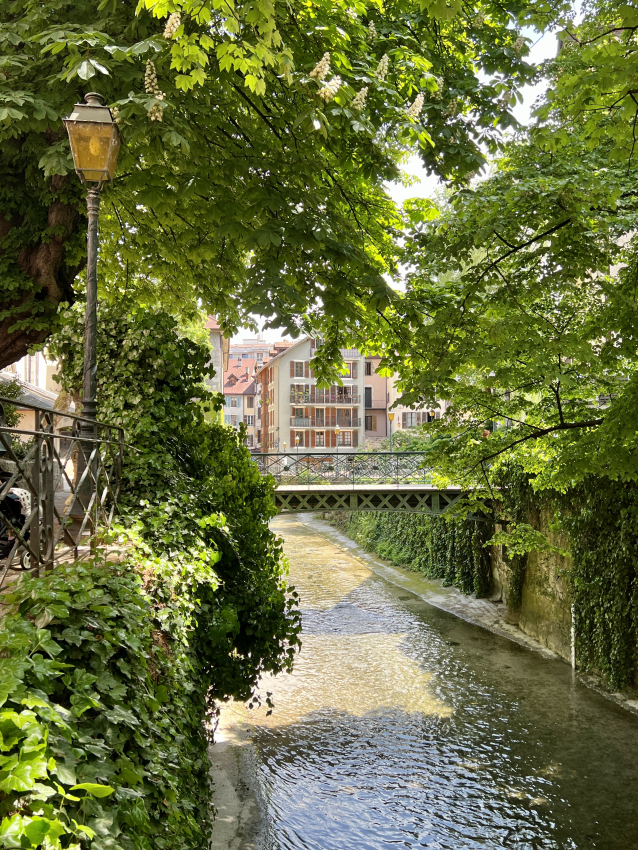 If you want to escape the crowds for a bit The Promenade du Thiou is a nice easy walk through the old town of Annecy along the crystal blue Thiou River. At just 3.6 km in length, this is actually one of the shortest rivers in France!
The trail is bike and stroller friendly too and I never saw a tourist there – only locals.
There are various playgrounds on the way with sitting areas, and bridges spread out along the tree-shaded trail. It's best to start at Parc de l'Île Saint-Joseph.
---
Bike Around The Lake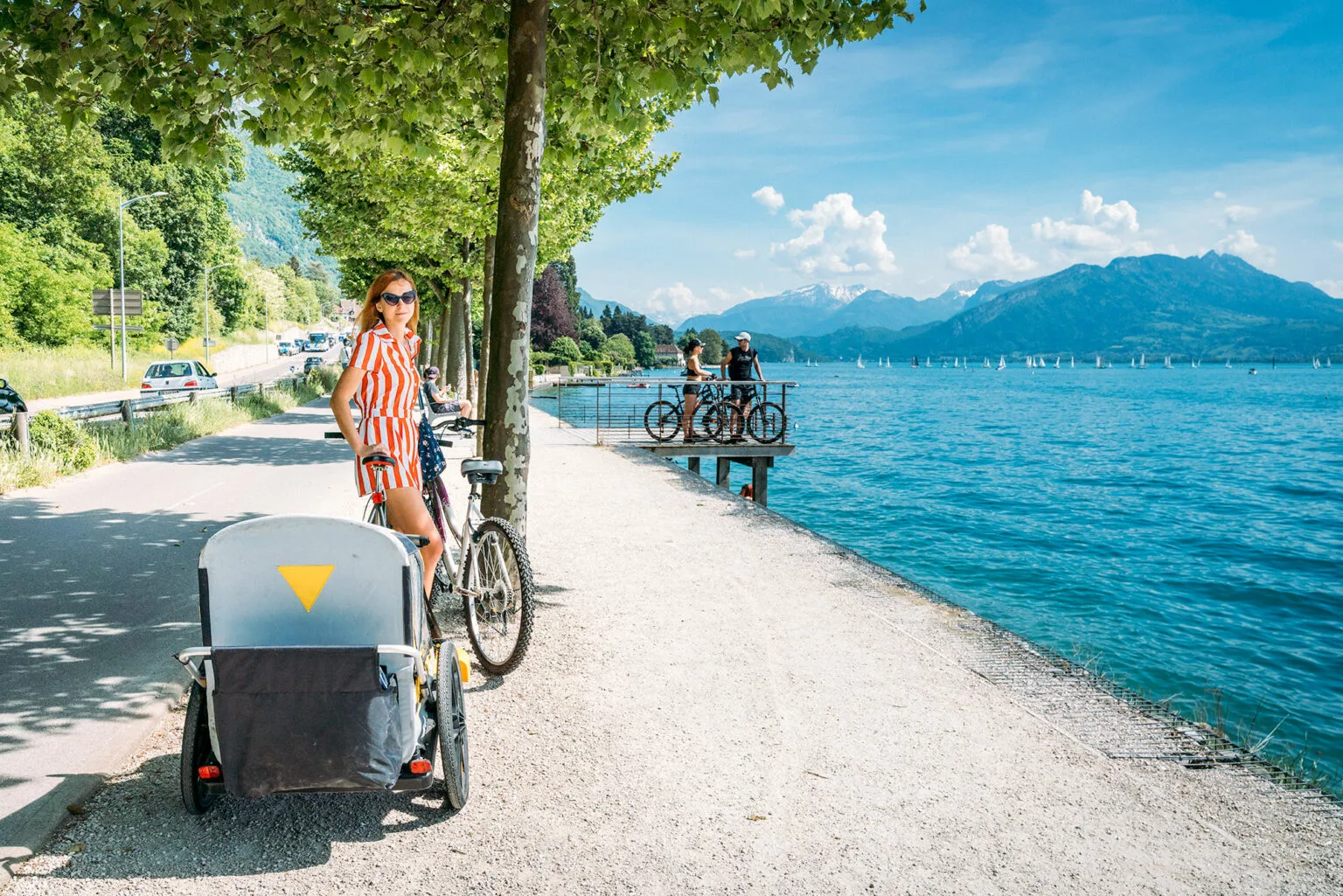 Annecy is very bicycle friendly with various dedicated bike paths and trails that will take you all around the town and lake with gorgeous scenery.
This 35 km paved greenway follows the old route of a railroad that connected Annecy with Albertville and stops in smaller villages along the way like Sévrier, Saint-Jorioz, Duingt, Lathuile and Doussard.
You can rent a bike from many shops in Annecy including trailers for kids.
If you bike all the way to Veyrier-sur-Lac (about 5 km) you can enjoy a mini promenade and there's a restaurant called Le Pecheur. They serve fantastic fish – highly recommend it!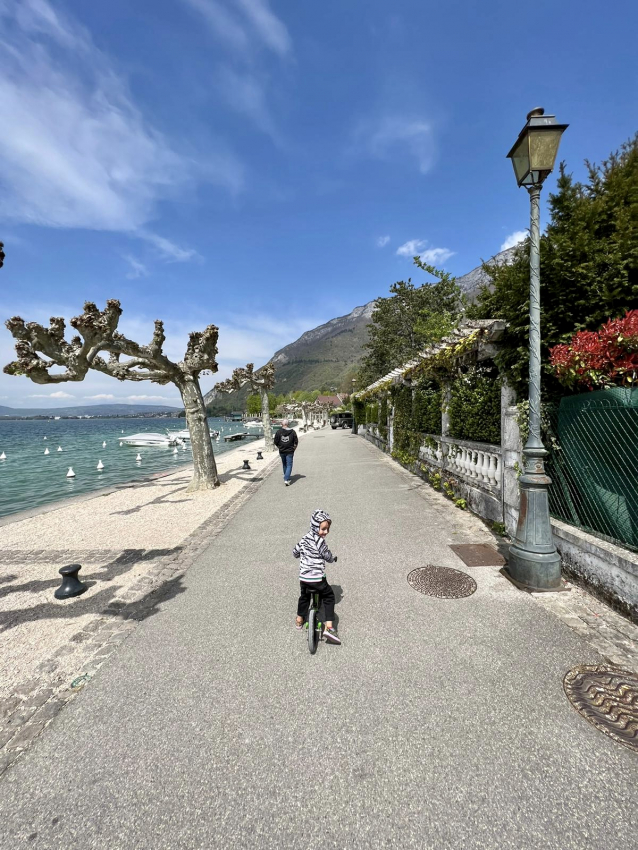 Some people would say there are beaches on the way, but it's more of a spot to sit – the closest one is near Hotel Imperial. The only sandy beach of lake Annecy is Saint Jorioz.
---
Annecy le Vieux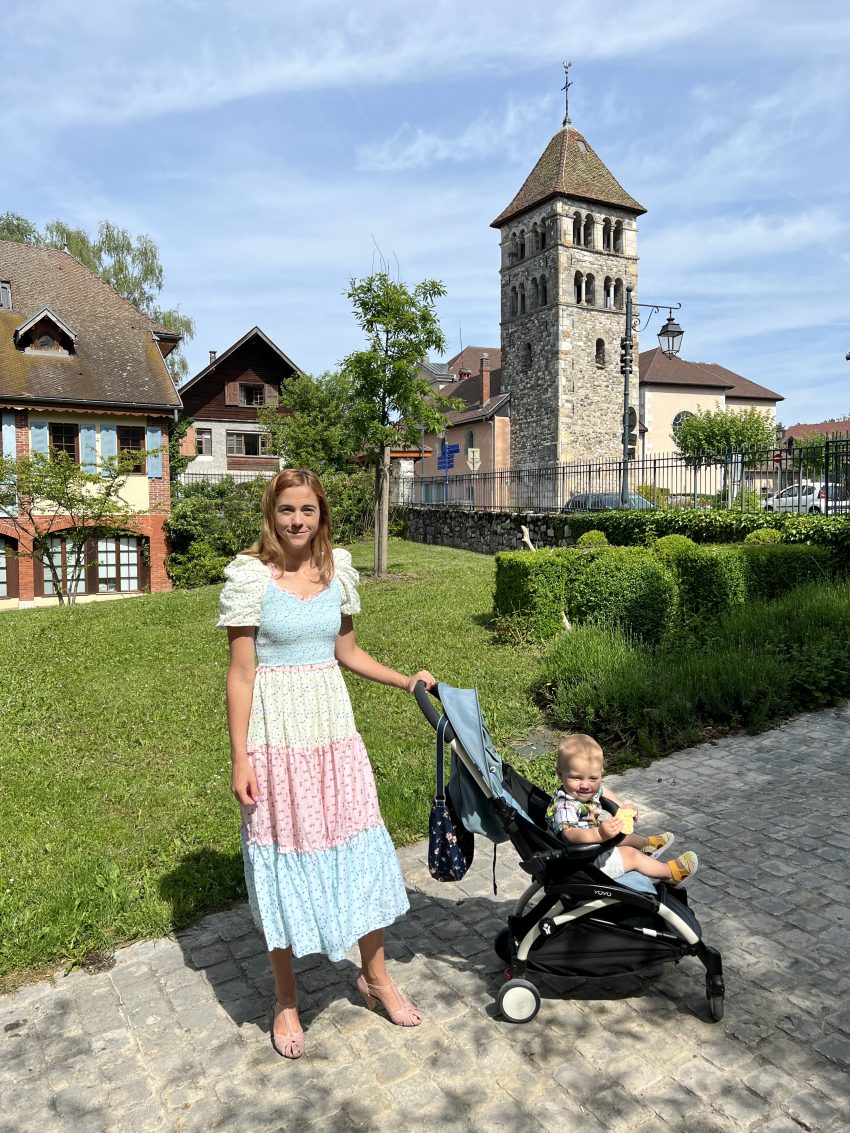 Annecy le Vieux is a different part of town (it's not the old town – that's Vieille Ville!). It's a residential area raised up on a hill overlooking the rest of the lake.
It has a nice park with a view, old buildings and churches, some restaurants & bars, and is a nice place for a stroll if you want to change the scenery.
---
Parc Animalier de la Grande Jeanne
Parc Animalier de la Grande Jeanne is a wildlife park located in the town of Les Ollières, which is about a 30-minute drive from Annecy.
Wildlife: The park is home to a variety of animals, including deer, wolves, lynx, and many others. It's a great opportunity to see these animals up close and learn about their behavior and habitats.
For kids, there are several interactive exhibits and activities, including a petting zoo and a playground.
Belvédère du Roc de Chère
If you're up for a short hike without needing to go far, head to the other side of the lake. It's an easy walk with no people in sight.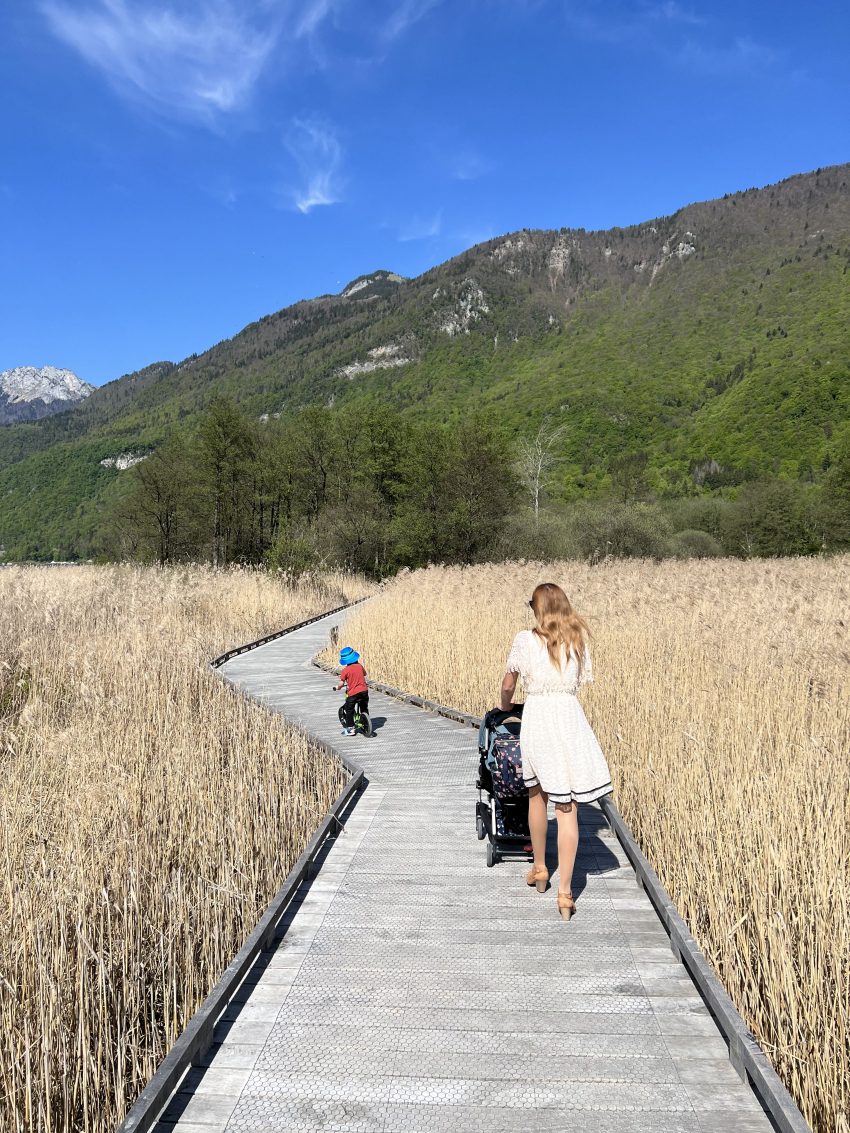 ---
Day trip from Annecy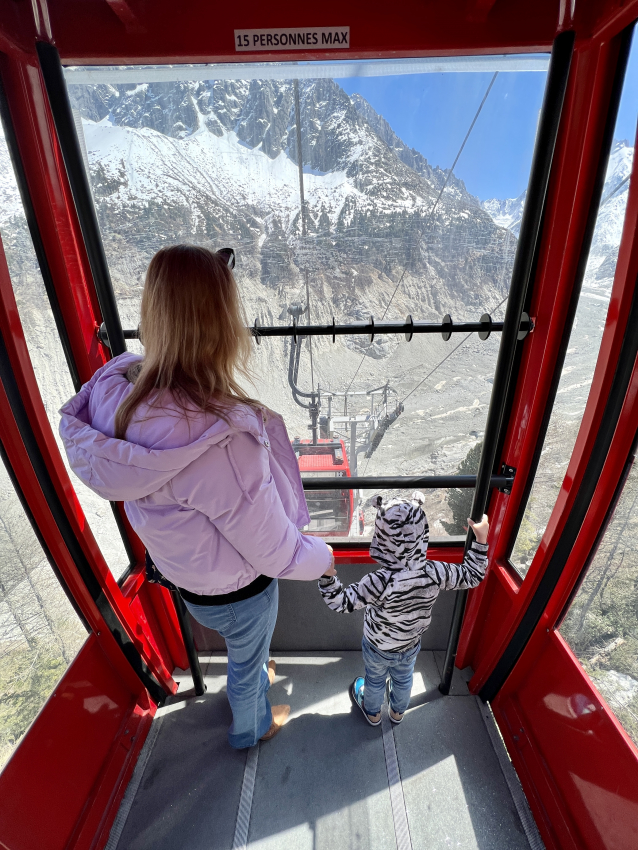 Another advantage of Annecy is its practical location in the Alps region, close to the French-Swiss border and not far from Italy. There are so many day trips from Annecy!
From Annecy, you can access lots of great destinations in only a few hours' drive, which makes Annecy a great starting point for a road trip. That's what we loved about it the most!
---
The Annecy Lake Festival (seasonal)
Another must-see for locals and tourists is the Annecy Lake Festival. This amazing pyrotechnic show takes place every year on the first Saturday of August and is the biggest in Europe.
Fireworks are shot off from Lake Annecy and stands are built everywhere around Paquier so everyone can enjoy it. There are around 46 000 paid seats, but of course, you can view it from anywhere around the lake
For more info and seat booking, you can have a look Annecy official website.
---
Things to Do in Annecy in the Winter
If you wonder what to do in Annecy in winter, don't worry – there's plenty!
Christmas Markets
From late November until early January, you can enjoy Christmas markets in the city full of stalls selling incredible French yummies including sausages, raclette, and mulled wine.
Annecy Christmas Markets aren't as busy as those in Germany or Colmar, so that's a plus. I'd say they're comparable with Verona Christmas markets.
There is also ice skating at the Village des Alpes at the Christmas market. City Hall has light animations projected onto the building.
Carnival
Every year, generally at the beginning of march, hundreds of people dressed with magnificent costumes parade in the street. Several activities related to make-up or masks creations can be done in Annecy during the Venetian Carnival.
Snowshoeing
Snowshoeing, also known as "raquettes" in French, is a great way to explore the stunning winter landscapes of the region. There are several snowshoeing trails around Annecy. Some popular options include La Clusaz, Semnoz, and Les Confins – all with breathtaking views of the surrounding mountains and forests.
Activ'Annecy is a company to book it with.
Night in Igloo
If it gets very cold you can book a night in an igloo. We haven't done it yet, but I really want to!
Skiing
Resorts like La Clusaz, Semnoz, and Le Grand Bornand nearby are accessible via bus from Annecy. For ski day passes, expect to pay between €15-40 plus rentals which cost around €20-30 depending on what you need and where you get it.
Enchanted Forest
If you're coming with kids and the weather is bad (like in rainy March) you might want to take kids to indoor play spots. My kids loved Enchanted Forest and were very impressed by how nice it was made.