When traveling to the nation's center of the film and entertainment industry, you surely will want to stay in the most exciting areas this giant city has to offer.
Los Angeles is the second most populated city in the US, so finding the perfect place during your stay can be hard. But from the trendiest neighborhoods to the classic old Hollywood spots, LA has something for everyone.
Are you ready to explore everything the city of angels has to offer, learn some fun facts, and check out the best spots in the city? Keep reading for the ultimate where to stay in Los Angeles guide.
Head over to "The City of Angels" to experience firsthand the glitz and glam, and the potential to spot your favorite celeb! LA has a place for all, whether you want to spend the day shopping, sightseeing, celeb hunting, or on the beach, you can do it all here!
How do I know what am I talking about? Simply put: I used to live in Los Angeles. Before I moved to LA I also visited the city million times and stayed in different areas, so can tell you things from both local and tourist perspectives.
Best Hotels in Los Angeles
Best Luxury Hotels in Los Angeles
Dream Hollywood • The Maybourne Beverly Hills • Shutters on The Beach • Beverly Hills Hotel
Best Boutique or Mid-Range Hotels in Los Angeles
Venice V Hotel• Hotel Erwin • The Wayfarer, DTLA
Best Cheap Accommodation in Los Angeles
The Kinney – Venice Beach • Sixty Beverly Hills • Gateway Hotel Santa Monica
---
★ First Time in Los Angeles? Stay in Hollywood, especially if you're young
★ Best Neighbourhood in Los Angeles for Families: Stay anywhere in Santa Monica.
★ Local Neighborhood in Los Angeles: Venice Beach or Silver Lake
★ Best for Nightlife in Los Angeles: West Hollywood
★ Layover in Los Angeles? Culver City
★ Best for Quiet: Malibu or Bel Air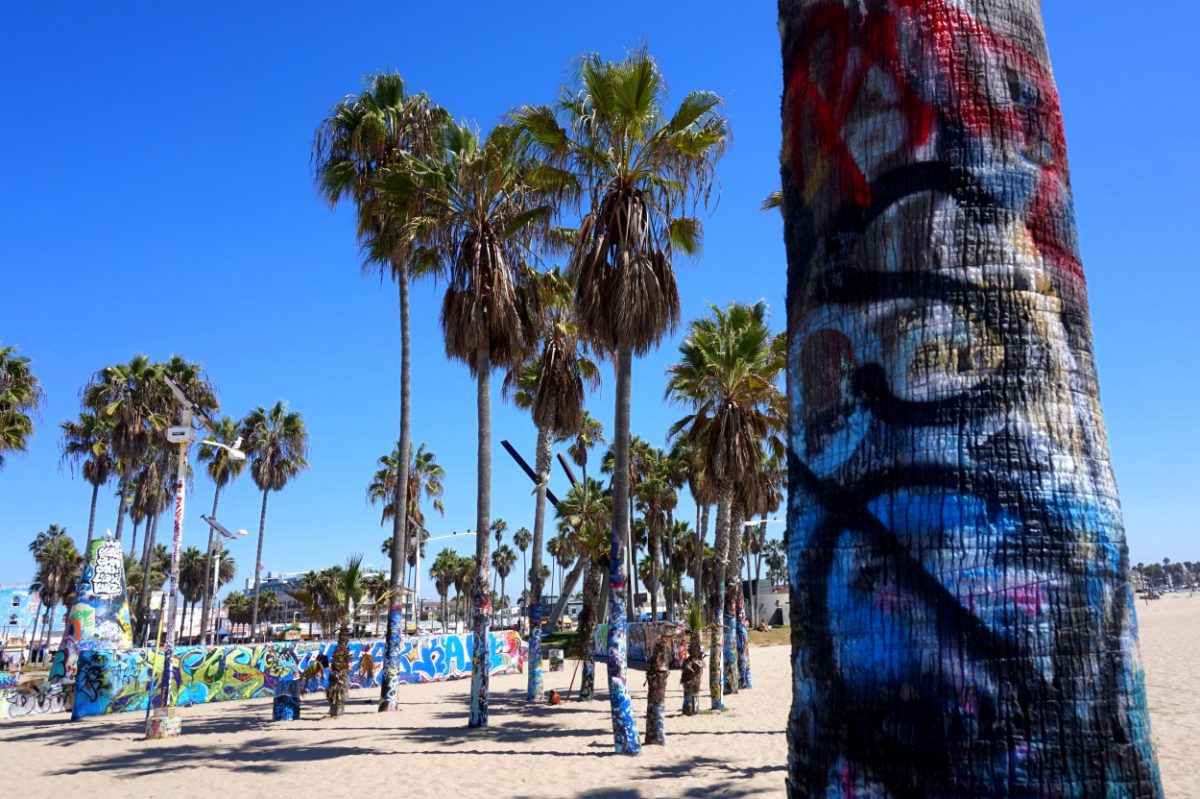 ---
How To Get Around Los Angeles?
Los Angeles is one of the easiest cities to get around! With so many methods of transportation to choose from, it's easy to not even think about transport till the last minute.
The Los Angeles Metro is the second largest public transportation network in the country (but let's not be fooled, it's not good like in Europe so still recommend getting a car because without a car getting anywhere will take forever).
Tickets or cards for public transport routes can easily be purchased online at the Metros TAPToGo site. These TAP cards can be easily reloaded online or at over 100 locations throughout the city.
You'll also find bright green-colored bikes all over the city that can be rented by the hour or in 30-minute slots using the Metro TAP card. These bikes are usually for shorter durations and require you to download the Metro Bike Share App.
There's also the touristy Hop on Hop off bus that stops at all the major attractions in LA. You can book tickets for the Red Route (Hollywood Loop) or the Blue Route (Beach Loop). The 48-hour Deluxe ticket is the best choice!
Another popular means of transport is the local taxis. There are almost a dozen taxi companies plying in Los Angeles, so from regular cabs to limos, you have a range to choose from. However, these taxis are only allowed to pick up rides in specific areas, so you must call in advance or use an app to book one.
Of course, the easiest mode of transport is to rent a car and drive around yourself. This way, you don't have to worry about sticking to schedules or getting anywhere by a particular time!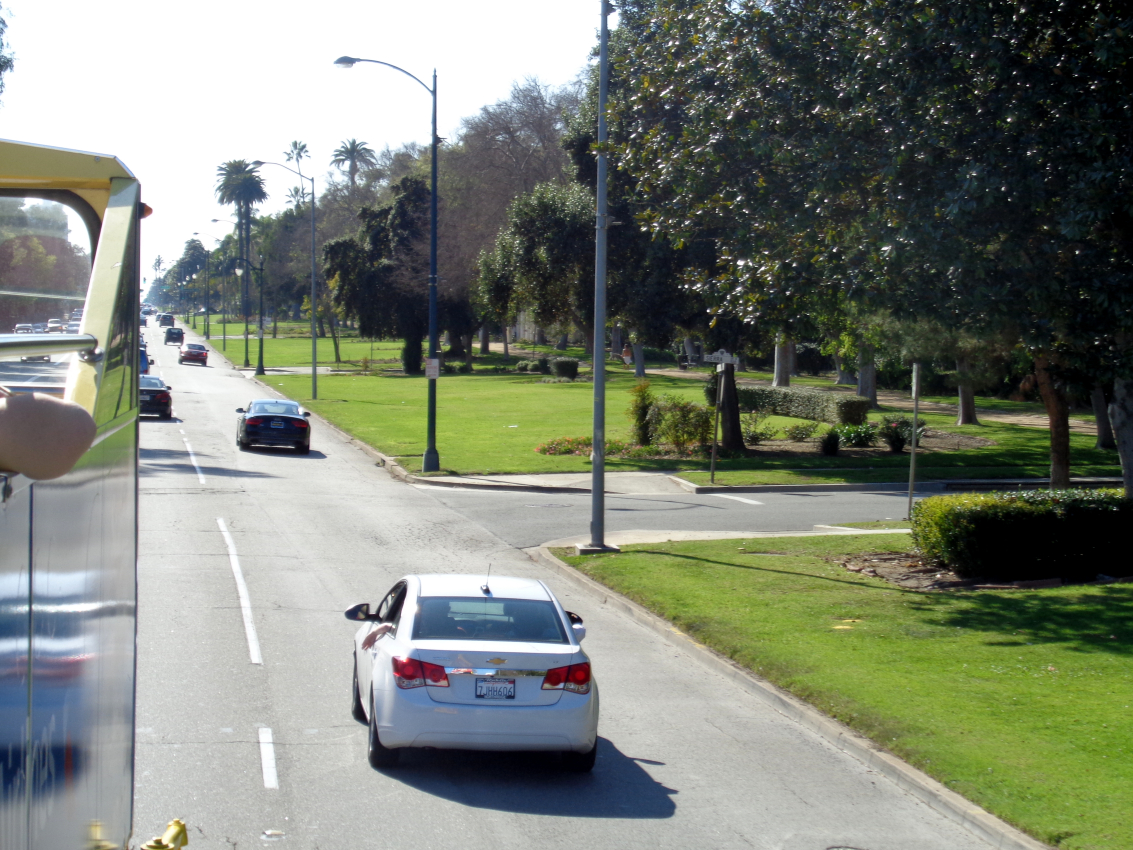 ---
1. Hollywood
How could there be a "where to stay in LA" list without Hollywood? No visit to Los Angeles will be complete without touring one of the most famous neighborhoods in the world.
The standard may vary – you'll have cheap and small apartments in some parts and then some of the nicest in the world in Hollywood Hills.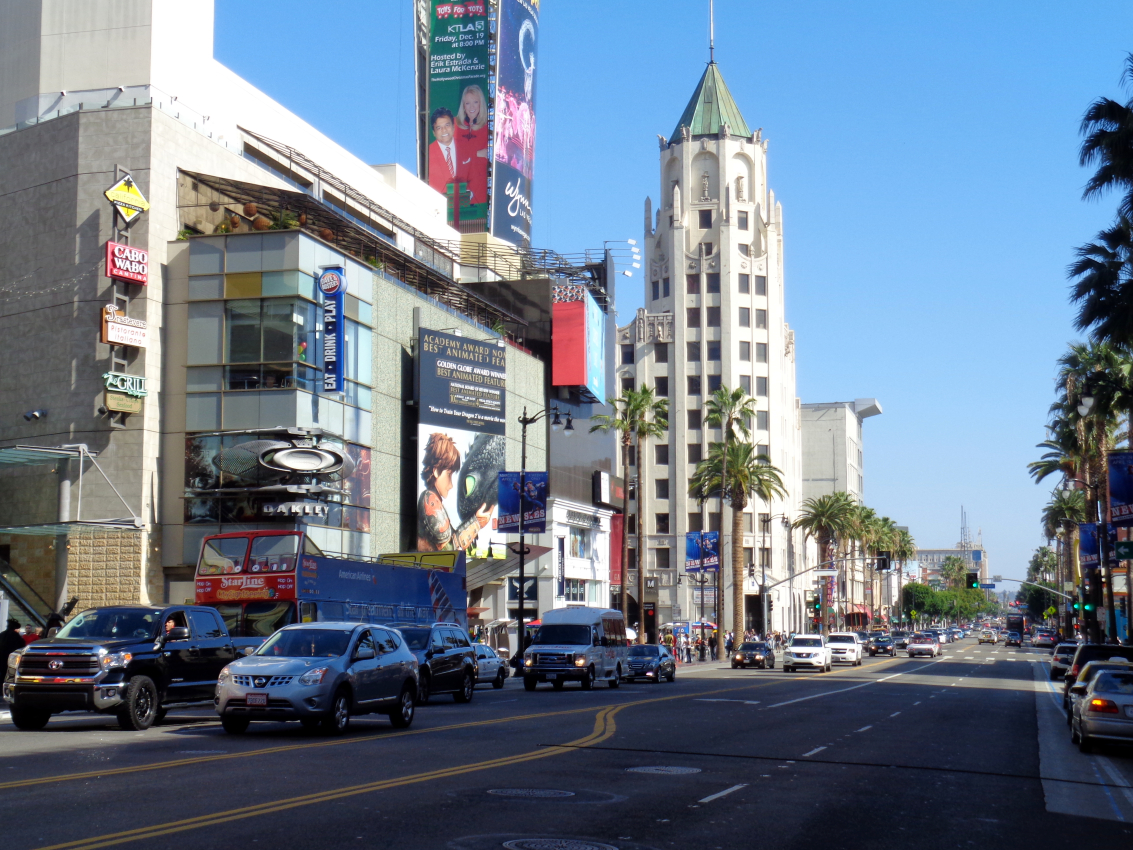 Top 3 Activities in Hollywood:
The Hollywood Walk of Fame gives visitors the chance to feel close to their favorite stars. The permanent public monuments to achievement attract millions of visitors each year. From musicians, actors, directors, producers, to fictional characters, if they have a star on Hollywood Boulevard, they've made it!
Get tickets for a ​TV show taping to immerse yourself in the Hollywood experience. Get up close and personal with celebs, and even score free tickets to be in the audience of a sitcom, talk show, or game show. But incase you don't make it inside, don't worry. Do something similar! Go on a tour of the Warner Bros studio and pretend you're Phoebe chilling at Central Perk or climb aboard Harry Potter's broomstick.
Learn about some insane world records at the Guinness World Records Museum. From the amazing to the disgusting, the museum is home to thousands of world record holders from all over the world.
Fun Facts About Hollywood:
In 1923, the famous "HOLLYWOOD" sign read "HOLLYWOODLAND." The sign was changed in 1949 to the one all recognize today.
There are more than 2,600 stars on the Walk of Fame. Will you find your favorite?
Hollywood is considered to be the "home" of the US film industry. Today, aspiring actors from all over the world move out to LA to hopefully make it big in Hollywood one day.
Where to Stay in Hollywood
Luxury Hotels in Hollywood
Kimpton Everly Hotel, an IHG Hotel
Featuring a terrace with views of downtown LA, Hollywood Hills, and the iconic Hollywood sign, this stylish hotel offers spacious rooms, suites, and studio apartments. Guests have access to a year-round pool, a specialty cocktail bar, and complimentary wine from 5 PM to 6 PM! There are also bicycles that can be used free of charge to visit nearby attractions.
Dream Hollywood
Looking like a dream, this hotel has a sun terrace and rooftop pool next to which meals are served. The sophisticated hotel is a short walk from the Capitol Records building and Dolby Theatre and has perfect views of the Hollywood Sign.
Loews Hollywood Hotel
Just a short walk from the Hollywood Walk of Fame and the Dolby Theatre, this fantastic hotel offers luxurious rooms. Guests enjoy California-inspired cuisine at the onsite restaurants and have access to the best amenities as well as a sun terrace and rooftop pool.
Mid-range & Budget Hotels in Hollywood
Best Western Plus Hollywood Hills Hotel
Perfectly located just off the freeway, this hotel offers views of the Hollywood Sign. Spacious rooms include refrigerators and every necessary amenity. Guests can grab a meal at the diner-style 101 Coffee shop that serves traditional American food, beer, wine, and coffee.
Hollywood Historic Hotel
Built back in 1927, many of the rooms still feature the original fixtures and furnishings from those days. If you want a stay in vintage surroundings that take you back to the Old Hollywood days, stay here. And don't forget to stop for a craft cocktail at the onsite 1920s Edmon bar.
Palihotel Melrose
This urban boutique hotel is within a 2 km walk from many attractions and offers spacious rooms and suites, some with terraces. Plus it's right in the heart of the Melrose Shopping District!
---
2. Venice
Venice Beach is perfect for anyone looking to soak up some of that California sunshine while on their visit to LA.
Venice has a mix of attractions and activities for the whole family and is one of the most popular destinations for folks visiting Los Angeles.
From fun in the sun and fantastic shopping to stunning artwork, Venice is one of LA's top neighborhoods.
Many people flock to Venice if they're looking for a relaxing stay during their time in California. It's almost impossible to feel stressed out in the laid-back atmosphere of Venice.
If you have the time, you can also take some surfing lessons on Venice Beach or go kayaking with sea lions in Marina Del Ray.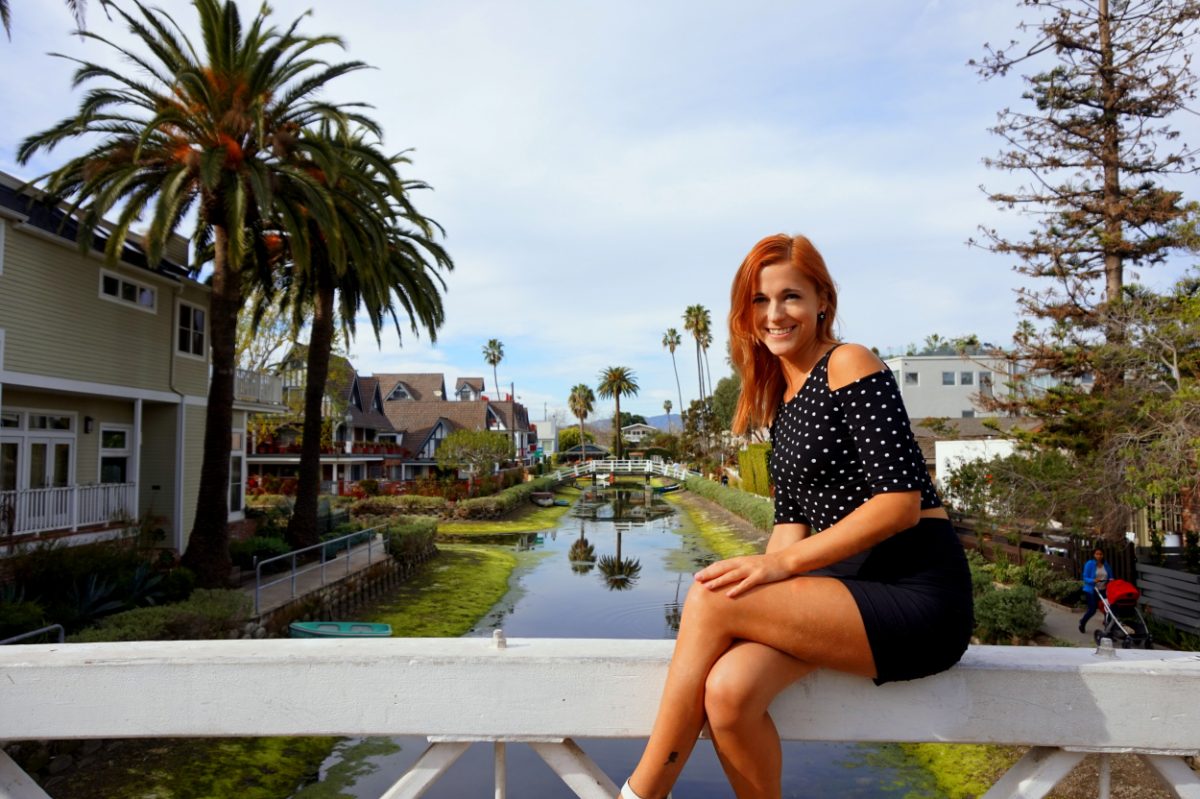 Top 3 Activities in Venice Beach:
Be sure to check out the famous Muscle Beach where locals love to come and flex their muscles at the outdoor gym.
Take a stroll on the Venice Beach Boardwalk. Shops, restaurants, skateboarders, and street performers provide all-day entertainment.
Catch a tan! If you are in Venice for a vacation, take the time to bask in the sunshine. Many say it's similar to being on the Mediterranean Sea!
Fun Facts About Venice Beach:
It was named after Venice, Italy.
Around 28,000 to 30,000 people visit the Venice Beach Boardwalk and parks nearby every day.
Venice was founded in 1905 and was intended to be a seaside resort town.
Where to Stay in Venice Beach
Mid-range Hotels in Venice Beach
Hotel Erwin
A short walk from the Venice Beach Boardwalk and the Venice Skate Park, this hotel overlooks the Pacific ocean. The onsite High Rooftop Lounge is the only rooftop bar on Venice Beach, and the perfect place to watch the sunset. Try to pick a room or suite with a balcony and ocean view!
Inn At Venice Beach
A short walk from Venice Beach, this urban accommodation is within walking distance of restaurants, stores, and shops. Vibrant rooms and suites include balconies, fridges, and coffee makers.
Budget Hotels in Venice Beach
The Kinney – Venice Beach
This artfully decorated hotel is fabulously vibrant and colorful. Guests enjoy access to a private outdoor area with a fire pit, ping pong tables, and a heated pool. Rooms and suites are equipped with fridges and coffee makers and microwaves are available on request. Plus, the beach is 1.5 km away.
Venice V Hotel
This 1915 landmark turned hotel was once a hangout for the Hollywood elite. Bright and colorful rooms and bungalows feature ocean views, and some also have ocean-view walk-in showers. There is no pool, but with the beach just outside, you don't really need it.
Venice Suites
These studio, 1-bedroom, and 2-bedroom suites are right on the beachfront at Ocean Front Walk. Featuring vaulted ceilings, wooden floors, and well-equipped kitchens, they're the perfect base for families visiting LA.
3. Koreatown
For a totally different LA experience, head over to Koreatown. Away from the more 'touristy' areas, you'll find this neighborhood always buzzing.
You'll find some of the best Korean BBQ and fun karaoke bars over here as well. This area has a more 'hip' vibe, and crowds gather all night at the 24/7 bars and clubs.
If you are looking for a more laid-back or quiet stay while in LA, steer clear of Koreatown. The neighborhood is constantly filled with people. K-town's mix of historic buildings, traditional spas, bubble tea cafes, and specialty grocery stores make it the perfect place to stay while on a visit to LA.
Top 3 Activities in Koreatown:
Shopping in Koreatown is a blast. The best K-Pop stores in LA can be found here. Plus, if you happen to into K-Beauty, you'll find the best stores here outside of Korea.
Catch a movie at The Wiltern, one of LA's most famous theatres. It doubles a concert venue too, so you may even be able to see on your favorite musicians perform.
Learn a new thing or two at the Korean American National Museum. Hear the stories of the native people of Koreatown, and gain insight into the Korean culture.
Fun Facts About Koreatown:
54% of the residents of Koreatown are actually Latino. Many Korean shop owners learned how to speak Spanish. On the other hand, many of the Spanish shop owners have brushed up on their Korean.
The neighborhood is one of the most diverse in LA. Korean-Americans only make up 23% of the city.
It wasn't formally known as 'Koreatown' until 1980.
Where to Stay in KoreaTown
Luxury Hotels in KoreaTown
The Line Hotel
Located in a mid-century building, this hotel has floor-to-ceiling glass windows overlooking Los Angeles. Rooms feature modern designs and eclectic artwork, while the airy restaurant by the pool is amazing.
H by H Hospitality
With mountain views from some of the rooms, this classy hotel is affordable yet amazingly decorated. Everything is perfect, from the classical dark-themed decor to the piano in the bar, to the gorgeous grounds and tasty cafe food.
Mid-range & Budget Hotels in KoreaTown
New Seoul Hotel
This gem in Koreatown features authentic Korean decor and modern furnishings. In addition to the best amenities, the hotel also has an amazing sun terrace.
Hotel Normandie – Los Angeles
This historic hotel built in 1926 is within walking distance of the Wiltern Theatre. Rooms at this boutique hotel include coffee makers and refrigerators, flatscreen TVs, free WiFi, and the best of amenities. Apart from enjoying Californian cuisine at Le Comptoir and American cuisine at Casell's Hamburger, guests will enjoy spending time in the amazing lobby!
Ramada by Wyndham Los Angeles/Wilshire Center
Set in the heart of Koreatown and the Wilshire business center, this hotel is within walking distance of Universal Studios and the Wiltern Theatre. The onsite restaurant Korea Town Pizza Company offers delicious food as well as happy hour specials. The Albertson Wedding Chapel, Melrose Avenue, and Paramount Studios are less than 3 km away.
4. Beverly Hills
Another Los Angeles infamous neighborhood is, of course, Beverly Hills. What used to be a modest village is now one of the most sought-after areas in the world. It's a major tourist attraction and the hub for folks in the entertainment industry and looks especially amazing from a helicopter.
With tons of designer retail stores and residential streets lined with mansions, you'll feel like you're in a movie staying here. Rodeo Drive is at the center of ultra-luxurious boutiques and restaurants. Many visitors will catch a glimpse of a celeb eating lunch or going in for a beauty treatment on Rodeo.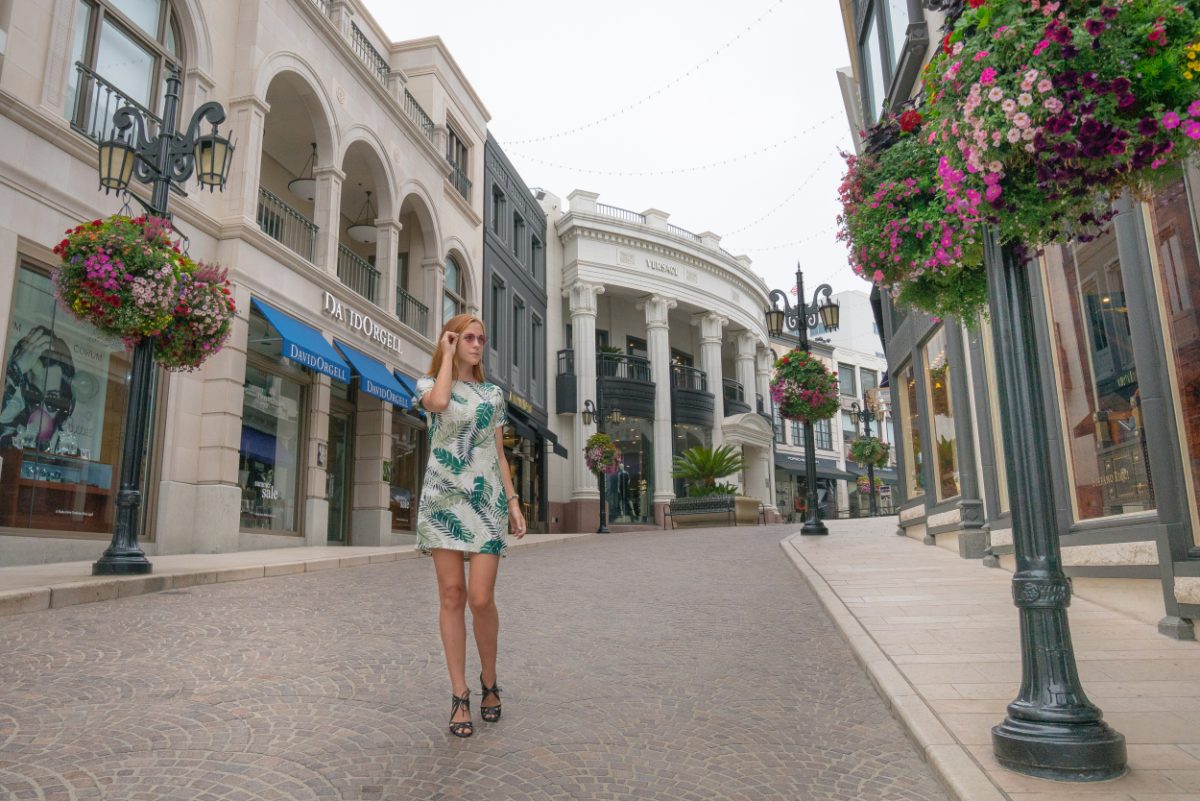 Top 3 Activities in Beverly Hills:
Take a Hollywood and celebrities home tour that will point out the places where famous legends stay and other popular Hollywood hotspots. Learn facts from your driver guide about Hollywood stars that you never knew before.
For some of the best strolling and shopping in America, head over to Melrose Avenue. The street begins at the famous Santa Monica Boulevard. You can get here easily if you take the Hop On Hop Off bus.
The Greystone Mansion, also known as the Doheny Mansion, is a city-owned estate. Plus, many famous films have been shot there! With stunning formal English gardens, the mansion is a must-see while on your trip to Beverly Hills.
Fun Facts About Beverly Hills:
Beverly Hills has the most famous zip code in America; it's of course, 90210.
There is a 24-hour cupcake ATM. Instead of giving you cash when you put your ATM card in the machine, it gives you a famous 'Sprinkles' cupcake!
The average cost of a home in Beverly Hills is a whopping $1,161,200.
Where to Stay in Beverly Hills
Luxury Hotels in Beverly Hills
Viceroy L'Ermitage Beverly Hills
Just walking distance from Rodeo Drive, City Hall, and the Paley Center for Media, this 5-star hotel has a rooftop pool, onsite library, and the best spa services. The spacious rooms and suites can take up to 10 guests. Guests can also avail of the free car service in a Maserati.
Beverly Wilshire, A Four Seasons Hotel
This magnificent hotel is just across the street from the Rodeo Drive. Guests enjoy access to a Mediterranean-style pool with private cabanas, state-of-the-art fitness center, pampering spa, and a poolside bar and cafe. Classy rooms and suites include every necessary amenity, while suites with disability access are also available.
The Maybourne Beverly Hills
This luxury hotel in Los Angeles has a terrace restaurant 'The Terrace' overlooking Beverly Canon Gardens. Guests enjoy the best of amenities, delicious California-inspired cuisine, a rooftop pool and sun terrace, luxurious spa, and proximity to everything Beverly Hills.
Mid-range & Budget Hotels in Beverly Hills
Sixty Beverly Hills
Located in downtown Beverly Hills, this 4-star hotel also includes a rooftop lounge and pool with panoramic city views and a gourmet restaurant Caulfields serving American cuisine. Stylish rooms rich dark hardwood furniture, step-out French balconies, and state-of-the-art gym and business center.
Hotel Sofitel Los Angeles at Beverly Hills
Just across the street from the Beverly Center, this hotel features elegant rooms and suites with floor-to-ceiling windows. Guests can enjoy French cuisine at the onsite Esterel restaurant, or sip on cocktails at the Riviera 31 restaurant. The hotel also boasts a heated outdoor pool, luxurious spa, and state-of-the-art gym.
---
5. Malibu
The Malibu coastline is like no other area in Los Angeles. On one side it looks like the French Riviera with lush green hillsides, and on the other, it's 100% Southern Californian with beaches and good vibes.
You will find many beachgoers catching a tan, playing a game of beach volleyball, and enjoying that SoCal sun.
In certain areas, surfers will try to catch a big wave, and in the mountains, hikers enjoy the scenic views of the Pacific Ocean.
Also, along the Pacific Coast Highway, you may run into a celeb, enjoying a meal at one of the tasty restaurants. A lot of famous celebrities live in stunning houses along the coastline here.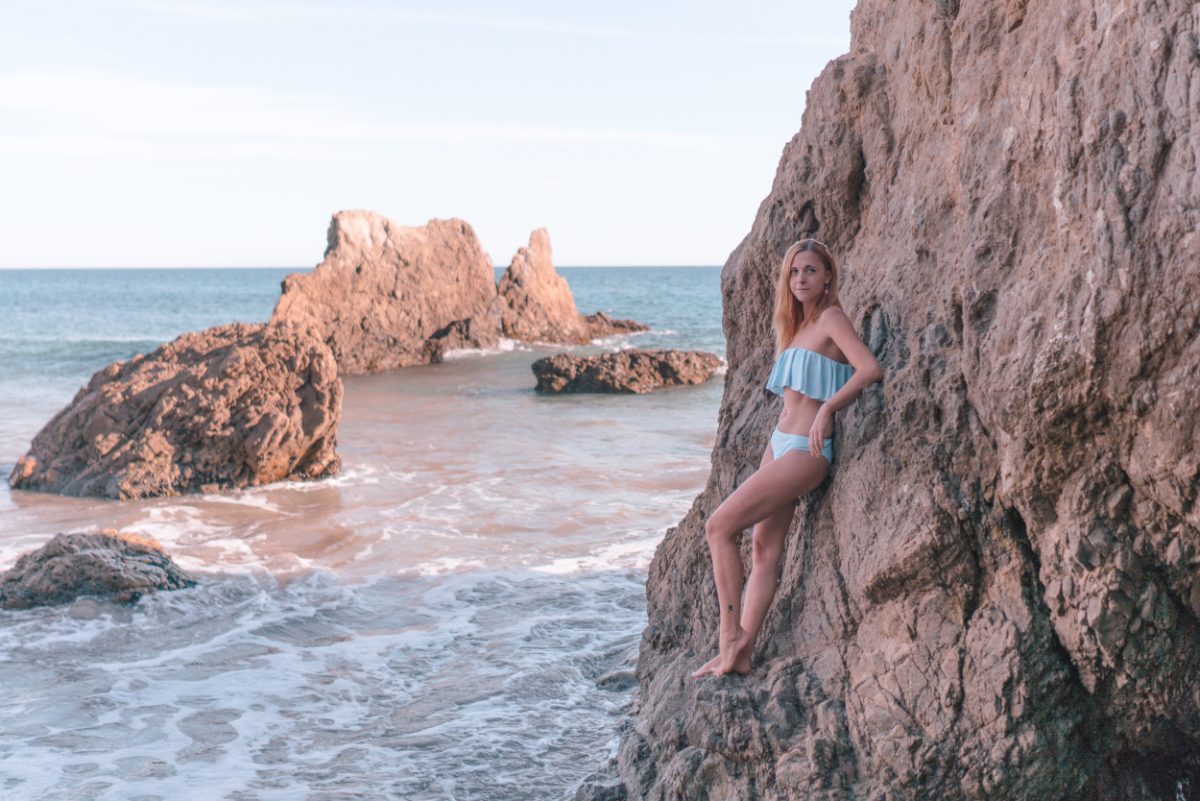 Top 3 Activities in Malibu:
The Grotto Trail is perfect for anyone looking to get outside in nature but not push themselves too much. The three-mile (round trip) trail is easy to hike and leads to a stunning waterfall. The view from the waterfall will give you all the motivation you need to walk the short path.
Malibu Creek State Park is perfect for a family outing. With 15 miles of trails and swimming holes, the whole family can enjoy a day at the park. Plus, if you're a fan of Planet of the Apes or M*A*S*H, you'll be happy to know it's the site for these TV shows!
Go horseback riding to explore Malibu in a whole new way. The hour-long ride through Zuma Canyon will give you a fantastic view of the ocean. Just be sure to go on a bright and sunny day to take full advantage of the scenery! Make sure you have your camera ready too, you will want to save these memories or post your photos on social media.
Fun Facts About Malibu:
Locals and surfers nicknamed this city "the Bu."
Malibu has been affected by many wildlife fires throughout history. The most recent was in November of 2018, many people, including celebrities, lost their homes in the blaze.
Back in the day, Malibu was originally settled by the Chumash, Native Americans.
Where to Stay in Malibu
Mid-range Hotels in Malibu
Malibu Beach Inn
Located outside the town of Malibu, this Inn along the Pacific Coast Highway overlooks the ocean and has a private beach area. Guests can choose from spacious rooms or suites with wooden furnishings. They have access to fireplaces, private balconies, radios, and coastal cuisine at the onsite restaurant.
Calamigos Guest Ranch & Beach Club
If you want to stay within driving distance of Los Angeles, but away from the hustle and bustle, this 200-acre Malibu Wine Country ranch is perfect! Choose from elegant private bungalows, suites, and cottages to stay in. Guests also have access to a large heated spa pool and 2 other onsite pools while private tastings and horseback riding adventures can be organized.
Budget Hotels in Malibu
The M Malibu
Just 150 m from the beach, this budget-friendly motel is also a short walk from Malibu Pier. Most of the spacious rooms with fridges include access to a private balcony, while guests also have access to a pool, free parking, and free WiFi. Pets are allowed!
Hotel June Malibu
This mid-century bungalow at Point Dume offers light airy rooms that once housed artists, writers, and musicians. Guests can enjoy Cal-Mex cuisine and have access to one of the few hotel-swimming pools in Malibu about 1.8 know from the center.
---
6. Downtown Los Angeles
DTLA is a busy metropolis of buildings, busy streets, and has a growing rate of business professionals.
If you like to eat, be happy to know that it's home to some of the best restaurants in the city, and is currently in the lead for the LA foodie scene. There are over 1,000 restaurants in the district alone.
It's also home to the famous Staples Center. Catch your favorite sports team live in action, or see a concert by your top artists while on your stay in Downtown LA. Be sure to check what's on the lineup at the Staples Center before your trip in case you need to buy tickets to a concert or a game.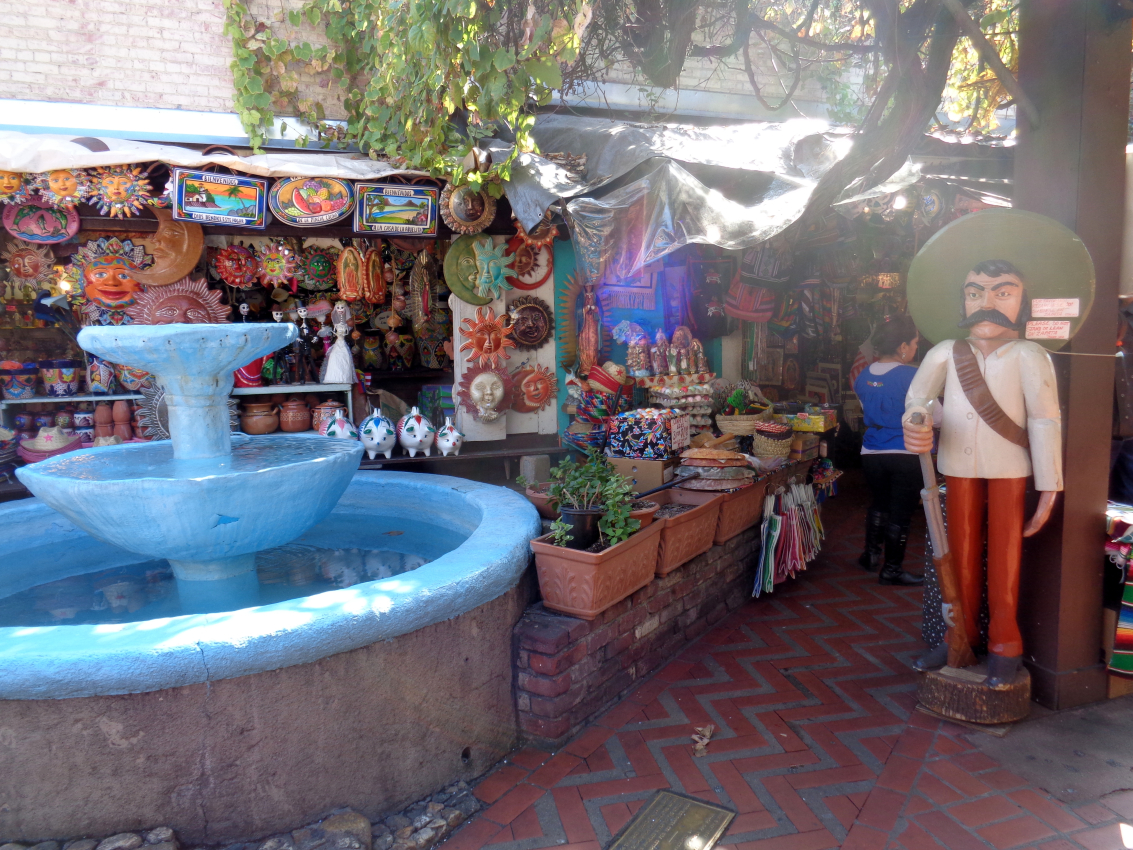 Top 3 Activities in Downtown Los Angeles:
Grand Central Market is the best place to pick up fresh produce and taste some of Downtown LA's best street food. For a hundred years, vendors have been serving the downtown community with every type of food you can imagine. Be sure to come hungry because you will want to taste all of it. From Japanese, Mexican, Seafood, to all-American classics, this is the best spot for lunch or dinner while on your stay.
Do you think you have what it takes to make it out of the LA Escape Room on time? The biggest escape room in LA has five different rooms with mysteries to solve. This is a perfect activity for anyone traveling with a group!
Be sure to check out Little Tokyo. The historic area of Downtown LA has a distinctly Japanese atmosphere. This is the place you want to check out if you're craving mochi or sushi while on your stay in DTLA!
Fun Facts About Downtown Los Angeles:
Where to Stay in Downtown Los Angeles
Luxury Hotels in Downtown LA
The Ritz-Carlton Los Angeles LA Live
Just a block from the Staples Center, the Ritz Carlton offers guests panoramic city or mountain views. Guests have access to a heated rooftop pool and hot tub, as well as onsite cafes and bars serving American cuisine. These classy and modern suites are within walking distance of the Bloc Los Angeles, Grammy Museum, Microsoft Theatre, LA Live, and more.
Millennium Biltmore Los Angeles
With parts of it looking like something from a movie, the Millenium Biltmore hotel is as luxurious as it gets. Warm and richly decorated rooms and suites include every necessary amenity. Grand Central Market, Museum of Contemporary Art Los Angeles, the Broad, and Walt Disney Concert Hall are all within walking distance.
Interncontinental Los Angeles, an IHG Hotel
This DTLA hotel features a rooftop bar called Spire 73 which is the tallest open-air bar in Western Hampshire. Dine here while taking in the panoramic views of Los Angeles or enjoy farm to fork cuisine at Dekkadence. Some of the spacious rooms and suites also include spa baths.
Mid-range & Budget Hotels in Downtown LA
Courtyard By Marriott Los Angeles LA Live
Spacious rooms and suites at this hotel have everything you need, including refrigerators and coffee machines. Guests have access to an onsite pool and fitness center, while LA Live, the Grammy Museum, and Staples Center are within walking distance.
Hotel Figueroa, Unbound Collection by Hyatt
Described as a Pandora's box of beautiful spaces, this hotel has an amazing energy and vibe. It features unique artwork and furnishings, and a gorgeous outdoor restaurant overlooking the pool. The rich decor of the rooms and suites at this independent hotel is more than worth it!
The Wayfarer, DTLA
With an instagrammable lobby, chic speakeasy, and gorgeous decorations in the rooms, this hotel is a delight for the eyes. Stay here to be within walking distance of the Fashion District, Staples Center, Grammy Museum, and more. And don't forget to enjoy the free beer during happy hour!
---
7. Santa Monica
Famous for the Santa Monica Pier which was built in 1909, Santa Monica is also home to architectural attractions such as the 6-acre Tongva Park, an oasis of green in the middle of the city.
Home to tech giants such as Youtube, Santa Monica has its own version of Silicon Valley called Silicon Beach. The Aero Theatre, built in 1939 so aircraft workers who worked nightshifts nearby could take a break is also worth a visit.
The Trapeze School in Santa Monica is where Pink trained for her 2009 VMA performance, and you can easily sign up for a lesson or two. It's very popular though, so book your sessions in advance.
Santa Monica has the second largest collection of art galleries per square foot in the US. Don't forget to stop by Bergamot Station to see one of the 30 galleries showcasing art from classic to modern.
Did you know that Santa Monica is also where the Dogtown Movement started by the Z-Boys turned skating from a local pastime to a nationwide sport?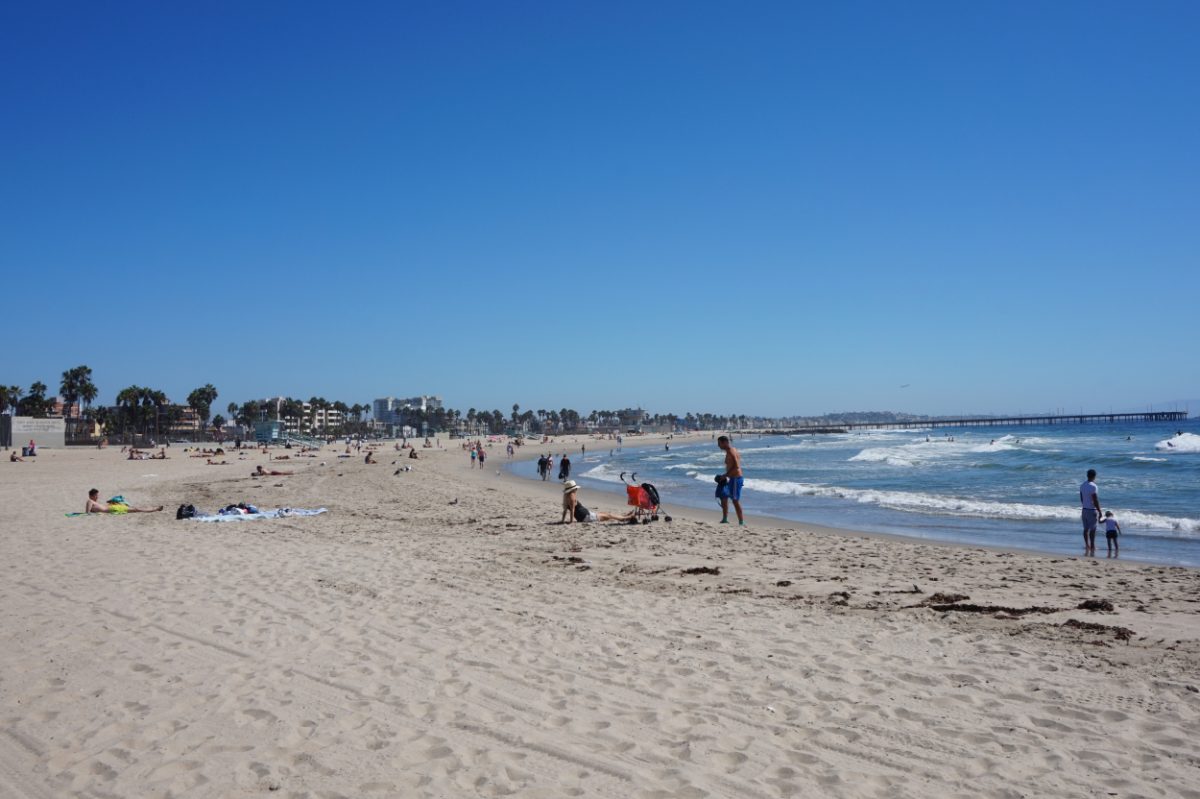 Top 3 Activities in Santa Monica
Visit the Santa Monica Pier and take a ride on the first solar-powered ferris wheel in the world. Started at Santa Monica Pier in 1996, the 'Pacific Wheel' now features 174,000 LED lights and is nine stories high.
Take an electric bike tour to see popular local attractions from art to architecture. If you don't feel like riding a bike, take a guided tour in a mini-bus to see all the homes of the stars and the famous Getty villa.
Take a tour to see the story that captivated a nation. The drive-by OJ Simpson murder trial tour takes you to prominent locations involved in the murder. Plus, you'll be driving in a 1994 Ford Bronco, the same type of car used on the night of the murder!
Fun Facts About Santa Monica:
Santa Monica has its

own version of Silicon Valley. Called Silicon Beach, it's where tech companies such as Youtube, Headspace, Hulu are located, while Google, Yahoo and Facebook have satellite offices in the neighborhood too.
Actors 'spiderman' Tobey Maguire and Shirley Temple were originally from Santa Monica.
Route 66 officially ends at Santa Monica Pier. Built in 1926, this route connects the city of Chicago with Los Angeles.
Where to Stay in Santa Monica
Luxury Hotels in Santa Monica
Santa Monica Proper Hotel, A Member of Design Hotels
This 1928 landmark hotel showcases contemporary architecture while retaining its character. The stunning hotel is within walking distance of Palisades Park, Santa Monica Beach, and more. Guests have access to three onsite restaurants and a luxurious 3,000-square-foot spa, while also enjoying the original artwork showcased throughout the hotel.
Oceana Santa Monica, LXR Hotels and Resorts
This beachside luxurious resort is a short walk from the Third Street Promenade where the best shops are. The on-site restaurant features innovative dishes by chef Raphael Lunetta, while the outdoor fireplace is perfect for a drink. Offering free bike hire and free yoga classes, the hotel has many more attractive features.
Shutters on The Beach
This plush hotel offers elegant suites and rooms with panoramic views of the ocean. Hardwood floors and Tibetan rugs, coffee machines, minibars, everything you need is present. The in-room library definitely ups the class!
Mid-range & Budget Hotels in Santa Monica
Silver Lake Pool & Inn
With some rooms offering views of Hollywood Hills, this Santa Monica inn is the perfect place for a staycation. The pool deck has great views too! Crispy clean and well-kept rooms include every amenity as well as minibars and coffee machines.
Gateway Hotel Santa Monica
About 3.2 km from Santa Monica beach, this affordable hotel offers brightly decorated and spacious modern rooms with every amenity necessary. Guests staying here can enjoy dining and shopping in the surrounding area.
Hampton Inn & Suites Santa Monica
In a prime location just a short walk from the beach, this hotel is also close to the Christopher Grimes Gallery, Third Street Promenade, and Tongva Park. Minimalistically decorated yet spacious rooms and suites feature every necessary amenity while some also include balconies. Stay here for an uncluttered gorgeous stay!
While it may be hard to choose where to stay while on your visit to Los Angeles, we hope this guide will help. There is truly something for everyone in the 'City of Flowers and Sunshine.'
For people who want to experience the life of the rich and famous, head over to Beverly Hills or Hollywood. If you are looking for more of a laid-back beach vacation, be sure to check out Venice or Malibu. No matter where you chose, LA is home to some of the most stunning scenery, best food, and the best activities. It's no wonder almost 50 million people visit LA each year!