Vast spaces of barrenness with no trees, harsh landscapes, and difficult living conditions. That's what deserts are! But did you know that deserts aren't just hot and arid but can be cold and freezing too.
What makes a desert a desert is a fact that the place receives less than 10 inches or 25 cms of rain per year. So you can have hot sandy deserts, polar deserts, or even subtropical deserts.
Covering over one-fifth of the earth's landmass, deserts are far from lifeless. They are filled with unique plants, animals, organisms, and human communities that have adapted to desert life for centuries. So of visiting a desert is now on your radar, here are the 20 largest deserts in the world!
1. Antarctic Desert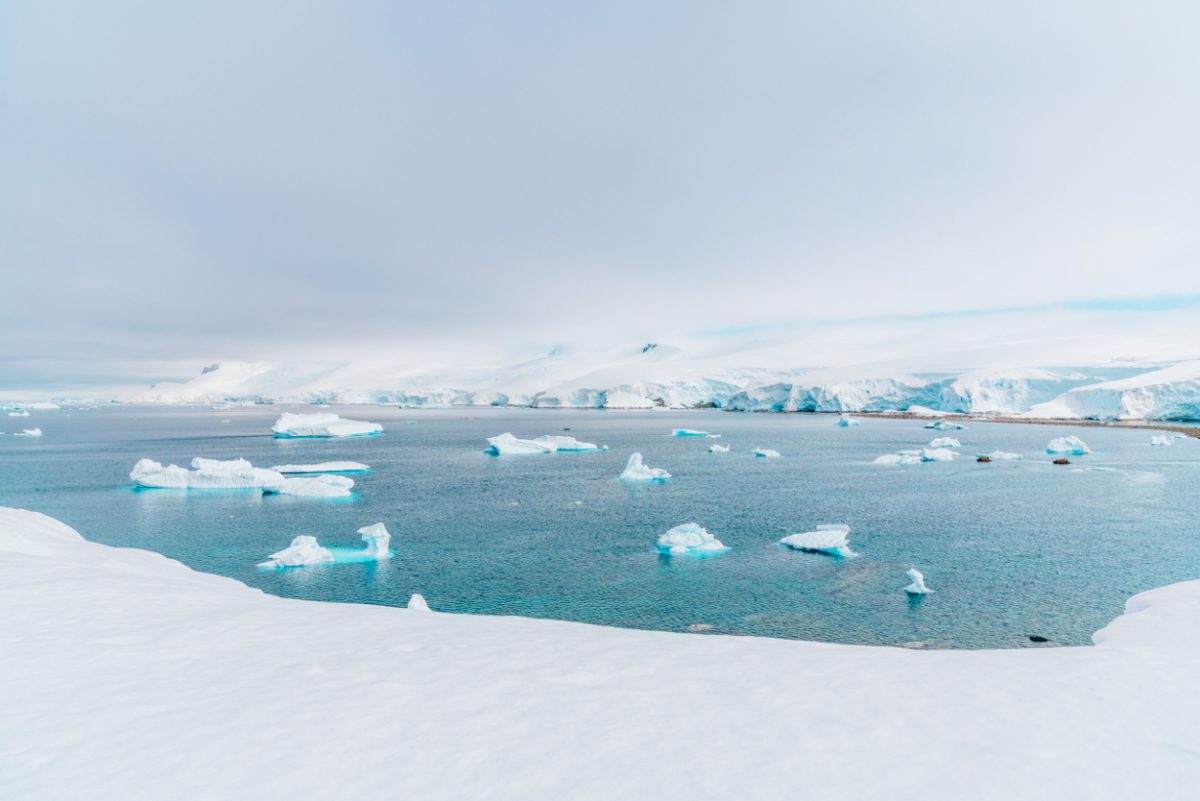 A blanket of frozen ice as far as the eye can see – it's difficult to think of Antarctica as a dessert. But that's what it is! The largest desert on this planet covering 5,500,000 square miles or 14,200,000 square kilometers.
Receiving only 8 inches or 20 cm of rain a year, the average temperature in the coldest part of the year is −63 °C (−81 °F), but it has gone down as far as -94.7C (-135.8F) in Aug 2010.
Home to over 90% of the world's ice, there's actually plenty to do in the Antarctic – from visiting popular outposts to catching a glimpse of Penguins or wandering Albatross and other unique wildlife.
2. Arctic Desert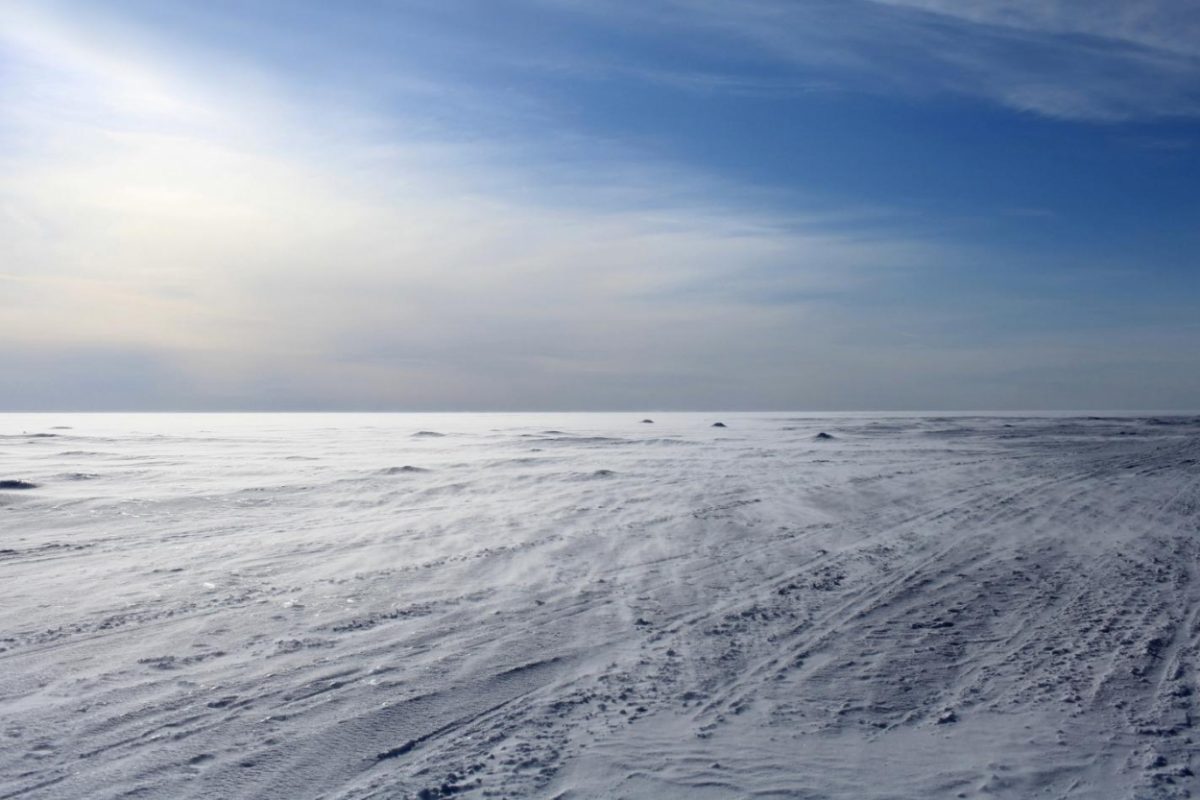 The only other polar desert in the world, the Arctic tundra has long winters and short summers. Covering an area of 5,300,000 square miles or 13,900,000 square kilometers, the average precipitation is between 150-250mm or less than 8 inches.
Temperatures in most regions are below 0°C (32°F), although researchers differ on which parts are desert, the commonly agreed areas are the North Pole, the Arctic Basin, and the Canadian Arctic Archipelago.
3. Sahara Desert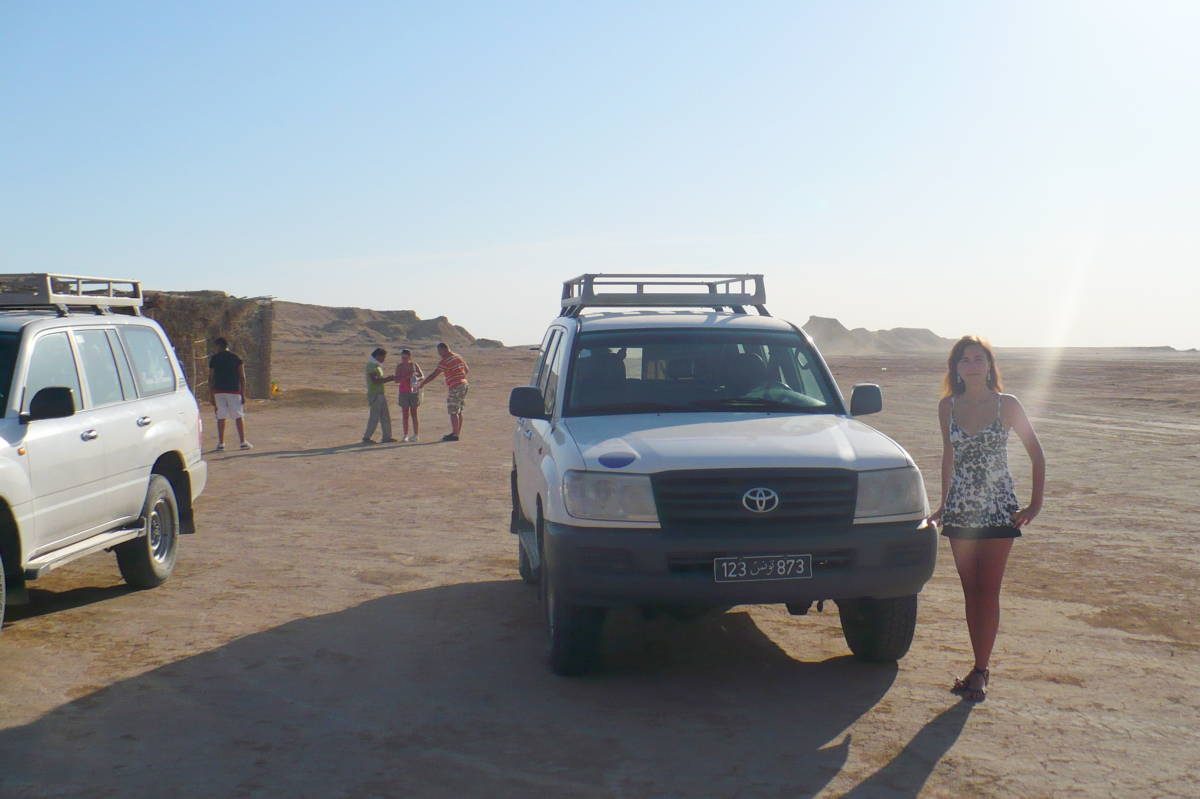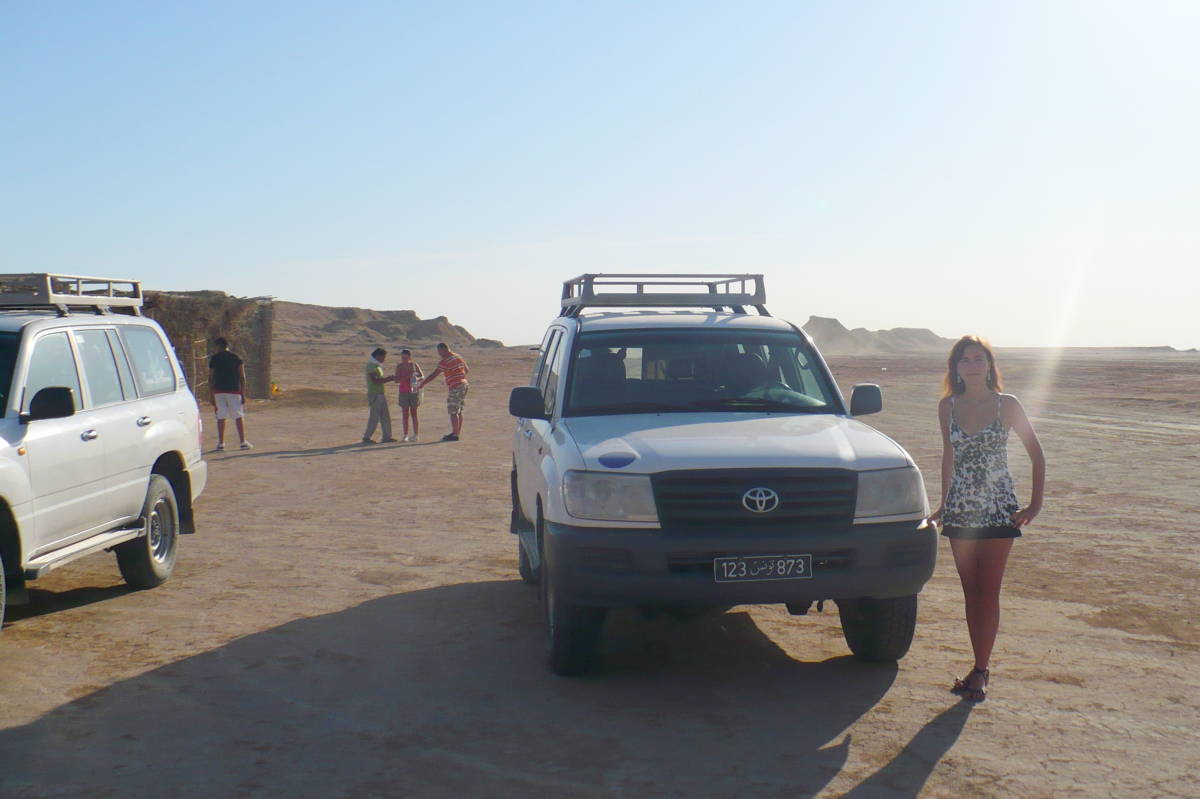 Often thought of as the world's largest desert, the Sahara is actually the third largest. Covering an area of 3,600,000 square miles or 9,200,000 square kilometers, the Sahara desert has an average precipitation of lesser than 8 inches or 250 mm of rainfall.
This land of sand dunes and rocky plateaus covers almost 31% of the African continent. But it is also home to beautiful Air Mountains, Ahaggar Mountains, Saharan Atlas, Red Sea Hills, and more.
Because of its diversity, the Sahara is home to a variety of wildlife – from camels and foxes to antelopes and cheetahs.
You'll also find that many civilizations past and present developed their architecture to adapt to the inhospitable conditions the earth provided to them.
4. Arabian Desert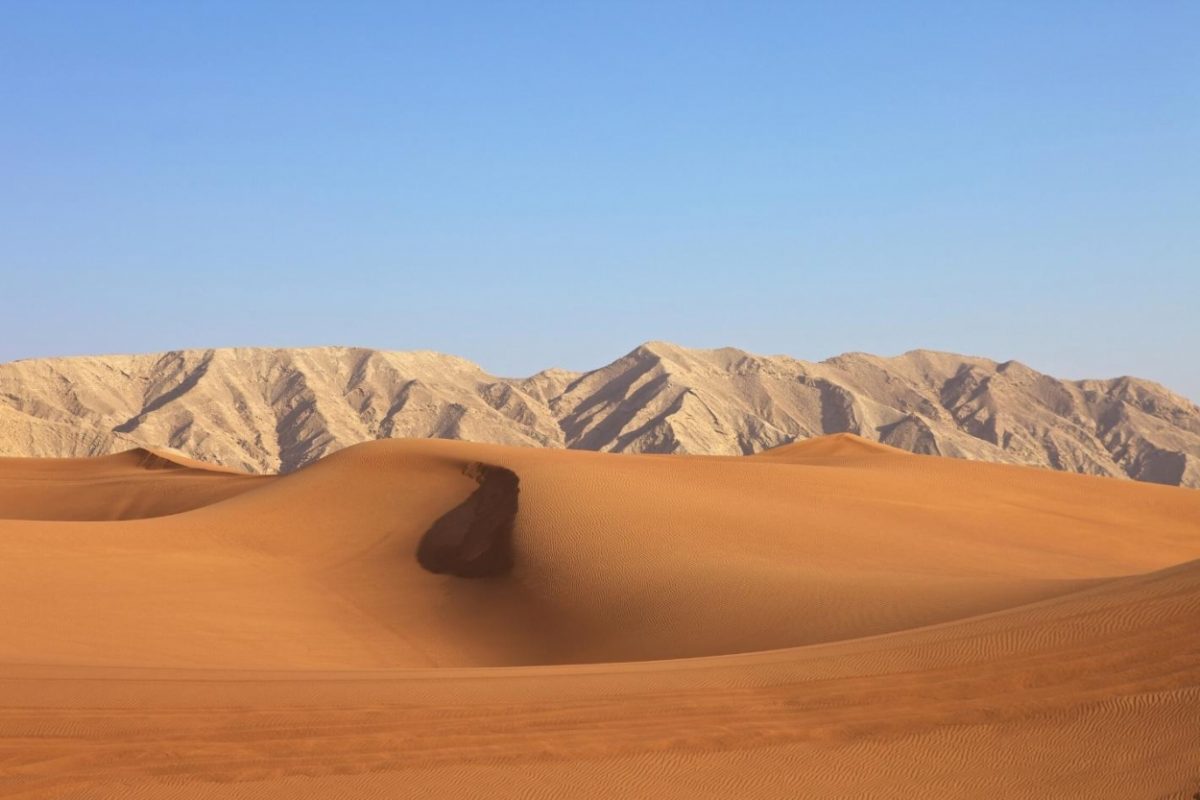 Covering 2,330,000 square km or 899,618 square miles, the Arabian desert covers most of the Arabian Peninsula, stretching from the Persian Gulf to Yemen.
At it's center is the Rub' al Khali (Empty Quarter), a hyper-arid region of some 650,000 square km (250,000 sq miles) that receives less than 35 millimeters (1.4 in) a year and it's part of Oman and Saudi Arabia.
Home to arachnids and oil fields, books have been written about the Empty Quarter.
While the Arabian desert is difficult to live in, it hasn't stopped cities from being built here. Did you know that Riyadh is in the center of this desert?
5. Gobi Desert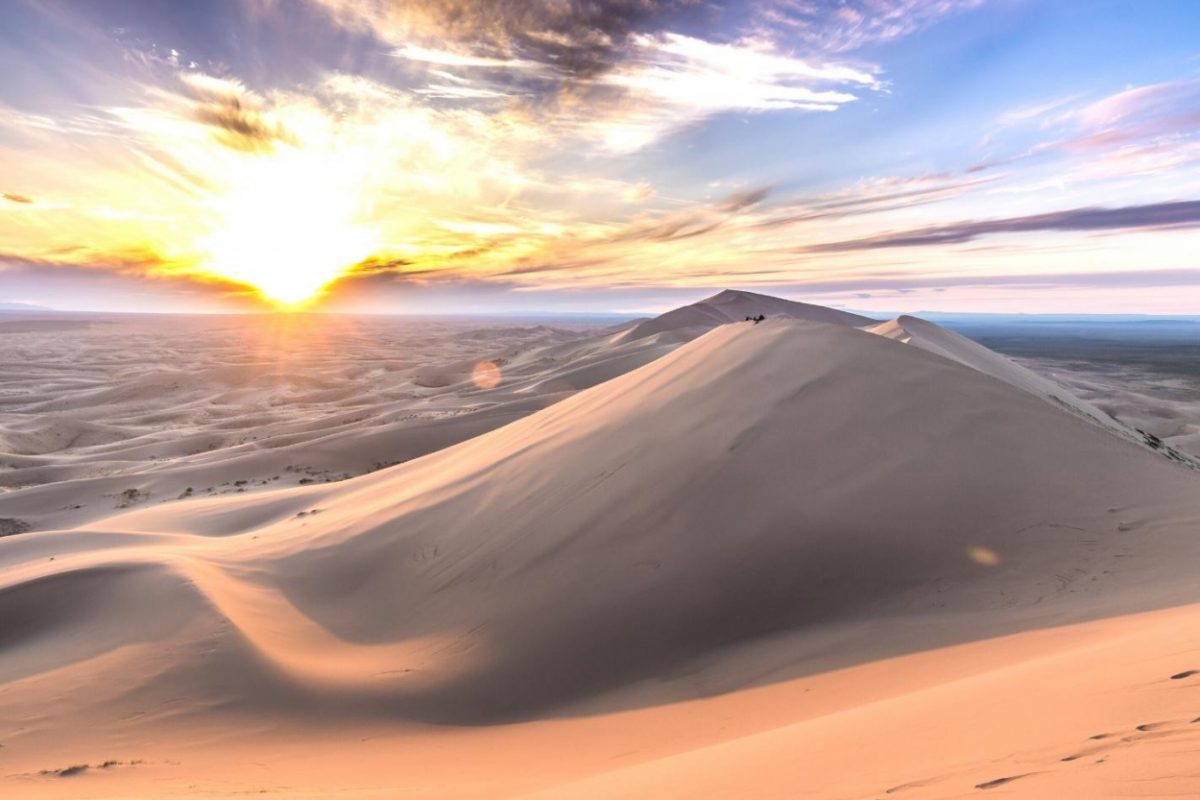 The vastness of this desert in Mongolia and China is bounded by the steppes and Altai Mountains in the North and the Hexi Corridor and Tibetan Plateau in the South.
Had it not been for the Tibetan Plateau blocking precipitation, the Gobi area would not have been classified as a desert.
Home to the famous Silk Route cities of Karakorum and Khanbaliq, it's also been written about in The Travels of Marco Polo.
As the sixth-largest desert in the world, there's plenty to see in the Gobi Desert, from the singing sand dunes of Khongoryn Els, to the flaming cliffs and traditional ger camps.
6. Kalahari Desert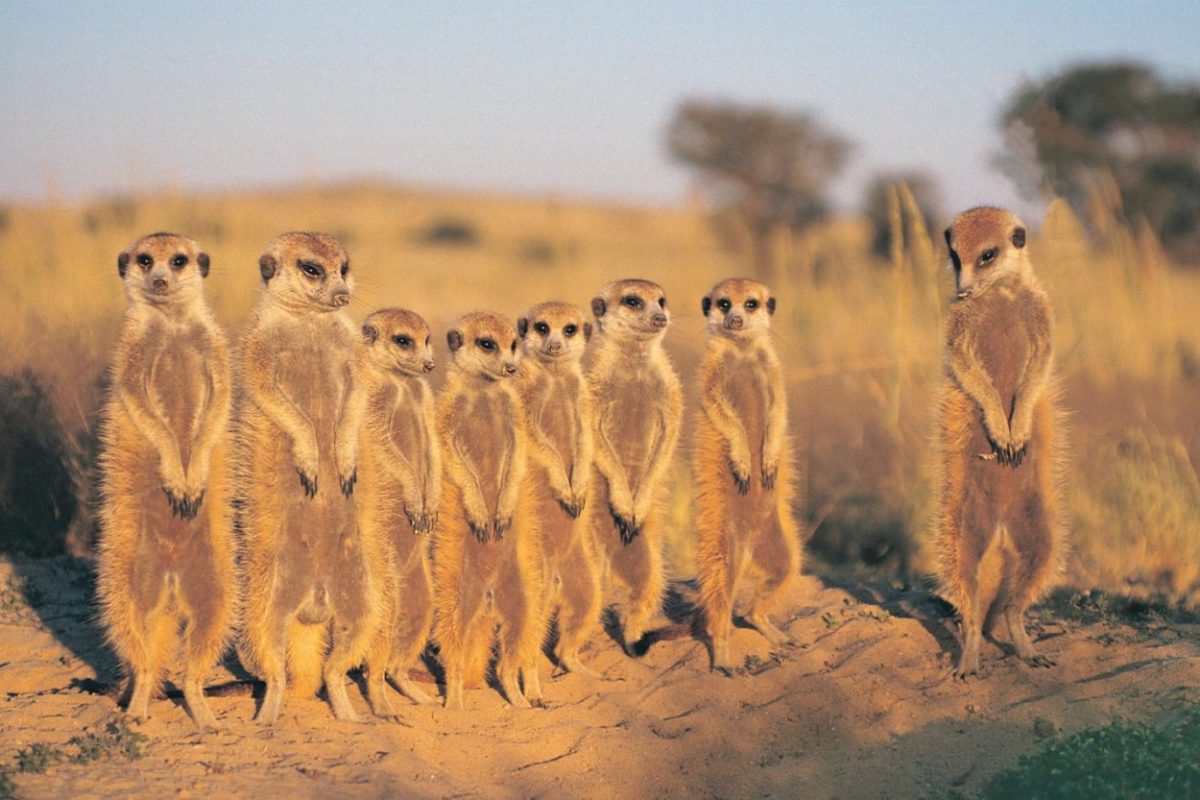 A sandy semi-arid desert, the Kalahari in Southern Africa covers 900,000 square km (350,000 sq miles). It encompasses most of Botswana, and parts of Namibia and South Africa.
The word Kalahari means 'a waterless place' or 'the great thirst'. Endemic species include lions, cheetah, hyenas, leopards, secretary birds, eagles, owls, falcons, wildebeest, springbok, and more.
With so many different species living within the Central Kalahari Game Reserve, Kgalagadi Transfrontier Park, and Khutse Game Reserve, they are well worth a visit.
7. Patagonia Desert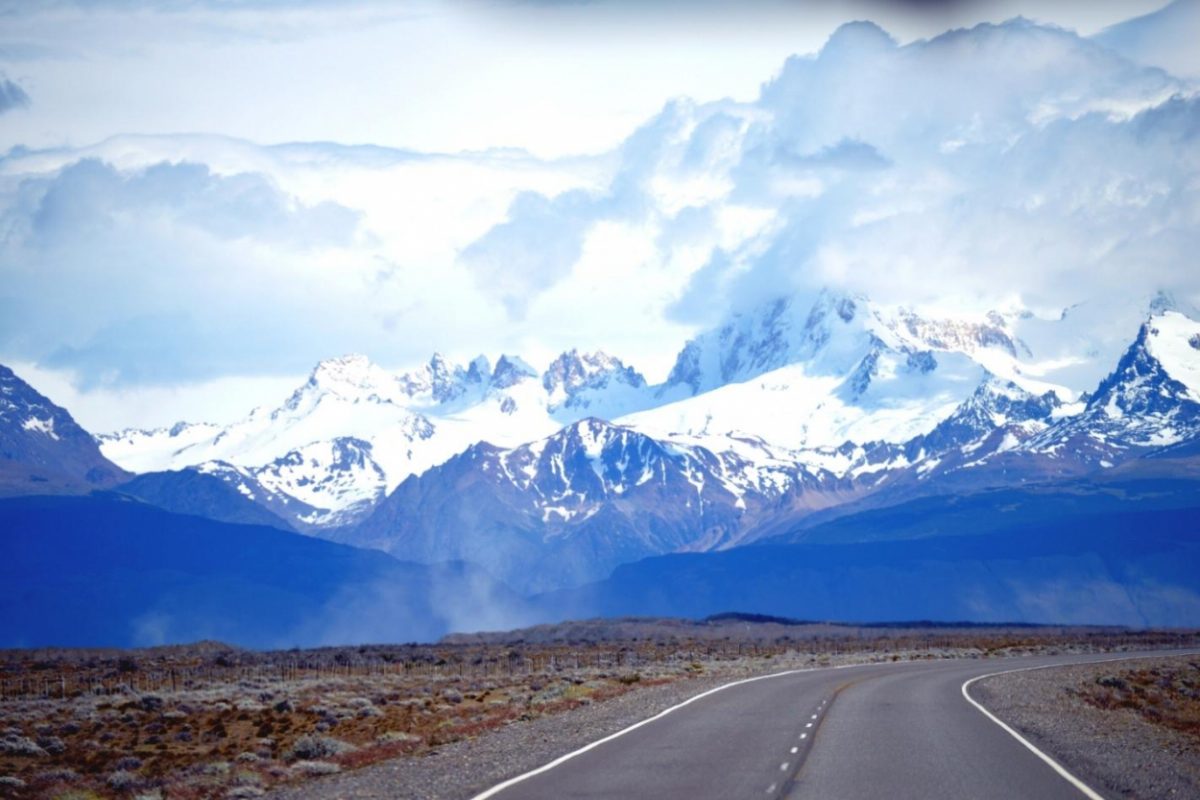 The 7th largest dessert in the world, the Patagonia Steppe or Patagonia Dessert covers 900,000 square km (350,000 sq miles). Bounded by the Andes and the Atlantic Ocean on different sides, the landscape is dotted with shrubs.
Although it doesn't snow in Patagonia, frost will cover the ground in winter. You'll find animals such as the lesser rhea, desert iguana, gray fox, pygmy armadillos, and maras here. The cities here are all located on the Atlantic coast.
Patagonia is home to a number of national parks including the Perito Moreno National Park, Patagonia Azul Biosphere Reserve, Torres Del Paine National Park, Alberto de Agostini National Park, Los Glaciares National Park, Tierra del Fuego, Laguna San Rafael, and Valdes Biosphere Reserve.
8. Syrian Desert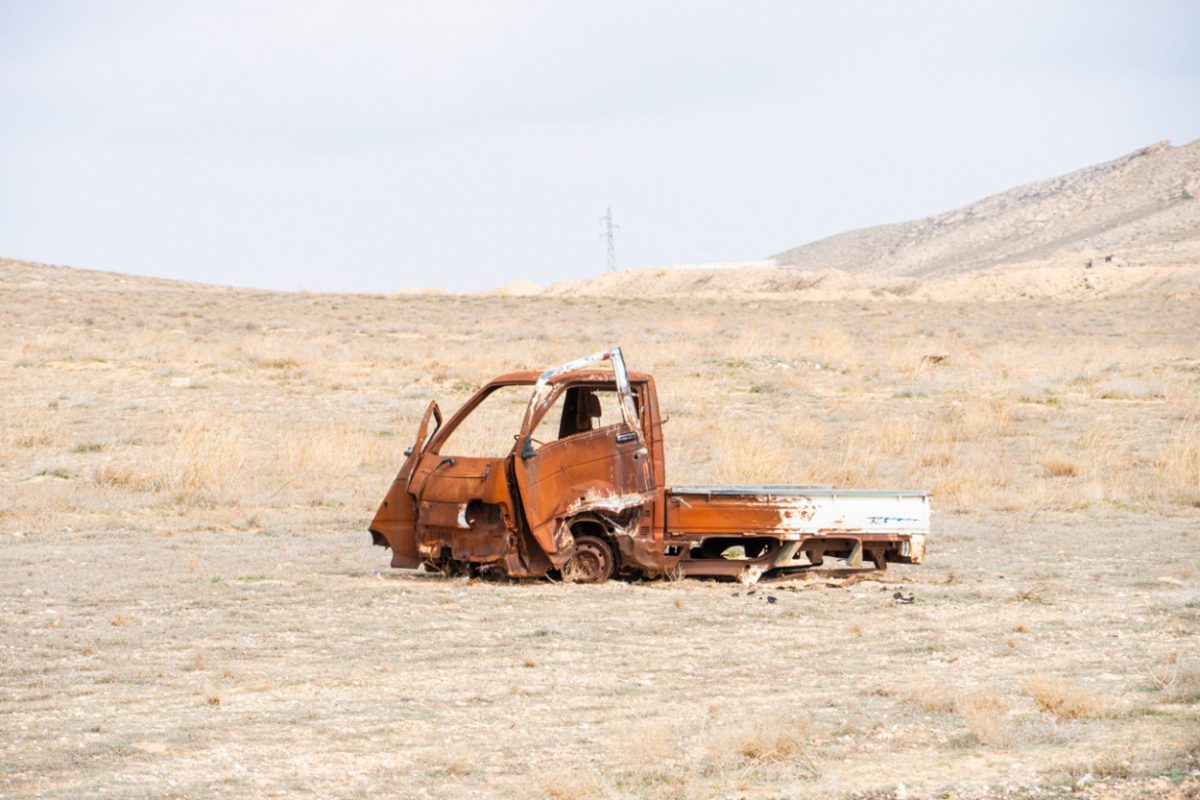 Covering parts of Syria, Jordan, Saudi Arabia, and Iraq in its 500,000 square kilometers (200,000 square miles), the Syrian desert is the 8th largest in the world.
But try to visit and most countries such as the US, UK and others will tell you that it's on the restricted travel list due to the continuing civil war.
It's bounded by the Euphrates, Orontes Valley, the volcanic Harrat al-Shammah, Euphrates and the Arabian deserts. Earlier inhabited by Bedouin tribes, the city of Palmyra located here has been an important trading center since Roman times.
9. Great Basin
The Great Basin Desert is part of the plain between the Wasatch Mountains and the Sierra Nevada range. The desert spans major parts of Nevada, Utah, Idaho, and California, covering 492,098 square kilometers (190,000 square miles).
It's subdivided into smaller regions such as the Bonneville Salt Flats in Utah, or the Carson Sink and Black Rock Desert in Nevada.
Wildfires caused by lightning are common in this desert. And you'll find many endangered species such as the Least Tern, Sodaville Milkvetch, Ute lady's tresses, Lahontan cutthroat trout, Desert dace, White River spinedace and the Utah prairie dog.
10. Chihuahuan Desert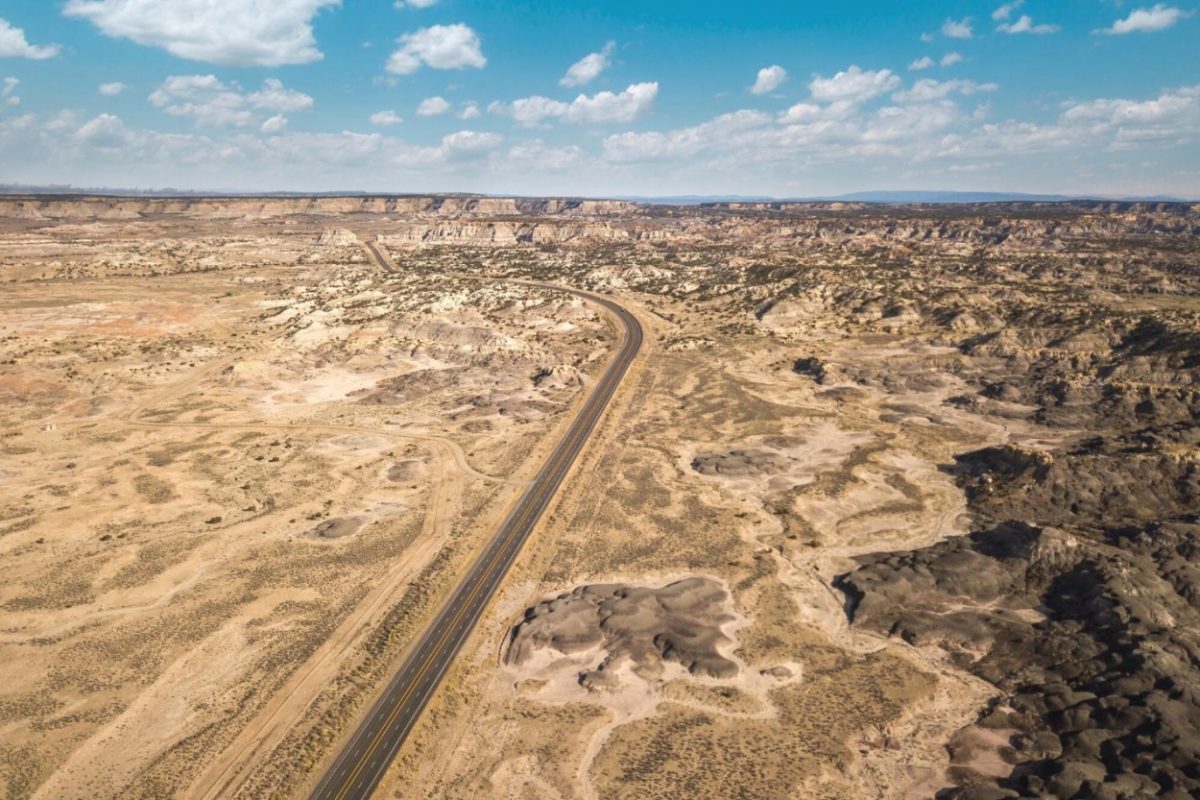 The Chihuahuan Desert covers an area of 501,896 square km (193,783 sq miles) in the USA and Northern Mexico. Most of the desert is in West Texas and Chihuahua, with bits of it in Arizona, Coahuila, Durango, Zacatecas, and Nuevo León.
Many of the mountain ranges within the desert have created 'sky islands' with forest woodlands. There are many urban cities in the desert too – Albuquerque, Saltillo, Fort Stockton, Fort Sumner, Roswell, Torreon, and more.
According to the World Wide Fund for Nature, because of the variety of species, the Chihuahuan Desert may be the most biologically diverse desert in the world.
11. Karakum Desert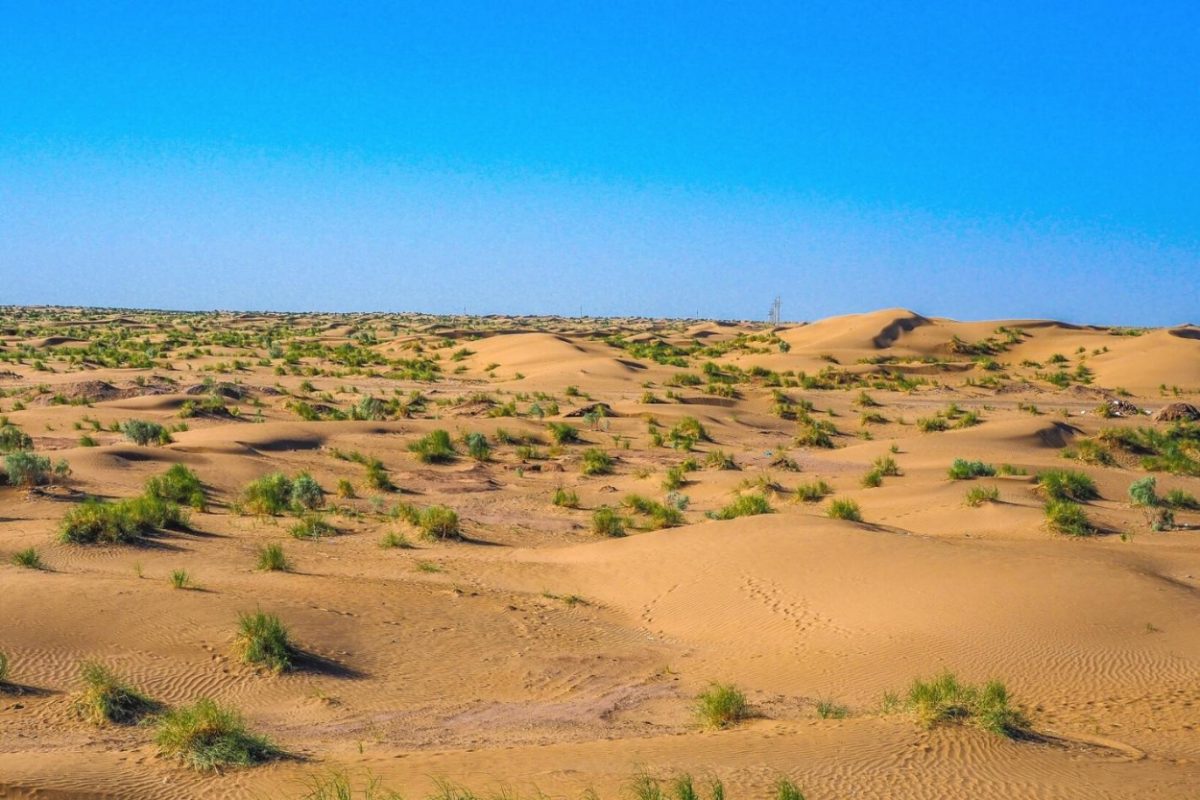 The Karakum or Garagum desert covers over 70% of Turkmenistan in Central Asia. (It's different from the Aral Karakum in Kazakhstan which is a smaller desert.)
Karak Kum 350,000 sq km (135,136 sq miles) and has a population density of one person per 6.5 sq km (2.5 square miles).
Karakum is also home to the Door To Hell or Gates of Hell which was lit on fire in 1971 while searching for oil, and has been burning brightly ever since.
12. Great Victoria Desert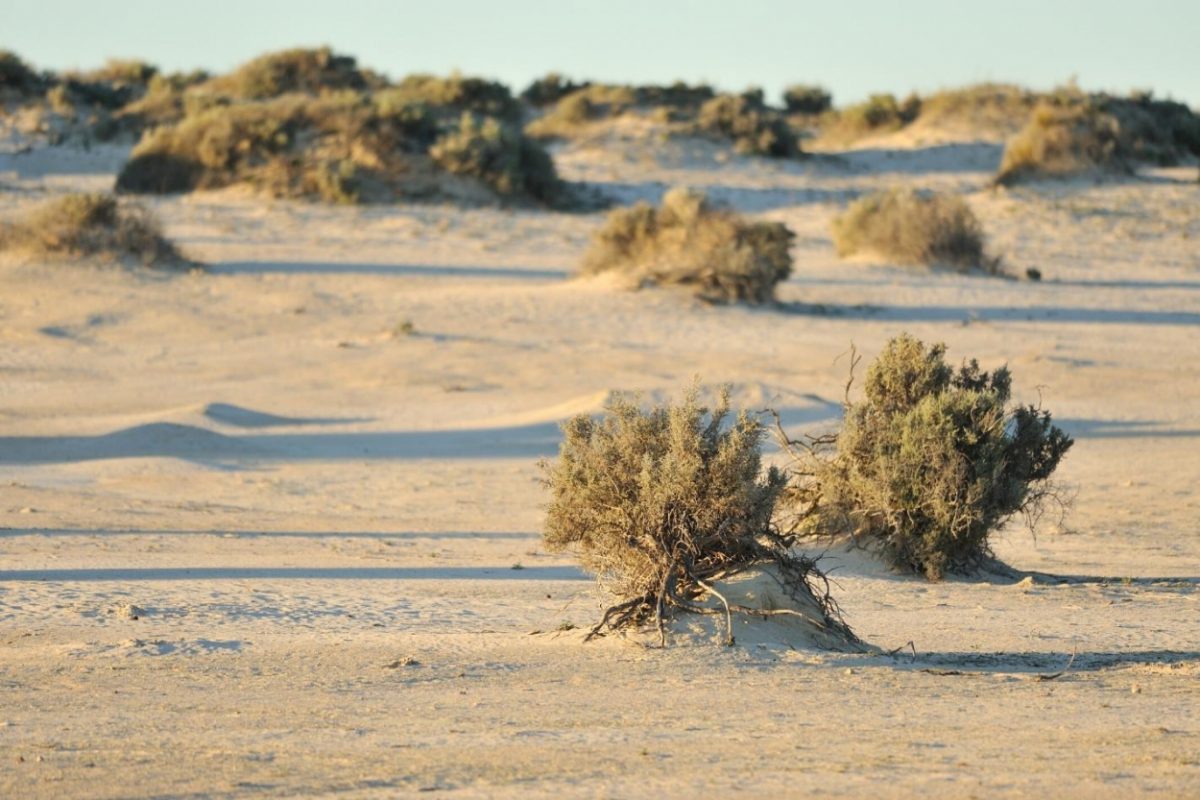 The Great Victorian Desert forms part of the collective Great Australian Deserts along with the Great Sandy Desert, Tanami Desert, Simpson Desert, Gibson Desert, and more.
Covering 348,750 km2 or 134,650 sq mi in South and Western Australia, it's the biggest desert in Australia. It sees almost 15 to 20 thunderstorms a year and is home to many salt lakes and gibber plains.
The landscape dotted with true mulga trees and home to the marsupial mole, dingo, malleefowl, and the crest-tailed mulgara is worth a visit for a true outback adventure.
13. Colorado Plateau
Bounded by the Rocky Mountains, Uinta Mountains, Wasatch Mountains, Rio Grande rift, Mogollon Rim and the Basin and Range Province, the Colorado Plateau is a cold desert covering 336,700 square km (130,000 sq miles).
A supersequence of sedimentary rocks is exposed and showcases different colors to form the Grand Staircase.
The erstwhile home of the Puebloan people, many national monuments and parks fall within this desert landscape. There's always something to see here, from the Grand Canyon and Zion National Parks in Utah to the Paint Mines and more in Colorado.
14. Taklamakan Desert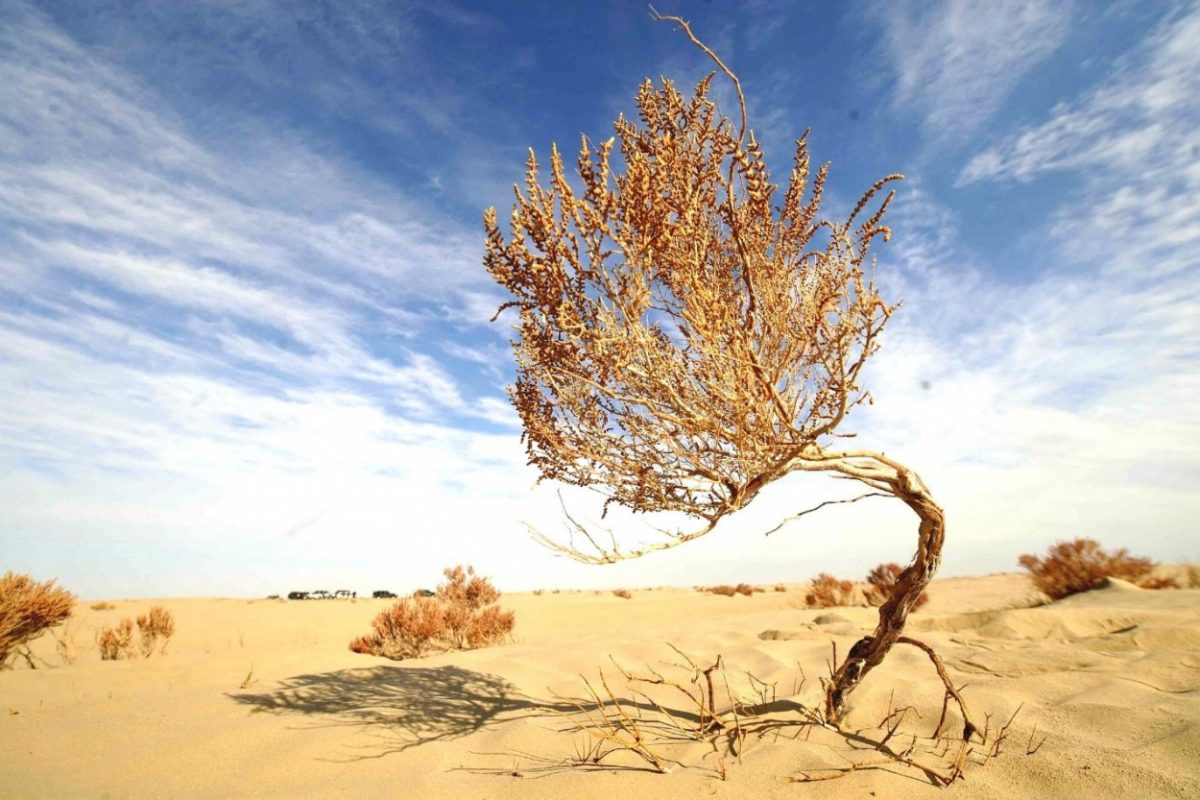 Just West of the Gobi desert in China, the Taklamakan Desert covers 337,000 square km (130,000 sq miles). At it's Southern and Northern ends lie two different branches of the Silk Road or Silk Route that were close to the oasis towns of of Kashgar, Miran, Niya, Yarkand, Khotan, Kuqa, Turpan, Loulan and more.
Made up of 85% shifting sand dunes, many archaeological treasures including 4000-year-old mummies have been found in sand-covered ruins.
15. Sonoran Desert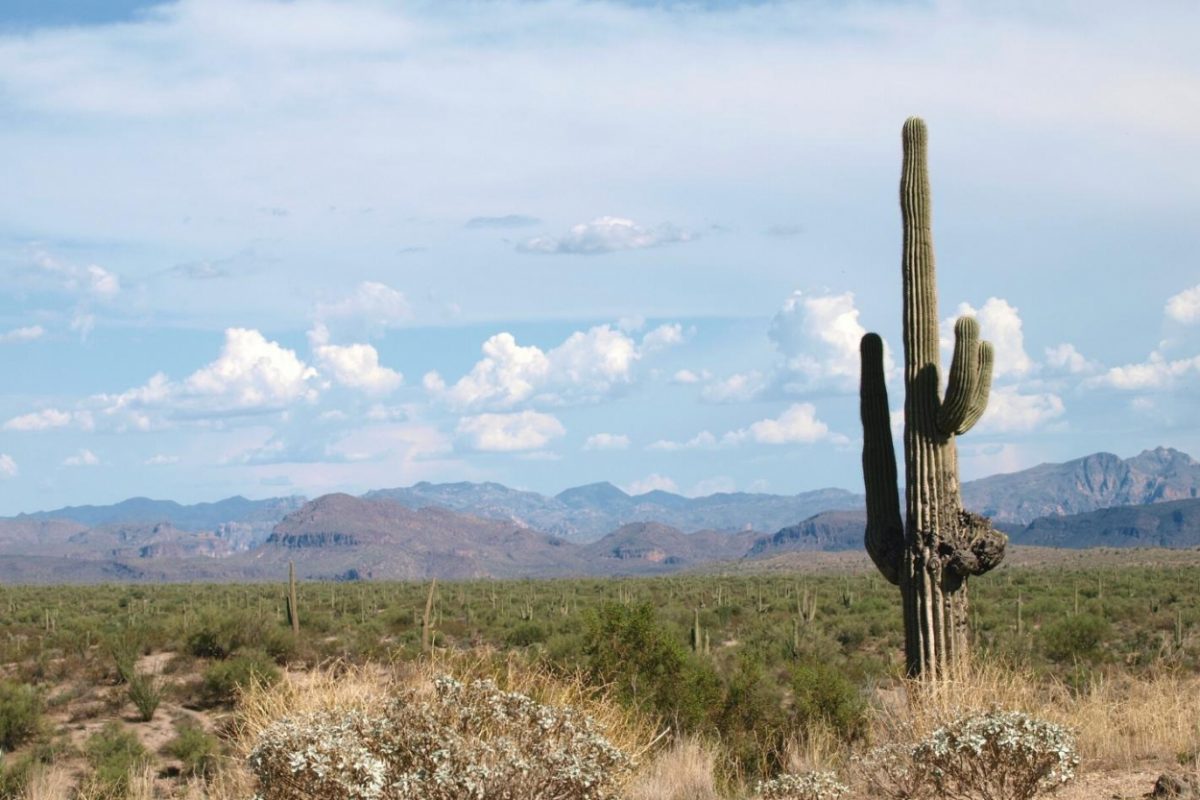 The hottest desert in Mexico and the US, the Sonoran Desert is part of the Holarctic realm of the northern Western Hemisphere. It's home to endemic species such as the saguaro cactus, cholla, beavertail, hedgehog, fishhook, prickly pear, and organ pipe cactus.
This desert is also home to over 350 species of birds, 20 amphibians, 100 reptiles, 30 fish species, 1000 honeybee species, and more. It's also the only home to jaguars in the US.
The Sonoran Desert covers an area of 310,000 square kilometers (120,000 sq miles). Home to many national parks and reserves in Arizona and California, with temperatures warm year-round, this desert is well worth a visit.
16. Kyzylkum Desert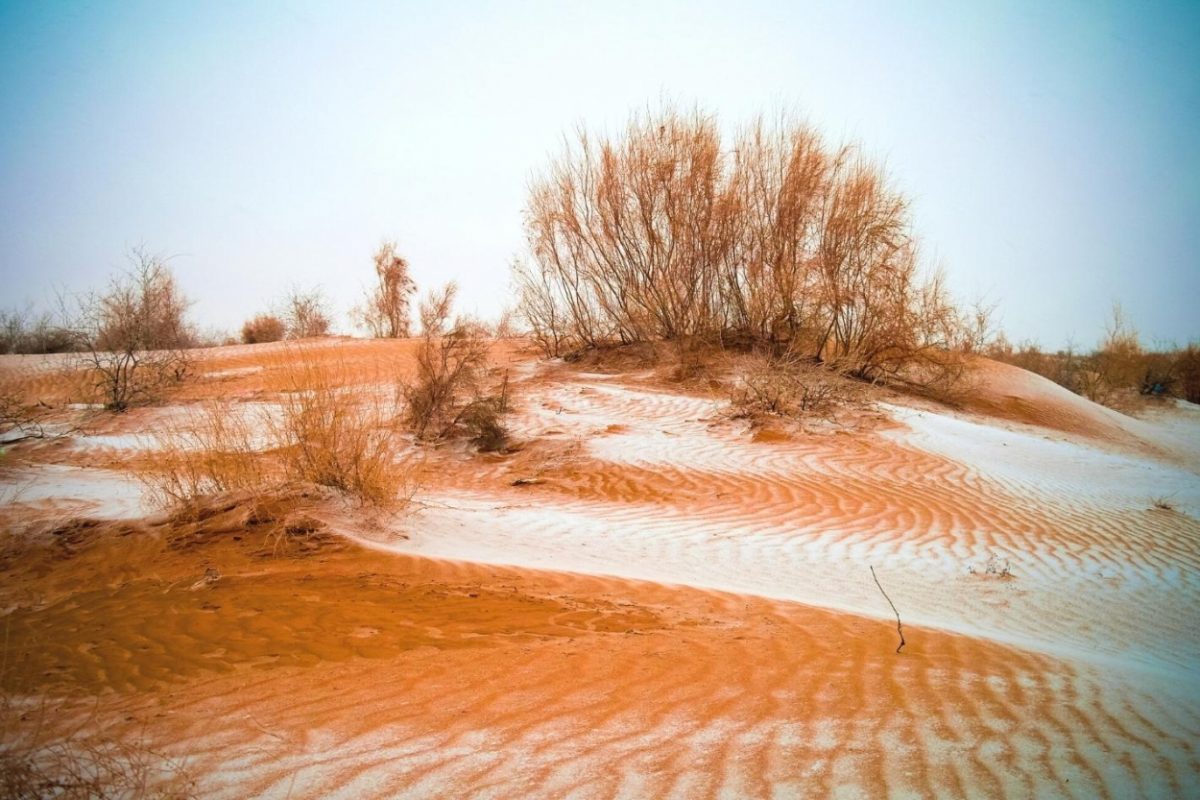 A Central Asian cold desert, the 298,000 square km (115,000 sq miles) of the Kyzylkum Desert is split between Kazakhstan, Turkmenistan and Uzbekistan.
Located in a doab between rivers Syr Darya and Amu Darya, temperatures have been recorded as high as 52 °C (126 °F) in July 1983.
The desert is very important to paleontologists because of the many fossils still being found here. Some popular ones include sharks, rays, bony fish, incolornis, hadrosaur, troodontid, ornithomimosaurs and more.
17. Great Sandy Desert
Another Australian desert, the Great Sandy Desert covers 267,250 km2 or 103,190 sq miles of the Northern Territory in Western Australia. It's bordered by the Gibson Desert, Tanami Desert, and the Little Sandy Desert.
Home to broad flat areas of land covered with wind-swept sands called ergs. Vegetation is sparse and often only the spinifex grows here. But you'll see a good number of red kangaroos, mulgaras, feral camels, dingoes, thorny devils, goannas, bearded dragons, and even the rare Alexandra's parrot.
18. Ogaden Desert
Covering an area of 327,068 square km (126,282 sq miles) the Ogaden Desert is the historic name for the area inhabited by the Somali clans in Eastern Ethiopia.
It is now called Soomaali Galbeed (Somali West) and is home to almost all the 30 major Somali clan families.
Important towns in the region include Jijiga, Degahbur, Gode, Kebri Dahar, Fiq, Shilabo, Kelafo, Werder, and Danan. The semi-arid region consists of dense shrubland, bushland, and bare hills and sees drought quite often.
19. Thar Desert (Great Indian Desert)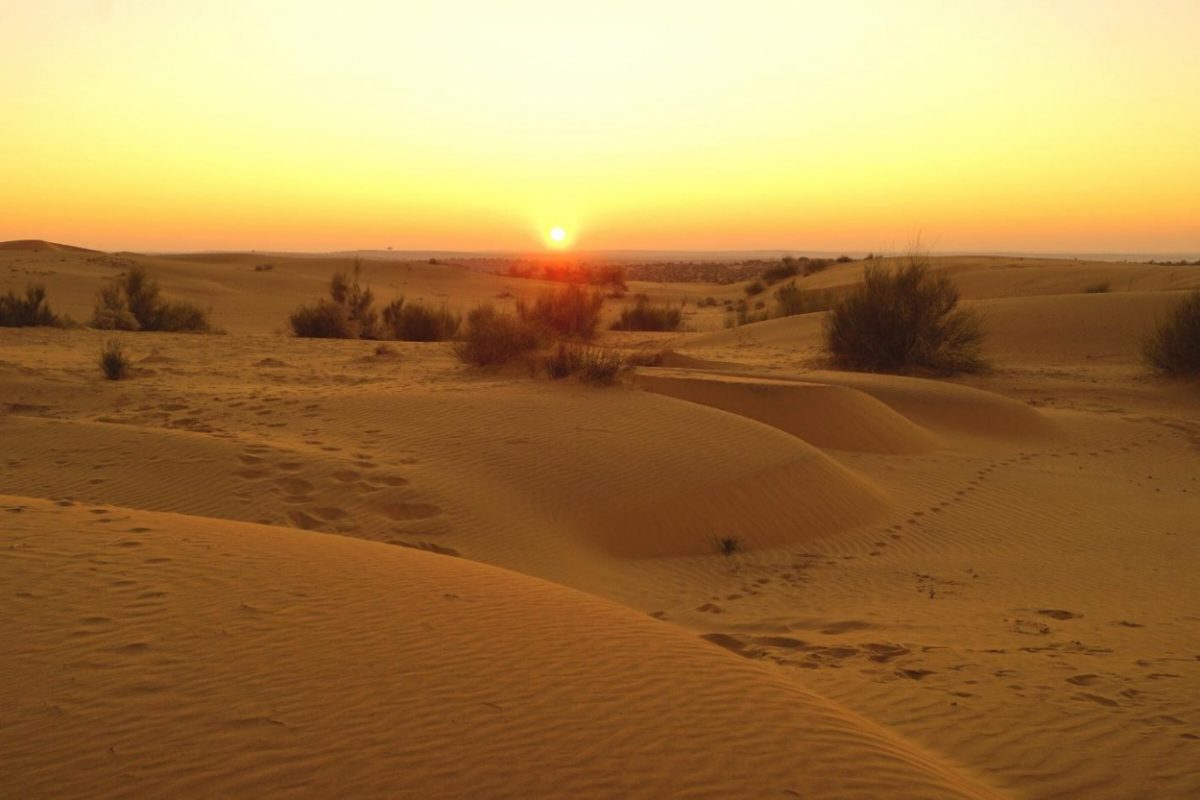 Also known as the Great Indian Desert, the Thar Desert covers an area of 200,000 km2 (77,000 sq mi) on the Indian sub-continent. It's often considered a natural boundary between India and Pakistan, with about 85% of it being in India.
Temperatures range from freezing in winter to over 50º C in summer.
There are several protected areas in the Thar Desert that are home to the great Indian bustard (Chirotis nigricaps), blackbuck, chinkara, fox, Bengal fox, wolf, caracal, sand grouse, and partridge.
In the desert areas, the water sources are either natural tobas or handmade johads, with human settlements often near wells or streams.
20. Namib Desert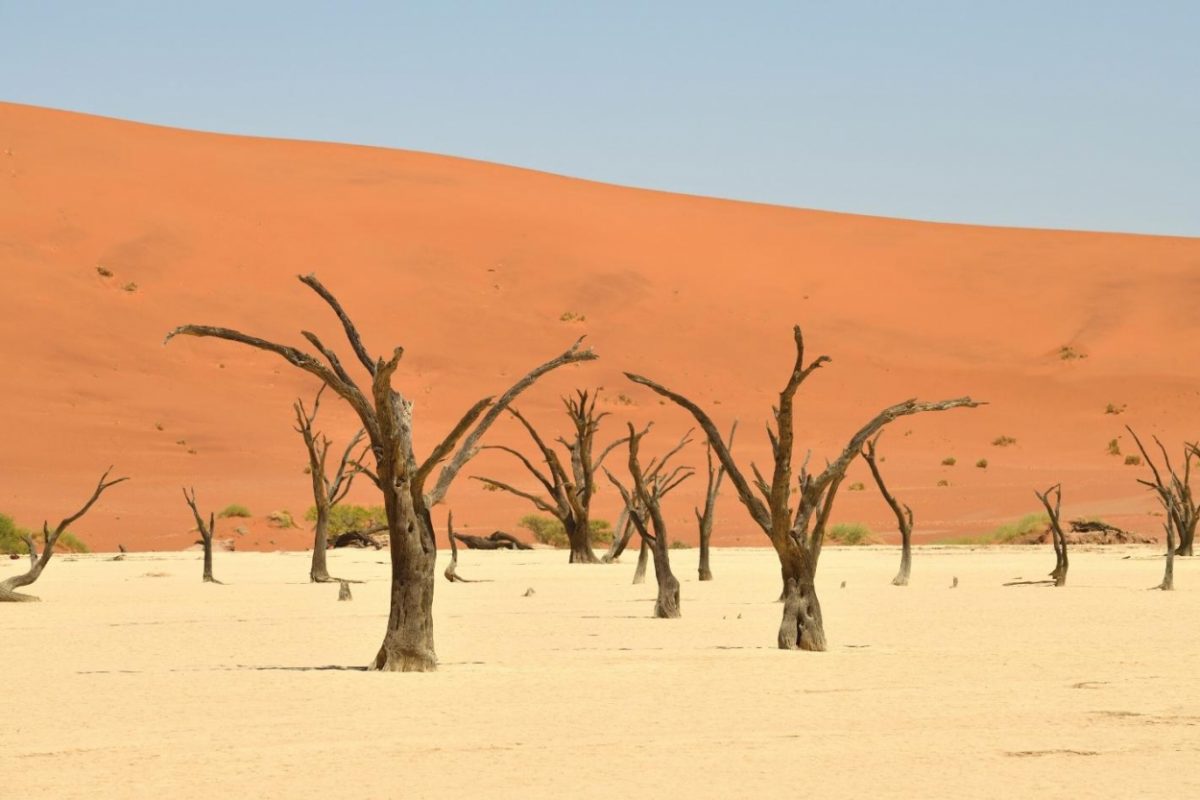 Occupying an area of around 80,950 square kms (31,250 sq mi), the Namib Desert stretches from the Uniab River in the north to the town of Lüderitz in the south.
One of the largest games reserves in the world, Namib-Naukluft National Park is mostly inaccessible. It's also home to the famous Sossusvlei area where orange sand dunes are surrounded by vivid white salt pans.
The coastal areas are part of a fog belt with over 180 days of fog a year. More than a thousand shipwrecks litter what is now referred to as the Skeleton Coast.
The desert is an important mining location because of vast deposits of salt, tungsten, and diamonds.
How many of these famous deserts have you visited? Which one is on your list to visit next?