Ever since I was young I wanted to visit the famed Dolby Theater, formerly known as the Kodak Theater, where the Oscars take place. When I went to Los Angeles for the first time in 2009 I saw the building from the outside and that was about it. I wasn't very impressed because the building itself isn't nice at all. Obviously, you can pay $20 and go inside as a visitor, but wandering around an empty theater wasn't that appealing to me.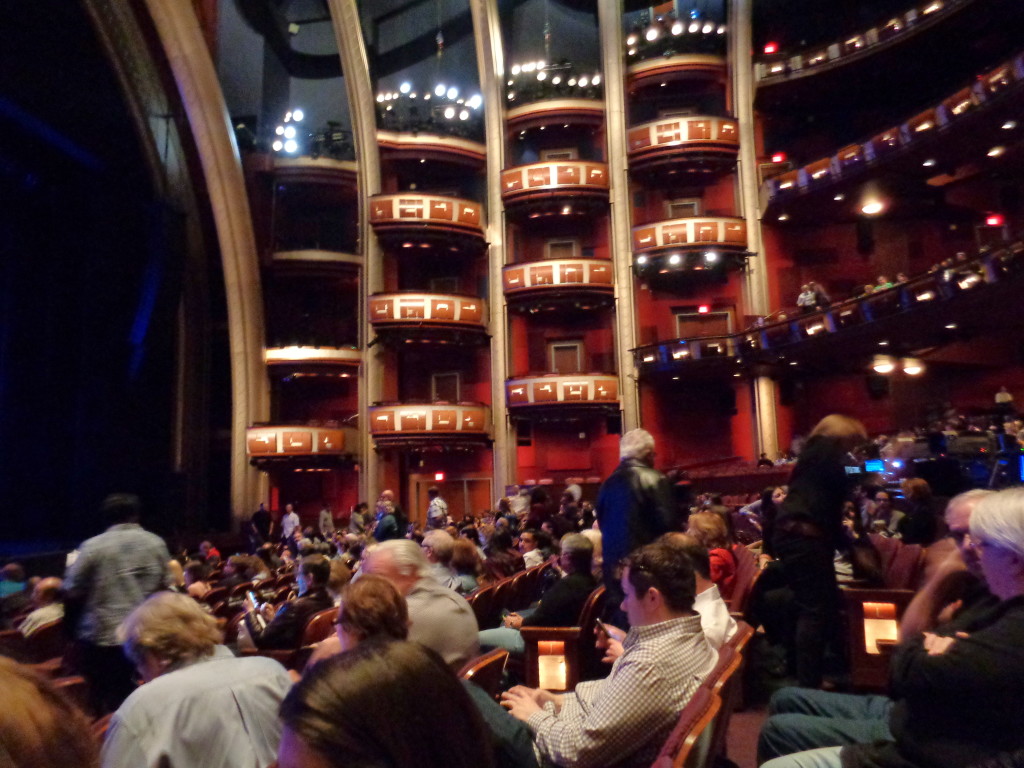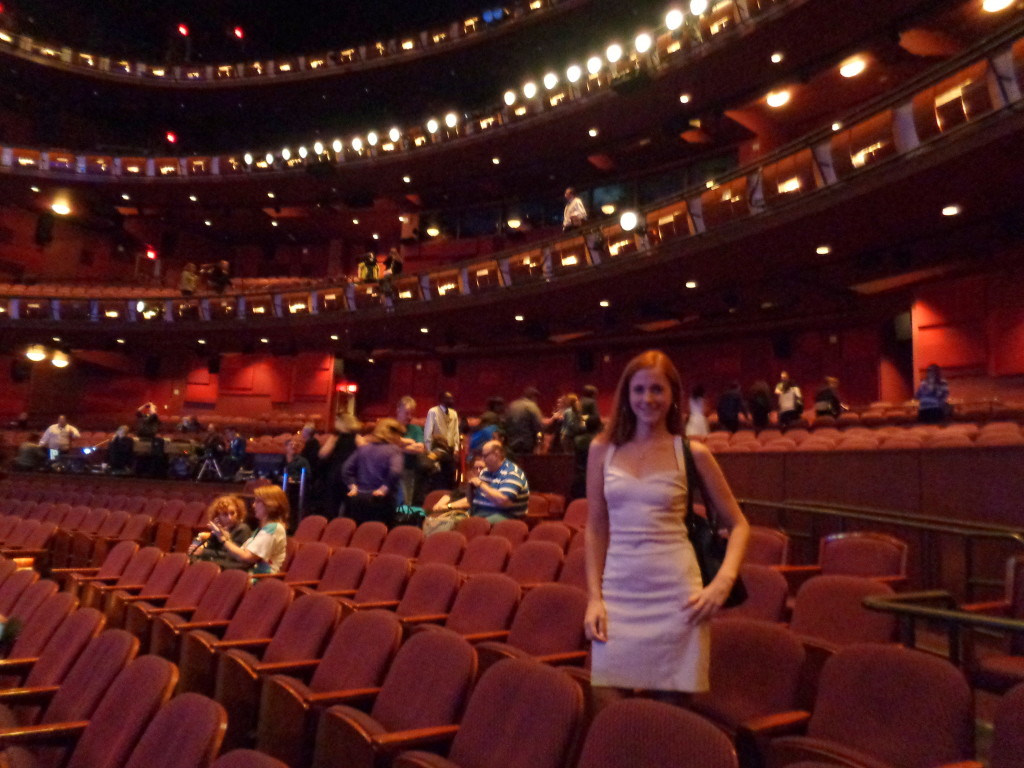 However, while I was sitting in my hotel room in Las Vegas this February, I saw an ad about the upcoming PaleyFest taking place at the Dolby Theater. Hold on, I thought, what exactly is happening there? PaleyFest is a series of discussion panels and exclusive previews of some of the most well known series on TV featuring the cast and creators.
If you're lucky enough you can actually get to meet some of the celebrities. I was hooked. Not only could I finally see the Dolby Theater, I could also meet some of the stars from my favorite shows like The Good Wife and Scandal.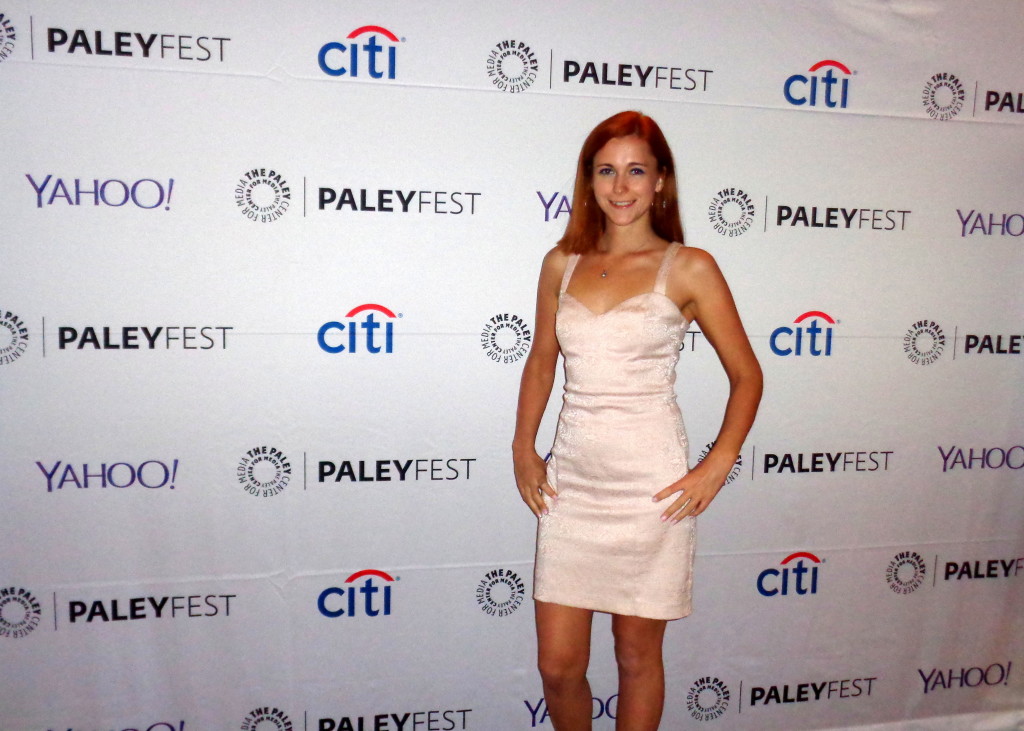 ---
The Good Wife panel
The first panel was held on Saturday and I had no idea what to expect, but I was excited anyway to see some great actors and actresses like Christine Baranski. When I stepped into the Dolby Theater I saw some people trying to see the cast on the purple carpet one floor below. Honestly, though, the most they could see was half of somebody's arm. I couldn't understand what the fuss was all about especially since everyone was going to be on stage soon. Instead, I went to explore the theater and I noticed an open storage room with all the seat assignment posters from the Oscars 2015.
The whole thing started with a screening of a completely new episode of The Good Wife which was super cool, especially because nobody else had seen it yet. I got a seat in the orchestra in row 9, so I was very close to the stage. The host of the panel was a secret until the last minute when James Corden appeared on the stage.
After I saw him in Into the Woods I thought he was a regular actor, but he also has hosts The Late Late Show now. He started the show by saying that 3 weeks ago Neil Patrick Harris was standing there naked hosting the Oscars and that that wasn't going to happen tonight. That's when the stars appeared: producers and writers Robert & Michelle King, Juliana Marguiles, Christine Baranski, and Matt Czuchry who even licked James Corden upon entrance.
This is when I learned that there might be a spin-off of the series involving Kelly Preston aka Elsbeth Tasioni. Everyone in the audience loved the idea. (Update in 2017: the spinoff has been announced and it's titled The Good Fight)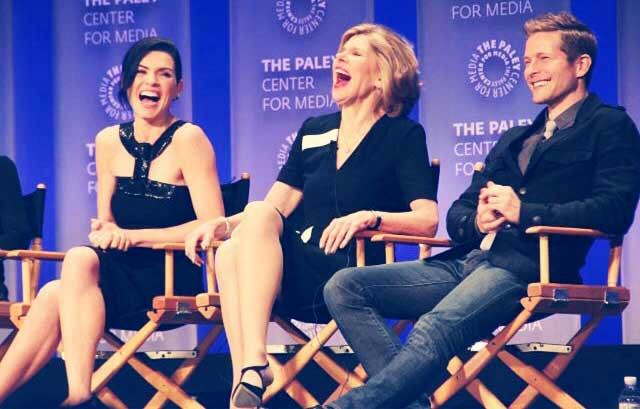 After some pre-prepared questions, the audience had a chance to ask some of their own. I assumed that unless I was dressed in a funny way or jumped like a rubber ball, the microphone wasn't going to come my way, so I didn't even try. However, you might see me somewhere on TV because of the guy sitting two seats away from me. Funnily enough, nobody bothered to ask or compliment Matt Czuchry and he didn't even get to answer one question.
A few seconds after the show was over, a lot of people jumped on to the stage to get autographs and photos. I got blocked by some people and by the time I got to the middle, the access to the stage had been blocked by security. However, they forgot to close the other way so I was able to freely go and get my photos.
Unfortunately, by the time I got there the actors were being pulled off the stage so I missed Christine Baranski by only a minute. Juliana Marguiles refused to take any photos with anyone, but she did sign my notebook. Matt Czuchry on the other hand decided to stay longer and took the time to actually take photos with everyone that wanted them.
---
Scandal panel
The next day I attended the panel for Scandal. I think it was meant to be the most popular and important one at PaleyFest. Especially because the entire main cast of the show showed up. The only person missing was the writer and producer Shonda Rhimes.
The moment I stepped into the Dolby Theater I heard tons of screaming from the fans standing on the staircase, reacting every time they saw someone. I noticed that the amount of security guards had doubled from the previous night, indicating to me that this night's panel would be totally different.
My seat this time wasn't as good, but at least it was still on the same level. A lot of people decided to get some drinks at the bar instead of watching the screening of an episode that… we've all seen before. For some reason they weren't showing anything new and Jimmy Kimmel made a joke about how we all enjoyed the "sneak review" of the episode.
On the other hand, it was better for me that I had seen it already because a lot of people were screaming and clapping the entire time.
When the cast arrived everyone was really excited, more so than the previous night. I guess this is when I realized that this audience was way younger and more hyped up. I must say though that the Scandal crew is very likable and really loves their fans. They were taking time to tweet, take selfies, and talk to the viewers watching the stream online. I often couldn't hear what was happening on stage because of the noise from the crowd.
As much as I like Jimmy Kimmel, I think he made the panel a bit uncomfortable at times. For instance, it was cool to see Katie Lowes' casting tape. But when Jimmy started reading weird sexual tweets addressed to Tony Goldwyn, I could see from his face that it made the poor actor incredibly uncomfortable. On another note, how can people be so weird to write tweets like that?!
However, I have to raise my glass to Kerry Washington who answered these weird questions with class and dignity. I'm not going to go into the details because what's been said has already been all over the news.
For this event security decided to close pretty much every part of the theater except for the VIP area in order to avoid the mayhem. To be completely honest with you, they were right to do so because people were pushing each other and elbowing everyone around them.
I somehow managed to sneak in (cheers to learning how to skillfully maneuver between people in London's tube!), but the second I stepped into the crowd I realized there was no way out.
Fans were going insane, but the Scandal actors couldn't have been nicer, giving them all of the autographs and selfies they could hope for. The only people who left the stage pretty much instantly were Jimmy Kimmel and Kerry Washington, but I think everyone forgave her because she had laryngitis.
I loved how dedicated Guillermo Diaz and Bellamy Young were, lying down and crawling on the stage just to take good selfies with the crowd!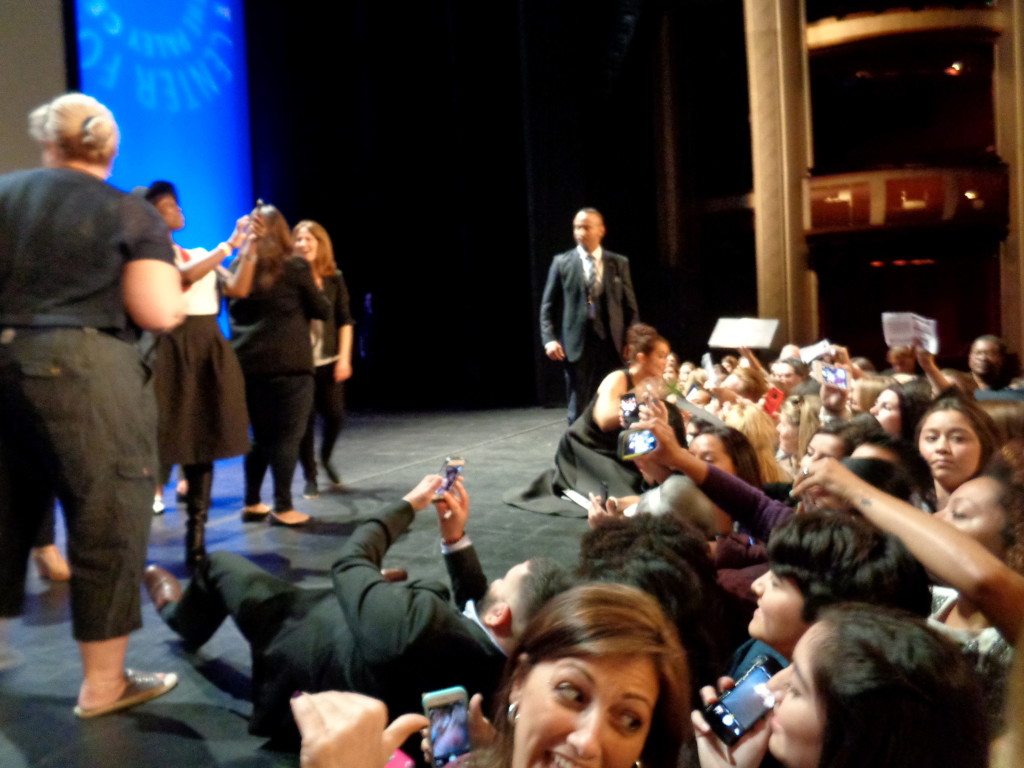 At some point I realized that I was probably going to end up in people's group selfies without even using my camera. I was right – the following morning I found 5 photos of myself with Scott Foley. He actually made fun of my camera while taking a picture with me, because I was the only person using a camera instead of a phone.
In my defense, my phone battery was almost dead and I simply don't trust phones – I've had four phones over the last 2 years and each one of them just died for no reason. I had a feeling that if I used my phone, it would randomly die before I'd have a chance to upload my photos.
I couldn't be happier that I had finally managed to experience the home of the Oscars. I had a blast at PaleyFest! Have you been?