Ha Long Bay has been a popular destination for travelers in Vietnam for decades. This breathtaking UNESCO world heritage site also recently received the honor of being named one of the New Seven Natural Wonders of the World, so visiting its thousands of cliff islands is a must for any visitor to Vietnam.
Tips on Visiting Halong Bay in Vietnam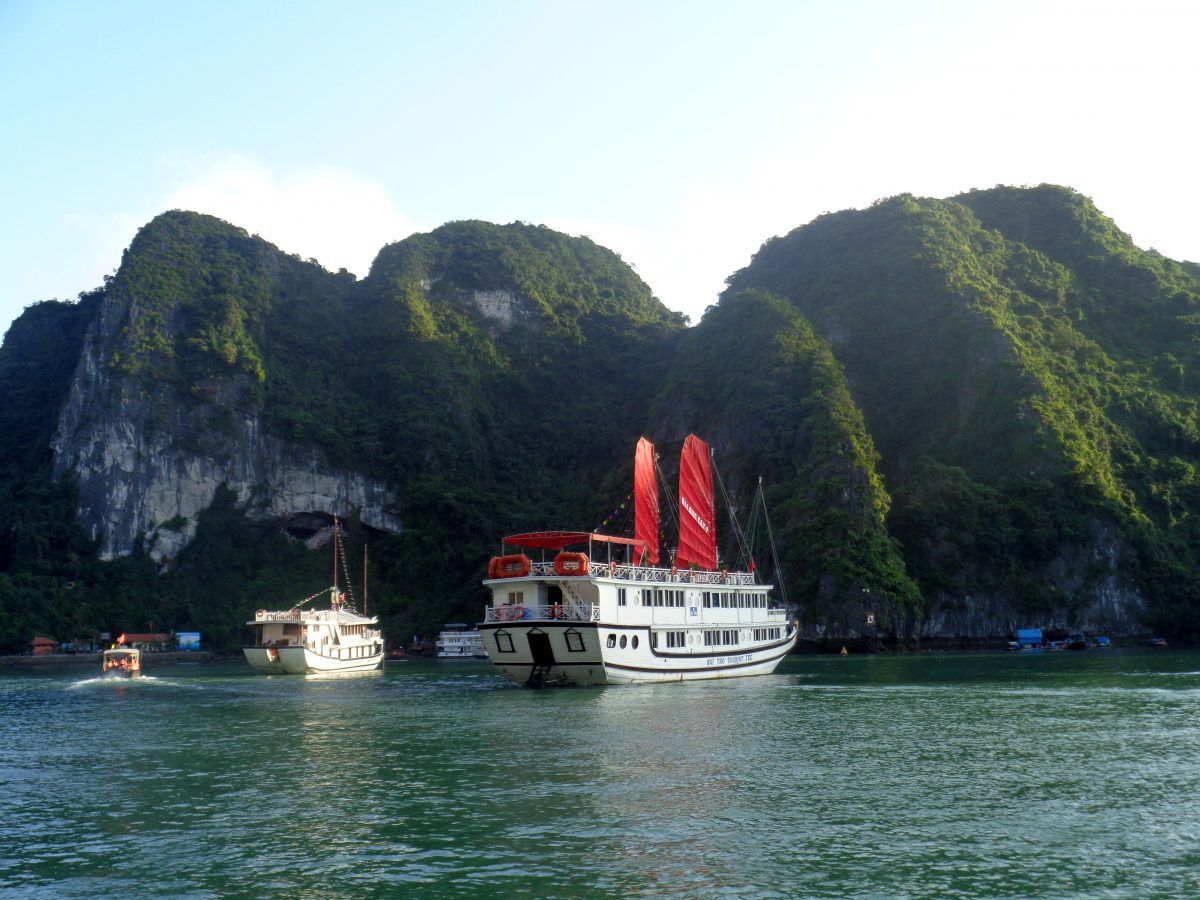 There are a few options for visiting Ha Long Bay, but most will choose to take a cruise for either one or two nights. Picking the right trip is actually not as easy as it sounds due to a lot of travel agencies offering tours. Choosing a bad one would mean a terrible experience and a huge waste of money. So then, what should you consider when picking a tour?

Don't take a one-day trip from Hanoi. Getting to Ha Long Bay takes a bit over 4h, so going there for just a few hours is only going to make you wish you could stay longer.
Don't try to go to Ha Long Bay by bus and catch the last-minute cruise. I heard a lot of stories from people trying to save some money and they all ended up in the same disastrous way. These people not only spent more money than they would have by purchasing a package, they also had worse tours.
Don't go for the cheapest option you can find. There are many travel agencies that will offer you 2-day tours for as low as $45. Don't be fooled, I heard many terrible stories from both backpackers and luxury travelers who didn't get any food on their cruise or had to share a room with other people because their agent overbooked the tour.
What I'm trying to say is pay a bit more to be safe, but don't overpay an agent that's trying to convince you that their boat is the nicest or prettiest – they all look pretty much the same due to some new regulations that all boats have to be painted white, so many boats are not able to show off their intended colors.
I chose to take a tour with APT Travel that I purchased from the travel agency at Hanoi Airport. I was a bit hesitant to book a tour right after I got off the plane. But, the travel agent offered me a discount on a taxi if I bought a tour with her. My friend and I paid $120 each for a package including everything.
---
How Does the Halong Bay Cruise Look Like
We got picked up early in the morning by a bus for the long drive to Ha Long Bay. During the bus ride, our guide introduced himself and explained the tour, along with some brief history lessons and jokes.
We stopped once for a bathroom and snack break and eventually reached Ha Long Bay around lunchtime.
When we boarded our boat, which was also our accommodation for the night, we almost immediately got lunch and started sailing.
The food was absolutely great and everyone could find something they liked! Vegetarian, chicken, seafood, rice; it was more than enough for everyone on board.
After we got settled into our rooms, we were asked to jump onto another smaller speed boat to sail to some places where the bigger boats weren't allowed to go.
First, we got to go kayaking in a grotto where we saw monkeys scampering along the cliffs. After we all came back on board the boat, the tour guide took us to see a cave.
I've been to many caves in my life, so I didn't expect much. But I have to say it was interesting to see a cave that was basically in the middle of the sea. Our guide was also excellent for the entire tour, explaining everything to us and constantly making jokes.

After we got back it was time to see the beach. Unfortunately, by the time we got there, it was already too chilly to swim so I played with some monkeys instead.
In contrast to Balinese monkeys who decided to bite me, these monkeys turned out to be super friendly. One of them even exchanged my leftover coconut for some money she stole from someone earlier!
When we came back to our boat we had time to rest. We watched the sunset and took part in the preparation of our dinner appetizer: spring rolls. After dinner, we just hung out with the other tourists and drank and played cards.
The second day of the tour was much less exciting. We only got to visit a pearl farm and sunbathe while we sailed back to the port. The weather was beautiful though, so I can't really complain. We got to spend some time relaxing on lounge chairs in the sun.
---
Arrange your travel insurance
Don't forget to arrange health insurance before heading to Vietnam. The easiest and the most reliable travel insurance is Safety Wing. Get it before your trip, especially before a Halong Bay cruise, to avoid unnecessary troubles that might ruin your holidays!
---
I think I was incredibly lucky to go to Ha Long Bay. The place was stunning! I'd recommend it to anyone heading to Southeast Asia!