Unlike what you can see in the media, Iran is one of the friendliest countries I've ever visited. I think everyone should travel to Iran to experience incredible hospitality, see vibrant cities, discover mystic deserts and eat delicious food. Why?
Did you know that Iran hosts nineteen UNESCO World Heritage Sites? There's so much to see that even if you spend a month traveling around the country, you won't see everything that the country has to offer. Iran has it all. If you plan to travel to Iran, here are my best tips.
I traveled to Iran independently, on my own and without a tour group. While I was able to travel around the country on my own due to my EU passport, even if you're from the UK or US and require to do an organized tour you could hire a guide and create your own itinerary. So not all is lost! 🙂
Many blogs are blocked in Iran, so if your VPN isn't working for some reason you won't be able to access some sources again. Fortunately, my website isn't blocked, so you can re-read my articles when you're already in Iran as well.
Traveling to Iran: Things to Know Before You Go
1. Iranians Aren't Arabs
One of the most important things to remember is that Iranians aren't Arabs, they're Persian. They speak Farsi (and other dialects), not Arabic, and some people might feel offended if you great them with Arabic words.
Since the Arab invasion of Iran, Farsi has been written in Arabic letters with slight differences. While a lot of Arabic words have made it to the Persian dictionary, it doesn't mean that an Arab can understand Farsi or the other way around.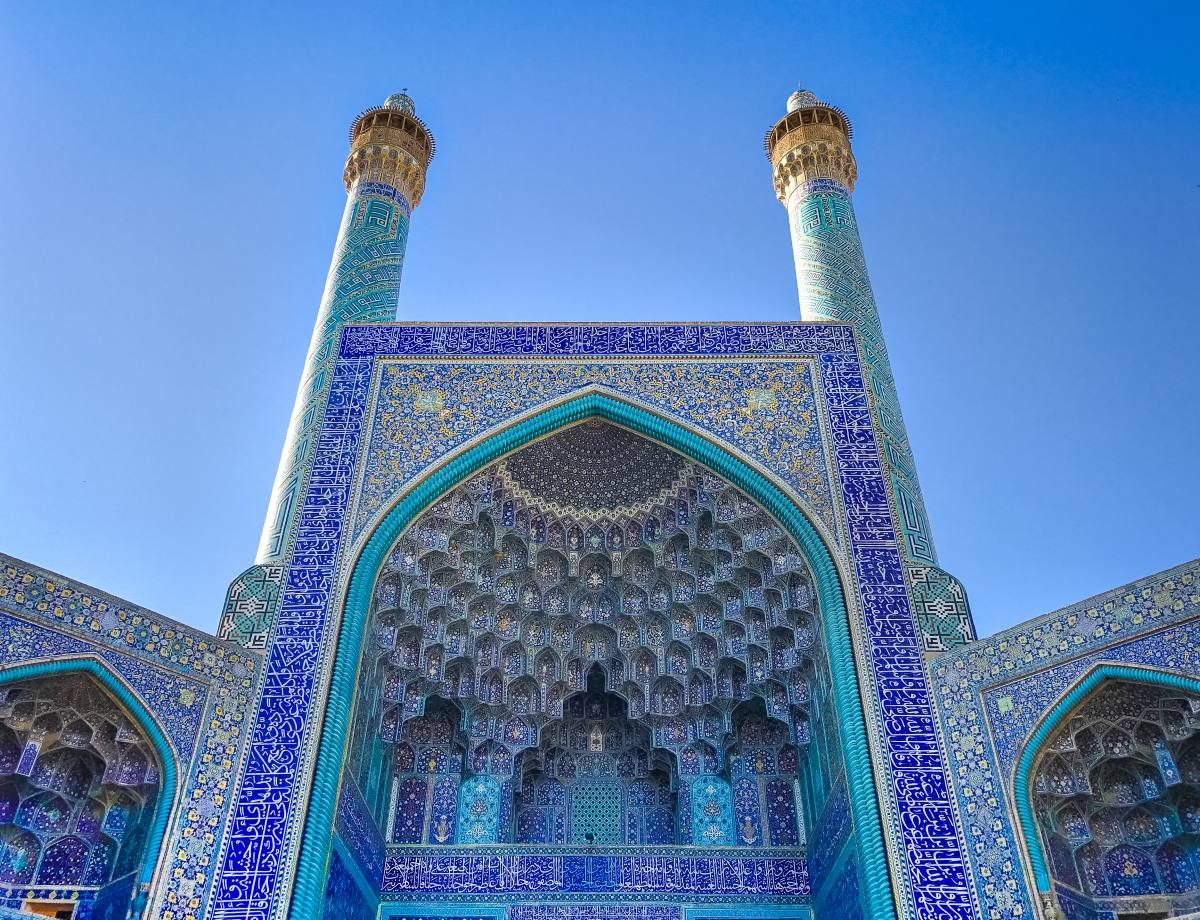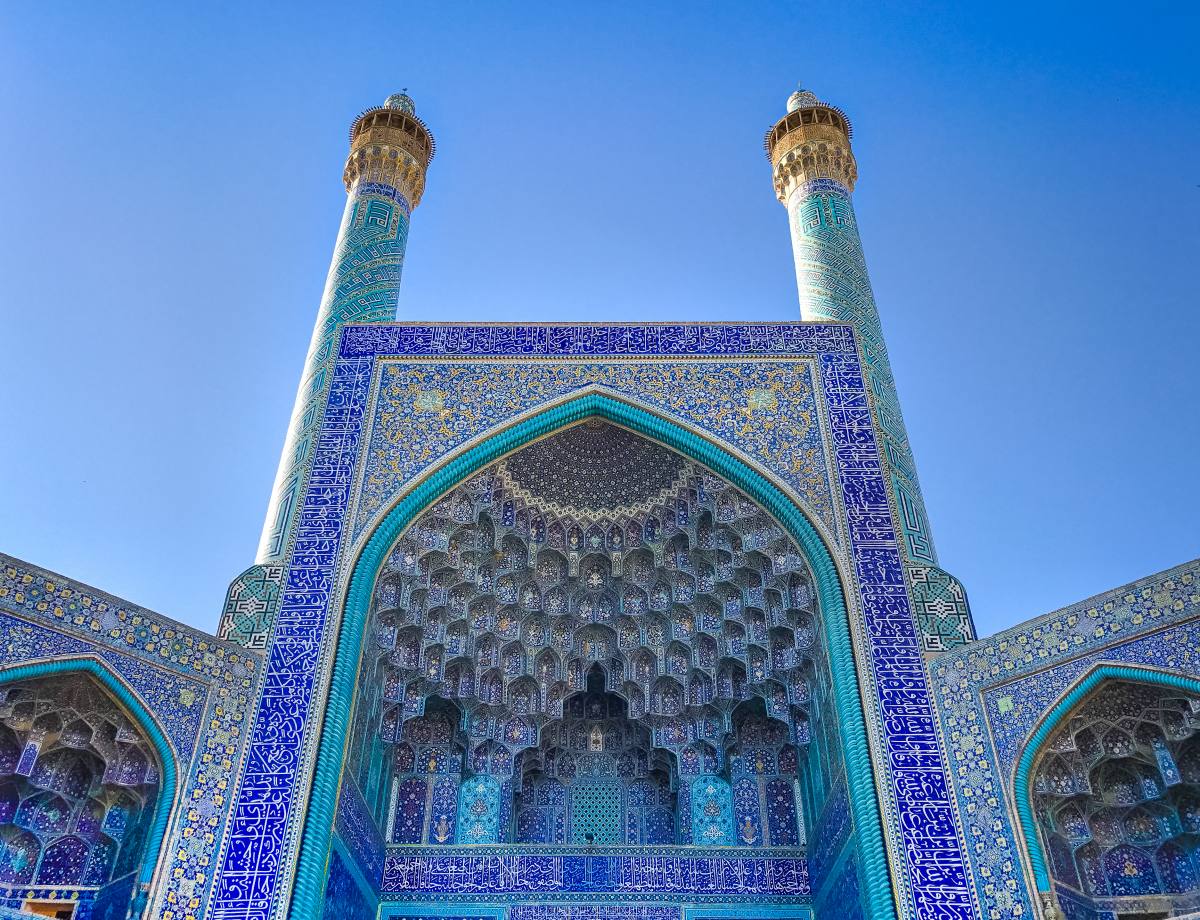 ---
2. What's The Best Time to Travel to Iran?
Iran is a big country, so temperatures differ. For instance, when I was visiting Iran in late March it was freezing cold in Tabriz and Tehran, but very warm in Esfahan.
During the summer, temperatures frequently break into the 40's (C), so it might not be the best time to visit. Especially since you need to be covered up head to toes.
I'd say that the best time to visit Iran is spring (late February – late May).
The worst time to travel is the 2-week long Iranian New Year holidays called Navroz (for 2018: 21st March – 4th April) . I was actually in Iran during these holidays and it was, in fact, the worst time to visit. You won't be able to stay with many locals as everyone is visiting families and many places are closed.
---
3. Iranian Don't Hate Americans
One of the biggest myths in Western Media is that Iranians hate Americans. I only encountered one posted at a mosque in Tehran. But after a few conversations with people around the mosque, I quickly realized that they all agreed that some group of weirdos put it there and no one really thinks that.
I had endless conversations about it with many locals and none of them expressed any hate towards Americans. In fact, American movies were shown on a local bus and people love to drink Coca-Cola.
---
4. Iran Is a Great Place for Backpacking
Many people don't consider a country like Iran to be good for backpacking. But they're wrong. Iran is the ultimate backpacking destination. Iran is cheap, it has hostels in major tourist places, cheap hotels and guesthouses in others, comfortable buses, and friendly locals. What more can you want when you backpack…?
I'm usually not a fan of backpacking and hostels. But backpacking in Iran is different than in some other popular places. Travelers were more mature, interested in different cultures, and not just in partying and taking usual selfies in the morning. I might be biased, but when I backpacked in other places I was rarely able to find people who wanted to join me for a trip to the museum. Not in Iran.
---
5. How Much Money Do I Need to Travel to Iran?
Iran is a country that offers great value for money, even more so these days. But money is one thing you really need to plan on if you're going to Iran, as foreign card won't work in any ATM and you cannot pay by card. Similar to Cuba, Iran is a cash country.
Bring EUROS, not US Dollars. Many websites and travel blogs will tell you to bring only Dollars. Thankfully, I had Euros too. Dollars were very unwanted (I imagine after Trump's travel ban). While some people still accepted them, it wasn't easy.
I spent approximately $20-40 per day while traveling solo and with a friend, I met on my first day. It wasn't an extreme budget trip and we weren't restricting ourselves. I recommend planning on bringing more, just to be safe. This will allow you to book a double room in a budget hotel, local meals, taxis and taking buses everywhere.
Remember that Iran has beautiful Persian carpets and you might want to buy one. My friend and I both bought carpets, so I was happy that I had some spare cash with me. Prices for a rug range between $100-800 depending on the size.
Click Here for official / street exchange rate history.
NOTE: Iran recently introduced a special pre-paid debit cards for foreign travelers called Mah Card. It's a great solution for those who don't want to carry too much cash around. You can sign up online and they'll meet you at your hotel upon arrival, issue your card and deposit your foreign currency into your Mah Card.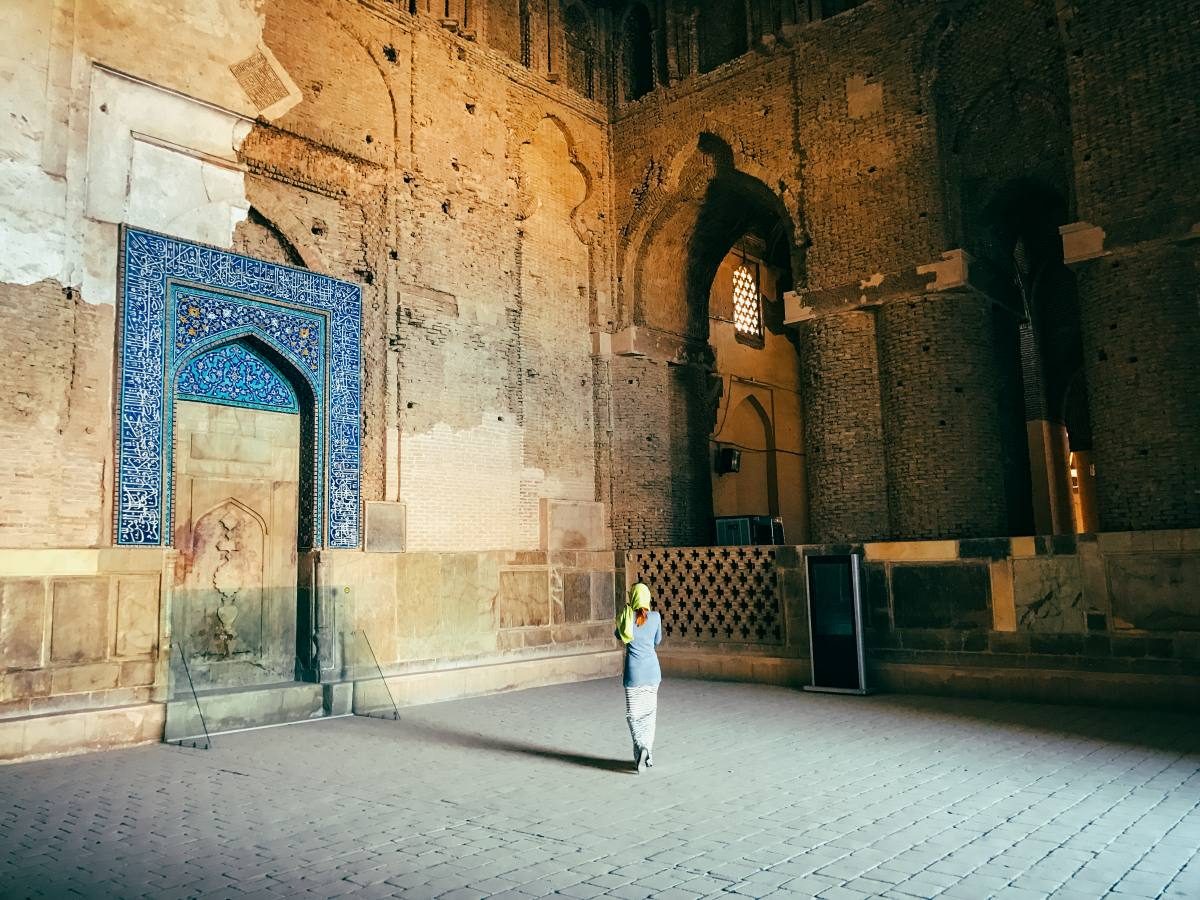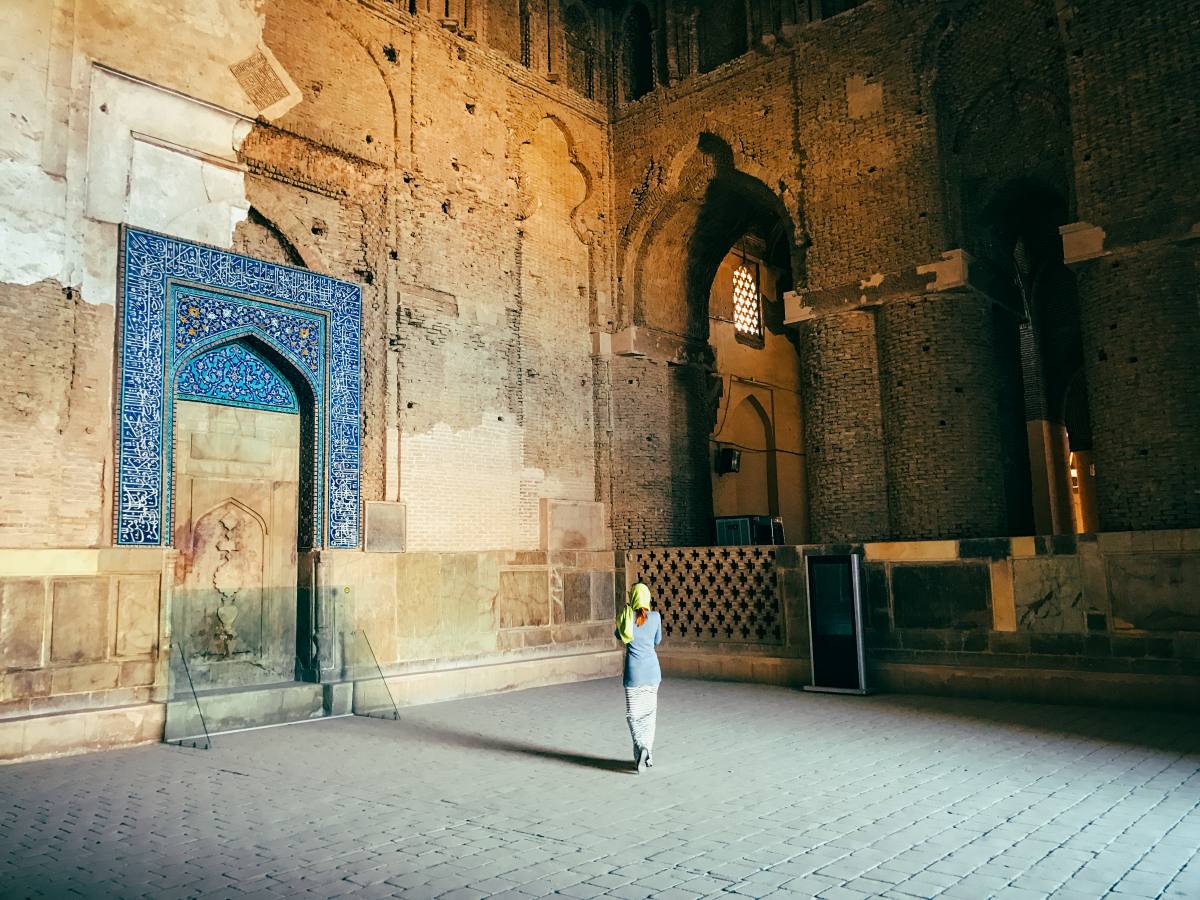 ---
6. Currency in Iran is Very Confusing
Rial is the official currency, but all prices are in Toman. It gets a bit confusing and you'll most likely get a real hang of it right before you leave.
1 toman = 10 rials
But it's not just that simple. If someone asks you for 20 it means you need to pay 200 rials, but I also encountered 20 meaning 20,000 as they just don't want to deal with zeros.
---
7. You Can Get Iran Visa at the Airport OR Beforehand
If you're worried about the hassle of getting a visa to Iran, fear not! Citizens of many countries are eligible for a visa on arrival for up to 30 days. See rules and documents required in my other post.
If you're illegible to travel around Iran on your own, you can consider taking the Discover Persia 14-day G Adventures tour, which I've heard good things about. The tour doesn't chaperone you 24/7 and you'll have some free time, so even if you're not a group trip person, you'll be fine. Check here for the latest Discover Persia tour prices and itinerary.
Another option would be Iran tours from Intrepid. They have a few options available, so check the latest dates and prices here.
If you're a US citizen or resident I suggest contacting 1st Quest to obtain a visa. They're the best and quickest when it comes to arranging visas online, not only to Iran.
Travel Insurance for Iran:
You won't be granted a visa without valid travel insurance. And in case you're wondering EU insurance cards won't work, as they do check whether your policy is actually valid for Iran. While you can technically buy insurance at the airport, you'll have to stand in another line to do so. This is why I recommend 1st Quest. It's valid for Iran and it's reliable.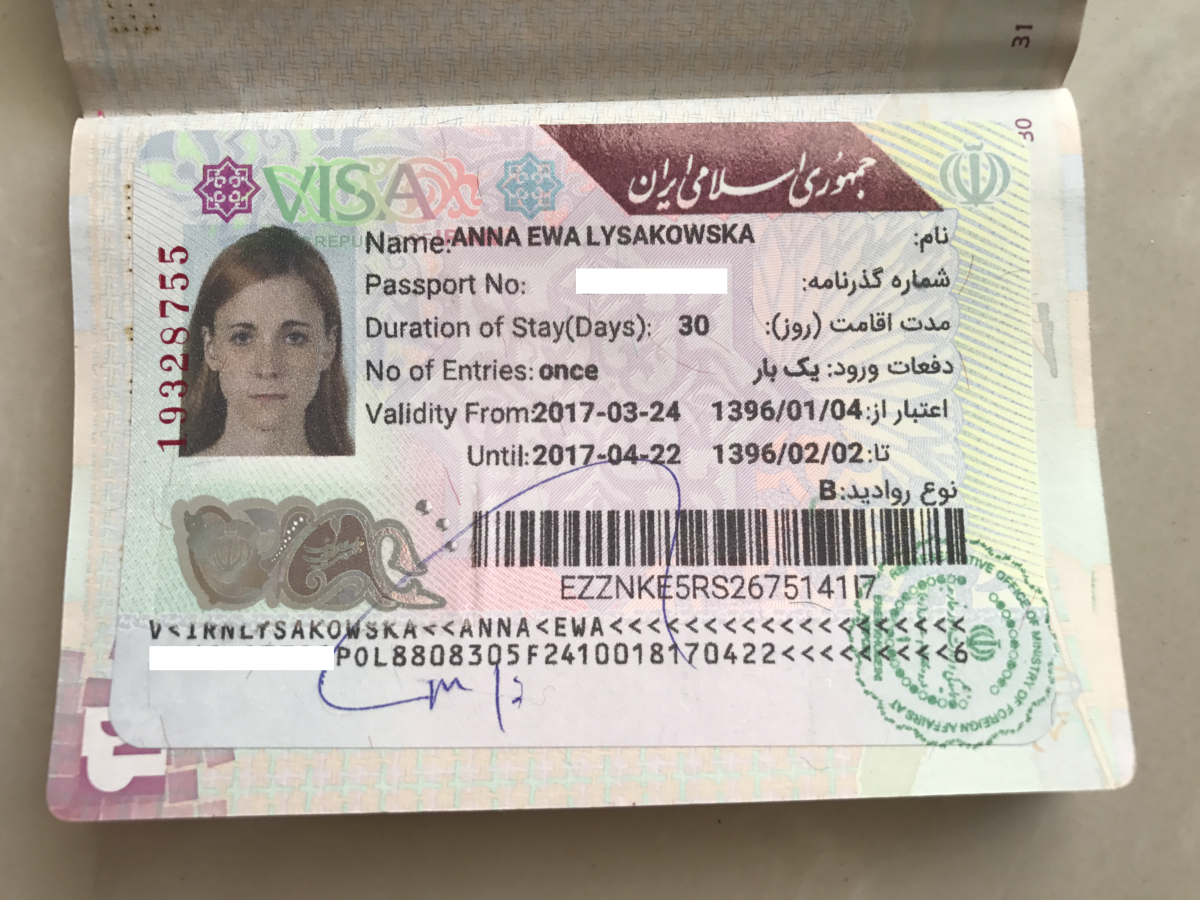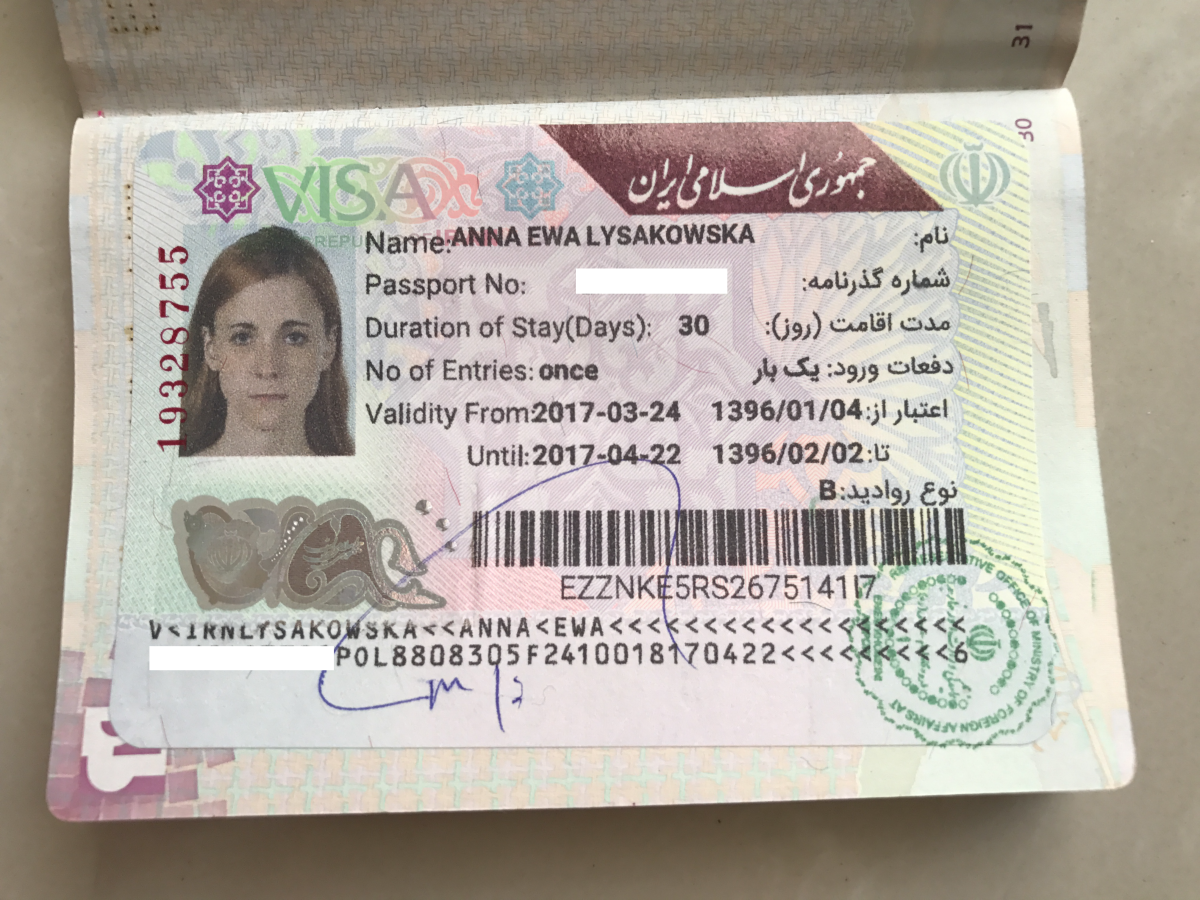 ---
8. Iran is Safe to Travel
Apart from what media portrays Iran is safe. I actually felt safer in Iran than during my last visit to NYC. Also, once you meet some friendly Iranian (within 10 minutes of your walk outside of the hotel), they'll make sure that you as a foreigner have everything you need.
I never encountered people being so helpful anywhere else in the world.
Random strangers will get off the metro with you at the wrong station for them to show you the right way. They'll escort you to your seat on the bus to make sure that you find everything right and don't miss it. They'll guard your stuff too.
I only felt unsafe once, in Esfahan at night, but nothing happened.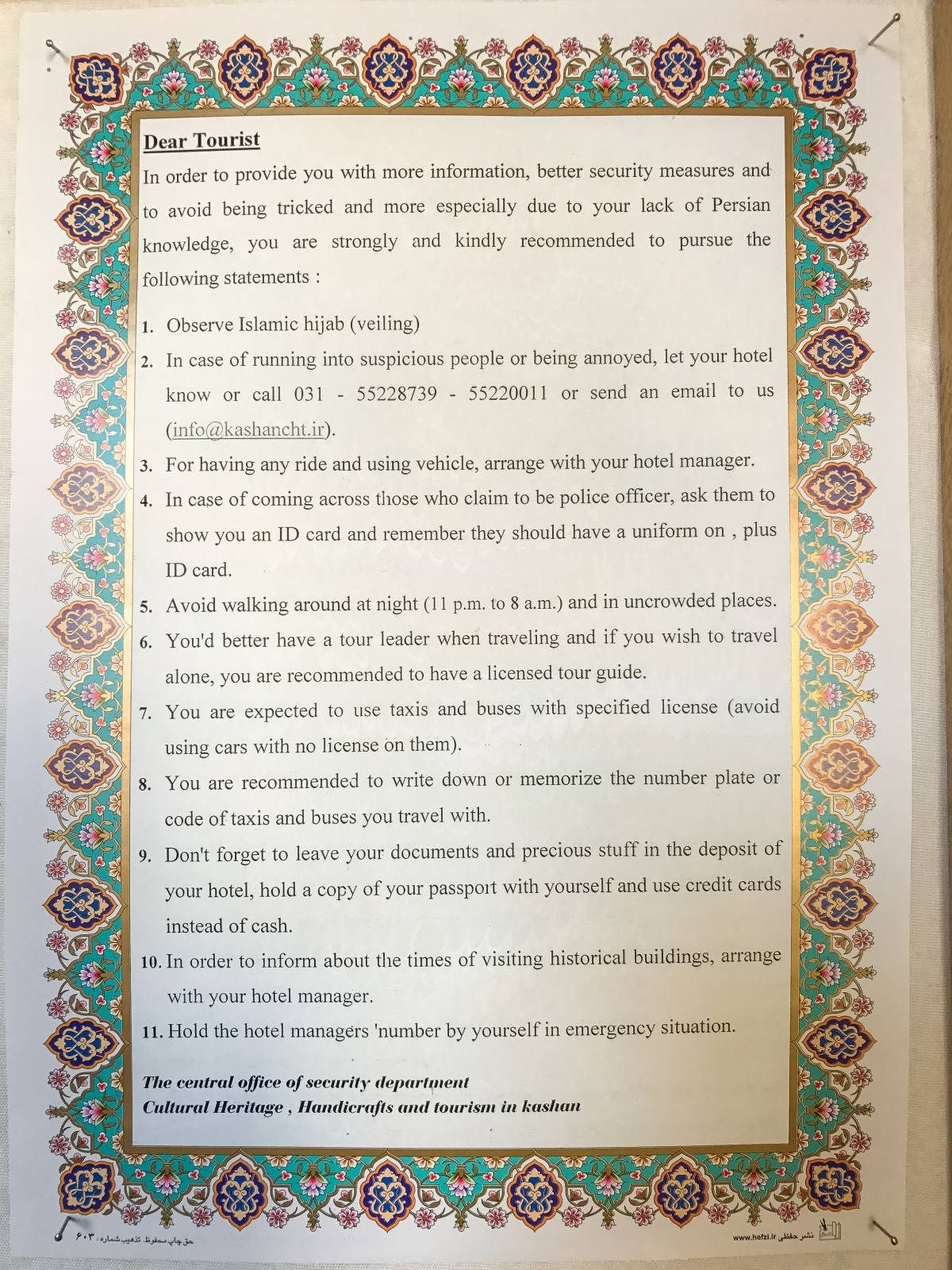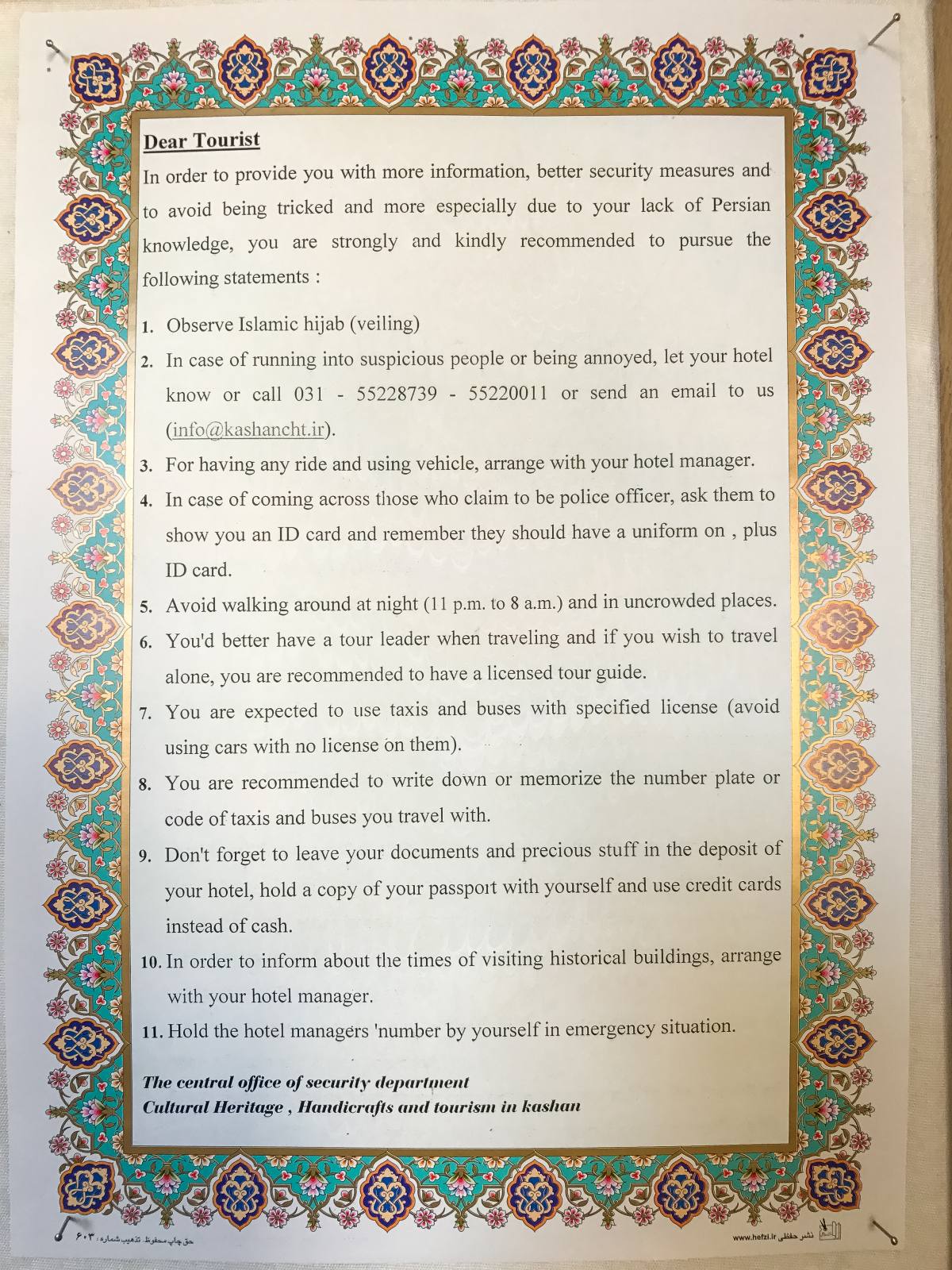 ---
9. Crossing the Road is Probably the Most Dangerous in Iran
Crossing the road in Iran is terrifying. Seriously, I'd never want to drive in Iran as traffic rules seem to be some sort of general guidelines. If you want to cross the street, whether it's a crosswalk or elsewhere, you need to just start walking and pray that the cars will stop.
If you're going to wait till cars stop you might as well be waiting until next year, as they'll never stop before you're actually halfway through. Your best bet is to maintain eye contact and look like you know what you're doing.
10. Be Prepared for Some Crazy Drivers
You might get a heart attack in a taxi, as Iranian drivers are crazy. So don't even attempt to drive yourself, even if your new friends offer. I mean, just take a look at this photo below proving that it's totally fine to stop in the middle of a roundabout to have a chat…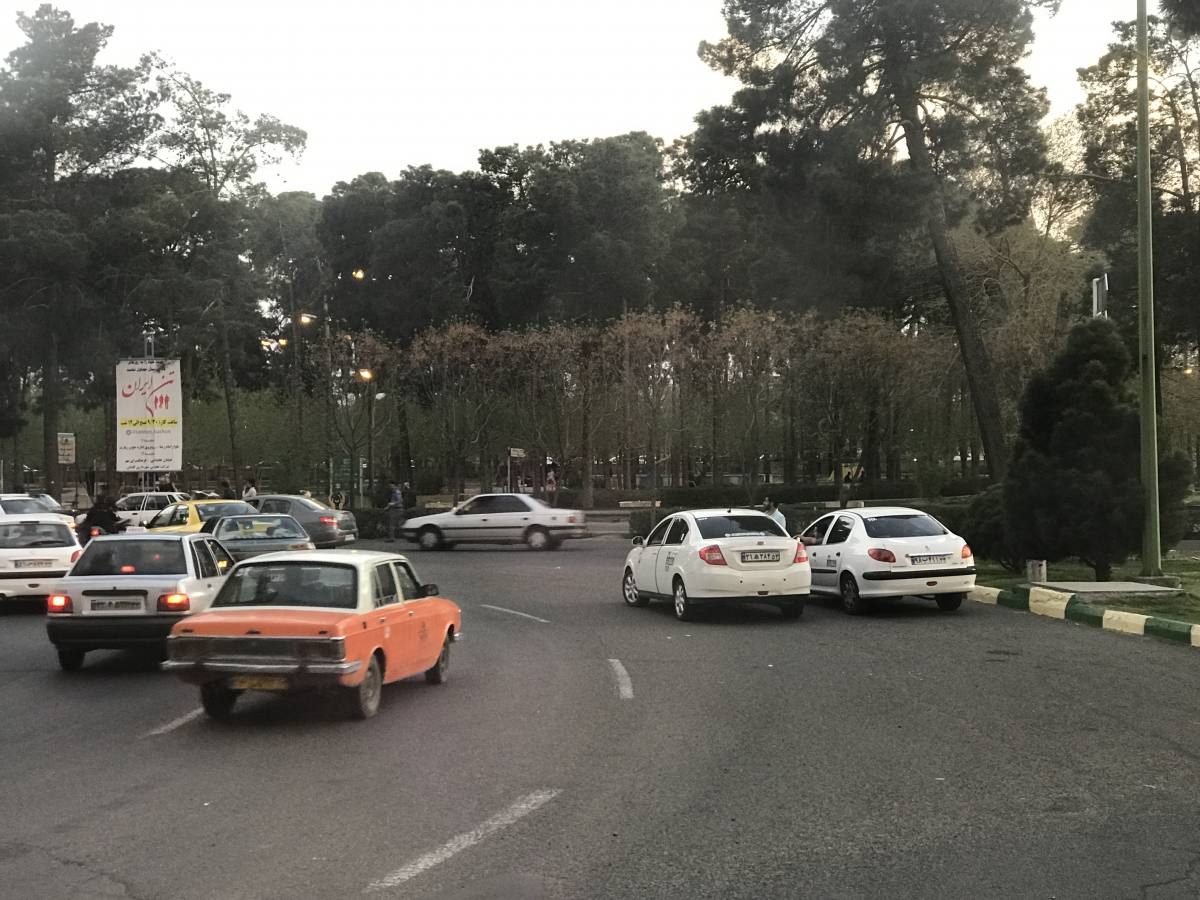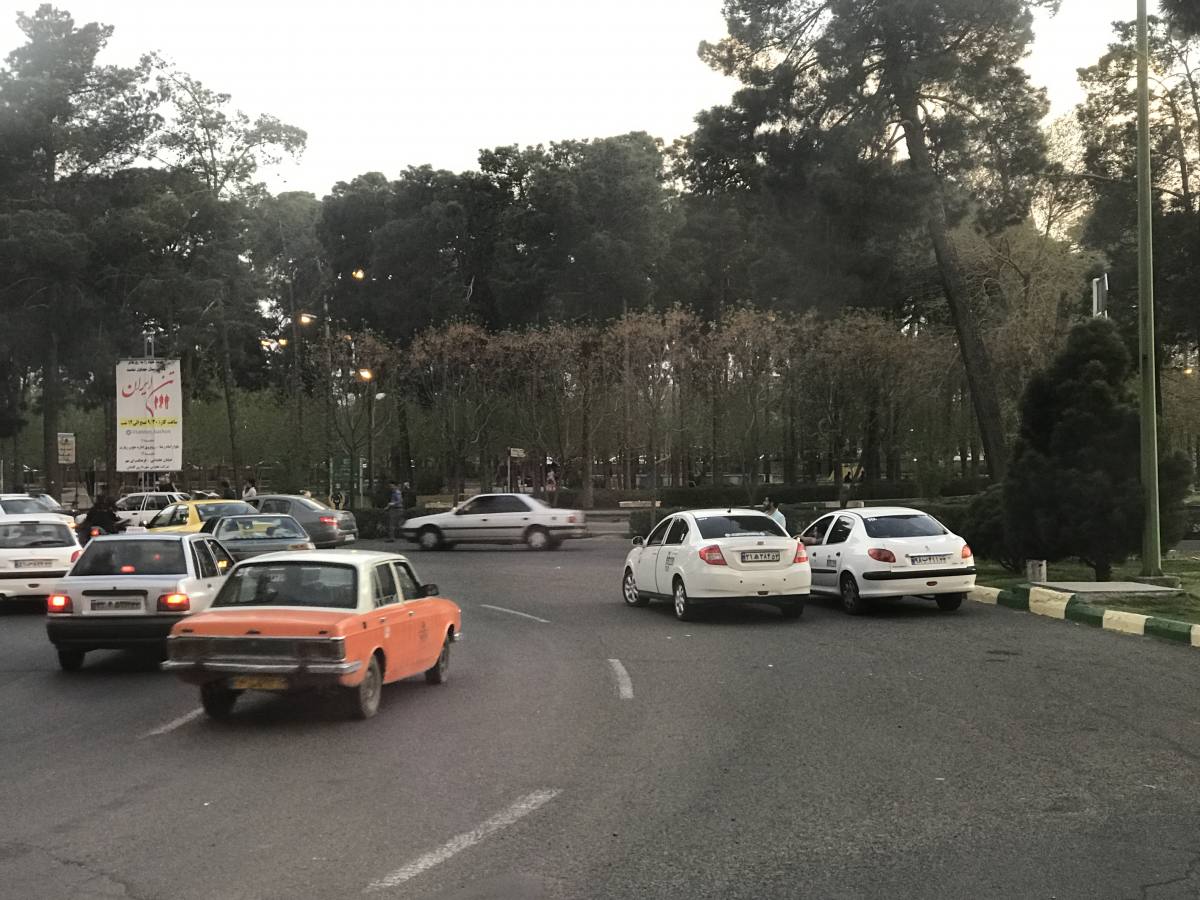 ---
11. Hotels Will Keep Your Passports Until You Check Out
Hotel receptions will keep your passport and give it back to you upon check out. Some people might be afraid of that, but they really keep it safe. Make sure you always have a copy of your passport though!
12. There's No Good Guidebook for Iran
I'm usually not a fan of traveling with a guidebook. I did it once with Rick Steves' guide to Slovenia and Croatia and every place mentioned was either overcrowded or overrun by tourists. But I understand that some people prefer to have a guidebook and for a country like Iran, it might come in handy.
While Lonely Planet's Guide to Iran is still a bestseller, it's also very outdated. The newest edition came out in September 2017. Many restaurants and guesthouses mentioned there closed down and I found that often travel times and bus schedules are wrong. BUT and I thickened and underlined 'but' on purpose, the guide is still all right and helpful when traveling to Iran.
I still recommend getting a copy, but taking into consideration that some things might not be up to date and double-check.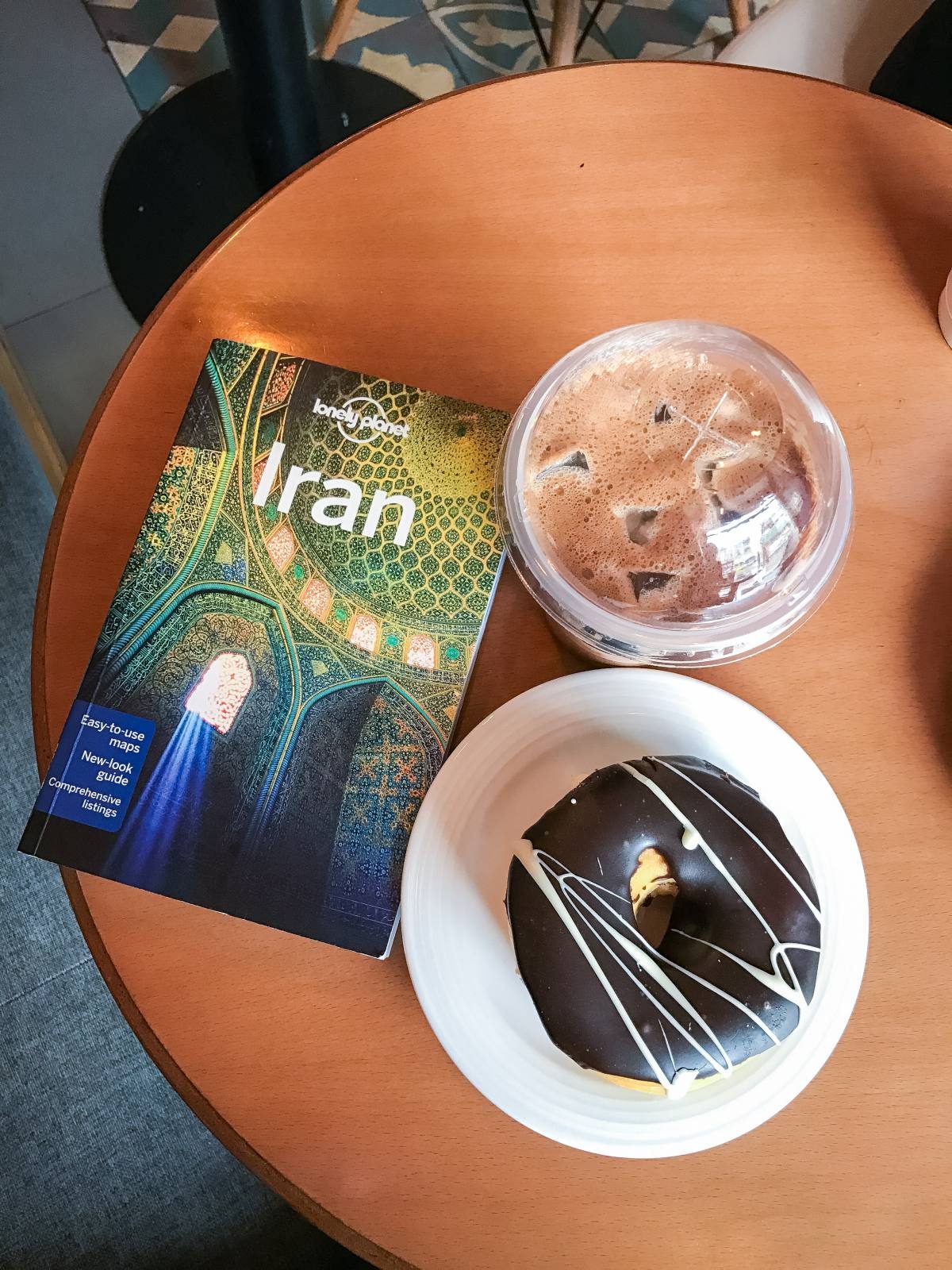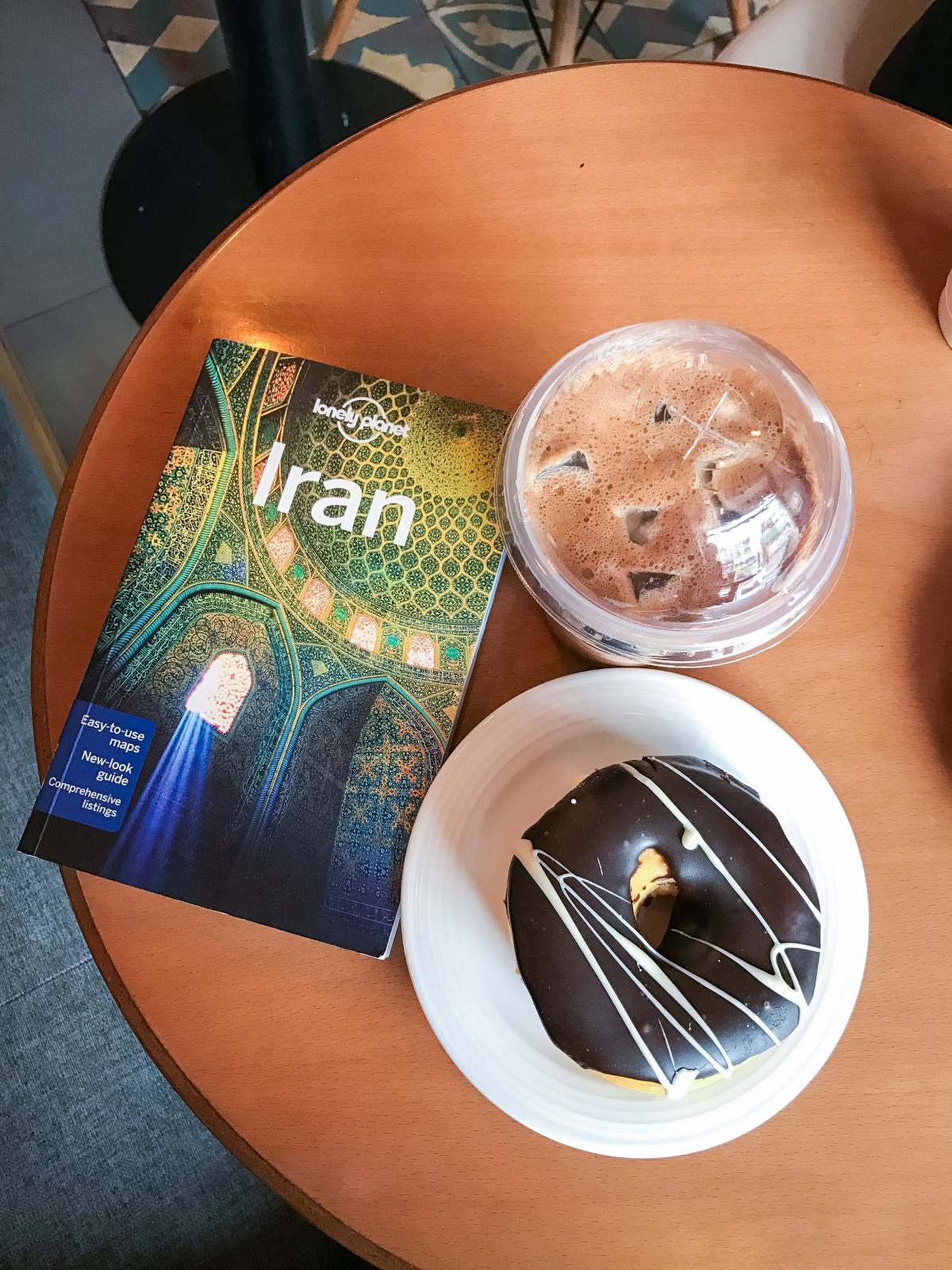 ---
13. Women Must Wear a Headscarf
Iran is officially the Islamic Republic and both women and men must follow the dress code rules (yes, it's not just for women). Men shouldn't wear shorts, and women need to cover up their hair with a headscarf and their body.
I was quite worried about having my entire scalp covered at first, but I quickly realized how 'relaxed' the rules are. Many young women just cover only the top of their hair.
Iranian women are super stylish, so if you're wearing baggy elephant pants you'll feel out of place – believe me! Also, bring a short skirt or dress as well, as in private homes women quickly change into tight shirts and skirts. You'll look ridiculous in your conservative clothes inside and everyone will ask you why don't you change.

---
14. You Need a VPN to Browse the Internet Freely
While there's the internet in Iran, similar to China, you'll need a VPN in order to see certain websites. You'll need to install a VPN (a virtual private network) in order to access a certain website. Facebook, Twitter, and YouTube are blocked in Iran. Travel blogs who wrote about Israel are also blocked in Iran.
What's not blocked? You'll be able to access your Gmail account without any issues. The most popular social network in Iran is Instagram which isn't blocked. I find it slightly ironic, knowing that Instagram is owned by Facebook that's blocked in Iran.
Make sure to do your research and check out my other post, as not all VPNs will work in Iran.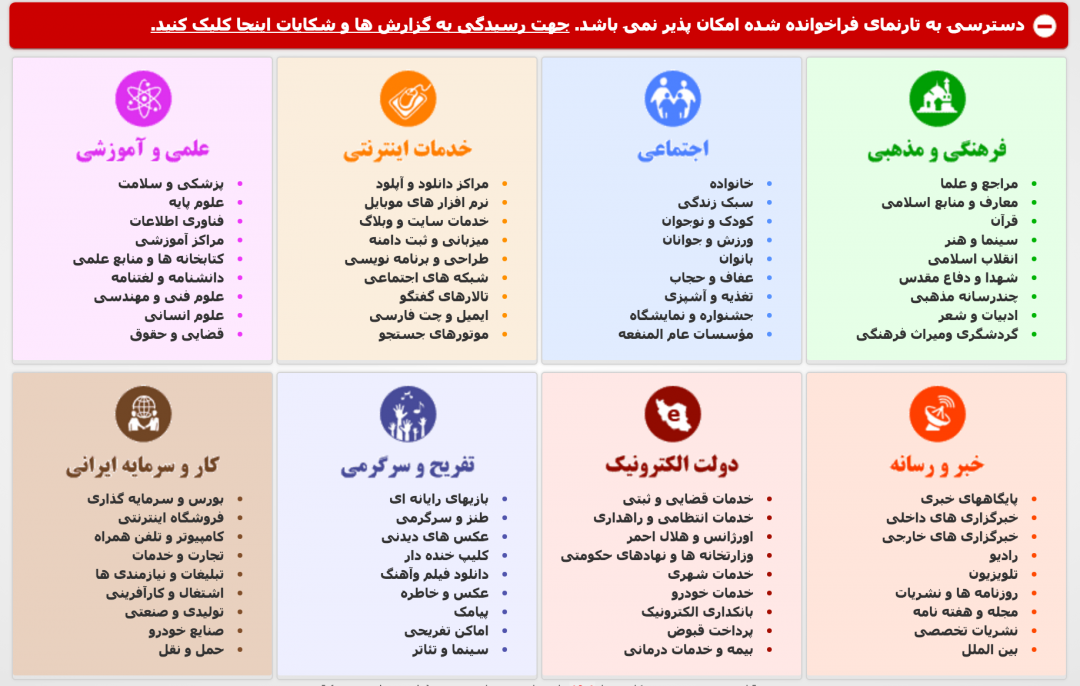 ---
15. Get an Iranian SIM Card
Iranian SIM is cheap and you might find yourself in sudden need of Google Maps, so I highly recommend it. You can ask at your hotel/hostel where is the nearest Irantel. The basic SIM costs 10 Euros and includes 2 GB of internet.
You might also download the Telegram app if you want to make staying in touch with your new Iranian friends as smooth as possible. Iranian use this app to communicate, instead of texting, as it's encrypted.
16. Toilets are Everywhere, but…
First things first, don't ask for a toilet. Ask for a WC, as that's the word used by Iranian.
Prepare yourself for squat toilets. Even many hotels don't have western toilets and you can forget about them even in fancy restaurants. Don't forget to bring a roll of toilet paper with you. It's rarely provided outside private homes, and even in less expensive hotels, I was lacking a roll in my bathroom quite often.

---
17. Stay with Iranians if you can
Without a doubt, the most enjoyable part of backpacking Iran is having the opportunity to stay with locals. While Couchsurfing is technically illegal is widely used, so even if you're not a couchsurfer you might give it a go. YES – it's safe to interact and stay with locals in Iran. Everyone is extremely hospitable and they'll invite you to stay multiple nights.
My friend and I were stopped on the street by locals on many occasions who were offering us to stay with them, wanted to buy us lunch, inviting us to birthday parties and weddings. While it obviously doesn't happen in the Western world and might seem strange at first, it's Iranian culture. Just say yes. You'll see a completely different Iran – trust me.
Note that Americans, British, and Canadians citizens are forbidden from entering local homes, leave alone staying with them.
---
18. Don't be Afraid of Asking Iranians Some Personal Questions
If you're curious about something, don't be afraid to ask Iranians about it. My friend and I met a group of girls in Kurdistan with whom we had some deep conversations about cultural differences, their lives, and our lives. It was really eye-opening and I've learned a lot.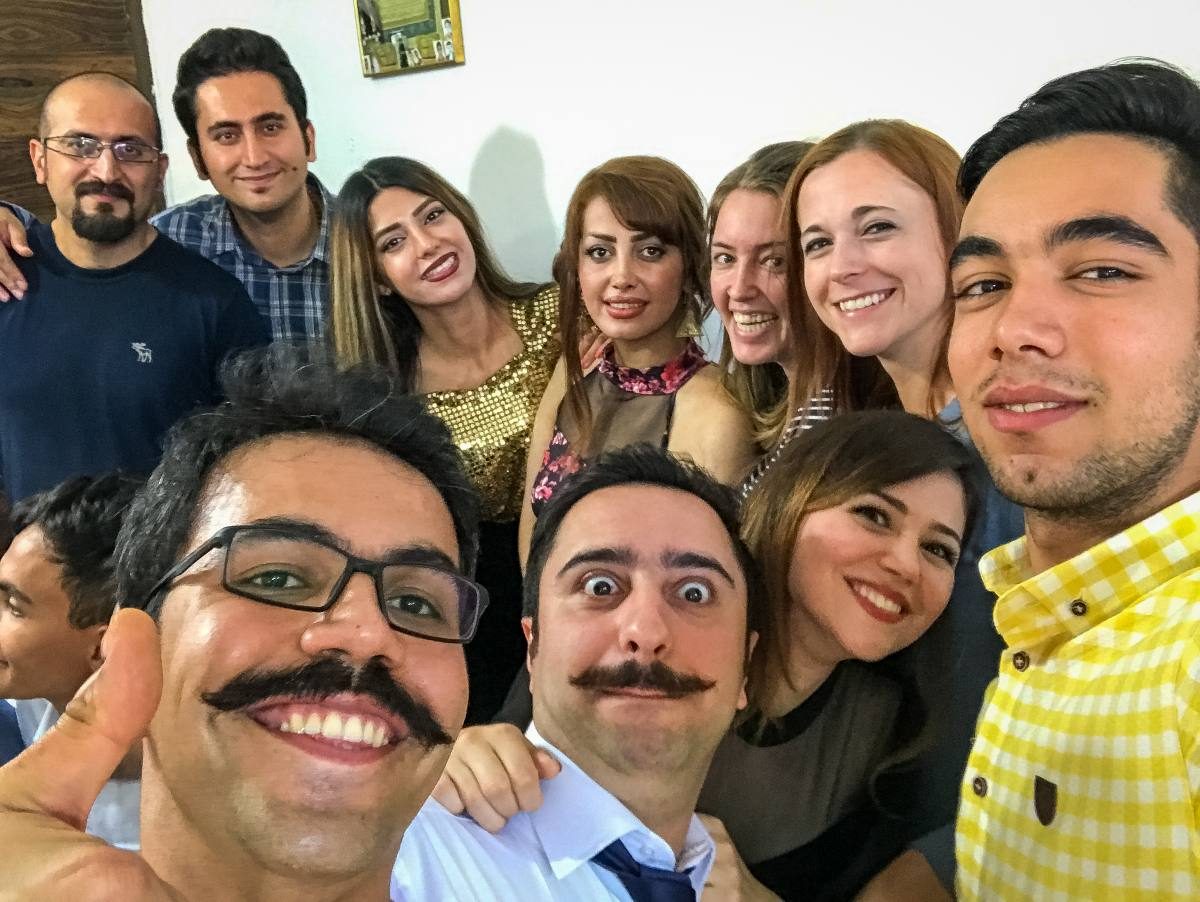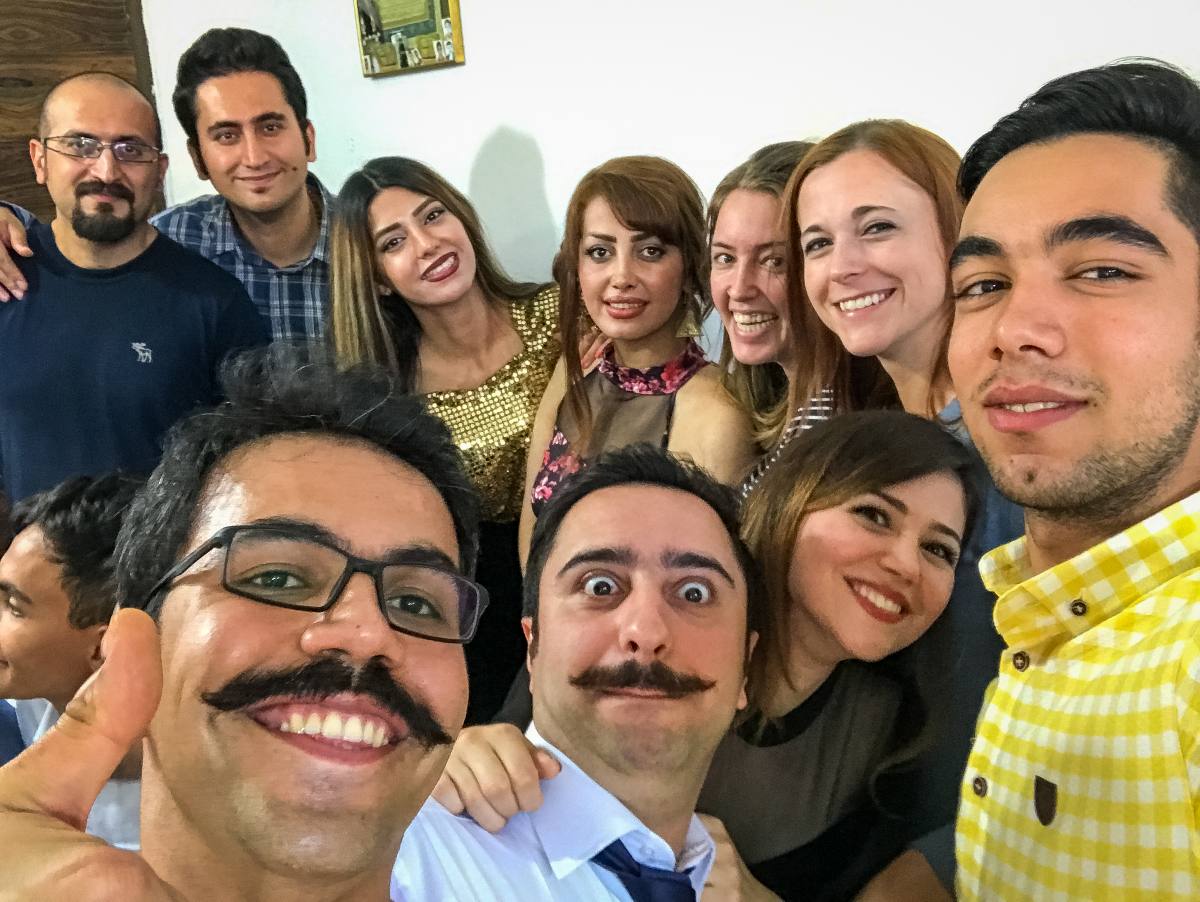 ---
19. If You're Vegetarian, I Hope you Like Eggplants and Lentils
While my opinion can be totally bias and connected to the fact that I visited Iran during national holidays, I was having issues finding some vegetarian dishes in Iran. Leave alone if you're vegan. Outside of the popular tourist route, vegetarian options were out of questions and even a milk cinnamon soup contains meat.
But if you're sticking to the tourist route (Tehran – Kashan – Esfahan – Yazd – Shiraz) you'll be able to find restaurants offering eggplant ragout, or eggplant mousse. I also saw lentils on the menu quite often, but double-check with the waiter if they contain meat as some portions might.
Overall, I wasn't impressed with Iranian food at all apart from a few dishes. I blame it on bad timing of Navroz holidays and the fact that I'm not a big meat eater and all salads and yogurts were served with cucumbers that I'm allergic to, so I couldn't eat them either.
But you might change your might if you attend some home-cooked meals or food tours. I found out about Persian Food Tours from locals, but unfortunately, I already left Tehran when I did. Let me know how is it if you decide to do it!
---
20. Forget About Alcohol in Iran
If you're into traveling and getting drunk on the way, Iran might not be a place for you. There is no bars and alcohol can't be found normally, unless you really know how to look for it (not recommended). If caught drinking alcohol, you could be looking at some jail time or a fine. But don't worry – water bottles look like flasks of vodka.
Having no alcohol doesn't mean that you won't be able to party and have fun. I've attended a birthday party and it was great to see how Iranians can entertain themselves without a drop of alcohol. We danced, we talked – it was fun!
You'll actually often see a beer on the menu, but it means nonalcoholic. It also has different flavors, so you might as well try it.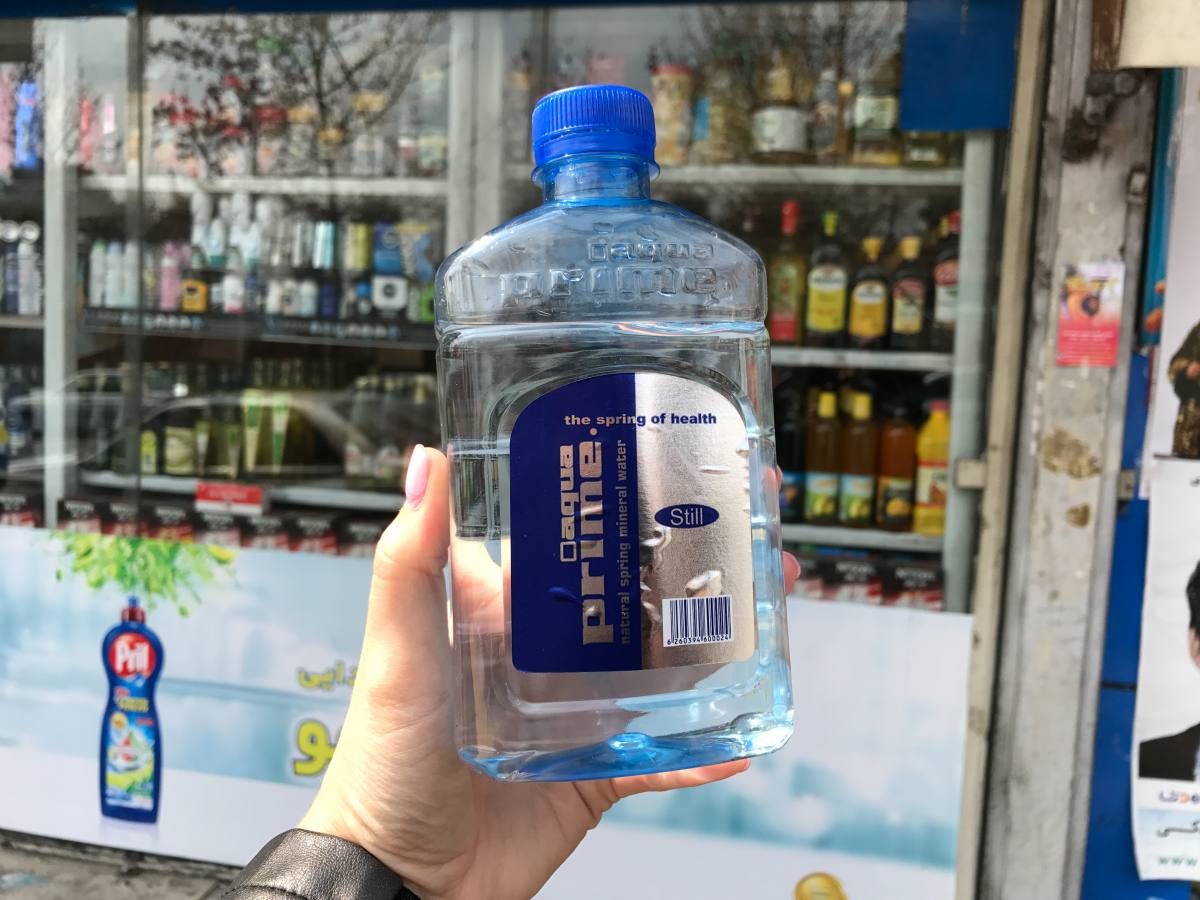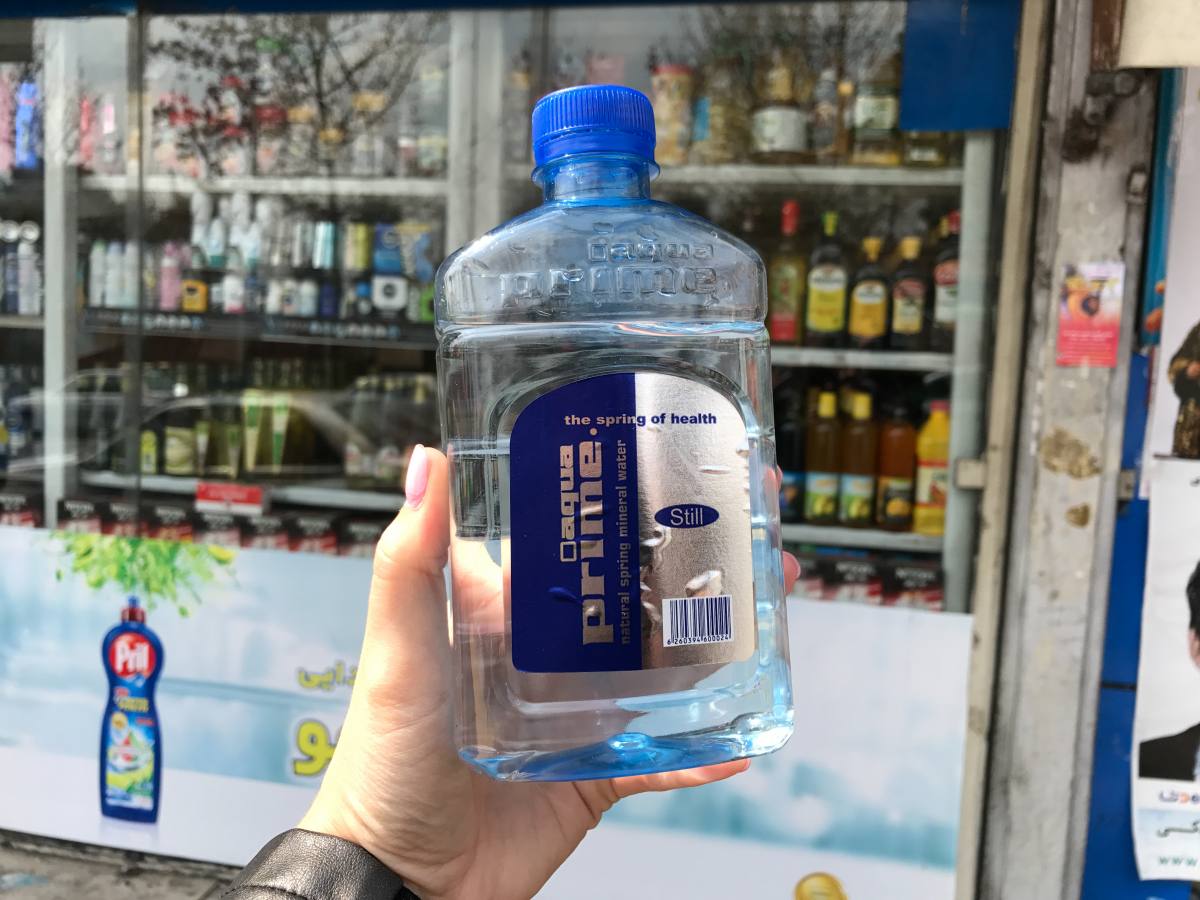 ---
21. Restrain Yourself from Public Affection as a Couple
As in any other conservative country, PDA is not well seen. While it's technically not illegal, you shouldn't be holding hands with your loved one, or kissing in public places.
22. Everyone Will Approach You and Talk to You
While having random strangers approach you isn't common practice in other countries, it is in Iran. People often strike up random conversations with foreigners to practice their English.
---
23. Take Your Shoes Off Everywhere in Iran
No matter if you're staying at a fancy hotel, guesthouse, hostel or someone's home, take off your shoes. No one wears shoes inside. At restaurants with traditional seating, you're required to take your shoes off before jumping on a seat.
24. Shop at Iranian Markets
Bazaars play a huge part in Iran's day-to-day life and you can find them pretty much in every city and small town. The largest bazaar in the world (UNESCO World Heritage Site) is in Tabriz, where I actually bought my carpet.
If you don't want to shop, don't skip the markets as they're usually beautiful even to wander around. With high ceilings and mosaics, you can walk around for a while admiring the architecture.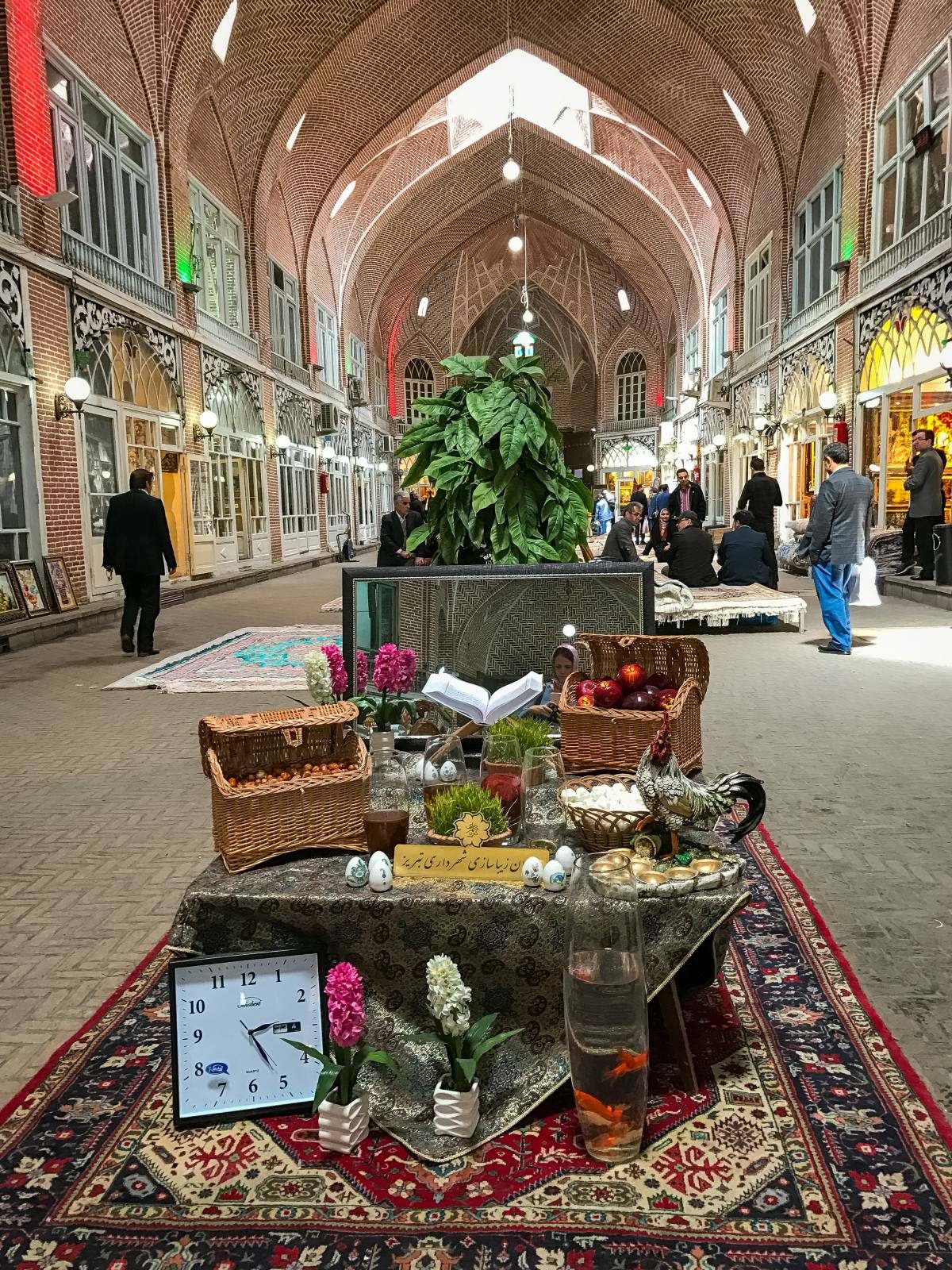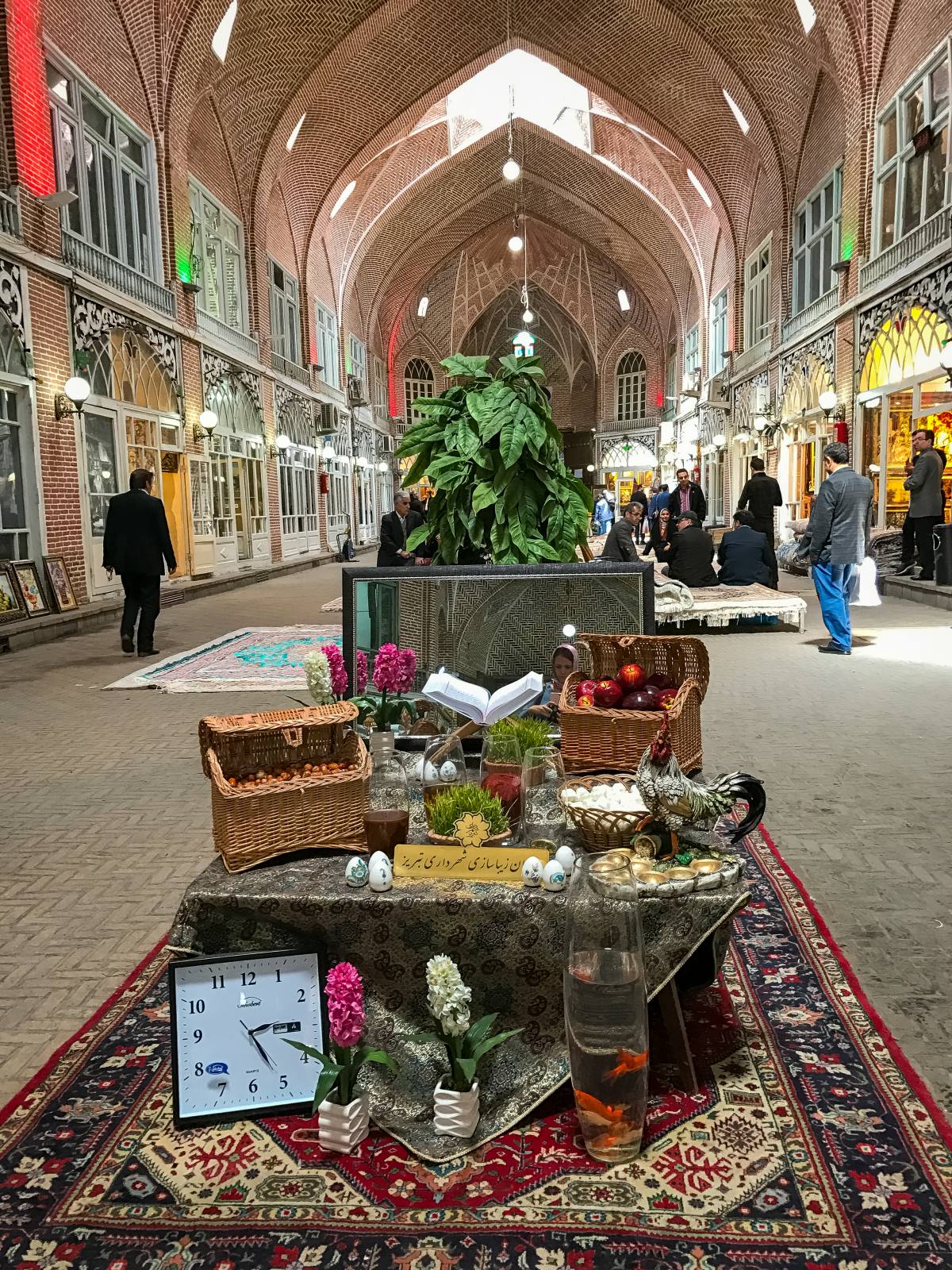 ---
25. There are Men and Women Sections in the Metro and Buses
I often compare the situation in Iran to Mexico, where you also have co-ed carriages and women-only carriages. It's marked special on the platform with a yellow line on the floor.
But that's just in theory, as during rush hour in Tehran I've seen many men entering women-only carriages with their wives and people telling us that it's ok for our male friend to come with us. Why? I'm not sure.
26. Prepare for Selfies & Celebrity Treatment
Iranian love taking selfies and they'll often ask you to take one with you too. I probably ended up on over 500 selfies over the course of 2 weeks, so be prepared for it even if you hate them. Iran was probably the only country where selfie sticks are the best item to sell.
As a foreigner, you'll also be the center of everyone's attention. In less or almost no-visited places, like Sanandaj, I encountered a woman who literally screamed with excitement 'OMG tourists are here!' when she saw my friend and me on the street.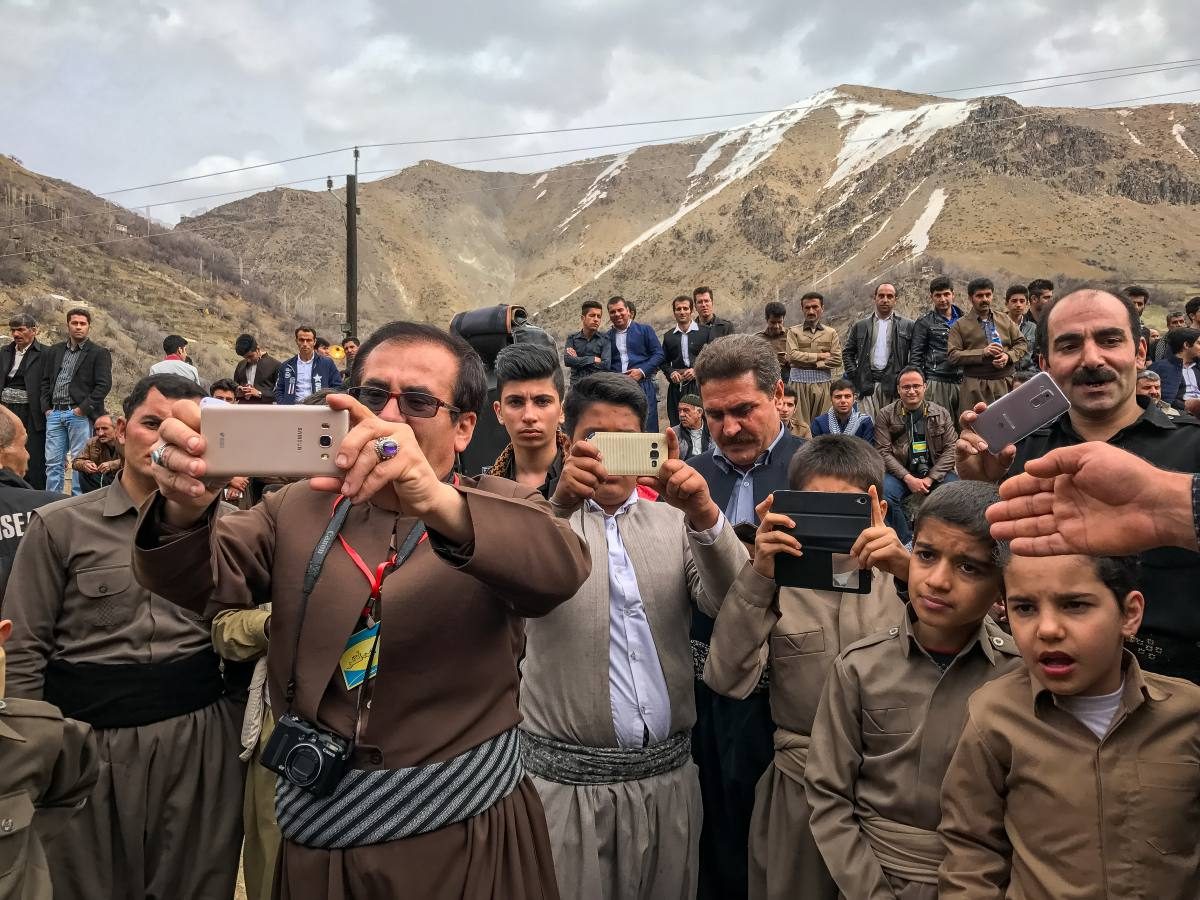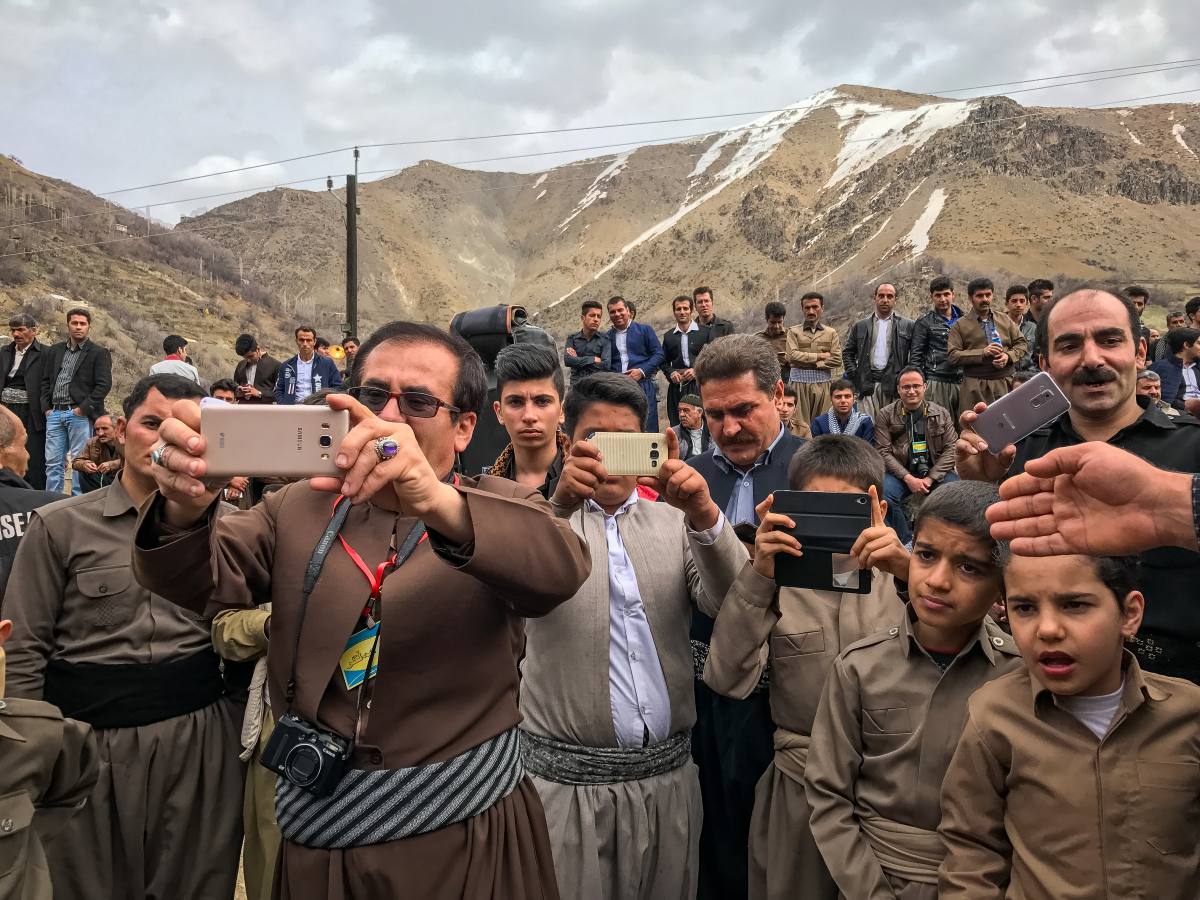 ---
27. Don't Blow Your Nose in Public
Thankfully, it was a rule I read about before as I'd have totally humiliated myself. Don't blow your nose in public. It's considered gross. If you must, do it in the bathroom.
28. Don't Believe that Buses Don't Stop for Toilets and Food
Before going to Iran I read many articles telling me that long-distance buses don't stop for anything unless it's specifically requested. As someone with a small bladder, I was quite terrified.
It turned out not to be true. Every bus I was on (and I've really taken many) has stopped for a toilet break many times and sometimes even for an hour for dinner. Don't worry about it, but remember that there's no toilet on the bus!
---
29. Learn to Drink Tea in an Iranian Way
Forget about the way you drink your tea at home. In Iran, you need to try to drink it with locals, which means that you'll drink some sweet tea. By that, I don't mean you put a sugar cube in your teacup. You need to put a sugar cube in your mouth and drink the tea 'through' that, holding it in.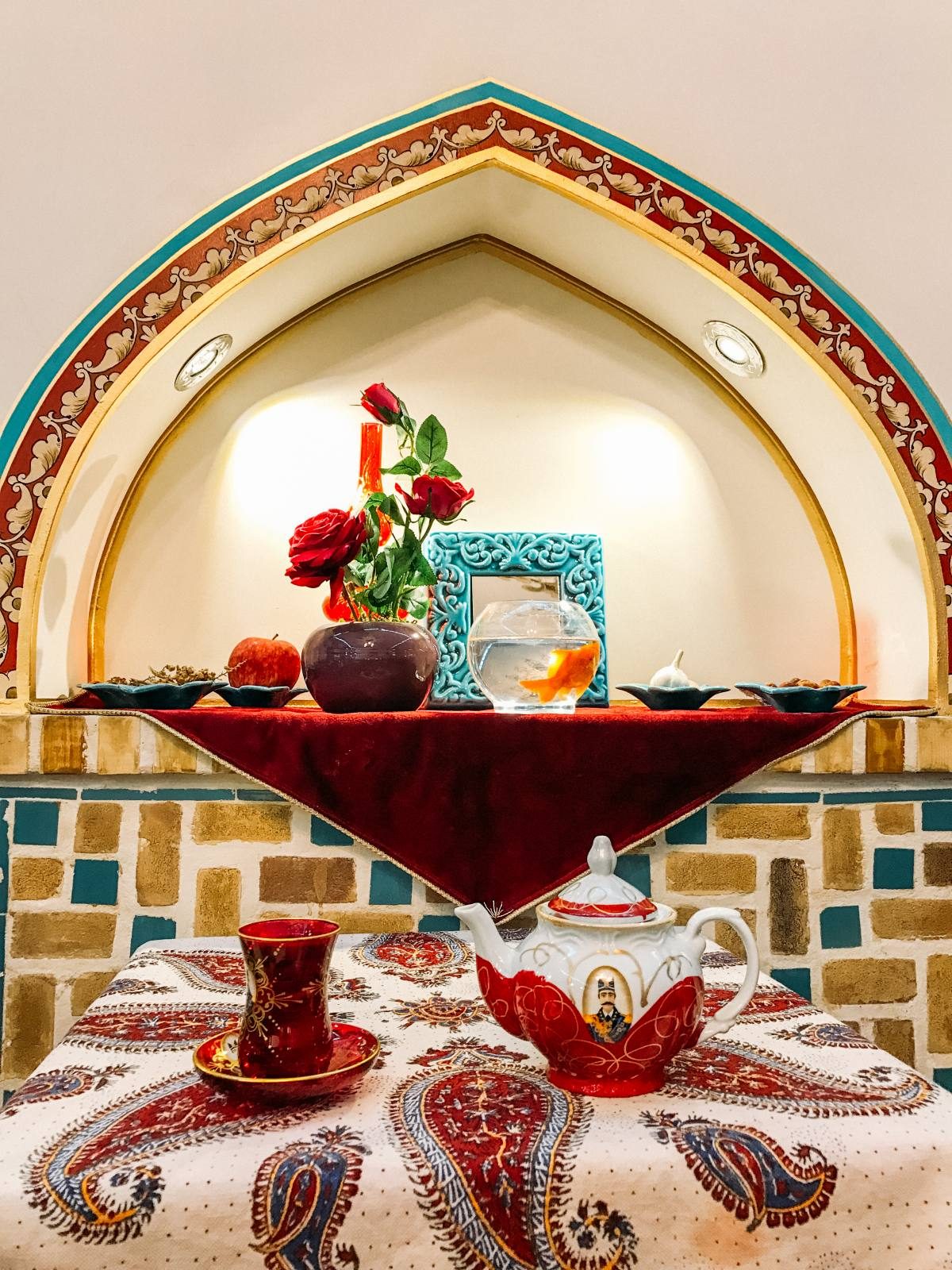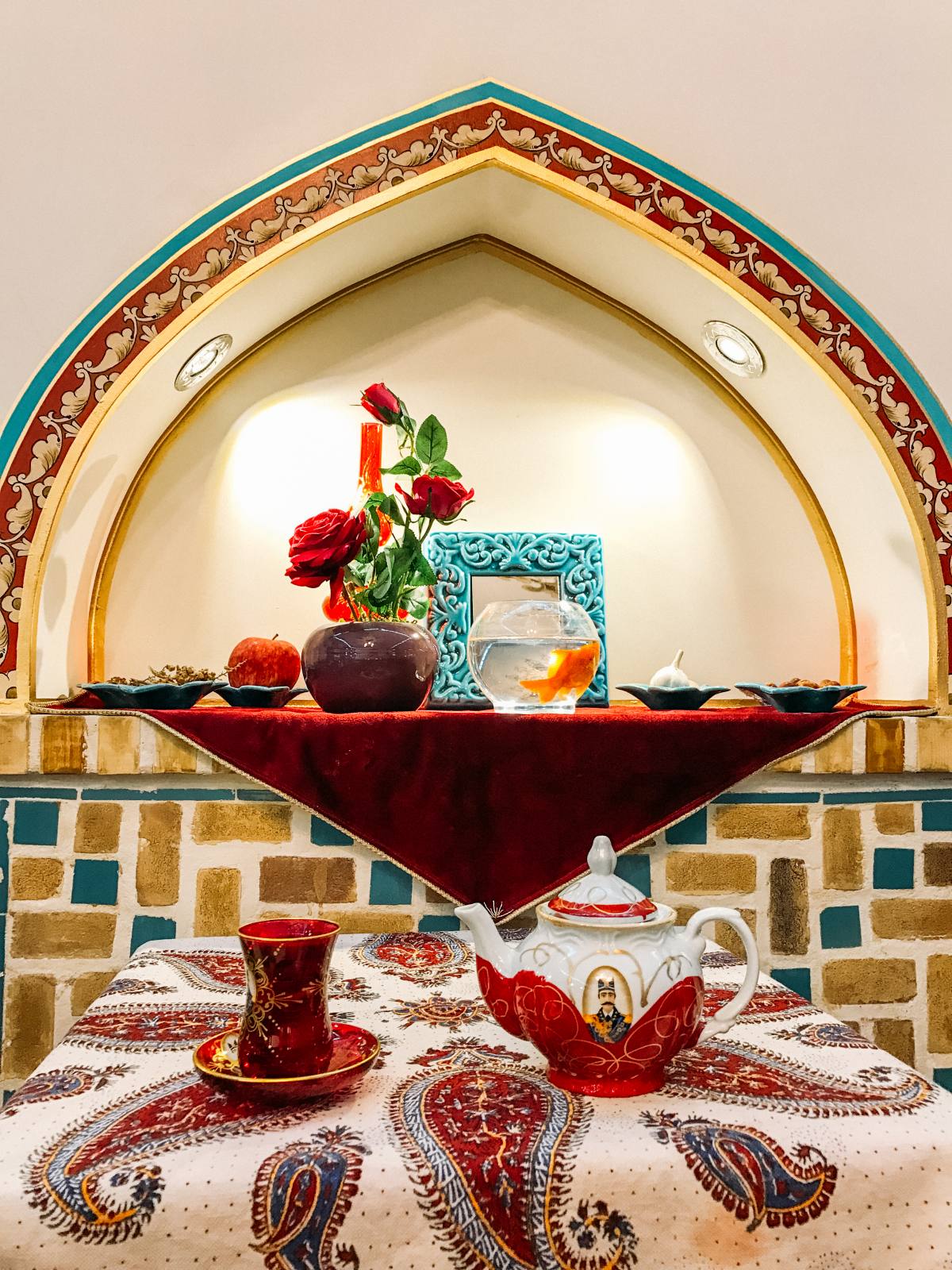 ---
30. Iran Has the Creepiest Mannequins in the World
Chucky Doll was an angel comparing to Iranians mannequins. I could seriously create an entire collection of Children of Corn in Iran, and if you're passing some clothing stalls for kids in the dark beware – you might have some nightmares!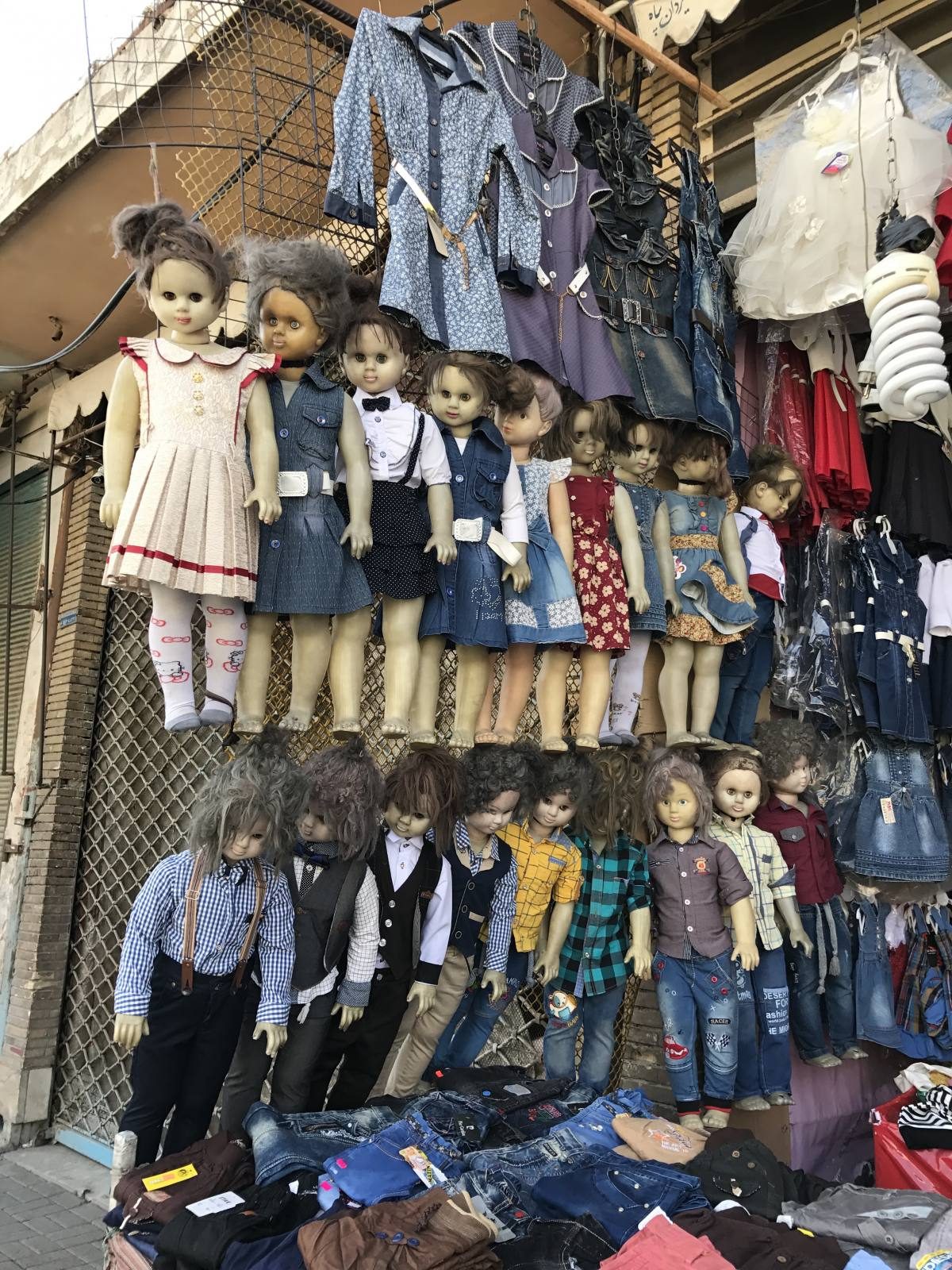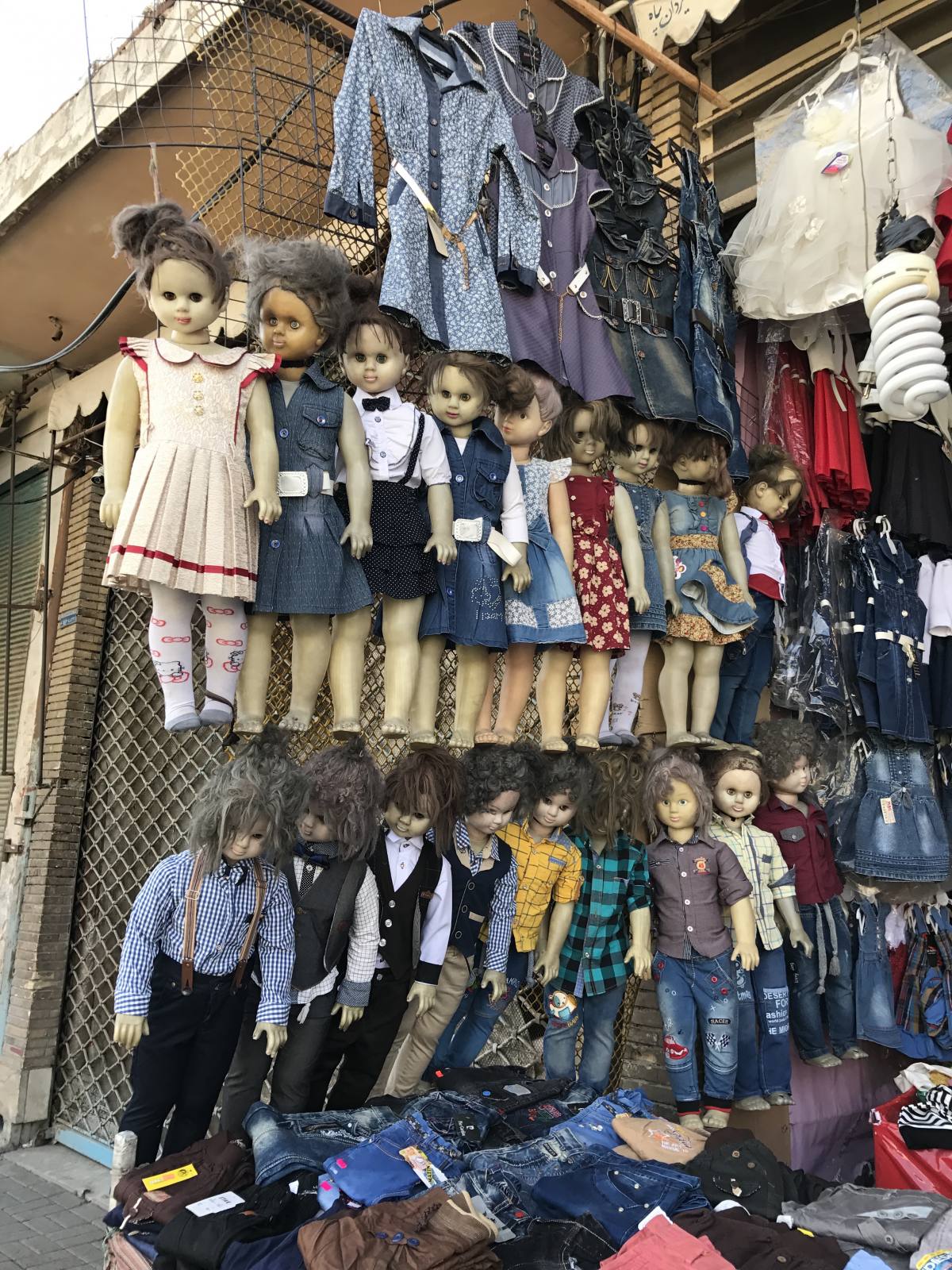 ---
SEE MY VIDEO FROM IRAN:
If you like it subscribe to my YouTube channel for weekly travel videos!
---
Movies About Iran:
Under the Shadow – Something slightly different as it's a horror taking place in Tehran during Iraq-Iran war.
Books About Iran:
A Prisoner of Tehran – A story of a woman surviving in an Iranian prison during the Iranian revolution.
Children of the Jacaranda Tree – A store about a political prisoner who gave birth inside Evin Prison in Tehran in 1983. The book traces the characters to present day, teaching you a lot about Iranian revolution.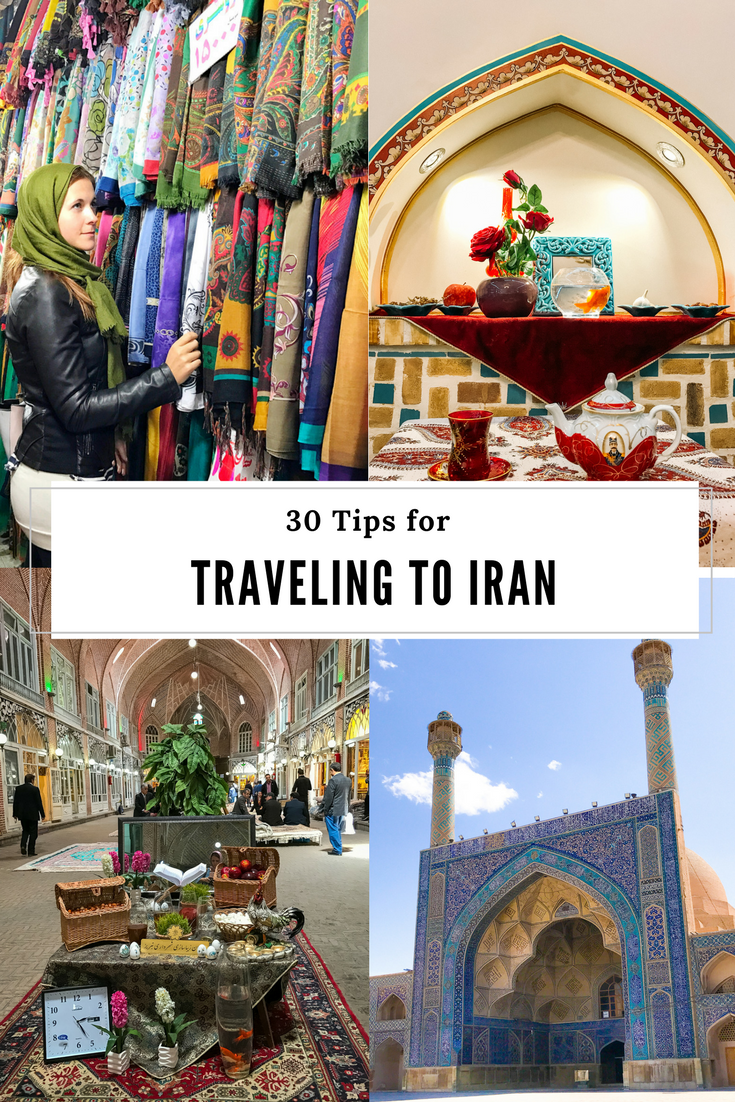 Any questions on travel to Iran? Check out my ultimate guide to Iran page.
READ MORE IRAN TRAVEL TIPS
I hope you enjoyed my tips for visiting Iran! Hopefully, you found it useful. Here are a few more wanderlust-inducing articles that I recommend you read next: