I have a lot of countries that I'd love to visit, but there's one thing that keeps putting my plans off – visas. Some visas are quite difficult to obtain and require a lot of documents.
Some even require you to send your passport to the Embassy which means that you can't travel while waiting for a visa. And for a person constantly moving like me, it's quite difficult.
Thankfully, that's not the case with Iran as you can Iran visa on arrival for tourist purposes, at least if you're an EU passport holder. Especially if you're traveling to Iran as a solo female traveler, visa on arrival is easier to obtain than at the Embassy at some countries.
How to Get Iran Visa on Arrival
Visas on arrival for any country can often be problematic. The most popular reason why a lot of people don't like visas on arrival is that they're afraid that they might not be granted a visa. But even with a visa, an immigration office might refuse you to enter the country (even in the US), so I'd say don't worry. Iranian visa on arrival is one of the easiest.
Another reason is that airlines need to put a disclaimer that they might refuse boarding to any person without a valid visa, even if you can obtain it on arrival. Don't worry about that too. I was asked if I had a visa for Iran in my passport, but when I told the airlines representative that I'll get it upon arrival, no additional questions were asked.
---
Iran visa on arrival (VOA) or Iran airport visa, refers to that kind of Iran tourist visa received by eligible nationals traveling to Iran for tourist purposes. Diplomatic passport, official passports, etc. cannot apply for this type of Iran visa.
Visa on arrival can be issued at major international airports in Iran. You cannot get this visa on the land borders. List of airports where you can get Iran visa on arrival:
IKA: Imam Khomeini Airport
TEH: Tehran Mehrabad Airport
SYZ: Shiraz International Airport
MHD: Mashhad International Airport
TBZ: Tabriz International Airport
ISF: Isfahan International Airport
KIH: Kish International Airport
---
Iran visa on arrival is valid for 30 days since January 2017. It used to be only 14 days, and some airlines are still misinformed claiming it's only 14. Some airline representatives might be trying to tell you that your return ticket must be within 14 days like it happened in my case. Tell them it's not true and not to worry.
Visa on arrival can only be extended if the Iranian Foreign Affairs Office finds it necessary. In that case, usually a maximum 14 days extension is possible and it's not an easy process. If you're planning on staying longer than 30 days, make sure to get your Iran visa at the Embassy instead.
IMPORTANT: Visa on arrival doesn't mean that it's a visa-free country. Iranian visa isn't just a quick stamp in your passport, like in for instance Japan. In order to get this visa you still need to have the necessary documents.
---
Who Can Get Iran Visa on Arrival?
Countries whose Nationals Do NOT NEED a Visa to Iran:
Armenia (90 Days), Azerbaijan (30 Days), Bolivia (30 Days), Egypt (20 Days), Georgia (45 Days), Lebanon (30 Days), Malaysia (15 Days), Serbia (30 Days), Turkey (90 Days), Venezuela (15 Days).
Countries whose Nationals CAN Apply for the Iranian Visa on Arrival:
Albania, Australia, Austria, Bahrain, Belarus, Belgium, Bosnia Herzegovina, Brazil, Brunei, Bulgaria, China (People's Republic), Croatia, Cuba, Cyprus, Denmark, Finland, France, Germany, Greece, Hungary, India, Indonesia, Ireland, Italy, Japan, Kazakhstan, Kuwait, Kyrgyzstan, Luxembourg, Mexico, Mongolia, Netherlands, New Zealand, North Korea, Norway, Oman, Palestine, Peru, Philippines, Poland, Portugal, Qatar, Romania, Russia, Saudi Arabia, Singapore, Slovakia, Slovenia, South Korea. Spain, Sweden, Switzerland, Syria, Tajikistan, Thailand, Turkmenistan, Ukraine, United Arab Emirates, Uzbekistan, Vietnam.
Countries whose Nationals CANNOT Apply for Iran Visa on Arrival:
Afghanistan, Bangladesh, Colombia, Iraq, Jordan, Nepal, Somalia, Afghanistan, Pakistan, Sri Lanka.
American, British and Canadian passport holders also cannot get a visa on arrival. Citizens of these countries also can't 'just go' to Iran and are only allowed in when on an organized tour with a guide.
If you're illegible to travel on your own, you can consider taking the Discover Persia 14-day G Adventures tour, which I've heard good things about. The tour doesn't chaperon you 24/7 and you'll have some free time, so even if you're not a group trip person, you'll be fine. Click here for the latest Discover Persia tour prices and itinerary.
Another option would be Iran tours from Intrepid. They have a few options available, so check the latest dates and prices here.
---
Iranian Visa for US Citizens
If you're a US citizen or resident I suggest contacting HQ Visa service. They're the best and quickest when it comes to arranging visas online, not only to Iran.
Regardless of the nationality, you cannot have an Israeli stamp in your passport. And while Israel doesn't stamp passports anymore, you also can't have any evidence of entry in Israel. For example, an Egyptian stamp at the border city of Taba could result in denied entry.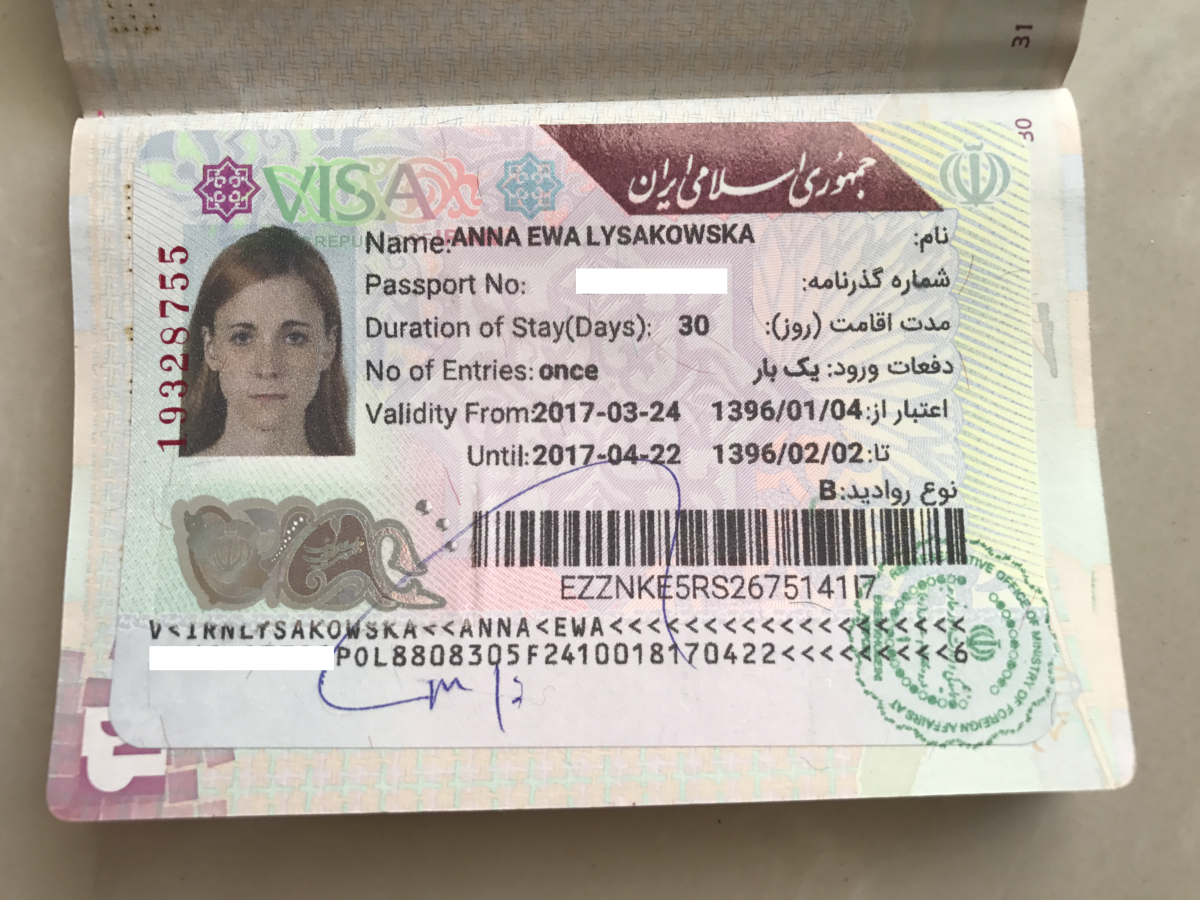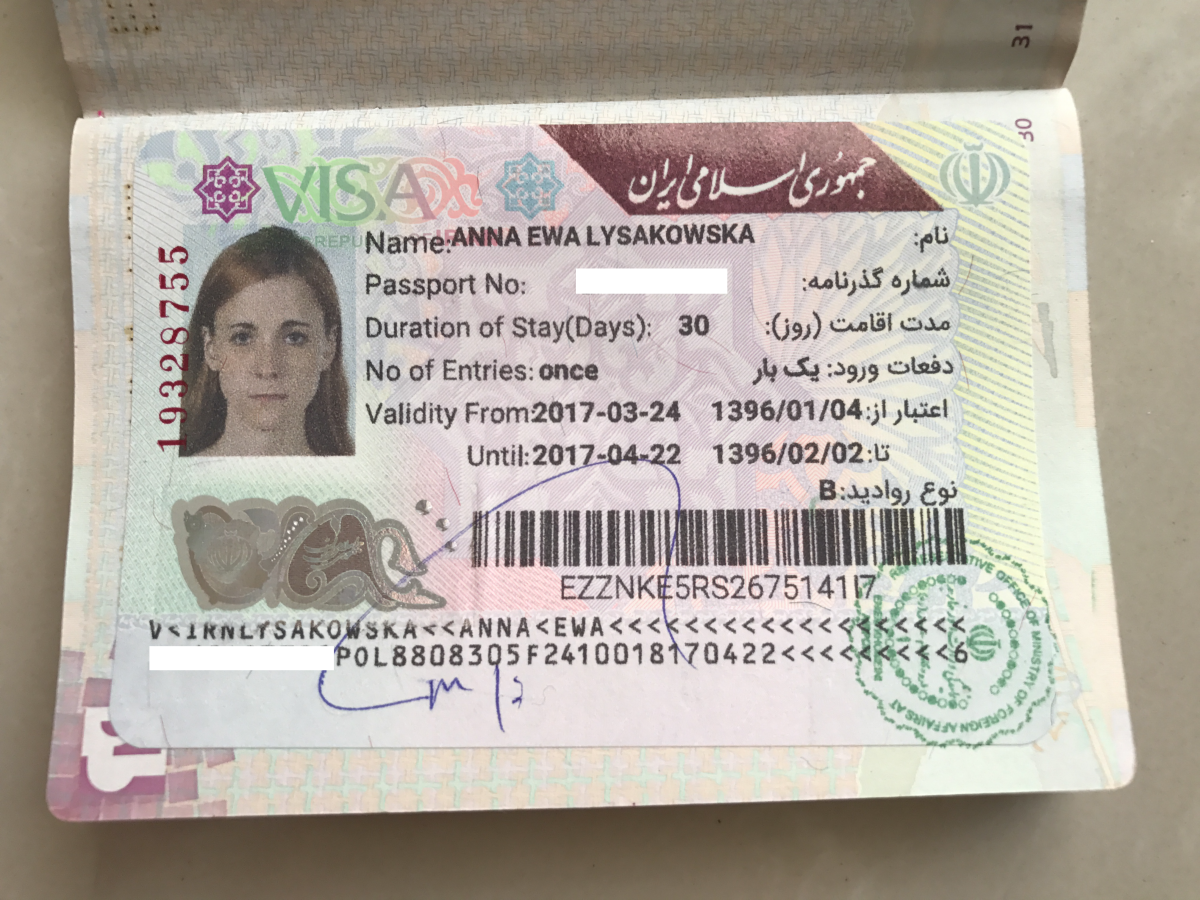 ---
Requirements for Iran Visa on Arrival
Official documents required to obtain an Iran visa on arrival are:
A valid passport with at least 6 months validity
A confirmed return ticket within a 30-day timeframe
A photo to be attached to the Iran visa application form
Visa stamp fee, which is payable to the Iran Visa & Passport Office at the airport. Iran airport visa fee depends on the applicant's nationality.
An invitation letter or hotel reservation voucher. The invitation letter has to be sent from the Iranian travel agency to Iran Ministry of Foreign Affairs at least 48 hours before your arrival to Iran airport.
Not officially listed, but mandatory: travel insurance valid for Iran. Printed.
(OPTIONAL) Online visa application form with an authorization number.
Let me explain these points to you in detail:
1 & 2 – pretty self-explanatory.
3 – When I went to Iran I read that you're required to have a photo with you. Women should follow Iran's official Islamic dress code and wear a headscarf in their picture. While I had a photo with me, no one asked me about it at any point and instead, they used a photo from my passport.
4 – It's a fee that you need to pay at the cashier upon arrival. I read that it should be paid in USD, but since Trump's travel ban no one wants dollars in Iran anymore. While it's still acceptable, it's better to bring Euros. My visa was 75 euros, but it costs double – 145 for Australians.
5 – Regardless whether you have an itinerary and pre-booked every hotel or not, you must have confirmation at least your first night. I booked accommodation for the first 2 nights online and received an email from them stating that I'm staying with them (below):


However, I was just required to put the address of my accommodation. No one has asked me to show this email, but it's better to be safe than sorry.
6 – You won't be granted a visa without valid travel insurance. And in case you're wondering EU insurance cards won't work in this case, as they do check whether your policy is actually valid for Iran. While I normally recommend World Nomads or First Allied, they no longer cover Iran.
The only insurance that's valid for Iran is 1st Quest.
UPDATE ABOUT E-Visa Application (7):
Filling an e-visa application online is NOT necessary, but it might speed up your process upon arrival. How to apply for an Iranian visa is completely up to you.
If you are a planner type then definitely go with E-Visa procedure. It's fairly simple and time-saving and lots of different agencies in Iran and also Iran's Ministry of Foreign Affairs offer this service on their websites.
The procedure is simple, this is what you need to do :
Wait for the application receipt confirmation and application fee payment instructions.
Pay the service fee.
You will receive the visa authorization code after the application is processed.
Refer to the Iranian consulate you have selected and collect your visa.
Pro-Tip: You can get 1st Quest to get it done for you, together with travel insurance as well. My readers have reported that if they randomly get rejected for the E-Visa they reapplied through 1st Quest and got their code within 2 days.
---
---
Now, how to actually get Iran visa on arrival once you get off the plane?
Once you get off the plane, with your scarf on if you're a woman, you'll see a sign that says visa on arrival. If you don't see the sign, staff will direct you.
You'll need to fill a simple piece of paper with all your information, get your travel insurance validated and stamped in another window, pay the fee in another window, and leave your passport at the counter.
I was not asked a single question and had to show anything. But remember, they might ask you some questions regarding your trip and documents.
Then you'll have to sit and wait for about 15-20 minutes. Once your name is called you'll pick up your passport and proceed to the immigration.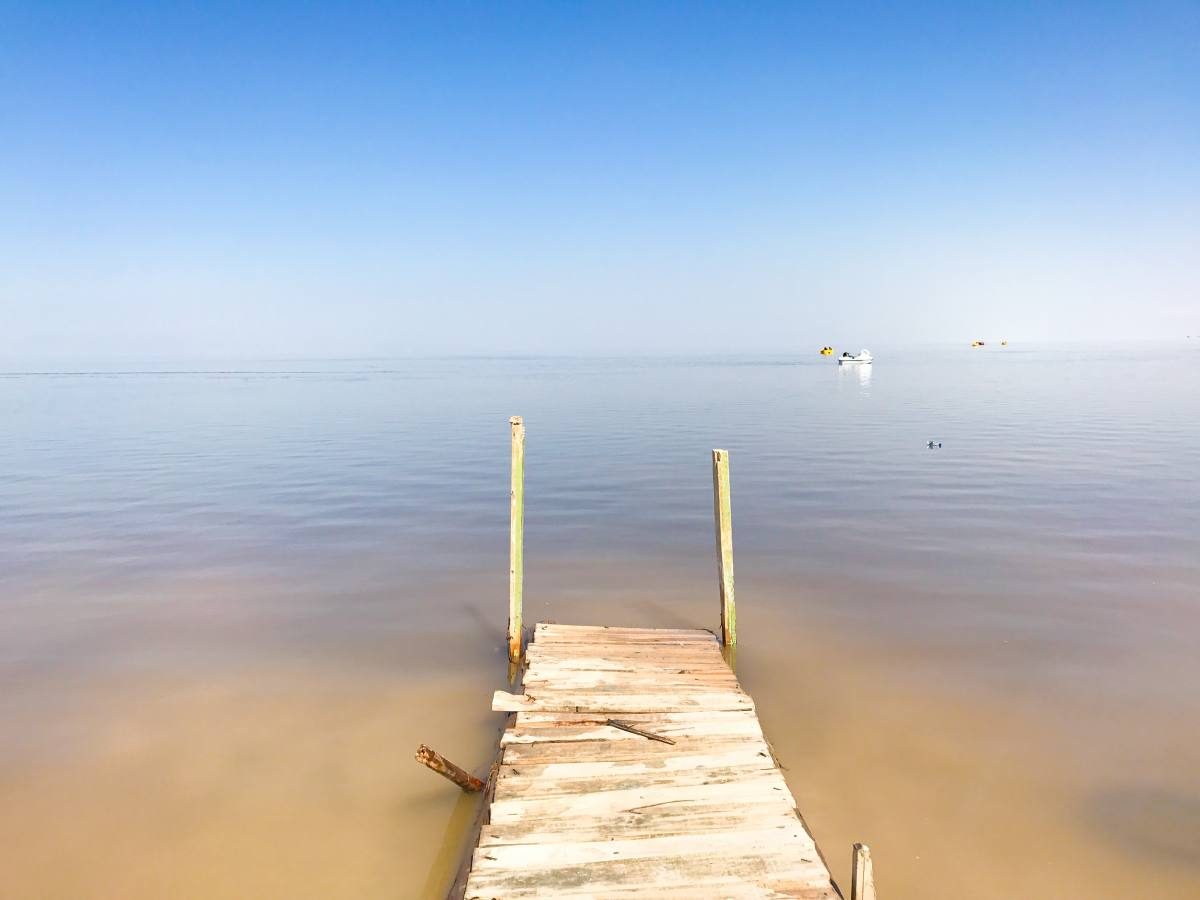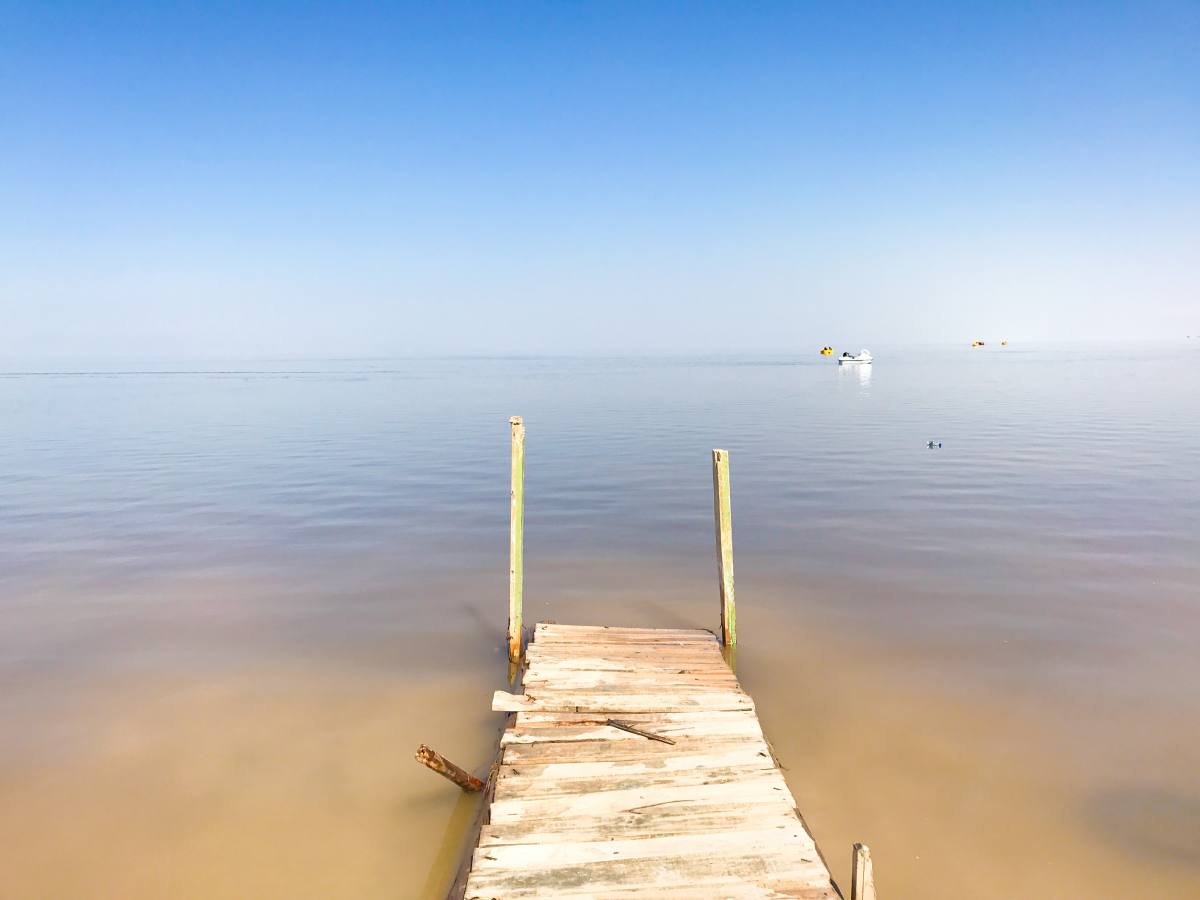 ---
Other Important Info
Journalists and reporters on a mission cannot get Iran visa on arrival. If you're a blogger, it's a gray area. I put 'online marketing' as a job and didn't have any problems.
While you can enter the US with an Iranian stamp in your passport, but you won't be eligible for the US Visa Waiver Program.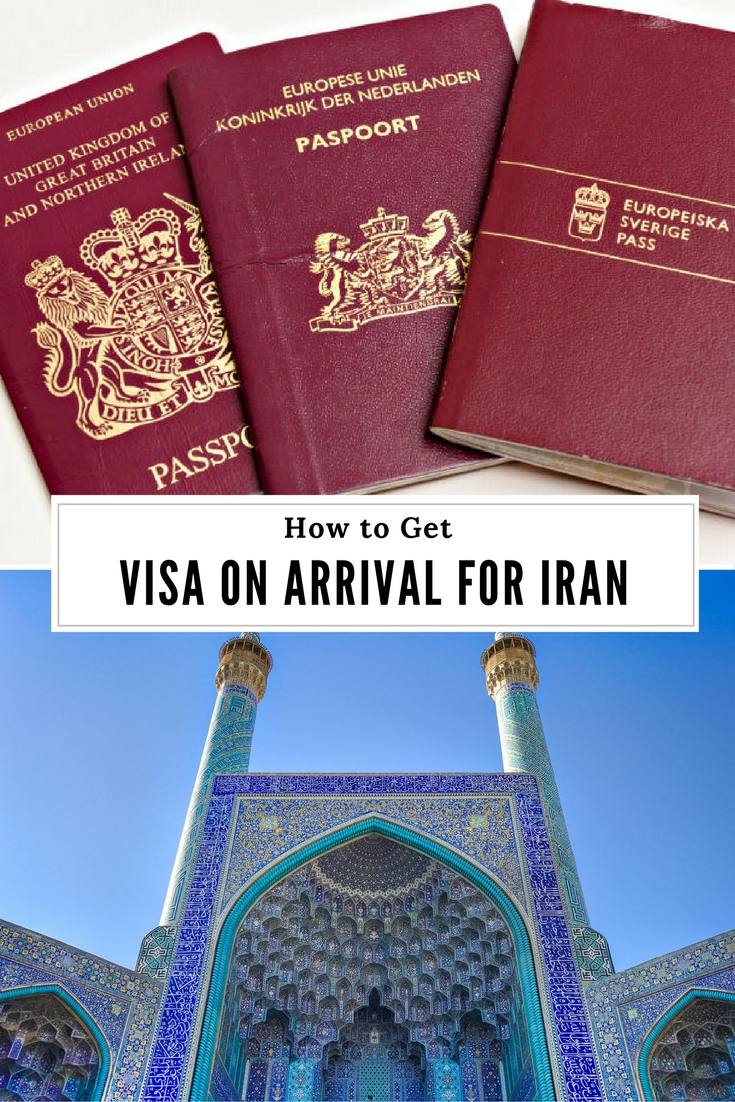 This means that you'll have to apply in person for a tourist visa next time you want to visit the States. But fear not, before I became a US resident I had a tourist visa for the US. Thanks to that, I was actually allowed to stay in the country up to 180 days, unlike people on visa waiver only 90 days.
Voila! Now you're ready to go to Iran. Read up on safety in Iran and enjoy it, as it's a beautiful country. If you have any additional questions, don't hesitate to post your comment below!
Want to read more about Iran? Check out my ultimate guide to Iran page.