Planning the perfect Utah road trip itinerary can be overwhelming. Utah is a perfect place for a road trip because there is so much to see, so it's not surprising that it often ends up on travelers' USA bucket list.
While I recommend doing this road trip for at least two weeks, especially if you enjoy hiking, you can skip some spots or shorten your itinerary to 7 days in Utah, 10 days in Utah, and extended as well.
I've lived in Utah for over 2 years so I know some secret places many visitors don't and visited the popular ones on various occasions. If you have any more questions, feel free to comment on this post and I'll answer as soon as possible.
Utah Road Trip Highlights
See the Big 5 National Parks
Hike Zion National Park
Grand Escalante
Swim in Hot Springs
Visit the world's largest living organism
Glamp in Moab
Get impressed by Capitol Reef
Paddle on Lake Powell
Walk among Goblins in Goblin Valley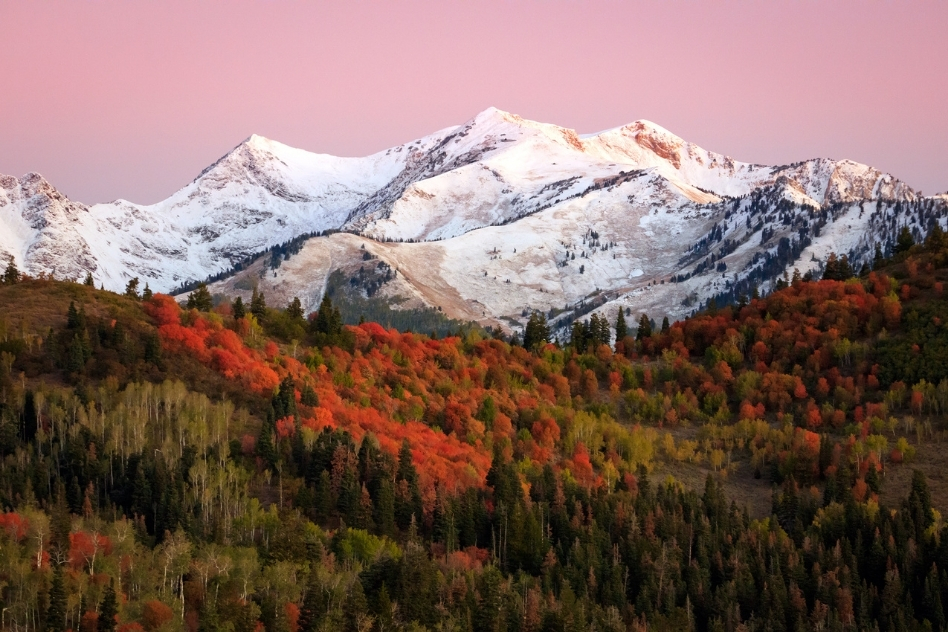 ---
Ultimate Utah Itinerary for 2 Weeks
Proposed Itinerary (starting in St. George and finishing in Salt Lake City)
this is a very intense itinerary if you want to squeeze everything in
ideally, this itinerary should be extended to 3 weeks
this itinerary can totally be done with kids
if not camping, keep in mind that most hotels/motels on the road aren't very luxurious
total driving time – about 15.5h (excl. time from Las Vegas to St. George – about 1.5h)
🚙 For the best road trip you will need a rental car. Discover Cars has plenty of options including 4WD options for off-roading in Utah.
Day 1: Fly into Las Vegas Airport, rent a car or van and start your road trip by driving to St. George
Day 2: St George
Day 3-5: Zion National Park
Day 6: Bryce Canyon National Park
Day 7: Capitol Reef National Park
Day 8: Arches National Park
Day 9-10: Moab
Day 11: Goblin Valley
Day 12: Hot Springs & Pando Forest
Day 13: Park City
Day 14: Bonneville Salt Flats half-day trip from SLC, if you have time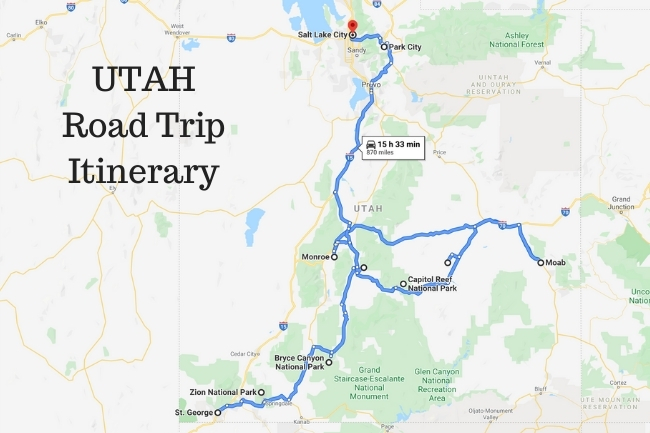 ---
Zion National Park
Famous for the Canyon Overlook Trail, Zion National Park is also home to the Riverside Walk near The Narrows, The Subway, The Zion Mount Carmel Tunnel, Kolob Canyons, the Emerald Pools, Lava Point Road, Mount Zion, and a lot more.
Angels Landing is one of the most popular hikes here.
There's actually so much to do in Zion National Park that you can easily spend up to a week here.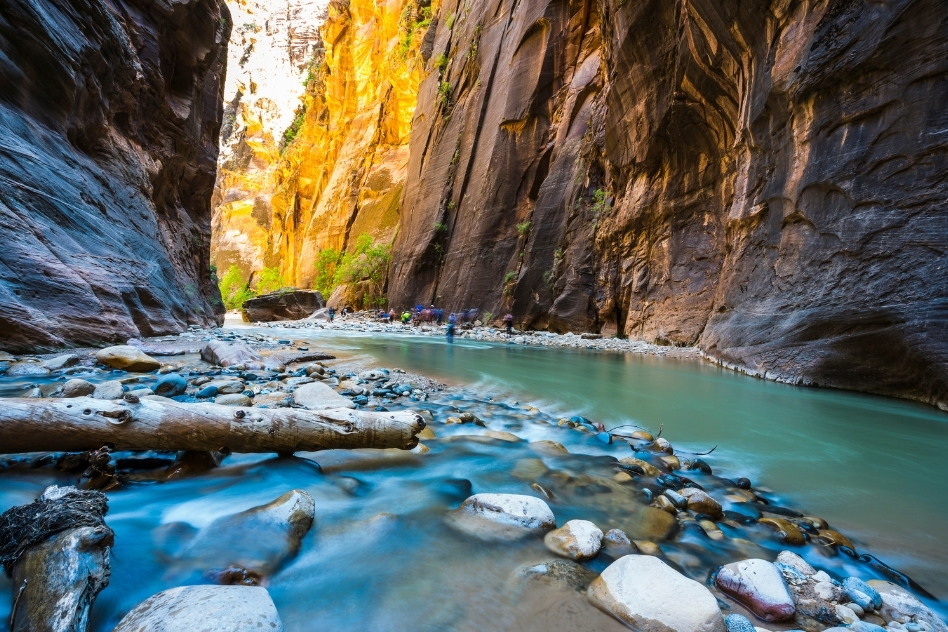 Inhabited for over 8000 years, Zion National Park was home to the Anasazi and Fremont tribes till circa 1300. As other tribes came and went, the Mormons settled here in the 1860s.
In 1909, in an attempt to protect the region, the area was named Mukuntuweap National Monument by President William Howard Taft. But it was later changed to the Zion National Monument in reference to the Mormom culture.
Zion National Park has 590 km2 of mountains, canyons, deserts, and rivers, and is home to over 32 species of reptiles, 75 species of mammals, and 289 species of birds.
Hiking in Zion National Park will take you through a range of landscapes. If you want to trudge through the Virgin River that created the canyon you're walking through, hike The Narrows. The trail is perfect for wading through from May to September, although some areas require a swim.
If you're traveling with kids, Zion has a few easy trails to hike – The Watchman Trail, Water Canyon Trail, or The Emerald Pool Trails (Upper, Lower, and Middle). If your kids are above 4-feet tall, do a short bottom-up hike from the Temple of Sinawa into the Narrows.
The more adventurous can go further and explore Ordville Gulch and Kolobs Creek, or even spend a night under the stars. Or they could try the short but difficult East Temple Saddle or the Angel Landing trail!
The Sand Bench Loop Trail is another moderate trail that only requires you to be wary of horse droppings and gives you a great view of the Patriarchs Abraham, Isaac, and Jacob. You could do this trail on horseback too!
If you misjudged your time, and only have 45 minutes to an hour to see Zion, drive to Springdale and do the Zion Canyon Overlook Trail. This 0.9-mile (1.4 km) trail gets a bit crowded but offers spectacular views of the Canyon.
Other Important Zion National Park Info
Entry fees to Zion are $35 per vehicle or $30 per motorcycle
Cyclists, hikers, and pedestrians pay $20
Annual passes cost $70
Parking is VERY limited so you need to get around with shuttle busses
Zion National Park is 308 miles or 496 km from Salt Lake City
Zion National Park is 160 miles or 258 km from Las Vegas, Nevada
A permit is required to camp overnight in the Narrows (booking in advance is a must)
There are 12 designated campsites in The Narrows
The Subway is an intense hike that canyoneers will love
Zion Canyon Overlook Trail is open all year round
Zion Canyon Overlook Trail is best accessed from Springdale, Utah
Where to Stay in or near Zion National Park
---
Arches National Park
Home to more than 2000 arches including the Delicate Arch, the Arches National Park is famous for the 7-mile (11-km) Devils Garden Trail.
With the Green River Overlook Point, Landscape Arch, Balanced Rock, Fiery Furnace, Corona Arch, Courthouse Towers, Partition Arch, Elephant Butte, Parade of Elephants, and more; you can easily more than 2 to 3 days exploring the park at a slow pace.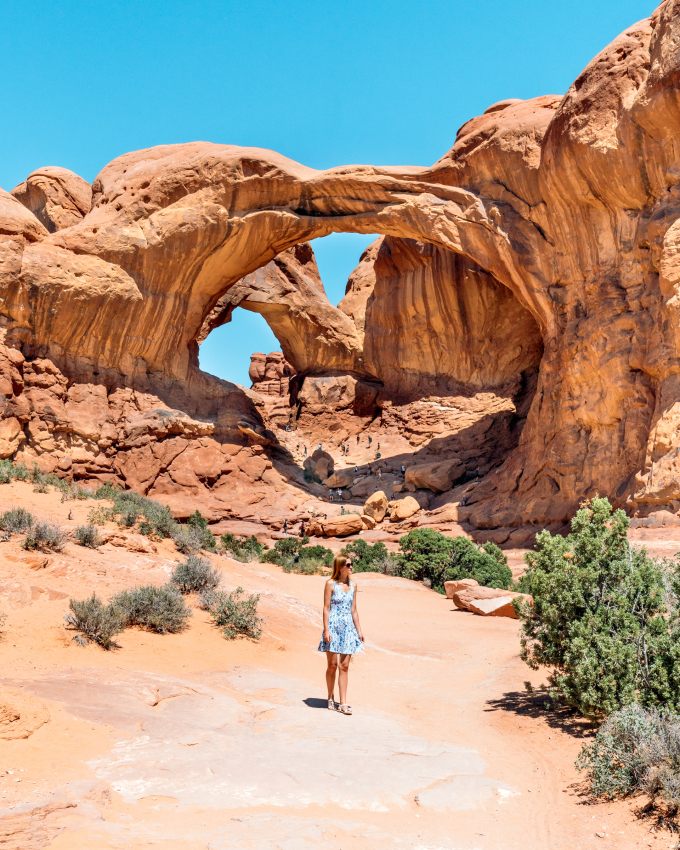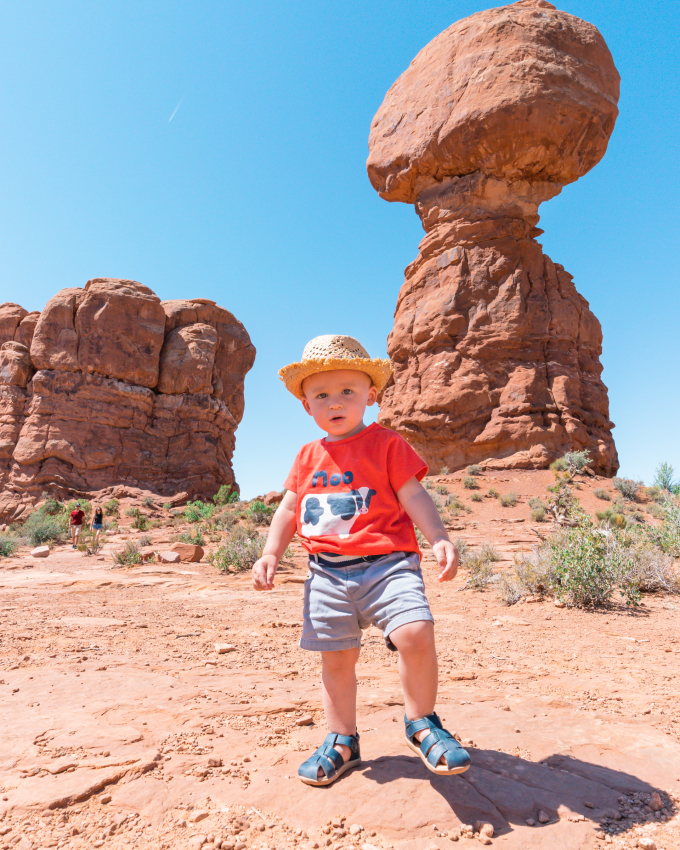 ---
Canyonlands National Park
Island in the Sky and the Mesa Arch are the highlights of Canyonlands National Park. Canyonlands is also famous for the Upheaval Dome, The Needles, Green River Overlook Road, Druid Arch, Labyrinth Canyon, Dead Horse Point, and Tower Ruin.
It's also home to the Zeus and Moses rock towers that were made of sand almost 200 million years ago.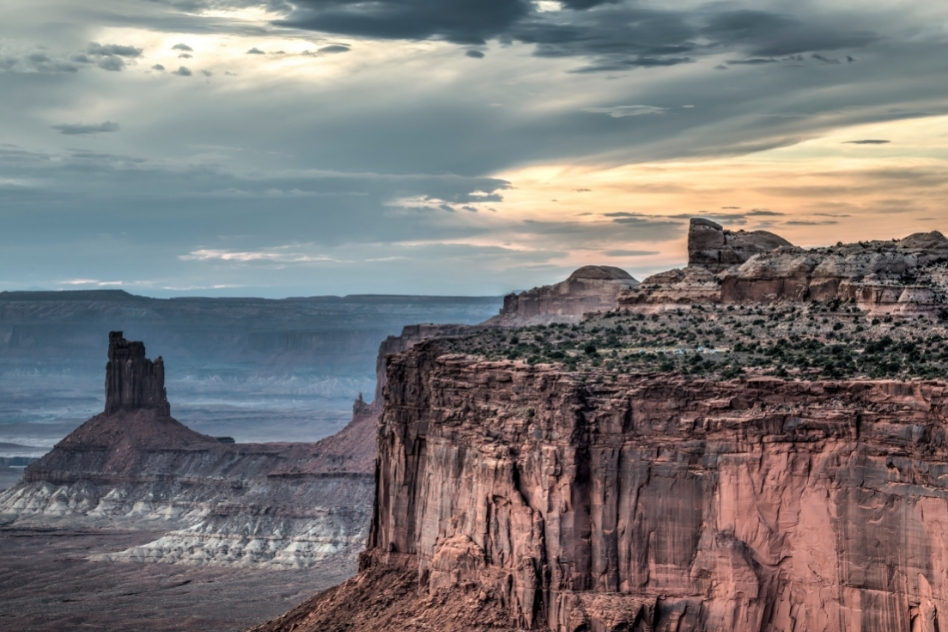 ---
Capitol Reef National Park
Holding the remains of the Mormon town of Fruita that was once called Junction, Capitol Reef National Park is open all year. There's more info about the town of Fruita below but if you wanted it in a nugget, Capitol Reef is perfect for fruit picking and short summer or autumn hikes with the family.
Other must-visits in Capitol Reef include the Water Pocket Feld, Cohab Canyon, Cassidy Arch, Hickman Natural Bridge, Thousand Lake Mountain, Chimney Rock, and the Grand Wash Trailhead.
Get impressed by Capitol Reef
Popular for the Navajo Dome that stands 1978-meters tall, Capitol Reef National Park in Wayne County, Utah covers an area of 978.95 km2. The dome is made of Navajo Sandstone that was formed 180 million years ago.
The park is famous for what's called the Waterpocket Fold that extends from Lake Powell to the Thousand Lake Mountain. This 160-km long formation of rocks looks like a spine made of rock. Eerie or not?
You can also visit the old Mormon settlement of Fruita that was called Junction before 1902. You can still see the old schoolhouse built in 1896, a few old houses and the orchards.
Capitol Reef is quite popular for hiking – opt for any of these trails. Hickman Bridge Trail, Capitol Gorge Trail, Cassidy Arch Hike, Cohab Canyon Trail, Castle Trail, Fremont River Trail, and Frying Pan Trail.
And if you only wish to drive through, State Route 24 runs through the park. Take the Scenic Drive and you'll see the some of the highlights of the park.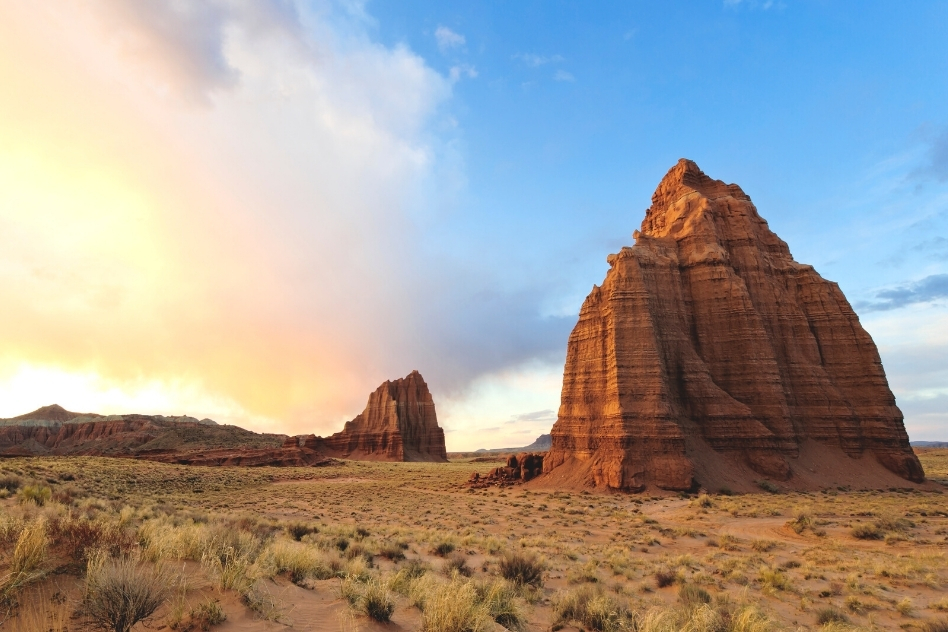 Capitol Reef National Park info
Free entry with the America the Beautiful Pass

Scenic Drive costs $20 for a 7-day pass

Individuals and cyclists pay $10 each, bikes pay $15
You have to apply for a free day permit for canyoneering, bouldering, and rock climbing
Fruita Campground charges $20 per night
Where to stay in or near Capitol Reef
---
Bryce Canyon National Park
Looking like spires sticking out of the desert landscape, the hoodoos at Bryce Canyon steal the show.
Some points not to miss in Bryce Canyon are Inspiration Point, Wall Street, Bryce Amphitheater, Bryce Point, Black Birch Canyon, Agua Canyon Overlook, Fairy Castle and the Paria View.
Bryce Canyon is also popular for the Fairyland Loop Trail, Navajo Loop Trail, Mossy Cave Trail, and a whole lot more.
But before you head off on your adventures, here's a great tidbit! Entrance with a car to the National Parks cost $30 each. Buy an America The Beautiful Annual Pass instead. This pass costs $80 a year and gives you free entrance not only to the Mighty 5, but also to dozens of parks and forests across America.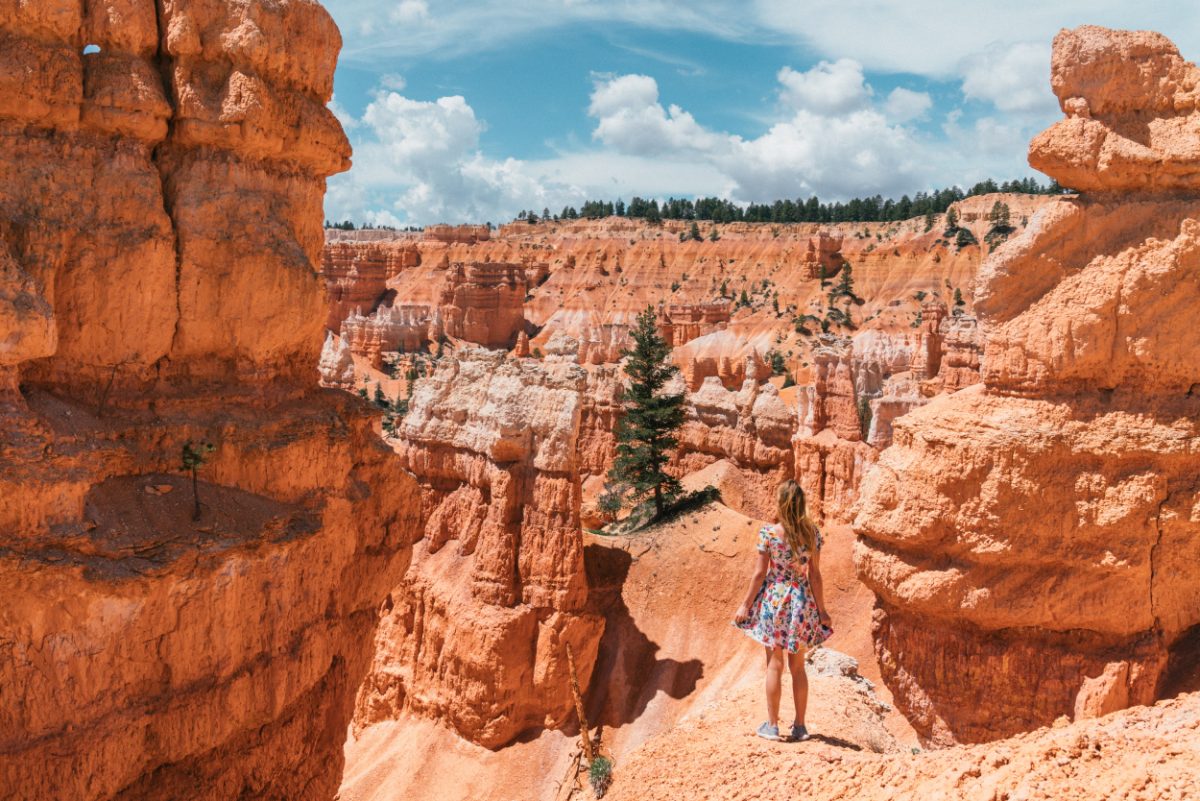 ---
Grand Escalante
Declared a National Monument in 1996, the Grand Staircase Escalante is almost a museum itself. Named after the town of Escalante and the different layers of cliffs, the Grand Staircase is a natural wonder.
You could easily spend days hiking the Grand Staircase, right from the Kainab Plateau in Grand Canyon National Park, to the Chocolate Cliffs in Glen Canyon, to the Vermillion Cliffs, White Cliffs, and Grey Cliffs in Zion National Park, and finally the Pink Cliffs in Bryce Canyon National Park.
One of the large places in the US to be mapped, the Grand Staircase Esclante has yielded many dinosaur fossils, ancient rock art, and old Anasazi and Fremont campsites dating 950 to 1100 AD.
The rugged landscape is also a treasure trove of natural bridges and arches, slot canyons, and monoliths. Some of the best hikes in Escalante include the Devils Garden, Calf Creek Falls, Coyote Gulch, Spooky Gulch, Golden Cathedral Trail, Peek-a-boo Gulch, and the easy Escalante River Hike.
The 3.2 miles (5.14 km) roundtrip to Spooky Gulch is the perfect medium-sized hike to undertake if you want those Instagrammable pictures that you see fellow travelers posting.
Why is it named Spooky Gulch?
Well, because of how narrow the walls get at times and how dark it is in some parts of the slots.
The 14 miles (22.5 km) roundtrip on Death Hollow Hike takes you through the Old Boulder Mail Trail Cross Country Route. You'll also come across waterslides, petroglyphs, and dramatic untamed wilderness.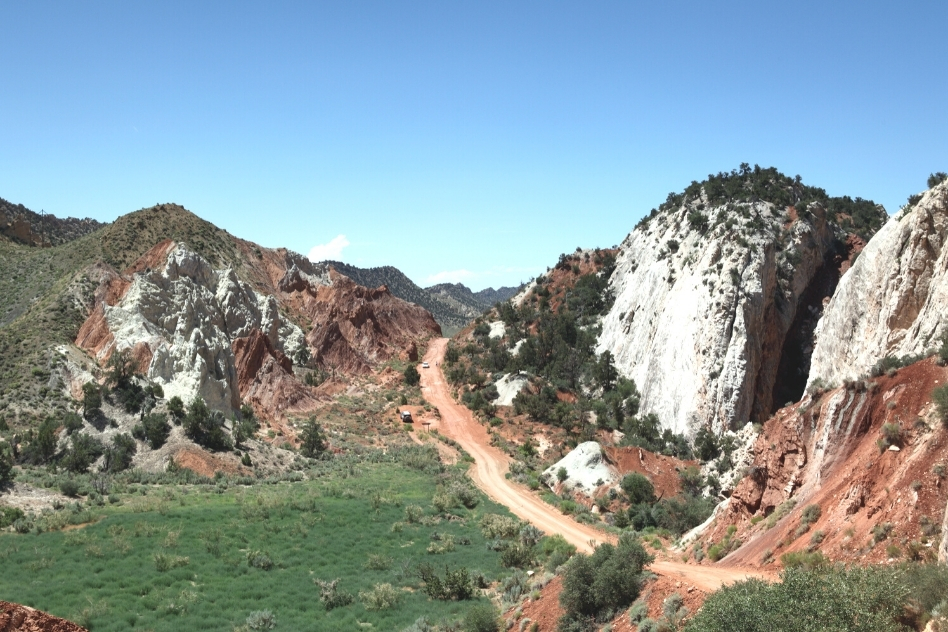 More Grand Staircase–Escalante Info
It's the most remote area of the US
There are three main regions: the Grand Staircase, the Kaiparowits Plateau, and the Canyons of the Escalante (Escalante River)
With trails connecting different paths, you could easily group together a few of the hikes into one longer hike
The hike to Calf Creek Falls is verdant and beautiful
Escalante is also perfect for camping or horse back riding
Where to stay near the Grand Escalante & Bryce Canyon
Slot Canyons Inn Bed & Breakfast
---
Swim in Hot Springs
A contrast to the arid desert landscapes, the hot springs in Utah are perfect for cooling down after a long hike.
Diamond Fork and Mystic Hot Springs are the most popular hot springs. Others include Saratoga Springs, Baker Hot Springs, Filimore Crater, Crystal Hot Springs, and Meadow Hot Springs.
Getting to Diamond Fork requires an uphill walk of about 4 km (2.5 miles), but the gorgeous pools that welcome you are absolutely worth it. And entry is free!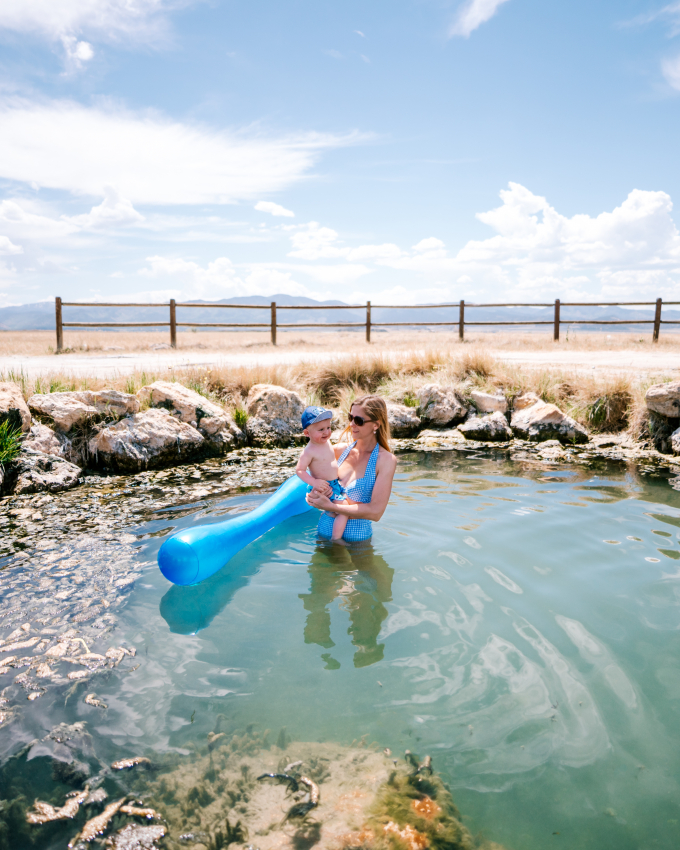 Mystic Hot Springs, also known as Monroe Hot Springs or Cooper Hot Spring are bit more rustic, with open-air bathtubs up for grabs at $25 per hour. Both the 2-feet shallow pool here and the 4-feet deep pool offer sulfur-free mineral-rich waters. Visit here if you like the sort of hippie vibe!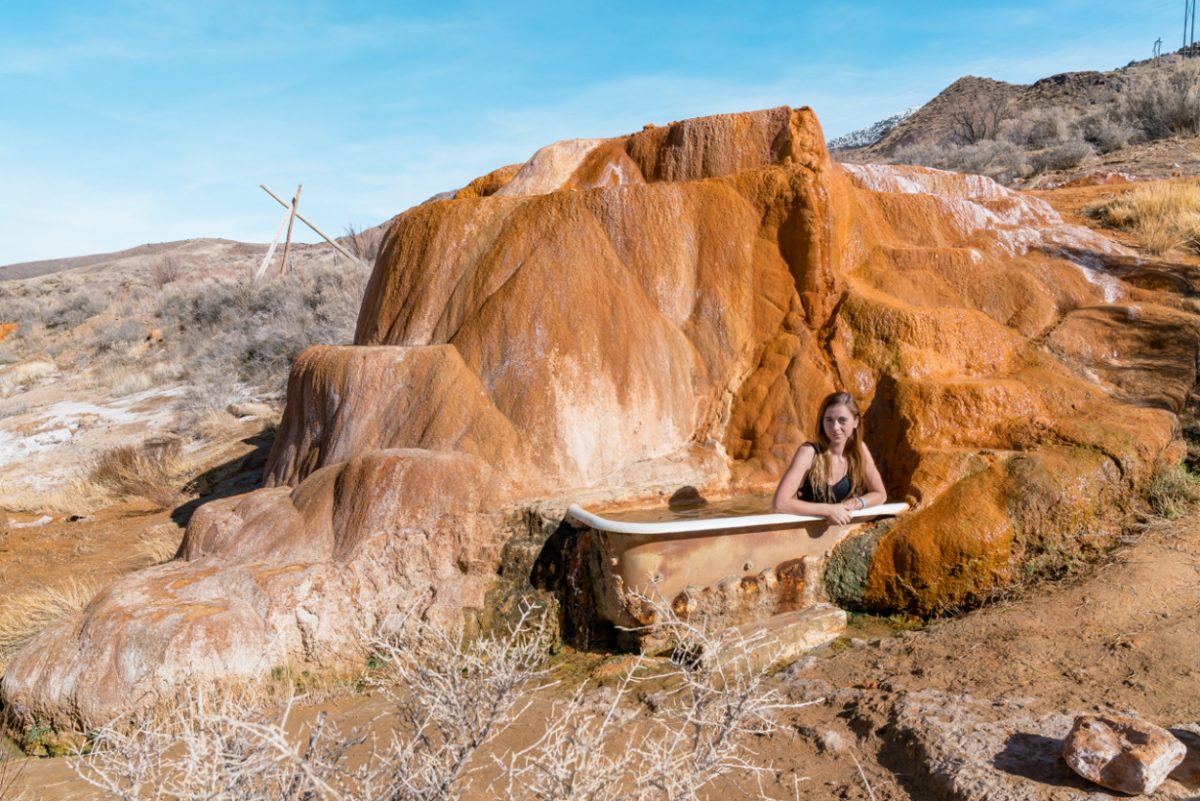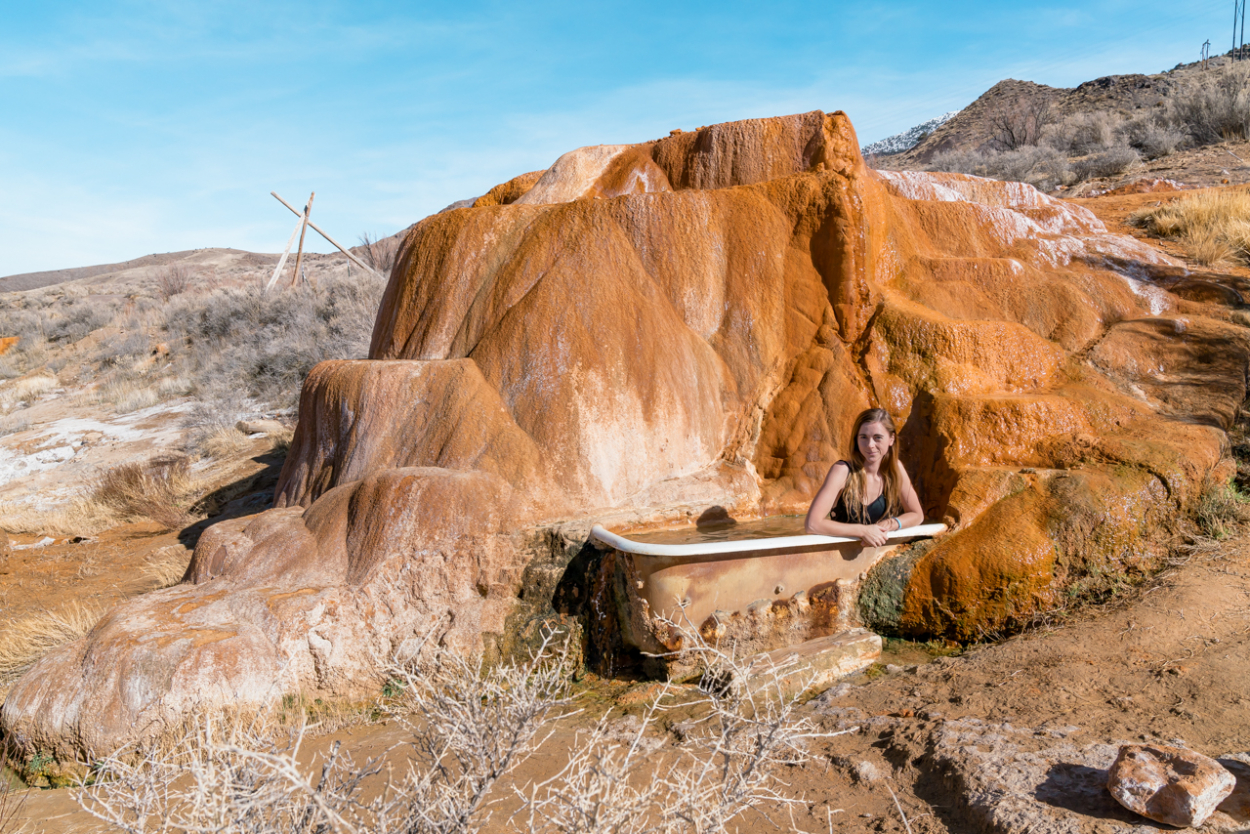 Where to stay near Mystic Springs, Monroe
---
Visit the World's Largest Living Organism
According to the Guinness Book of World Records, the largest living organism on earth is the Armillaria ostoyaem or honey mushroom in Malheur National Forest, Oregon. Aged between 2400 to 8650 years old, these mushrooms or actually "mushroom" occupy an area covering 1350 soccer fields or 2385 acres.
But is a mushroom a living organism or a fungi?
So according to the University of Colorado at Boulder, the pando or quaking aspen is the largest living organism. Covering an area of 108 acres, this clonal colony of Pando is known as the 'trembling giant'.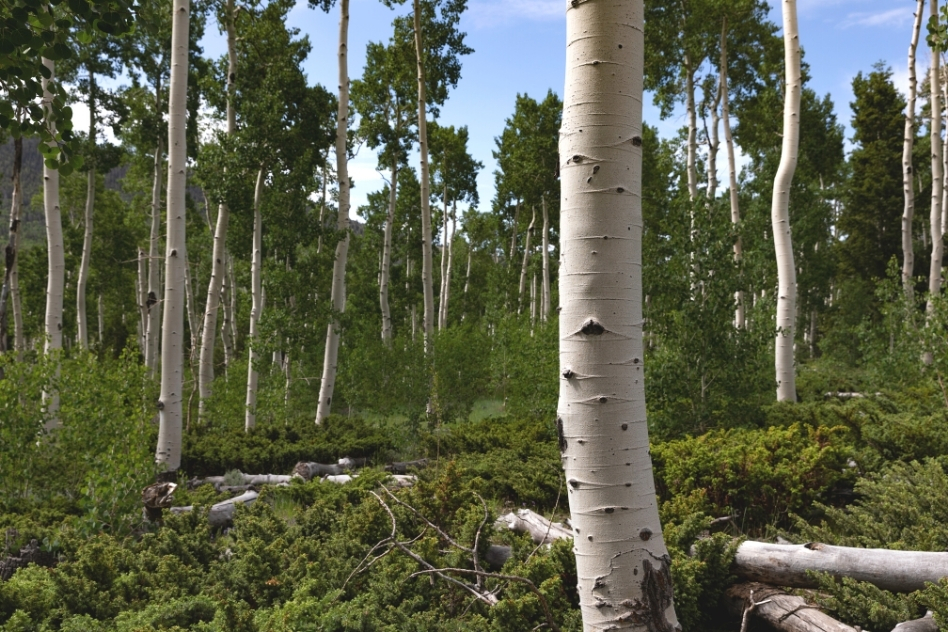 The colony of identical trees in the Fishlake National Forest just north of the Bryce Canyon National Park weighs 6,000,000 kilograms and includes 40,000 stems (or trees) from the same root system.
Although the roots are about 14,000 years old and the oldest trees are circa 130 years old, the National Park Service believes the quaking aspen might be 80,000 years old.
The hundreds of aspen are perfect for a scenic drive through!
---
Glamp in Moab
Moab is situated partway between Capitol Reef National Park, Canyonlands National Park, and Arches National Park. So it's the perfect spot to set up base if you want to spend a few days at a single base while driving to and from the different parks in Utah.
Moab is also home to unique landscapes that include dinosaur tracks, and the Museum of Moab that's home to dinosaur bones among other historical artifacts.
Stay in Moab if you want to go white water rafting on the Colorado River or canoeing on Green River. The forests and parks near Moab are perfect for 4×4 driving, ATV driving, canyoneering, rock climbing, mountain biking, base jumping, and of course backpacking and hiking.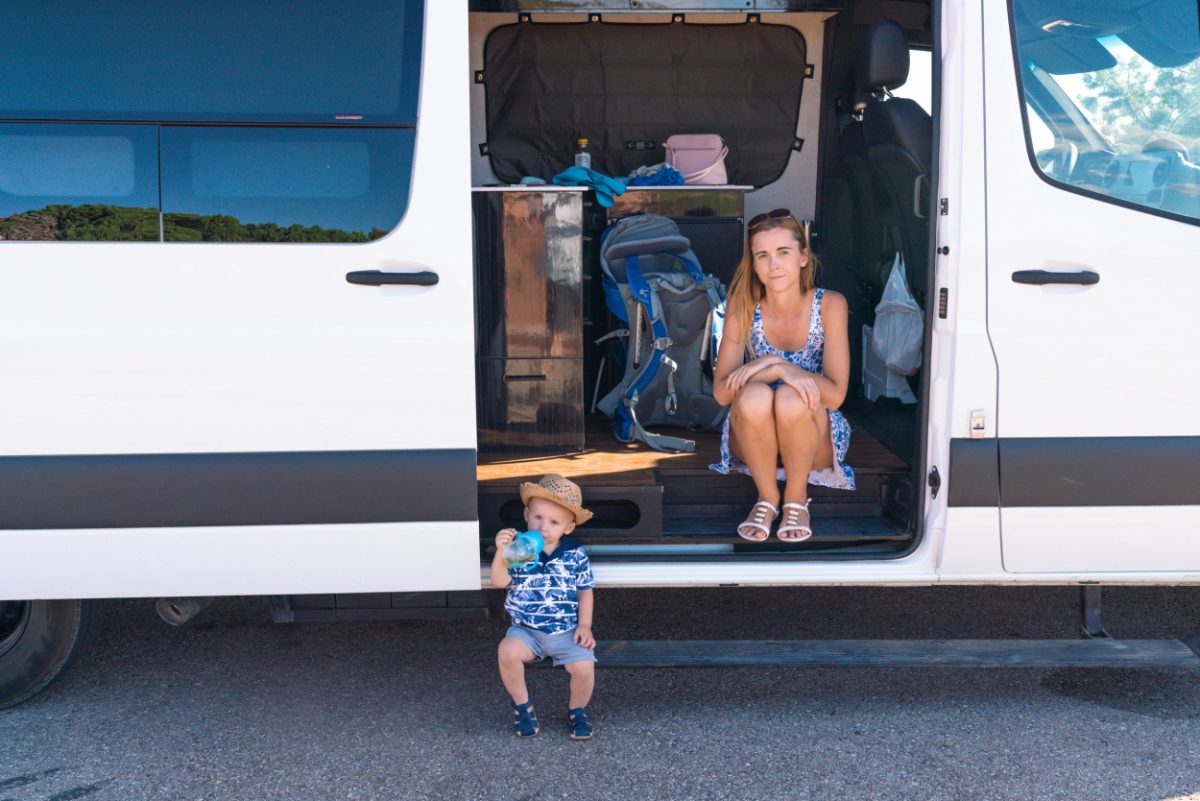 The Mesa Arch in Canyonlands is the perfect spot for Instagrammable sunrise pics.
Come winter and the La Sal mountains that you can see through the Delicate Arch in Arches National Park are perfect for cross country skiing, snowshoeing, and winter hiking.
You might also want to visit Dead Horse Point while in Moab. The Dead Horse State Park covering 21 km2 was once a corral where wild mustangs roamed free. You can't see the mustangs anymore, but you can get gorgeous views overlooking the Colorado River.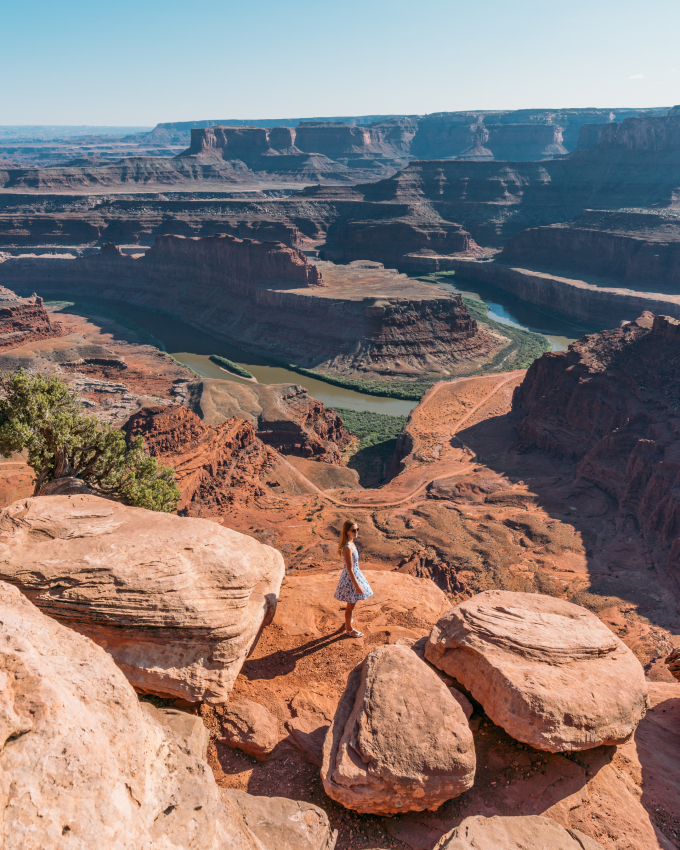 There are a few luxurious glamping locations in Moab that you'll want to try. My favorite is the Under Canvas Moab. https://www.booking.com/hotel/us/moab-under-canvass.html? These beautiful tents set on 40 acres of land offer otherworldly views of Arches National Park.
The Fun Stays camps are a bit more affordable, but also quite good.
Where to stay near Moab if you don't like glamping
MainStay Suites Moab near Arches National Park
---
Paddle on Lake Powell
Not a real lake, Lake Powell is a manmade reservoir covering 658 km² that looks like a river. The 'lake' was conceived in the 1950s and filled by 1963 by turning Glen Canyon into a dam.
This also led to the creation of the Glen Canyon National Park surrounding Lake Powell, which is the perfect spot for summer activities. You can go hiking around the park, to visit the Rainbow Bridge, Castle Rock, Antelope Canyon, Cha Canyon, Gregory Butte, or one of the many amazing rock formations.
Lake Powell is popular for water skiing, fishing, kayaking, or boating, or my favorite paddle boarding. Both kayaking and paddle boarding allow you to visit side canyons that boats sometimes find it difficult to enter.
If you want to spend the night in the area, there are some amazing houseboat rentals or luxury campgrounds surrounding Lake Powell.
Lake Powell Info
Entrance fee to Glen Canyon National Park – $30 per car for 7 days
Open all year, but the warmer months of April to October are the best time for water sports!
For boating go to either Rock Creek Bay, Warm Creek Bay, Padre Bay, or Halls Creek Bay
Lone Rock Canyon (Utah) and Antelope Canyon (Arizona) are the best paddle spots
Paddleboard rentals average $65 a day
Where to stay near Lake Powell
Under Canvas lake Powell Grand Staircase
Pet-Friendly Adobe near Lake Powell
Best Western View of Lake Powell Hotel
If you're driving over to Page, Arizona, which is also a great base, stay at Courtyard Page by Marriott.
---
Walk among Goblins in Goblin Valley
Featured as an alien planet in the 1999 science-fiction movie Galaxy Quest, Goblin Valley could be one of the last stops on your trip before heading back up to Salt Lake City to catch your flight out.
Goblin Valley was named after the many sand dunes called hoodoos that look like goblins. The goblins are created by the erosion of the soft rock bottom of sand dunes while the harder rock at the top stays intact.
A popular place to hike, Goblin Valley is also good for picnicking or camping at night. Out of the 14 hiking trails, the most popular hikes are to the Goblin's Lair, The Three Sisters rock formations, Carmel Canyon Trail, and Mollys Castle Spur Trail.
If you have extra time, you can combine a visit to Goblin Valley State Park with a visit the San Rafael Swell that's an hour's drive North.
I recommend staying inside the State Park on the camping grounds (pictured below) but booking in advance is a must.
Goblin Valley Park Info
Entrance Fees – $15 per vehicle
Open All Year. No Closures.
10-minutes drive from Highway I-70
Campground Access – $30
Climbing on the goblins is not recommended!