The Las Pozas of Edward James are one of the great mysteries of Mexico. It's hidden deep in the misty jungles and lush hills of San Luis Potosi state, close to the remote highland village of Xilitla.
A whopping 80 acres of land with things you'd hardly expect to find in the rural backcountry of Latin America. Concrete effigies of gnarled towers, strange anthropomorphic structures, surrealist vases and lookout points. It's an unusual, unique and intriguing place to visit.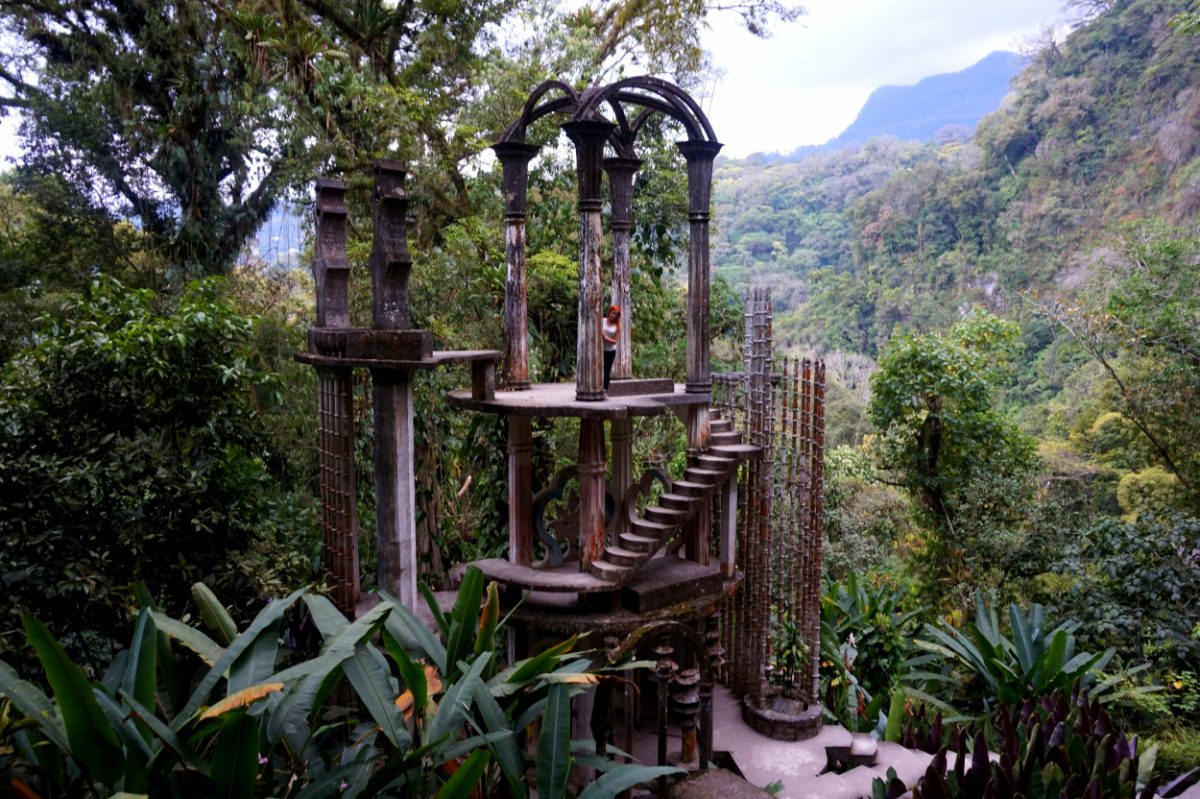 ---
The Story of the Las Pozas of Edward James in Xilitla
The village of Xilitla is an historic stronghold of Huastec and Nahuatl heritage. Before the arrival of the Spanish in the 1500s, it was a series of over 100 smaller hamlets high in the mountains of San Luis Potosi.
When the conquistadors finally did arrive, they brought Franciscan missionaries in their wake. That lead to the establishment of Xilitla town itself, which developed into an outpost in the tribal wars of the 16th and 17th centuries.
It's to this remote town in the rainforest-clad sierras that the British poet and iconoclast Edward James made his way in the 1940s. He came with a huge fortune of millions of dollars and a desire to establish his own version of the "Garden of Eden".
It was his dream to build something as a homage to Dadaism and Surrealism, the two schools of art that he championed all throughout the early 20th century.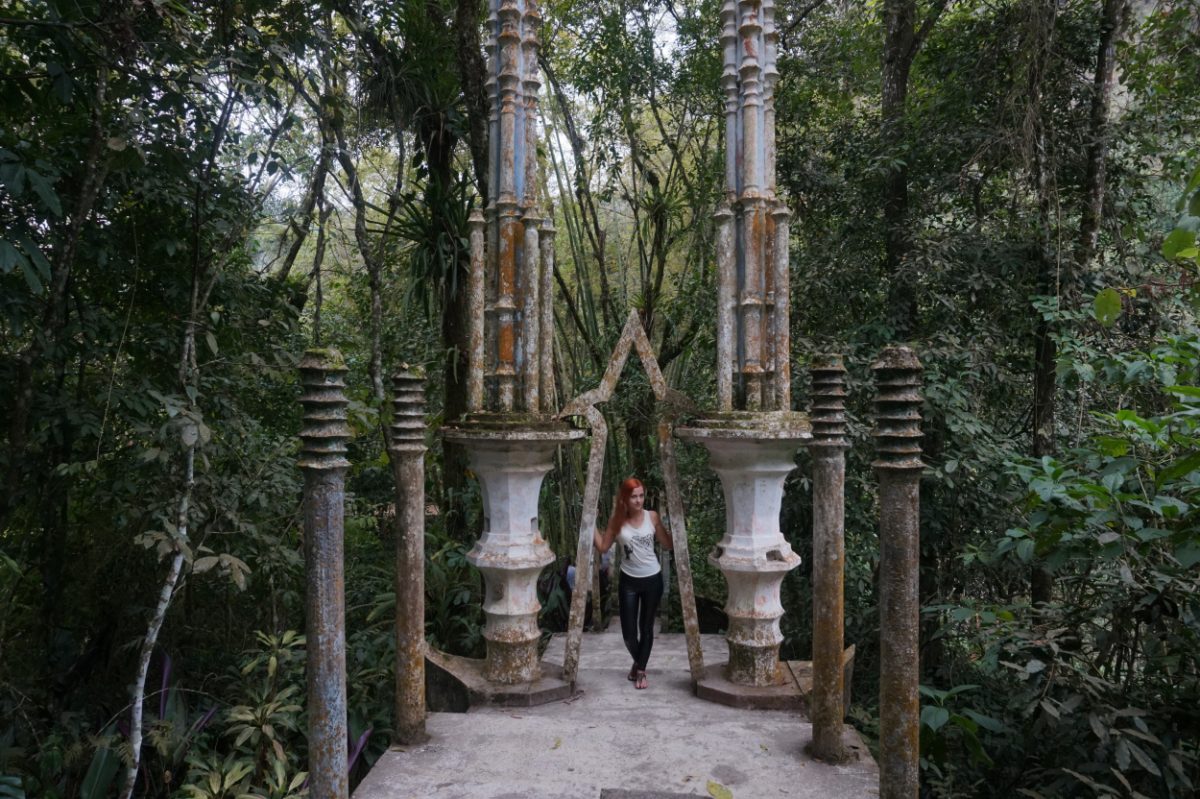 The site started as a simple orchid garden, initially registered under the name of Plutarco Gastelum, who had been James's guide and mentor in Mexico since his arrival.
Proper construction of the installations seen today didn't begin until the 1960s. Work didn't finish until James's death, much later in 1984.
Throughout those 35 years, all manner of strange pillars, posts, lookout points, and bridges were added to the collection, along with a menagerie of tropical beasts. They were inspired by a mix of ancient religious rituals, the organic look of the region's wild jungles, and contemporary avant-garde art.
Gastelum acted as project manager throughout and oversaw most of the construction. His family eventually assumed control of the site following James's death.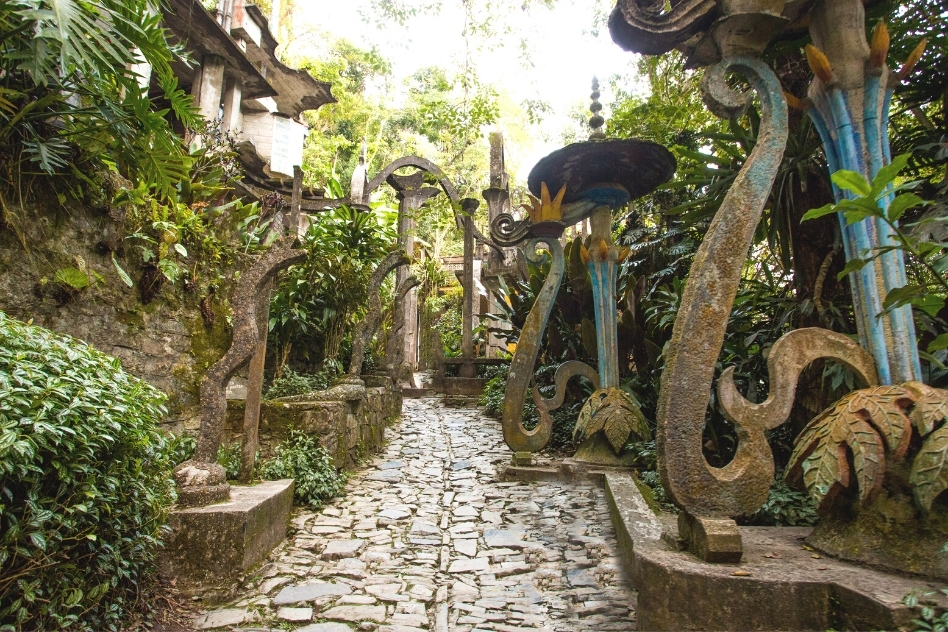 ---
Where is Las Pozas of Edward James
One thing's for sure – the Las Pozas gardens aren't going to be the easiest thing to find during your travels in Mexico.
Set in the jungles of Xilitla in the tropical south of huge San Luis Potosi state, they're more than 600 meters above sea level. On top of that, they're engulfed by greenery and overgrown by huge trees, blooms of mosses, and vines.
Thankfully, there's a road leading all the way to the entrance of the gardens these days. You can either get a local guide to show you the way.
Or, take the winding track that leads north out of little Xilitla town off Federal Highway 120. The attraction is about half a mile into the hills, fronted by a few car spaces and a few flamboyant gateways.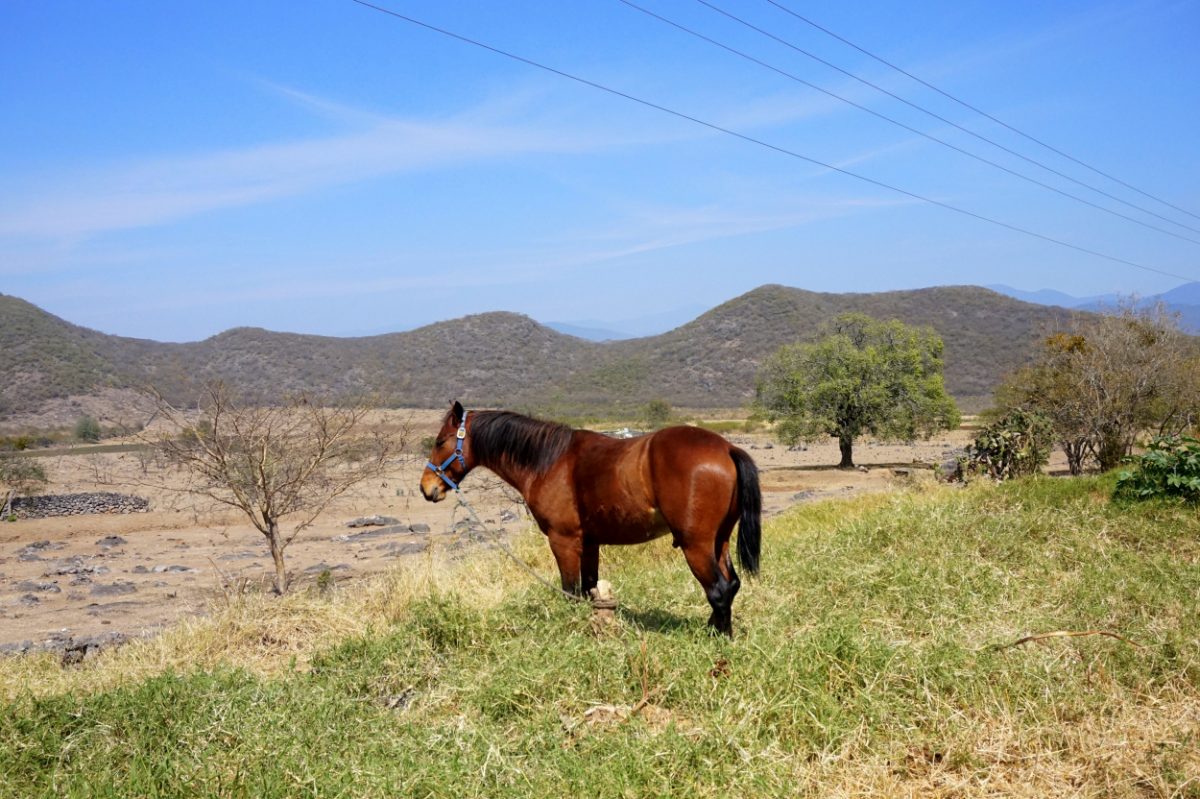 ---
How to Get to Xilitla
Xilitla is one of the hidden gems of Mexico. It's left largely alone by the crowds of travelers bound for the cotton-white sands of Playa del Carmen and the Riviera Maya. Still, there are direct bus routes from Mexico City.
They take 9 hours and go overnight, costing around 600-650 MXN per person depending on the company. You can also drive the route but be ready to navigate some pretty hefty bends in the road. It might be one that's better left to the experienced coach drivers!
Alternatively, you can also drive and that's how I got there. The roads are beautiful if you're coming from Mexico City as the region is called Ruta de Queso y Vino. This basically means you can stop at wineries, eat tasty cheese and even explore Queretaro on the way.
It's way faster to get there by car than bus and if you leave Mexico City very early you can totally visit Xilitla and then continue to Ciudad Valles to spend the night. That way, you can easily start rafting or seeing various waterfalls of San Luis Potosi on the second day already.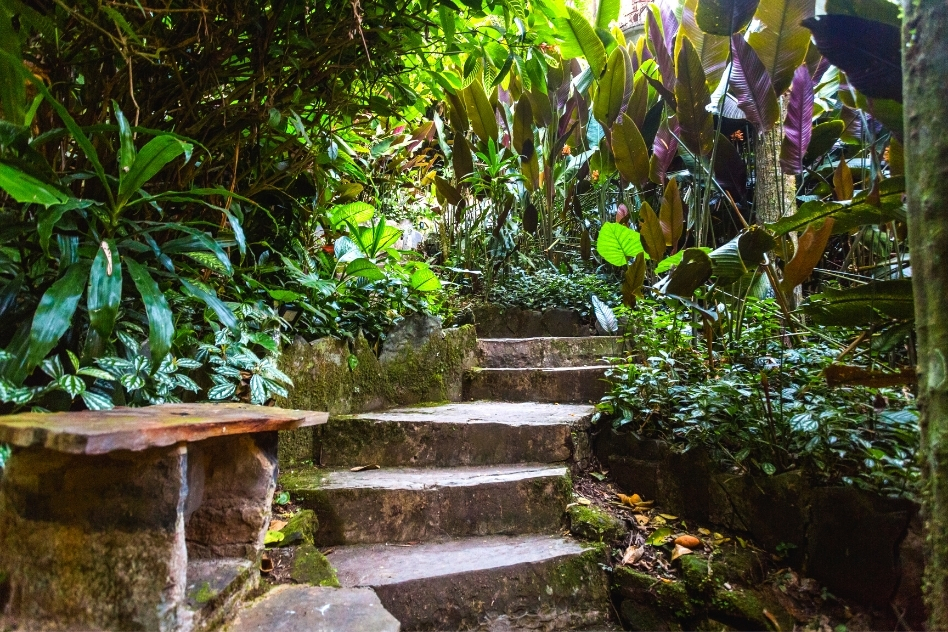 ---
When to Visit the Las Pozas of Edward James
Las Pozas might not be up there with the likes of the Teotihuacán pyramids and Chichen Itza, but it still draws some pretty big crowds. Most of the visitors will be Mexican locals.
The busiest times of the year are during the local summer holidays (June-September) and on national holidays. They'll often mean long queues snaking through the jungle from the entrance.
I also recommend you arrive early. That's not just to avoid congestion at the gates, but also to ensure you get to explore Las Pozas with a little bit of seclusion before tour groups arrive.
Doors officially open at 9am each day. Close is at 4pm or 6pm, depending on the season.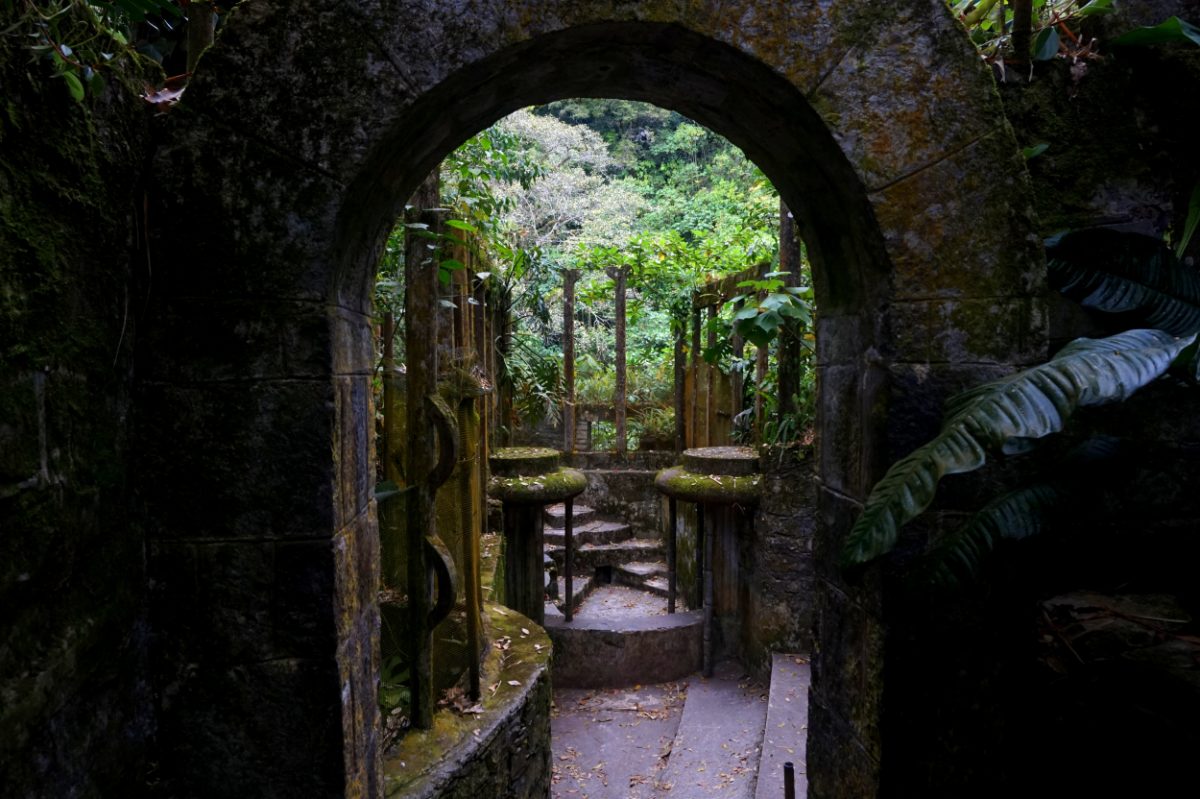 ---
How Much Does a Trip to Las Pozas cost?
You won't have to break the bank to see the wonders of Las Pozas. A single entry to this amazing site will set you back just 50 MXN (that's just under $3 USD).
If you're eager to learn the in-depth history behind the site and its eccentric owner, Edward James, you could also opt for a guided tour. They will cost in the region of $25 and last between 30 minutes and an hour. Guides are on offer in both Xilitla town or just outside the entrance to Las Pozas itself.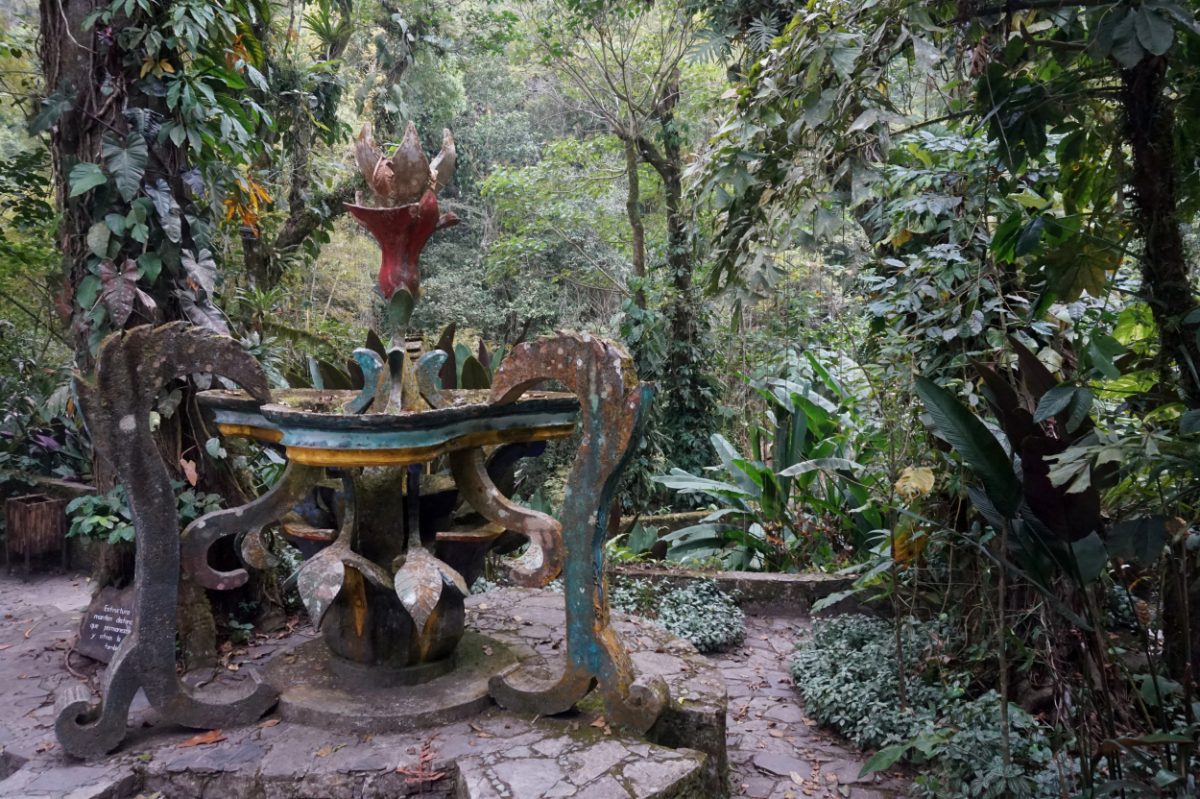 ---
Top Things to See in Las Pozas
There are a few structures that really stand out from the crowd in the Las Pozas gardens of Xilitla. Here are the ones that we think you most certainly shouldn't miss during your visit (not that it's easy to miss most of them – they're pretty darn big!).
The Staircase to Heaven
The Staircase to Heaven promises to lift you from the mossy undergrowth of the jungles and up into the clear air of the Sierra Gorda.
Split in two, the structure twists and turns around a duo of central spires that seems to resemble the stem of a large orchid flower with a bulb on top. It's one of the most unusual and thought-provoking of the creations in the park, and also one of the most dangerous. Watch your step!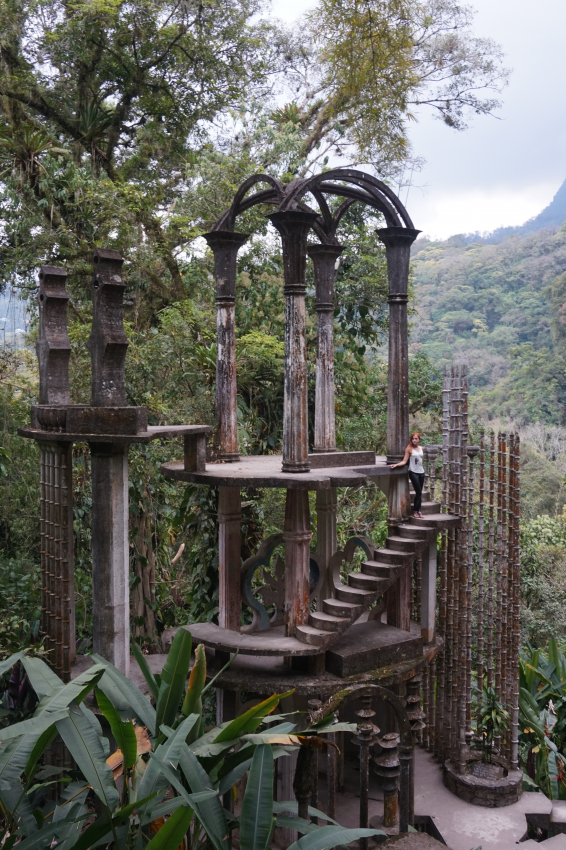 Hands of a Giant
The Hands of a Giant are one of the most iconic statues in the whole complex. That's made evident by the countless reproductions of them that are sold in local souvenir shops.
They can be tricky to find, because they aren't actually that giant at all. Notice how one faces backwards and the other forwards, while some fingers look more elongated than others.
The moss that grows on the hands has also created an ethereal, alien effect that sums up the organic nature of Edward James's gardens.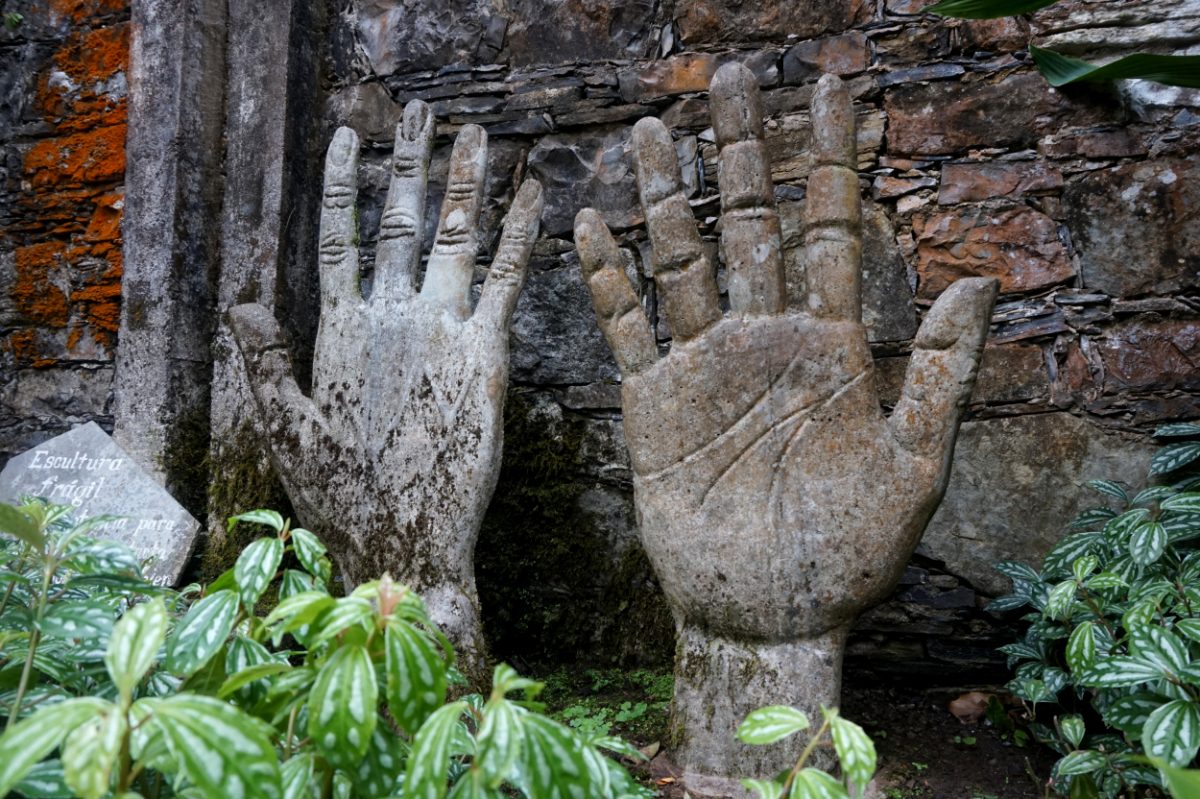 Seven Deadly Sins
One of the rare painted statues in the grounds of these gardens comes in the form of the eerie Seven Deadly Sins.
They take the form of curled, serpentine statues that flank a fairy-tale alleyway of crooked cobblestone. Most are dashed with faded blue hues but there are also crowns of brazen yellow overhead. Walk the path, if you dar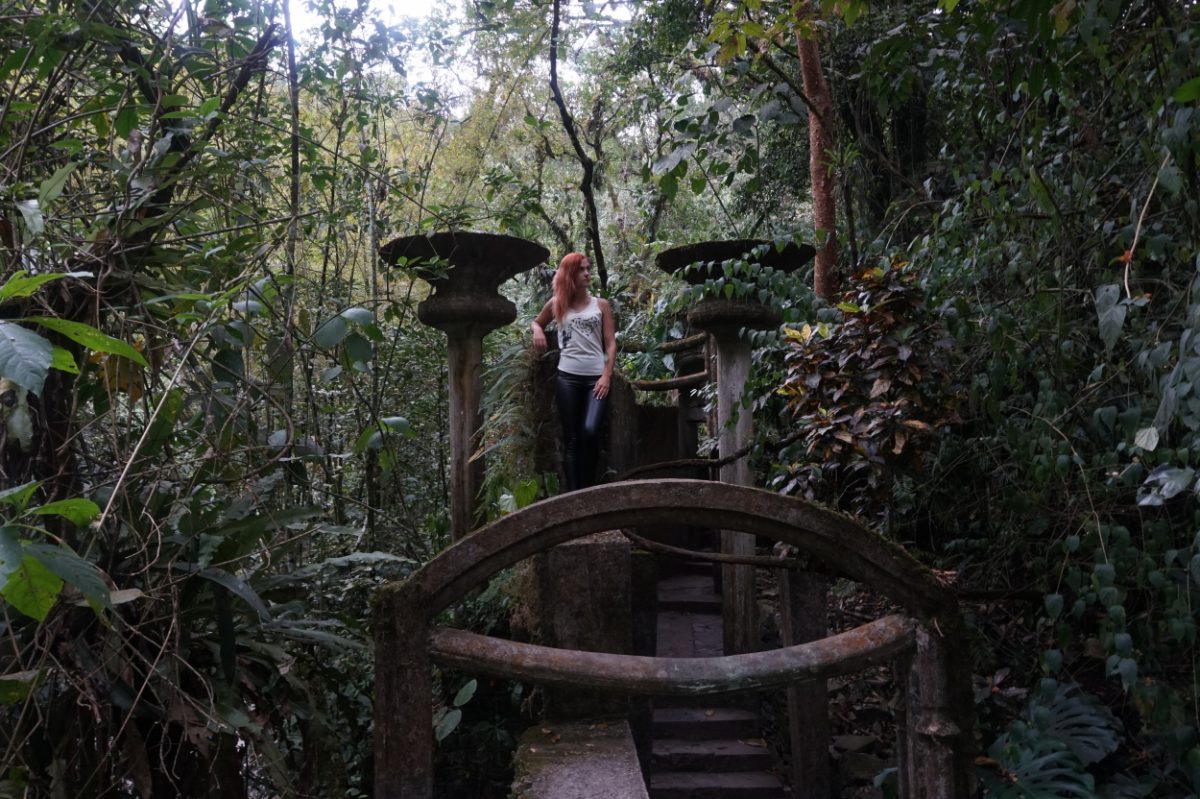 Las Pozas themselves
The Las Pozas are what gave the whole gardens their name. A series of pools fed by gushing waterfalls, they pop up deep inside the site, with Greek revival rotundas looming overhead and a few Maya-esque terraces flanking them on both sides.
Visitors are free to take a dip in the pools, but I must warn you – they're not warm. It's a stunning place to swim, with the sounds of the tweeting tropical birds and the rustle of the rainforest echoing all around. It's also a welcome respite from the heat and the humidity.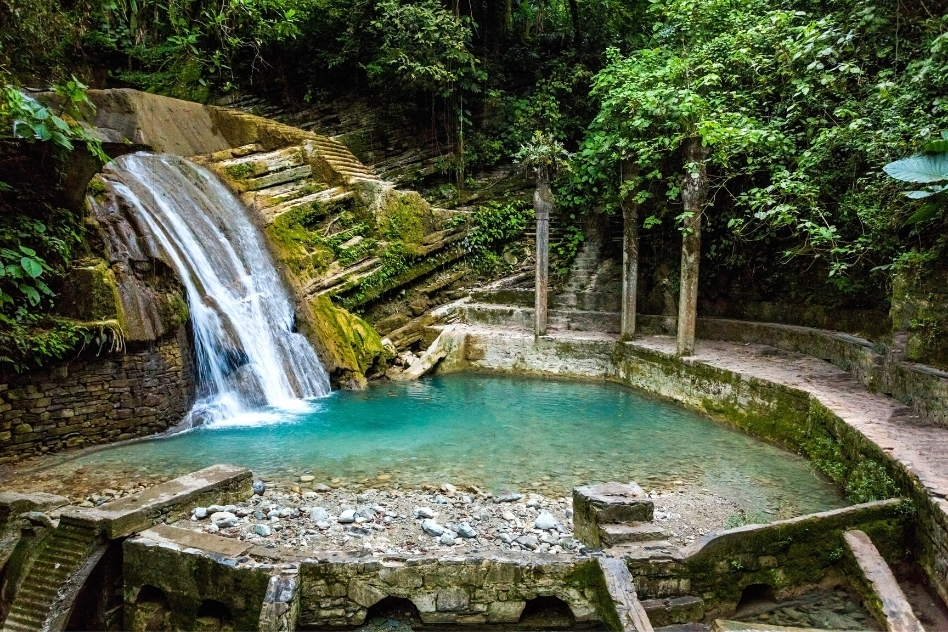 The House on Three Floors Which Will in Fact Have Five or Four or Six
Just as the name implies, the House on Three Floors Which Will in Fact Have Five or Four or Six is a higgledy-piggledy example of precisely the sort of weird and wonderful architecture that excited Edward James.
It's built with twisting staircases and oddly-placed platforms, turrets and round towers, which create something that looks like it could be plucked from a Morris Escher sketch. See how many floors you can count!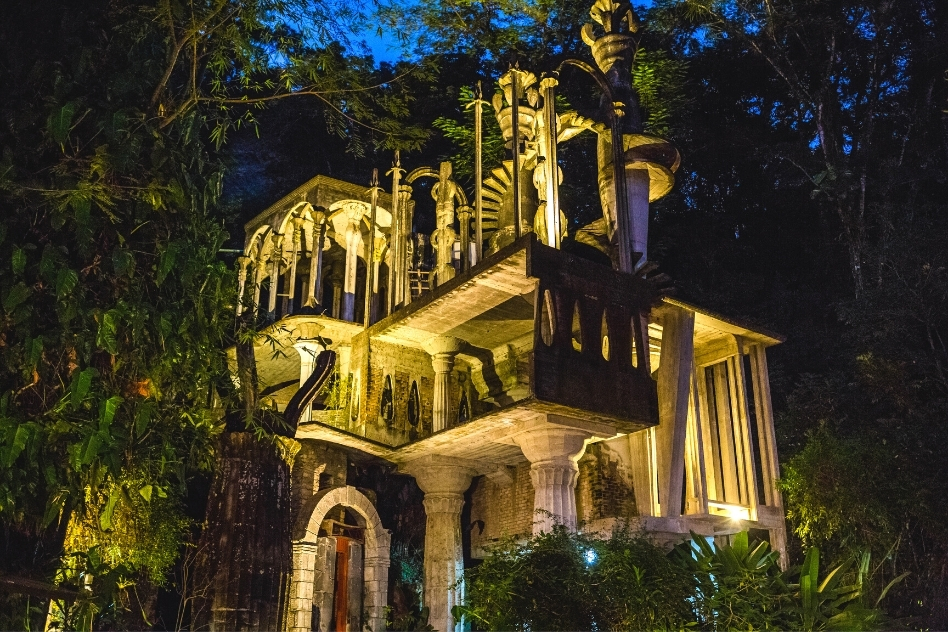 ---
General Tips for Visiting Las Pozas
Here are a few in-the-know tips for exploring the wild gardens of Las Pozas in Xilitla. We hope they help…
Get there as early as you can – At the risk of repeating ourselves, we'll say it again: Get to Las Pozas as early as you can.
Part of the enchantment in this place is the strangeness of being isolated in the wild Mexican jungle with surrealist buildings all around. To feel that, you'll need to be on time for when the gates open at 9am.
Ditch the tripod – Tripods aren't allowed in Las Pozas. Don't even bother packing it. You're going to have to rely on a steady hand a shorter exposure her.
Check photography regulations – Photographs and videos are officially allowed inside Las Pozas, however there are some days when they are prohibited.
If you're coming in search of that perfect Instagram snap, then be sure to check ahead that it's a-okay.
Drink plenty of water – This one's true of any site in the tropics and Mexico. Drink water regularly and plenty of it. You might not notice this high up and in such humidity, but you're going to be burning through a lot of H2O!
Take bug spray – We didn't find the bugs too much of an issue in Las Pozas, but there are times of the year when they can get pretty bad. To be on the safe side, pack an effective DEET spray for the trip.
Watch your step – There are now apparently some regulations about which structures you're allowed to climb and which ones you're not. It wasn't that way when I visited but tourism increased since then.
Either way, Las Pozas is a moss-covered mass of concrete in the middle of a jungle. It's a health and safety nightmare. Always check where you're walking and if it's stable.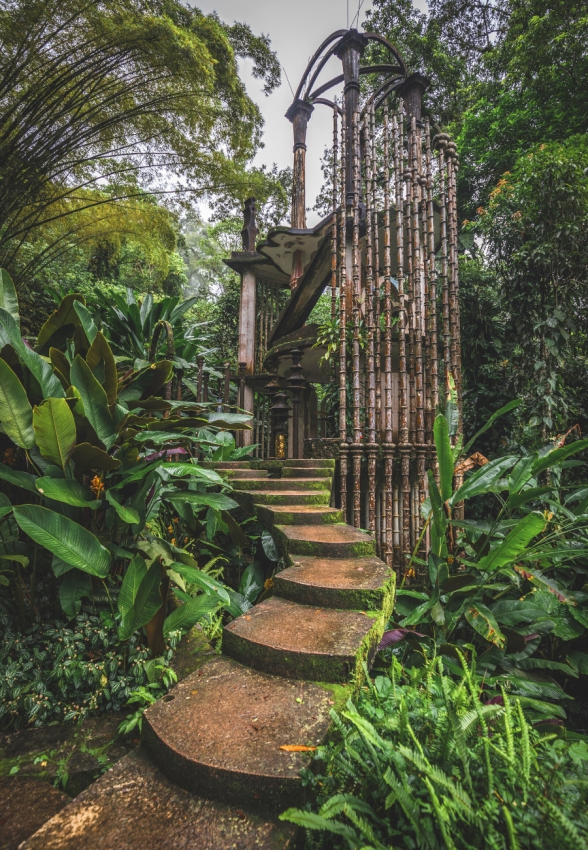 ---
Places to Eat Around Las Pozas
Most people only spend a couple of hours in Las Pozas in total. They'll fit in eating before and after their jaunt to the site. That usually means breakfasts in your hotel followed by lunch closer to the attraction itself, so there's usually just a lady selling elotes by the entrance to the gardens.
There are a few places nearby though!
El Jardin del Taco – Nowhere does outdoor taco stands quite like Mexico. In fact, nowhere does tacos like Mexico, end of story. This option sits just outside of the main entranceway to the Las Pozas gardens. It's a relaxed and easy-going taqueria with meat and veg options on the menu.
Casa PORTAL Pizzeria
I love the way that Casa PORTAL Pizzeria seems to have channeled the surrealist character of Edward James to create a pizza joint that's a little out of the ordinary. The pizzas aren't, though.
They're wood-fired and among the best I've tried in Mexico. You'll pay around 110 MXN for a classic margarita.
Cascada la Cebolla
On the winding roadway that leads from Xilitla to the entrance of Las Pozas, the chilled Mexicana kitchen of Cascada la Cebolla does spicy, local food.
Mains start at just 75 MXN, including the enchiladas and fish fillets. There are also natural fruit juices and even cold beer for 20 MXN. The setting is super casual and relaxed.