Choosing the best Greek islands to visit is not easy task. From the glimmering waters of the Aegean to the marble-white coves and cliffs of Ionia, these are some of the most stunning specks of land on the planet.
Anyone wondering where to go in Greece will surely have happened upon the most spectacular of them in their research, from mountain-crumpled Crete to castle-studded Rhodes.
Whether you're wrestling with the classic Mykonos vs Santorini debate, simply want some inspiration for more off-beat isles, or are looking for a hint on where's hot in the Aegean this year, read on for a guide to the crème-de-la-crème of the best islands in Greece.
Where to Go in Greece (based on preferences)
Greece has many islands. First time visitors opt for the easily accessible iconic vacation spots like like Mykonos, Santorini, Crete and Rhodes.
But, there are quite literally hundreds of alluring isles to choose from, and myriad mini-archipelagos to explore. I wouldn't try to squeeze in all 20 islands into your trip, especially since the cost of ferries and internal flights can add up (and they're not always cheap).
Below are islands based on preferences…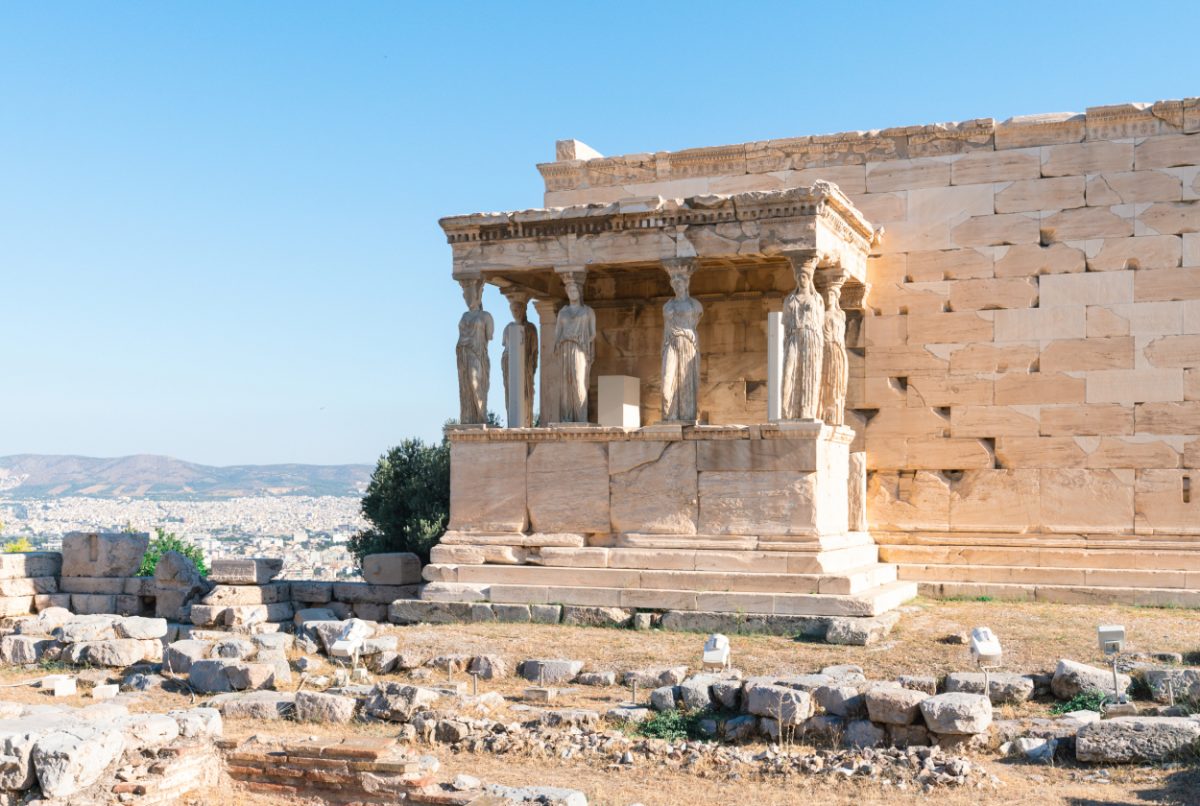 ---
Crete
for the young ones and party lovers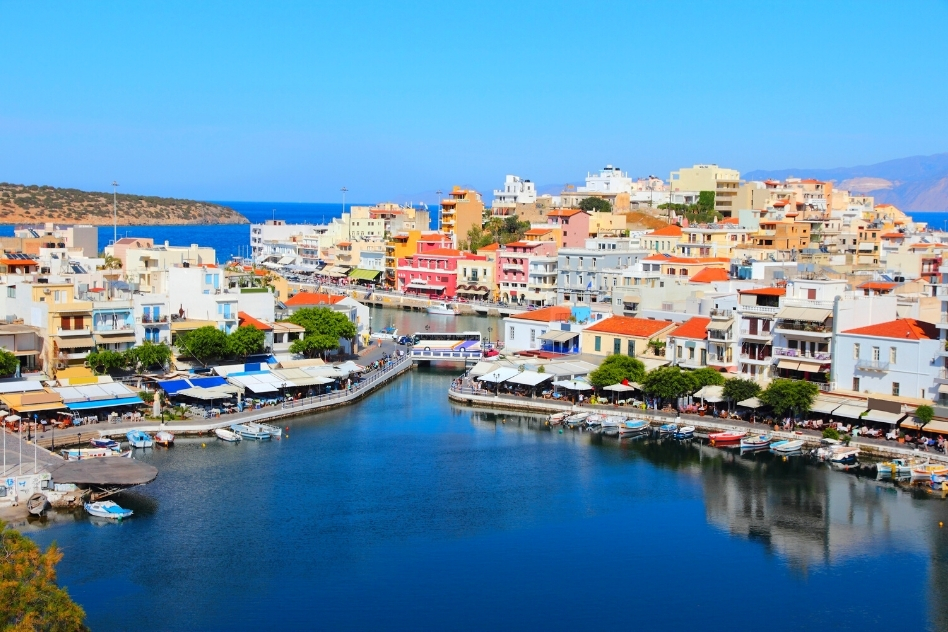 No list of the very best islands in Greece could possibly skip the largest of them all: Crete. Dashing through the southern Mediterranean between the Aegean and the Libyan seas, this one's almost like a country unto itself.
The north coast is where most holidaymakers congregate. That hosts the historical capital of Heraklion, where the striking remains of the Palace of Knossos offer a glimpse into the riches of the Minoan Empire.
If you're looking for a party head to the town of Malia or Hersonissos, awash with shot bars and 18-30s clubs.
Honeymooners and lovers of private beaches will find Agios Nikolaos fantastic.
West coast opens up the charming region of Chania. That's crowned by a gorgeous Venetian city but also threaded with remote beaches like Falasarna and soaring mountains that often come sprinkled with snow (yep – snow!).
---
Santorini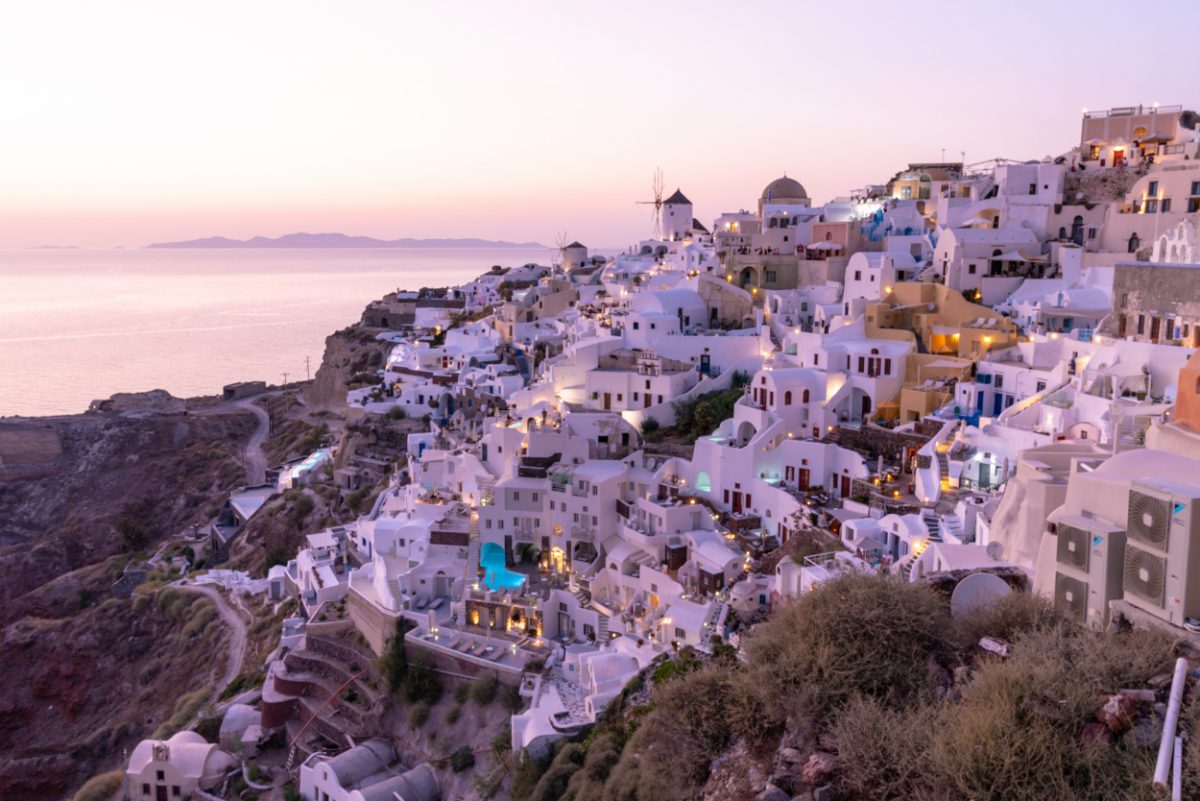 If you've ever seen any travel brochure extolling the beauties of Greece, it's likely you've seen a shot of Santorini. The one's arguably the most dramatic and jaw-dropping of all the isles in the Aegean.
It's set on an ancient volcano that's half-collapsed into the sea, with brilliant-white villages that crown dusty cliffs with their glimmering Orthodox churches and cave hotels.
But, it's not just nice to look at. The spot secures its place as one of the undisputed best islands in Greece by offering age-old archaeological dig sites, acclaimed wineries, luxurious B&Bs (perfect for a honeymoon), and some of the finest sailing territory in the country.
Personal recommendation: book a place with a pool. It gets very hot in Santorini and you definitely want to cool down. Lots of small streets of Oia are blocked off with "private property signs", so if you want to get THE view you'll have to pay for it by staying at one of the fancier places.
---
Mykonos
for party lovers, foodies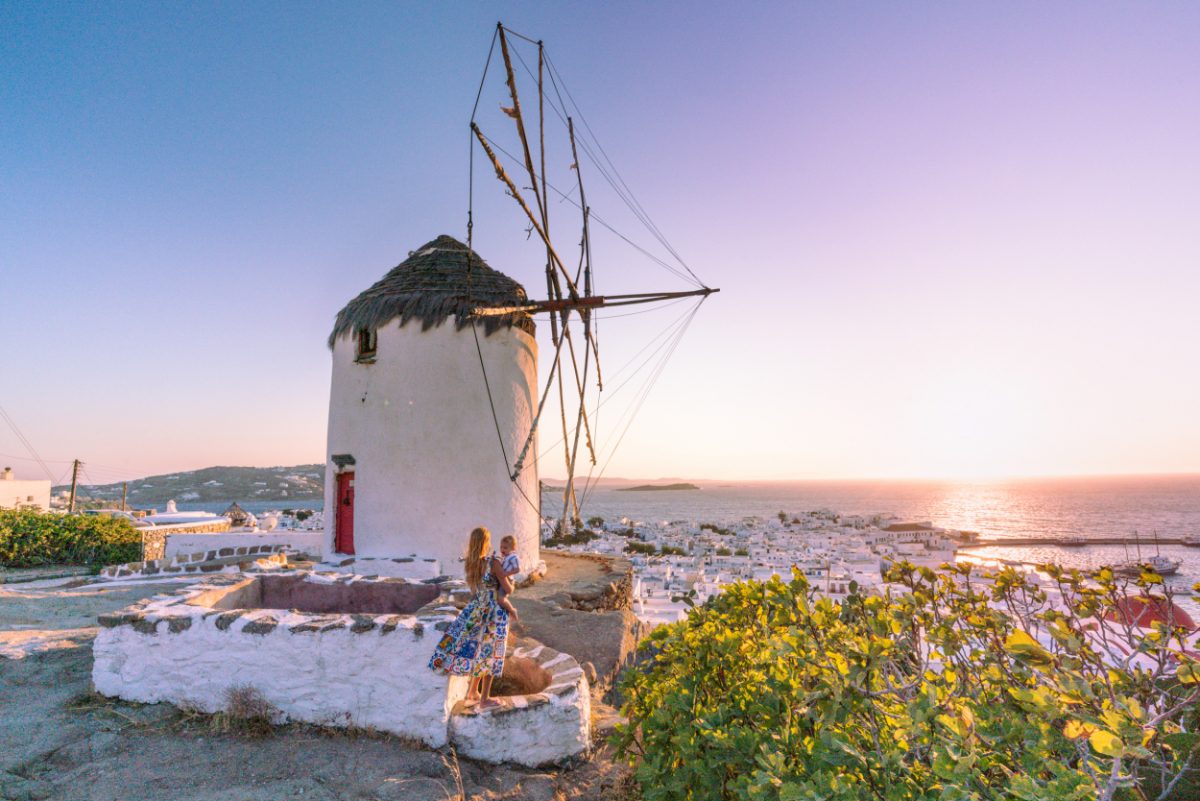 For many travelers planning a Greek island-hopping odyssey, it's a question of Mykonos vs Santorini. But it doesn't have to be. The two are both located in the Aegean Sea, and only 2.5 hours by ferry apart.
You can easily hit the volcanic cliffs of the latter before sailing into the sunset for the first. What awaits is one of the most hedonistic and happening isles in the Mediterranean.
Beneath the creaking Venetian-era windmills of Mykonos Town, you'll find winding lanes beset by beer bars and cocktail joints, along with a particularly attractive restaurant area known as Little Venice – think BBQ fish right by the water.
By day, people tan themselves on the sands of pumping Paradise Beach and Paraga that although very windy are pretty with shallow waters. By night, they dance and drink until the early hours.
---
Santorini vs Mykonos
Many travelers are wondering whether they should stay in Santorini or Mykonos. If you don't want to hit both islands, here's my opinion on what to pick.
If you're traveling with little kids I'd say Mykonos is a better option due to the stairs in Santorini.
That said, if you have difficulty walking up the stairs Mykonos would also be your best bet.
For honeymooners, I'd say Santorini.
There aren't really clubs or fancy bars in Santorini, so party lovers should head to Mykonos.
Beach lovers would also probably prefer Mykonos because while there are beaches in Santorini it's not really convenient.
I'll be brutally honest though, I didn't fall head over heels with Mykonos and I think Santorini was great, but after two visits I probably would come back for the third time. My personal recommendations would be Milos and Ios.
---
Ios
for families, beach lovers and tranquility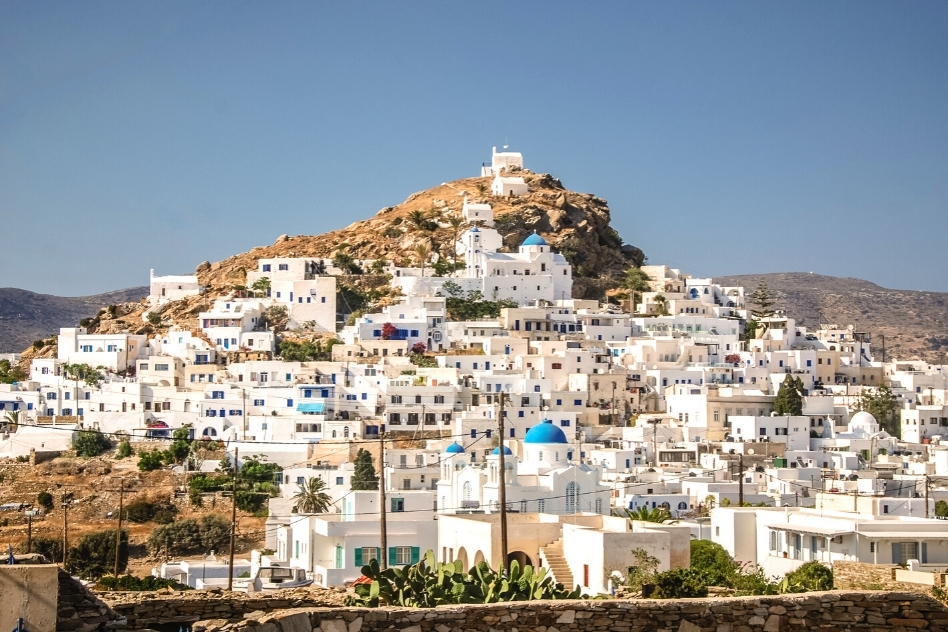 Located about half-way between Mykonos and Santorini lies Ios, with 45 miles of beach and colorful towns.
The famous poet Homer is supposedly buried on Ios. There's also Skarkos, an early Bronze Age settlement not far from the port of Ios.
One of the traditional things to do on Ios is to visit the windmill, but, unlike in Mykonos peacefully without having to hold onto anything for dear like like in Mykonos because of the wind. Ios is home to 12 weathered windmills located high up in the Chora at the top of the mountain slope.
Ios can be a party place and an island to have a peaceful stay at the same time. It's also a fantastic place to visit with kids.
---
Milos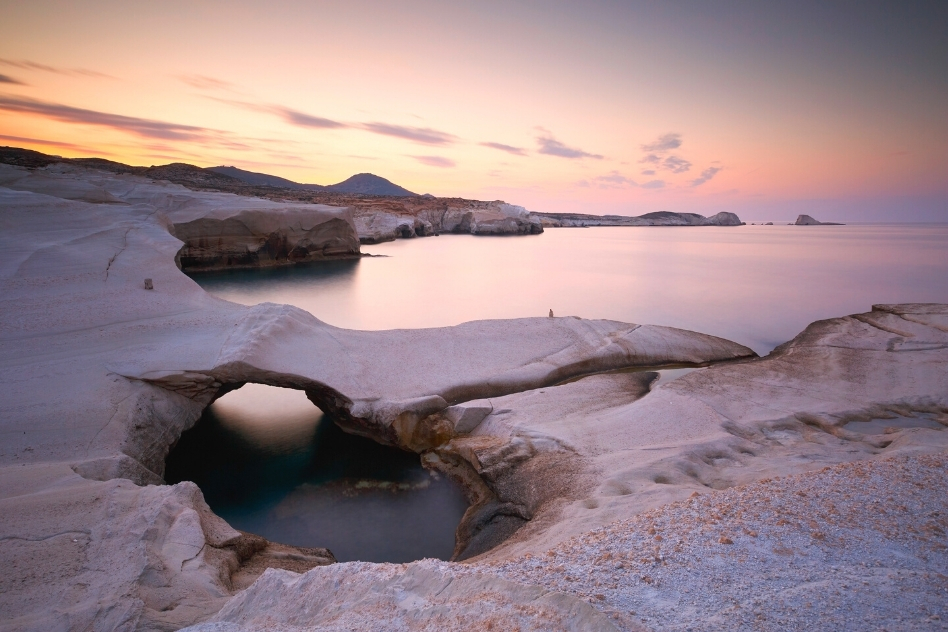 Located about halfway between Mykonos and Santorini lies Ios, with 45 miles of beach. Known as the "Island of Colors" thanks to its jewel-colored waters and building painted in vivid primary tones.
Its quiet towns combined with aquamarine waters perfect for cliff jumping in Kleftiko Beach are pulling in more tourists every year, so definitely get there now before it turns into another Mykonos in terms of crowds and prices.
If you get off the path you'll also find hot springs and gorgeous view points.
---
Folegandros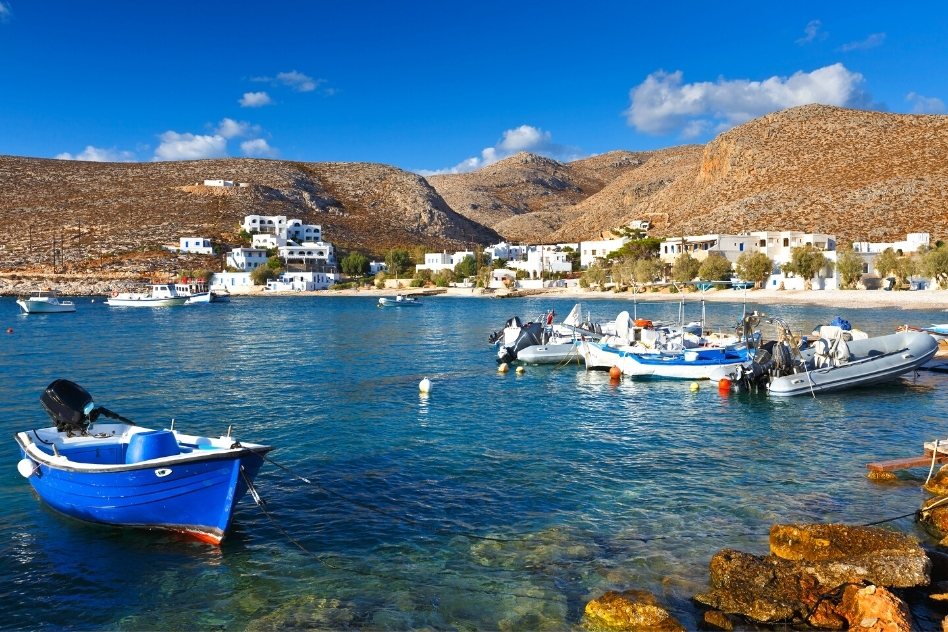 Forget the old debate of Mykonos vs Santorini, because there are all sorts of other options in this wonderful corner of the Aegean Sea. Folegandros is certainly one of them.
Quieter than the most popular Greek islands that swirl around it, this Cycladic jewel is an unexpected bout of soaring mountains and eye-watering sunsets you definitely won't forget in a hurry.
The epicentre of it all is the come-get-lost-in-me village of Chora. It's considered one of the most enchanting in the region, what with cobbled lanes that weave this way and that in a labyrinth of stoop cottages, tiny squares dotted with cafés, and alleys shaded by blooms of bougainvillea.
For the evening, visitors make their way up a zigzagging path to the amazing Church of Panagia, from where sweeping panoramas of the Aegean are on offer.
---
Poros
for off the path travelers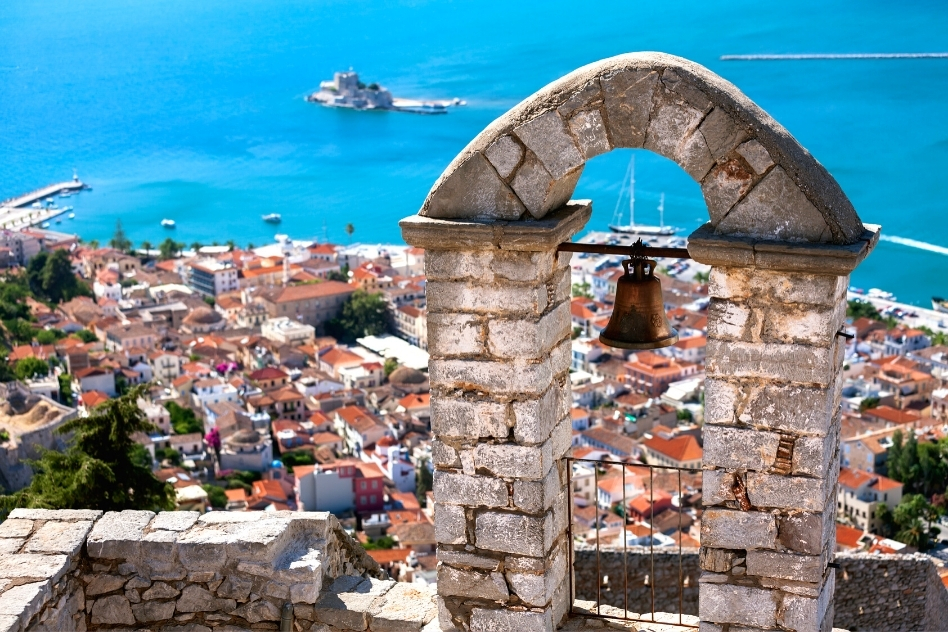 Poros is the poster boy of the Saronic Gulf. That places it really close to Athens and means it's one of the more accessible spots for travelers wondering where to go in Greece after seeing the UNESCO sites of the capital.
It's only an hour's ferry can whisk you straight across from Piraeus (Athens's port) to the harbor of loveable Poros town, which cascades down a rocky slope to a marina fringed with flower-strewn tavernas and bobbing catamarans (Poros is one of the best islands in Greece for sailing).
Behind that is the island proper. Cycle or drive over the isthmus to reach it and you'll be rewarded with secluded coves that have enchanting names like Love Bay. There are also a few off-the-beaten-track ancient ruins, along with mountain summits clad in fragrant pine forests.
---
Rhodes
for families, beaches and culture lovers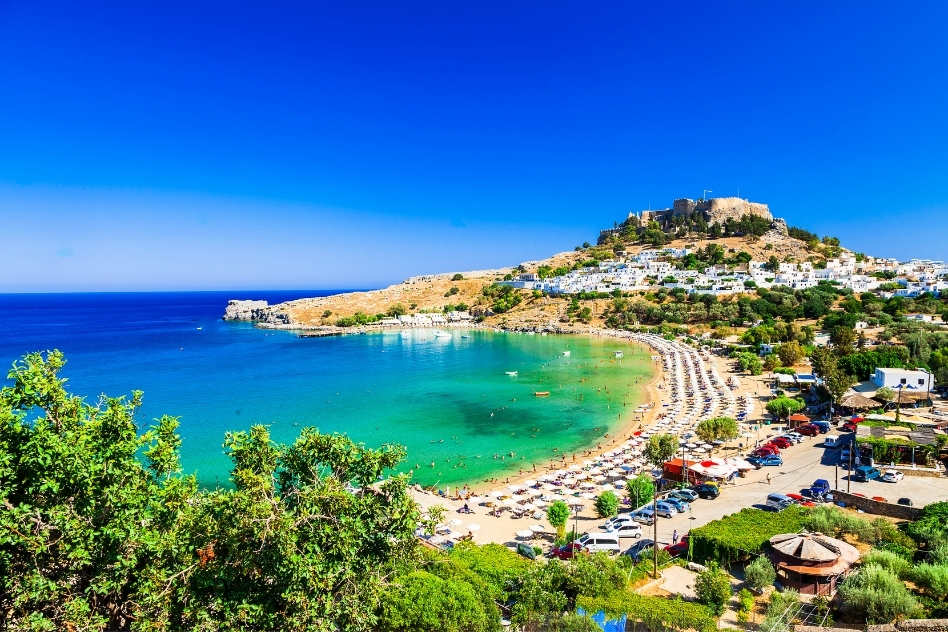 Mighty Templar citadels loom on one side; empty valleys rise and fall with dashes of Aleppo pine and laurel forests on the other.
Olive groves dip down to pebbly shores where see-through waters lap against the stones here. Cobbled streets weave around vine-strewn tavernas that sizzle with fresh-caught fish and saganaki cheeses there. It can only be Rhodes.
A doozy of a Greek island for any culture vulture, it's blessed with UNESCO castles and the old site of one of the Wonders of the Ancient World.
Venture along the southwest coast and you'll soon find the glowing beaches of Lindos – that's for the R&R seekers. Before them comes Faliraki, which is Rhodes's rollicking answer to Ibiza.
---
Ithaka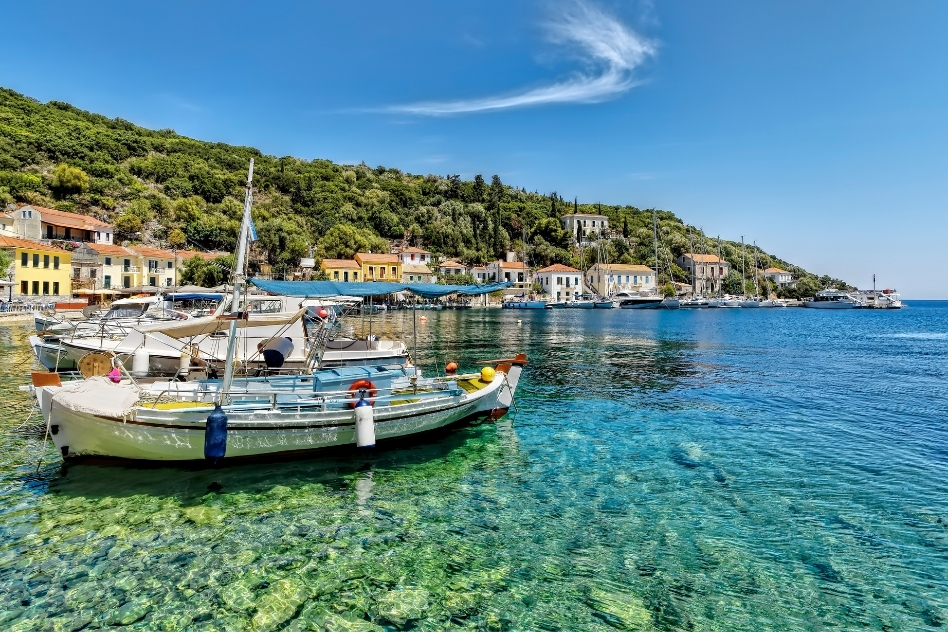 Small but stunning, Ithaka is proof that – at least in the gorgeous reaches of the Greek Ionian – size doesn't matter one iota.
The isle is known as the supposed home of the great hero Odysseus. The epics say it took him 10 years to return here after the Trojan War. It's easy to see why he was so determined to arrive.
Eight-shaped like an egg timer, the island runs between Kefalonia and the coast south of Preveza. It's almost entirely walkable from the main town of Vathy, which is a picture-perfect array of painted cottages and stone-built fishing huts crammed with tavernas.
For a true adventure, strap on the hiking boots and pack the swimming gear. Bays like Filiatro Beach and remote Polis Beach to the north are all connected by weathered donkey trails.
---
Naxos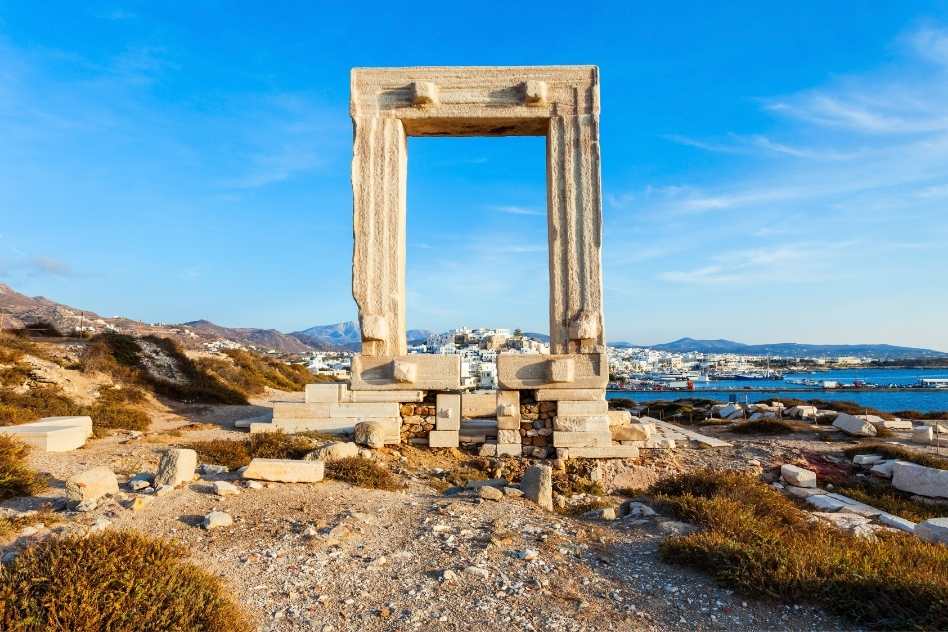 Naxos is the largest island in the Cyclades. But, it's more peaceful and greener than any other island of the region.
The Temple of Apollo, Portara, is the most well-known landmark on the island. You can hike around lush mountainous landscapes on Naxos, windsurf and kitesurf in perfect conditions, and stuff your face with delicious yet affordable food.
---
Hydra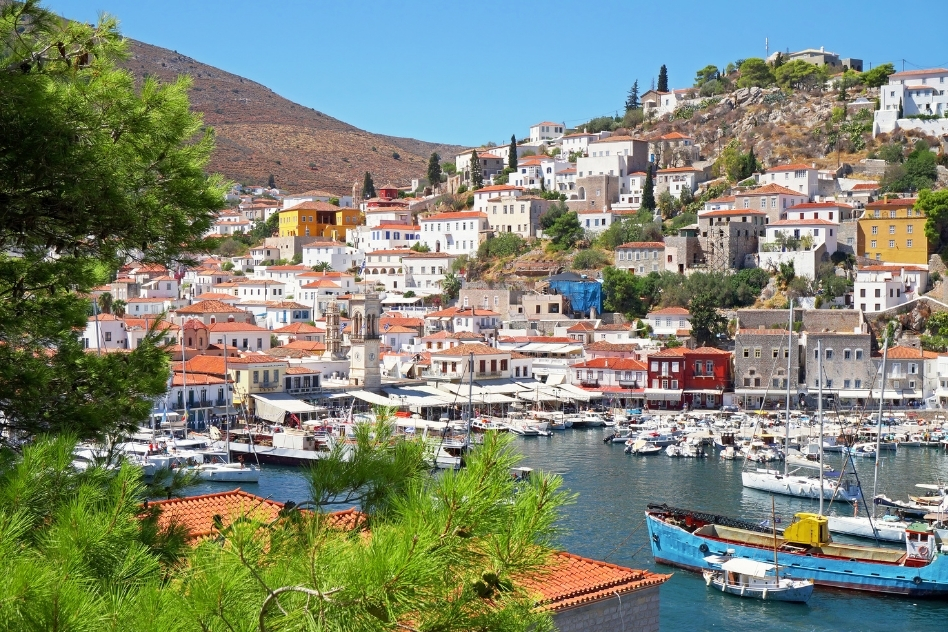 Like the fabled sirens, Hydra has charmed artists of all shapes sizes in its time. Leonard Cohen once came to write his plaintive tunes under the gaze of rock-topped Mount Eros.
Sophia Loren was seduced by the pine-studded cliffs and time-stood-still harbor village. The place continues to beguile all who come its way, flaunting rows of handsome stone mansions dating to the early 1800s and some of the clearest waters in the whole of the Saronic Gulf.
More than anything, Hydra makes its name by being totally car-free. That instantly renders it one of the best islands in Greece for real relaxation and escape.
You won't hear a single toot of the horn or purr of the engine as you hike the coastal path along the north shore. It's just the clip-clop of pack donkeys and the ceaseless rhythm of the sea.
---
Paxos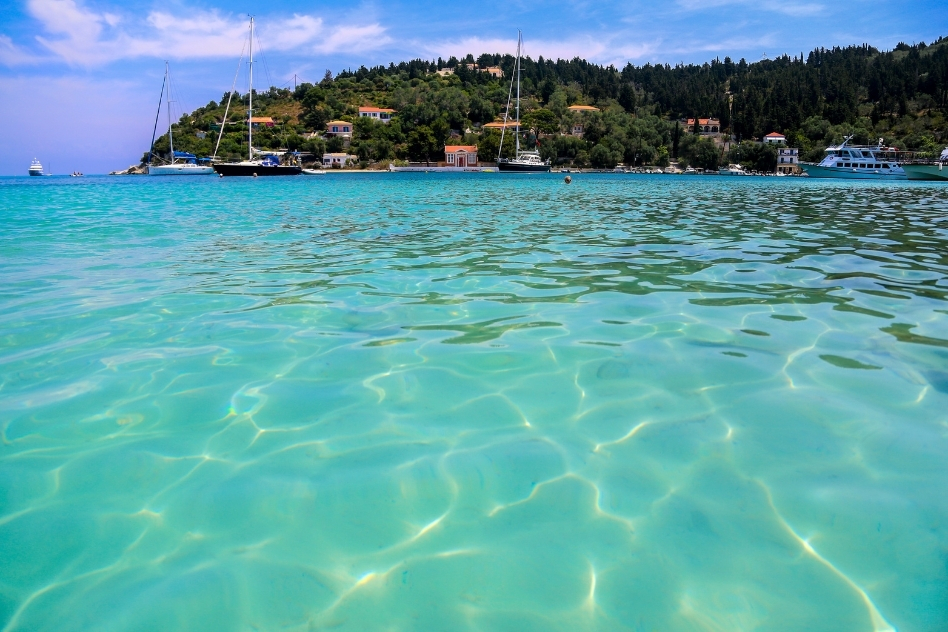 Paxos seems happy to sit out of the spotlight in the impossibly-blue waters south of Corfu. But it's slowly being discovered by folk after a Greek vacay away from the booming crowds. A ferry is the only way to arrive (there's no airport here).
That brings you to a diminutive marina town that scythes along a protected bay with its white-painted coffee shops and cottages. It's just one example of the sort of charming hamlet that Paxos offers by the bucket load, from delightful Longos to buzzier Lakka right up north.
You can drive, but you'll hardly need a car on Paxos – the trek from end to end is a mere two hours in all. What's more, hoofing it can open up a plethora of wonderful country paths. They're delineated by drystone walls and regimented rows of olive trees and can whisk you to hidden coves where there's not another swimming soul in sight!
---
Skiathos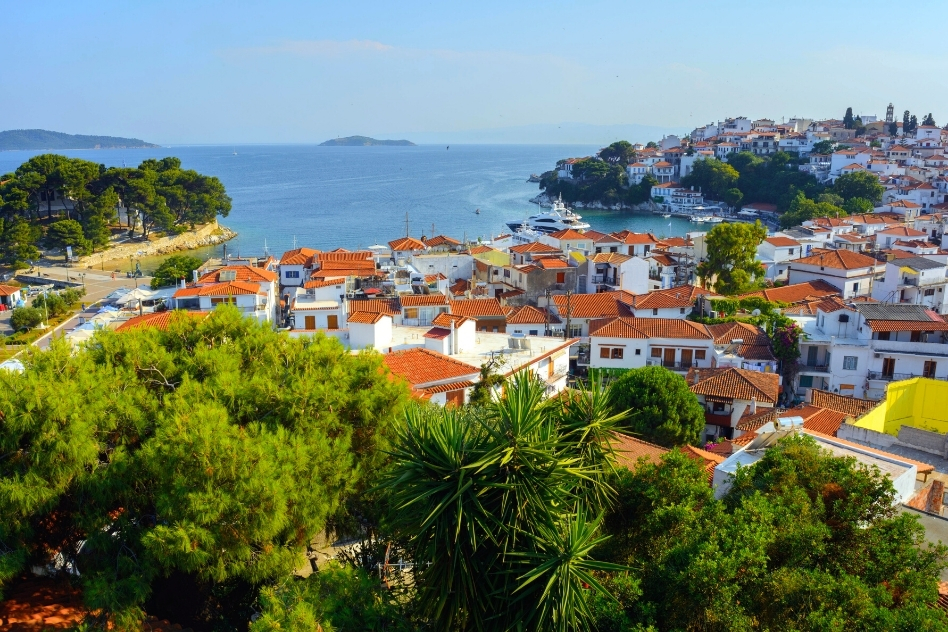 Skiathos remains the hottest property of the Sporades island chain. It's long been one of the undisputed best islands in Greece for family holidaymakers, who mainly come in search of the long and sandy blue-flag beaches that ring the whole coastline – something of a rarity in Greece, believe it or not. That also means you shouldn't find it hard to bag villas with pools, lovely B&Bs, or beachfront hotels.
When you're finished topping up the tan, there's an altogether different adventure on offer in the Skiathos hinterland. Rarely trodden by the fly-in vacation crowd, it's a wonderworld of vaulted mountains covered in fig and oak and pine trees. Old Orthodox monasteries and centuries-old citadels that now stand in ruins beckon anyone willing to hit the trails in those parts.
---
Symi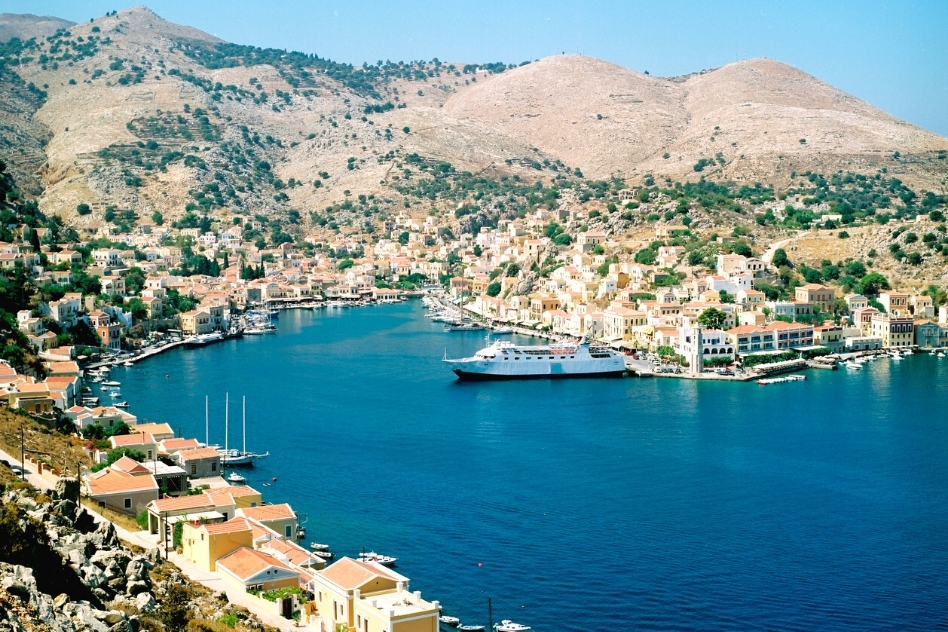 There was a time when Symi was a truly off-the-beaten-track gem. These days, it's surely one of the most popular Greek islands of all. Why?
Just one glimpse at that pastel-painted array of handsome Venetian mansions that haloes the main harbor and you're likely to be seduced into staying longer than you planned.
The truth is that Symi is closer to the Turkish coast than to its gateway island of Rhodes. That imbues it with a real frontier character, and the lands behind the taverna-filled harbour (now laced with kitchens run by celeb chefs!) are wild and feral. They soar to peaks hundreds of meters high, and drop down to coves and beaches where yachts bob by crumbling Orthodox shrines.
---
Lefkada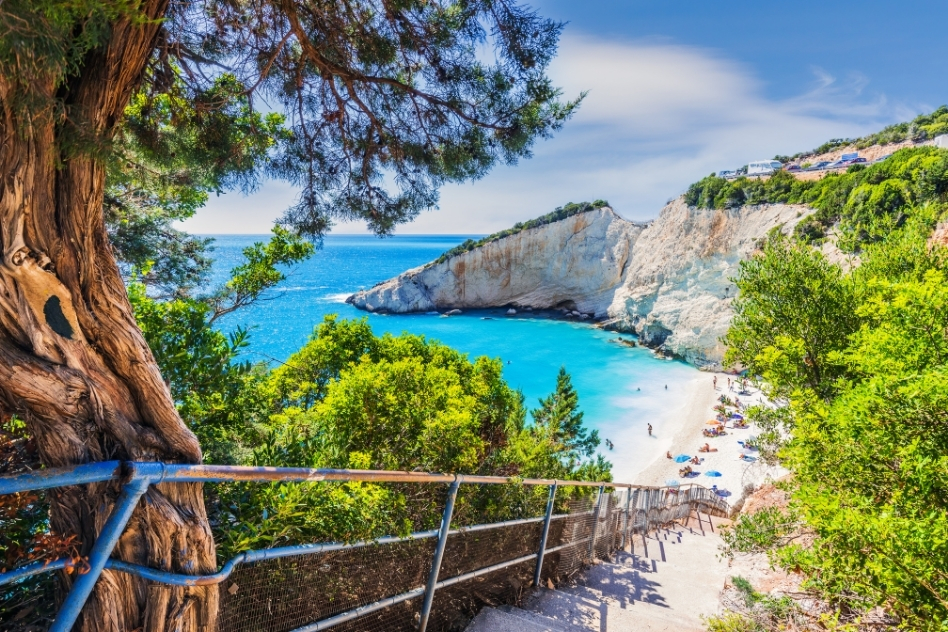 It's hard to ignore the joys of Lefkada. First off, this Ionian isle sits just a short drive south of Preveza Airport, and it's directly linked to the Greek mainland by a bridge.
That convenience is backed up by a lively east coast string of villages that are laden with yacht charters, boat rentals, and watersports outfitters.
From windsurfing to jet skiing to buzzing around the nearby archipelago on your own skiff, there are all sorts to get up to.
Beyond that, you'll find a sun-baked southern shore that's cut off from civilisation by a phalanx of mountains. They hide white-sand bays with waters of pure turquoise blue. The only real way to get there is by boat, which really helps keep the crowds down.
---
Astypalea
for history lovers and secluded beaches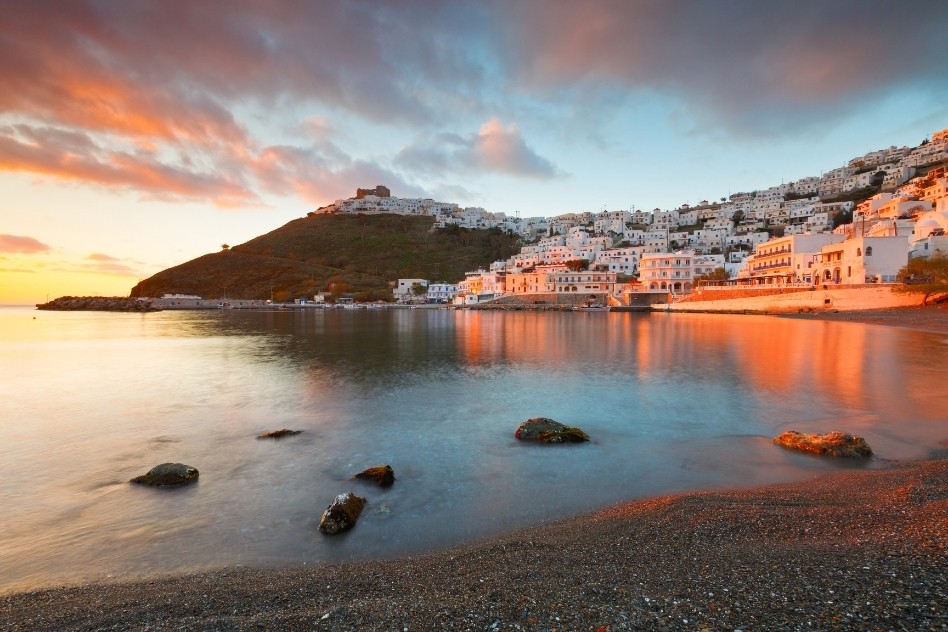 Astyp….where? Yep, we hear ya'! This one's never going to get on the charts of the most popular Greek islands, that's for sure. You'll find it set adrift on the fringes of the Dodecanese chain; a butterfly-shaped block of brown-paper hills and scrub headlands.
The distance from major hubs like Santorini and Mykonos and Rhodes means there's hardly a soul here compared to other hotspots. But that only adds to the adventure…
Start in the Chora town, with its age-old windmills and Game of Thrones-style citadel, built by the Venetians hundreds of years ago. From there, you can break away to the haunting Monastery of Saint John or delve into a fascinating local archaeological museum.
When it comes to beaches, Astypalea excels in seclusion. Just look to Agios Konstantinos or the coves of Kaminakia to find yourself all alone.
---
Zakynthos
for families, beaches, and adventures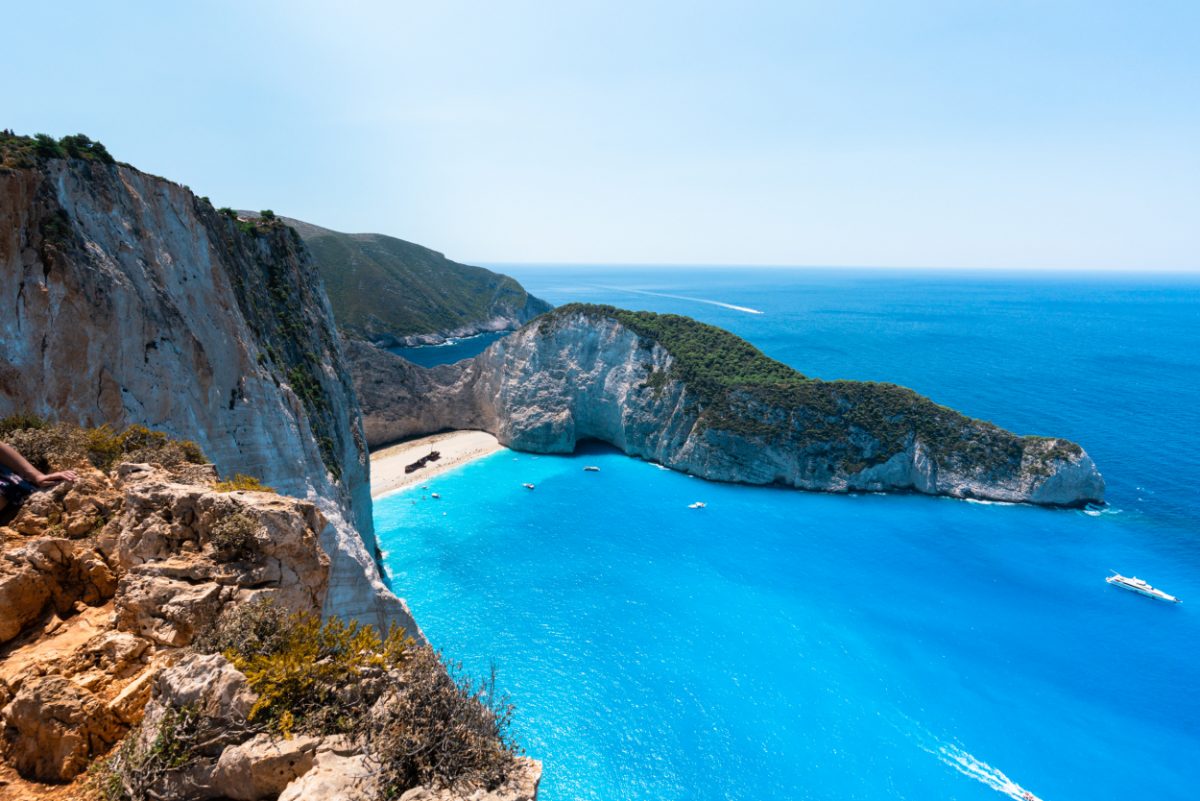 Known for its Navagio Beach (the one with the shipwreck) and dramatic cliffs, Zakynthos is a well-known island.
Summer sees the biggest crowds as tour groups often put Zakynthos on the itinerary. Yet, you can surely go off the path and never see a single soul apart from a local farm in a close proximity.
The island is super family-friendly with plenty of things to do with little ones. Boat tours, beaches, many restaurants even have play areas.
---
Amorgos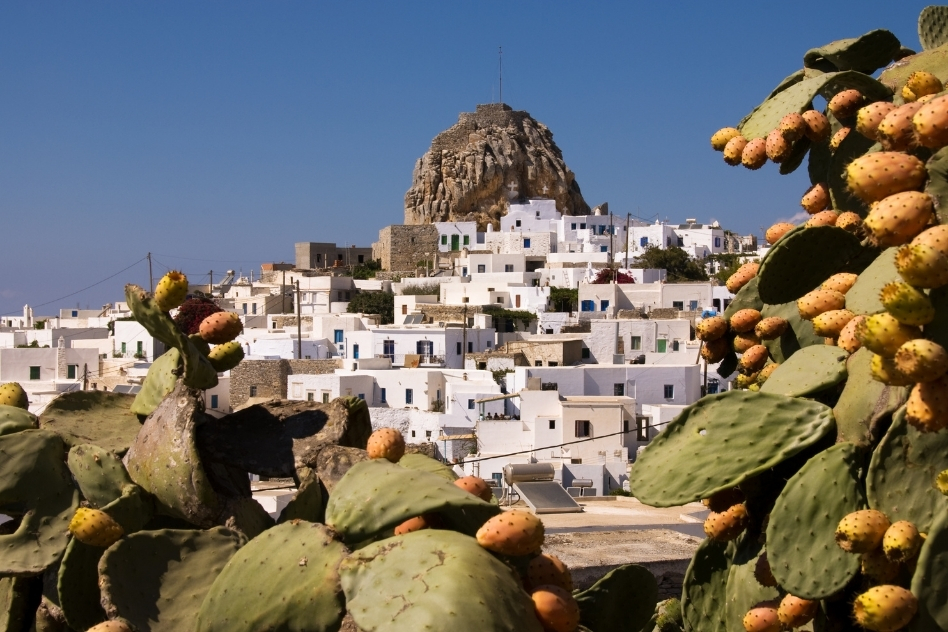 Like the famous embroideries made by the weavers of Amorgos, this island is a resplendent fabric that's lovely to behold. High coast mountains and sheer-cut cliffs flank the little beaches and black-sand coves.
There are winding hiking paths trampled by horses and donkeys. There are ancient, earthy religious sites to get stuck into (check out the Hozoviotissa Monastery – majestically wedged into a break in the rocks).
The beaches of Amorgos are seldom sand affairs. This is rugged territory, where dramatic lookout points are the norm. There are plenty of places to swim, of course, but you'll need to be ready to hop straight off a rock and into the Aegean!