If you're not aware yet, Santorini is one of Greece's biggest draws. Millions of visitors arrive each year to glimpse its jaw-dropping landscapes and cobalt seas. Others come to laze in private pools and soak up some hard-earned R&R in the best hotels in Santorini, which can take luxury to all new and dizzying heights!
The island itself is a stunner. It's not your traditional Greek medley of pines and eucalyptus and wave-lapped beaches. Instead, it's a breathtaking amphitheater of cliffs that was actually once an ancient volcano.
At its heart is the so-called caldera. The onetime tip of the volcanic dome, it's now a flooded bay of sky-blue Aegean water, dotted with small islets and blessed with arguably the most majestic sunsets in the world.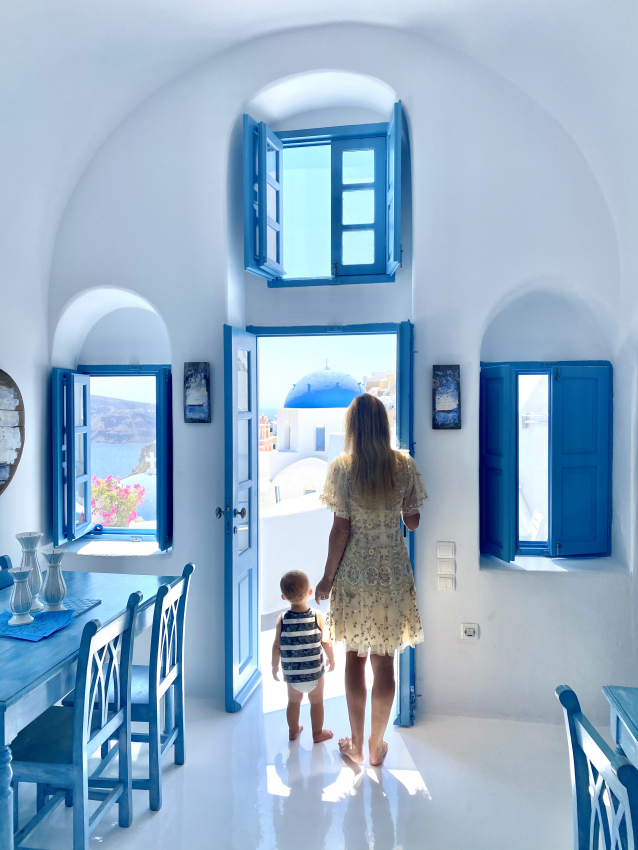 ---
Where to Stay in Santorini
When you think of best place to stay in Santorini you probably imagine the white buildings with blue roofs of Oia. The small village of Oia is surely the most iconic of the island, but it's not the only place to stay.
Oia gets very crowded during the day when everyone is out and about and day trippers from different islands are coming to visit. In fact, I was one of those day trippers once when I visited Santorini for the first time as a teenager while staying in Crete.
I'm not going to lie – the sunset is Oia is the definition of madness with crowds and crowds of people pushing through the streets. Because of how Oia is built on the side of the cliff your windows, whether it's a bedroom or bathroom, are basically facing the small path outside, hence why most of these paths are considered private property.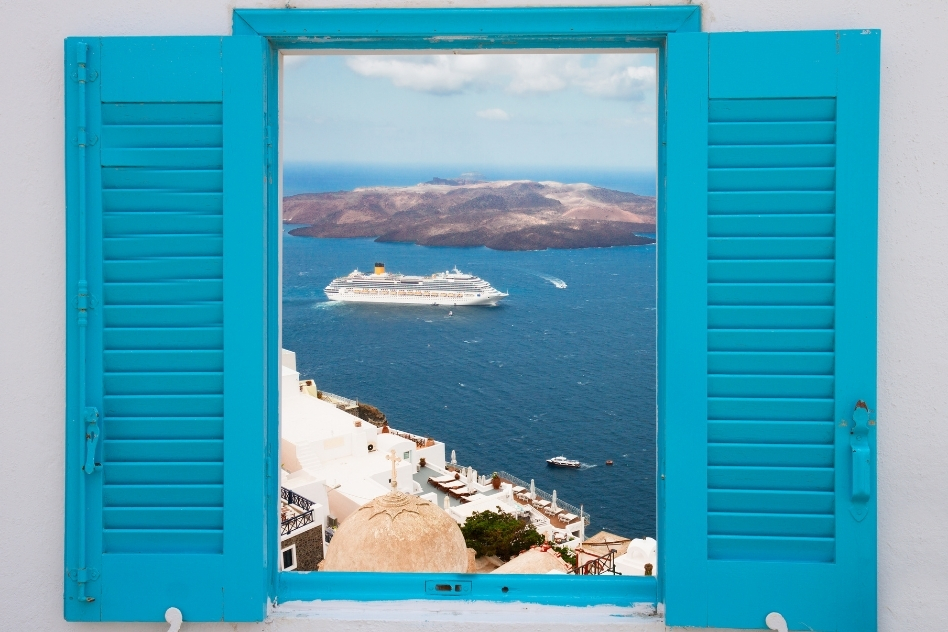 However, many tourists don't respect the rules. During my last stay trespassers were sticking their heads into our bedroom windows nonstop and newlywed couples all dressed up were hopping over the fence to people's terraces for a photo. It was absolute madness. I witnessed a ton of people climbing on churches (despite the giant signs that it's forbidden), or flying their drones (again, ignoring the signs).
The most iconic and well-known place in Oia is Charisma Suites – it's located at the end of the island so it's very peaceful. However, personally, I think different places offer MUCH better views. This is why I recommend:
Take my advice and book a place with a plunge pool or jacuzzi. It gets VERY hot during the day, so a pool is really a fantastic thing to have.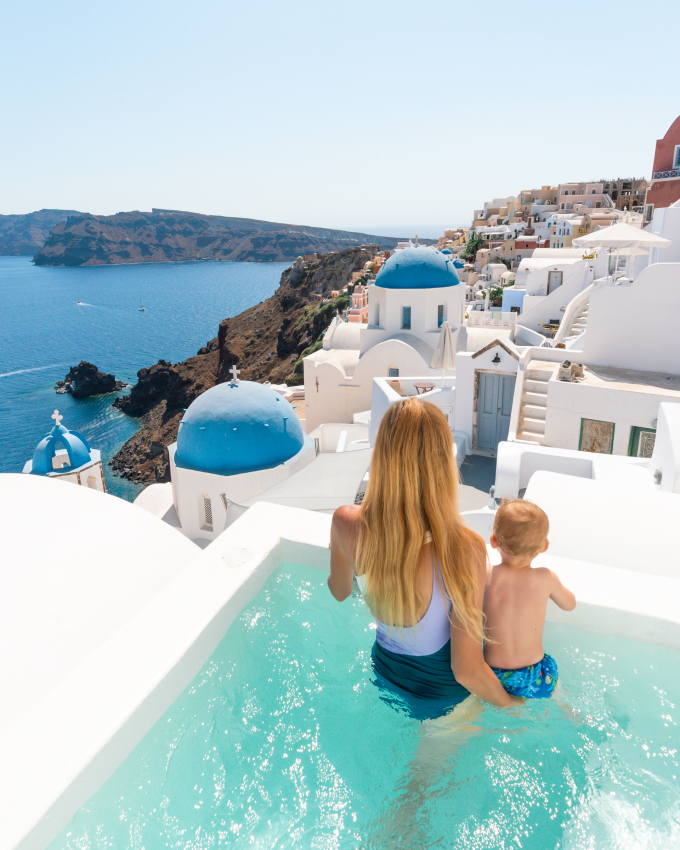 ---
If you want to experience beautiful views without the insanity of Oia then I say stay in Imperovigli. The views are equally beautiful with tranquility.
There are no bad places to stay in Imperovigli, but I particularly recommend either Cilon Suites if you prefer hotels and Dreams Luxury Suites if you like more private apartment-style accommodation.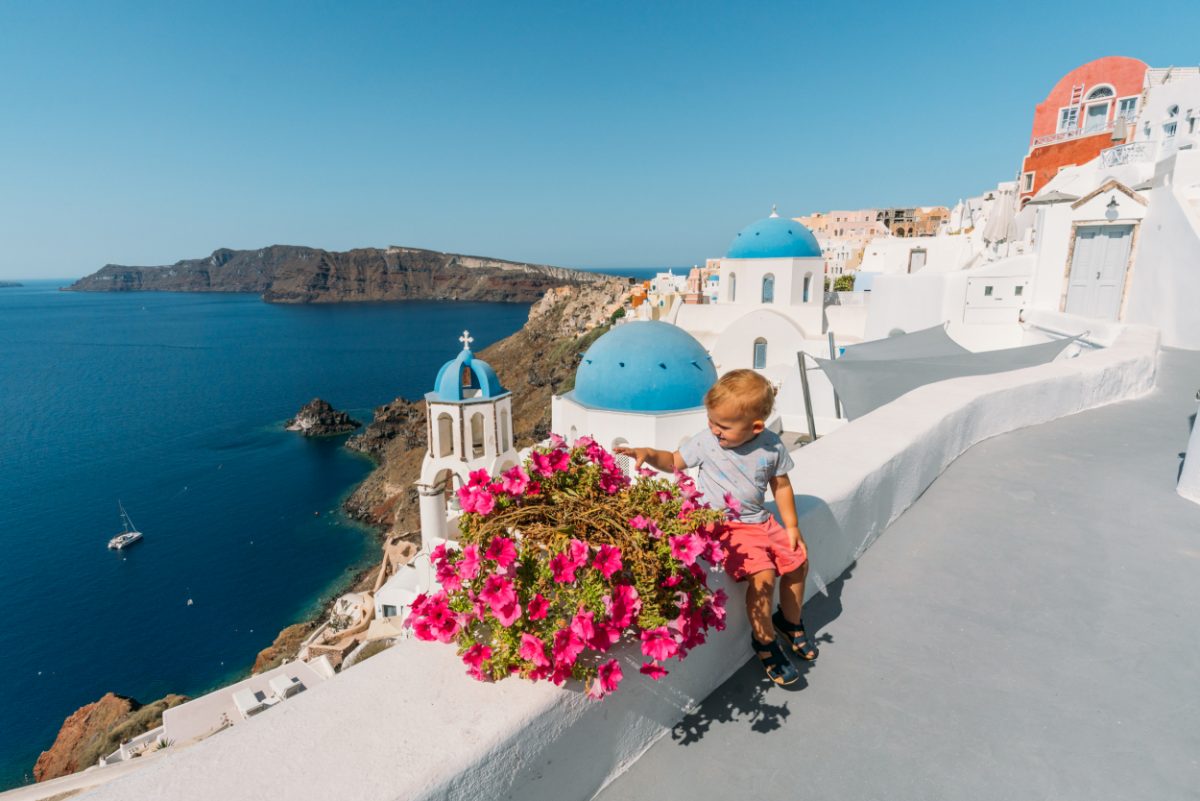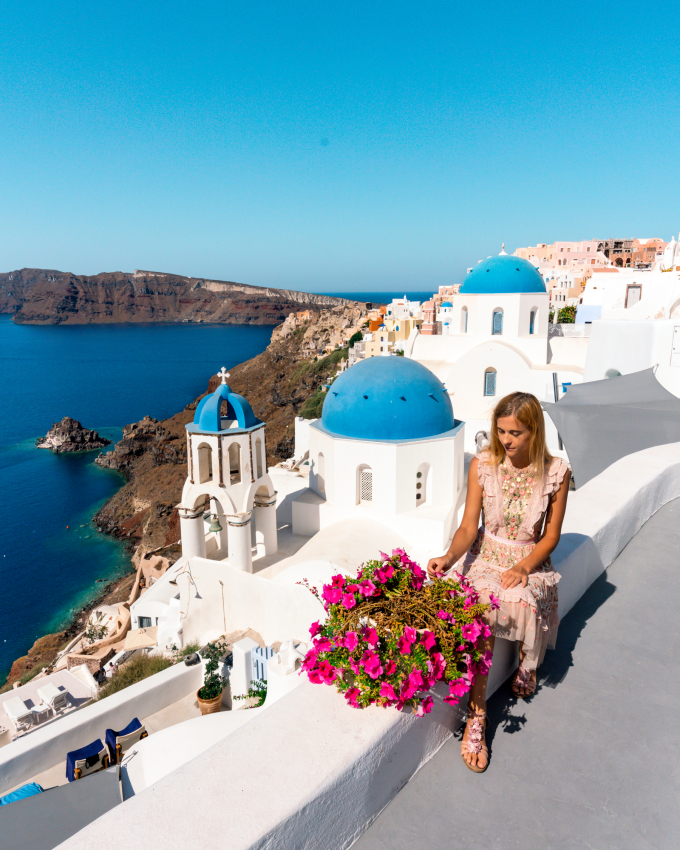 ---
Things to Do in Santorini
If you're wondering what to do in Santorini, then you've come to the right place. This guide ranges across the dramatic volcanic island that sits at the heart of the Aegean Sea to pinpoint the most unforgettable, most bucket-list-busting activities and attractions there are.
It includes everything from ancient historic sites filled with half-crumbled Minoan ruins to intrepid Santorini excursions out across the great caldera and beyond.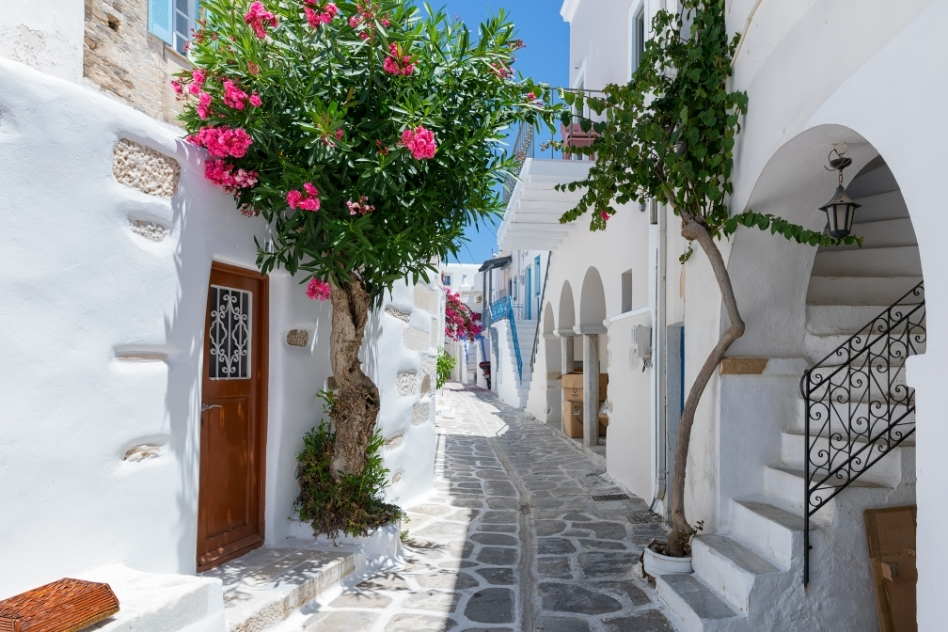 ---
Take in the dramatic views in beautiful Oia
Santorini is known for its juxtaposition of rugged landscapes and quaint Greek villages. The latter drift like wisps of smoke along the edge of the island's great volcanic rim. Most showcase the classic cubist style of the Aegean, with square-cut adobe walls that are painted in a perfect white. Perhaps the most gorgeous of the lot is the small settlement of Oia.
You can find it cascading down the cliffs on the north-western tip of Santorini, a maze of winding cobbled lanes and post box-narrow streets. When the summertime Santorini weather is good – and it very often is! – the houses are a blaze of whitewash and bougainvillea, and oodles of little tavernas beckon you to the nooks and crannies of Oia's old center.
More than anything, Oia is a doozy for views. The town hosts some of the most luxurious and best hotels in Santorini. Loads come with private patios and even infinity pools that gaze out across the wide caldera below. Simply sitting and watching the ferry from Athens to Santorini drift in and out of the bay, or the sunset glowing orangey-red across the peaks, is one of the island's top (not to mention most romantic) treats.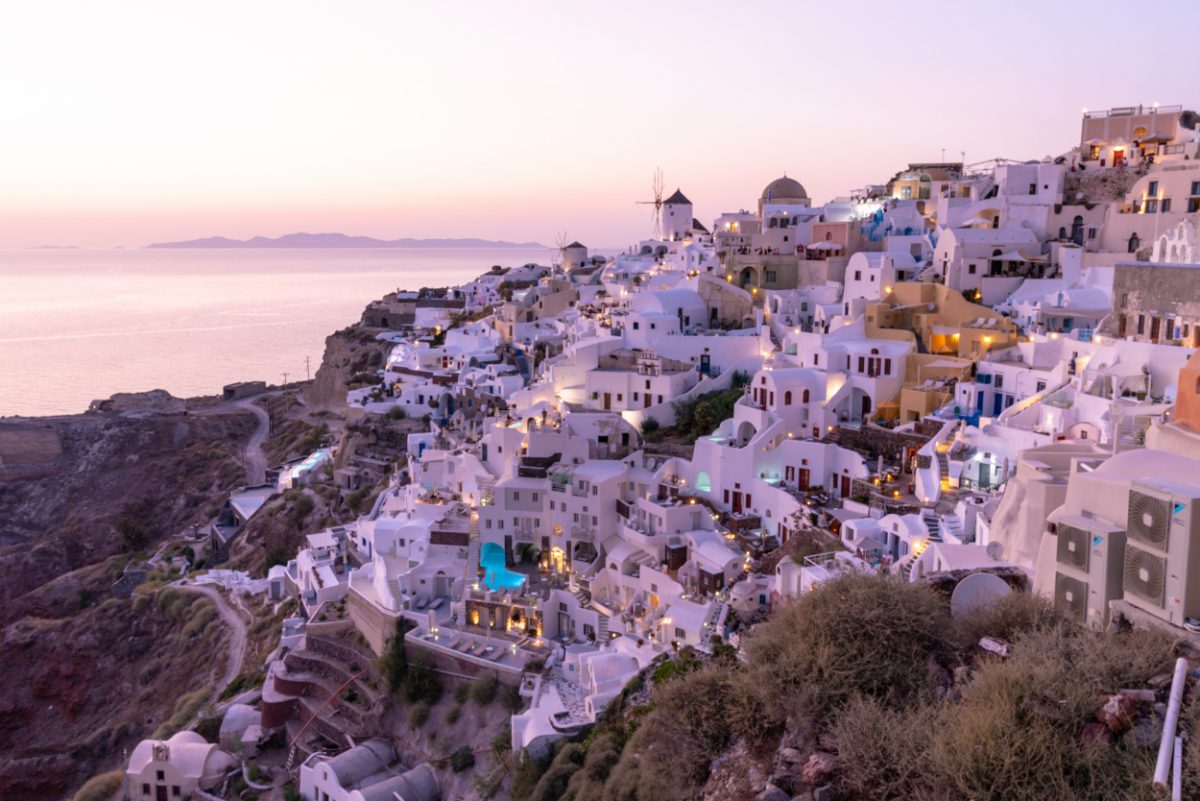 ---
Laze and explore down on Ammoudi Bay
Although the Santorini weather is certainly suited to beach-going, this particular Aegean isle isn't actually known for its beaches. The hard, rust-red rock and dramatic topography mean that there are few traditionally Greek coves with pebbles and swimming spots.
Ammoudi Bay is an exception. It spreads under high cliffs just below the village of Oia, offering a dash of the stony shore where you can bathe and snorkel amid the tide pools.
Ammoudi Bay also hosts a small Greek port and harbor. Its history goes back some centuries, to when Santorini was a largely unknown speck on the Mediterranean map. So, expect time-stood-still fishing cottages and paint-peeling fishing skiffs, all bolstered by a few of the island's most acclaimed seafood tavernas – if you want to eat there I recommend Sunset in Ammoudi Tavern.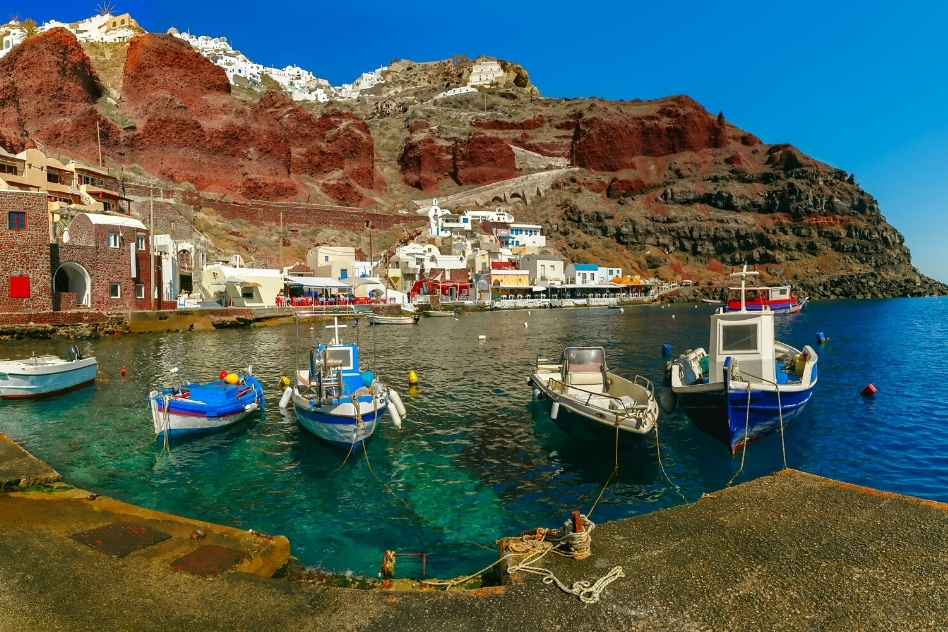 ---
Uncover ancient history at the Akrotiri Archaeological Site
History buffs wondering what to do in Santorini should make sure that the enthralling Akrotiri Archaeological Site is close to the top of their priorities list.
Located on the far south side of the island, it's among the most eye-opening of all Santorini excursions. Visitors get to delve into a 3,700-year old Bronze Age settlement that was encased in ash during a major volcanic eruption. It's like Greece's answer to Pompeii in Italy…
Features include walk-through village scenes of uncovered homes and marketplaces. Some even still bear frescoes and murals that were painted nearly four millennia ago! You'll also get to see loads of pottery and trade wares that prove the onetime importance of the town of Akrotiri and Santorini as a whole during the age of the Minoan Empire.
Get Wowed by Red Beach
Red Beach is another of the things to do when you're pining for a cool down after sightseeing in the hot Santorini weather. It's not the best for laying out the towel and spending the whole day sunbathing.
It's a corker for taking eye-catching shots of the Santorini coast and dipping into the Aegean. Look for the spot on the south coast, where it's accessible by either boat taxi or a steep and zigzagging path from the high headland above.
As the name implies, Red Beach is red. Behind the narrow sliver of volcanic pebbles and boulders by the shore, you'll see vast walls of ochre-, rust-tinged stone that rises like a natural castle over the sea. Because it's stony, not sandy, the sea is also famously clear.
Be sure to bring the snorkeling gear and go for an adventure around the little inlets and coves to the west and east – glimpses of fish schools and strange underwater rock formations abound.
Important: keep in mind that the access to the red beach depends on the weather conditions. When I went we were unable to stop there due to strong winds that day.
Take a Santorini excursion to Therasia
There's a regular ferry from the ports of Fira and Ammoudi Bay to the remote isle of Therasia, which sits to the west of Santorini proper, out on the edge of the caldera zone.
Home to just 300 or so permanent residents, it's way quieter than its next-door neighbor and offers a glimpse of more rustic, untouched Aegean Greece.
Expect to see drystone farmhouses and small fisherman shacks when you arrive, which soon give way to the backcountry of dusty gorges and scrub.
The small town of Manolas is the island's capital. It's a pint-sized conglomeration of white-painted Orthodox churches and stoops cottages. There are a few chilled tavernas there selling uber-fresh Mediterranean seafood and Greek salads.
Closer to the western shore on Therasia is where you'll discover the unique beaches, many of them sporting shadowy black sand and undiscovered swimming spots.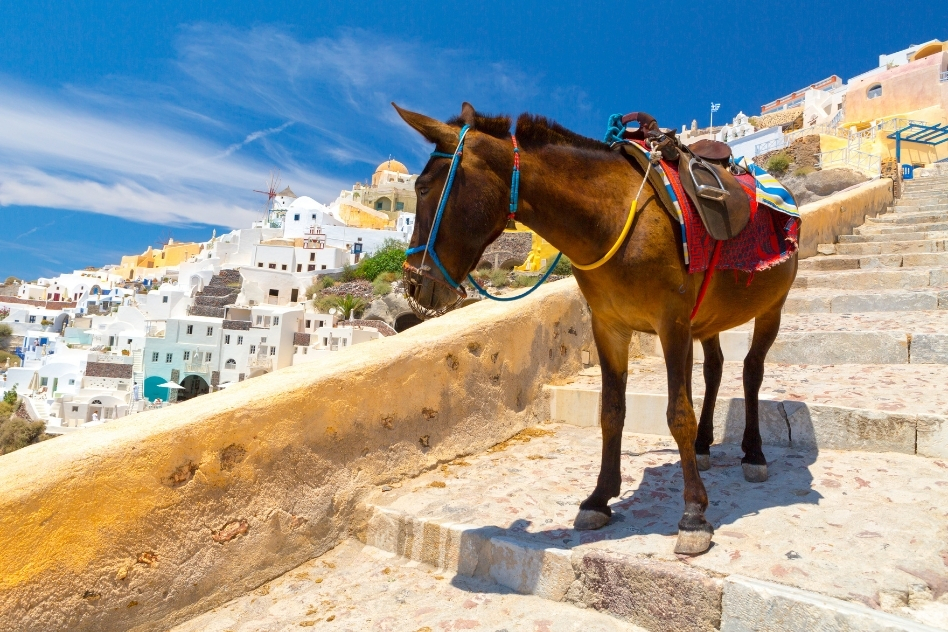 ---
Hike from Fira to Oia
If you're feeling energetic and find yourself wondering what to do in Santorini, look no further than the legendary hiking path that runs all the way between the island's two main towns.
It begins in the capital of Fira, where you can start the day with a gritty Greek coffee overlooking the breadth of the caldera. Then, the route weaves northwards over dirt tracks and donkey paths, first pit-stopping in soaring Imerovigli village before offering up panoramic lookout points atop the sheer cliffs near the white-and-blue church of Profitis Ilias.
Some tips: Be sure to have the camera fully charged. This route is among the most dramatic trekking paths in the whole of Greece – nay, Europe. The views are predominantly of the Aegean Sea and the distant island of Therasia, but you also get to explore the smaller hamlets and villages of Santorini along the way.
I'd also recommend a comfy pair of light shoes. Santorini weather tends to be hot in the summer, while the hike takes around 2.5 hours one way in total, so it's not short. If you're planning on bringing kids, I say take a hiking backpack for them just in case.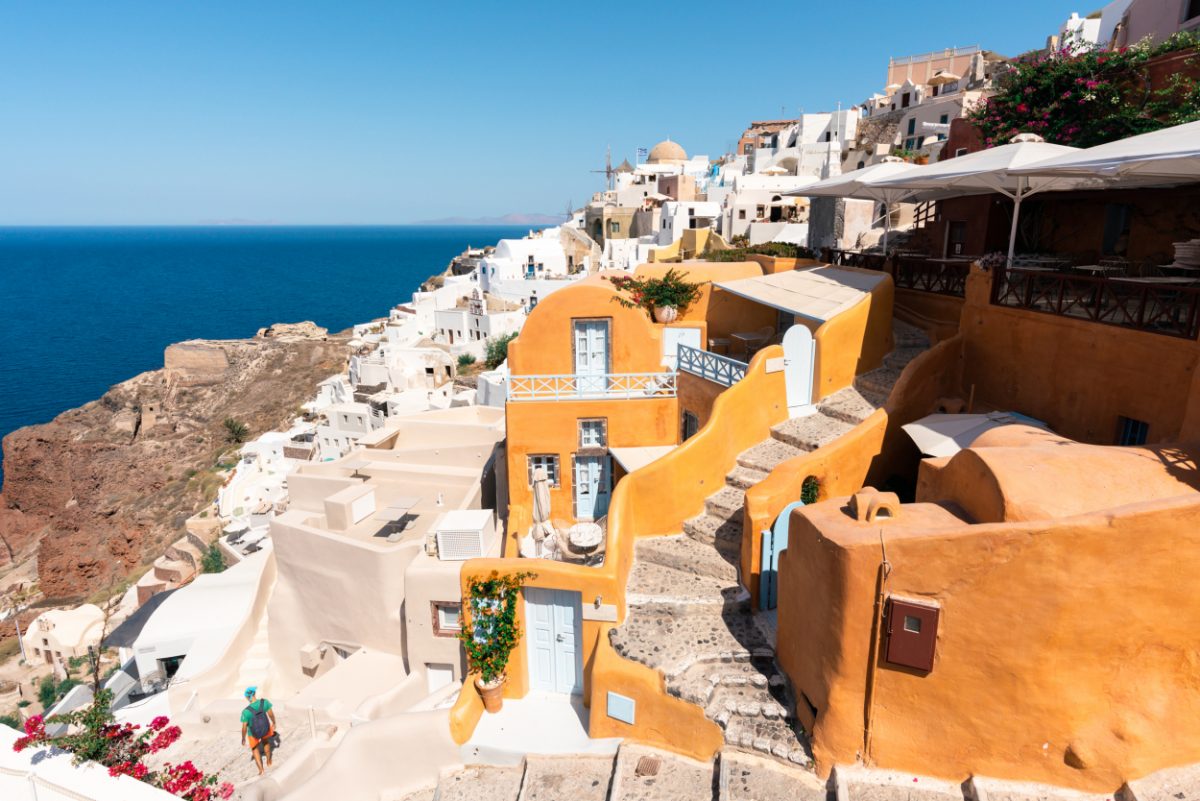 ---
Go on a Sailing Adventure around Santorini
Ask any local and they'll tell you – the only real way to see all of Santorini is by boat. In fact, taking to the waters with a flapping sail above your head and the salt spray in your face is something of a Greek tradition.
When it comes to this corner of the Aegean, it's also your chance to check off one of the true bucket-list Santorini excursions.
Sailing trips can last a single day or multiple days. They invariably whizz right across the main caldera to showcase smaller islands like Aspronisi, Palaia Kammeni and Nea Kammeni – look out for the gnarled lava stones that dot the beaches of those.
It's also possible to sail around the south coast for eye-watering views of Red Beach from the water. What's more, there are some coves and beaches that are almost impossible to access by land.
Your sailing adventure could be your ticket to those, along with the lesser-known sandy beaches of Perissa and Monolithos (a windsurfing haven) on the eastern shoreline.
My tip: Make sure to book your sailing trip in advance, because excursions are usually fully booked. I think the best part of this trip was swimming in a volcanic hot springs.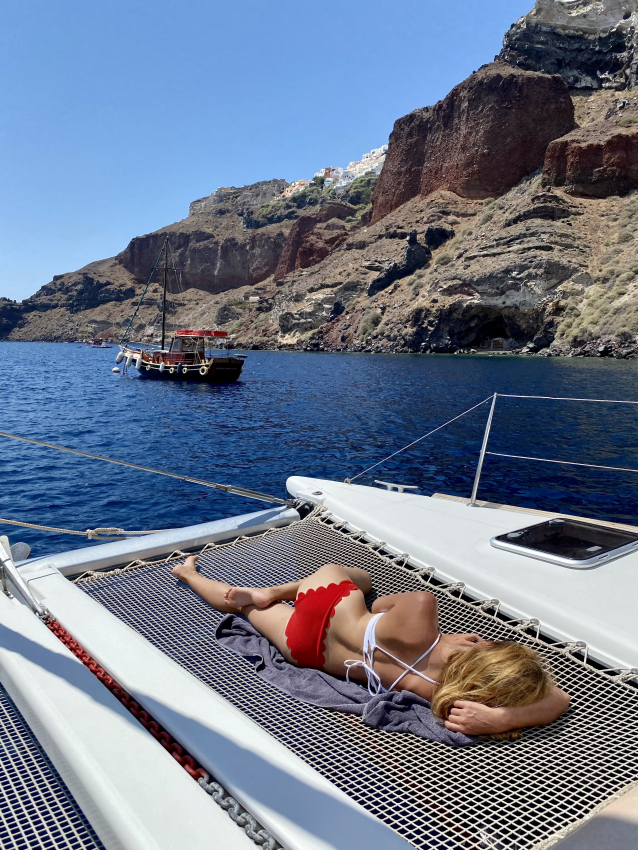 ---
Set aside time for Fira – the island capital
Anyone wondering what to do in Santorini can't go wrong if they plot a course to the enchanting capital of Fira. Steeped in history and looking downright gorgeous thanks to a caldera-top setting and cubist Greek tavernas aplenty, it's an amazing place to get stuck into the history, hertiage, and lived-in vibes of the isle.
The town is a maze of wiggling, weaving alleys where pack donkeys transport tourists between their B&Bs and the port area below. At night, you'll find oodles of little cafeterias selling cold beers and cocktails to a backdrop of blazing sunsets.
For the culture vultures, Fira has other highlights. You'll want to drop by the amazing Archaeological Museum of Thera. It's packed with exhibits that chronicle the long and ancient past of the whole island, with pottery from the Archaic and Hellenistic periods, along with rich works of Byzantine art and sculpture.
The Santorini cable car also terminates in Fira. That offers a gravity-defying ride down to the harbor on windowed gondolas that have sweeping views of the collapsed volcano.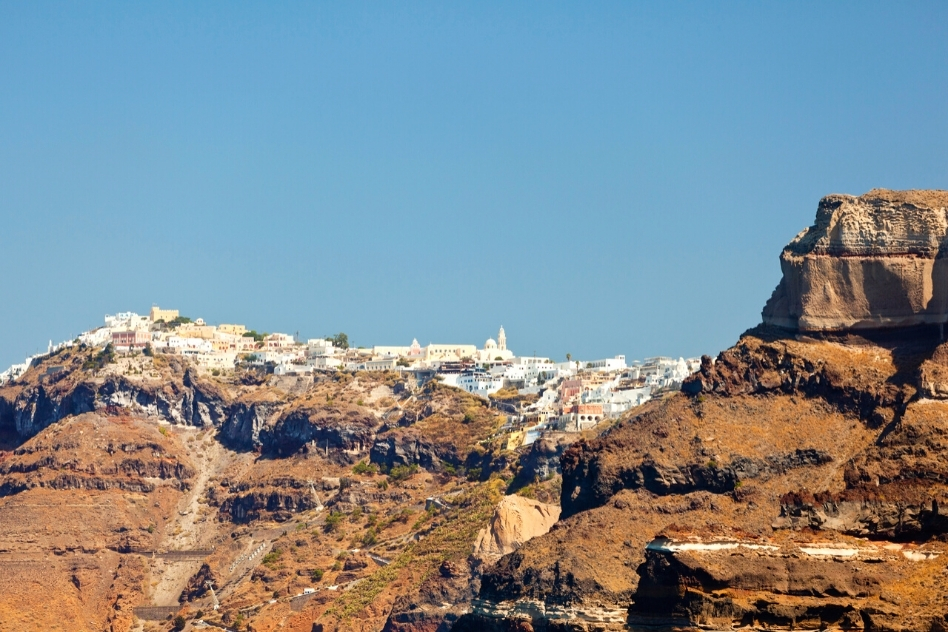 ---
Venture to Hidden Backcountry Villages
There's no question that the main sights of this famous island are on its caldera side. In fact, a whole load of travelers will simply hop off the ferry from Athens to Santorini, whizz through Oia and Fira, and then hop back on a ferry to take them elsewhere in the Aegean.
That's a real shame, because there's much more waiting behind the scenes. Little hamlets and villages speckle the rugged backcountry, offering a rare glimpse of less-touristic Santorini.
Perhaps you could start to the south, in the labyrinthine blocks of Emporio. Squat cottages that burst with wildflowers and bougainvillea converge on a 500-year-old Venetian Castle there, while hidden plazas filled with Greek wine bars and country tavernas beckon in the backstreets.
Photogenic Pyrgos is another great choice. It sits to the east of Fira with its blue-tinged walls and blue-shuttered houses.
Further east again is the beach town of Kamari, where you can soak up some rays on black sands before strutting the tree-dotted promenade.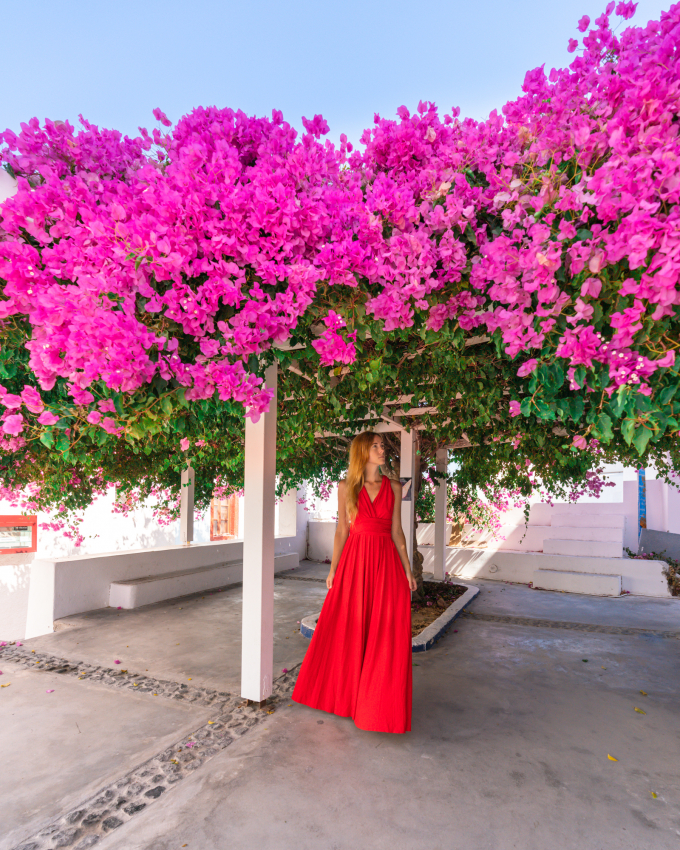 ---
Dine and Drink Local Wines
Foodies have plenty of Santorini excursions to pick from. Yep, you might not think it of such a small dot on the Greek map, but this isle is actually a culinary hotspot.
Tavernas serving hearty and traditional Aegean fare mingle with cutting-edge bistros and some acclaimed wineries to give a unique mix of rustic and creative flavors.
There are oodles of celebrated places to settle in for a stomach-stretching lunch between Oia and Fira. Check out highly rated Kapari Taverna. It's a charming, family-run joint with al fresco seating beneath a flower-strewn terrace in the interior of the capital.
Arrive expecting all the staples of the Greek kitchen – stuffed tomatoes, sesame-sprinkled feta cheese in honey, crusty dakos bread. The Parea Tavern isn't far from that, offering homemade moussakas and BBQ-grilled fish with simple squirts of lemon and a topping of wild herbs, all on a lovely rooftop patio.
Drink wise, there's nothing for it but the local Santorini wine. Grown in rich volcanic soils, the crisp tipples are poured behind cellar doors all across the island.
Head to the Venetsanos Winery to see a place that's been going for more than 70 years. Or, pick the tasting rooms of Santo Wines to sample bottles to an uber-romantic backdrop of cobalt seas and volcanic mountains.