In 1525, the Spanish explorer, Hernan Cortes, crossed the base of the Yucatan Peninsula. He raised his spyglass toward the north and smiled.
You'll be smiling, too, if you choose to visit this sun-blessed land almost any time of year. The ideal vacation offers a respite from work, cold weather, and everyday stress. Cancun, Tulum, and Riviera Maya in Mexico do that and more.
In Short: What's the Best Time to Go to Cancun, Mexico?
In Cancun, the sun almost always shines (200 days a year), and the water is always warm enough to swim in. Even during the fall rainy season, the rains are usually brief, and their added benefit is that they cool the air and lower prices.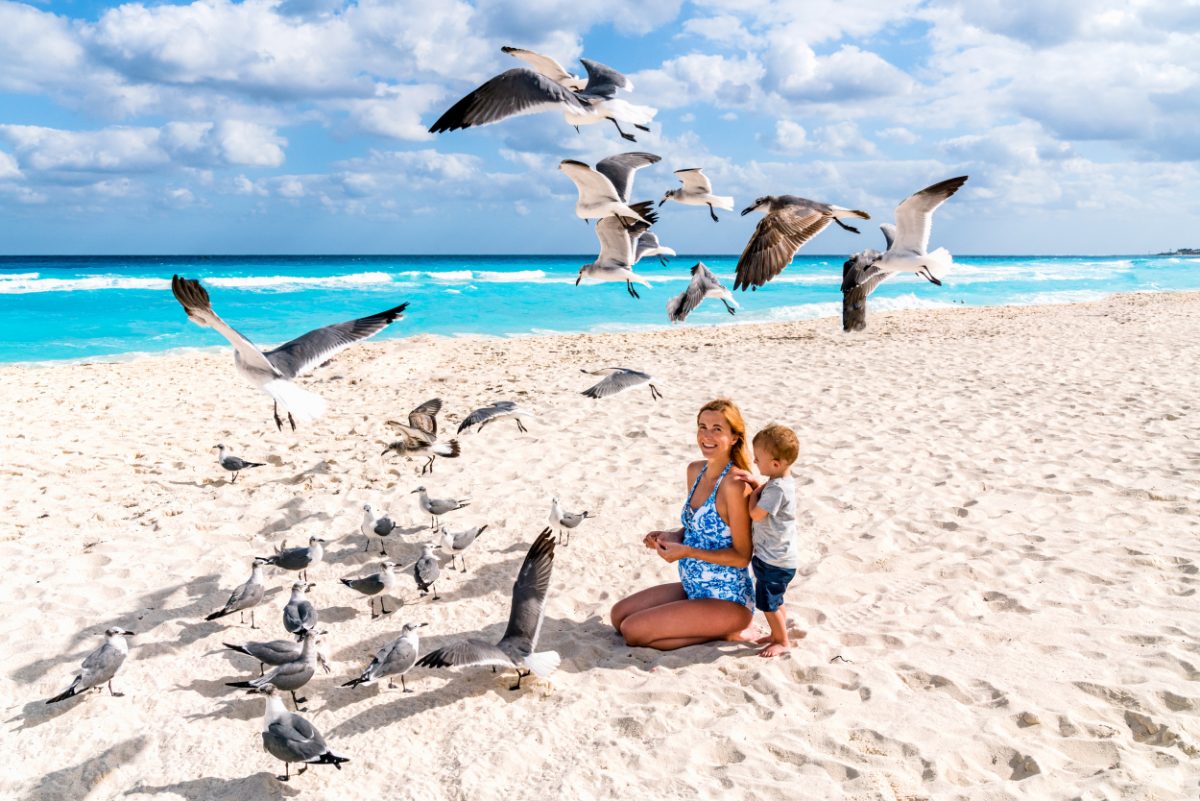 ---
Best Time to Visit Cancun for Avoiding Crowds:
If you want to avoid the crowds, visit Cancun from June to September when the crowds stay away. Summer is hot and rainy, with temperatures averaging 32 degrees Celsius / 90 degrees Fahrenheit. But if you don't mind the heat, you'll find Cancun far less crowded. However, it's very humid as well.
Inland temps are 10-15 degrees warmer, so it's better to plan those excursions during winter rather than in the heat of spring or summer.
Best Time to Visit Cancun for Great Deals:
The best Cancun deals are available from the months of June to September when the weather's hot and rainy. September, October and November are hurricane season and most tourists keep away at this time. So you'll get some really fantastic deals on trips, stay, and flights around this time.
Cancun doesn't see major hurricane activity often, but when it does it is severe. It's up to you to decide if the savings are worth the risk. The last was was when Hurricane Wilma visited in October 2005 and when Hurricane Delta visited in October 2020. Fingers crossed, it will be quite some time before the next major hurricane.
Best Time to Visit Cancun for Swimming, Snorkeling, and Diving:
The average annual temperature of Cancun is 78 degrees F, with late spring and summer highs in the 90's and nighttime lows in the 50's and 60's.
Winter temps are in the 70's and '80s, and the ocean is still pleasant in the '72ish. Locals will tell you that July and August are the best months for swimming, with September and October following close behind with just a few rainy days.
Cancun is the best spot to see the endangered sea turtles coming in to lay eggs from May through October. And if you visit anytime from July to December, you can see the baby turtles hatching and going out to sea in some parts of Mexico. The overlapping time between July to October is ideal for visiting Cancun, if you want to catch both these activities together – sea turtles laying eggs and babies hatching.
For snorkeling and diving, you'll find that the tours often take you to Isla Mujeres where the water is much more clear and the marine life is more vibrant. There are also plenty of cenotes to see for both snorkeling and diving. For more advanced divers and free divers, there's always an underwater museum in Cancun.
You'll need light clothes and swimwear year-round, but it's advisable to pack a light jacket or sweater for winter evenings.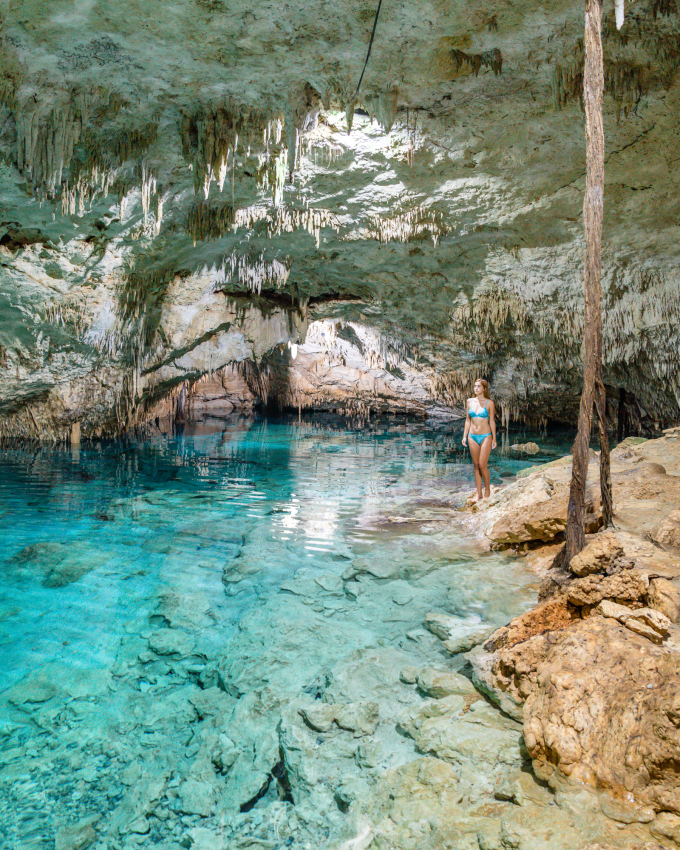 ---
Best Time for to Visit Cancun for Whale Sharks:
The endangered whale sharks visit the Cancun waters in late May and stick around till mid-September. There are many local tours that will take you to specific spots where you can swim with whale sharks.
In recent years whale sharks have been "late" and start showing up in June, so if you want to play it safe I'll say late June and July would be best. When they come, they show up around Isla Holbox and Isla Mujeres, so you can head to either spot, or take a day trip from Cancun, Playa del Carmen or even Tulum.
If you want to make sure you swim with one of these majestic creatures, with absolutely no chance of missing them, visit during July and August.
---
The Best Travel Seasons in Cancun
When is the Hurricane Season in Mexico?
If the possibility of a hurricane scares you, then skip August, September and October when the risk is the highest.
While the Yucatan Peninsula doesn't experience a hurricane every year, you might get evacuation alerts, heavy rainfall, and postponed flights. In fact, it just happened in October 2020 with Hurricane Delta and it wasn't fun.
When is the High Season in Cancun?
Ramping up for Christmas and New Year's in Cancun is definitely a thing.
High Season begins in mid-December and continues through till the end of March when Cancun has the best weather. Lots of snowbirds are flocking to Mexico during that time, so make sure your accommodation and especially the rental car is pre-booked at least a month in advance.
Christmas Week is the most expensive, with hotels and flights costing the most. Trips, excursions, everything is at a premium!
The influx of tourists continues till the end of March and the crowds can get too much sometimes, especially in the Zona Hotelera. But these few months are definitely one of the best times to be in Cancun, Mexico.
If you want to get away from some of the crowds during peak season in Cancun, head over to the Isla Mujeres, Playa Mujeres, or the Riviera Cancun.
Some of the most popular hotels in these areas include the All-Inclusive Now Jade Riviera Cancun Resort & Spa, Now Sapphire Riviera Cancun, Dreams Playa Mujeres Golf & Spa Resort, Atelier Playa Mujeres – All-Inclusive, or Hotel Posada Del Mar.
When is the Low Season in Cancun?
June through October is the rainy season or low season in Cancun. This is the time when you can dig up the best deals on flights, trips, and hotels. Lighter on the pocket, these months are hotter and rainier than usual, with July and October being the hottest.
The low season is considered the low season because it's actually the hurricane season in the Yucatan Peninsula. And although the probability of being caught in a hurricane is low, it does exist. Hurricane Wilma visited the area in October 2005 and Hurricane Delta visited in October 2020.
If you don't mind taking your chances with delayed flights or weather warnings, you'll find some amazing travel deals at this time of the year.
Does Cancun have a Shoulder Season?
That in-between time when the weather is getting closer to perfection and the crowds won't drive you mad does exist! The shoulder season in Cancun lasts from April to May barring Easter Week, and then again from November to mid-December barring Thanksgiving Week.
Visit Cancun during these months and you'll get reasonably priced deals for hotels especially if you book for longer periods of time. Flights and excursions will also be cheaper than in the high season.
With the exceptions of Holy Week and Thanksgiving Week, you'll find that shoulder season is perfect for a more relaxing holiday in Cancun or in other parts of Mexico.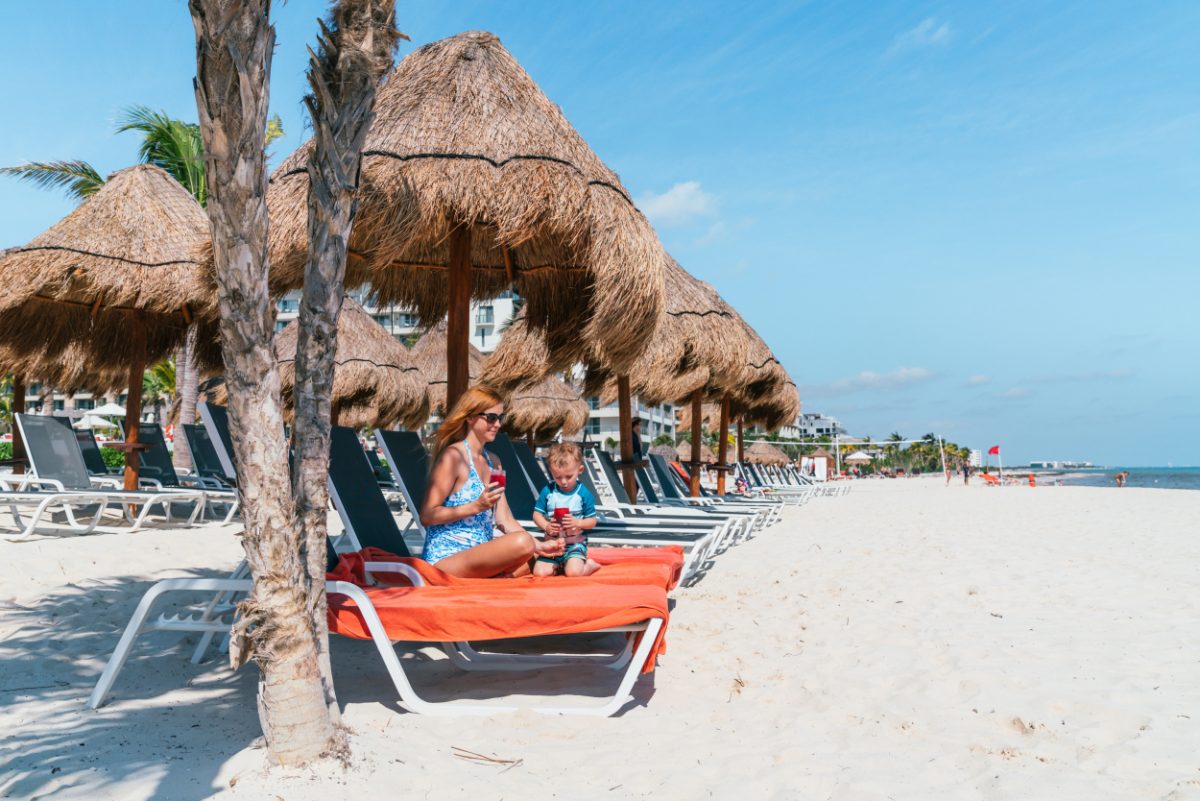 ---
Cancun Weather by Month
(it can also be applied to: Tulum, Playa del Carmen and other places in Riviera Maya)
There are no bad seasons in this sun-kissed oasis and every month of the year brings its own delights.
Cancun in January
Average Temperature: 54° – 84° F
Highlights: Mostly Good Weather | El Dia de Los Reyes (12th Day of Christmas) | Ano Nuevo
January in Cancun sees the end of the Christmas celebrations and the parties coming to an end. But it's still a great month to explore the nearby jungles and Incan ruins.
The weather is not as humid as it is otherwise, and the ocean temperature is cooler at around 80 degrees F but still okay enough for swimming. The clear visibility makes it the opportune time for snorkeling and diving.
Cancun in February
Average Temperature: 70° – 95° F
Highlights: Sunny days | Carnaval
February is one of the best times to visit Riviera Maya. Cancun in February is when you can avoid the crowds coming down for Christmas and Spring Break.
This doesn't mean that it's not busy so definitely book your rental car in advance.
While it can get very hot and humid it will bring you plenty of bright sunny days and cooler evenings.
Sargassum might be present on some days, but it's not a peak time for it.
Cancun in March
Average Temperature: 68° – 88° F
Highlights: Cloudy days | Kukulkan at the Spring Equinox | Wine and Food Festival
March in Cancun sees a popular Wine and Food Festival that's visited by international chefs and winemakers over the 5-day duration.
Cool days with clear skies and with a few showers sprinkled in are the perfect welcome for spring in Cancun. The humidity is more than February but it's still perfect for hiking or touring.
On the day of the Spring Equinox, head over to Chichen Itza to see the Kukulkan with the rest of the crowds. When the sun's light reaches the Temple of the El Castillo, it looks like the feathered serpent god Kukulkan coming down the side of the temple. This same effect can be seen for a few days before and after the equinox.
The water visibility and temperature are still perfect for diving and swimming. And the weather at night is perfect.
Cancun in April
Average Temperature: 70° – 95° F
Highlights: Sunny days | Easter Week | Children's Day (El Día Del Niño)
With almost no rain, the weather in April is pretty dry. The humidity is survivable so you can go hiking through the jungle or visit the ruins.
The hot afternoons are better spent at the beach enjoying the cool water and sea breeze.
Holy Week tends to get crowded with everyone, including locals from other parts of Mexico, coming down to celebrate Easter and flights for this weekend are usually sold out months in advance.
Children's Day is celebrated on 30th April, with schools holding celebrations instead of classes. Activities for children and parties are held everywhere, while attractions, museums, and zoos offer Children's Day discounts. If you're traveling with kids, you could take advantage of these discounts.
Cancun in May
Average Temperature: 73° – 88° F
Highlights: Sunny days | Cinco de Mayo | Travesia Sagrada | Cancun Jumpoff | Festival del Cultura del Caribe
One of the drier months, May brings clear sunny skies and hardly any rainfall.
Cinco de Mayo is on 5th May, but other than a few pubs offering discounts, there's not much festivities to look forward to on this day.
In honor of the fertility goddess Ixchel, the Travesia Sagrada boat festival held every year sees 300 men and women rowing to replicate a 1000-year old journey from Xcaret to Cozumel. The event is a time to witness local rituals and dance.
The 8-day Festival del Cultura del Caribe celebrates everything Mexican, from food and drink to music and dance, to literature, and more. You'll find the city alive and thriving during these days.
Cancun in June
Average Temperature: 72° – 88° F
Highlights: 50% Sunny and 50% Rainy days | Whale Sharks
The rains start, but there are still plenty of sunny days. The cooler seaside breezes are still perfect, and the water is still good for swimming. It's still hot though, so if you're taking inland trips, be prepared with caps and water bottles.
More whale shark pods appear in the waters around Cancun, so your chances of seeing them increase. It's the perfect time to catch sight of these majestic creatures.
Cancun in July
Average Temperature: 80° – 94° F
Highlights: Very few rainy days | Whale Shark Festival | Baby turtles setting out | El Dia Fuera del Tiempo
Hot and humid, July is the low season for a reason. One of the main months in hurricane season, it's usually when the crowds stay away.
But if you visit, all of the whale shark pods are here now, so your chances of seeing them are cent percent.
The nearby Isla Mujeres & Isla Holbox Whale Shark Festival is also on in July. This family-friendly event includes shark tours, fishing competitions, food fairs, and live music.
And 26 July welcomes in the Mayan New Year with festivities for El Dia Fuera del Tiempo held all across the Riviera Maya.
Cancun in August
Average Temperature: 77° – 94° F
Highlights: Cloudy days | No Crowds | Whale Sharks | Sea Turtles
The middle of hurricane season sees humid weather and storms brewing on the horizon. But not every day. There are plenty of days when it's simply cloudy and perfect weather to spend outdoors.
The first things to enjoy – baby turtles are hatching and whale sharks are making their way around the Cancun waters.
15th August is celebrated as the Assumption of the Virgin Mary, with colorful processions across the city.
August being rainy, the majority of time is best spent lounging by the pool sipping margaritas or visiting the cenotes.
Cancun in September
Average Temperature: 72° – 88° F
Highlights: Cloudy Weather | Independence Day
Hurricane season is almost out the door, and the whale sharks are leaving too. If you want to see them catch one of the tours before mid-September.
Mexican Independence Day is celebrated on the night before they gained independence – 15th September and you'll enjoy a parade of local bands, amazing fireworks, and street food. The Grito ("the cry") for independence rings at 11 pm with fireworks and bells.
Another rare sight to see is the Autumn Equinox at Chichen Itza. If it's not too cloudy, the feathered serpent god Kukulkan is spotted on the first day of fall, if the rain doesn't get in the way.
Cancun in October
Average Temperature: 75° – 90° F
Highlights: Sunny days | Cancun Jazz Festival | Dia de La Raza (Columbus Day) | Dia De Las Brujas (Halloween)
Coming out of the hurricane season, the clouds seem to disappear, with only rare showers and mostly sunny skies.
The last few turtles finish nesting and disappear into the distance while their babies hatch in the soft sands.
Festive parades are seen all across Mexico on 12th October, Columbus Day; while kids and adults go trick-or-treating on Dias de Las Brujas. Halloween costumes can get expensive as stores run out, so try to get some with you from home.
The 4-day festival celebrating contemporary jazz that takes place at the Hard Rock Hotel near Tulum is also a great place to be.
Cancun in November
Average Temperature: 72° – 85° F
Highlights: Sunny days | Dia de los Muertos
Sunny days and a handful of showers are the perfect weather for low-season travelers looking to score deals on trips and hotels in Cancun.
Dia de los Muertos or Day of the Dead is celebrated on 1st and 2nd November. It's a festive holiday when families offer sweets and treats to their dead relatives and decorate their family altars to pay respects to lost loved ones.
It's a way bigger holiday than Halloween and while in Riviera Maya it's not celebrated as vibrantly as in Oaxaca or Mexico City, you can head to Xcaret Park for their annual Day of the Day festival to get a glimpse of a big celebration. Unlike the park during regular hours that's naturally mostly for tourists' enjoyment, this event is a very local-oriented festival.
Although the magnificent whale sharks have left, the waters are perfect for snorkeling, swimming, and diving. The weather is also perfect for hiking and trekking through the Mayan jungles.
Cancun in December
Average Temperature: 75° – 85° F
Highlights: Sunny days | Peak Season | Christmas | New Year
Welcome to the season when Cancun seems to have more tourists than locals. December is peak season, and you'll find that flights and accommodation prices have skyrocketed. It's best to book months in advance if you want to spend Christmas week in Cancun.
Water visibility is perfect for diving and snorkeling, and the soft breezes are perfect for lazing around the beaches. And you just might catch sight of the last few baby turtles hatching and going out to sea.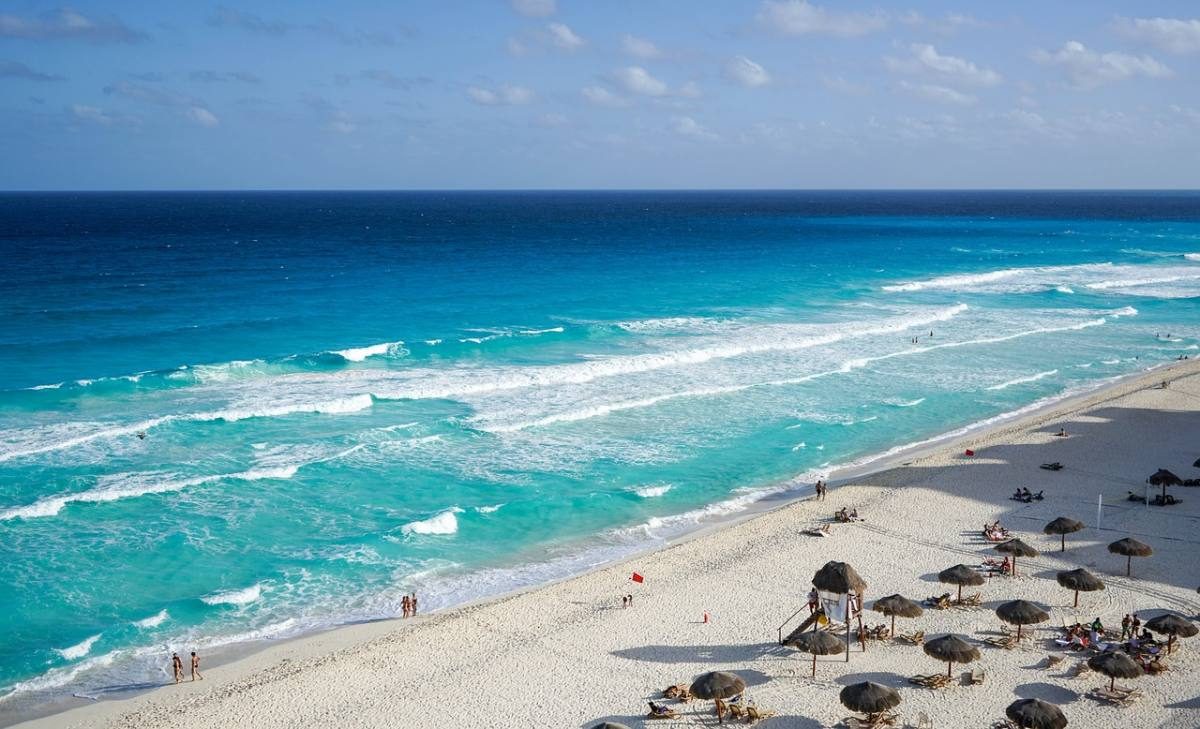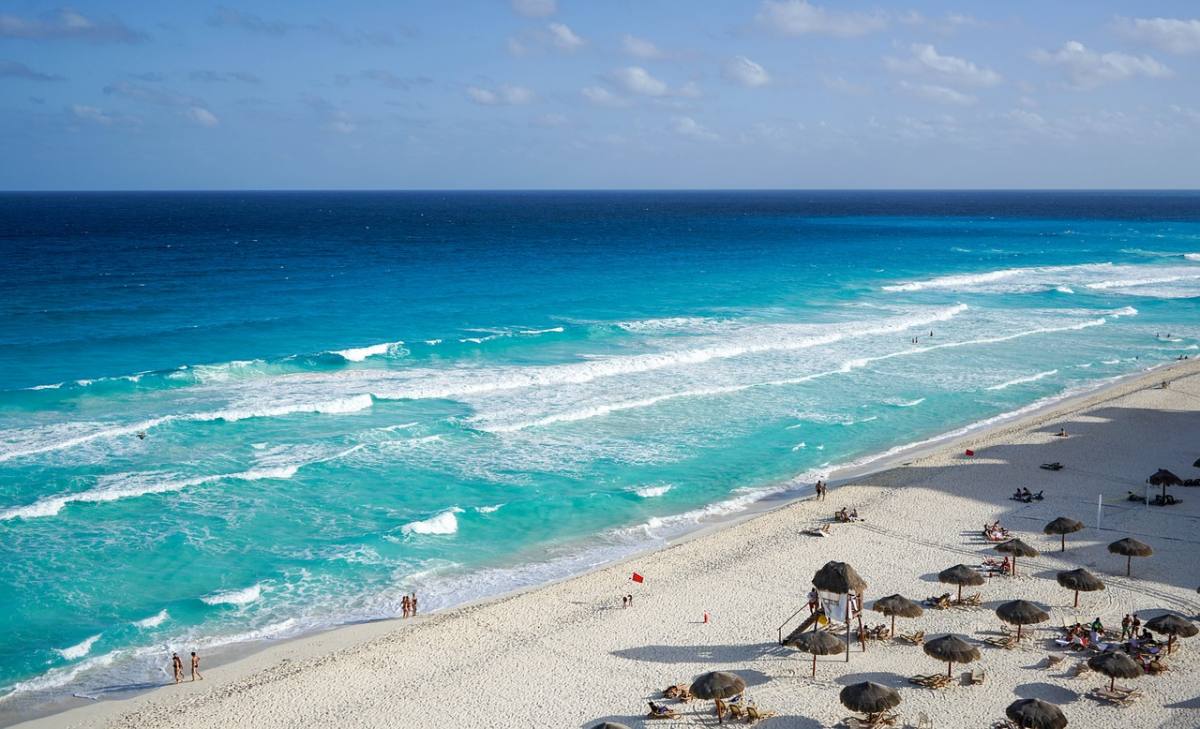 ---
Where to Stay in Cancun
Whatever season you choose to visit Cancun, there are some amazing places to stay that suit every budget. Here are our top choices for luxury and budget hotels in Cancun.
Luxury Hotels in Cancun
Atelier Playa Mujeres All Inclusive Resort
Renaissance Cancun Resort & Marina
The Tower by Temptation Cancun Resort – All Inclusive – Adults Only
---
Budget Hotels in Cancun
Hotel Caribe Internacional Cancun