If you're fortunate enough to find yourself doing a significant amount of traveling on the Atlantic Coast in the Northeast, you'll find similarities between many communities. Most places are fairly developed, beautiful, and popular spots for tourists.
Another similarity across these many tourist towns is that each seems to have its own restaurant. While not all towns are comparable in the quality and quantity of restaurants, it seems like restaurants are endlessly scattered across these beachside towns.
Portsmouth, New Hampshire is no exception to this rule. With many delicious restaurants to try from, you're certain to find something for everyone, no matter the type of food you prefer.
Here is a list of the 7 best restaurants in Portsmouth, New Hampshire.
1. Massimo's – Ristorante Massimo
Though New Hampshire tends to host an older population with many outdoor lovers coming to the state to retire, Portsmouth, New Hampshire has been unaffected by the state's aging population and is lively, youthful, and incredibly fun.
This is evident when considering the restaurant scene in the town. Massimo's for instance, is a lively, higher-class Italian restaurant located in downtown Portsmouth. As one of the few fine dining spots in town, it is popular for weddings, formal parties, and work meetings. Massomo's is also consistently voted as one of the state's most romantic restaurants, the venue is phenomenal for a lovely date night.
And while these qualities make Massimo's amazing, the food itself is delicious. With a full menu of homemade Italian dishes, you're certain to leave highly pleased.
2. Barrio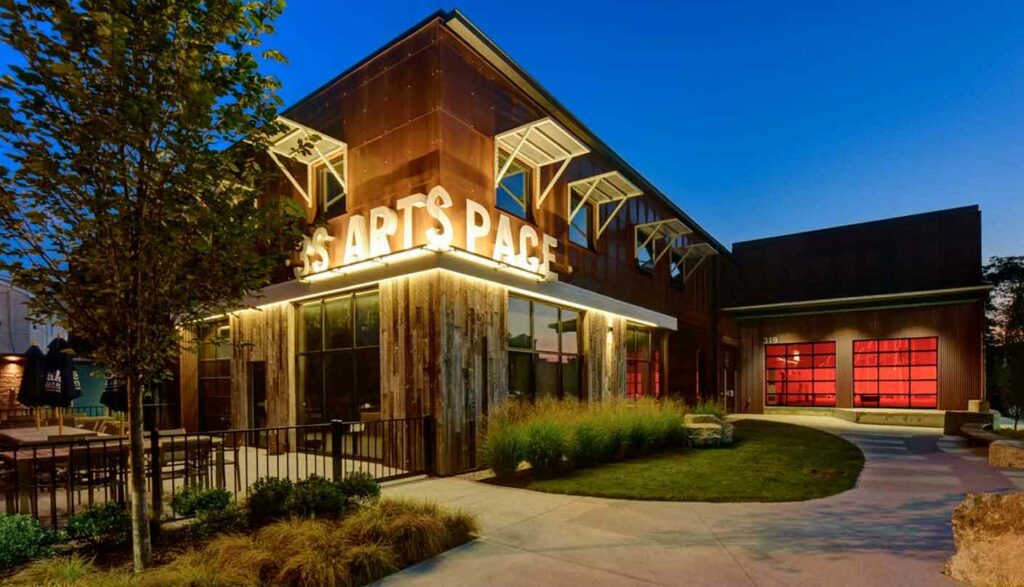 With the city attracting many young people, it makes sense that some of the younger generation's dining preferences would translate to the city as well. This means that, of course, there should be a delicious Taco bar!
Barrio, located across from the Sheraton Hotel near downtown Portsmouth, is a delicious build-your-own taco bar meant to match your preferences perfectly. Upon sitting down, you fill out a small sheet of paper listing the ingredients and style you want your tacos prepared.
Shortly after these sheets are collected, you'll be served your made-to-order tacos. With high quality ingredients, delicious meats, and a fun atmosphere, Barrios will quickly become a must-have on every trip to Portsmouth.
3. Portsmouth Brewery
While New England is known for its picturesque landscapes, cold winters, and outstanding sports teams, we aren't known as much for our local breweries (Sam Adams being the exception). However, upon visiting New England, you'll notice our thriving craft brewery scene.
Portsmouth is just as much a part of this trend as any other city nearby. The Portsmouth Brewery, located between the old harbor and the city's downtown is an excellent place to go get a local beer. With tons of beer on tap every day and new beers being brewed, you're certain to find a drink you'll love.
To top it off, the Portsmouth Brewery has many great pub-style food options. With nachos, wings, sandwiches, and even seafood, the restaurant is a great spot to go to spend a meal.
4. Row 34
With its location right on the Atlantic coast and just a short distance away from Maine, Massachusetts, and even Prince Edward Island up in Canada, Portsmouth has access to some of the best seafood on the east coast.
Though this means that Portsmouth has multiple seafood restaurants, it also means for one of these establishments to be considered "good" it needs to do something that really stands out. Row 34 has managed to do just that. As one of the higher-end seafood restaurants in town, the sleek restaurant serves mountains of seafood every day, with most of it caught within a 30-mile radius.
Of course, seafood isn't for everyone, so Row 34 has a number of other delicious menu options to enjoy. If you're in need of a great meal, Row 34 is the place to go.
5. Flatbread Company
As one of the most popular foods in the US, having a good pizza shop in a town that gets heavy tourism is essential. Fortunately, Portsmouth meets this criterion with its delicious Flatbread Company located in the town's historic district.
Flatbread Company, a New England favorite (there's another brand in North Conway!), serves delicious flatbread pizzas made with locally sourced ingredients. The company is focused on both serving good pizza and serving their community, having donated to over 850 local charities and working closely with 100 small farms.
On top of this, the restaurant's atmosphere and waitstaff are phenomenal. Relaxed but sleek, it's no wonder why the chain is so popular around New England. If you're looking for a good pizza spot in Portsmouth, Flatbread Company is the place to go.
6. Surf Portsmouth
While food is, of course, the most important criterion when evaluating the quality of a restaurant, you should also consider the atmosphere, venue, and your overall enjoyment of the experience of dining.
At Surf Portsmouth, you're guaranteed to enjoy great food and a great dining experience. The restaurant, located on the Old Harbour and overlooking the intersection of the Atlantic Ocean with the Piscataqua River, serves a wide variety of seafood options with a beautiful indoor and outdoor dining area.
Also somewhat unique to Surf is that they have a full sushi menu sourced with many of the fish caught just outside Portsmouth. With a wide variety of seafood options, Surf is a great spot to go if you are just beginning your foray into seafood.
7. Thirsty Moose Taphouse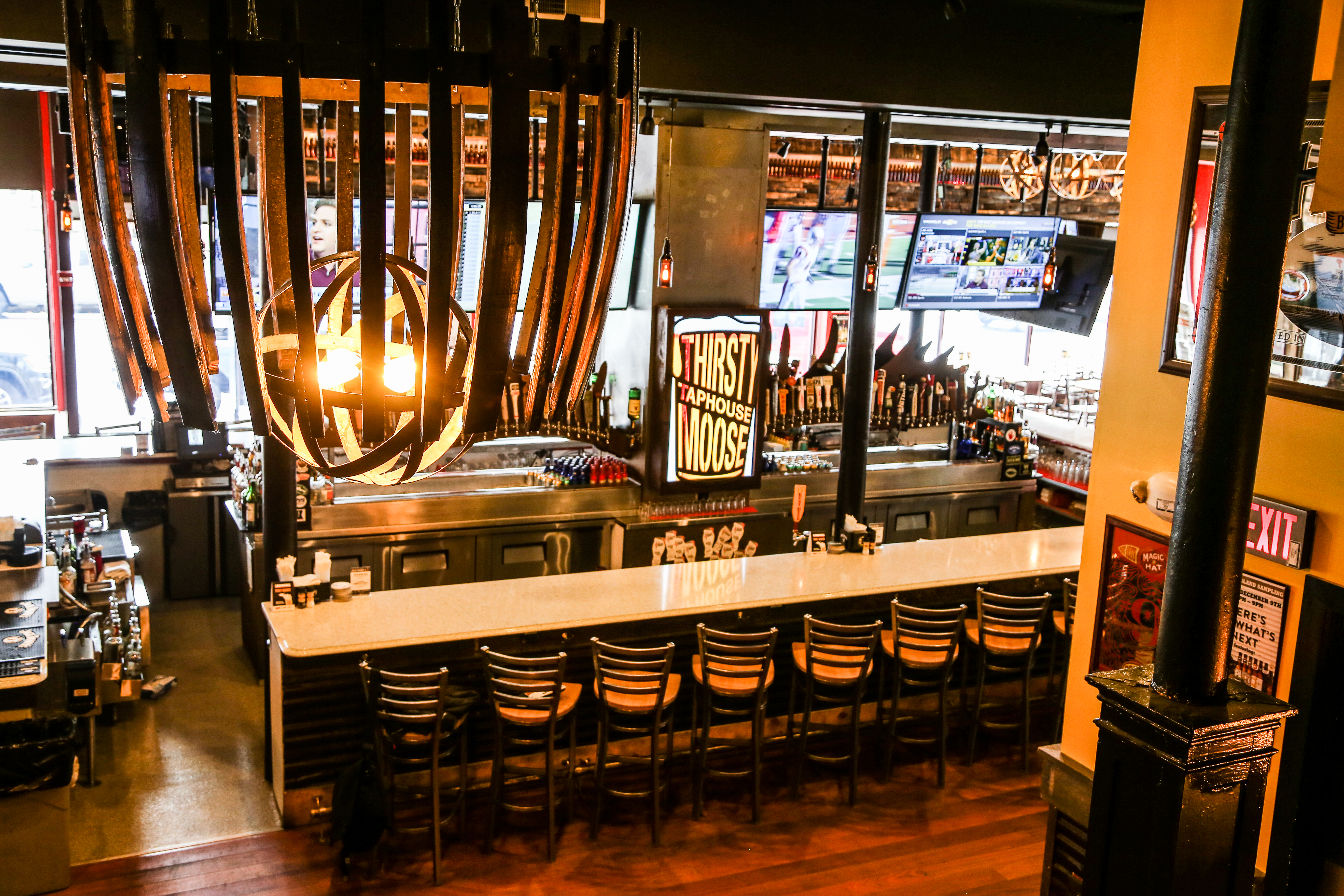 Sometimes when you're dining in a new place, it's best to find a menu that has something on it you know everyone will enjoy. In a small town like Portsmouth, there are few Applebees or 99 Restaurants with a standardized menu, so it's best to go to a local restaurant that serves a wide variety.
In this case, the Thirsty Moose Taphouse is the perfect restaurant to go to in Portsmouth. With tasty food, a large menu with a decent variety, and a great bar, the Taphouse is a great spot to go after a day on the beach or exploring the area.
Located in downtown Portsmouth, its central location and great menu make the restaurant a perfect place for a casual dinner in town.
---
When visiting Portsmouth, New Hampshire it's important that you try one of the local restaurants. Aside from the ability to experience new cuisine, the restaurants in town are a great spot to learn about local events, the atmosphere of the city, and how you should spend your visit.