When it comes to vacationing in any ski town, you are certain to find plenty to do outside of just the mountain. The town of North Conway, New Hampshire is no exception to this rule! With plenty of shopping, lodging, and hiking options nearby, there is plenty to enjoy.
One advantage North Conway has over other mountain communities in the area, however, is a vast array of delicious restaurants to enjoy. With over 30 dining establishments in town, trying out one of the local restaurants is a must-do for any visit.
Additionally, the wide variety of dining options and flavors available is certain to have you and your family pleased. Even the pickiest eaters can find something to enjoy in North Conway!
Here is a list of the 11 best restaurants in North Conway, New Hampshire.
1. May Kelly's Cottage
Located between Whitaker Woods and Memorial Hospital, May Kelly's Cottage serves as North Conway's classic Irish Pub. Similar to other Irish pubs throughout New England, May Kelly's embraces a menu full of warm, hearty meals to help keep you warm after a long day on the mountain.
And, perhaps just as good as the food, May Kelly's bar is fully stocked and prepared to whip up whatever delicious beverage you're looking for. The bar has over 100 different types of Irish Whiskey and Scotch to choose from, and a number of local beers on tap.
With an inviting atmosphere, experienced wait staff, and great location, a meal at May Kelly's Cottage is certain to be a great one.
2. Moat Mountain Smokehouse And Brewing Co.
For those of us who grew up in "outdoorsy" families, you might have had the experience of spending a lot of time as a kid at a local brewery. In the White Mountains, there seems to be one of these breweries around every turn. If you're looking for a place to relive those fond memories, Moat Mountain is the place for you.
While the restaurant is better known for its beer than its food, Moat Mountain still maintains an impressive menu. With many burgers, sliders, sandwiches, and wraps available, Moat Mountain is a great spot for lunch, an early dinner, or a post-skiing appetizer stop.
And, if you are in fact coming for the beer, you won't be disappointed. With a number of beers on draft every day, you can try out a seasonal drink, a new creation, or stick with an old favorite.
---
3. Muddy Moose Restaurant And Pub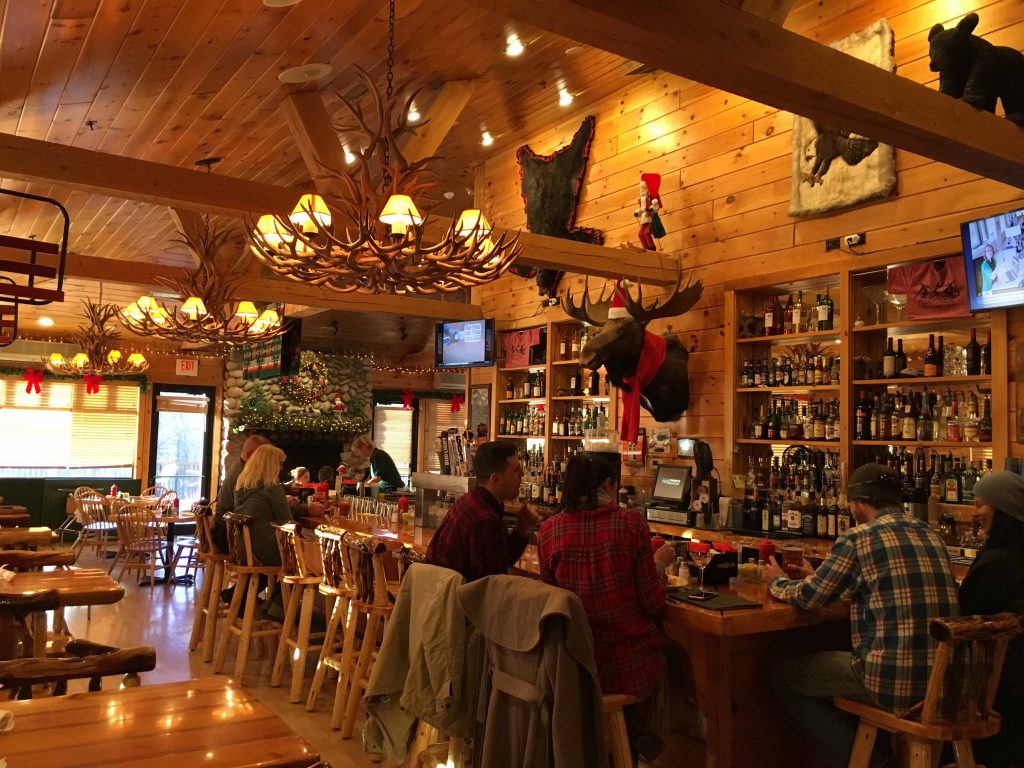 Every small town has that one spot that is "the spot" for locals to sit, drink, and catch up with friends. In ski towns like North Conway, with thousands of visitors coming annually, people need a spot they don't believe to be a "tourist trap" where they can sit down, eat a meal, and enjoy.
If you're looking for that one spot, you've found it in the Muddy Moose Restaurant and Pub. This is exactly where my in-laws took me on one of the first outing.
While the restaurant attracts its fair share of tourists, the relatively small dining area and short bar make for occasionally long waits as people sit to share stories, talk about local events, and just enjoy themselves.
When you do get seated, however, you'll find something for everyone. With standard American fare, Muddy Moose is very kid friendly and friendly toward the wallet. It is truly deserving of a top-three spot.
4. Vito Marcello's Italian Bistro
If you're looking for a restaurant with a more urban atmosphere and different dining options, Vito Marcello's Italian Bistro is "the place". An Italian restaurant in an area where most locations are pub-style serving American food, the restaurant is certainly more fancy and high-class than some of the others.
This is not to say that the restaurant is snobby, however. In fact, it is quite the opposite. Though there is a slight dress code you should adhere to (no hats, flip flops, tank tops, etc.), the restaurant has a warm atmosphere and a welcoming staff ready to help make your night exceptional.
Due to staffing shortages after the COVID-19 pandemic, it can sometimes be hard to get in without a wait, especially for larger groups. Reservations are welcome and encouraged.
5. Peach's Restaurant
It's not super common in big tourist towns to have a dinner that only serves breakfast and lunch, especially in ski towns where most people are on the slopes at this time. Peach's Restaurant, luckily, is the exception to this rule.
With delicious breakfast food and being open five days a week (including weekends), Peach's Restaurant has a lot of benefits. With delicious crepes, omelets, pancakes, and gluten-free options, everyone in your party will find something they'll enjoy.
Perhaps the best thing about Peach's however, is the family-friendly, welcoming attitude. When you eat there, you'll truly feel like part of the family.
6. Black Cap Grille
Located right next to Settler's Green Outlet Village, the Black Cap Grille is probably the closest thing you'll find in North Conway to an American restaurant you might find in urban centers like New York, Boston, or Washington, DC.
With a large dining room, outdoor seating, and a sleek-looking bar, the Black Cap Grille is one of the best restaurants in town if you're looking to meet up with friends after a day out on the town.
With a large menu, great drink selection, and relaxed atmosphere, the Grille is great for any occasion. Plus, with it being open later than most other restaurants in town, the Grille is a reliable spot to get seats at any hour.
7. Delaney's Hole In the Wall
In recent years, there's been a trend of people looking for delicious restaurants off the beaten path. Maybe they're a dive, a honkey tonk, or a "hole in the wall". With this in mind, I'm willing to bet that you can guess what kind of restaurant Delaney's is.
A true hole in the wall, Delaney's is a great sports bar and pub located just north of North Conway's central downtown area. With a nice tavern area, great food, and a sushi menu unique for this area, Delaney's is a great spot to enjoy a delicious dinner.
Additionally, getting into Delaney's isn't too hard. The restaurant works hard to keep wait times down, so even if all other restaurants are busy, Delaney's wait normally isn't too bad.
8. Flatbread Company
Can a ski town really call itself a ski town without a good local pizza shop – probably not. Fortunately, North Conway has got this base covered thanks to its delicious Flatbread Company.
With locations in towns across the US and Canada, the Flatbread Company has been taking care of local's pizza needs for over twenty years. With sustainably sourced ingredients from local farms, collaboration with many charities, and many different flatbreads to choose from, eating at the Flatbread Company is good both for the stomach and the soul.
Additionally, the Flatbread Company is located in the Eastern Slope Inn Resort, one of the largest hotels in town. This makes it incredibly accessible for many hotel guests.
9. Chef's Bistro
Though all delicious, it can sometimes feel like many of the restaurants in North Conway tend to overlap with one another. You aren't necessarily wrong for thinking this – many of the restaurants have similar dishes in a similar atmosphere. Without something to distinguish themselves these restaurants tend to blend together.
Chef's Bistro, however, has that distinguishing factor. While they have many of the same sandwiches and appetizers, the Bistro's salads are the best in town. Though there are not many to choose from, the quality of vegetables and other add-ons make these dishes delicious.
Chef's Bistro also is unique in that they have a small charcuterie menu to choose from. While reservations are encouraged, you certainly will be pleased with the Bistro.
10. Table And Tonic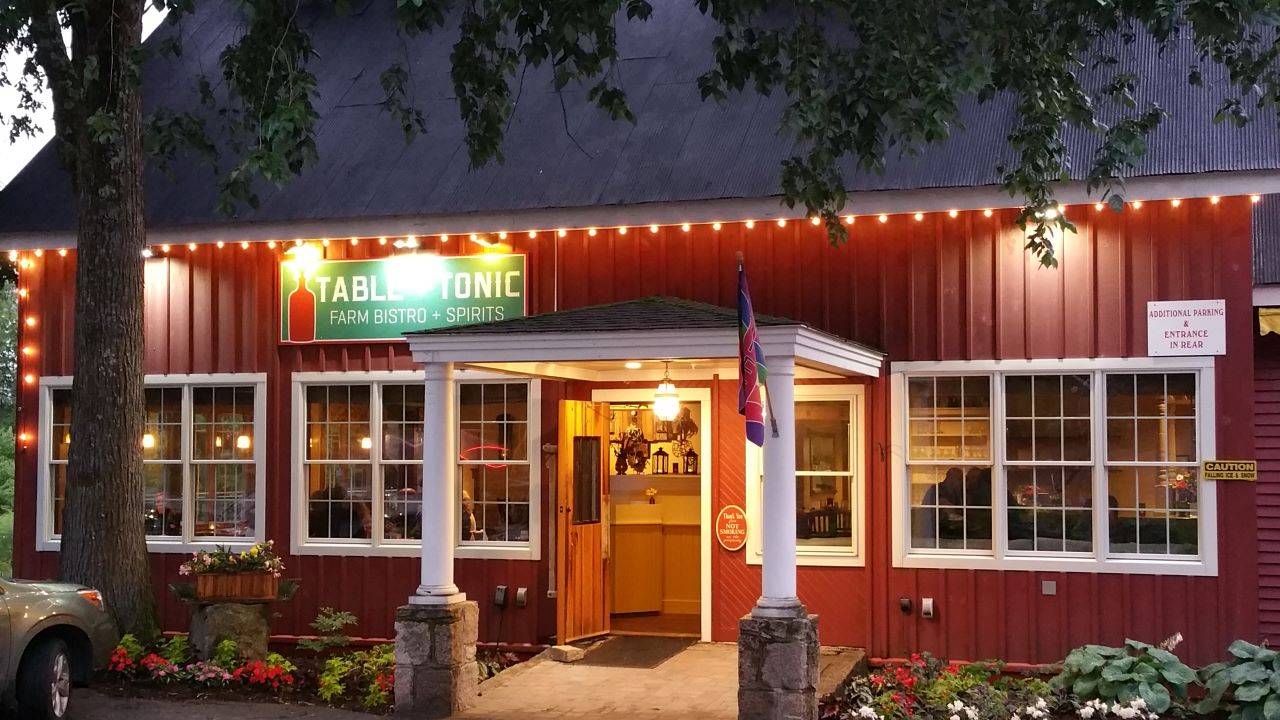 Something that I love doing when traveling is visiting local small businesses and seeing what they offer and how they distinguish themselves from others. In doing this, I've stumbled upon many small, locally-owned delis, bakeries, and cafes. If this is the vibe you're searching for, Table and Tonic is the spot for you.
With a great selection of smoothies, breakfast items, specialty drinks, and more, Table and Tonic is a great way to start a lazy morning, or a yummy spot to get food to go as you're heading out of town. Either way, it's a must-visit for those looking for some more casual dining.
11. Horsefeathers
While North Conway gets visitors from around the world, if you're taking a trip to spend time in North Conway, you're more likely than not from the Northeast. If you're from the Northeast, you're probably a major sports fan who never wants to miss a game. If that's you, Horsefeathers is your spot.
A large, multi-story sports bar in downtown North Conway, Horsefeathers is kid friendly and a great spot to catch the local game with some yummy food.
Whether you're staying for the full game or just want to grab an appetizer, Horsefeathers has got what you need to make sure you can enjoy the game with a good meal.
---
No trip to North Conway would be complete without visiting one of the town's many restaurants. With delicious food and low prices, you are certain to find something you and your whole family can all enjoy!